On a ship that boasts Michelin-inspired dining we had quite high expectations of the food sailing with Crystal and I can honestly say we were not disappointed.
Food is very important to us on any holiday and we genuinely can't fault the variety, quality, freshness and presentation.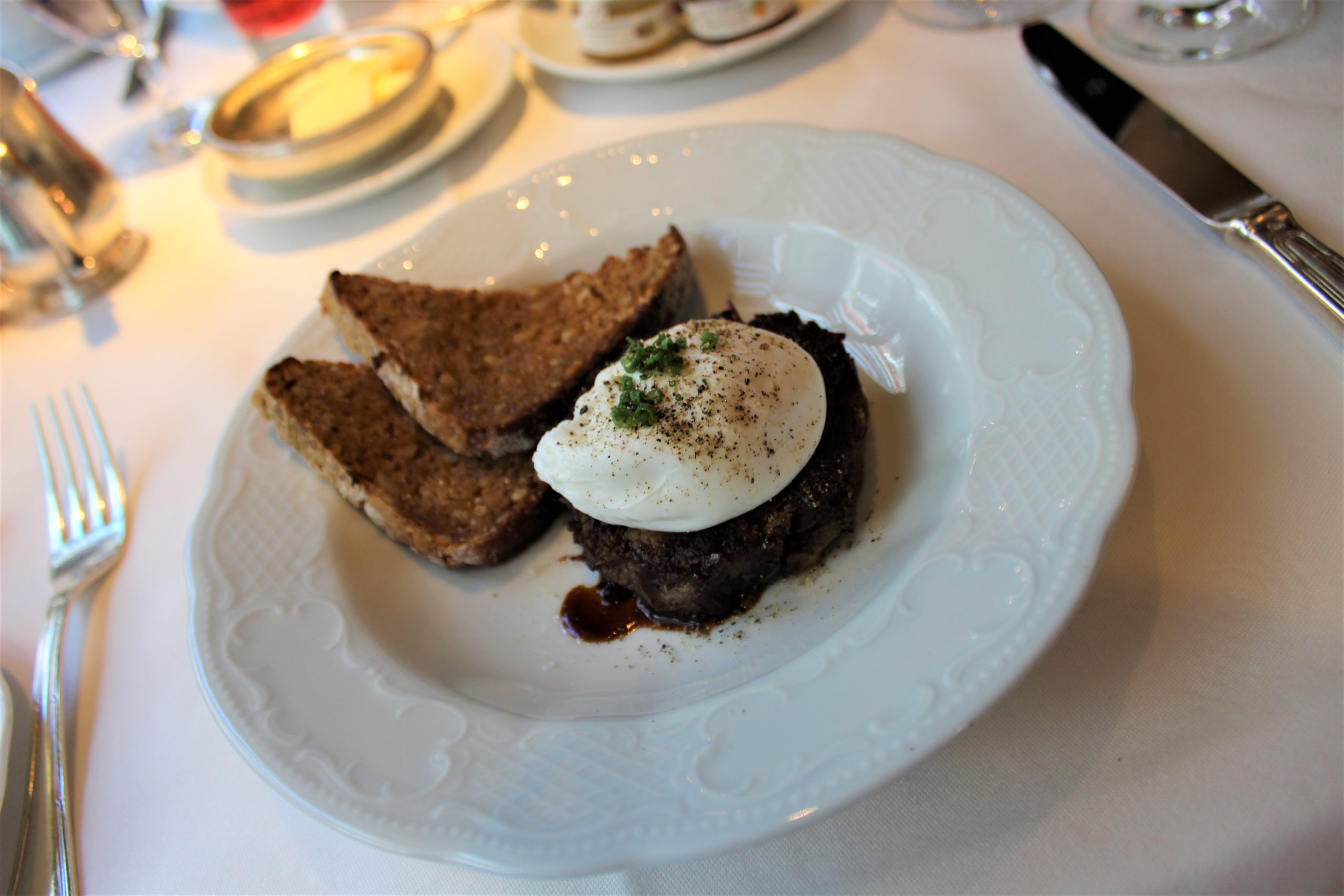 Of course food is subjective, but I am happy to say during our week sailing on Symphony we never had one dish we didn't enjoy or had to send back and trust me, we had a lot of food! It was all delicious, but some of it was absolutely incredible!
 Waterside
Open for breakfast, lunch and dinner with open seating, so no reservations needed, Waterside is the main dining room on-board the beautiful Crystal Symphony. I loved the interiors – rich blues and golds – the restaurant oozes elegance.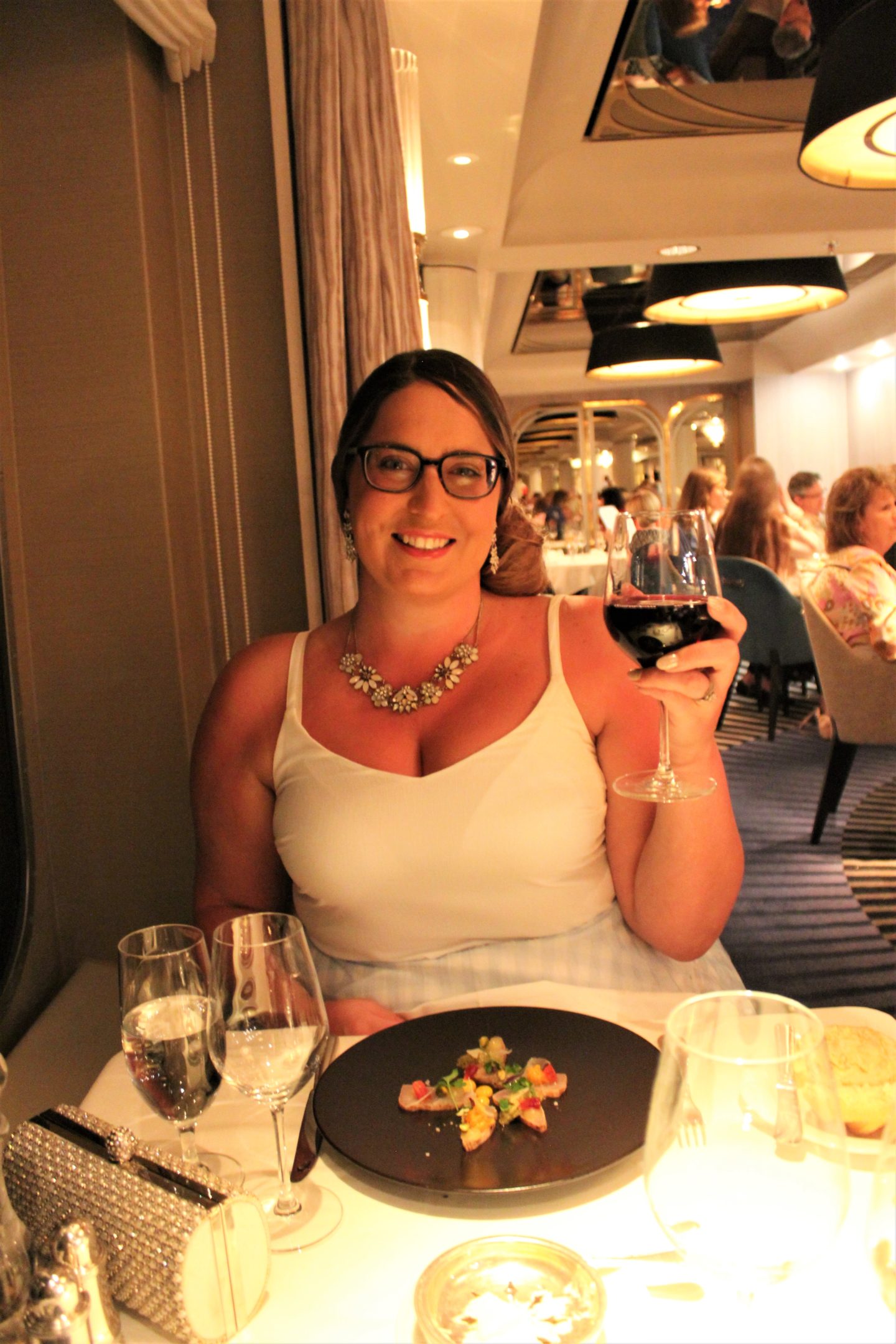 We enjoyed many delicious breakfasts in Waterside, from eggs benedict, cinnamon French toast, smoked salmon and scrambled eggs, corned beef hash with poached eggs. But my particular favourite was freshly baked croissants with truffled scrambled eggs, brie and prosciutto, which was rich, decadent and so delicious.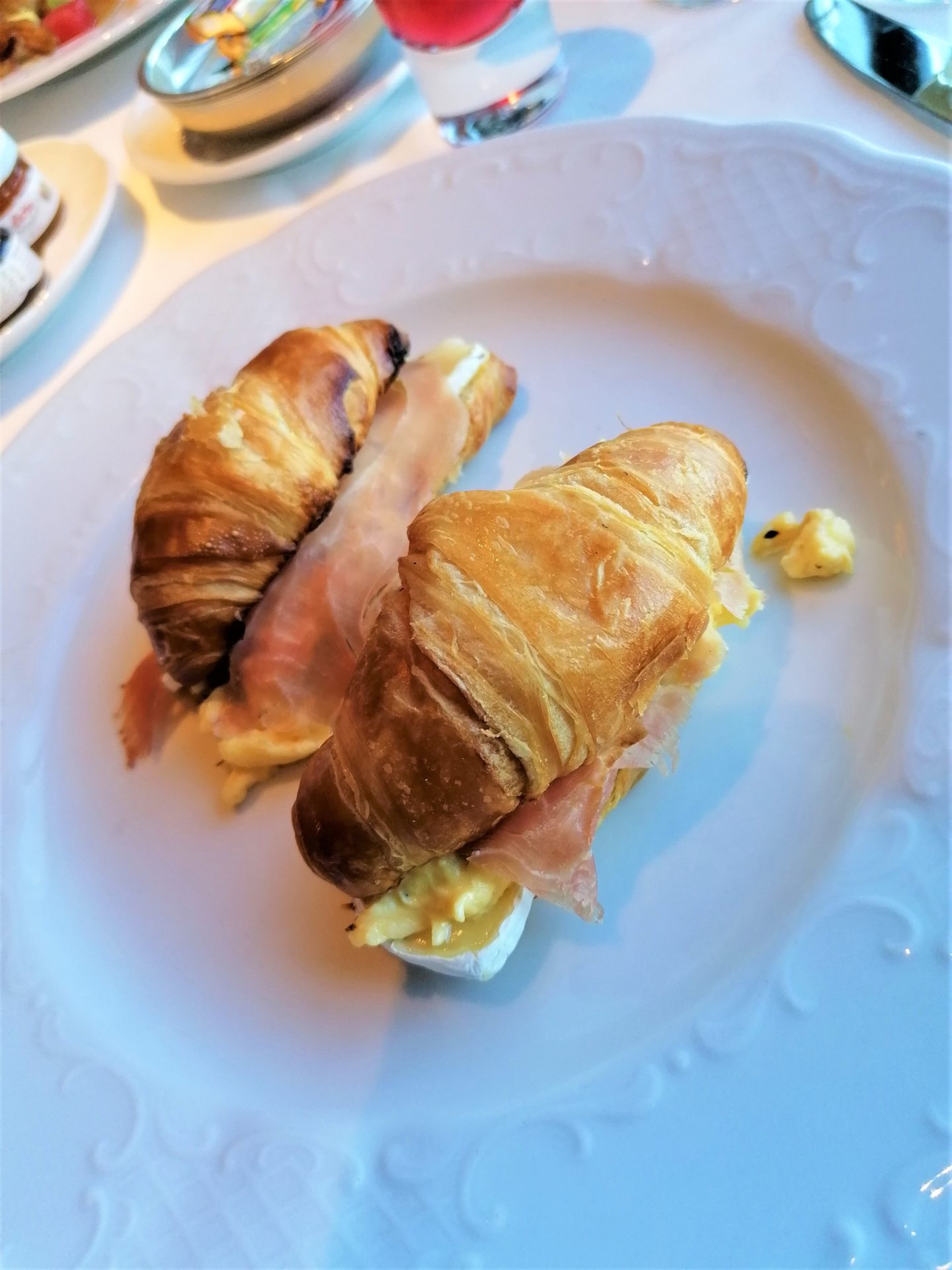 Lunch in Waterside offers a variety of options from your classic hamburgers and grilled sandwiches to perfectly poached salmon in a champagne sauce to freshly cooked pasta. Starters are available to order as well as soups, salads and, of course, desserts, ice cream and cheese.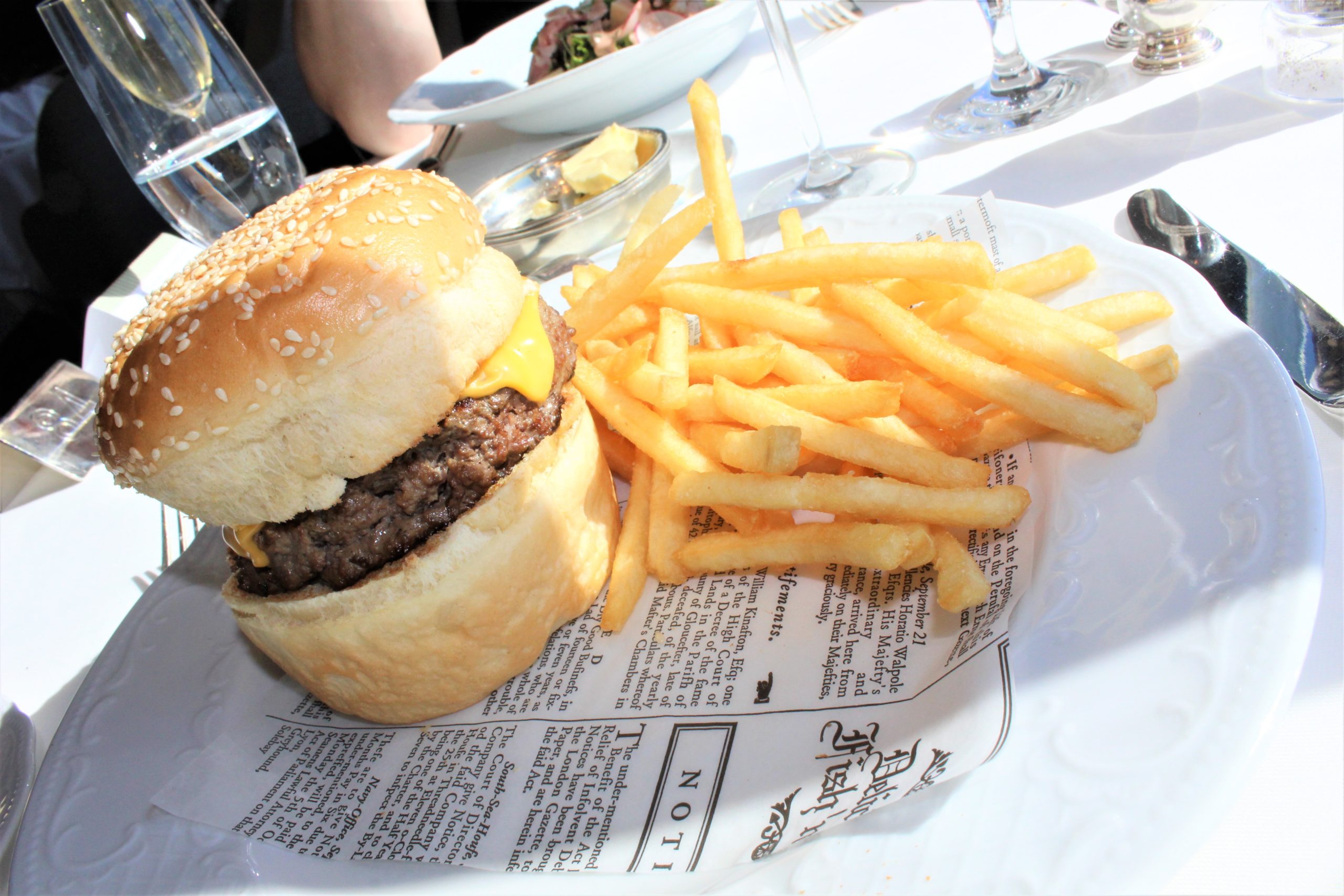 Dinner at Waterside never let us down – we enjoyed some incredible food. Just a few highlights for me for starter were mahi mahi with mango gel and hazelnuts, ahi tuna sashimi and a creamy crab bisque.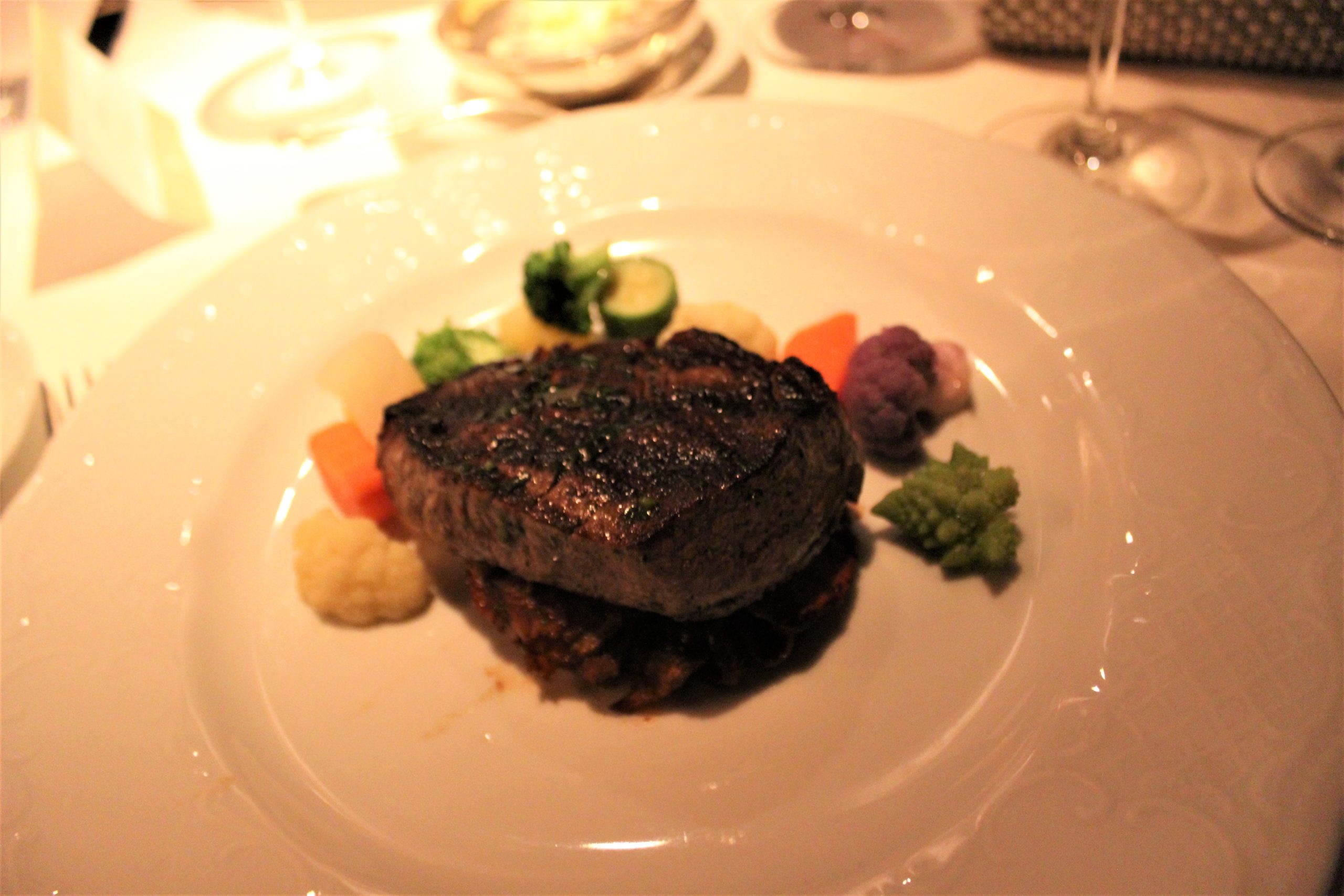 The stand-out main for me was a perfectly cooked fillet of beef which melted in the mouth and we both also enjoyed steak one night, again perfectly cooked. On Thanksgiving, Mr B had the Thanksgiving dinner with all the trimmings and said it was nice eating turkey that was flavourful and not dry!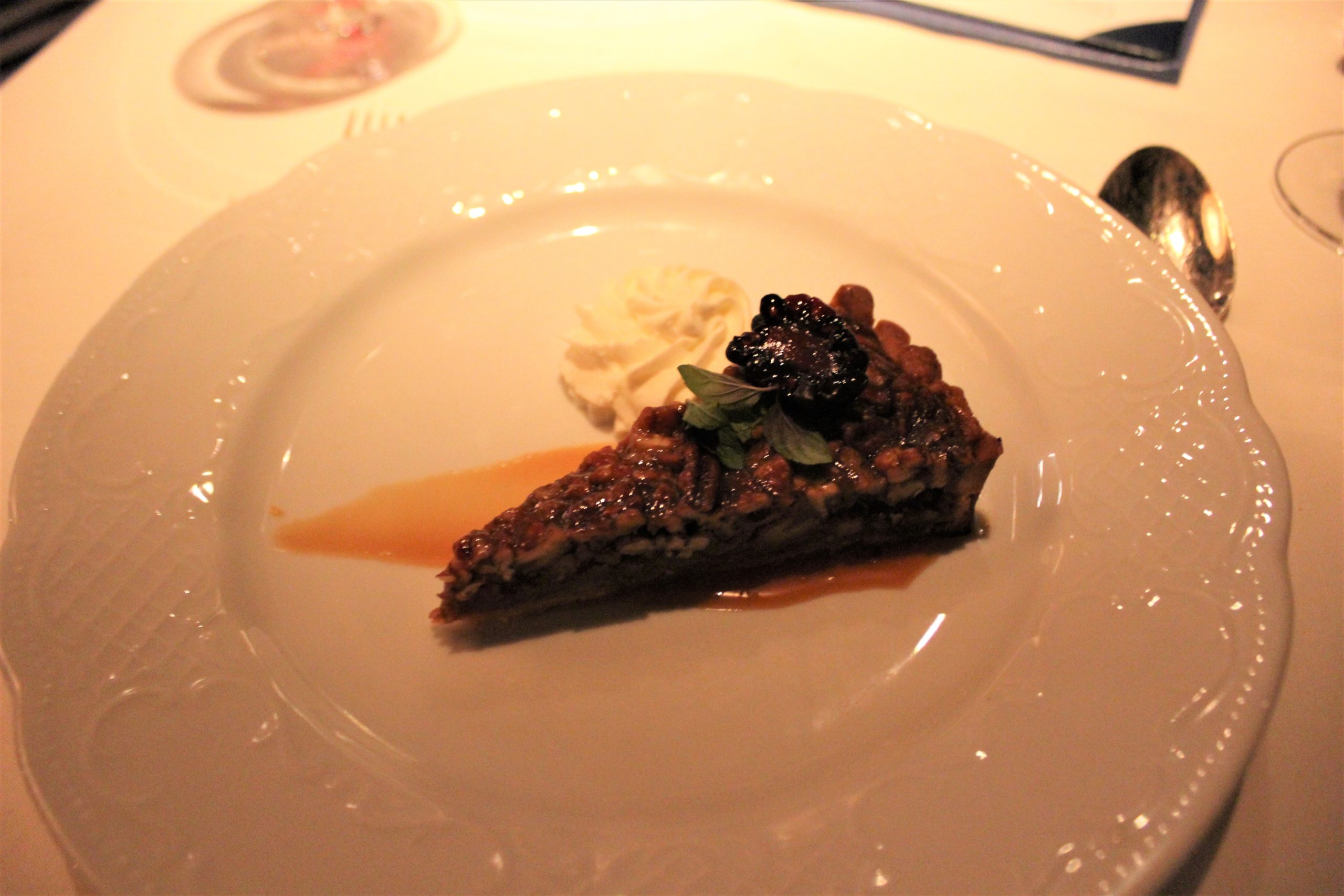 We sometimes skipped dessert and went straight to cheese, but occasionally we had both! Rich molten chocolate cake and a perfectly sweet pecan pie were my two favourites.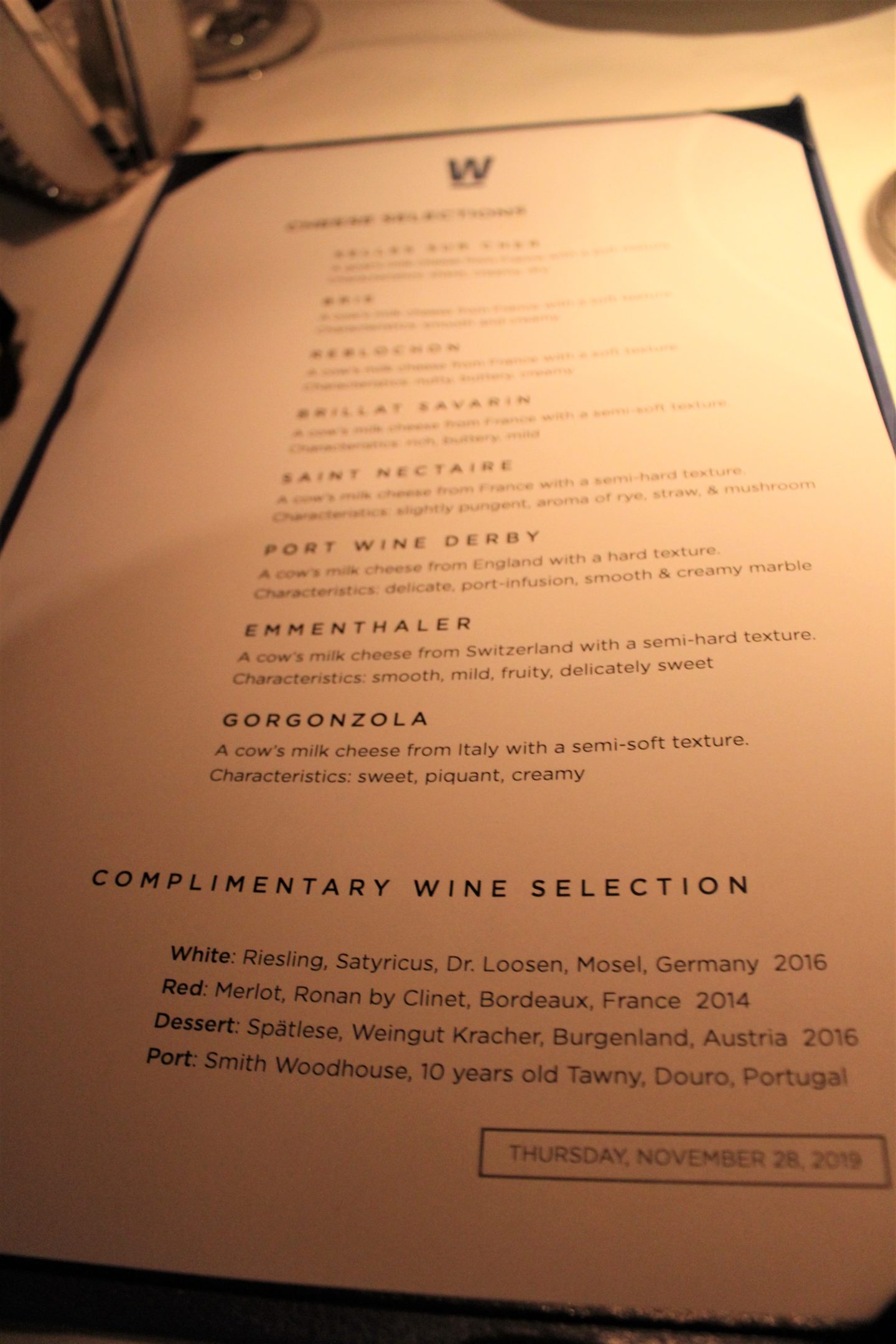 If you love your cheese like Mr B and I, make sure you leave room for cheese at least a few nights. They have a fantastic cheese selection with a menu to help you decide.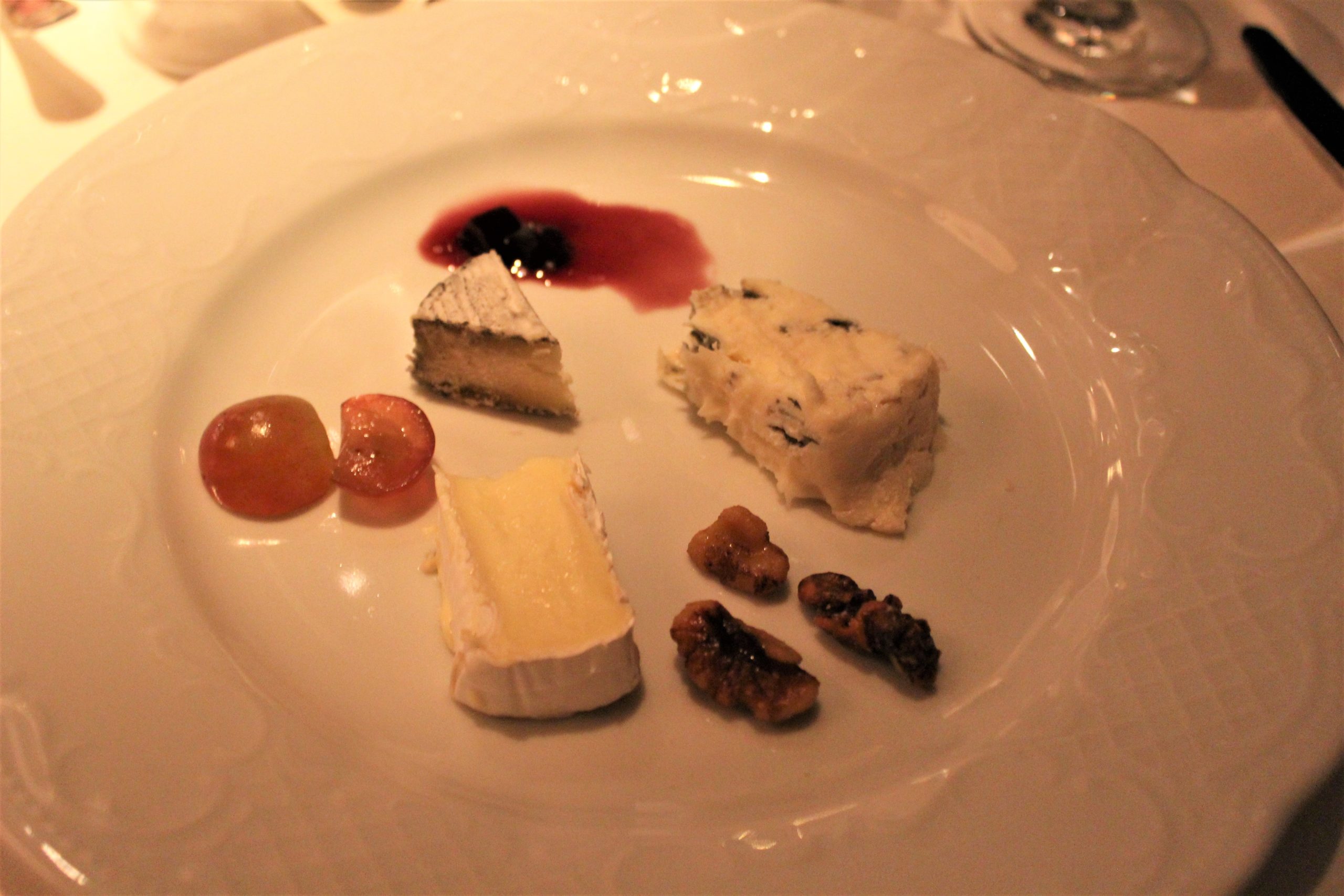 Umi Uma
It's the only Nobu restaurant at sea and the chefs at Umi Uma have been trained by the man himself, Chef Nobuyuki Matsuhis.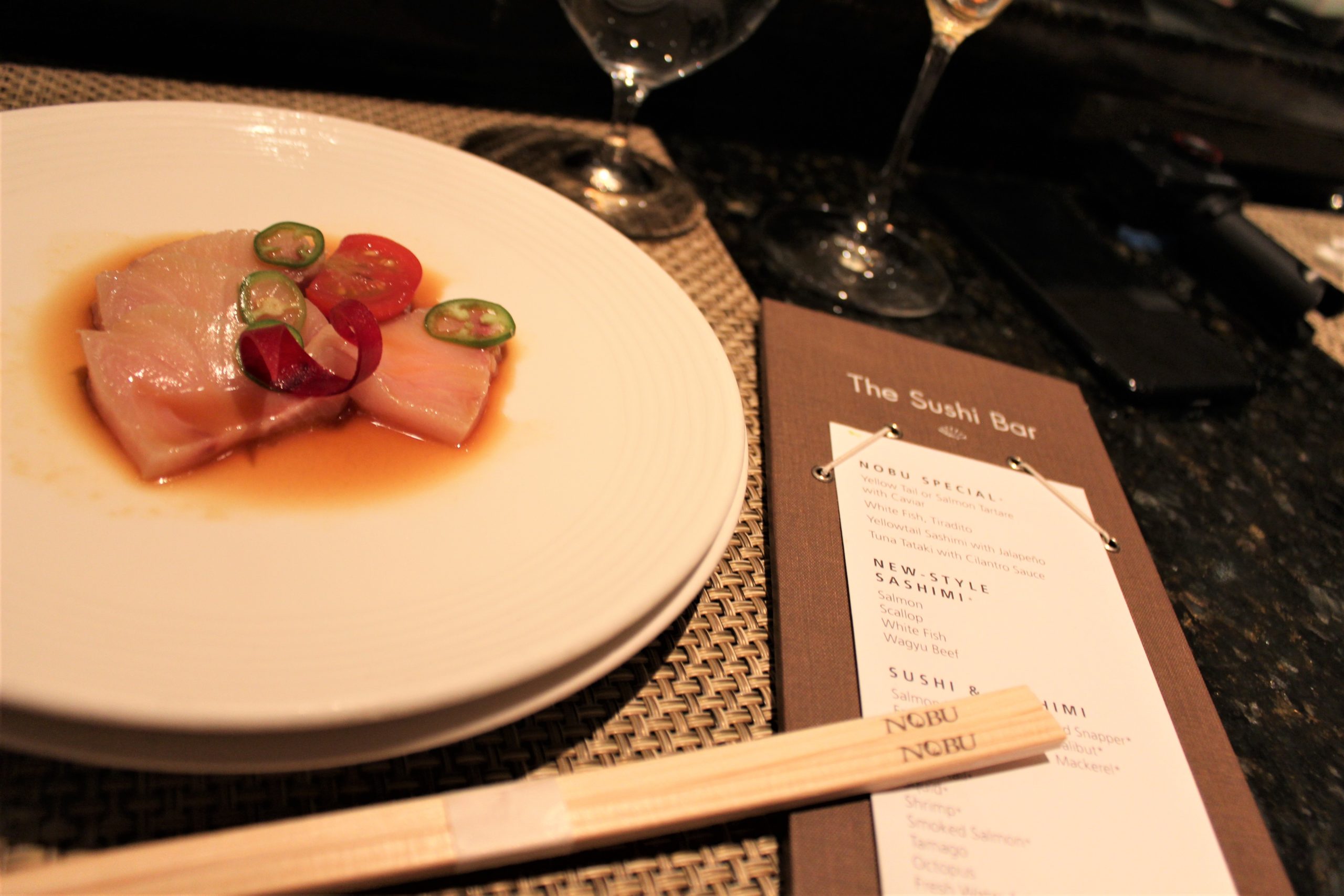 Umi Uma was my favourite restaurant on-board. I adore Japanese food and Umi Uma delivered in every way. From presentation, quality and taste, I loved every dish I had (approximately 24 during our 2 visits!).
There is a sushi bar which doesn't take reservations – it is just pot luck when you show up if seats are available. Luckily, when we showed up for our first reservation, there was free space at the bar! It was a new experience for us and we were lucky that the head chef was carving and making the sushi and sashimi in front of us so as well as being able to watch him work he gave us lots of recommendations, which we took!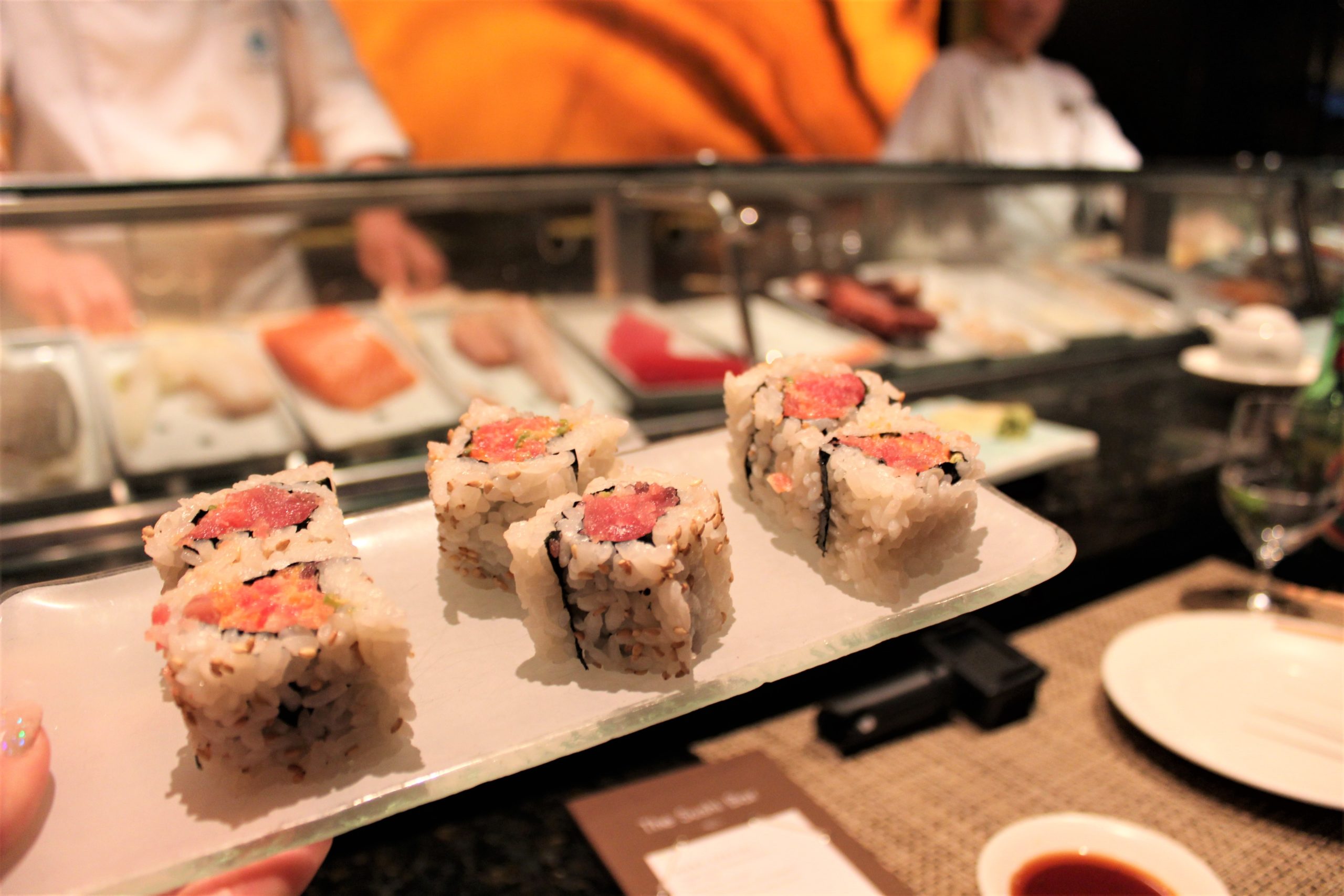 Just a few of my favourite standout dishes were . . . Nobu special, yellow tail sashimi. I adore yellow tail, it's a great sashimi. This was tender and came with a ponzu dressing with jalapenos.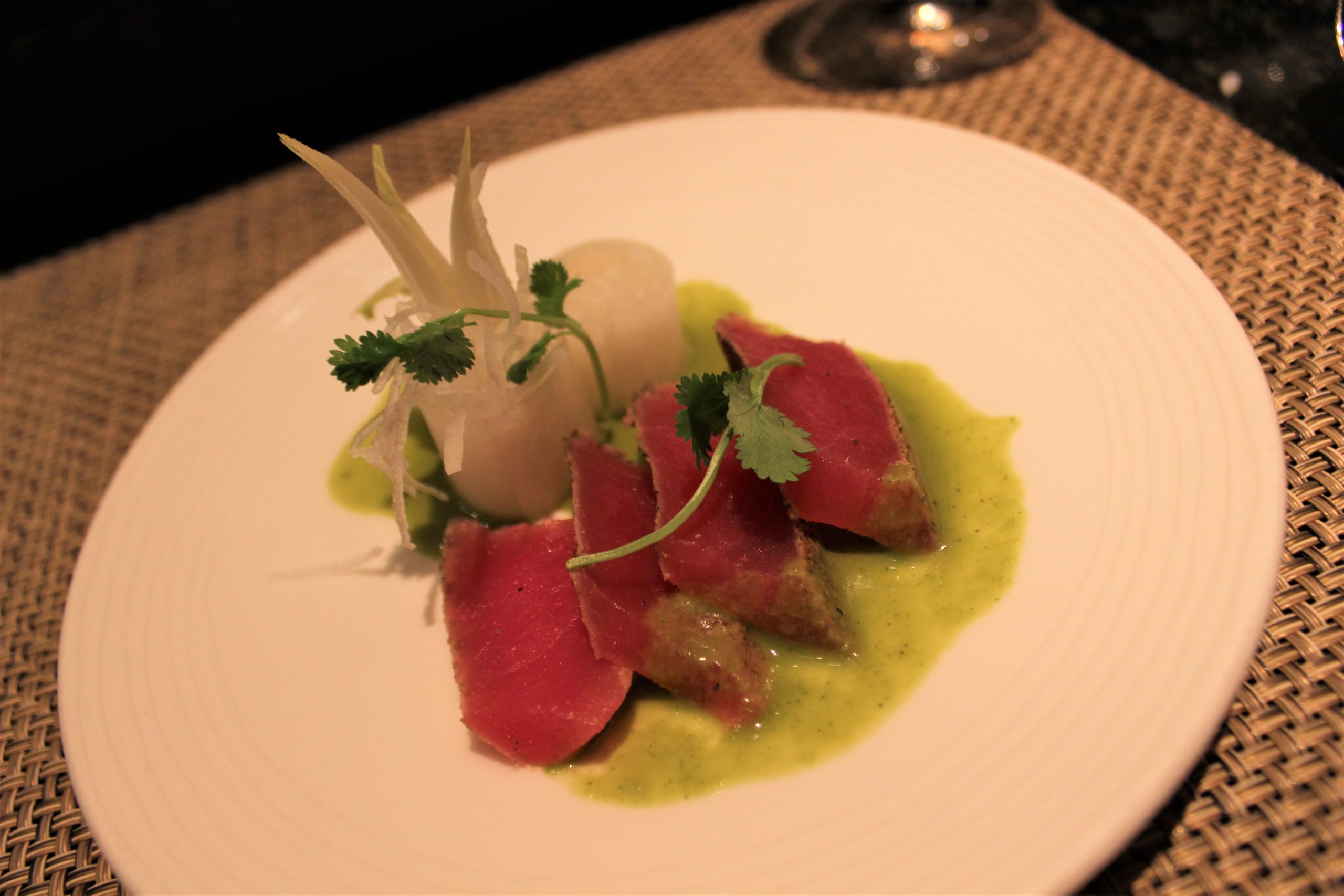 I loved the classic spicy tuna roll and the house special roll which was made with a selection sashimi.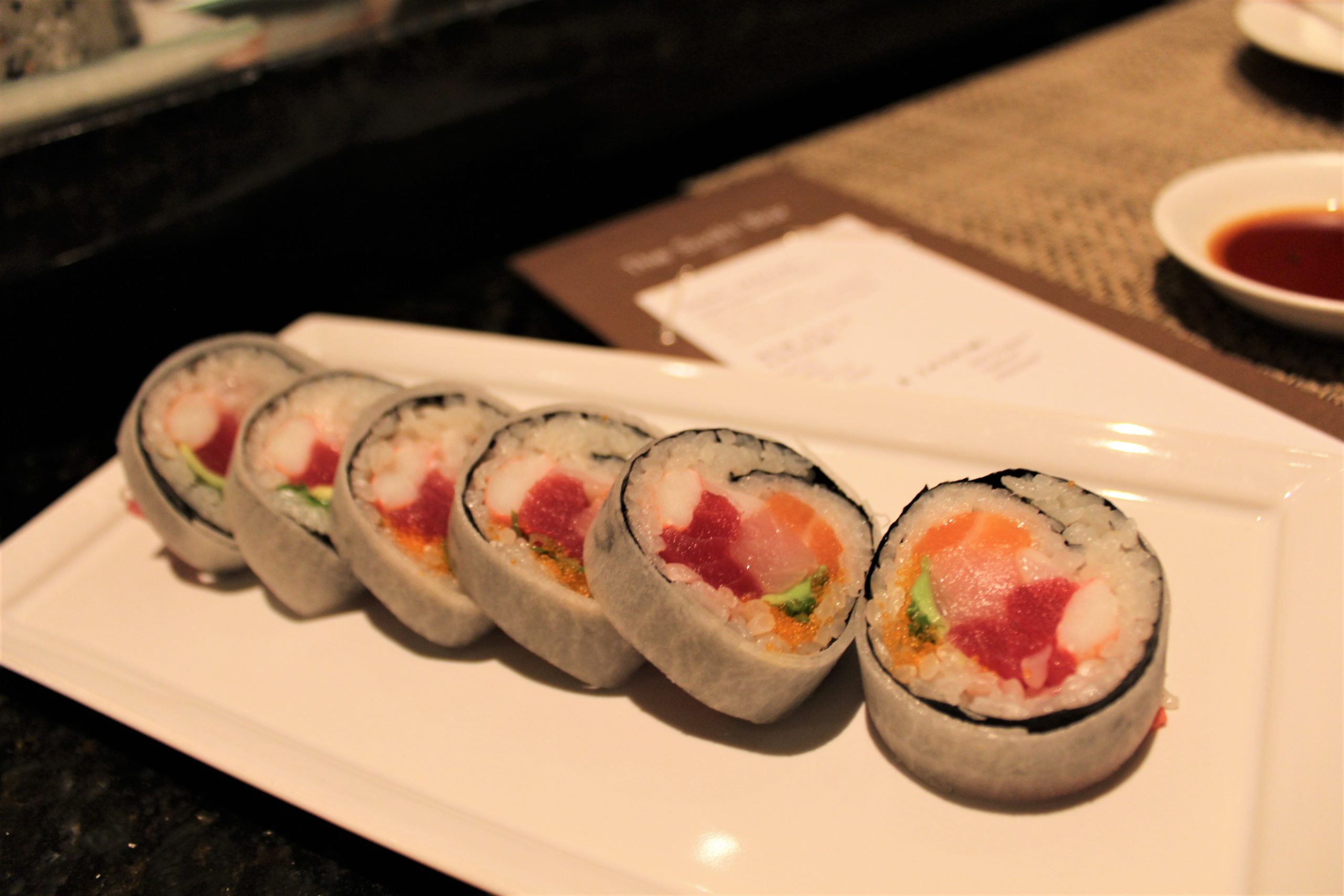 The Nobu-style Lobster tacos were delicious and fun – beautiful delicate lobster in a crispy taco with a slight kick of heat.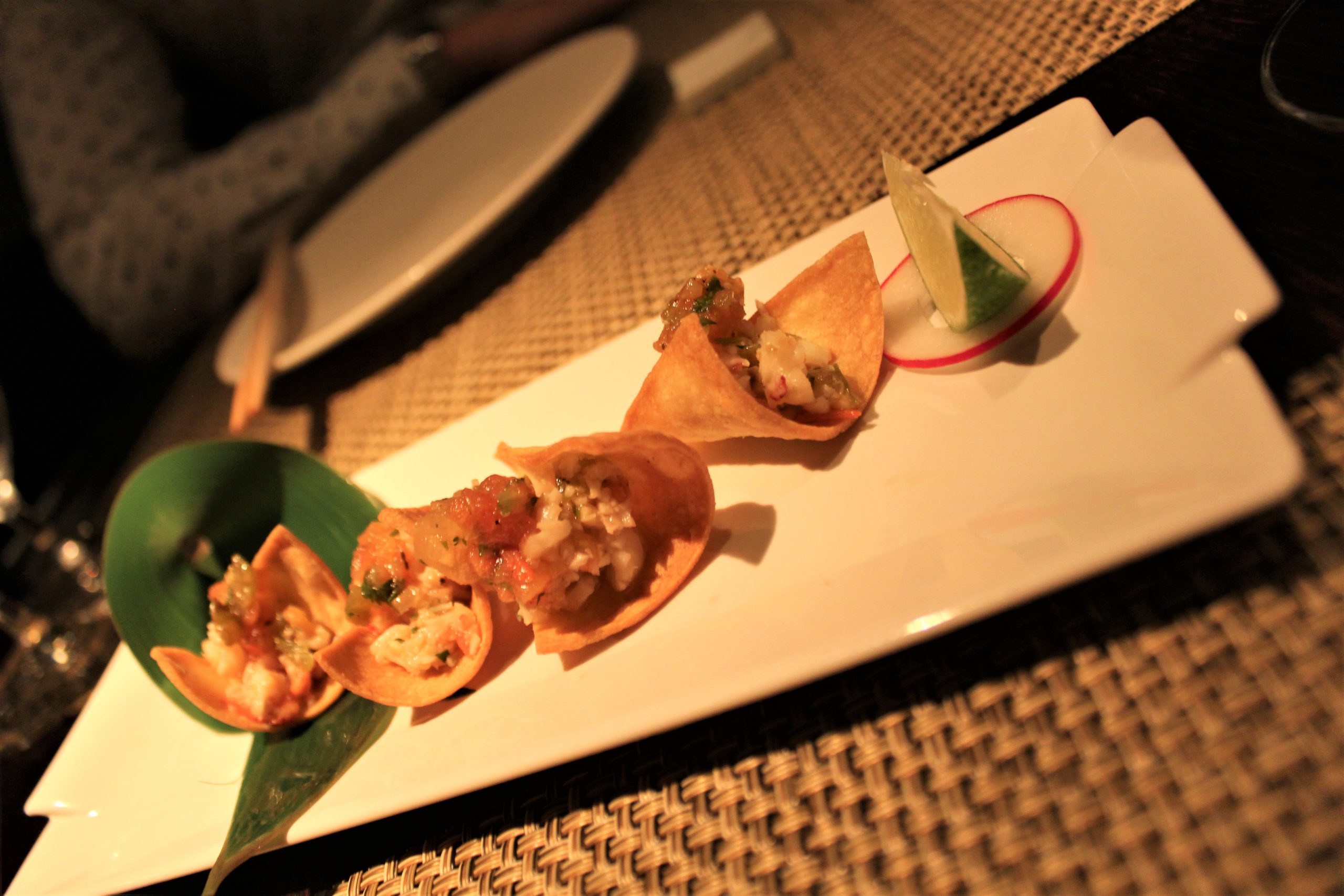 I heard so much about the Nobu-style black cod and I was not disappointed. The cod flaked away at the slightest touch and the miso added a lovely richness and depth of flavour.
The Wagu beef, which we ordered rare, melted in the mouth and came with a great selection of three dipping sauces.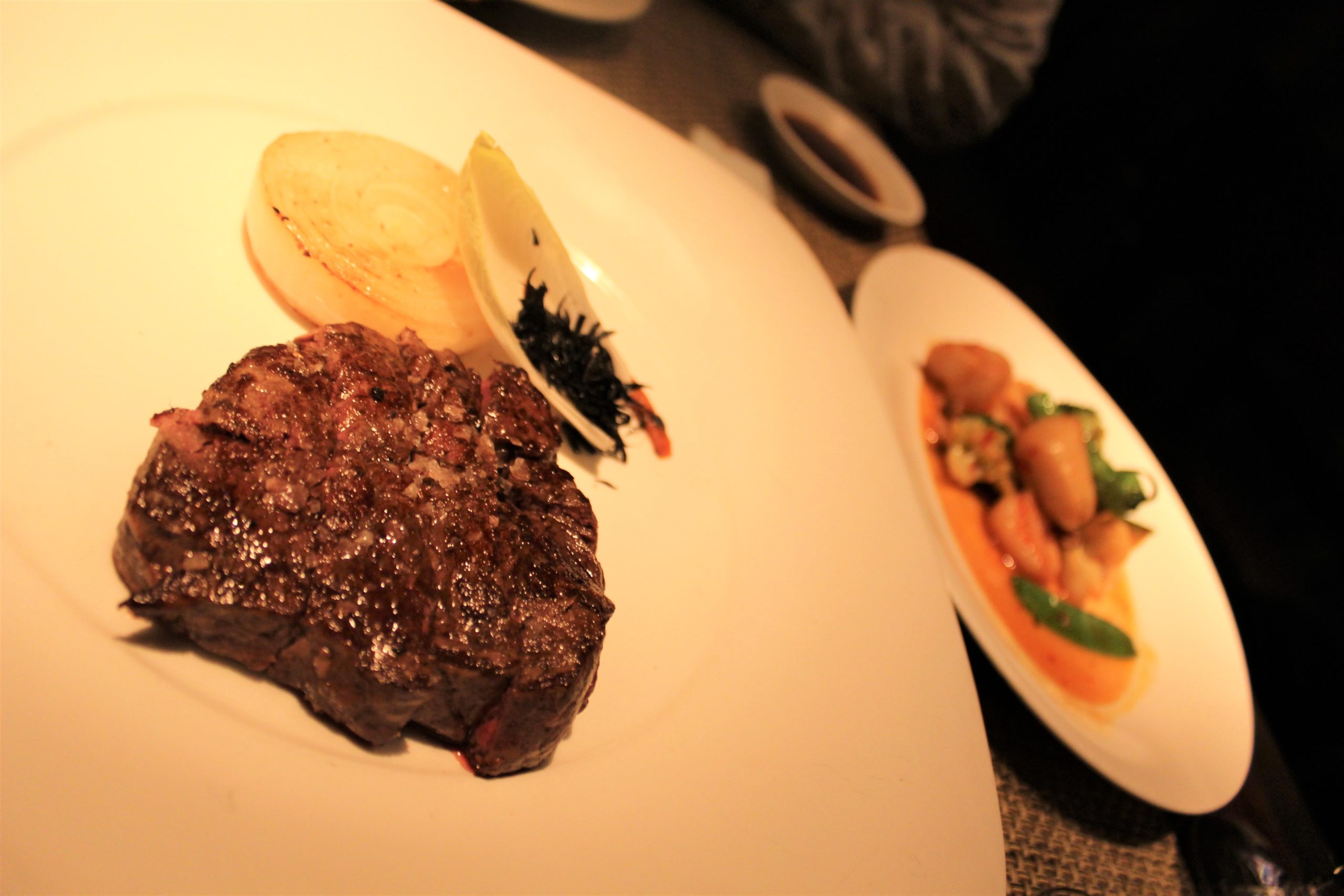 I could honestly go on and probably list every dish we had. This is now my joint most memorable and delicious Japanese meal, tied with Mei Ume at the Four Seasons in London. To me it was faultless.
Prego
Mr B's favourite restaurant and a close second for me! We both adore Italian food and the food we had at Prego was just as good as the food we have had in Italy!
There was so much on the menu we wanted to try that we asked for all our portions to be small so we could order an additional course. You could say we had an Italian tasting menu!
I loved all the dishes but a few of them were extra special . . .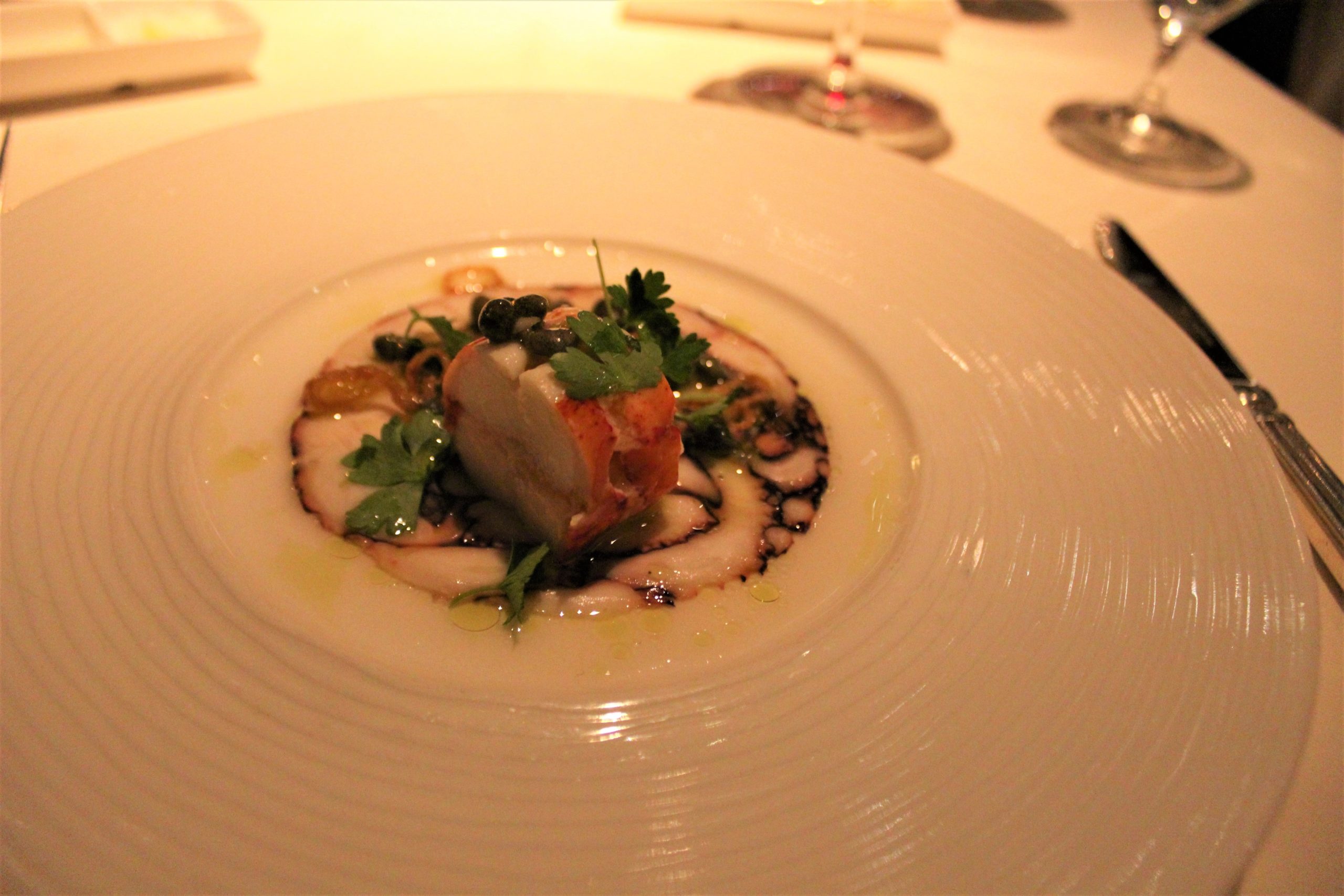 The Black Angus beef carpaccio was a perfect starter. It is prepared and served table-side (I do love a bit of food theatre) and was packed full of flavour from the aged balsamic and the mature parmesan.
The mushroom soup served in its own bread bowl is unlike any mushroom soup you will have had before. It is so creamy and I have no idea how they get so much of that incredible mushroom flavour into it.
The gnocchi was like eating soft clouds. It was served in a spiced Italian sausage ragu which was rich and packed full of flavour. I ordered this dish on both our visits to Prego!
The classic Italian lasagne was without a doubt the best lasagne I have ever had. After trying a bite of mine, Mr B had to order it for himself! The consistency was spot-on and the flavours had me thinking I was back in Italy!
We booked our second visit to Prego on our wedding anniversary. Our table was decorated with streamers and at the end of the meal we were presented with a beautiful 'Happy Anniversary' cake. It was an anniversary meal we will never forget.
Silk
This Chinese-inspired restaurant is open for lunch and dinner.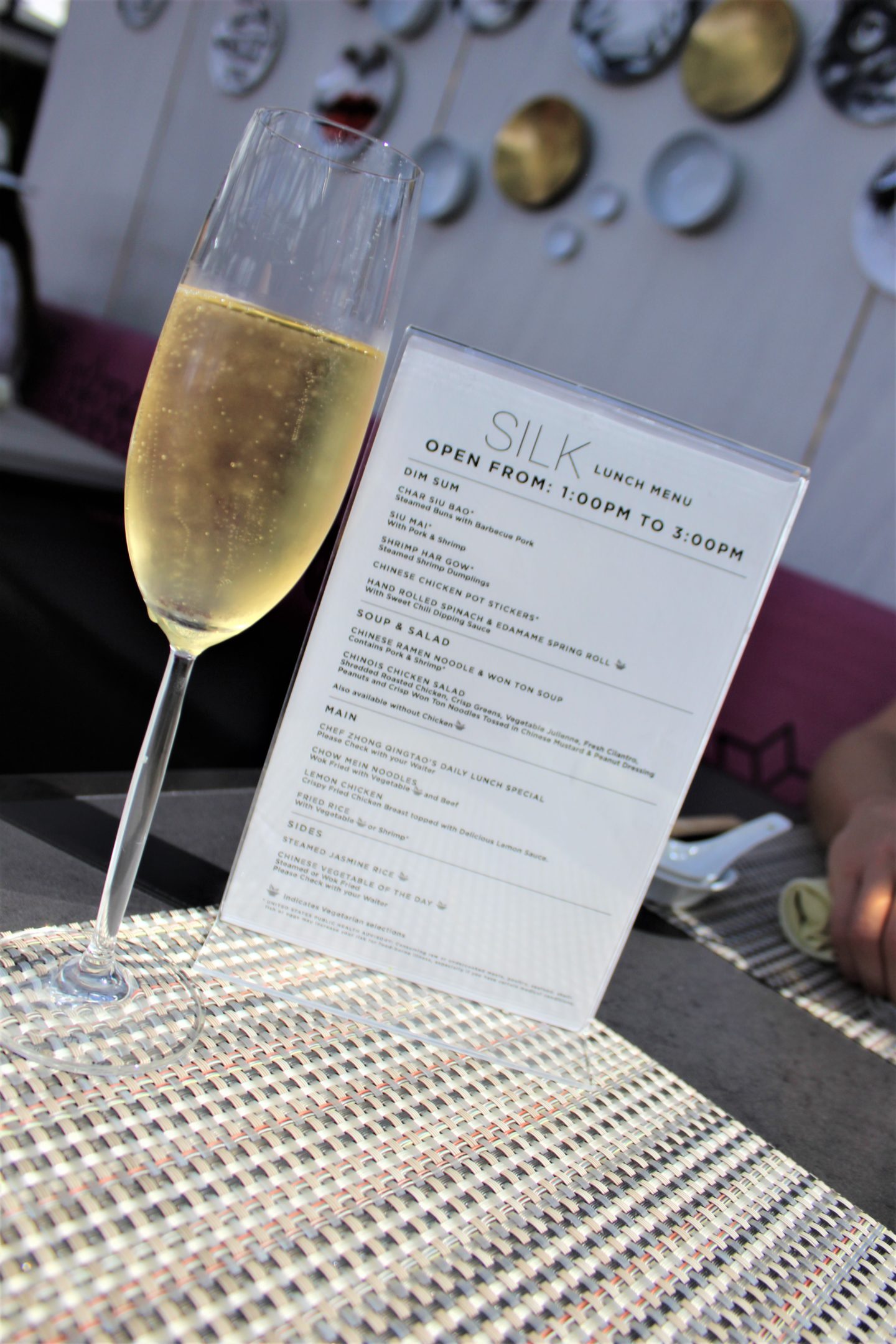 To be honest we heard a lot of mixed reviews about Silk so we went on our first visit with an open mind. Well after our first visit we then went another three times, so I think that tells you how much we liked it!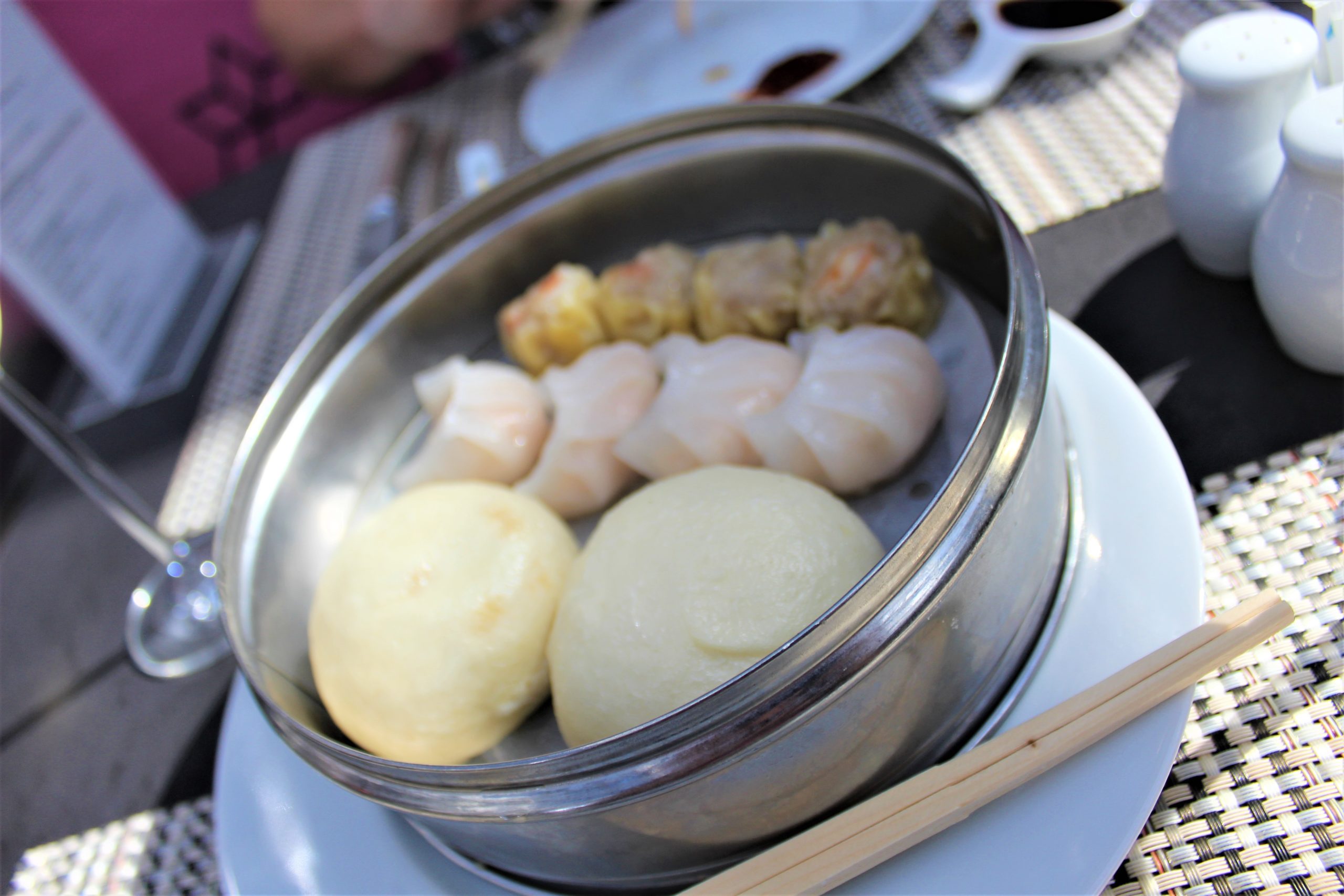 Visiting for lunch, we shared a selection of the dim sum which we couldn't stop ordering and eating! Soft and fluffy steamed buns filled with delicious pork.
Chicken pot stickers – perfect in texture with delicious filling and steamed shrimp dumpling.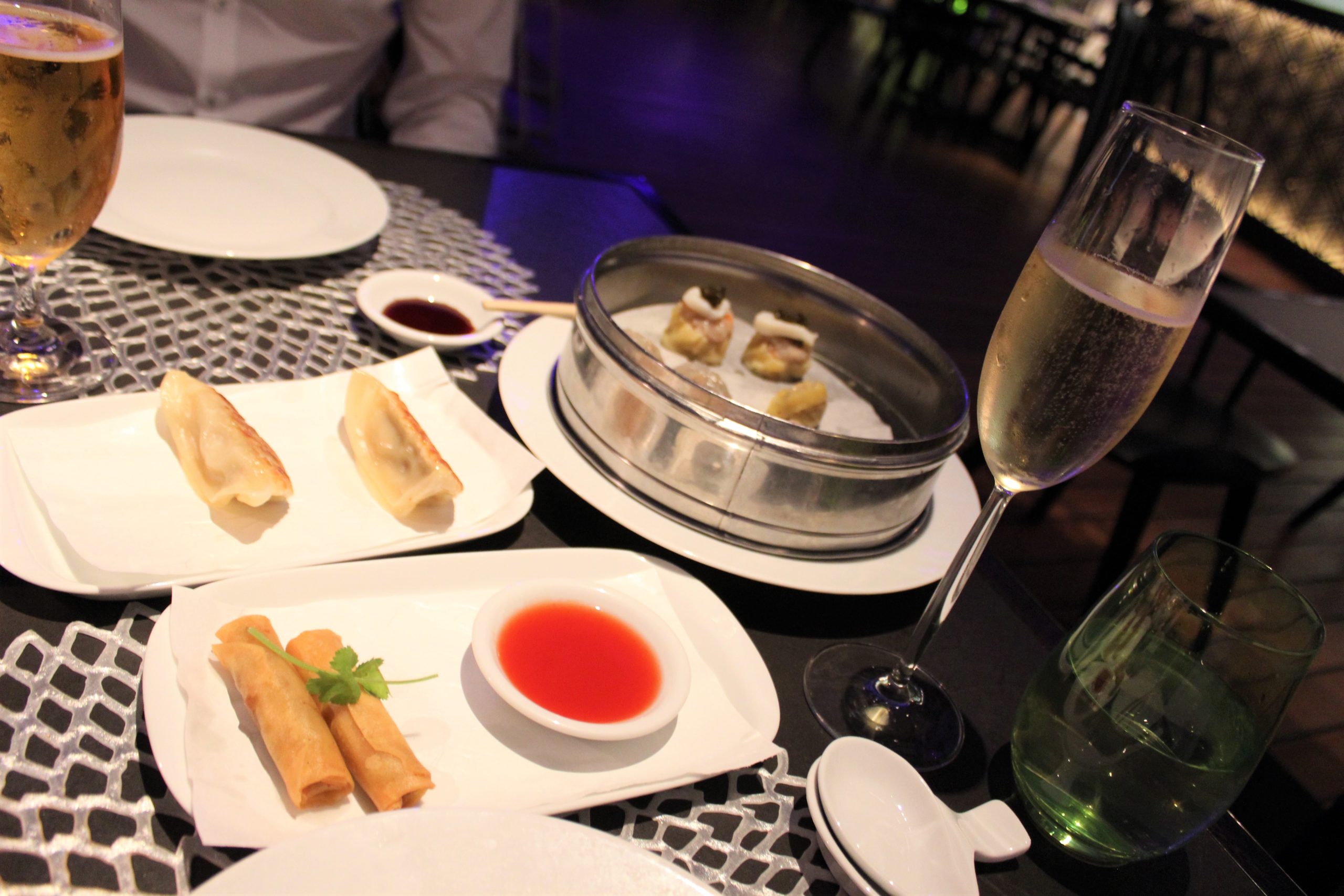 I enjoyed the lemon chicken for lunch on a few occasions. The outside was perfectly crisp with moist chicken on the inside and a balanced lemon sauce that had the perfect mix of sweet, sour and sticky!
Dinner at Silk saw a different menu with more options than the lunch menu. We started again with more dim sum and dumplings!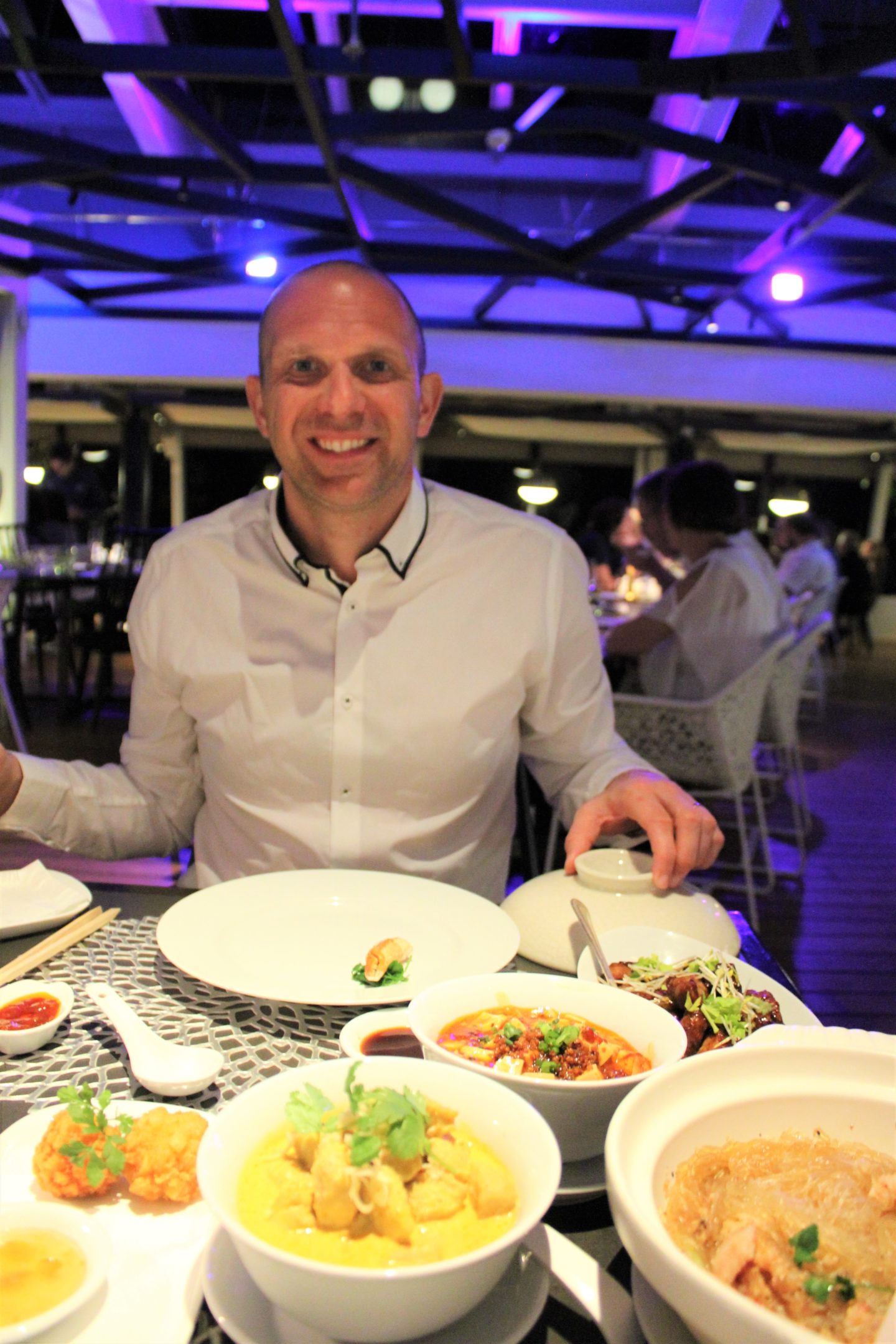 We shared a selection of mains and my favourite was the delicate snow crab vermicelli clay pot, sweet crab meat, which was delicately spiced with tasty noodles.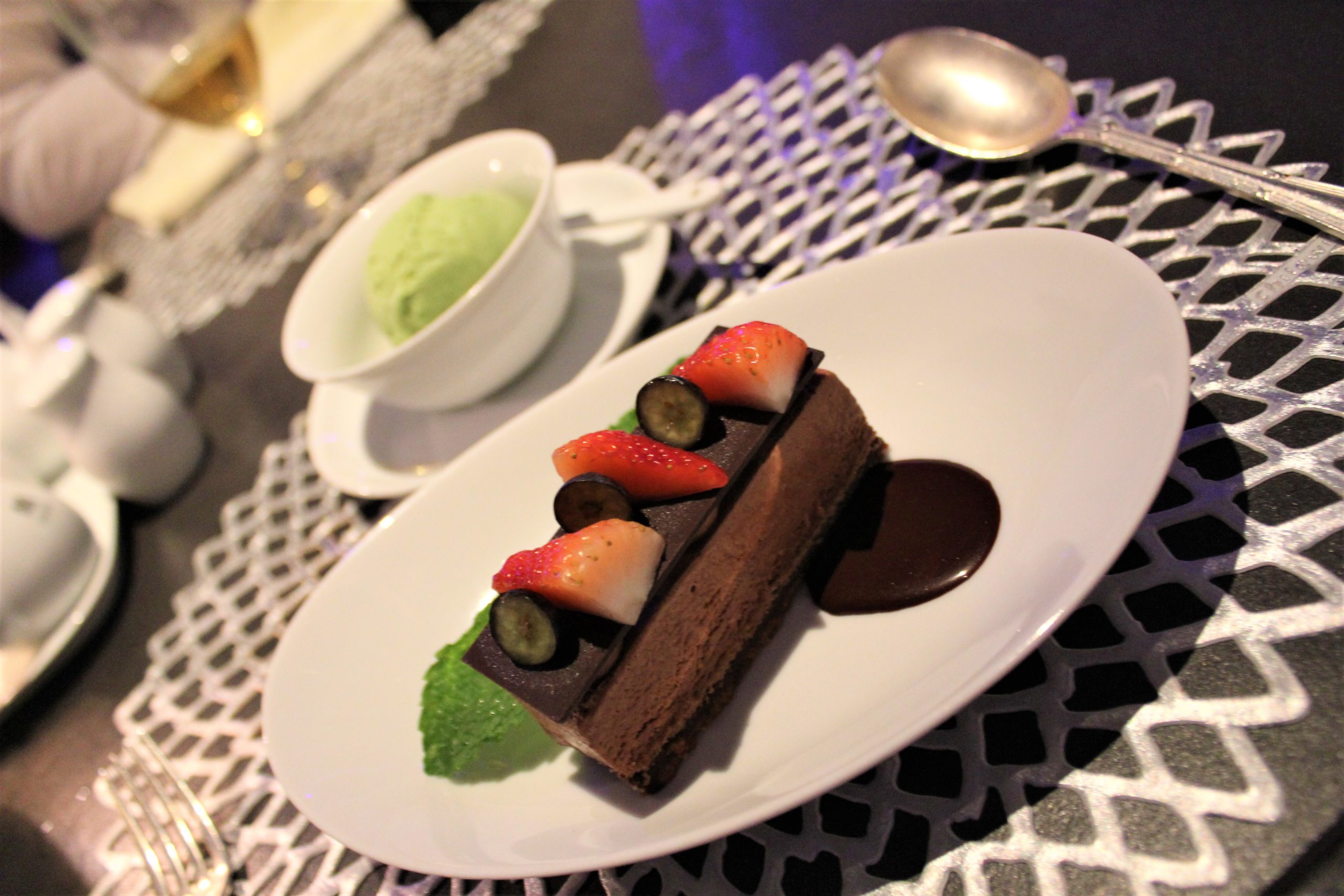 The signature beef stir fry had a stronger spicing and we found the beef to be incredibly tender. We also loved the chicken curry which was packed full of flavour and had lots of sauce which was perfect for scooping up with the fluffy rice.  
Scoops
With 12 yummy flavours of Ben & Jerrys, Scoops was the place to go for a midday treat. I did try to work my way through all 12 flavours but I failed as some of them were so delicious I couldn't help but have them again!
Have them how you please, in a waffle cone or in a tub with one, two or three scoops? And don't forget the toppings – chocolate drops, sprinkles, nuts or my favourite, freshly baked cookies, all topped of with a sauce of your choice!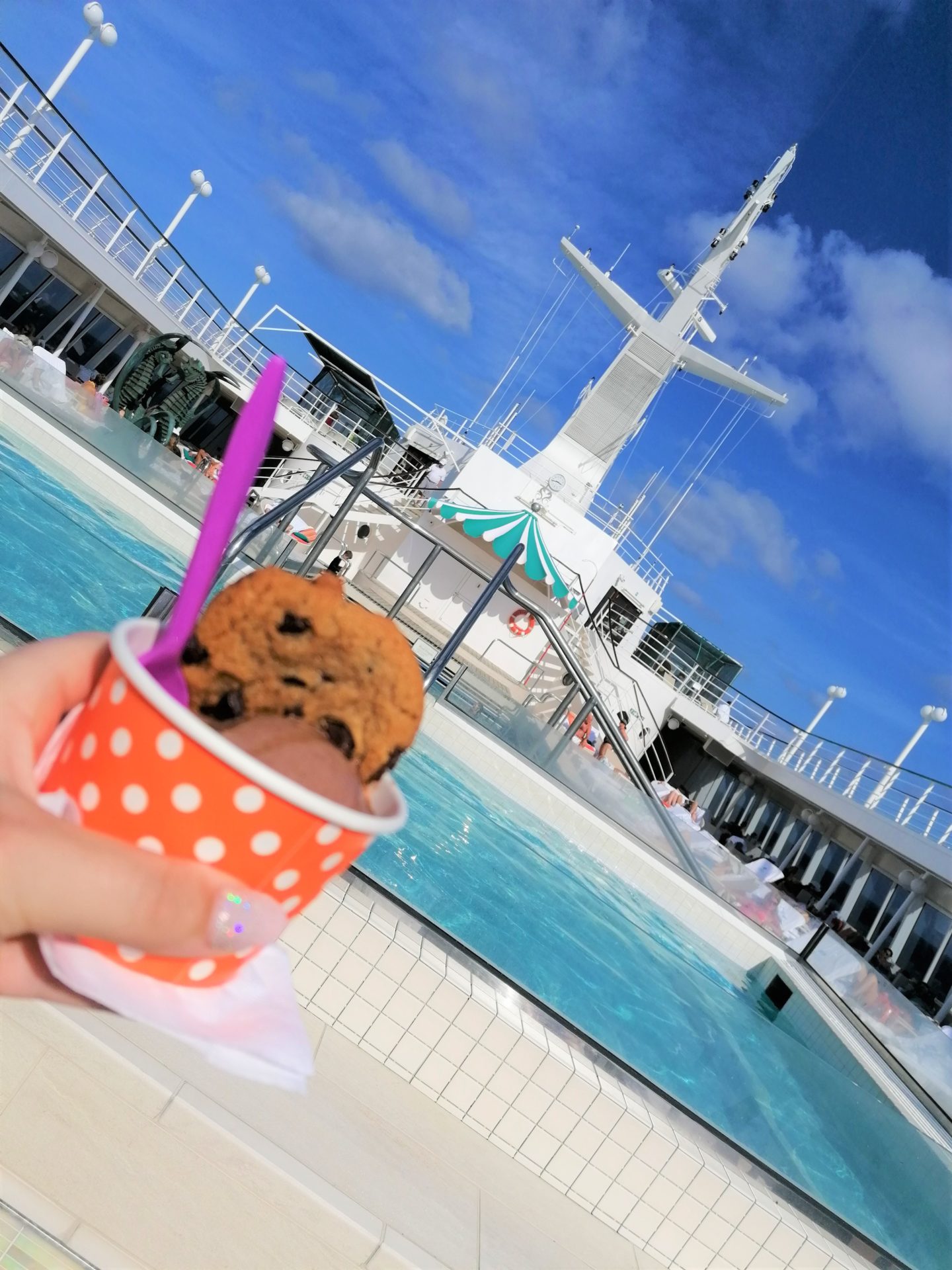 My favourite combo was a tub with one scoop of triple caramel and one scoop of butter pecan topped with a white chocolate and macadamia cookie, white chocolate drops and caramel sauce! 
 Trident Grill
Open for lunch, this is the place we headed for the perfect poolside snack. Juicy burgers, filled wraps and fresh pizzas, oh and don't forget the sweet potato fries. Trust me, you won't regret ordering them!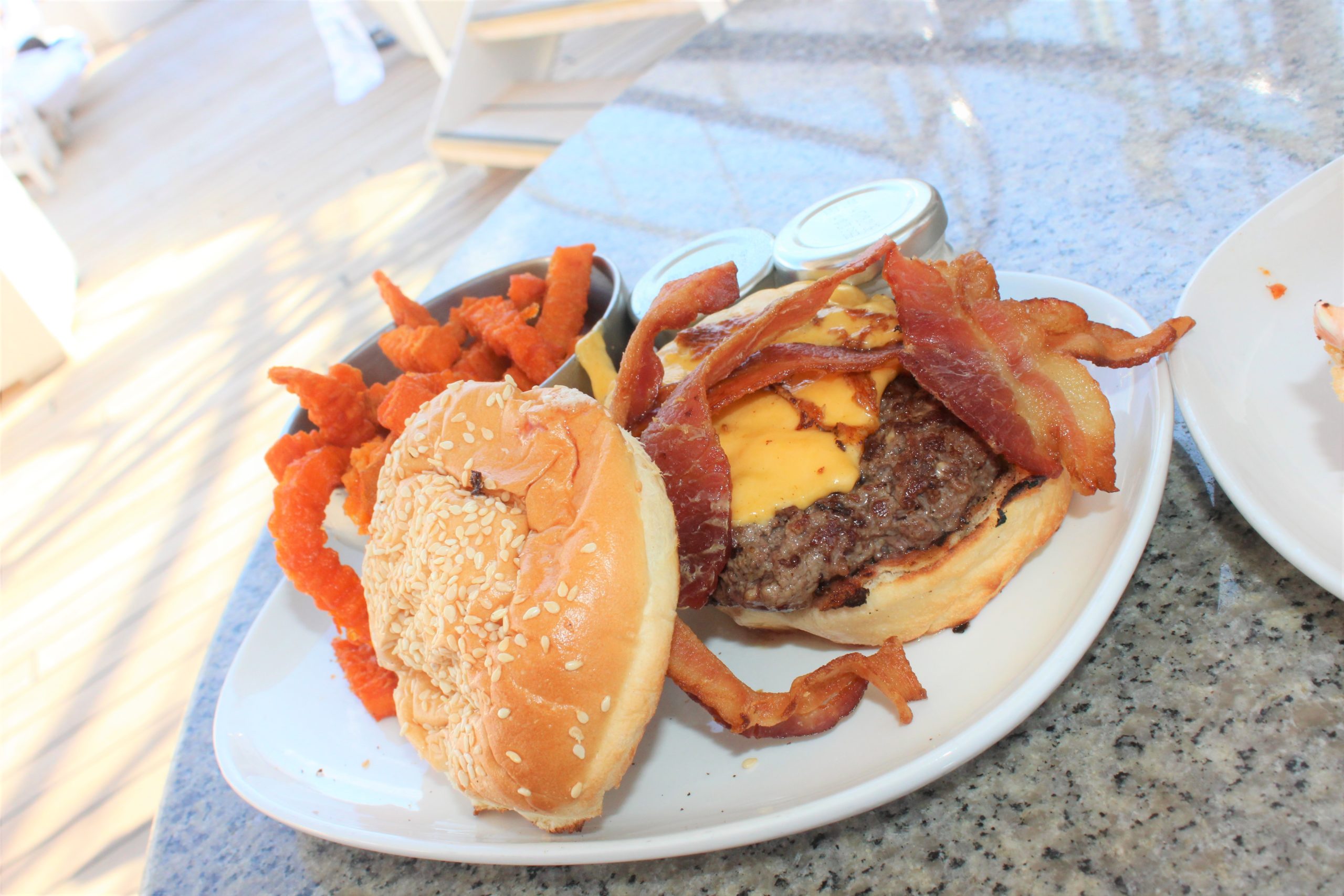 My favourite lunch was a hamburger cooked medium with cheese and crispy bacon, which was delicious!
They also offer a late-raisers breakfast from 10am to 11am.
Bistro
Open all day, the bistro is the place to go to grab a latte and breakfast pastry in the morning. Or maybe an iced coffee and pasteis de nata (Portuguese tart) in the afternoon or a glass of wine and perhaps some cheese and meats in the evening?
We didn't frequent the bistro often to sit and eat, but we did have quite a few different coffees. Mr B and I both liked the quality of the coffee on-board and I like that you have the option to have it in the bistro or to take away.
Room Service
Mr B and I have always loved room service as a treat when we are away and we certainly made the most of it on this cruise. Room service is available 24-7 in your stateroom.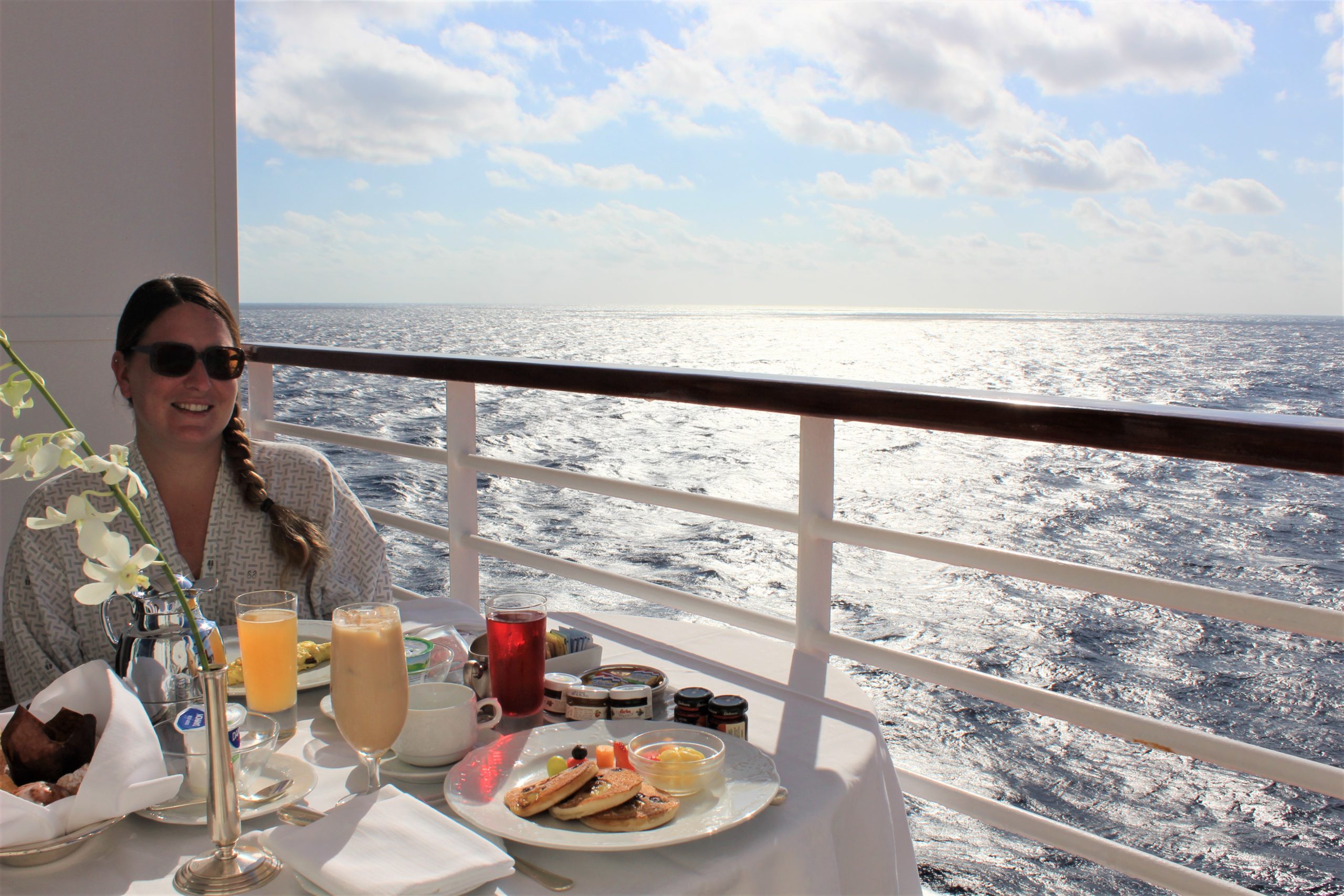 We had some delicious breakfasts on our balcony and a few times we even ordered things that weren't on the breakfast menu which wasn't a problem. From filled omelettes to smoked salmon, avocado and poached eggs always served with an iced coffee for me and English breakfast tea for Mr B.
I loved the attention to detail. Even when eating in our room the table would be laid with white linen and silver salt and pepper pots. Dining in our room still felt as special and luxurious as dining elsewhere on the ship.
We also had a few lunches in our room which we hadn't pre-ordered. We just called room service and not long after had a knock at the door with our freshly-cooked lunch.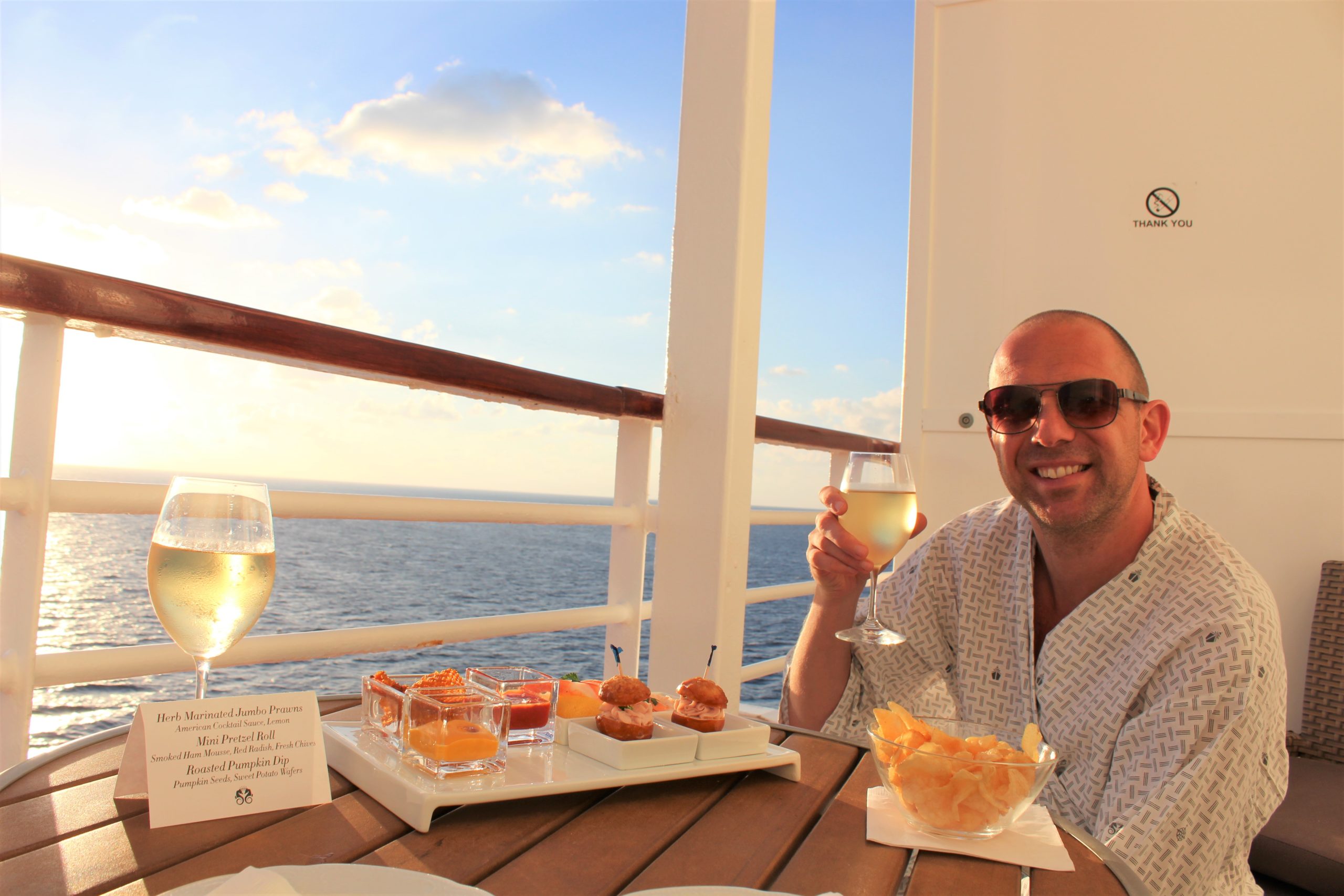 I also made a few 2am phone calls for cheese and ham toasties which, trust me, really do the trick when you have had a few too many cocktails or gin and tonics!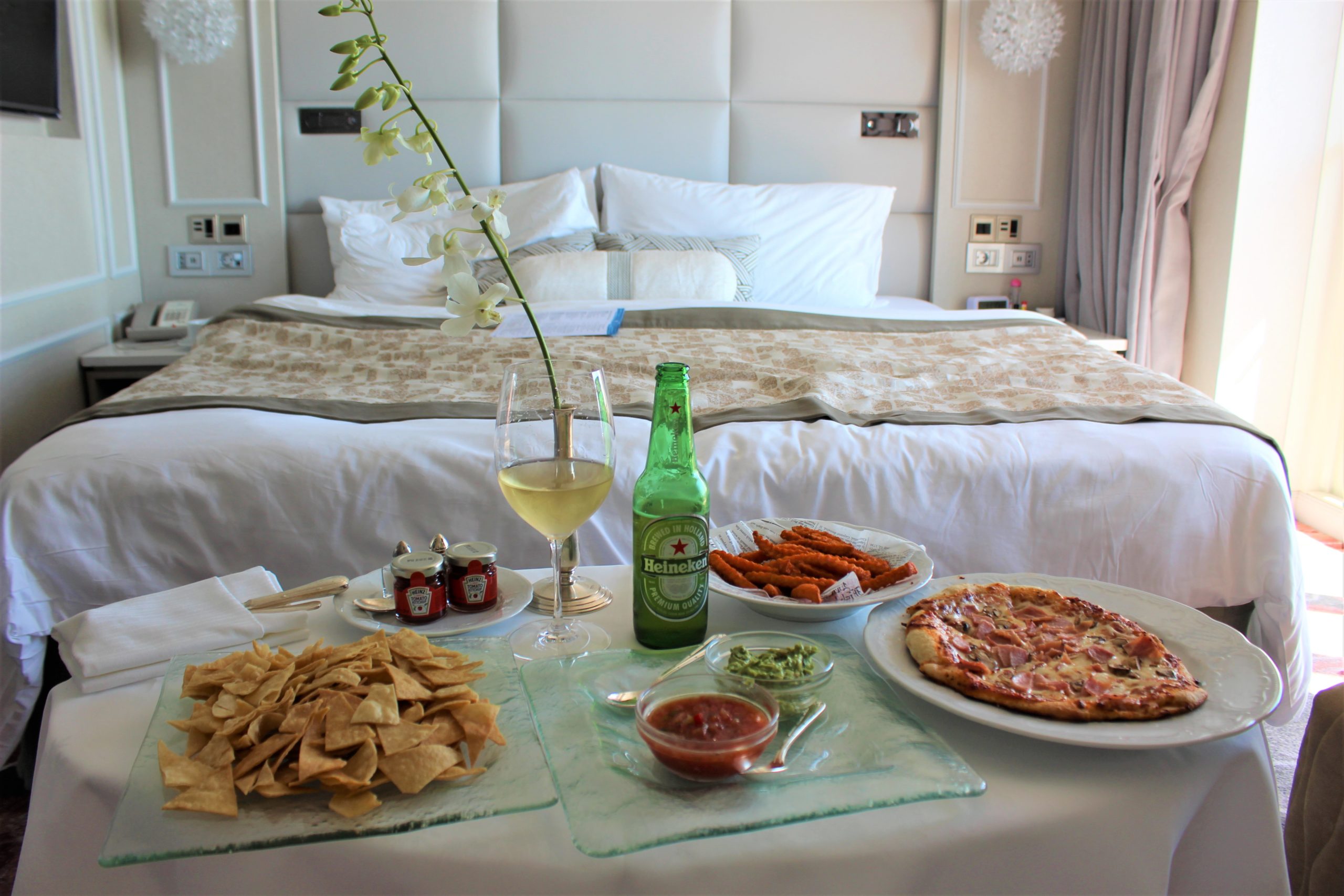 Believe it or not there are even more dining venues on-board that we didn't get chance, or chose not to, frequent. Here are the other options on board . . .
Marketplace and Churrascaria
Marketplace by day – head here for the buffet breakfast and lunch. We did have a walk around here at lunch to see what was on offer and there were quite a few options, such as a large salad selection, cheese and tempting desserts. Hot options were pastas, meats, rice and potatoes.
In the evening it transforms into Churrascaria, a Brazilian steak house were starters and sides are served buffet-style and a range of meat and seafood is brought to your table and carved and served table-side.
Palm Court
A beautiful venue on board. As well as making fabulous cocktails in the evening (I can vouch for that!), in the day, afternoon tea is served in Palm Court. I did want to try the afternoon tea, however, on this cruise it didn't work with our schedule and with all the other food we enjoyed I'm not sure how we could have fitted it in!
The Vintage Room
The ultimate wine pairing dinners. There is a supplement, but from what I have heard if you are into your wines or are looking for a special dinner and wine experience, this is the one for you. Pairings can feature some of the rarest vintages in the world. This is definitely on my list for our next Crystal voyage!
Night time snacks
Just one of the small extras that I wasn't expecting where Crystal surprised me is the late night snacks. Sitting in one of our favourite bars on-board listening to some wonderful live music, sipping on a perfectly-made cocktail late in the evening, 'snacks' would be brought round, from slices of pizza, mini toasted sandwiches and freshly-baked cookies!
So when I have been telling people you will never be hungry sailing with Crystal and how we found the quality of the food to be outstanding, maybe now you can see why . . .
Have you read my other Crystal Cruise posts? Want to have a look inside the ship and our Seabreeze penthouse suite? https://thetravelsofmrsb.com/2020/02/04/a-week-of-luxury-on-crystal-symphony/
Go here to read about our Caribbean itinerary . . . https://thetravelsofmrsb.com/2020/02/06/sailing-around-the-caribbean-on-crystal-symphony/