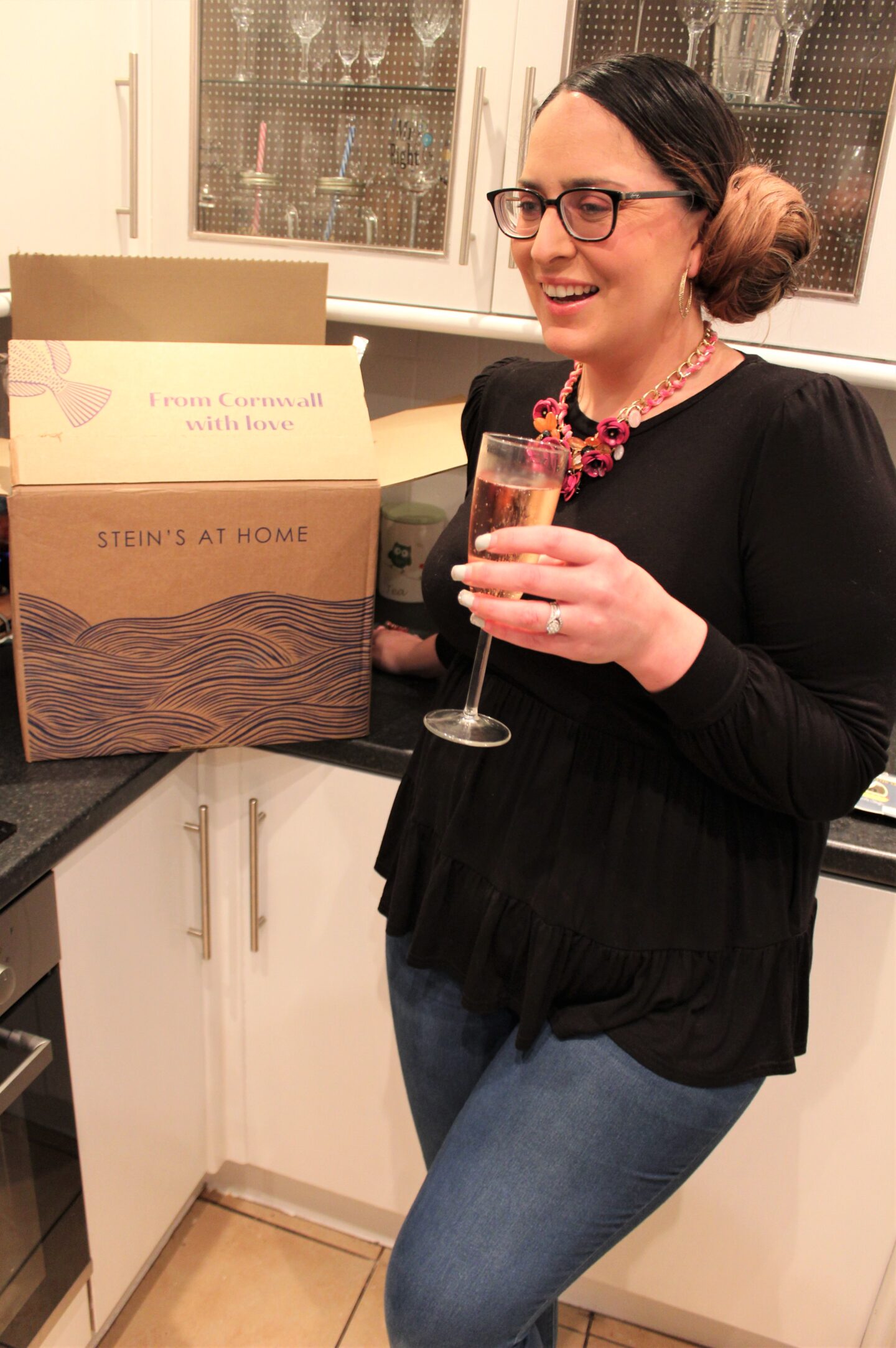 Mention Rick Stein and most people will think of Cornwall and seafood, and that is exactly what I was expecting when we had a Stein's at Home box!
Of all the 'at home' meal boxes we have had Stein's at Home offers the most choice. From an opulent lobster box to a weekend breakfast box, there is a good choice and something for everyone, not just us seafood lovers.
Our box arrived well packaged with all the ingredients in a cool bag with reusable ice blocks.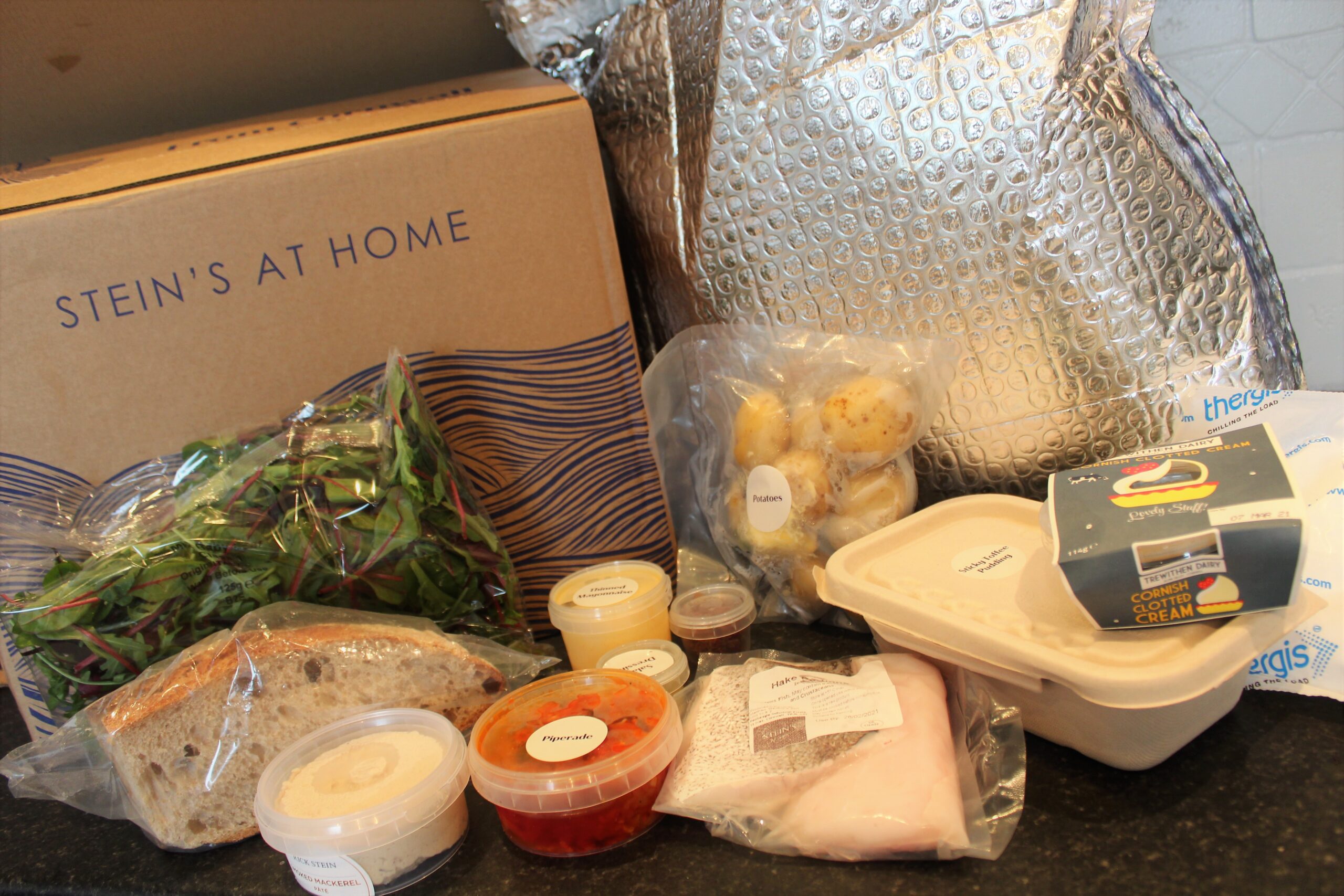 Something a little different which I really liked was the A4 menu which was provided, with cooking instructions on one side and the menu on the other. It was a little touch which gave us the restaurant feel which is really what these boxes are all about for us as we are missing restaurants so much!
There are videos available by chef Jack Stein which you can watch to show you how to cook and prepare your box, but honestly do not worry as this box was very easy and stress-free.
We chose the Stein's at Home Hake menu which came with three courses and promised a taste of Cornwall. Our starter was 'Rick's Smoked Mackerel Pate with sourdough bread and mixed leaves'.
Mackerel is Mr B's favourite fish so he was very much looking forward to trying this.
Plating was an absolute doddle – we simply just sliced and toasted our lovely fresh sourdough, put the provided salad dressing on the leaves and plated up, that simple!
The pate was a beautiful texture and packed a real punch of flavour, the mackerel being the most dominant, which tasted lovely and fresh. This starter was a winner for both of us.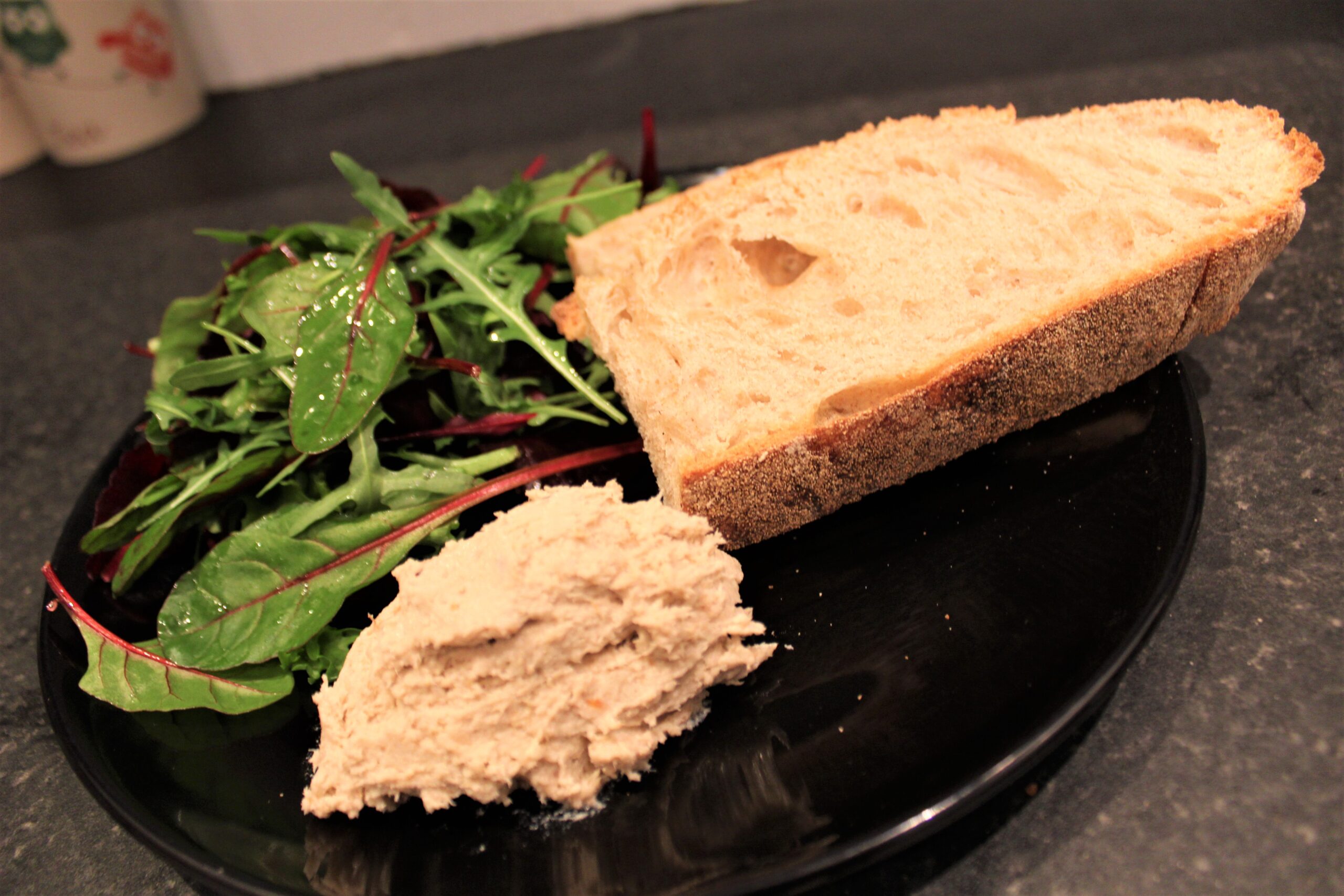 Next up was our main course of Cornish Hake. The dish was 'Grilled Hake Piperade with serrano ham and a lemon and pimenton thinned mayonnaise'. With two nice-sized portions of hake the cooking was simple – after a quick season we just popped them under the grill skin-side-up for six minutes. The potatoes were popped in a pan of boiling water for 10 minutes. There is no need to take the potatoes out of the bag which already contains butter and herbs – you just pop the whole bag in the pan. The piperade is warmed up in a pan and the thinned mayonnaise is popped in a bowl of hot water, and that's your lot! It was really simple to prepare, just a case of cooking the fish and warming up the other elements.
If I do say so myself, the hake was cooked to perfection – the fish flaked apart and was very flavourful. The piperade, which is made up of onions, peppers, tomatoes and spices, added a lovely punch of spice and sweetness to the dish without being overpowering. I could taste the lemon in the mayonnaise which, of course, went very well with the hake.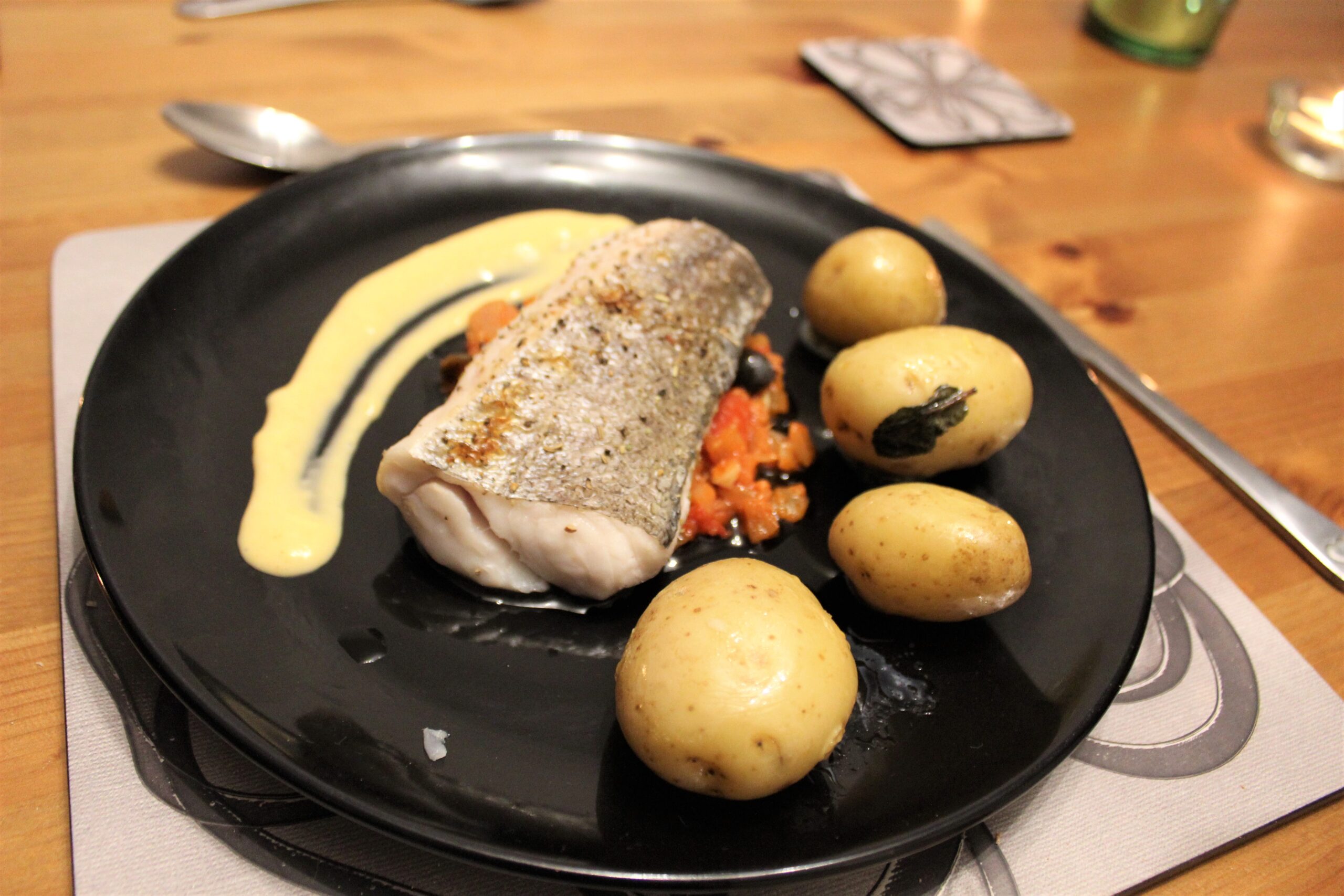 We thoroughly enjoyed the main course – the meaty hake was a great fish full of flavour.
Dessert was 'Sticky Toffee Pudding with Cornish clotted cream'. Can you ever go wrong with a homemade sticky toffee pudding? The answer to that is no! You can warm the pudding up in the oven or simply pop it in the microwave for three minutes. Top with a generous scoop of luscious clotted cream and you have yourself one very delicious dessert!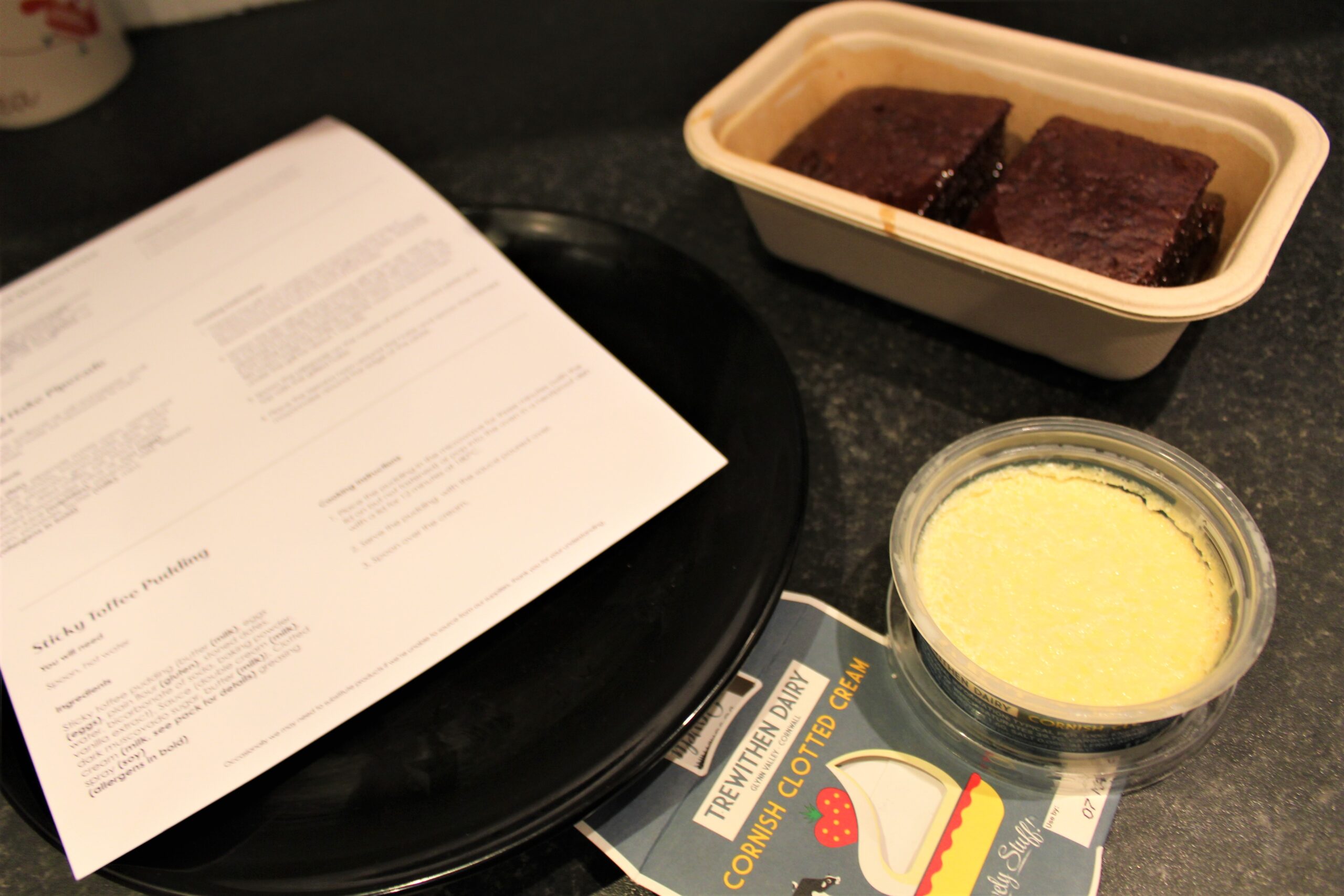 This comforting dessert was faultless and it couldn't have tasted any better. It was probably one of the best homemade sticky toffee puddings we have had! We had two very clean plates not long after this was put on the table!
Any seafood lover would really like this box. It was a great price compared to other boxes we have had and was all about the fresh local Cornish ingredients. A big thumbs-up from us and when we are back in a seafood restaurant one day we will definitely be keeping an eye out for hake on the menu as it was such a great tasting piece of fish.