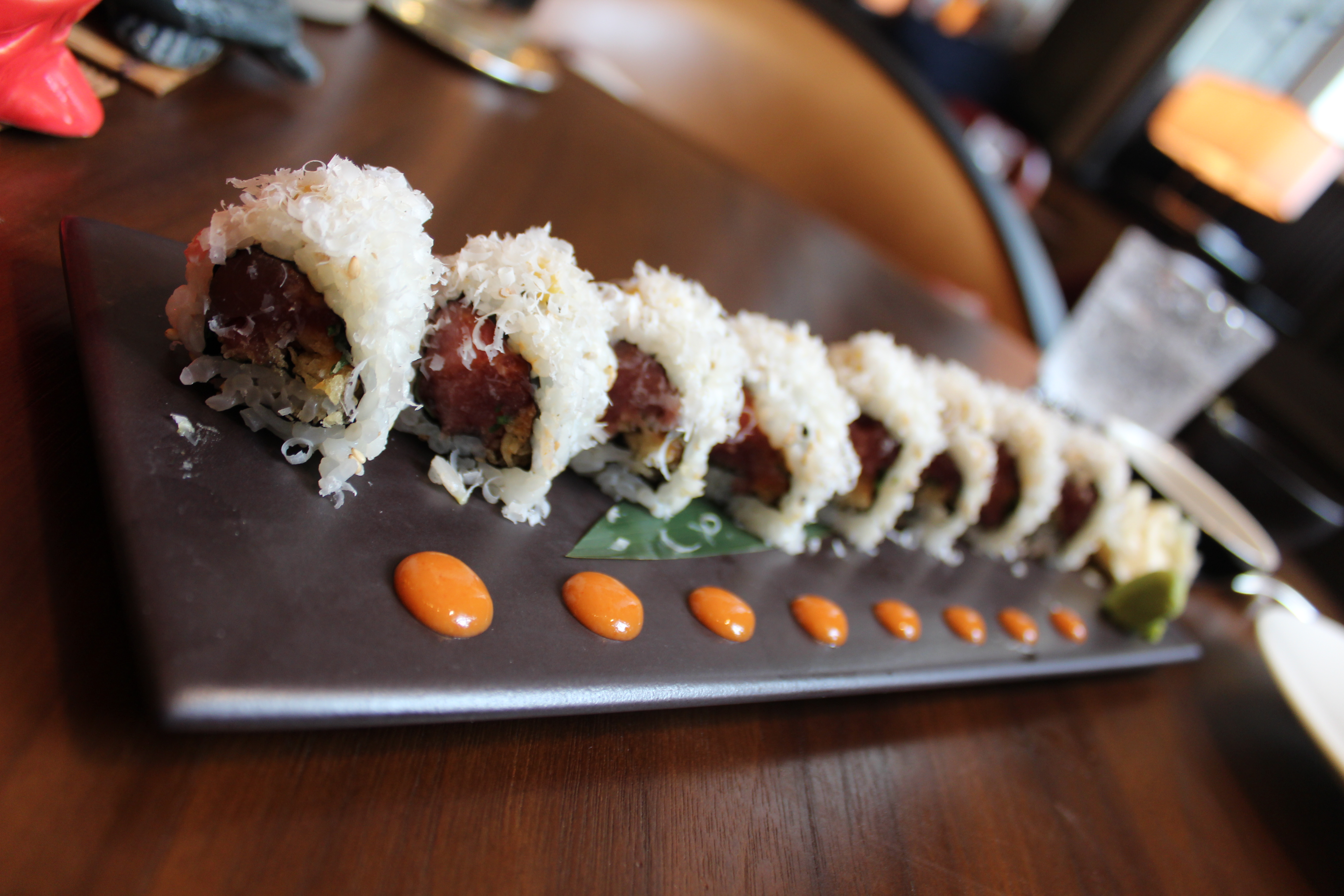 I love Japanese food, it's up there with one of my favourite cuisines so I was super excited to go to Mei Ume. Mei Ume is located inside the Four Seasons at Ten Trinity Square. It only opened in June of this year and I have read so many fantastic things about the Japanese/Chinese fusion restaurant I couldn't wait to go and try the food!
The Four Seasons at Ten Trinity Square is a beautiful luxury five-star hotel and Mei Ume fits perfectly. The restaurant is open and airy with beautiful glass panels and flower blossoms.
We started off with cocktails as recommended by our wonderful waiter Simone. It was a rum-based cocktail for me and tequila one for Mr B. The menu has a fantastic choice and I literally could have eaten everything on there! Mr B and I could not make our minds up what we wanted to order so instead we asked Simone if he would choose for us. He asked our likes and dislikes, which was pretty easy as we love all seafood prepared in any way, eat every meat going and really enjoy spicy food!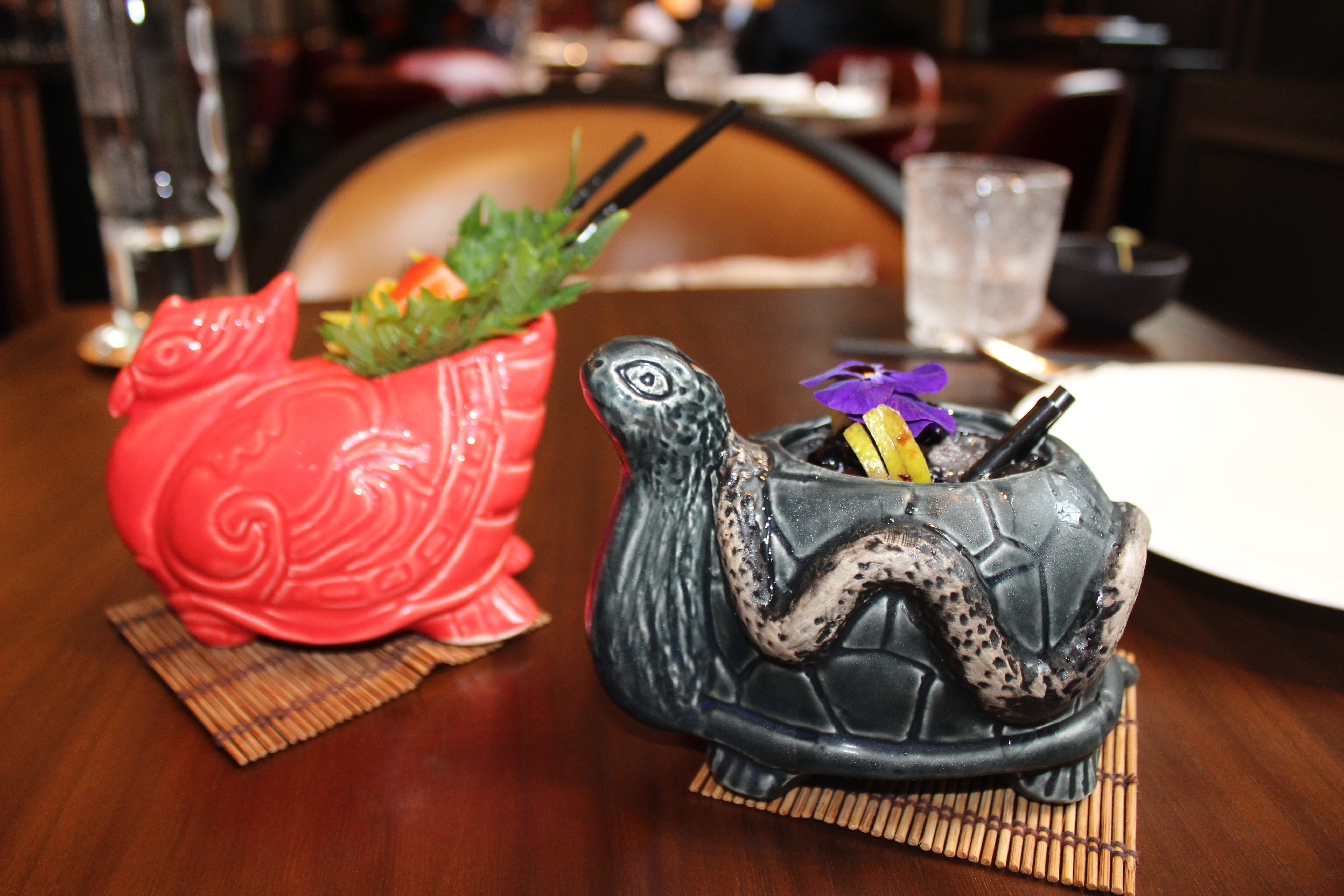 Some people may find that a bit strange, but I love not knowing what to expect and when you go to such fantastic restaurants the staff are always so knowledgeable about the food and what they serve. I am more than happy to put my trust in them (up to yet it has always paid off, maybe one day when it doesn't I may change my mind!).
We started off with the prettiest looking dim sum I have ever seen. There were four steamed dim sum – 'Mei Ume champagne dumpling, har gau, scallop siu mai and truffle wild mushroom dumpling' – all so delicious I couldn't pick a favourite as the texture and flavour of each one was absolutely fantastic.
Yellowtail carpaccio with truffle ponzu was one of Mr B's favourite … the sharpness of the truffle ponzu worked perfectly with the Yellowtail which melted in your mouth.
Pan fried duck dumpling were rich, sweet and delicious!
Our uramaki (an inside-out sushi roll with the nori on the inside), was filled with spicy tuna with truffle karashi and parmesan flake … parmesan on sushi! I thought I wasn't going to like the combination, but proving again that the staff at Mei Ume know better than I do, I actually loved the rolls and had to fight Mr B for the last one!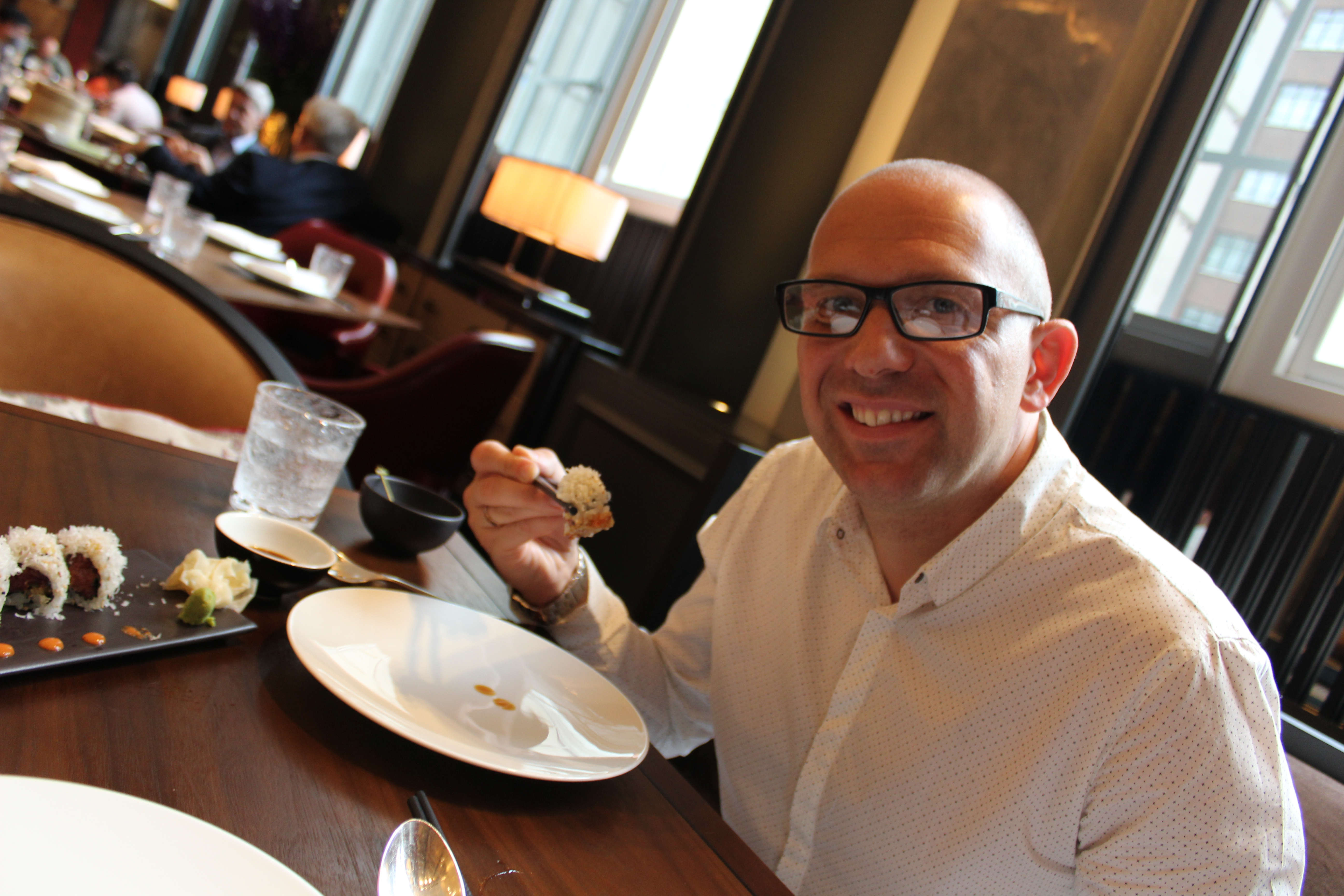 Sushi Moriawase had a fantastic selection of seafood from Tuna and Mackerel to Scallop, each one delicate in flavour and utterly delicious.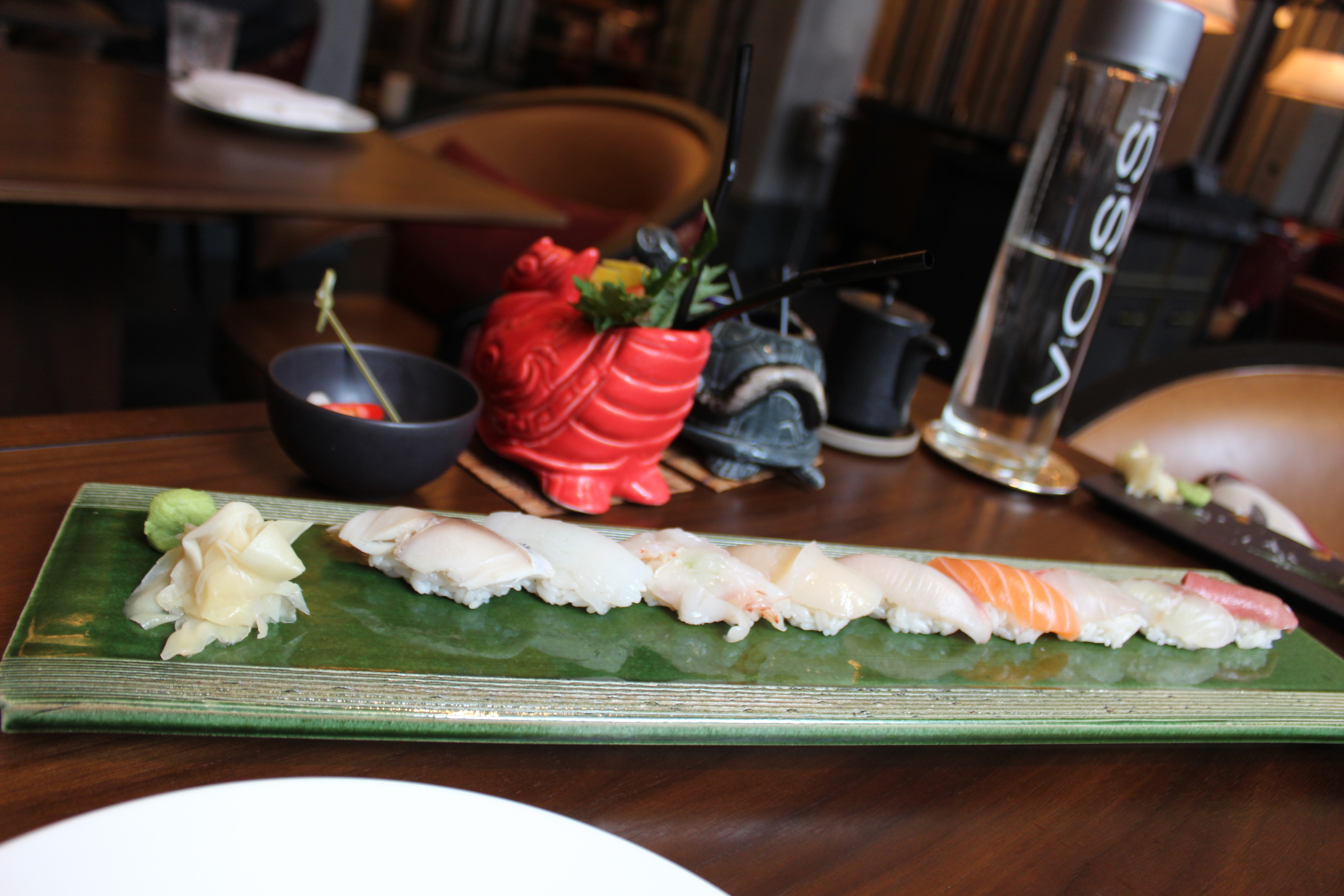 Now onto our main courses – 'Wasabi king prawns with orange tobiko'. The prawns were big, succulent and juicy and I was prepared for a powerful kick from the wasabi, but instead got a gentle heat which meant you could still taste the fantastic prawns.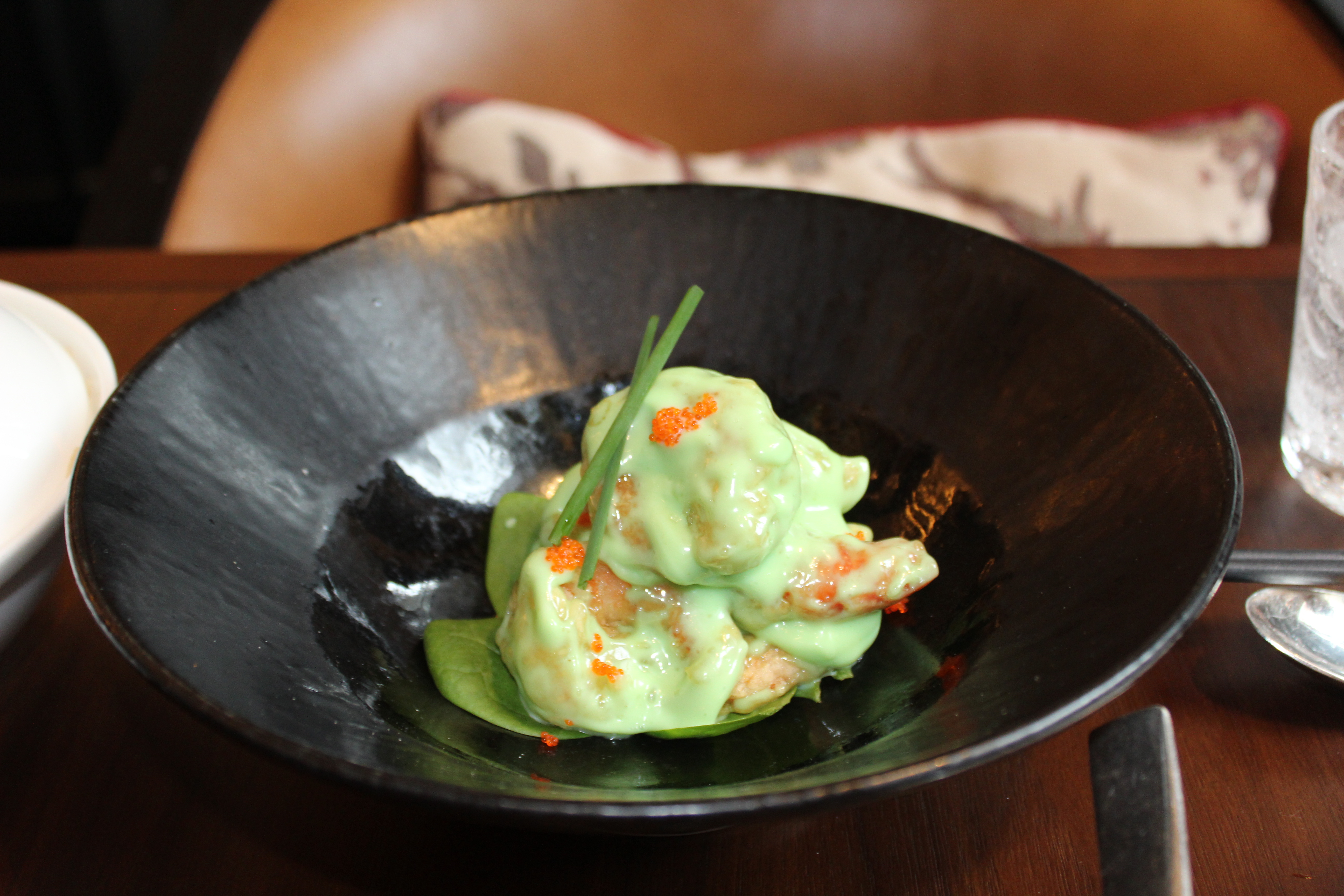 We could smell the beautiful aromas of our chicken dish before it was even on our table – 'San Pei chicken with Thai basil and chilli served in a clay pot' – and when the lid was lifted off at our table the smells were even more amazing! The chicken was so tender and I loved the punch of the chilli and the aroma of the Thai basil.
To accompany our dishes we had 'Prawn and scallop fried rice in XO sauce'. Unlike a lot of seafood rice's I've had in the past the taste of the seafood stood out in the rice and worked perfectly with the chicken dish.
We were nice and full after our amazing array of dishes, but Simone talked us into sharing a dessert (we didn't take much convincing!). We chose the custard and coconut moon cake, which was quite heavy but in that beautiful moreish kind of way that leaves you licking your lips and wanting more, even though you know you probably wouldn't be able to eat it!
Our dining experience was fantastic and I completely understand and agree with all the rave reviews I read before I visited. The hotel and restaurant are both truly stunning, but the food is definitely the star of the show.
The Four Seasons Hotel at Ten Trinity Square, 10 Trinity Square, London, EC3N 4AJ
0203 297 3799