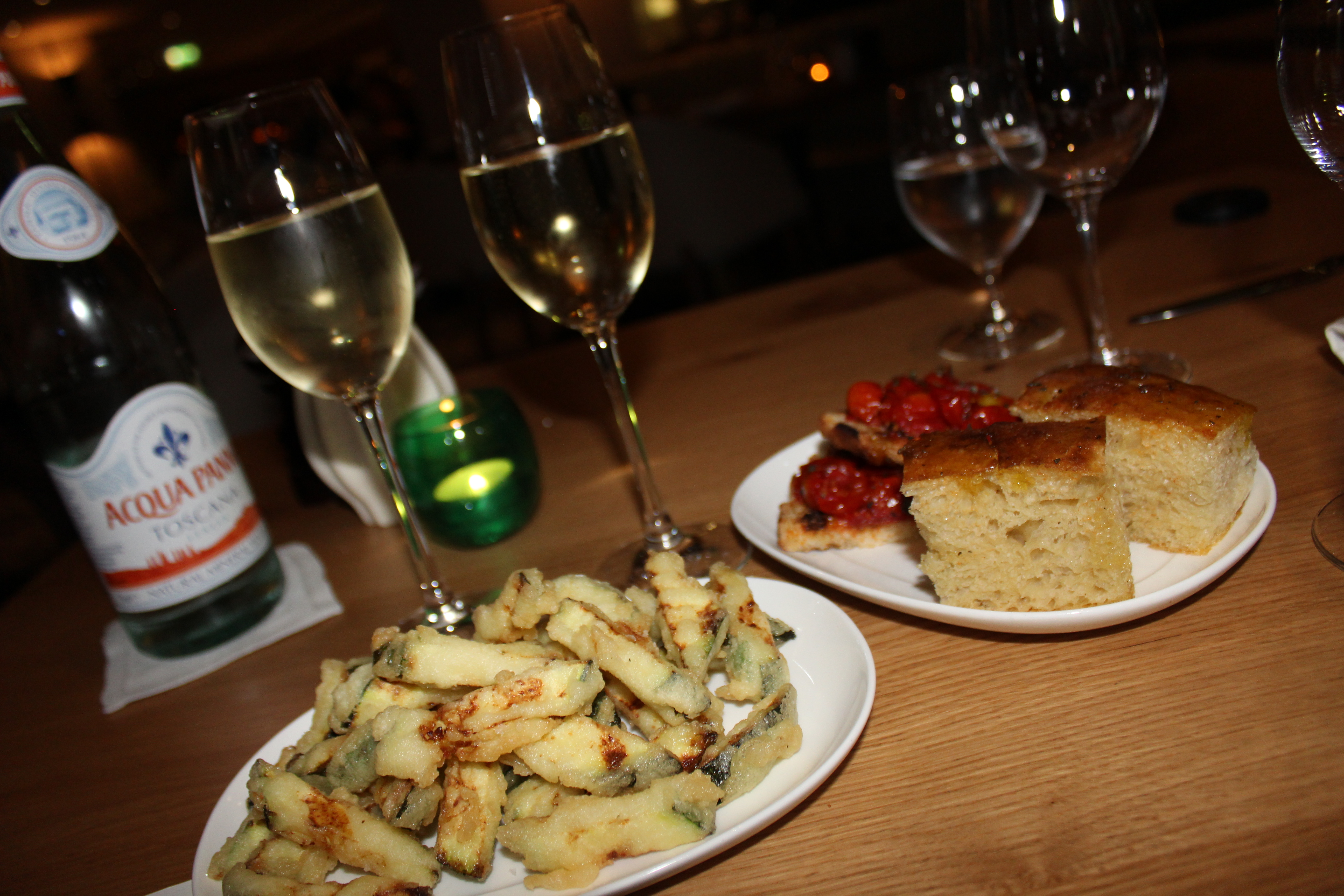 Located in the luxury area of Mayfair is the 5 star InterContinental hotel which is home to the beautiful Italian restaurant Theo Randall.
The restaurant has a relaxed and laid back atmosphere much like the many eateries we visited in Italy. We were shown to our table and started off with a glass of Italian prosecco and shorty after were given some fantastic appetizers to nibble on while we browsed the menu.
There was beautiful fresh tomato bruschetta, olive oil focaccia (one of my favourite breads) and zucchini frittes. Now this is going to sound very strange, I don't actually like zucchini (courgette), but these deep fried bite size beauties were delicious! I could not stop eating them much to the surprise of Mr B!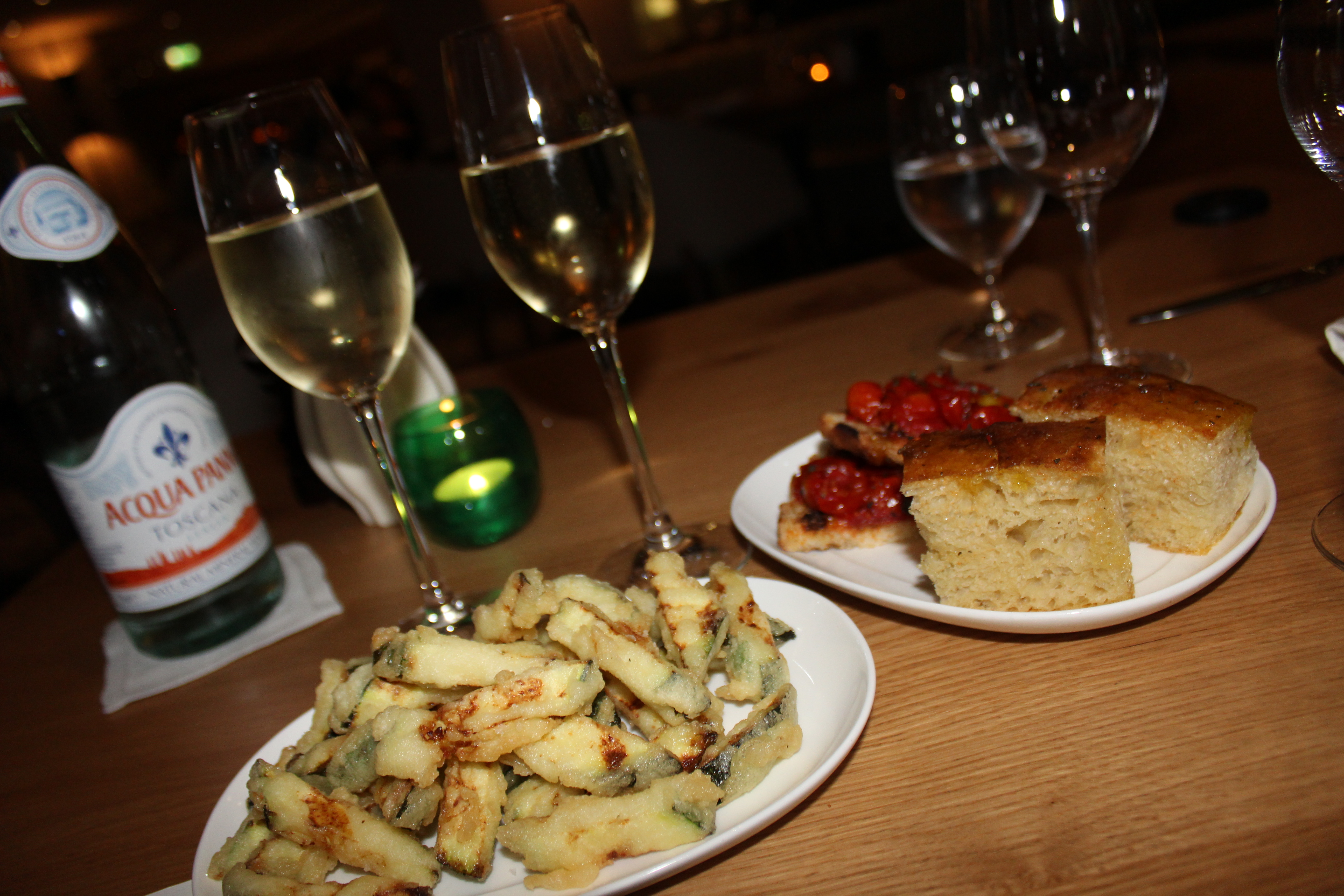 The menu is full of Italian classics which made it quite difficult to choose from as Mr B and I LOVE Italian food! Our waitress was very helpful and recommended the dishes she thought we should try.
To start with we shared 'Calamari in padella' – pan fried squid with fresh cannellini beans, chilli, anchovies, parsley and chopped rocket. The dish was a perfect balance of flavours but not too overpowering for the squid which was perfectly cooked. Mr B and I both love squid so both enjoyed this dish. It was lovely and light to start off our meal.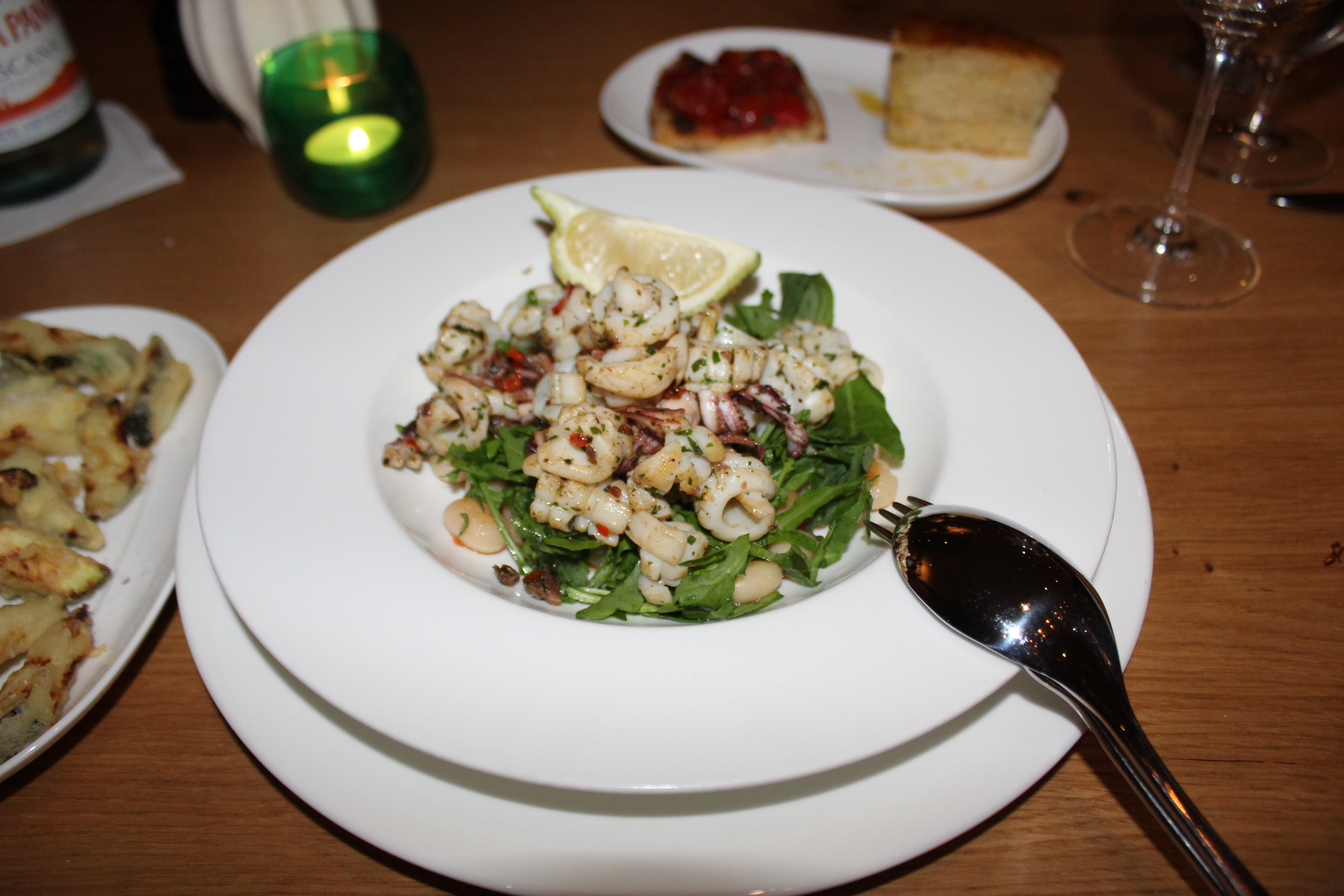 Next up was our pasta course, but I was unsure if I could manage a pasta dish as well as a main course so I opted to have a dish off the starter menu and have my pasta as my main. I chose 'Carne salata' – thinly sliced black Angus beef with shaved zucchini and rocket, aged balsamic vinegar, pine nuts and parmesan. Again another of my favourites (told you I love Italian food!) … the beef melted in the mouth and stood up against the strong taste of the parmesan.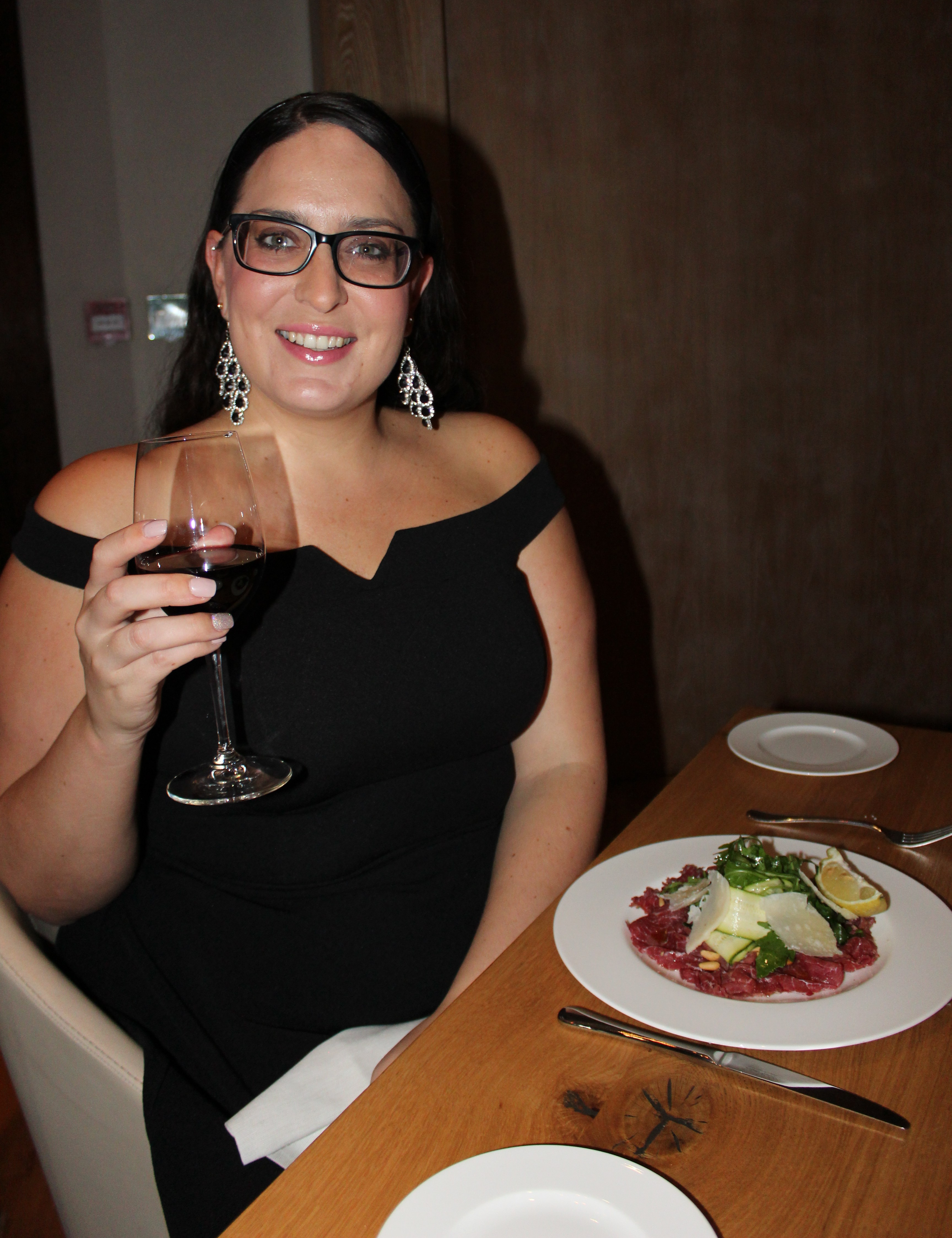 For Mr B's pasta course he chose 'Cappelletti di vitello' – fresh pasta stuffed with slow cooked veal with pancetta, porcini mushrooms and parmesan. Of course I had a taste! The flavours were delicate and the pasta divine, which is made fresh every day at Theo Randall. Do opt to try a pasta dish if you visit … you won't be disappointed.
Onto to our main course and we were already feeling quite full (oh no!), but the waitress did pre-warn us at the beginning the portions would be generous!
With so many beautiful pasta dishes to choose from I went for 'Pappardelle con funghi' – fresh pasta with new season porcini mushroom, garlic and parsley. This dish was very simple and I knew when I ordered it would be fantastic if all the elements were perfect which, not to my surprise, they were. This dish was full of flavour and I would definitely have it again.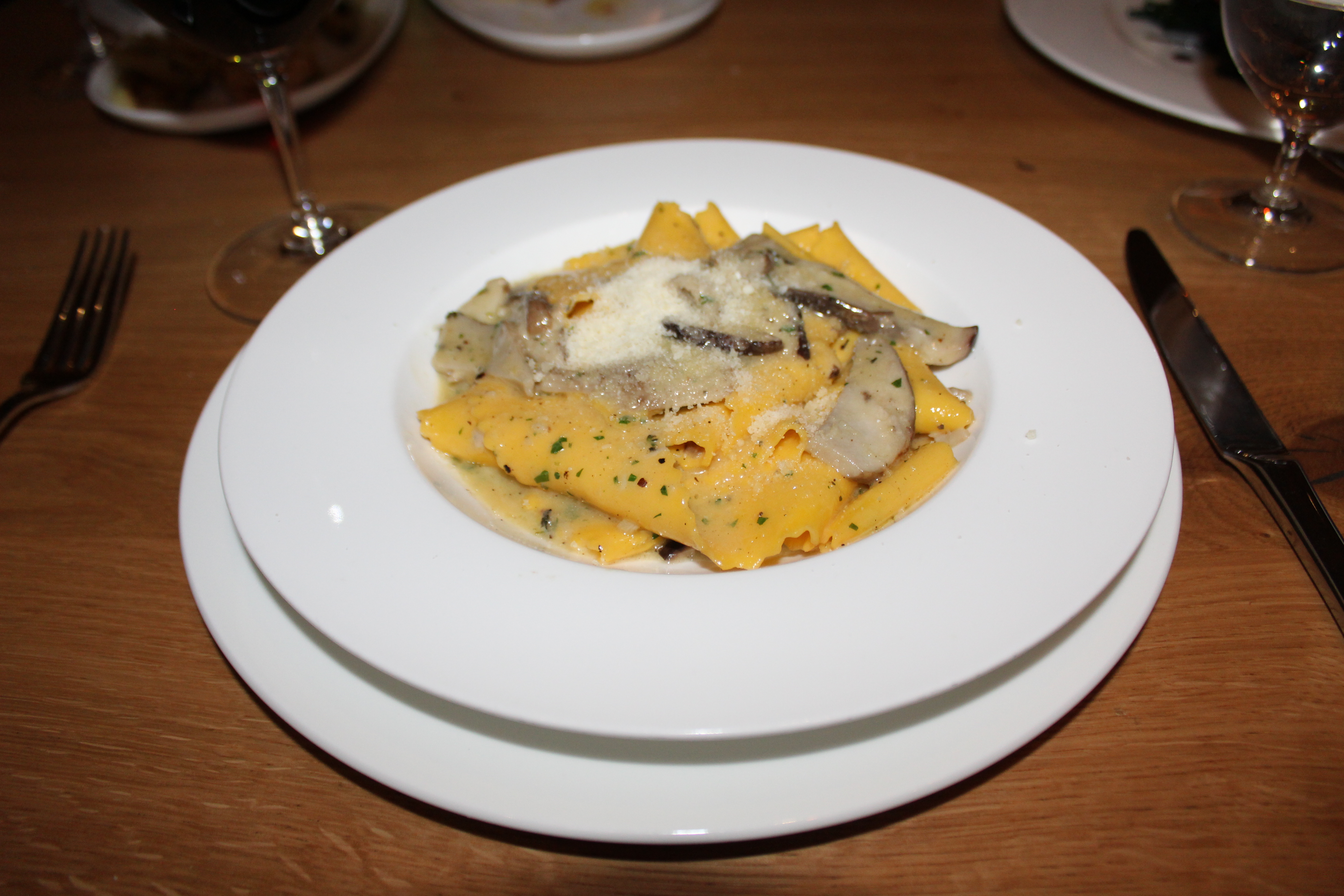 Mr B opted for 'Rombo al forno' – wood roasted turbot with parsley, capers, roasted Sicilian red peppers and rainbow chard. As expected the fish was perfectly cooked and fell away from the bone. Mr B said the flavours were so delicate with the beautiful turbot being the star.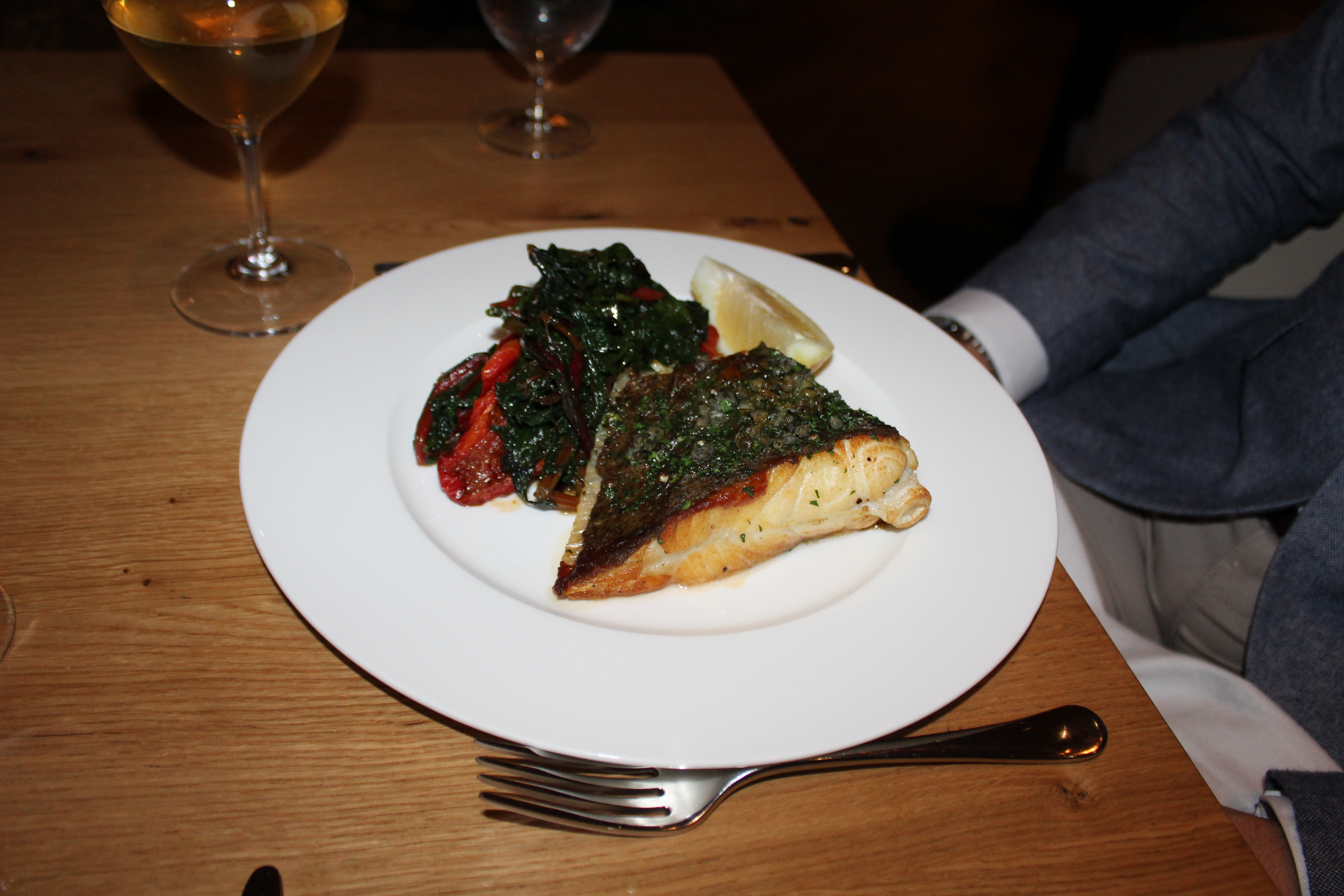 We had matching wine parings with each course, the choice of which we left in the capable hands of the sommelier. We enjoyed every pairing and I had some fantastic reds, all Italian of course.
We were too full for dessert, which is a rarity for us, so instead we finished off our meal with an espresso and small biscotti. It was so lovely at Theo Randall and if you are looking for beautiful fresh Italian food you won't go wrong with a visit here.
020 7318 8747
InterContinental, 1 Hamilton Pl, Mayfair, London, W1J 7QY