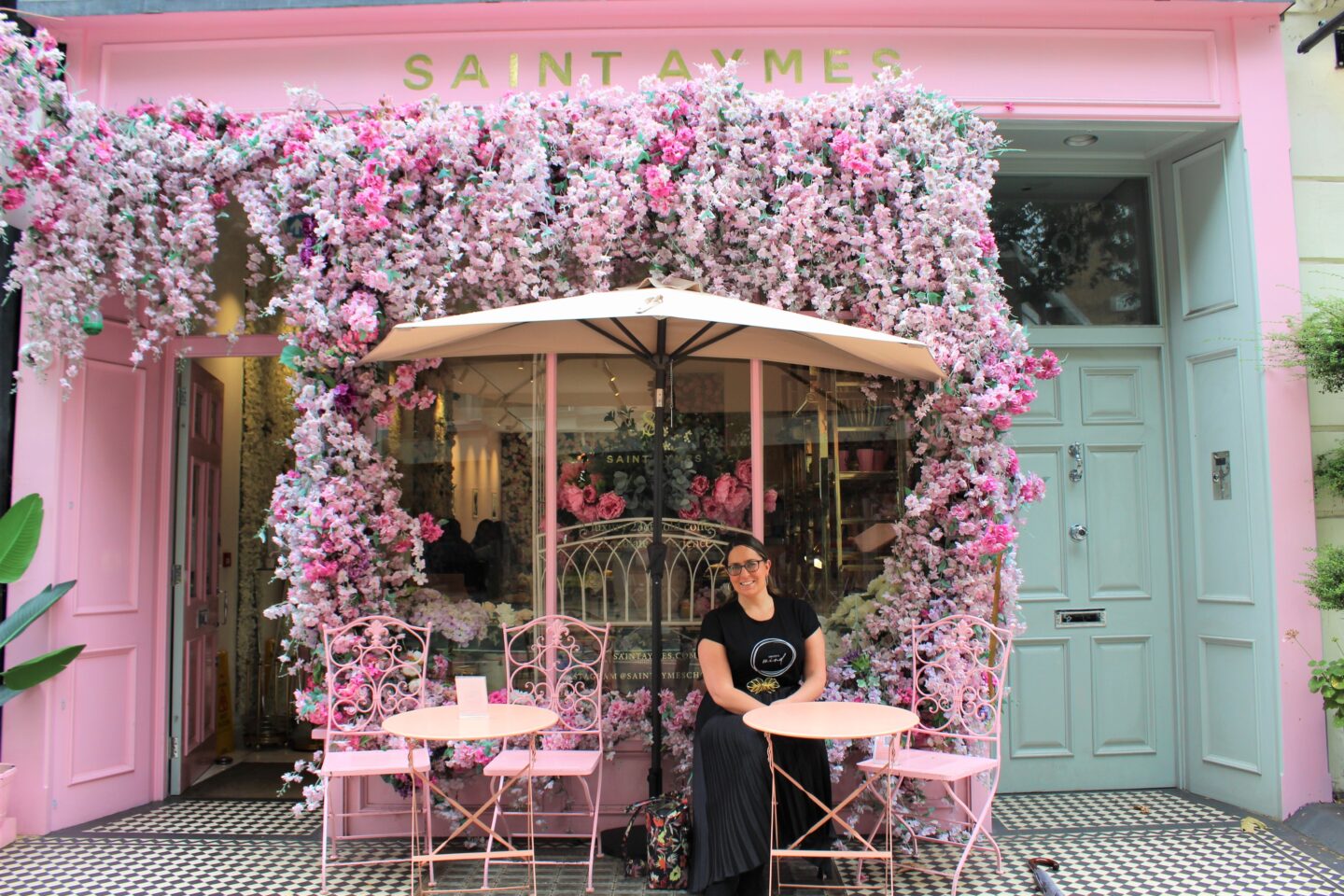 The wonderful area of Connaught Village is not only full of art galleries and independent shops, but is also home to some fabulous places to eat and drink!
Here are my top recommendations . . .
Abasto
Known for its empanadas, this Argentine cafe is the perfect stop for lunch. With a lovely deli and counter full of fresh goodies it is difficult to know what to order, but of course we went with a selection of their famous empanadas.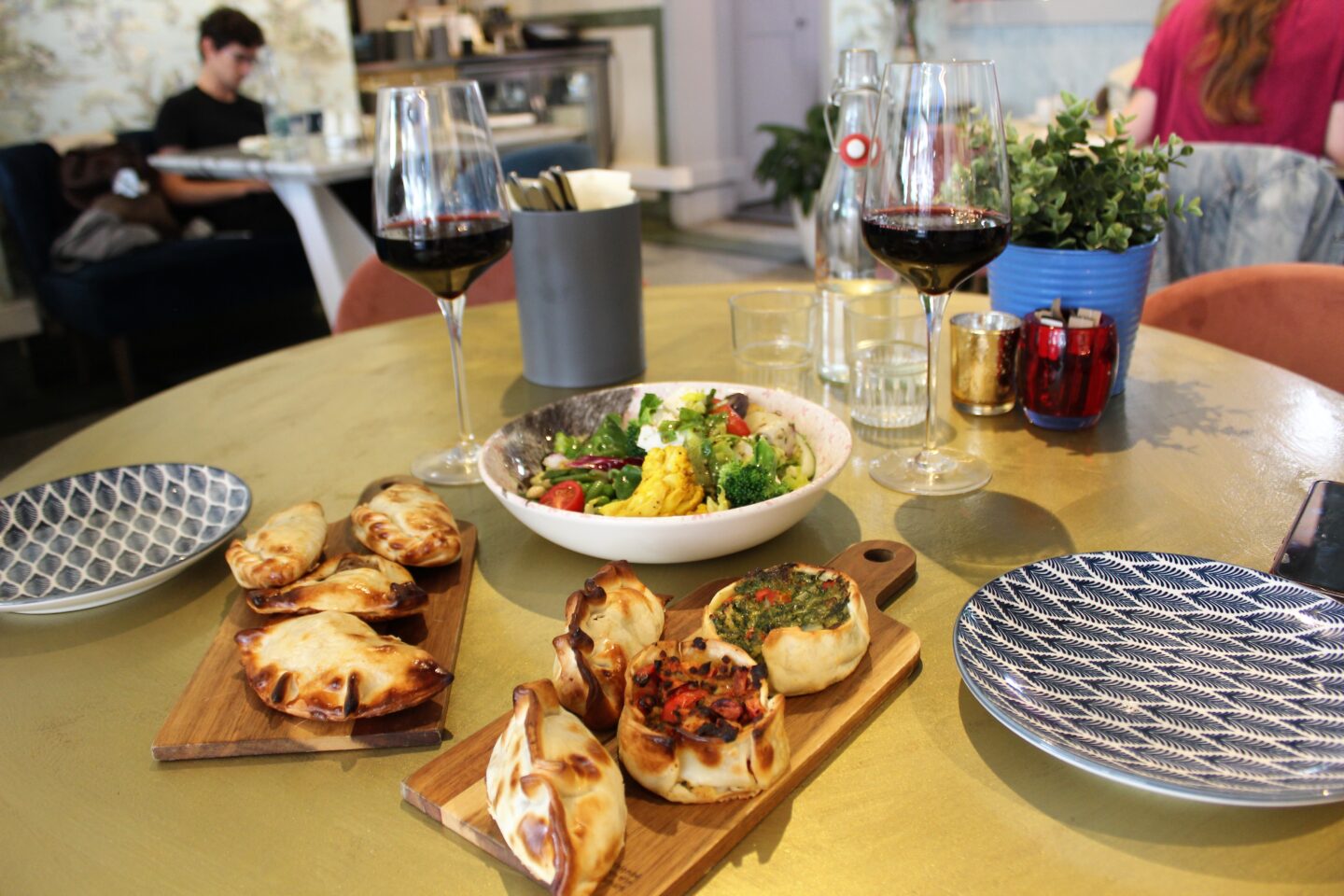 Sitting back and relaxing with a beautiful glass of Argentine Malbec, we steadily grazed through our empanada feast. Some of our favourites were the beef, mushroom, blue cheese, caprese and the chicken, basically all of them! They were all very tasty. We also shared a mixed salad which was lovely and fresh and had a great mix of ingredients.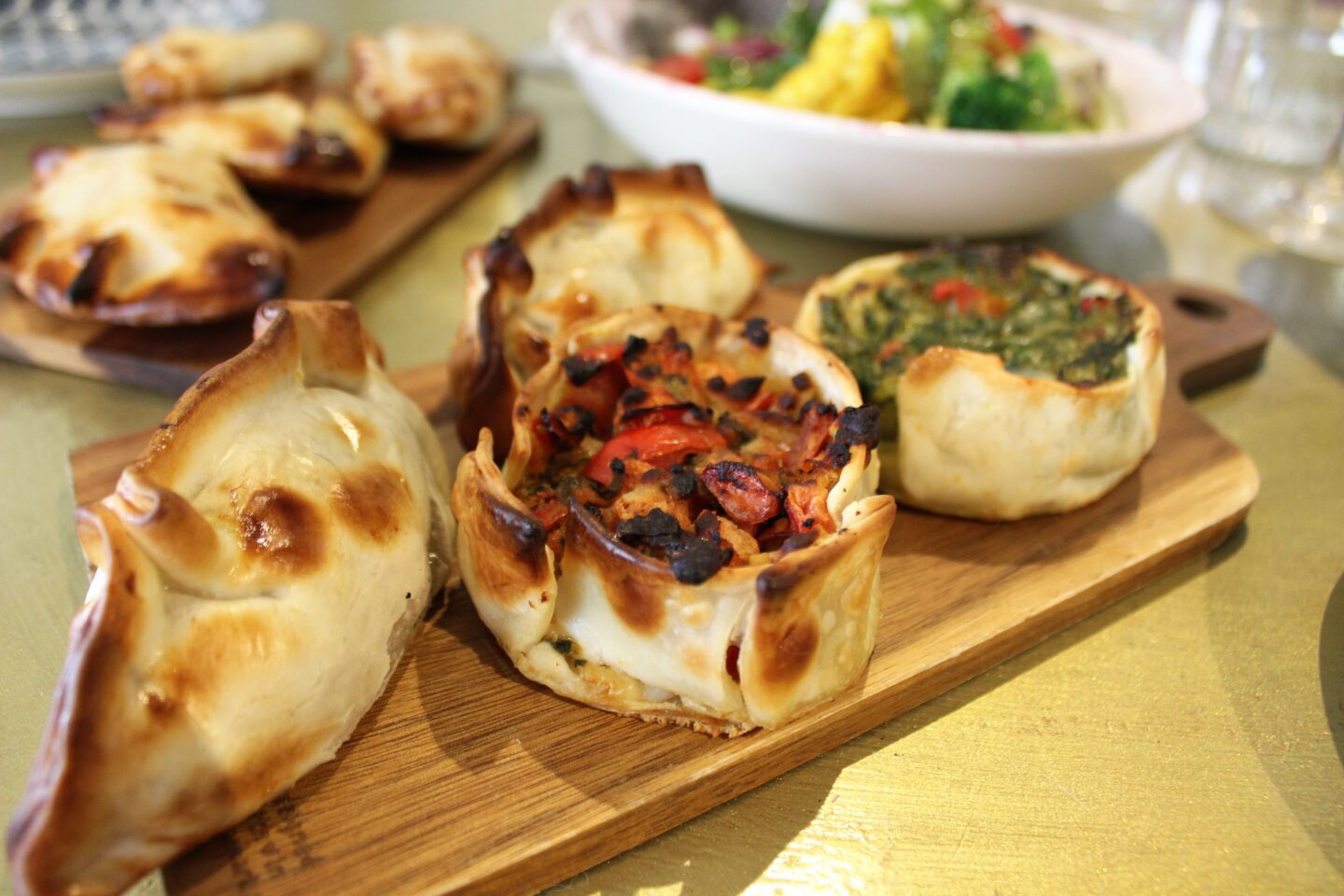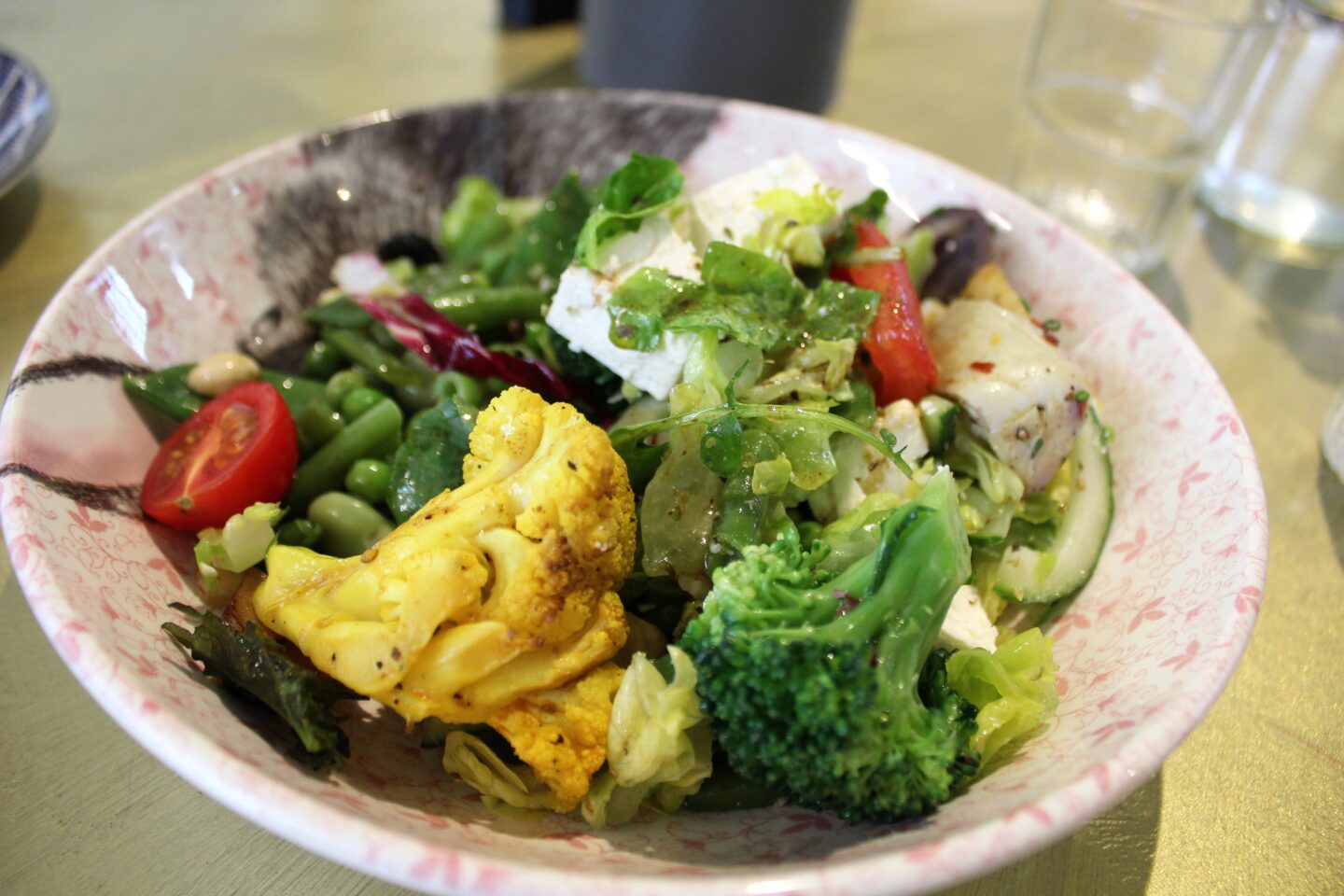 Of course, we couldn't leave without sharing a dessert and, oh my, we made a good choice! I, shockingly, cannot recall what it was called. It was layers of puff pastry and dulce de leche topped with meringue, it was utter heaven!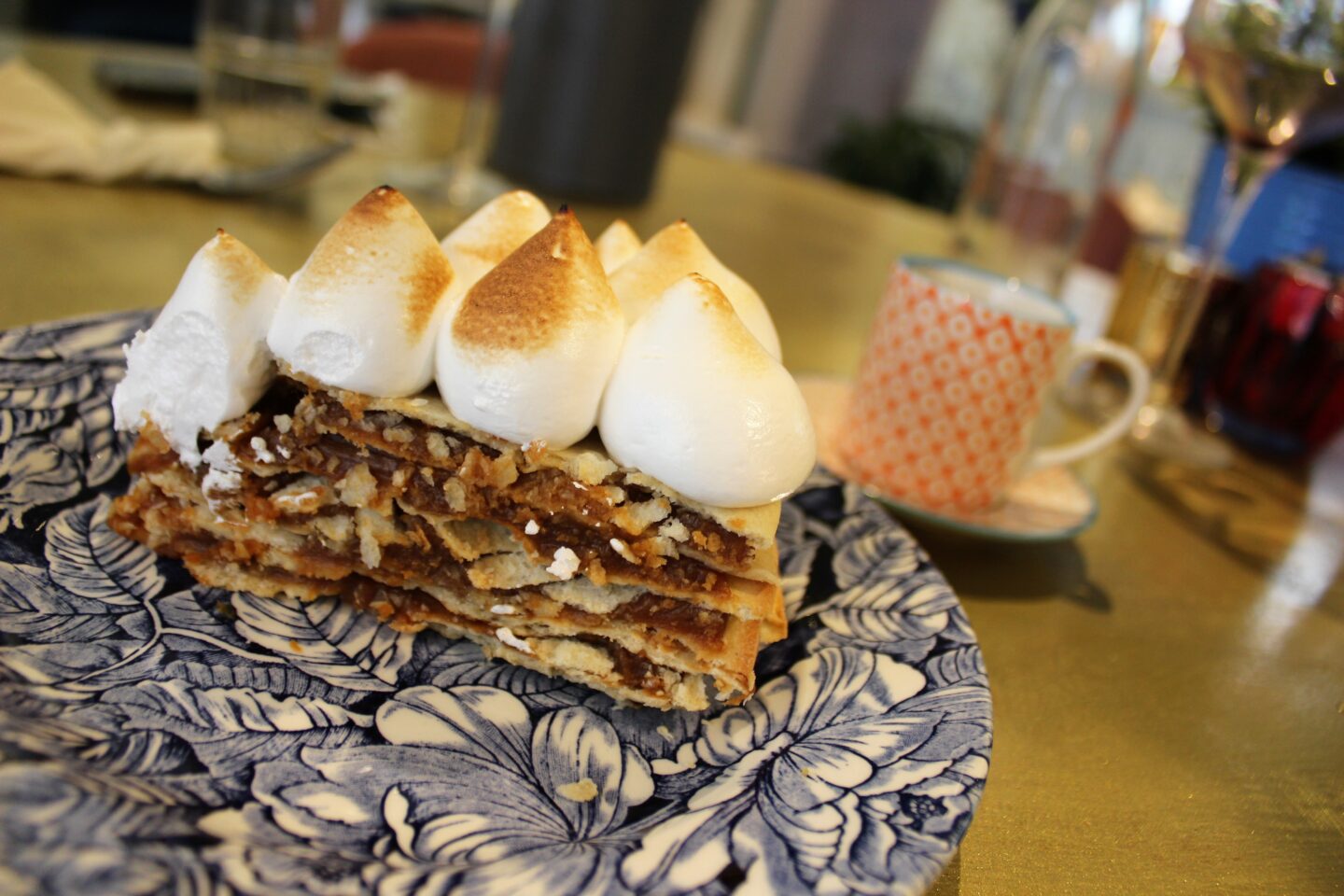 Park Lounge Bar
Located in the luxurious Royal Lancaster hotel is the beautiful Park Lounge Bar. We headed here for a few perfectly crafted cocktails before we went out for dinner.
The talented bar staff will whip up any classic cocktail for you, but they also have a cocktail menu full of interesting and exciting cocktails. I always love trying something new.
I opted for 'The Little White Bird' which contained house-made citron vodka, spiced Cabernet syrup and rooibos. It was wonderful, refreshing and warming with a great hint of citrus which I love. Mr B opted for 'The Huntress', made with Irish whiskey, ginger, saffron and Jasmine pearl tea. It had a great depth of flavour and was balanced very well.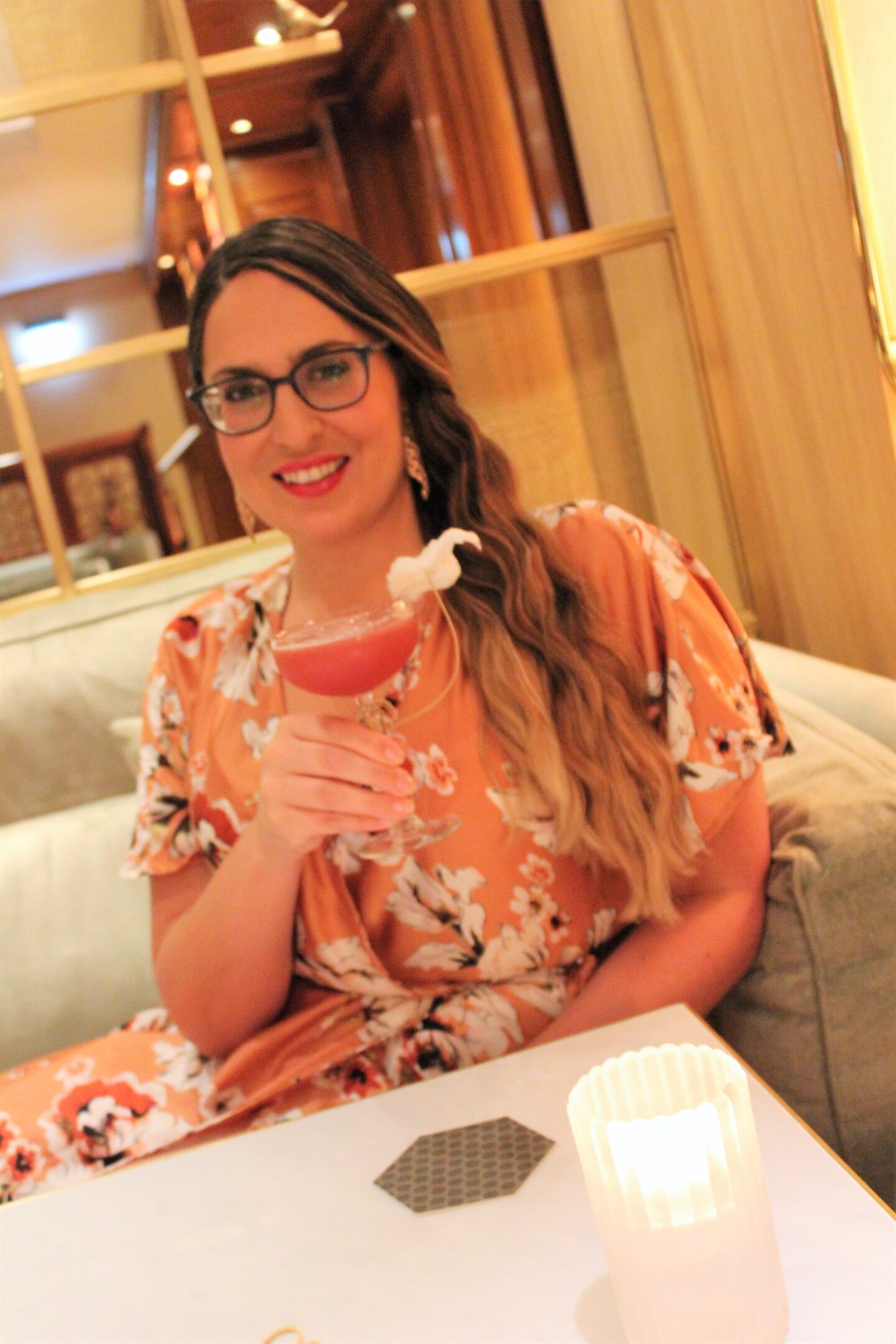 After having these perfectly made cocktails we got chatting to the team and they made us both an off-menu cocktail. We simply told them our favourite spirits and what flavour notes we preferred and they surprised which was quite fun and we ended up with cocktails we both loved!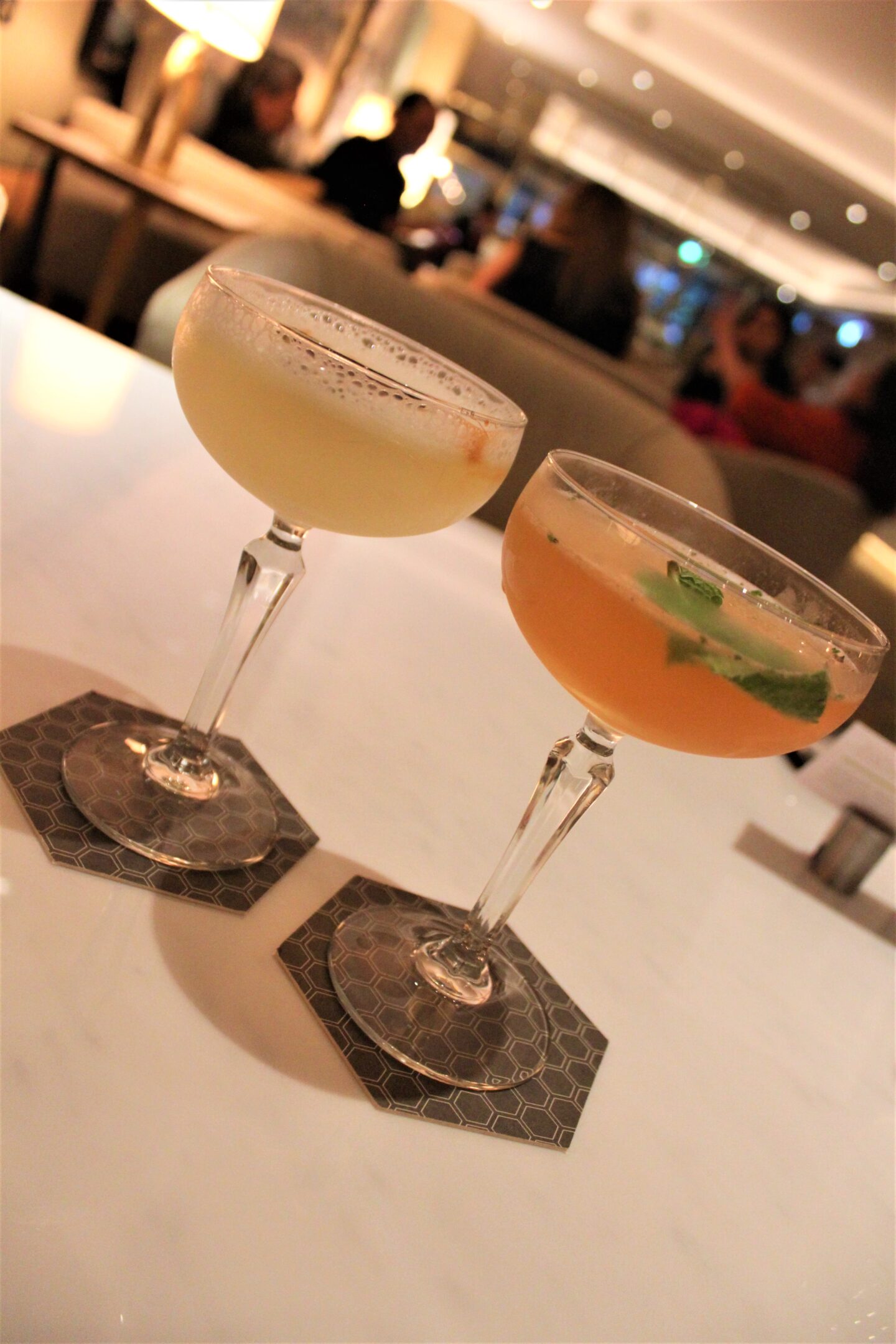 Bombay Palace
Mr B and I both absolutely love Indian food and we felt like we had found the best of the best at Bombay Palace! We were really blown away by the food and the service was also equally wonderful. Sometimes when we visit a great restaurant and we can't decide what to order, we leave ourselves in the hands of the chef and this is just what we did on our visit to Bombay Palace.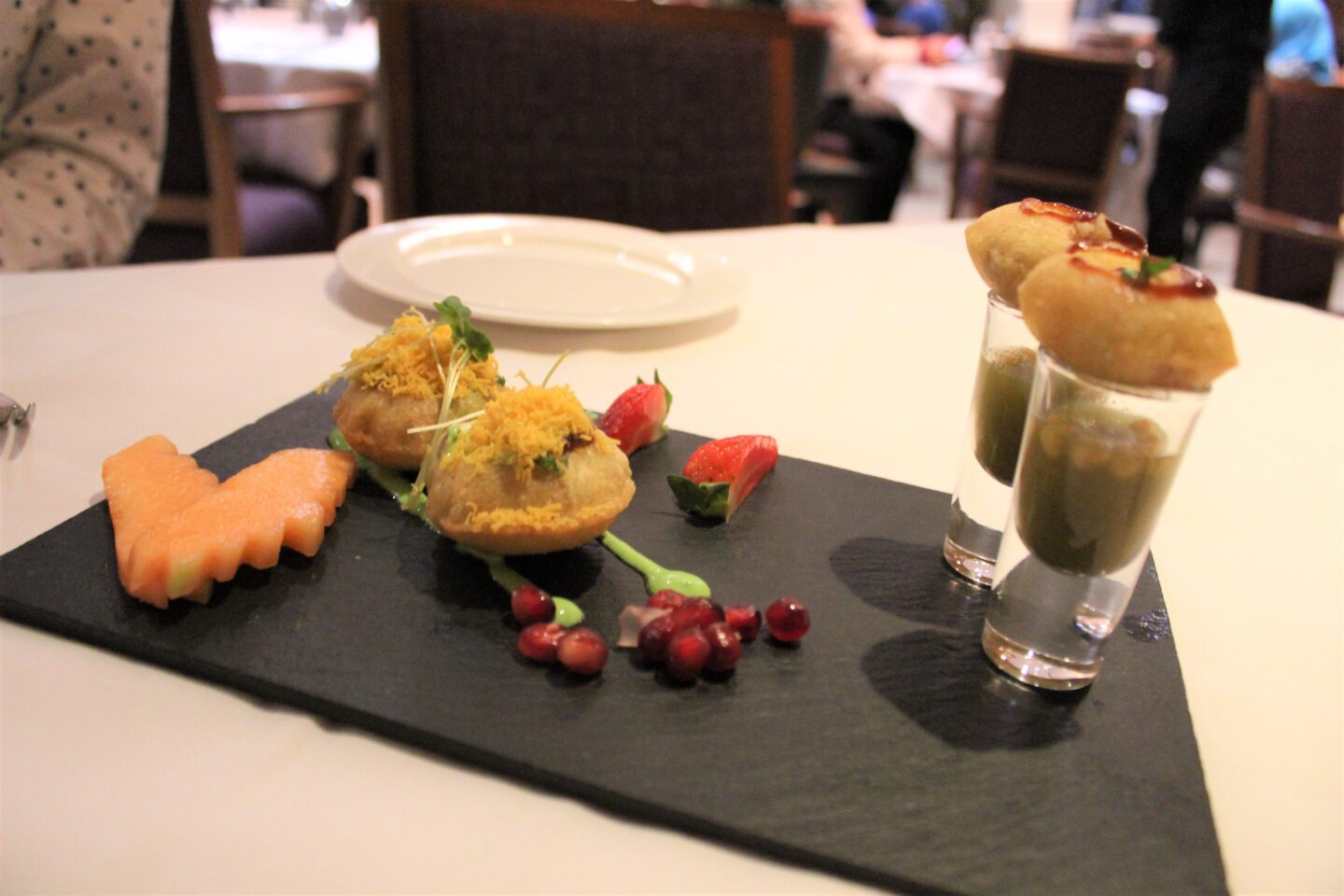 We had a mixed selection of starters which ranged from flavourful sheesh kebab, tender tandoori chicken and delicious mushrooms stuffed with paneer.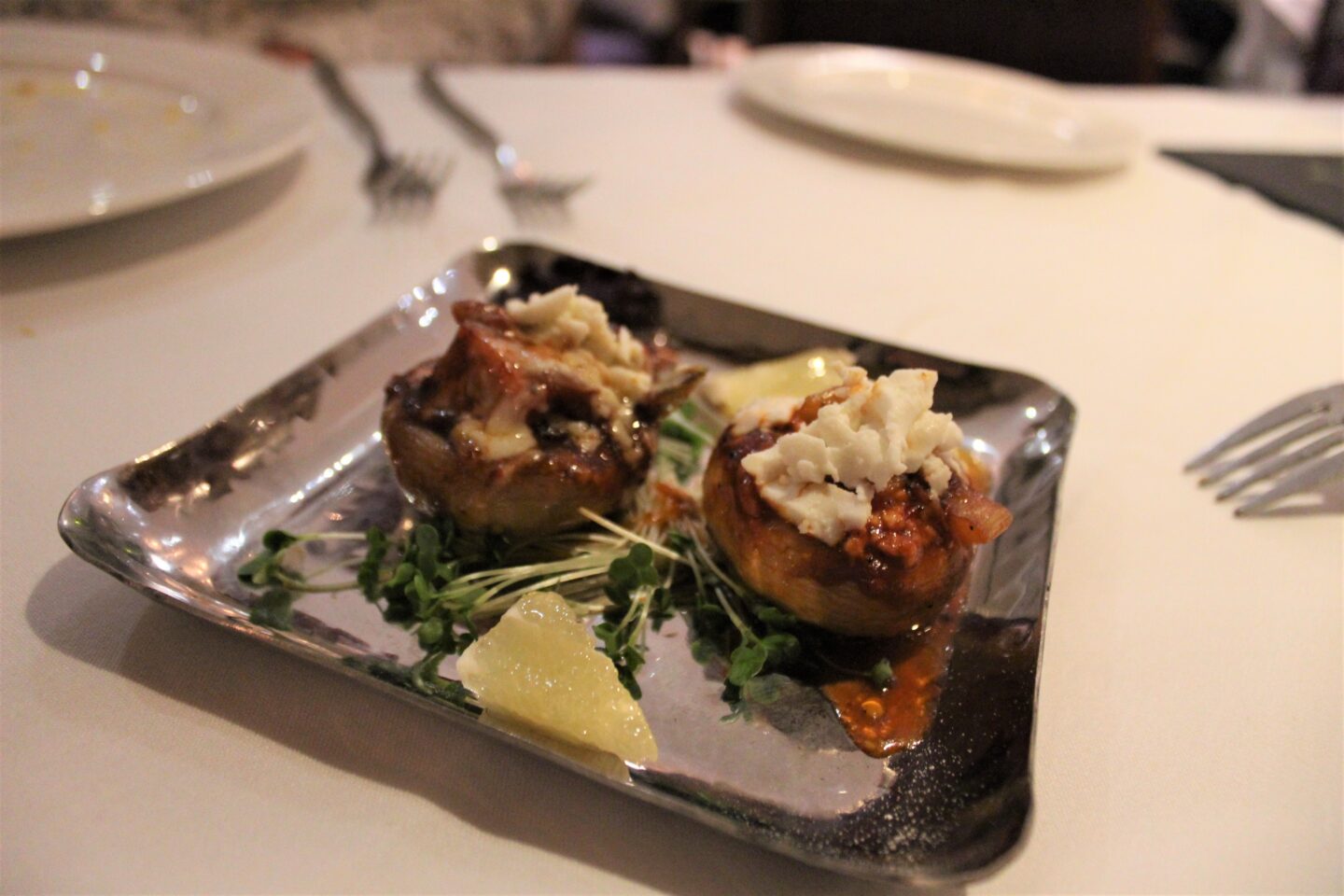 After the starters we were treated to a feast of main dishes and the most incredible selection of breads! I do love my breads and I adored every single one of we were treated to, from the sweet peshwari naan to the mouth-watering garlic and cheese to the classic chapati, I just love using them to mop up all the wonderful sauces you get from the delicious curries.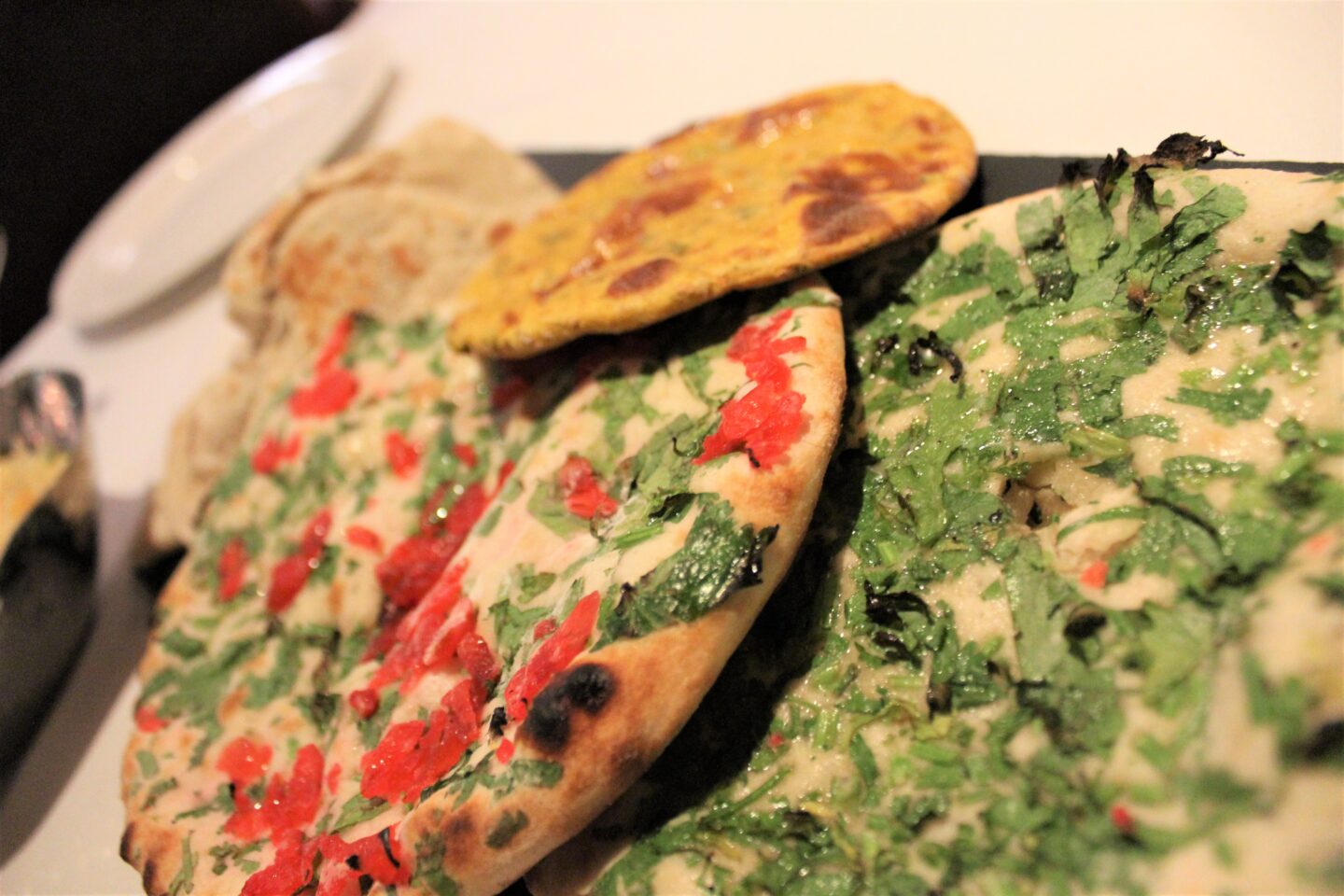 We had a lovely selection of curries, a lentil dhal, a spinach and paneer curry and my favourite was the butter chicken. It was one of the most flavoursome butter chicken dishes I have ever had. We also had a lamb Rogan Josh which was rich with melt-in-the-mouth lamb.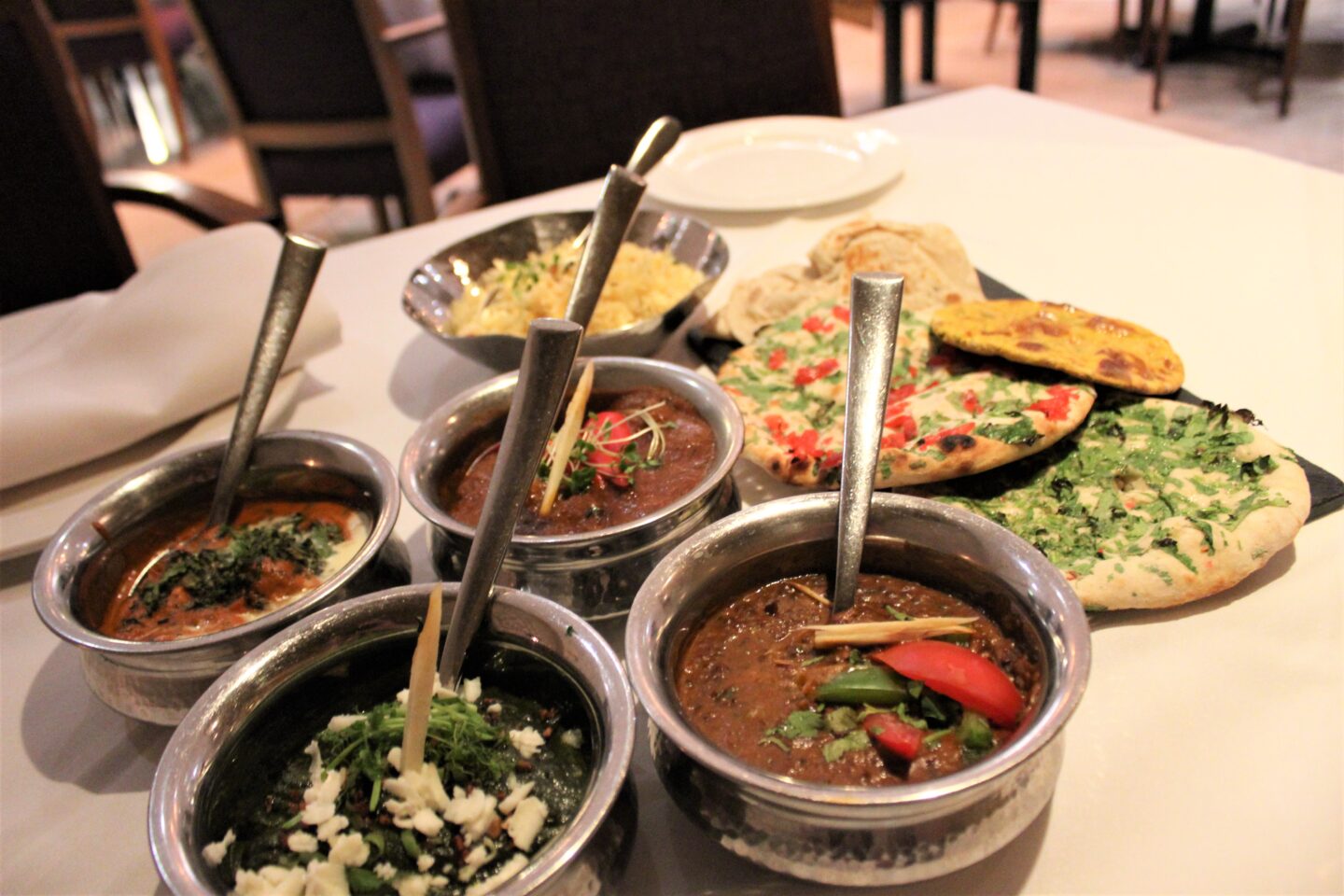 We were absolutely fit to burst, but of course it would be rude not to have dessert so we asked for small portions! We each had a plate of mini desserts and the pistachio kulfi was my favourite. After so many filling and rich dishes it was the perfect pallet cleanser and was lovely and refreshing. The Gulab jamun was filling but so tasty and was in a lovely fragrant syrup.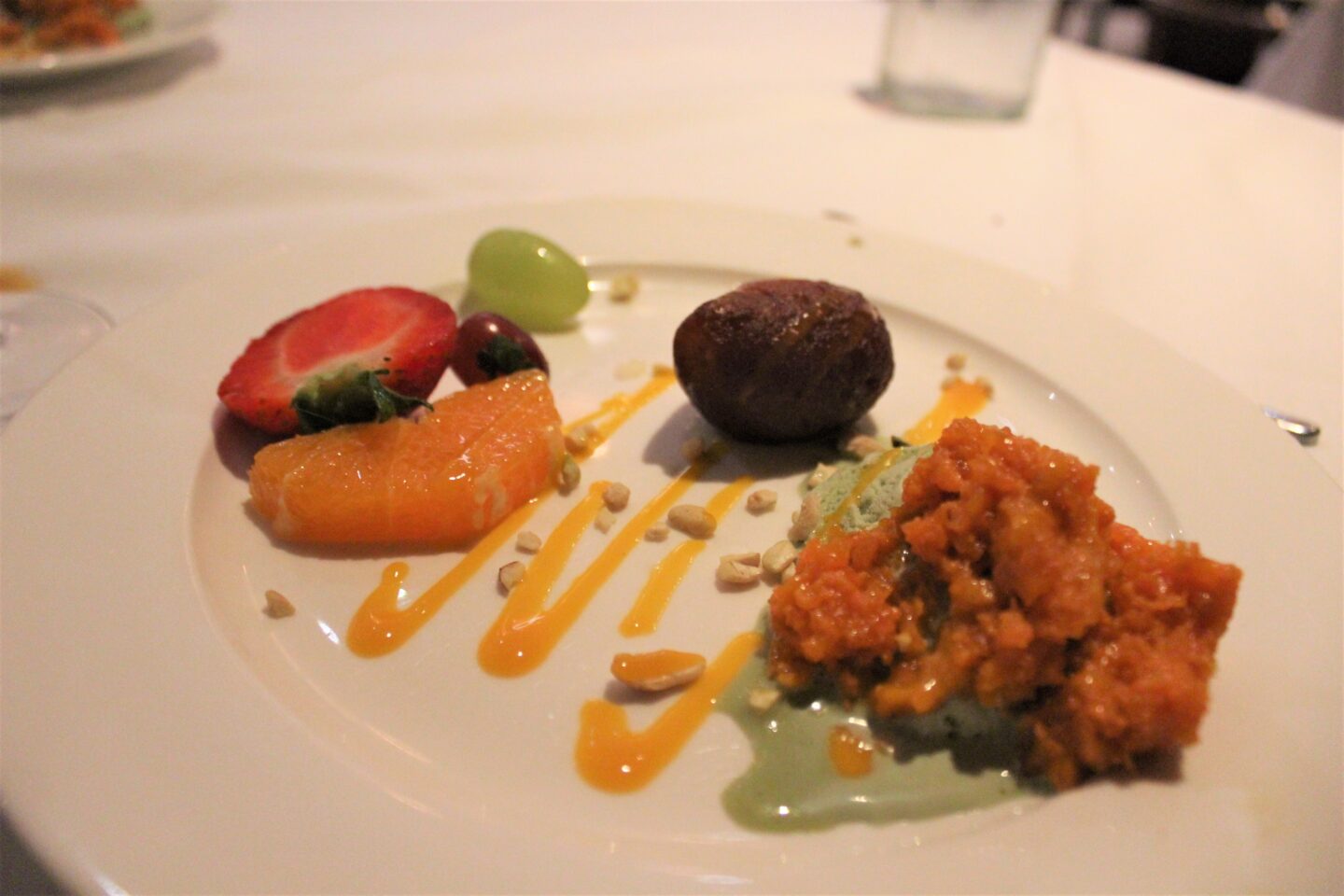 Saint Aymes
Never have I ever seen a coffee shop so pretty as Saint Aymes! On the Sunday we visited the outside seats were not taken and luckily the weather was kind to us so we were able to sit at a pretty pink table surrounded by the stunning flower display.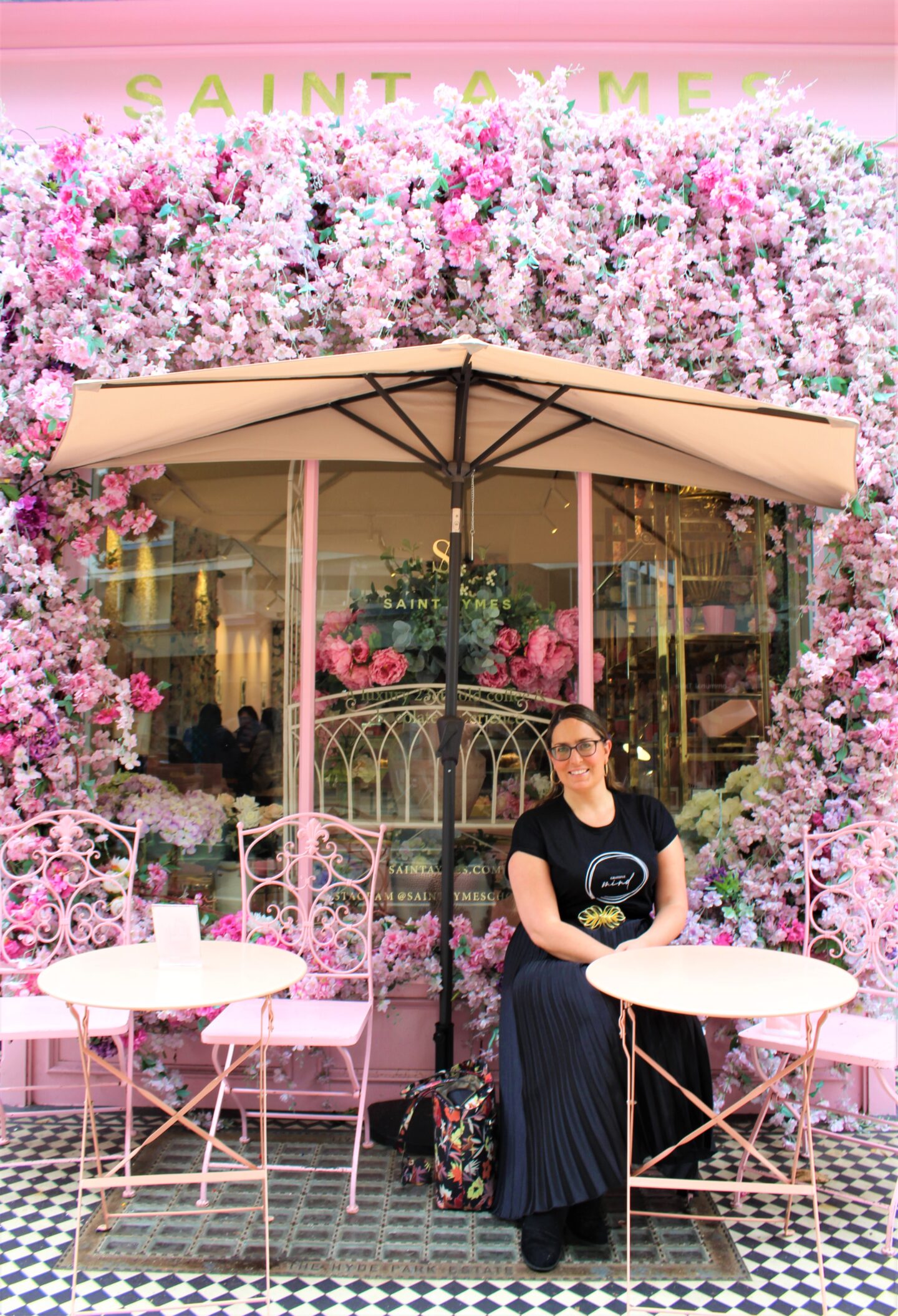 Visiting such a fabulous place I felt like I wanted to be 'extra' and order something that I wouldn't normally have in a regular coffee shop so I ordered the 'Unicorn Bubblegum Milkshake' which was blue bubblegum ice cream milkshake with 24ct gold and cotton candy. I definitely felt like my inner child was impressed with my choice!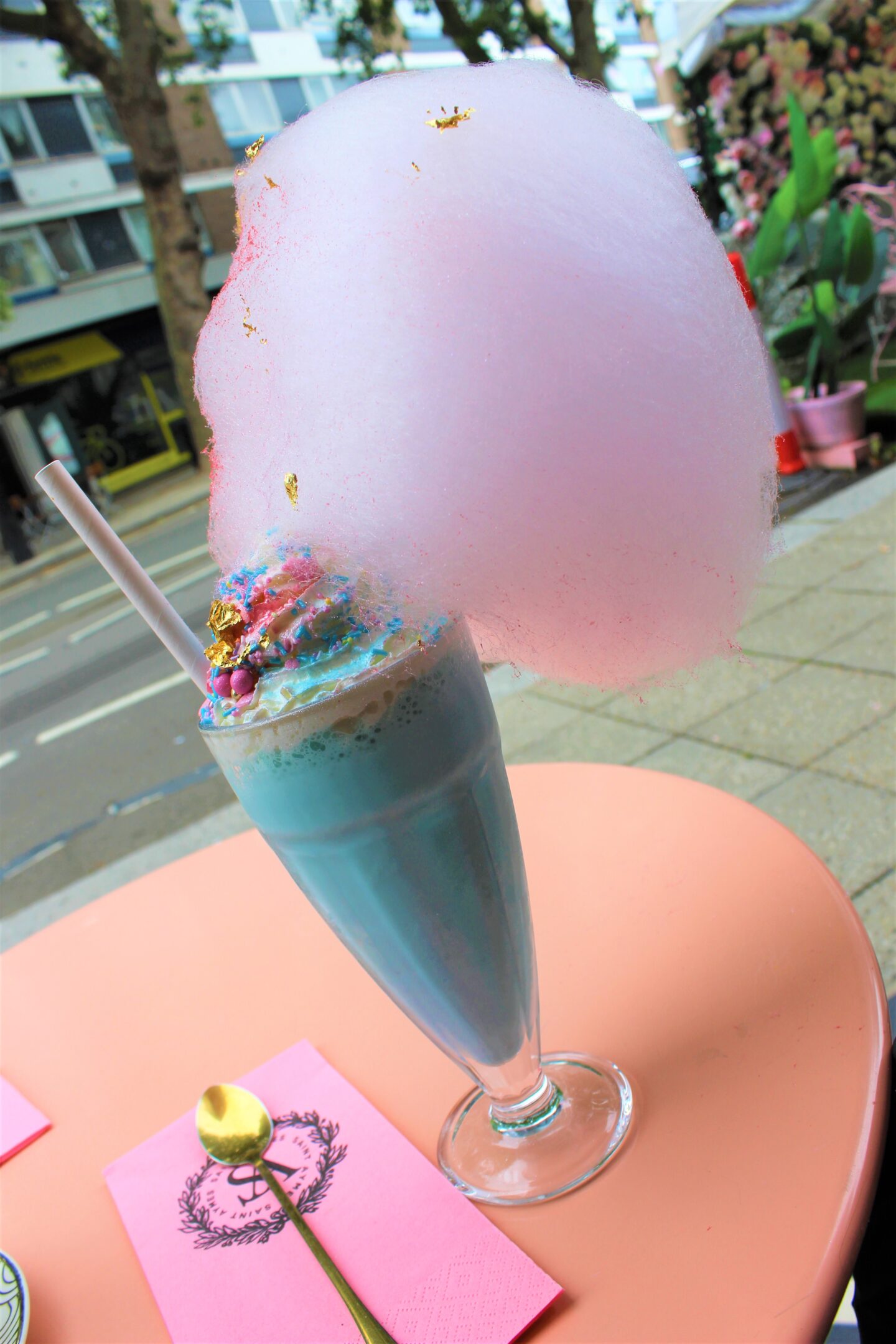 I do have a sweet tooth and was quite excited for my milkshake and it was certainly no ordinary milkshake! Mr B and I both said 'wow' when we first saw it! But it was not a case of style over substance, it also tasted great, like real bubblegum, nice and thick and the addition of candyfloss and 24ct gold, well why not! When in Rome and all that!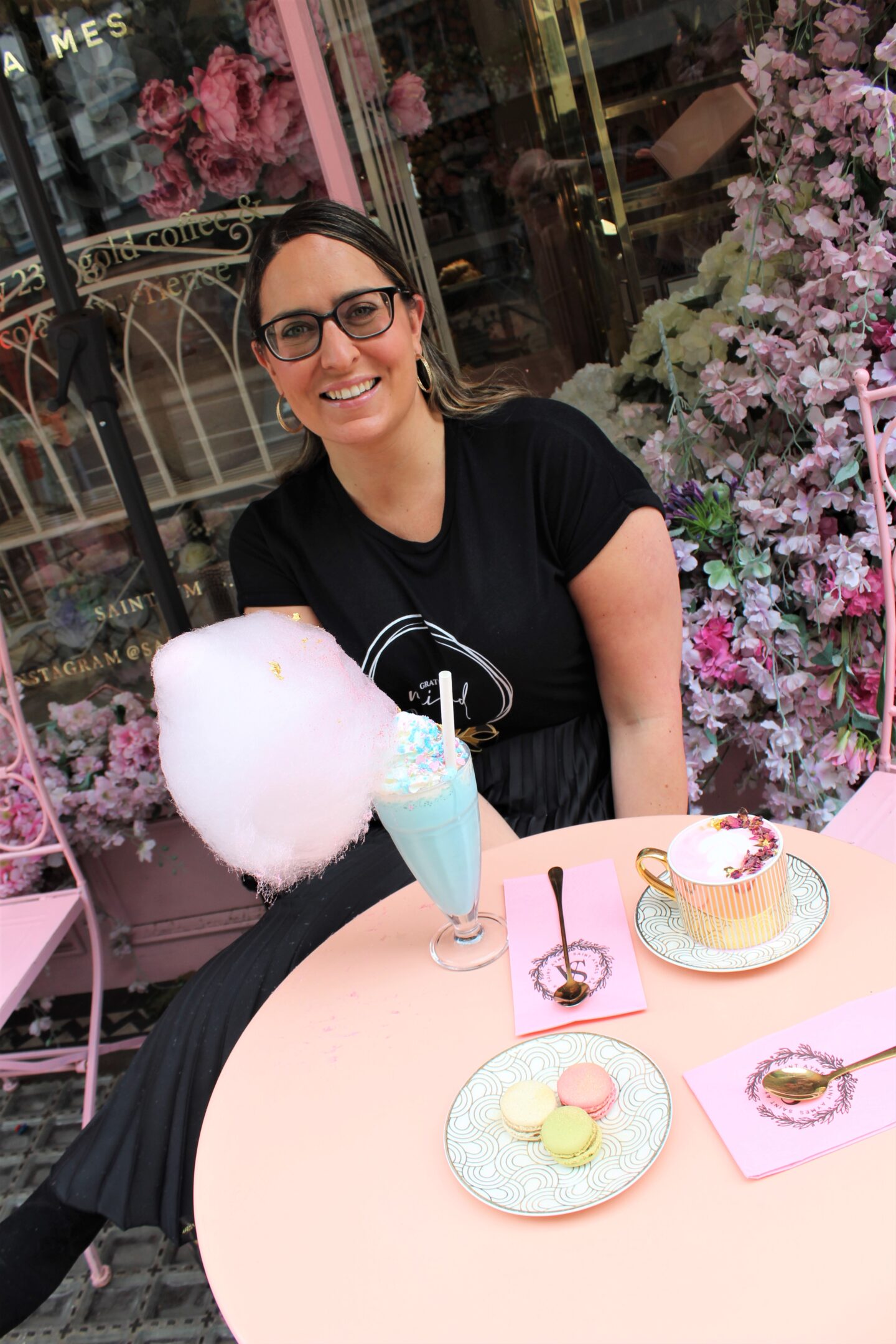 I also persuaded Mr B to order something he had not had before and couldn't get anywhere else! He had the 'Pink Rose Teapuccino', which was pretty as a picture! Well made, it had suitable notes of rose which made it fragrant. We also had four macaroons to share. Both lovers of macaroons we agreed these were delicious, crispy on the outside with a soft and chewy centre and they came topped with edible glitter!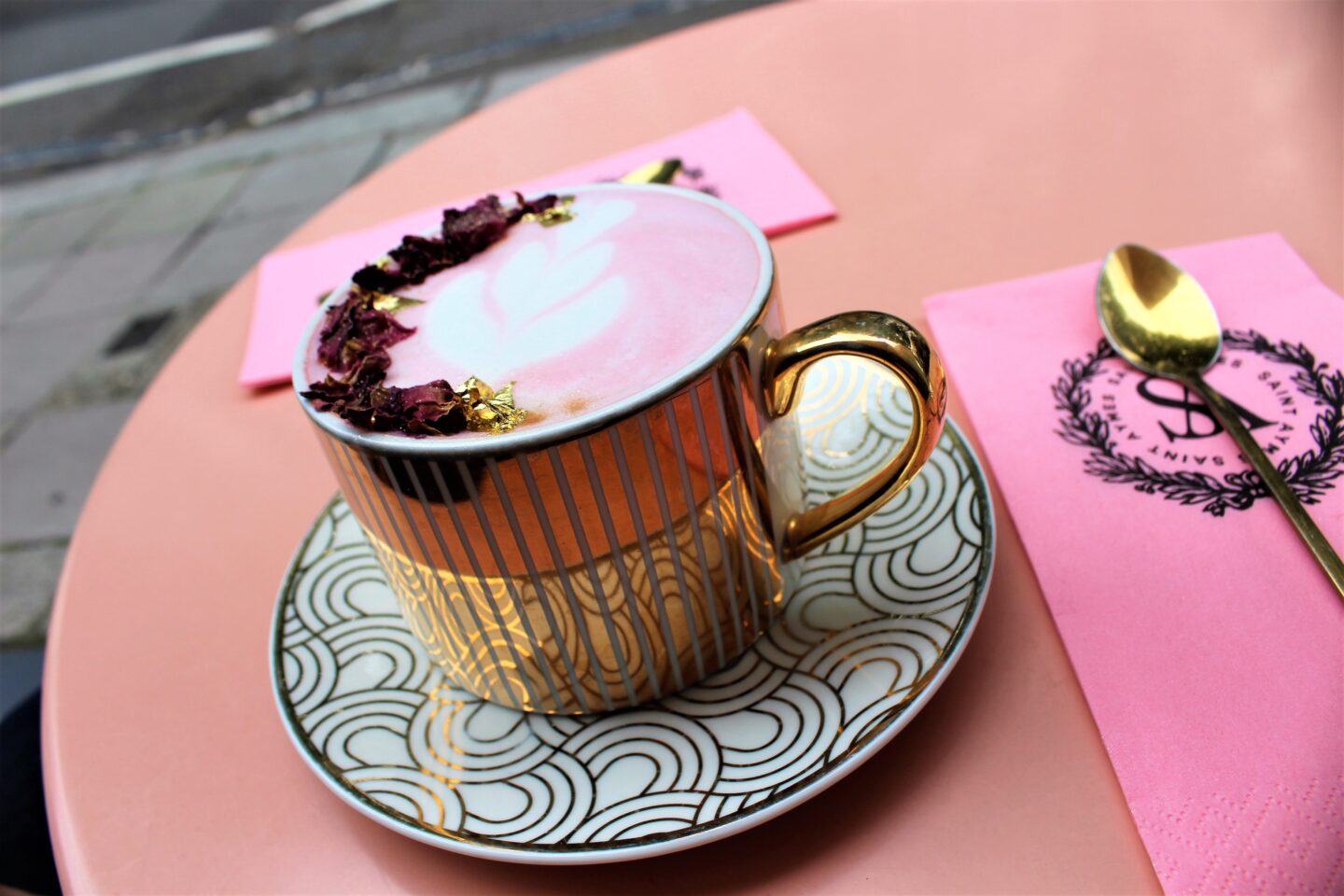 Colbeh
Colbeh is a Persian restaurant with a varied menu. On our visit we asked for recommendations as there was so much that sounded great and the cuisine was quite new to us so we were not sure what to order!
For starter we shared 'Mirza Ghasemi' which is a dip made from chargrilled aubergine, tomato, garlic and egg. Naturally we ordered a Persian bread to go with our dip, oh my days, I have never seen a bread so big in my life! It was a lovely thin bread with a nice crunch and it scooped up the dip perfectly. The dip had a lovely smoky flavour with a tang from the tomato and a nice hint of garlic. It was very tasty and Mr B and I polished it off, although we didn't quite finish the gigantic bread!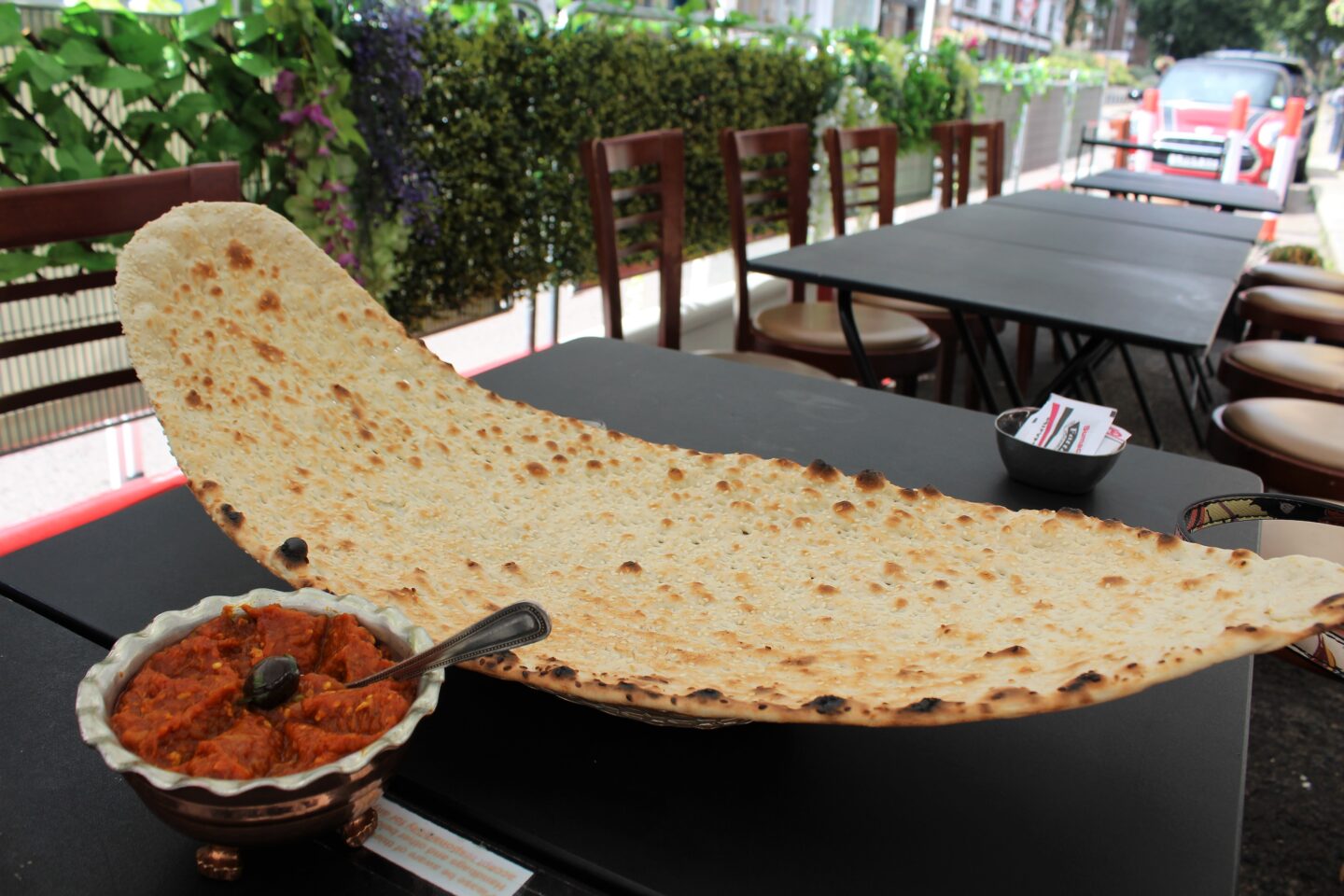 We visited for lunch and in hindsight we should have shared a main course as the portions were extremely generous, definitely worth bearing that in mind if you visit. My main dish was 'Joojeh Kabab Bakhtiari' which was chargrilled whole baby chicken in Colbeh's special spicy saffron sauce. I loved the deep barbecue flavour it had to it. Each mouthful of chicken was smoky and spicy and packed with flavour. Mr B chose the 'Ghouzi' which was lamb shank cooked in special tomato sauce served with a special rice of raisins, fried, onions and spices. The lamb fell off the bone, it was so very tender, just how you want a lamb shank to be.
Buchanan's cheesemongers
Not a restaurant but definitely somewhere every fellow food-lover needs to visit.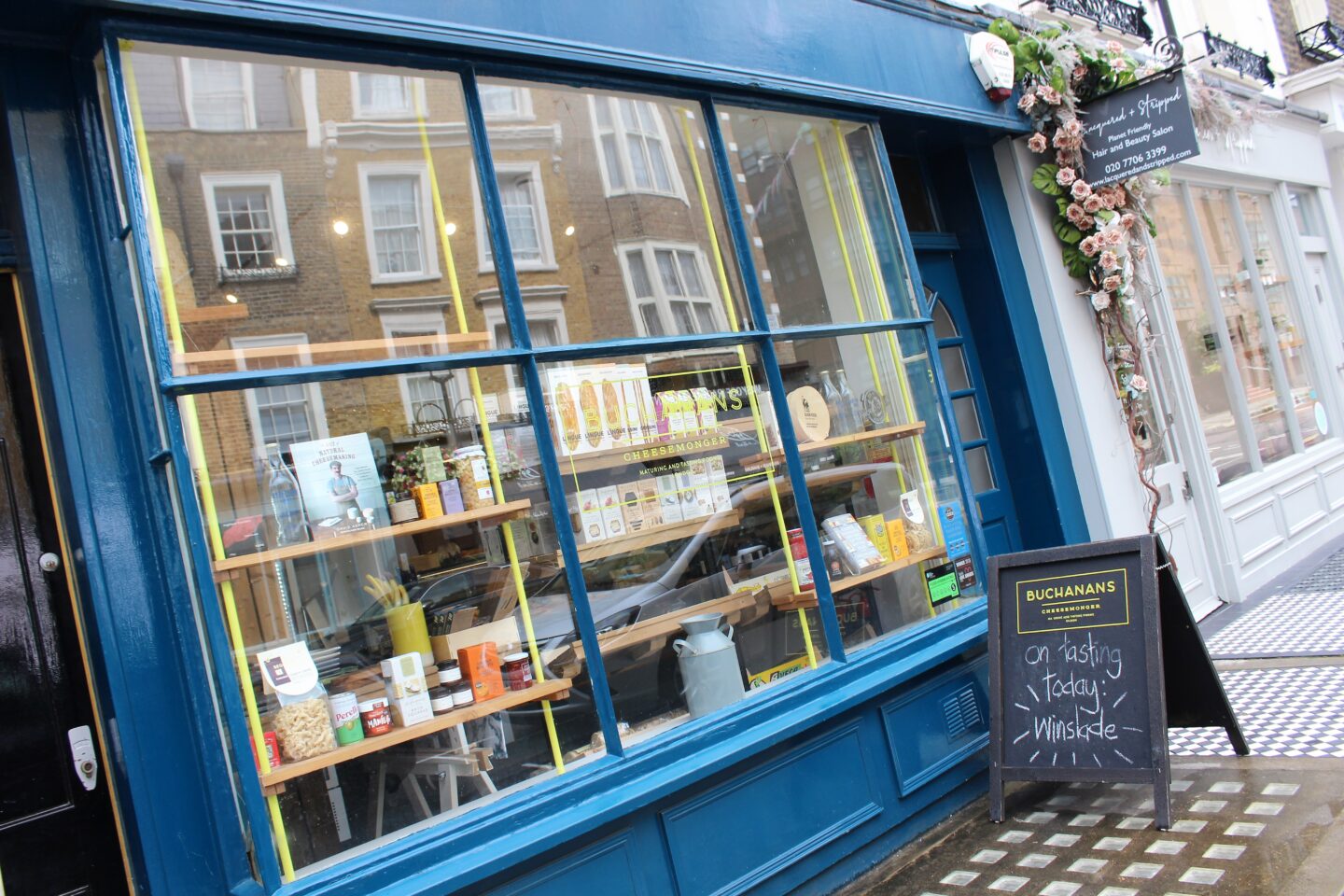 With very friendly staff, a great range of local produce and fantastic selection of cheese you will not be walking out the door without making a purchase! We had no idea which cheeses to pick so we had a little taster before choosing a great selection which made us a lovely cheese board when we got back from our London trip.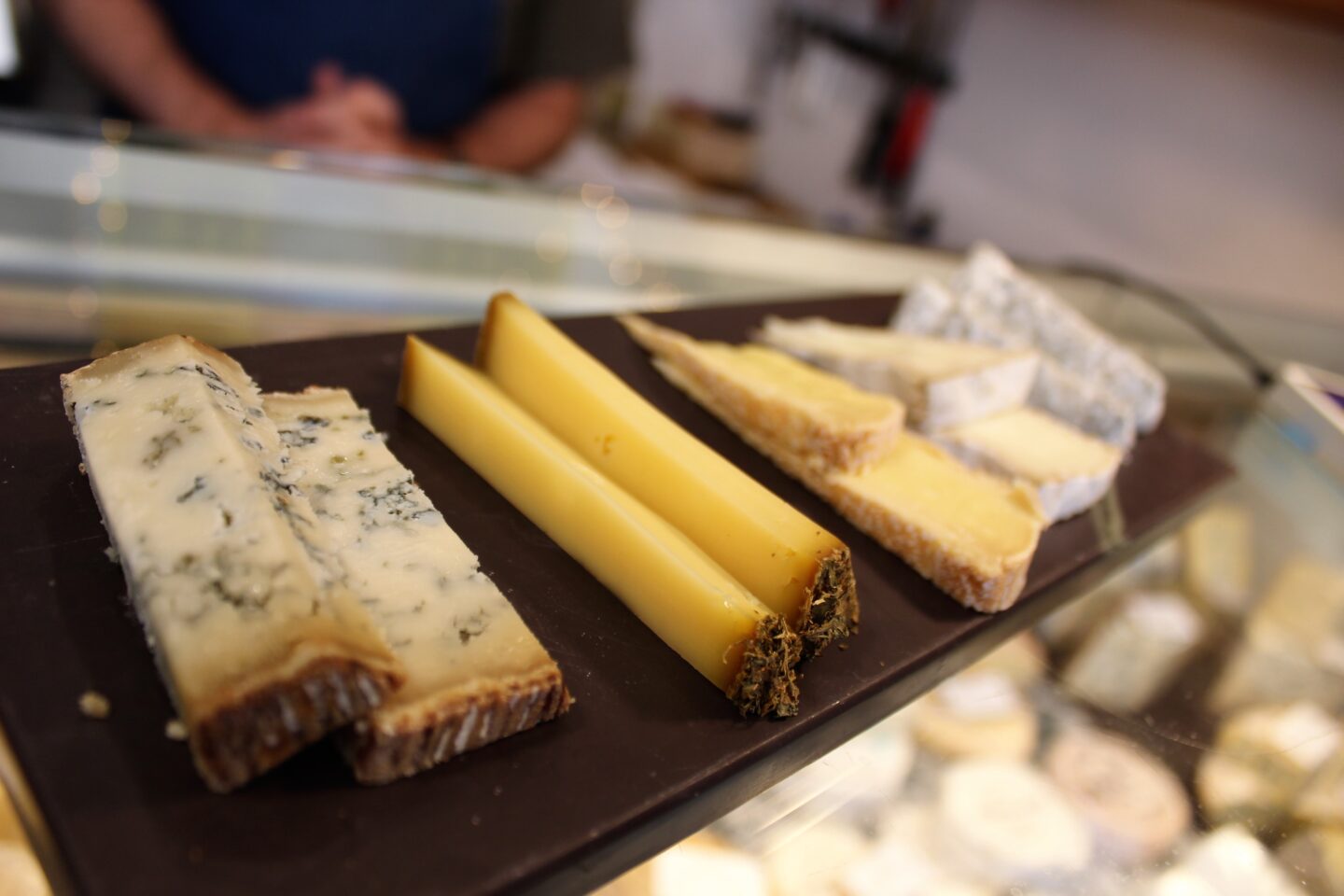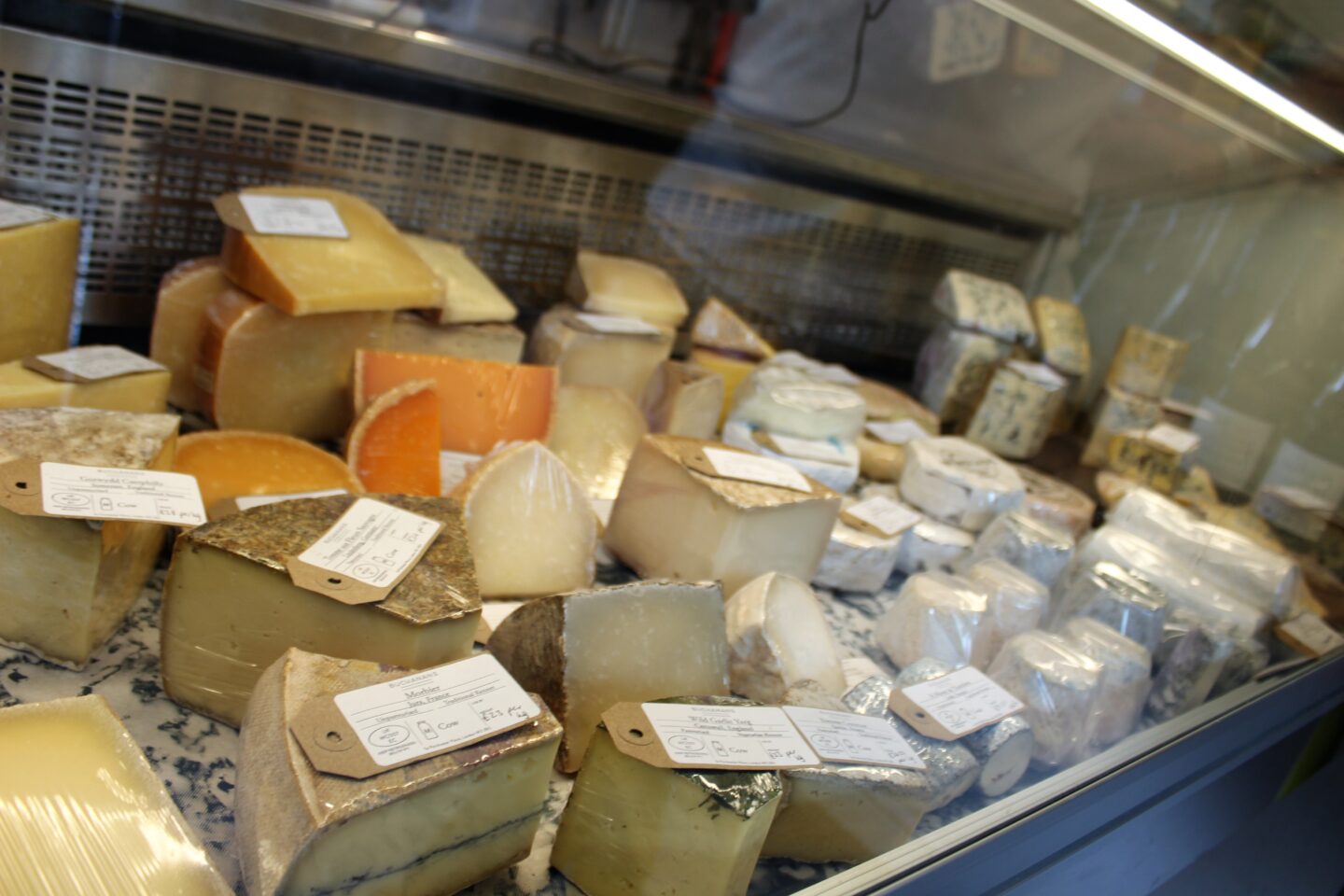 Connaught Cellars 
A wonderful wine shop which feels like you are walking into Aladdin's cave!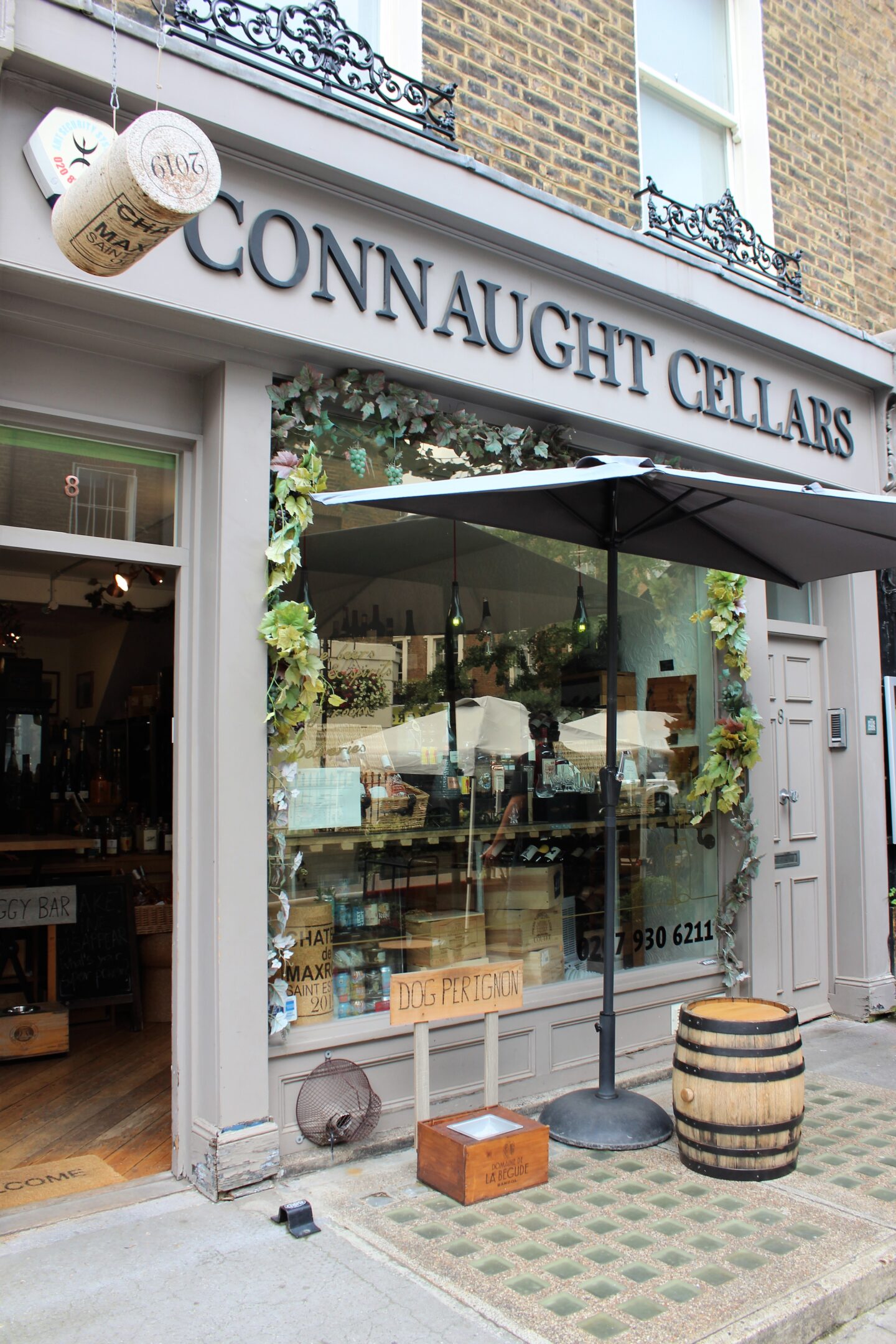 They have a room where they hold wine tasting events and where you can book private wine tastings. But if you just pop in and wander around the shop the lovely staff are there to help you with any recommendations. We tried some lovely wines and came away with a beautiful bottle of organic prosecco.