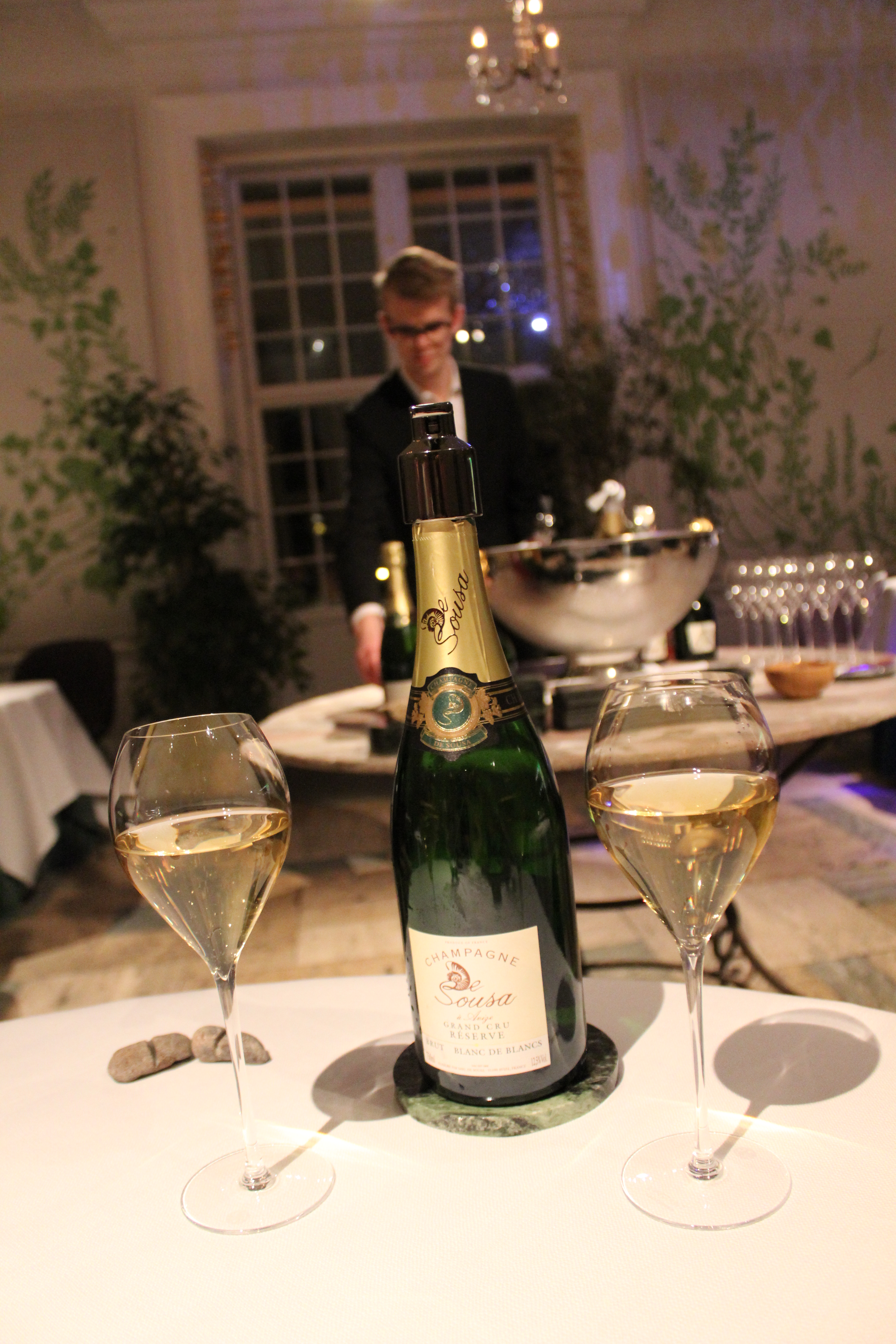 When we planned our trip to Copenhagen it all centred around our visit to Mielcke & Hurtigkarl. I was very excited about our visit and also very intrigued. There is no menu available on the website, but there are so many fantastic reviews out there I knew it was going to be a fantastic dining experience and what a dining experience it was!
Mielcke & Hurtigkarl is located in Frederiksberg Gardens. The beauty of the gardens featured throughout our visit, from the stunning building to the light and airy restaurant which makes you feel relaxed and calm as soon as you walk in.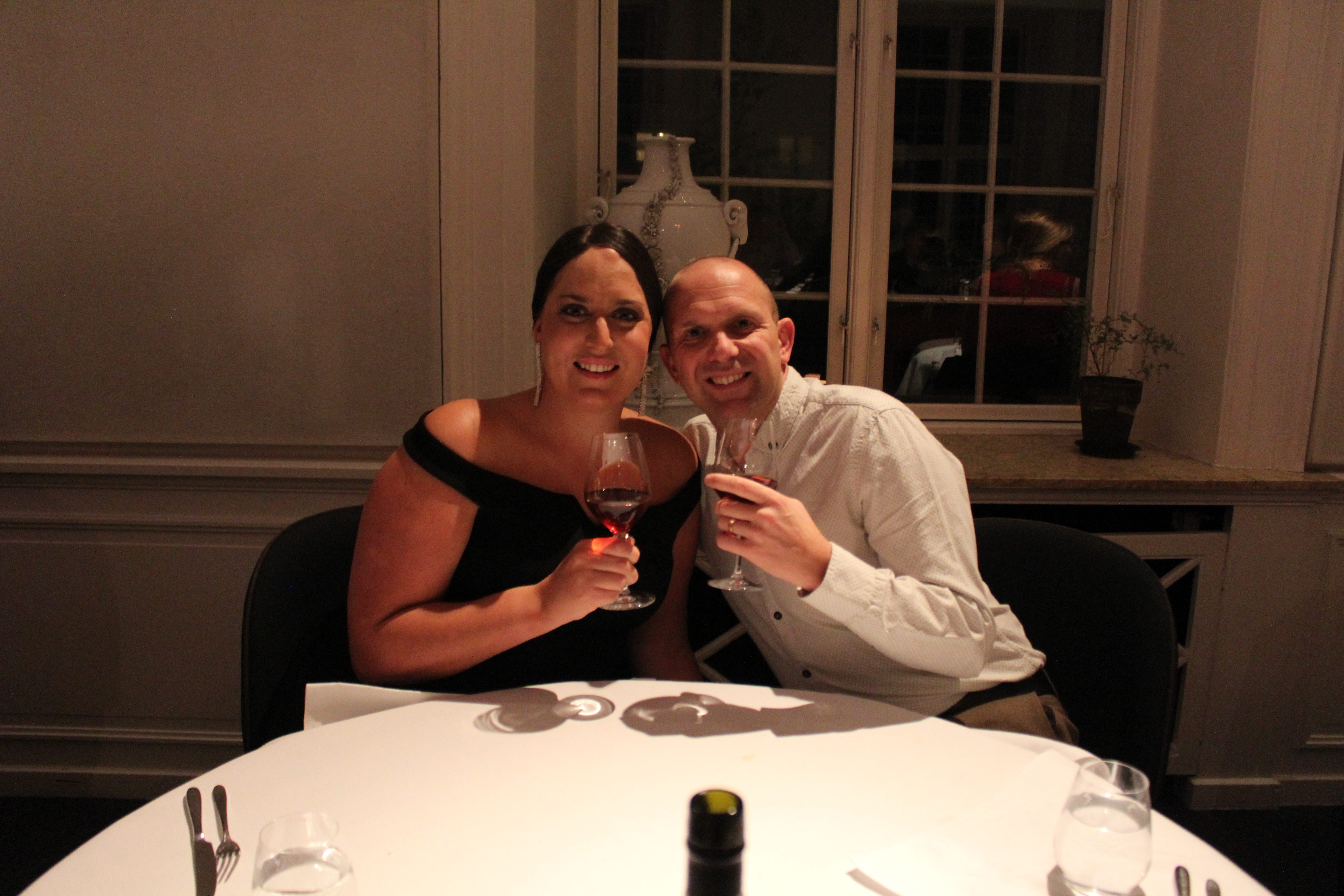 The staff are absolutely fantastic, probably one of the best teams I have had the pleasure of seeing in a restaurant. They are knowledgeable, passionate and so attentive, but not too much. It's just the right balance to make you feel completely relaxed and at ease.
Now onto the best bit, our incredible 15-course tasting menu, yes that is correct, 15 courses! But amazingly we didn't leave feeling uncomfortably full, just extremely satisfied and blown away by the flavours and textures we had the pleasure of devouring! I hope I don't explain this experience as pretentious as it was anything but. It was just one of those meals that you have once in a while which was perfect in every way.
We started with 'Tomato – pecorino & hyldeblomst', which I can only describe as a cloud of pecorino foam hiding a variety of fresh tomatoes. Mr B said he had never tasted tomatoes so flavourful. This was paired with a stunning pink champagne which was delicate and light and recommended by the fantastic sommelier Jose Santos, who's experience and knowledge was second to none.
Our next dish was 'Langoustine – shiso & kaffir lime', which was made to be picked up and eaten in the shiso leaf. It was magnificent and as I am writing this I can remember the flavours and the taste explosion as I ate it. The punchy lime didn't overpower the soft delicate langoustine . . . it was so yummy!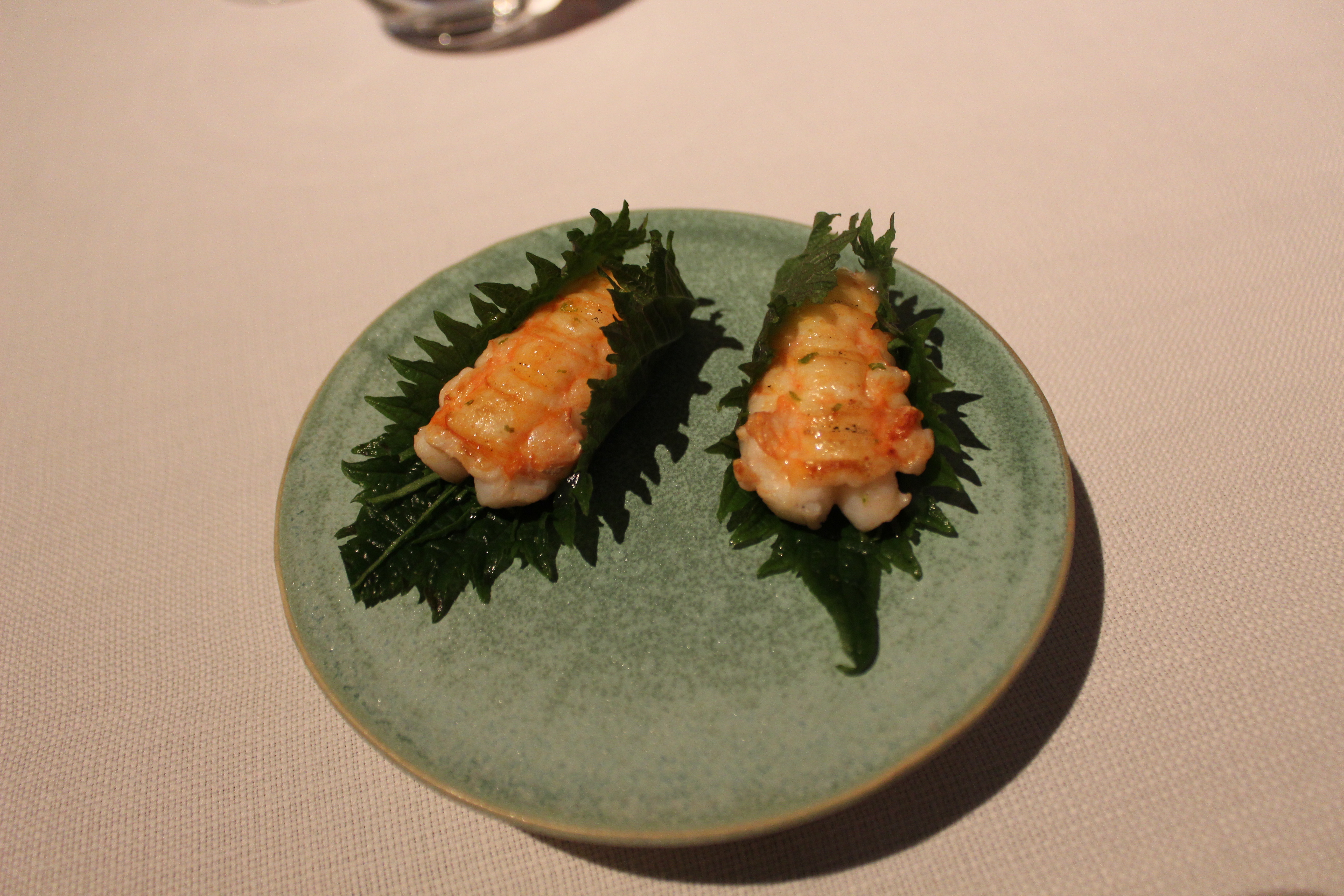 'Charcuterie – beef, goose & game' was three beautiful meats that melted in the mouth and so you didn't have to get your fingers greasy you got a quaint little pair of tongues to eat them with (I thought this was quite cute!).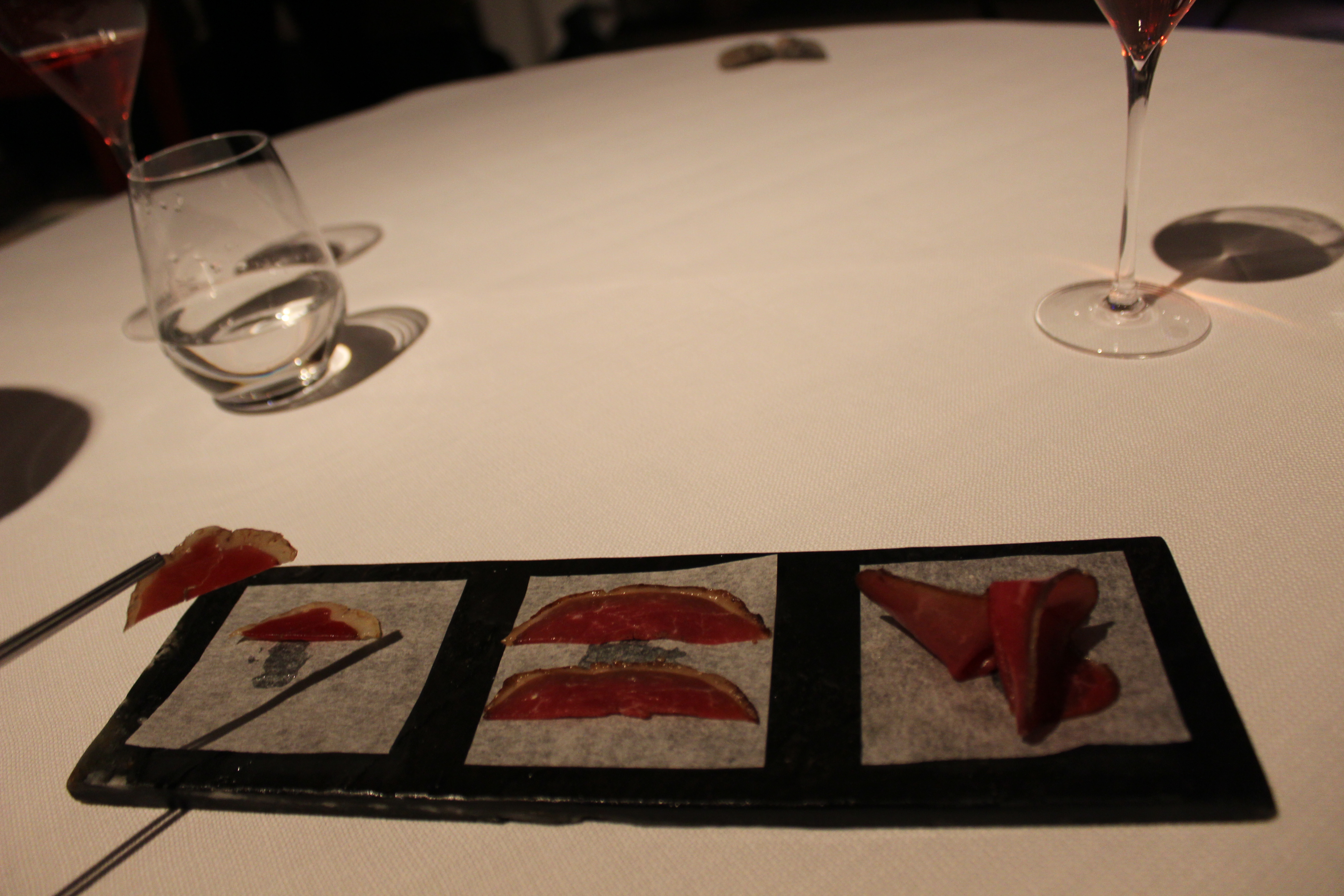 Next up was 'Scallop – green strawberries & pomelo'. This dish was served ice cold which was a shock to my taste buds! But the citrus from the pomelo (which is just a citrus fruit) worked perfectly with the scallop.
As you may know I am a massive bread fiend! The bread here was served with a delicious herb butter. By this point we were also drinking a beautiful vintage champagne to complement the dishes.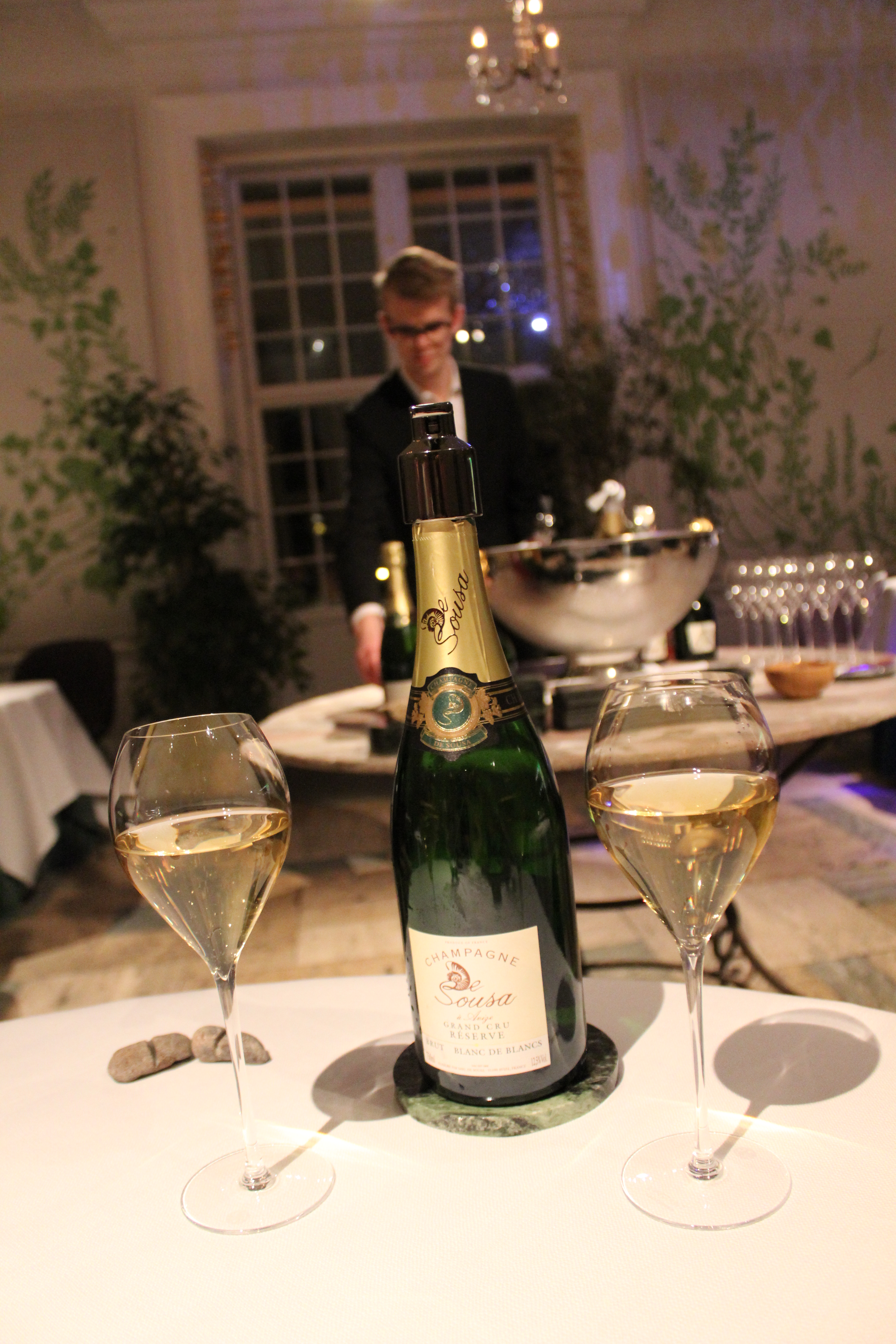 'Lemon Sole – chicken skin & seaweed' was my favourite dish of the night. The presentation, flavours and textures in this dish were utter perfection. I'm sure I could eat this dish a hundred times over and still love it as much!
A one bite taster came next in the form of 'Squid – apple & dill', a crisp shell with a soft and tasty filling.
The next dish was 'Pumpkin – pumpkinseeds & langoustine'. I am not a huge fan of pumpkin, but the broth was so flavourful it worked really well with the ribbons of pumpkin.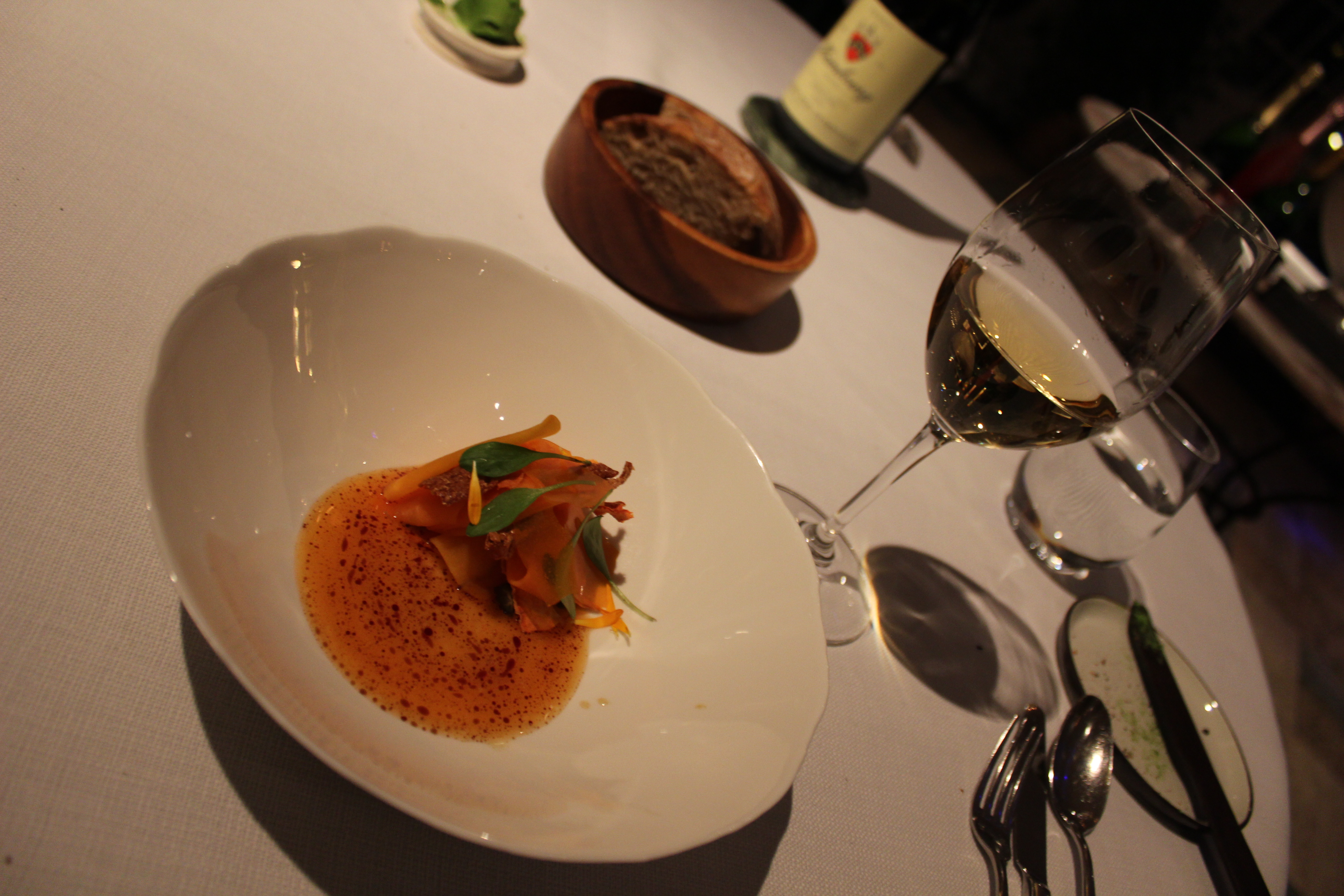 'Nduja – sage & parmesan' was another stand-out dish of the night. Perfectly thin homemade pasta which held a fantastic filling that was meaty and spicy. Huge flavour in such a small parcel!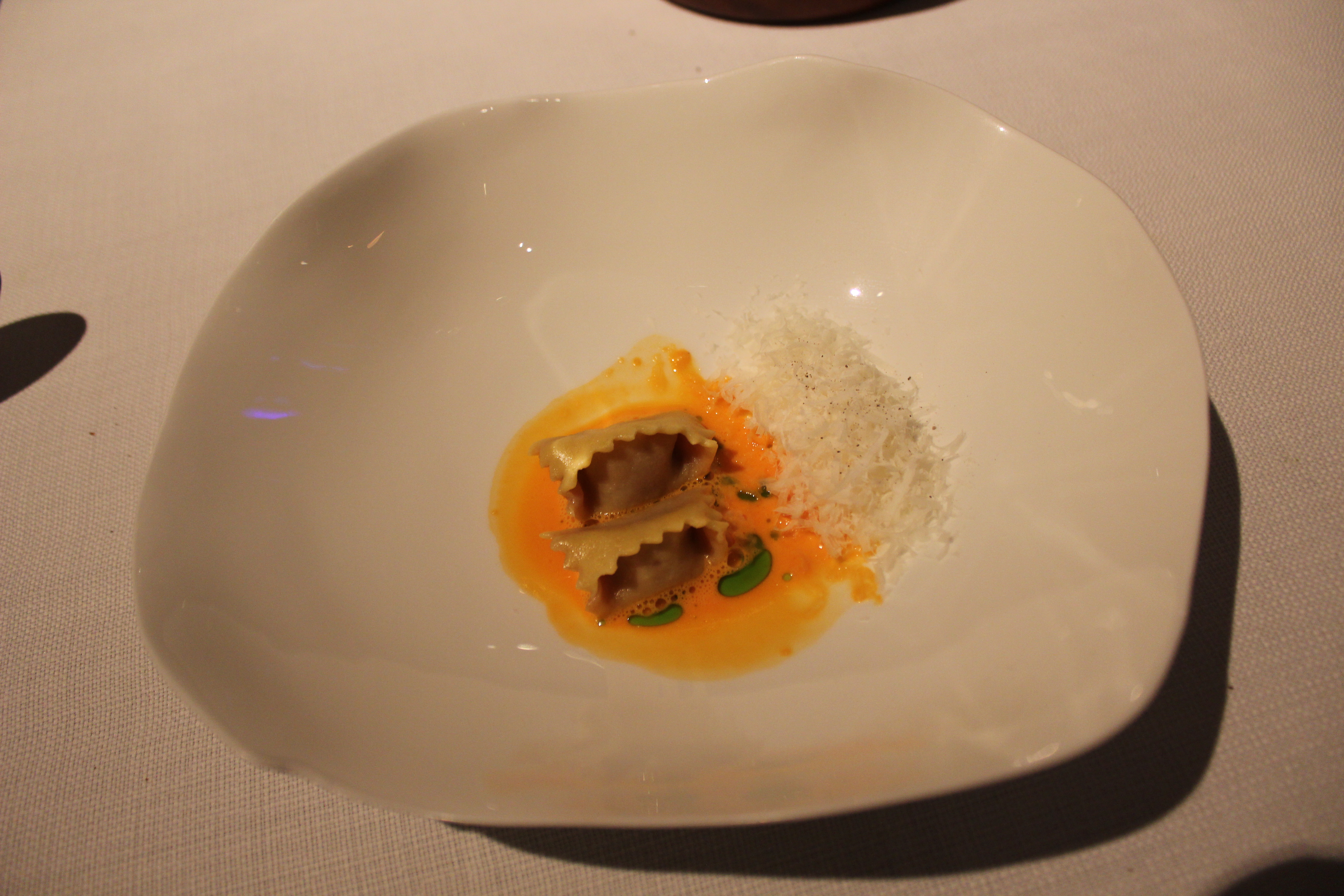 Next came something I had never come across before 'Seabuckthorn – flowers & herbs'. When it was presented, it honestly reminded me of potpourri! We were told to eat it in one – the texture was crisp and it tasted fresh and zingy!
'Pheasant – plums & truffles' – was a fantastic end to the savoury dishes (not counting the cheese course!). The pheasant was cooked to perfection and perfectly tender, the sauce fantastically rich and I loved the addition of the deep fried shiitake mushroom which added a great texture to the dish.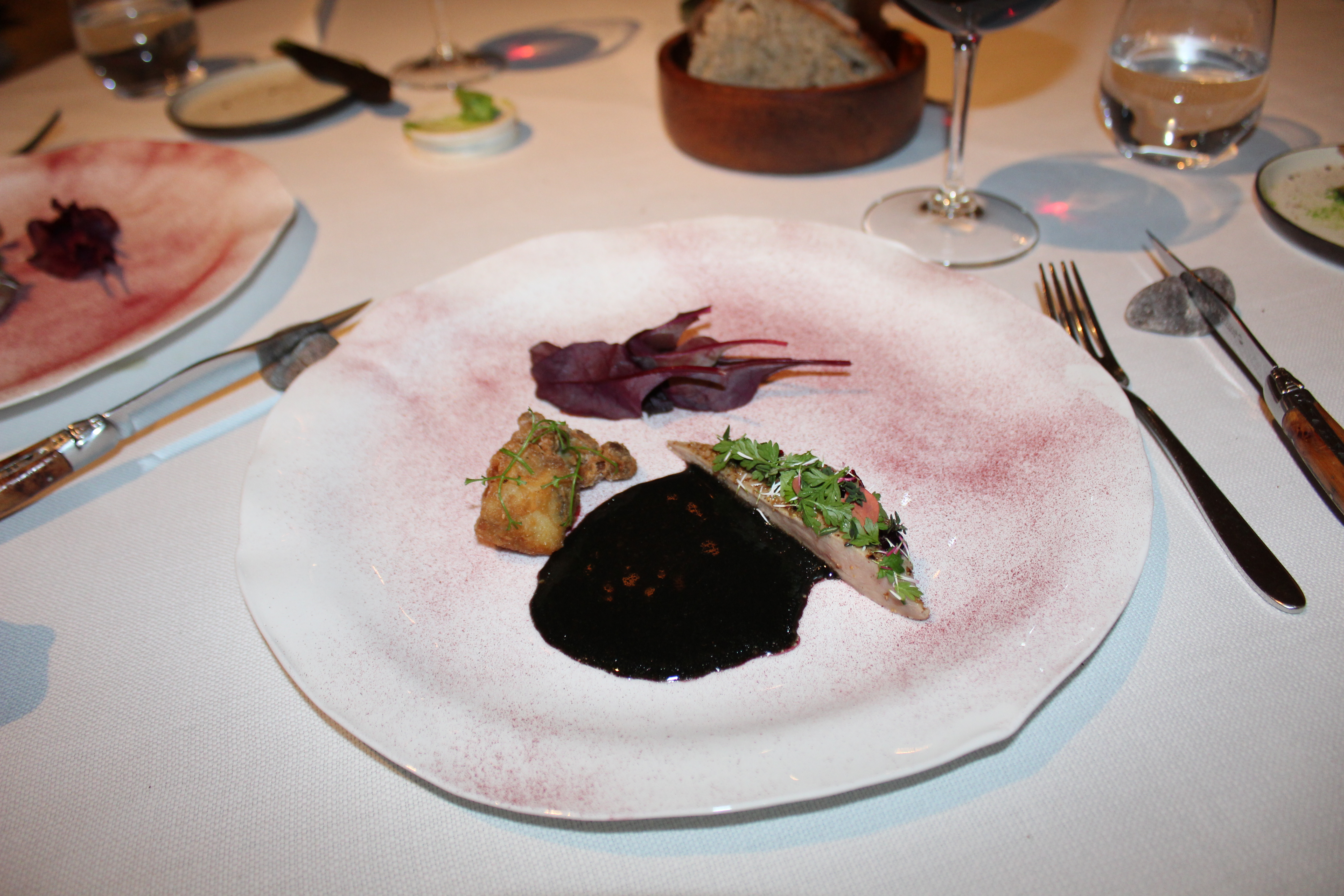 The Italian red wine, Conterno Fantino, Barolo Vigna del Gris which was served with the pheasant was the standout wine of the night for us.
The option of the cheese course was next. Is cheese ever an option? Not for me, it is always a necessity! 'Cheese – croissant, granbark & hazlenuts', my favourite of the two was served thinly sliced, slightly warm and melty and to make it even better, it was generously covered in truffle shavings. Delicious! What I also loved was that the cheese was served with freshly-made buttery croissants, a fantastic alternative to biscuits. This was served with a port, something I don't usually opt for with cheese, but matched perfectly.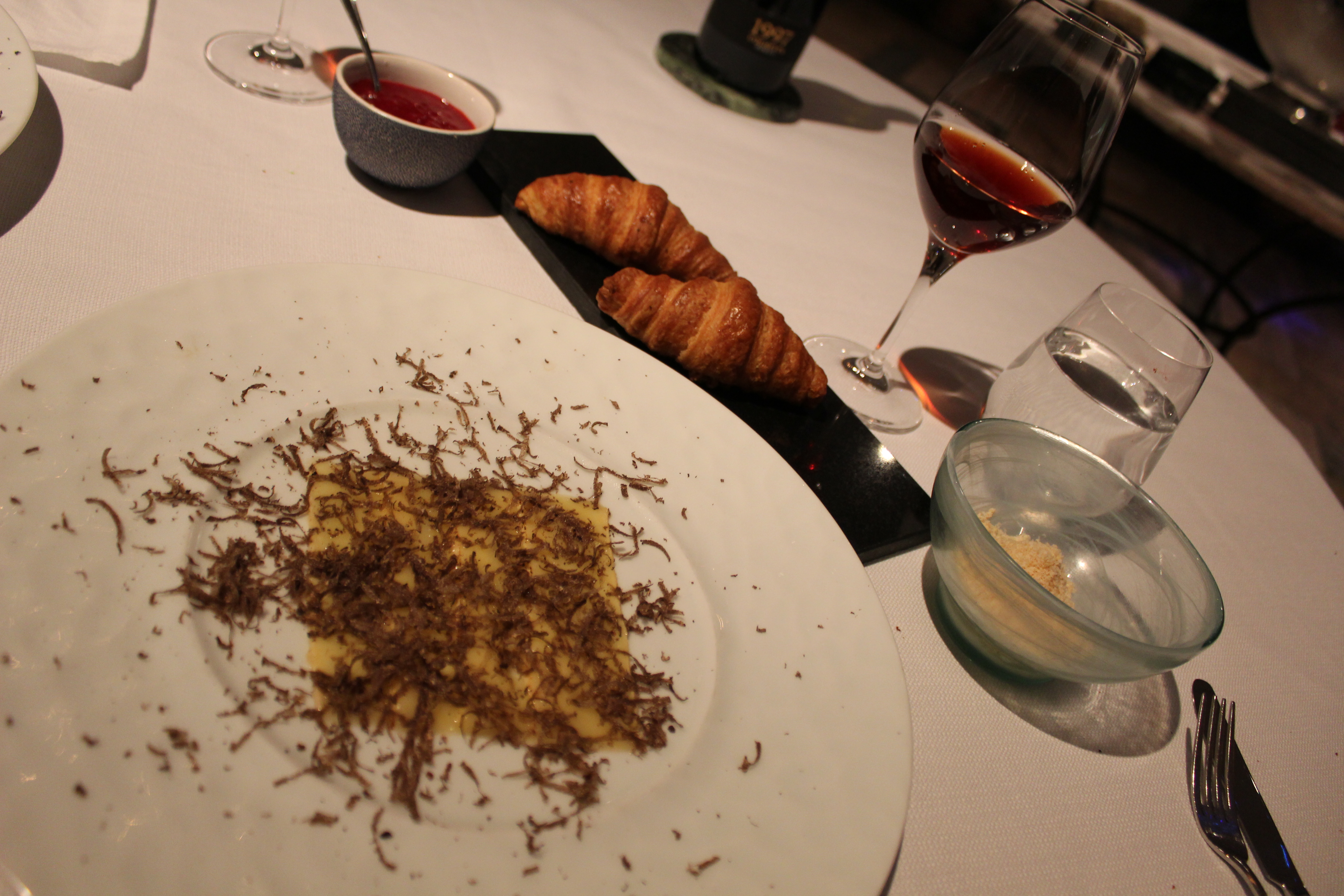 A small pallet cleanser next, 'Pandan – ozuki & coconut', which was fresh, delicious and  very moreish!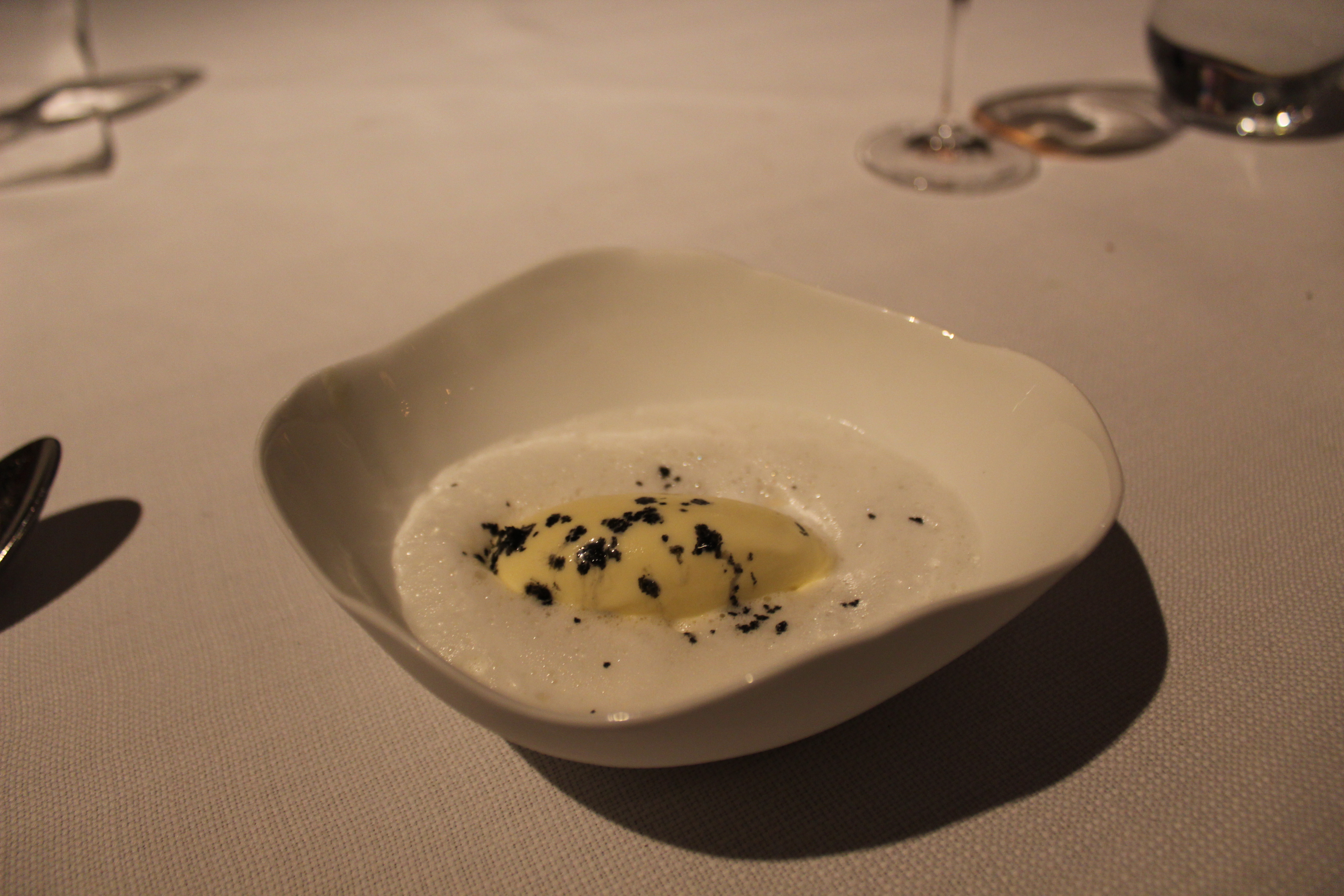 Our 'main' dessert was 'Birch – selleriac & tonka', Another dish that amazed the senses. I have had tonka in desserts before and I love the flavour – it tastes like vanilla and caramel. The crunch from the sweet leaves worked so well with the cold ice cream and the slight savoury notes from the herbs.
Last but not least were bite-size lovelies which we had with our espresso. 'Meringues – coffee-meringue', which was served on a stick and to be eaten in one go – fab! Strong bitter coffee ice cream encased in a sweet toasted meringue. The other sweet treat was 'Danish – lemon verbena & kringle' (kringle is a Scandinavian pastry). It was buttery, sweet and delicious. Mr B claimed he was too full to eat his, so I had his as well!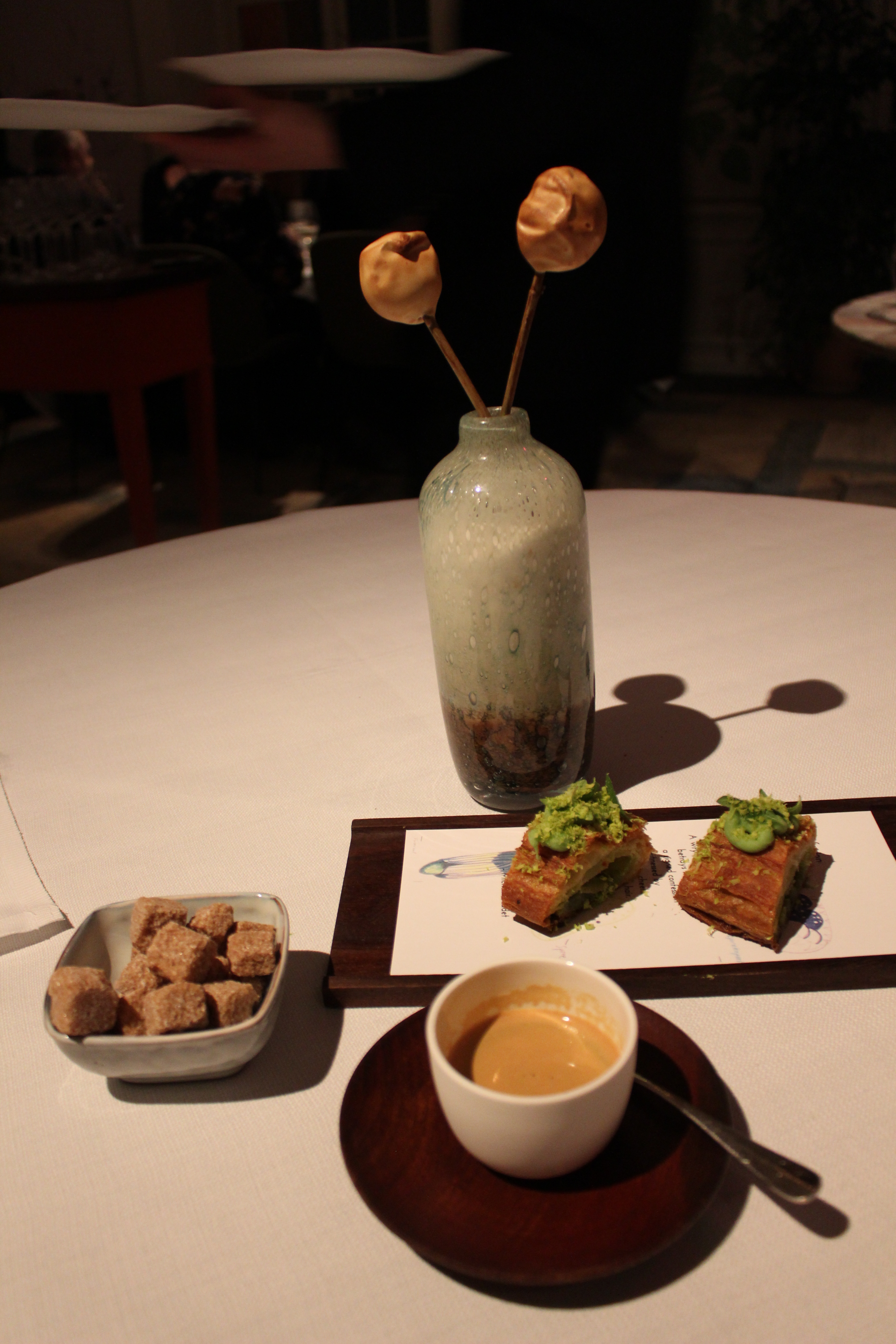 So that's it, my mammoth review of an outstanding meal, with all 15 courses presented so delicately and beautifully. It was a dinner that Mr B & I will not be forgetting about any time soon . . . or ever!
Frederiksberg Runddel 1, 2000 Frederiksberg, Copenhagen, Denmark