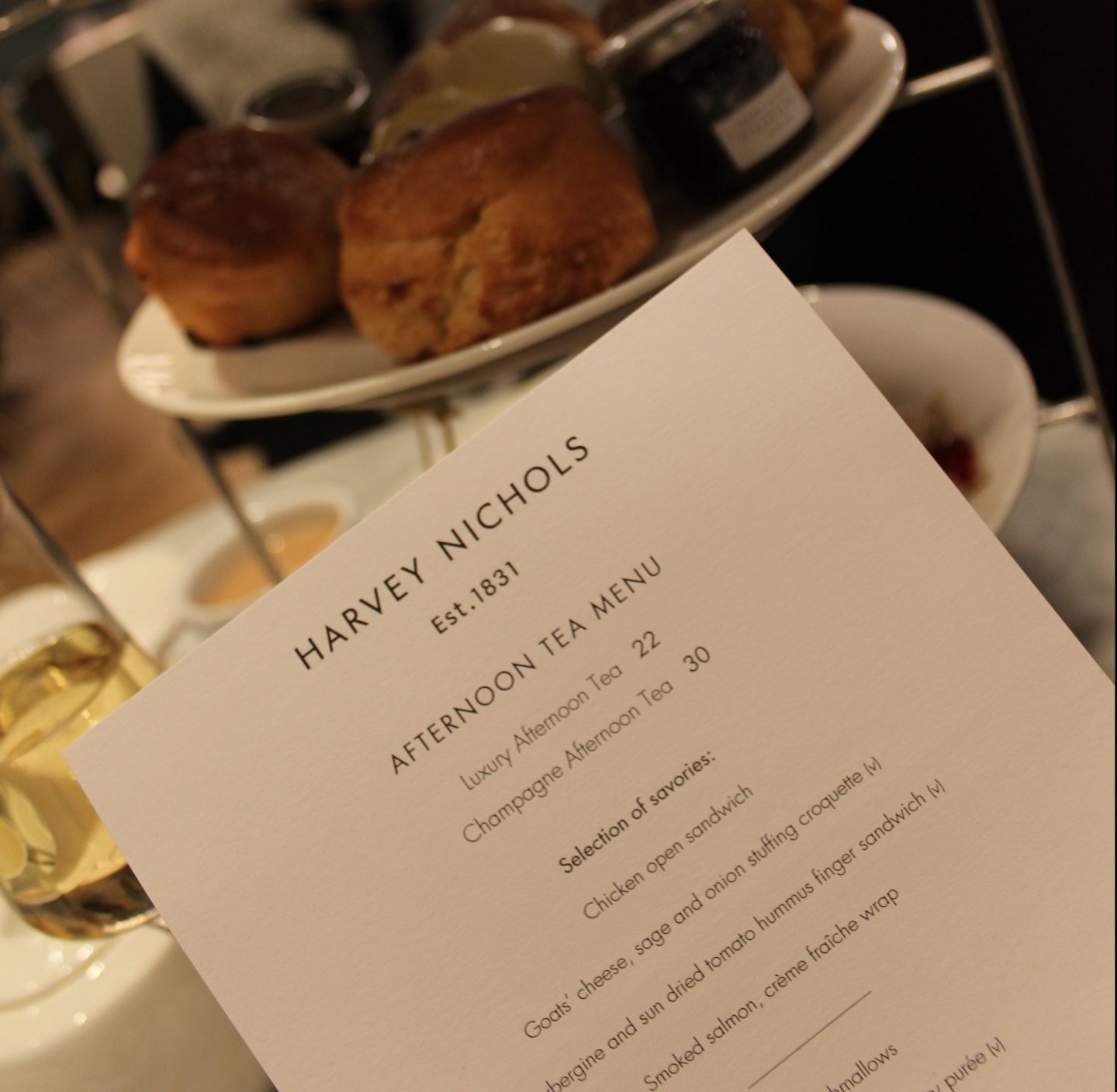 No city break is complete without a bit of shopping and we had the perfect excuse to go into Harvey Nichols when we were in Birmingham as we were booked in for afternoon tea. So of course it would have been rude not to have a browse round the beautiful luxury department store whilst we were there!
We were greeted politely at the restaurant entrance, had our coats taken and were given a choice of tables. We chose one of the booths which felt nice and cosy.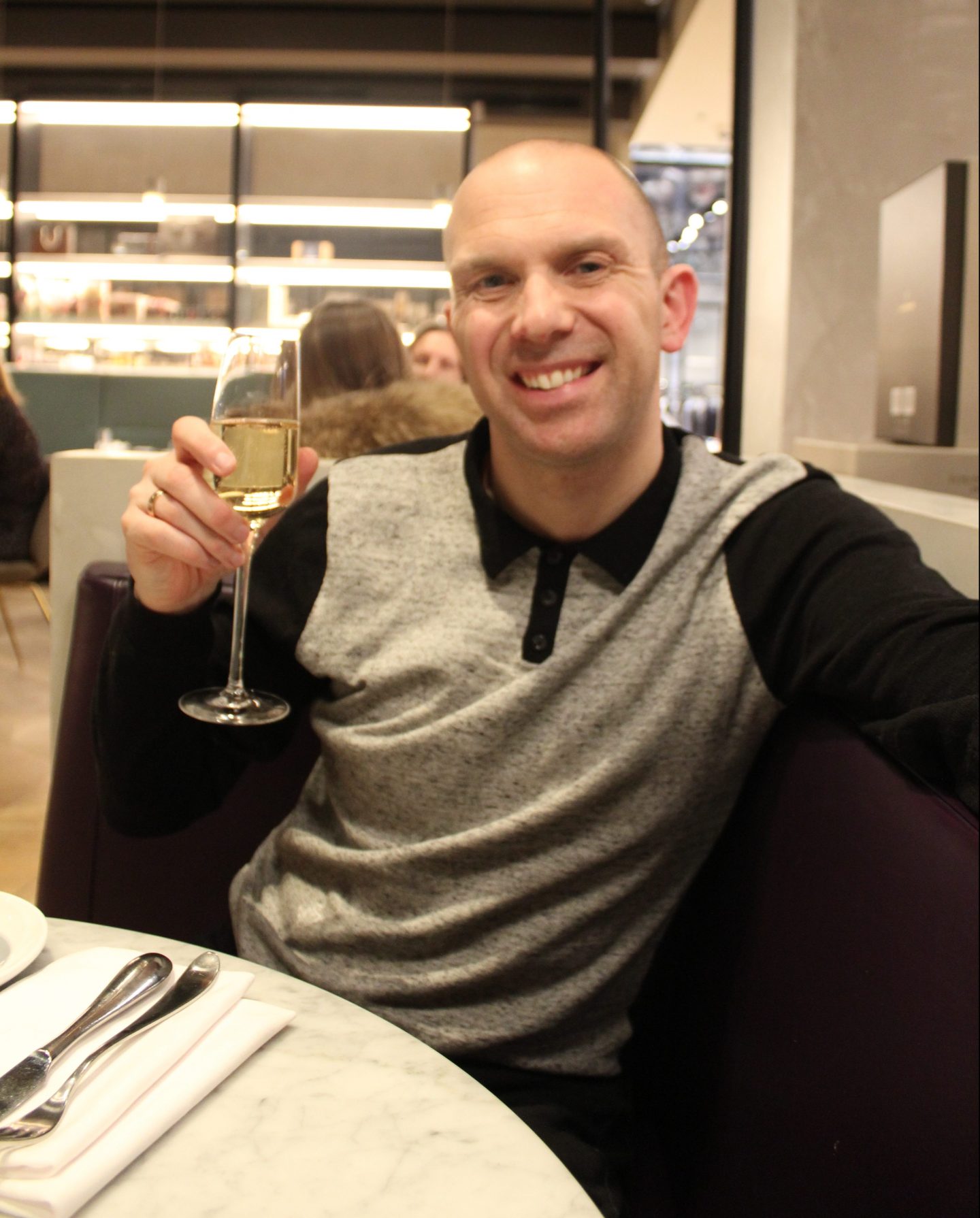 A couple of years ago we had a weekend away in Bristol and enjoyed a fantastic meal in the Harvey Nichols restaurant, but what I liked about the Birmingham restaurant is that it still had the same stylish feel, but it also had its own identity. I liked that it wasn't just a cookie cutter replica, which makes me want to visit all the others. The restaurant was also open plan which made it feel lovely and spacious.
What I have to mention is the great value of the afternoon tea. Luxury Afternoon Tea is £22 per person and Champagne Afternoon Tea is only £30 per person. For the quality and quantity of what you get I think it is very good value and it also comes with unlimited tea or coffee.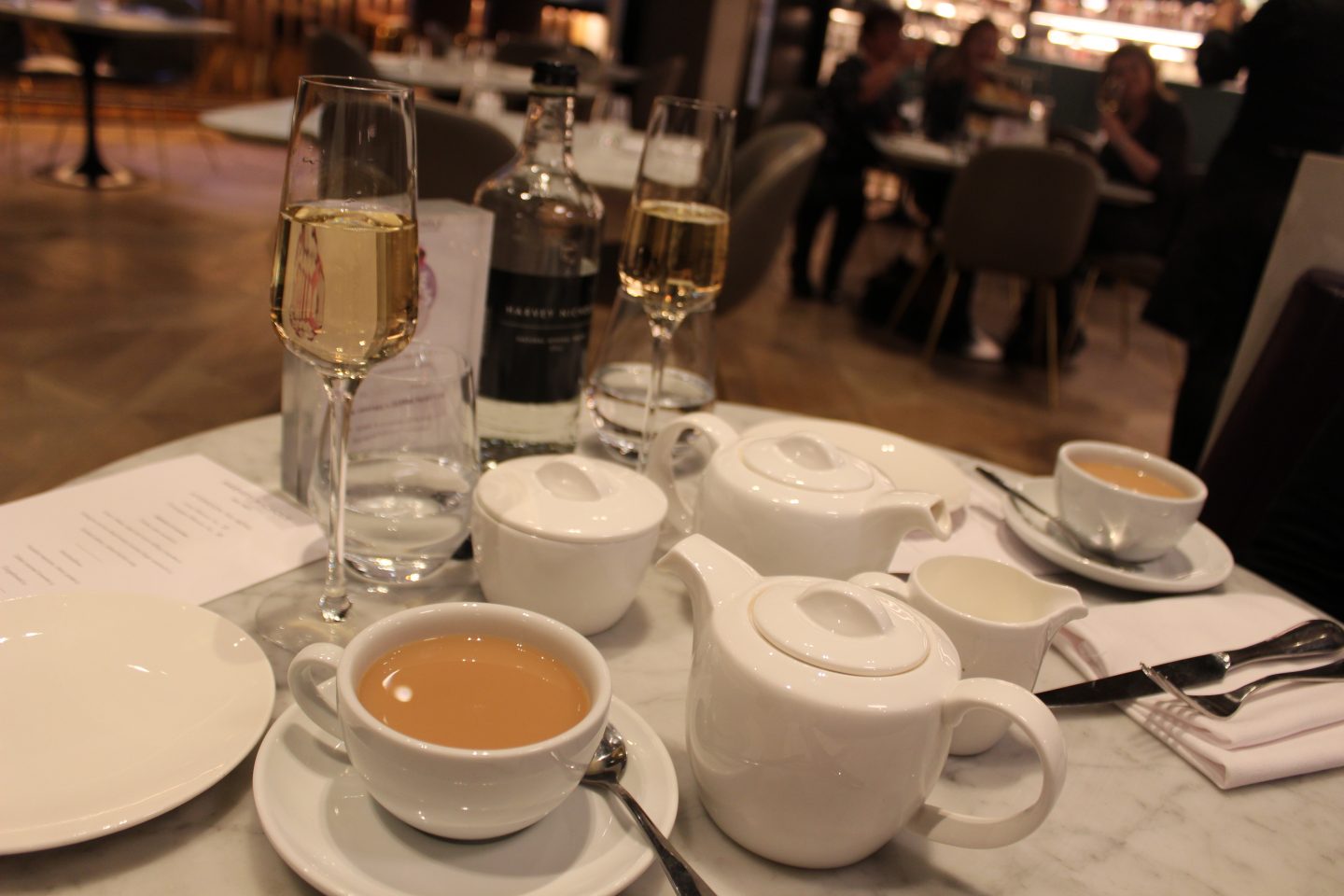 We chose the Champagne Afternoon tea (obviously!) and started off with a beautiful crisp glass of Harvey Nichols own label champagne. I am a big fan of the Harvey Nichols own label and evidence of this was the three bottles of wine we purchased from the wine department afterwards!
Mr B and I both opted for English Breakfast Tea and just as it was being brought out, so was our afternoon tea stand.
Let's start with the savoury tier (of course) . . . the best element on this for Mr B and I was the 'Goats cheese, sage and onion stuffing croquette'. I adore goats cheese. It was warm which gave the croquette a beautiful melty middle with a crisp outside. Also on this tier was 'Chicken open sandwich', 'Aubergine and sun dried tomato hummus finger sandwich' and a 'Smoked salmon and crème fraiche wrap'. The only critique I have is that I wish there was more smoked salmon in the wrap as I love smoked salmon (and because I'm a little piggy!).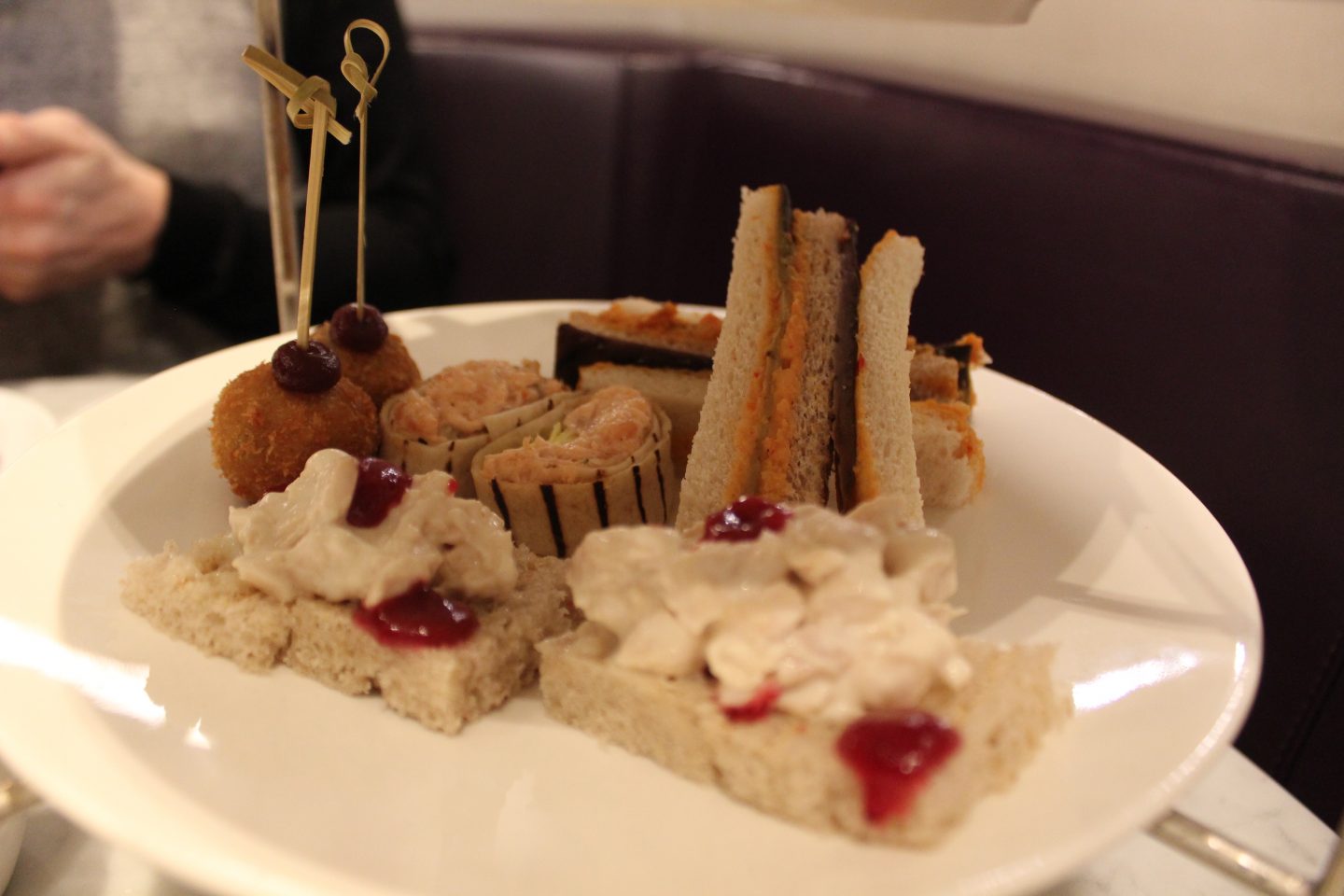 What is the best part of an afternoon tea? For me it is the scones which have to be served warm with a very generous amount of clotted cream and beautiful preserves. I am happy to report these scones ticked all of my above boxes! They were (very) generous in size and we each had one fruit scone and one plain which were served with both strawberry and raspberry jam. The scones were fresh and light and completely delicious!
Now onto the sweet top tier. The 'Marshmallows' were beautiful and delicate with just the right amount of sweetness. I adore macarons and the 'Hazelnut macaron, cherry puree' was crunchy on the outside and chewy in the middle. The hazelnut and cherry was a lovely combination. The 'Gingerbread' had a perfect snap to it and was a lovely addition, especially with the tea. I knew I was going to love the 'Salted caramel brownie' as I absolutely love salted caramel. The rich chocolate and the gooey caramel with the addition of the sea salt is a dreamy combination.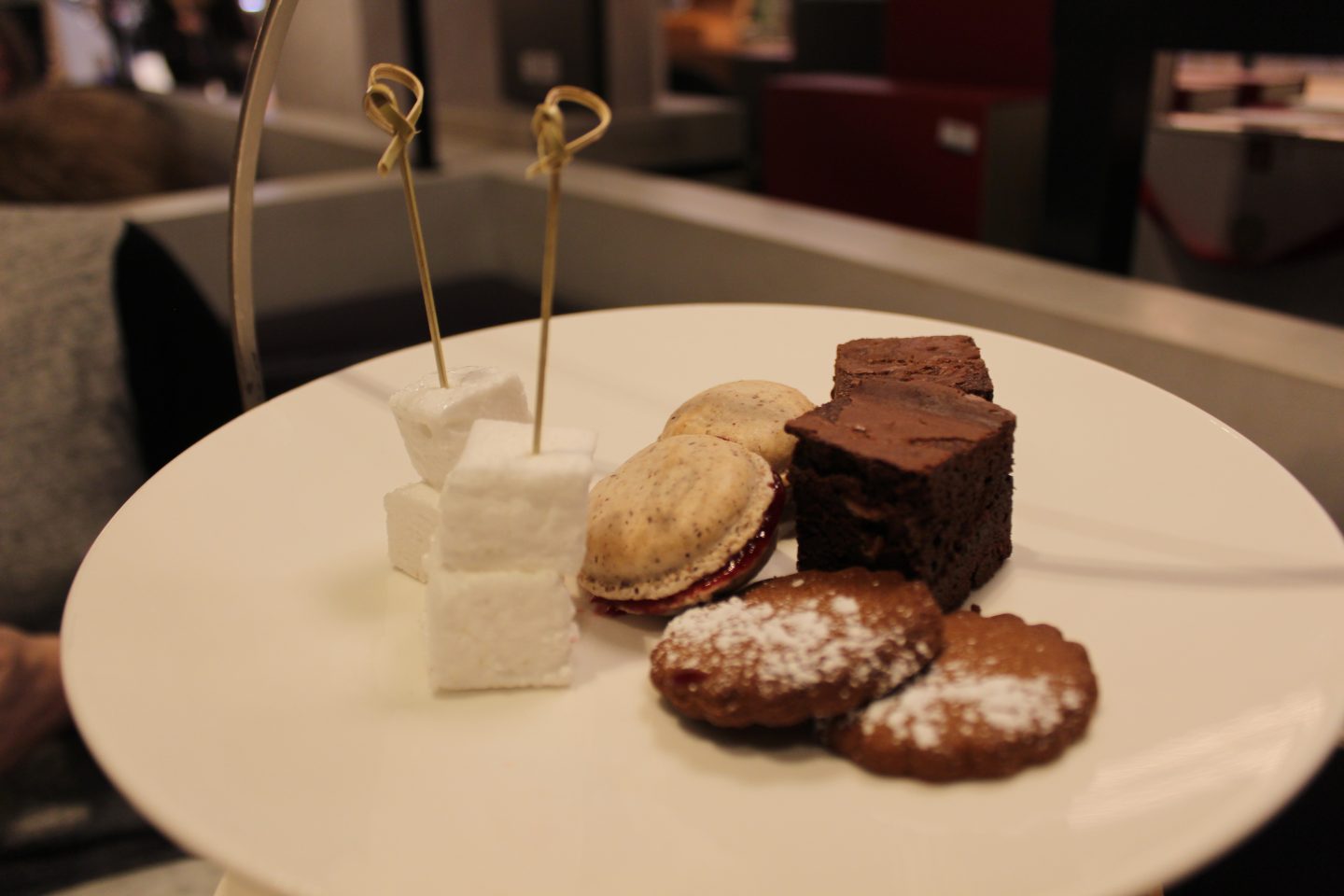 After all that fantastic food and copious amounts of tea we had a walk around the store, purely to walk it all off of course!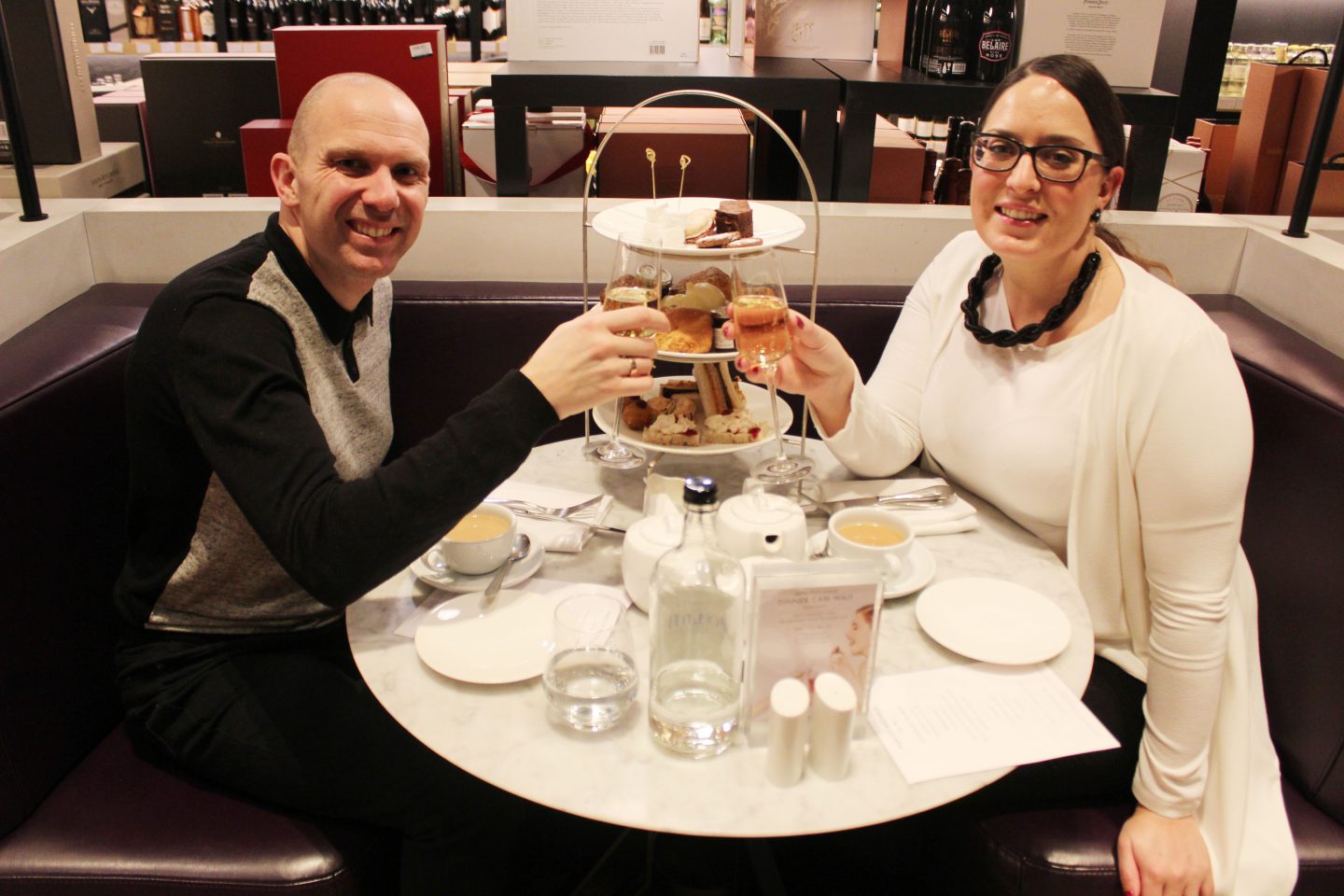 After our wine purchases Mr B caught me drooling over a stunning Gucci mini embroidered leather shoulder bag and decided it was time for us to leave. Think the £1,980 price tag had something to do with it . . .
https://www.harveynichols.com/
65 Wharfside Street, The Mailbox, Birmingham B1 1RE
0121 616 6000