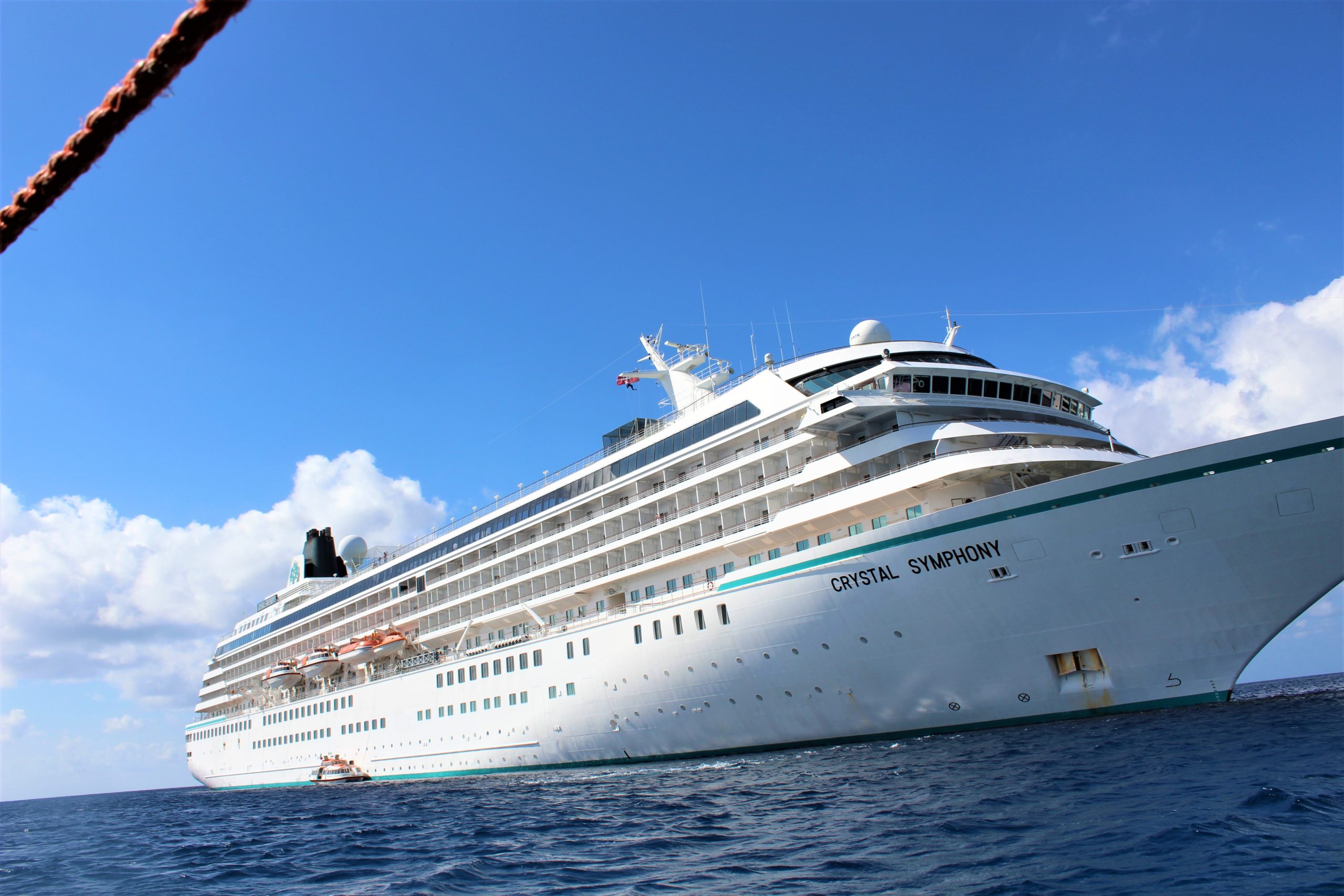 Ever since we had our first taste of six-star luxury cruising in 2017, cruising with Crystal has been on my bucket list. So you can imagine how excited I was to board the beautiful Crystal Symphony for a week sailing around the Caribbean.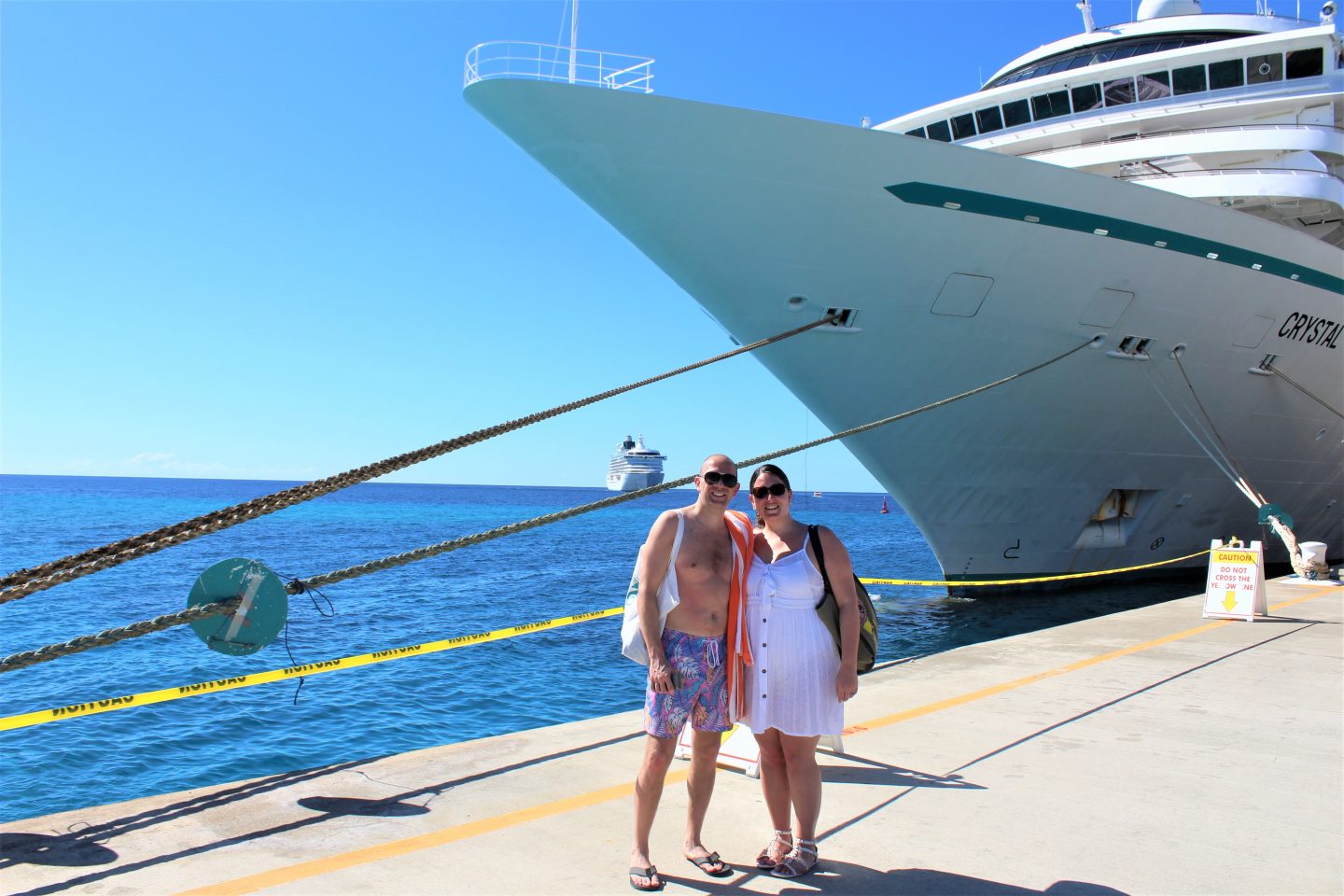 Embarkation can sometimes be a bit hectic and result in long queues, but not when we boarded the Symphony. As we were staying in a Seabreeze Penthouse suite, we could go in the VIP line which meant practically no queuing at all. Within about five minutes of handing over our cases we had gone through security, checked in and took our first steps on board. It took less than one minute of being on board before I was handed a flute of champagne . . . now that impressed me (and yes I was counting!).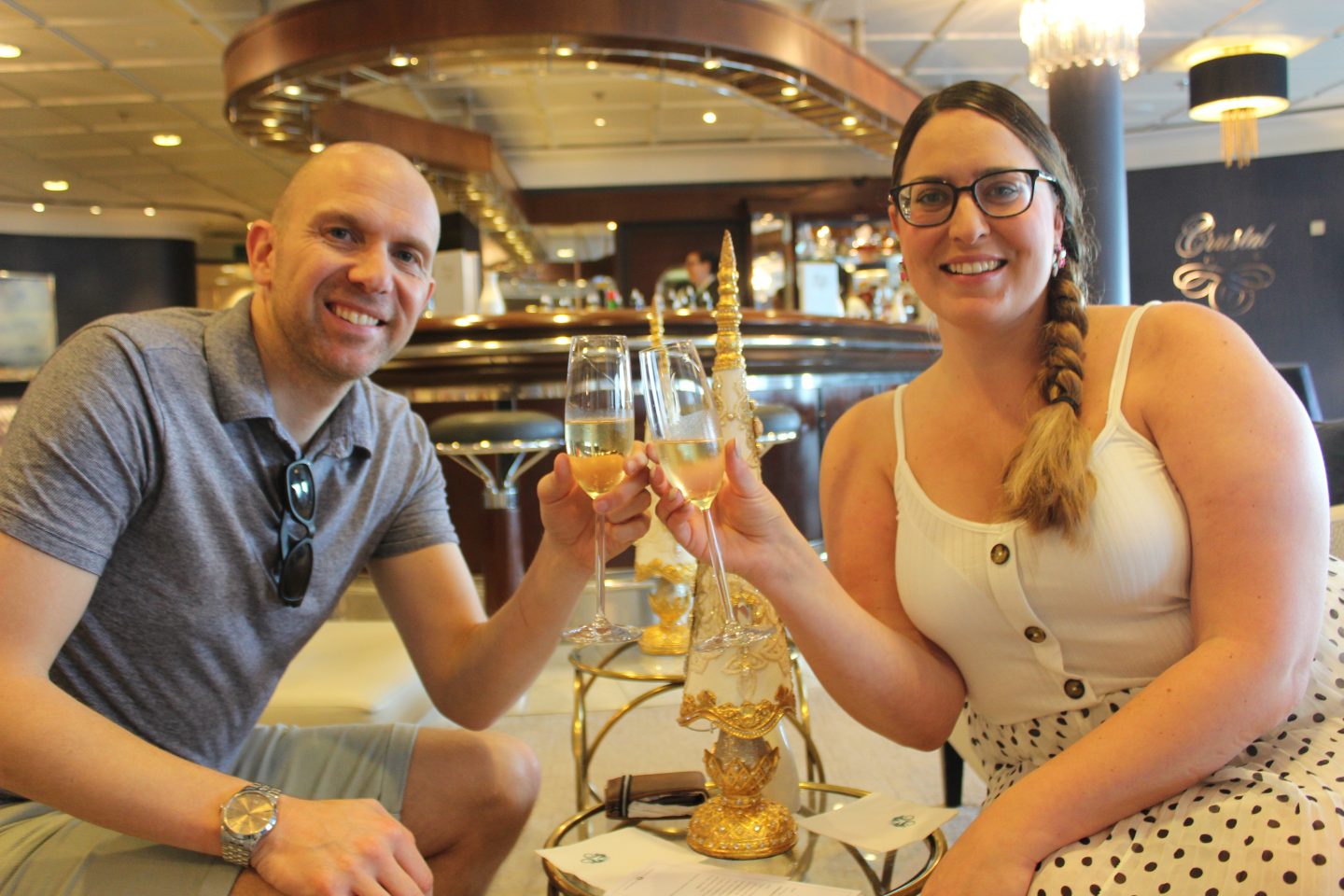 Now let's talk about our cabin. We stayed in a Seabreeze Penthouse suite which made a perfect home for our week on-board. When we arrived there was a chilled bottle of Charles Heidsieck champagne waiting for us – a very nice welcome!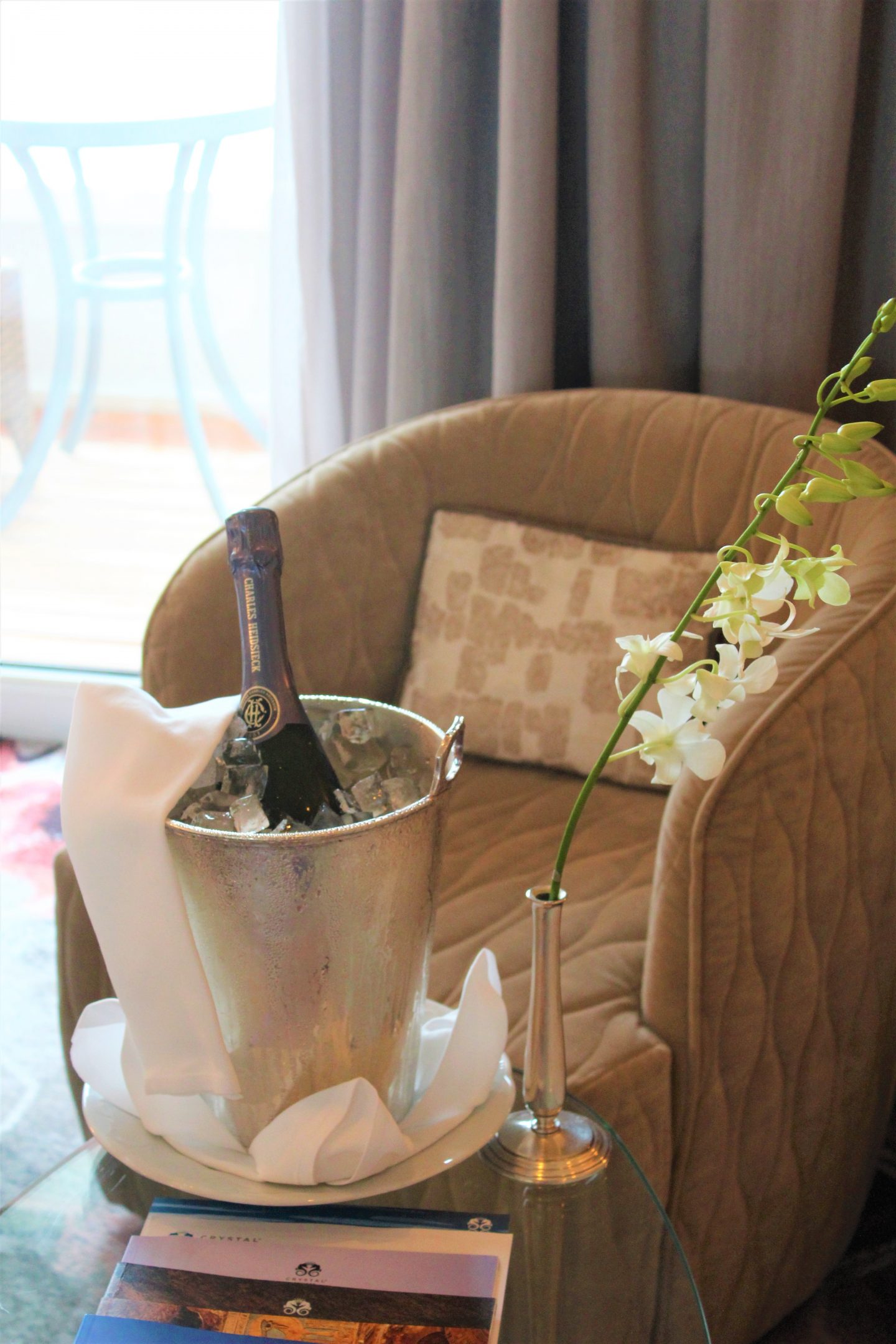 The bed was huge and very comfortable and there was also a pillow menu provided in case you had a preference. There were also USB ports next to the bed which we found handy.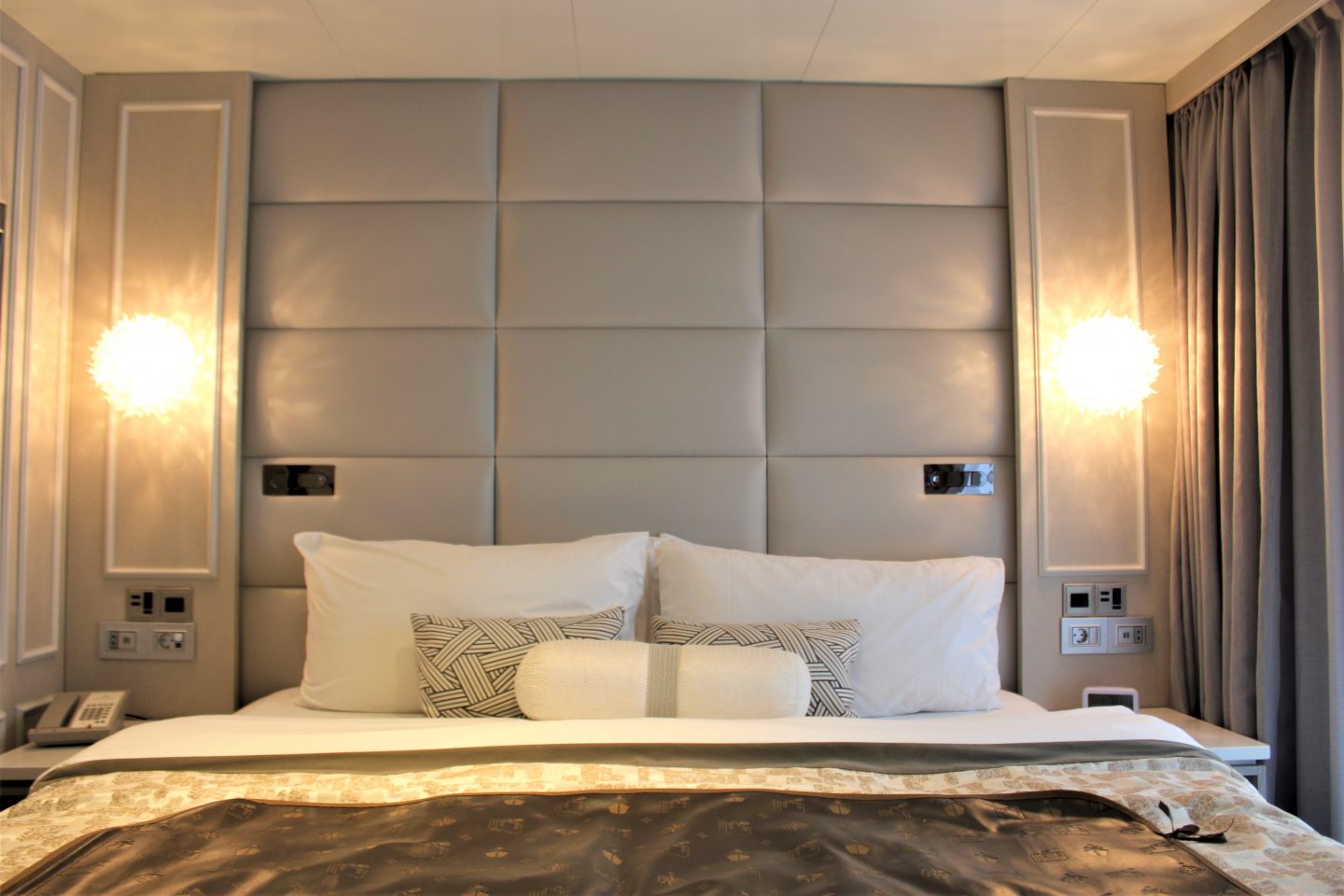 I loved the seating area in our room which had a sofa, lovely velvet chair and table.
There were two dressing tables with chairs and large mirrors which I found had good lighting for doing my makeup.
The walk-in wardrobe had plenty of hanging space with drawers and shelves. Also located in the wardrobe were two dressing gowns each, one thick and one thin (loved that they gave you the choice of two!). There was also a safe, hairdryer, shoe shine glove, umbrellas (not that we needed those!), a shoe horn and laundry bags should you wish to use them. When we were unpacking we were even asked by our cabin attendant if we needed more hangers. Shockingly, we didn't as there were lots provided – I normally end up triple-hanging things! I also liked that there were padded hangers, which I appreciated for some of my dresses with delicate material.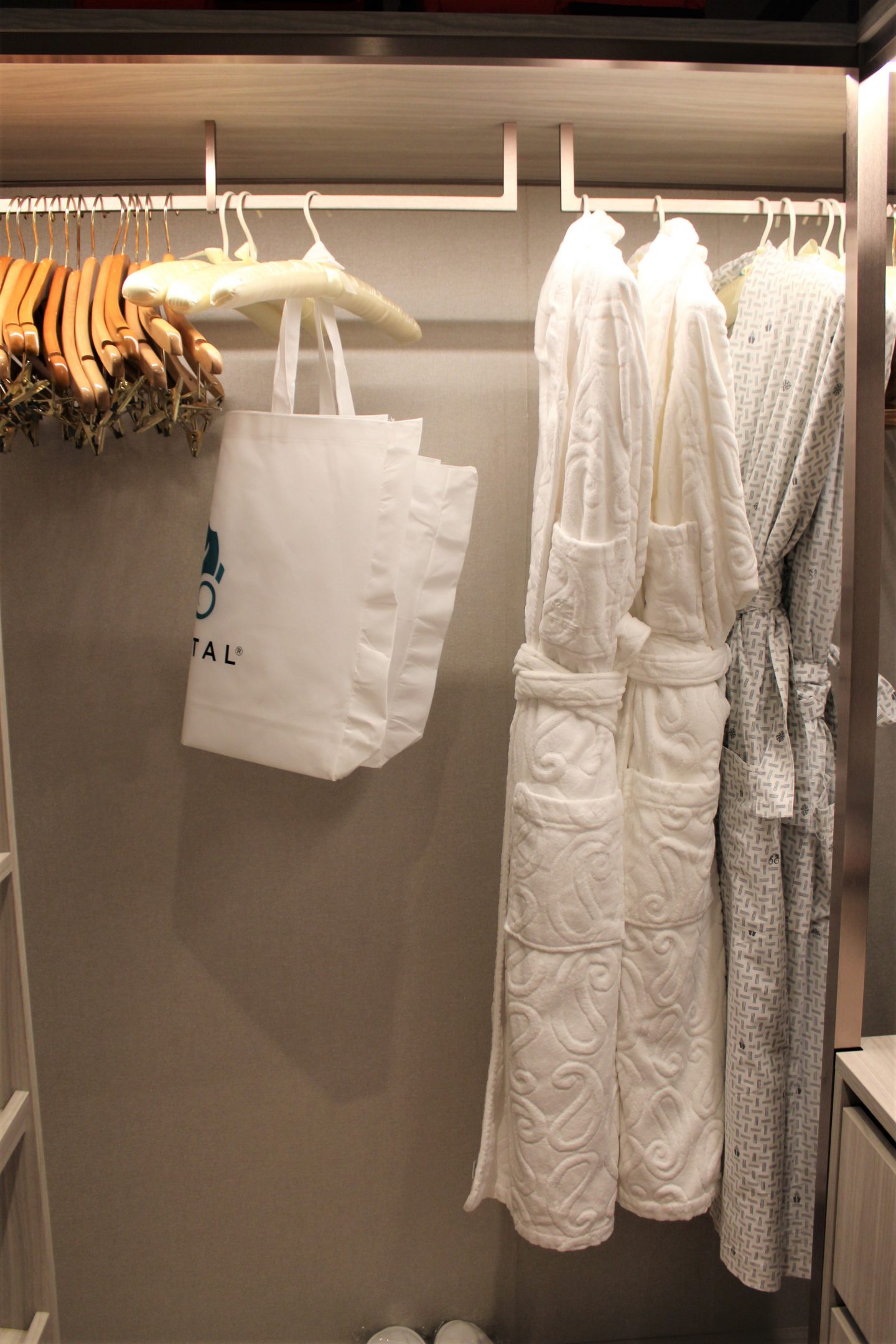 The bathroom had a gigantic walk-in rainforest shower, his and hers sinks, and full-size toiletries by luxury brand Etro were provided and were replenished during our stay. There was shampoo, conditioner, shower gel and body lotion along with soap, shower caps, a sowing kit, cotton wool and cotton buds. I really appreciated the full-size toiletries as I can go through so many of those tiny bottles when staying in a cabin or hotel. Normally I have to request extra!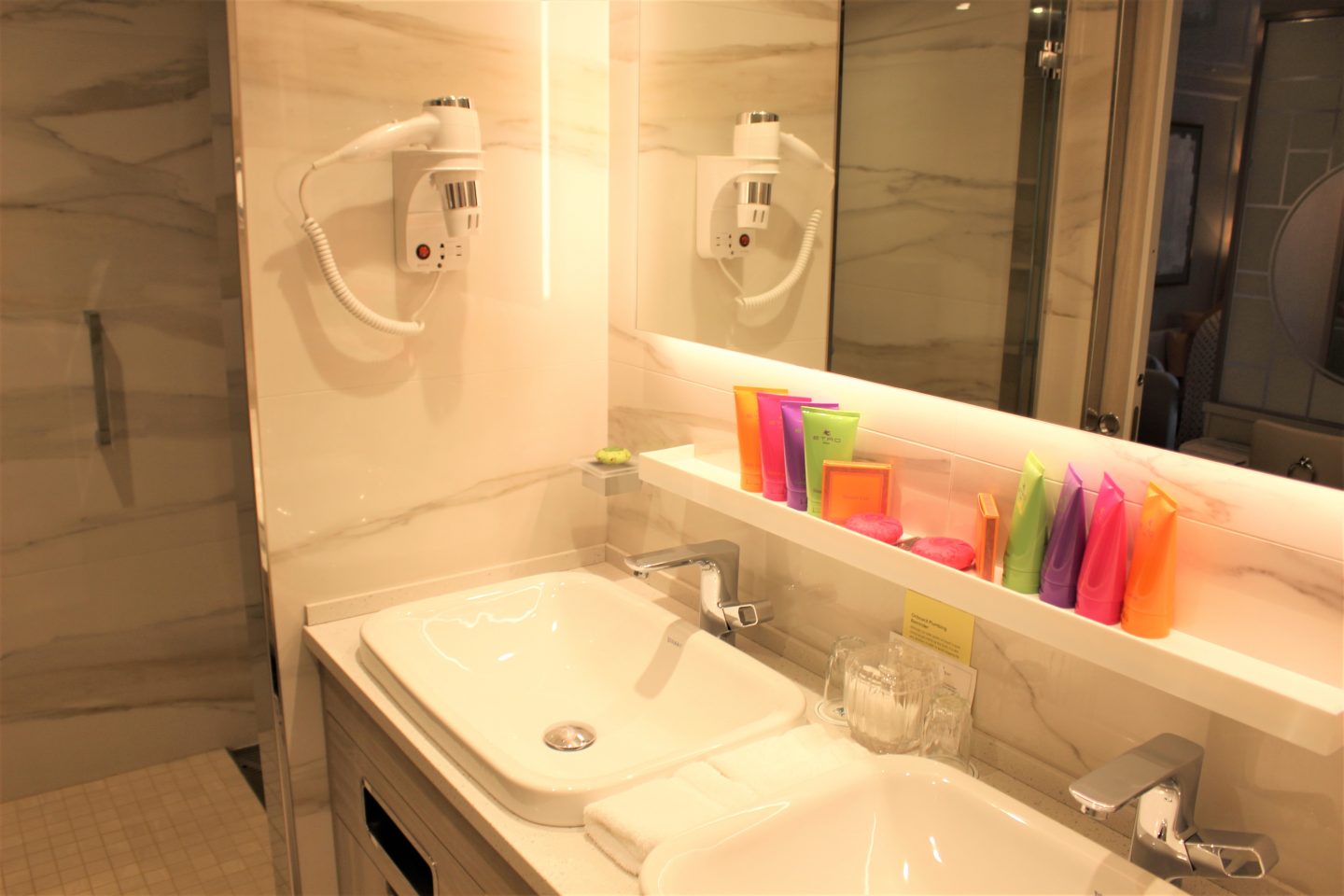 My favourite part of any cruise ship cabin . . . the balcony! Again, it was spacious with two large outdoor chairs, footstools and a table. There is nothing like that feeling of opening your curtains in the morning, stepping out on the balcony and seeing where you are. I also love sea days because there is something magical about looking out and seeing nothing but ocean! We certainly made the most of our balcony for relaxing, breakfasts and pre-dinner drinks.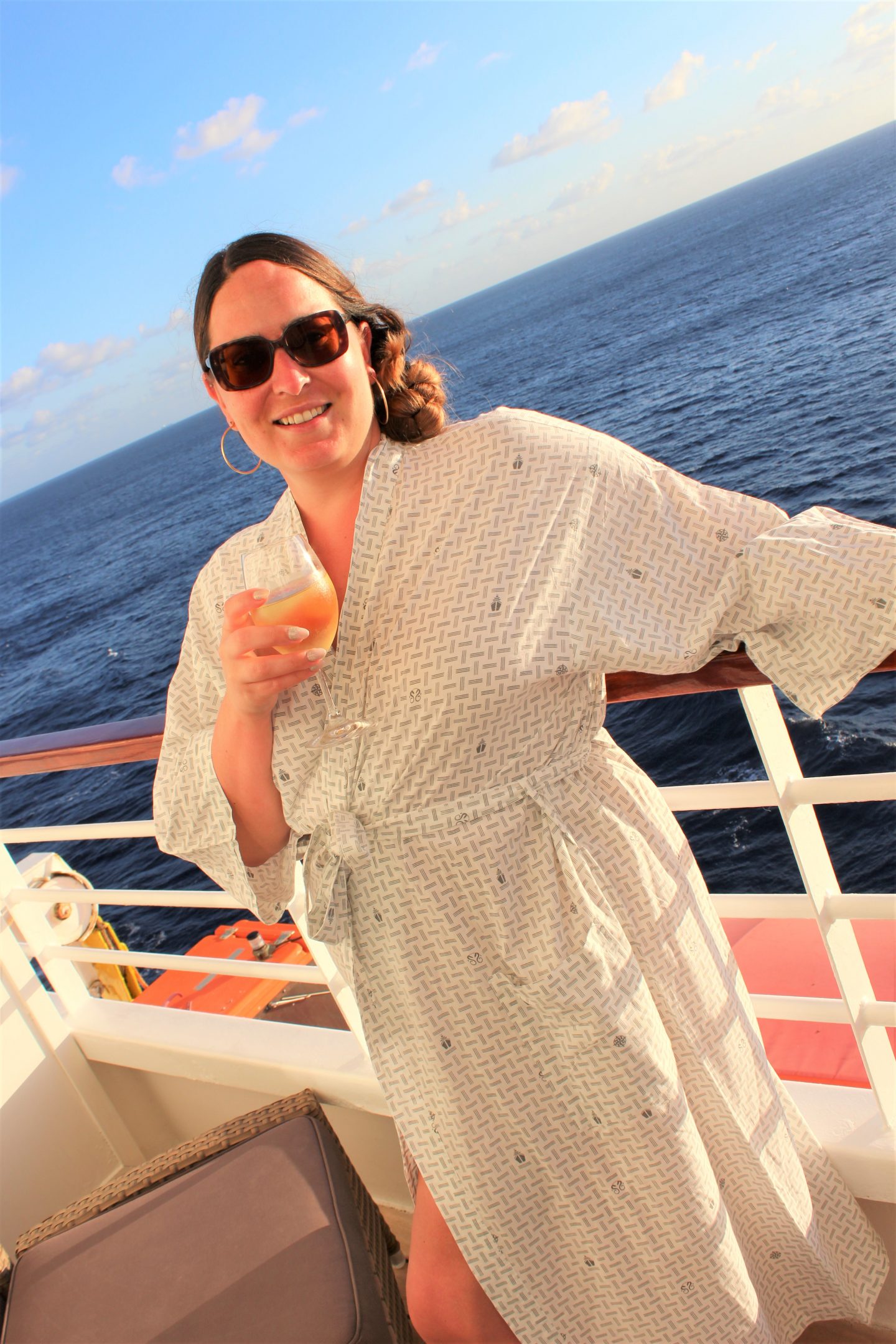 There are some extra perks when staying in a Seabreeze Penthouse suite. You get unlimited reservations at the speciality restaurants, complimentary pressing and a butler so you have a cabin attendant, penthouse attendant and a butler looking after you and your room.
Our butler Raja basically did anything he could to make our holiday extra special and he certainly did! We really didn't have to lift a finger and were so well looked after.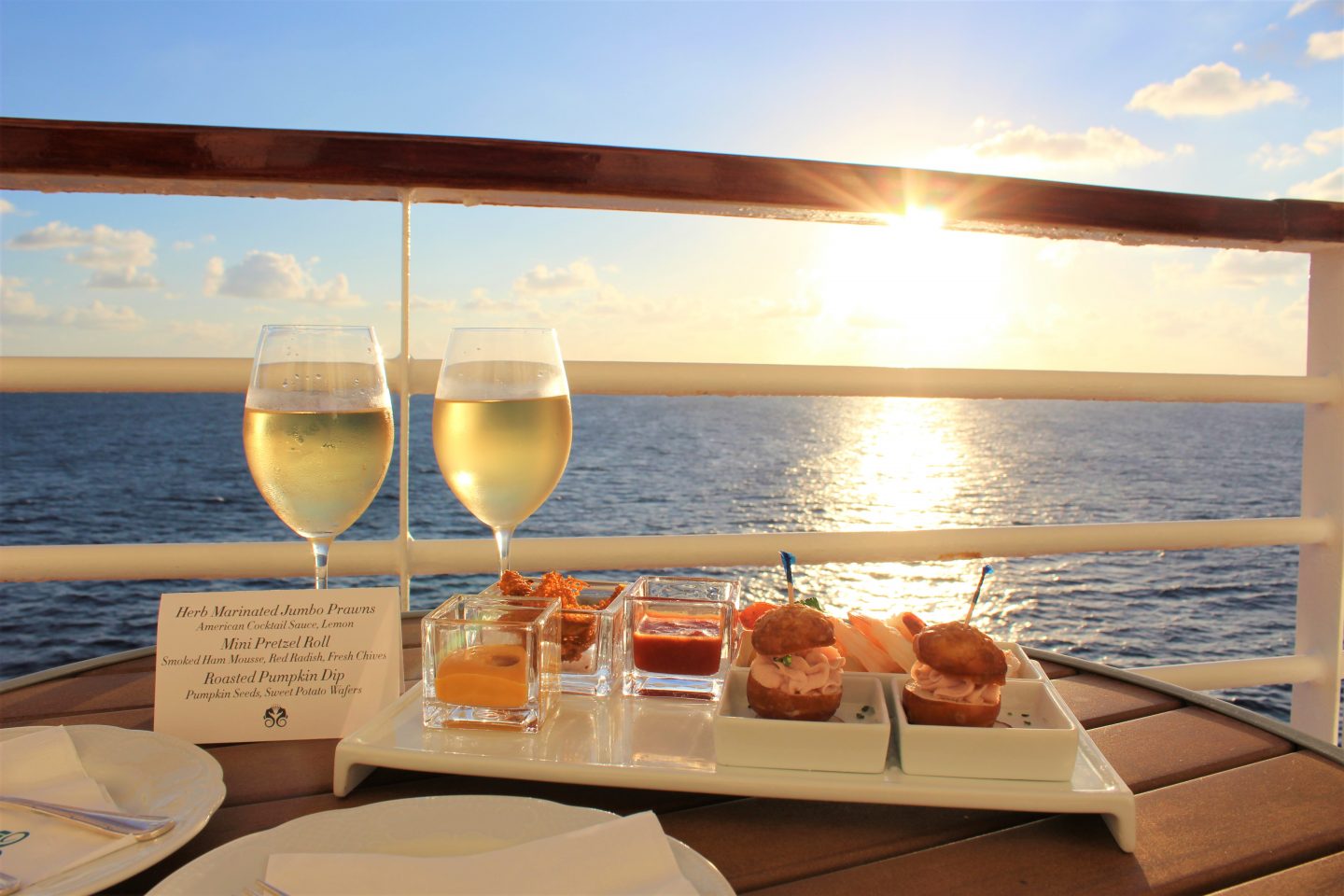 Of course I have to mention the mini-bar! When we arrived our butler asked us for any preferences we had – rum for Mr B and champagne for me! Full bottles are provided and were replenished during our cruise, along with a selection of soft drinks and bottled water. Our ice bucket was always full of ice. Raja was like a ninja – we never saw him top it up, but every time we went for ice it was full to the brim!
We also made the most of the 24-hour room service. There is a menu in your suite, but you can pretty much have whatever you fancy whenever you fancy it (2am cheese and ham toasties after a few too many cocktails anyone?).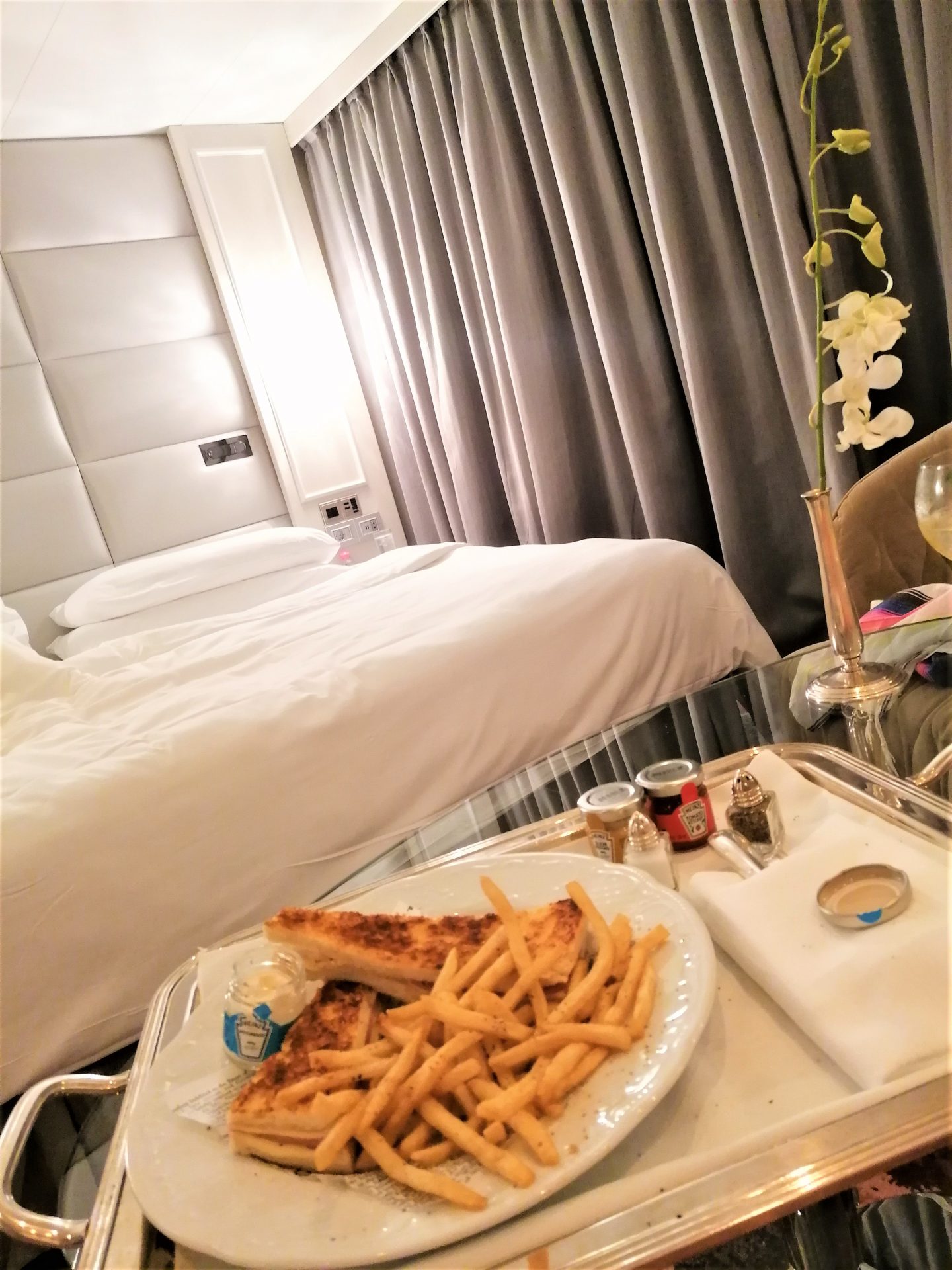 As you may be able to tell I really loved our suite, from the beautiful décor to all the extra touches and being looked after by our lovely butler Raja.
You will never get bored whilst you are sailing with Crystal as there are lots of facilities to use and the entertainment provided, in our opinion, was very high quality.
Our favourite place to relax during the day was by the pool.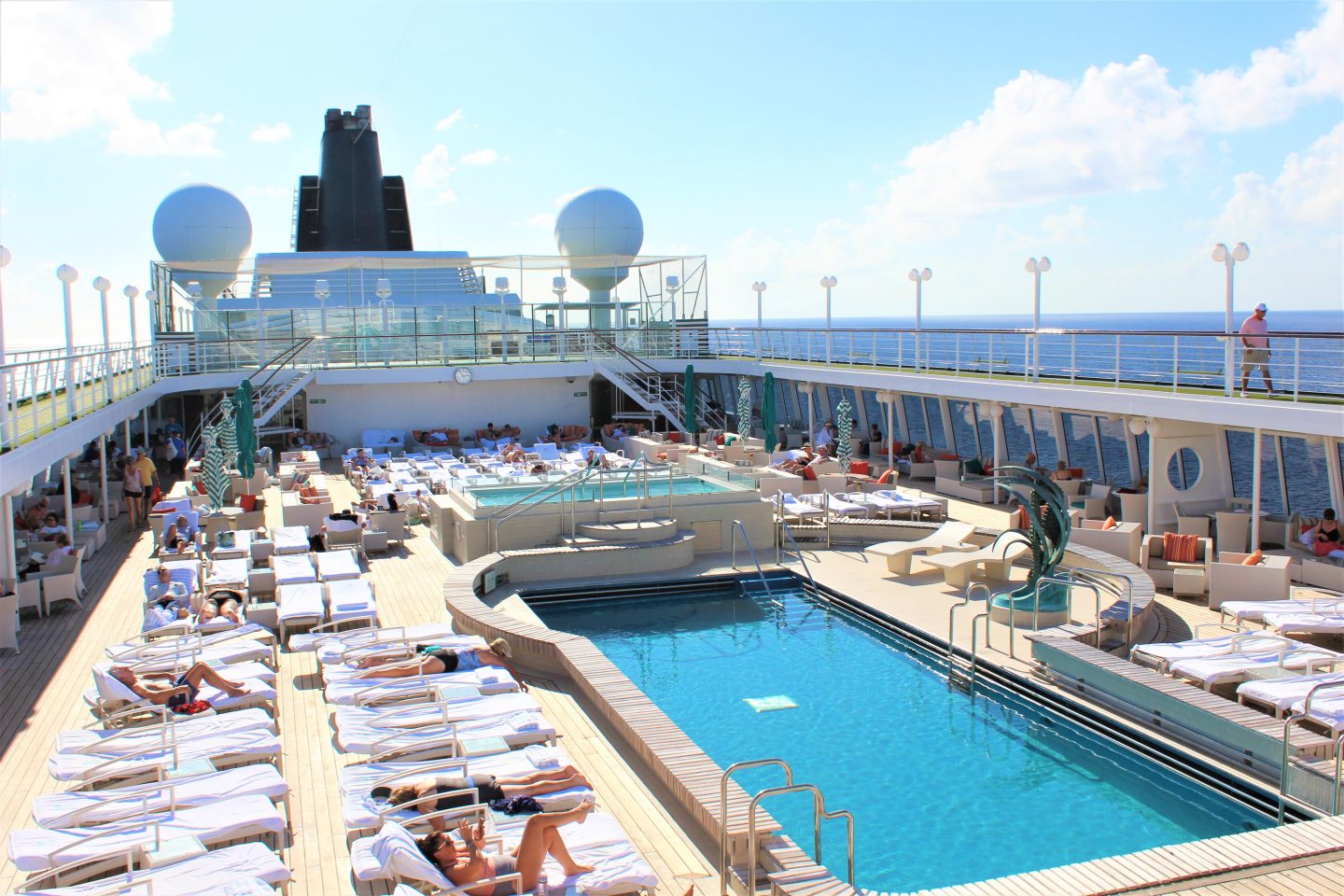 Large comfy sunbeds already laid with towels were calling our names and with the beautiful weather it was the perfect place for some R&R on sea days with the Caribbean sun shining down on us.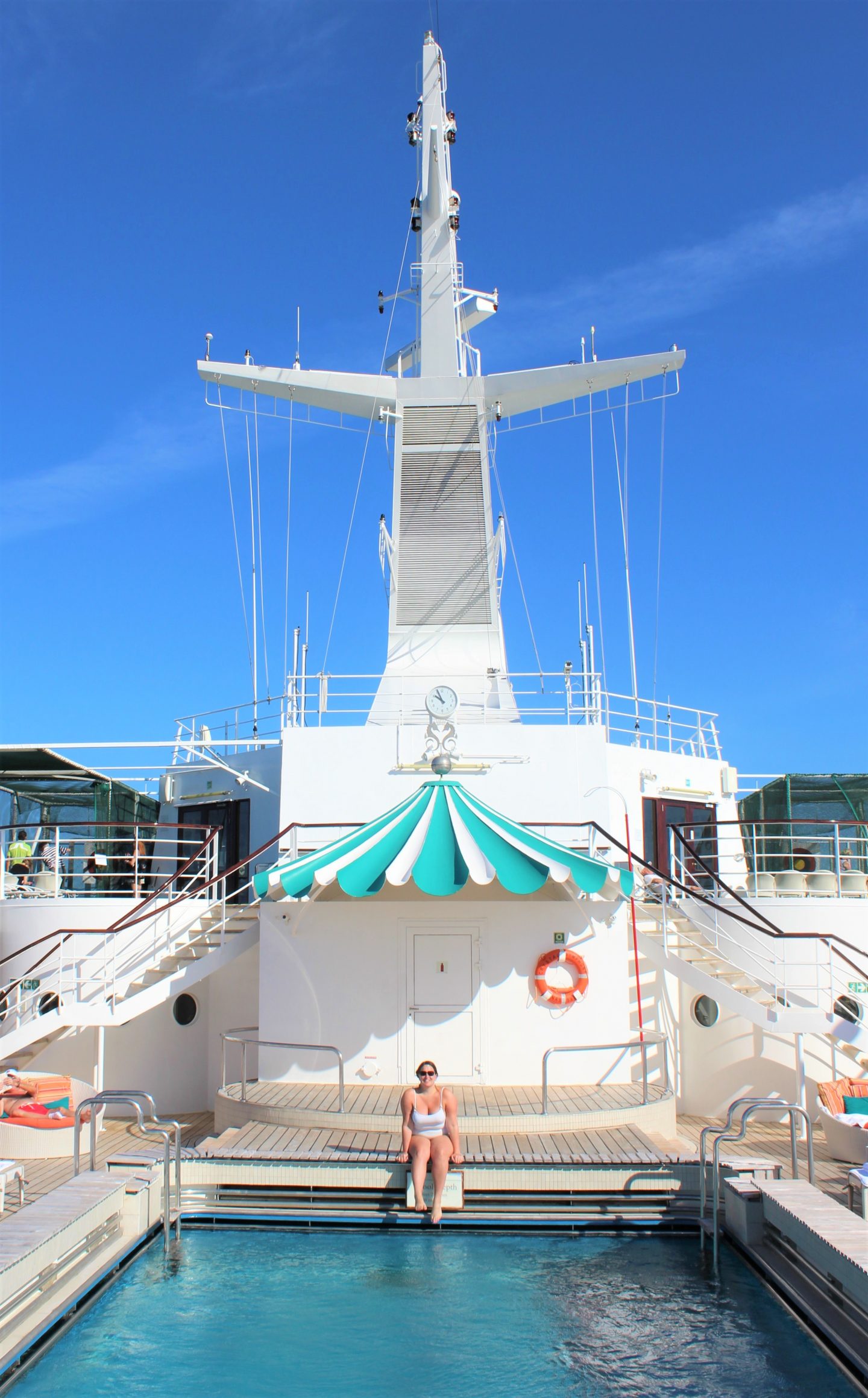 We loved the poolside service, which was so attentive whenever you wanted a drink (Kir Royale for me). There was always someone there ready to bring you an ice cold drink and they also regularly came round with refreshing cold towels and glasses of iced water.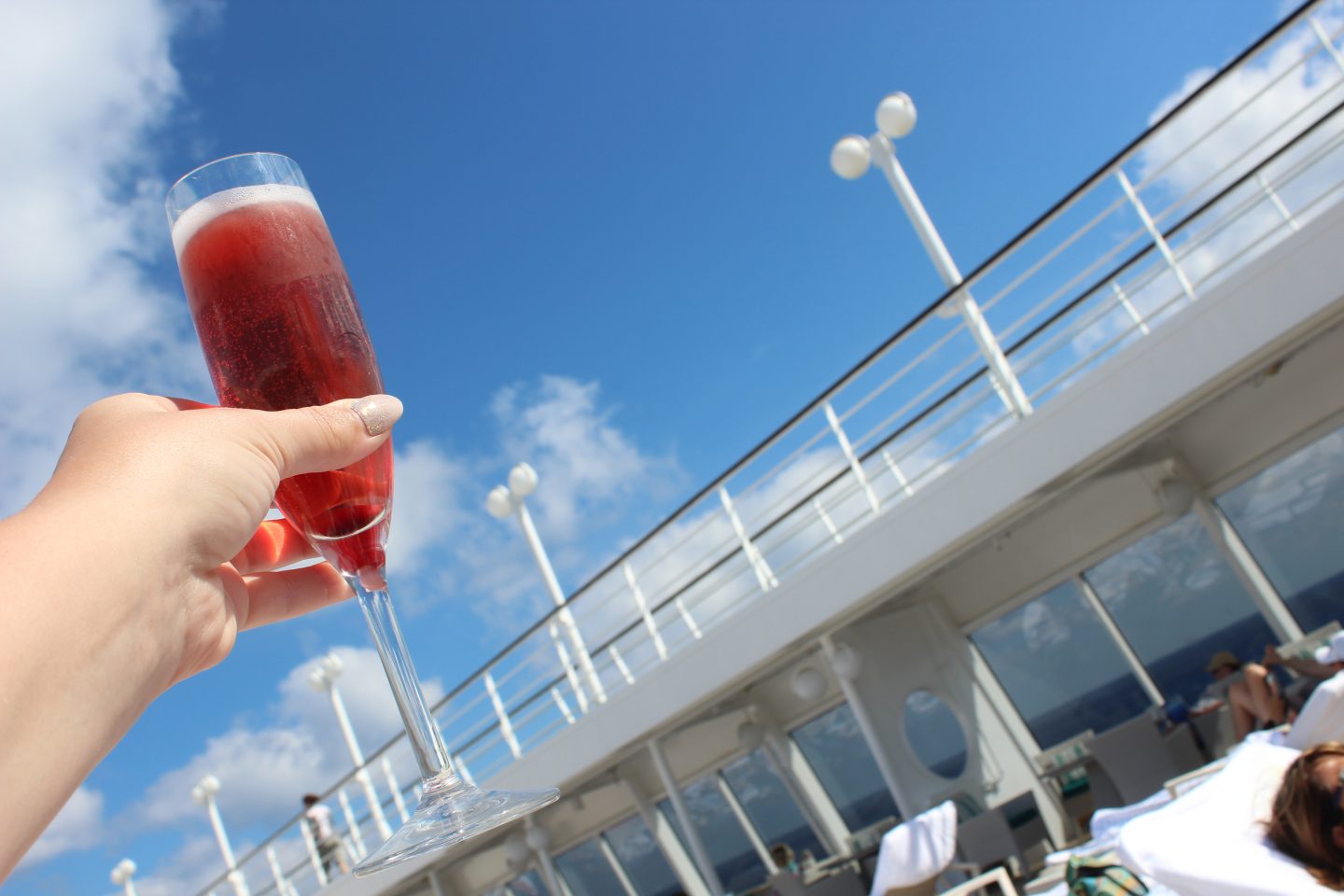 As well as the pool there is also a large hot tub, a tennis court, golf nets and mini-golf course on the outdoor decks.
There is a spa and gym on board but unfortunately, we didn't have time to visit.
The Computer University runs classes and has computers available to use, including printing, which is handy for boarding passes.
The library has hundreds of books and movies you can borrow and it is also the place to go to get your tickets for the magic show. The tickets are limited so do get them on your first day. The show is not to be missed – close up magic at its best!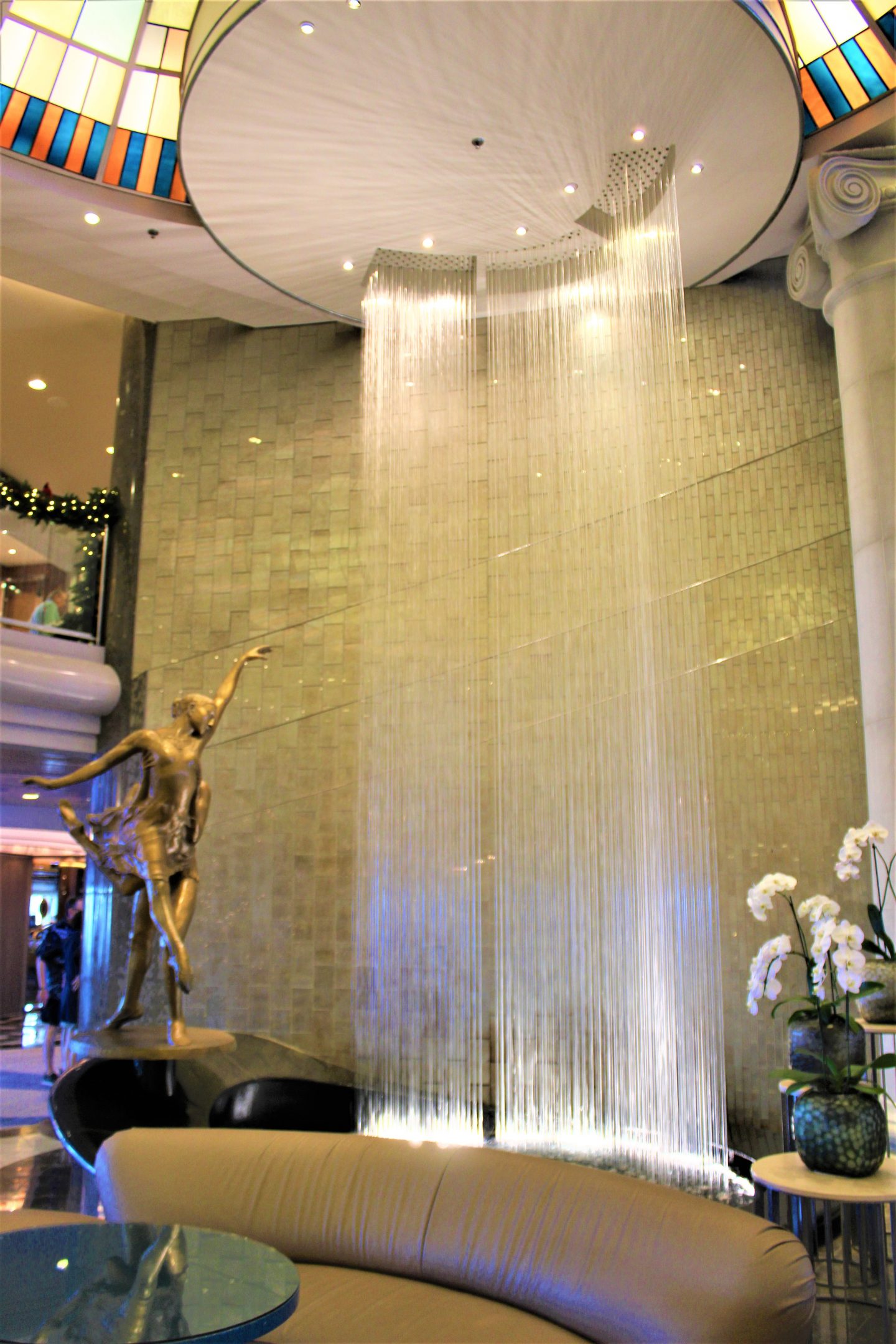 Crystal are also well-known for having a great selection of lectures on board and have a variety of guest speakers.
Next to the casino and the cinema is the Galaxy Lounge which is the ship's theatre where there are full production shows and performances. We watched a Broadway-style show and went to see a comedian, and both were very good! The seating is also very comfy and well-spaced apart and if you arrive before the show you can order drinks to enjoy during the performances (Cosmopolitan for me!).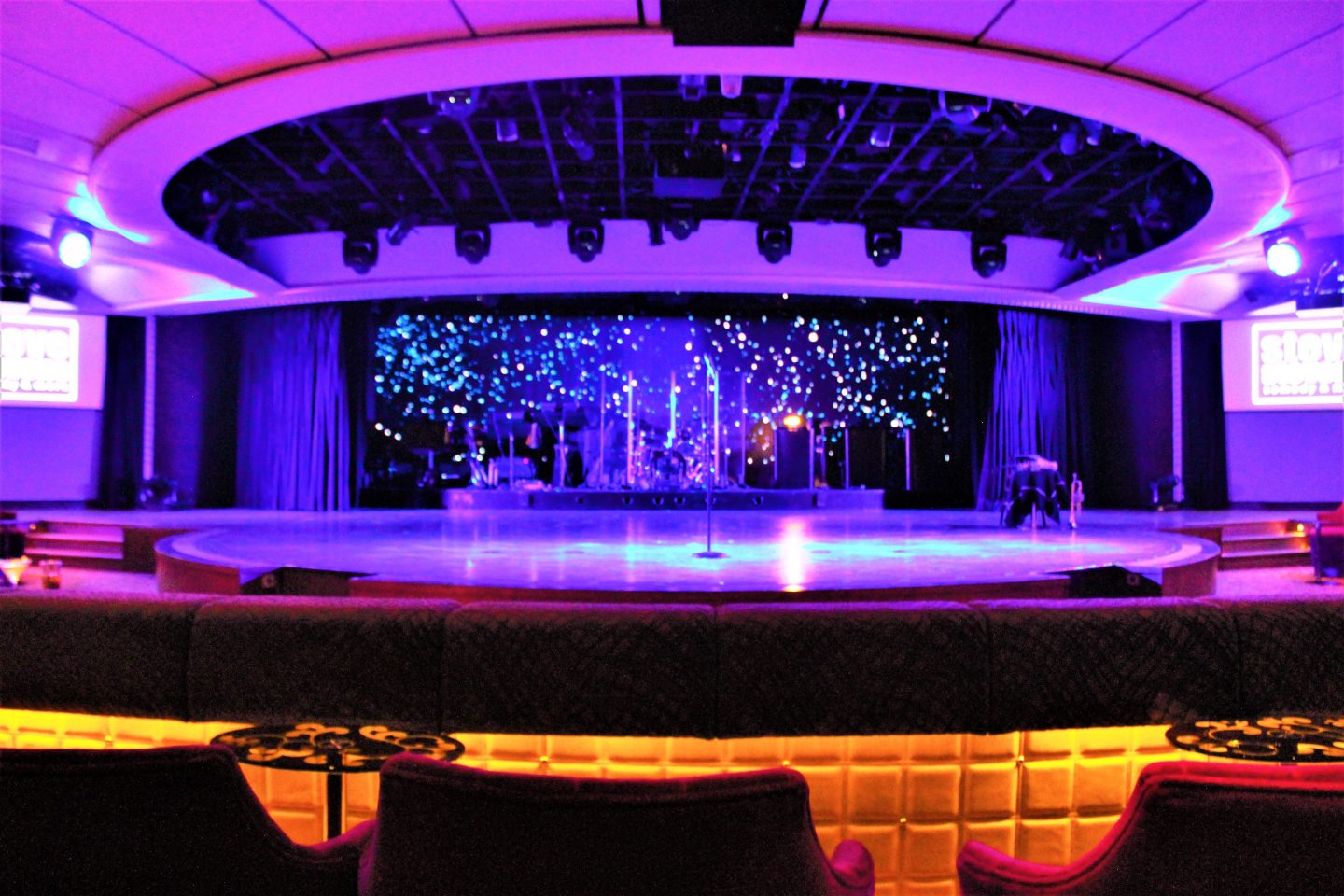 During the evenings you will find different live music and entertainment at the various bars. Our personal favourites were the Avenue Saloon and Crystal Cove.
There is even more on offer than what I have listed. The best advice I can give is to read your daily newsletter 'Reflections', which has all the information you want about the upcoming day – it's like your daily bible!
As we were on board during the end of November and beginning of December, the ship was decorated with Christmas decorations and they were stunning! With beautiful trees individually decorated, garlands, sparkly lights and nutcracker soldiers, it was like a winter wonderland.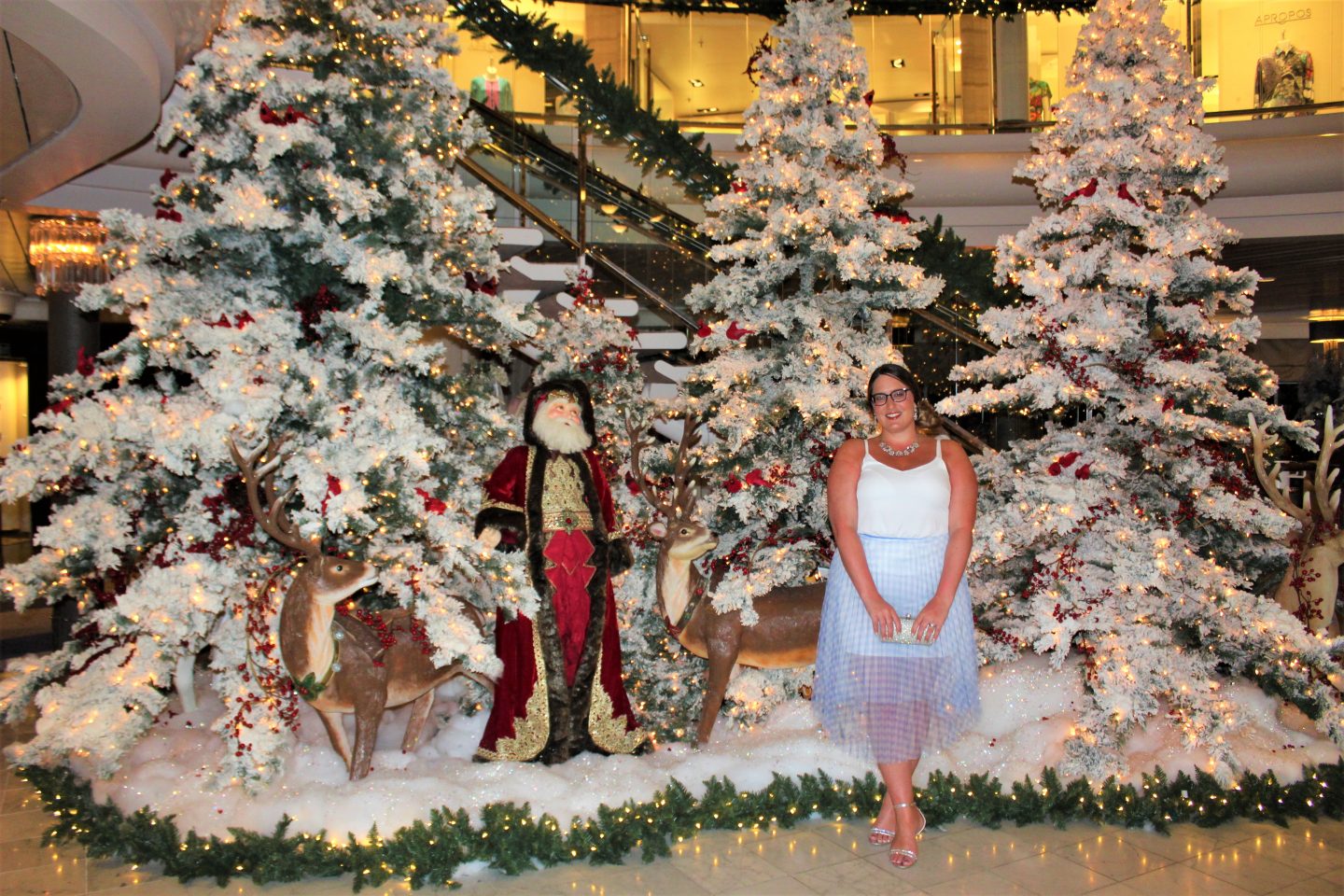 We made so many special memories during our cruise, one of the first was sailing away from Miami, looking at that beautiful night-time sky line, drink in hand toasting to what we knew was going to be a very special holiday and hearing 'What a Wonderful World', (which is a very special song for me and is played every time the ship sails away from port), it was just magical.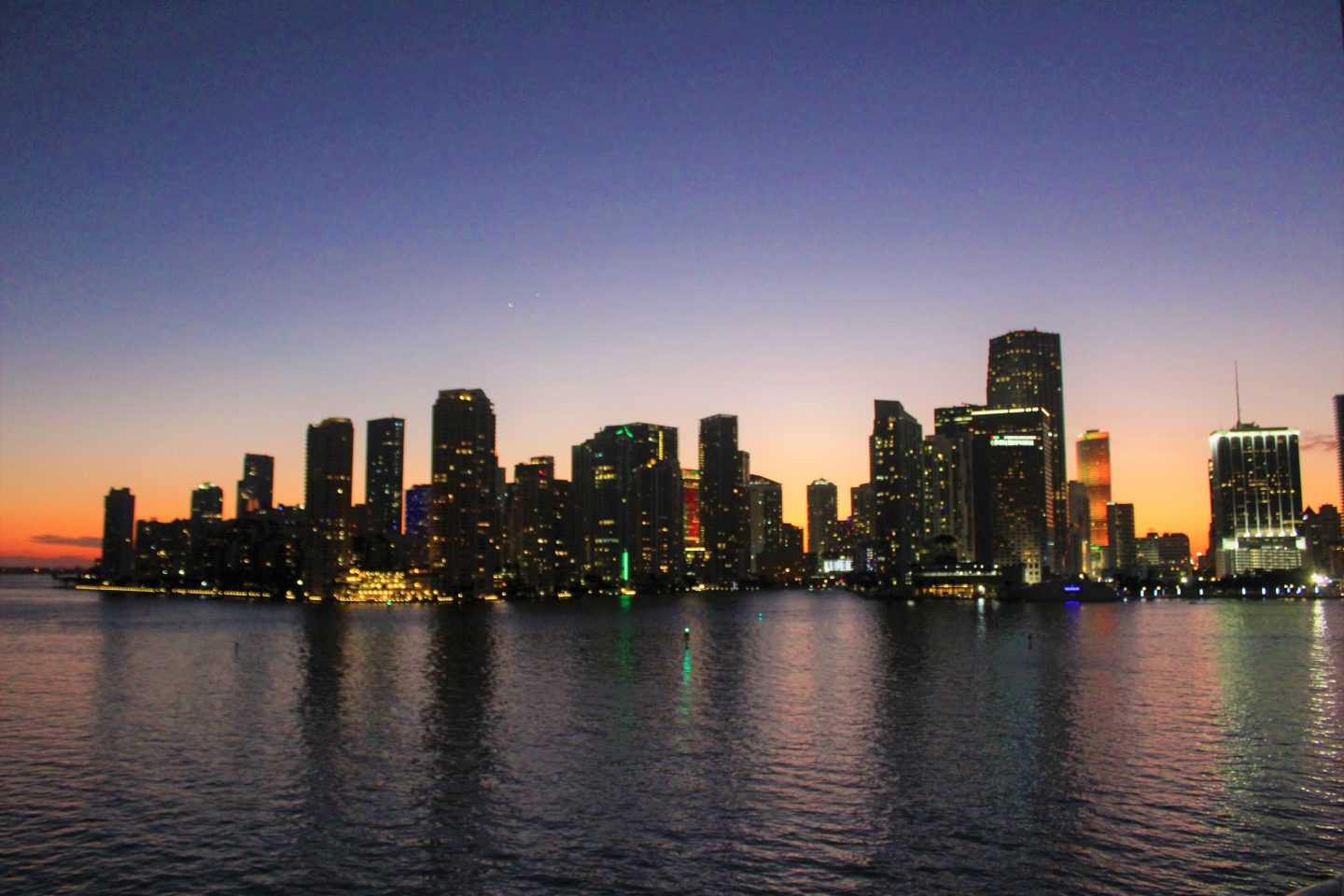 Our week on-board really was a dream and we loved everything about the ship and what it had to offer. We have truly been Crystalised!
Read my other blog posts on our Crystal Cruise. All about the dining onboard https://thetravelsofmrsb.com/2020/02/10/dining-on-board-crystal-symphony/
And about our Caribbean itinerary https://thetravelsofmrsb.com/2020/02/06/sailing-around-the-caribbean-on-crystal-symphony/