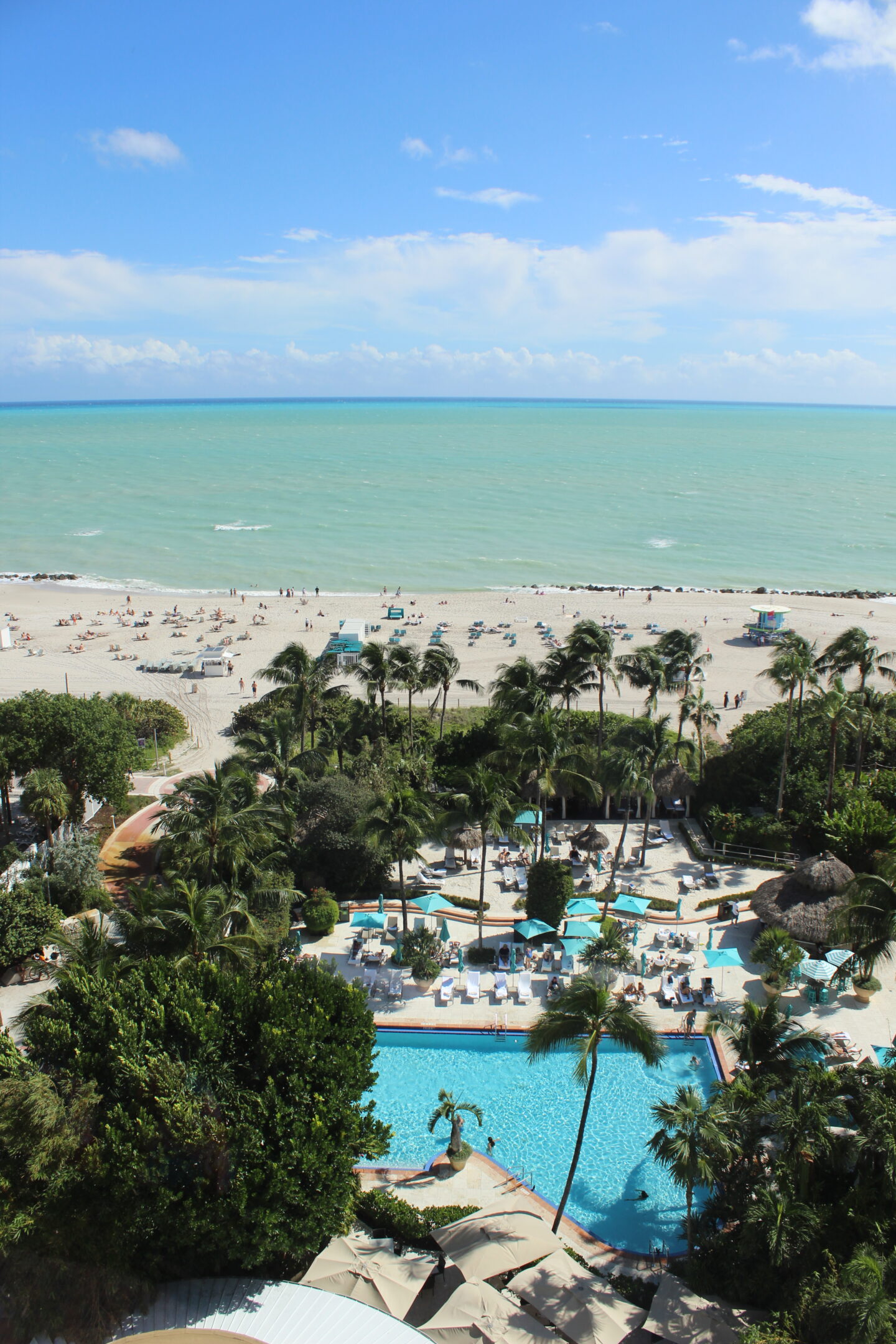 On our three-night stay in Miami, we knew we wanted a hotel on Miami Beach and we had three wonderful nights at The Palms Hotel and Spa.
The location, on Collins Avenue, was incredible with easy access to all the great restaurants Miami Beach has to offer and just a short Uber ride to anywhere else in Miami you would want to explore. But the jewel in the crown for me was its beachfront location.
The grand hotel entrance leads into the welcoming and open reception area and the staff we encountered on check-in and throughout our entire stay were really friendly and helpful. Whether it was for general questions, how to get out and about, ordering your morning coffee or getting the towel laid on your sun lounger, they were all happy to help and very welcoming.
We stayed in one of the hotel's Oceanfront king bedrooms. The bed was wonderful and cosy thanks to its pillow-top mattresses and Egyptian cotton linens.
We also found the room quite spacious with plenty of room for all our luggage – there was lots of wardrobe space, drawers and shelves etc. The room had USB charging points which was great for us as we only had one American plug adapter!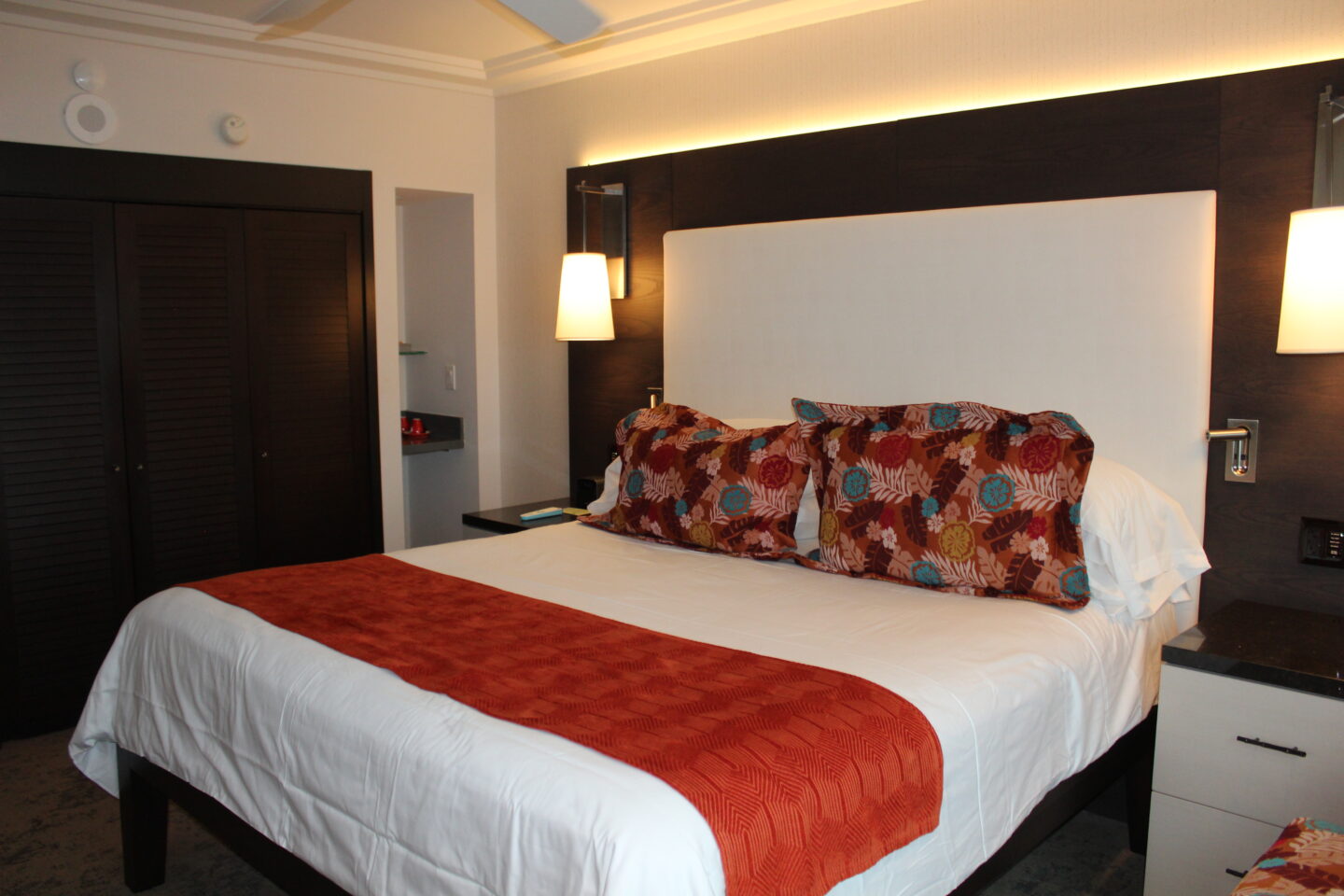 The room had a Nespresso machine with pods and creamer which were refreshed daily. The table and chairs in the room were placed perfectly for enjoying the magnificent view from the amazing floor-to-ceiling windows. It was such a wonderful feeling each morning opening the curtains to such a beautiful view.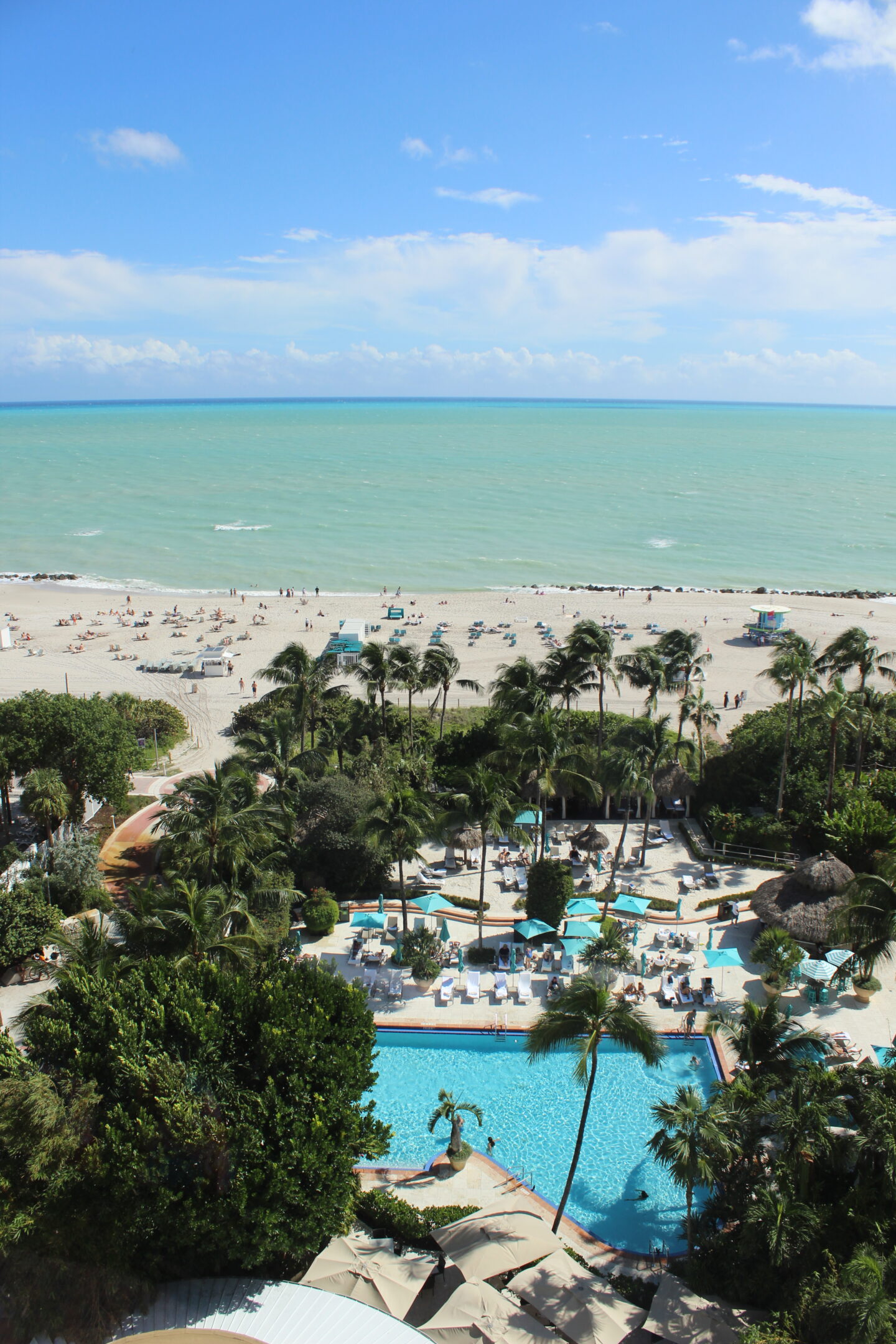 The bathroom had a huge rain shower and BeeKind bath products were provided as well as soft bathrobes.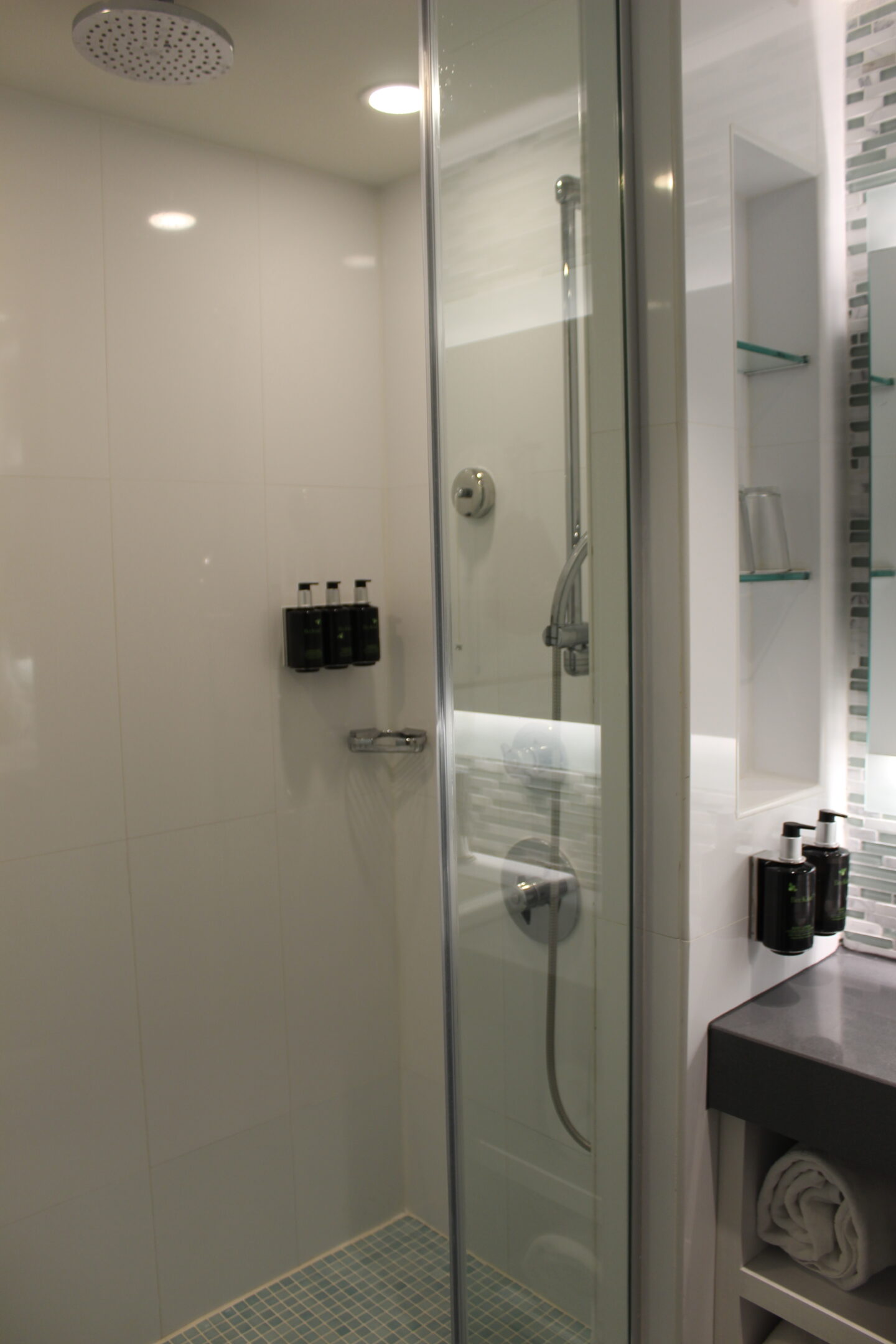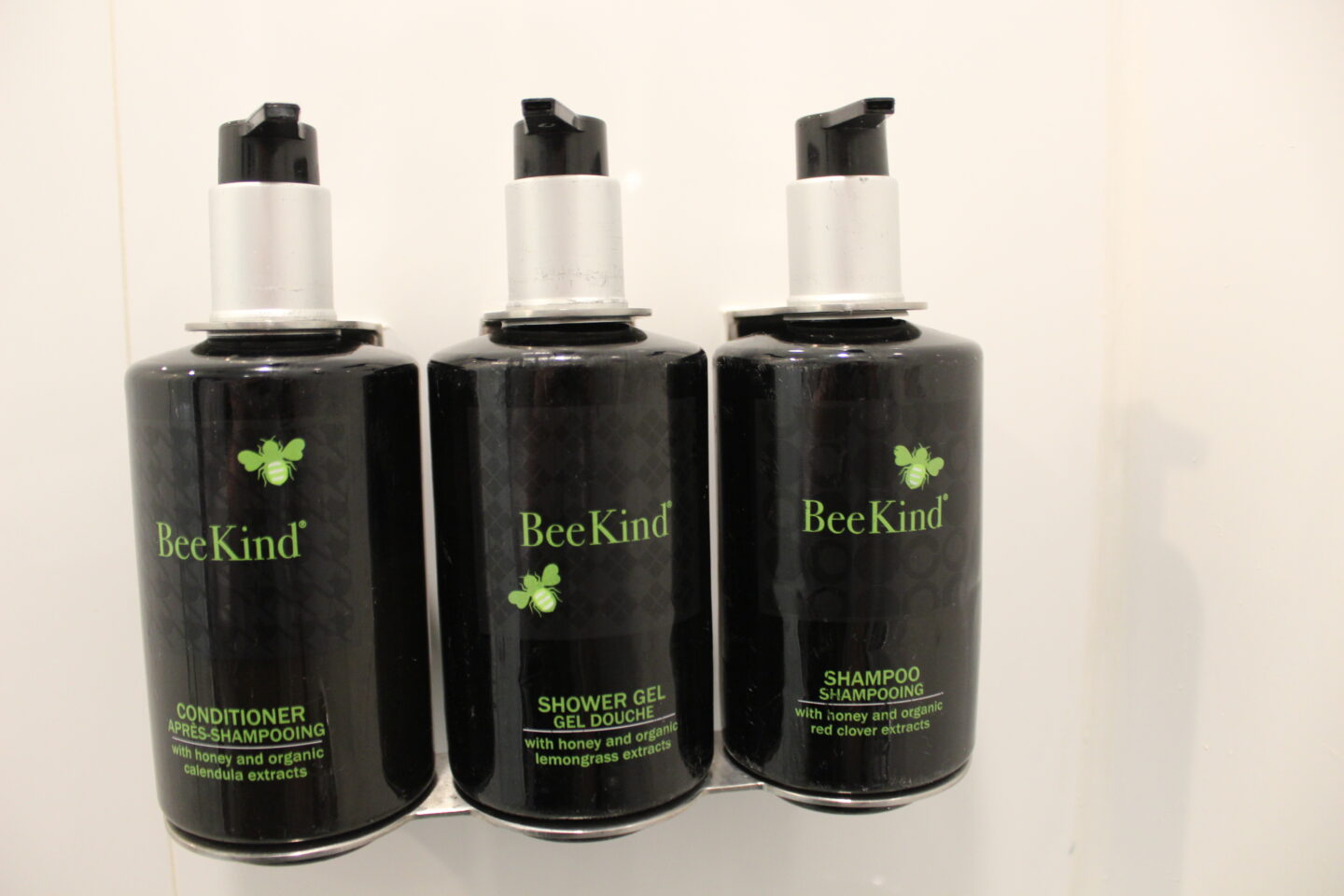 The Palms has an AVEDA spa with a very tempting list of spa treatments, but whilst our days were too jam-packed to use the spa we certainly did make the most of the hotel's stunning pool and beach.
Walking from the hotel to the pool you really don't feel as though you are in bustling Miami. It felt like an oasis with its lush, tropical, perfectly manicured gardens.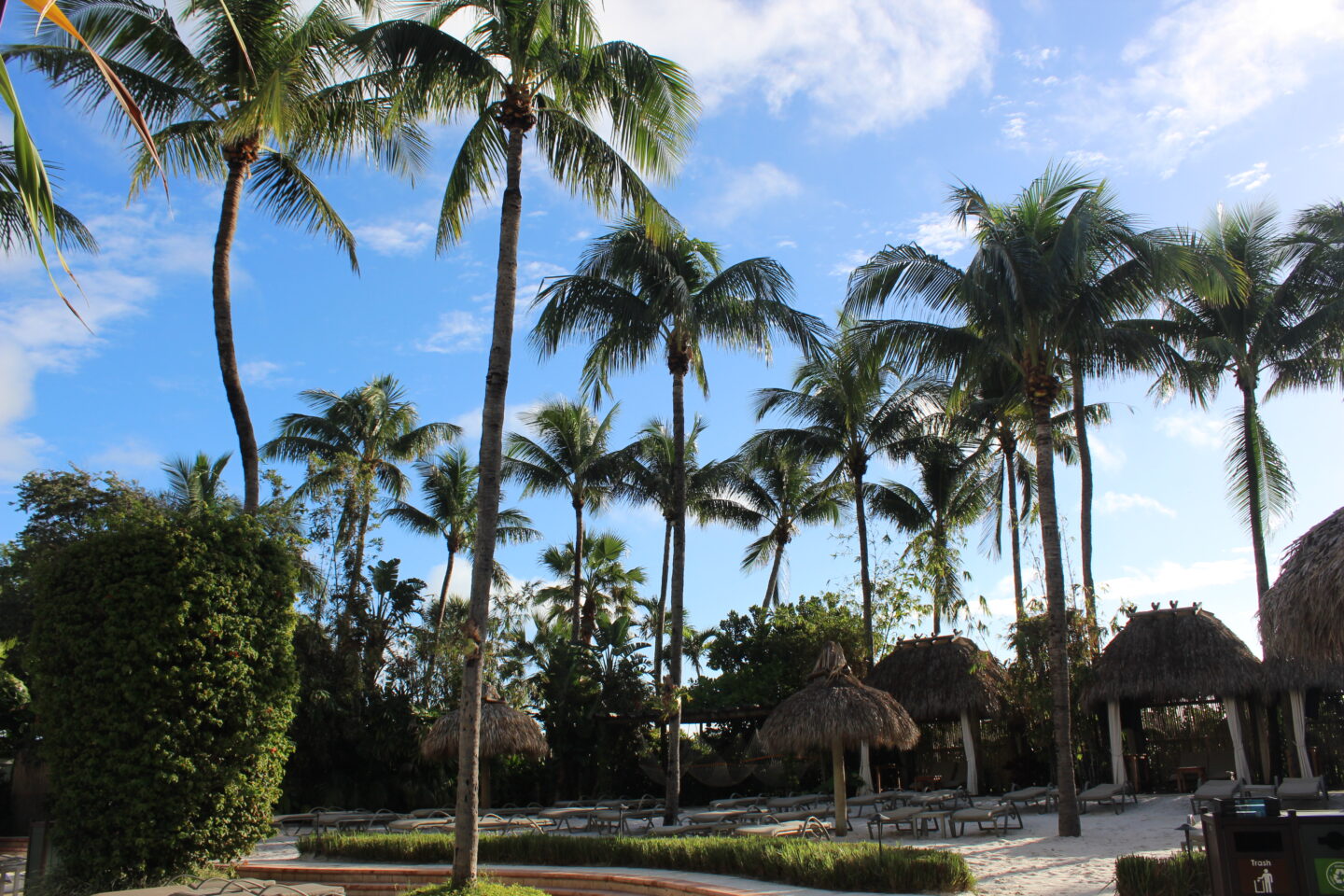 Pool towels are provided at the towel hut where there is also a water station. Around the pool there were always plenty of sun loungers.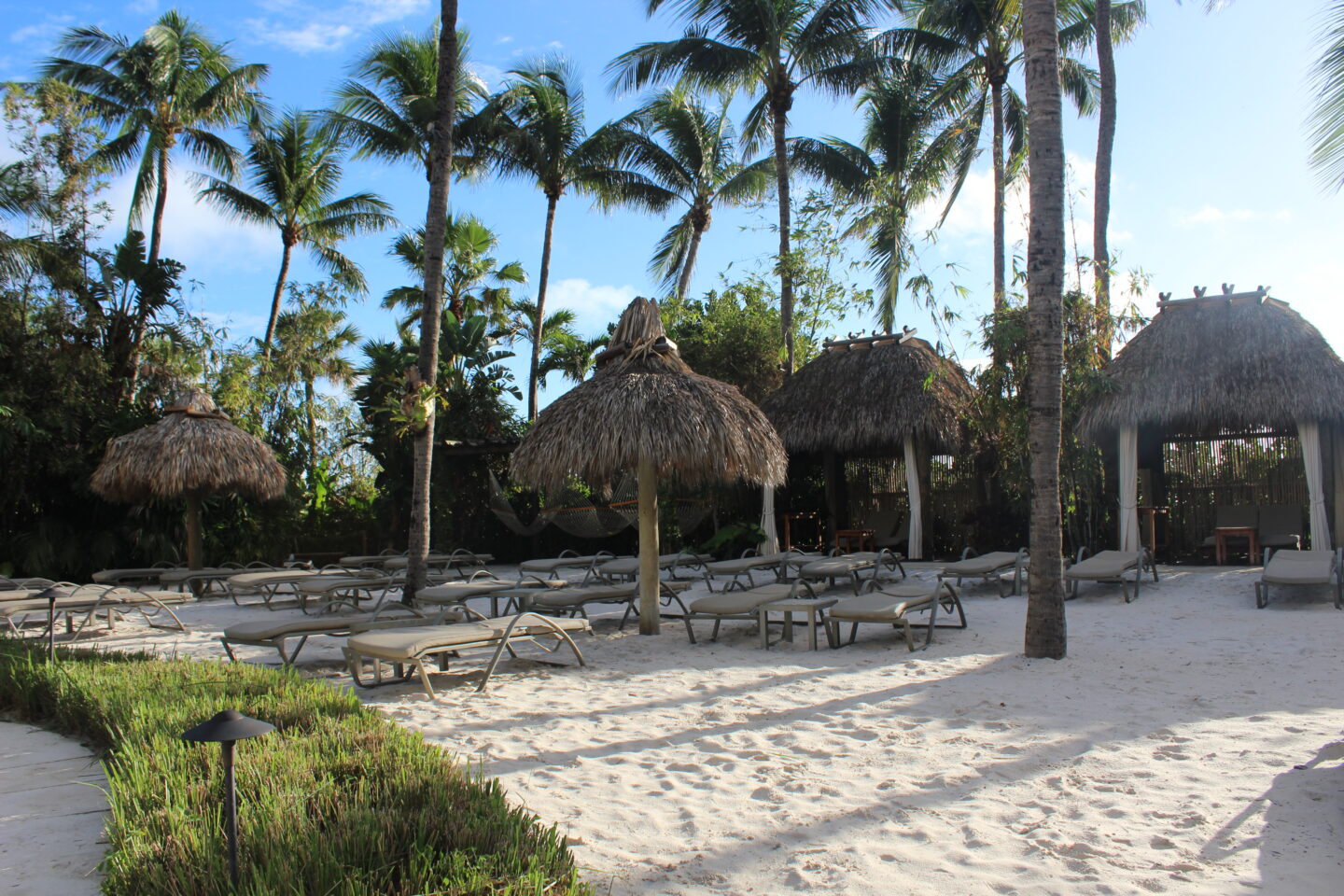 Next to the pool you will find the hotel's Tikki bar where the bartenders can whip you up a refreshing cocktail or you can order food from the bar menu.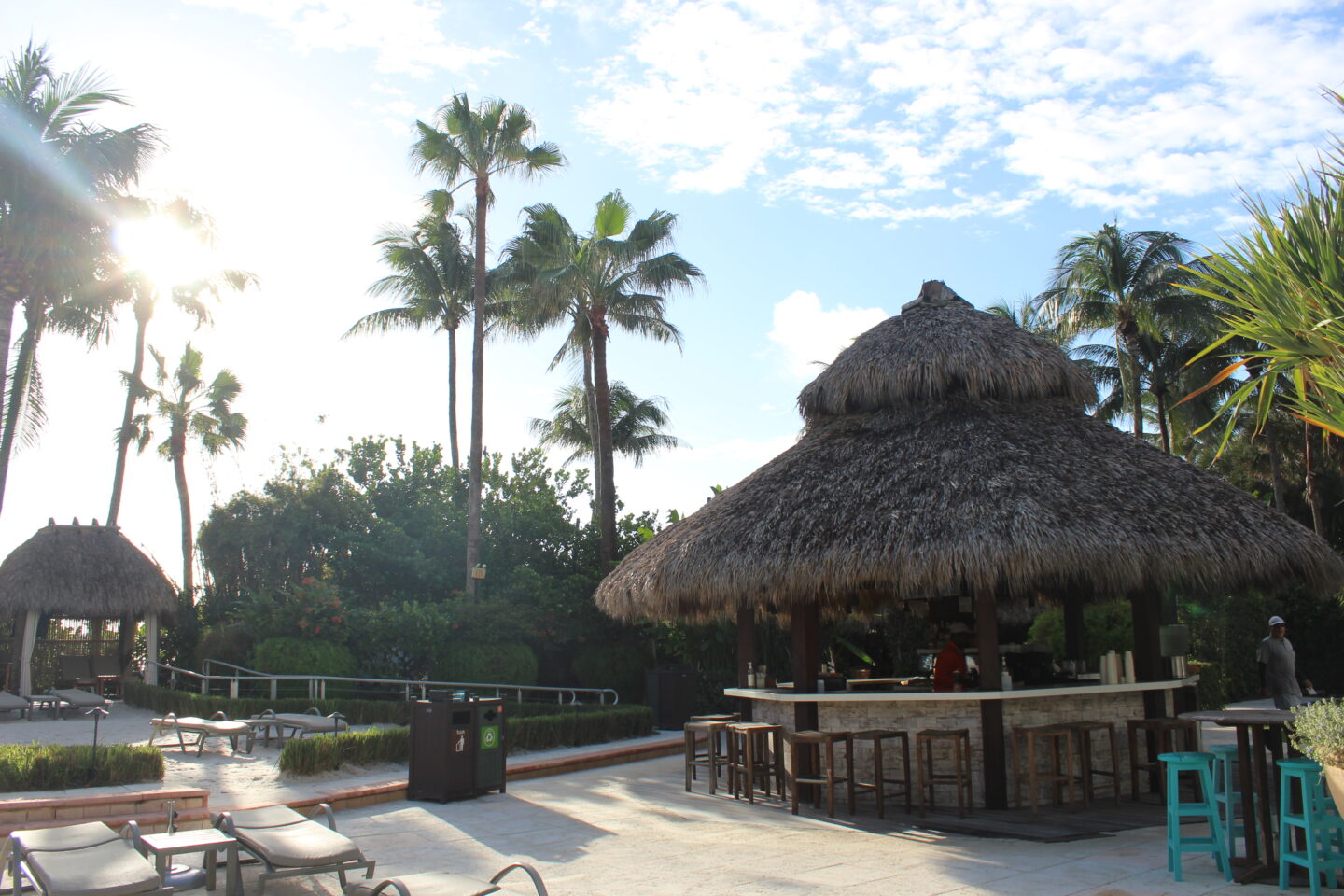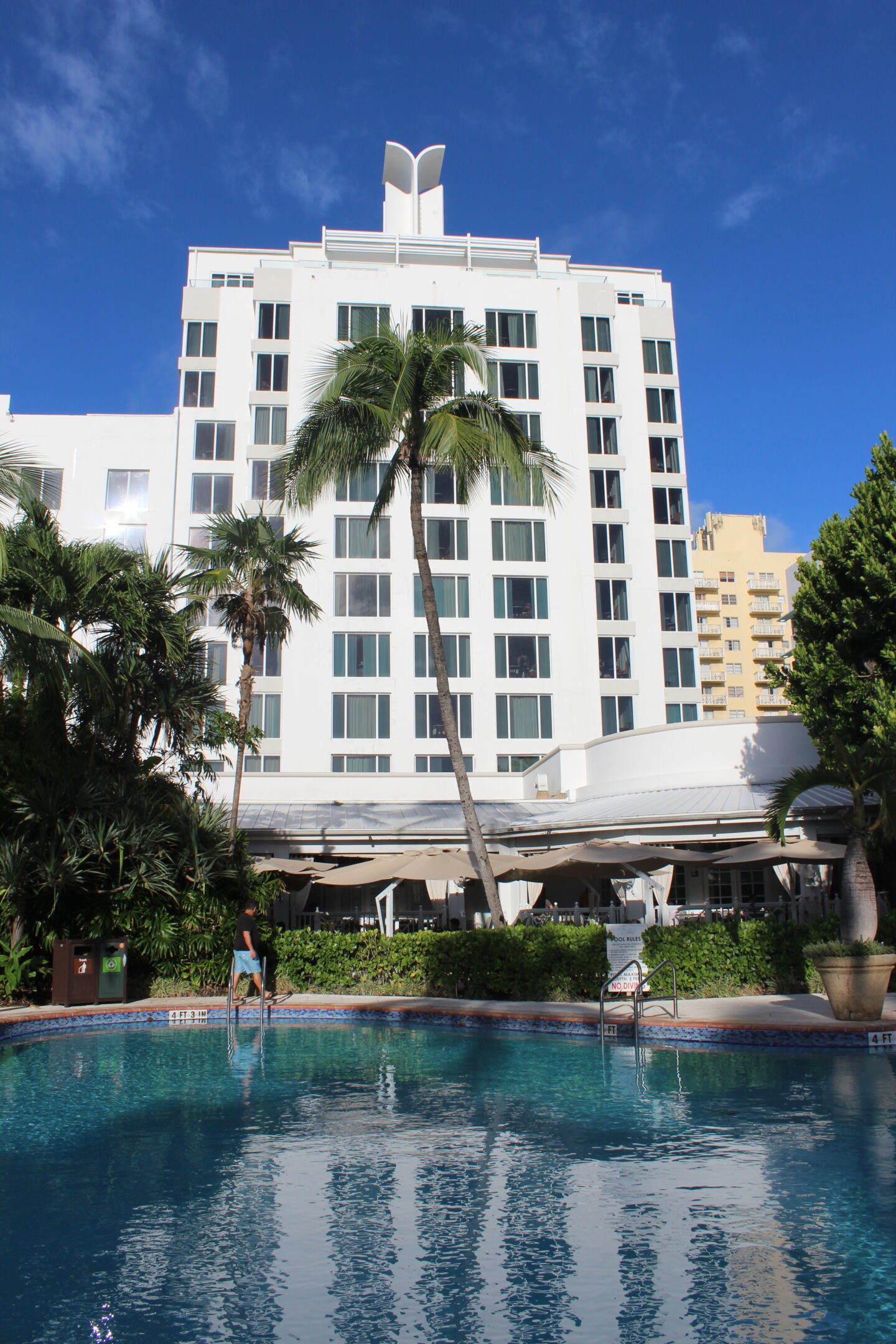 Our favourite spot was the stunning beach which gave a great view of the hotel.
As soon as we stepped on the beach the wonderful staff from The Palms were there to lay an extra towel on your sunbed, helping your relaxation to be as comfortable as possible.
We love the ocean and The Palms section of Miami beach was simply perfect. Lying back on a sunbed on the white soft sand with the ocean just steps away was heaven.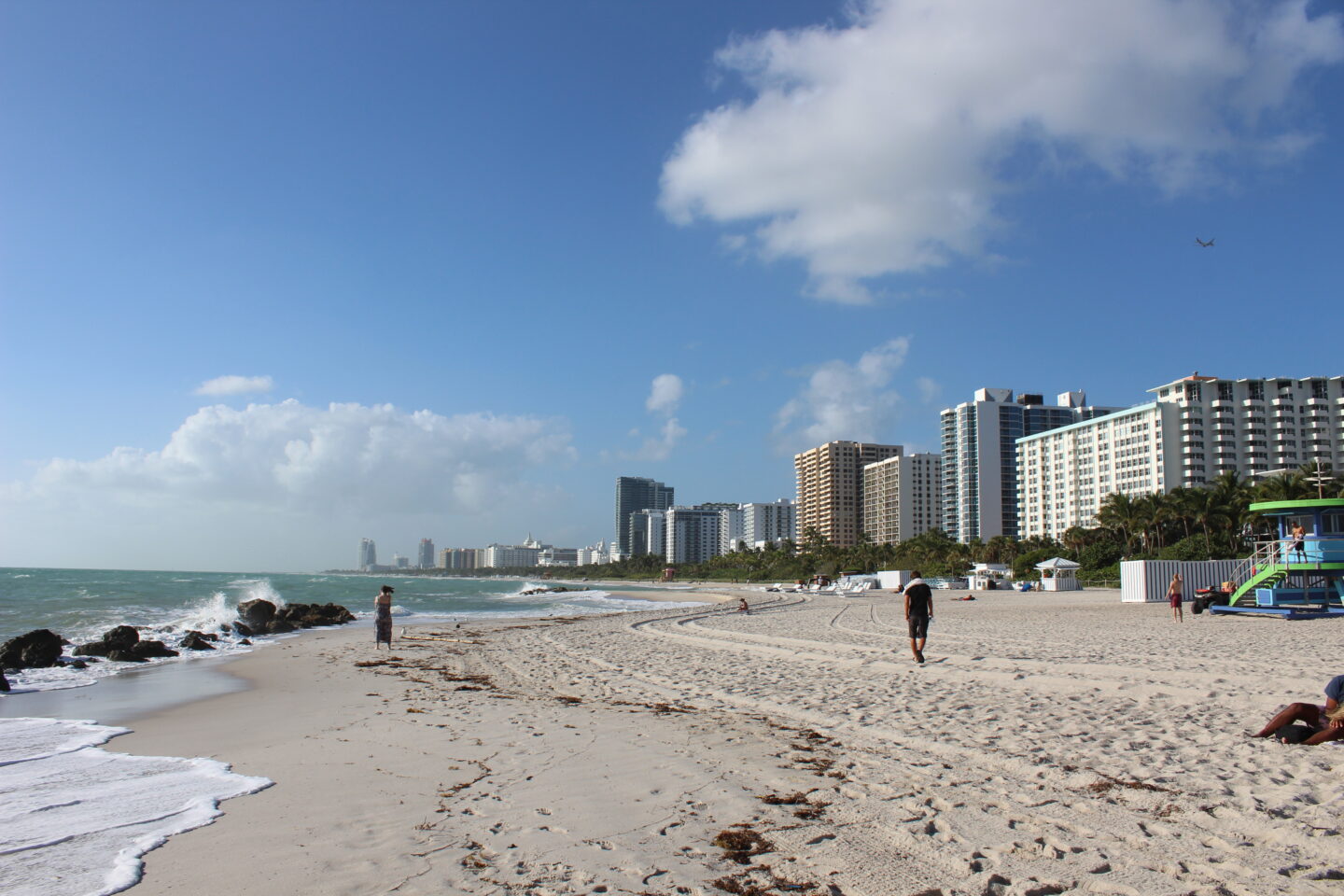 We enjoyed breakfast in the hotel every morning and the first thing we were pleased with were the hours you could go for breakfast, 7am-11am. Jet lag saw us at breakfast at 7am two out of our three mornings!
Whilst there is inside seating, the best place to sit for us was on the Caribbean-style terrace with the warm air and fresh breeze. It was very relaxing and the perfect setting for us to start our day.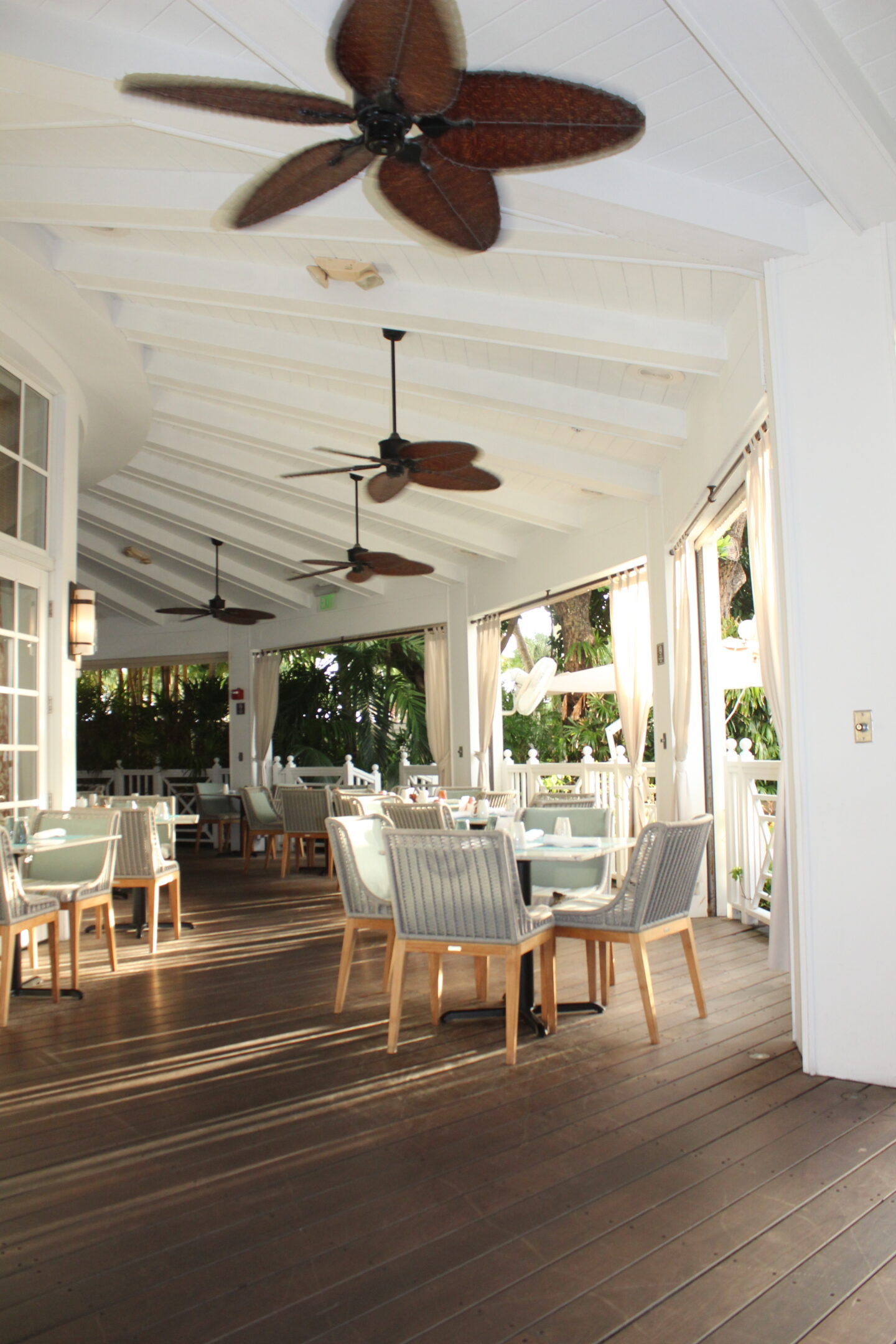 Service was great and it wasn't long before we were provided with a pot of fresh hot coffee and a glass of ice water every morning when we were first seated. Breakfast included in the room is a buffet, but there is a menu you can also order from for an additional cost should you wish to order off-menu.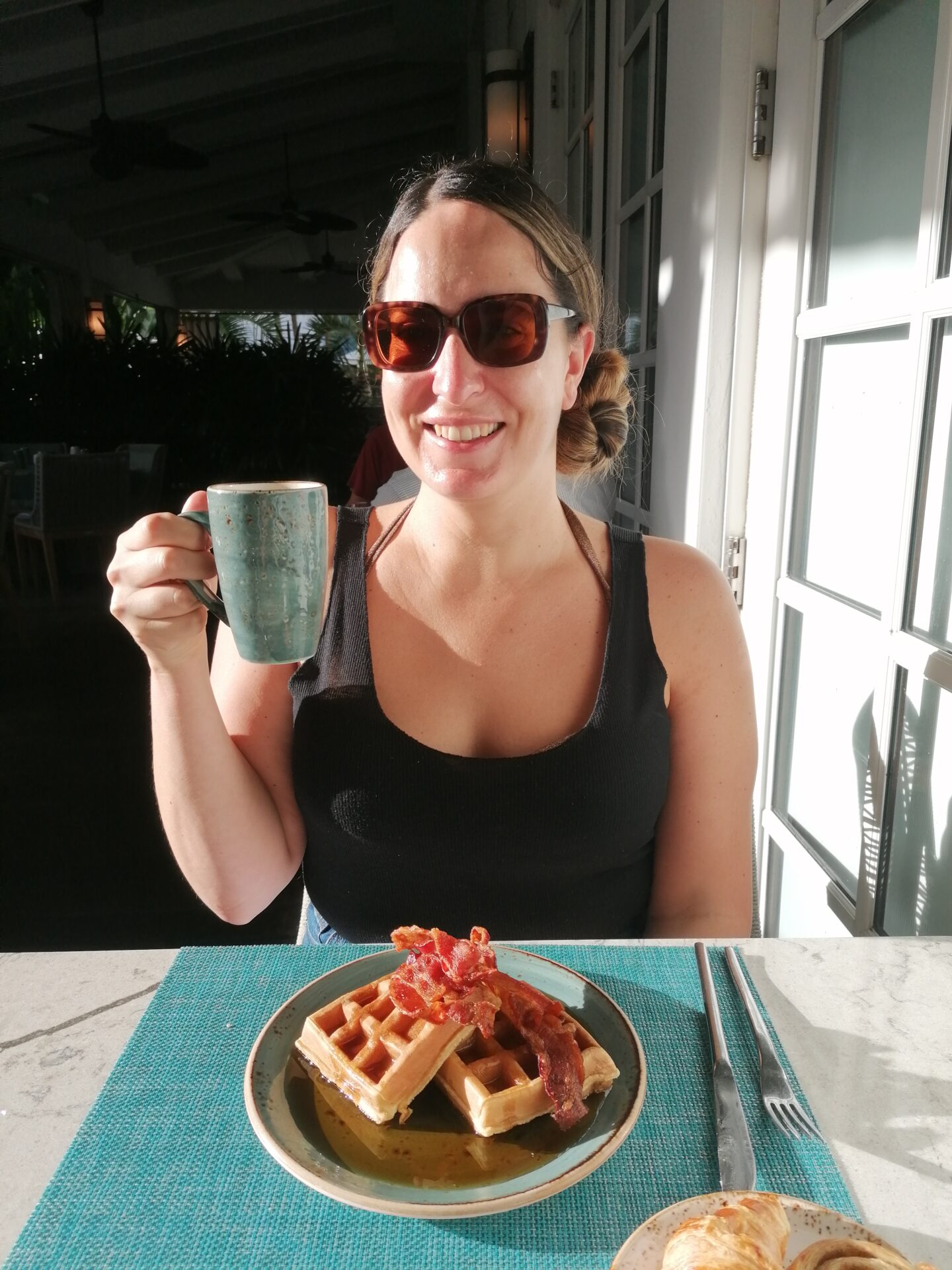 Now I'm not really a fan of buffets so it has to be seriously good to impress me and this one did just that. Whilst it was not large in size, that for me was a positive as everything that was there was fresh and excellent quality.
There was a bread section which had a selection of fresh pastries and variety of breads.
There was a range of fresh fruits, yoghurts with various toppings, cereals, cheeses, meats and smoked salmon. The hot options included sausage, bacon, frittata, breakfast potatoes and a sweet option which whilst we were there changed daily and included pancakes, French toast and waffles.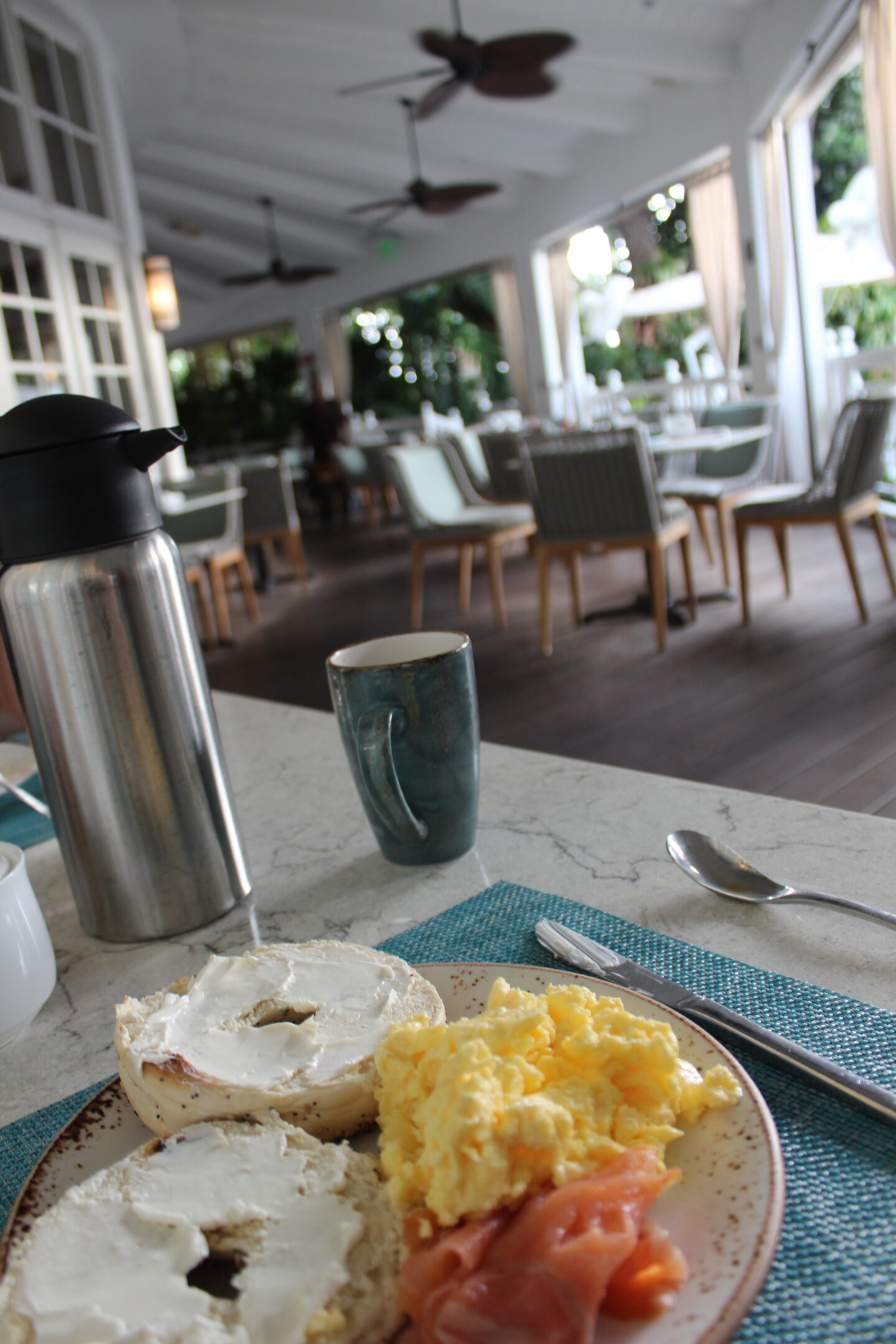 Sitting on the terrace drinking hot coffee, eating a delicious breakfast and taking in the amazing surroundings (and weather!), Mr B and I were well and truly on holiday and in our happy place.
Thank you The Palms for a wonderful stay, you are a truly fabulous oasis in a truly fabulous city.