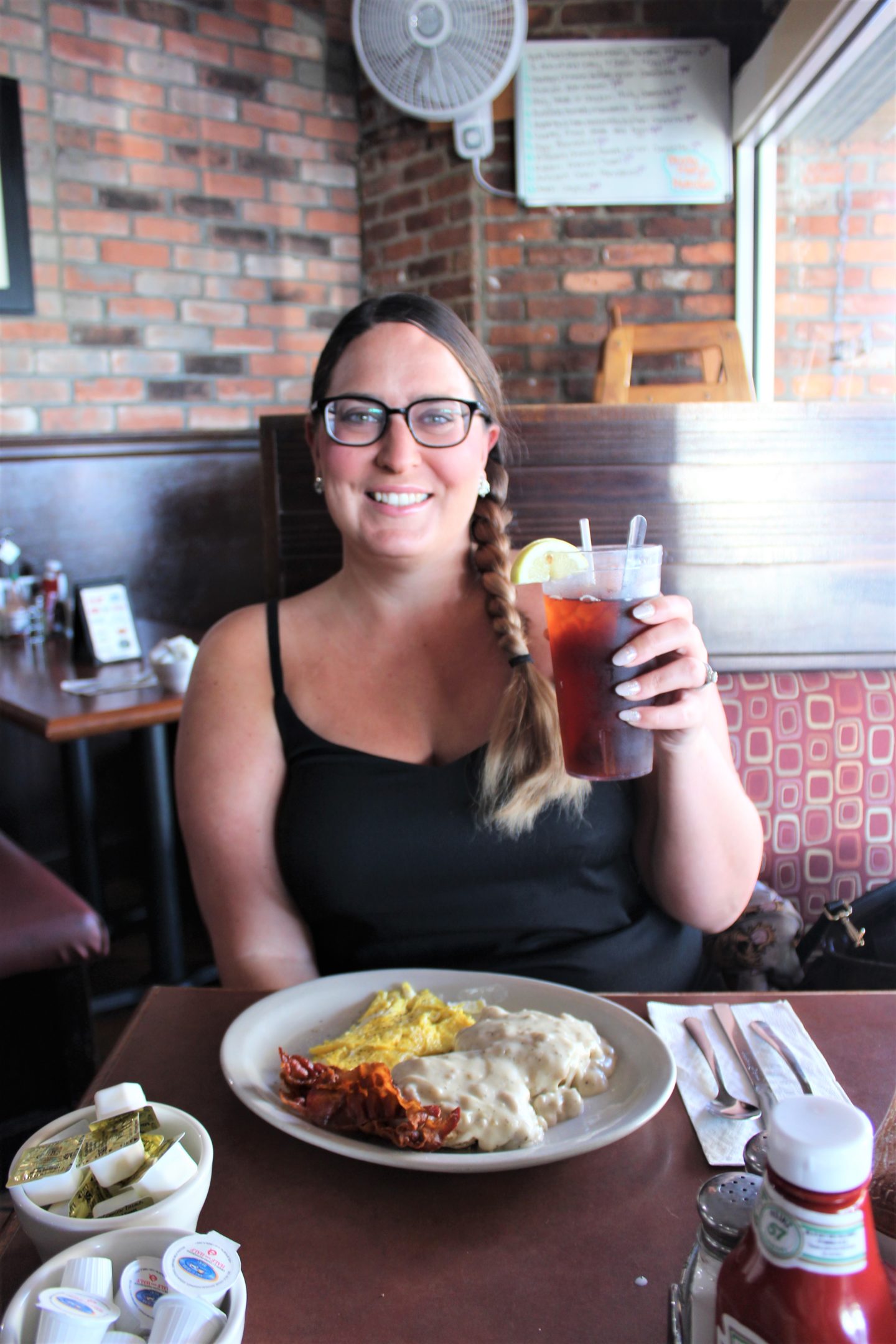 One thing is for sure when in Martin County . . . you won't go hungry! We never had a bad meal, from hearty breakfasts to incredible pizza to delicious fried chicken, we had it all. There are so many places to eat but here are my favourites  . . .
The Gafford
We ate here on our first night and what first stood out to us was the very friendly service. We took our server's recommendations for the starter and the mains and everything was delicious . . . there were empty plates all round!
To start we shared the 'Lump Crab Cakes', three jumbo lump crab cakes with Dijon aioli and local greens. They were full of flavourful crab meat and every bite was delicious!
For my main I ordered 'Mabels fried chicken', two southern-style boneless breasts with black dot gravy over tri-coloured garlic confit mashed yukons. I very rarely order fried chicken at home, but I trusted the rave reviews and was so glad I did! The chicken was perfectly crisp on the outside but the inside was still so moist and succulent!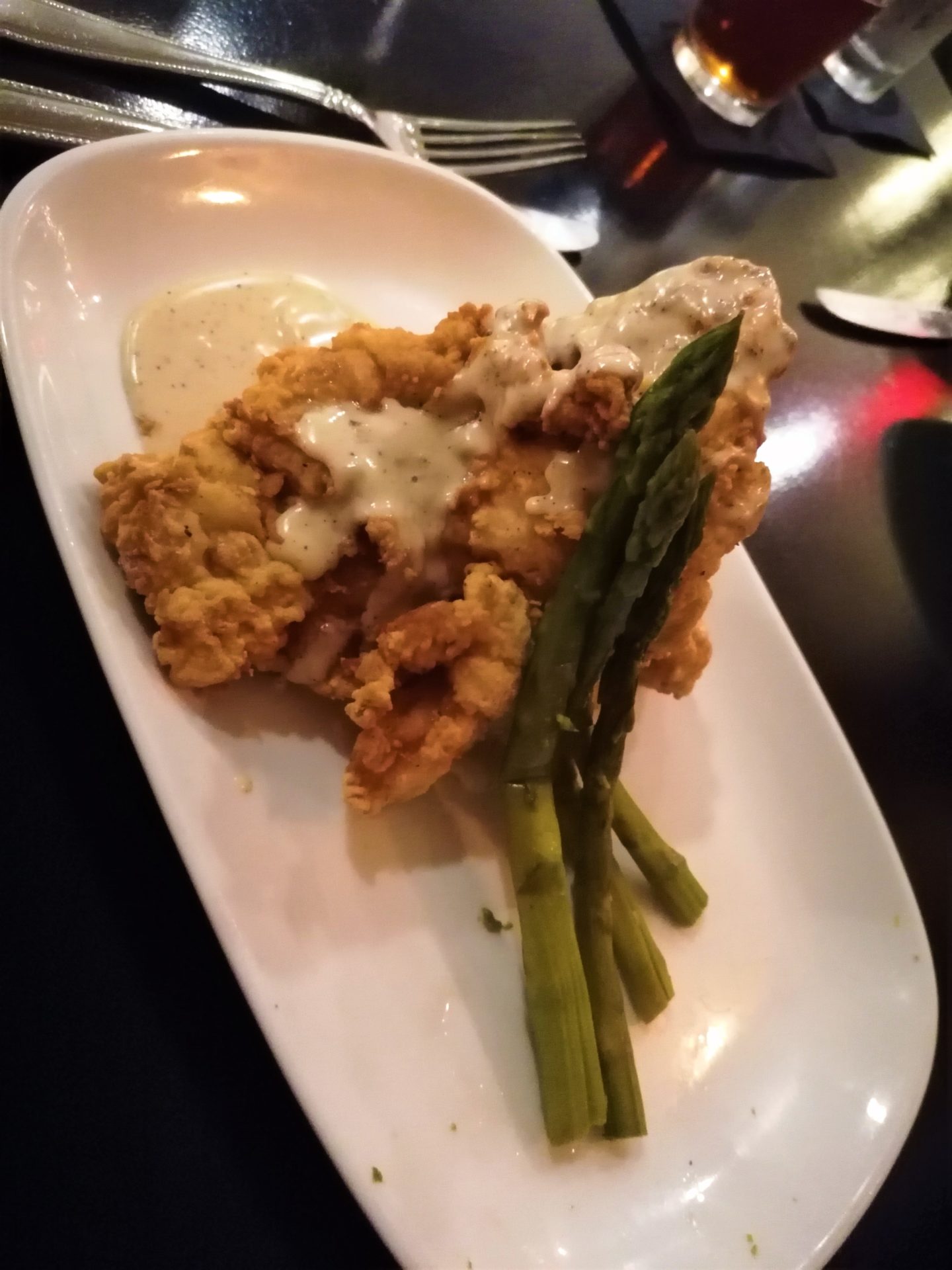 Mr B ordered the beer roast chicken with beer sauce. Again this was so moist and delicious – a perfect meal for our first night in Martin County!
Jan's place
We visited here for breakfast and let me warn you, when you have breakfast at Jan's don't make plans for lunch as these mouth-watering hearty breakfasts will fill you up till dinner-time!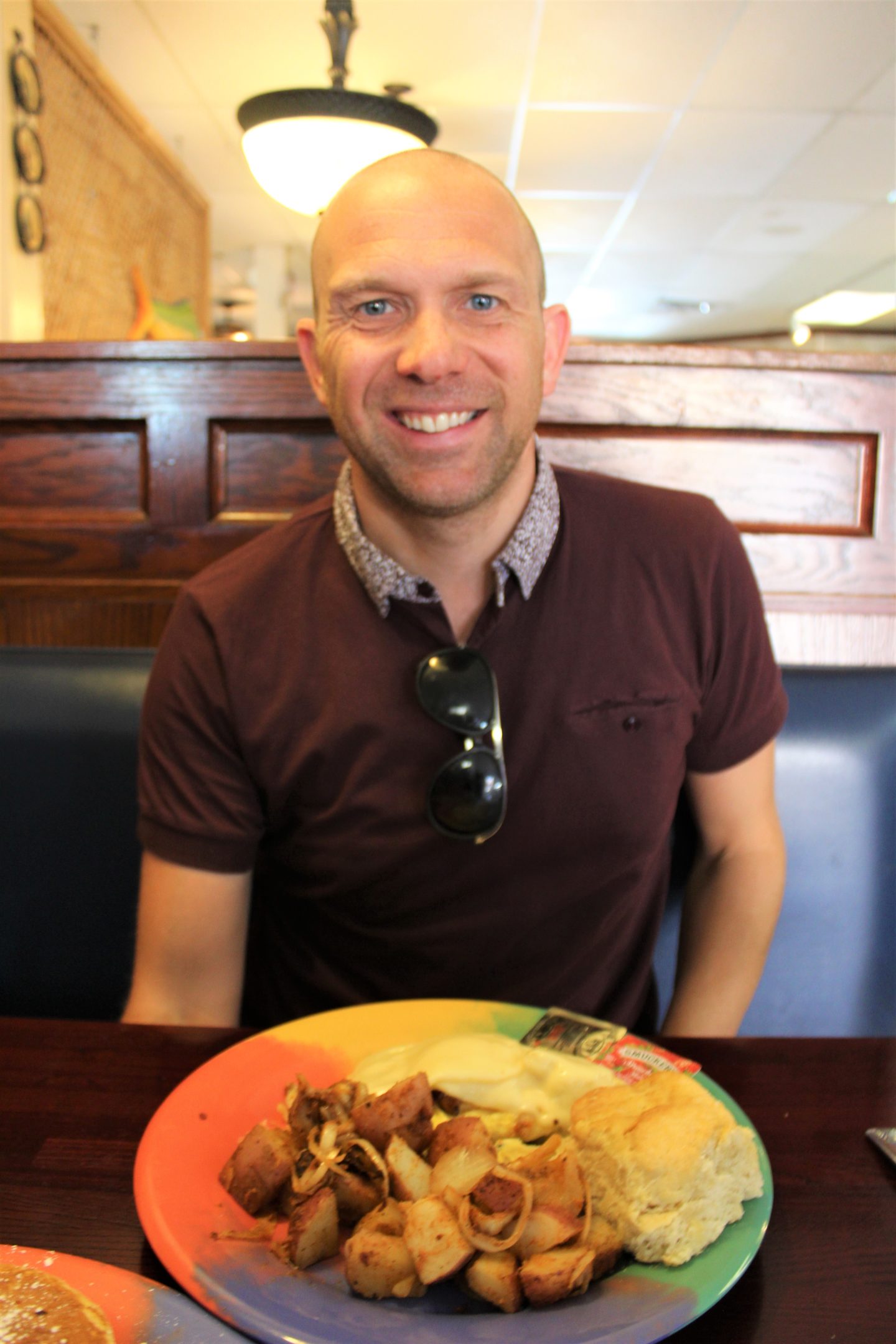 The menu has anything you could dream of for breakfast, from many varieties of eggs benedict, filled omelettes, incredible sounding French toast and so much more.
I went with the chicken pot pie omelette which comes with a choice of two sides – I had the potato cakes and a side of pancakes! That wasn't extra, the pancakes are included as a side!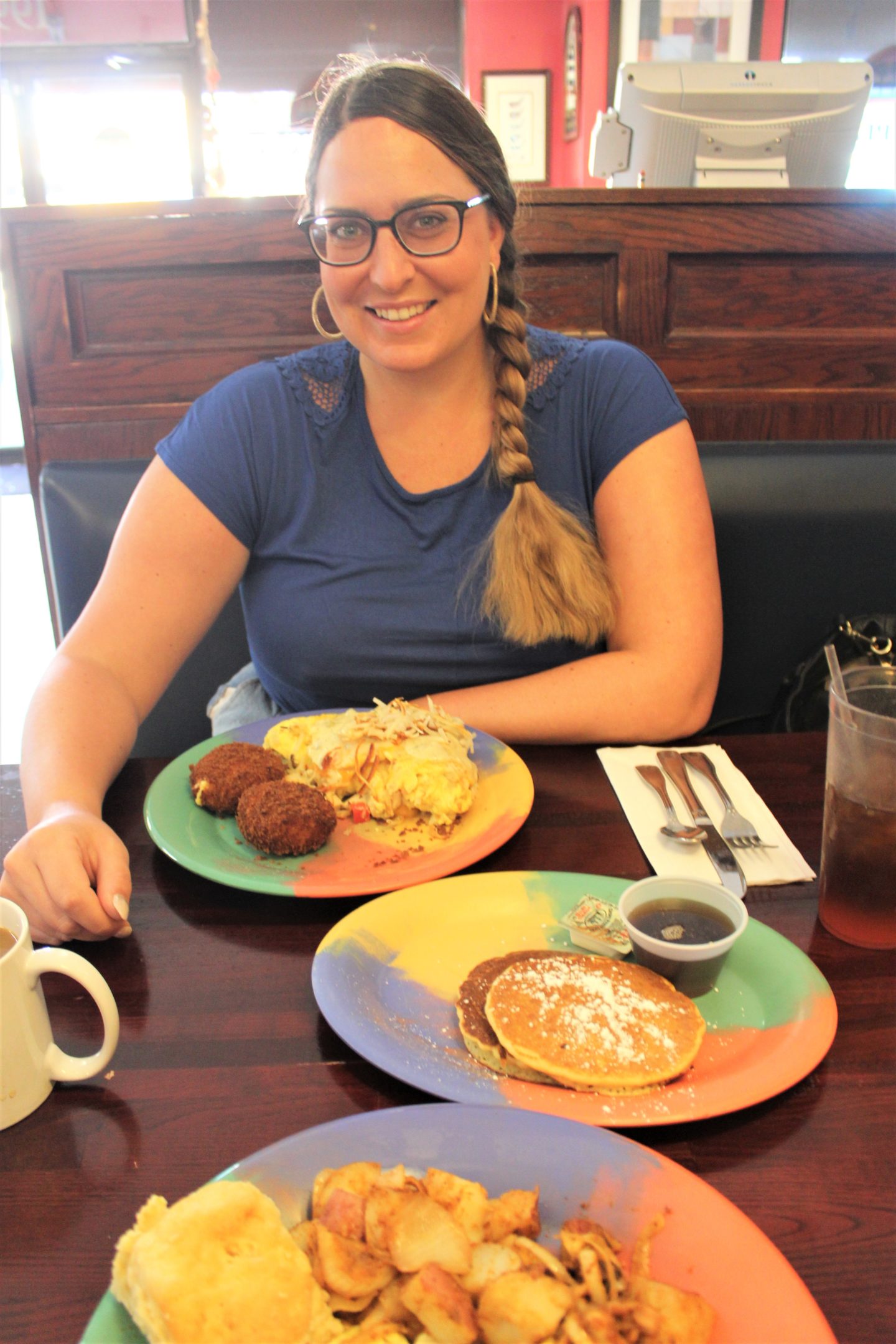 What can I say about this breakfast apart from wow! First of all the portions are huge, but it certainly isn't quantity over quality. My omelette was fluffy and full of the delicious creamy chicken filling. The crispy potato cakes had bacon and cheese in them . . . so indulgent and so good! I did have to sacrifice part of my omelette so I could eat the pancakes, but it was worth it for a sweet ending to my breakfast with the light and fluffy pancakes covered in sticky maple syrup.
Carmela's Brick Oven Pizza & Wine Bar
Wherever we go on holiday Mr B and I always seem to end up having pizza one night! And this holiday wasn't any different – in fact we hit the pizza jackpot!
We drove past it in the daytime and with lots of great reviews online we knew that night we were having pizza for dinner! It was busy when we got there which is always a good sign.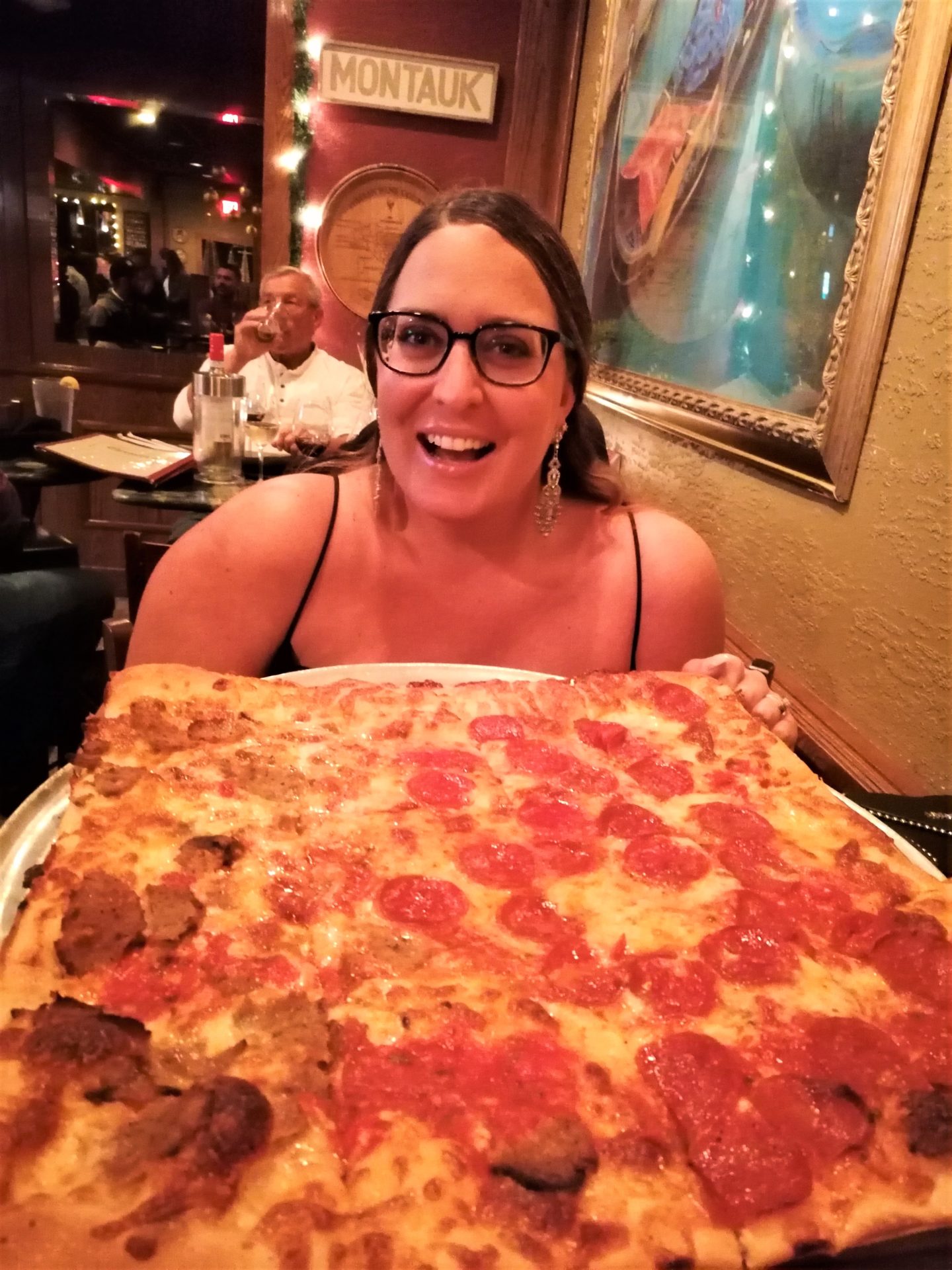 When we were ordering drinks the table next to us were given their food and I am glad we saw the size of the pizza as we were going to order one each! We checked with our waitress and she said yes, you should definitely share!
We ordered the Grandma pizza which is Carmela's signature pizza, a 16-inch square thin crust with speciality tomato sauce. We went half and half, with pepperoni on one side and meatballs on the other.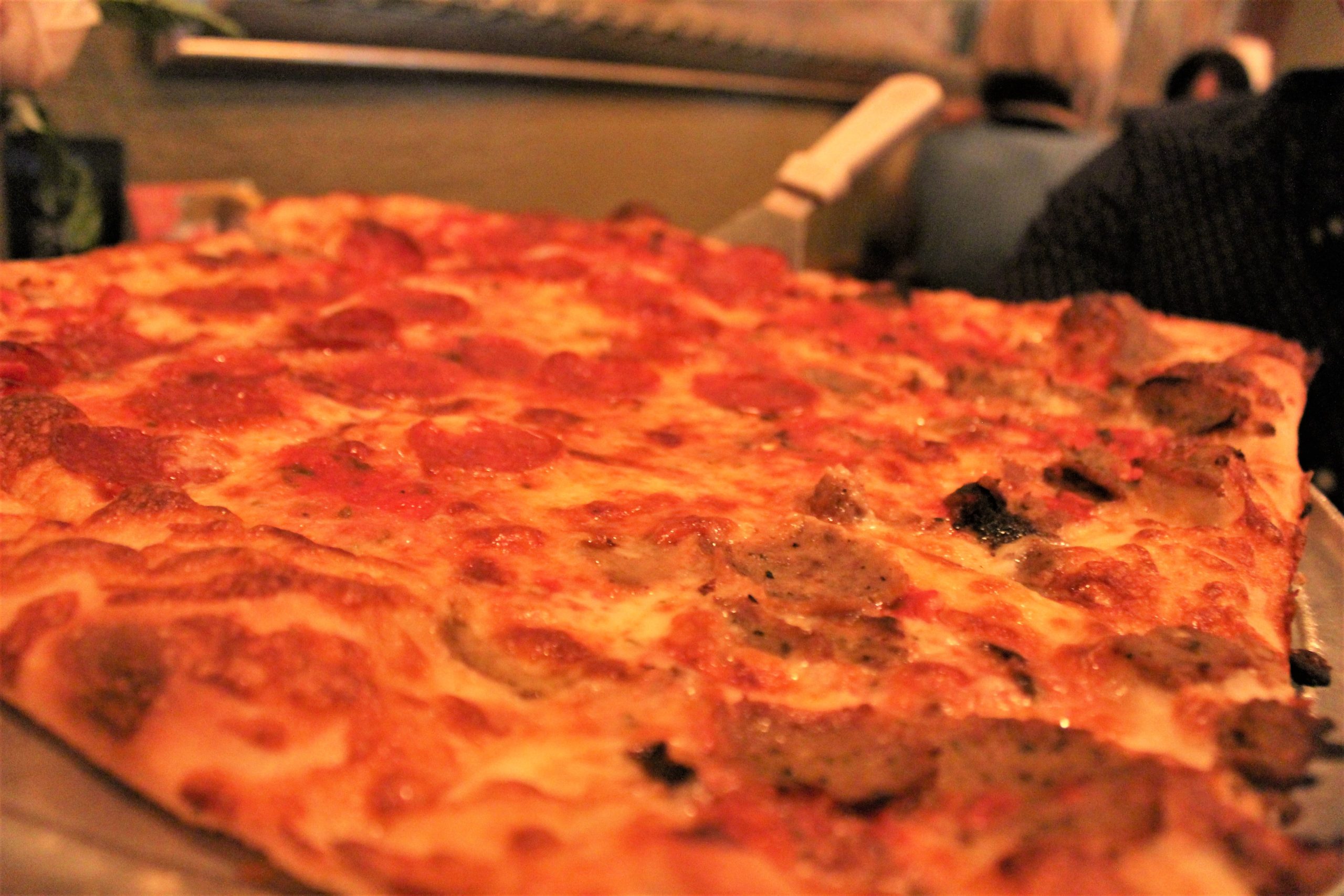 Oh my, pizza heaven! It was incredible. The base was thin and crispy and the sauce was rich and full of flavour with beautiful molten cheese and if I do say so myself we chose very good toppings.
Believe it or not Mr B and I actually had room for dessert, but we are not monsters, we did share! A Florida classic, a creamy, zesty piece of Key Lime pie.
As expected, with Carmela's also being a wine bar, they have a great selection of wines!
Dune dog
After a long day exploring we wanted somewhere casual but, of course, still with great food.
Firstly I loved the décor – we sat outside at the back and it had a great atmosphere. Sipping away on my rum punch which was very well made, Mr B and I decided we would get two mains and share them.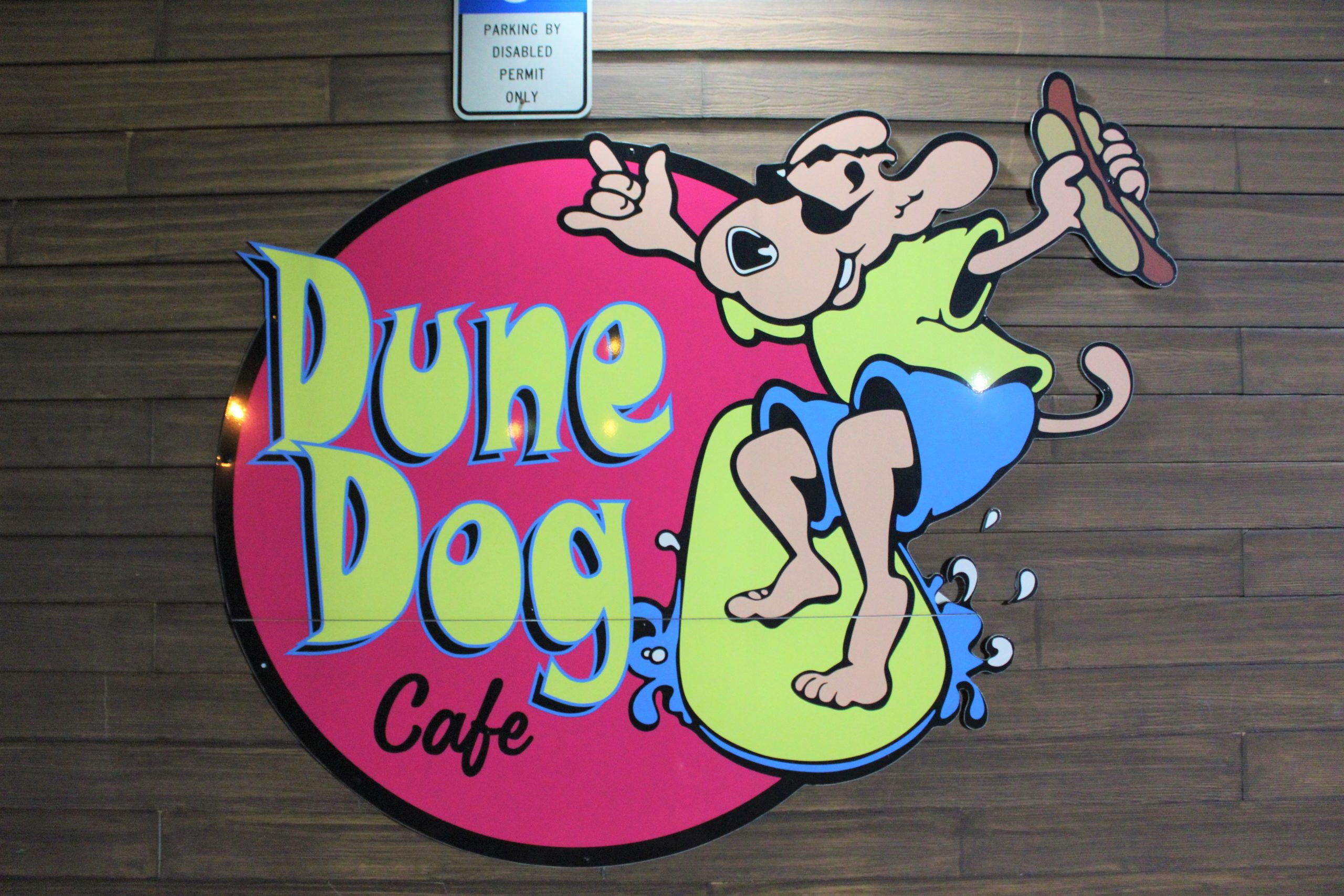 We were tempted to get a starter to share but our waitress warned the portions were quite large so she told us to see how we go and then we would maybe have room for dessert.
We had the 'Clam Strip Dinner', a huge plate of fried tender clams and the 'Bourbon Street Shrimp', spiced blackened shrimp. You get two sides with every main – I chose the rice and fries and Mr B went for the fries and potato salad.
The clams were very tasty and moreish! They were fresh and crispy with the prawns perfectly spiced and juicy.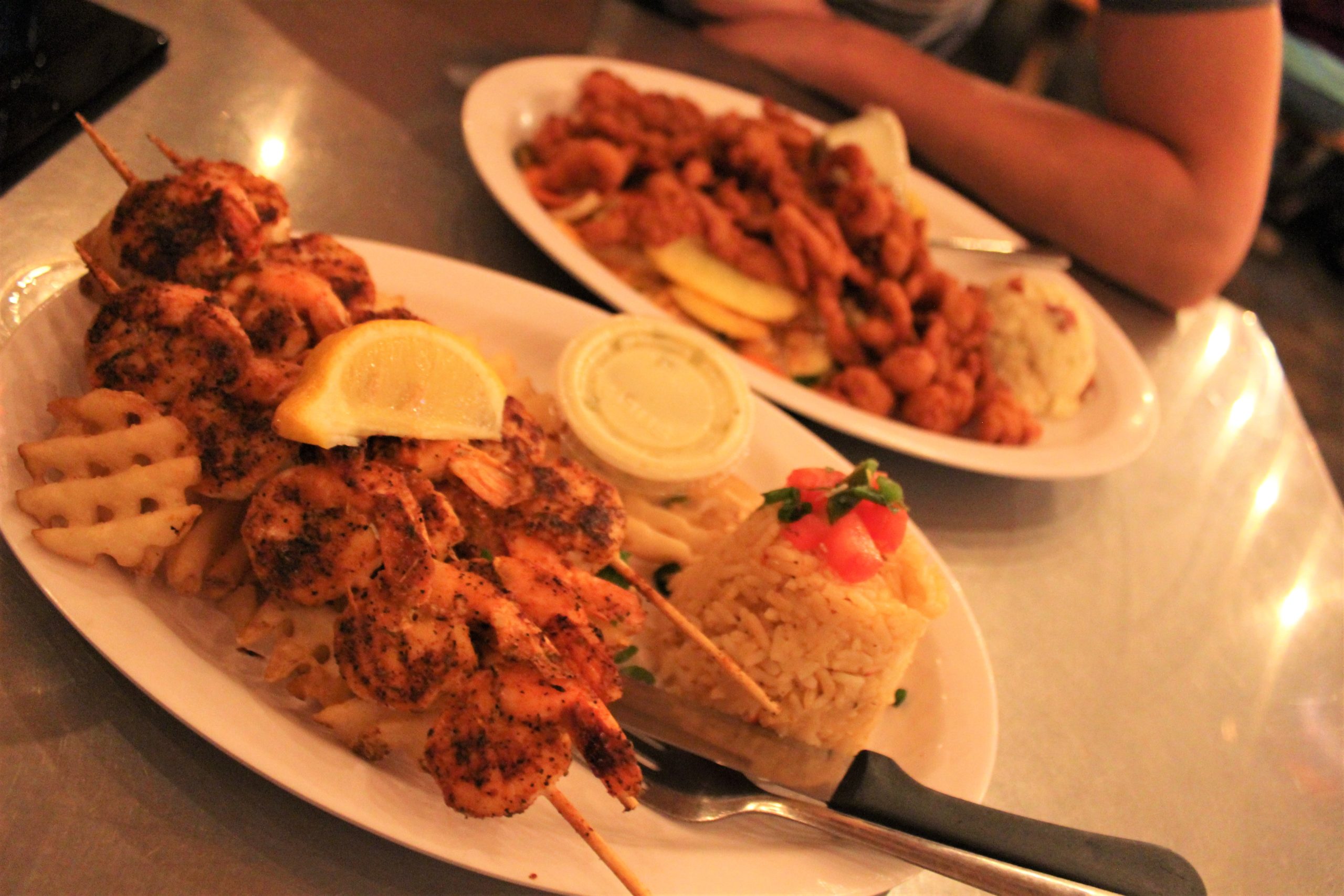 Again, two empty plates and just enough room to share a dessert, which for us was the peanut butter pie. Rich and very yummy!
Maria's Café
We found the breakfast here was so good we went twice! And what I ordered was so good I had it again, and Mr B copied!
The staff were very friendly and welcoming and the food is what I would describe as true American food. It was full of locals which says it all really.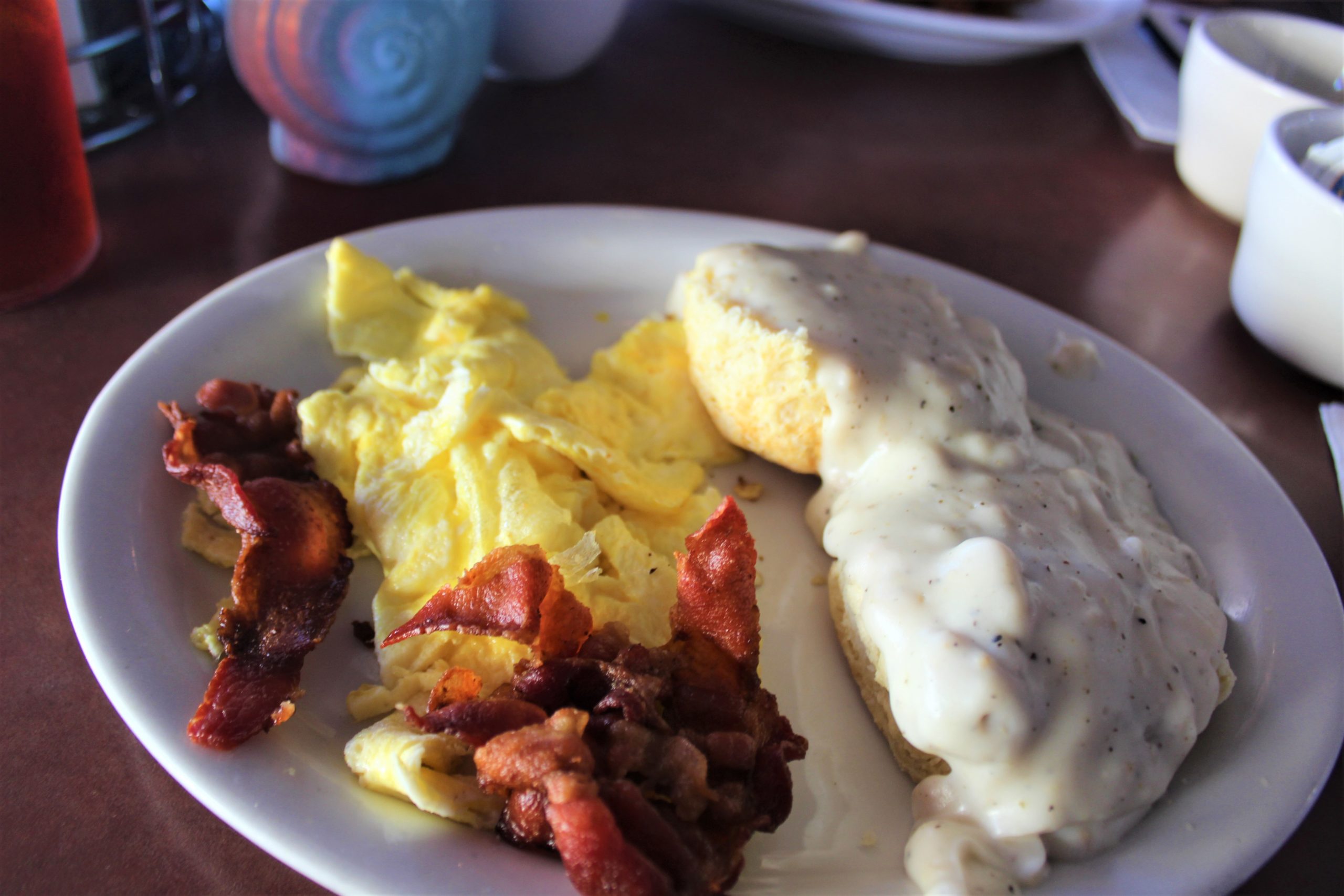 I ordered the biscuits and gravy with crispy bacon and scrambled eggs. Everything about it made it the perfect breakfast. Crispy bacon, soft scrambled eggs and fluffy biscuits, but the star was the gravy which was so tasty and packed full of flavour. It was real American homemade food and utterly delicious!
On our first visit Mr B ordered the cinnamon raisin French toast with maple syrup which he said was very tasty and I can agree with that as, of course, I had to have a taste!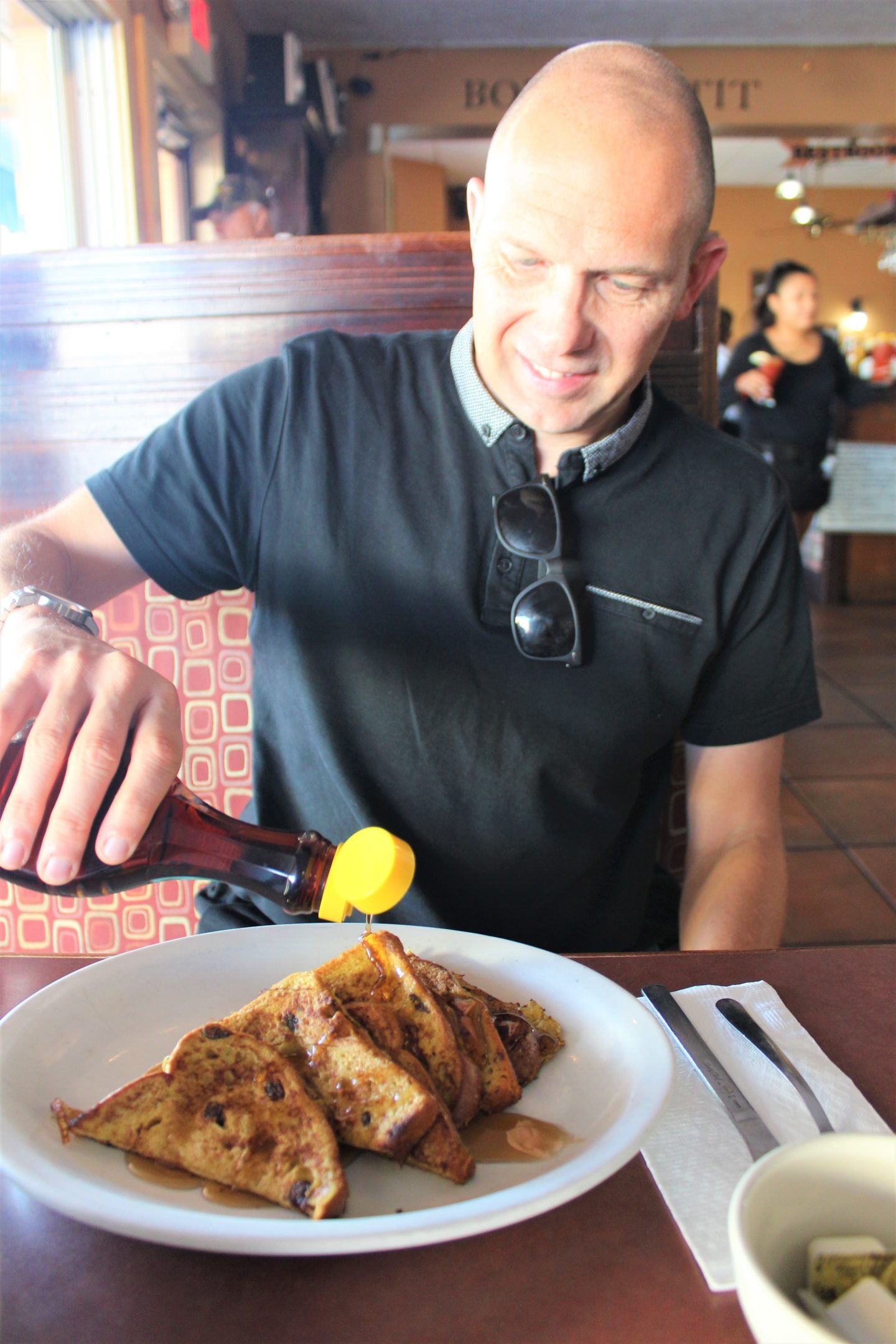 On our second visit we both ordered the biscuits and gravy with crispy bacon, Mr B's with fried eggs and mine with scrambled.
What I also have to say about Maria's is what amazing value it is. For the quality homemade fresh food we got, I would consider it a bargain!
Dunkin Donuts
Obviously not exclusive to Martin County, but a must visit for me whenever I visit the US is Dunkin Donuts. I love these doughnuts and there are so many options to choose from.
I had the Boston Crème (a classic that is always yummy!) and Mr B went for the Strawberry ring. We refreshed with some iced coffees and got some Munchkins (Donut Holes) for the road!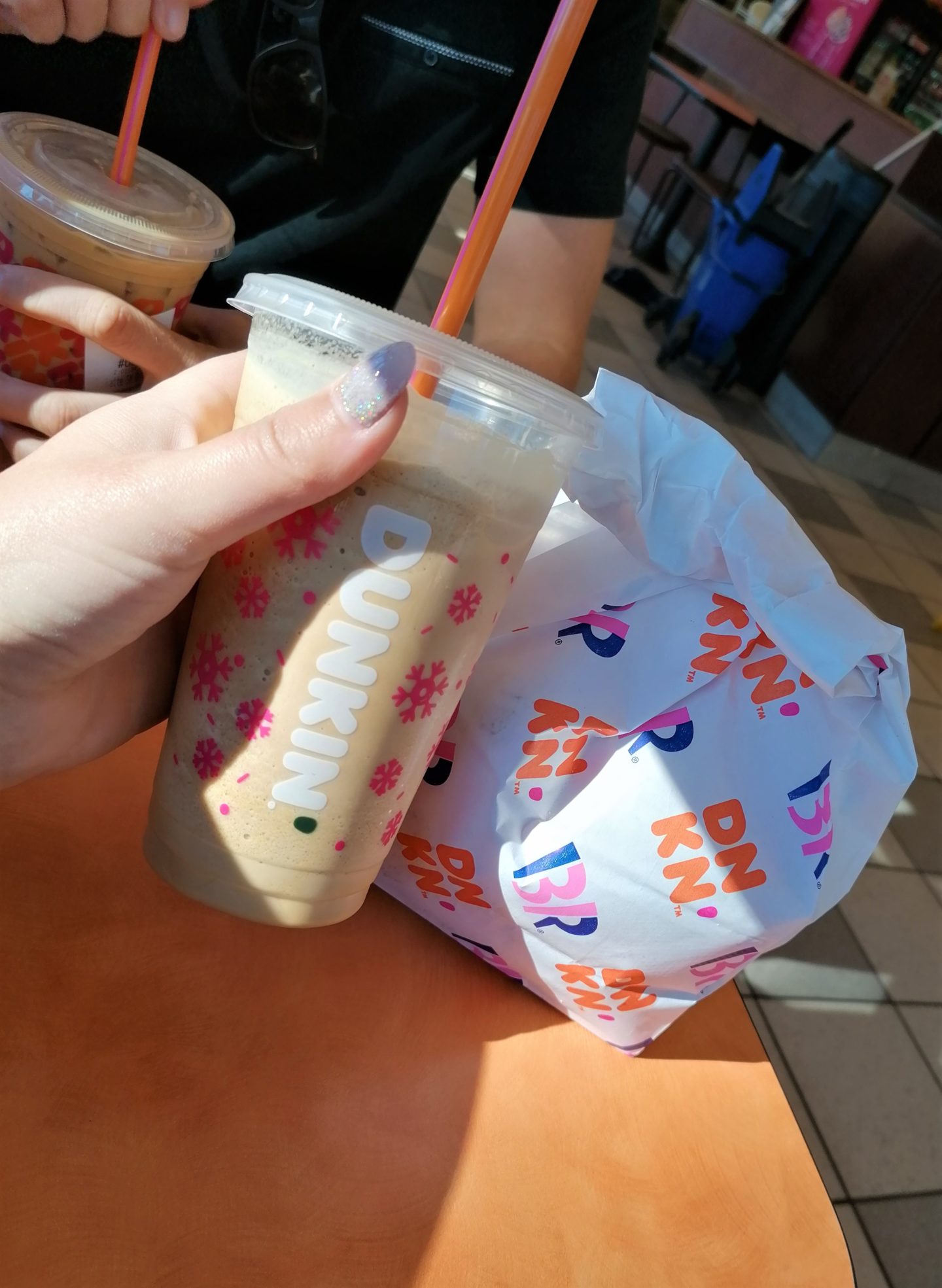 We had such big breakfasts that we didn't want a big sit-down lunch, just something that we could grab and for me, Dunkin Donuts are the perfect treat!