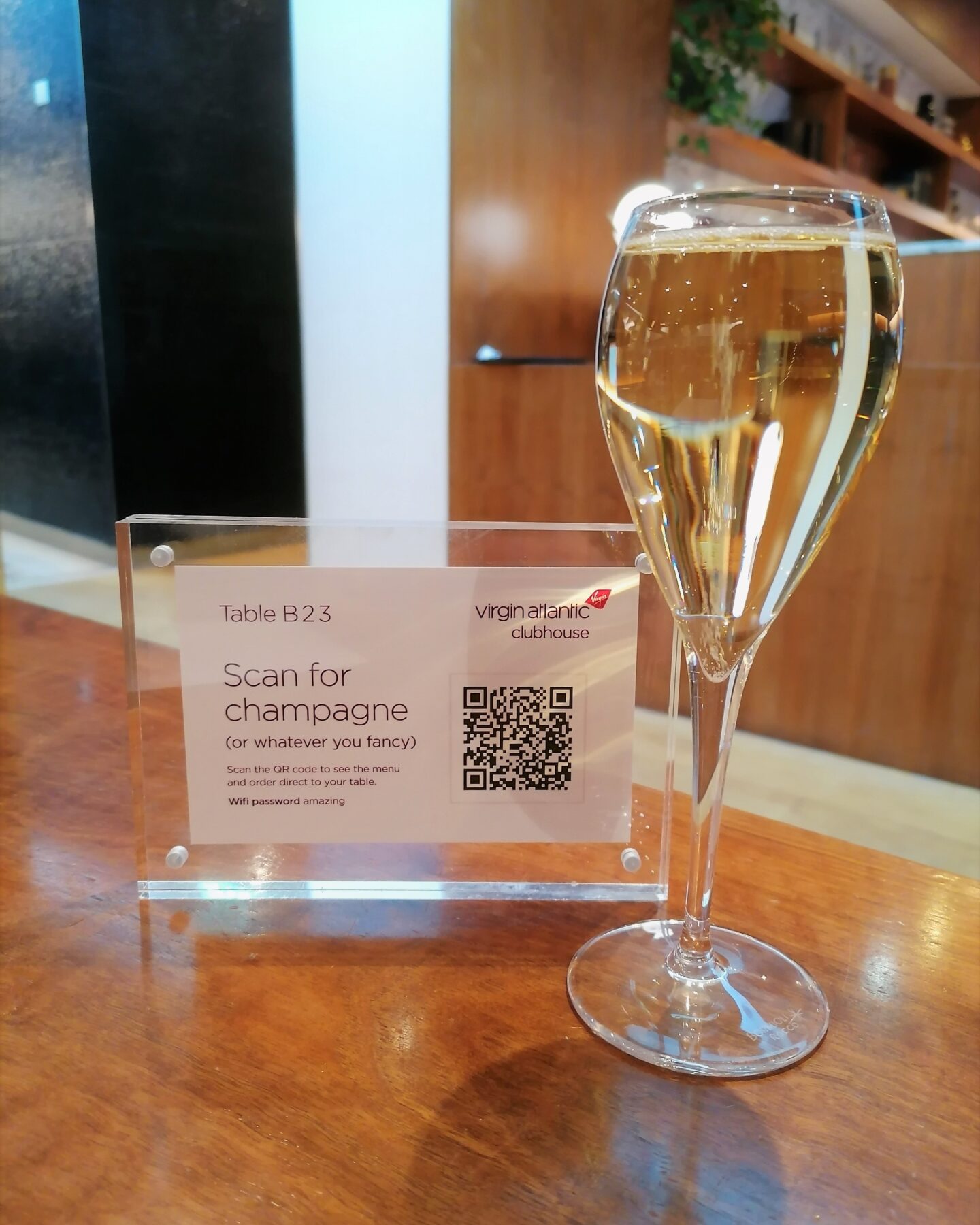 Mr B and I have been to a few different airport lounges now, some great, some good and some we would never go back to! If I am going to a lounge I expect good food, good drinks and a nice place to relax before our flight.
We have had two visits to the Virgin Atlantic Clubhouse at Heathrow and both ticked every box for Mr B and I for some seriously good pre-flight R&R.
We've always had good flying experiences with Virgin. We find all the staff to be very friendly and we would personally choose Virgin over a lot of other airlines due to previous experiences. All the staff we encountered in the lounge were very friendly, from being greeted at the entrance, to being served food to having our champagne topped up (without even having to ask!).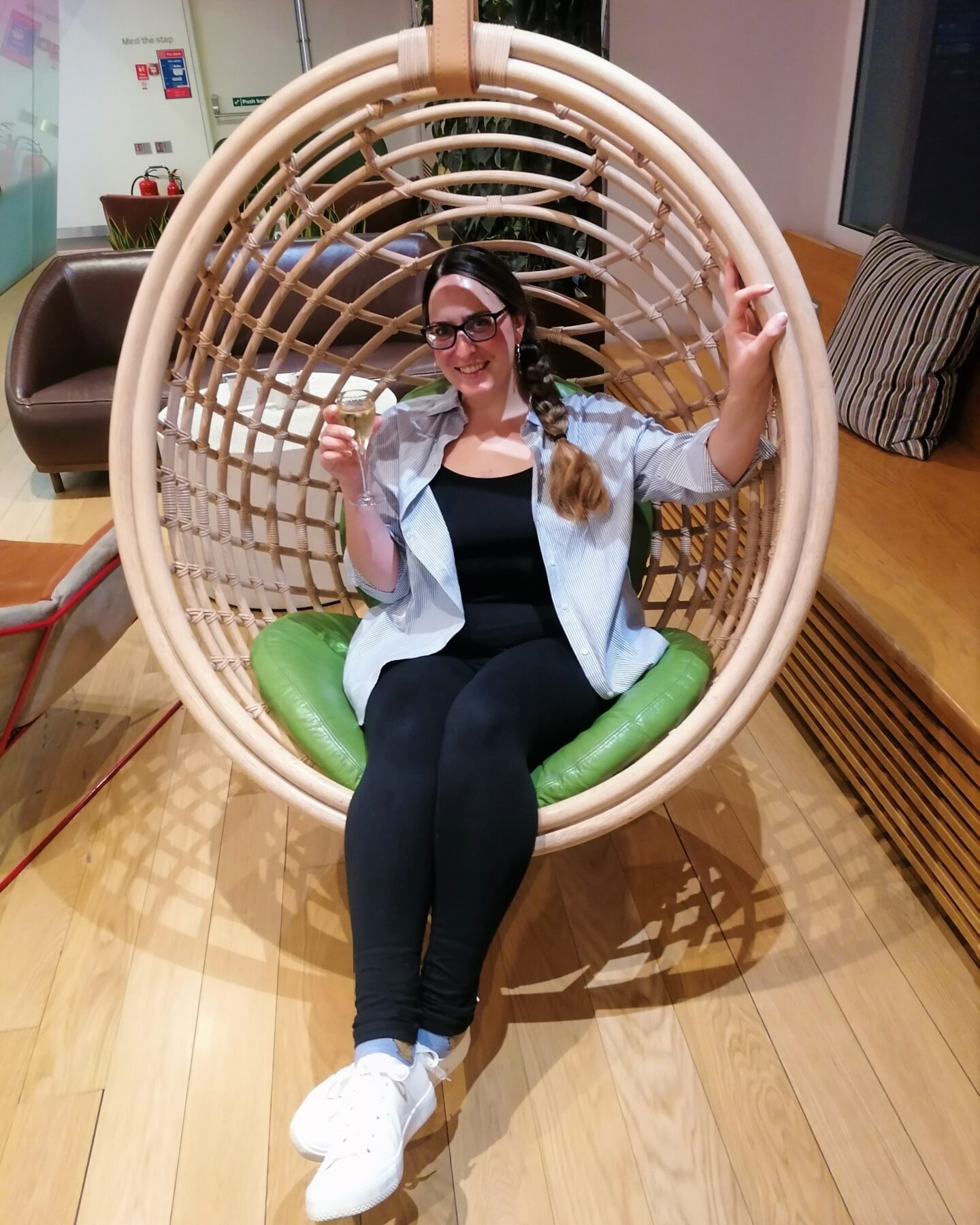 The lounge is really big and has lots of different areas so if you want to work there are plenty of places you can sit with your laptop. There are some great window seats to relax in where you can see out onto the runway, bar stools, table and chairs which are perfect for dining at, booths, egg chairs and a relaxation area with lounge beds, so there really is an area for everyone.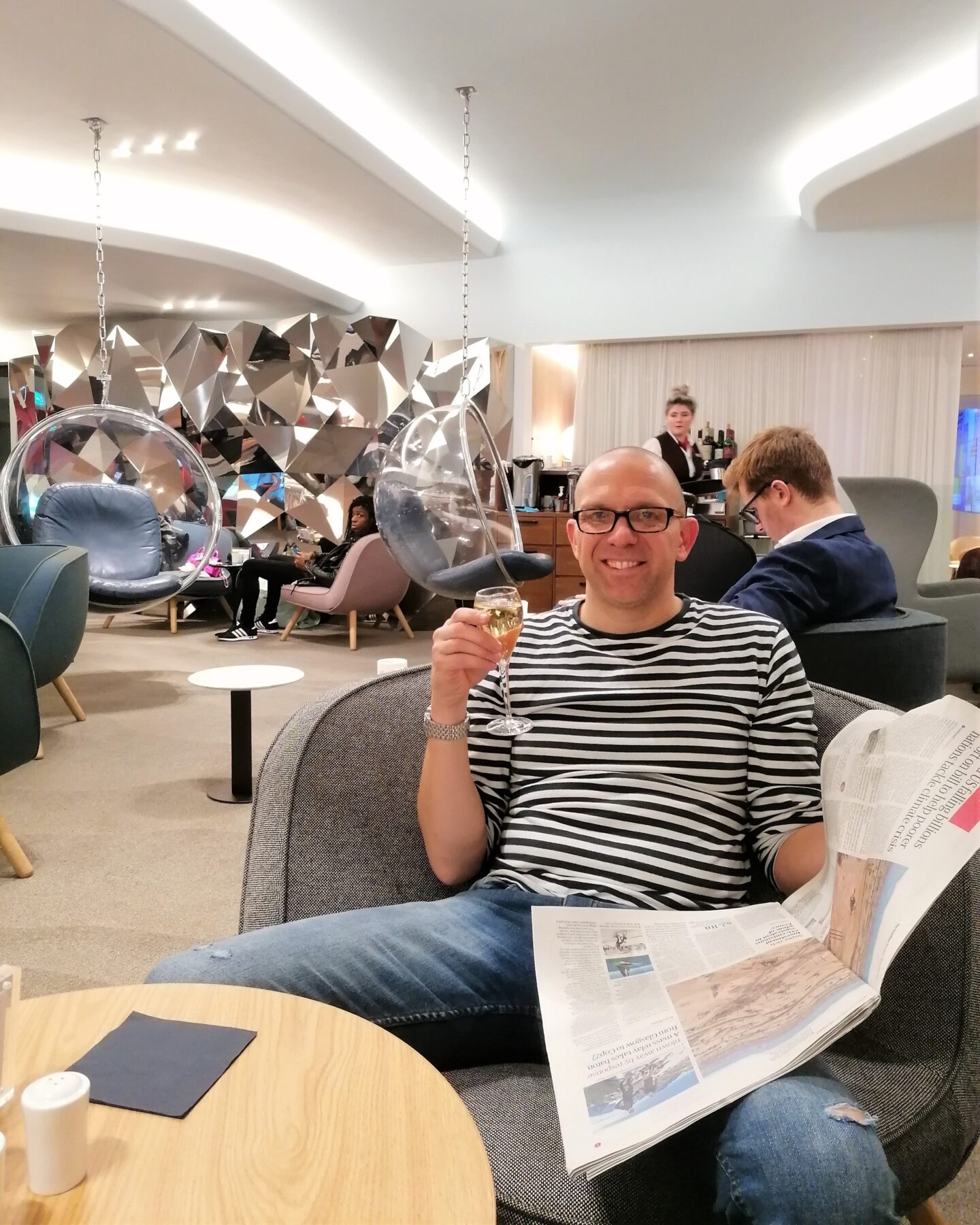 One thing I was not expecting was an area with Peloton bikes! They have a great view out onto the runway and if you did fancy a bit of pre-flight exercise you don't need to worry about getting sweaty as the lounge also has showers available to use and you can pre-book a time slot for the Pelotons and the showers using the QR code or asking one of the team.
Head up one flight of stairs in the lounge and you will find another area with a pool table and a TV.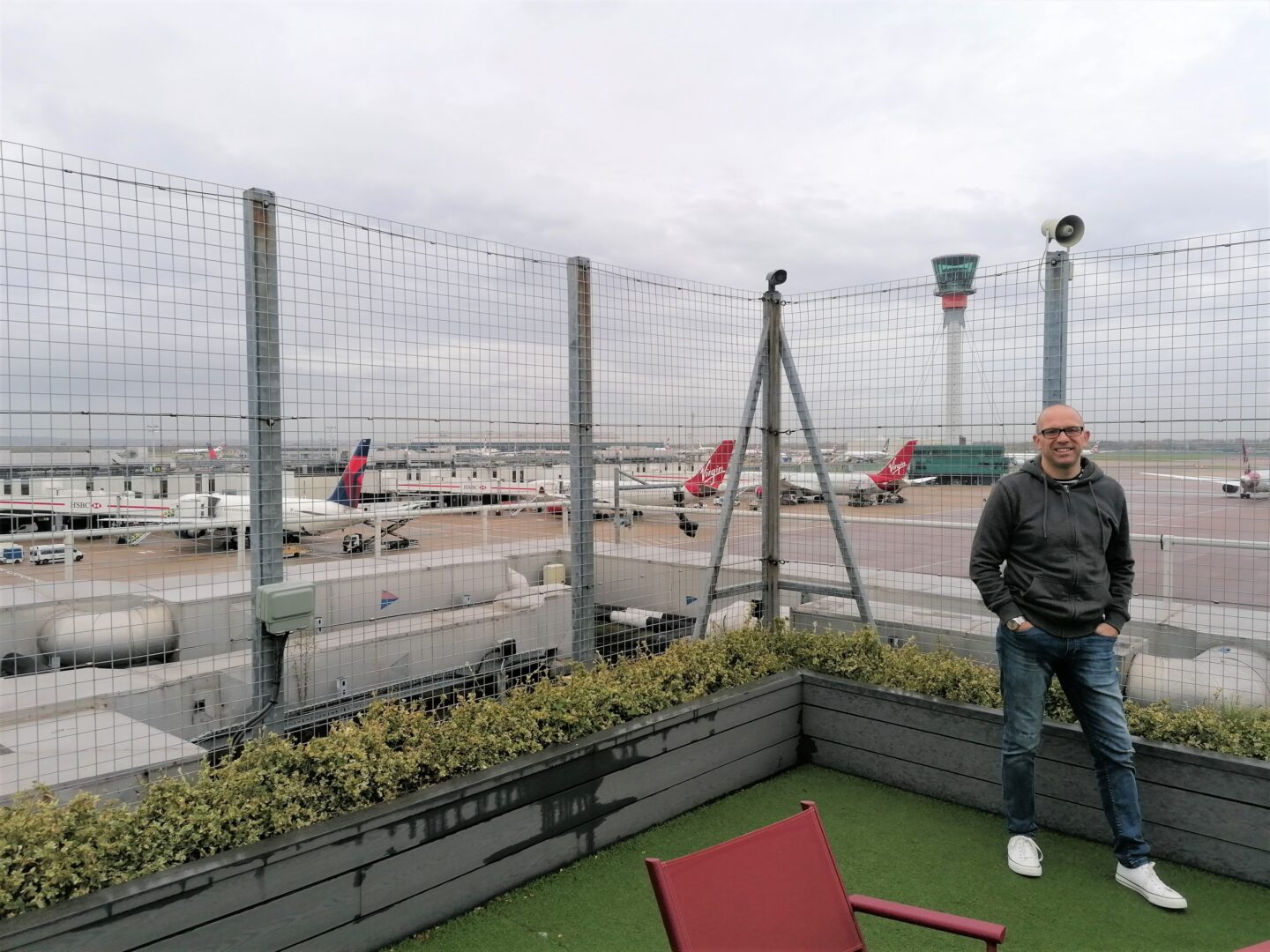 Then head up one more flight of stairs again and you will find the roof terrace, yes you heard me correctly, there is a roof terrace! It is such a cool space and something very unique to the Virgin lounge. Mr B and I stood up there after the sun had just risen and watched some of the planes take off at Heathrow. Maybe it's the plane geek in me, but I thought it was brilliant.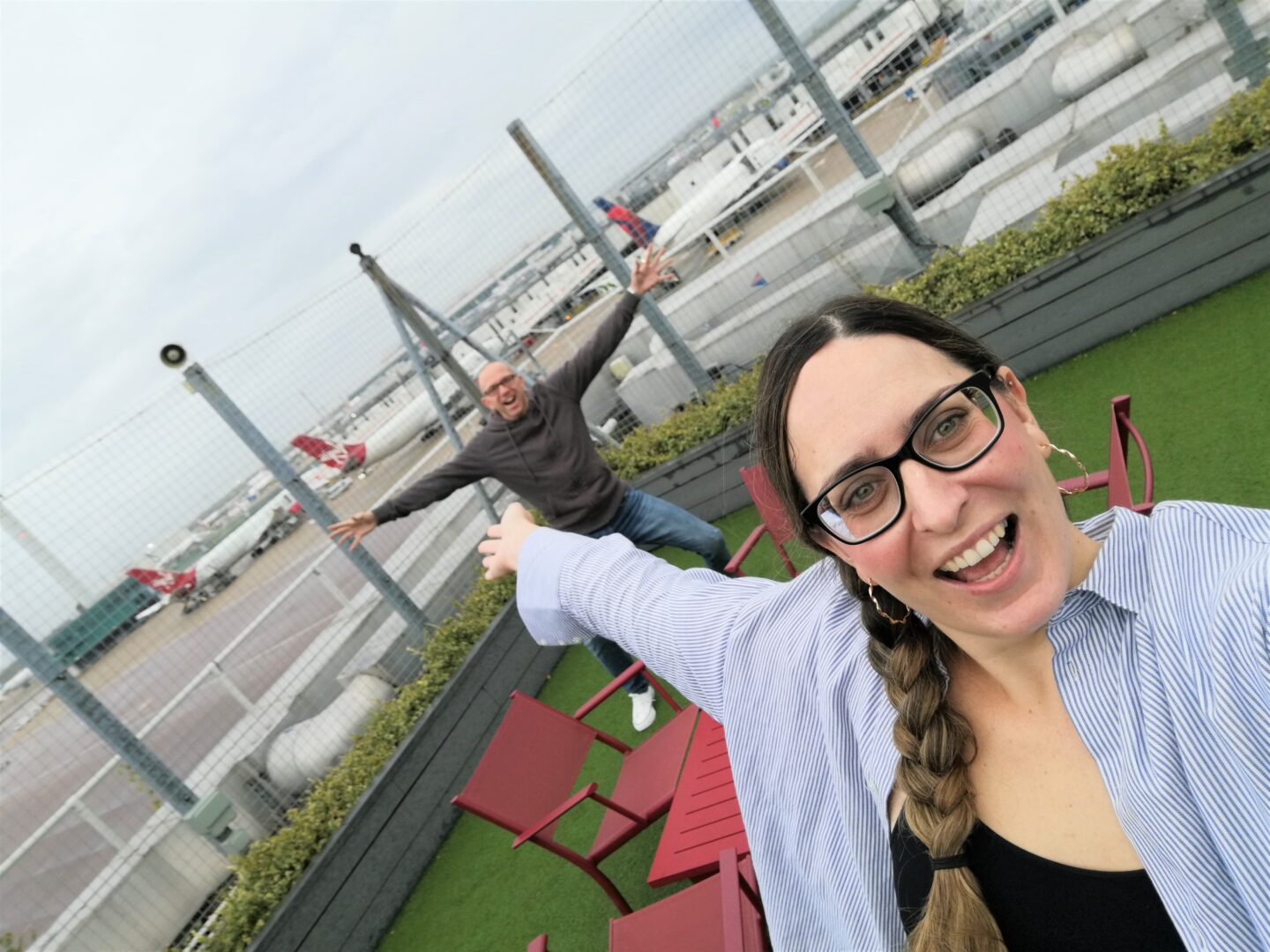 Of course, the big thing for most people when visiting a lounge is the food and drink! Both our flights have been morning flights so we have been there during breakfast hours. It is so easy to order as you simply scan the QR code, place your order and your food/drink is brought to wherever you are sitting in the lounge. Alternatively you can also order from the menu with one of the Virgin team.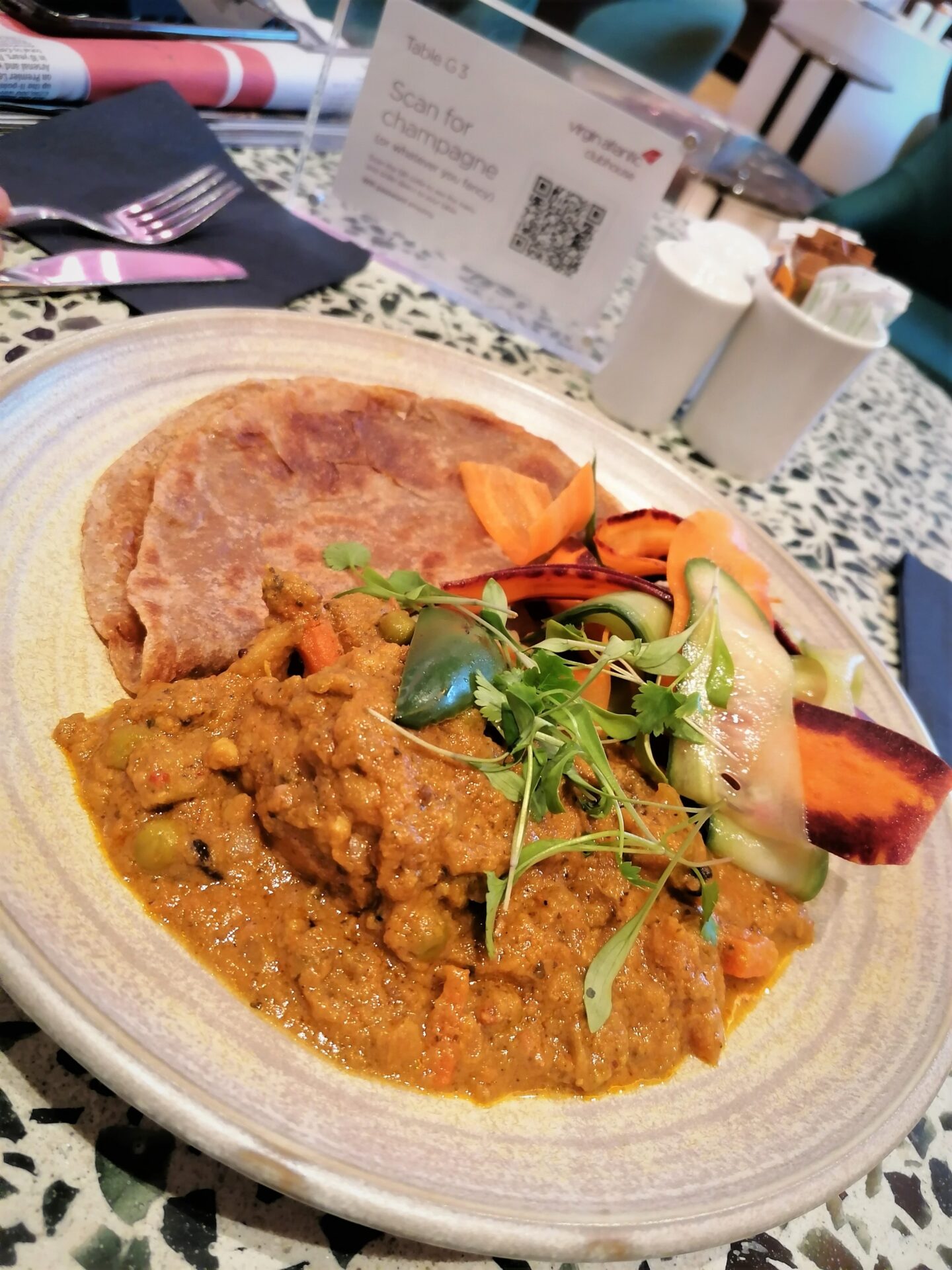 I was pleased with the breakfast offerings. You can help yourself to items from the deli which had a range of cereals, fresh pastries, yoghurts, smoothies, meats and cheeses. We ordered from the menu which had a choice of full English breakfast, eggs Benedict, eggs Florentine, porridge and fresh fruit.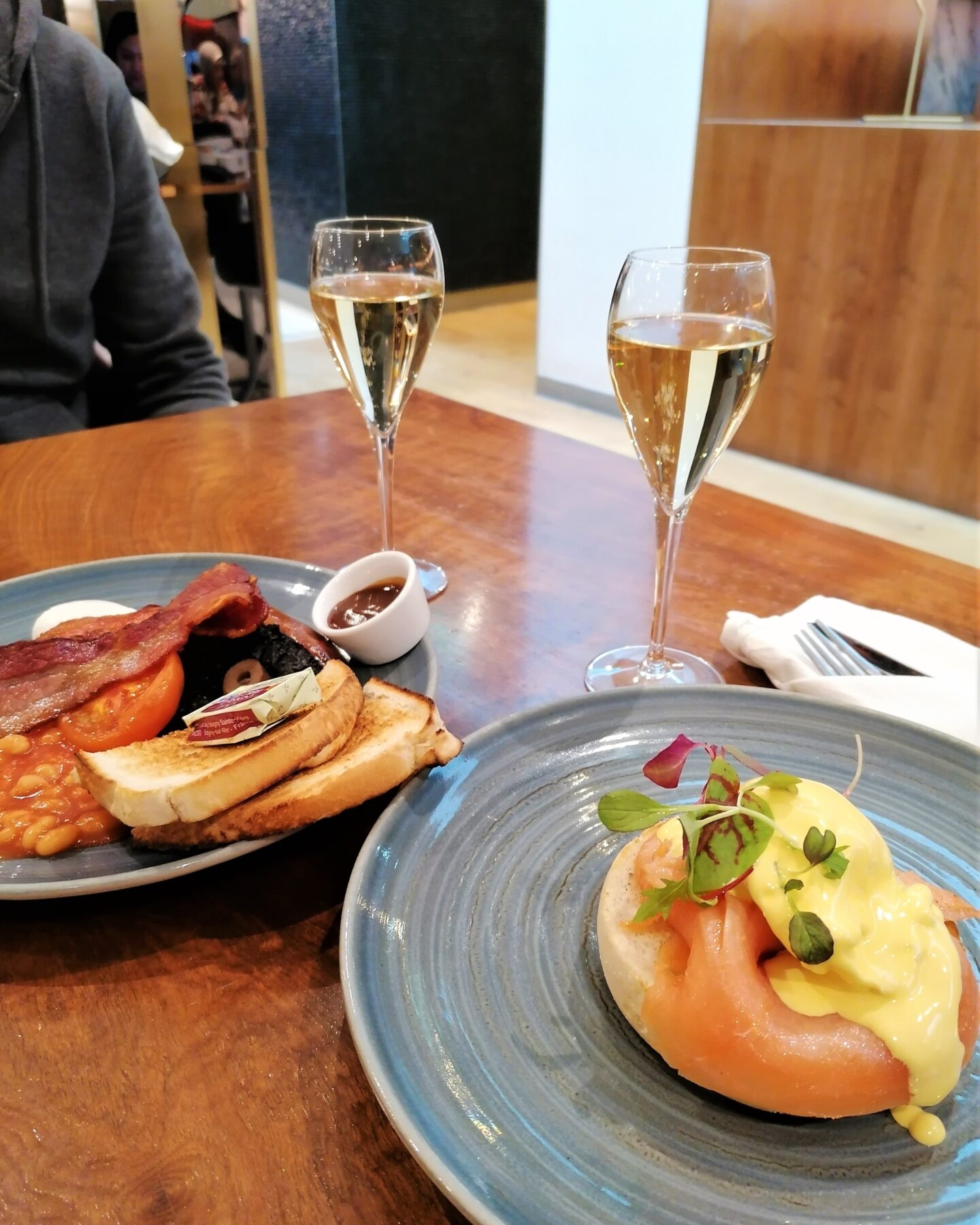 During our two visits, from the menu we have enjoyed 'The Clubhouse English Breakfast' which came with sausage, bacon, tomato, mushroom, baked beans and your choice of egg, Mr B ordered his poached. He commented on the quality of the ingredients and his eggs were cooked perfectly.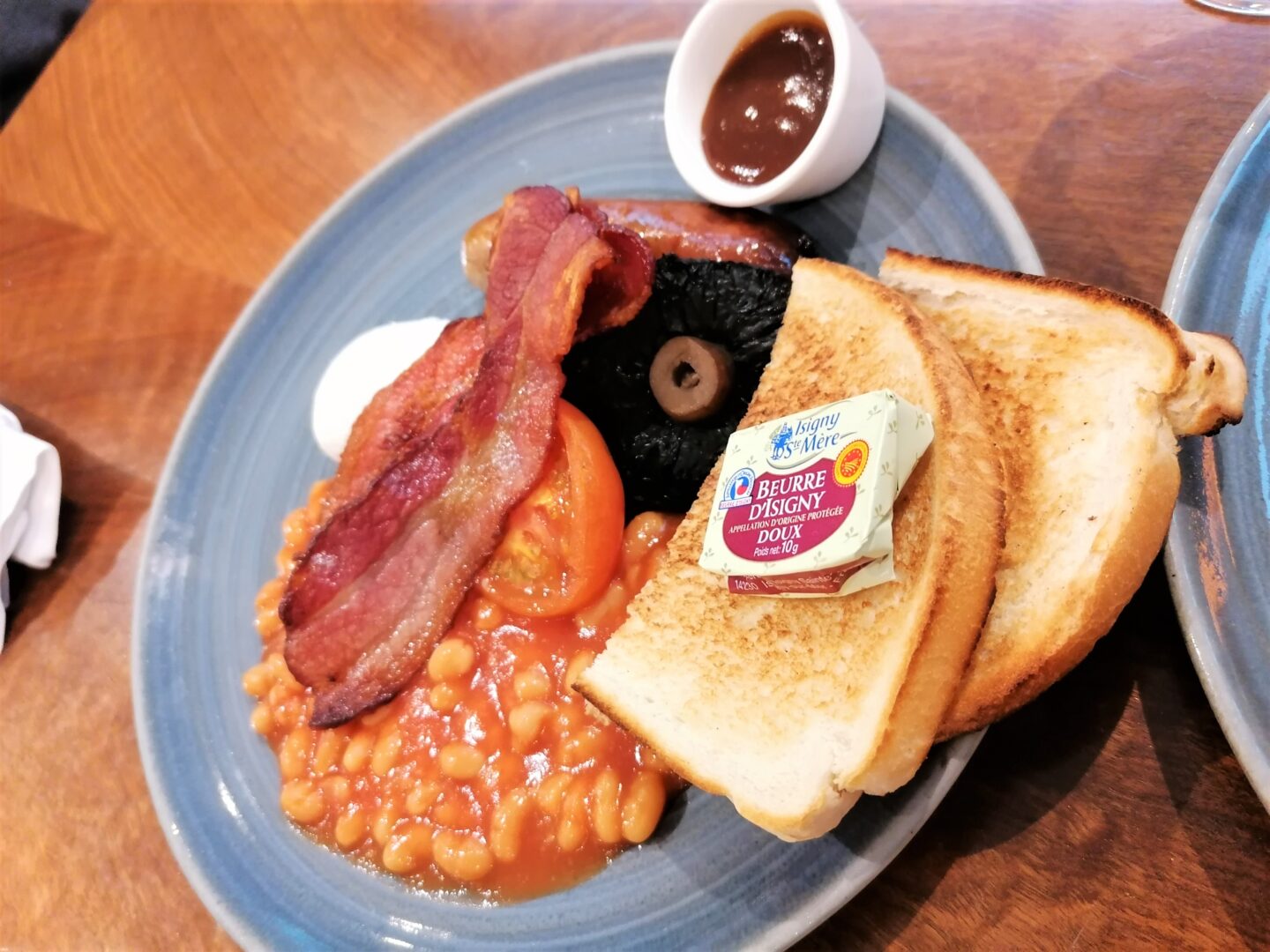 I had the Eggs Royale and it was delicious. The English muffin was lightly toasted, there was a good amount of smoked salmon, the poached egg had a lovely runny yolk, but firm white and the hollandaise sauce was rich and sharp from the lemon.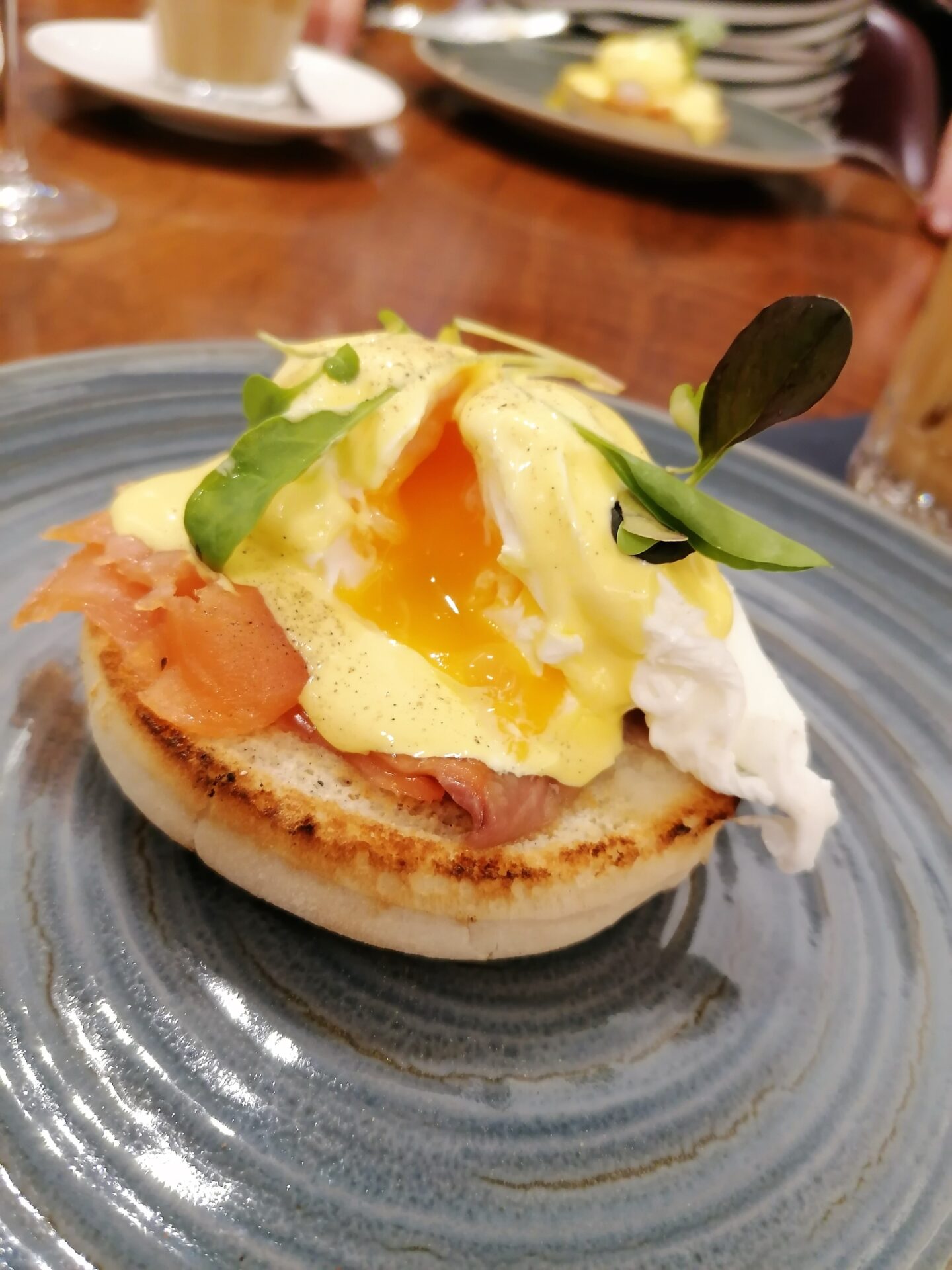 Fancying something sweet, we have both also ordered the French toast which comes with Greek yoghurt and berry compote, however, I added notes to my order when I ordered using the QR code asking for no berries and a side of maple syrup and it arrived just as I requested. The French toast was lovely and fluffy with a slight crisp on the outside.
You can also have any coffee you would order in a coffee shop. Latte, Americano, Cappuccino etc, you can choose your milk and add a syrup or an extra shot of coffee. Whilst Mr B went for a cappuccino I ordered an iced coffee made with skimmed milk, an extra shot and vanilla syrup. There are also a large range of teas you can choose from as well as juices and smoothies.
After our obligatory morning coffees we, of course, had to have some pre-holiday champagne, an airport tradition for Mr B and I (and many other people I think!). Sipping on our bubbles we even had our glasses topped up without even having to ask. On both visits we found our drinks orders to arrive with us promptly and always with a smile.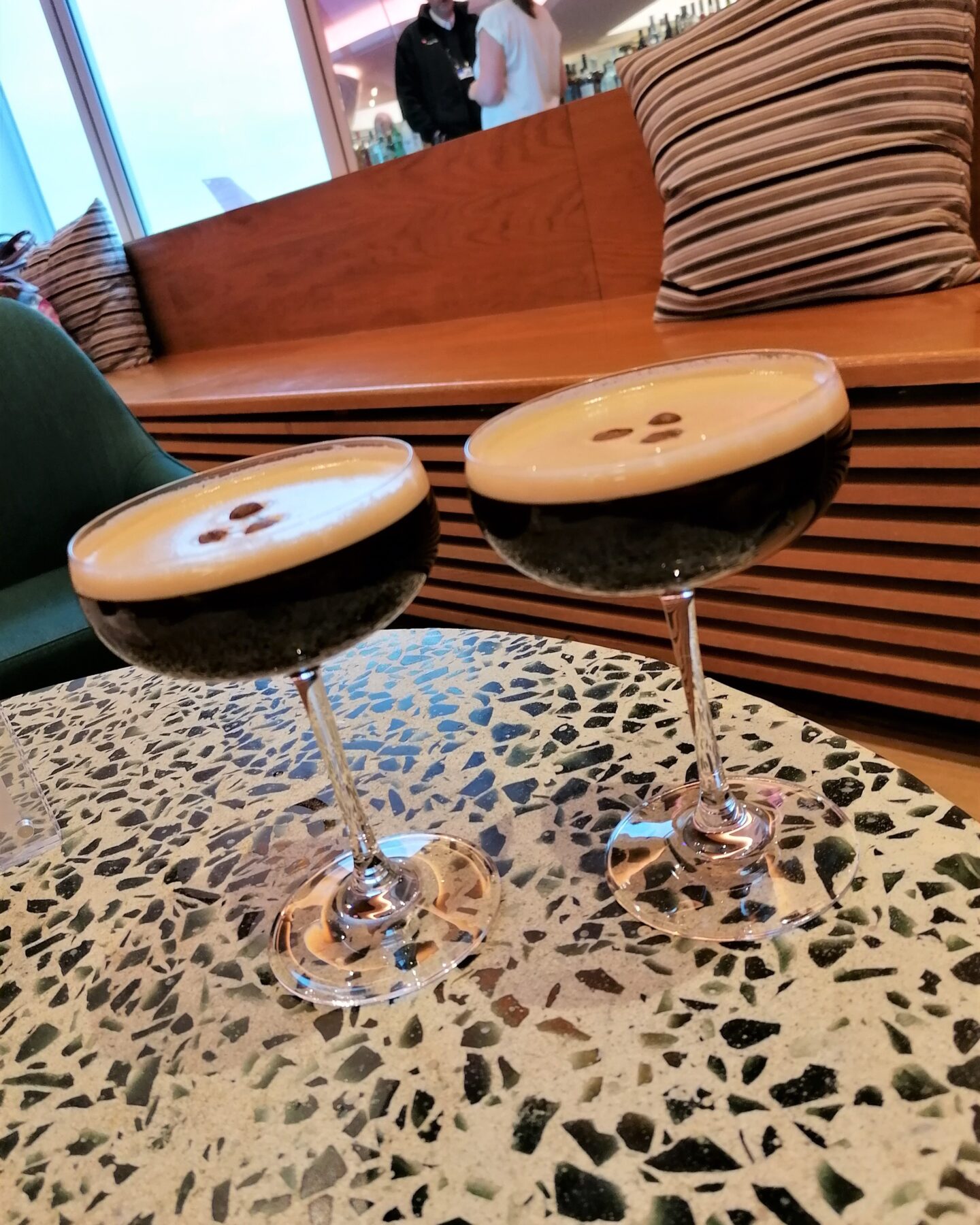 Of course it's not just champagne on offer, there are a selection of wines, spirits, beer, ciders and the bar staff will happily shake you up a cocktail. We had a round of espresso martinis which were fabulous.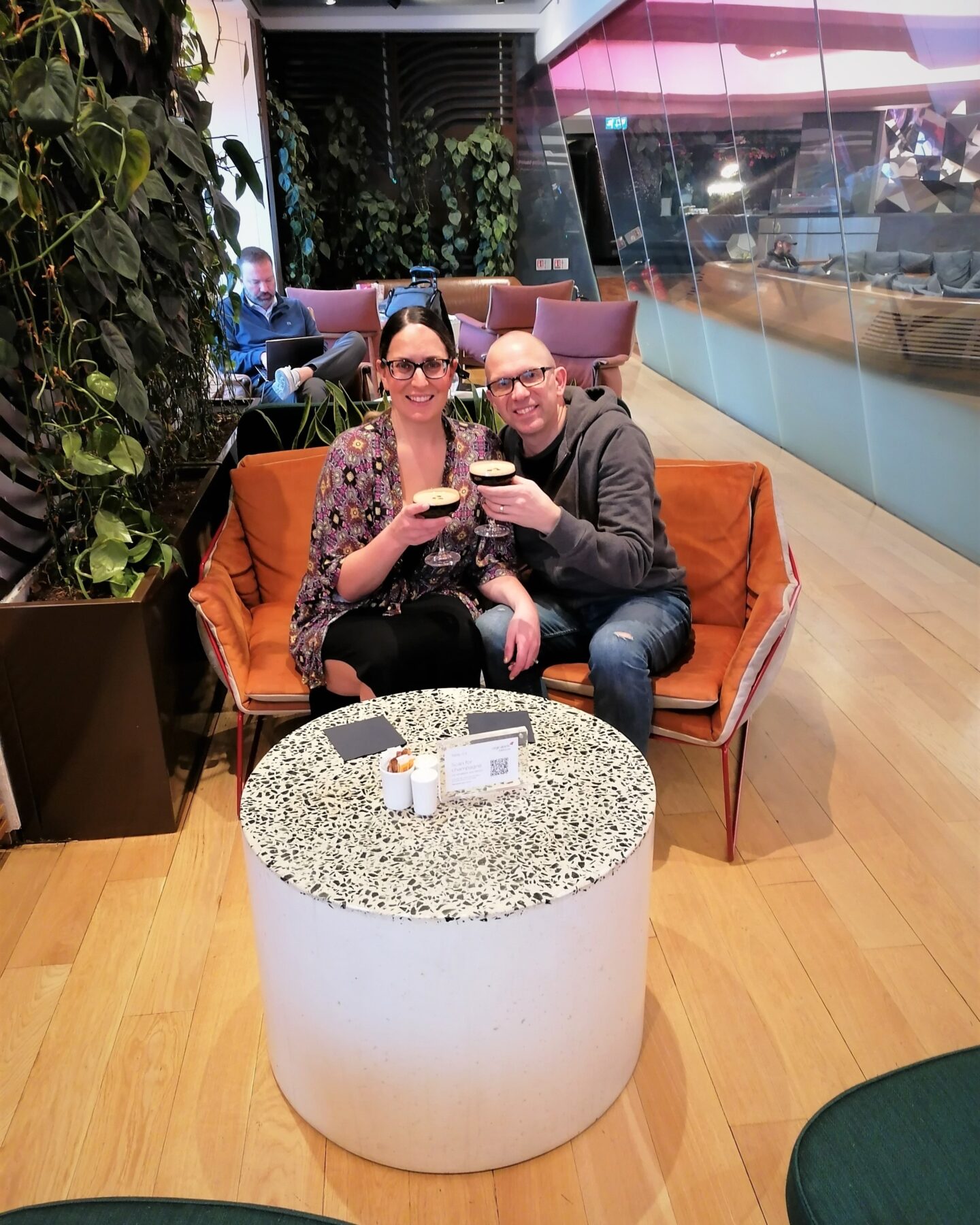 And before you leave the lounge, don't forget to grab a photo in the egg chair with the flower wall background!
https://flywith.virginatlantic.com/br/en/upper-class-cabin-and-seats/clubhouse-airport-lounge/london-heathrow-clubhouse.html