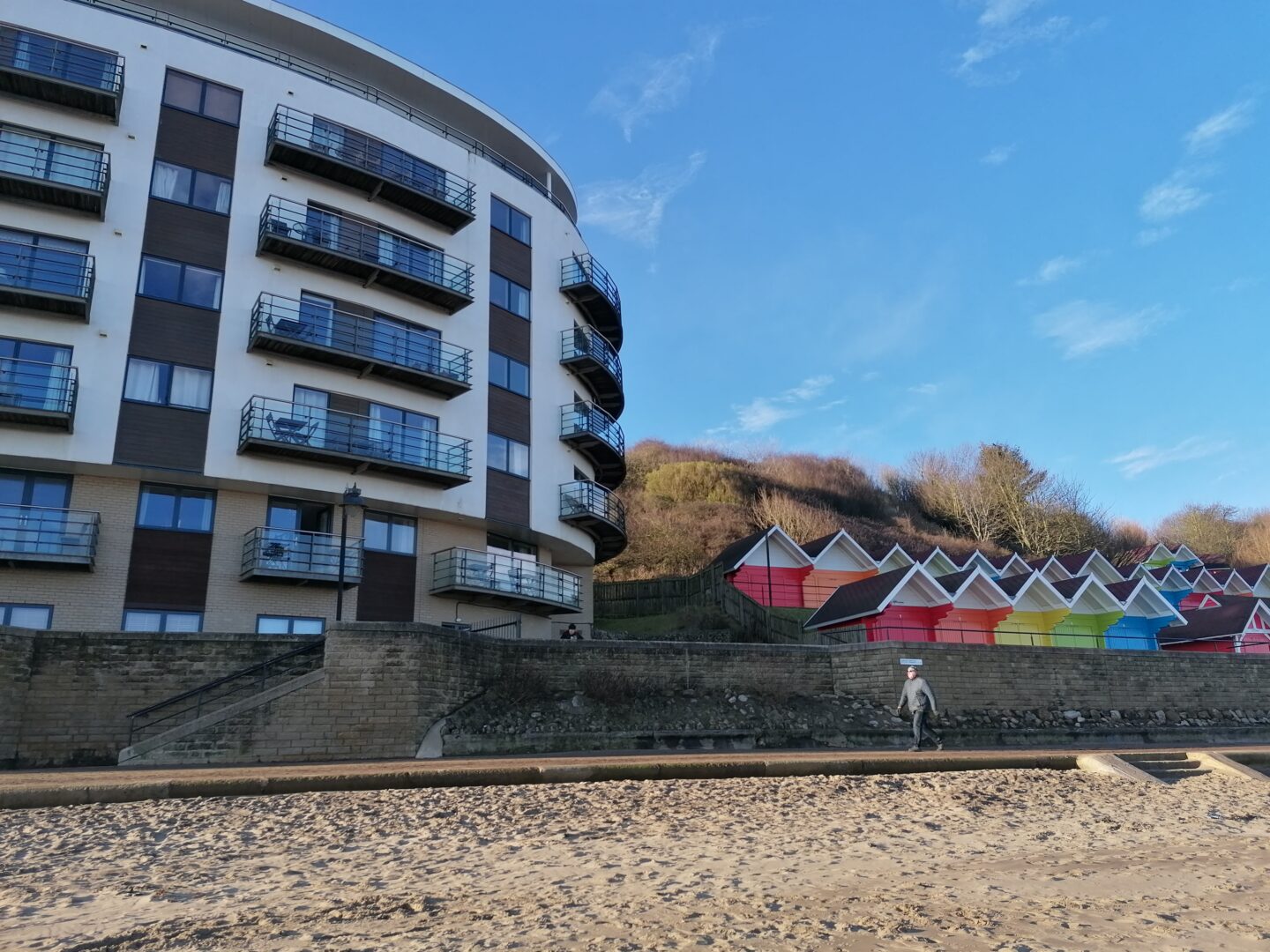 Going to the seaside for New Year may not sound the most obvious choice to some, but it was a great one for Mr B, JoJo and I. This popular seaside town can be really busy in summer. We have previously enjoyed two wonderful holidays in this great town both out of the summer season – this was our third and was just as brilliant.
For our three-night break we stayed at The Sands. These luxury five star apartments are located on the North Bay and had everything we could want on our New Year holiday.
The apartments really did feel like home from home. We had a two-bedroom, sea view apartment and it was so spacious – we could have lived there!
The master bedroom has a lovely king-size bed with plenty of wardrobe and drawer space. It was decorated in lovely muted tones with pastel cushions and beach-inspired wall art.
The bedroom was also en-suite, but this was no tiny en-suite. It had a very spacious shower and came with fluffy towels, robes and Eco Boutique bathroom shower gel, shampoo and conditioner.
The main bathroom had a full-size bath along with additional towels, storage space and bathroom products.
Whilst we didn't use it the second bedroom, it was decorated just as lovely as the master – this bedroom had twin beds.
The open plan living/dining space was, in my opinion, a brilliantly designed area and made the most of the beautiful sea views and natural daylight.
The fully fitted kitchen had everything we needed for our stay and more. We enjoyed a mixture of both eating out and eating in our apartment. There was an assortment of pots, pans and kitchen utensils from the cheese grater to the Yorkshire pudding tin. I was suitably impressed with how it was kitted out.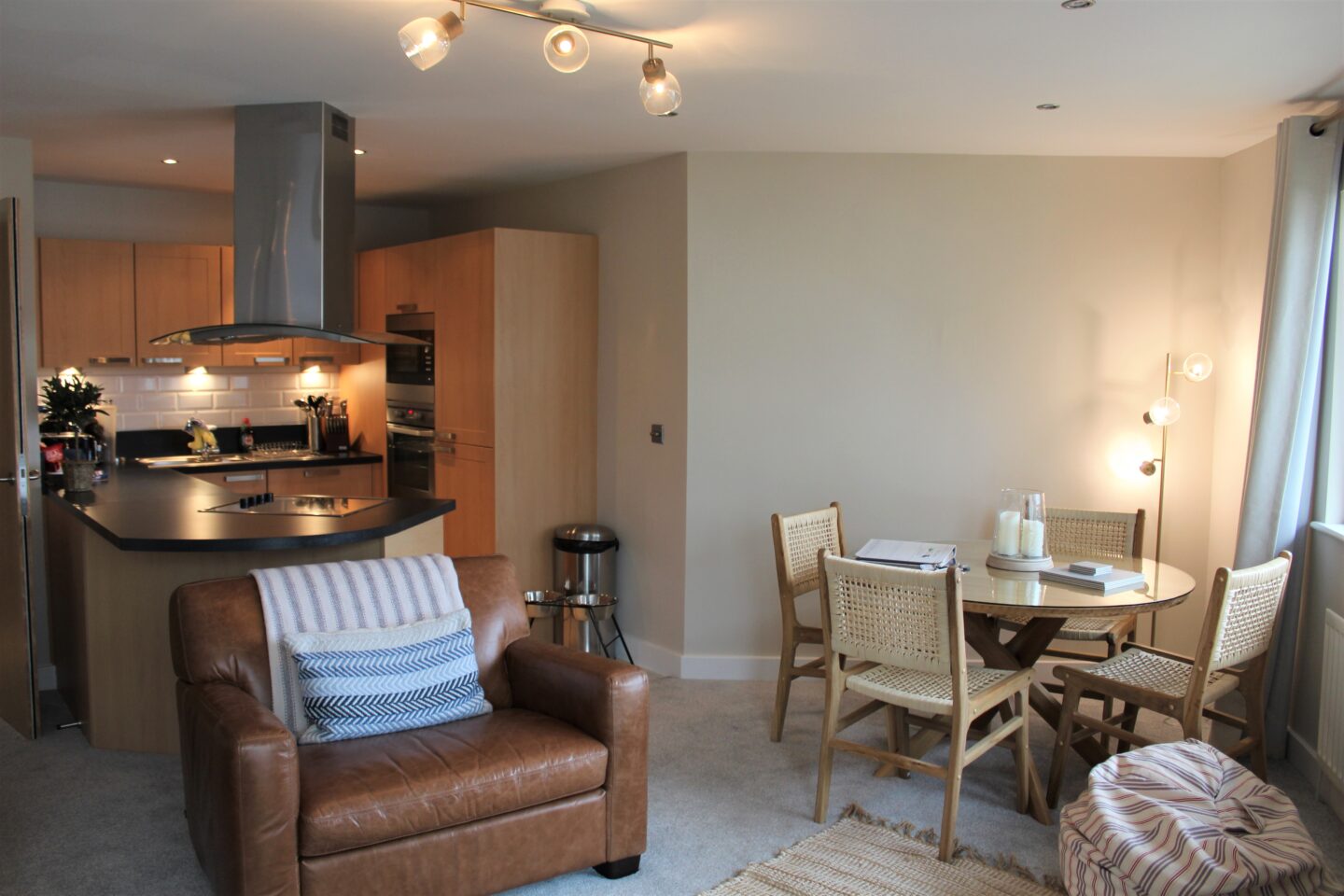 As well as the full-size fridge freezer, the other appliances included a dishwasher, washer/dryer and a Lavazza coffee machine.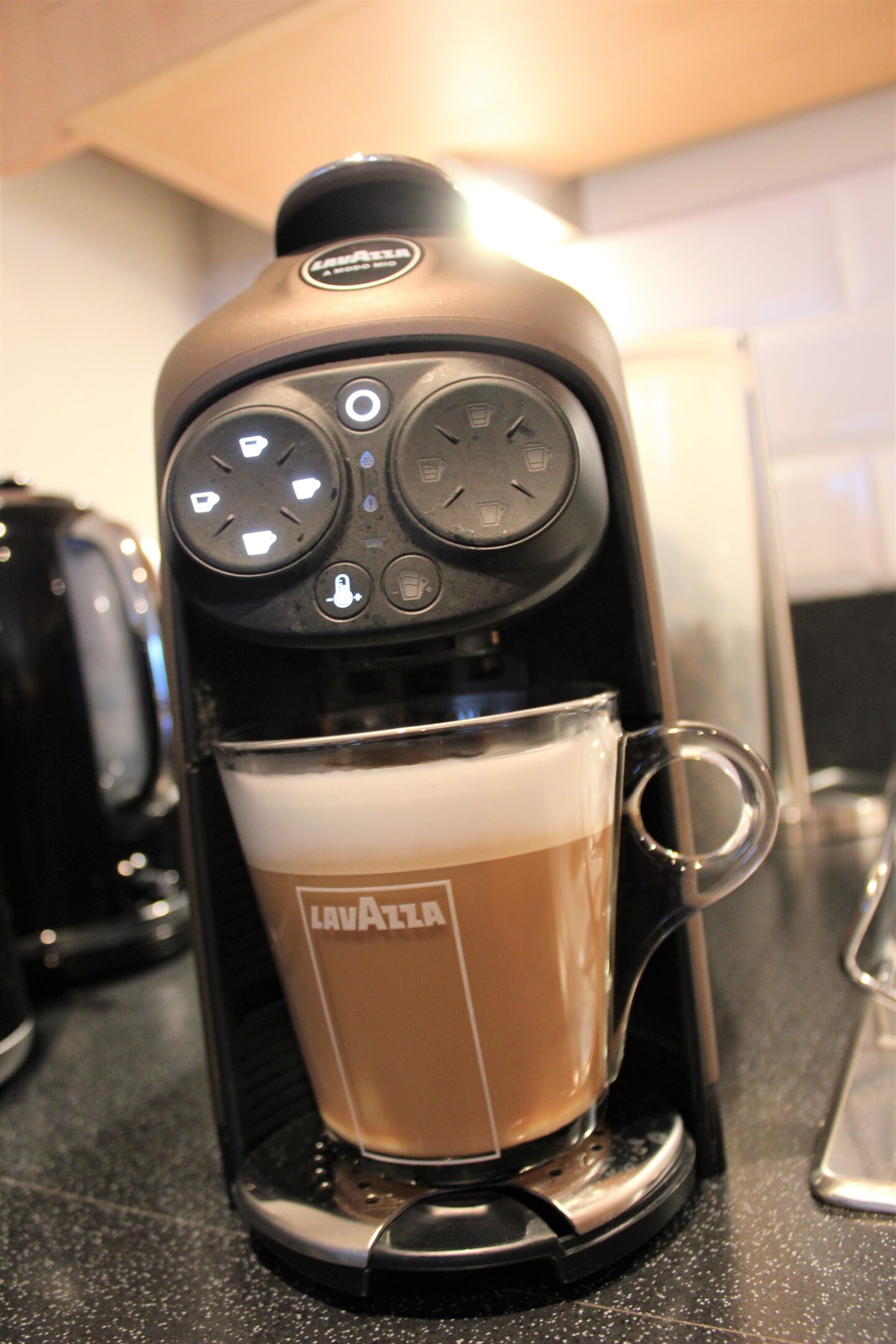 There was a welcome pack in the apartment waiting for us when we arrived, which contained biscuits, crisps, Yorkshire tea, sugar, coffee pods and two sticks of Scarborough rock. There was also some fresh milk in the fridge waiting for us.
You don't need to pack washing up liquid, a dishcloth or tea towel as they were also provided.
The living room had a full-size sofa with a matching two-seater chair which were both adorned with cushions and throws for those cosy nights in.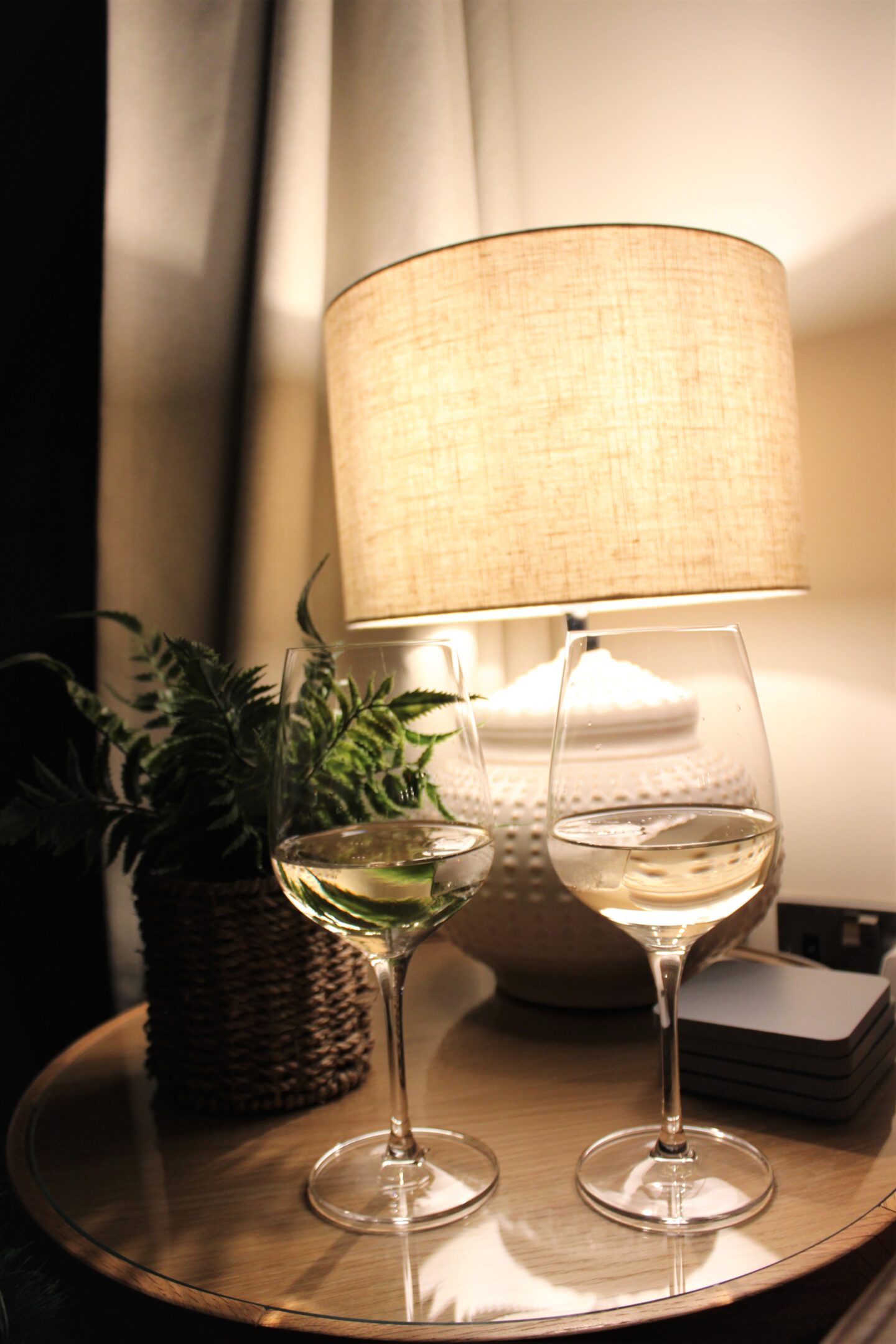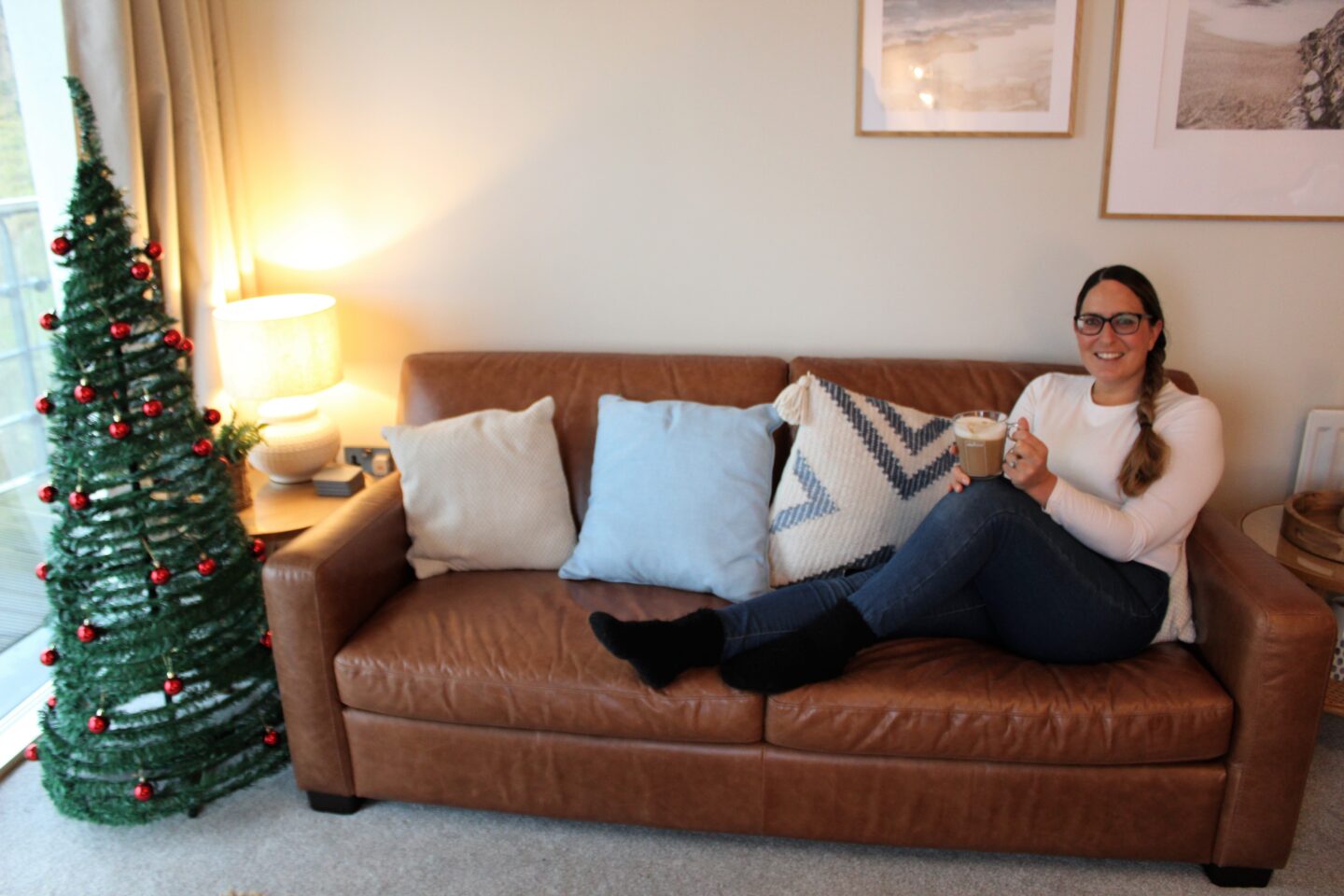 The HD TV also had a DVD player and you could borrow DVD's from the hotel's reception which has well over 100 DVD's for you to choose from. They also have a range of board games and books you can borrow. We enjoyed a competitive game of Scarborough Monopoly on our games night in the apartment.
The four-seater dining table was perfectly situated for enjoying the sea views. We loved having breakfast in the morning looking out to see the beautiful North Bay beach.
The star of the apartment for us was the amazing balcony.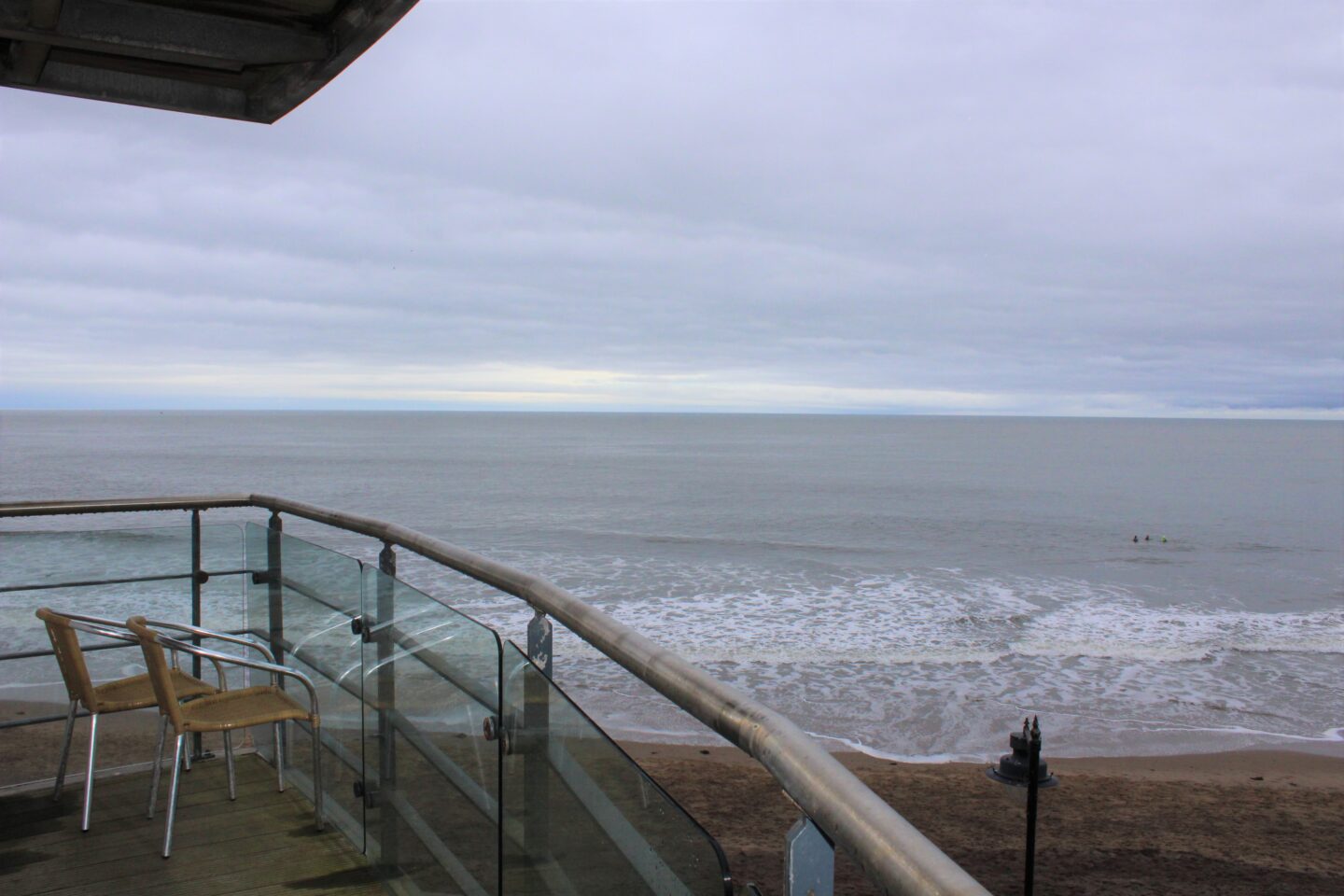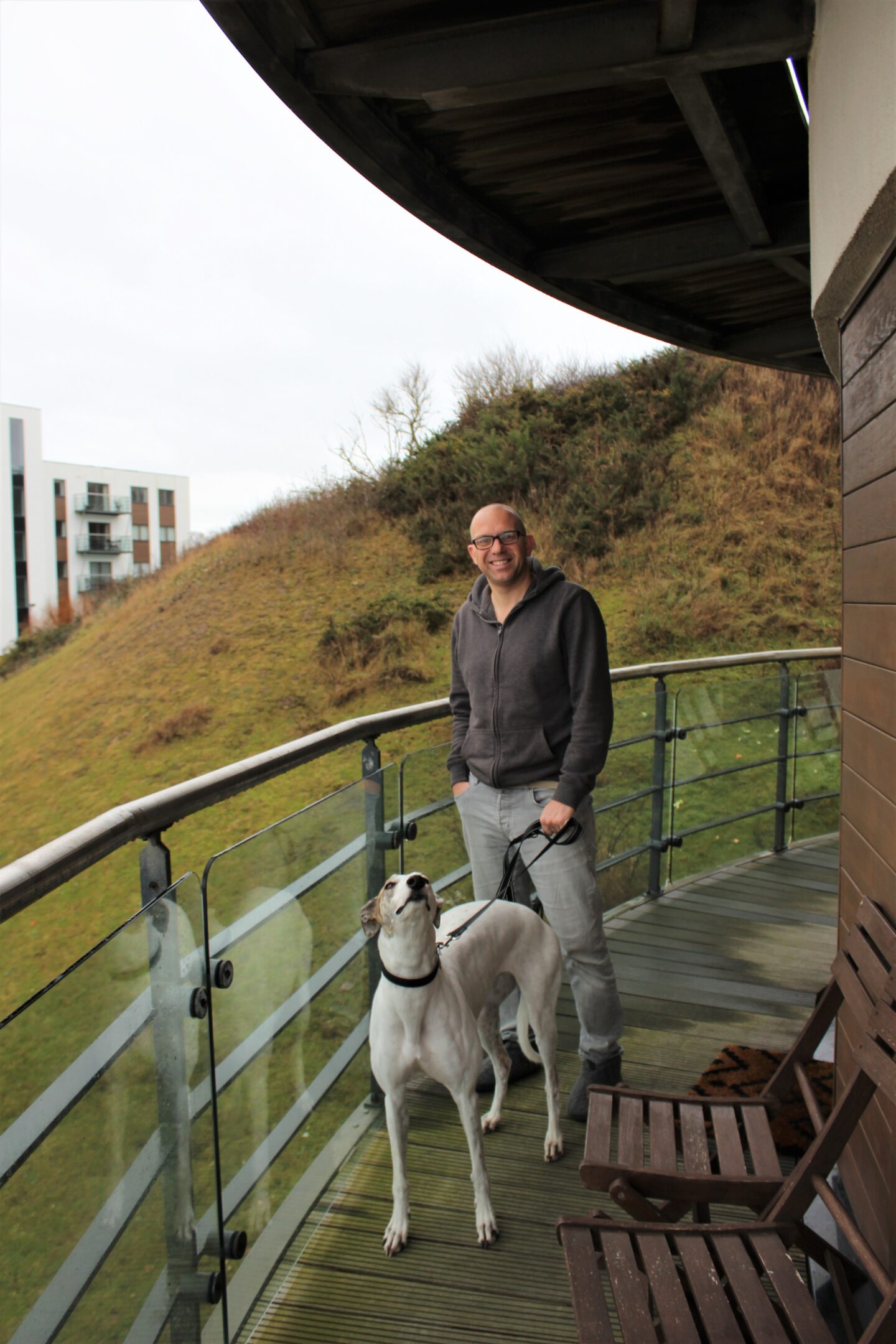 Our balcony wrapped around half the apartment – it had two seating areas and magical views of Scarborough castle and along North Bay beach.
If we were visiting in the warmer months we would definitely have enjoyed meals on the balcony and spent lots of time on there, but even though we were visiting in winter it still didn't stop us from enjoying it. Having your morning coffee whilst watching the dogs frolicking on the beach, the surfers trying to catch the waves and the brave swimmers was a great start to the day.
When booking your stay at The Sands you are provided with a parking space which is on-site. It's really easy as when you arrive you are allocated a bay which is yours for the duration of your stay.
Should you wish to use it there is also a modern looking gym on site. But all the wonderful coastal and beach walks were enough exercise for us!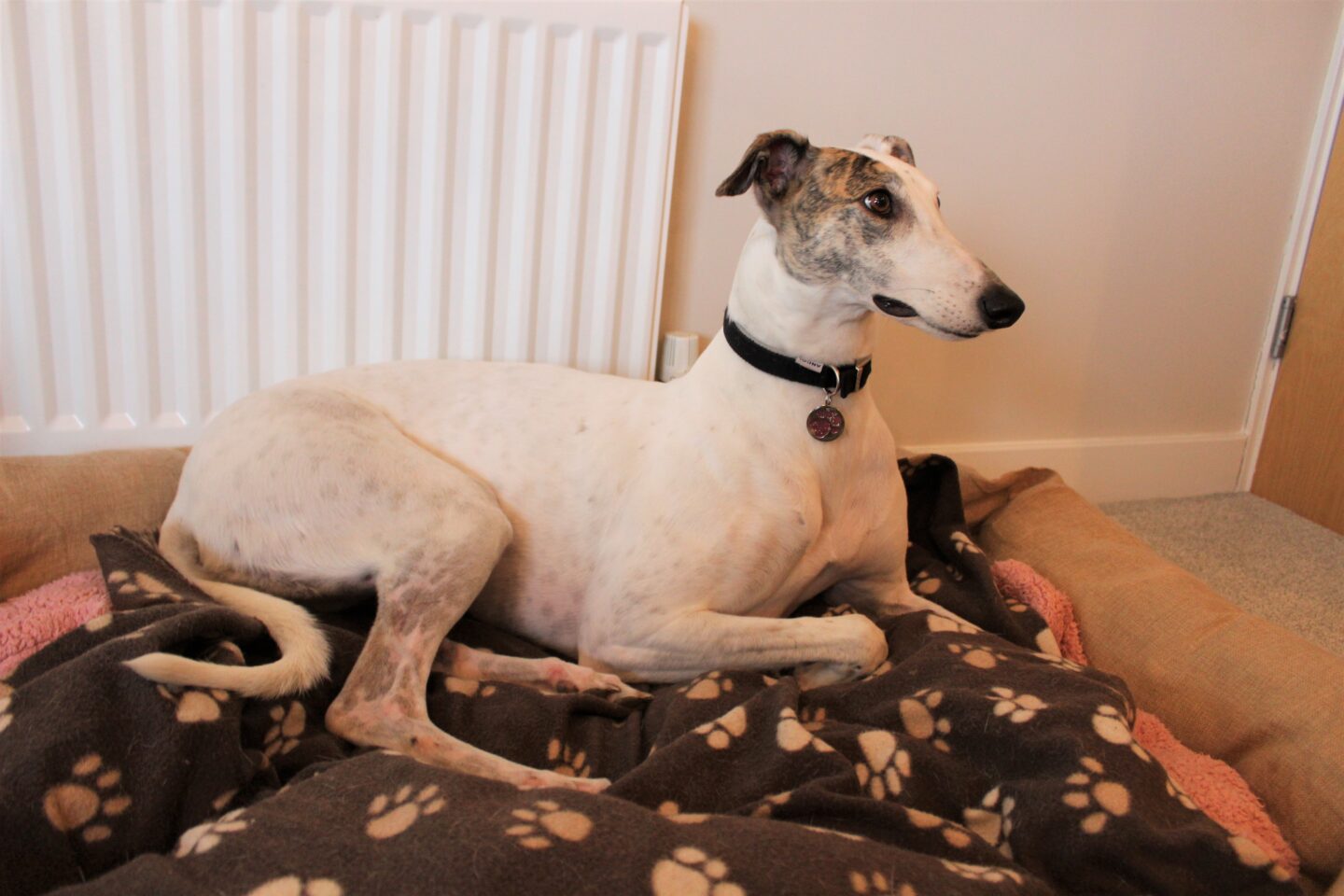 You can also pre-order a breakfast hamper to your apartment which is all sourced from a local farm. We enjoyed it one morning and ours contained four award-winning Cumberland sausages, four rashers of back bacon, four free-range eggs, mushrooms and tomatoes. It made a lovely cooked breakfast and we could tell they were quality ingredients – it all tasted fantastic.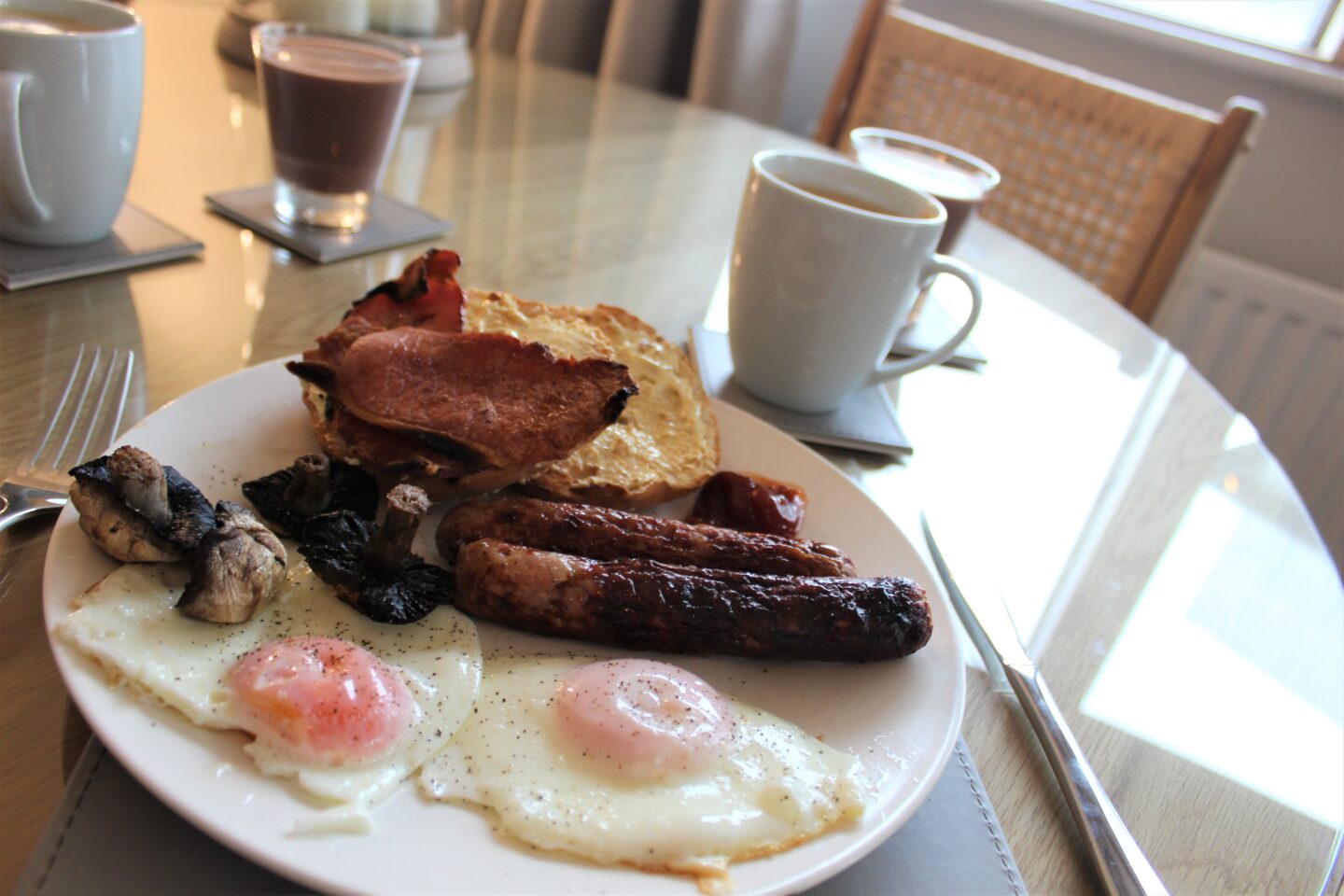 We spent our days walking from North Bay to South Bay and back again with JoJo absolutely loving her time on the beach. As self-catering accommodation goes, I don't think you will find better, The Sands really did feel like a luxurious home away from home and made our New Year's family holiday to the seaside one we won't forget.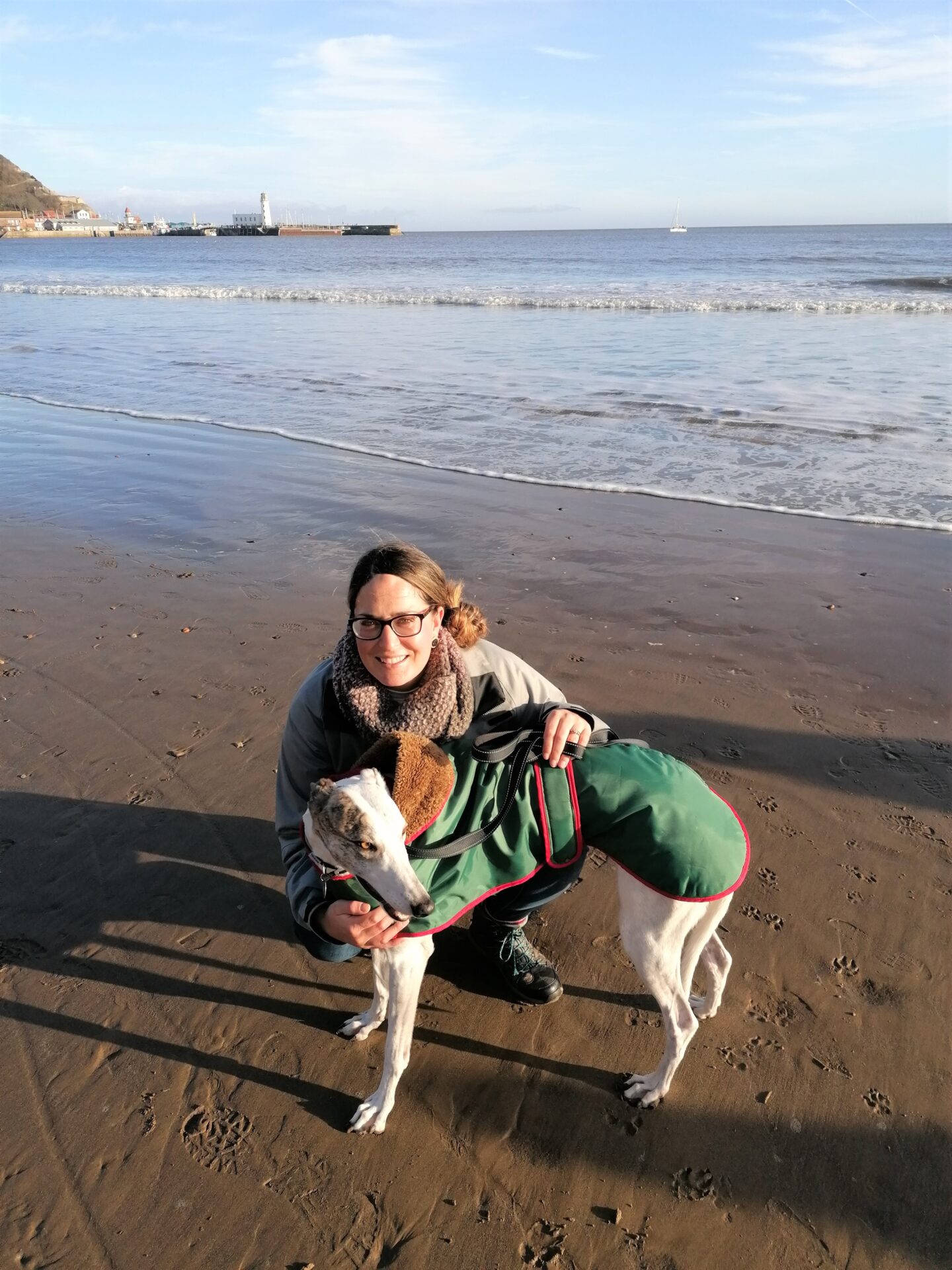 Heading to Scarborough with your pooch? Check out my post below on dog friendly places to eat and drink in this wonderful seaside town . . .
And this post for ideas on dog friendly things to do whilst in Scarborough . . .