Snoopy loves a hotel break as much as we do and I love finding places that are truly dog friendly, and we found just that in The Cow Dalbury Lees.
Our intention was to explore the lovely little village and take a nice long walk over the fields. However, after 30 minutes of walking in torrential rain we decided to pack it in and head back to The Cow to dry out and enjoy a drink in the bar before check-in!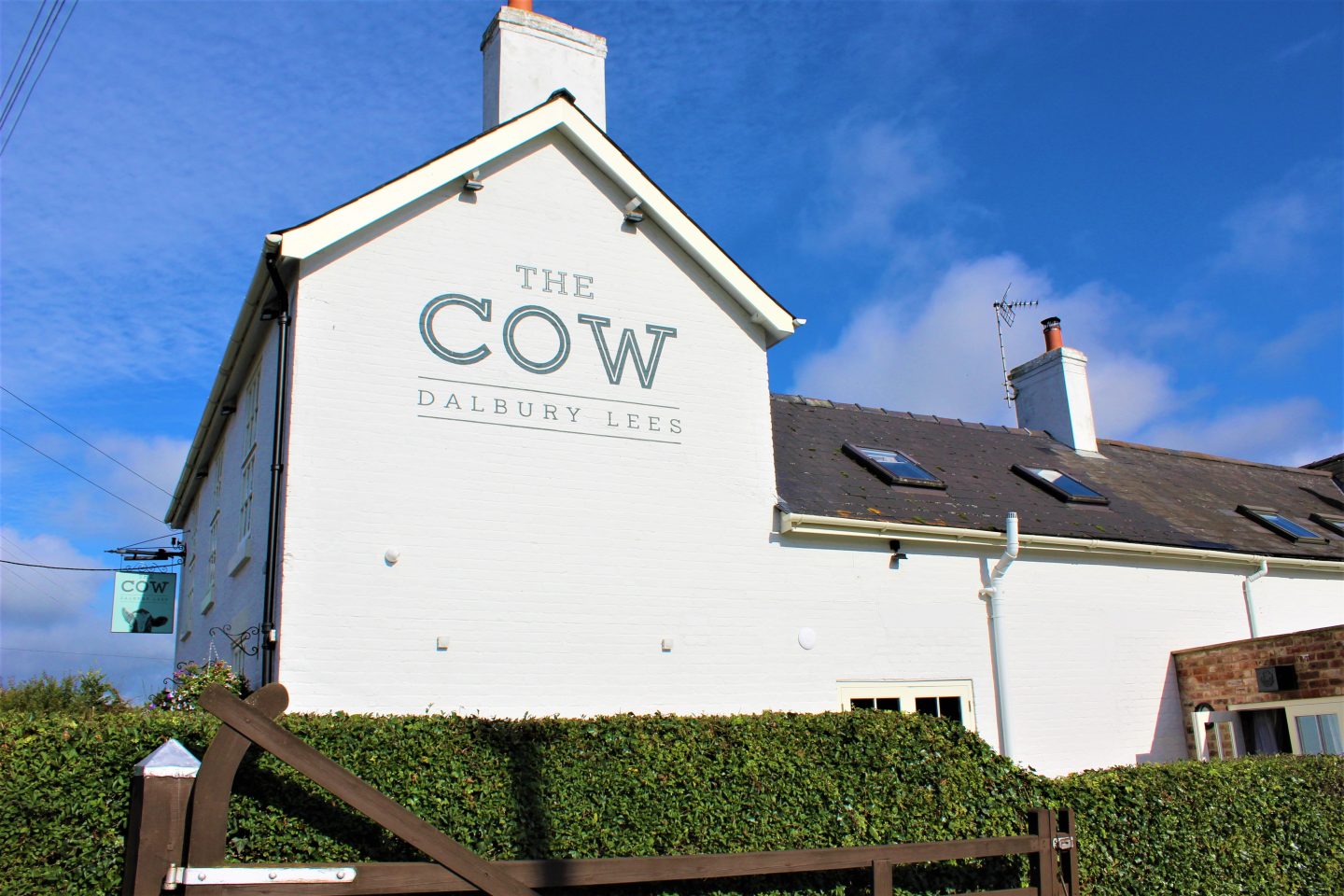 After warming up and enjoying a gin from the extensive gin list, it was time to check in. I really loved that the décor is consistent throughout The Cow – lovely exposed wood and brickwork with splashes of gold, mirrors and antique-esque picture frames.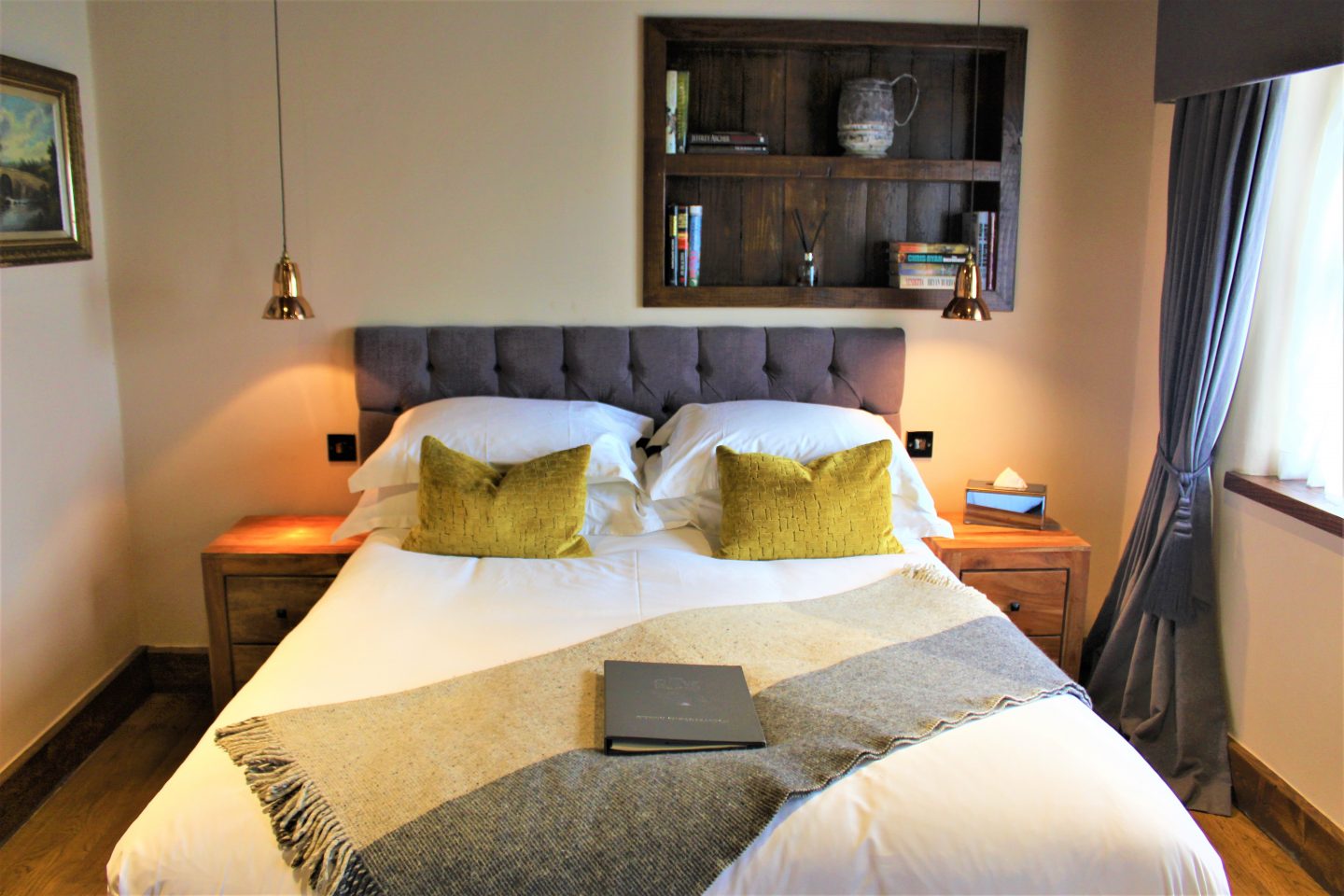 When we went to our room they asked if we wanted a dog bed for Snoopy, but he is a bit of a diva so we bought his along with us and he soon plonked himself in it and made himself at home!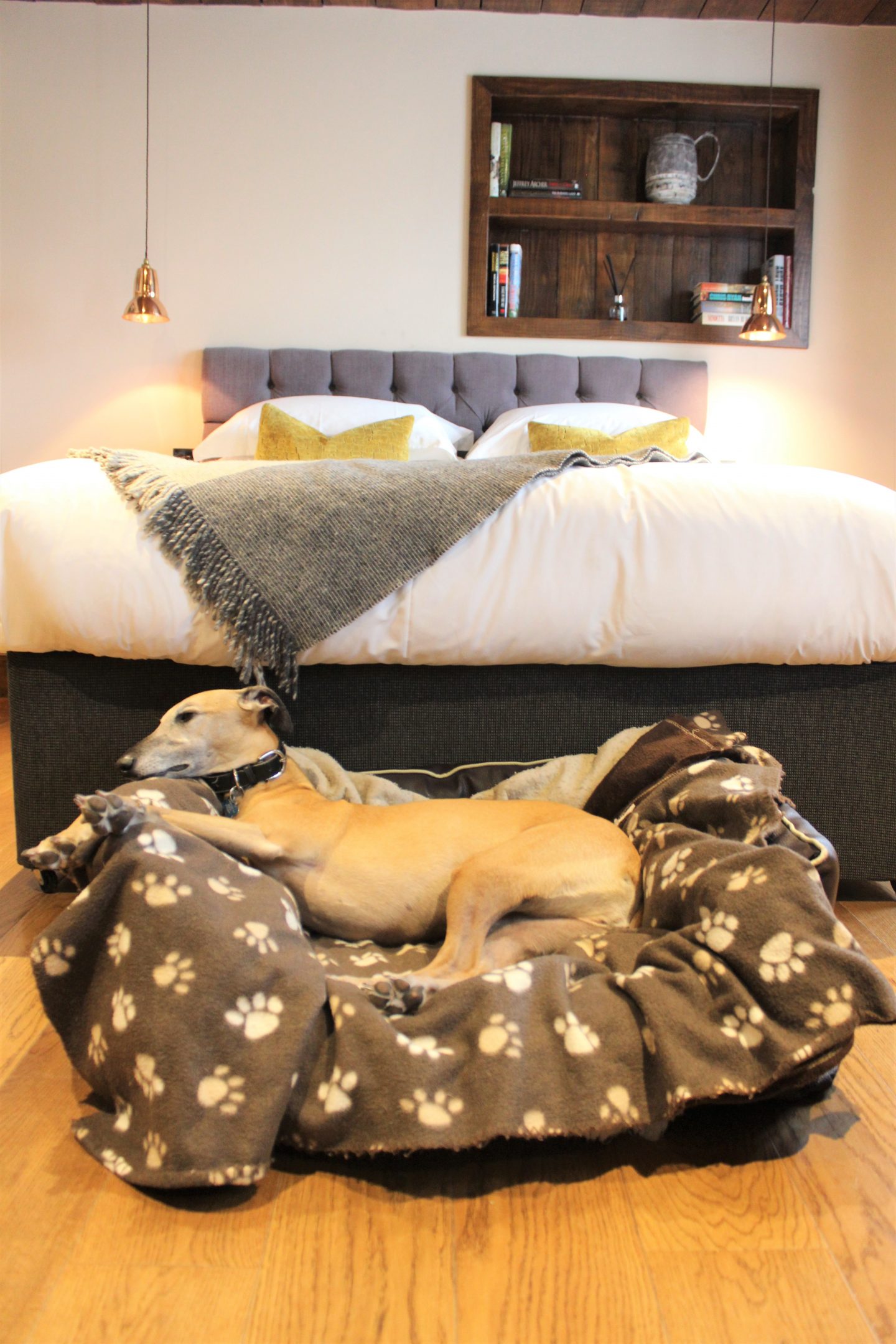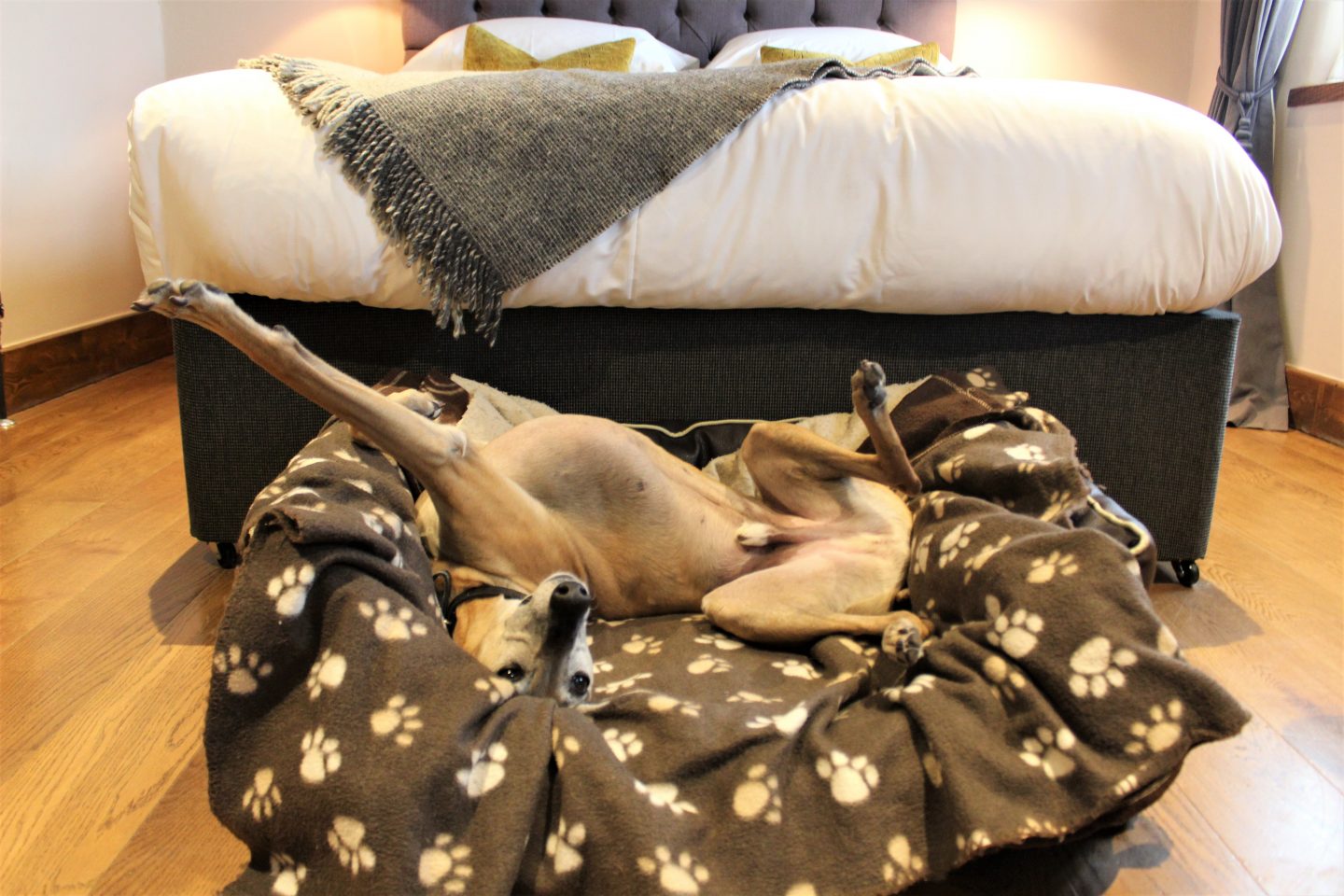 There was a Nespresso machine with a large selection of pods, a great range of teas and what I really loved, a bottle of fresh milk in the fridge.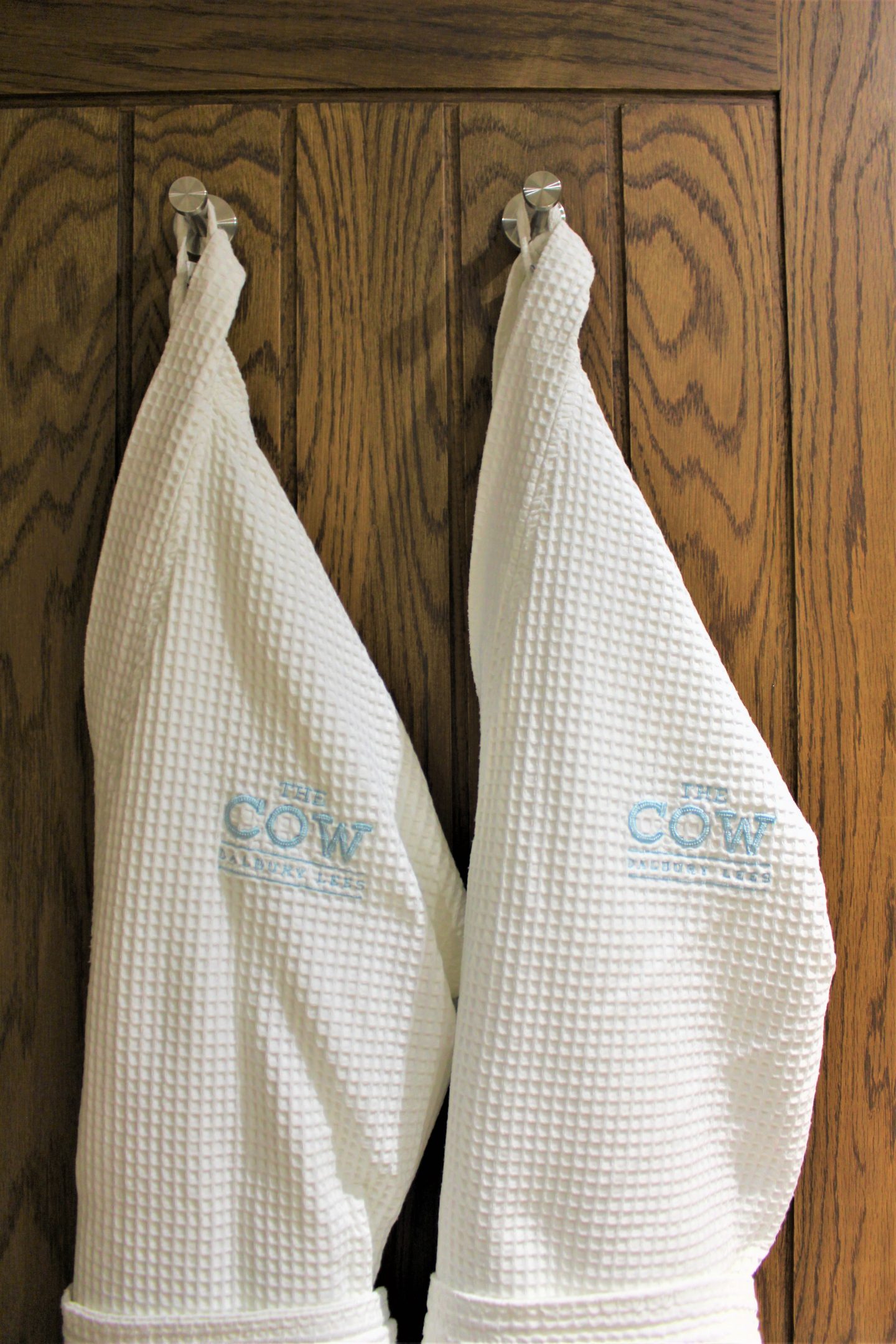 The bathroom was really roomy with a lovely bath and beautiful feature stone sink.
The toiletries were all Molton Brown, always a good choice for me! You also couldn't help but notice how lovely the room smelt thanks to the Molton Brown reed diffuser (definitely going to get one of those for home!).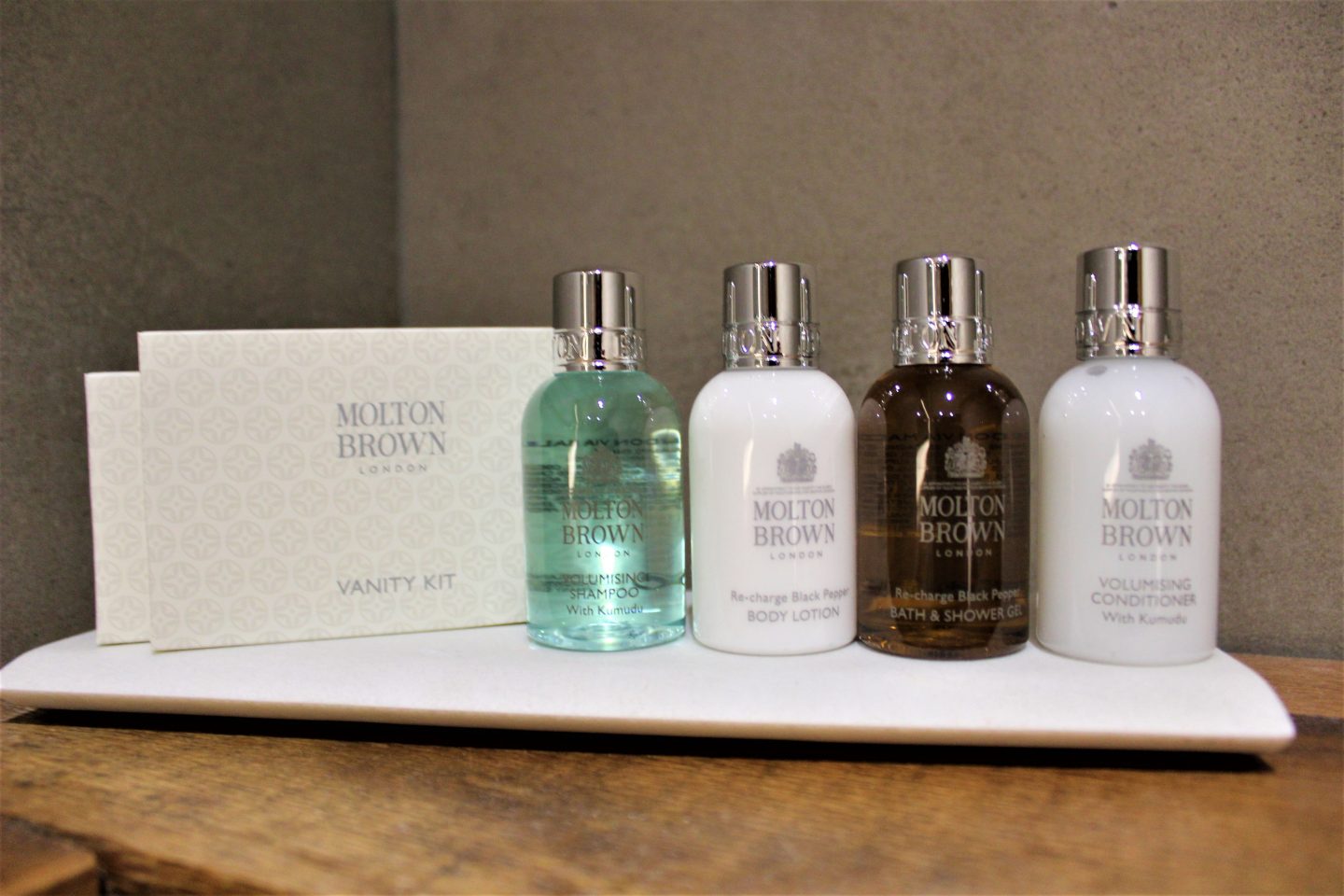 As we listened to the rain outside get even heavier, we decided to settle in so we popped on our robes, opened some champagne (it was Mr B's birthday after all) and as the all the rooms at The Cow come with Netflix, we spent the afternoon relaxing and enjoying a film.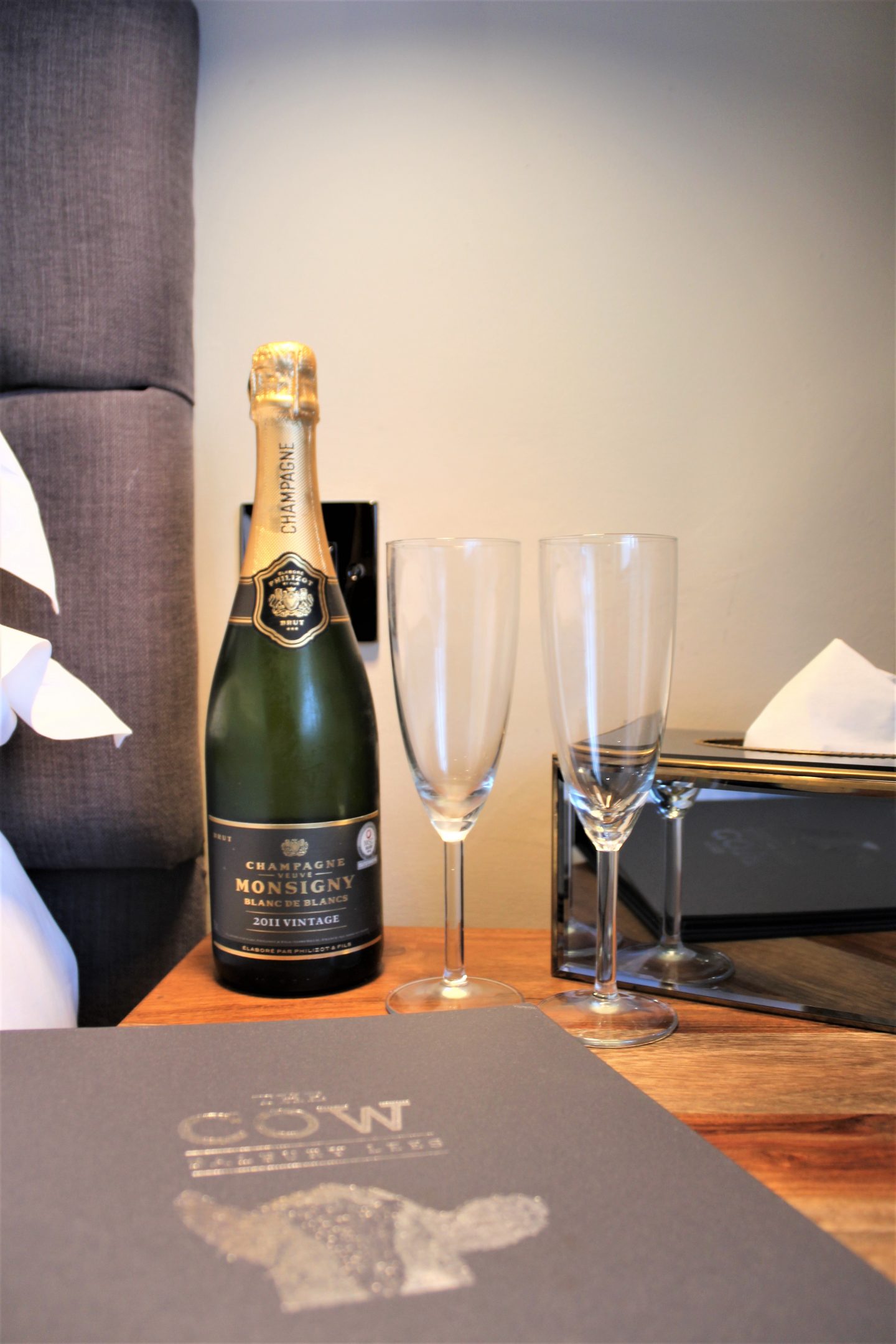 We headed down for dinner with hungry tummies, except for Snoopy who had already enjoyed his dinner!
Whilst we mulled over what to have we ordered some home-made roasted red pepper humus with sourdough. The humus was absolutely delicious and full of red pepper sweetness.
As we were staying on a Sunday, they had a special Sunday menu on. In the week they serve British-style tapas – I would definitely love to go back to try that menu too!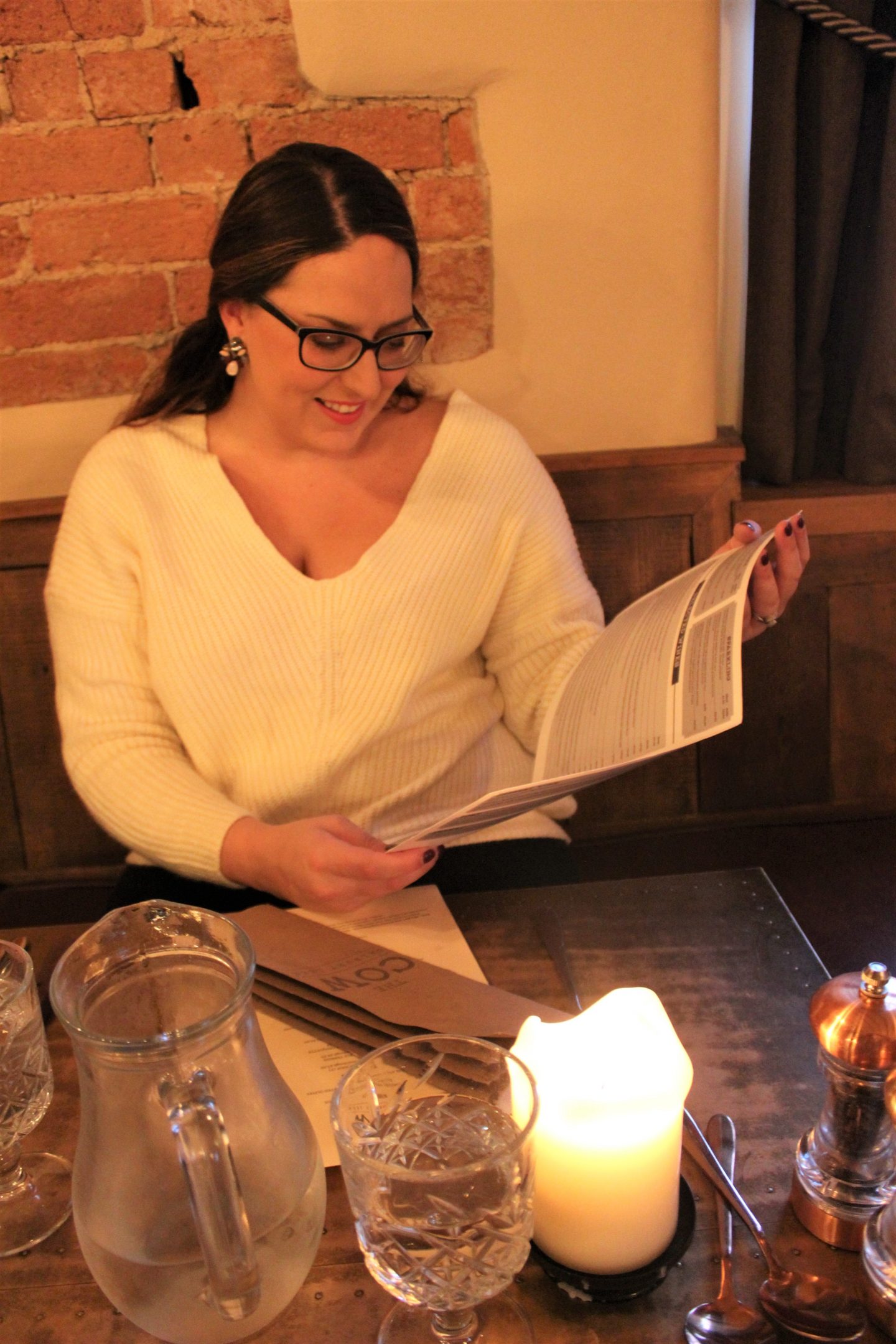 When we were given our menus we were shown where the water bowl and jar of dog treats were, which Snoopy was welcome to tuck into!
For starter I chose the wild Mushroom risotto. I make a mean mushroom risotto at home and I can be quite critical when it comes to a risotto. No one wants undercooked risotto with chalky rice or overcooked risotto which is like mush! The rice was cooked just right, still with a bit of bite, but smooth and creamy. It was packed full of delicious mushroom and was seasoned very well.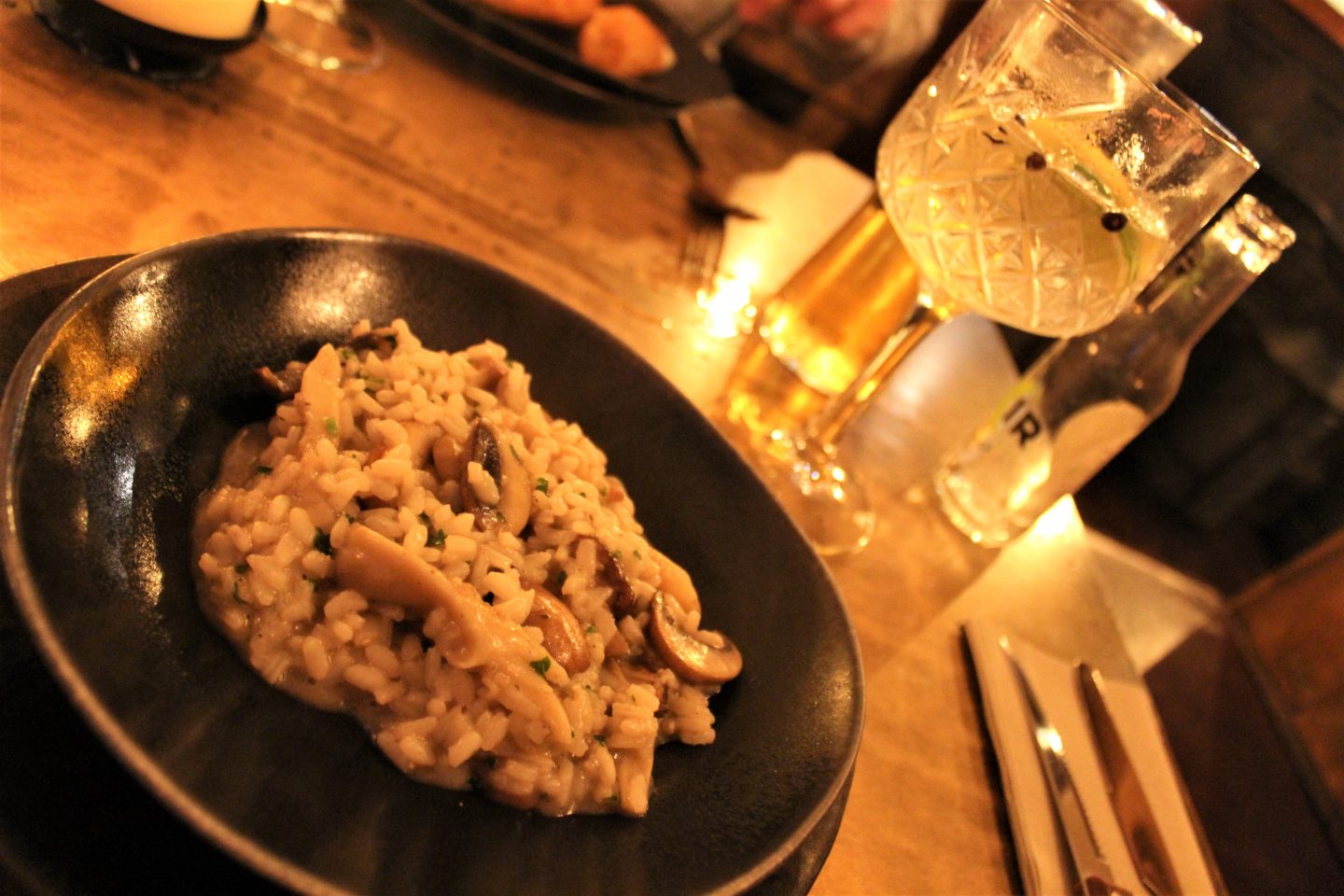 Mr B ordered the smoked haddock croquets with leek puree, which were golden on the outside with just the right amount of crunch and packed full of flaky fish on the inside.
For main I had to order the Anthony Andrews Dry Aged Roast Beef Sirloin. For me it's the ultimate meat on a Sunday roast and the beef served at The Cow is sourced from a local butchers. All the meats are served pink, but they do advise you so you can let them know if you would like it cooked more when you order. For me, I could have had mine a bit pinker, but it was still very tender and my knife cut through it with ease! It came with a nice big Yorkshire pudding and roast potatoes.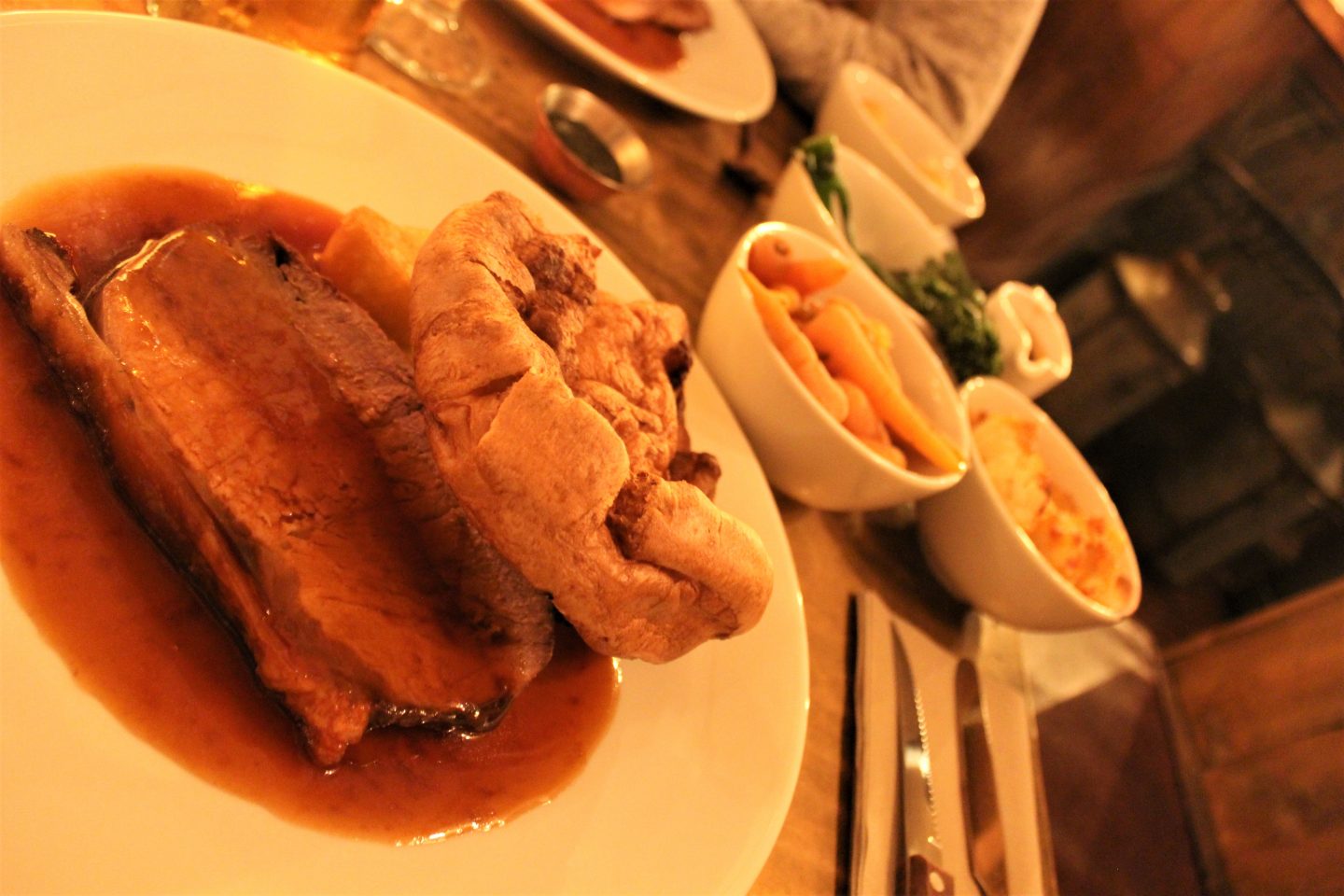 The sides that are served with all the roasts are tender stem broccoli, carrots, new potatoes and cauliflower cheese with truffle oil! And one extra that I loved was a jug of extra gravy! Usually you have to ask and then wait for it to come out. It's great that they bring this for you at the beginning of the meal – you can never have too much gravy can you?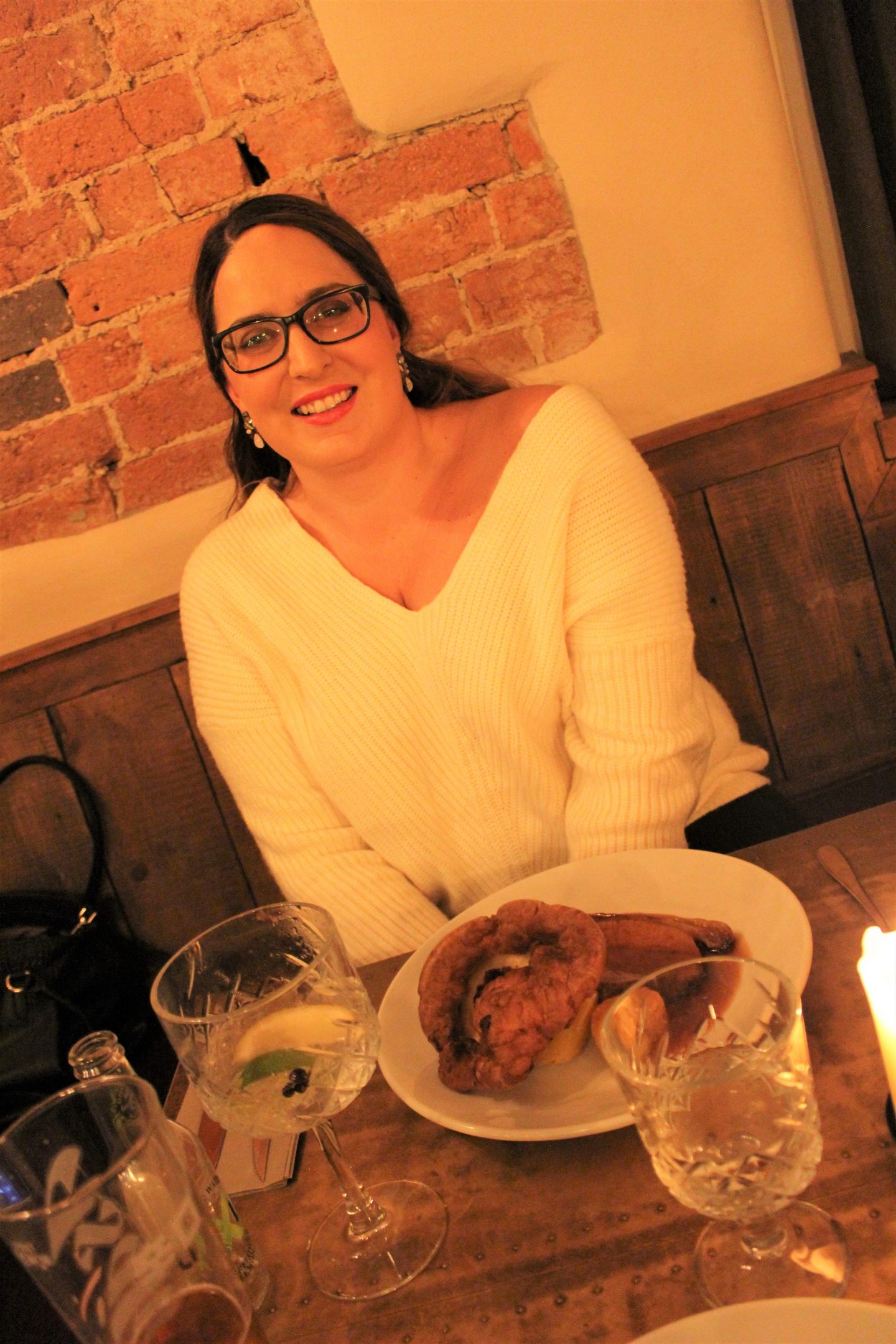 Mr B chose the Roast leg of lamb, which was also served with a fantastic Yorkshire pudding and roast potatoes. The lamb was also lovely and tender and full of flavour.
Feeling full, we decided to have a little break before ordering our desserts. This also gave me chance to order another gin. They had a very impressive gin list and were great at recommending a gin or a mixer to match a specific gin.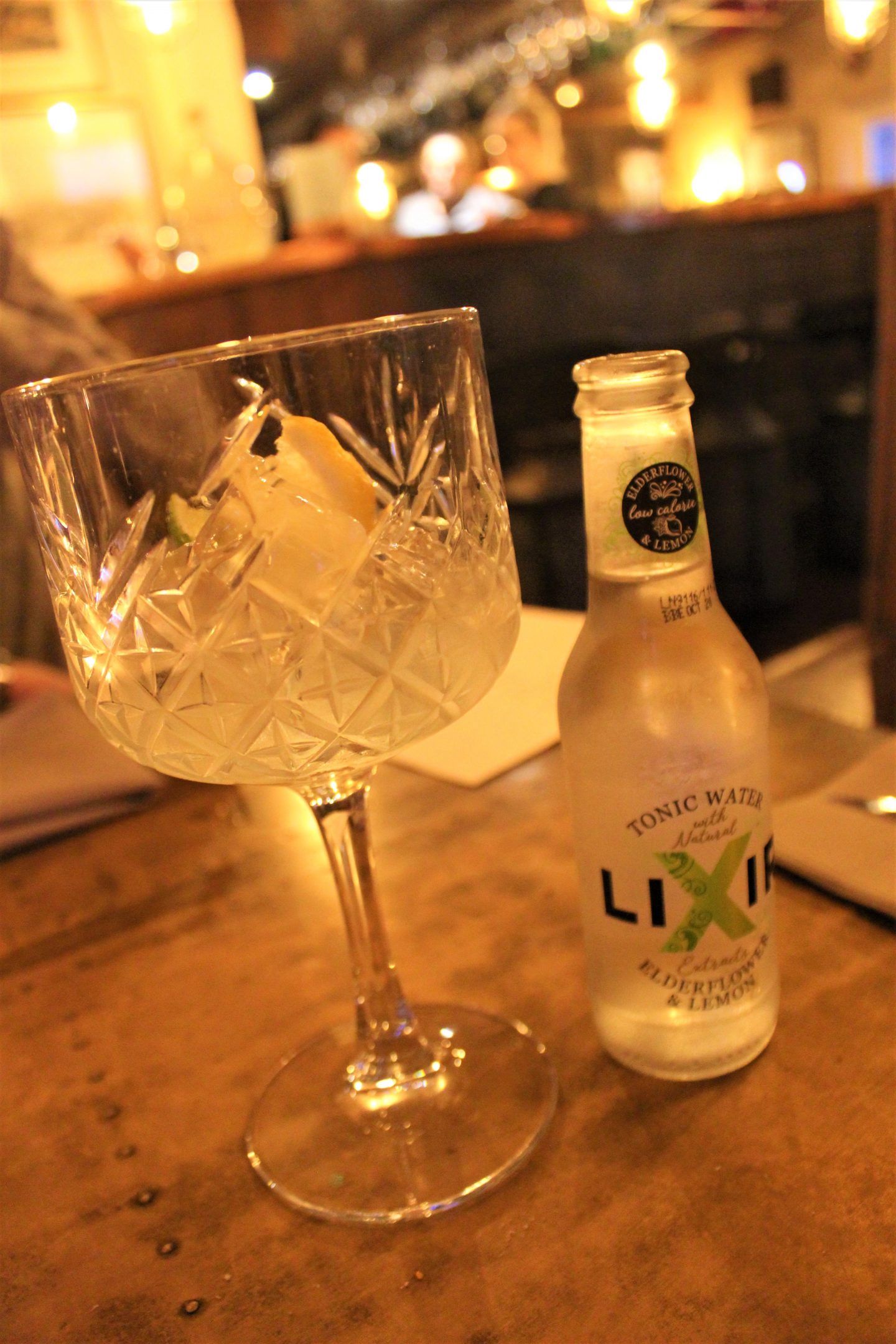 For dessert I ordered the White chocolate, coconut and almond sponge with white chocolate mouse. I love all these flavours and was intrigued to see how they would work together. The cake was lovely and moist with the almonds adding texture and a hint of coconut running through the sponge. The white chocolate mousse was divine, smooth and creamy with white chocolate richness.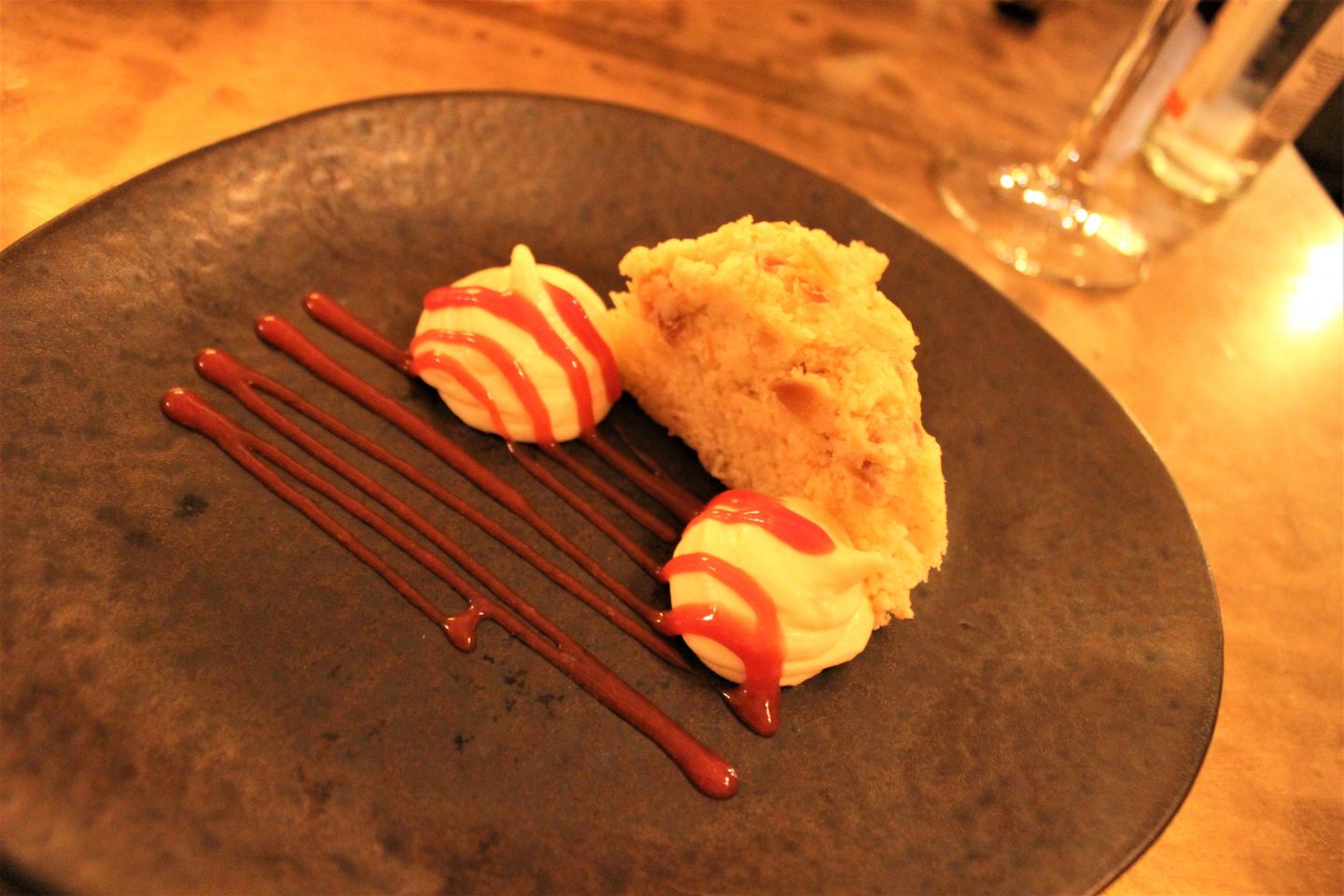 Mr B chose the Chocolate and orange tart with Chantilly cream and it was a very generous portion. It was rich with a slight bitterness from the dark chocolate with a lovely orange flavour running through it – a classic combination of flavours which worked beautifully in this tart.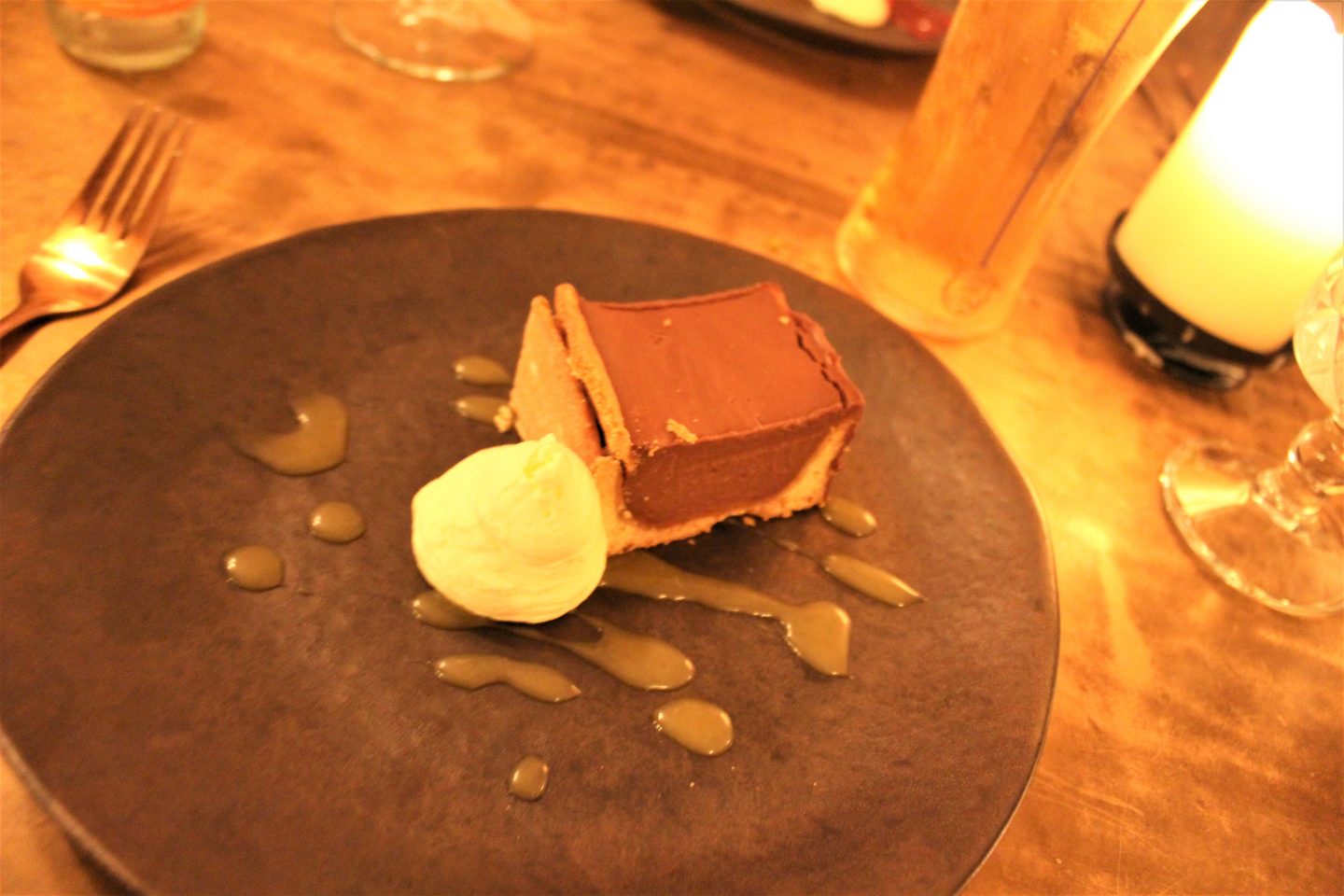 After a good night's sleep and quick morning Snoopy walk, it was time for breakfast! But before we even looked at our menus Snoopy was presented with a plate of two chopped us sausages – his dream breakfast!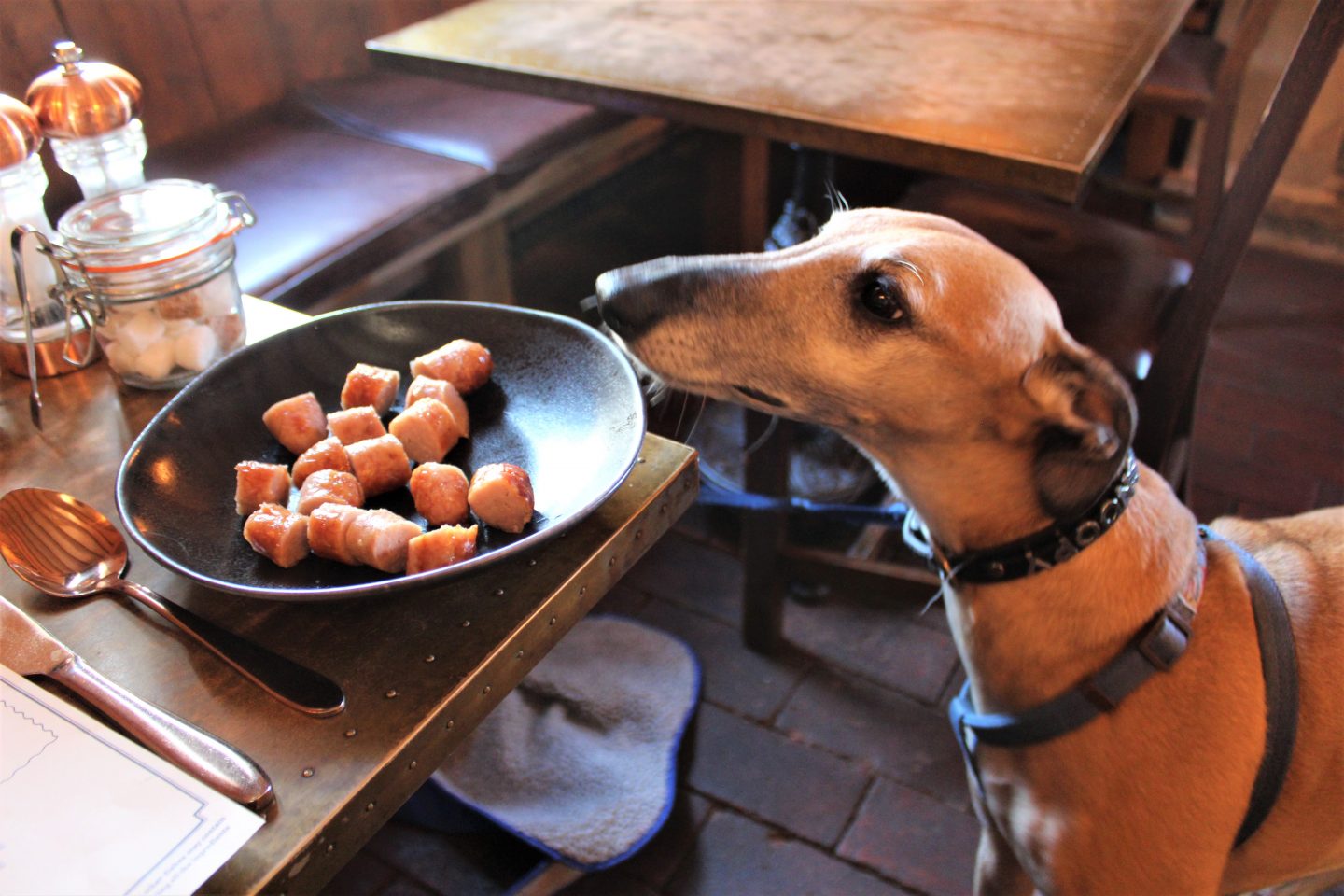 It's little touches like this that make a place truly dog friendly to me and extra special. Of course, Snoopy wolfed it down and then proceeded to lie back down under the table and have a nap – one happy whippet!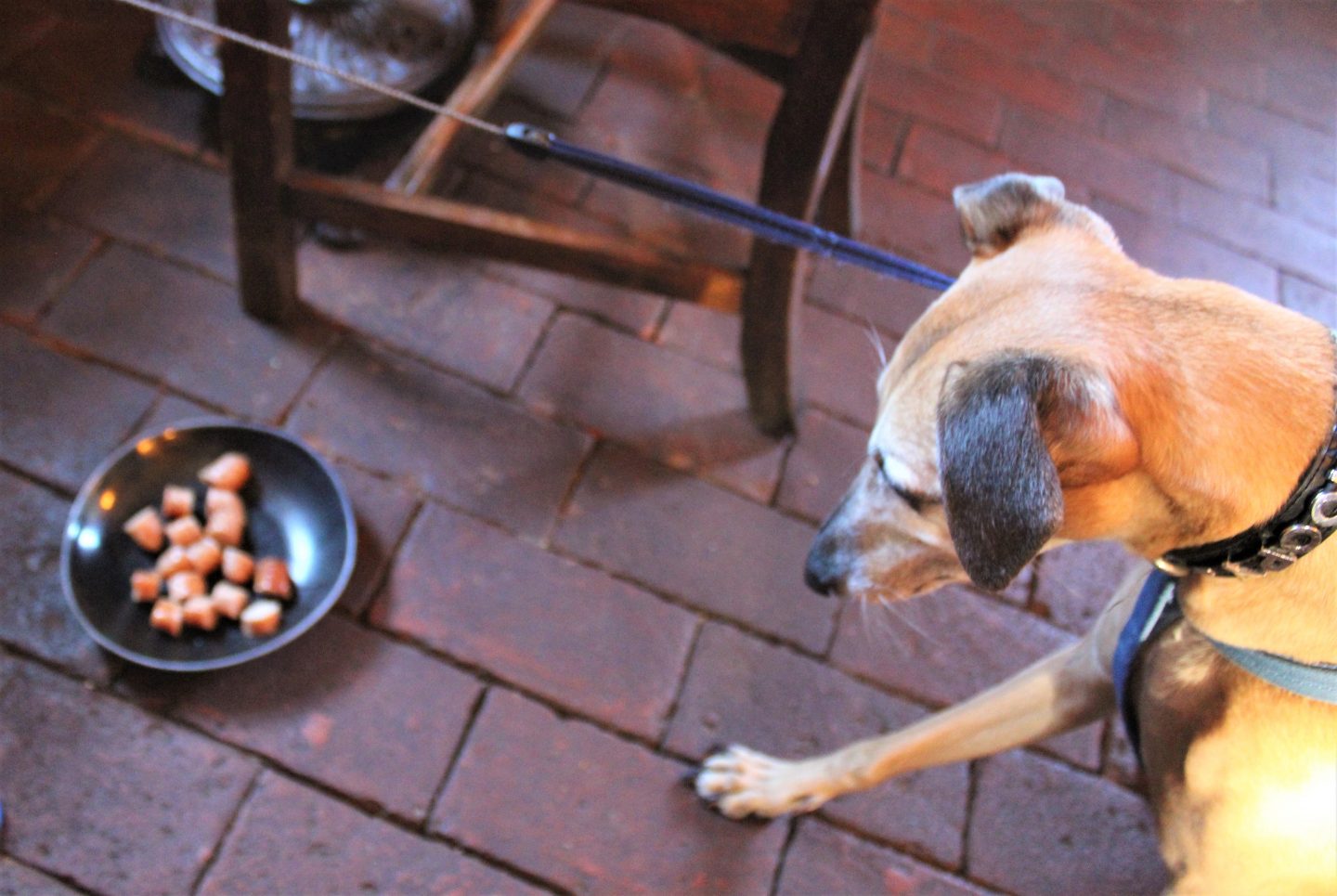 Now onto our breakfast – hot drinks and hot food items are ordered from the menu. I was impressed with the menu selection. With only 12 rooms you can sometimes get a limited selection, but not at The Cow. The dishes that I was torn between were the Eggs Benedict, the crushed avocado with lime and poached eggs on sourdough and the poached finnan haddock and poached eggs.
There is a small buffet of cereals, fresh fruits, natural yoghurt, pastries and a selection of juices to help yourself to.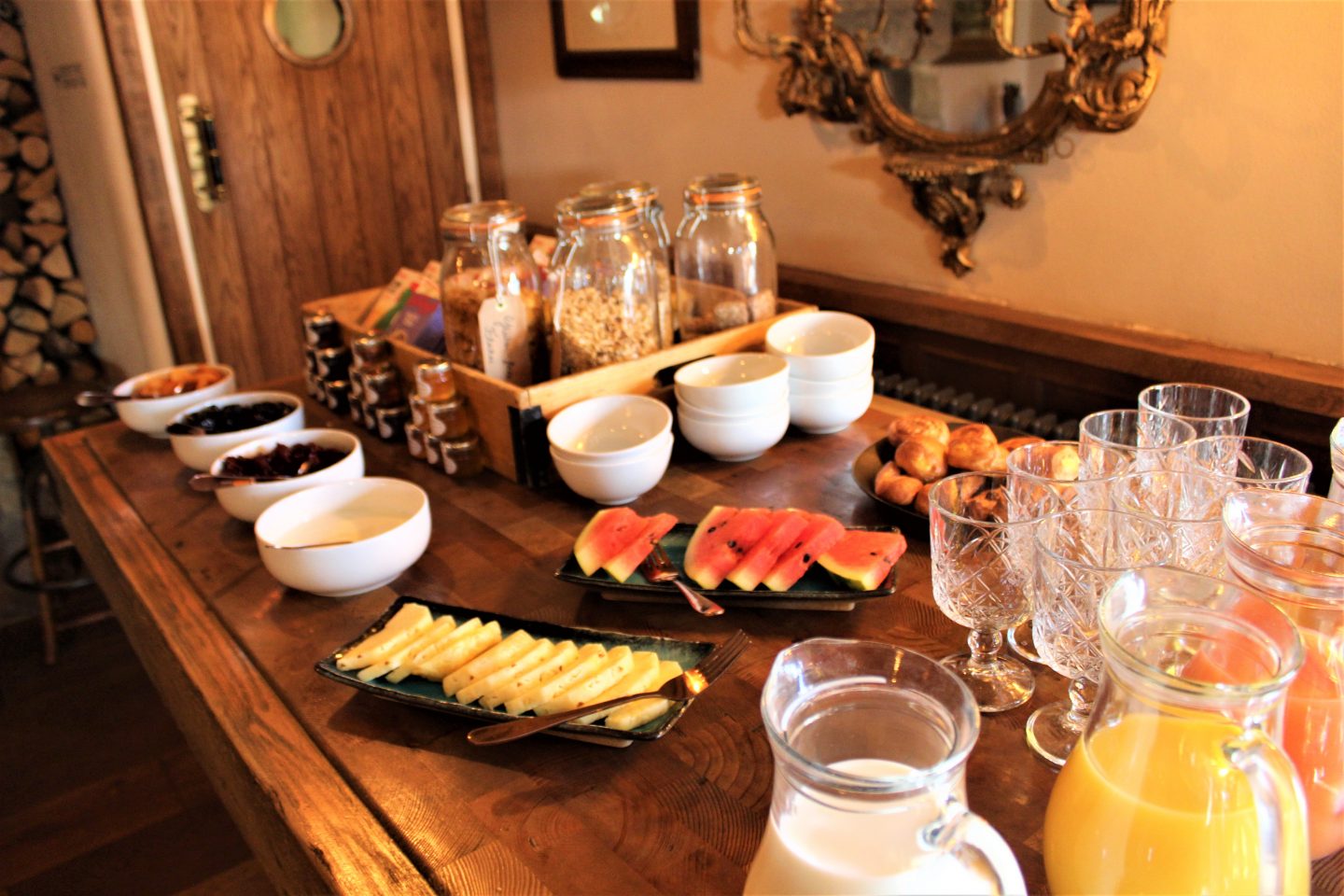 In the end I ordered my favourite breakfast – the Eggs Benedict, free range poached eggs, parma ham, hollandaise and toasted muffin.
It was delicious! Lovely poached eggs, rich parma ham and a perfect hollandaise. I'm getting hungry thinking about it again now! Mr B ordered the same and devoured his as well!
All three of us left The Cow with full tummies and feeling relaxed after a lovely stay. It is a truly dog friendly inn with lots of added luxury.