Sitting outside around a campfire toasting marshmallows, Snoopy snoozing at our feet and looking out at endless views of the Belvoir countryside felt like a postcard moment, perfect in every way.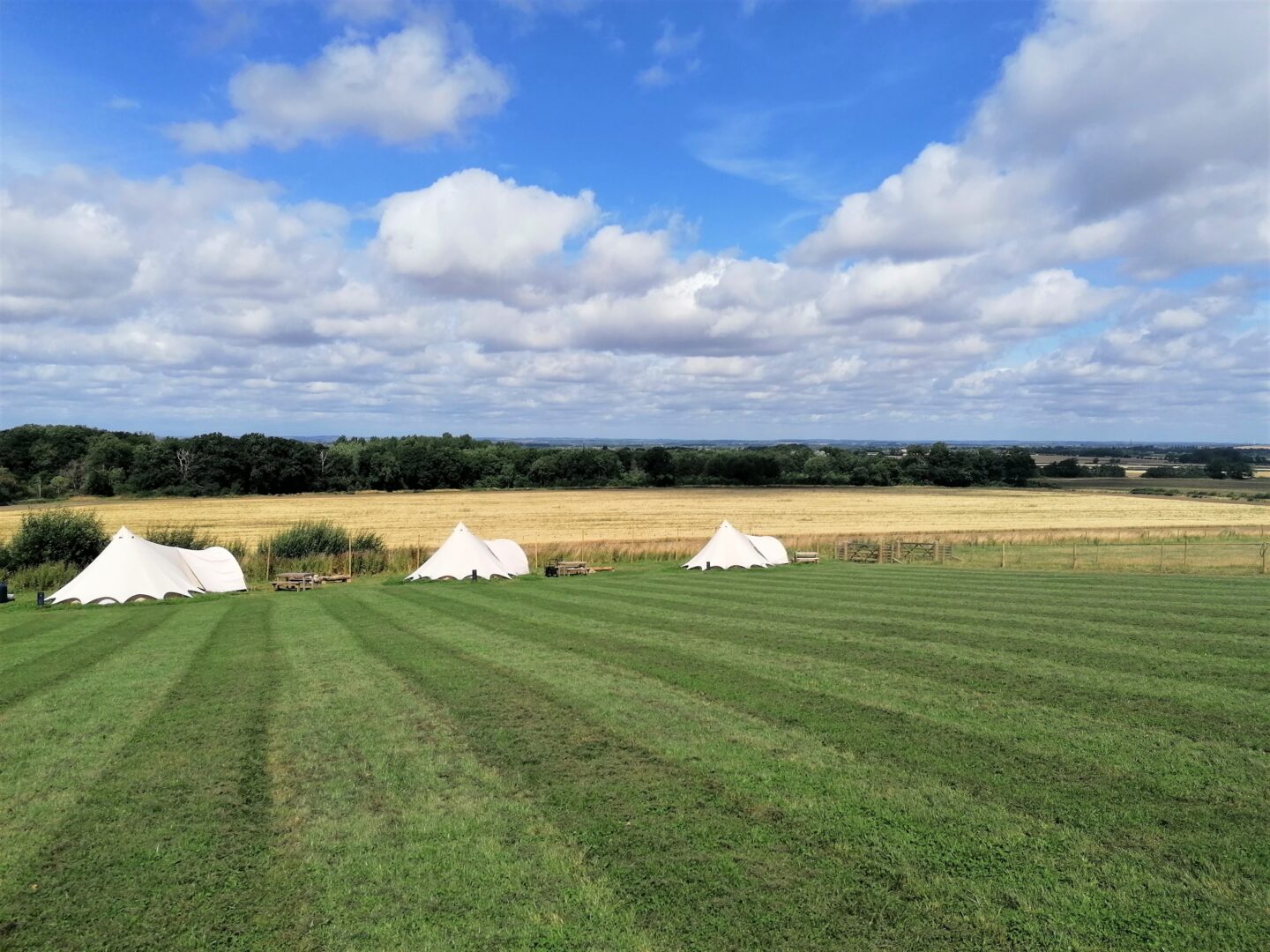 From checking into our stunning bell tent to checking out two nights later, I couldn't fault a moment of our stay (ok maybe the great British weather, but that was to be expected!).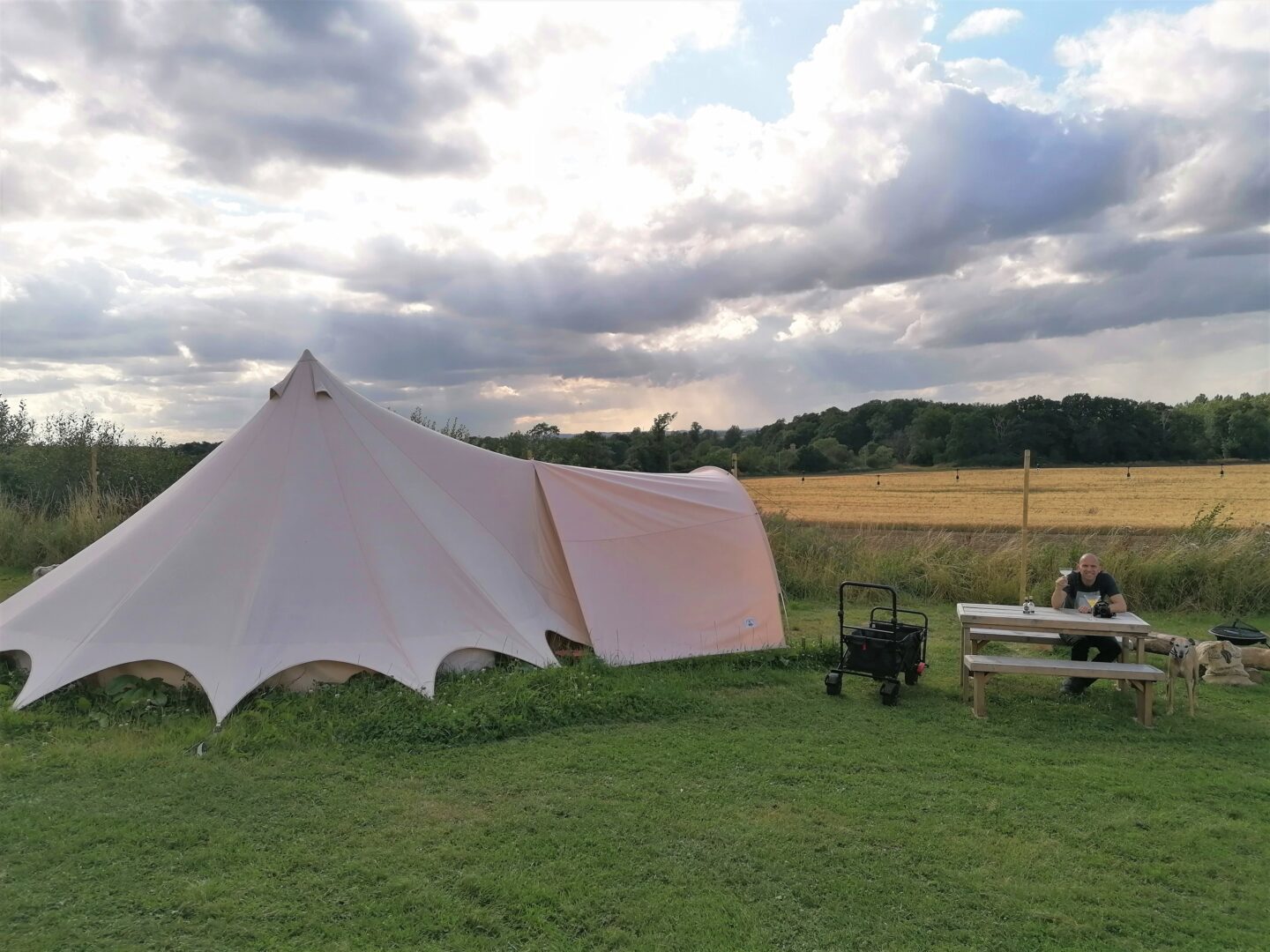 I love being outdoors, but I also love luxury. Belvoir have the perfect combination with their luxury glamping bell tents.
Everything is so well organised, from the initial booking where you are provided with a welcome pack full of useful information with what is included in your tent to where to eat and drink or suggestions of activities you can book. You can even add a hot tub onto your stay which is set up next to your bell tent.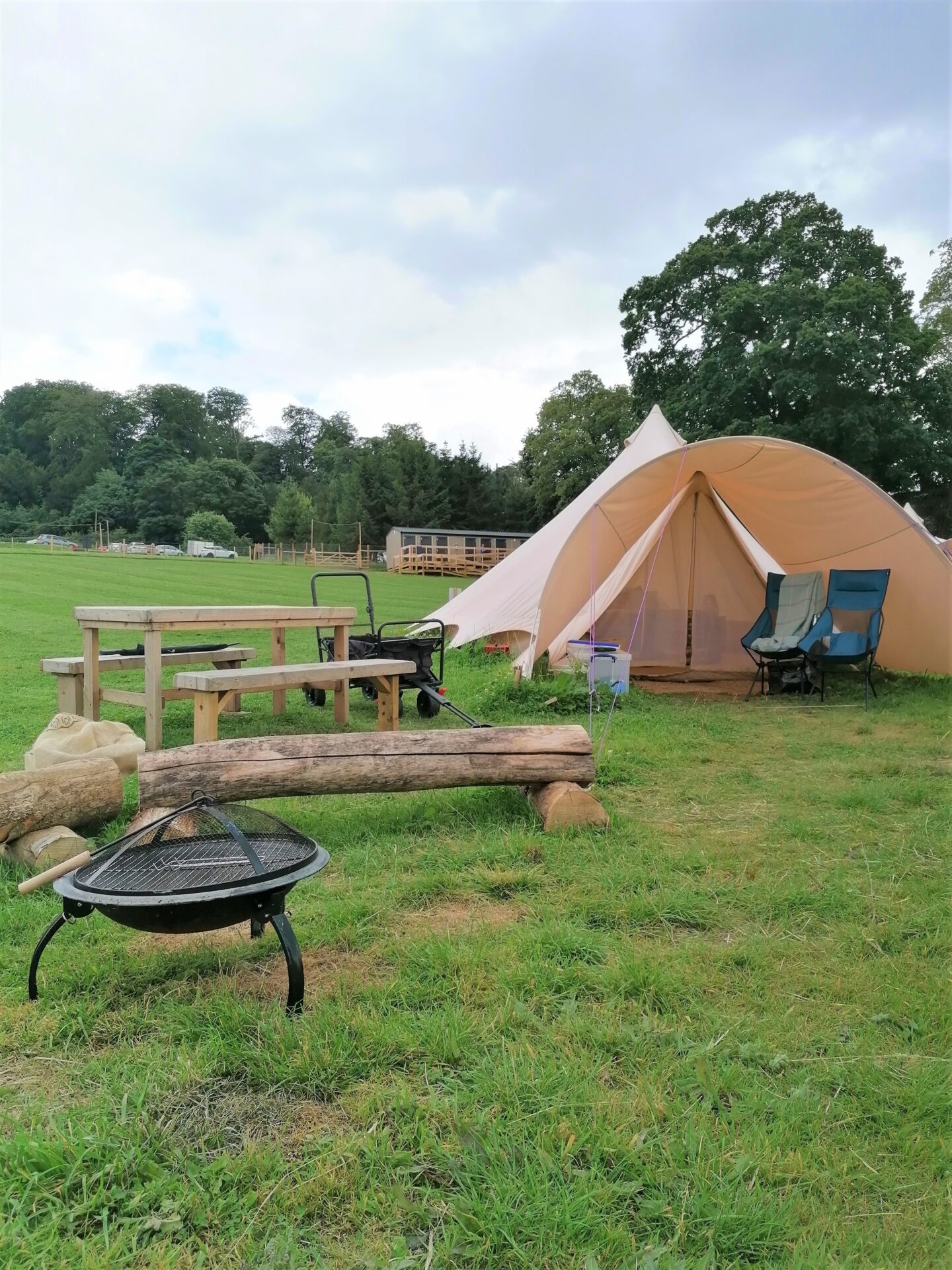 Arriving straight from work on a Friday afternoon, I felt myself instantly relax as we walked across the field towards our wonderful tent with our luggage in one of the handy wagons to save us making trips to and from the car.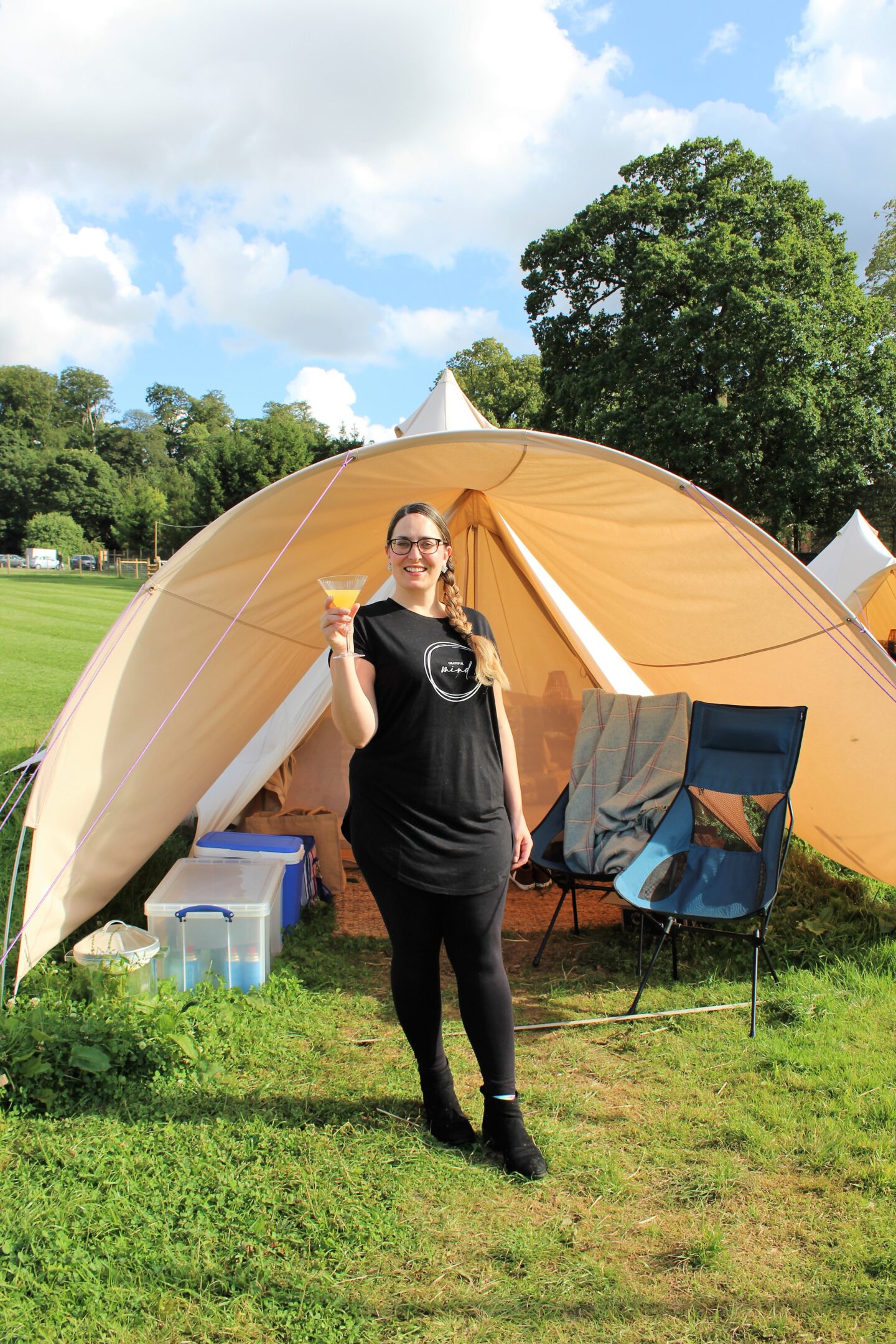 I couldn't help but let out a 'wow' the moment as I saw the beautiful interiors of what was our home for the next two nights. First off, the tent is spacious and adorning the middle is a beautiful and very comfy double bed. Not an air mattress, not a camping bed, a real bed with a real mattress and lovely crisp bedding, a knitted throw and pretty pastel cushions! I did tell you it was luxury glamping didn't I? We also had bedside tables, a luggage rack and a towel rack containing soft fluffy towels.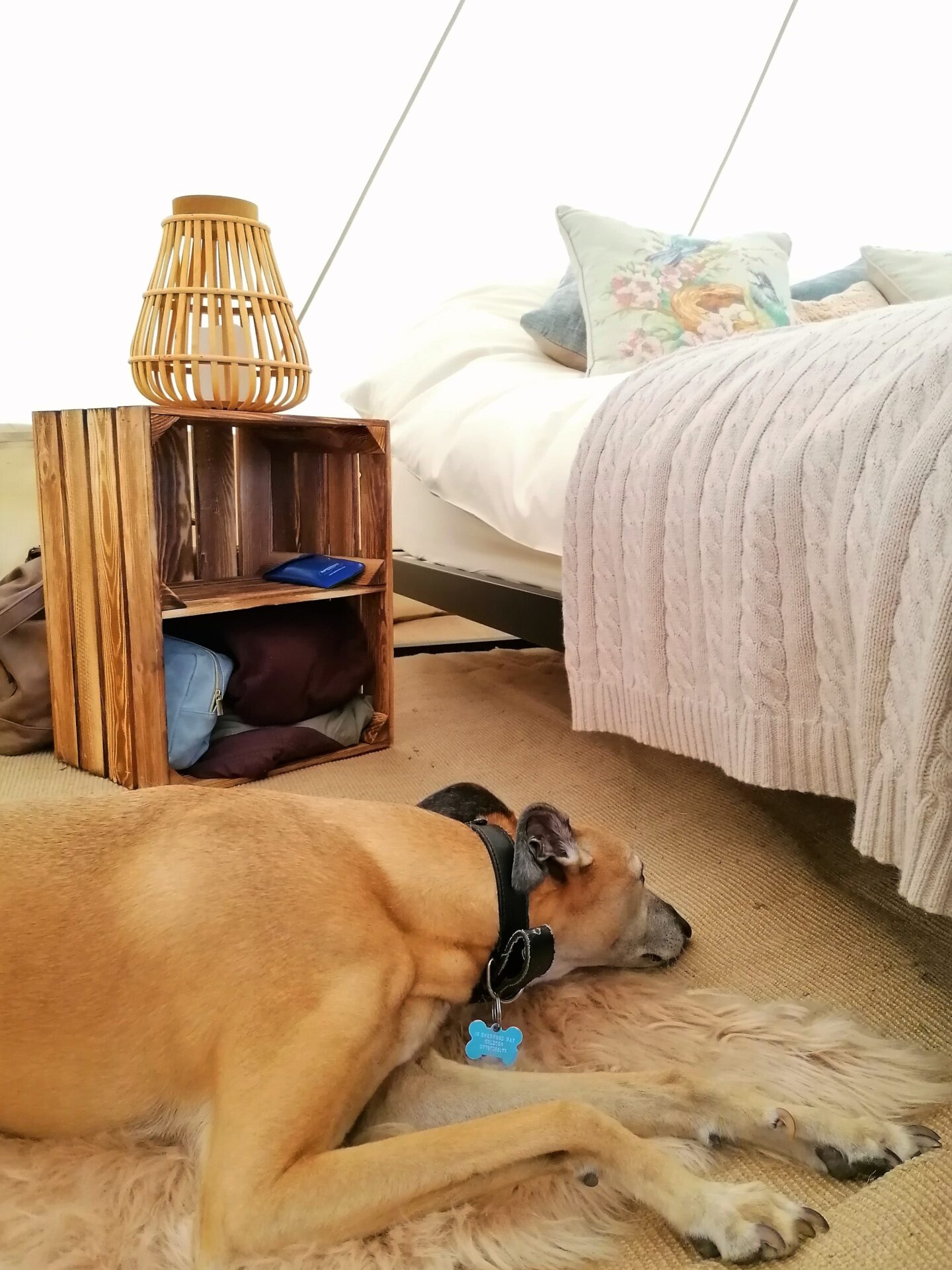 Waiting for you in your tent is also a lovely wicker picnic hamper containing wine glasses, crockery, a flask, wine cooler, bottle opener, plates and salt and pepper.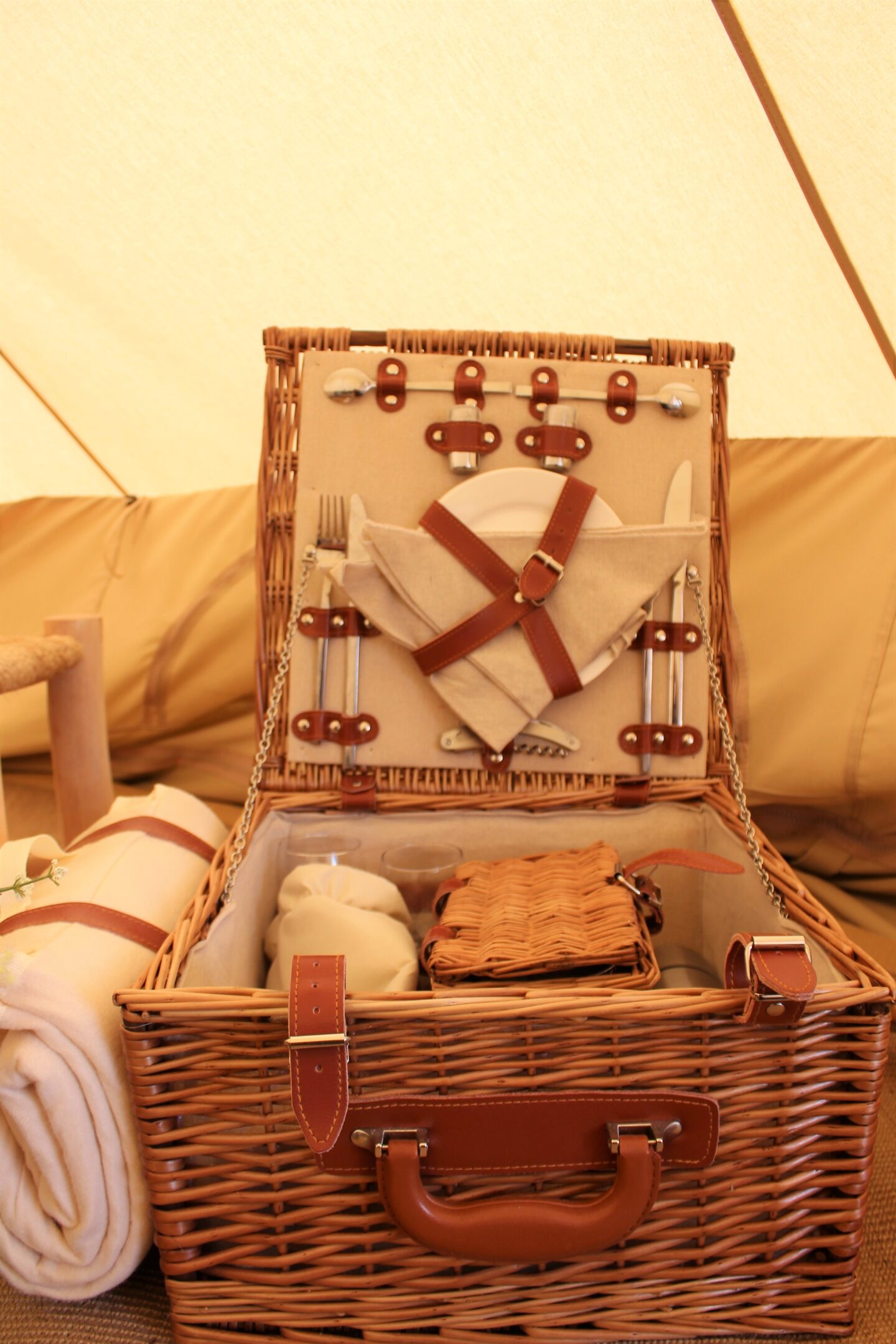 A basket of tea and coffee is also waiting for you in your tent, provided by independent brand Cherizena who have one of their two shops located at the Engine Yard, which is a stone's throw from the glamping site. And once you have tried it I can bet you will be making a visit to the shop to take some goodies home with you!
Another thing I was extremely impressed with were the bathroom facilities. On your arrival there is a key in your tent, this key is for your own private bathroom. Again, no sharing, and they are also cleaned twice daily. The bathroom had a sink, shower, toilet, heated towel rail and hairdryer. They were spotless and it really is so much better having your own private space.
The bathroom block is where you will find the two large sinks for washing up. The tea towels and washing up liquid etc. are all provided for you too.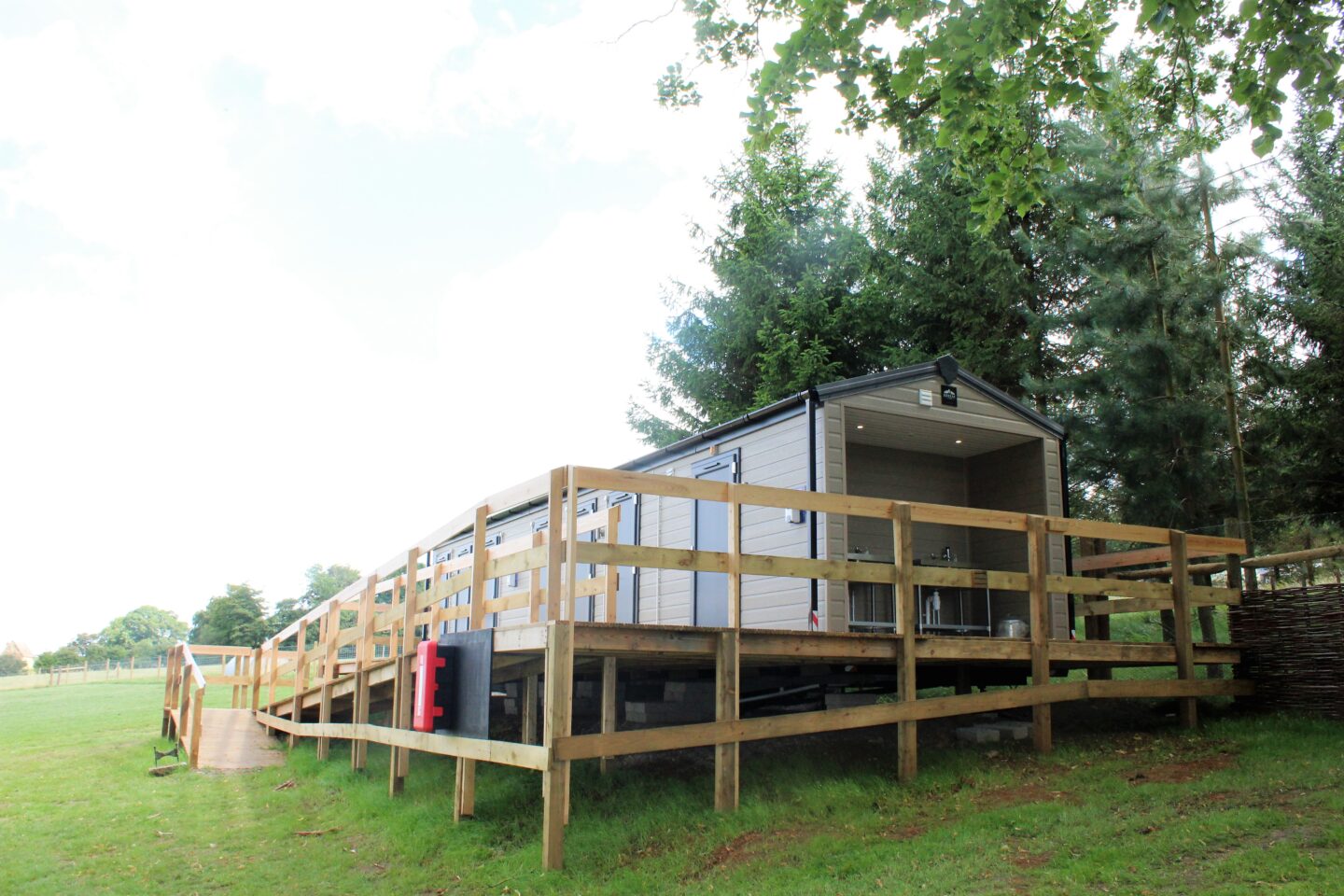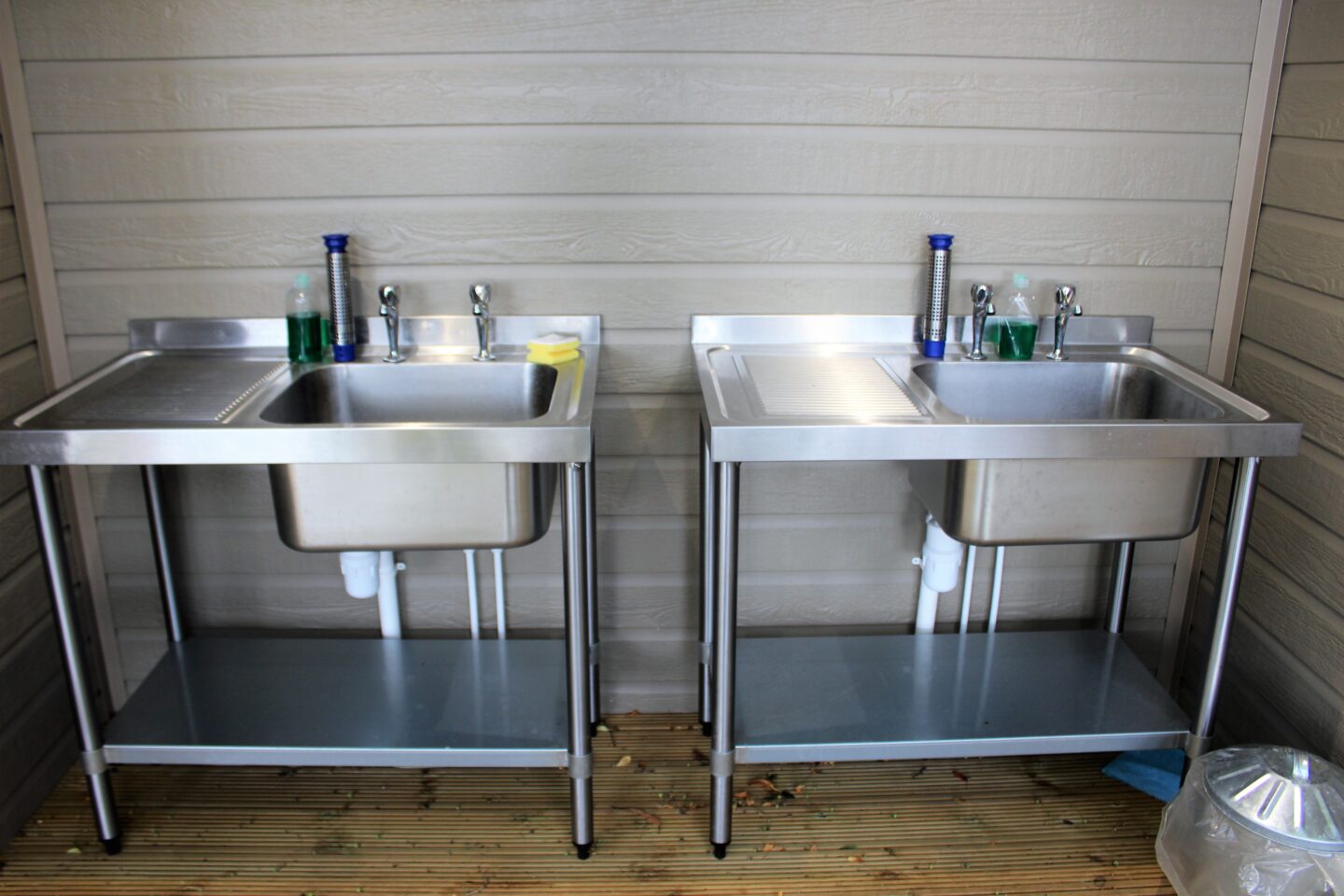 Outside your tent is your own private relaxation area. You have your own firepit, log seating and table with benches and camping chairs. Each bell tent has its own private area so you have this all to yourselves, no need to worrying about sharing!
We found this a great space to sit out and enjoy our breakfast and take in the views.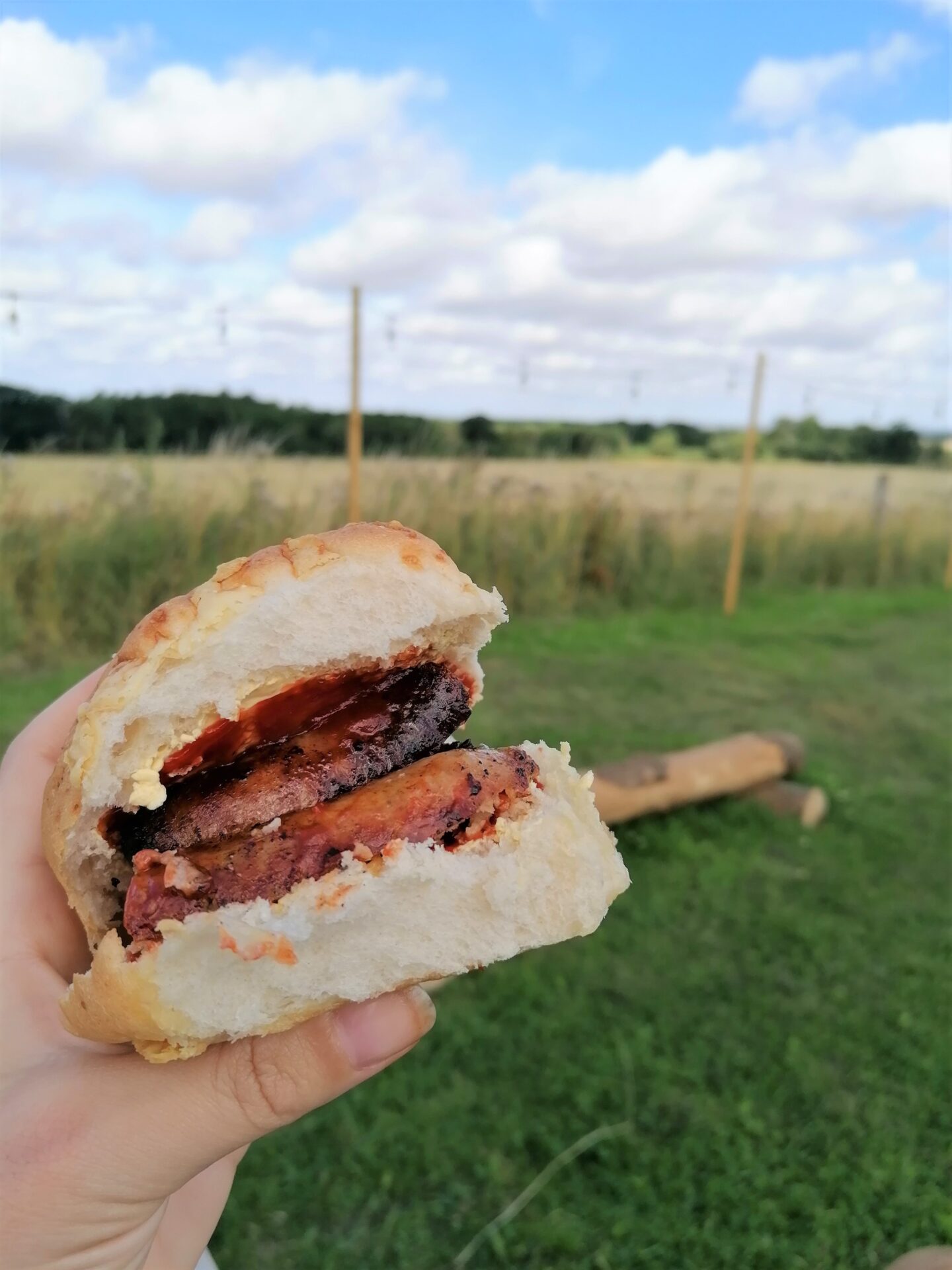 To chill out after a nice long walk.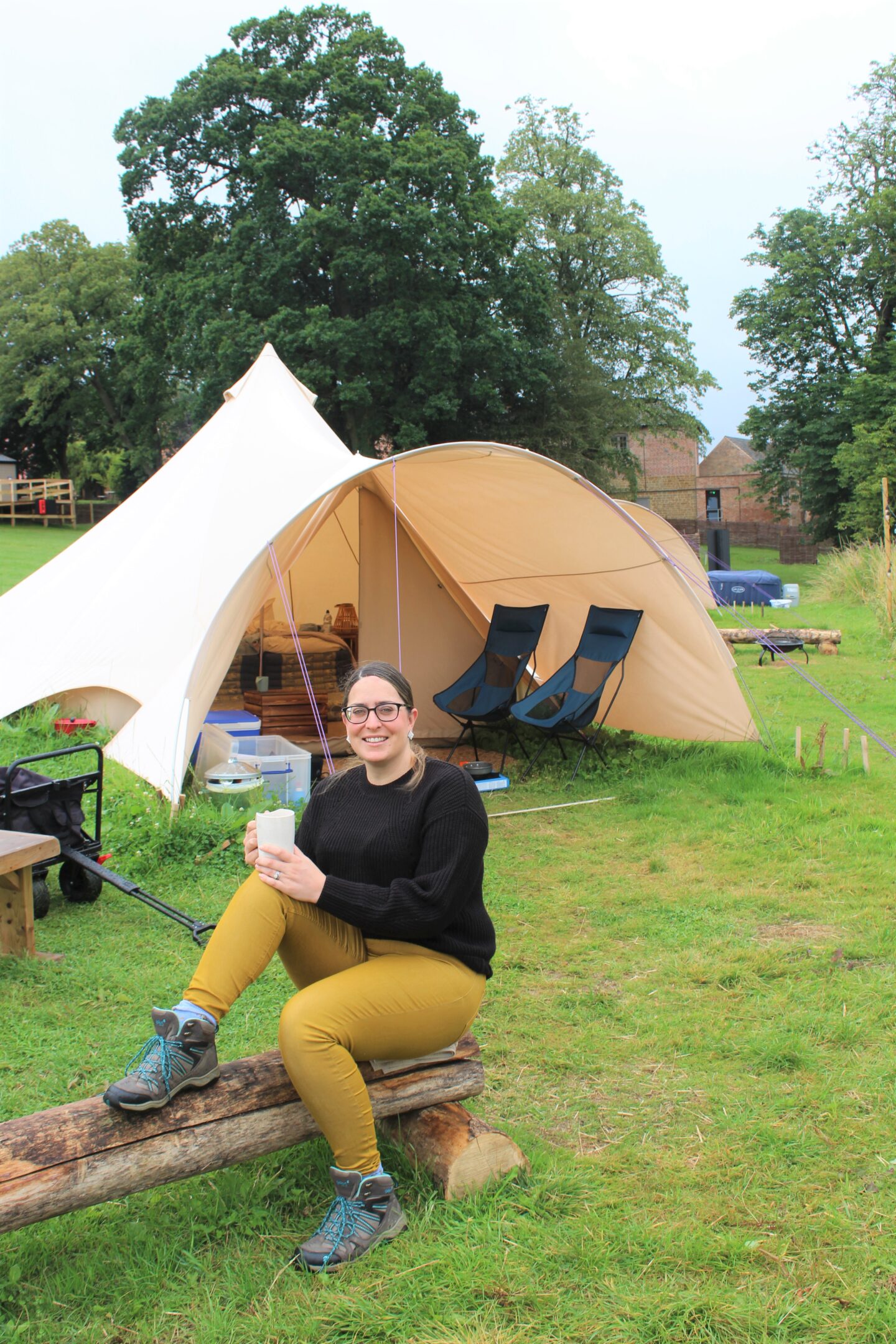 And to sit back, relax and enjoy a nice cold drink.
You are provided with logs, kindling and matches to start your fire pit and don't worry if you run out of logs, there are extra bags in the on-site shed which you can pop and help yourself to. As someone who has started a fire zero times in her life, I was pretty impressed with how easy it was to get it going.
It was so cosy sat around the firepit in the evening. It was true relaxation, so peaceful and picturesque.
Sitting around a firepit, it would be rude not to partake in some S'mores! And not to worry about faffing around taking everything with you, the on-site farm shop and deli sell S'mores kits, perfect for some toasty, chocolatey, marshmallowey goodness!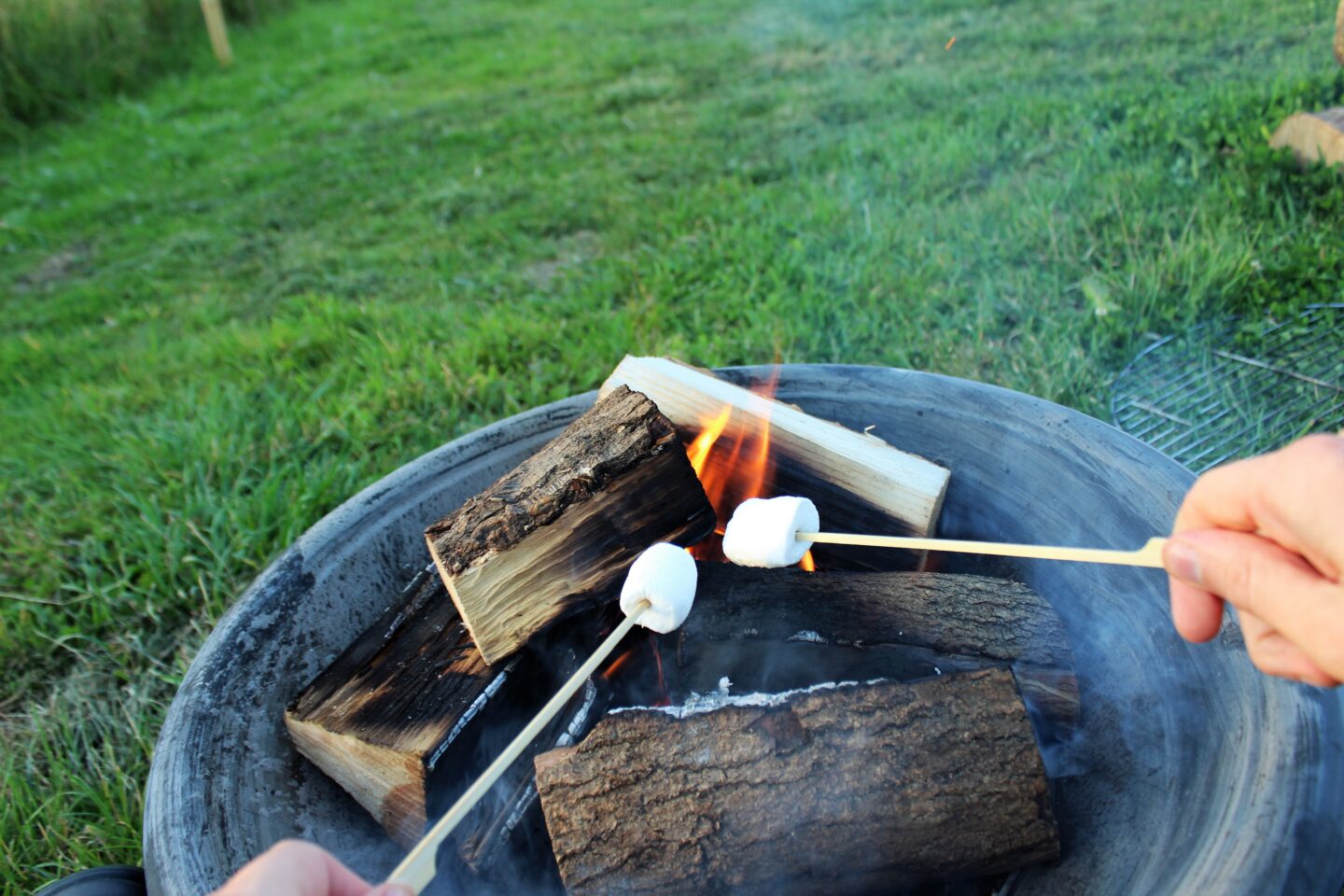 Your 'kitchen' box contains everything you could need for rustling up a good brekkie or dinner, from a camping stove with spare gas canisters, pans, pots, plates, washing up bowl, chopping board and even the tools you need if you wanted to use your firepit as a barbecue.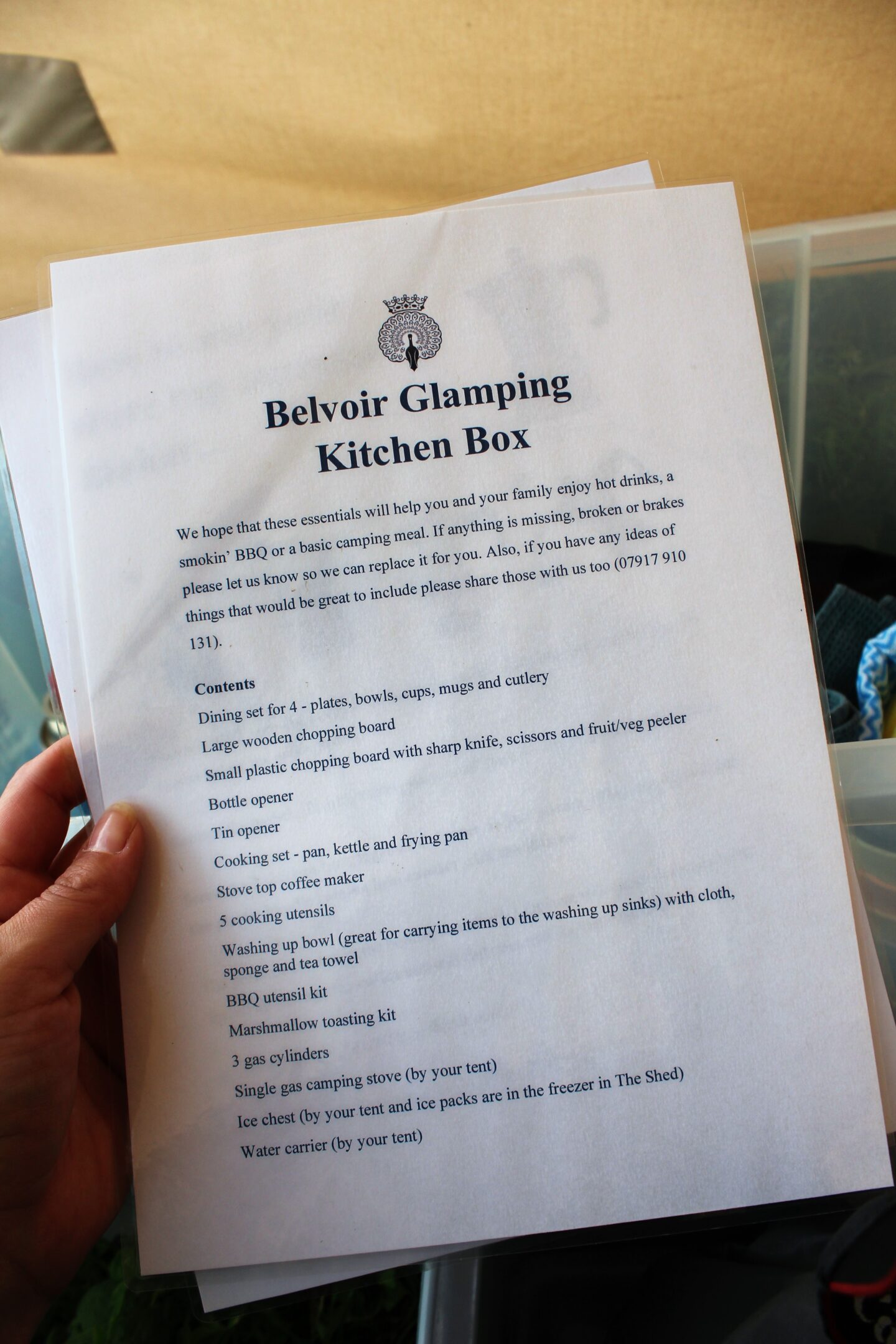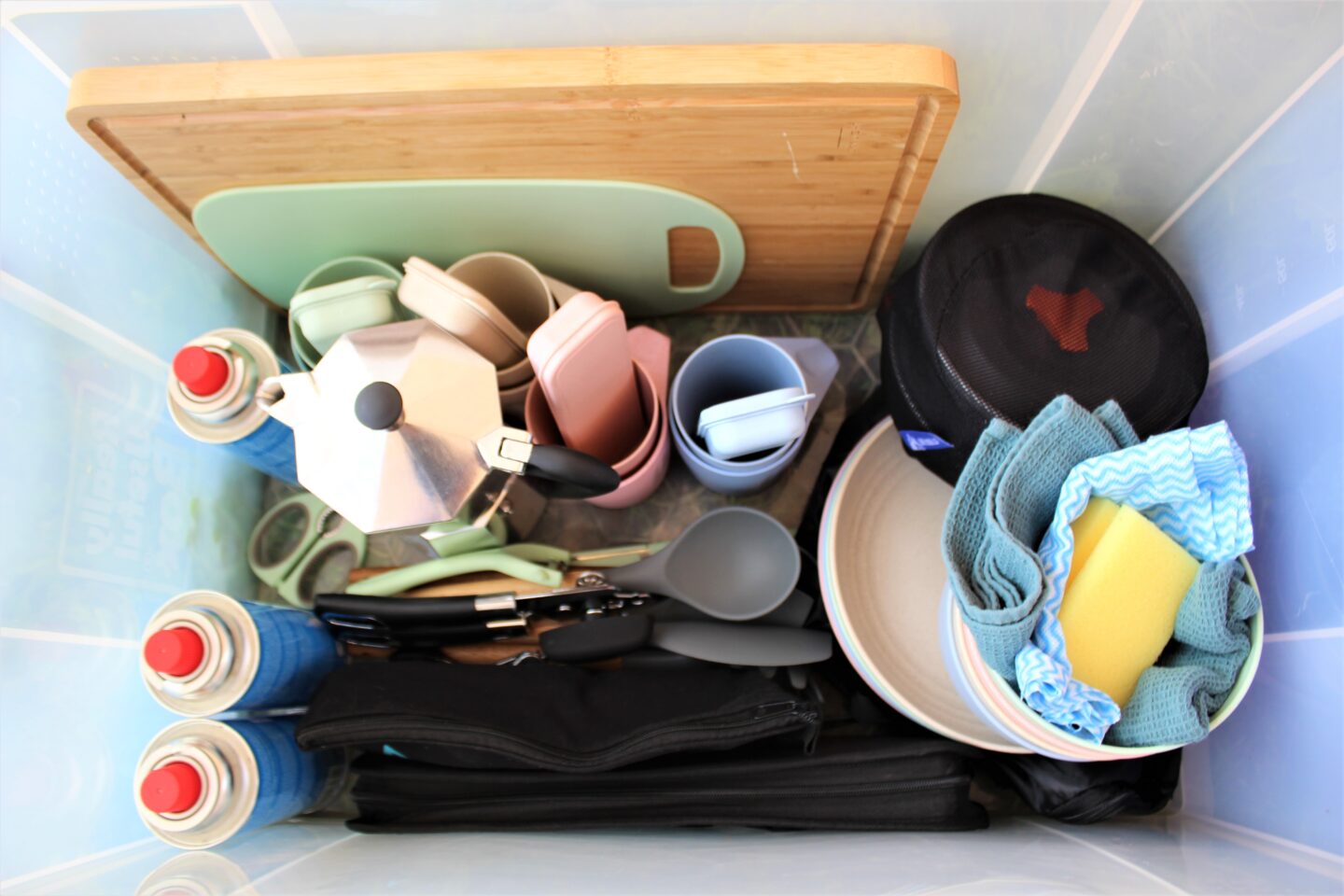 A cool box with ice packs is also provided and in the on-site shed there is a freezer with new cool blocks in so you can keep swapping them out so everything in your cool box stays nice and cold. The shed is also home to a selection of games for you to enjoy and a first aid kit should you need it.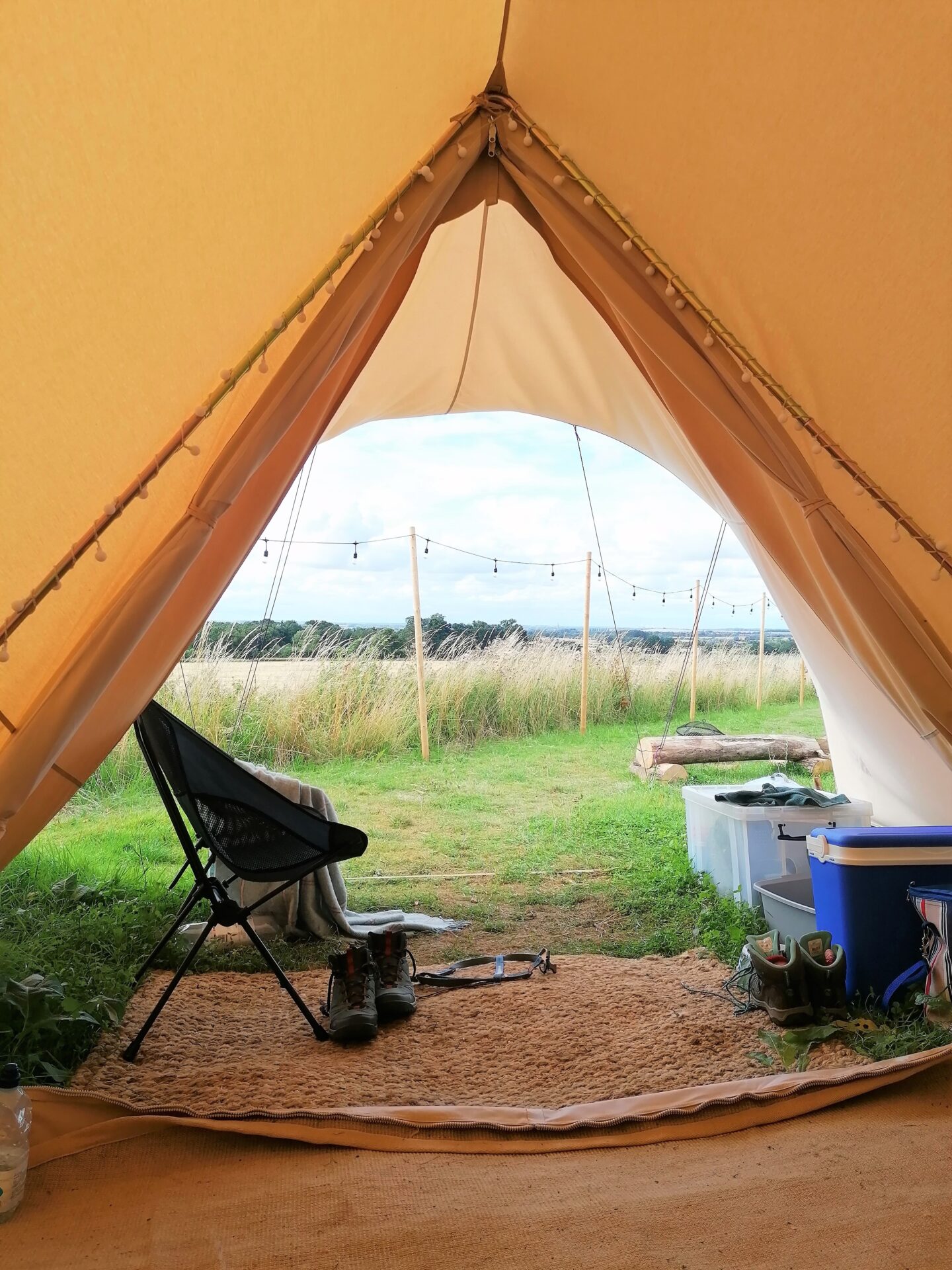 Everything really has been thought about so when you are packing all you need are your clothes and any food and drink you may want to bring with you.
Talking of food, you can pre-order a selection of hampers all sourced from the wonderful shops at the Engine Yard, all of which focus on fresh, local, quality produce. Hampers available to order include a continental breakfast box, an afternoon tea hamper and a barbecue hamper.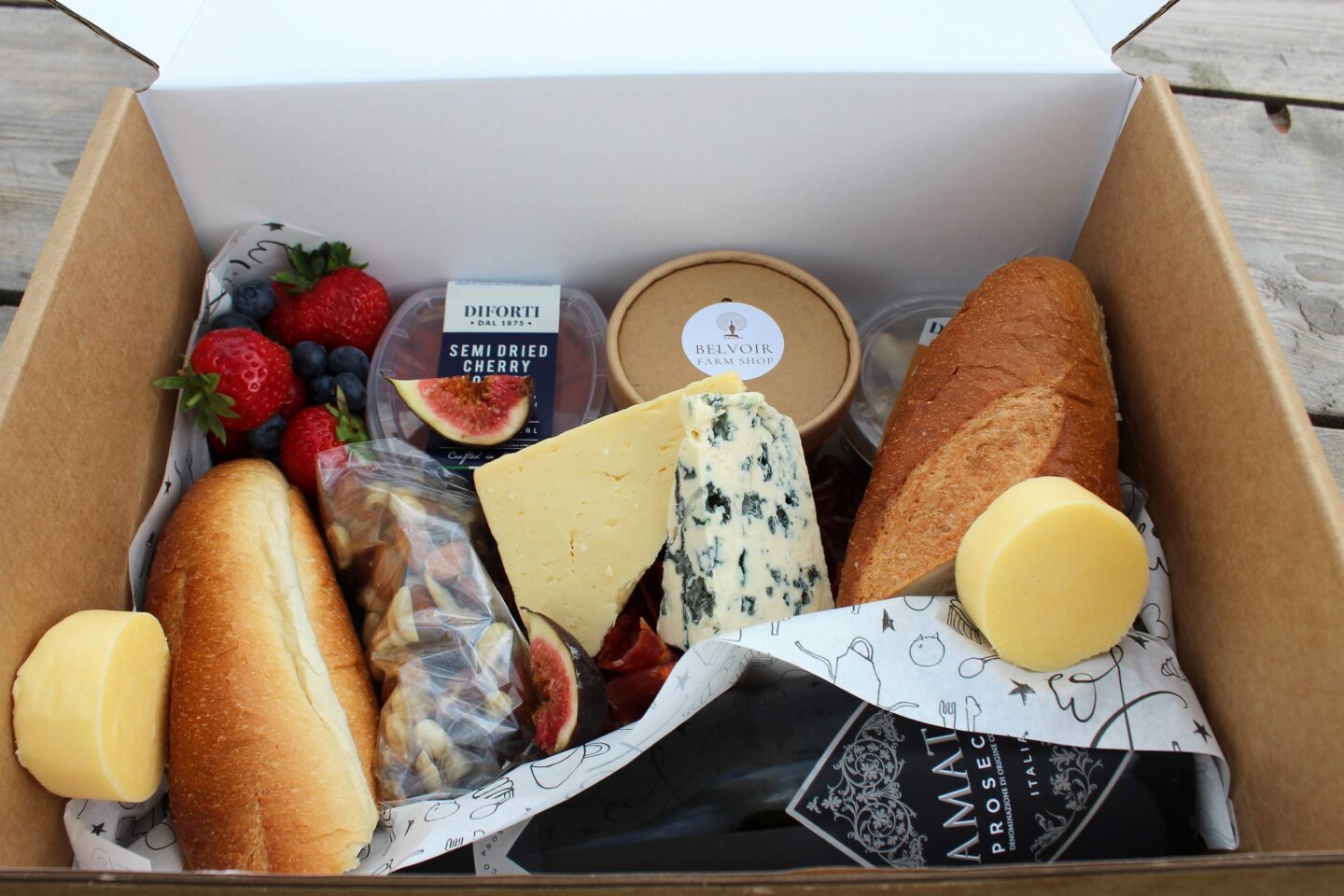 For our first night we ordered the luxury picnic hamper. We requested a time we wanted our hamper and it was hand-delivered to our tent for us. The hamper contained an anti-pasto selection, two cheeses, local chutney, butter, French baguette, olives, fresh fruit, nuts, sun-dried tomatoes and a chilled bottle of prosecco.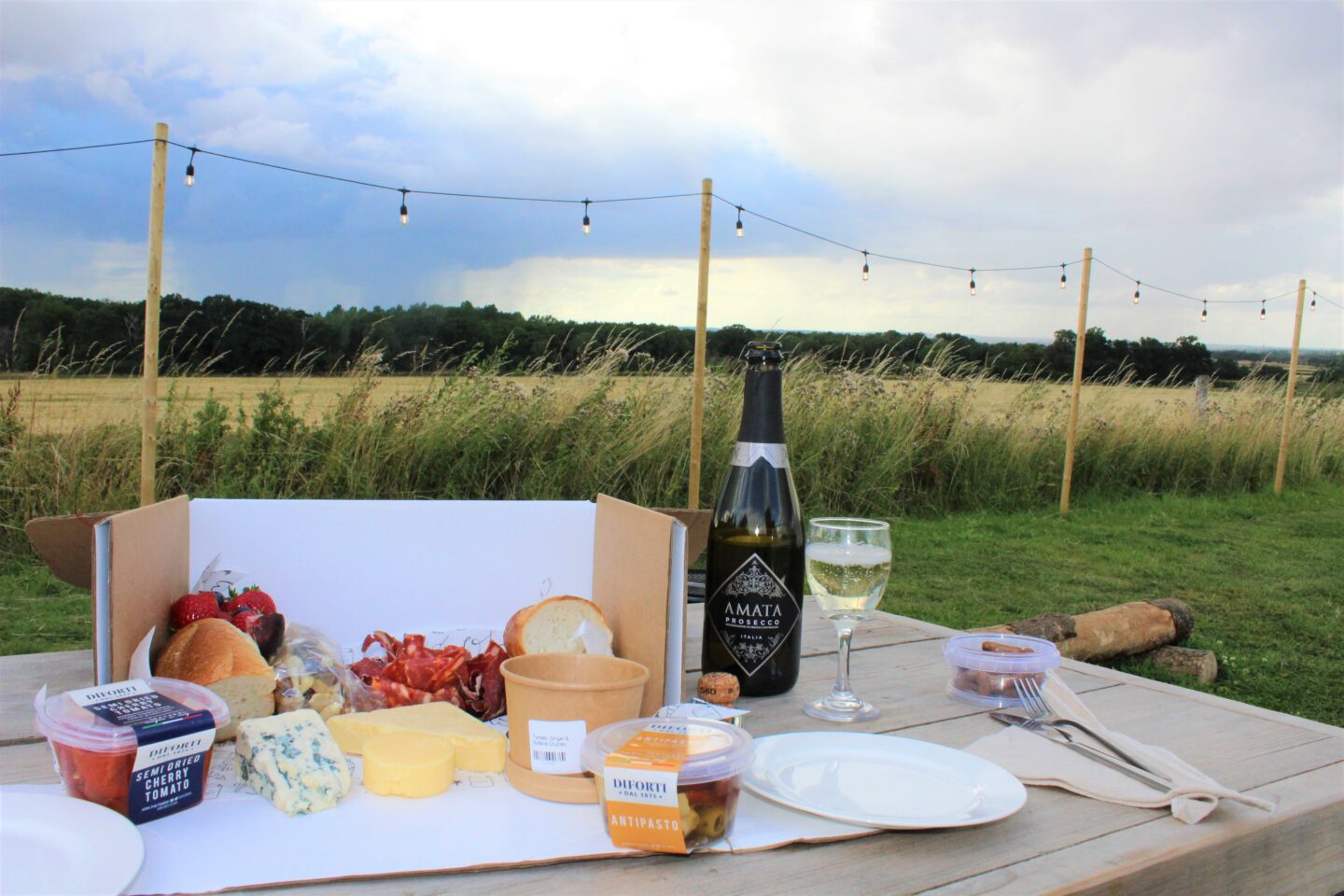 It was the perfect way to start our first evening. We had unpacked, settled in and had our dinner hand-delivered to our tent, so we spent our evening sat grazing on the delicious food, sipping prosecco all whilst looking out at the wonderful views.
On our second night we took the one-minute stroll over to The Engine Yard to try their wood-fired pizzas. After a day of walking, Mr B and I were both starving! We both ordered the prosciutto and funghi pizza and shared a side of the sweet potato fries. The pizzas were absolutely delicious and I highly recommend the sweet potato fries which were crispy on the outside and fluffy on the inside, all washed down with Belvoir's own mango cider, absolutely scrumptious!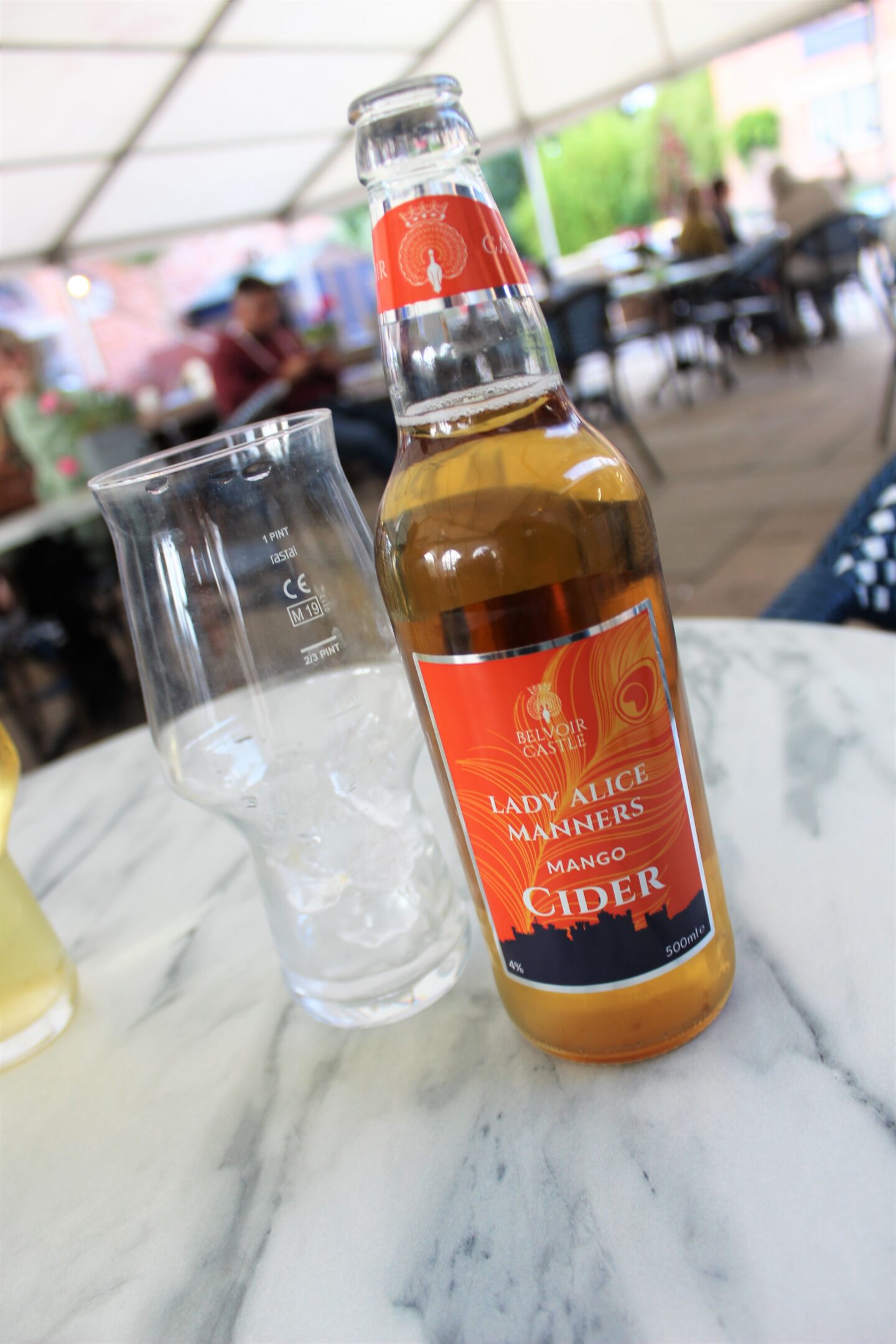 Our timing couldn't have been more perfect as on Friday and Saturday nights they have a live singer. He was so good we stayed after we had finished our food to enjoy another drink and listen to him with Snoopy curled up asleep on his blanket next to us.
It's not just pizzas you can order, we also saw some other tables enjoying the burgers and fish and chips and they looked like delicious plates of food.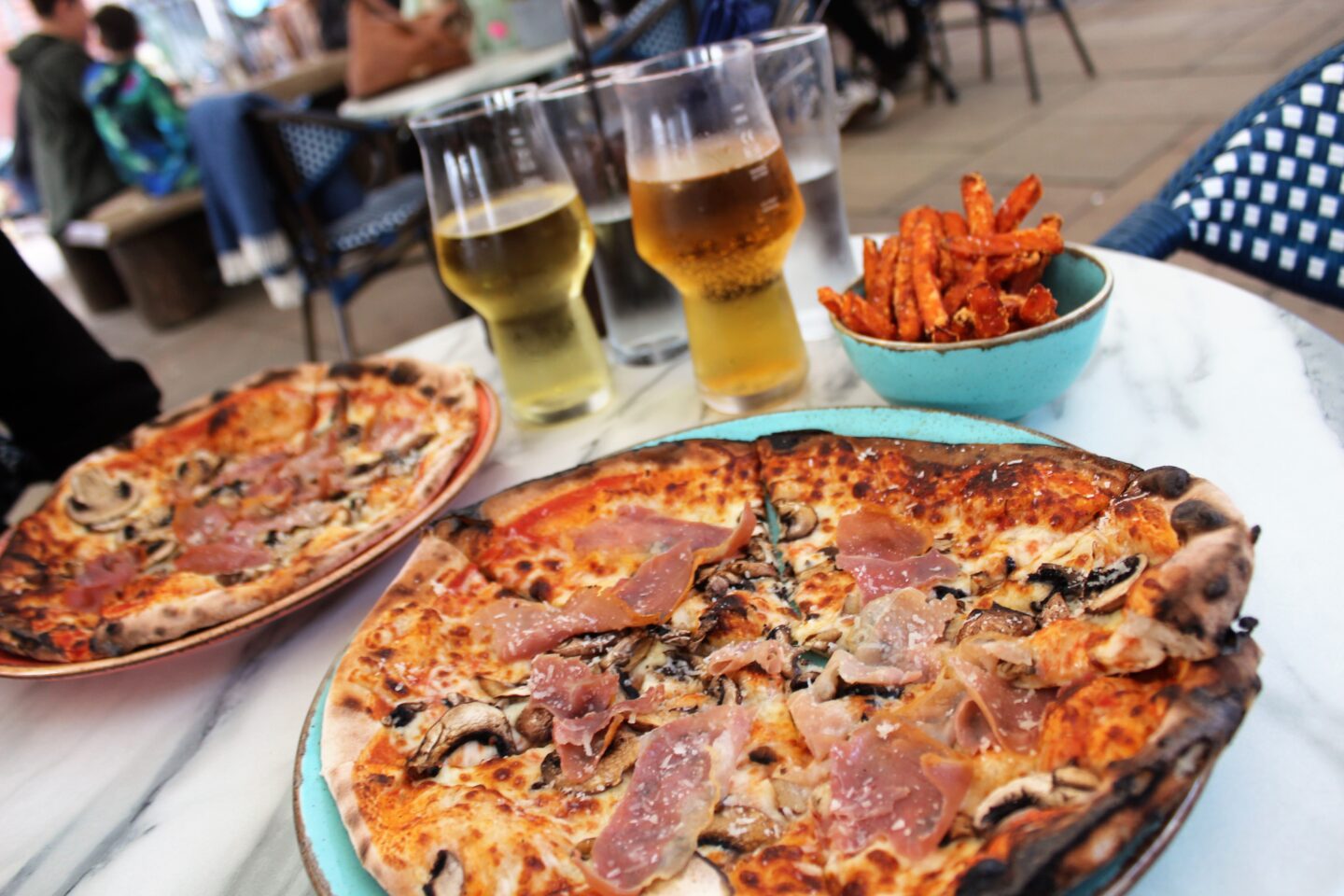 Another dining option is The Fuel Tank. I can vouch for how good the food is here as we enjoyed an evening meal here a few weeks ago. If you wanted to read more about the food on offer there you can read my review of our visit . . . Dining at The Fuel Tank – Belvoir Castle – The Travels of Mrs B
Of course, you can fill your days however you wish. When you book glamping you get a discount code for entry into Belvoir Castle and the gardens. Alternatively there are so many wonderful walks around Belvoir.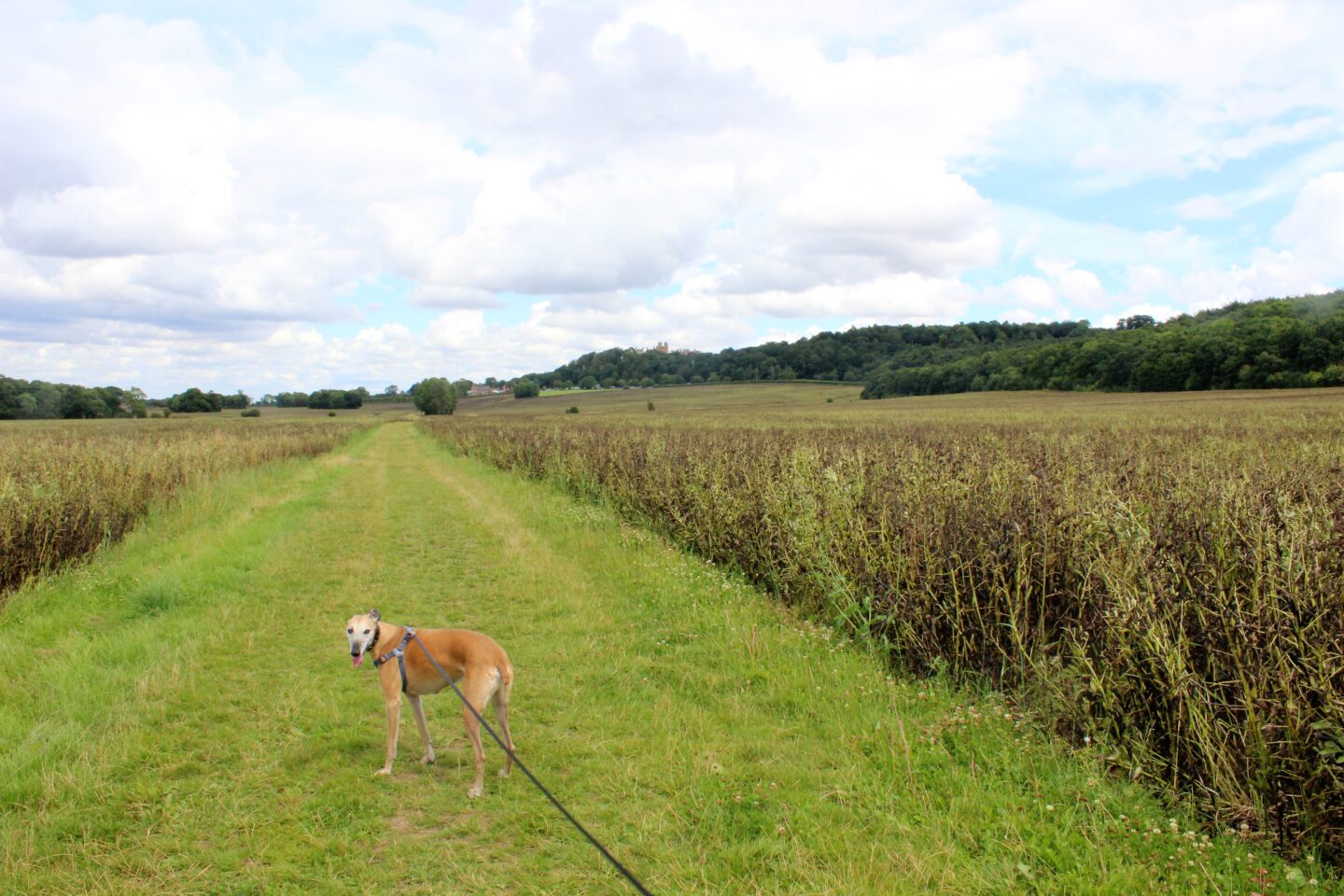 For us the location was perfection, we were surrounded by fields as far as the eye could see. The field above us was home to our very cute neighbours which included goats, two adorable black pigs and a sheep!
Our glamping stay was all about relaxation, enjoying the beautiful outdoors, discovering new walks with Snoops and recharging our batteries, and we did all of that in the luxury surroundings of our fabulous bell tent. We really couldn't have wished for more.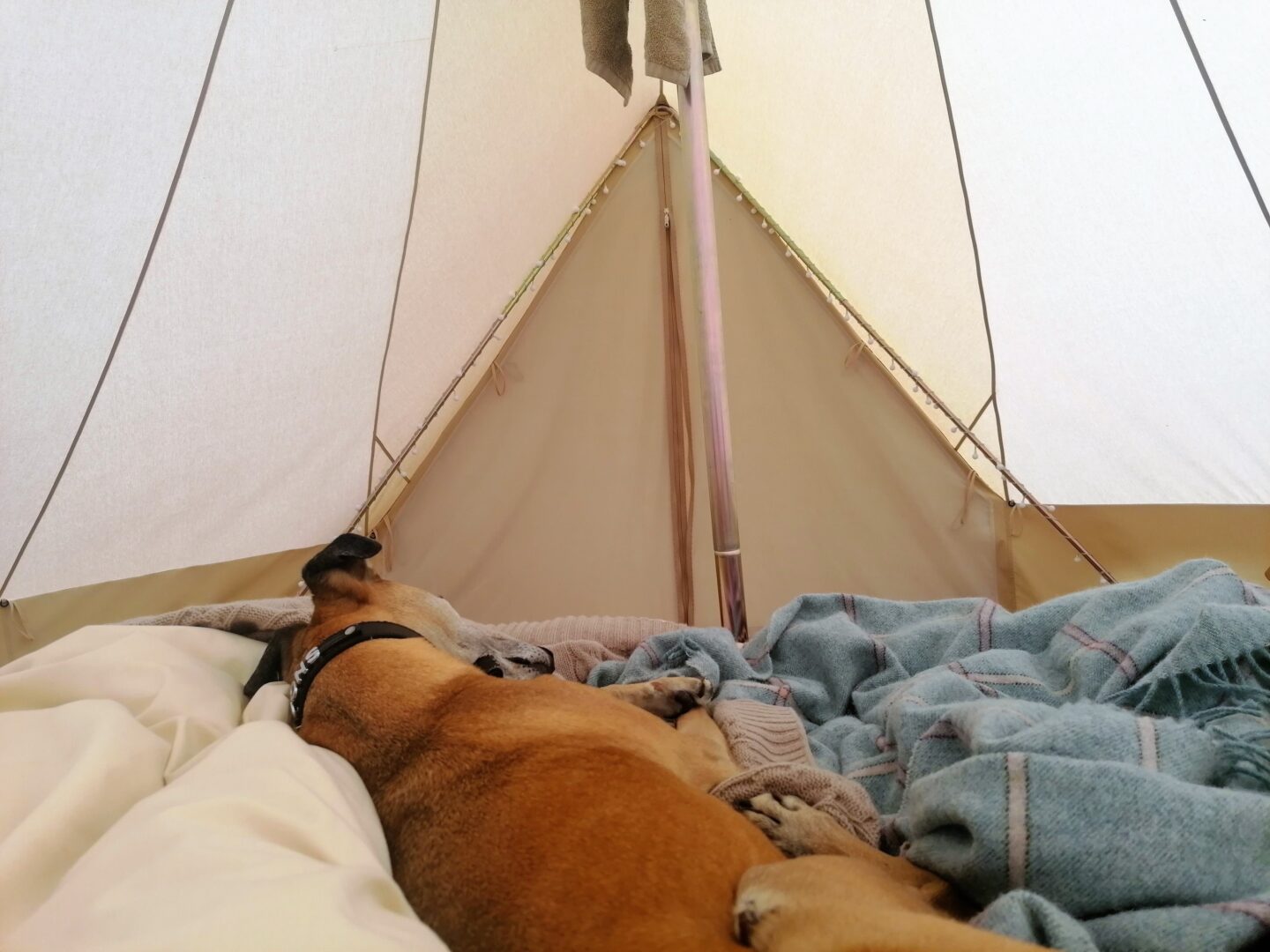 My accommodation was complimentary but as always all opinions are my own and honest.