Restaurant Sat Bains with Rooms: Five AA Rosette and two Michelin stars
Would you believe we have an amazing 'Two Michelin Star' restaurant on our doorstep and we have never been? Correction, we had never been!
We talked about going to Restaurant Sat Bains with rooms for some time, but felt like it was somewhere we wanted to go for a special occasion so for my 31st birthday, Mr B and I finally decided to book in.
Even though we live a mere 30-minute drive away we chose to stay over, which transformed the occasion from a magical evening to a truly magical weekend. They only have seven rooms so it all felt very exclusive. Whether you are travelling 30 minutes or three hours I highly recommend staying.
We arrived early and who was there at reception to greet us? Sat Bains! Mr B was very impressed with how calm I was as I didn't make any embarrassing excited noises, which has been known to happen on a few occasions.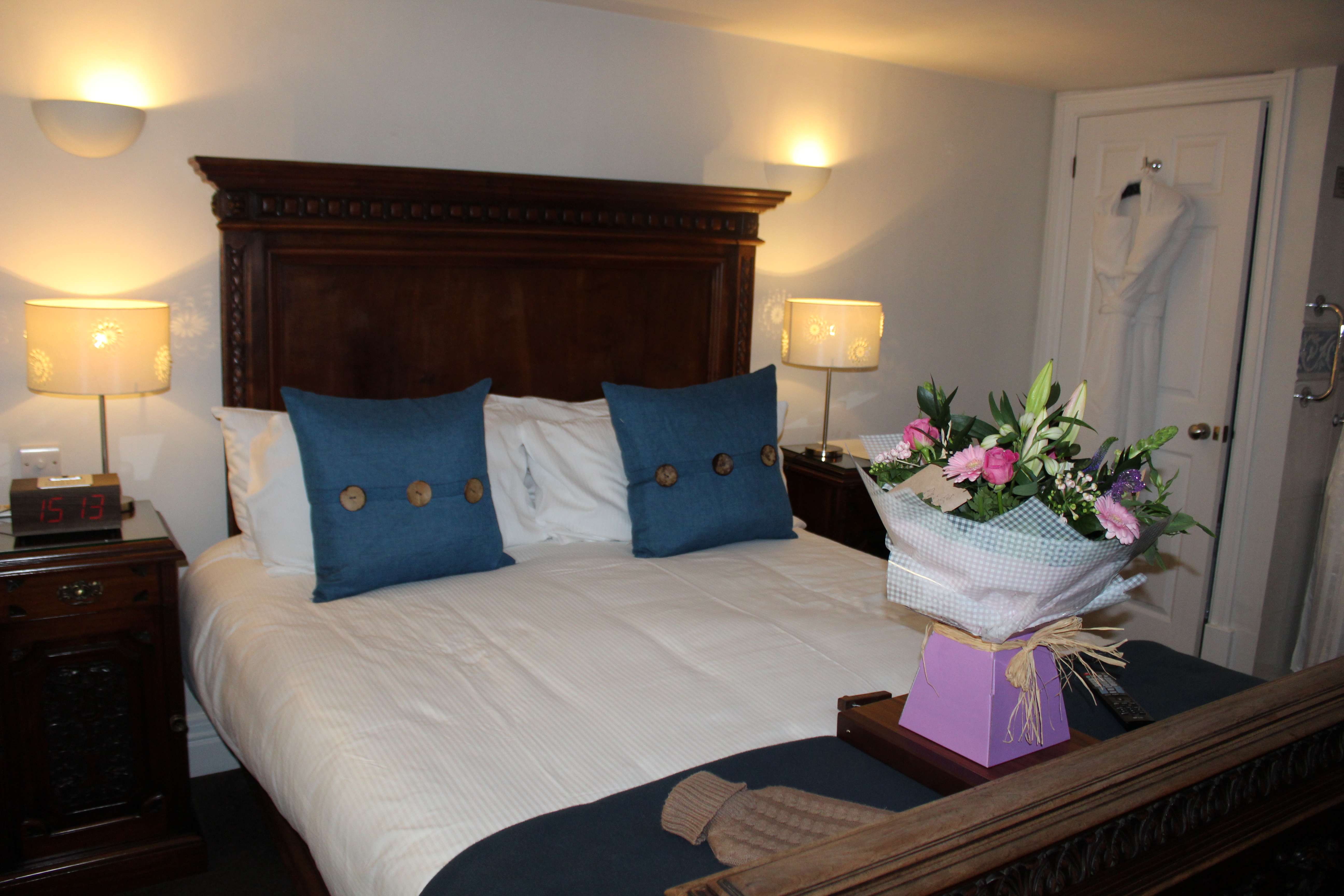 We chose to stay in Room Five, which has a stunning roll top bath. The room itself is decorated with beautiful blues and the lovely dark wood feature bed was the highlight.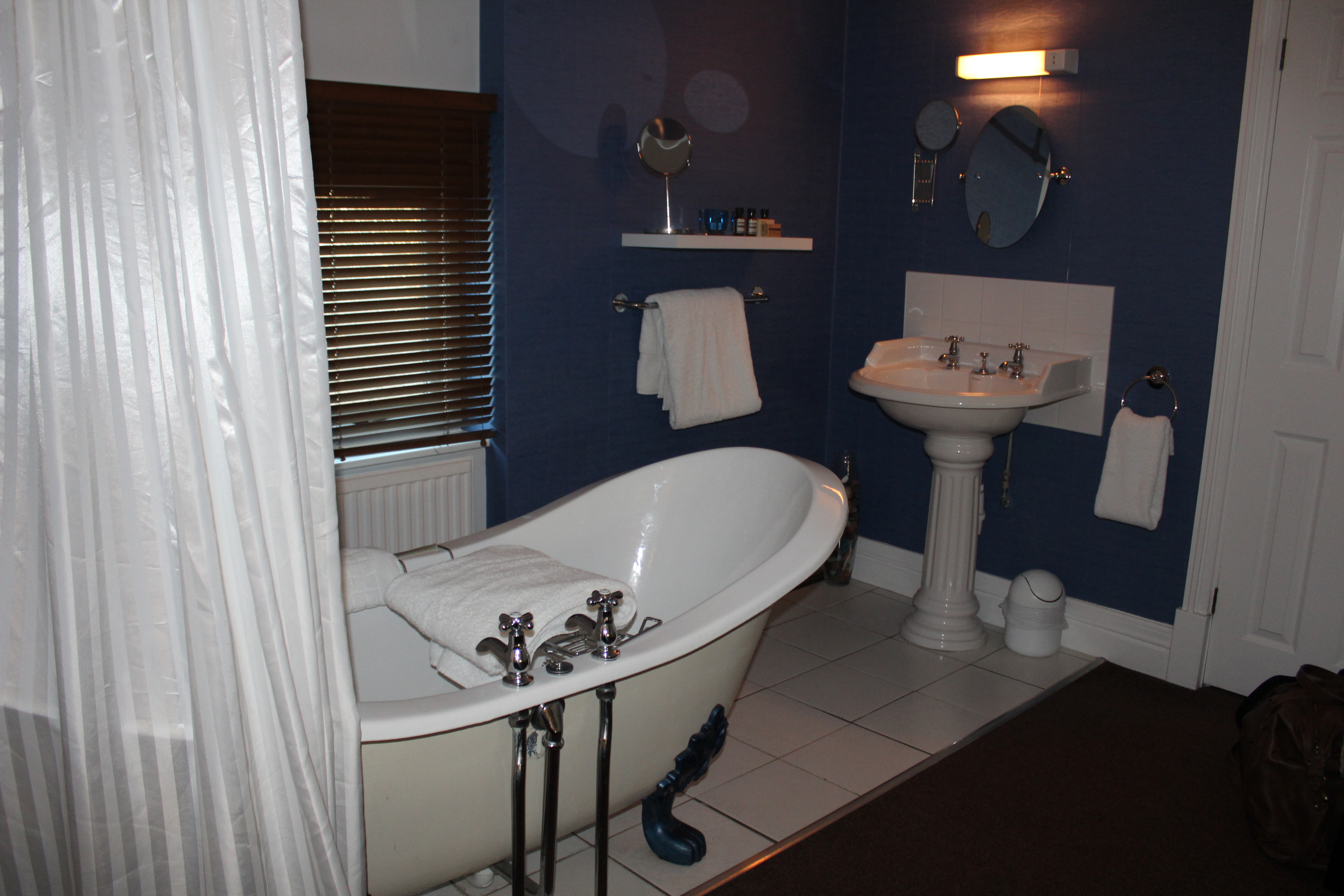 The room had everything you would expect from a five-star hotel . . . lovely Aesop toiletries, big fluffy towels and robes and a fabulous tea tray which included freshly ground coffee from local company 200 Degrees Coffee and the yummiest homemade shortbread which did not last long at all.
As it was my birthday Mr B had arranged for a beautiful arrangement of flowers to be placed in the room which just added to the magic of the weekend (he's a keeper!).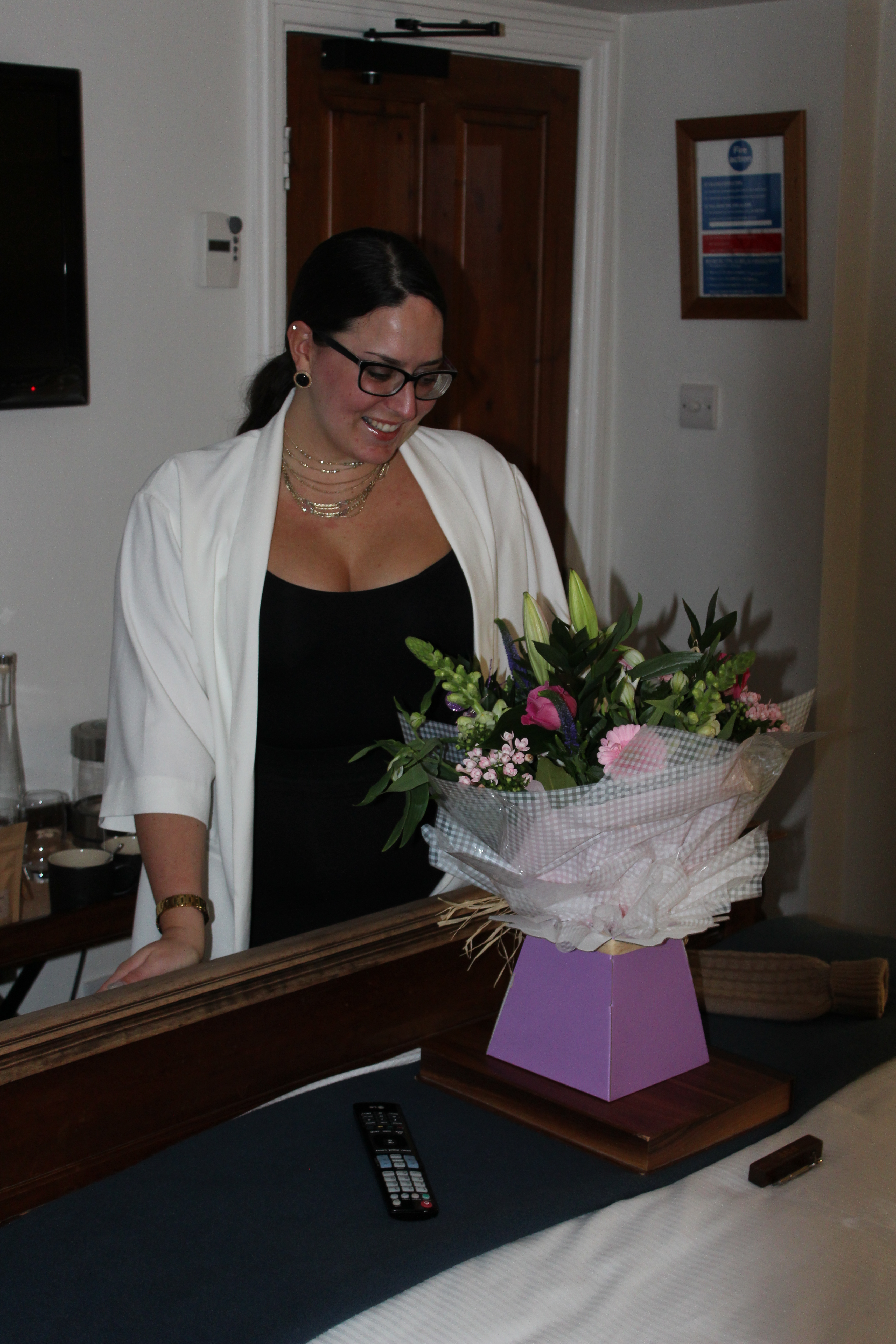 All dressed up and ready for our meal we headed into the bar for a pre-dinner drink. I chose a glass of my favourite red – Malbec – while Mr B opted for a local Nottingham pale ale. We were also given the menu to peruse, from which you can pick from the seven or 10-course tasting options, but we already knew we were going to have the 10-course!
Now I don't like blueberries which was the main element for one of the desserts, but this wasn't a problem at all as they kindly said they would make me an alternative.
The wine list was huge and anyone who knows a thing or two about wine would be very impressed. But for those of us that aren't experts the fantastic sommelier is there to help who, unbeknown to me, Mr B had been speaking to before our stay as he wanted to order champagne as a surprise. He said the sommelier was very helpful and a pleasure to speak with.
So now onto the main event. We were sat in the conservatory which was dimly lit and felt very romantic. We began with a pre-starter and some fantastic homemade bread. The treacle bread was to die for and you guessed it . . . we polished it off and had more, having to politely refuse when handed a third offering!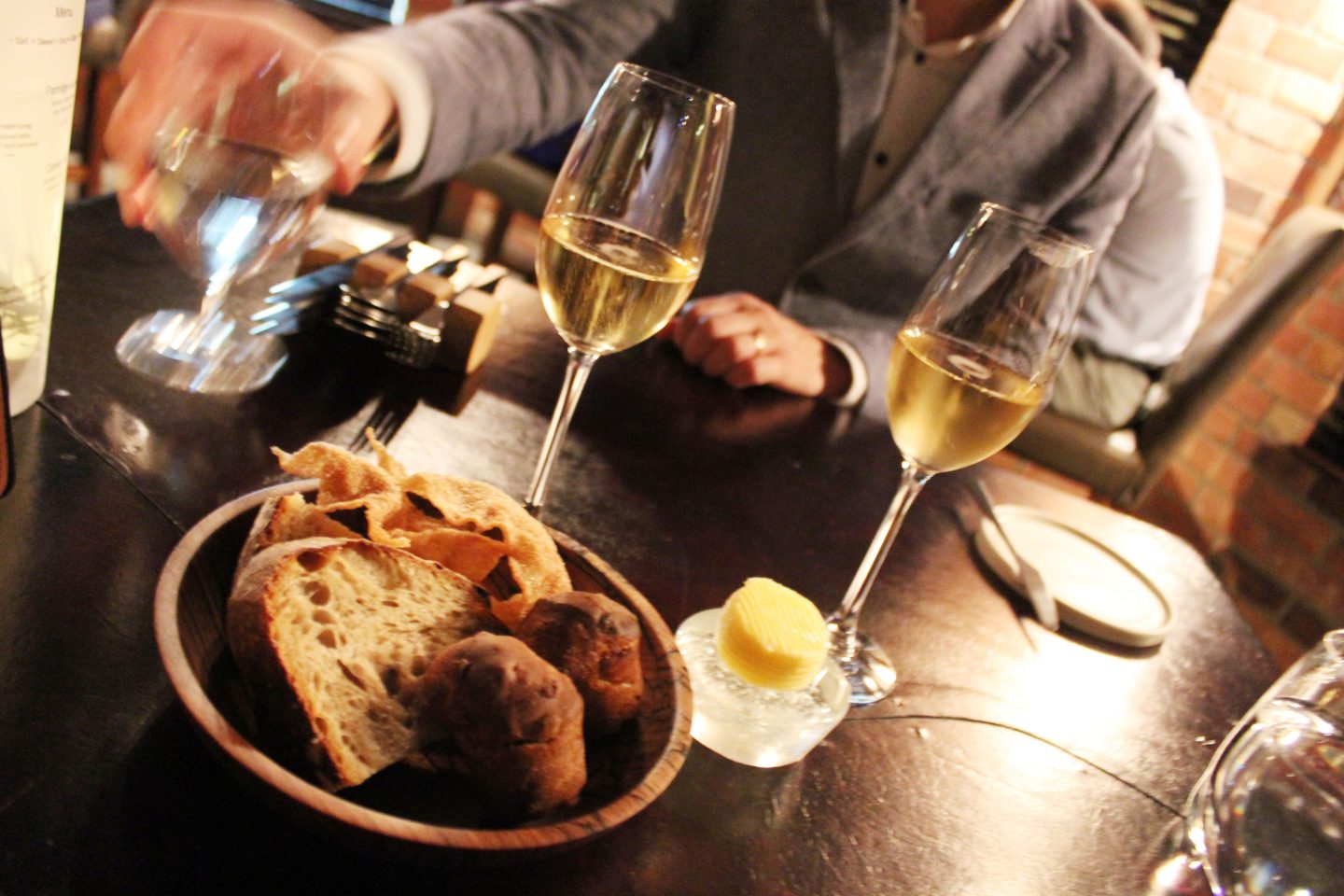 'Crab satay' was our first course and one of my favourites of the entire meal. Beautiful sweet crab meat with just enough kick from the fragrant herbs and the crab 'bon bon' it was served with was a taste sensation!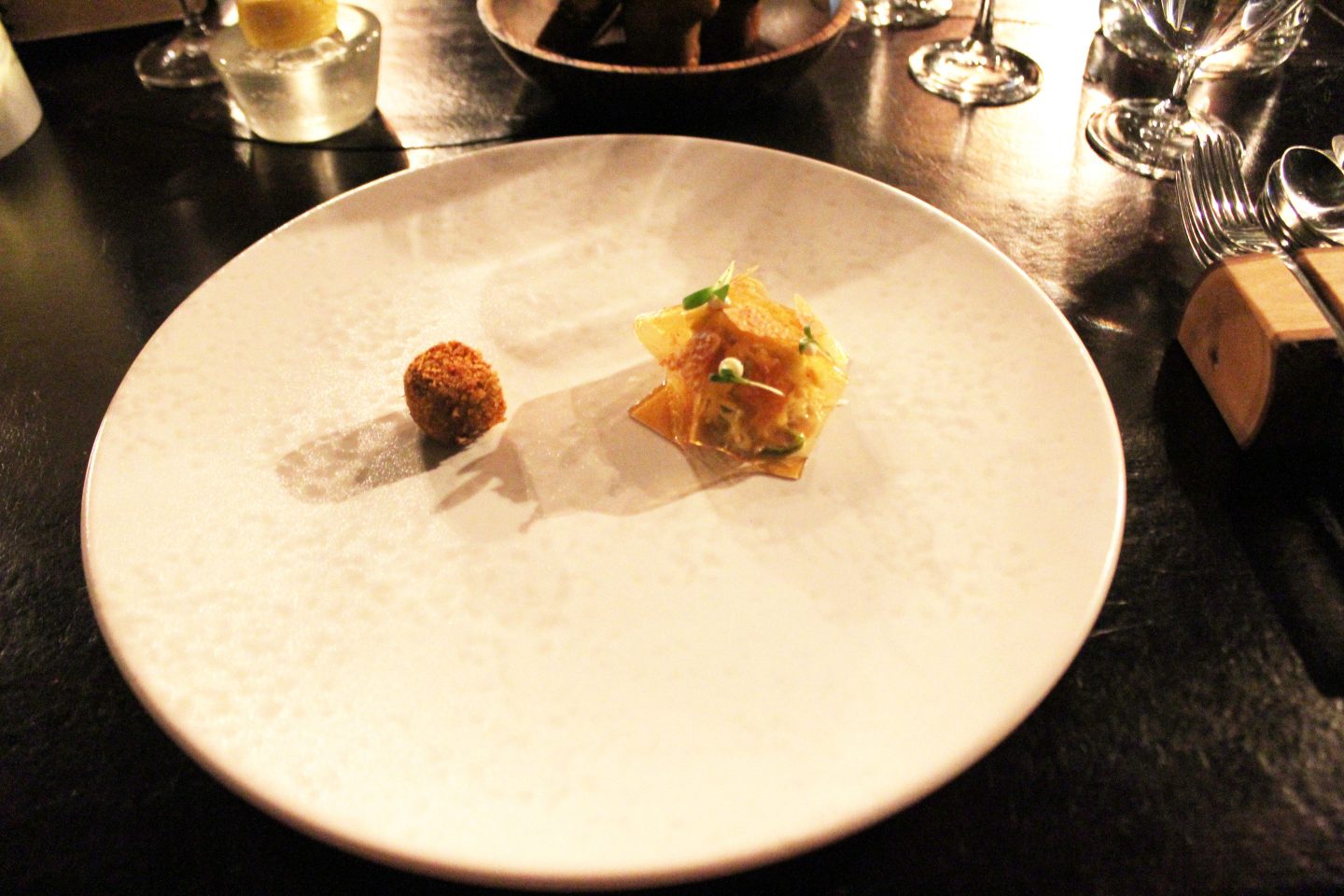 'Veal croquette – mushroom/capers/hollandaise' was next. Now I'm not the biggest fan of sweetbreads as the texture doesn't really do it for me, however, I ate every mouthful of this dish. The crisp from the breadcrumbs on the sweetbreads and the richness of the hollandaise worked really well. (Sorry forgot to take a picture of this one before I tucked in!)
'On the embers – potato/caviar/kombu' was another of my favourite dishes (I can have more than one can't I?). This one looked so simple but the tastes were fantastic. There were strong smokey flavours in the potato which tasted like the smell of barbecue (if that makes sense!) and the caviar added a beautiful richness to the dish. I'm pretty sure you could top any dish with caviar to make it even more amazing!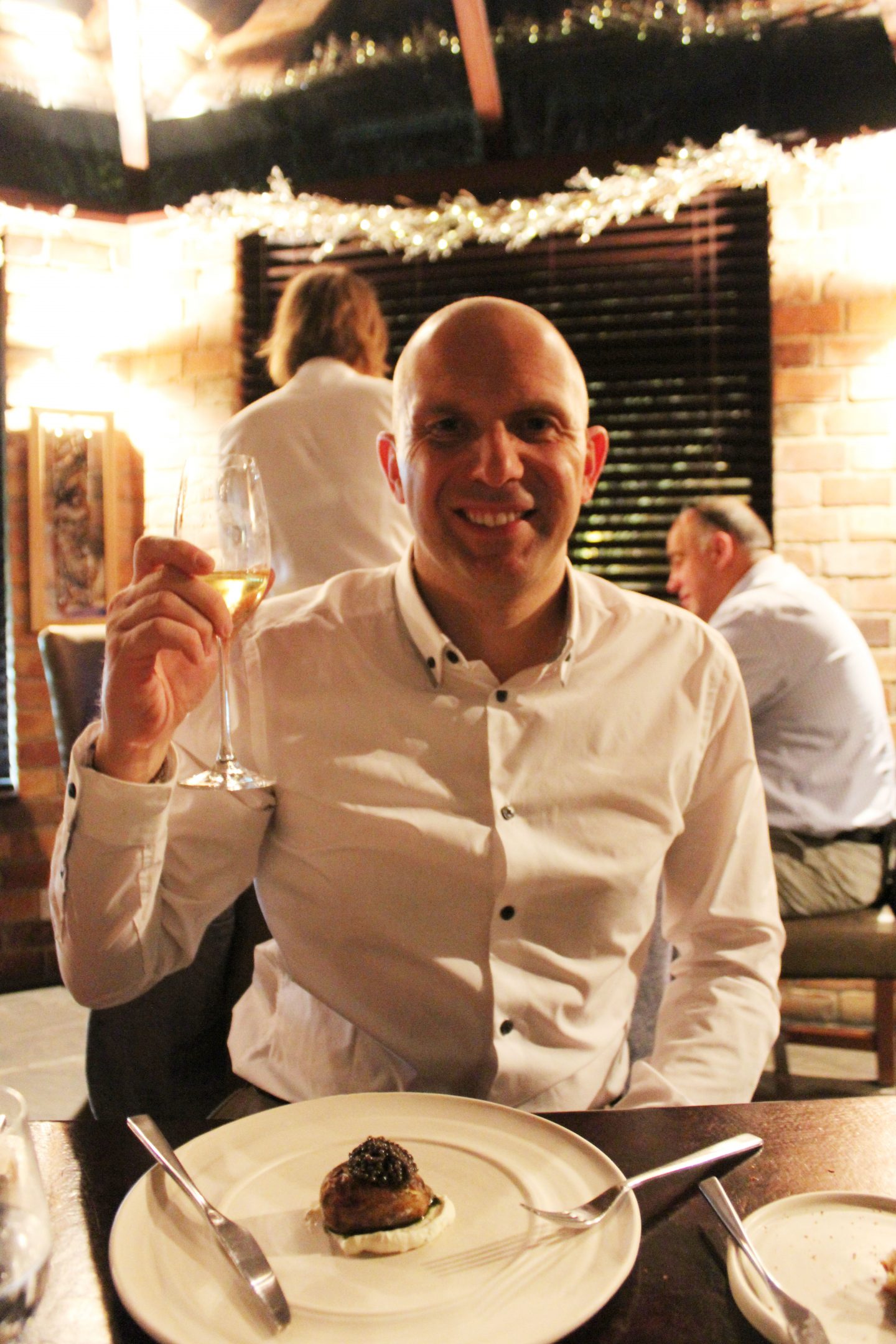 'Beef/Beets/Tuber' – the beef on the dish fell apart and melted in the mouth, working really well with the earthy flavours of the beetroot.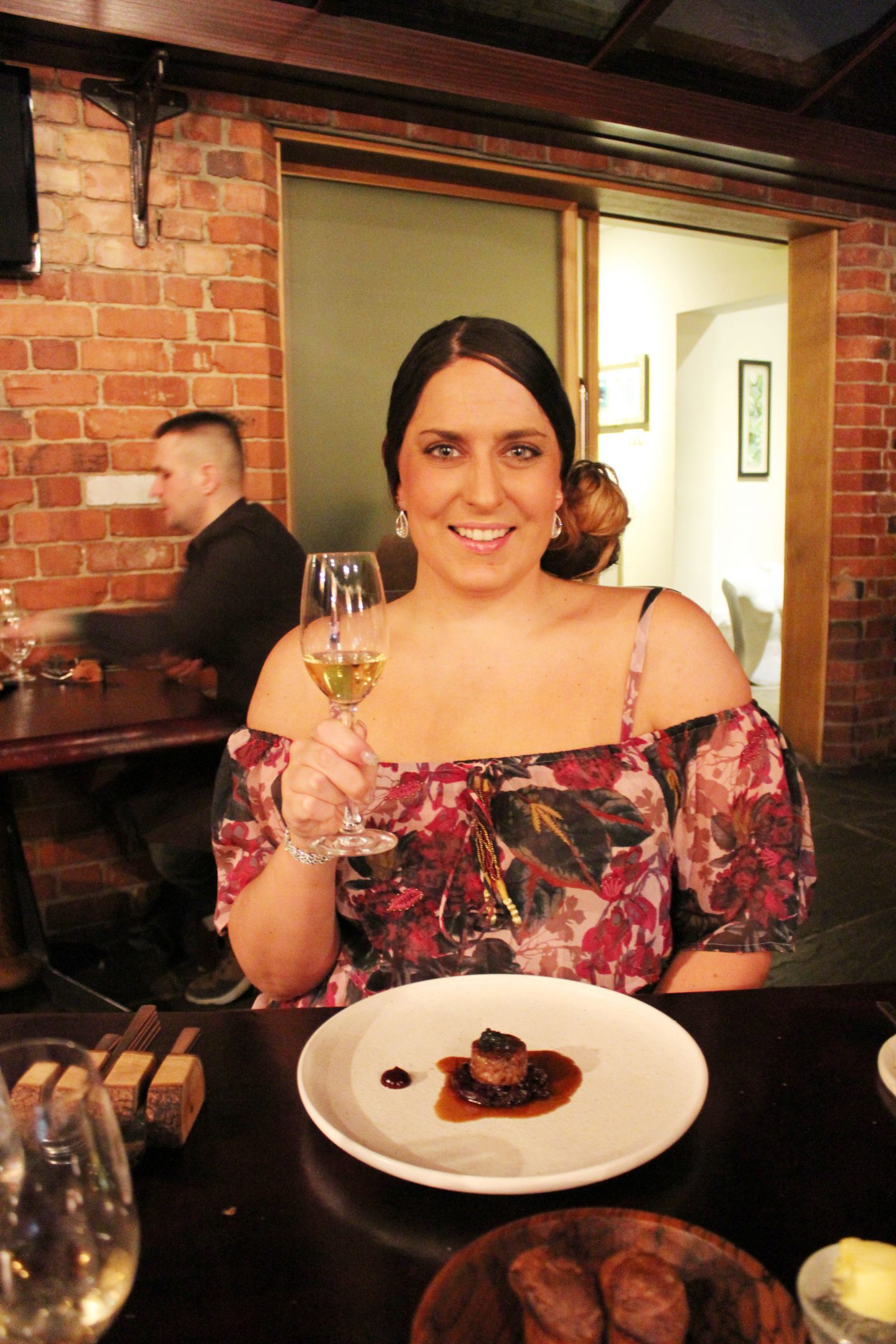 'Pot roast turnip – glasshouse herbs/chestnut/aged parmesan' – surprisingly I loved this dish! The turnip was so soft, the chestnut added a bite and all the flavours stood up against the strong parmesan.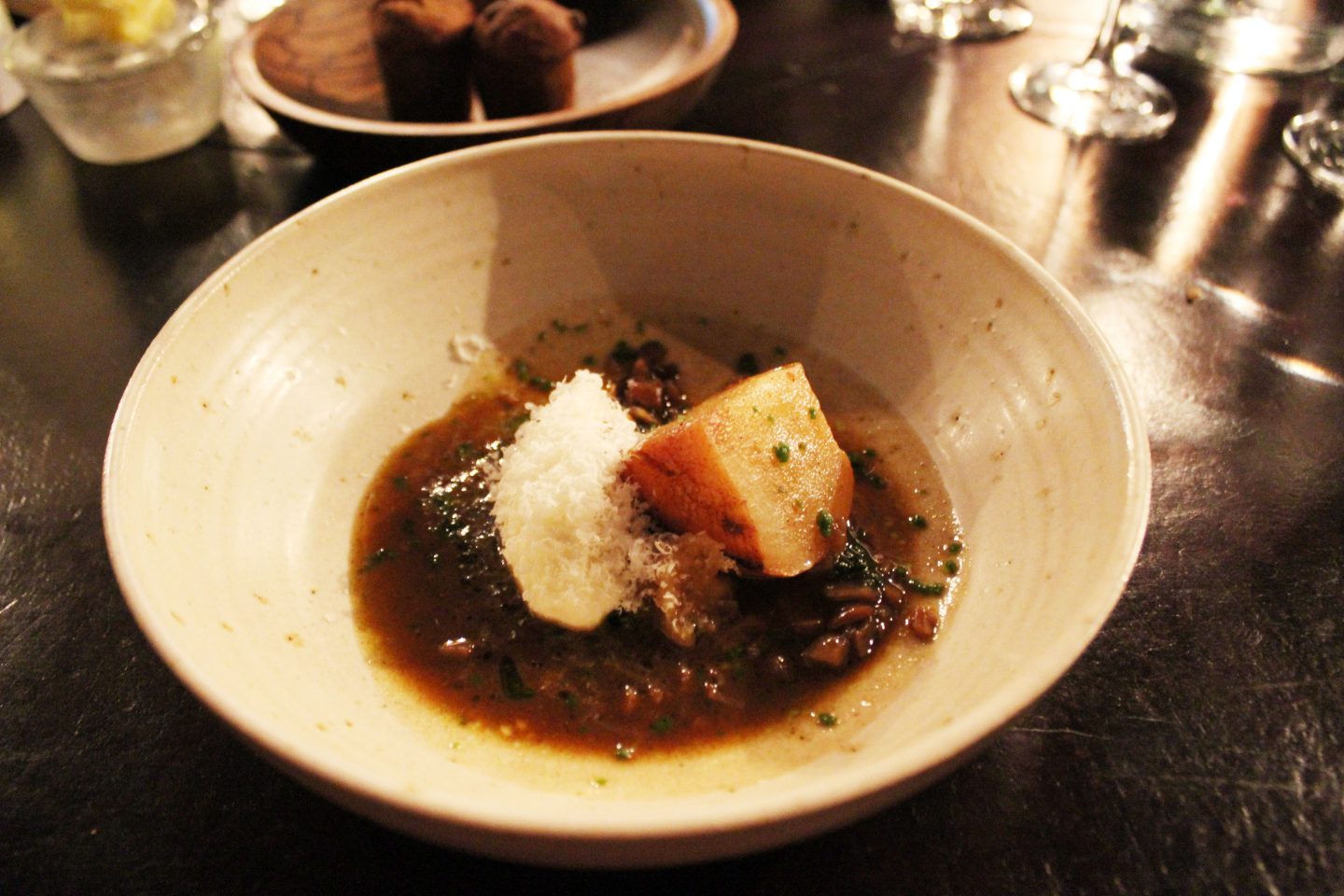 'Partridge (Paget Estate) – sprouts/kale/bacon/pie/thyme gravy' – Mr B and I both really like game meat so we were both really looking forward to the partridge dish. The meat was rich and tender and came with a mini game pie which was amazing. Who knew something so small could pack so much flavour? I could eat that dish over and over again.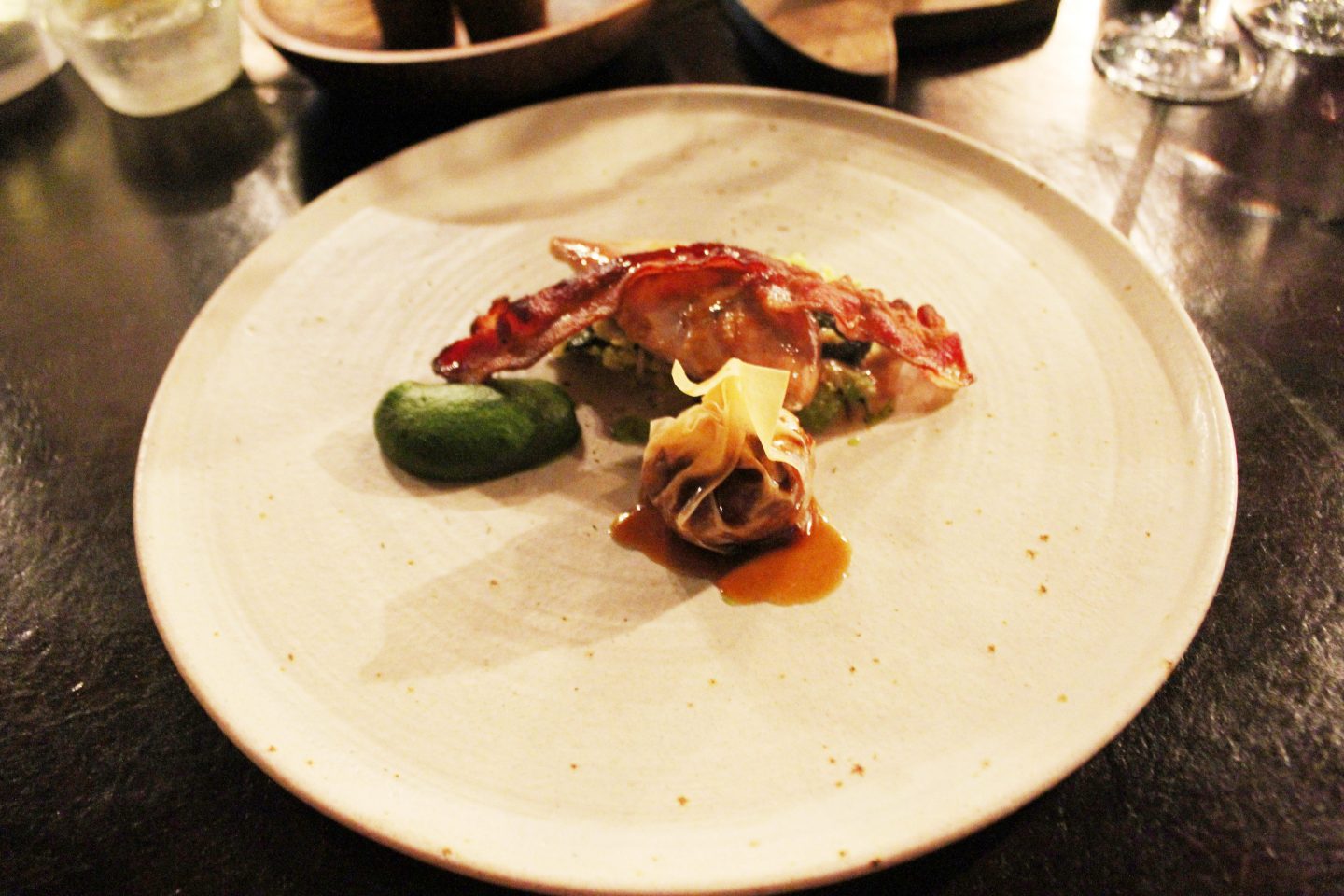 'The cheese course' was a beautiful strong blue cheese (my favourite) on top of a sweet pastry which of course worked so well.
'Crossover' was a bite-size piece of miso fudge with passion fruit gel and a single sea salt flake, which was a taste sensation being both sweet and salty!
'Tiramisu', was our first dessert. I love tiramisu so I was certain I would enjoy this dish and indeed I did. It had a light airy white chocolate base topped with rich dark chocolate and coffee which packed a kick of flavour I absolutely adored. This dessert was rich and indulgent and ticked all my sweet tooth dessert-loving boxes.
While Mr B enjoyed his 'Blueberry – burnt toast/fragrant herbs' I was presented with a popcorn and sweetcorn dish, which tasted of toffee and caramel and was an absolute delight.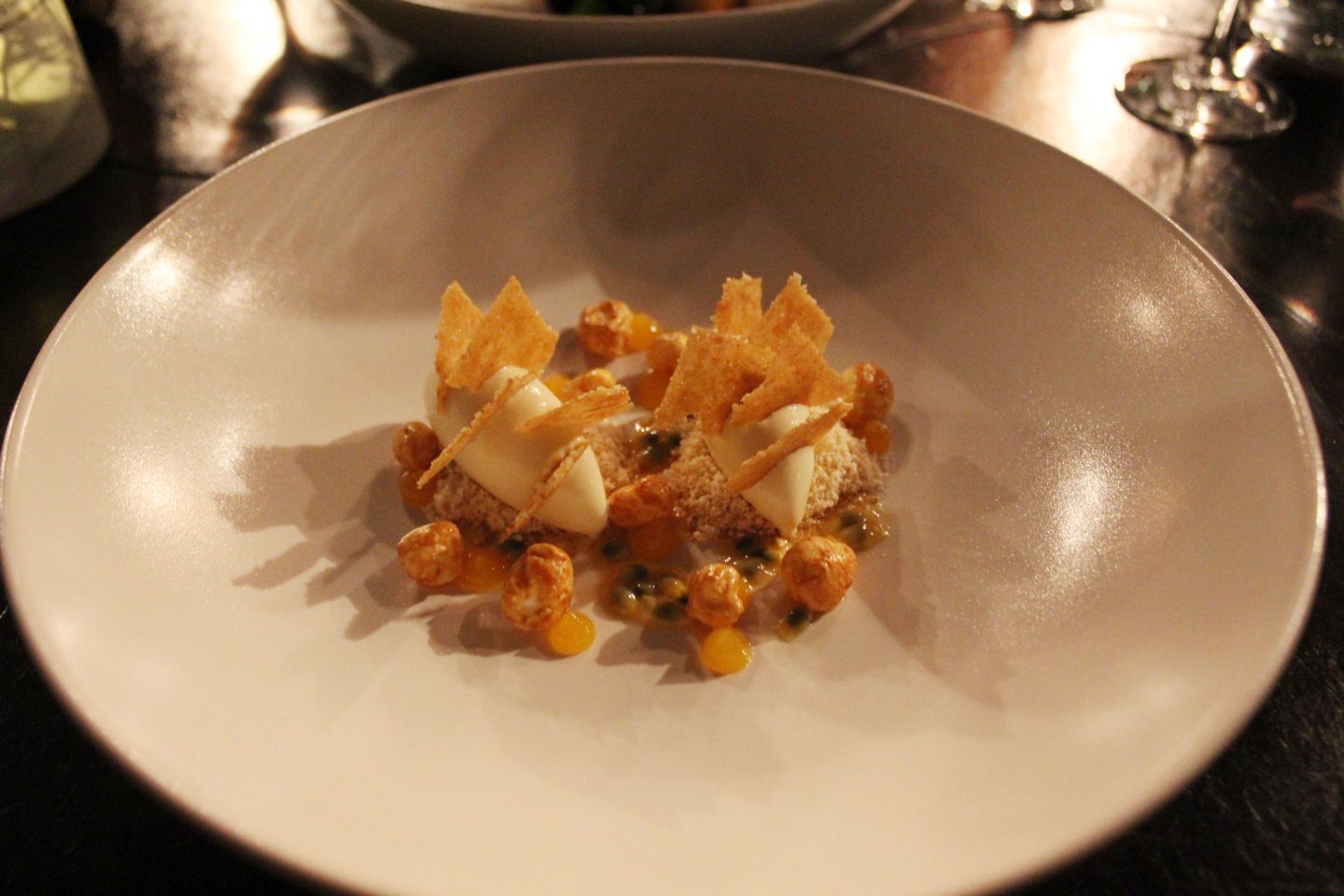 Last but not least we arrived at the 'Conclusion', which is the famous 'Thai green curry ice cream with candy floss' and hidden inside the cloud-like candy floss was a ball of ice cream. It sounds so wrong but tasted so so right! As it was the day before Christmas Eve we were also given the additional taster of a mince pie cone. As lovers of mince pies and Christmas treats this was a lovely surprise which Mr B and I happily devoured!
After waking up next morning and realising the amazing meal we had the night before was not in fact a dream, we were very excited about what breakfast had to offer.
Breakfast is broken up into two sections  . . . 'the starter' and 'the main'. While you are looking at the menu you are given homemade toast and . . . wait for it . . . homemade crumpets! Oh my, why I have never had homemade crumpets before I do not know! After stuffing our faces with carbs our starter arrived, with both Mr B and I choosing porridge with local honey, which was so creamy and smooth – delicious!
There were so many breakfast choices including my top two . . . smoked salmon and scrambled eggs and eggs benedict! However I had read lots of reviews about one particular dish which had also been recommended to us the night before so we both opted for chorizo and eggs and boy am I glad we did! With a kick from the chorizo and the velvety egg yolks it was a very indulgent dish. A perfect breakfast to finish off our perfect stay!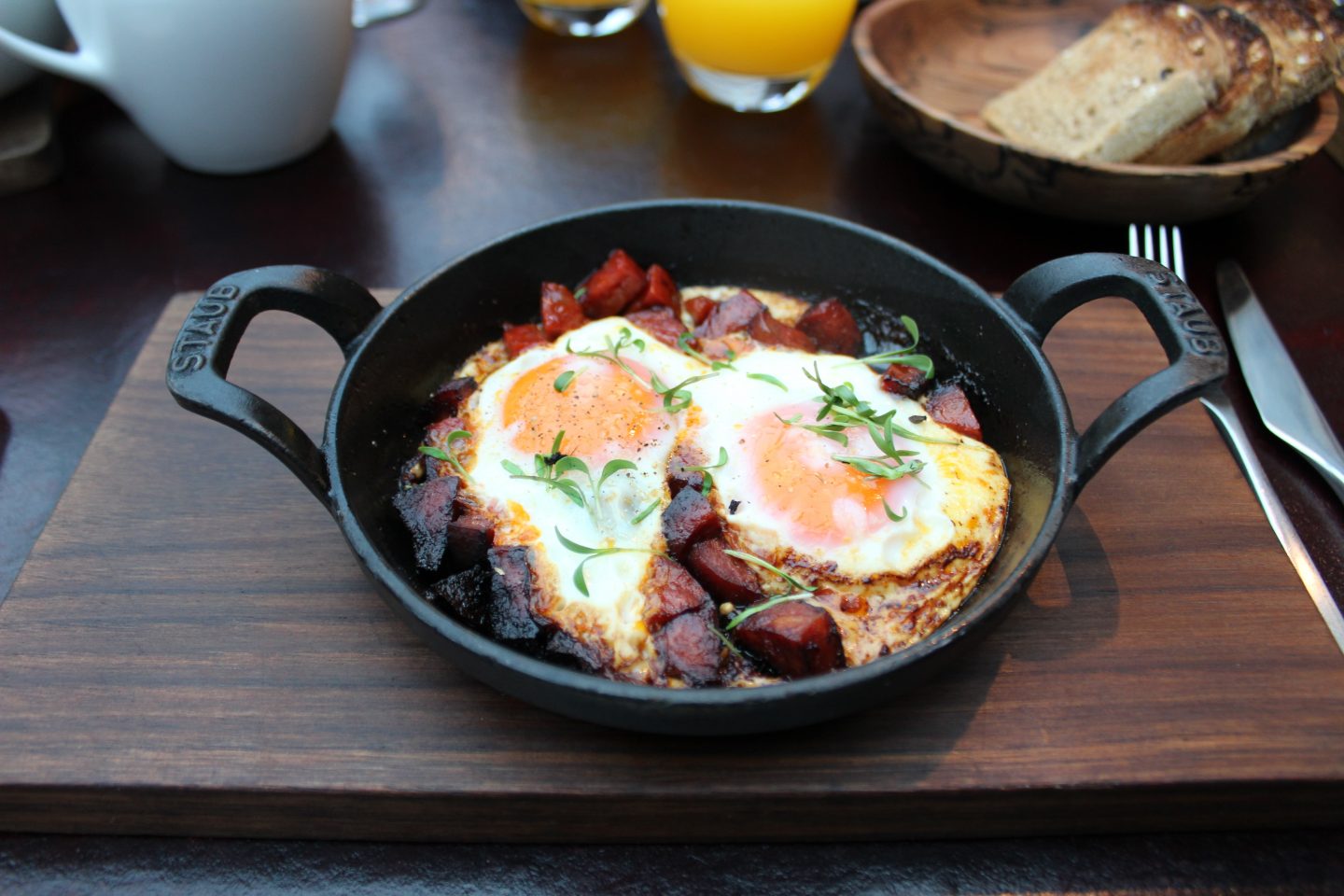 As I'm sure you can tell, I loved every minute and really cannot fault it in any way. I have to mention that during our stay every single member of staff we came across were so friendly and chatty. They have a great team Sat Bains and you can see they are all very passionate about their jobs.
I'm just waiting for another special occasion to come round now so we have an 'excuse' to go back.
http://www.restaurantsatbains.com/
Lenton Ln, Nottingham NG7 2SA
0115 986 6566