Belvoir Castle is well-known and even if you haven't been you may have seen it on screen in The Crown. But did you know located in the grounds of Belvoir Castle is The Engine Yard, a retail village which is home to a host of beautiful independent shops ranging from a toy shop, deli, farm shop, butchers, chocolate shop, and a jewellers to name just a few?
On a beautiful sunny Saturday we took a very picturesque drive through the countryside to spend the evening at The Engine Yard's newest addition, The Fuel Tank Brasserie.
We started our evening in another of The Engine Yard's hidden gems, The Balloon Bar. As you first walk into this beautiful cocktail bar you will be wowed by the stunning interiors. It was like walking into an enchanted forest with the greenery, rich colours, neon signs, pretty floral prints and, fitting to the name, hot air balloons suspended from the ceiling.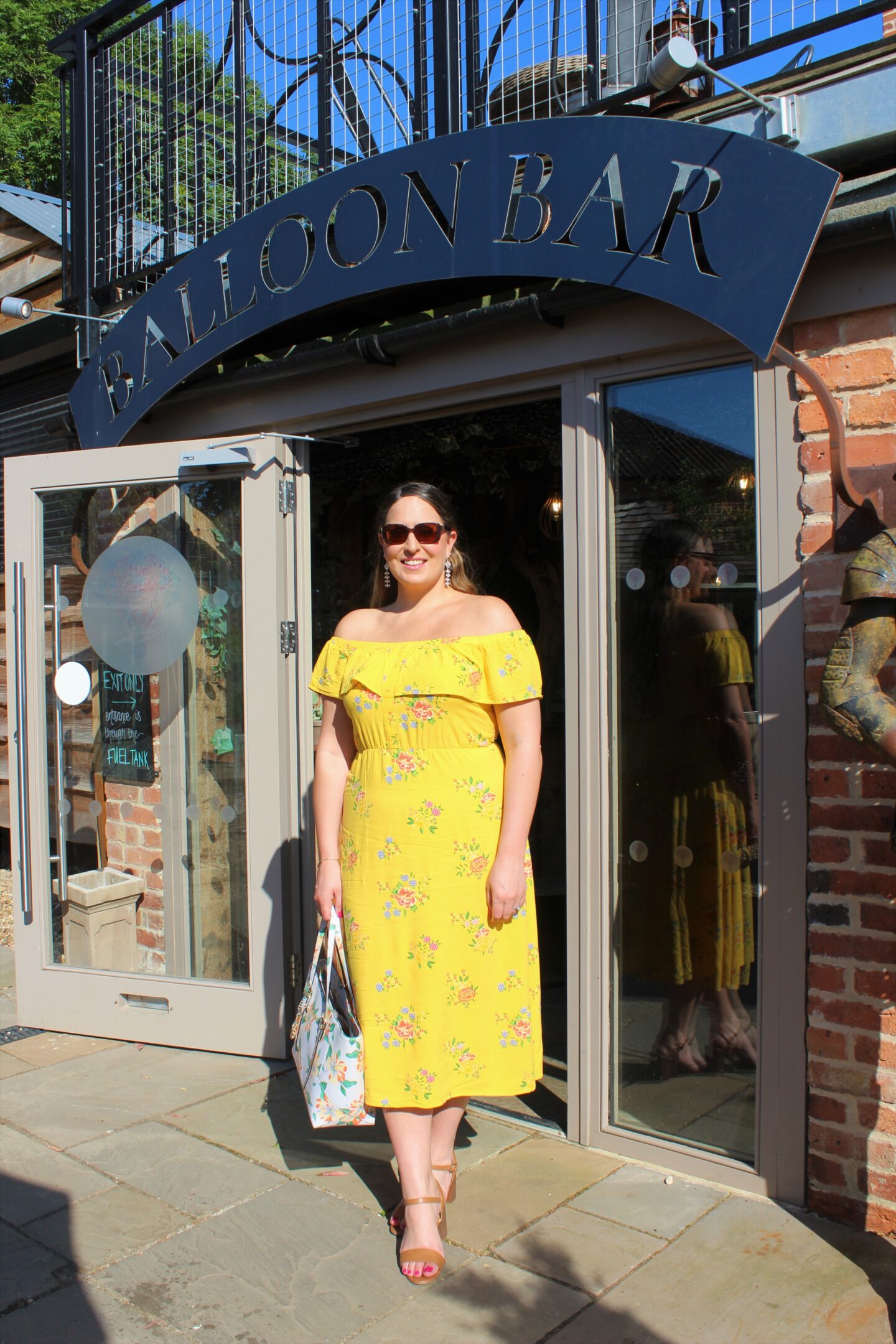 After being welcomed inside and shown to our booth we couldn't wait to browse the cocktail menu. It had a good selection of specially-created cocktails and traditional ones.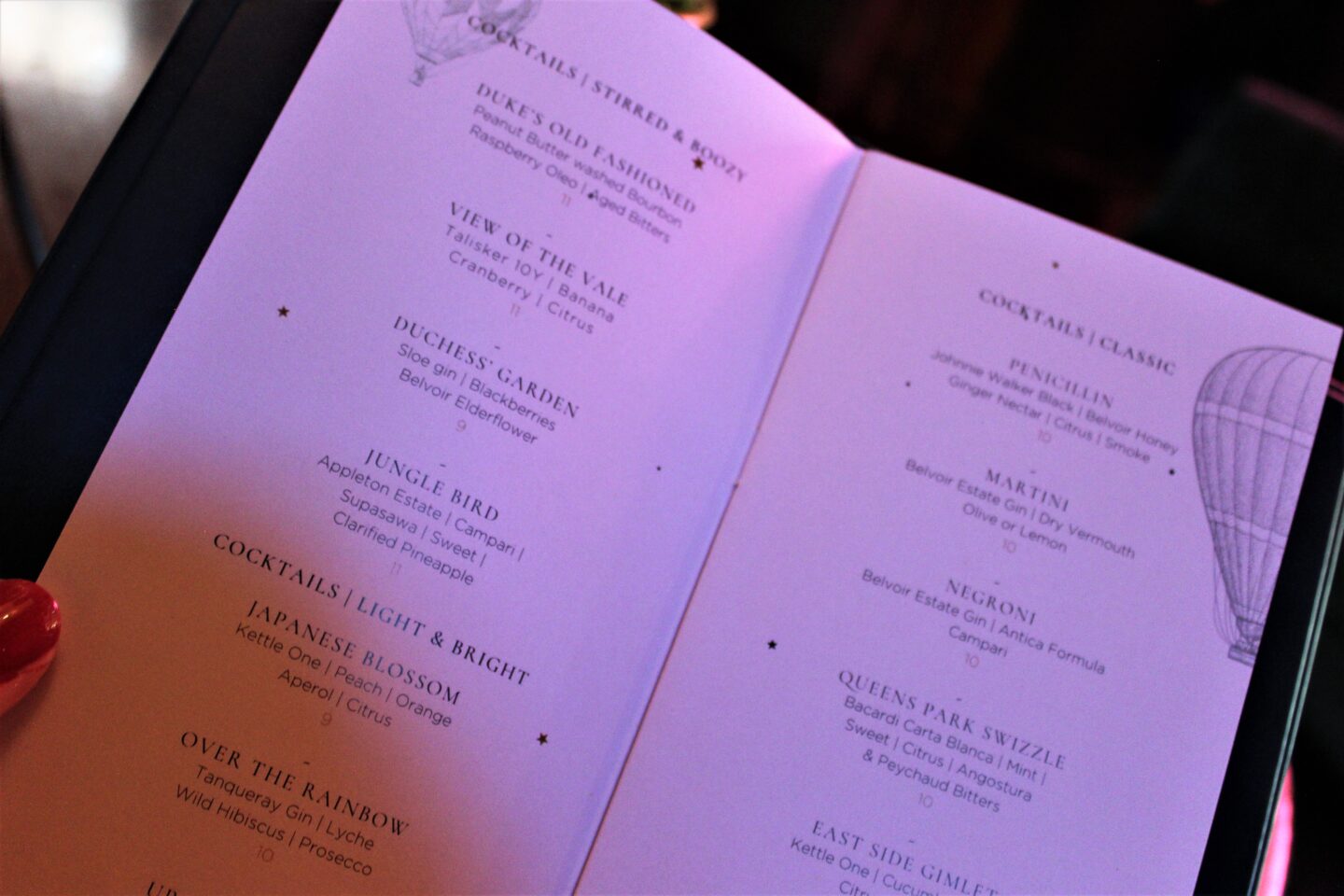 I asked for a recommendation and went with the Japanese Blossom which was made with Kettle One vodka, Peach, Orange Aperol and Citrus. It was a lovely light cocktail, really refreshing with the citrus fruit notes and smooth due to the vodka. Mr B opted for the Duchess' Garden which contained sloe gin, blackberries and Belvoir elderflower. It packed a real punch and had a good balance of sweet and tart form the blackberries.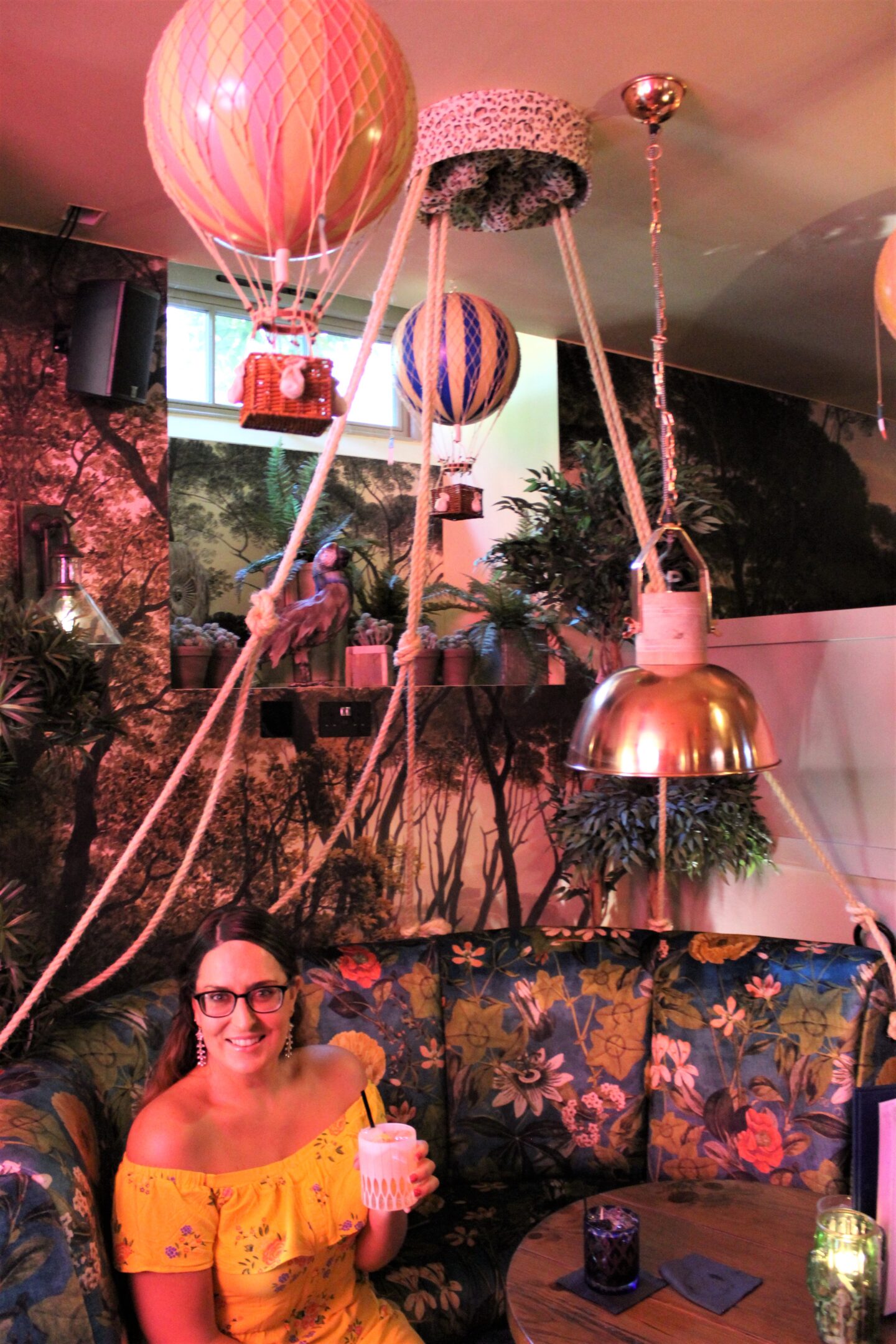 Very pleased with our cocktail choices, we were kindly offered water and were then left to sit back, relax and enjoy our well-made cocktails.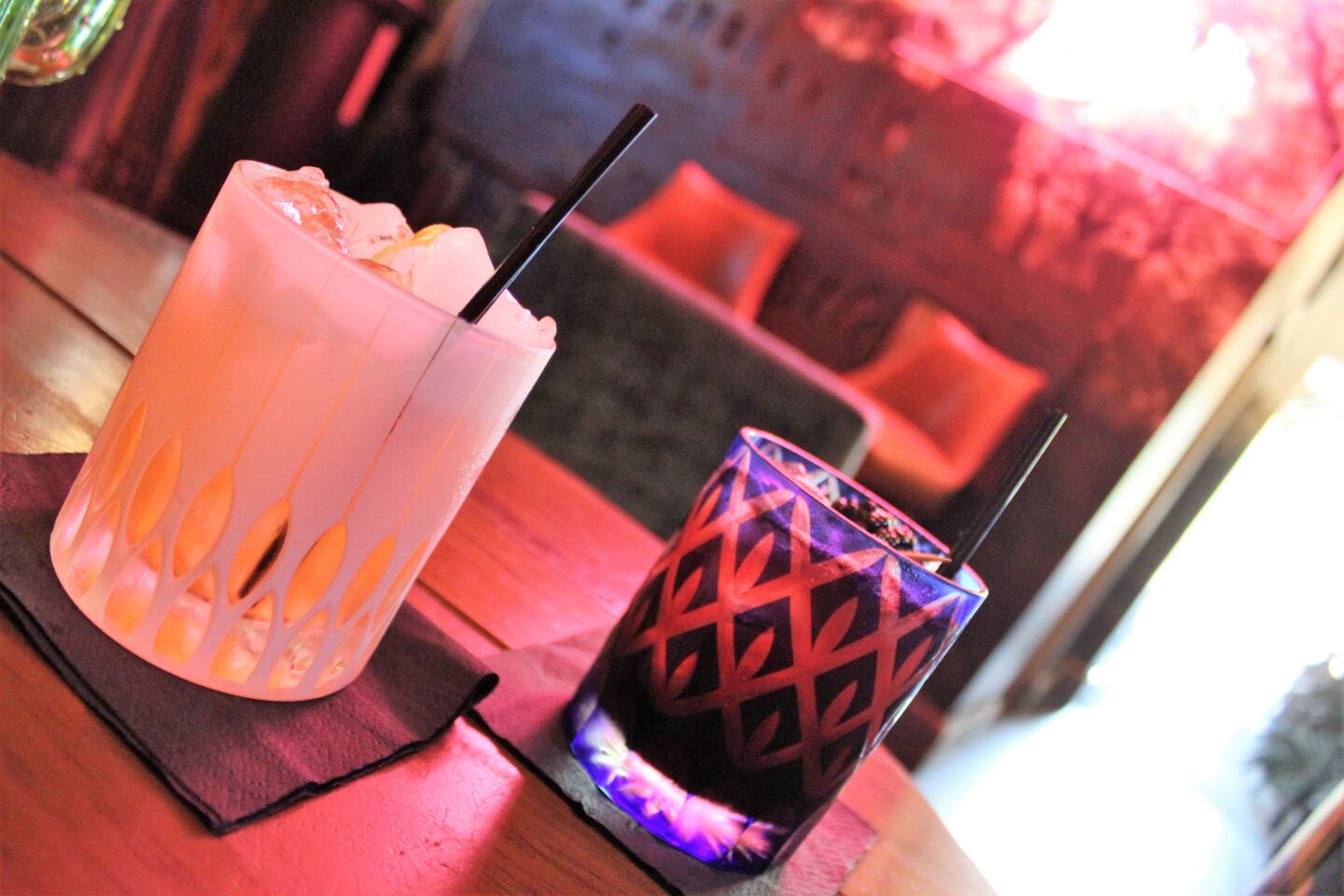 With both our bellies rumbling we headed upstairs to The Fuel Tank. Again, we commented to each other on the interiors of the restaurant – high ceilings with beautiful wooden beams, lovely big windows filling the room with natural light and pops of bright colours.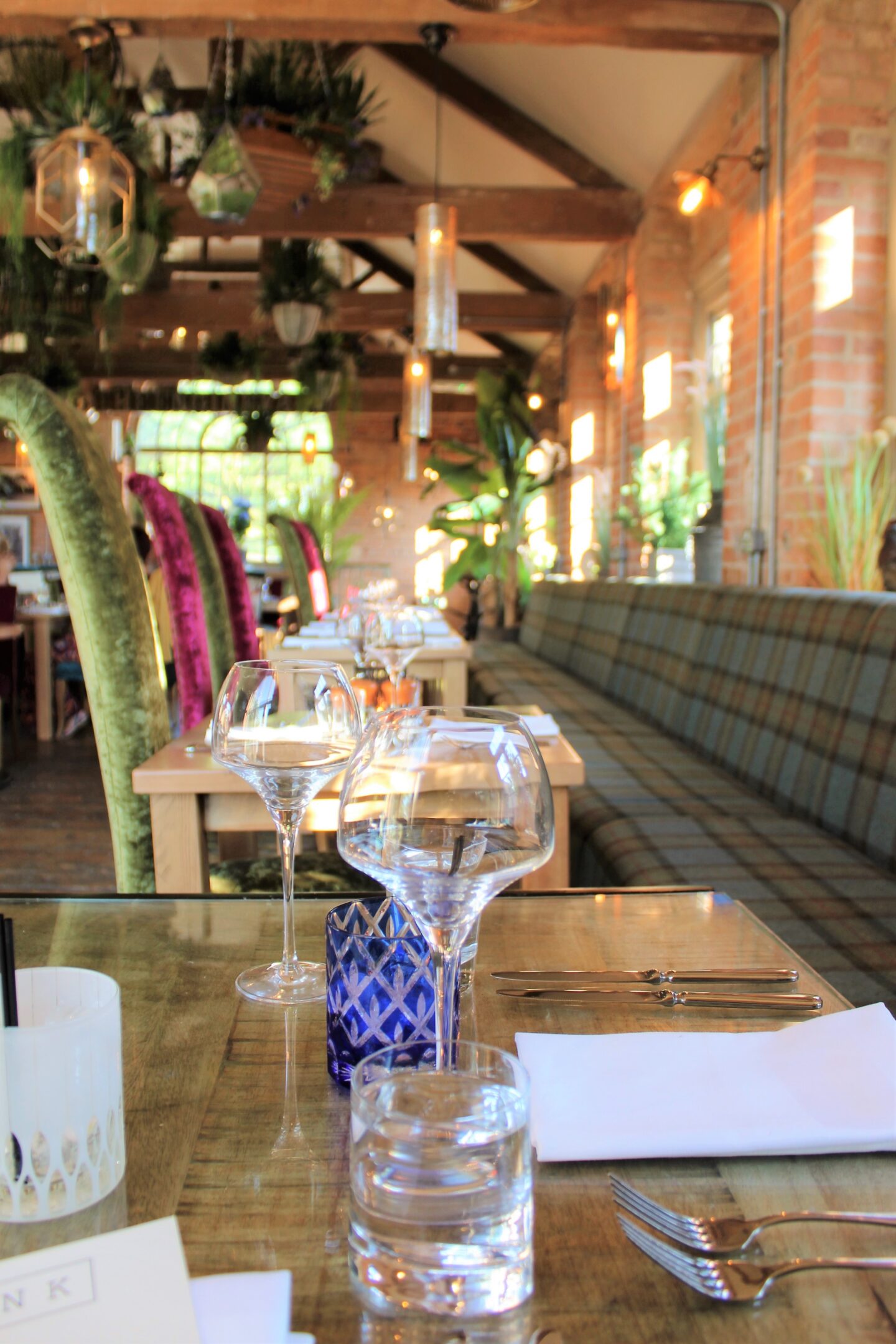 Making ourselves comfortable at our table, we could not wait to peruse the menu and see what was on offer.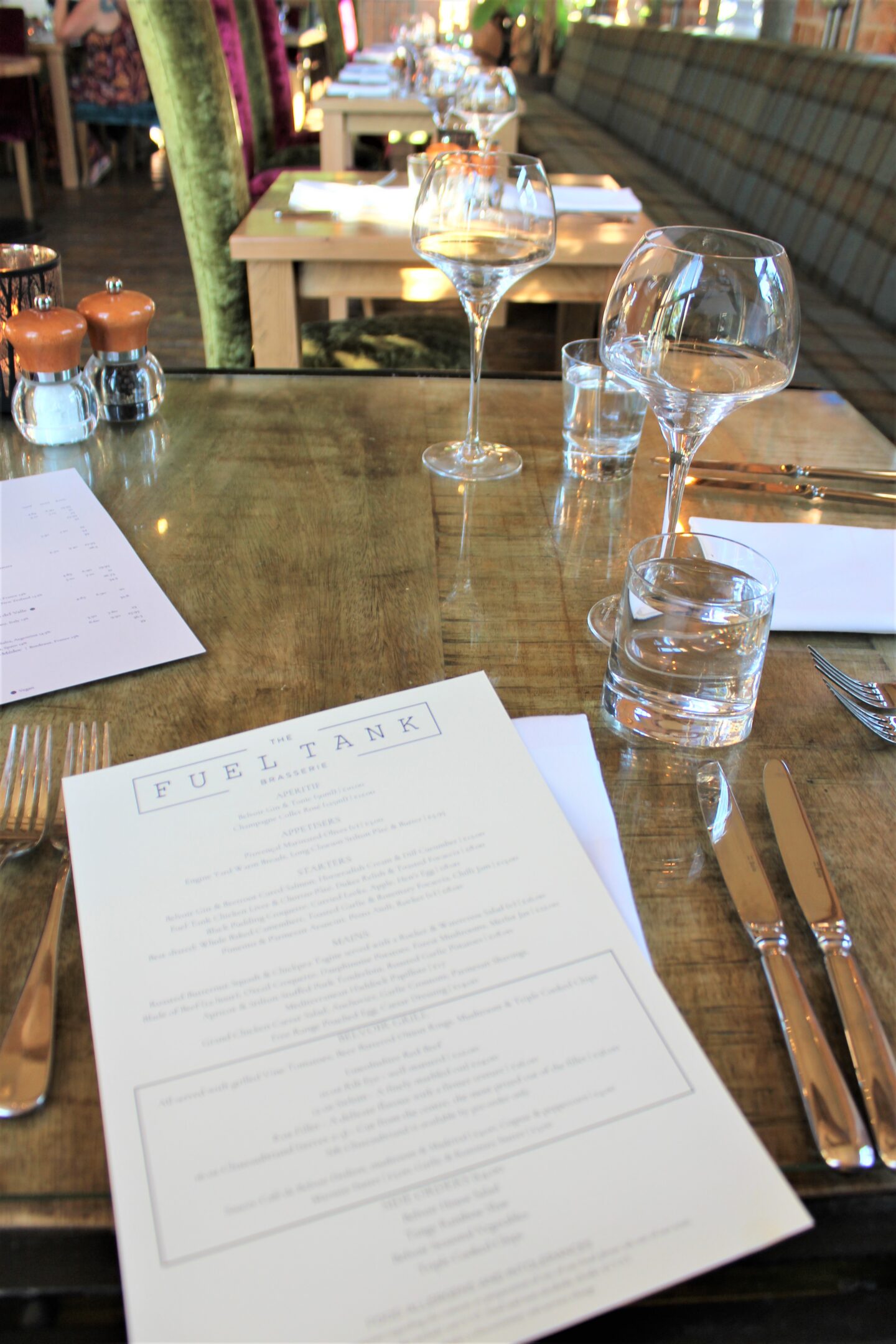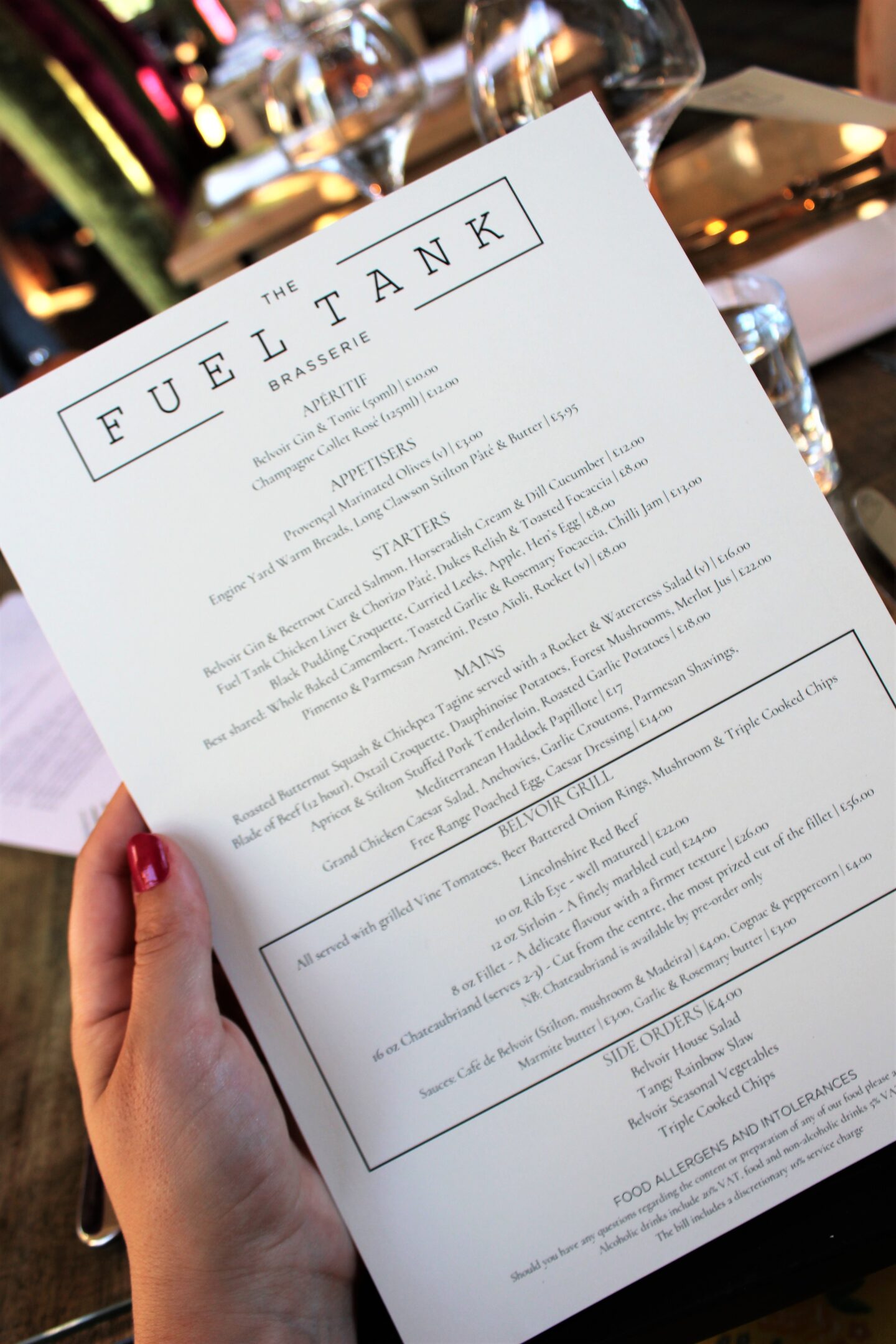 We decided to enjoy a bottle of wine with our meal and chose the Antina Tempranillo Cabernet Sauvignon Tierra de Castilla 2018, a nice smooth and fruity red which we thought would work well with both our meal choices.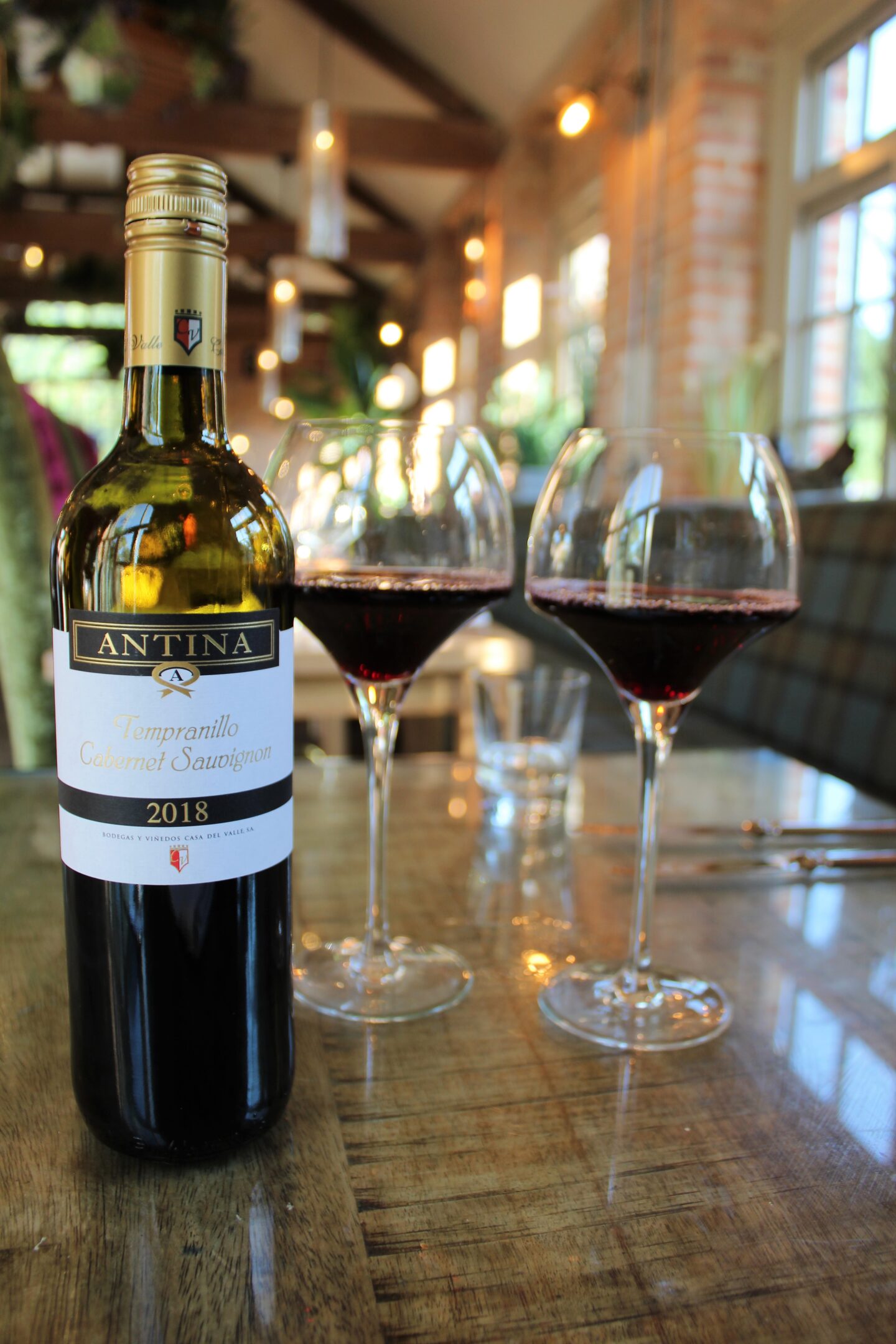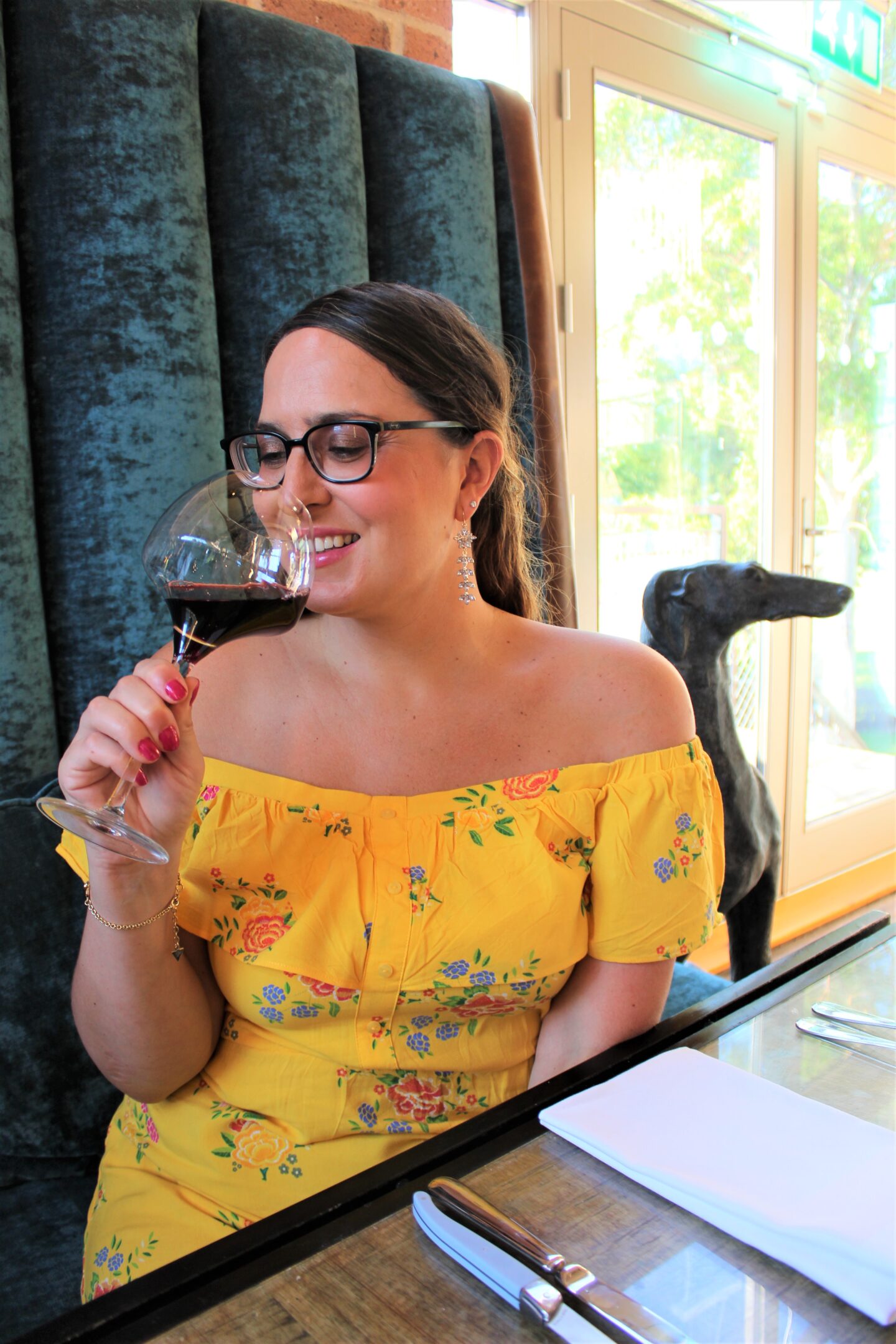 We were very tempted by the sharing starter of whole baked Camembert with toasted garlic and rosemary focaccia, and chilli jam. We saw another table enjoying this and it looked scrumptious! But in the end I opted for the 'Pimento & Parmesan Arancini, Pesto Aïoli, Rocket'. Ever since first sampling arancini in Italy, I have been a huge fan and as soon as these were placed in front of me I knew I had made the right choice.
They looked so appetizing – I could not wait to dive in! The arancini had a beautiful crunchy exterior and were full of well-cooked cheesy risotto with hints of sweetness from the pimento, a peppery hit from the rocket and smothered with the lovely vibrant fresh pesto aioli, these were very delicious indeed.
Mr B ordered the 'Belvoir Gin & Beetroot Cured Salmon, Horseradish Cream & Dill Cucumber' – this was my second choice of starter as I always love cured salmon. The salmon was definitely the star of the plate – there were four very generous slices and it had such a beautiful fresh taste. A hint of earthiness from the beetroot and the other flavours on the plate very much complemented the salmon and didn't overpower. From the fresh dill, wedge of lemon, the punchy horseradish cream and classic cucumber, everything on the plate just worked so well.
For my main course I chose, in my opinion, the king of steaks, an 8oz Fillet, cooked rare with a cognac and peppercorn sauce accompanied with grilled vine tomatoes, beer battered onion rings, mushroom and triple-cooked chips. It was a plate of perfection! When I order such a quality piece of meat I always think anything but perfection would be an insult to the steak! A good steak is one which is treated with love and care, seared on the outside, cooked as requested and well-rested. It is a thing of beauty and this was just that.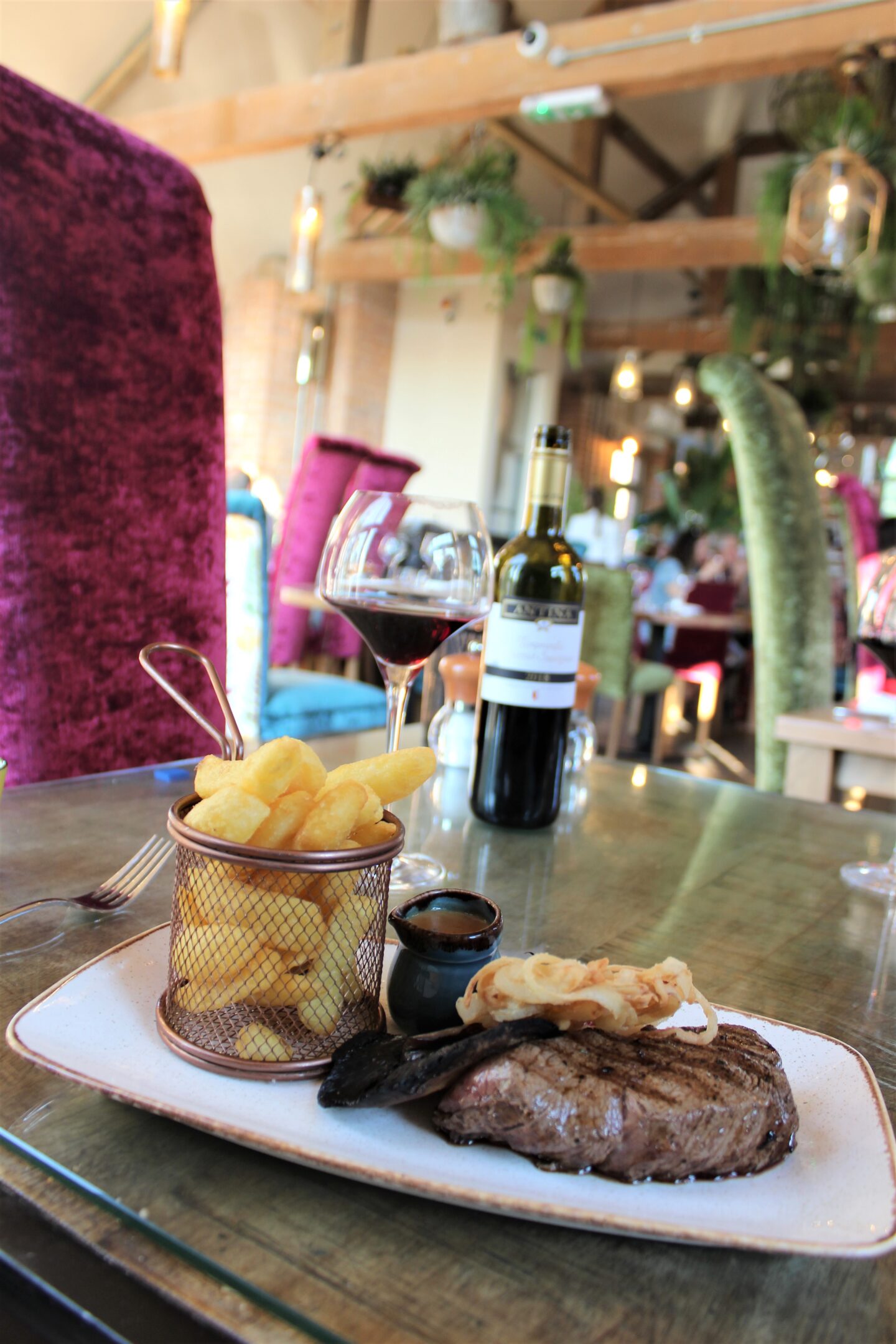 My fillet was divine – my steak knife went through it like butter! A perfect texture and full of flavour, I could not have been happier. The cognac and peppercorn sauce was rich and had a lovely shine to it, as all good sauces should. The large field mushroom still retained its texture, the onions added a fun alternative to the traditional onion ring and were lovely and crisp and the chips, oh the chips! They were superb, crunchy on the outside and so fluffy on the inside. Mr B did have to steal more than one as they were so good!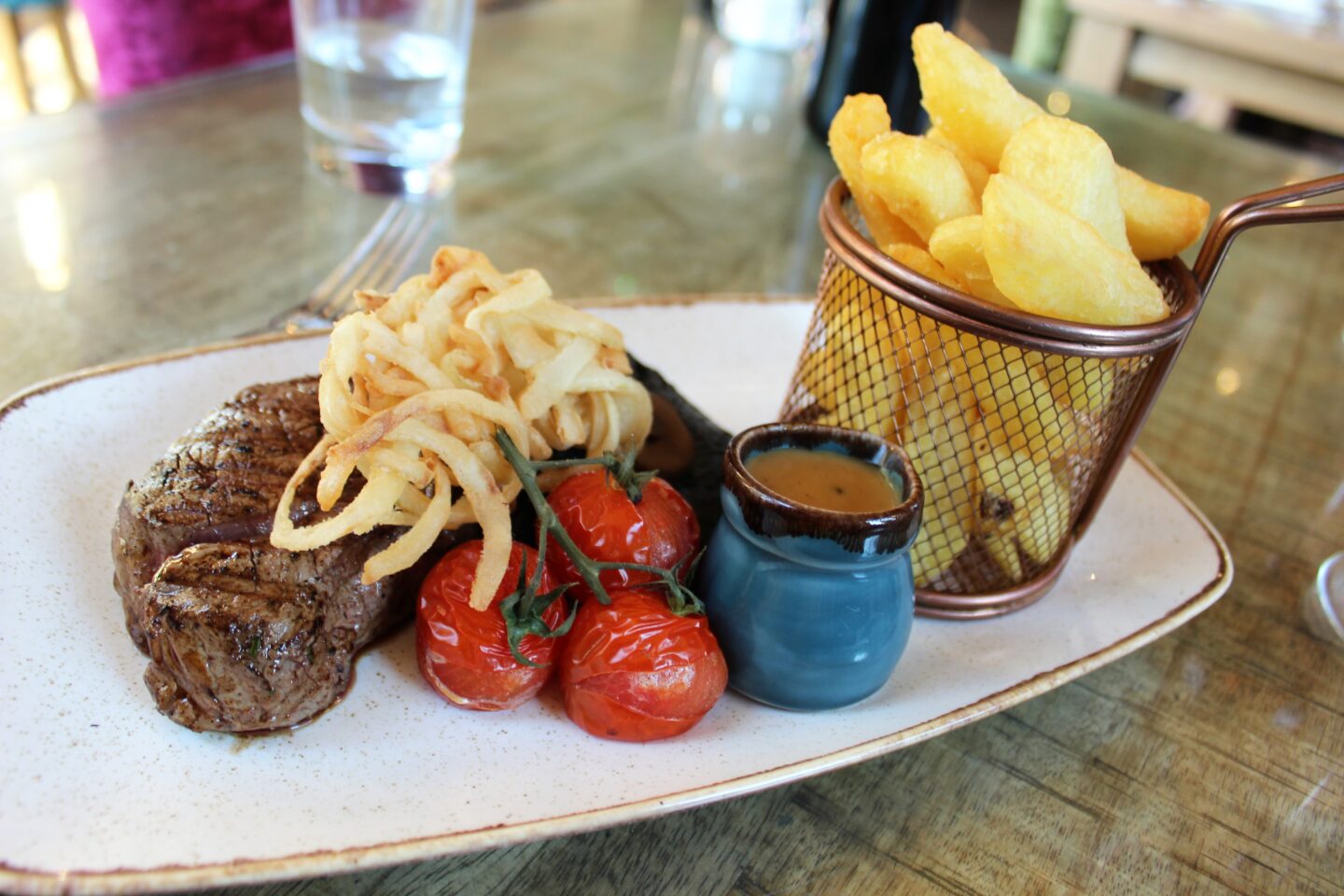 Mr B's main course was the 'Blade of Beef (12-hour), Oxtail Croquette, Dauphinoise Potatoes, Forest Mushrooms, Merlot Jus', Mr B was making yummy noises just as I was as the blade of beef fell apart with the lightest touch of the knife, the lovely croquette perfectly crisp on the outside and full of soft, moist delicious meat with the creamy rich dauphinoise, earthy mushrooms and lovely rich jus. It was a perfect plate and utterly delicious!
As always, we had room for dessert!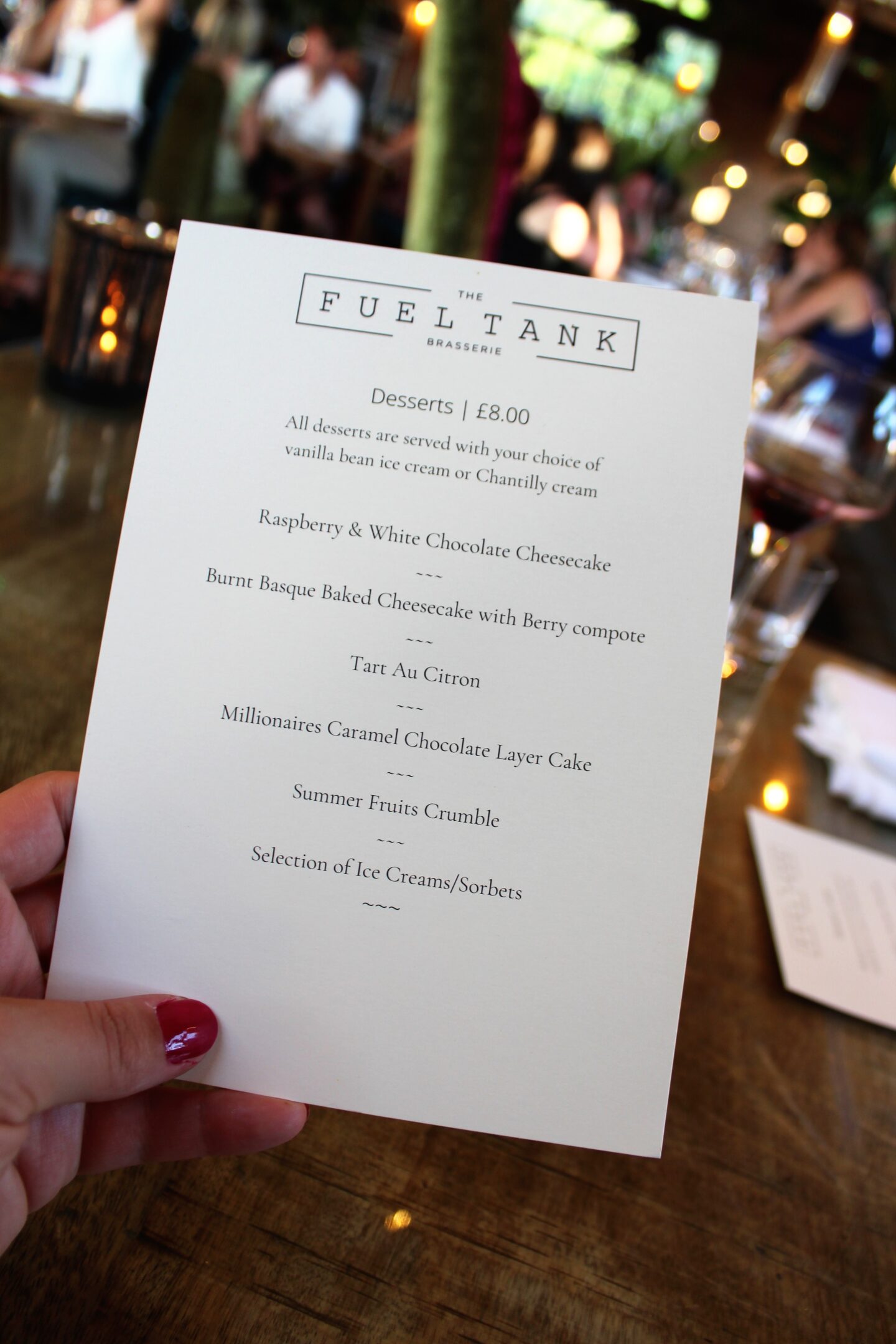 For me it was the 'Millionaires caramel chocolate layer cake'. This dessert didn't look pretty as a picture, but the taste certainly made up for the appearance. Digging in with my spoon, it oozed with rich, sweet caramel, it was packed with umptious chocolate and delivered 100 per cent on what my sweet tooth was craving.
Mr B went with the classic 'Tart Au Citron'. The thin buttery pastry had a lovely lemony, tart filling, just tart enough with a lovely sweetness, with a generous scoop of vanilla bean ice cream it was a very lovely refreshing and light dessert.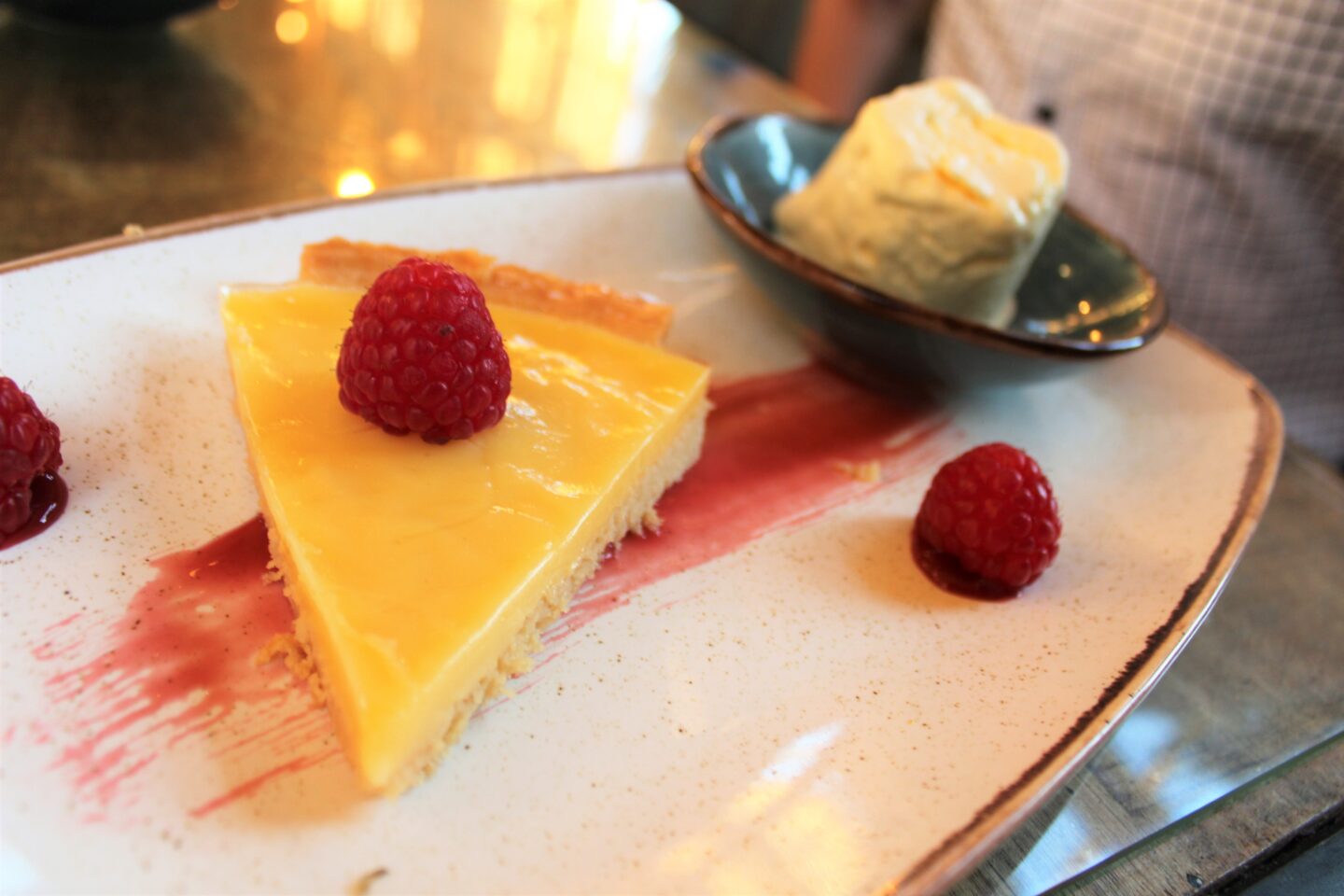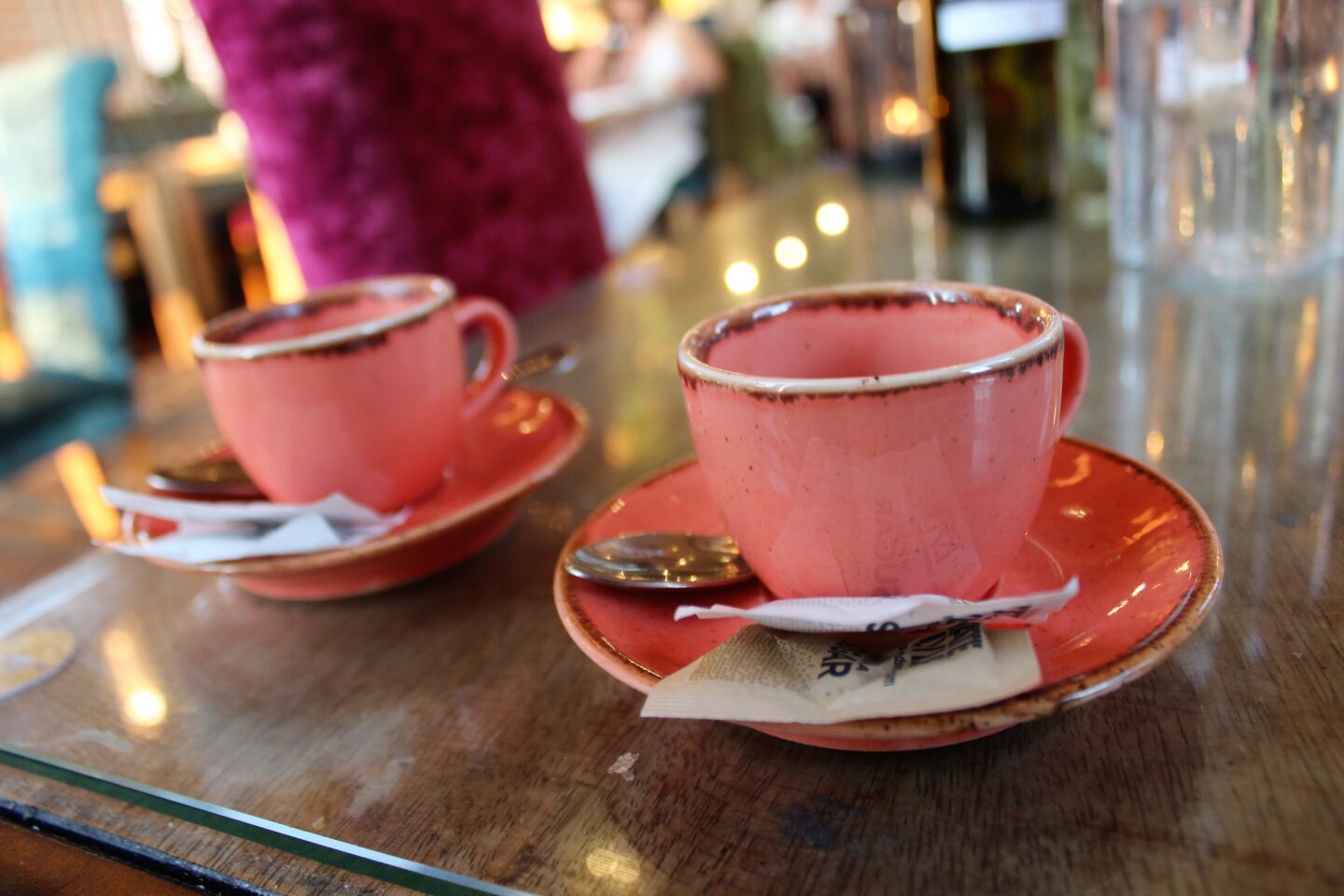 Finishing off our meal with a quality espresso and full bellies, we agreed that this unique destination with its independent shops, delicious food and beautiful surroundings, is a place everyone will be taking a drive out to enjoy.
And to make our night even more dreamy, when we finished our meal we watched the sunset on the veranda of the restaurant, a perfect end to a perfect night.
My meal was complimentary but as always all opinions are my own and honest.