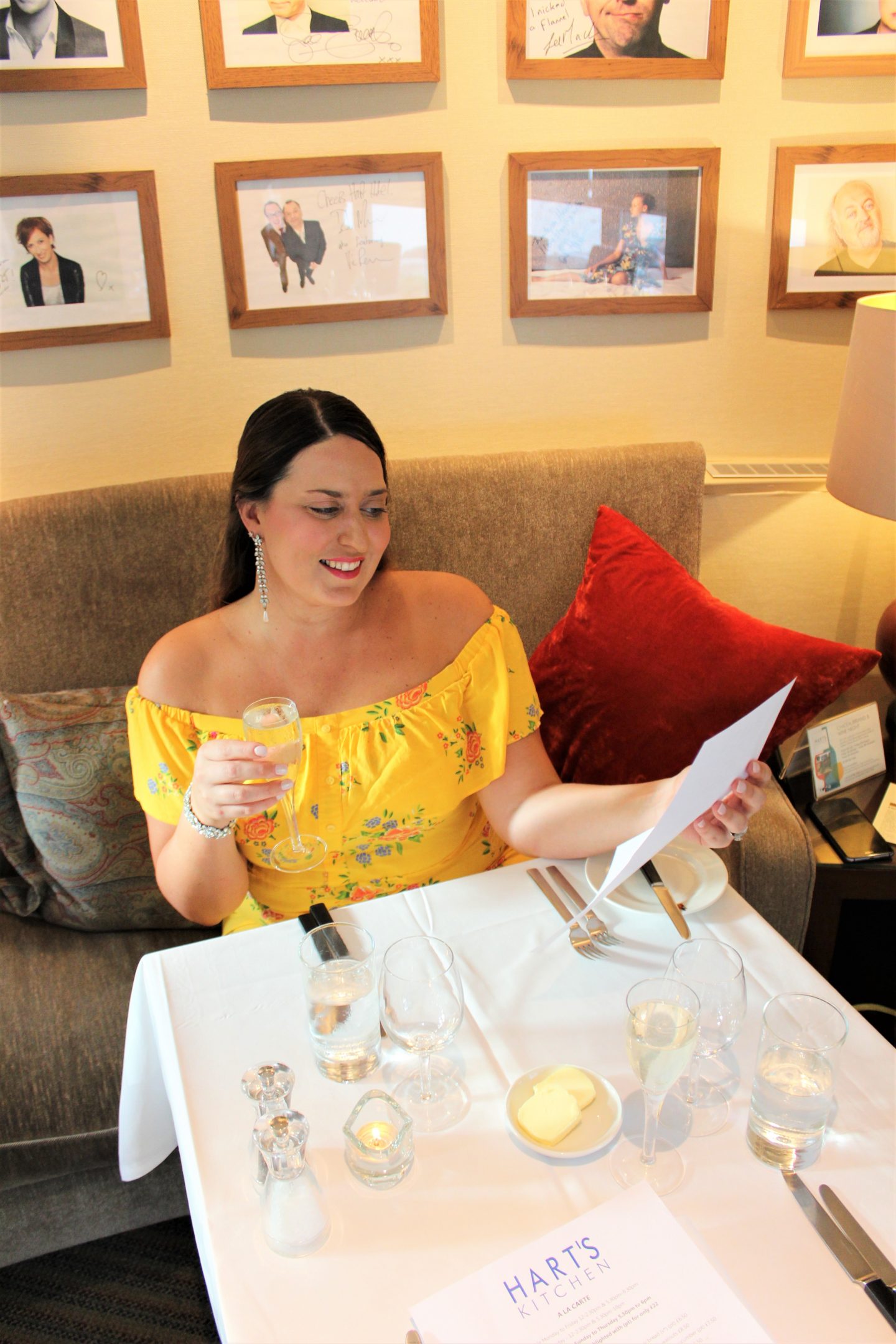 Hart's Hotel in Nottingham is an award-winning boutique hotel that has been open for over 16 years. But did you know it is now home to a beautiful little restaurant called Hart's Kitchen? And I will let you into a secret . . . you don't have to stay at the hotel to eat at the restaurant!
On a sunny Saturday evening Mr B and I made our way to the restaurant with high expectations and empty tummies!
The light and open dining area has a small number of tables that are spaced nicely apart. I really dislike it when tables are crammed in next to each other and you can hear the conversation at the next table!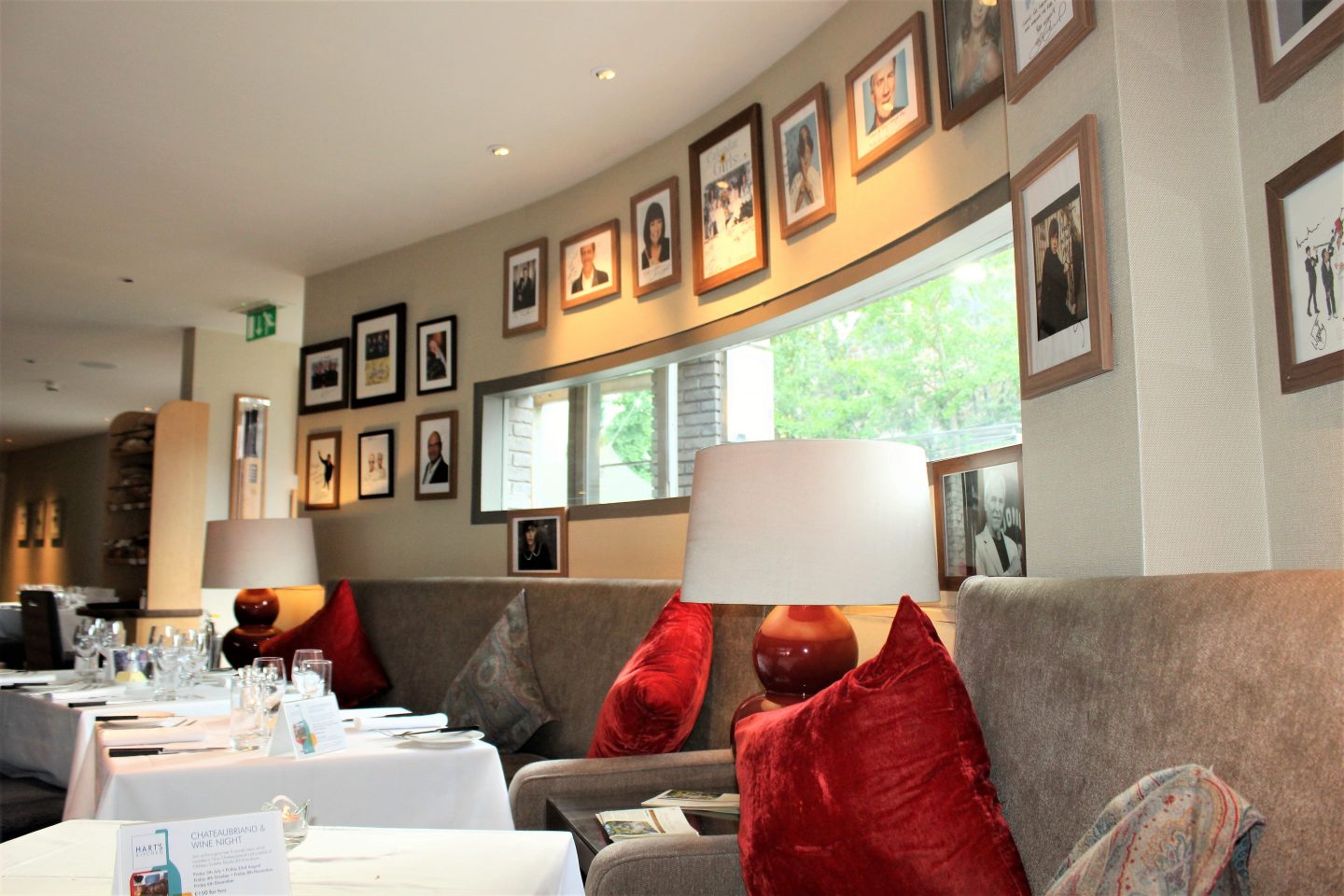 We started the evening with a perfectly chilled glass of prosecco while looking at the menu which for me was the perfect size – four options of both starters and mains and a special of each which was explained to us by our lovely server.
For starter I opted for the 'Hen-of-the-wood mushrooms on sourdough with goats curd'. I love mushrooms and you don't often see hen-of-the-wood on a menu. It's a mushroom that grows in a clump and has a lovely meaty texture, the goats curd added a great tang to the dish and with the added crunch from the sourdough, it was a delicious starter.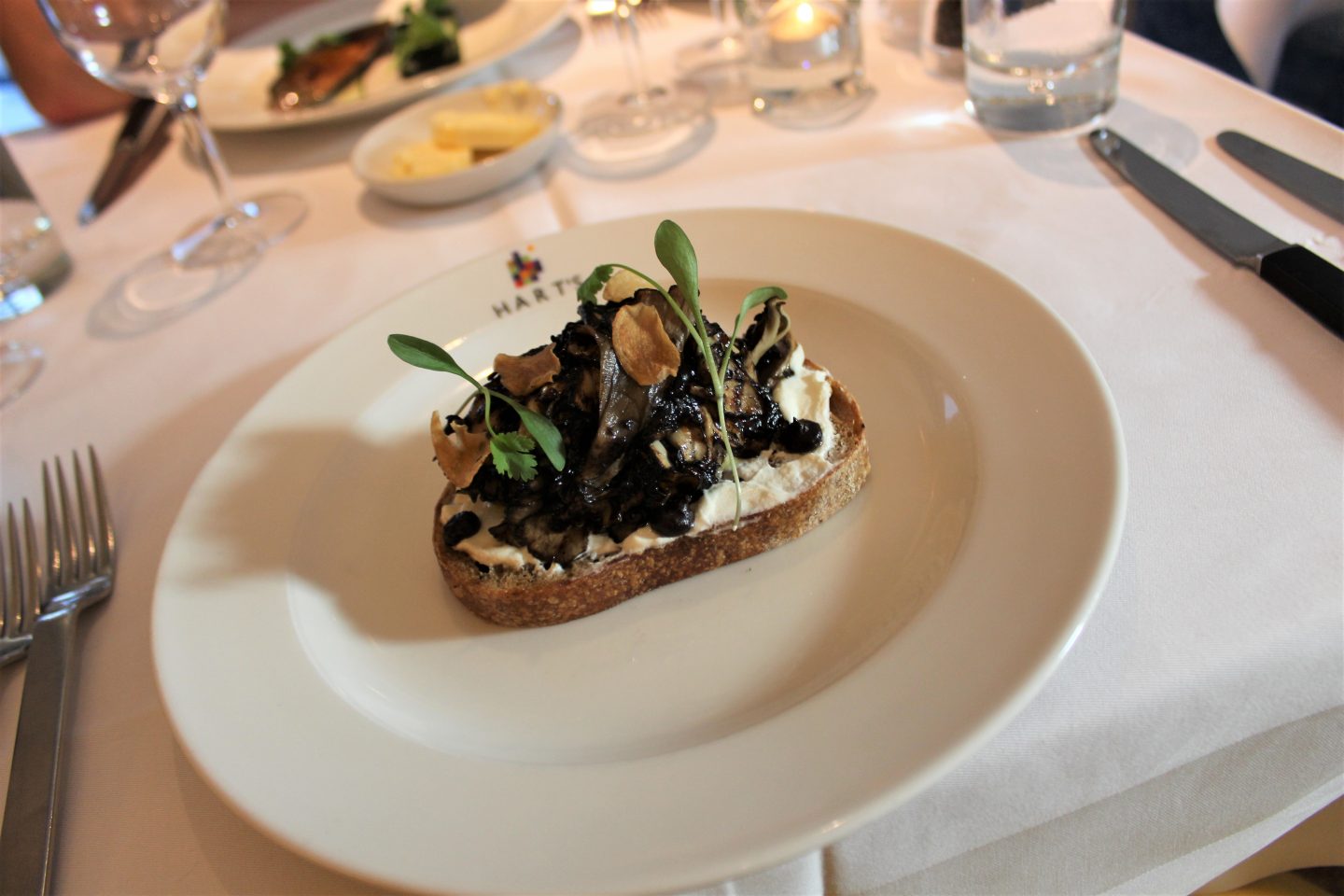 Mr B's choice of starter was a no-brainer. He loves mackerel so opted for the 'Soy glazed Mackerel fillet, horseradish crème fraiche, compressed and burnt cucumber'. The slightly sweet soy glaze worked well with the salty mackerel with the cucumber being a classic pairing that we all know goes well.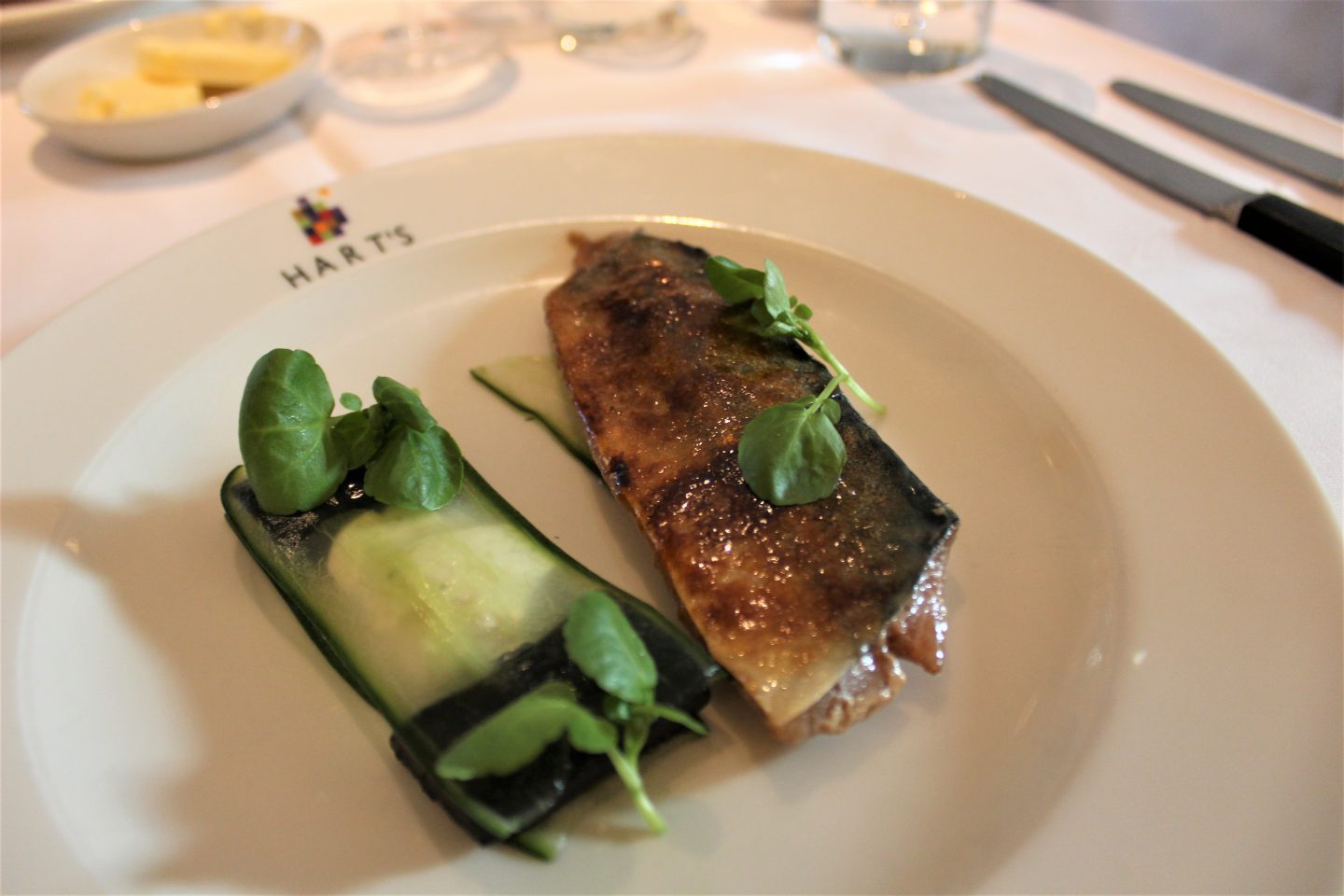 To go with our meal we wanted a light easy-drinking white wine, so we asked for a recommendation and were very pleased with the choice – a 2017 Grillo, Poggio Anima from Western Sicily. It was crisp and light . . . a perfect summer white wine.
Main course was again an easy choice for me as all day I had been fancying seafood. I think a seafood dish is perfect for a sunny day, it reminds me of being on holiday!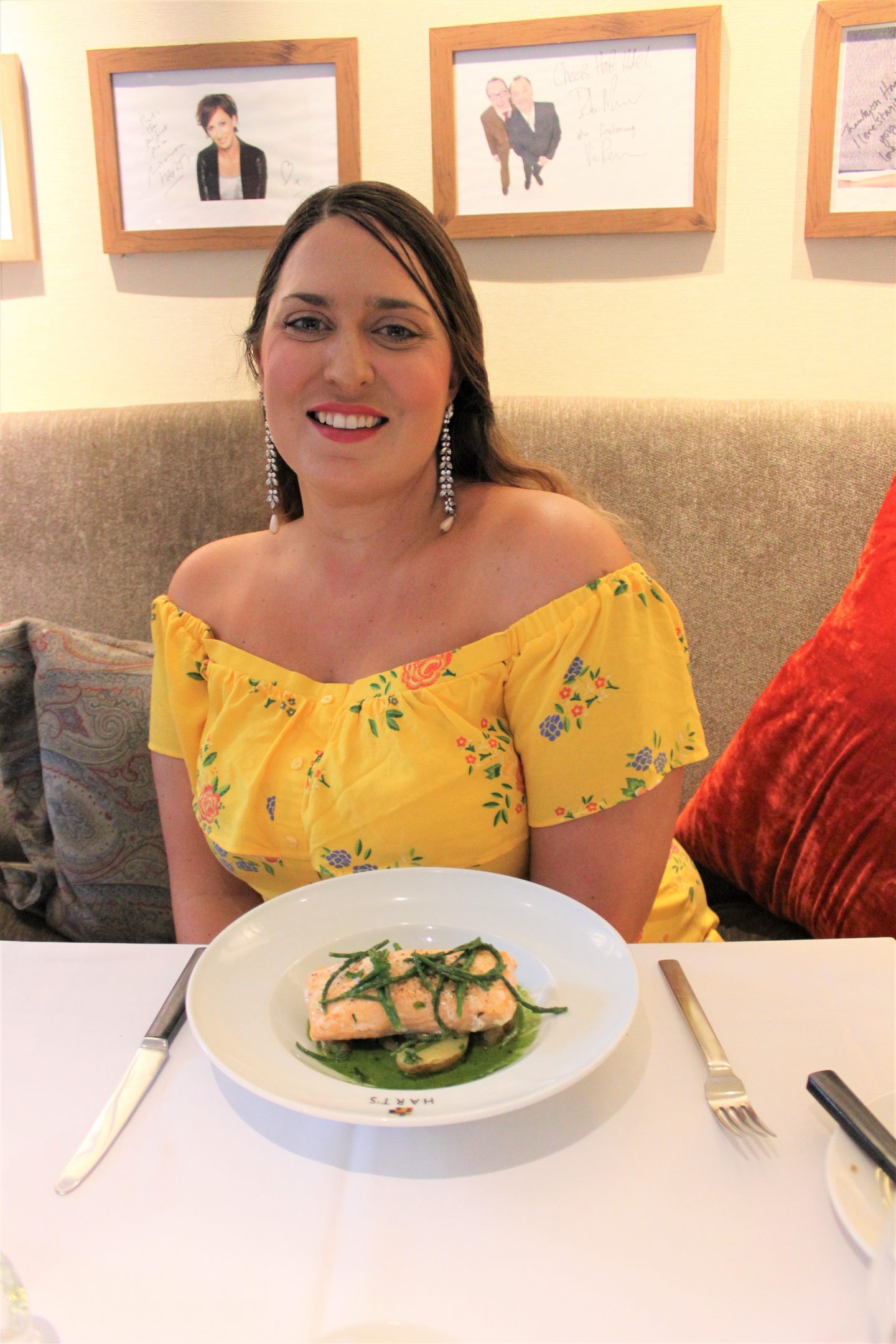 So I chose the 'Poached fillet of sea trout, pink fir potatoes, samphire and sorrel sauce' and to test the kitchen even more Mr B chose the special of 'Rib eye steak with homemade chips, tomato, mushroom, rocket and herb butter'. We didn't intentionally go out to test the chef, but after we ordered I said to Mr B we chose two great dishes as the cooking on each really needed to be faultless. I don't hesitate to send a dish back if its not cooked correctly, so there was no pressure!
I loved the vibrancy of the sauce as soon as the dish was placed in front of me . . .  it screamed freshness! The sea trout was beautifully cooked and perfectly seasoned, the potatoes again very well seasoned and cooked, but it was the amazing sauce which really bought the dish together. It tasted of fresh punchy herbs and was balanced out very well by the slightly salty samphire.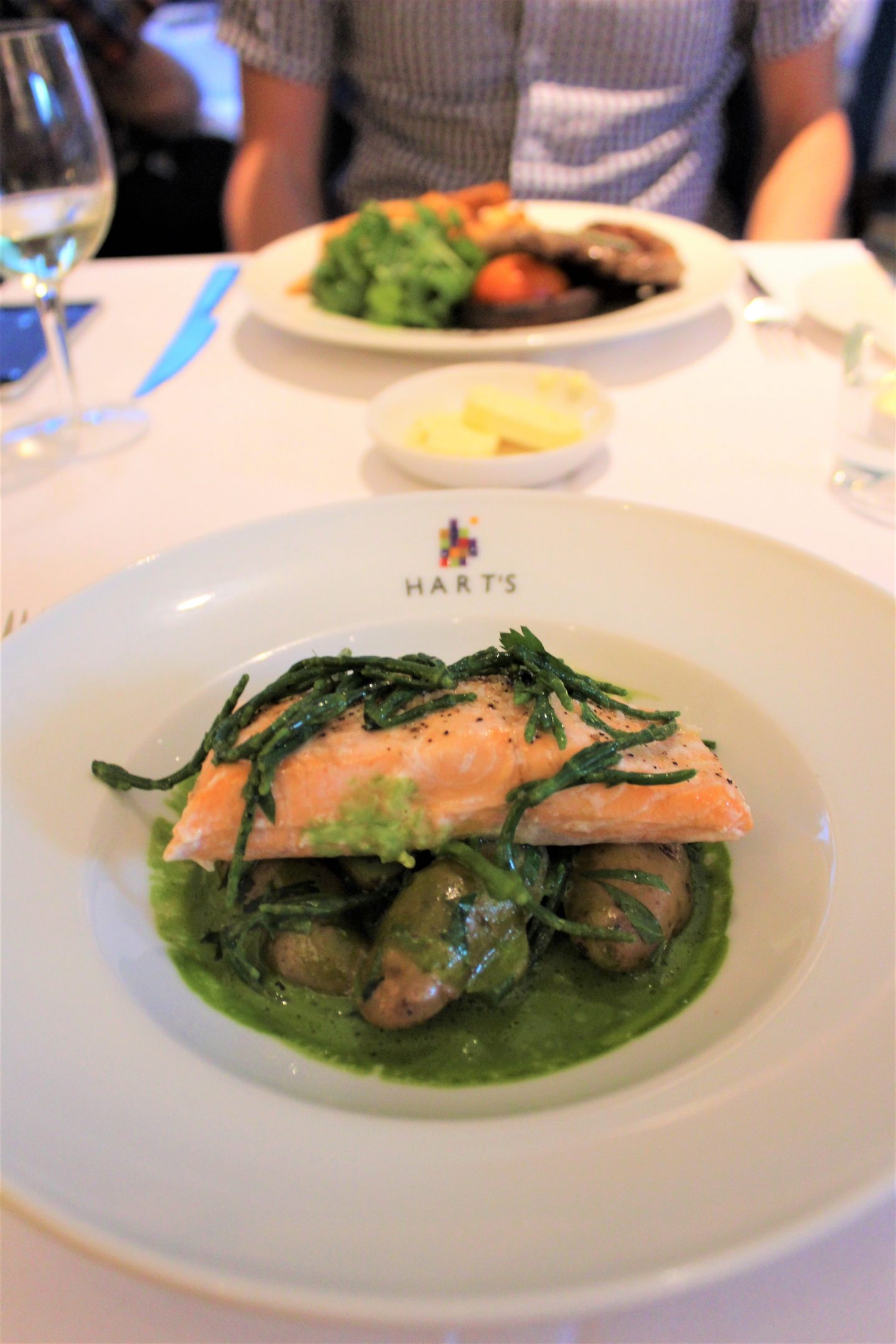 Mr B's steak was so juicy (of course I had to have a taste!) and cooked medium rare, as ordered, it was full of flavour and a really succulent piece of meat. I also couldn't resist pinching a few chips which were crisp on the outside and fluffy in the middle! You could taste the beautiful freshness of the herbs in Mr B's herb butter which glazed the steak as it started to melt.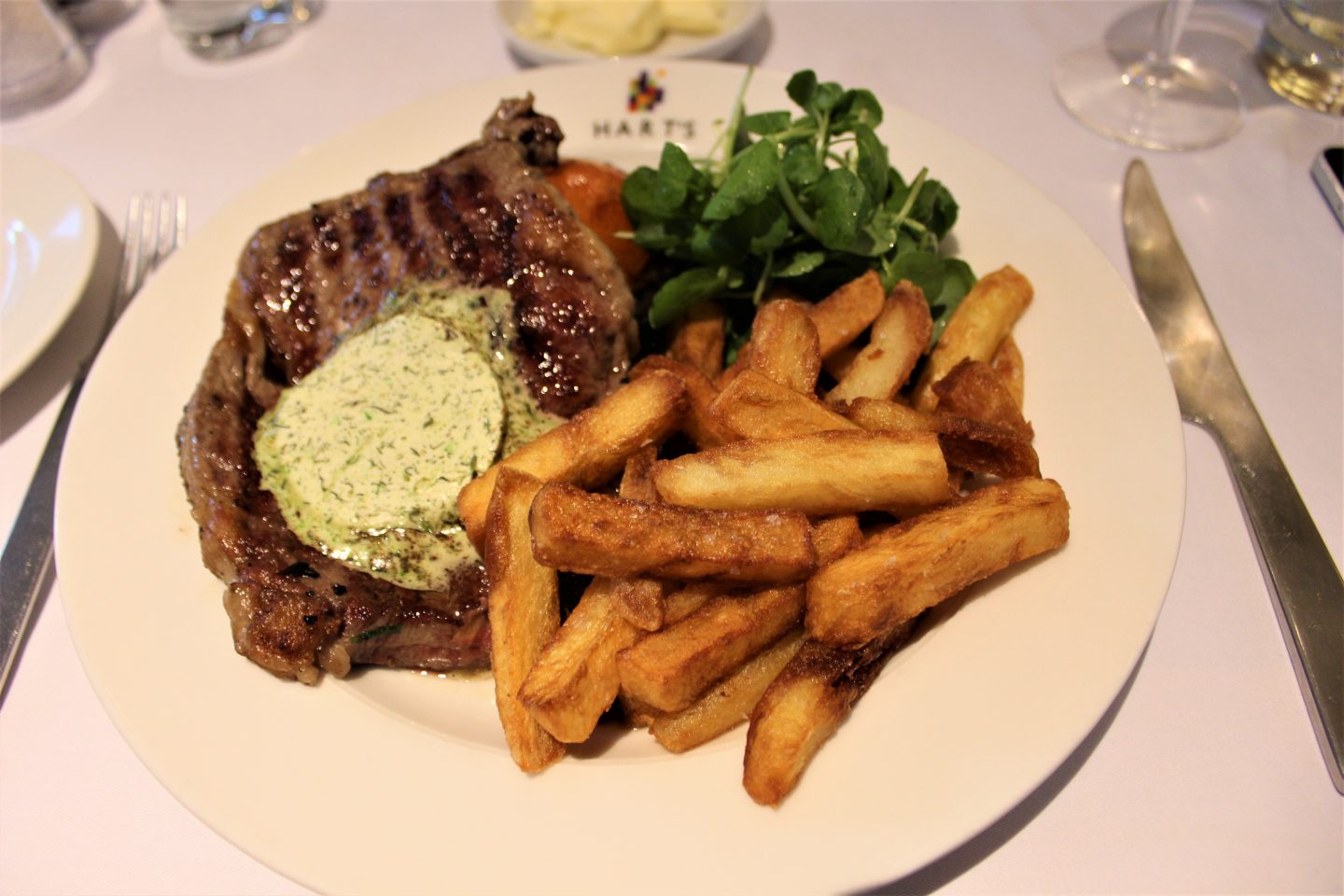 I didn't need to look at the menu for my dessert as I had been dreaming of the homemade madeleines and lemon curd since I saw them on Instagram! I have a thing for lemon curd and if you tell me its homemade you have sealed the deal! Mr B said I could be heading for disappointment as he knew how much I was looking forward to them as I had been talking about them a bit too much before we actually went to the restaurant!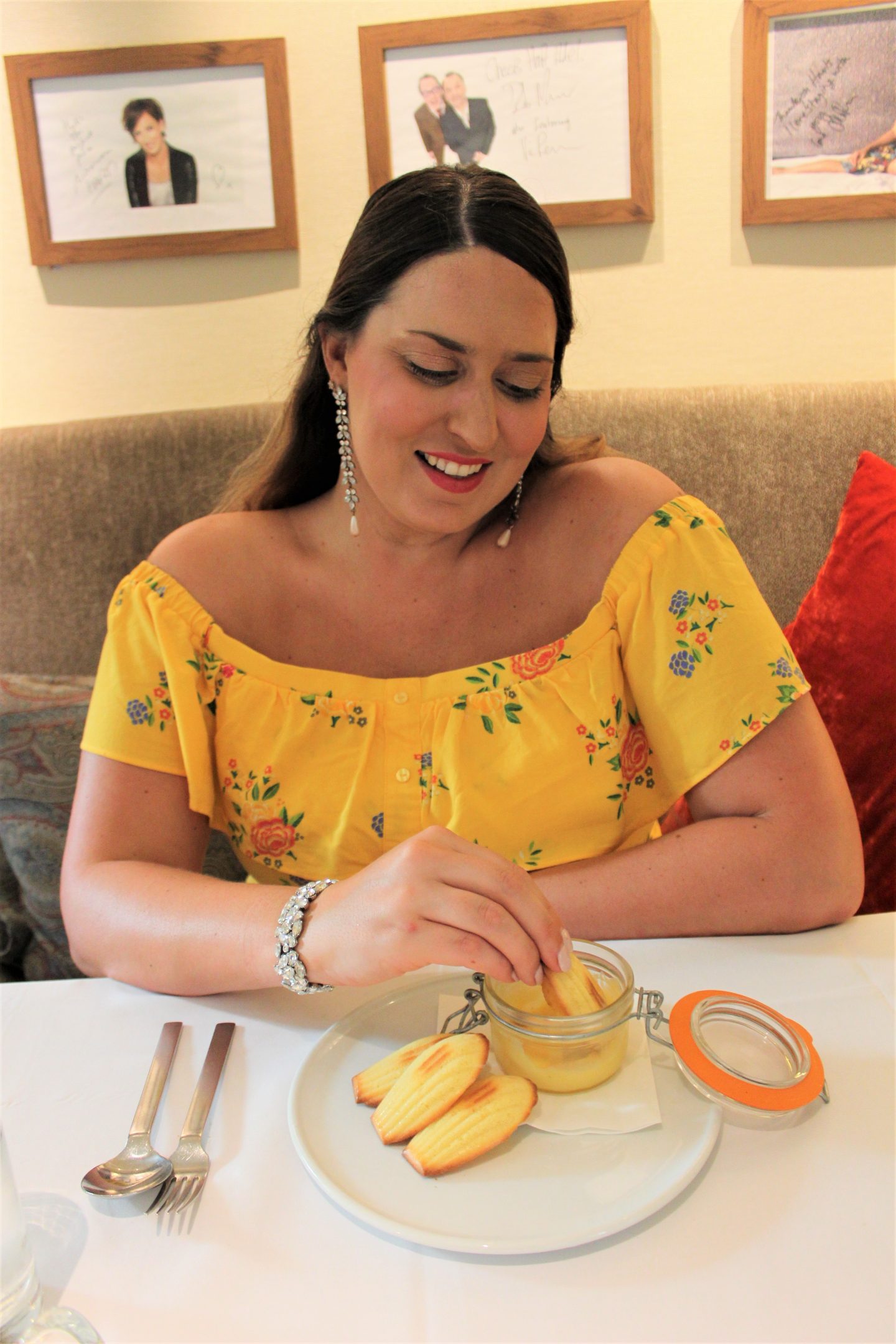 Alas, I was not disappointed at all, instead I was grinning like a Cheshire cat even before my first bite, the madeleines were literally perfect! A madeleine should be shaped like a shell, have the pattern of a shell on one side and a perfect 'hump' on the other, they ticked all the boxes of what a madeleine should look like.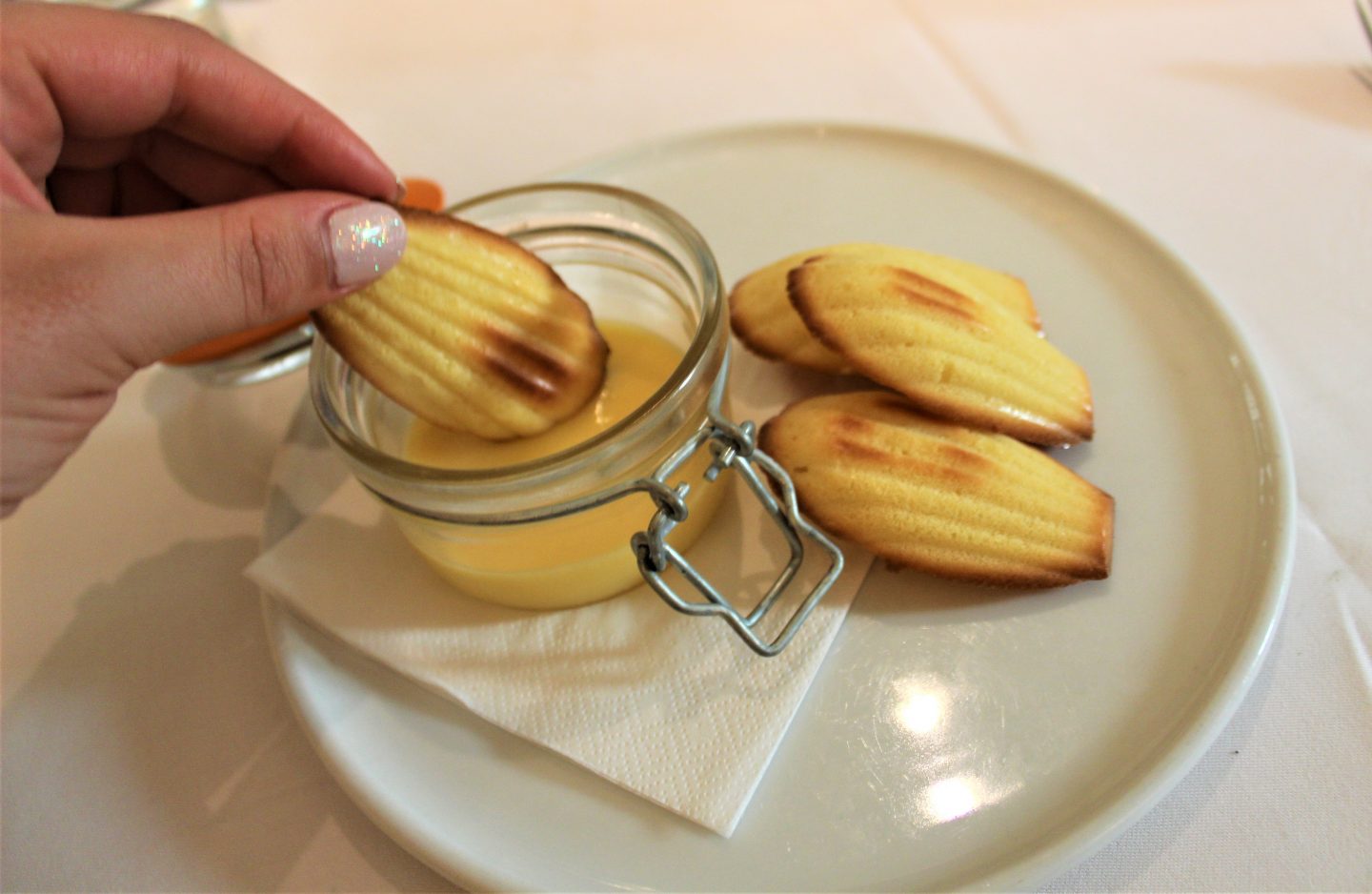 Now let's talk about that lemon curd. According to Mr B and much to his amusement I was making some very loud yummy noises when eating these, but that is because they were honestly amazing! The lemon curd was sweet with just the right amount of tartness from the lemons and was the perfect consistency for dipping. If you are going to Hart's Kitchen you HAVE order these, you will not regret it! Just make sure you get there before I do otherwise there will be none left!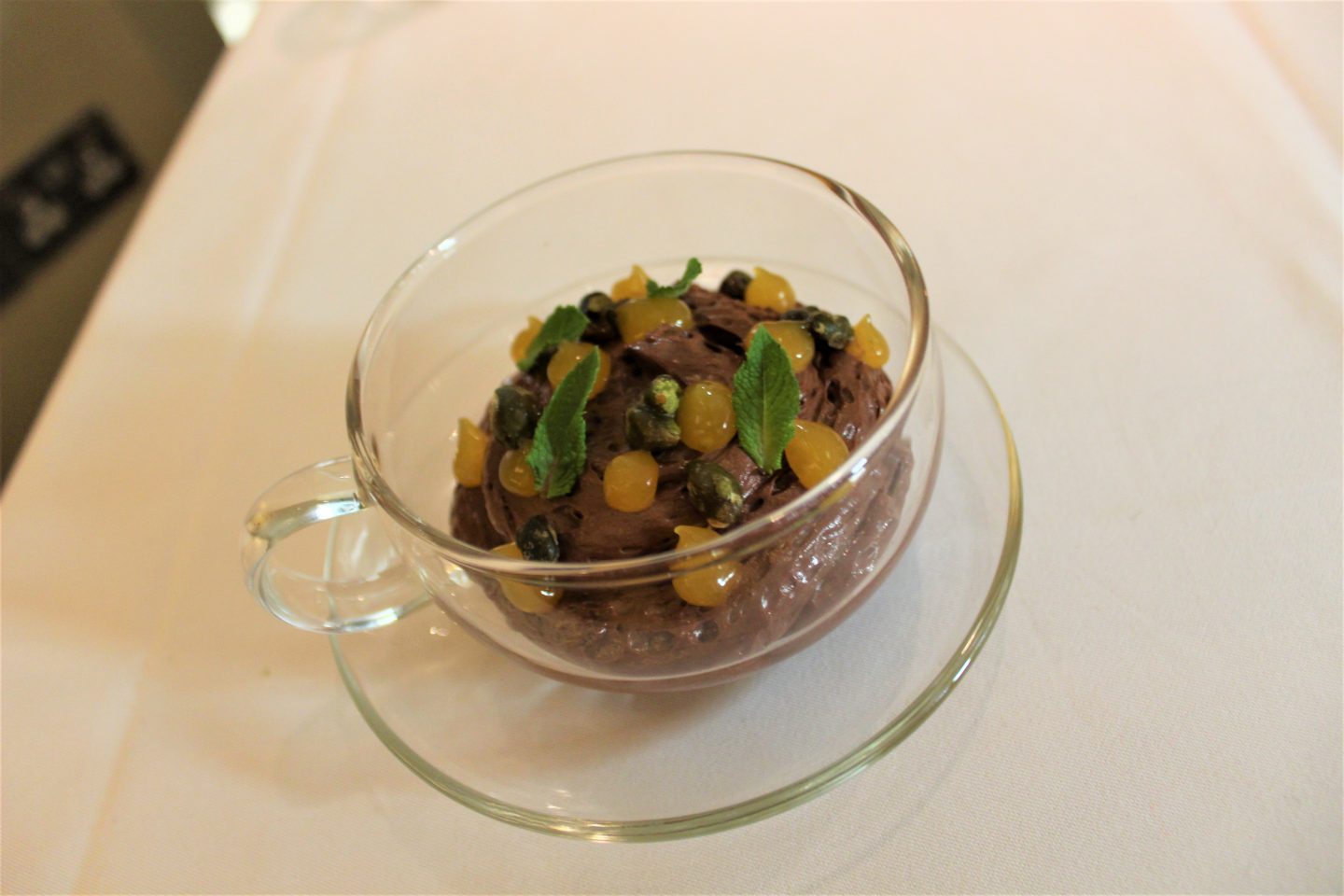 I would normally be the one to order a chocolate dessert so I was pleased when Mr B ordered the 'Chocolate mousse with passion fruit and pistachio praline' so I could have a taste (I begrudgingly gave him a taste of my amazing madeleines and lemon curd, but made sure he only took a small bite!).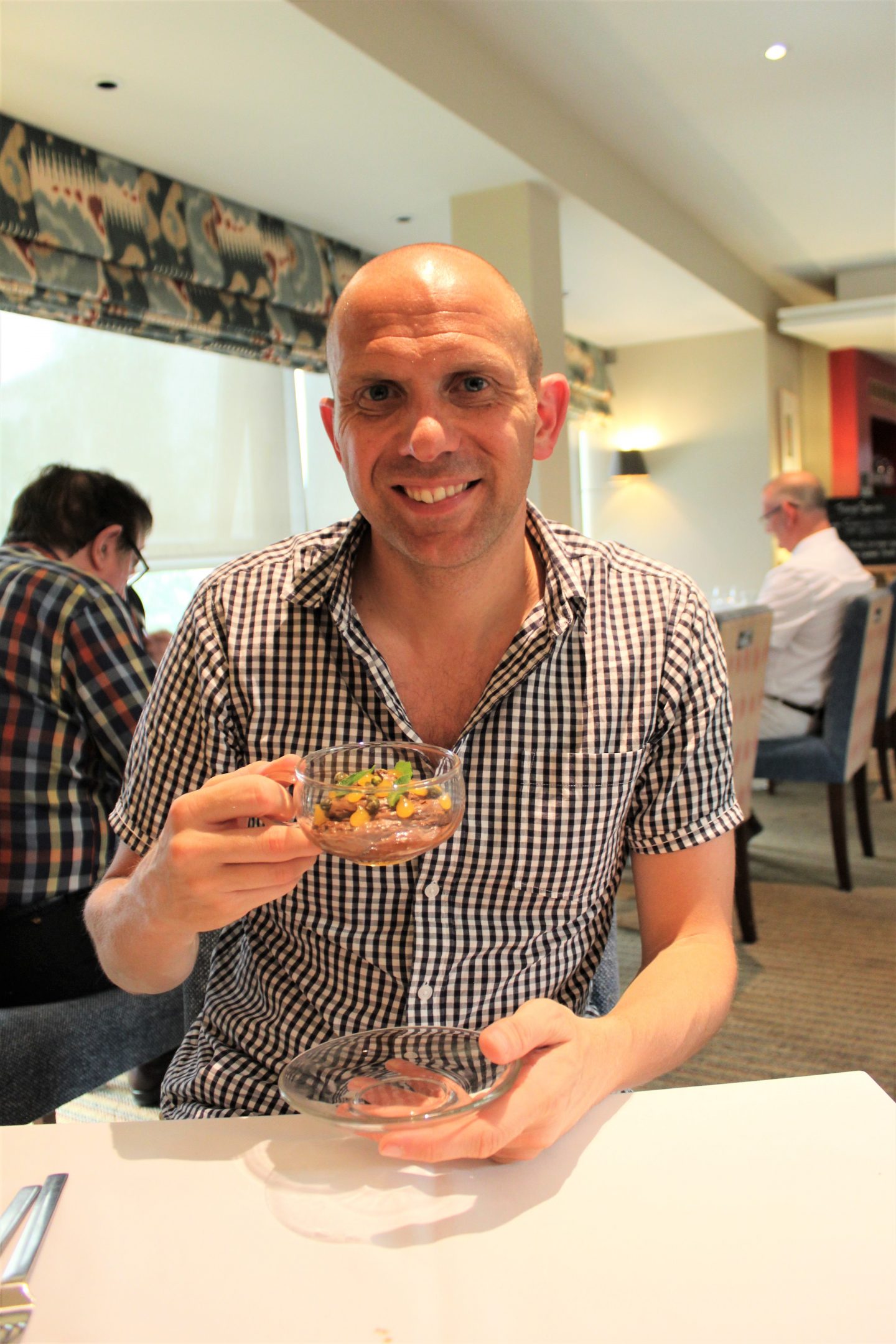 The mousse was beautifully airy, packed full of rich chocolate flavour, the tartness from the passion fruit cut through the rich chocolate with the crunchy pistachios adding another texture to the dish which was finished with a hit of fresh mint from the mint leaves.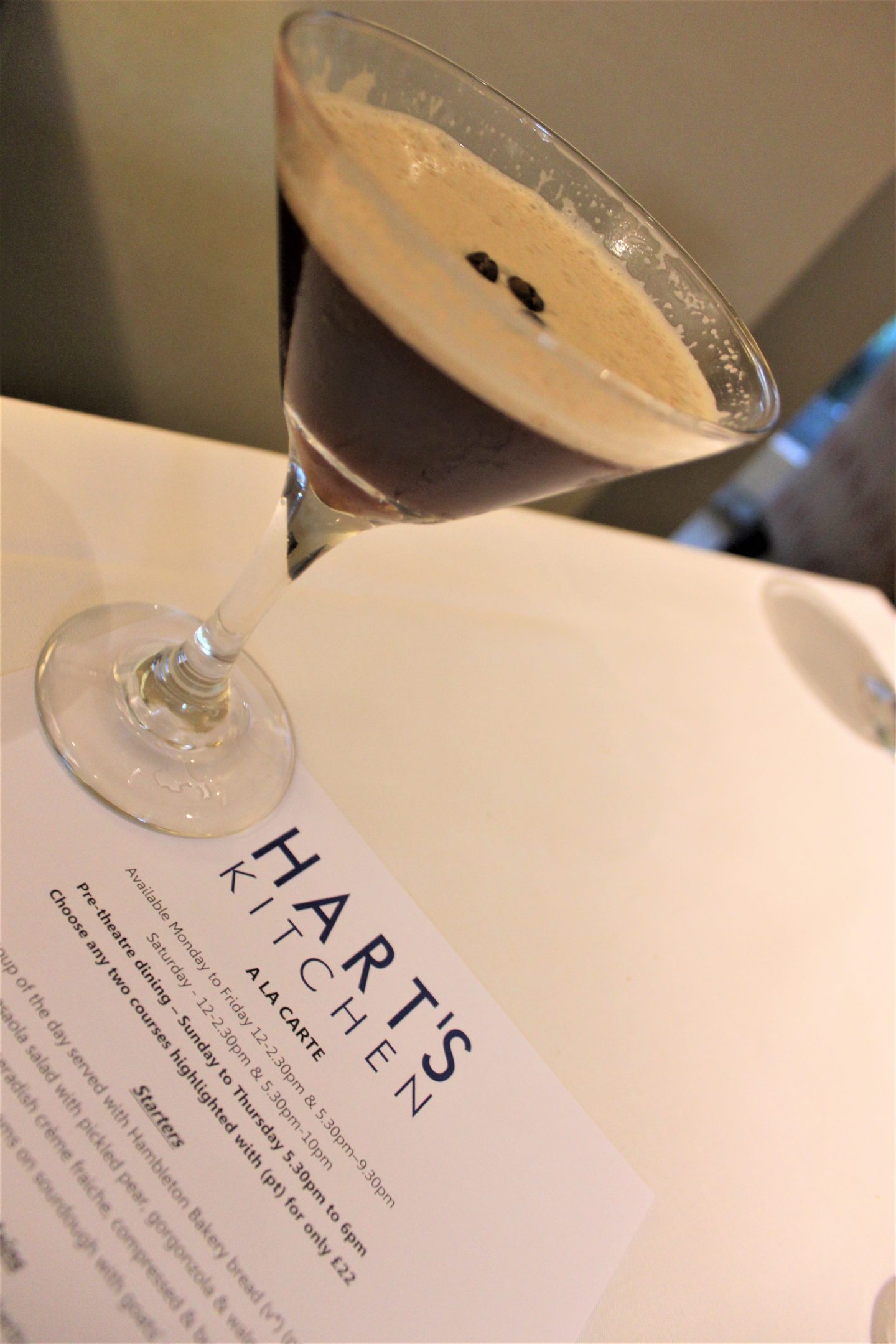 For our after-dinner coffee we both ordered an Espresso Martini . . . it has Espresso in it so totally counts as a coffee, especially on a Saturday night! And I have to say . . . this knocks my previous favourite Nottingham Espresso Martini off its top spot! The former fine dining restaurant at Hart's was known for its fantastic cocktails and I am so pleased this has continued to the hotel bar! It was the perfect end to a truly delicious meal!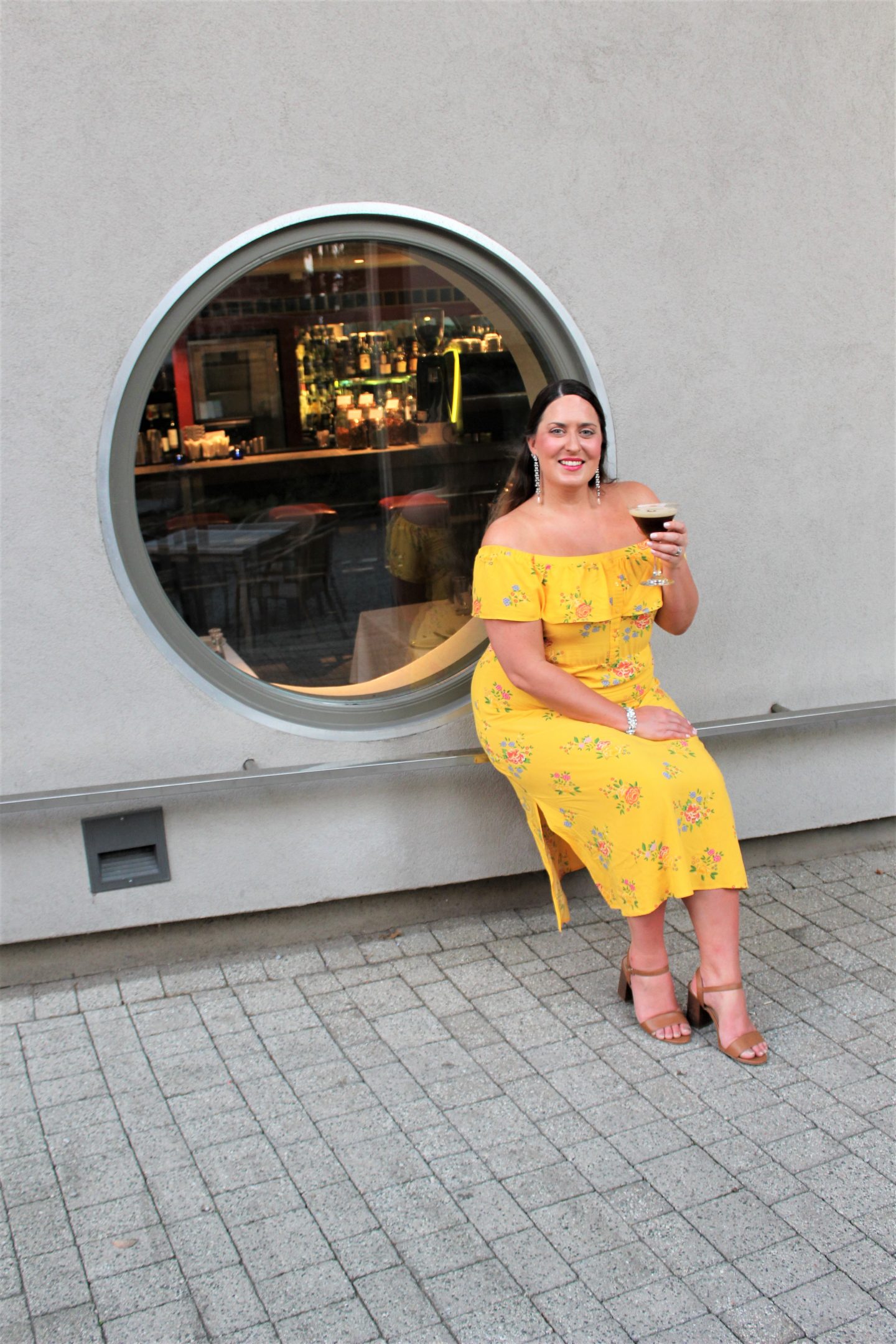 My meal was complimentary but as always all opinions are my own and honest.
https://www.hartsnottingham.co.uk/
Standard Hill, Park Row, Nottingham NG1 6GN
0115 988 1900