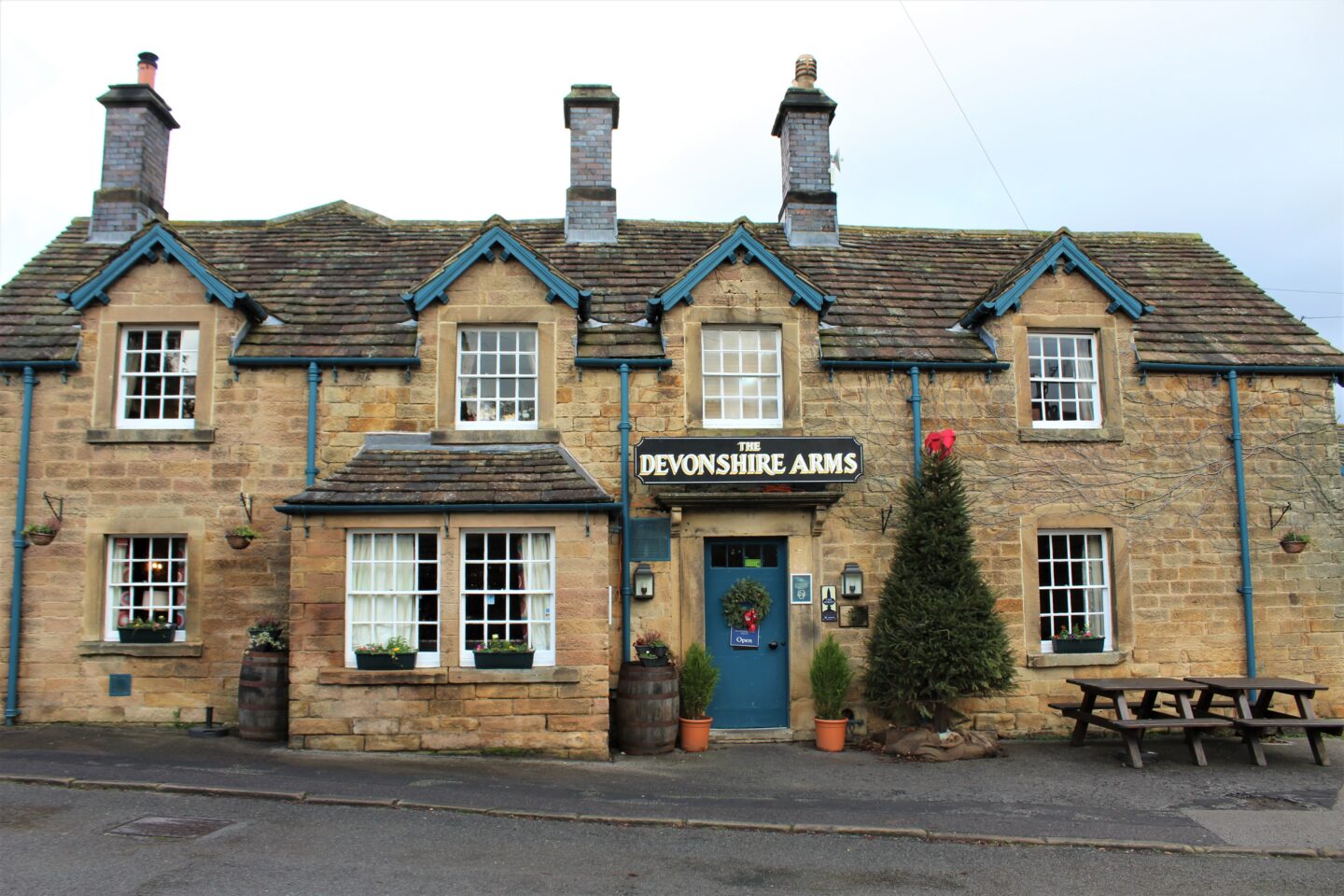 Nestled in the Peak District is the quaint little village, Pilsley, which is home to The Devonshire Arms, a lovey inn where we spent one wonderful stay, walking, relaxing and enjoying some delicious food!
This pub is picture perfect and the outside has so much charm it draws you in (not that we ever need an excuse to go into a pub!).
A big plus for us is that The Devonshire is dog friendly so Snoopy could enjoy the night away with us – he is a very good pub dog! After a warm greeting in the pub we were shown to our room. Rooms in the inn are for guests without pooches. We were staying in one of the Farmhouse's four poster rooms which is located just behind the pub, about a 15 second walk away.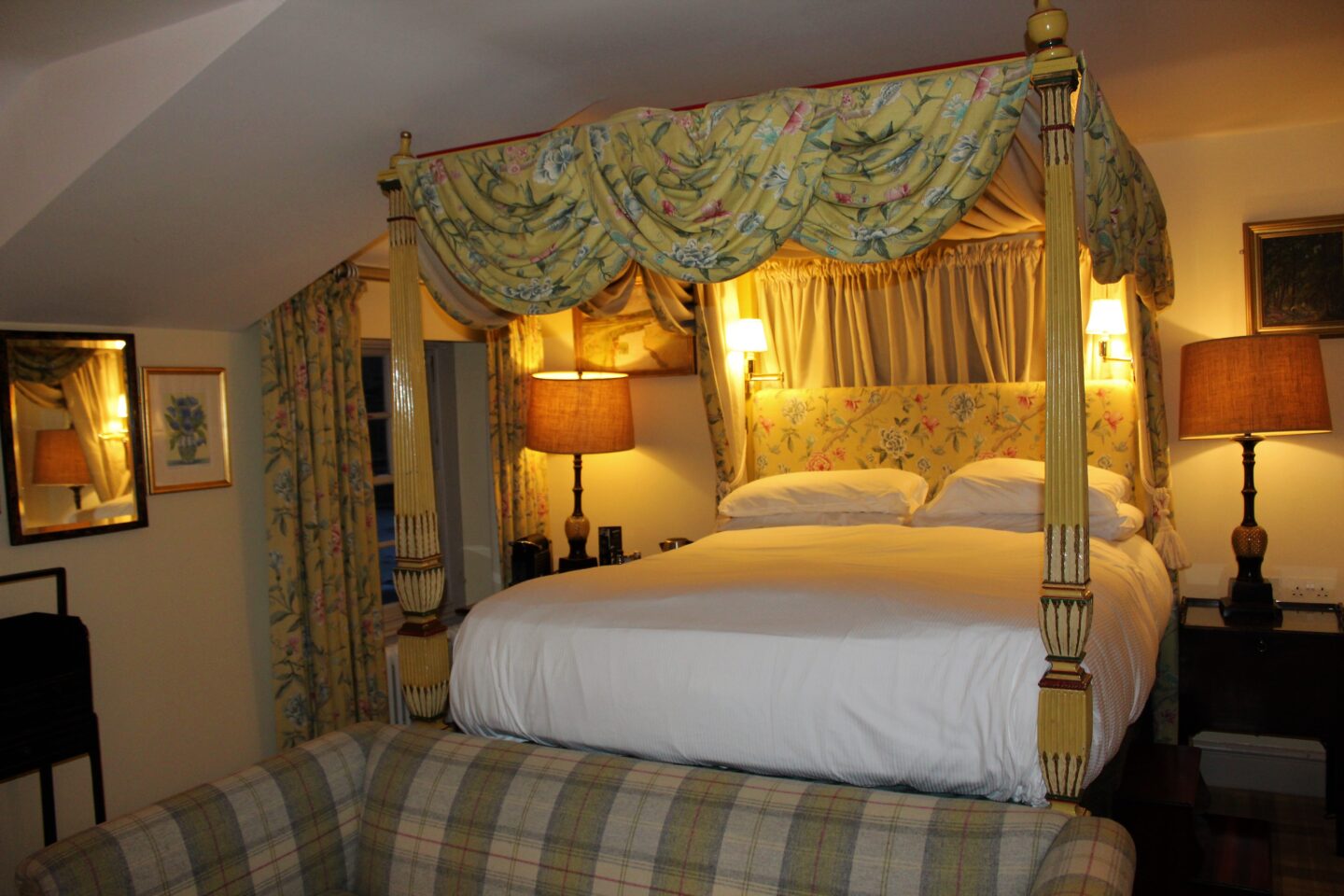 Our room was beautiful, traditionally decorated with a luxurious feel and the four poster bed was the star. It reminded me of a princess bed in a fairytale and all the furniture in the room complemented the décor very well.
The tea tray was home to a Nespresso machine with a selection of pods, tea and hot chocolate. There was no fridge in the room, however, when we requested fresh milk we were given a flask which was perfect. We were also left a box of Chatsworth Estate Chocolate and Hazelnut cookies which were absolutely scrumptious. It's safe to say when we opened the box of eight cookies, they did not last long!
The bathroom was very spacious with a lovely bath and standalone rainforest shower. Toiletries were by luxury brand Noble and Isle which smell divine and I am happy to say were full-sized so no running out of conditioner for me. Antibacterial wipes and hand sanitizer were also provided in our room.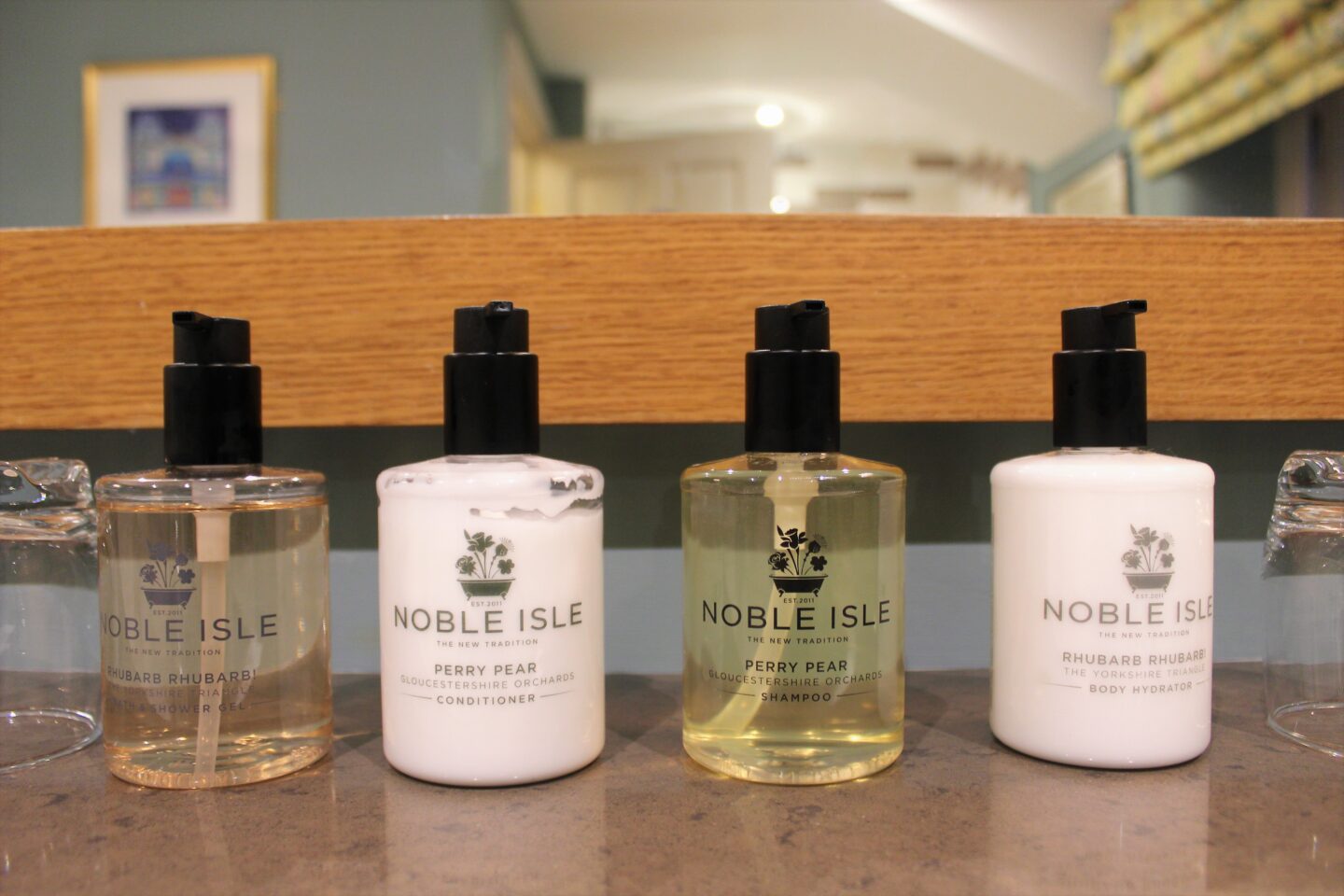 After a couple of hours relaxing in our lovely room it was time to head for dinner. We had a lovely table next to the log fire. With our tummies rumbling we perused the menu and surprisingly for us (ok, me!), it didn't take long to decide what to have.
Whilst we were sipping on a lovely bottle of Merlot we absolutely devoured the warm fresh bread with lashings of salted butter.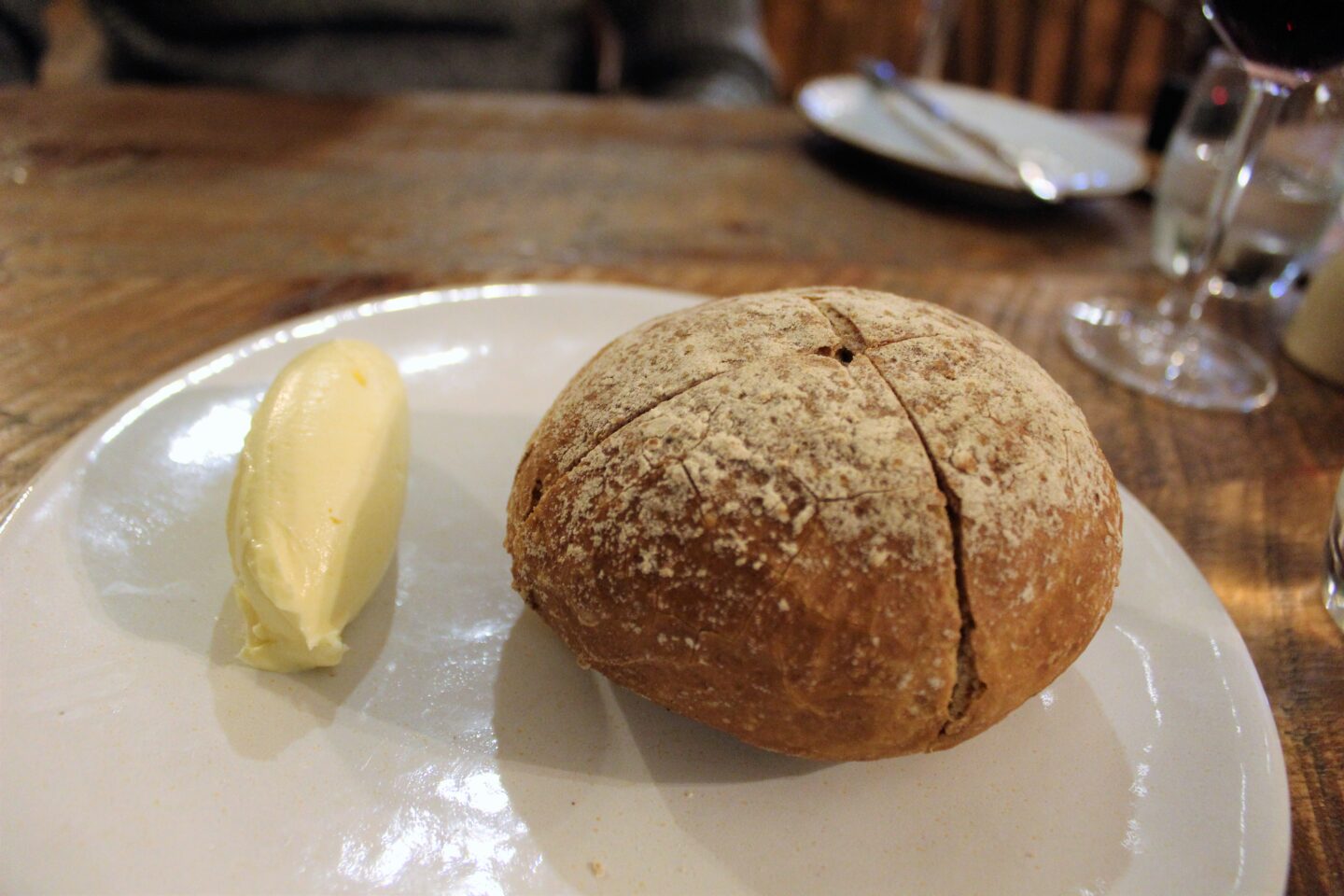 To start I went for the 'Sea Bass, Pomegranate, Cauliflower, Peanut'. The seabass was cooked perfectly with beautifully soft flesh and crispy skin and the cauliflower and peanut added some lovely flavours to the dish, finished nicely with the freshness from the pomegranate seeds.
Mr B enjoyed the 'Ham Hock Terrine, Carrot, Fennel Seed'. The ham hock was lovely and tender and melted in the mouth and the aniseed from the fennel and sweetness from the carrot complemented the salty ham hock.
My main course was 'Rump and Cheek of Derbyshire Beef, Horseradish, Pickled Onion, Chips'. The rump was perfectly pink and full of flavour and the cheek fell apart. It was so tender I didn't even need to cut it with my knife. The horseradish delivered a punch of heat to the dish with the onion adding a slight sharpness and the chips were lovely and fat, crispy on the outside with fluffy potato on the inside. I adored every element of the dish and happily cleared my plate!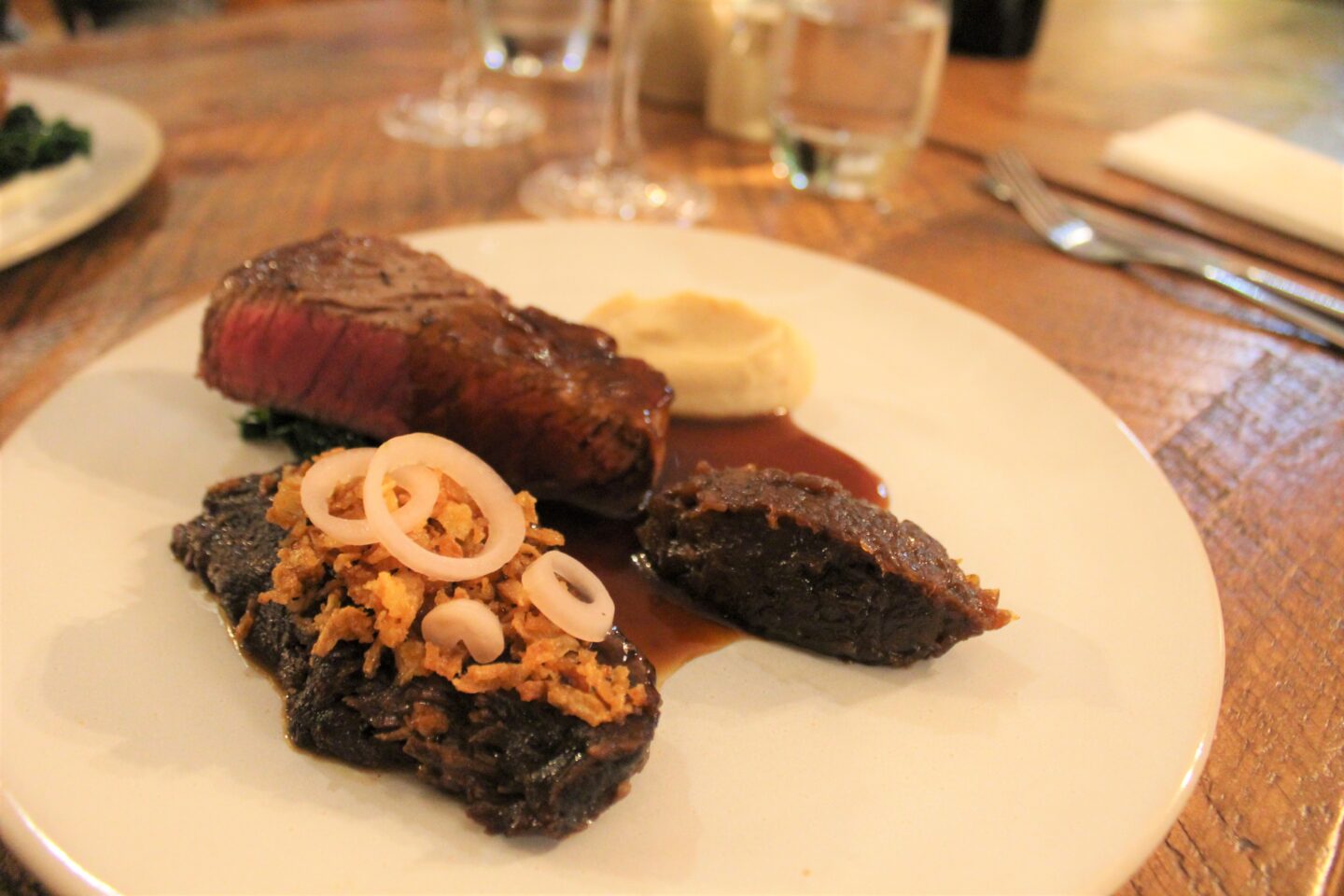 Mr B, still in festive mode, went for the 'Roast Turkey, Crispy Leg, Turnip, Cabbage, Spiced Parsnip'. All I need to say to sum up his meal was that he declared it 'the best Christmas dinner I have ever eaten (just missing the pigs in blankets!).'
Dessert for me was 'Praline Parfait, Mascarpone, Cherry, Coffee'. I  requested mine without the cherry which wasn't a problem for them. The parfait was under a cloud of light and airy coffee foam which delivered a real punch of coffee, and the parfait was soft and smooth. It was a lovely refreshing dessert after my rich main.
Mr B chose the 'Christmas Pudding, Brown Sugar Anglaise'. I was so tempted to order this as I am a huge Christmas pudding fan, but of course I did have a (generous) taste! The plump Christmas pudding was full of fruit, slightly boozy and worked a dream with the luscious brown sugar anglaise.
With very happy and full tummies we enjoyed one last relaxing drink before taking Snoopy for a little night time walkies before heading to bed where we all slept extremely well.
We were welcomed back into the pub for breakfast. Enjoying our large and well-made lattes, breakfast was an easy decision for both of us. To start there is an option of chefs homemade granola, yoghurt and fresh fruit. Whilst Mr B enjoyed this I simply asked for yoghurt and honey. It was lovely and creamy, the honey had been infused with lavender and herbs.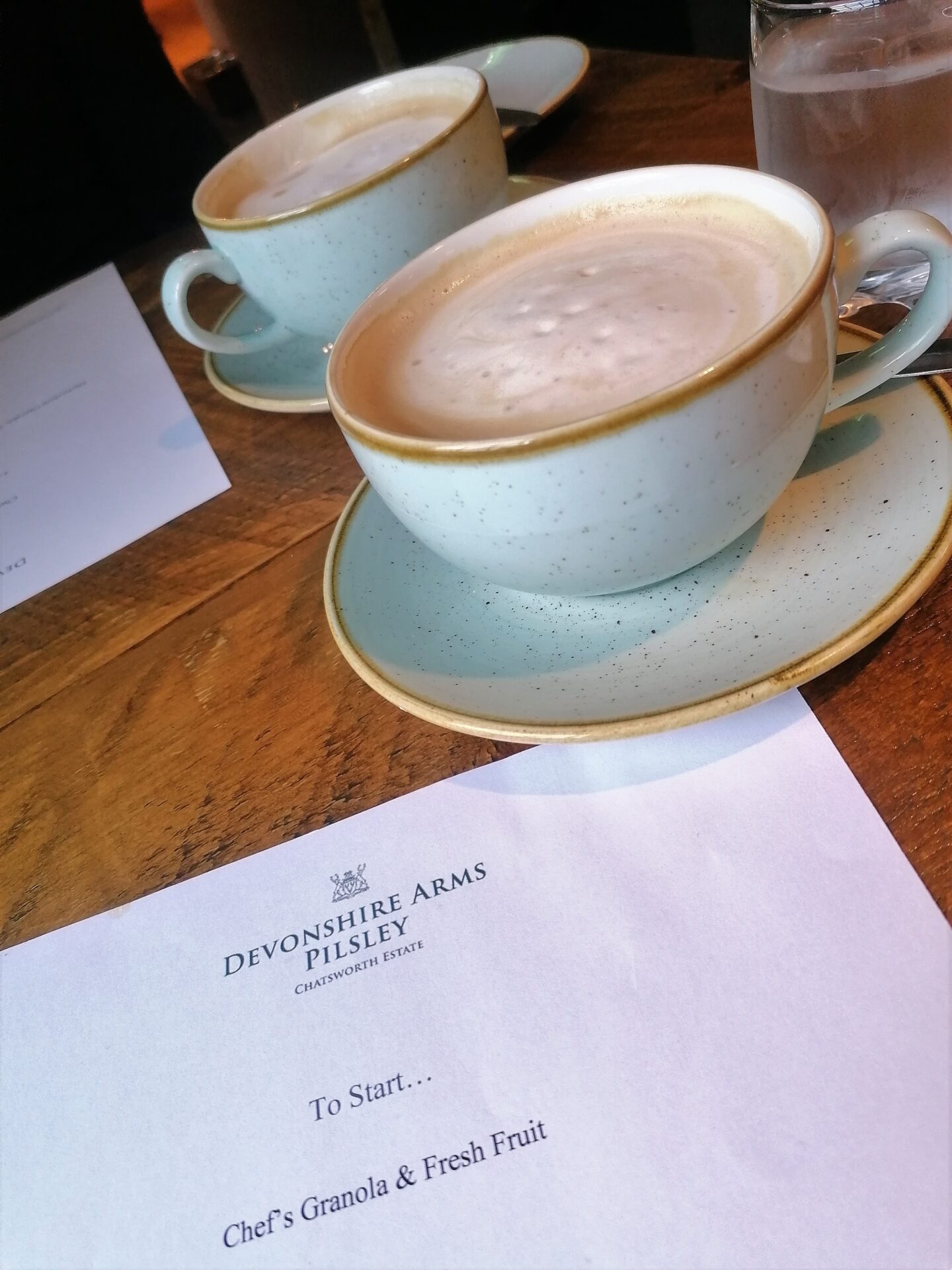 For breakfast I chose 'The Blackwater' which was Derbyshire oatcakes, smoked salmon, scrambled egg, crème fraiche. It was a lovely portion and the oatcakes were surprisingly light, and it was generous with smoked salmon with lovely creamy scrambled eggs.
Mr B went for 'The Devonshire full English'. He very much enjoyed it and commented on the quality of the bacon, sausage and black pudding. He also ordered an extra sausage which Snoopy enjoyed when we got back to the room. At breakfast he was busy snoozing under the table!
After checkout we enjoyed another walk. We managed to find a public footpath and enjoyed a wander out in the beautiful countryside.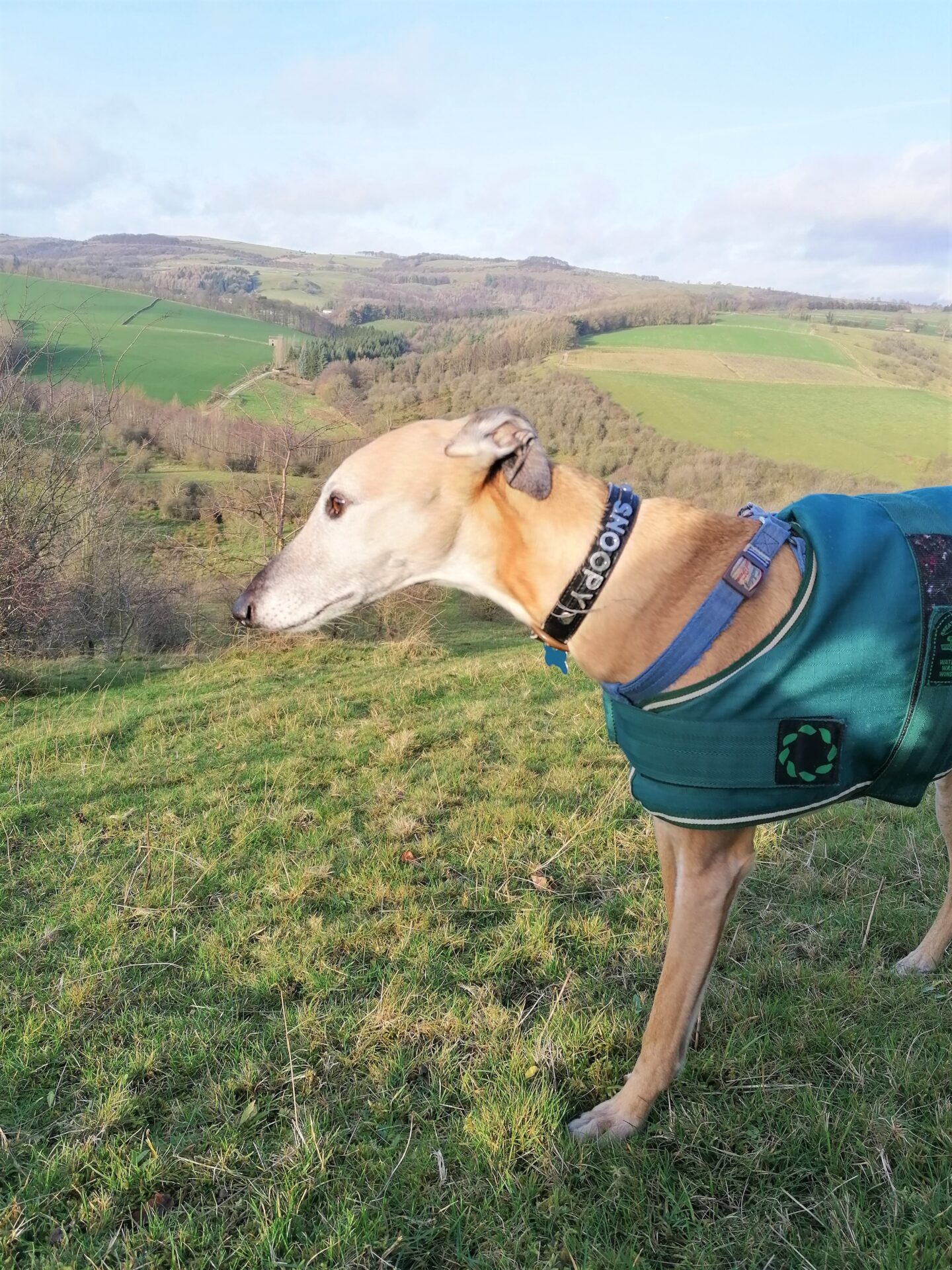 Also only a five-minute walk away from The Devonshire Arms is the Chatsworth Estate farm shop. I highly recommend a visit and would be surprised if you can make it out without a few purchases. It is full of wonderful local produce and has a lovely deli counter.