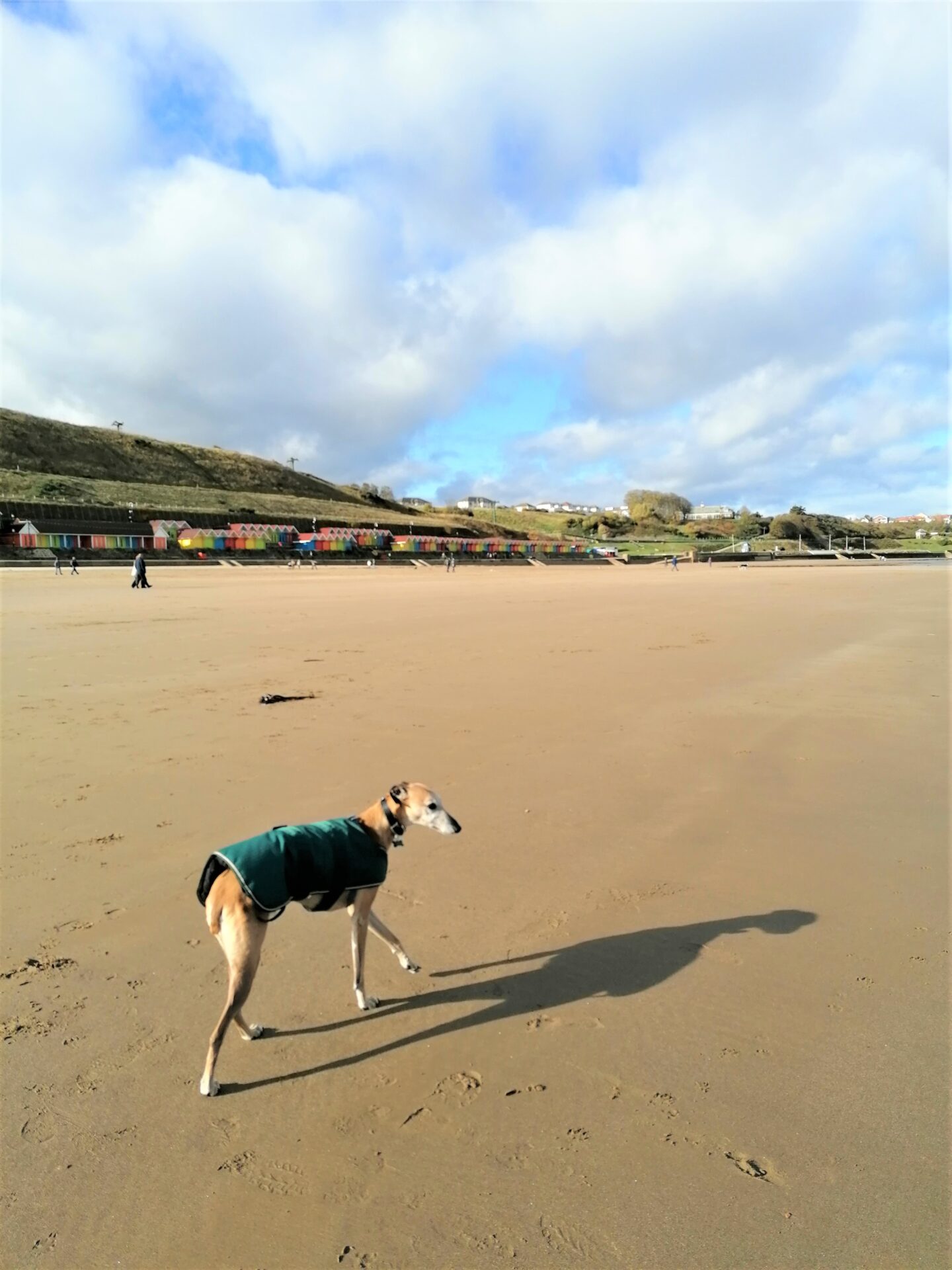 Our break to Scarborough was no different to any other holiday – food and drink played a big part! With a bit of prior research and, on some occasions, a bit of pot luck we found some wonderful dog friendly places to eat and drink. Here are my top recommendations . . .
The Anchor Fish & Chips
No trip to the seaside would be complete without fish & chips would it? On a trip to Scarborough you won't be short of choice! We chose to enjoy our fish supper at The Anchor. It has some inside seating and lots of outdoor undercover seating which is perfect for visiting with your pooch.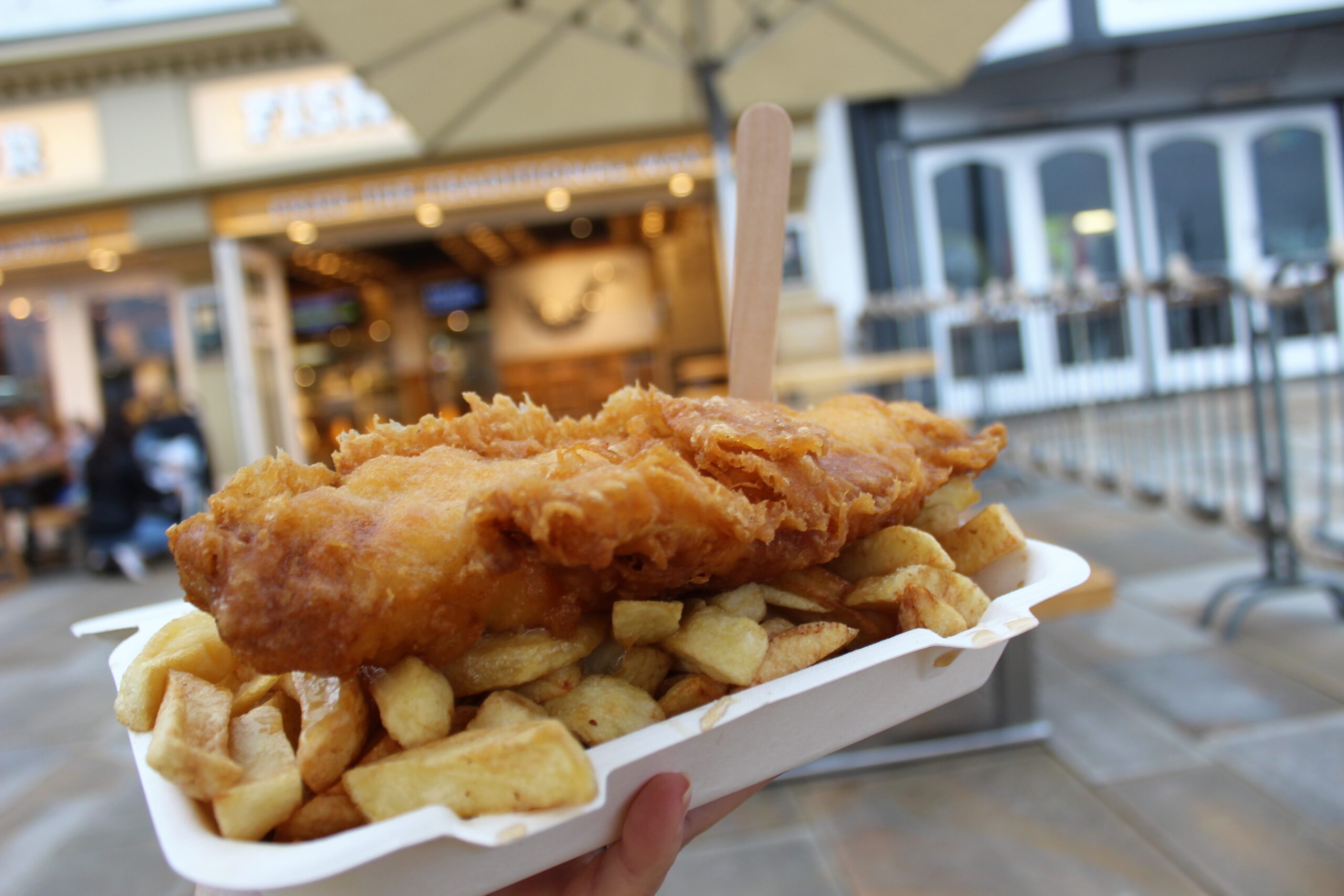 We found the staff friendly and, most importantly, the food fantastic. The fish was lovely and soft on the inside and the batter was crisped to perfection. The chips were just as delicious and it's worth mentioning the portion was huge – definitely gets a 10 out of 10 from us (that includes Snoopy!).
The BellyRub
Craft beer lovers will love this little independent gem! But as well as a fantastic selection of craft beers, it also has a lovely cider selection – I definitely recommend the rhubarb cider. We went to enjoy a few drinks before dinner, but if you are feeling peckish they do a great selection of topped fries. Someone ordered them whilst we were there and they looked epic!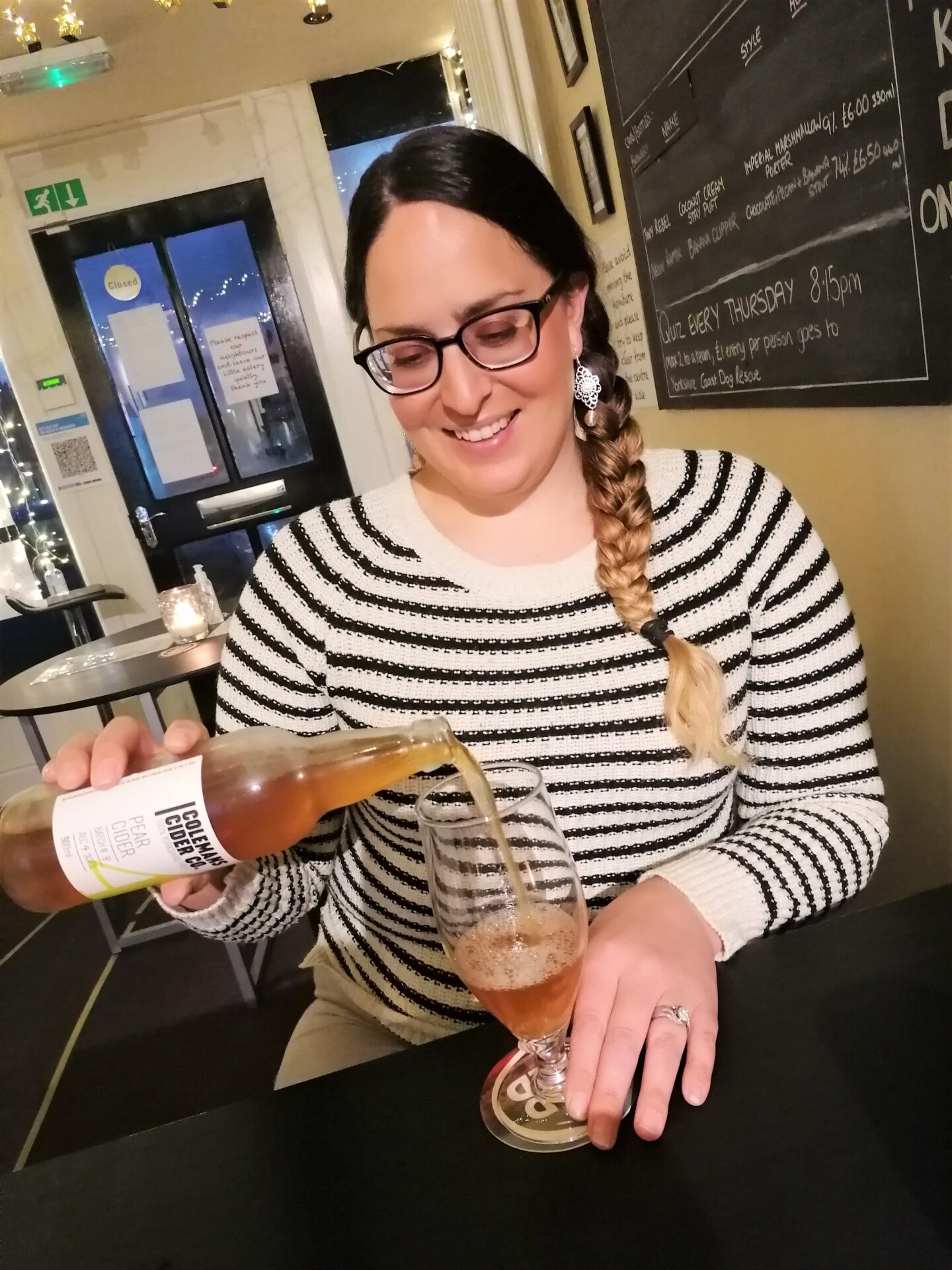 Not only will you be welcomed into the BellyRub, but your four-legged friend will have the warmest welcome! We visited so many lovely dog friendly places on our break, but I think this one was definitely Snoopy's favourite! He was spoilt, from having his own water bowl to getting lots of dog treats, some freshly cooked bacon and, of course, lots of fuss!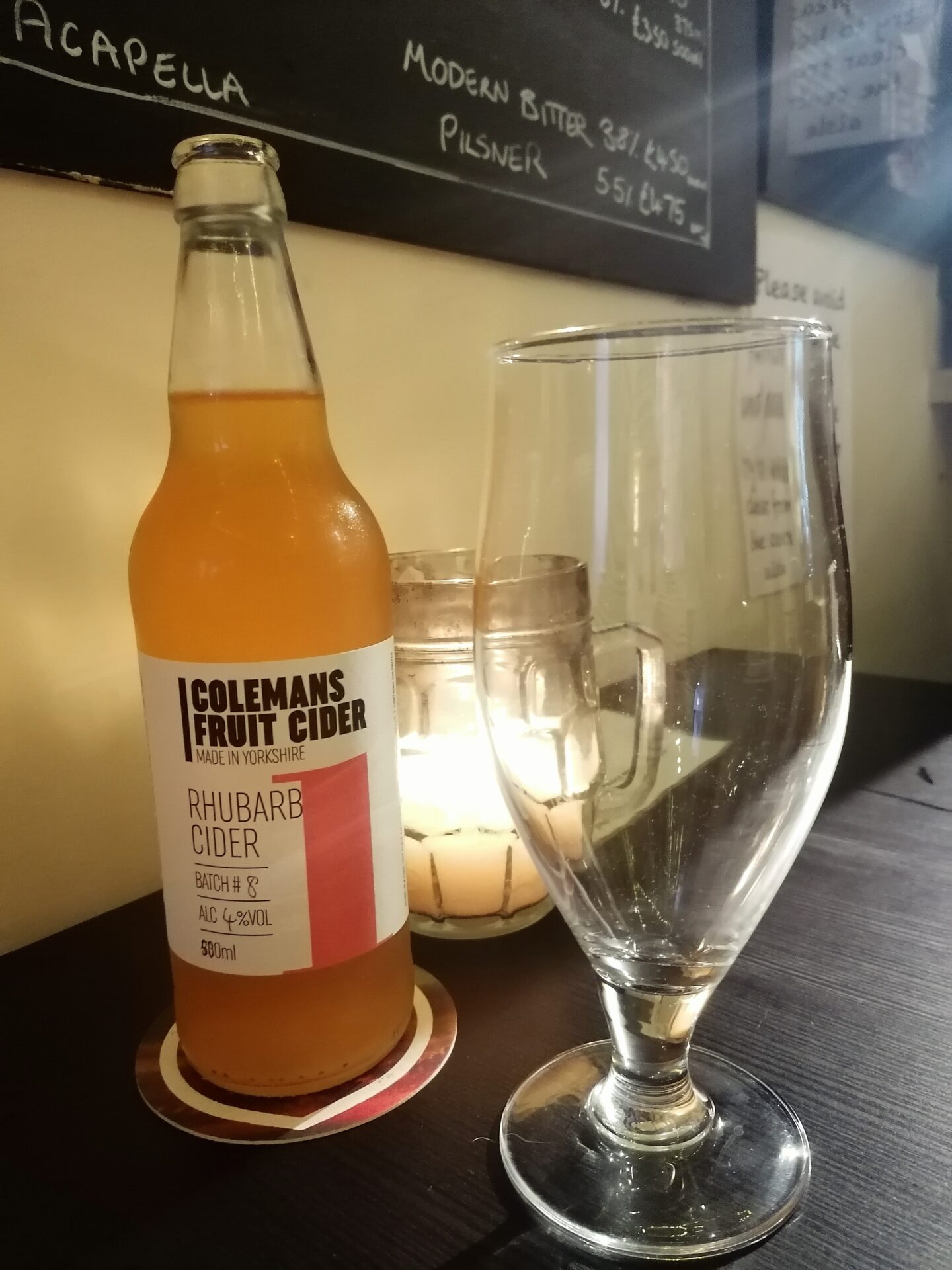 We loved our stop here and we had some lovely chats with the owners and locals.
Bareca
Located in the Bike & Boot hotel, the restaurant is also open for non-residents. There is a great selection on the menu from pizzas and pastas to steaks and burgers. We enjoyed a few small plates to start – the hot cheese sauce with bread sticks was a big hit with us!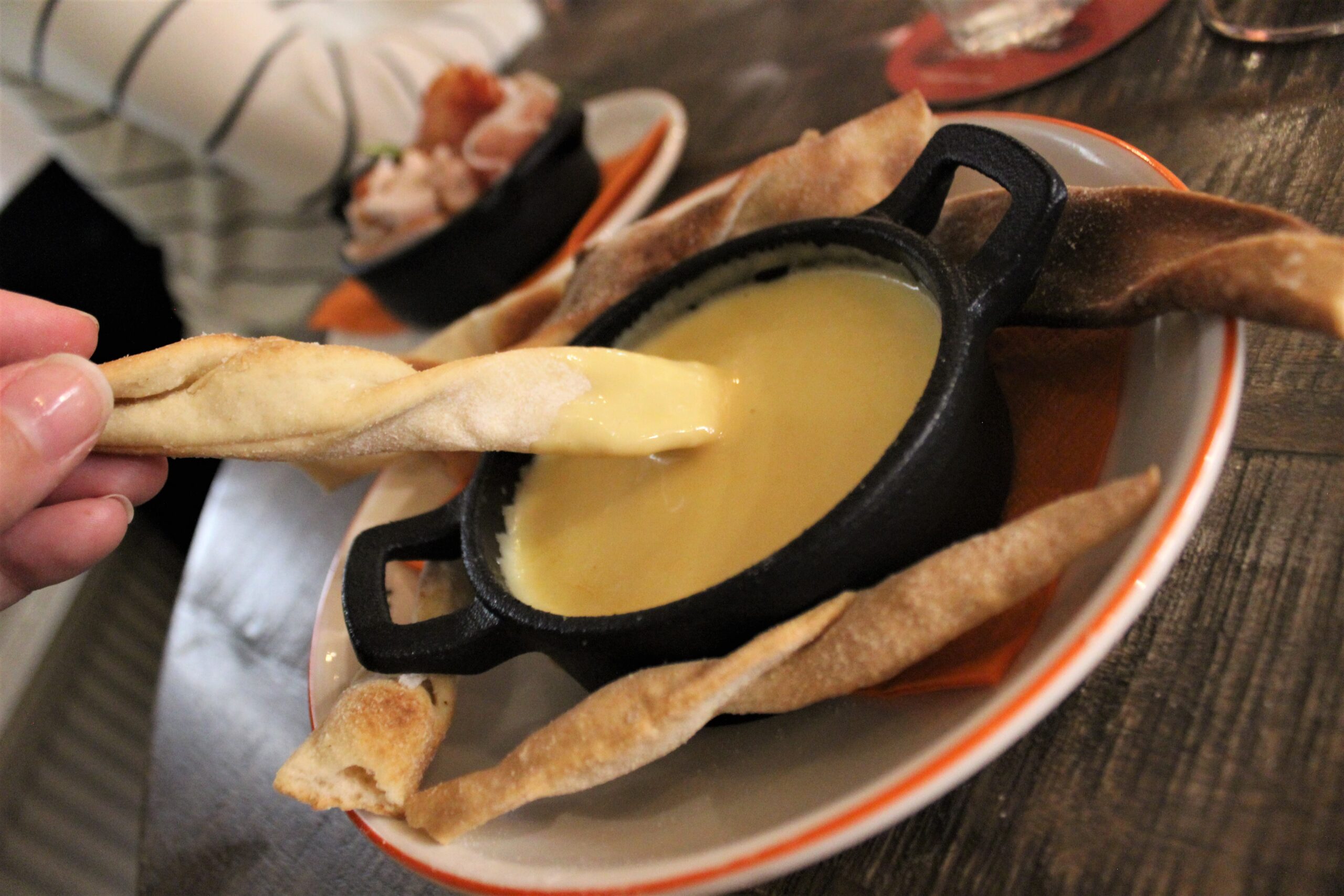 For main we both had pizzas. I don't think Mr B and I ever go away without having pizza at least once! These were good pizzas, lovely thin and crispy with the right amount of topping.
With just enough room for dessert we both opted for the ice cream sundae, chocolate for me and fruity for Mr B. It was a lovely meal in a friendly and relaxed restaurant with staff who are more than happy to see you pop in with man's best friend!
Taylor's Bar & Kitchen 
Located on North Bay beach, we popped in here for a refreshment break after a lovely stroll along the seafront. Happy to find out it was dog friendly, we were shown to a table and even got told where the water bowls were located for Snoops.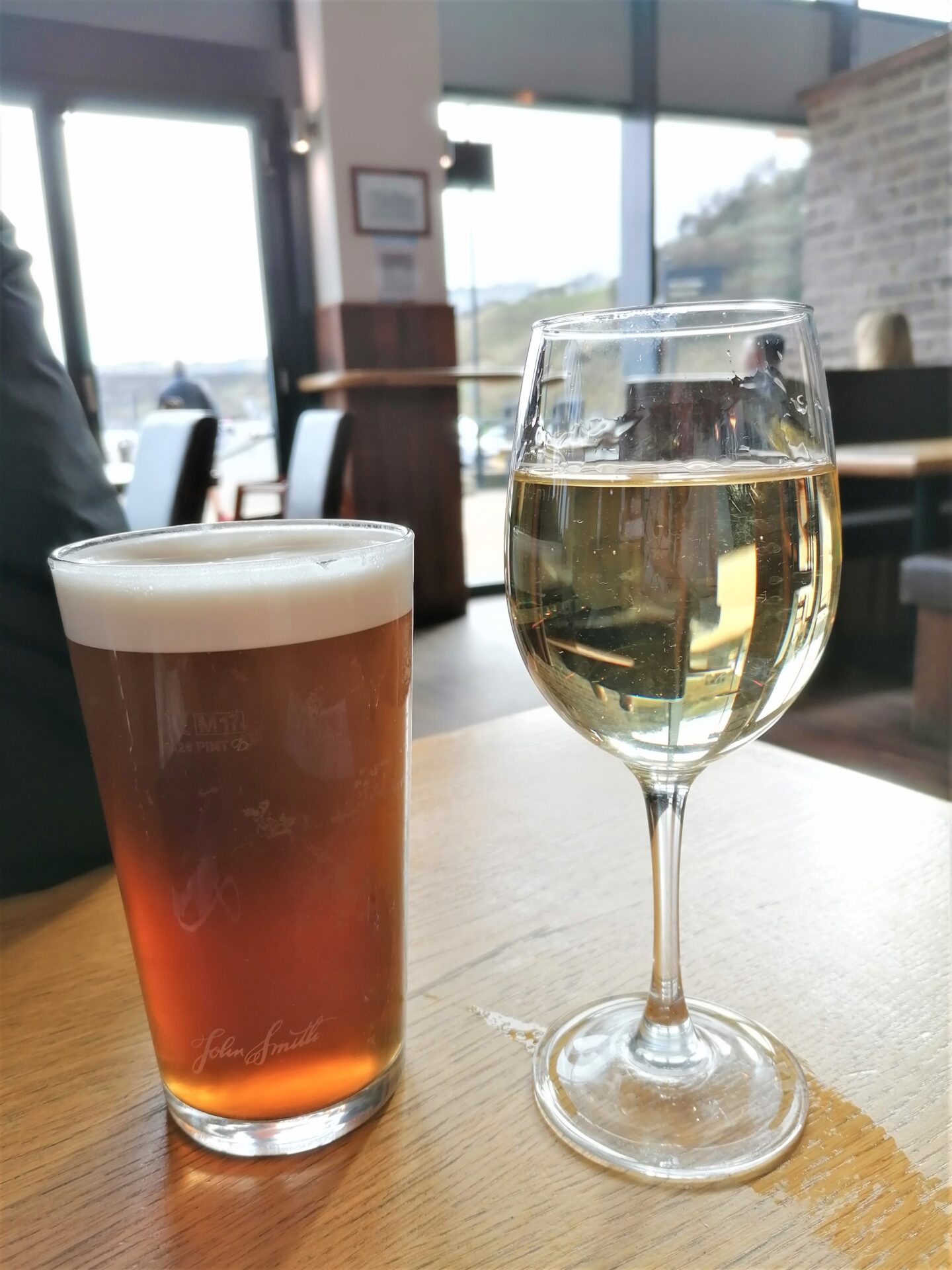 We were so comfy after a round of drinks, with Snoopy enjoying his nap under the table, we ordered a second round – it would have been rude not too!
The Rooftop 
I think this wins hands-down for the bar with the best view in Scarborough. Located at the end or start of the North Bay promenade (depending on which direction you are going), even on an October afternoon it was lovely sitting out and taking in the beautiful harbour views.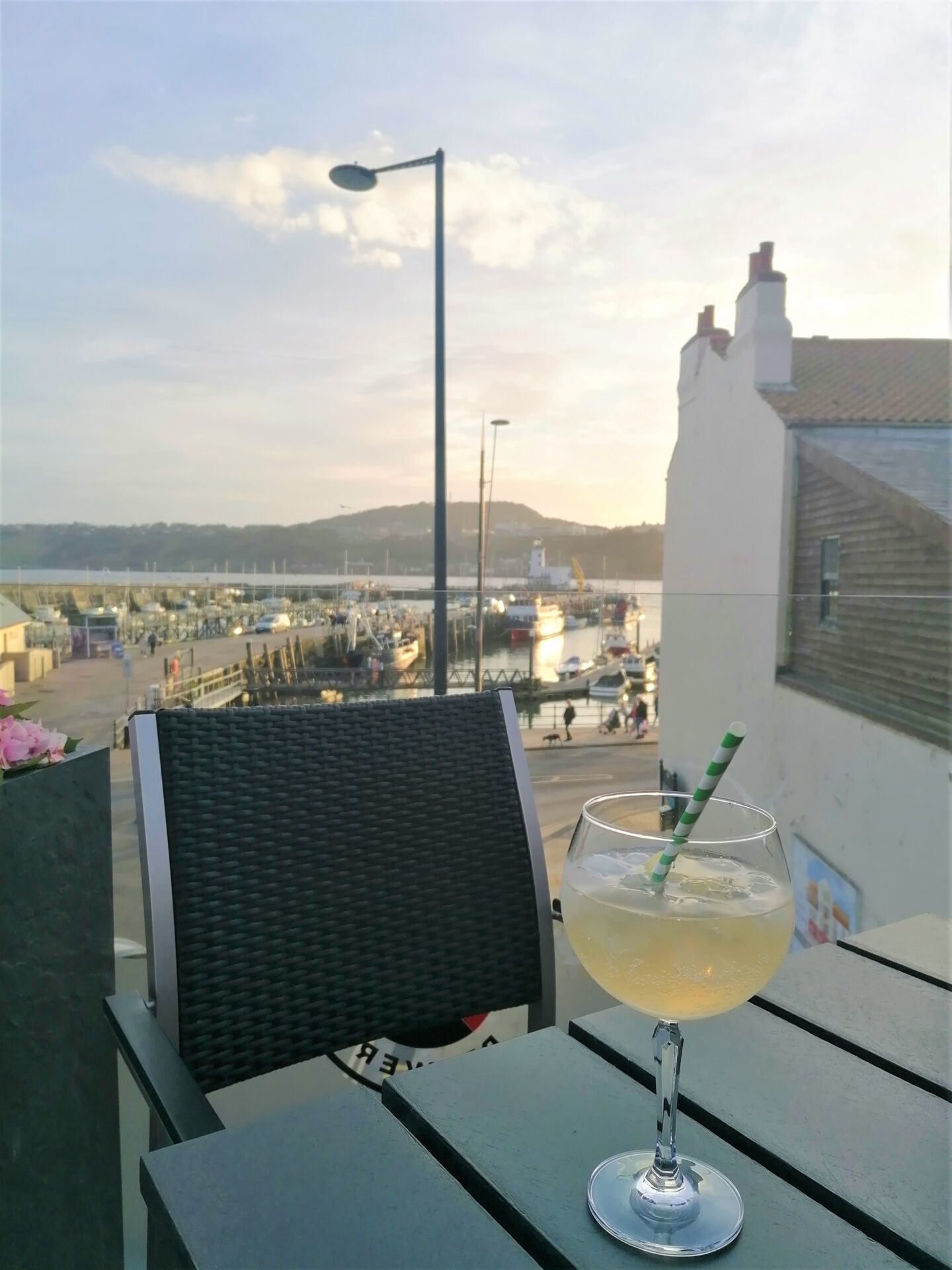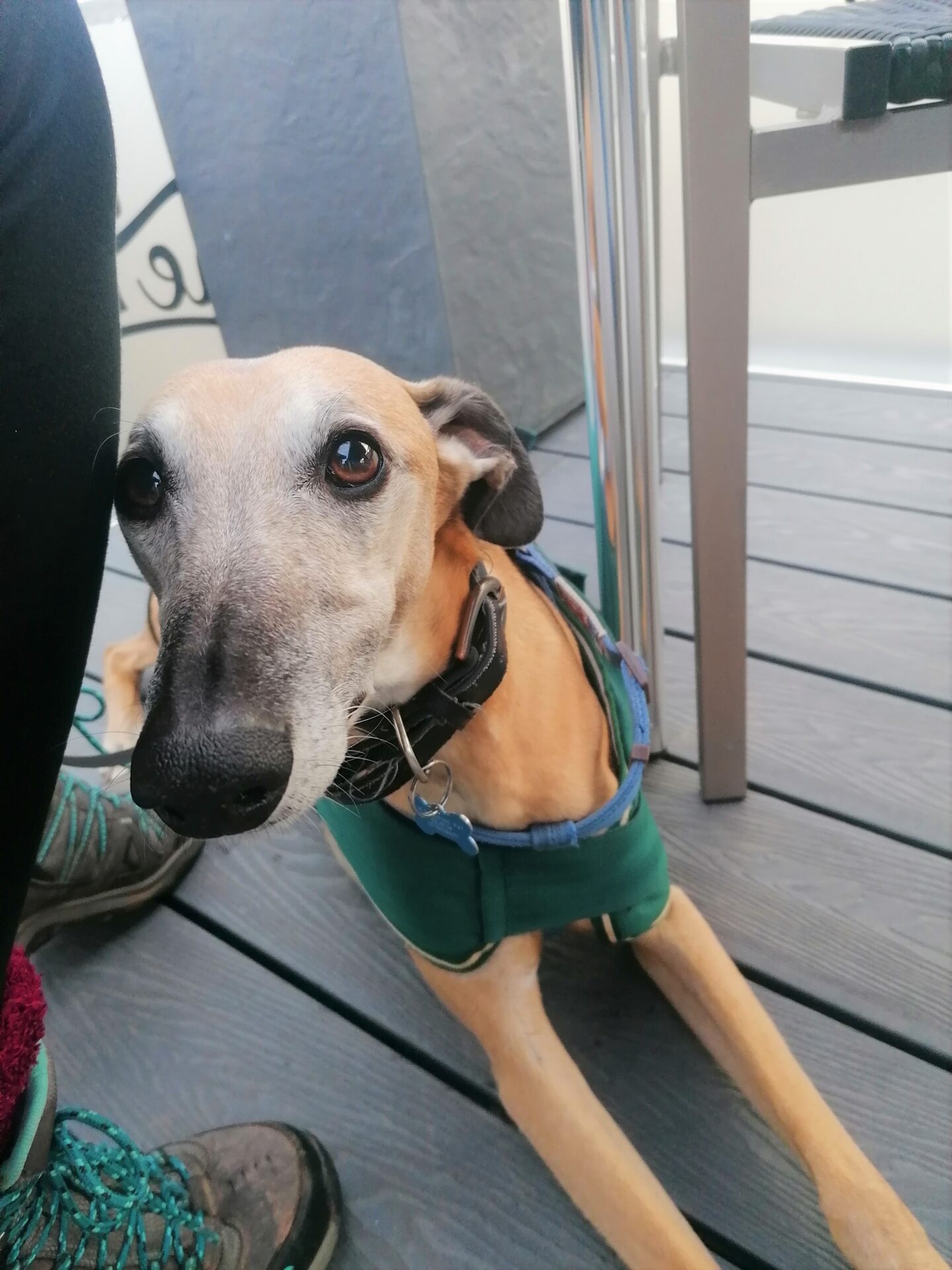 Worth noting they have a great gin selection!
The Green Room
For a memorable meal look no further than 'The Green Room'. On nights when they are not so busy, by pre-booking only they can accommodate a well-behaved dog. I'm so glad we got a table as I read lots of wonderful things about the food and we weren't disappointed.
We enjoyed three delicious courses. For starter I chose the 'Crispy local duck egg with toasted black pudding bread and smoked bacon aioli', and for main I opted for the 'North Sea' hake with seaweed rosti, swiss chard, brown shrimp, mace butter and lobster bisque.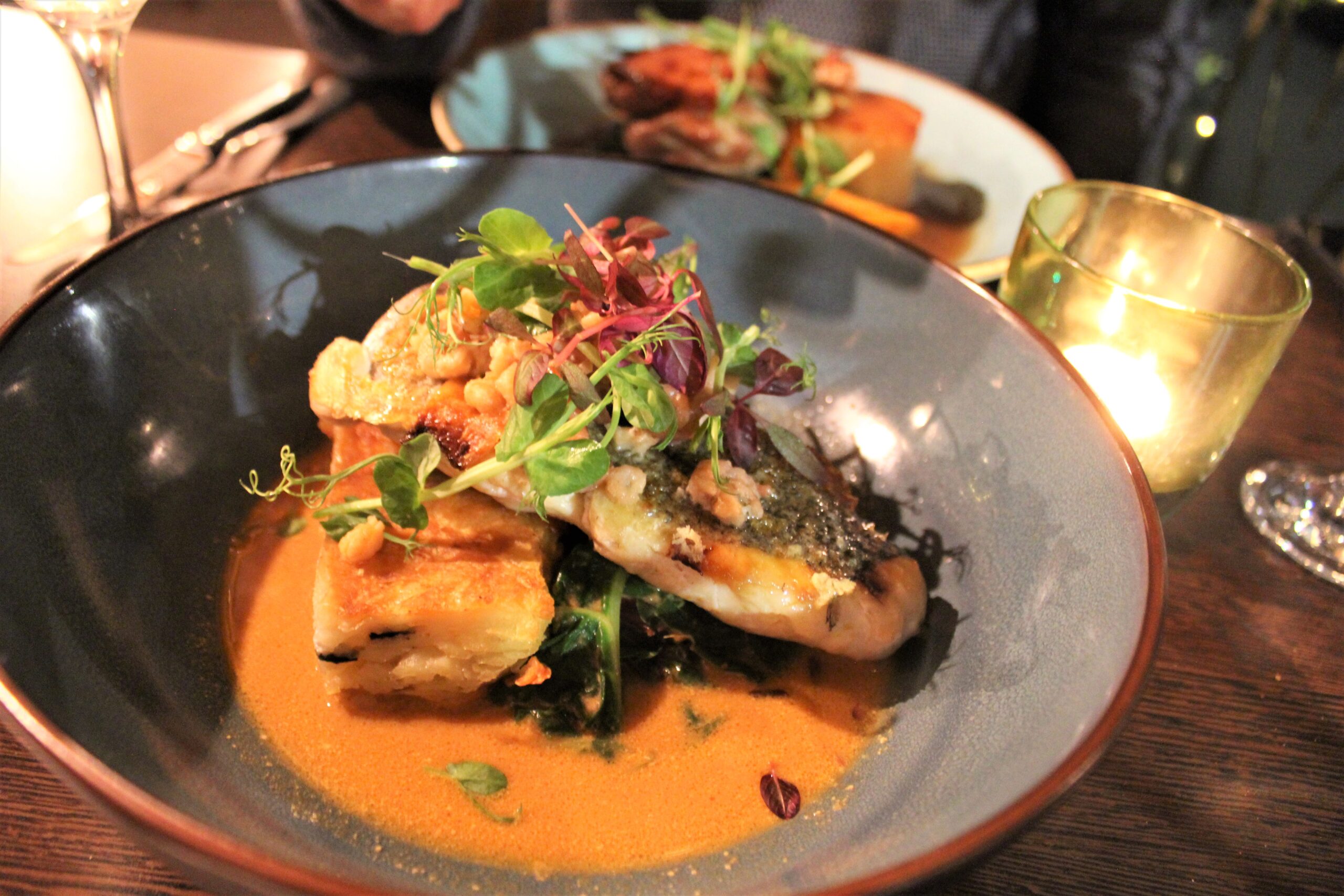 There was only one dessert for me as soon as I saw the 'Homemade sticky toffee pudding' on the menu – it was absolutely scrumptious!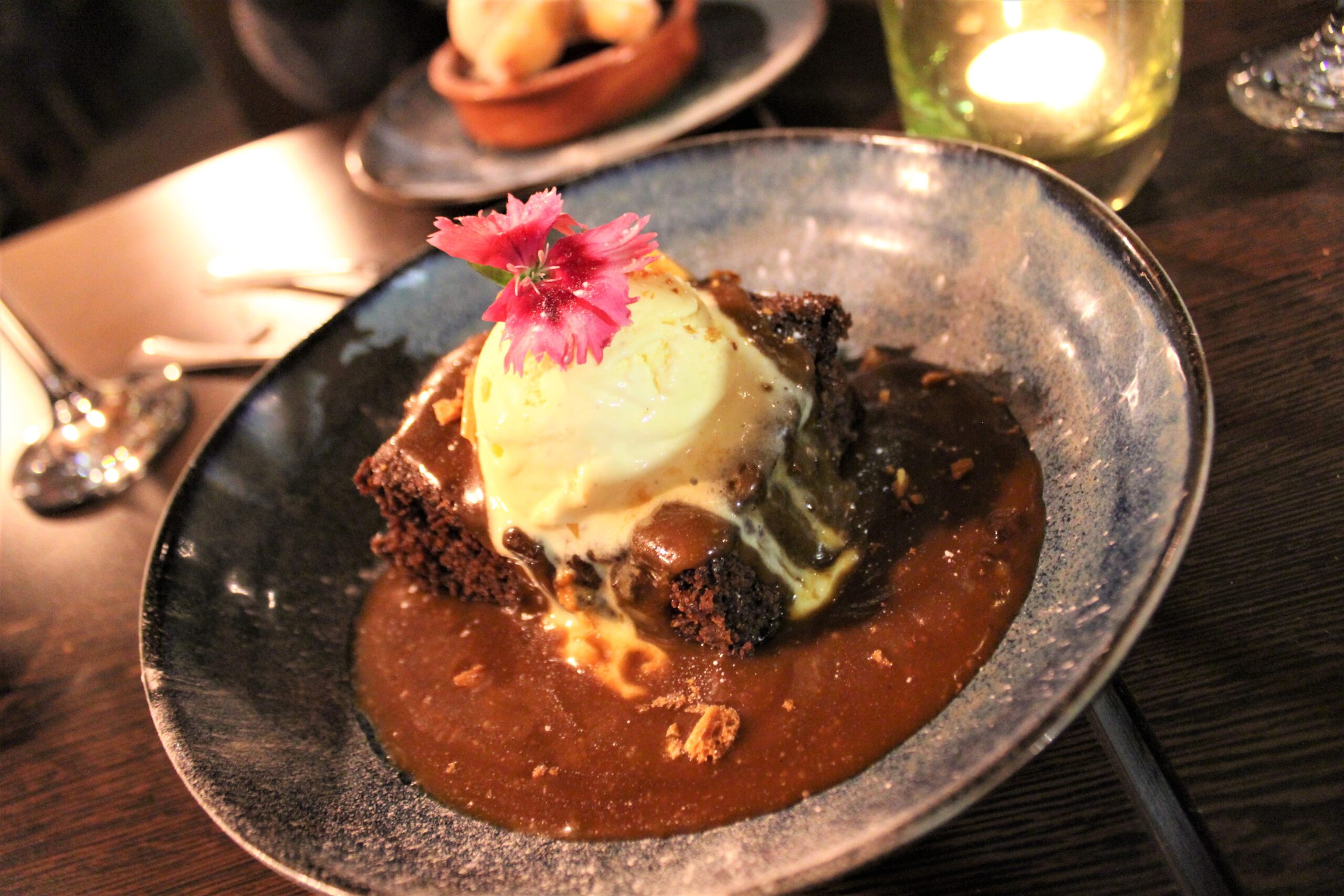 I highly recommend food lovers making a reservation here. Snoopy was also welcomed with fuss and a water bowl.
Hole in the Wall
This 1840's pub was full of locals, which is always a good sign. With lots of seating and plenty of cosy nooks, you and your dog are made to feel welcome, and if you are lucky you may even get to say hello to the friendly pub dog, who is adorable!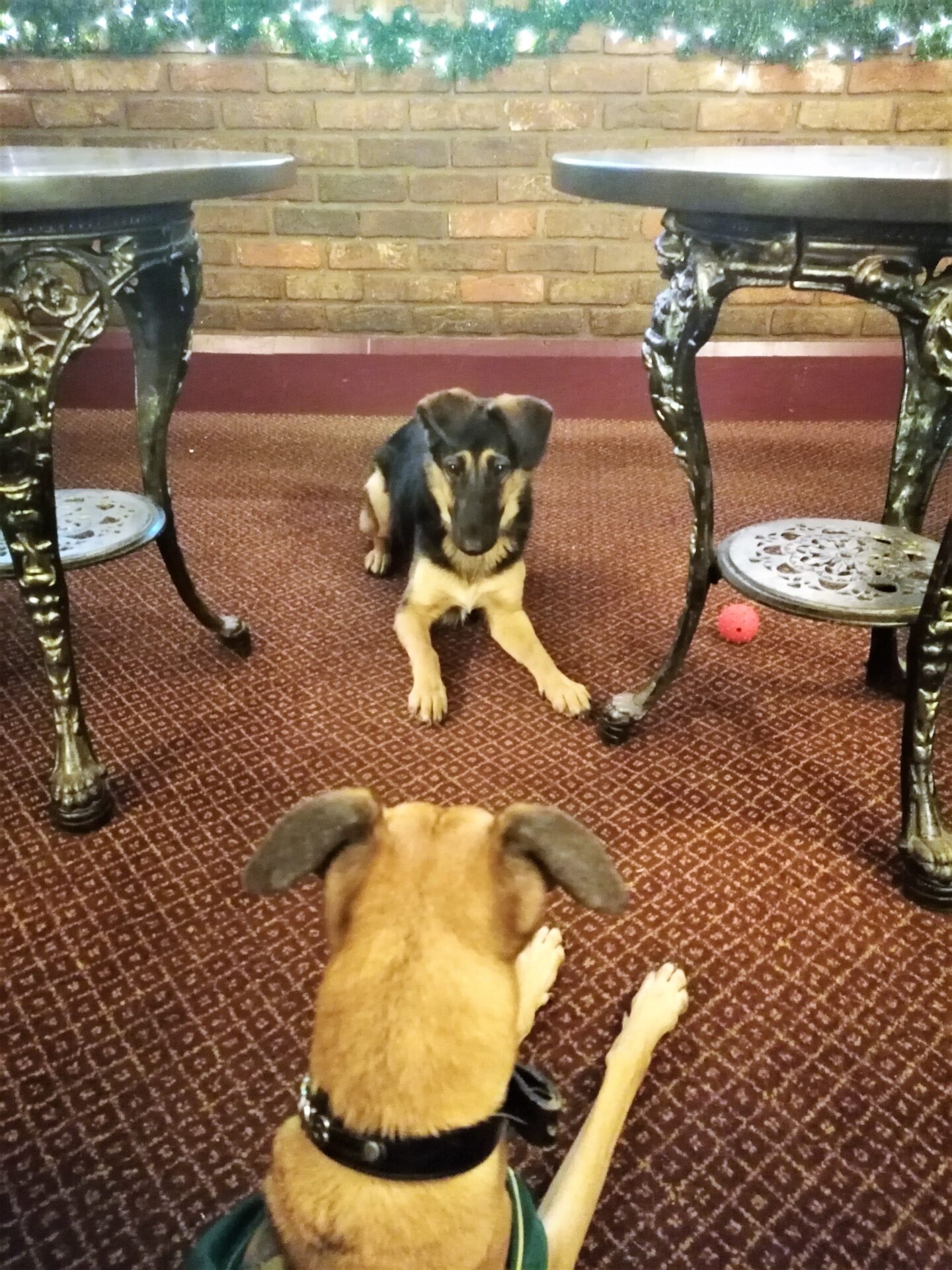 They also have a great selection of beers and gins.
The Courtyard
As the name suggests, this pub has a large courtyard where you are welcome with your dog. There is also lots of undercover seating which was handy for us as it was raining on our visit!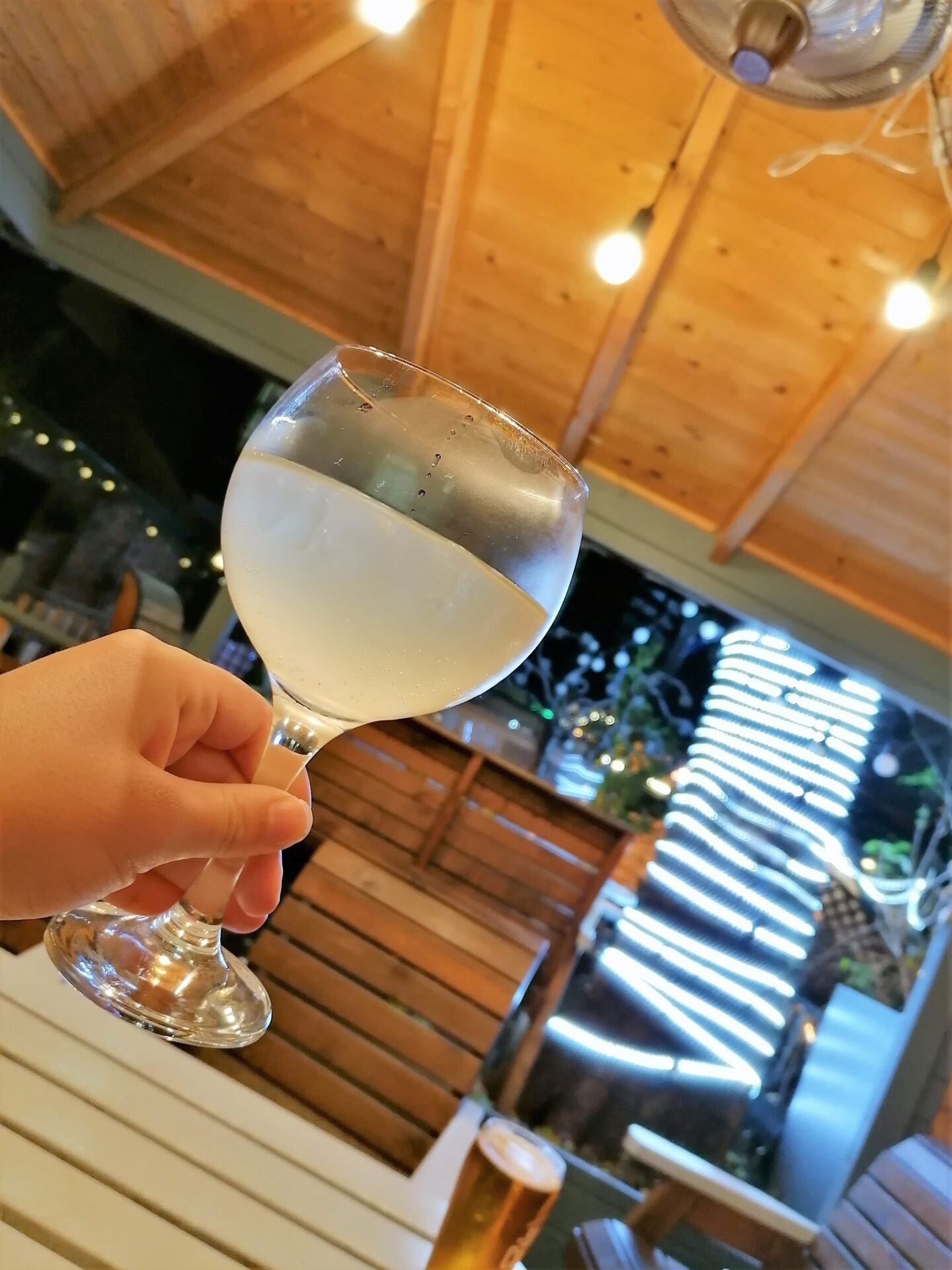 Looking for dog friendly things to do whilst in Scarborough? Check out my other blog post for mine and Snoopy's recommendations . . .
Dog Friendly Things To Do In Scarborough – The Travels of Mrs B