In the heart of the Buckinghamshire countryside is the recently refurbished Horwood House Hotel, where we chose to brighten up our January by taking Snoopy with us on a weekend away.
Initial impressions were good and the huge refurbishment was obvious with a lovely modern reception, but what also stood out was the warm welcome we received. The hotel is extensive and we were offered to be shown to our room.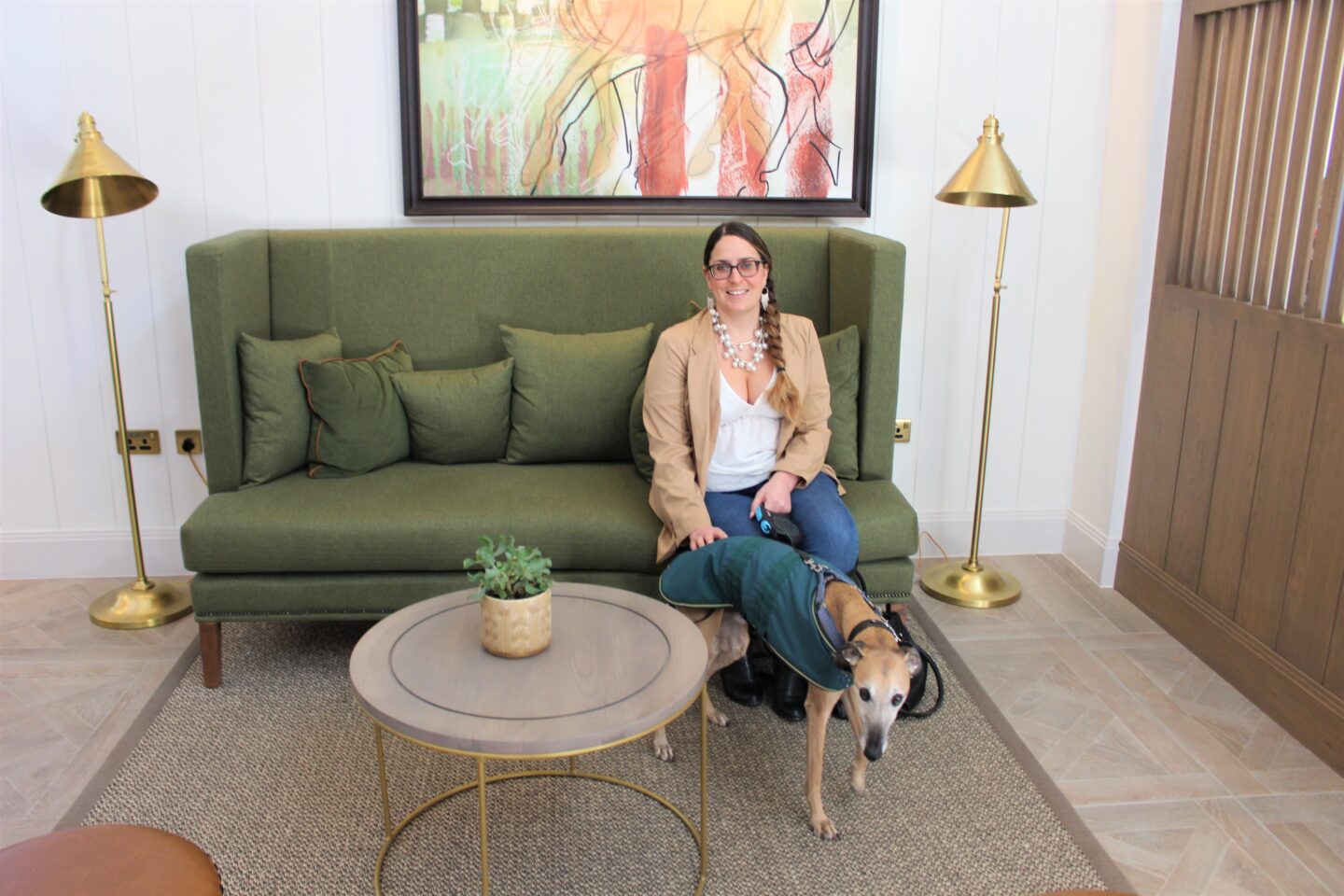 We were in one of the hotel's deluxe king dog friendly rooms which was perfectly located next to some exit doors so it made popping out for walkies a doddle.
Waiting in our room was a dog bed for Snoops, dog bowls and a chew stick. Little touches like this when booking a dog friendly room are very much appreciated as a dog owner.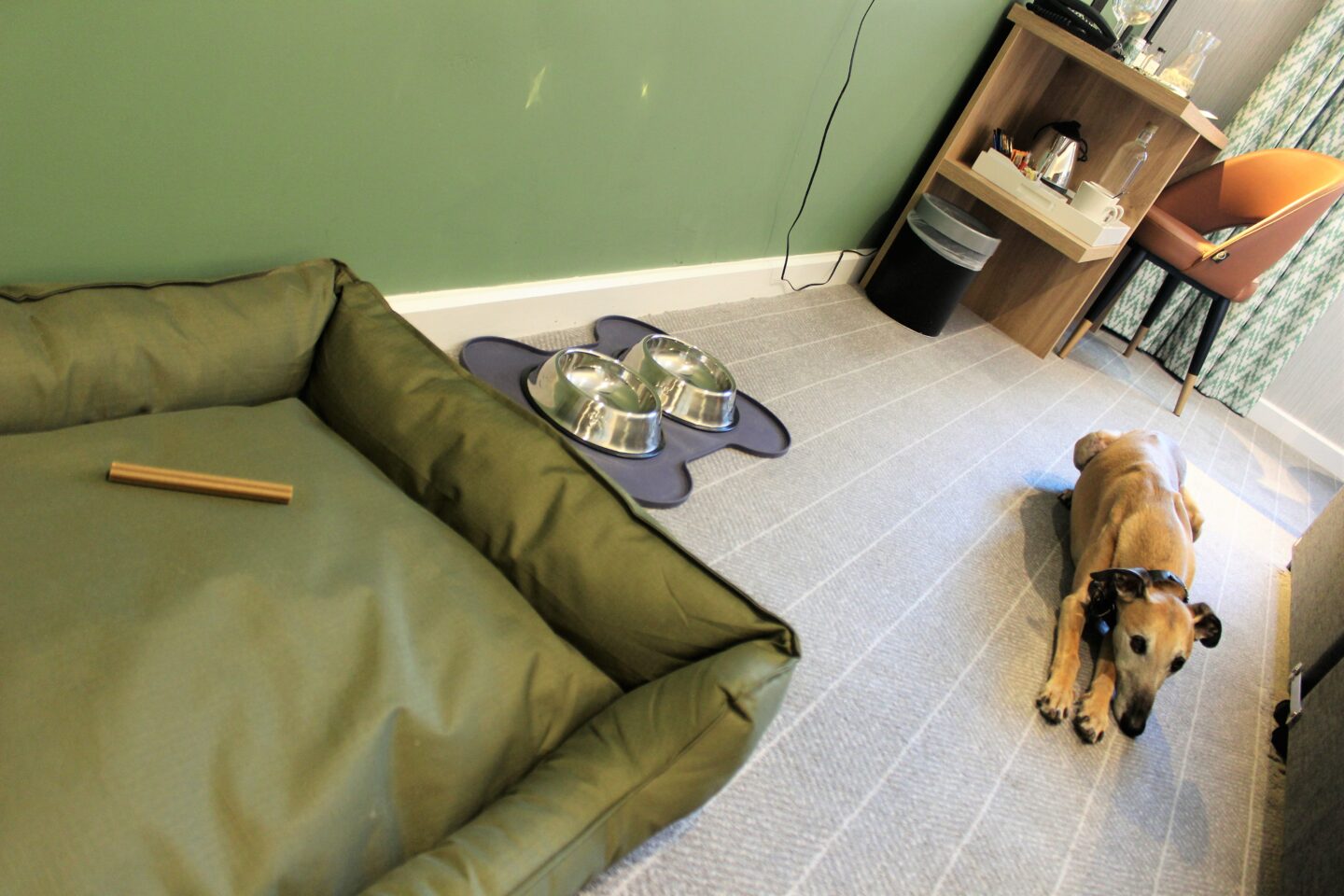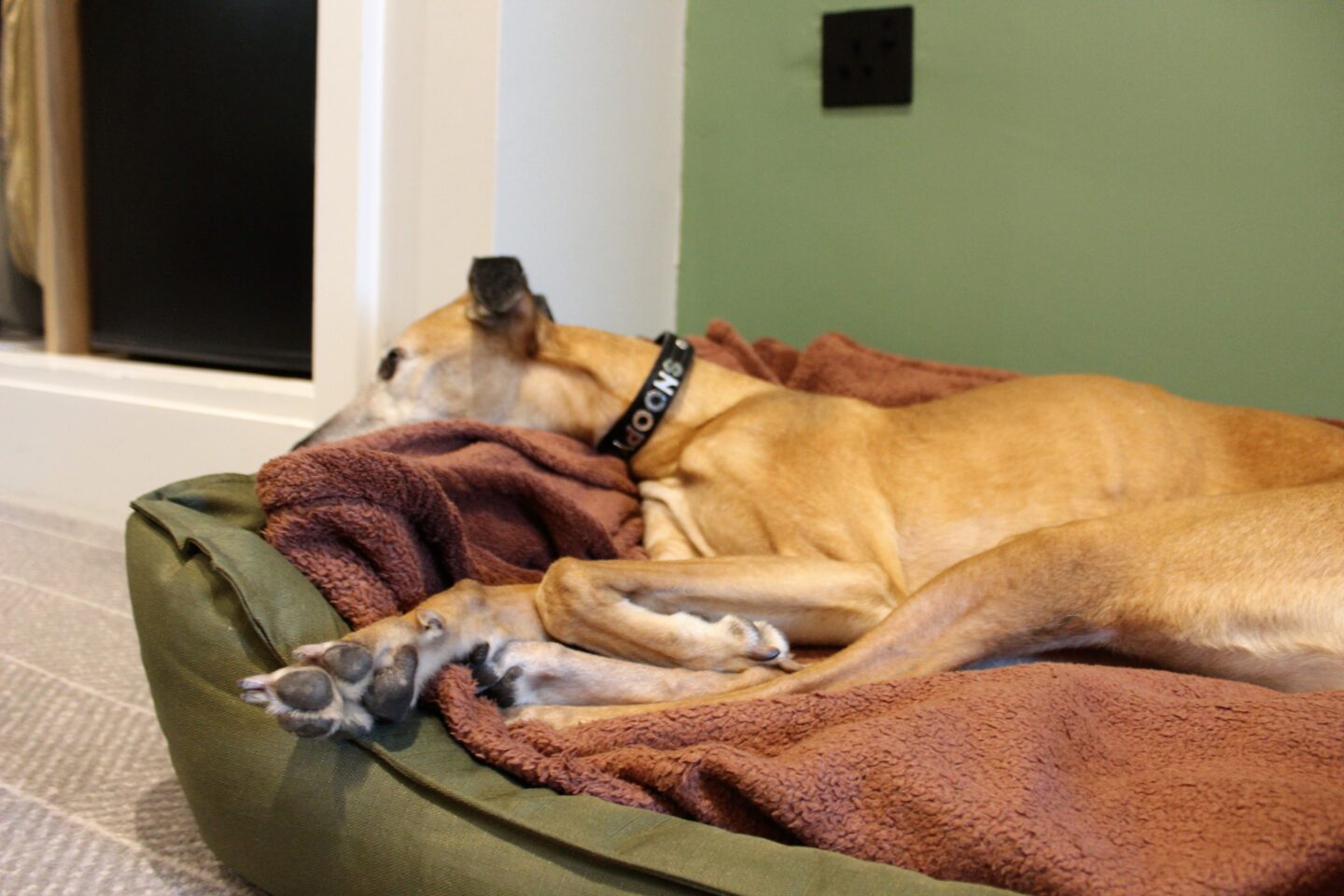 Our room had a large, comfy, double bed.
A small seating area, which was perfect for relaxing with a G&T!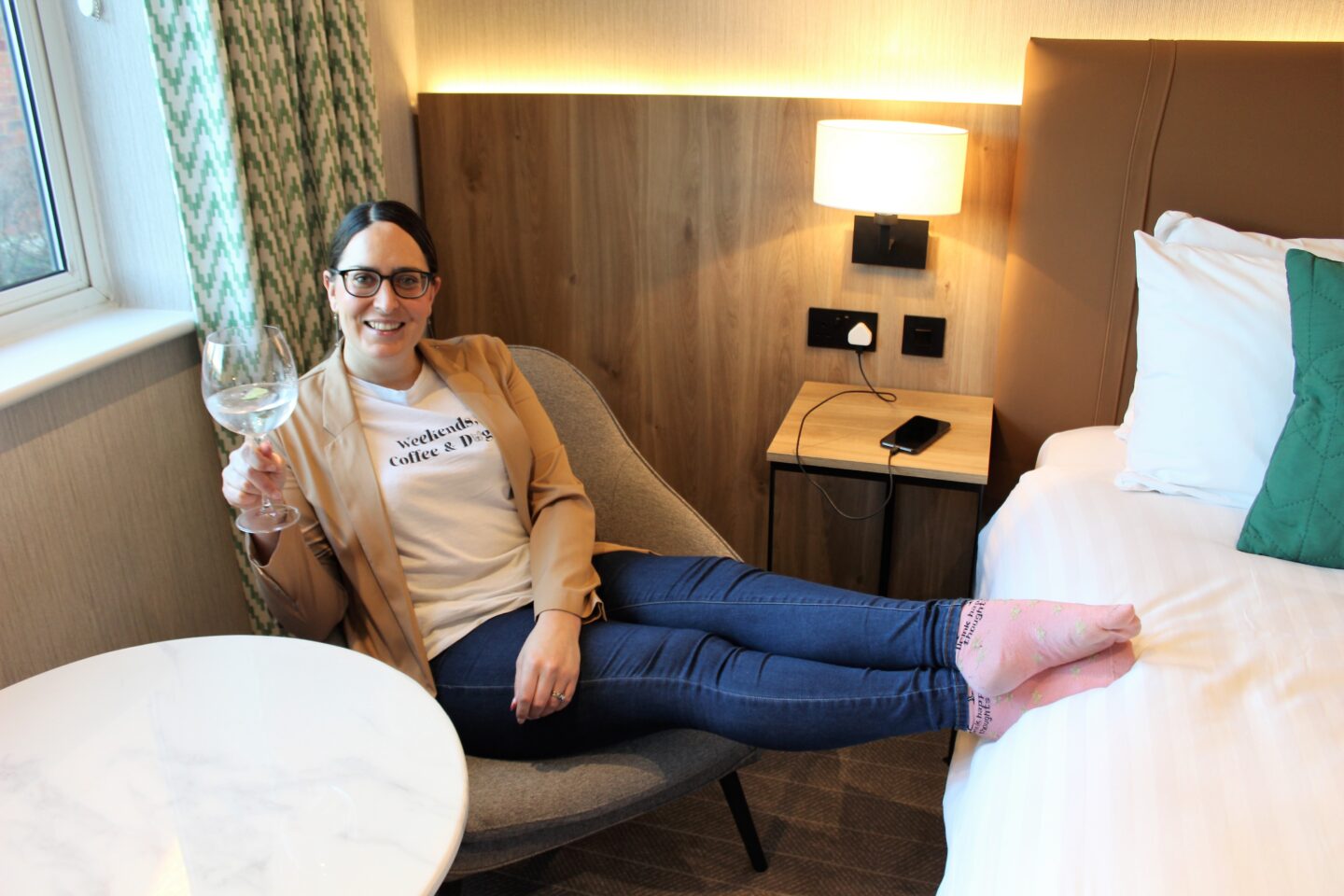 And also in our room were all the usual extras you would expect to find in a four star hotel – tea tray, stationary, safe, free Wi-Fi, bathrobes etc.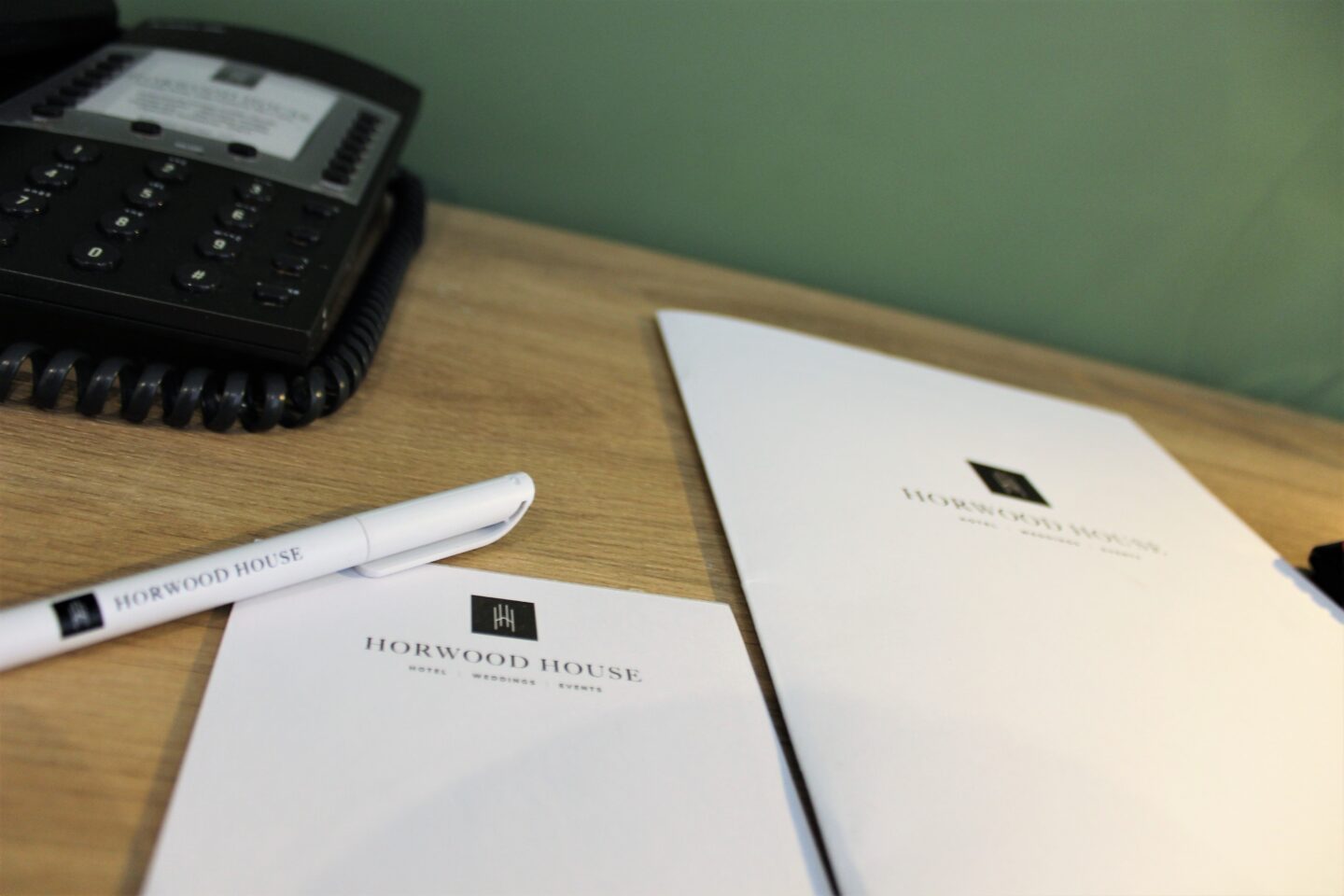 The bathroom felt very shiny and new with a bath with overhead shower and toiletries by Gilchrist & Soames and Pecksniff, although there wasn't a body lotion which I would expect from a four star hotel.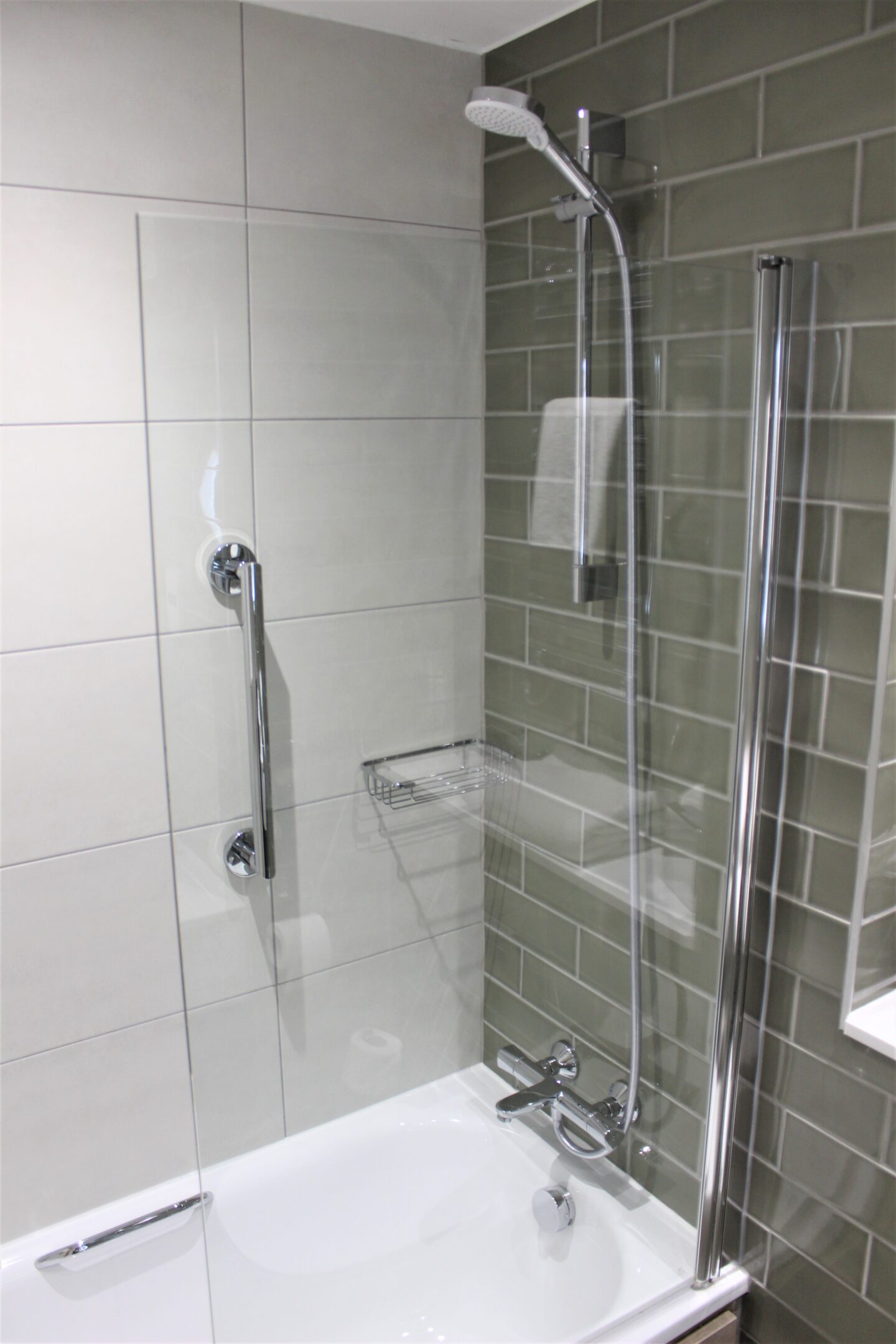 After a relaxing afternoon it was time to head for dinner in the hotel's restaurant, Harry's Bar & Kitchen.
The spacious dining room was buzzing with life on a Saturday night.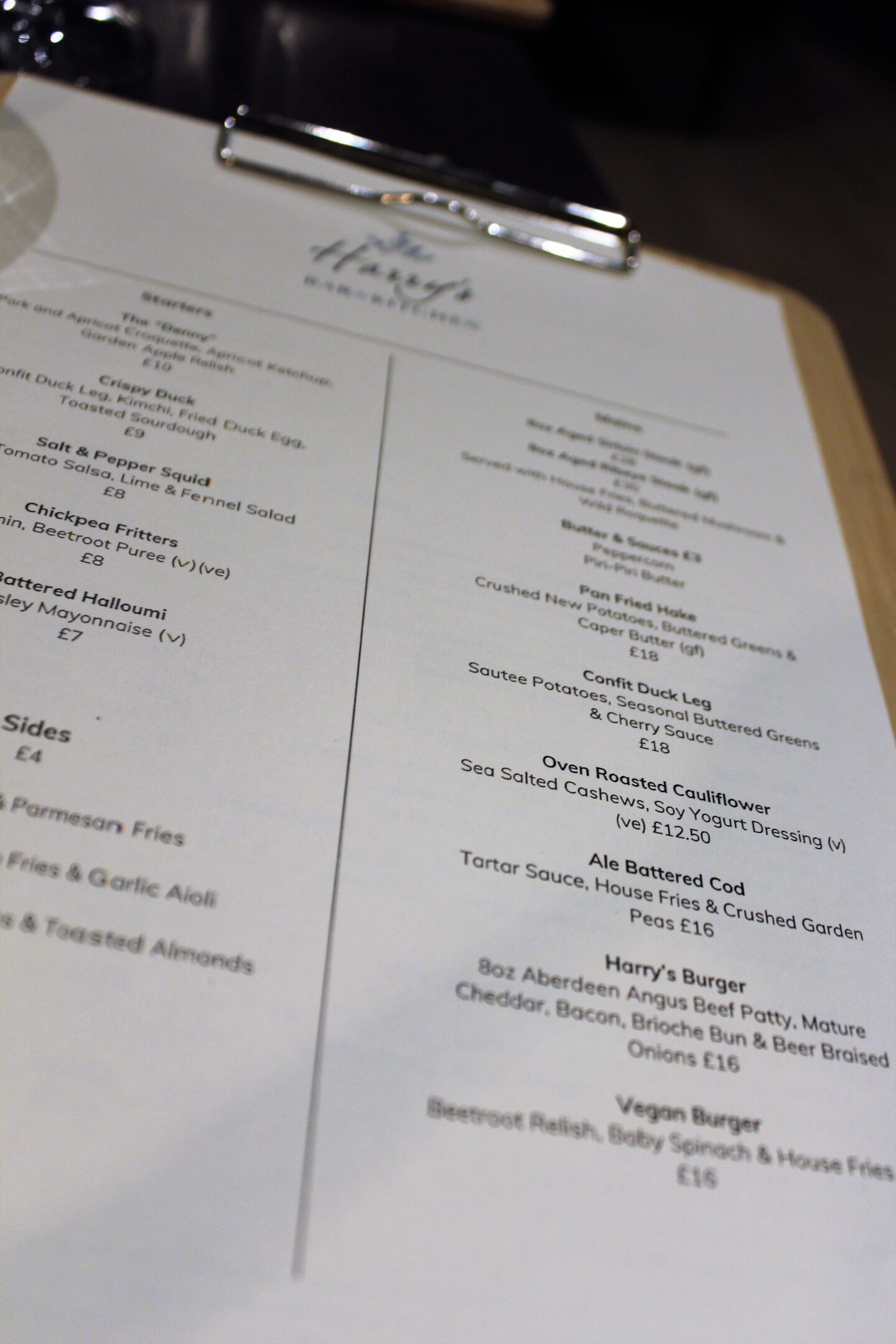 Whilst enjoying a bottle of Merlot we perused the menu.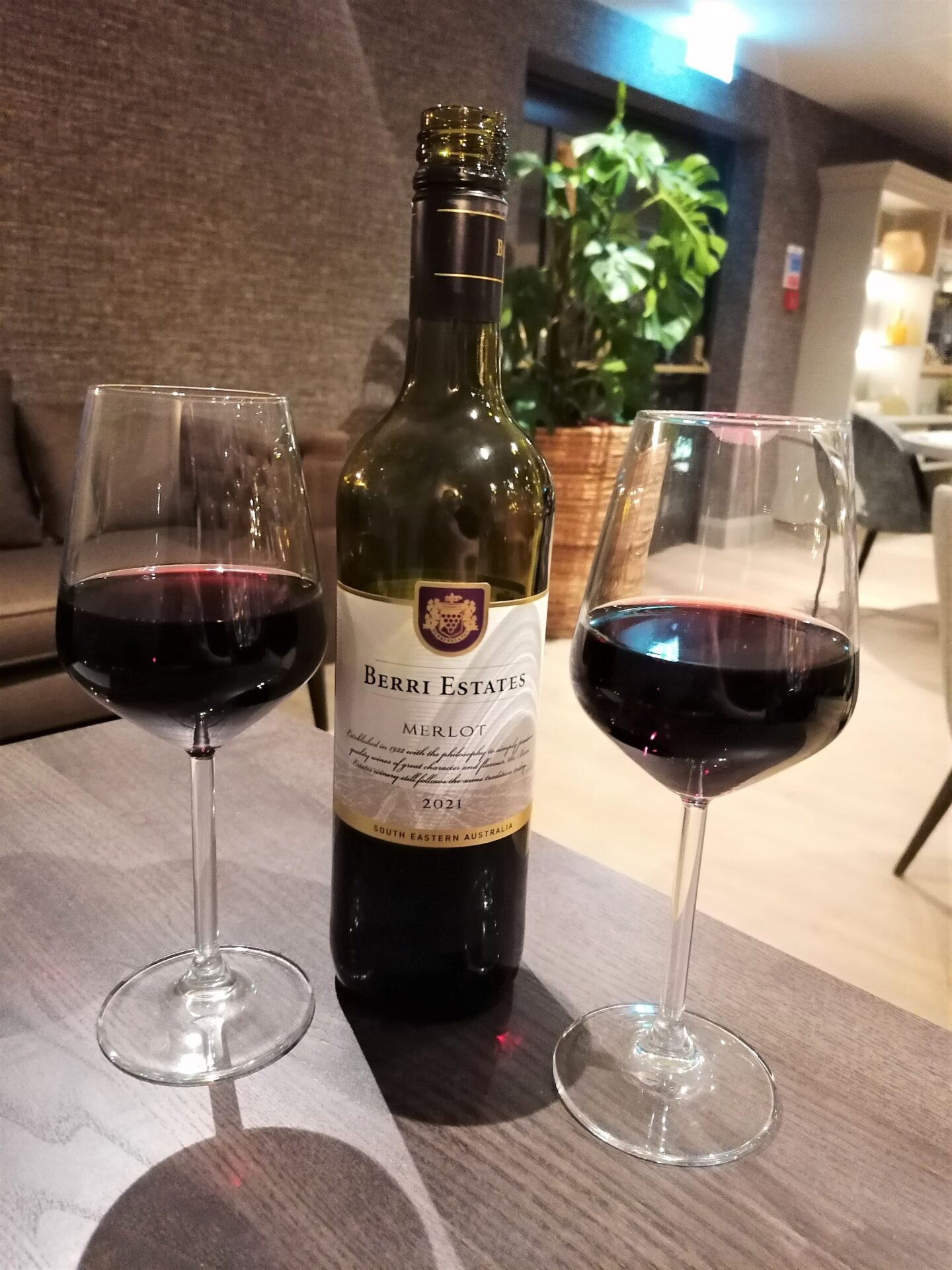 To start I chose the 'Salt & Pepper Squid Plum Tomato Salsa, Lime & Fennel Salad'. The star was the squid which to my delight was cooked well, not rubbery and had a lovely crunchy batter.
Mr B chose the 'The "Denny" Pork and Apricot Croquette, Apricot Ketchup, Garden Apple Relish'. It was filled with lovely tender meat and he was pleasantly surprised to be presented with two croquettes on his plate, quite a generous portion.
For main we did something we don't normally do and we ordered the same – the Char-Grilled 8oz aged sirloin steak which came with house fries, buttered mushroom and roquette. We both also chose the peppercorn sauce.
I ordered mine rare and it came just as I requested. I wasn't disappointed, it was lovely and tender, the fries were crisp and I used the remainder of the lovely field mushroom to mop up the creamy peppercorn sauce.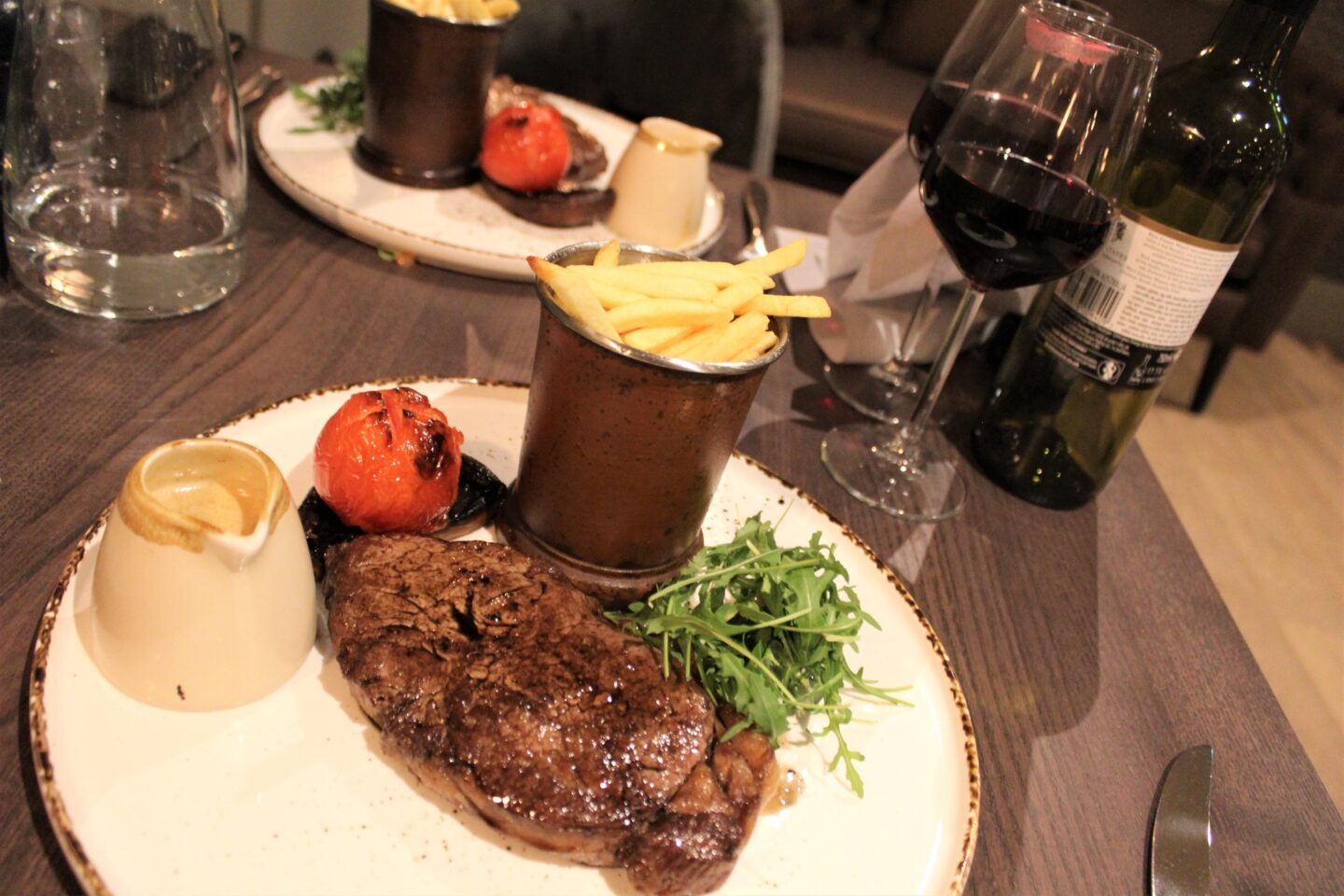 Dessert was an easy choice for me, hazelnut chocolate tart, salted caramel, blood orange ice cream – pretty much all my favourite things in one dessert! The pastry was thin and buttery, generous with rich chocolate filling and a lovely salted caramel top, and the sharp blood orange ice cream cut through the sweetness really well.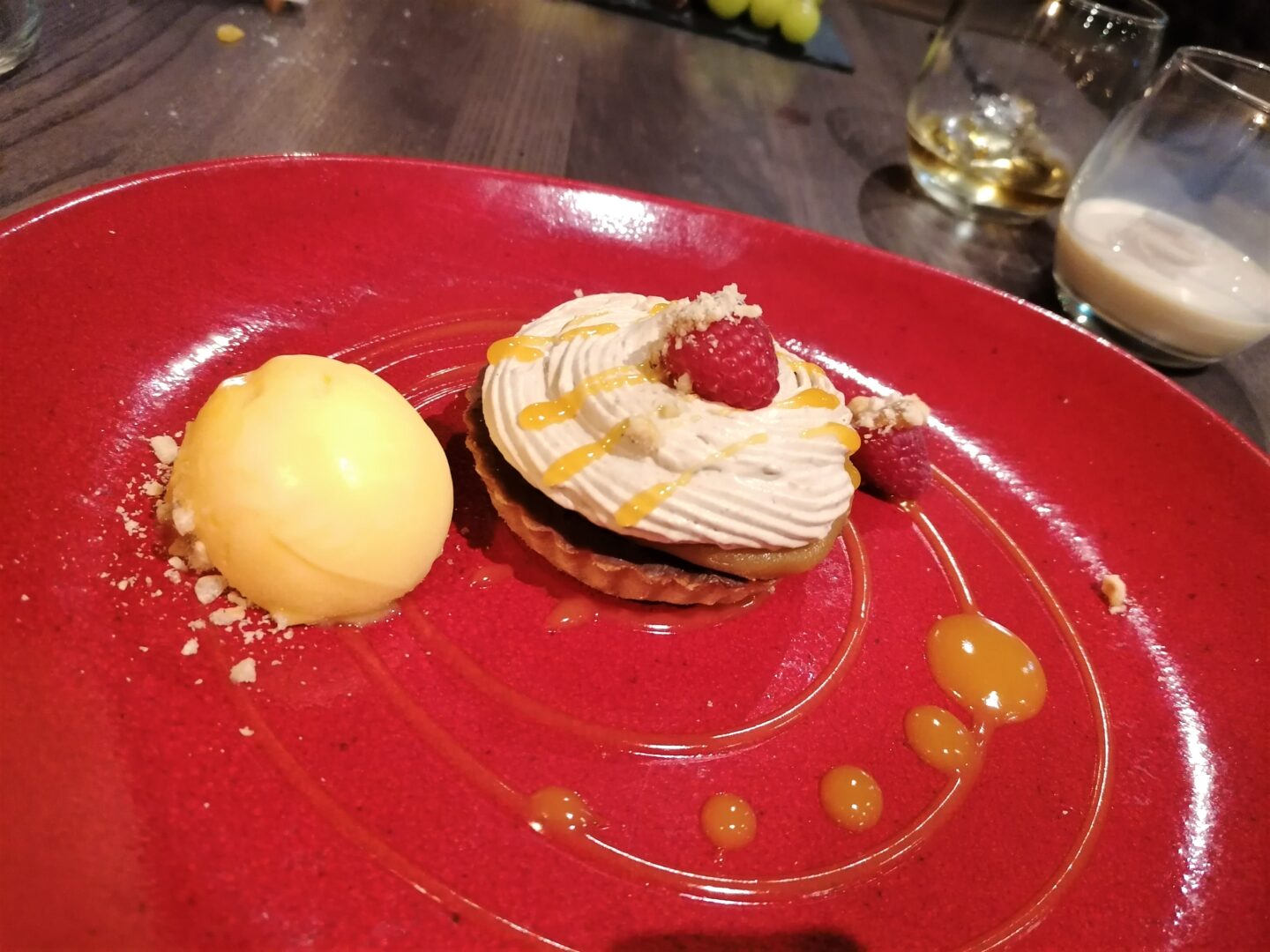 Mr B went for a classic, but always a good choice – cheese and biscuits, which came with a selection of crackers, grapes and chutney. He was almost defeated by the cheese as the portion was generous, but he needn't have worried as I was a good wife and helped him polish off the cheese!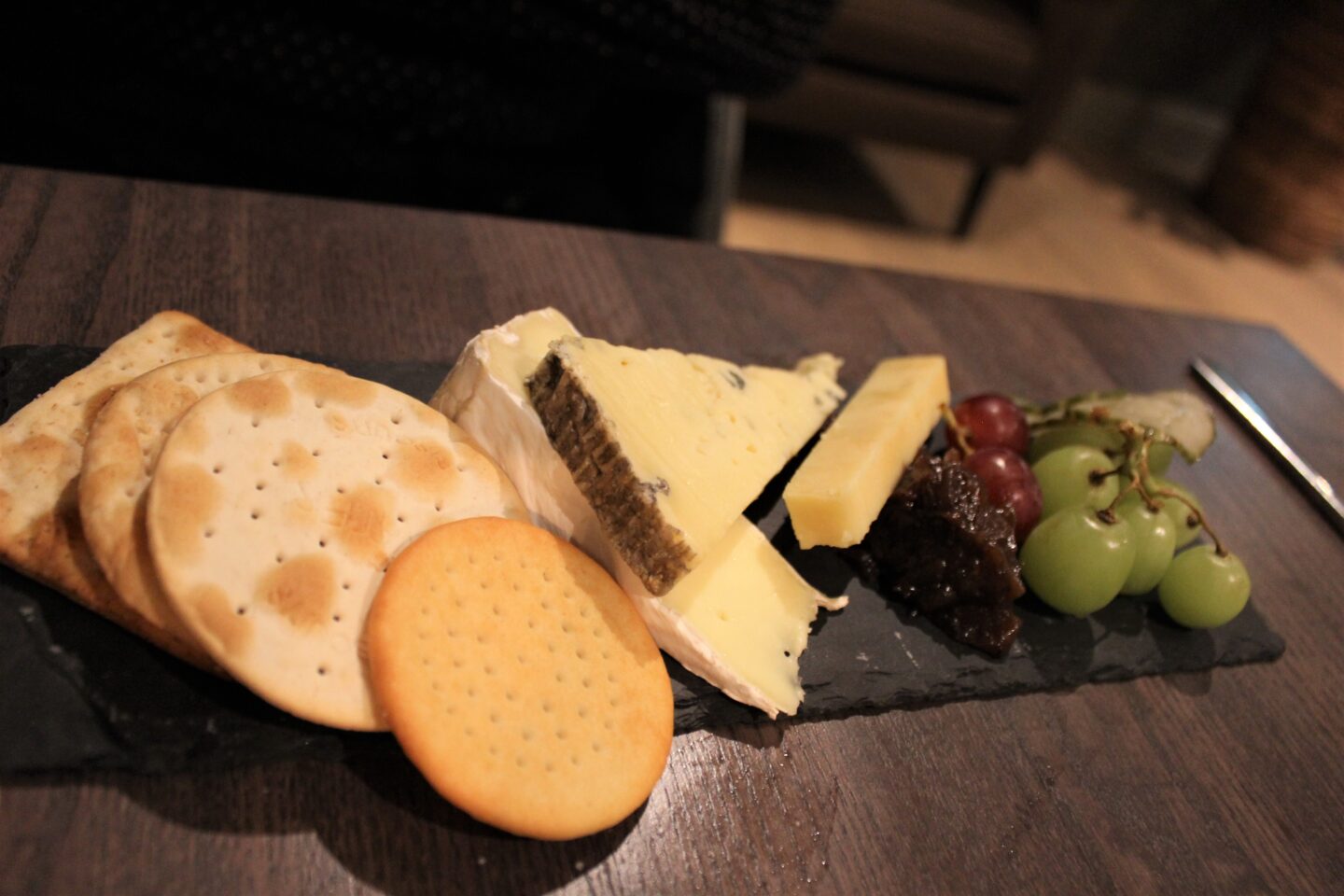 After a good night's sleep it was time to head down to breakfast which was a small buffet with hot options and a continental selection. It would have been nice to have some meat and cheese options with some different bread, but that's just my preference on a continental. I did enjoy some lovely fresh pastries and a natural yoghurt with honey. I purposely wanted a lighter breakfast as we were having afternoon tea later that day. Mr B did comment the quality of the sausage and eggs were good.
To try and make ourselves hungry for our afternoon tea we spent the morning having a lovely stroll around the hotel gardens. The Grade II-listed manor house, which is currently being refurbished, is the birthplace of the famous gardener Percy Thrower and the beautiful house is surrounded by wonderful gardens.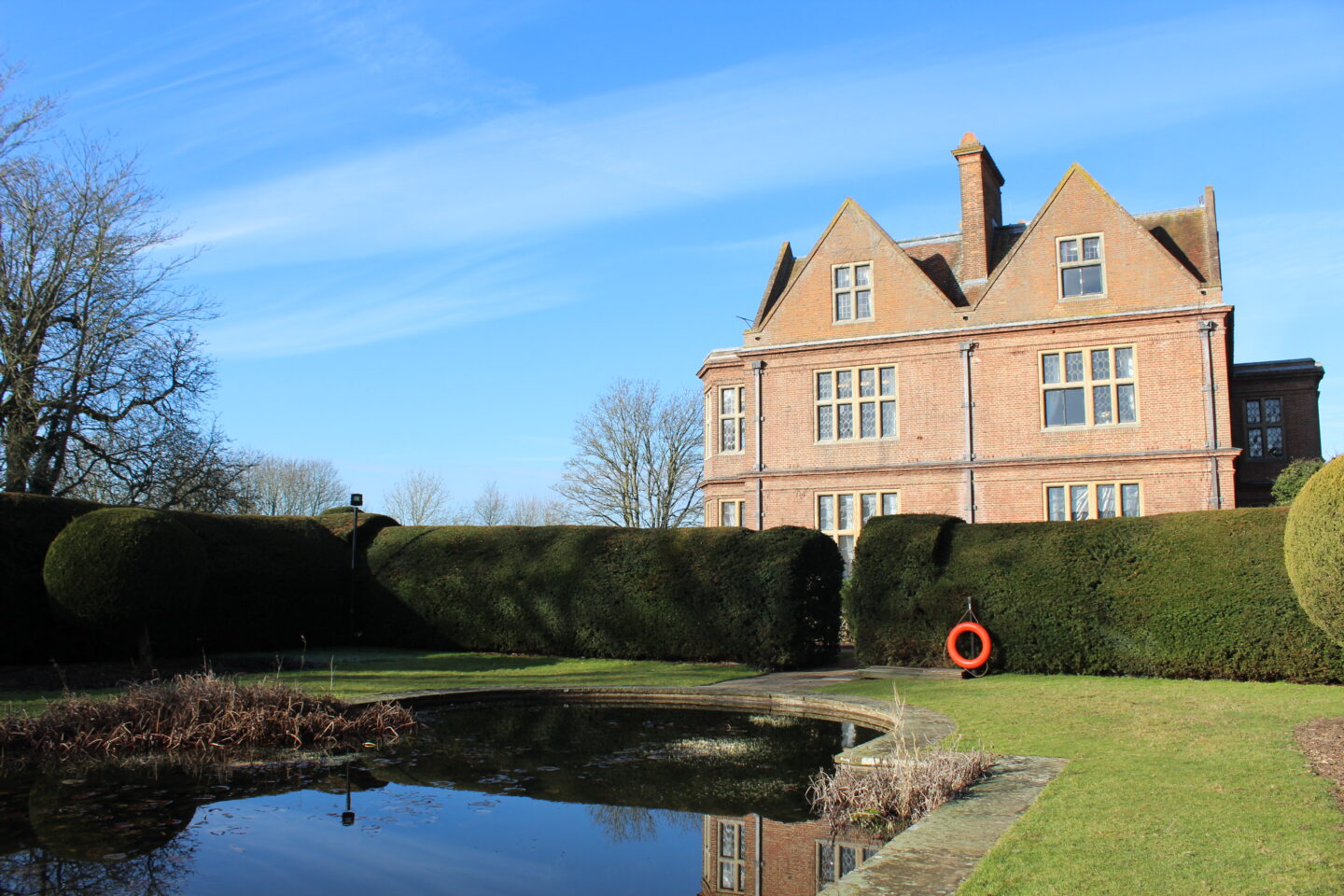 They are lovely to walk around and explore during your stay. There is a large lily pond, manicured lawns and a wooden gazebo.
The hotel also has a newly-built spa which hosts a pool,  sauna, steam room, heated loungers and treatment rooms, but as we had Snoops with us we didn't visit the spa on this occasion.
But we did manage to make some room to have afternoon tea! Served in Harrys Bar and Kitchen, we were presented with a lovely full afternoon tea stand.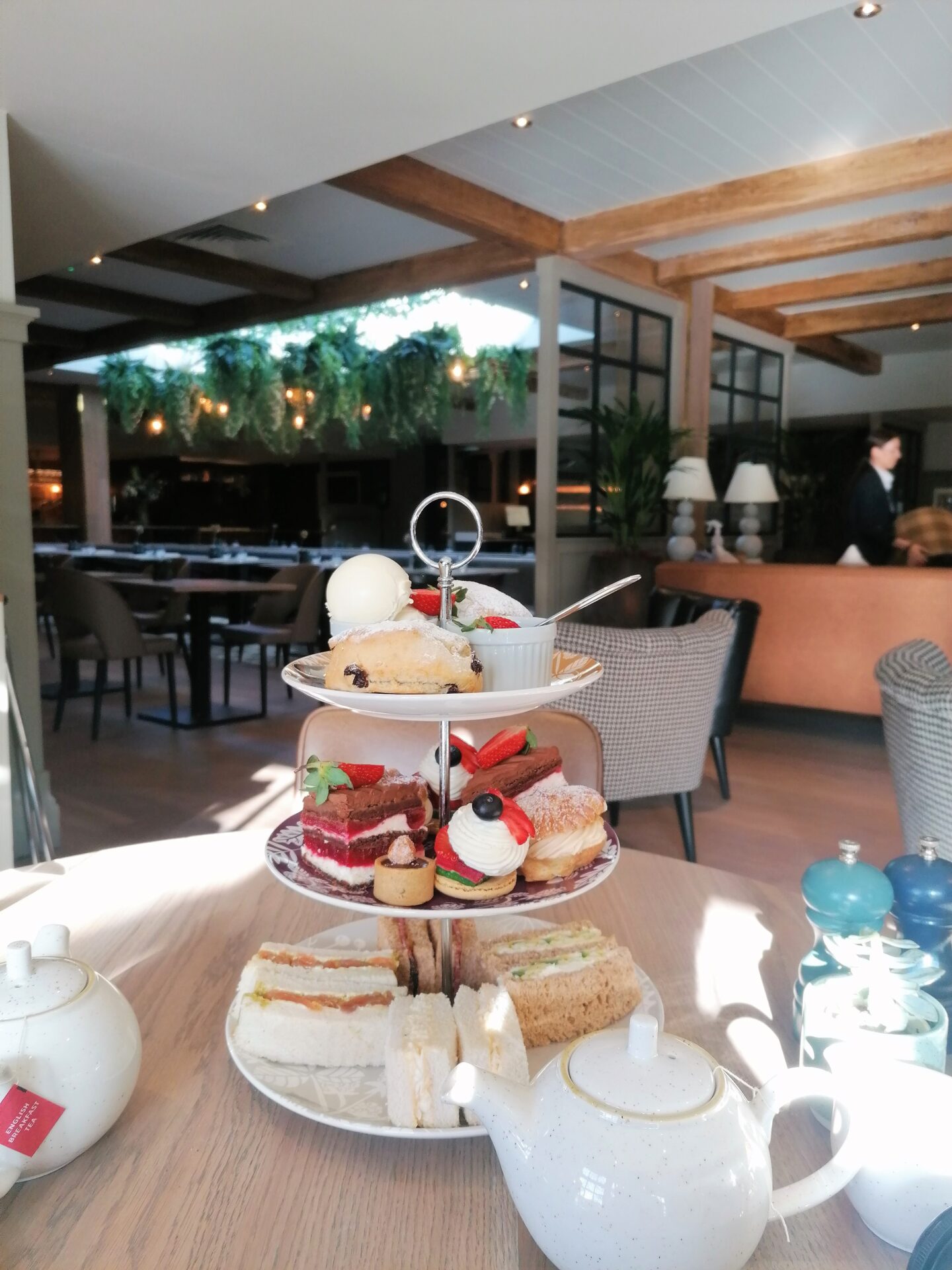 Sandwich fillings were avocado and cheese, a combination which we have since recreated at home as it was so delicious. Other fillings were a very tasty smoked salmon and pesto, and pastrami with chutney.
My favourite part of afternoon tea, the scones, were served warm with a generous portion of clotted cream and jam. They were lovely scones, generous in size and soft and fluffy.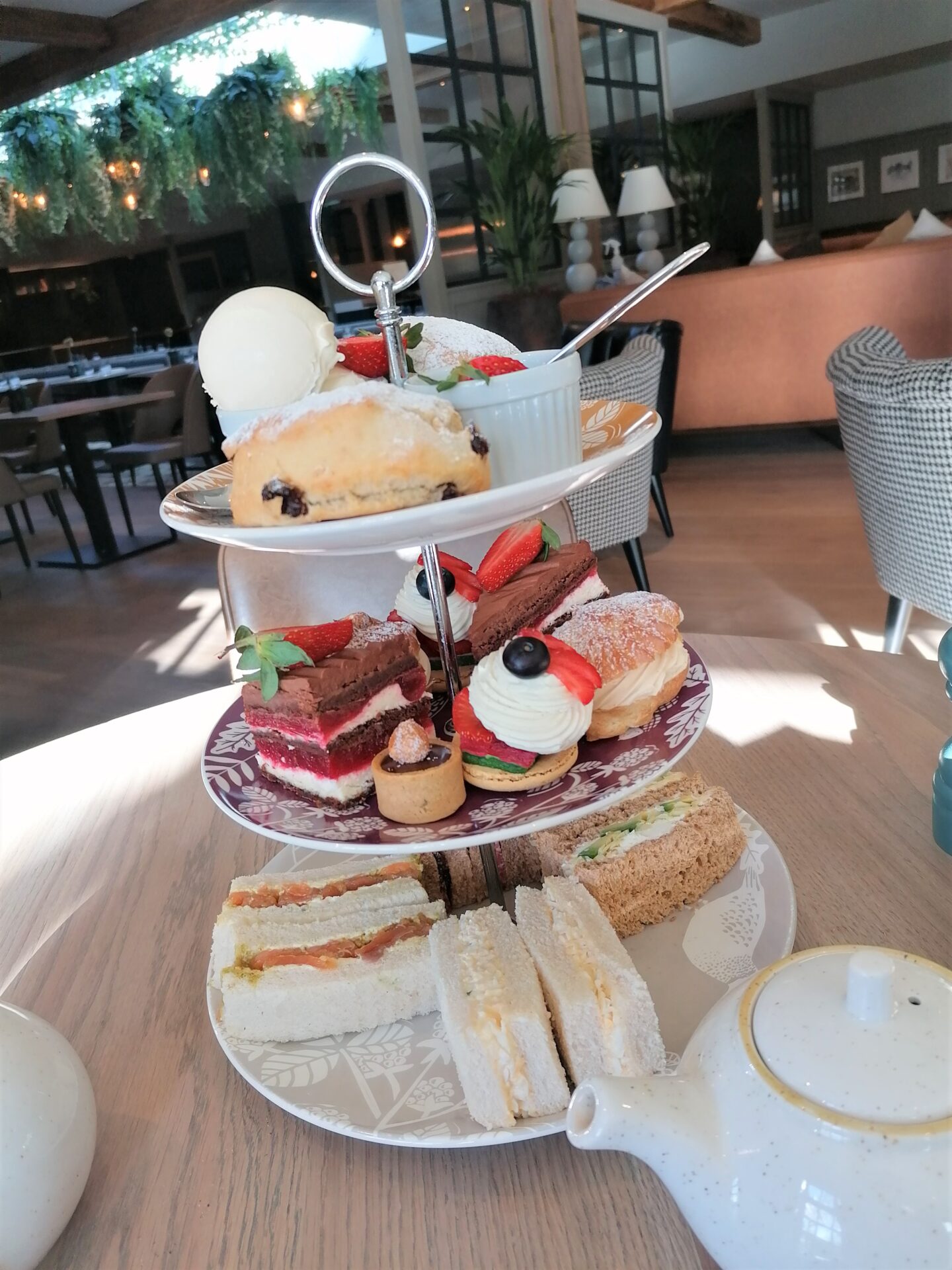 There were lots of lovely sweet treats on the middle layer of the stand, from a mini chocolate hazelnut tart to a black forest slice, but my favourite was the choux pastry which was filled with lemon curd and fresh cream.
All three of us left very happy after a lovely relaxing weekend away full of friendly service and yummy food.