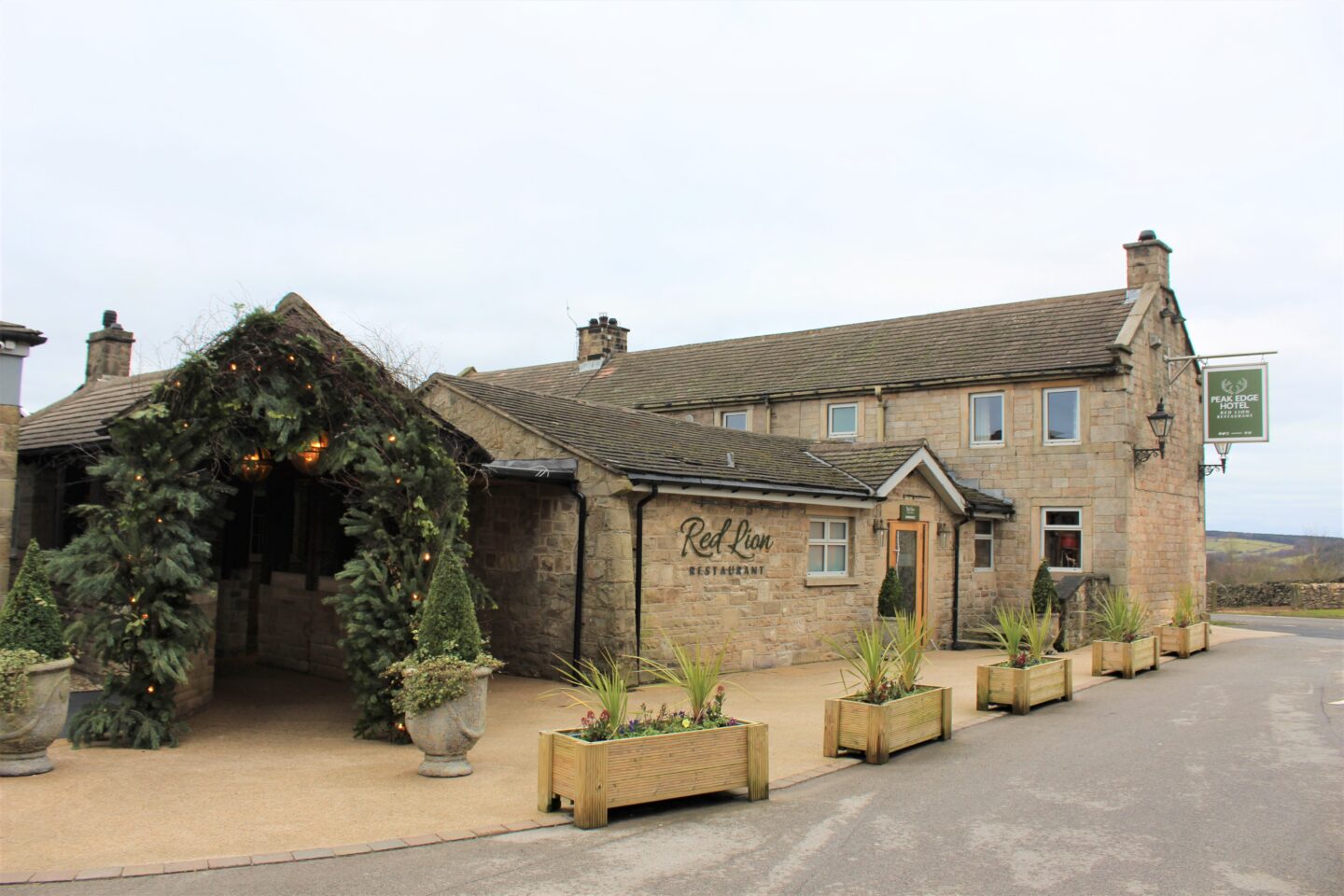 Living in Nottingham, we are so lucky to have the Peak District less than an hour's drive away, but Mr B and I, like many people I presume, are very guilty of not visiting this beautiful part of the UK as much as we should.
That changed recently when we had a wonderful staycation at the Peak Edge Hotel, a lovely boutique hotel perfectly located on the edge of the Peak District.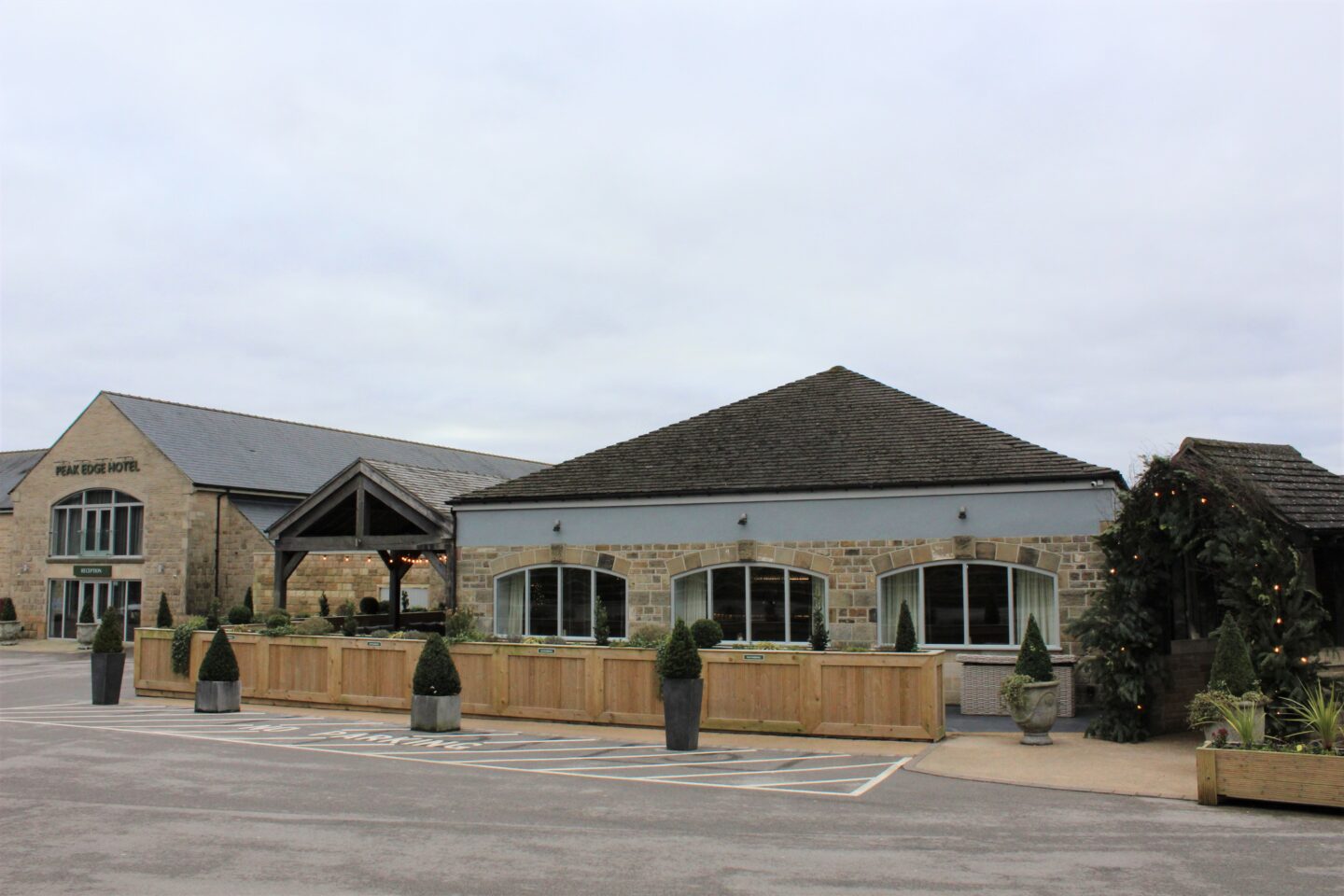 With JoJo along for the adventure, we were warmly welcomed inside and given the key to our ground floor superior room.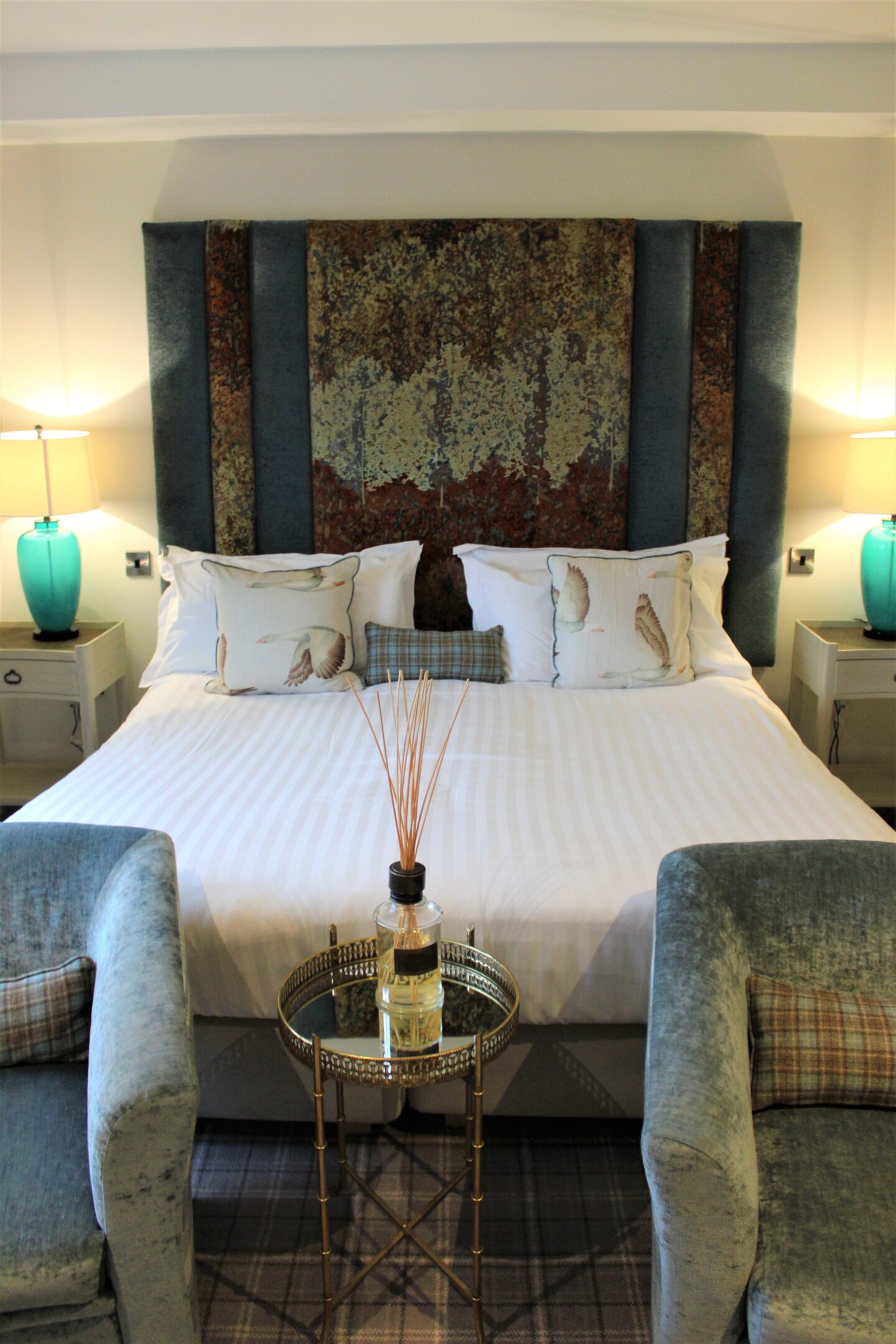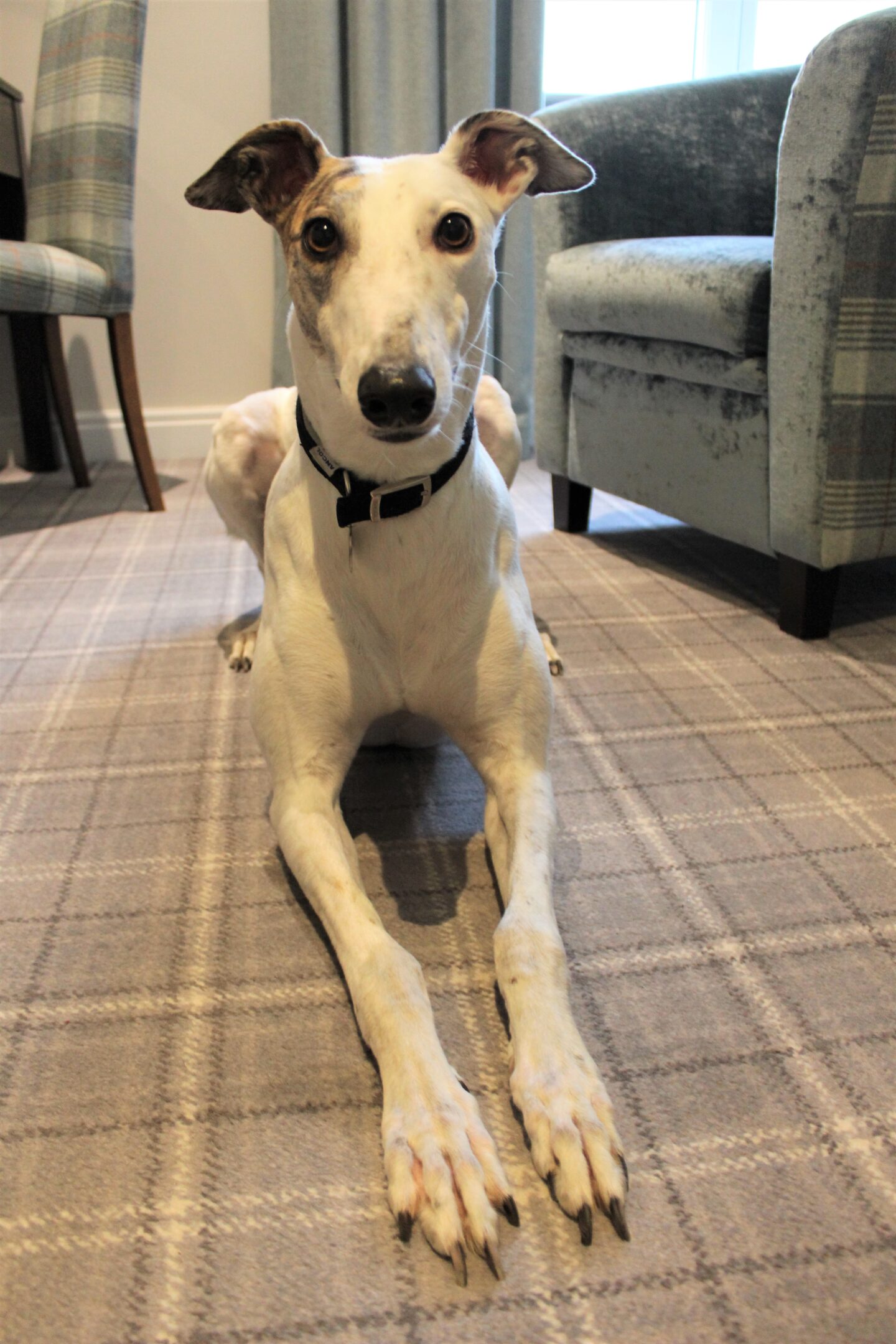 The spacious room had a fabulous memory foam king-size bed, velvet chairs, a desk and open wardrobe separated from the bedroom.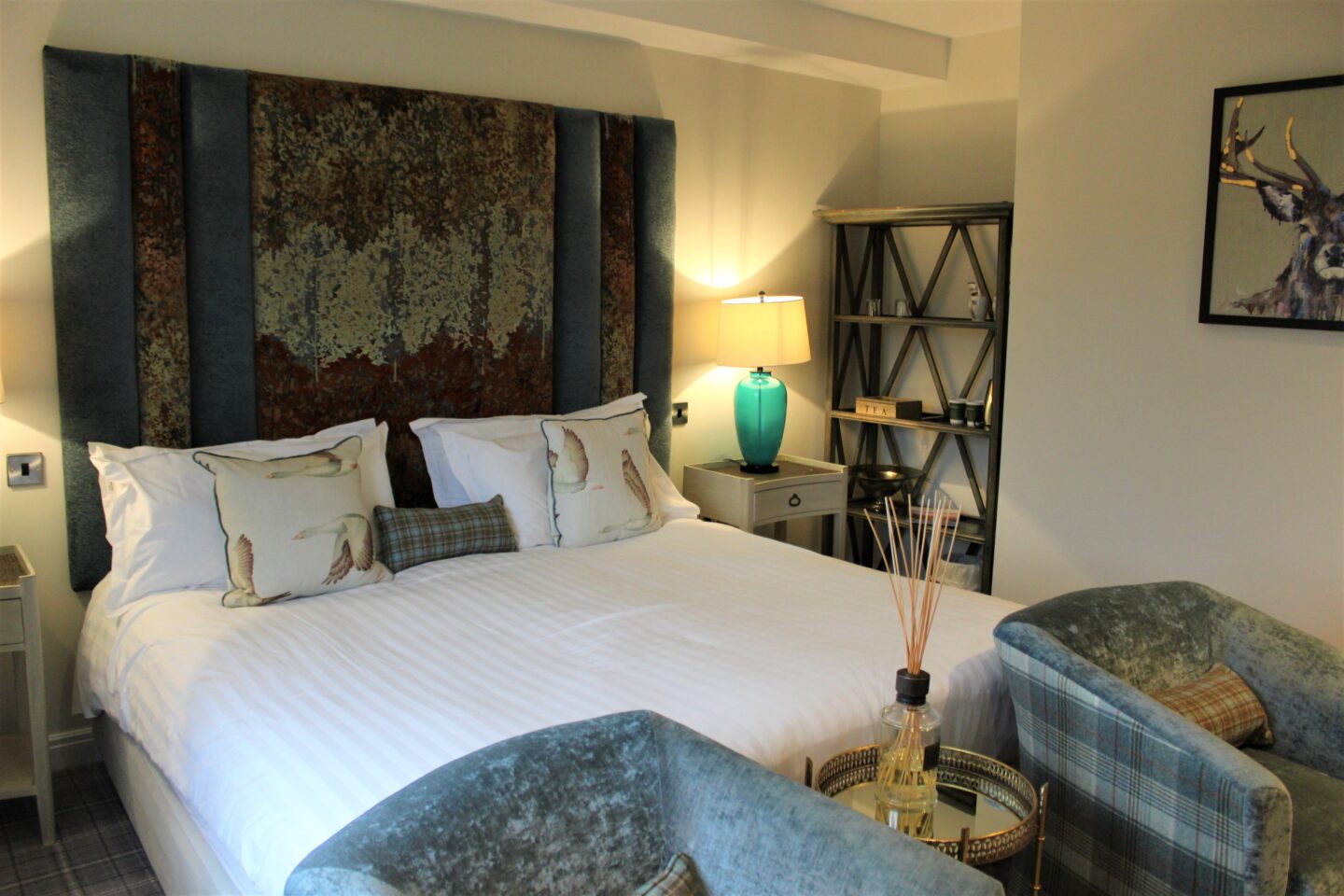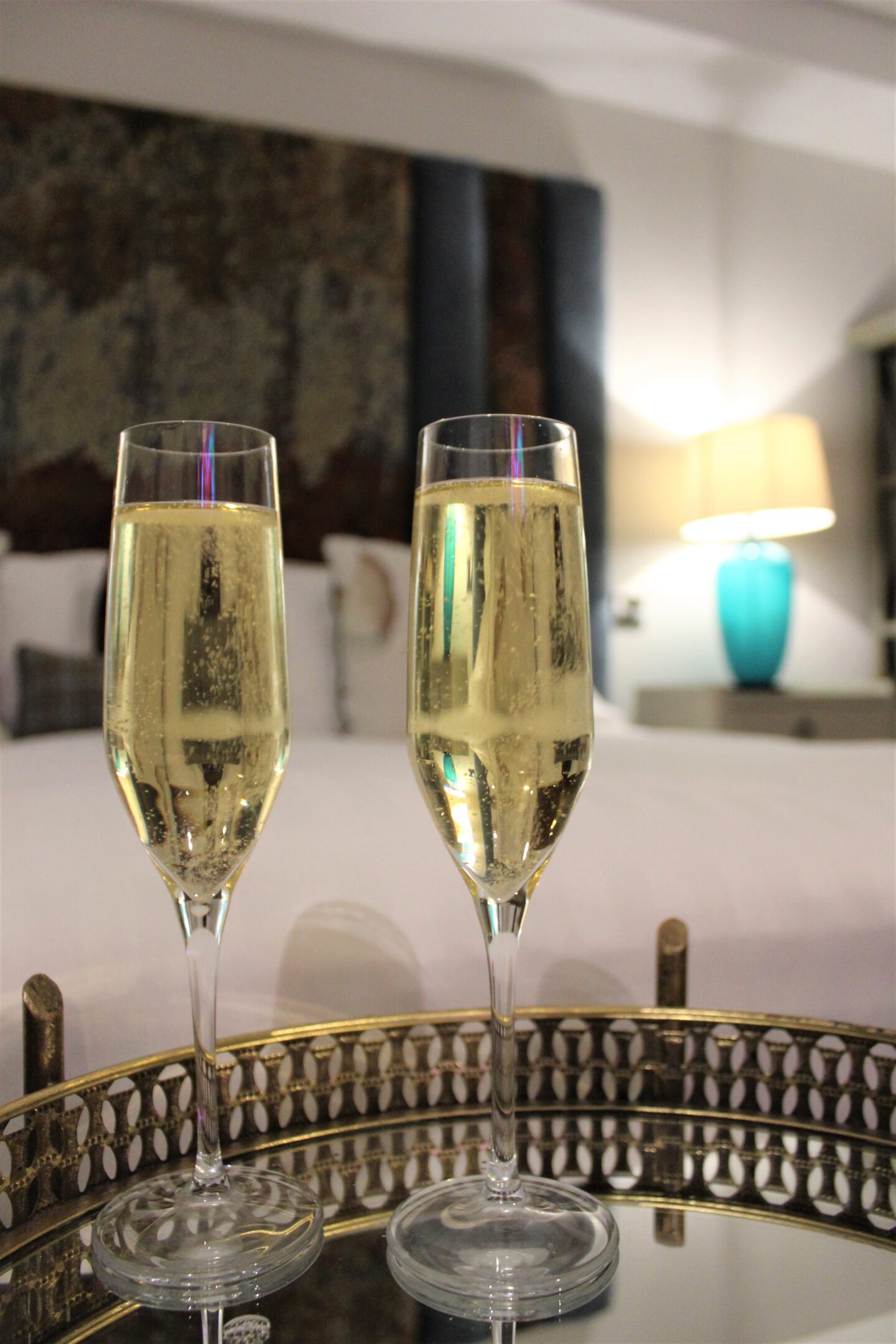 I loved the pops of colour in the décor, from the feature headboard to the fun wall art.
Tea and coffee were provided and in the mini-bar was complimentary fresh milk, bottled water and yummy white chocolate and raspberry homemade fudge.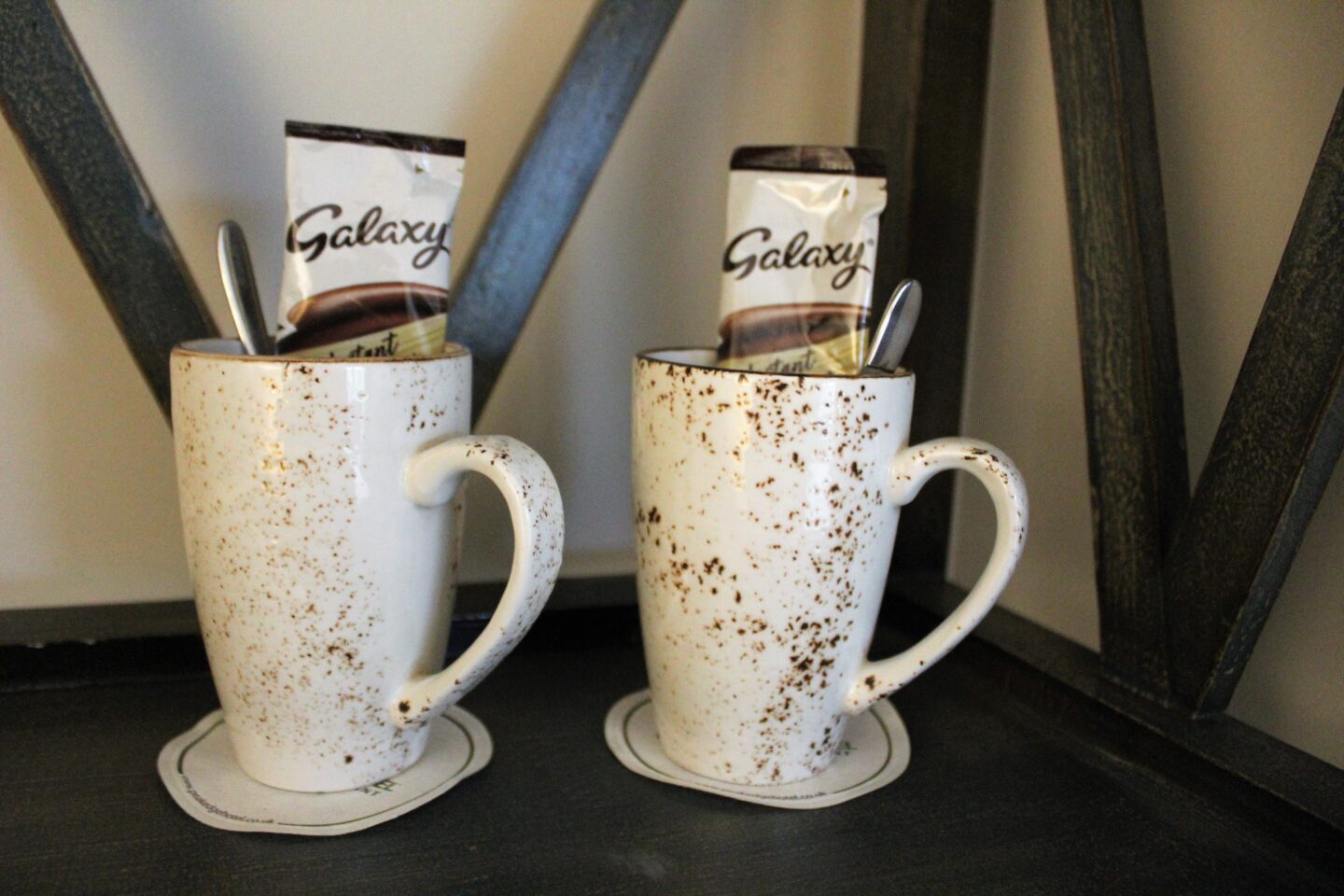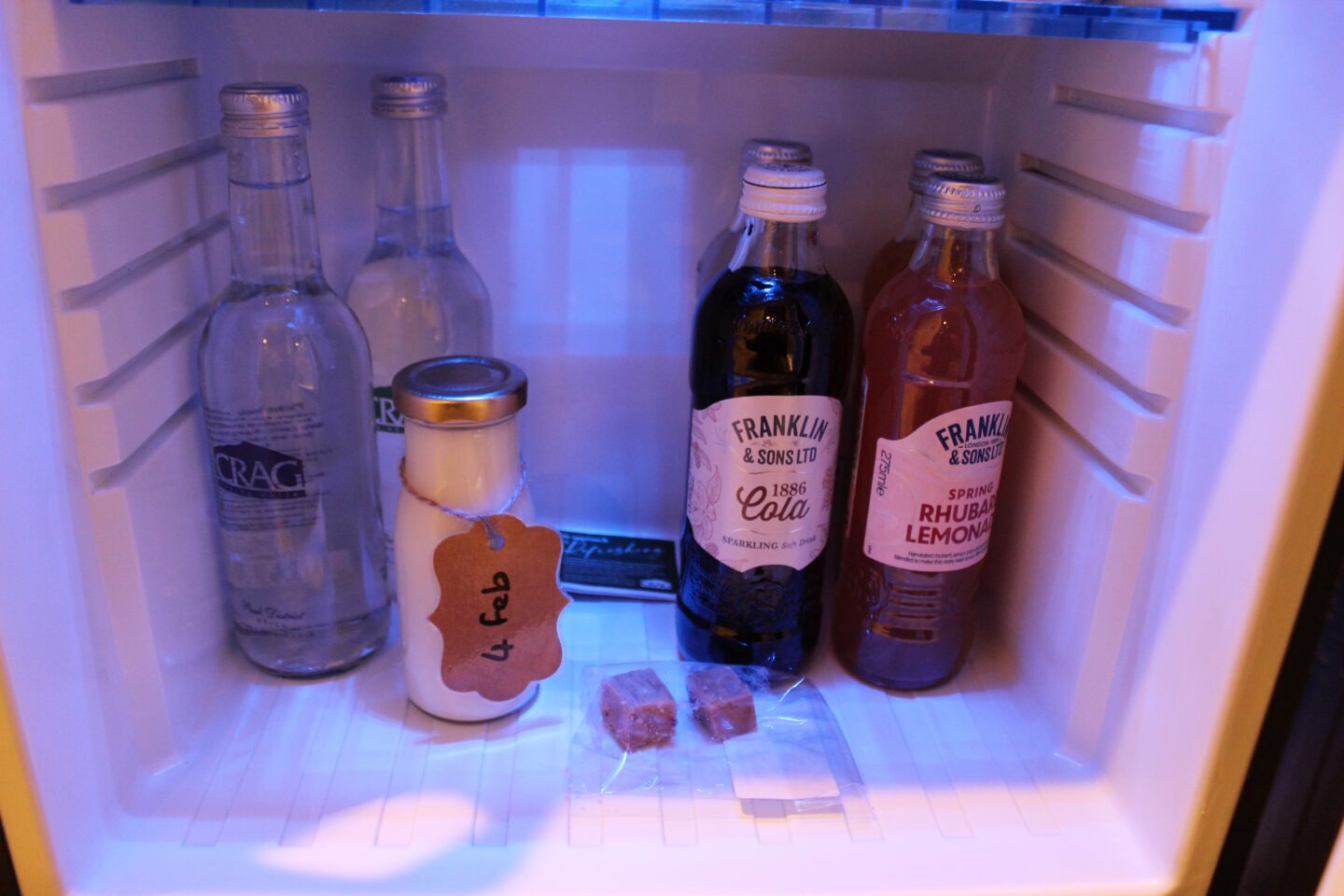 The large bathroom had a full-size bath as well as a walk-in shower, toiletries, underfloor heating and a mirror which also doubled as a Bluetooth speaker!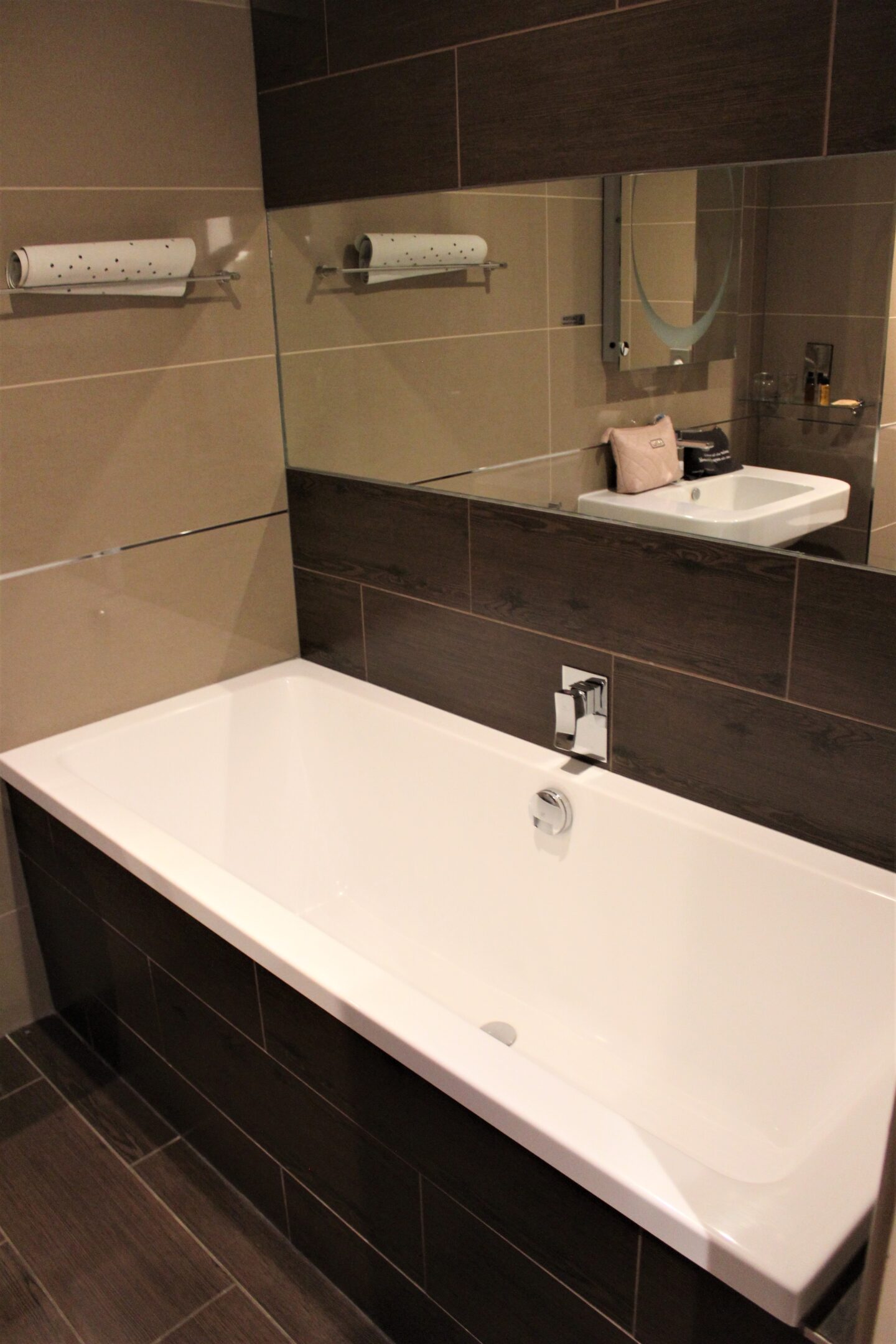 One of our favourite things about our room was the wonderful view overlooking the perfectly manicured hotel grounds and the Peak District countryside.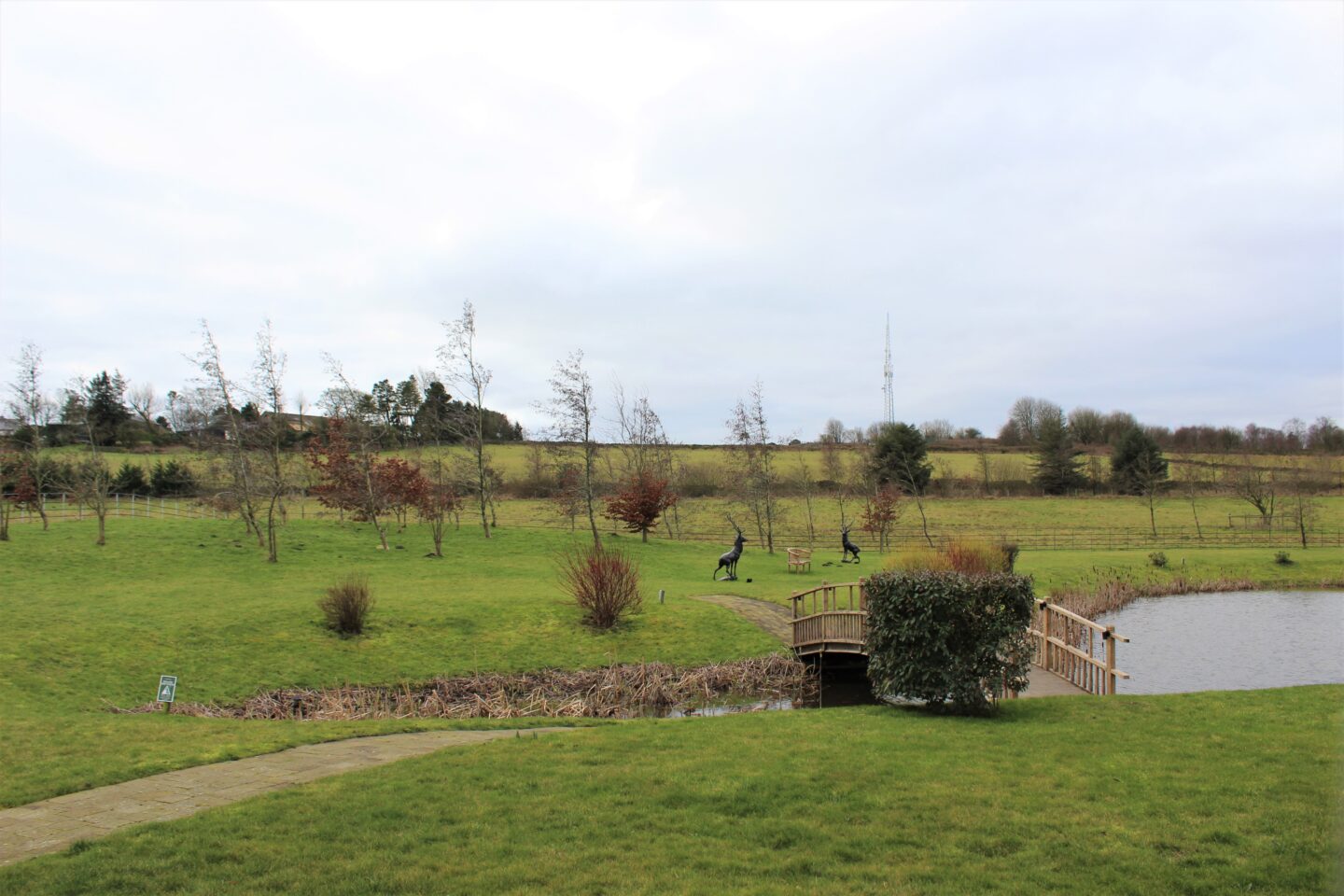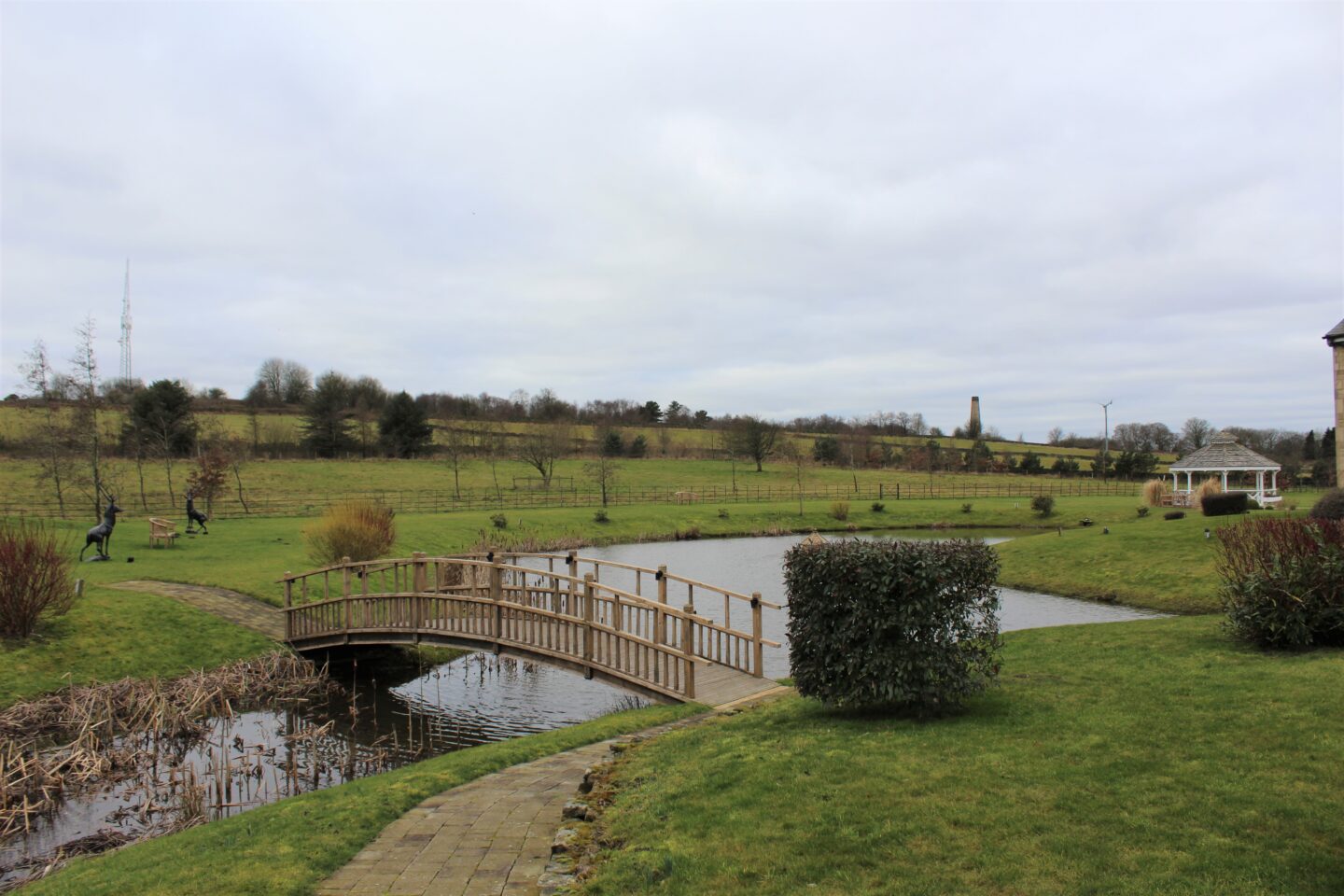 The hotel's restaurant, the Red Lion, holds 2 AA rosettes. As we had JoJo in tow we were eating in the bar, but this isn't a disadvantage as you order from the same menu and the bar gives you the most beautiful country pub feels with its real log fires, different nooks with tables and seating areas, and lovely wooden beams.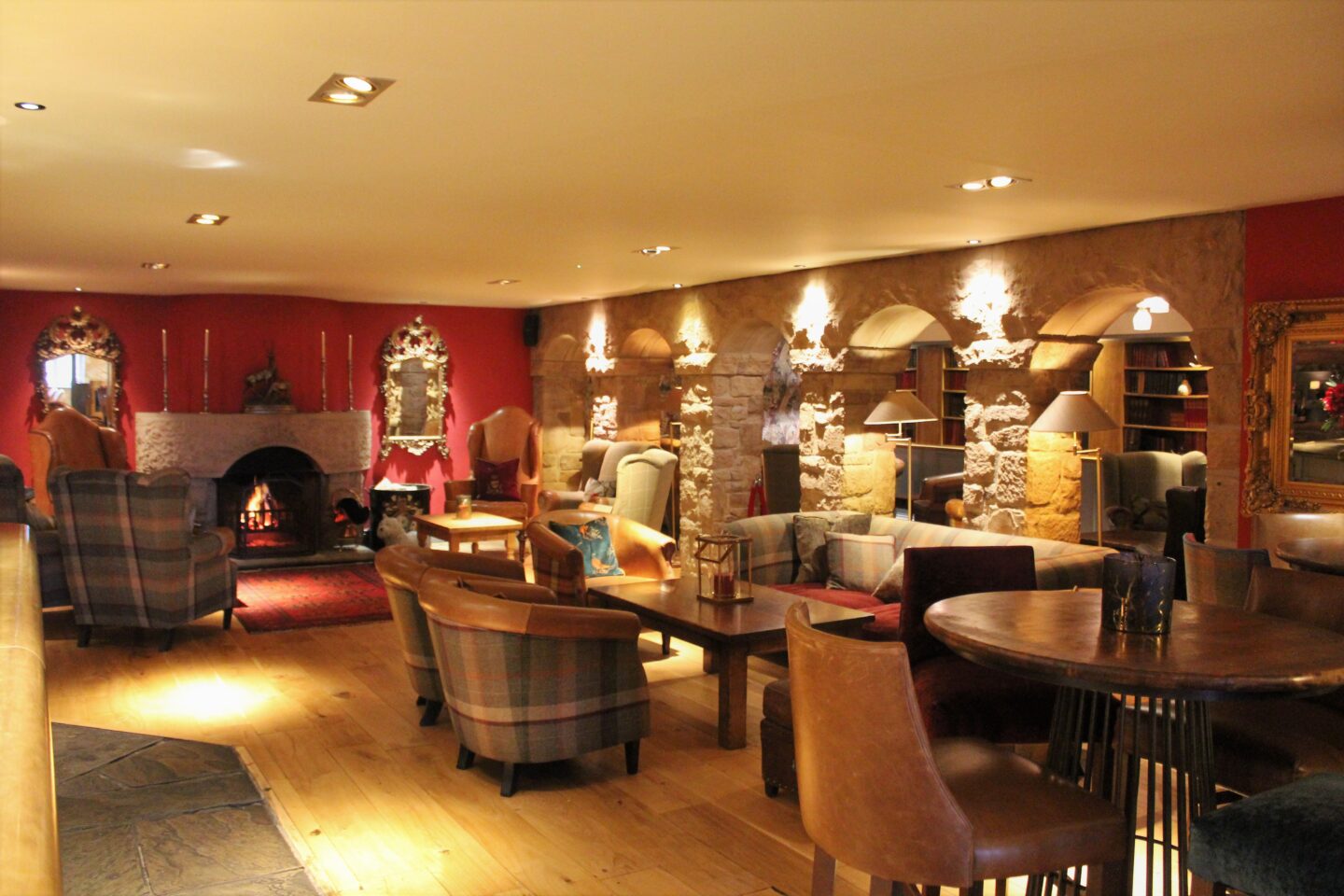 I loved that as soon as we were shown to our table our lovely waitress gave JoJo a dog treat and brought a water bowl for her. Eyeing up the menu we ordered a bottle of Sauvignon and left it to our friendly waitress to select it for us.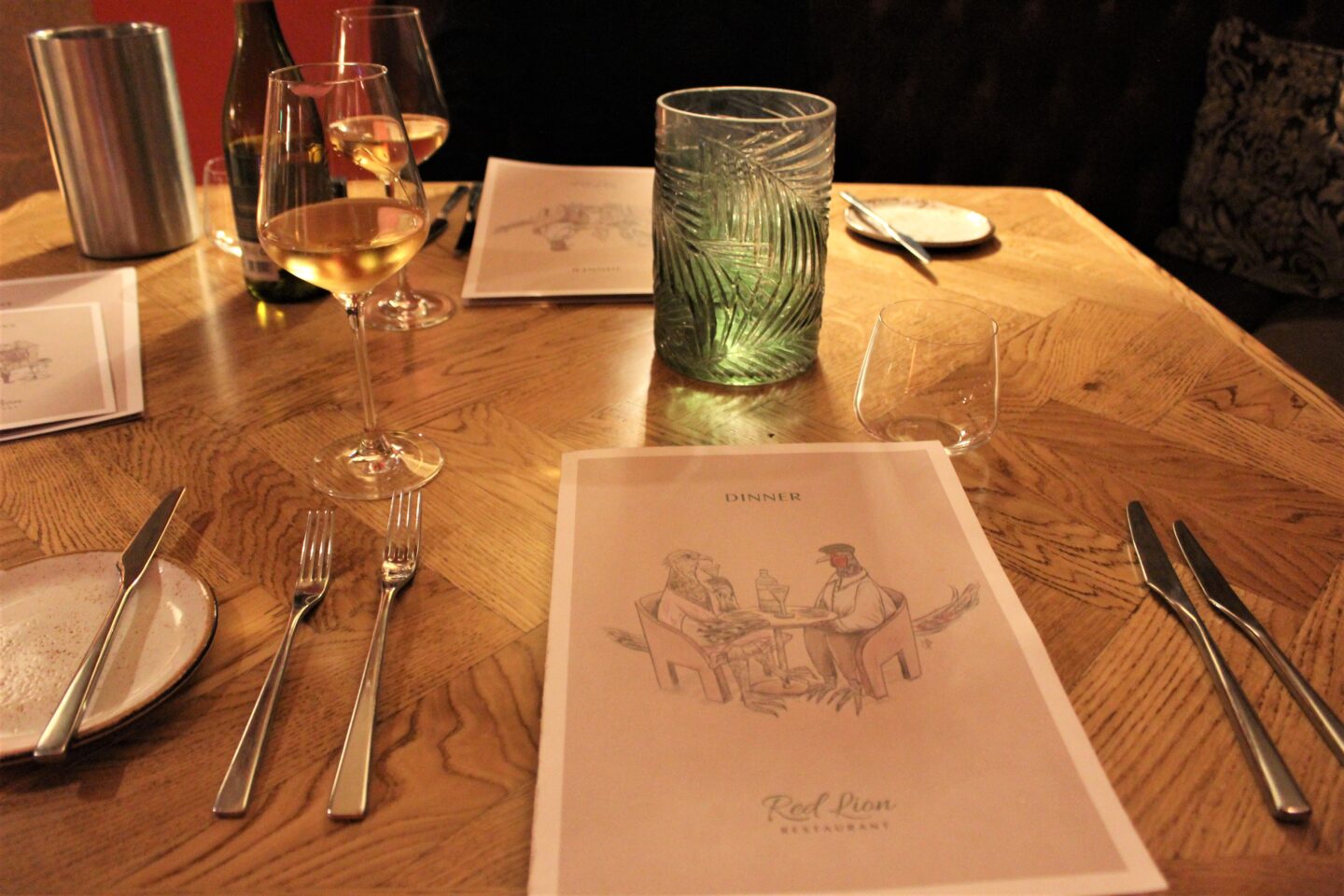 The restaurant has a huge focus on sustainability and farm-to-table dining. They use seasonal, local and ethical produce from a number of vendors around the Peak District.
I was tempted by a few of the starters on offer, but in the end I opted for the 'Pan Fried Scallops, Black Pudding, Crispy Bacon, Pea Purée'. It was a wonderfully fresh dish with two big plump scallops which were perfectly cooked. The sweetness of the peas and saltiness of the bacon worked so well with the dish, I enjoyed every mouthful!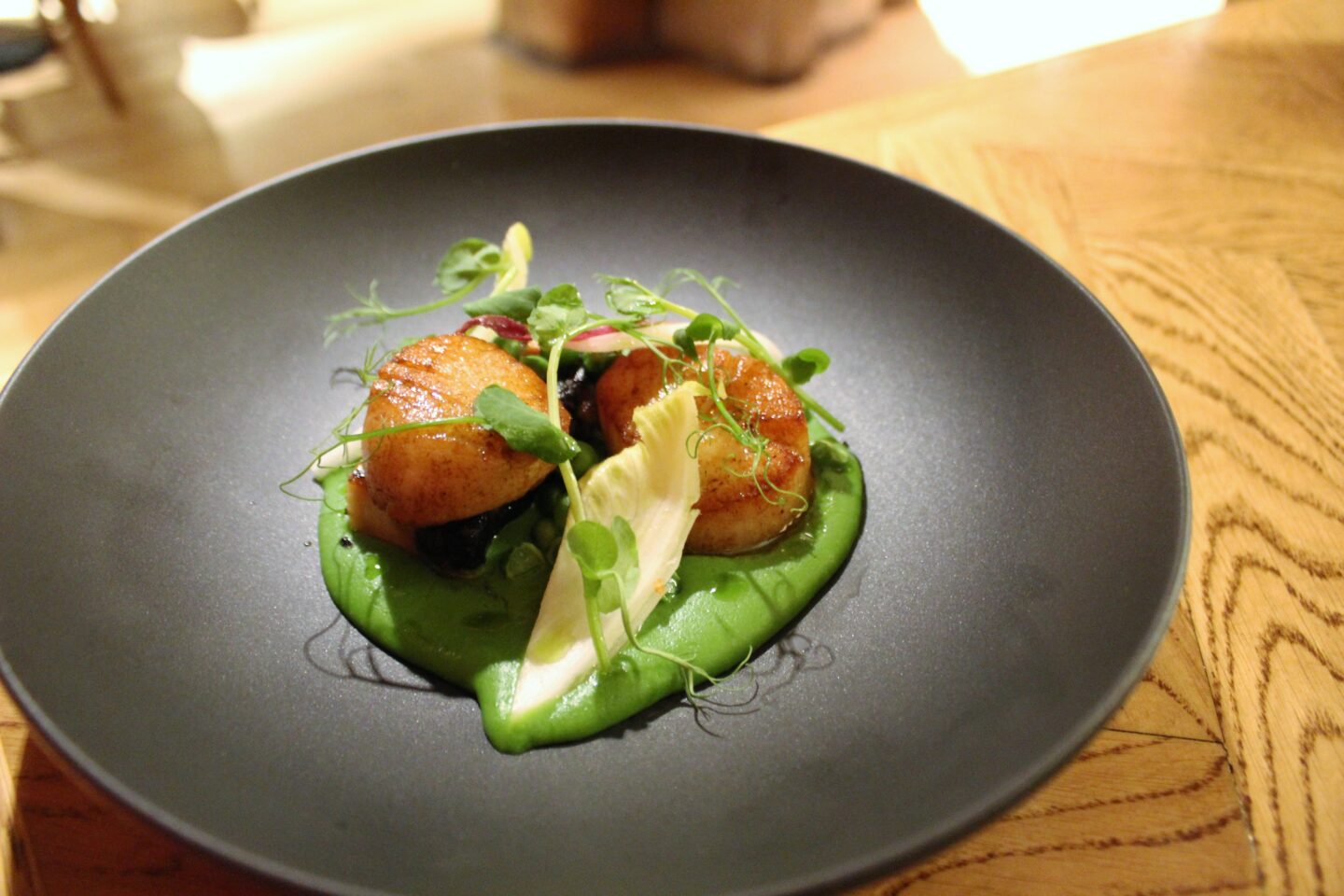 Mr B chose the homemade soup of the day, which on our visit was honey roasted carrot and parsnip. It was served with warm sourdough and whipped butter. The soup was full of flavour and had a lovely sweet flavour from the honey.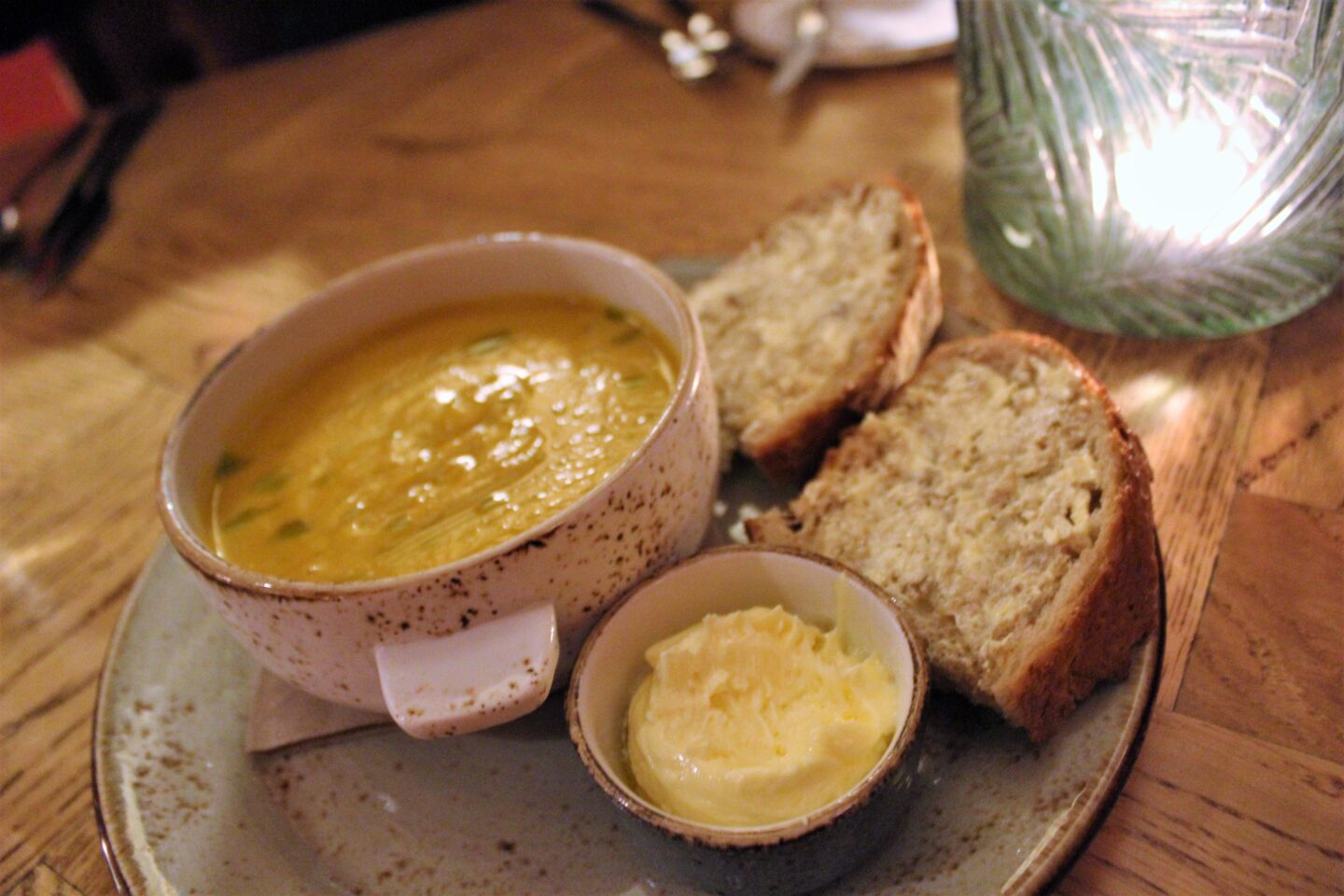 For my main I chose the 'Loin of Derbyshire Venison, Haunch Cottage Pie, Salt Baked Carrot, Pickled Red Cabbage Jelly, Beef Fat Crumb'.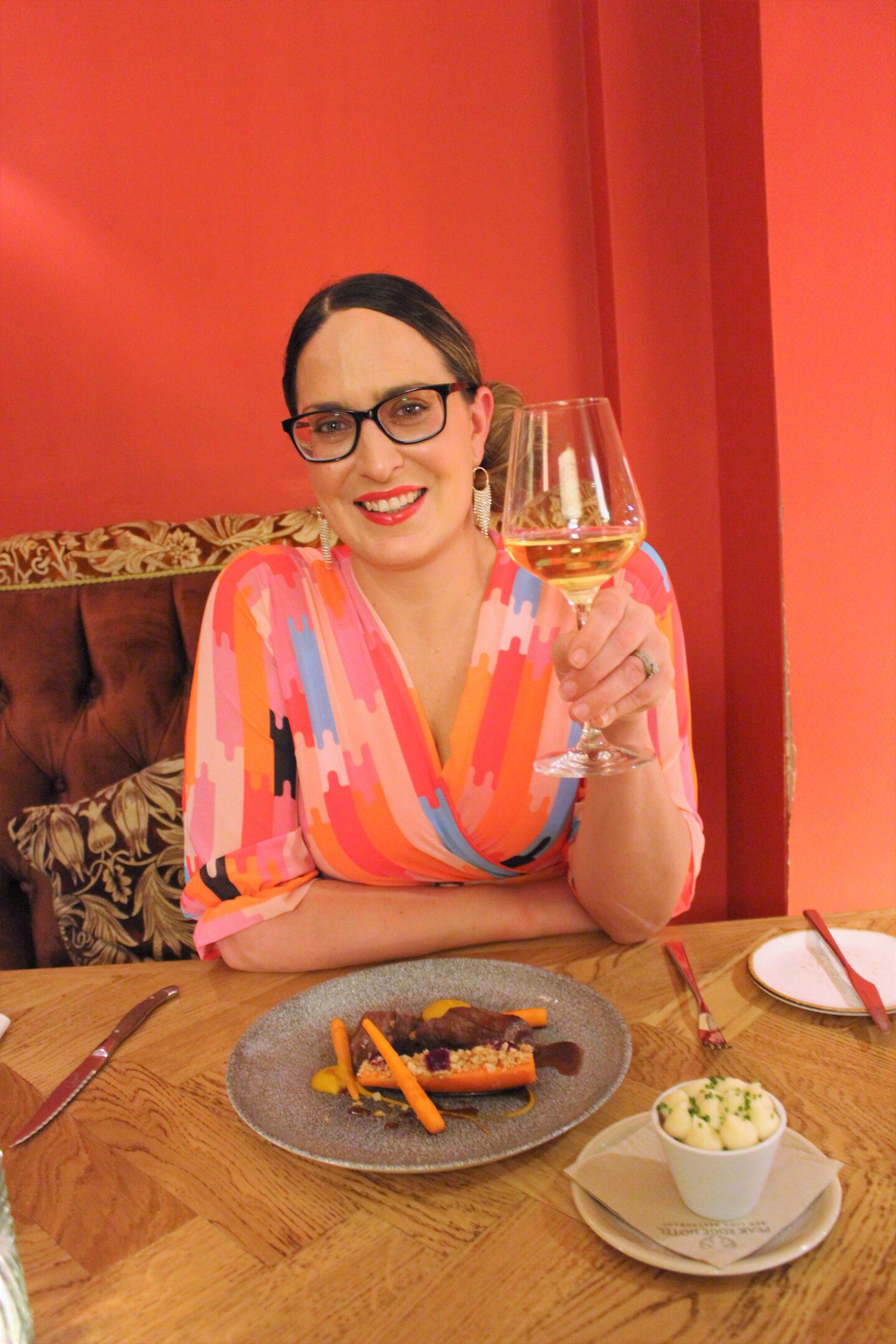 It was served pink (just as it should be) and it was so tender. I hardly had to use my knife to cut through it. With the sweetness from the carrots and carrot puree and a slight tartness from the jus, it was utterly delicious. Apart from the venison, the standout for me was the haunch cottage pie, oh my goodness it was delicious! Served in an individual dish, I could have eaten a giant portion of this on its own. The meat was cooked so it just fell apart, the filling was mouth-watering and rich, and topped with the creamy mash it was simply heavenly.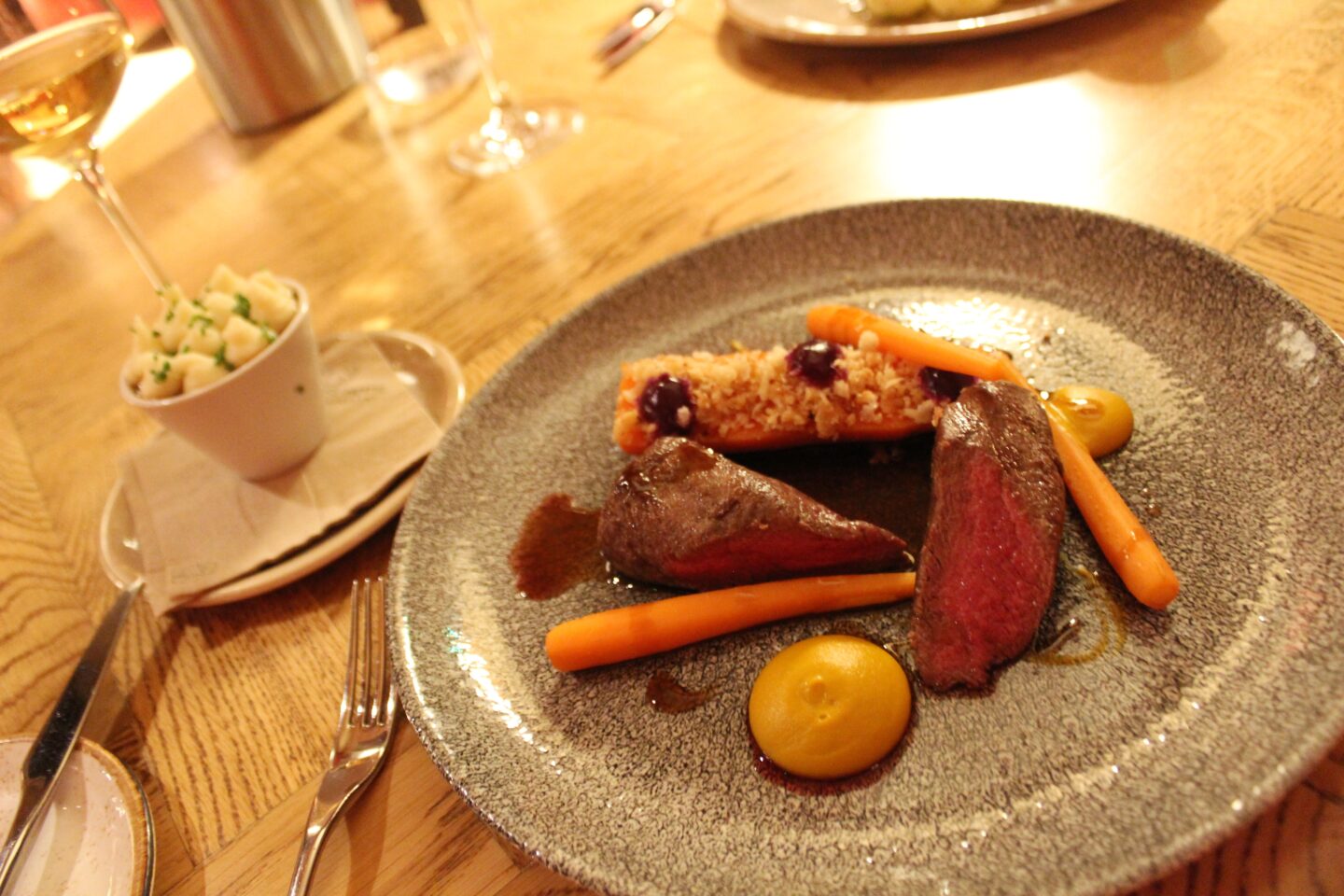 Mr B ordered the fish of the day, which was fillet of salmon served with new potatoes, tenderstem broccoli and a caper and lemon sauce. It was a very generous fillet of salmon and the skin was lovely and crisp (nothing worse than flobby fish skin!). The sauce added a lovely freshness from the zestiness of the lemon and slight saltiness from the capers.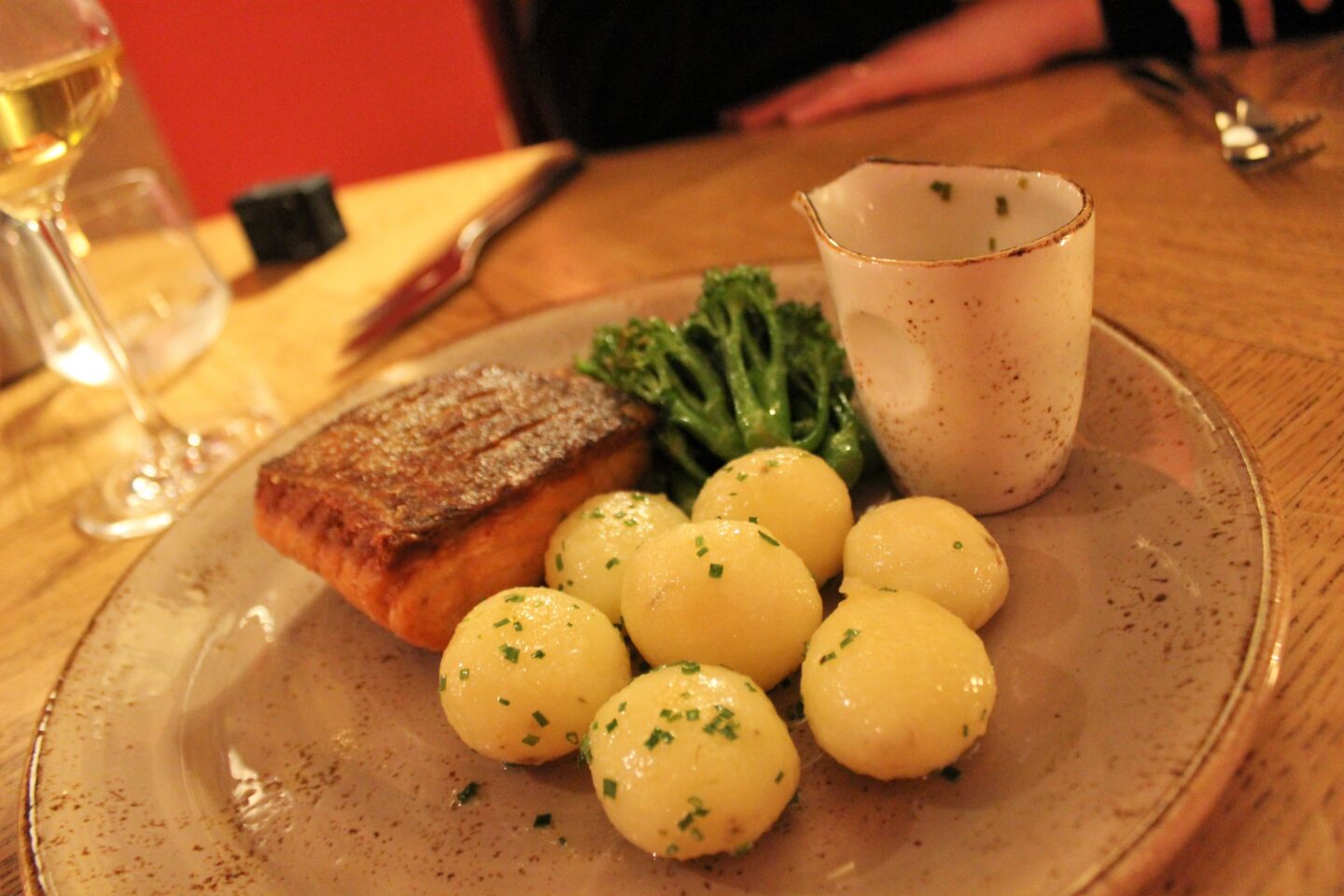 Dessert for me was the 'Passion Fruit Soufflé with Burnt White Chocolate Ice Cream', this was a 10 out of 10 dessert! Soufflés are notoriously difficult to cook, but this was one seriously talented pastry chef as it was incredible and I would order this again 10 times over! It had so much passion fruit flavour packed into the beautiful cloud-like souffle. Every mouthful was a delight, it was dessert perfection!
Mr B chose the 'Apple Tart Tatin with Tonka Bean & Cardamon Ice Cream' – he also devoured his dessert like I did with mine!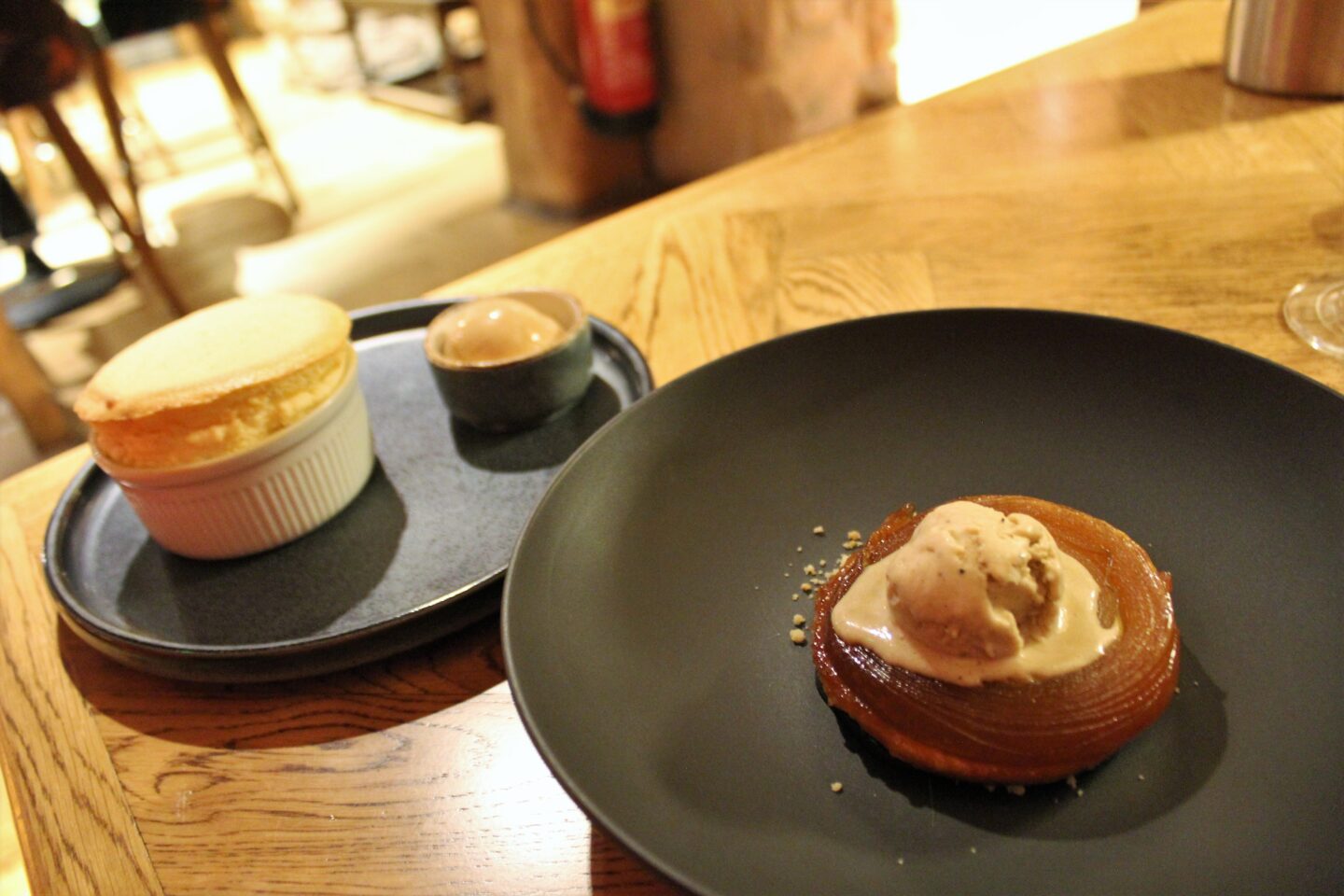 With full bellies we just about had room for an after-dinner espresso (of course we managed to eat the homemade oat biscuit it came served with!). After a very gentle stroll around the hotel grounds with JoJo, it was off to bed where we all had a glorious night's sleep.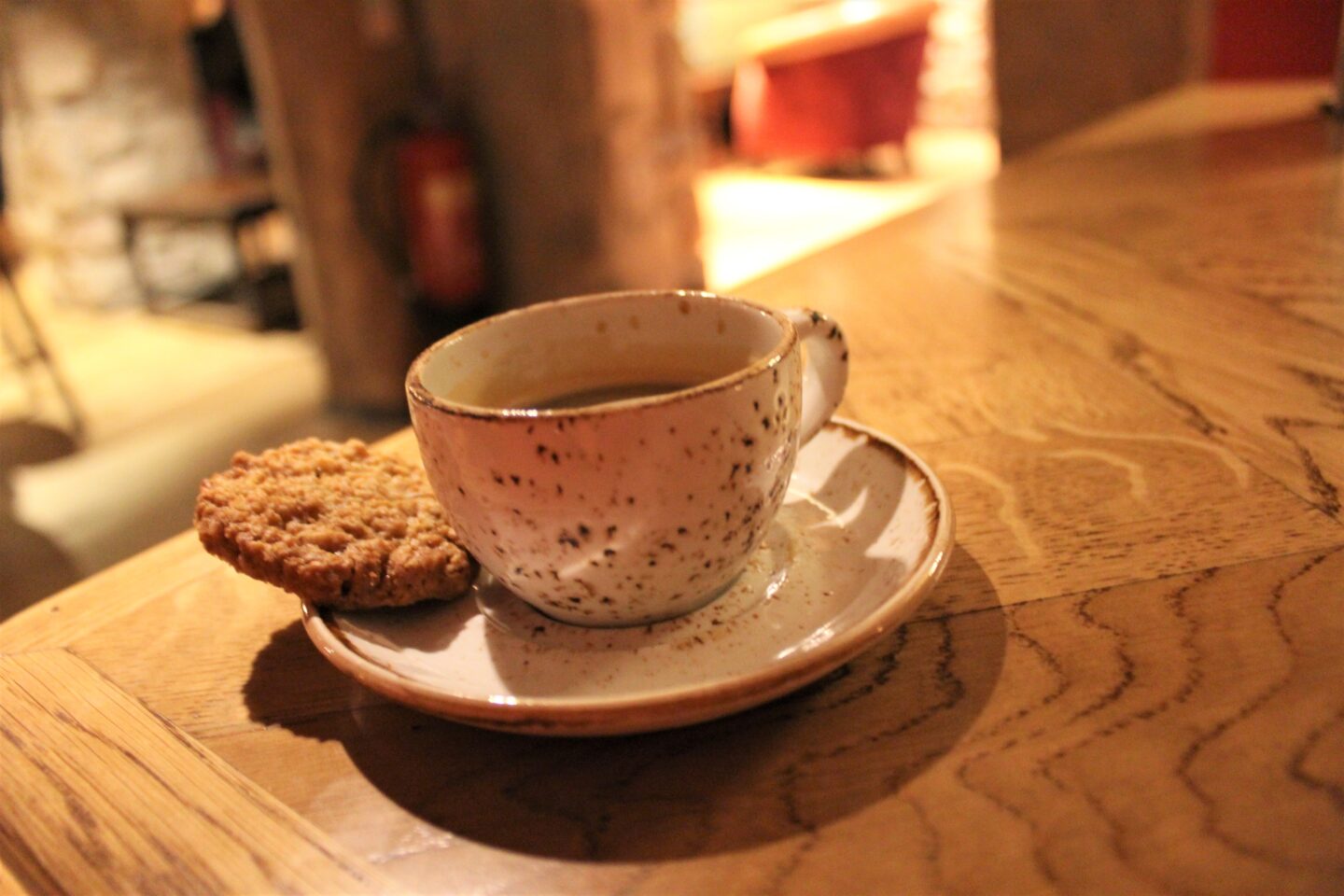 Whenever I go away I always manage to go to bed so full, but wake up for breakfast in the morning hungry! Maybe it is just the anticipation of a hotel breakfast?
With our choice of tables in the bar we sipped away at our two well-made lattes whilst we looked at the breakfast menu. My usual go-to for breakfast is eggs royale and I was very tempted, but my other favourite breakfast of smoked salmon and scrambled eggs won the choice and I ordered that.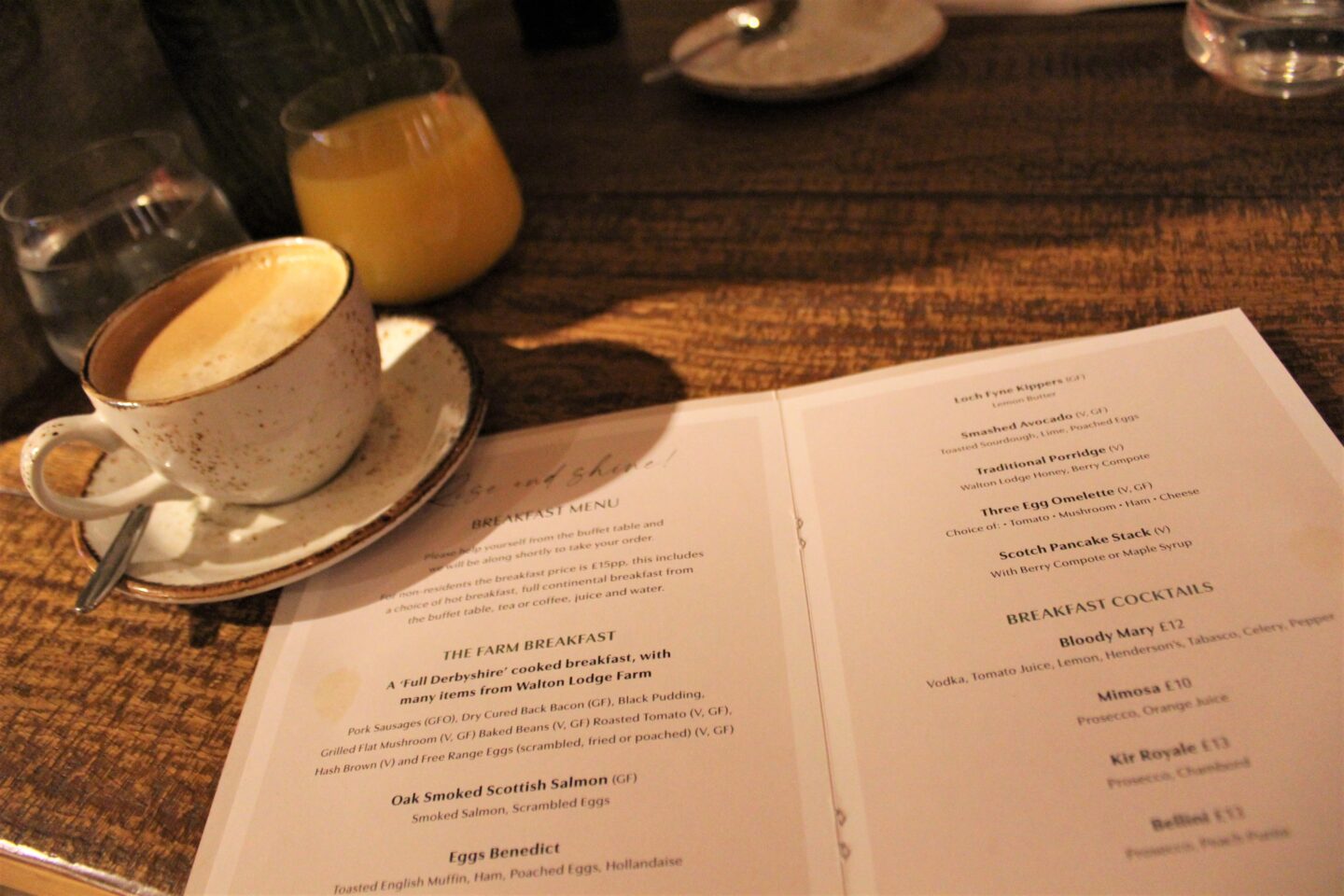 Whilst we waited for our breakfast we made our way into the restaurant where there was a small buffet with juice, water, toast, fresh pastries, cereals and yoghurts for you to help yourself to. The croissants were too tempting for me to resist and a big fat freshly baked almond croissant had my name written all over it. It was flaky, buttery and had a generous amount of yummy almond filling.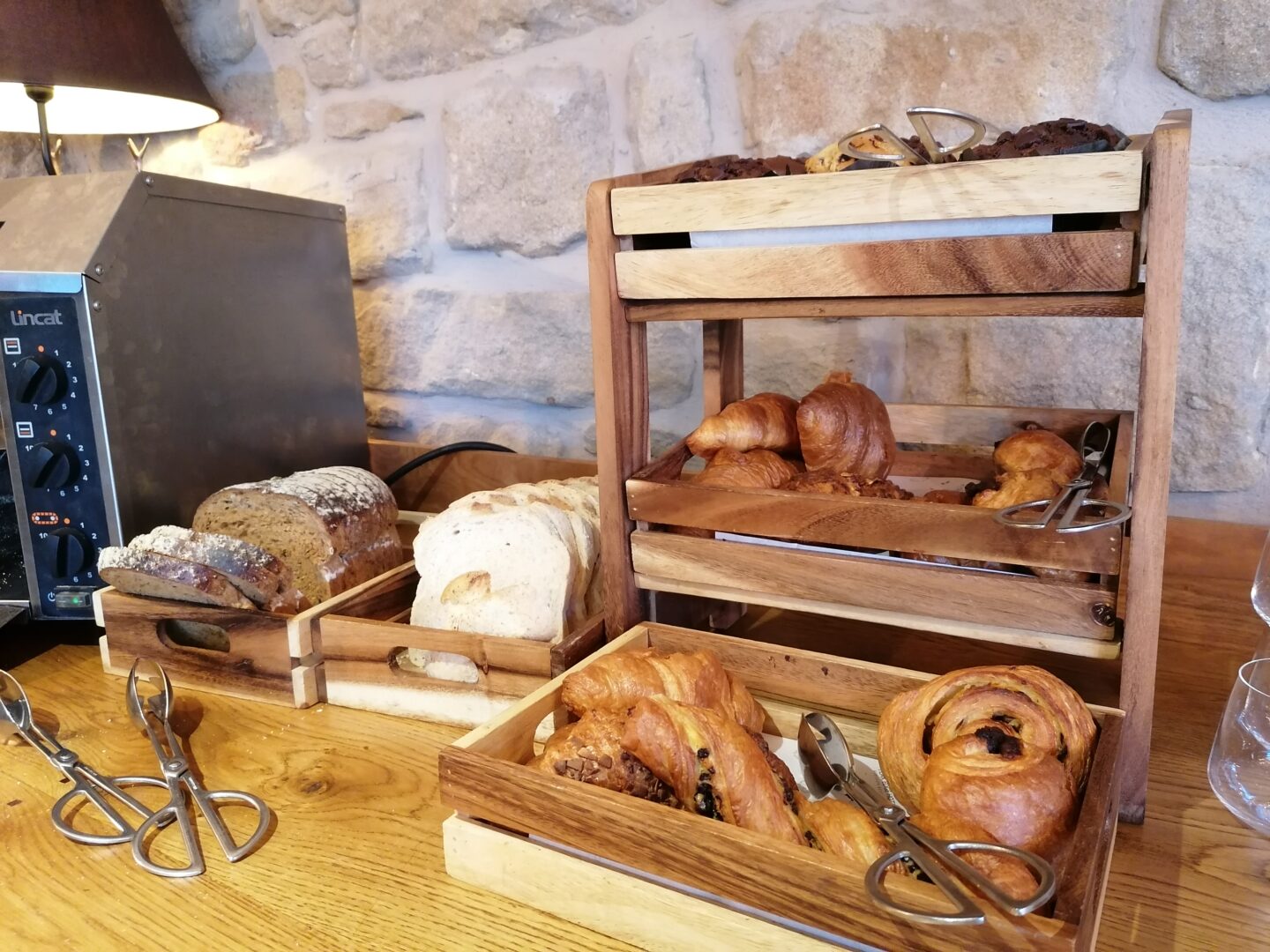 After finishing my latte and being offered another one, my delicious breakfast arrived. There was such a huge amount of salmon and you could see the quality of the eggs from the beautiful colour of them. With a squeeze of lemon I tucked into my beautiful breakfast.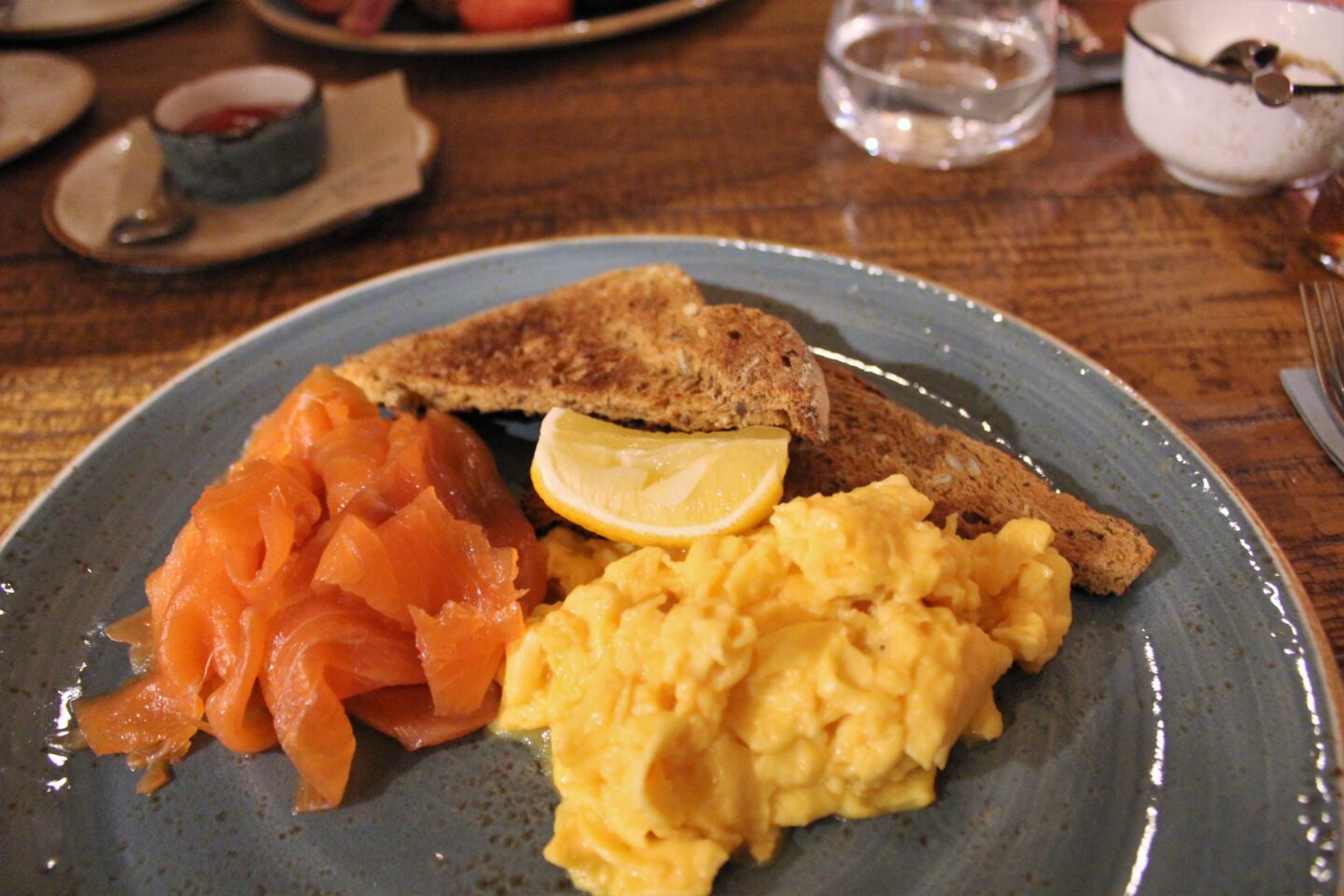 Mr B had the 'Full Derbyshire' which came with local pork sausages, dry cured back bacon, black pudding, flat mushroom, baked beans, roasted tomato, hash browns and free range eggs which he ordered poached. Again it was a plate of quality ingredients cooked perfectly. We were both full after breakfast, but we were making the most of being so close to the Peak District by going for a walk along the Monsal Trail so we saw it as fuelling up for the day!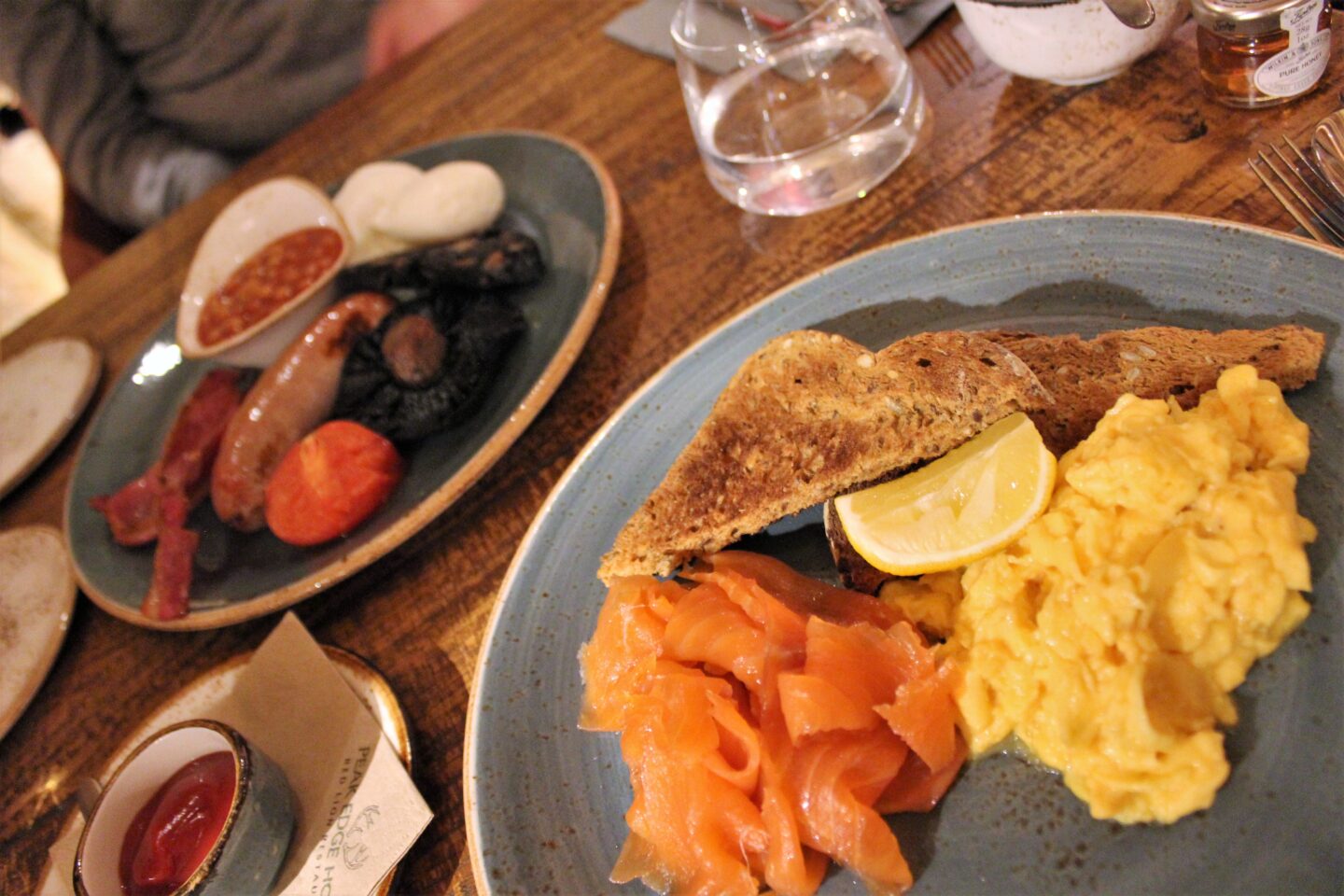 All three of us had a wonderful stay. Friendly staff, a stunning location and wonderful hotel, but what really impressed us was the extremely delicious food.