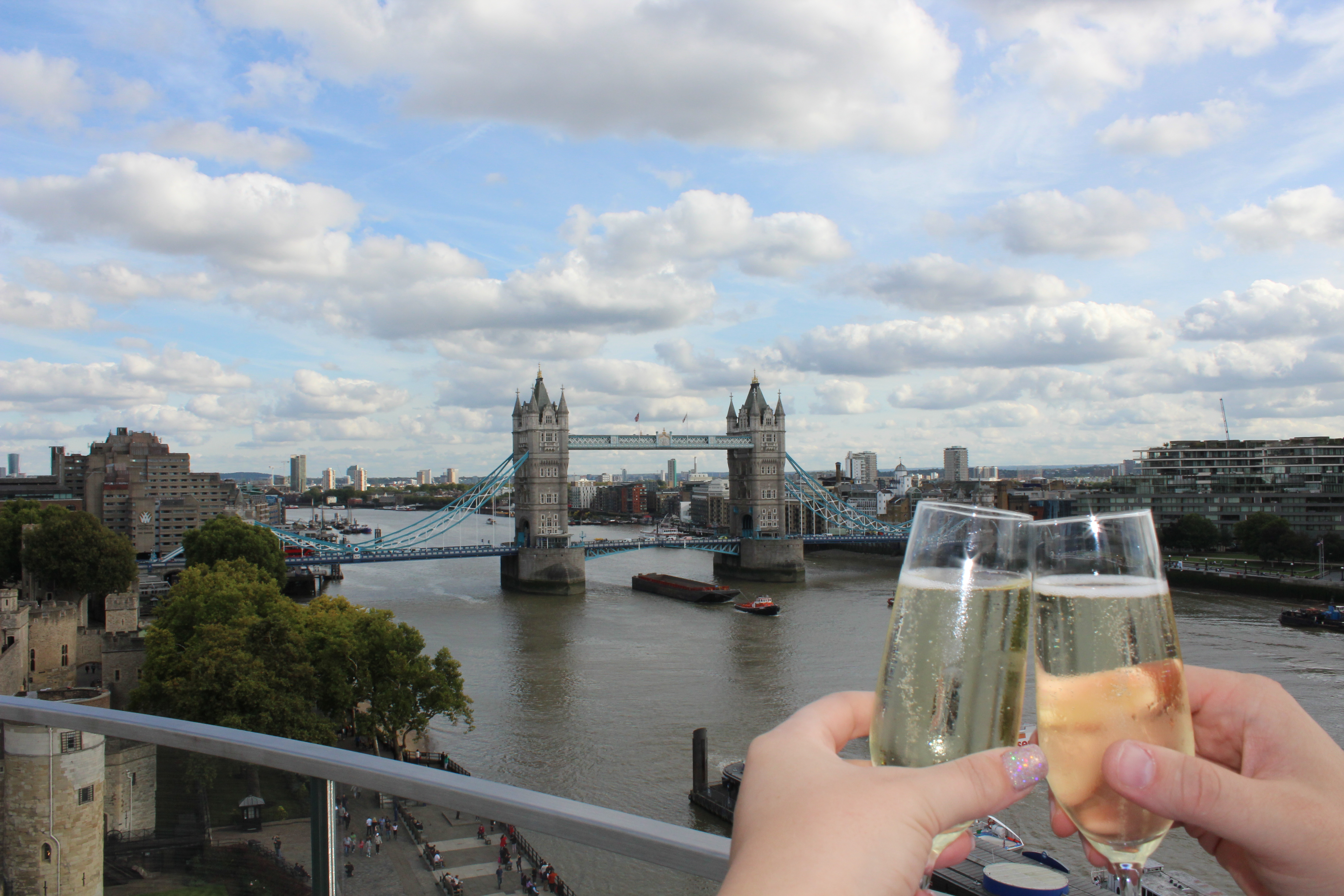 Cheval Three Quays: 5 Star Luxury Serviced Apartments
When visiting London the list of hotels is endless, but as we wanted to spend three nights in the capital we didn't fancy staying in a small hotel room, so instead we opted for a luxury serviced apartment.
Before we visited I read a lot of very positive things about Cheval Three Quays, so I knew that we weren't going to be disappointed with where we were staying and we weren't, but how we did feel was completely amazed and overwhelmed!
Let's first start off with the location, literally located next door to the Tower of London. Tower Bridge is a few steps away and across the bridge is the Shard and HMS Belfast.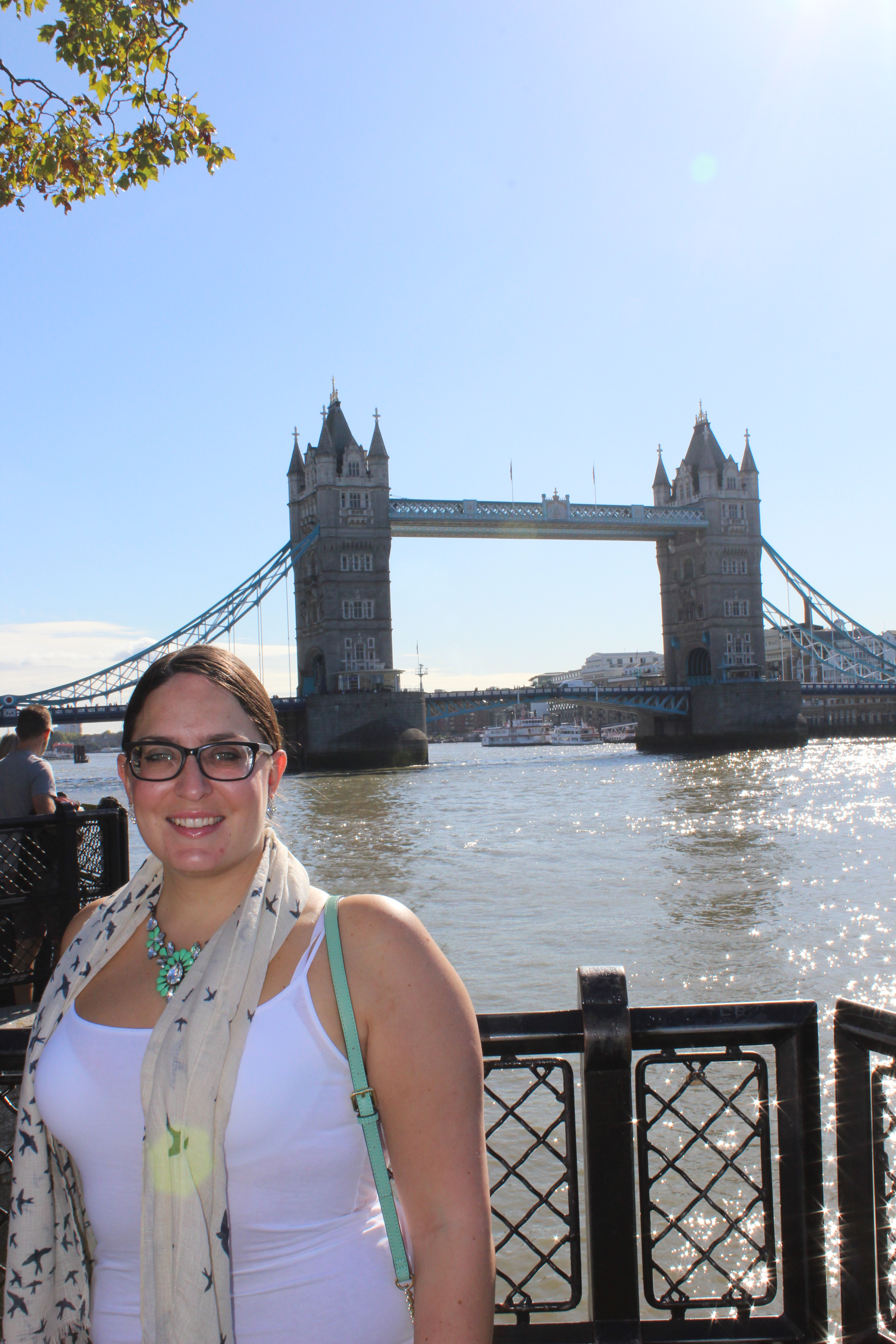 The location is perfect for traveling to and from all the sights in this incredible city. A tube stop is minutes away, but of course you can walk as far as your legs will take you or you can jump into a black cab. The staff are more than happy to hail one for you.
Cheval Three Quays give you the option of one-bed, two-bed and three-bedroom apartments, but the jewel in the crown (of should I say jewels), are Cheval's two penthouses.
What I loved about the apartments is that it really was like a home away from home . . . but better! Our apartment was perfectly decorated with rich creams, luxury purples and soft greys – it was what I would describe as understated elegance.
I can't hold this in till the end of this post. I was trying to save the best till last, but I have to tell you about the mind blowing views! Or should I say show you!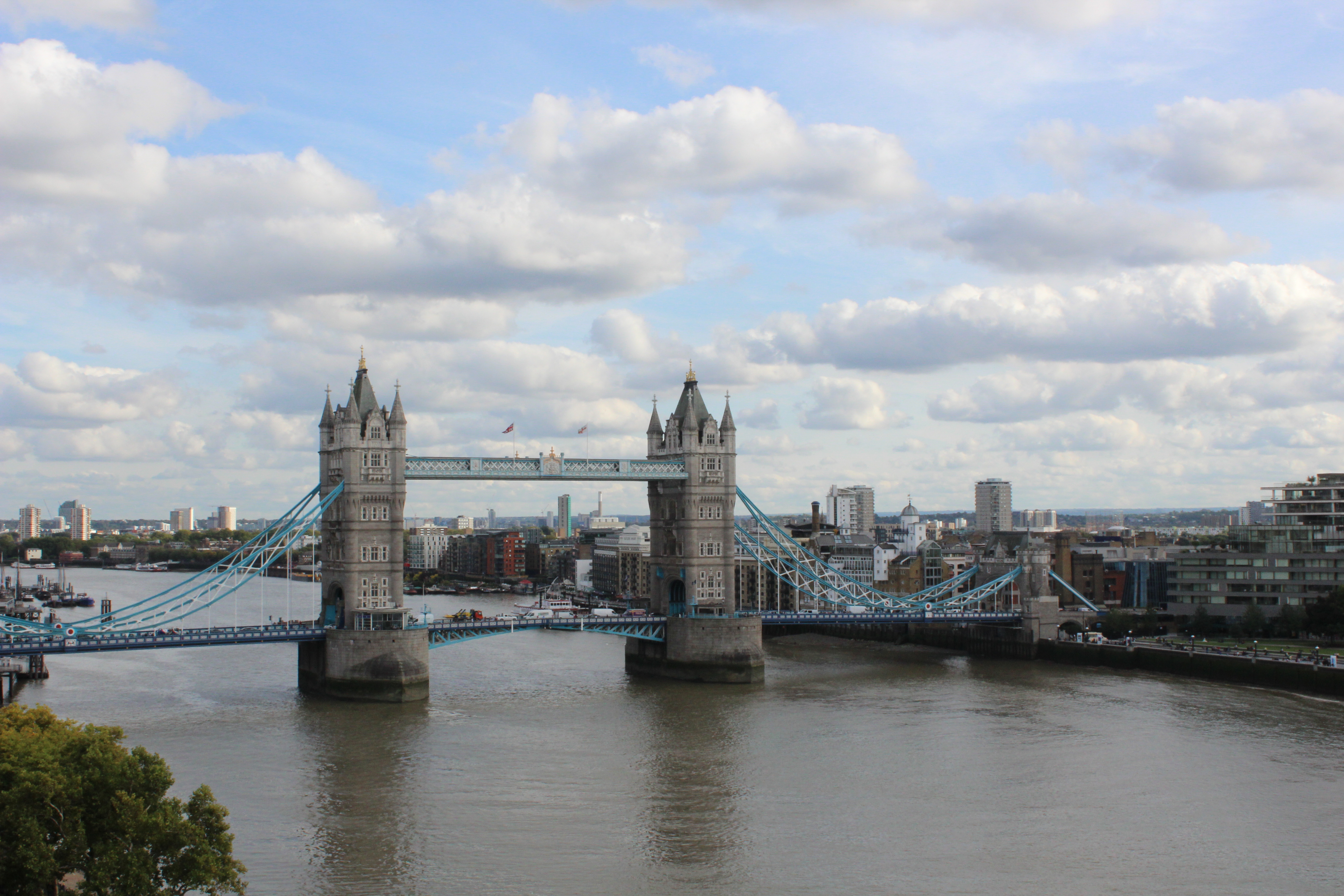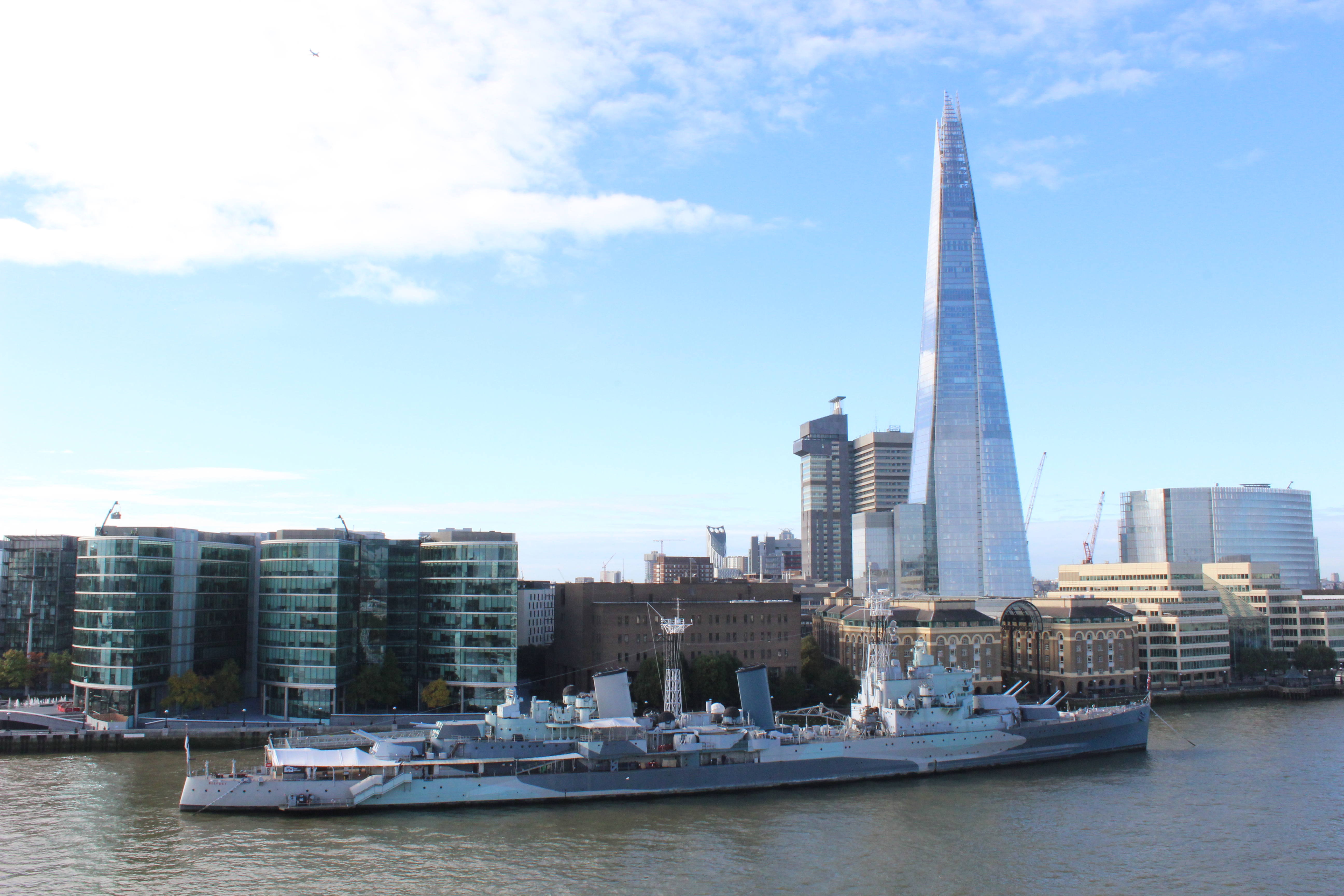 See, I told you they were mind-blowing! Our balcony wrapped around our apartment gave us undisturbed views of the Tower of London, London Bridge, HMS Belfast, The Shard and the beautiful London skyline. We spent as much time out on our balcony as we could and why wouldn't you with those views!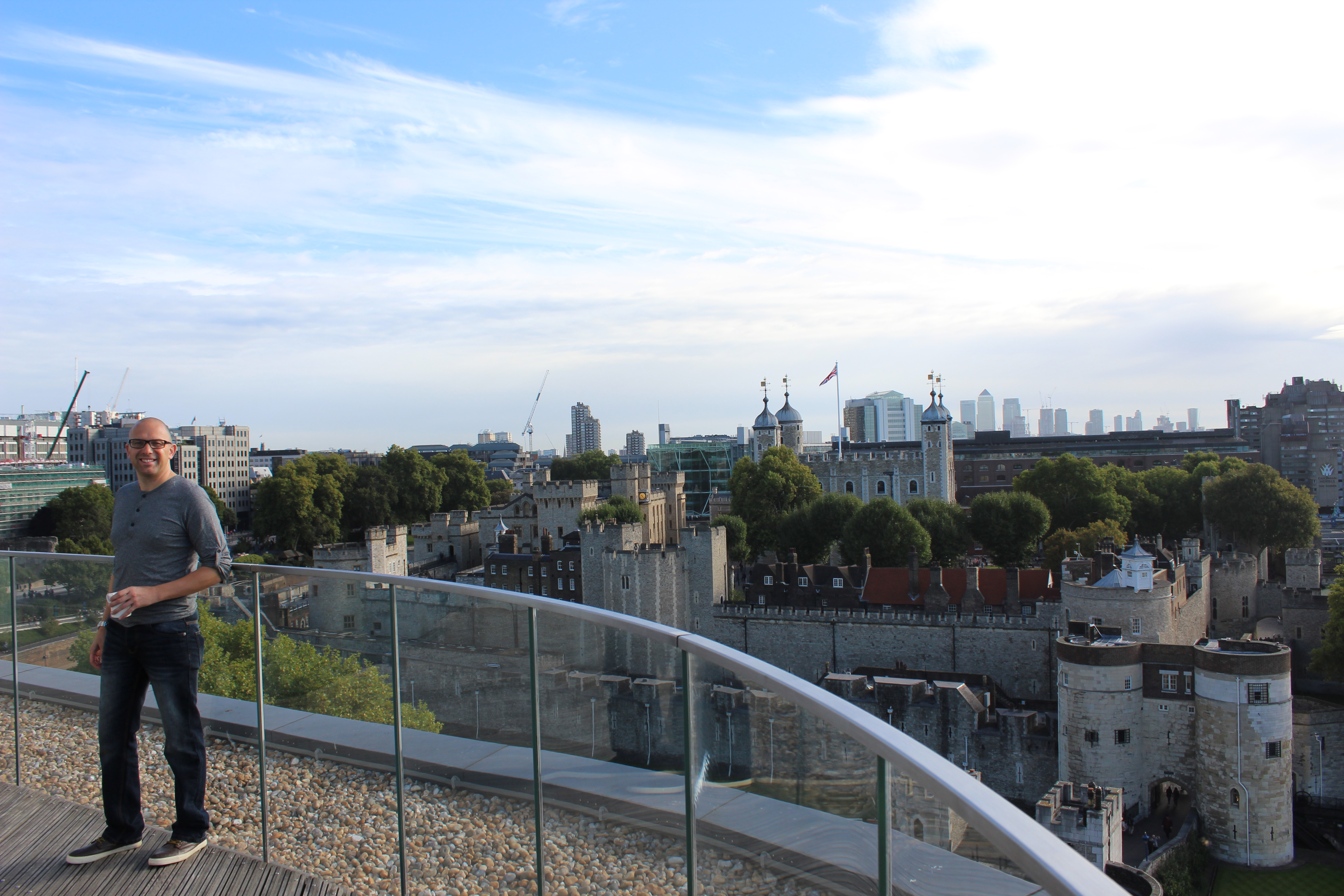 But not to worry, even when we were in our apartment we were constantly greeted with these stunning views as there are perfectly placed full length windows in the living rooms, kitchen, bedrooms and even the bathrooms! Light filled all the rooms as we dreamily gazed out of the windows.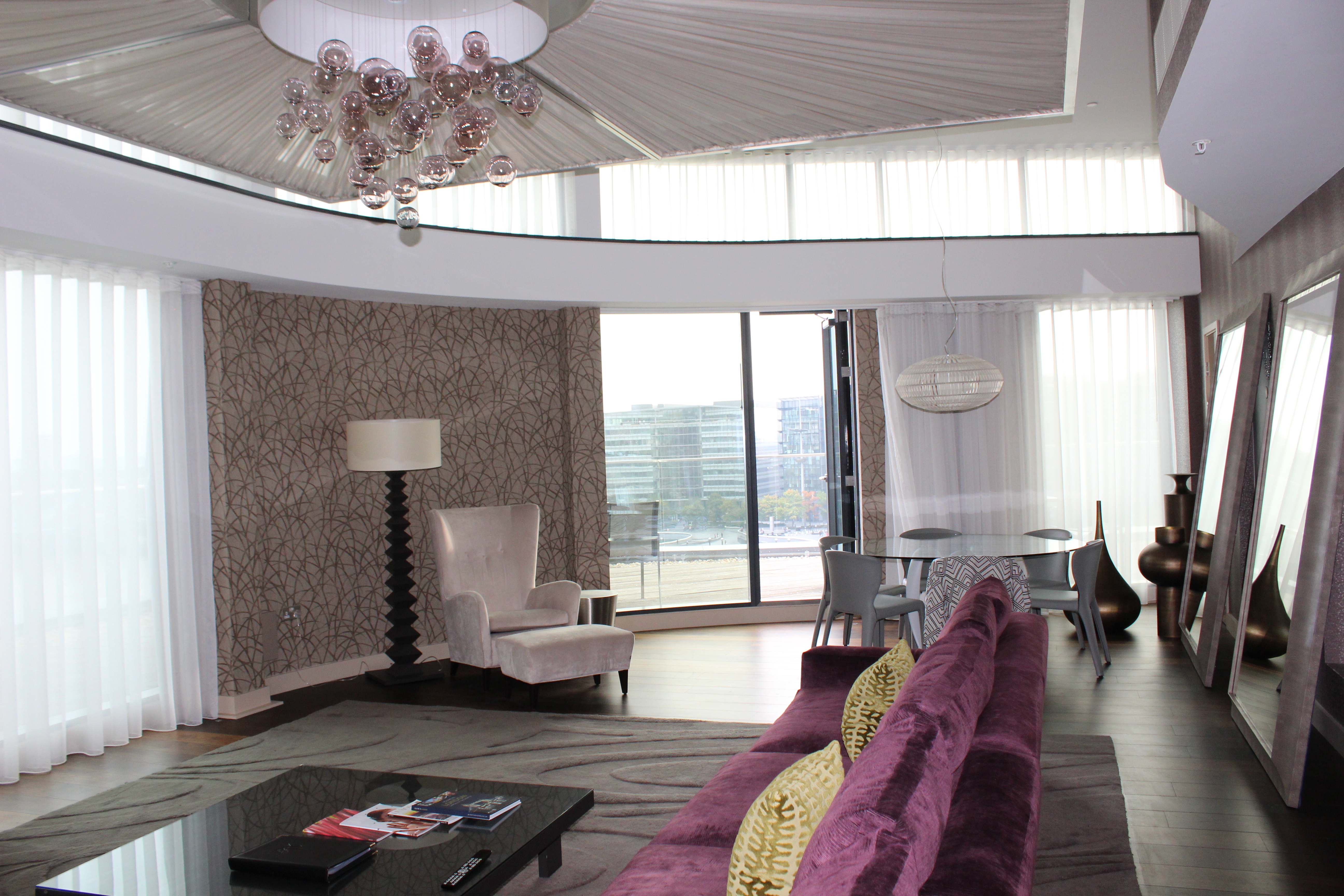 The living area was the perfect place to relax and rest our tired feet – it had a HUGE sofa, dining table and chairs, desk, TV and an i-POD dock.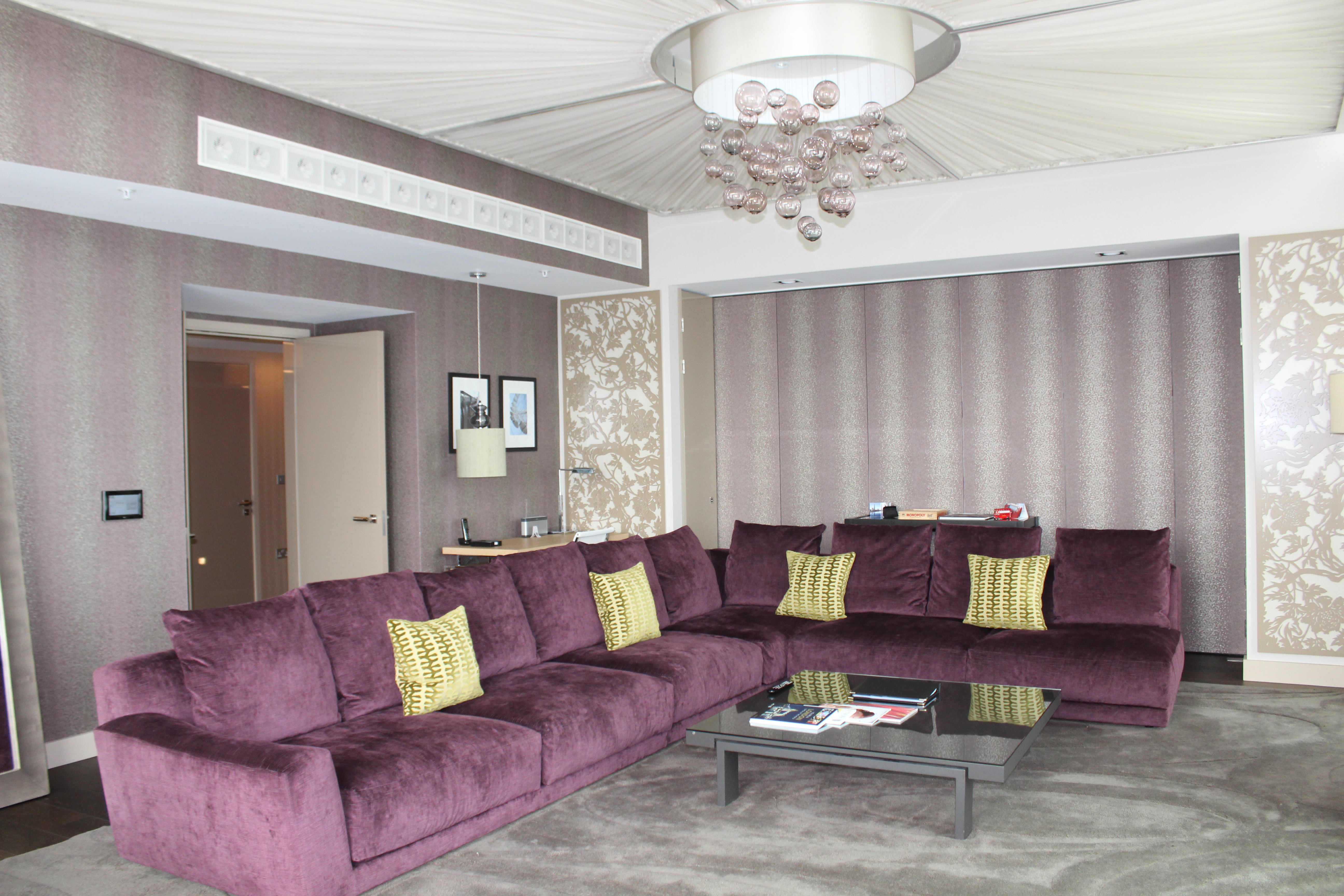 The kitchen had more appliances than we have in our kitchen at home, including a full American-style fridge freezer, dishwasher, washing machine, Nespresso machine, all the utensils and equipment and my favourite . . . its very own champagne fridge! As soon as we saw this Mr B popped off to Tesco to fill it up whilst I unpacked. It would be a shame not to make use of it now wouldn't it? We also had a lovely hamper filled with the essentials like bread, milk etc., but also little treats like chocolate truffles and organic flapjacks.
Our room was beautiful, huge in size and bathed in natural light (which was perfect for putting my face on!). There was a massive bed which was soooo comfy, plenty of wardrobe space, a safe and an ensuite bathroom which had a fantastic walk-in shower complete with Hermes toiletries.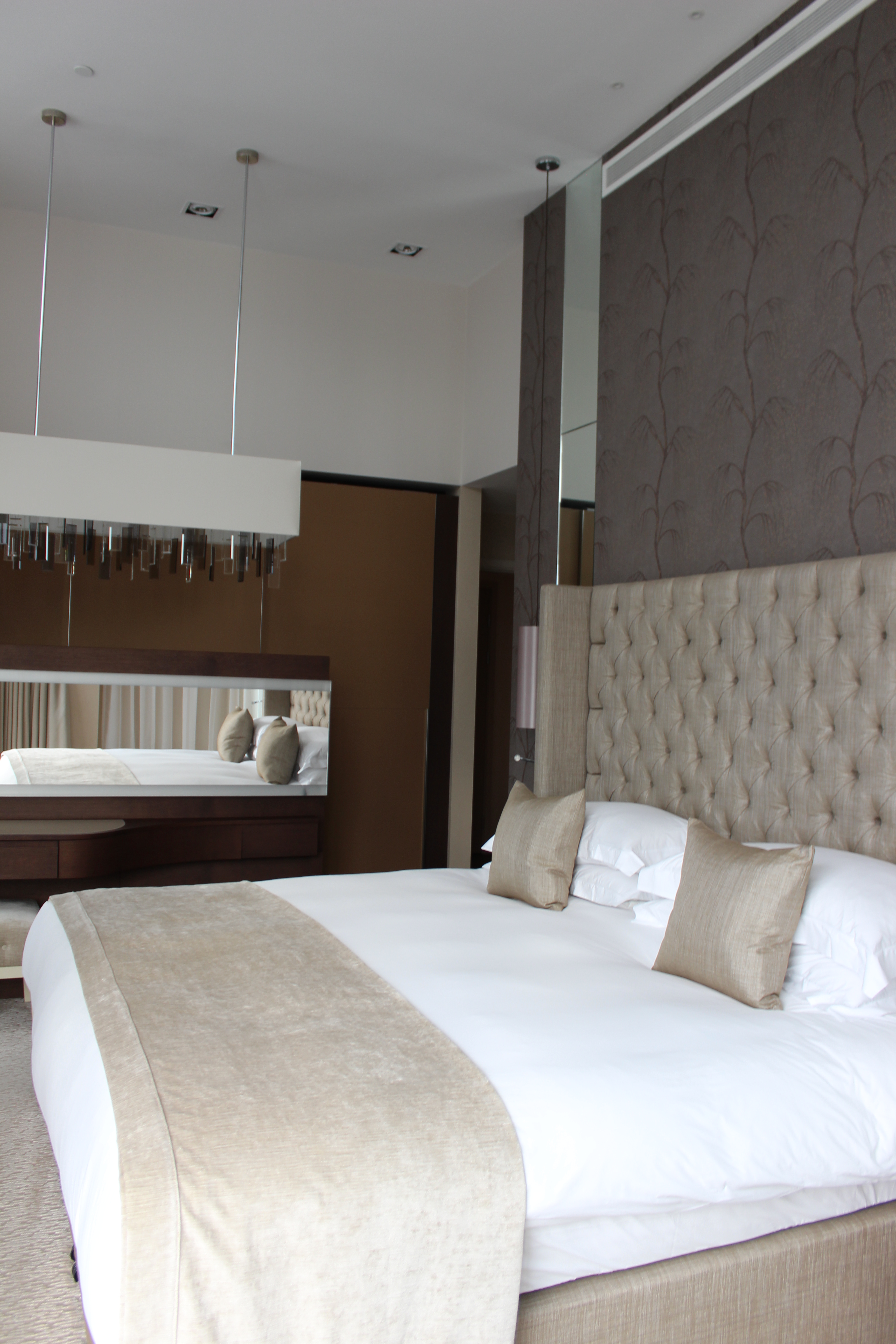 Also in the room was a 'handy phone' … what is this you ask? As did Mr B! It is a phone which is fully loaded with London apps, a tube map and Google. You can use this phone and take it out with you whenever you like as it had unlimited 4G and free UK calls. You can log into any of your social media accounts and when you leave you simply erase the data which takes it back to how you found it. We loved this and took it everywhere with us!
The staff at Cheval Three Quays were all fantastic and a pleasure to deal with. They were happy to give any directions, restaurant recommendations, book tickets for you, make reservations or anything we needed. It wasn't a problem for them at all.
When leaving and entering we were always greeted warmly, even at 2am when we stumbled out of a taxi (shoes in hand!).
We visited London for our own little luxury London food tour (posts on this to follow shortly!) and Cheval Three Quays was the perfect base for our stay. Whether you are a couple on a romantic break, a family looking to see the sights, on a girls' weekend for some retail therapy, away on business or need somewhere  to stay for one night or one month, Cheval is the perfect base and I can't recommend them enough.
https://www.chevalresidences.com/cheval-three-quays/
40 Lower Thames St, London EC3R 6AG
020 3725 5333