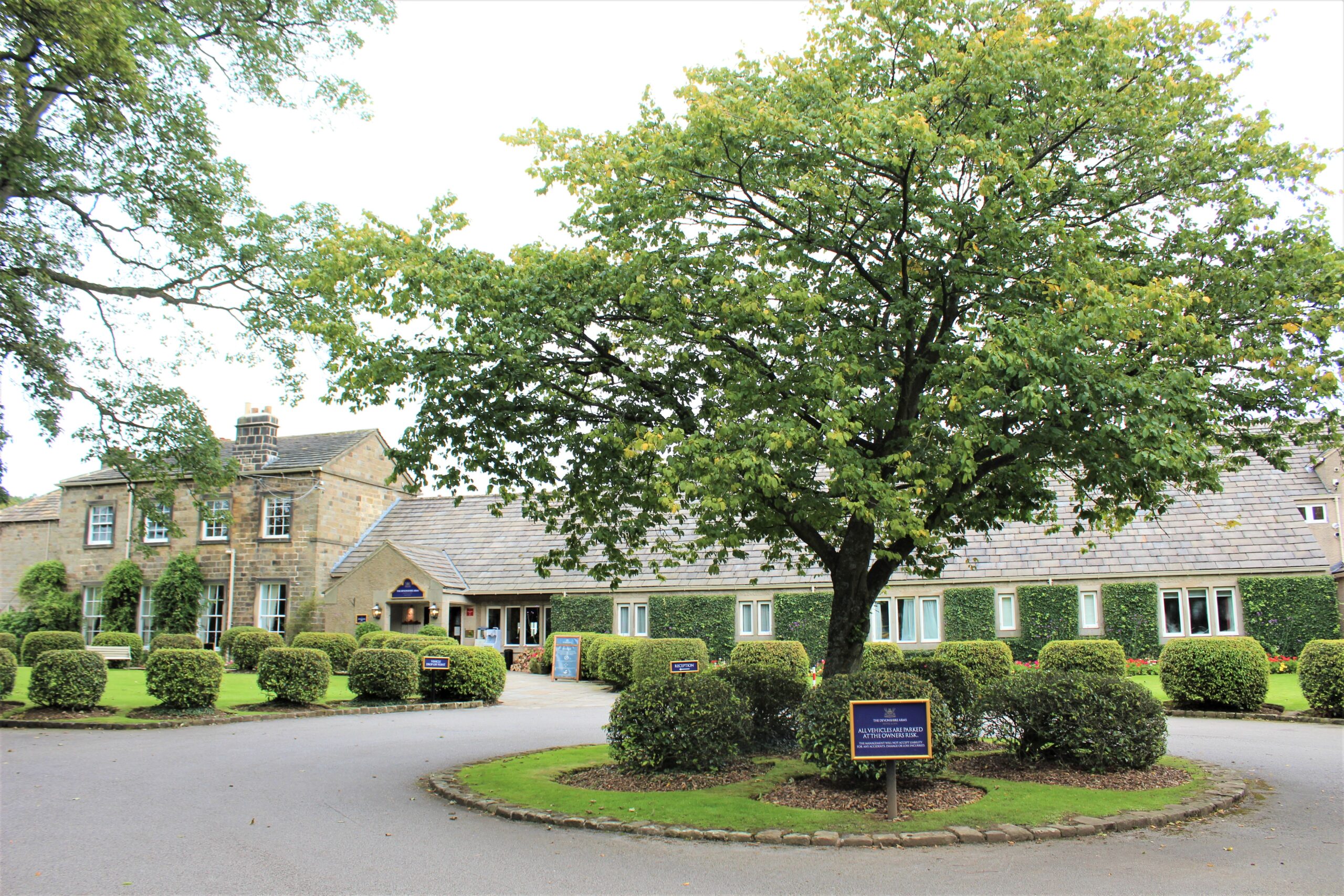 I am always on the lookout for dog friendly hotels and the Devonshire group is known for being super dog friendly. I am happy to say, we (especially Snoopy) were not left disappointed after our recent stay!
We love Yorkshire and on previous visits have never been let down by the beautiful countryside, welcoming people and scrummy Yorkshire food!
Devonshire Arms Hotel and Spa is located in Bolton Abbey which is a dog-walker's paradise (dog optional!). Staying at the hotel gives you access to the Abbey which is a lovely scenic walk from the hotel.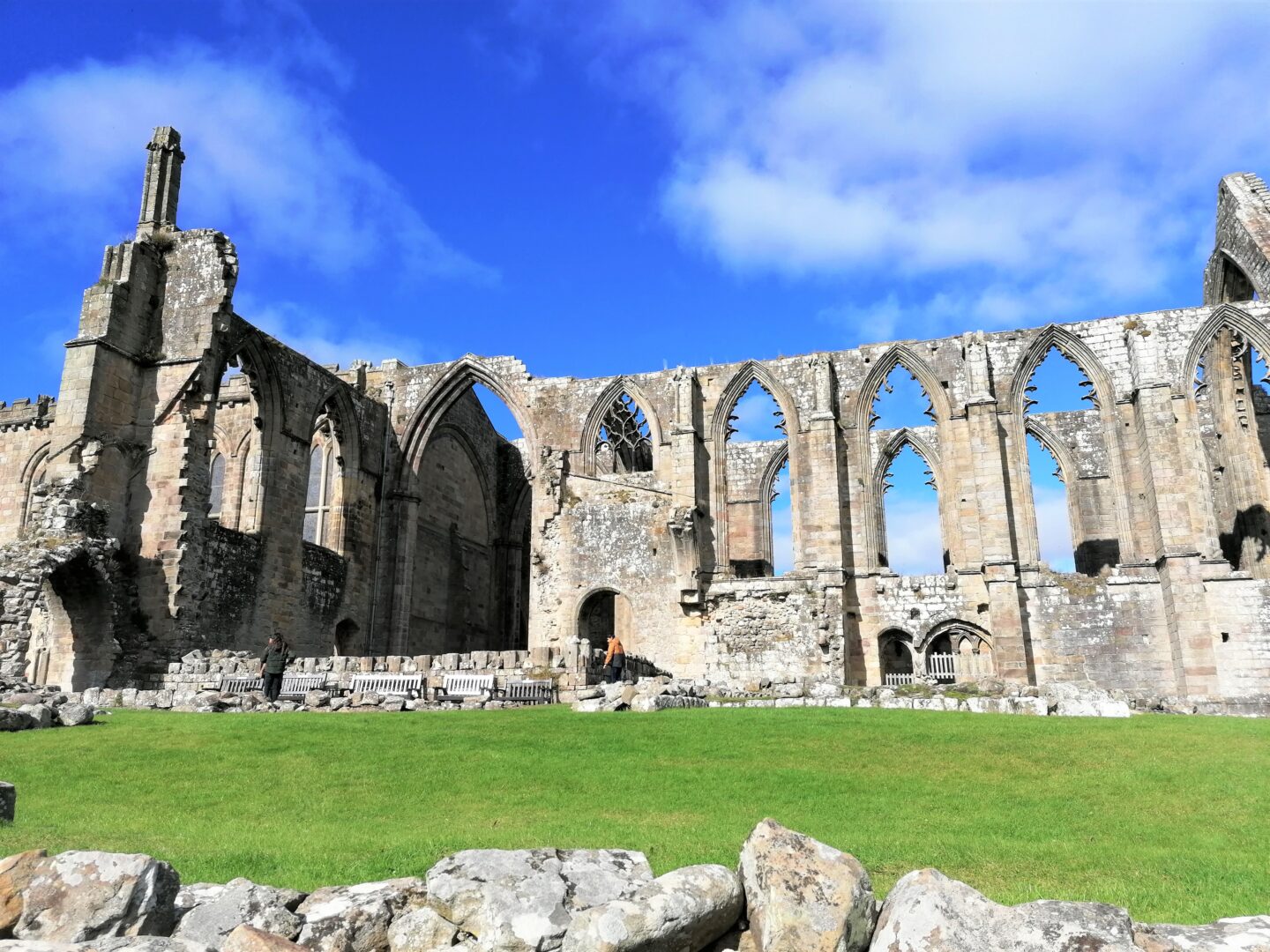 After some fresh air and with a tired Snoopy in tow, it was time to check in to our deluxe double room.
It is worth saying the hotel felt very Covid-secure with a wash station outside, hand sanitizer at many points and a one-way system operation in place.
Now back onto our room! It was lovely and light, had plenty of room for Snoopy's basket and he soon made himself at home. Of course this is after he ate the dog biscuits which were waiting for him!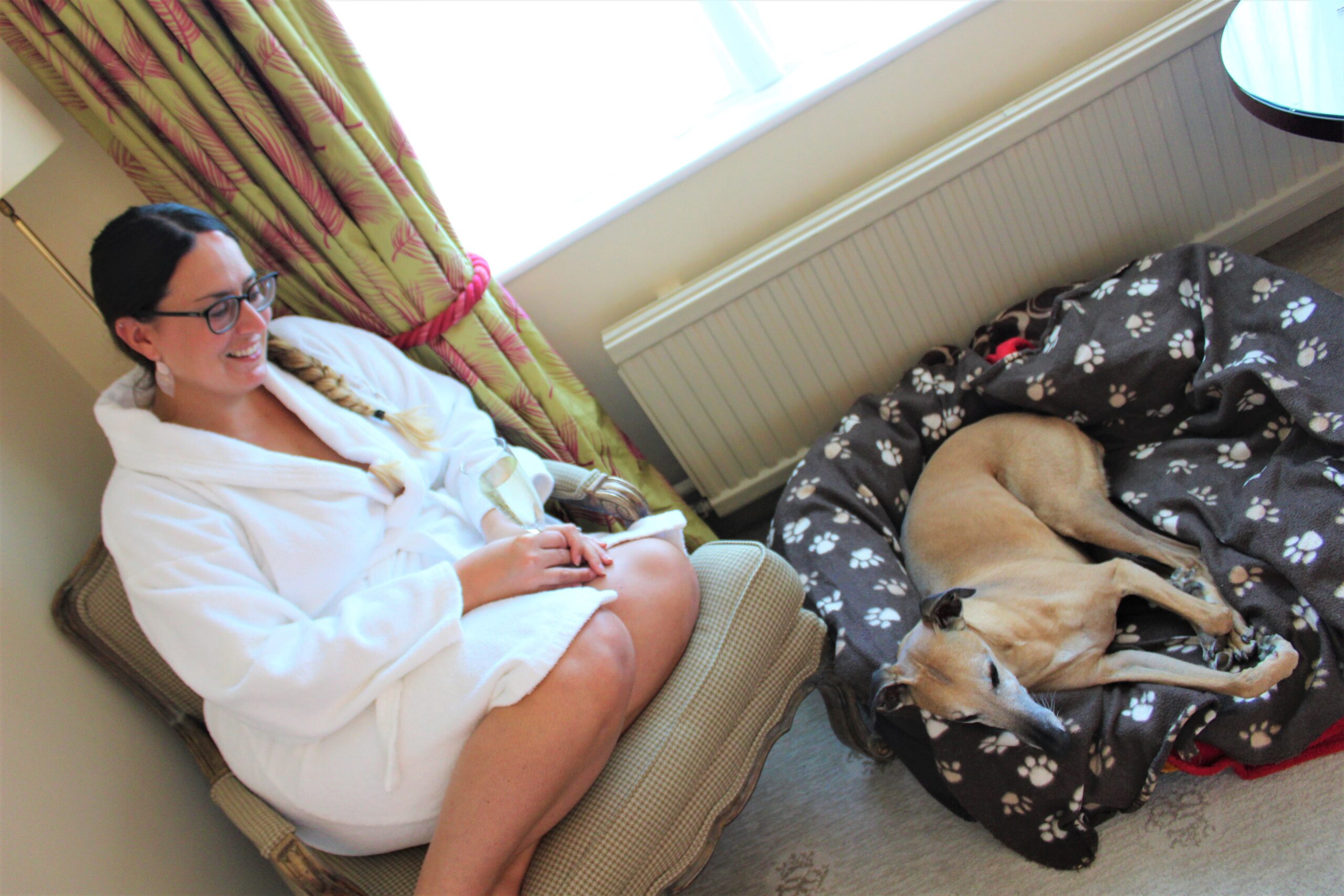 The bed was extremely comfy and we had a seating area, dressing table and a TV with Netflix.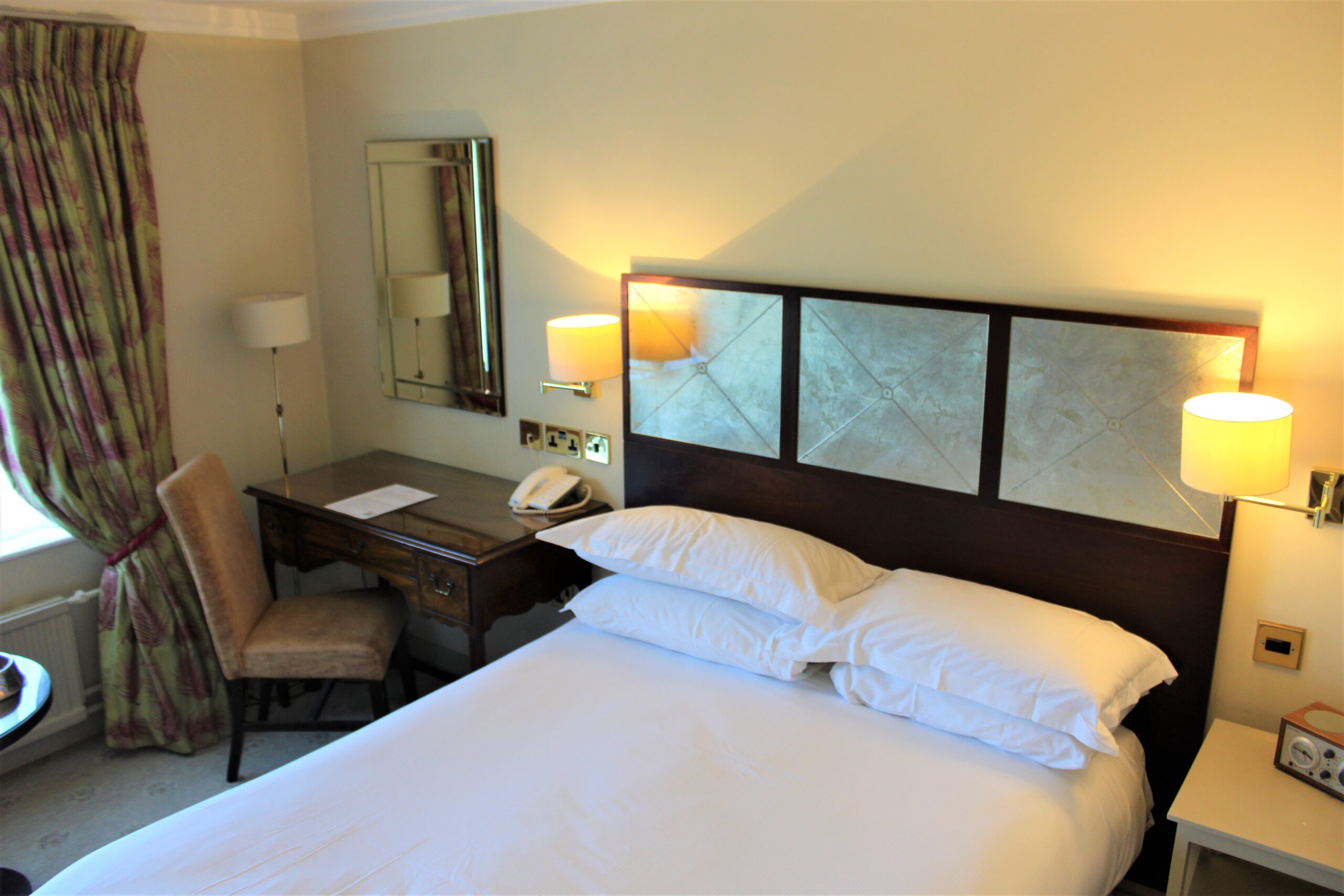 Our room had a Nespresso machine and Yorkshire tea bags. In the fridge was fresh milk, Harrogate water and some utterly delicious handmade Yorkshire brownies. We opened them to have one each and five minutes later they had all gone! It was great to see a big emphasis on local products.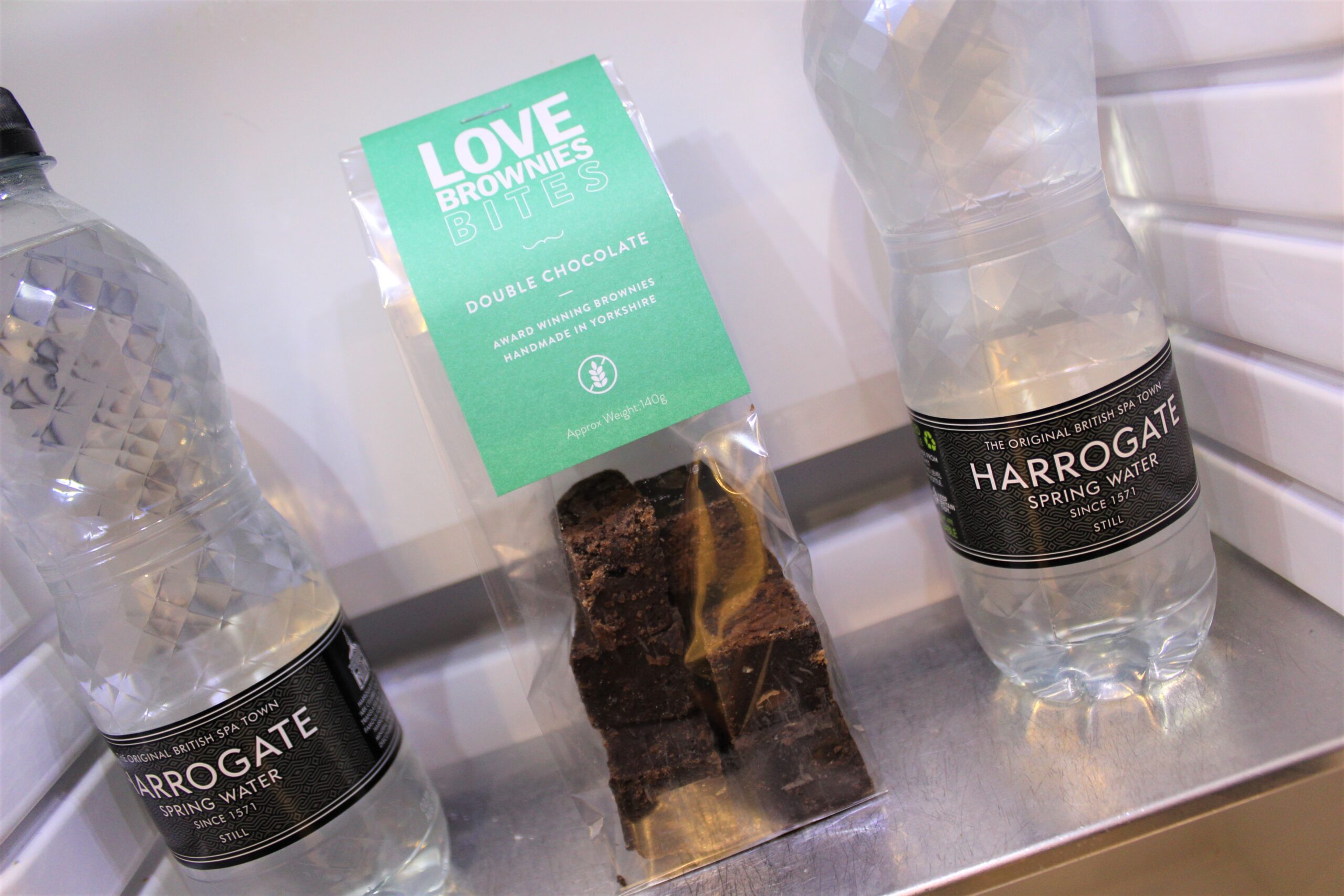 Our bathroom had a bath with overhead shower and toiletries were by luxury brand Noble and Isle. We were also provided with a hand sanitizer and antibacterial wipes.
The highlight of our stay was without a doubt our meal at the hotel's on-site brasserie. The hotel also has a 3 AAA rosette fine dining restaurant called The Burlington which is understandably not dog-friendly so as we had Snoops with us we ate in the hotels dog-friendly Brasserie.
Whilst we were looking at the menu we enjoyed a pre-dinner G&T, which was served with the best tonic around (in my opinion), Fevertree. It was great to see lots of local Yorkshire ales and gins on the menu.
For starter I chose the  'Sea salt and cracked black pepper squid with chili mayonnaise'. I love squid but it can be easily overcooked which makes it rubbery. However, this dish was absolutely perfect! The batter was crisp and seasoned very well, the squid itself was cooked to perfection and the chilli mayo added a great heat to the dish. I could eat this again and again!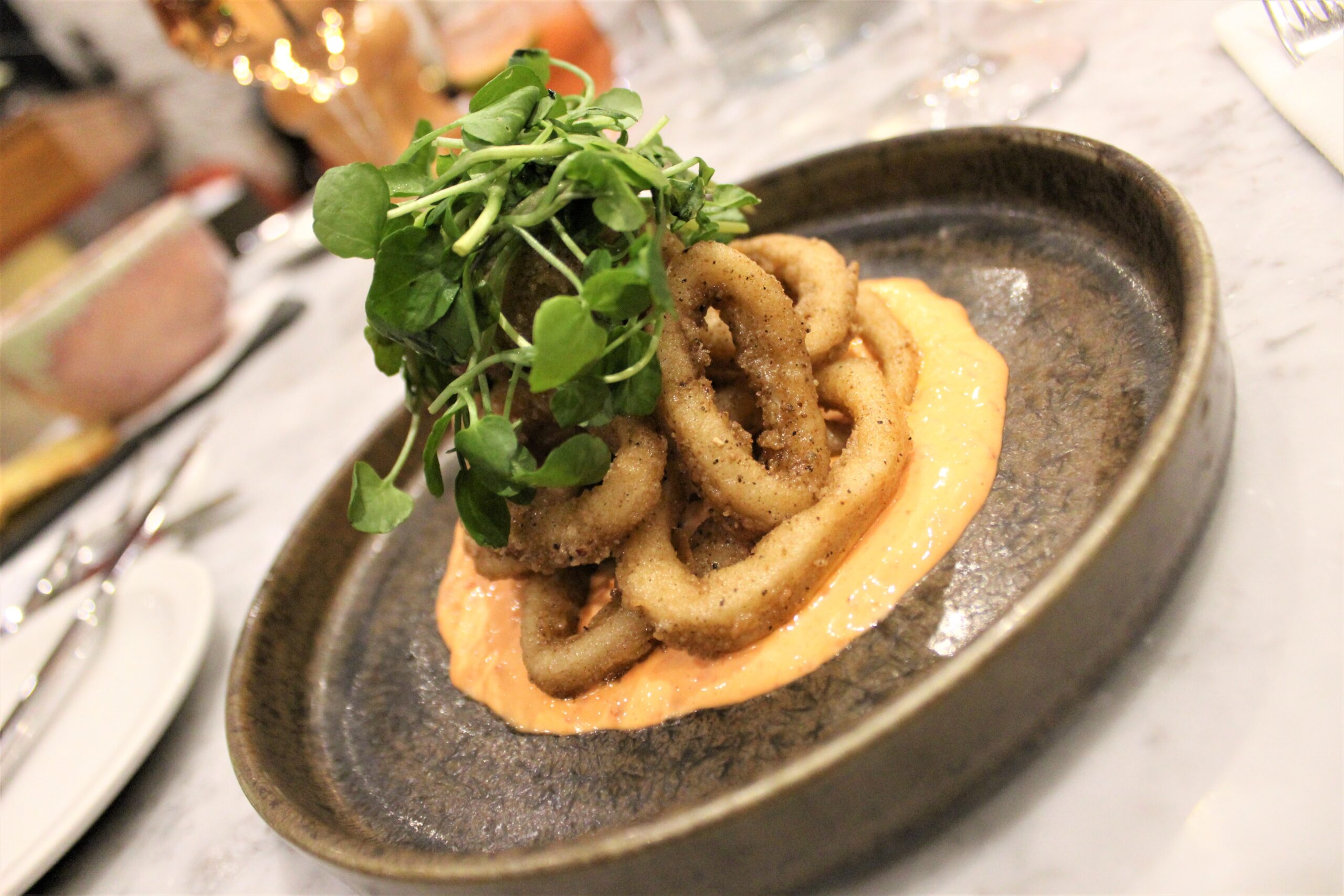 Mr B chose the 'French onion soup with cheese on toast'. The soup was very well flavored and well you can never go wrong with cheese on toast can you? It was very moreish (and so much better than getting croutons with soup!).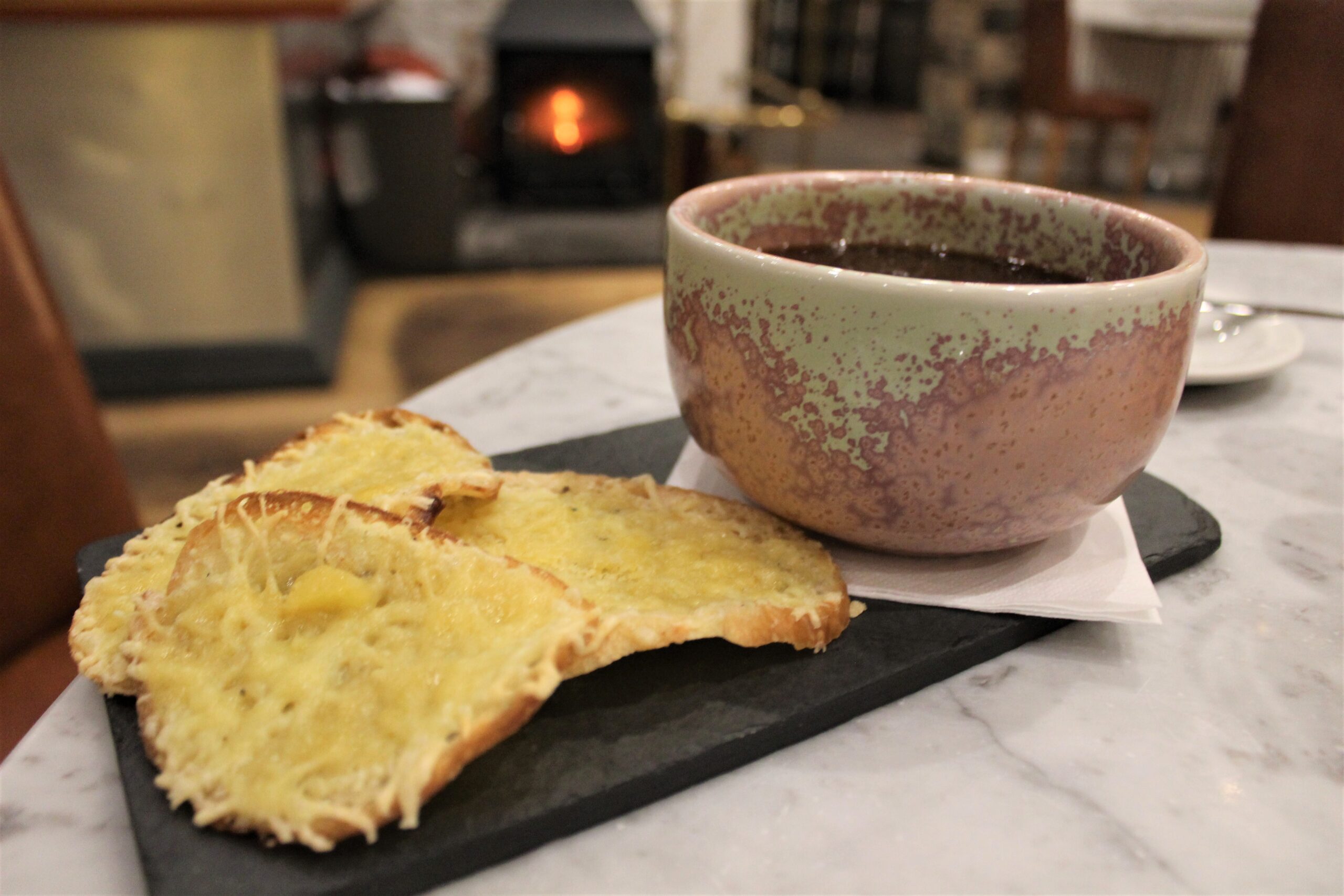 For my main course I chose the venison rump which came with triple cooked chips and blackberry puree. When I see venison on a menu I always order it. It is my favorite meat and this dish was perfect in every way!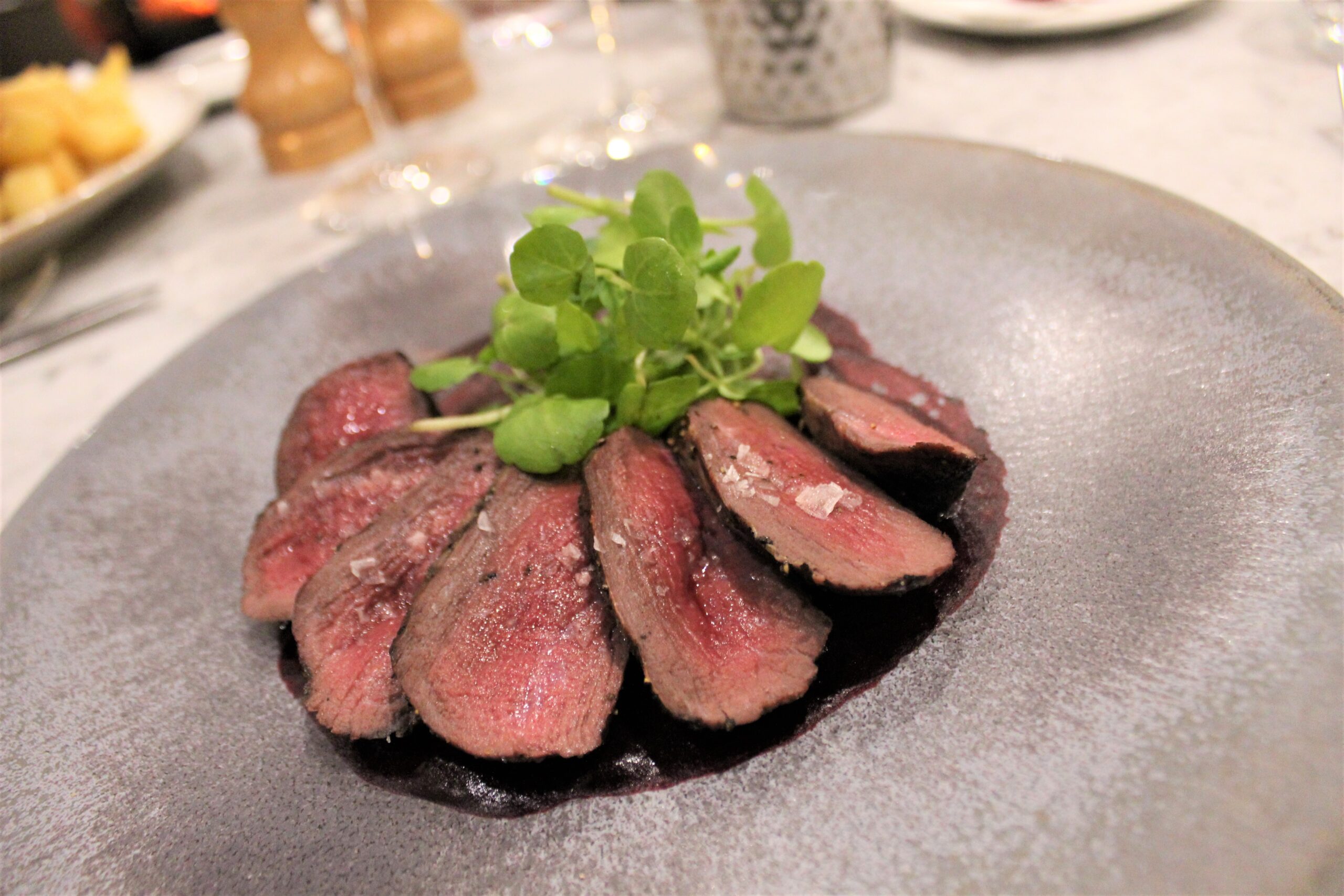 The venison was cooked very well and was tender and flavorful. The slight sweetness and sharpness of the puree worked well with the dish and the chips were some of the best chips I have had for a long while! They were crispy on the outside and fluffy on the inside.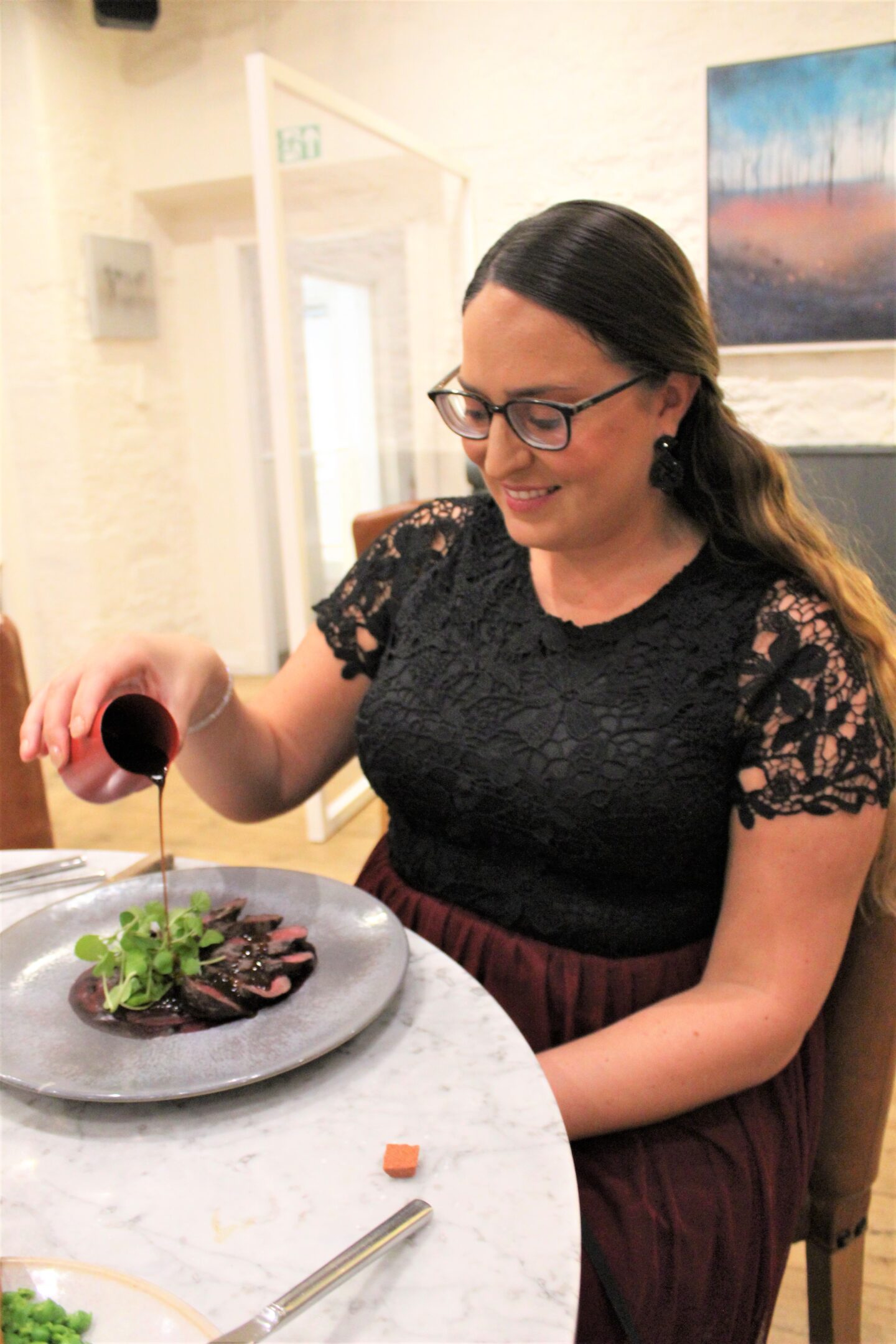 Mr B had the 'Battered Haddock, triple cooked chips and crushed peas'. The fish was huge. It was like a mini-whale! Like the batter on my starter it was seasoned well and perfectly crisp (hate soggy batter!). The fish was delicious. Like myself, Mr B couldn't stop talking about how yummy the chips were!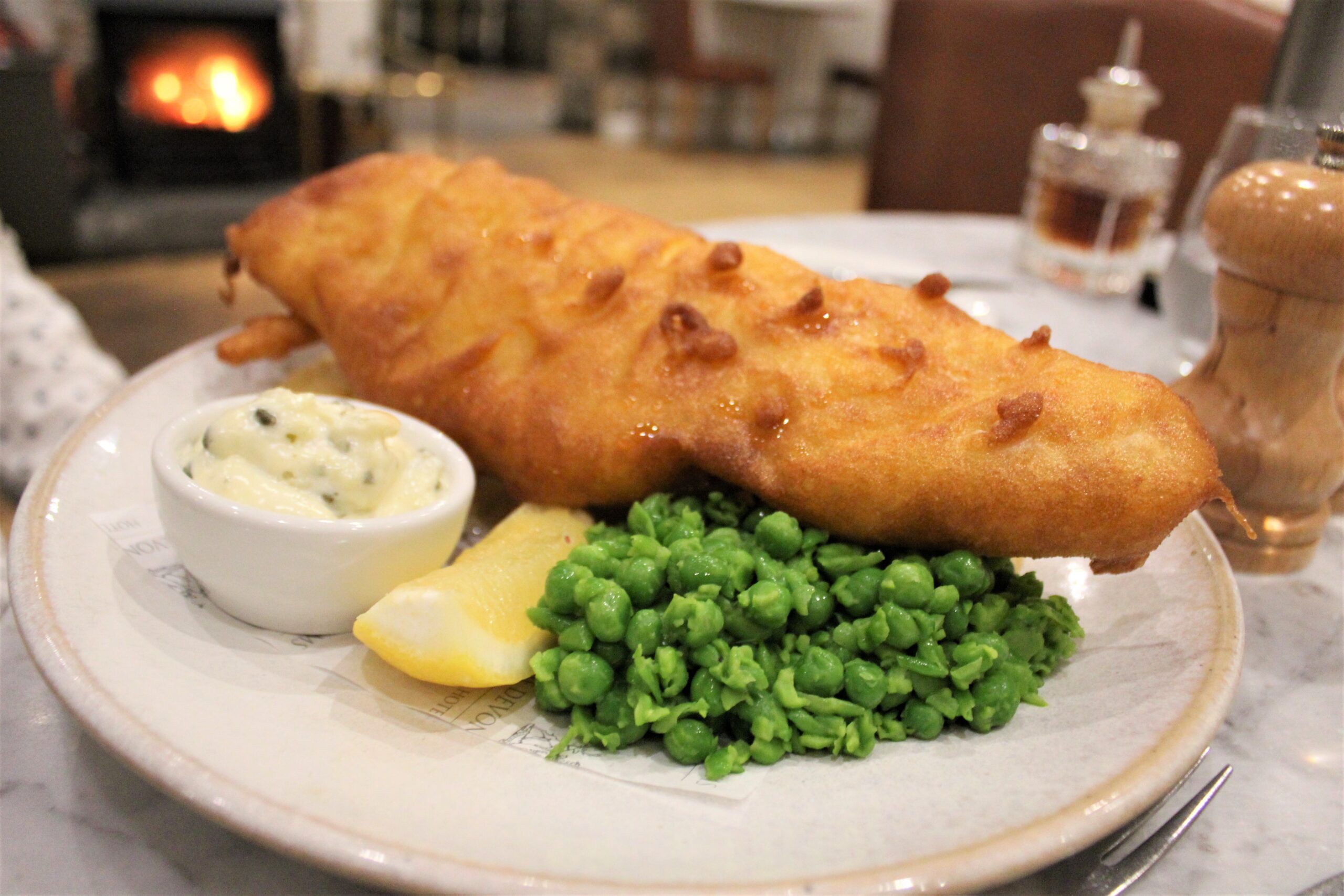 Dessert was an easy choice for me, 'Salted caramel tart, mandarin sorbet and toasted hazelnuts'. This is a dessert for someone with a sweet tooth, which happens to be me! I adore salted caramel. Combine this with buttery pastry, sharp sorbet and the crunch of hazelnuts and you have the perfect dessert! I devoured every crumb.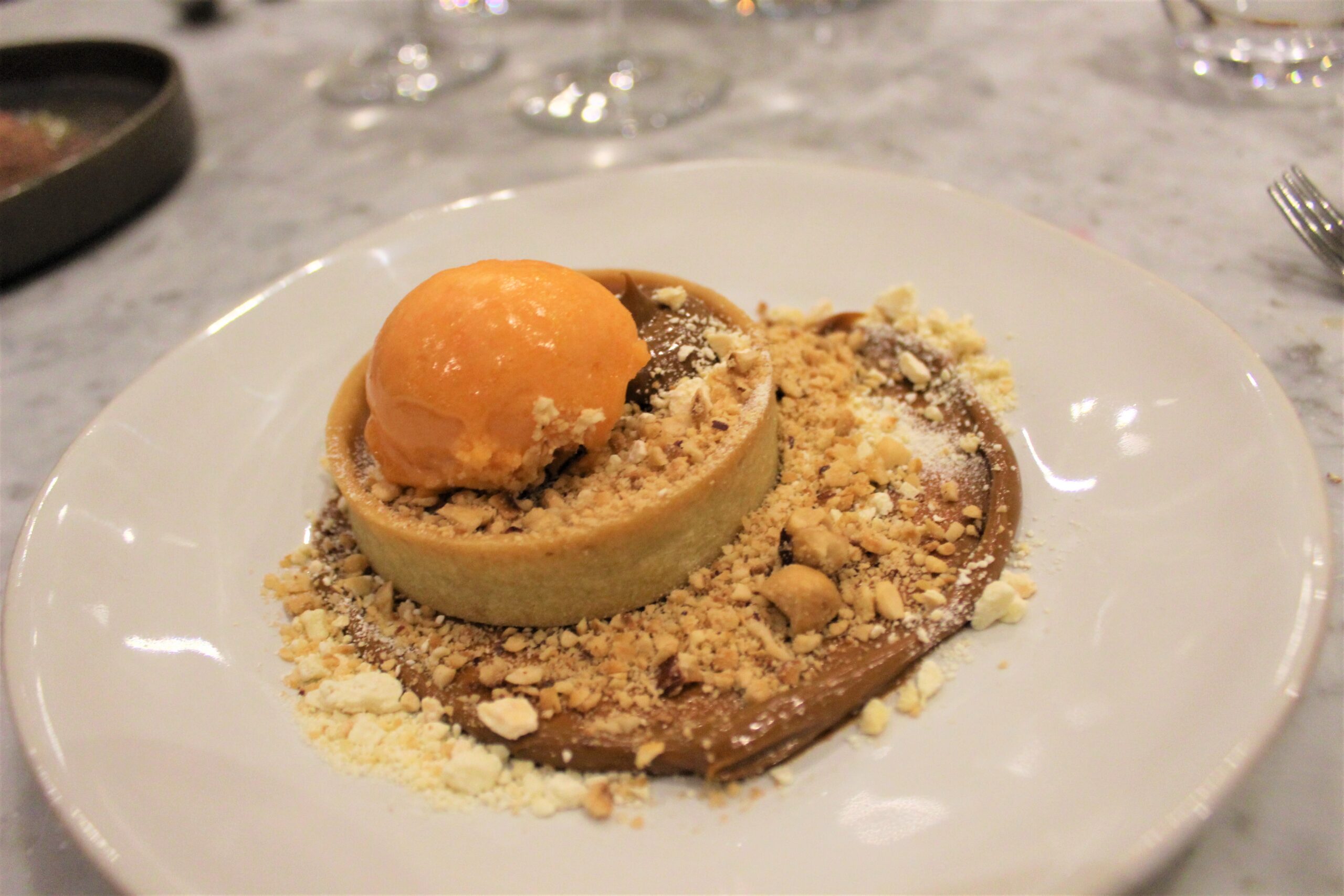 Mr B had the 'Chocolate mousse, ginger, chocolate wafer with coconut and lime puree'. It wasn't a surprise to us that this dessert was also absolutely delicious! The rich chocolate with the slight heat of ginger, sharpness of lime and hint of coconut was so well-balanced.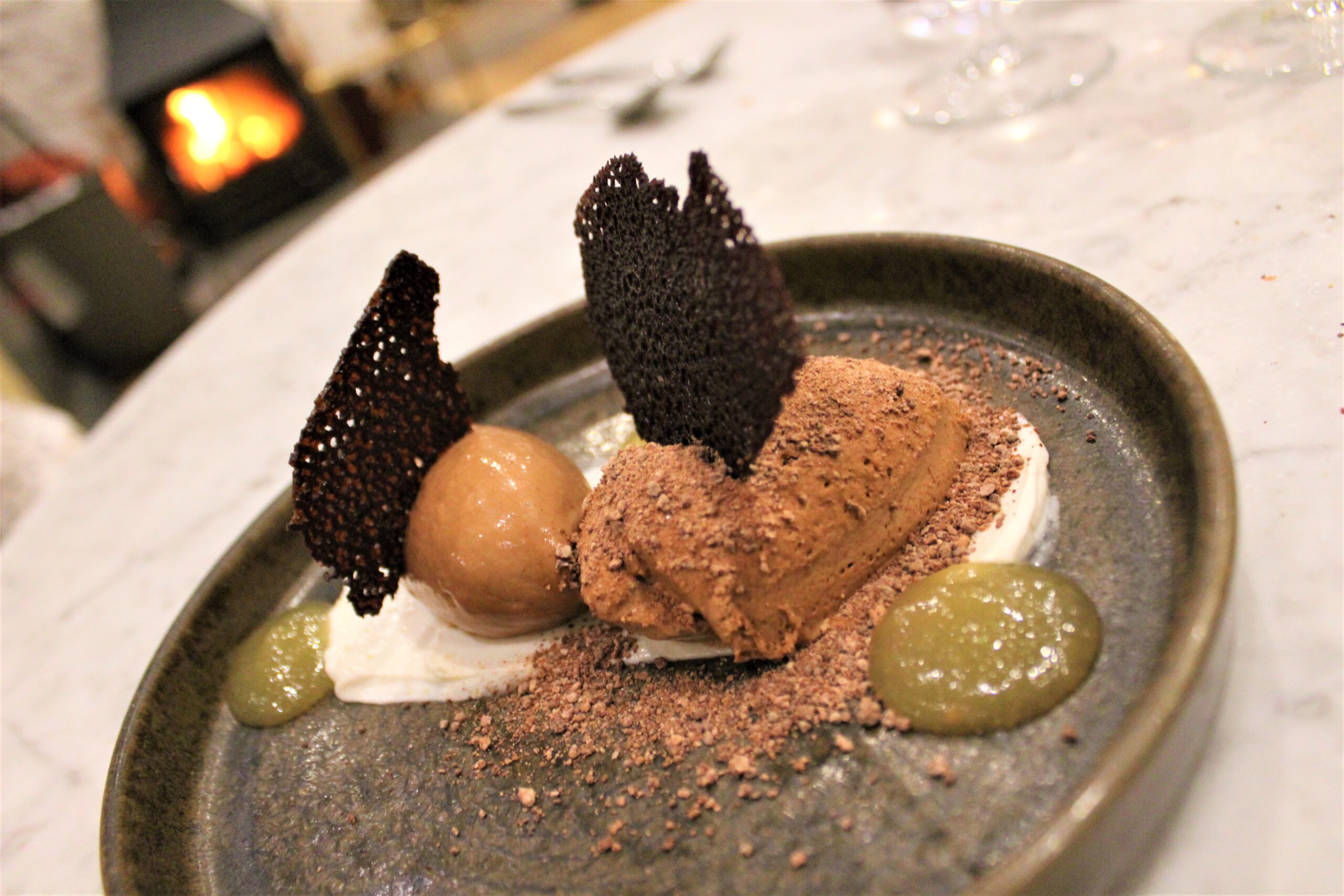 We knew our meal would be nice but it was really faultless and we both said how impressed we were.
So we could have a  relaxing morning and as we didn't want to leave Snoopy alone in the room, we ordered a room service breakfast. I started with porridge with honey and whisky which was delicious and creamy. Mr B had the fruit platter which came with a lovely selection of fresh fruits and natural yoghurt.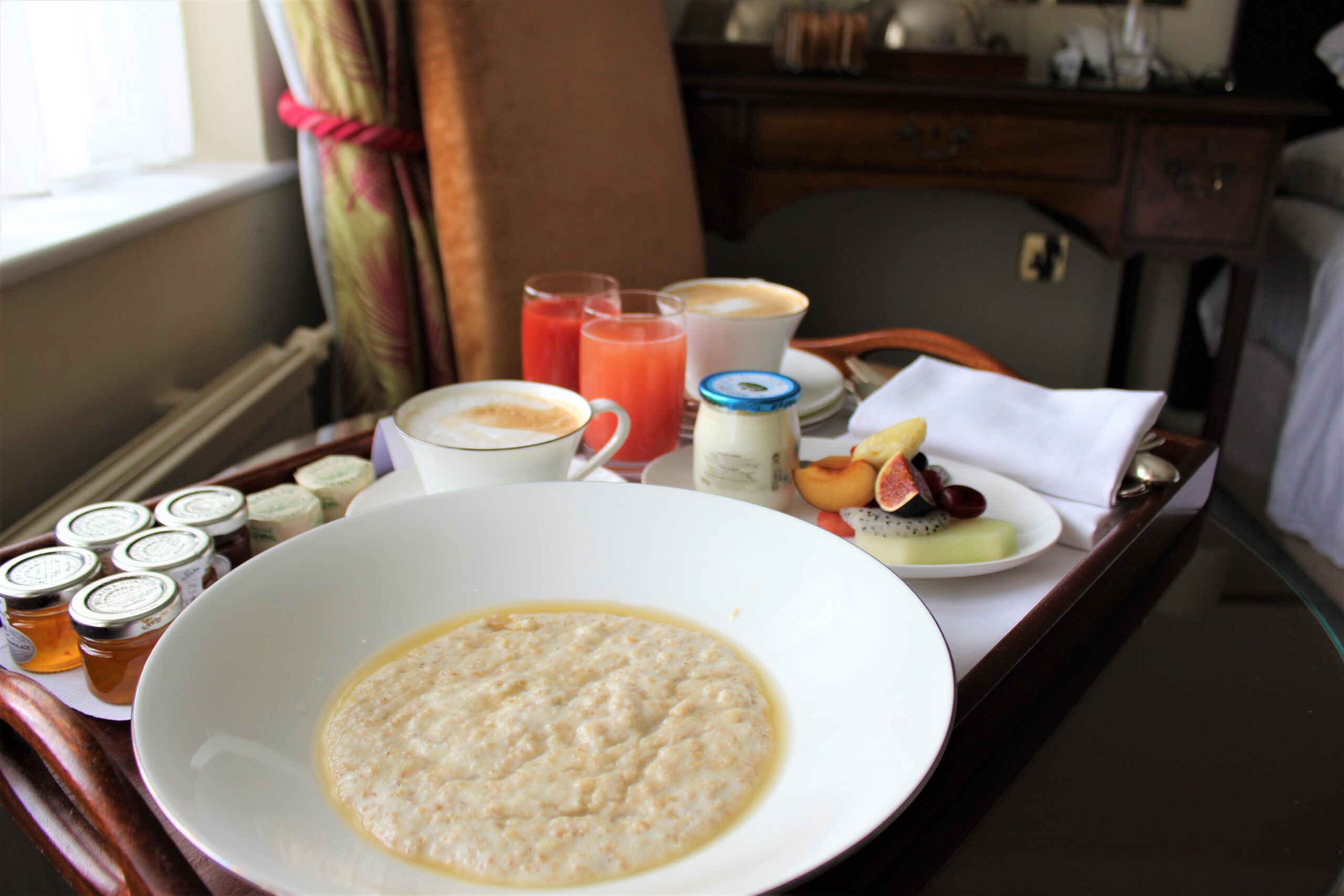 For our cooked breakfast I chose the smoked salmon and scrambled eggs on rye. The eggs were very rich and soft and I could taste the quality of the salmon.
Mr B had the full Yorkshire breakfast which used local bacon, sausages, black pudding and eggs. Again we really apricated the local produce. Like the meal we had the night before, the breakfast was perfect and made with quality ingredients.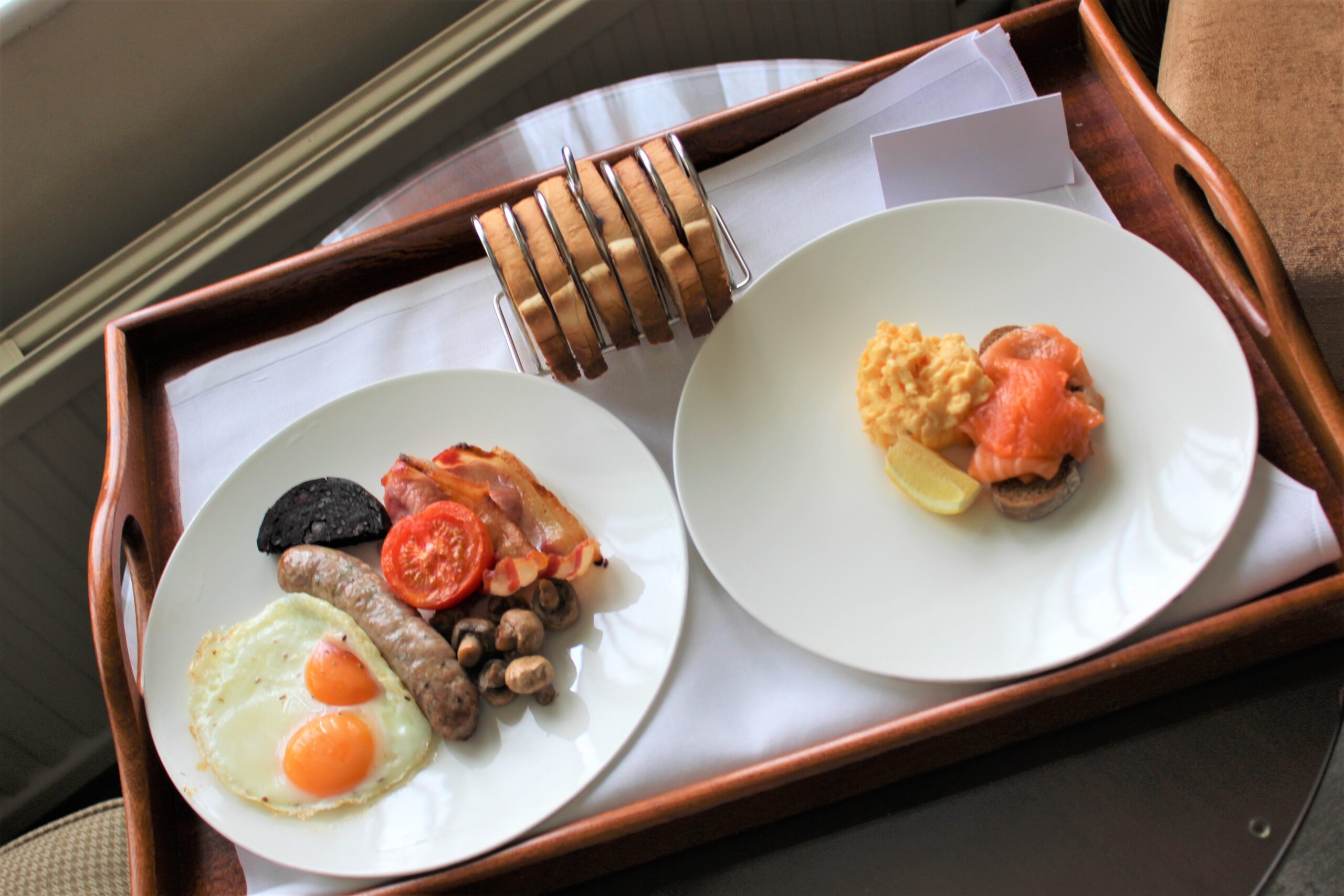 It is safe to say all three of us enjoyed our stay at the Devonshire. The staff were all lovely, the food was incredible and most importantly to us, it was very dog-friendly!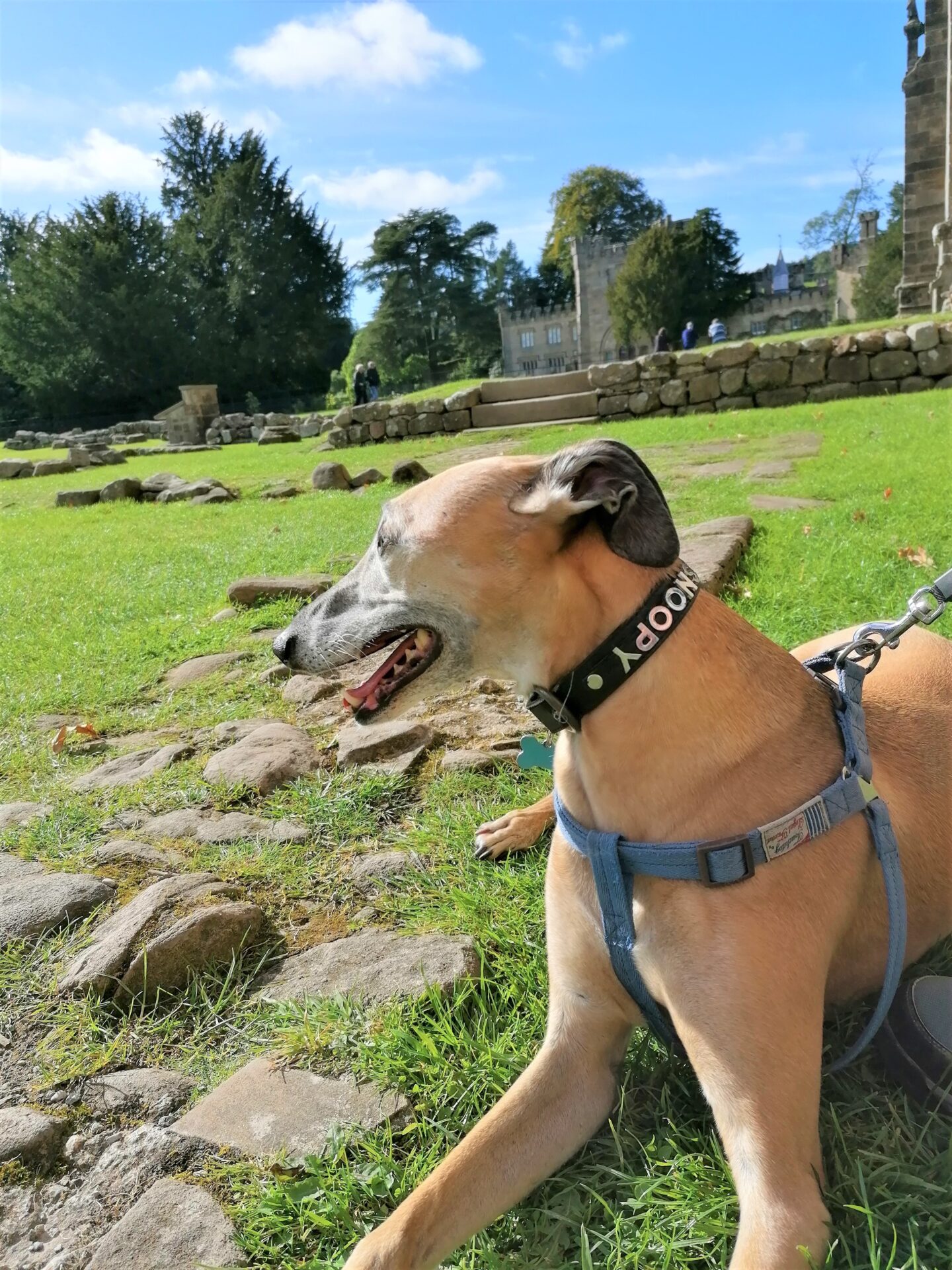 https://devonshirehotels.co.uk/devonshire-arms-hotel-spa/