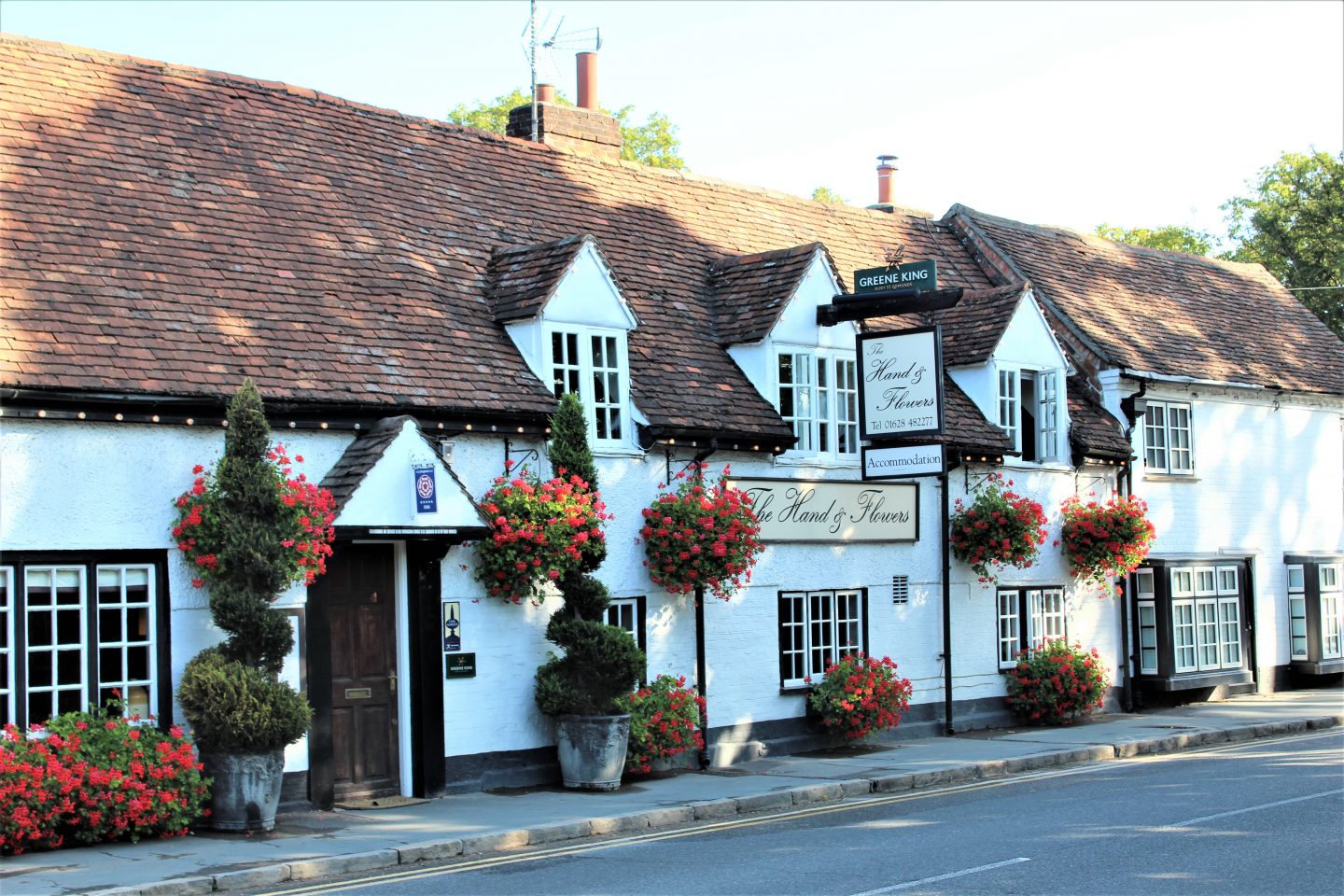 With two Michelin stars to its name, five-star accommodation and an 11-month wait for our visit, it's safe to say my expectations for our visit to Tom Kerridge's Hand & Flowers in Marlow were very high!
To add more pressure, I got this as a gift for Mr B's 40th birthday and he was over the moon with the surprise.
Check in is 3pm, but one of the many extras included when you book a room at the Hand & Flowers is a voucher for coffee and cake at The Coach, a lovely pub on Marlow high street also owned by Tom Kerridge. We popped into the Hand & Flowers early to collect our voucher so we could go in the early afternoon as we didn't want to fill up on cake and not be hungry for dinner!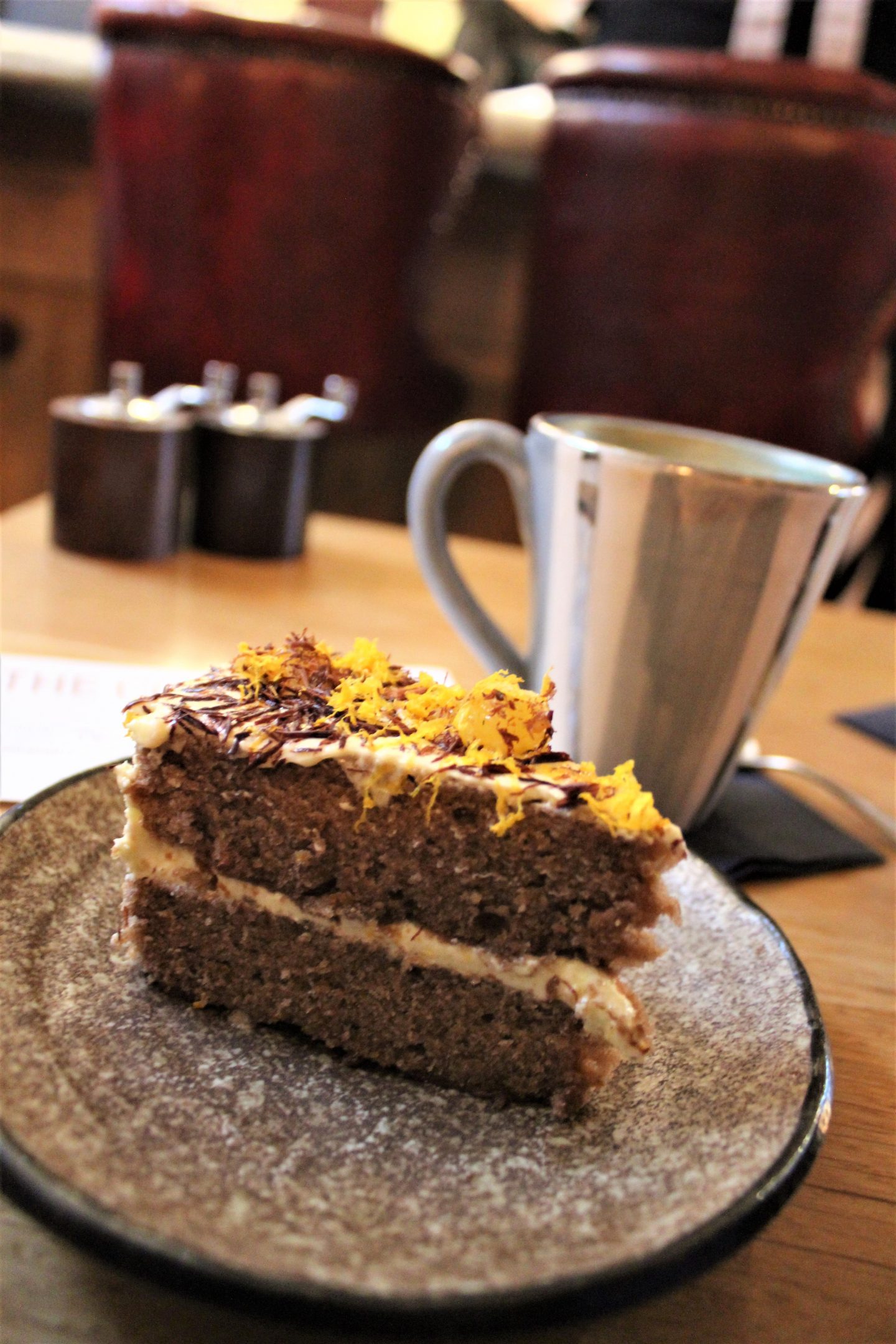 The cake of the day was chocolate and orange and paired with a latte it was a lovely treat to start our weekend of fantastic food!
After a lovely glass of wine in another local pub on the high street, we headed back to the Hand & Flowers to check in!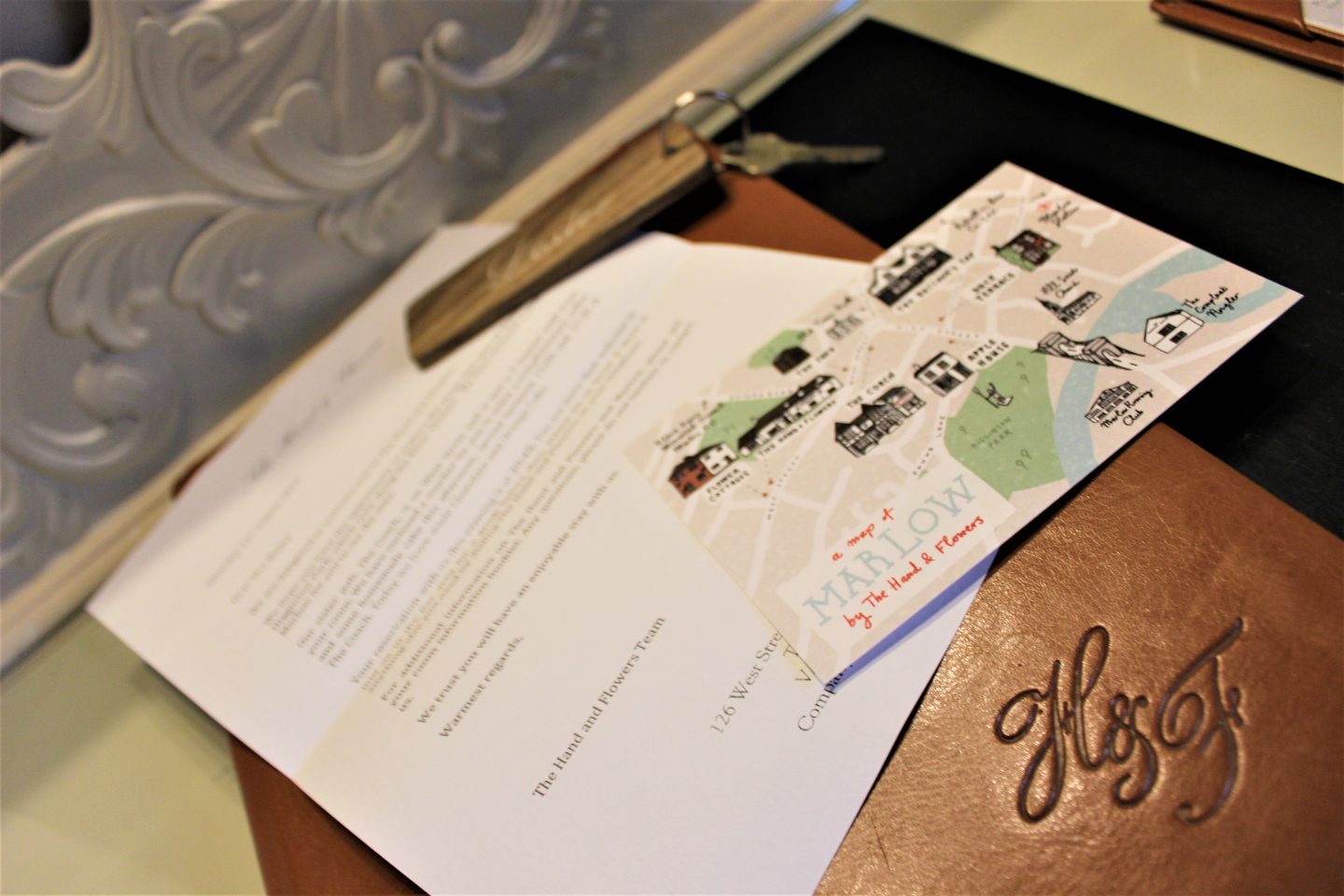 We were staying in the Dexter room and I definitely made the right choice! Located only seconds away from the Hand & Flowers, our room was upstairs in a beautiful cottage. We were shown to our room and around the facilities on offer.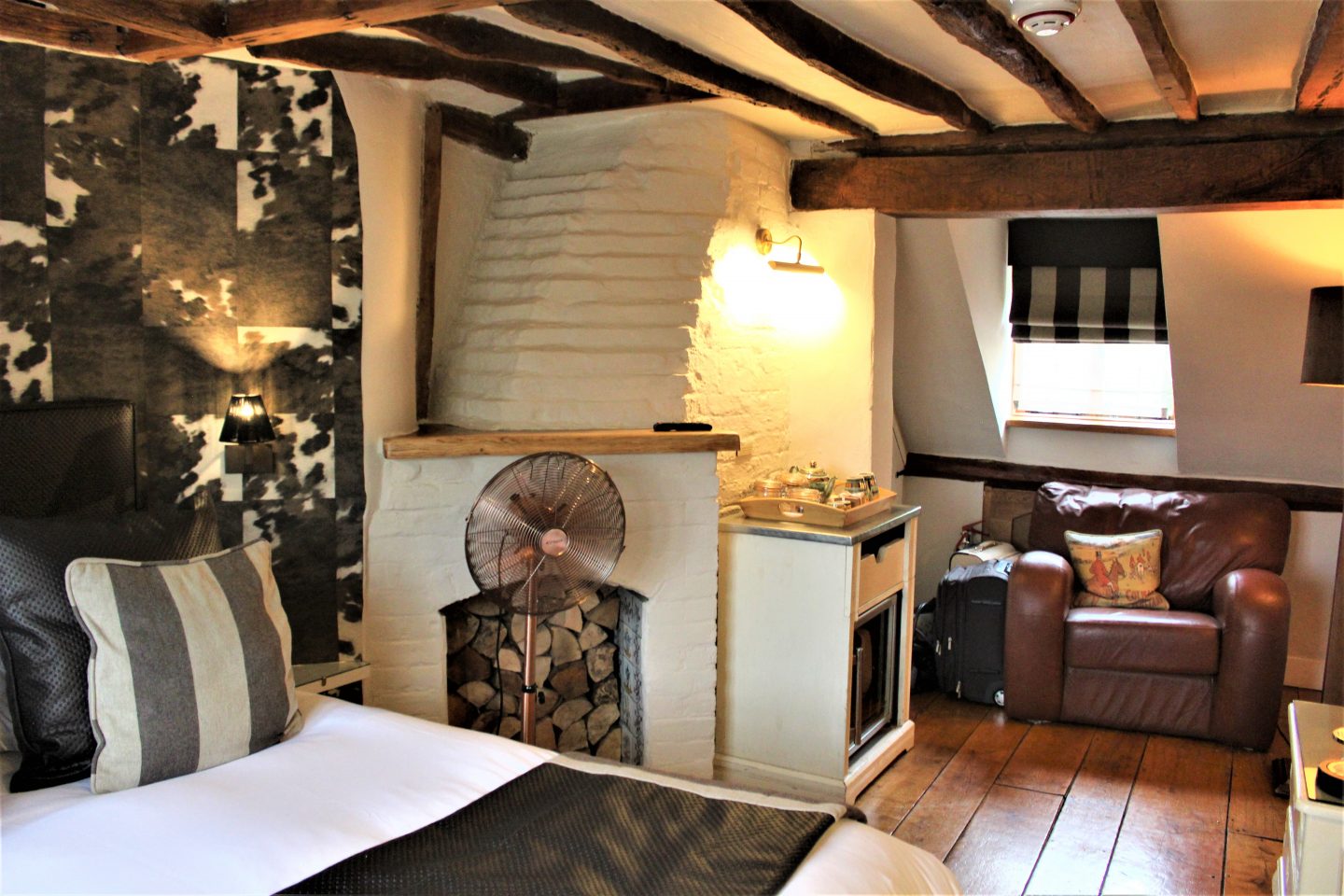 Our room was lovely and spacious with so many thoughtful and personal touches. A beautiful comfy bed, arm chair and dresser made up the room.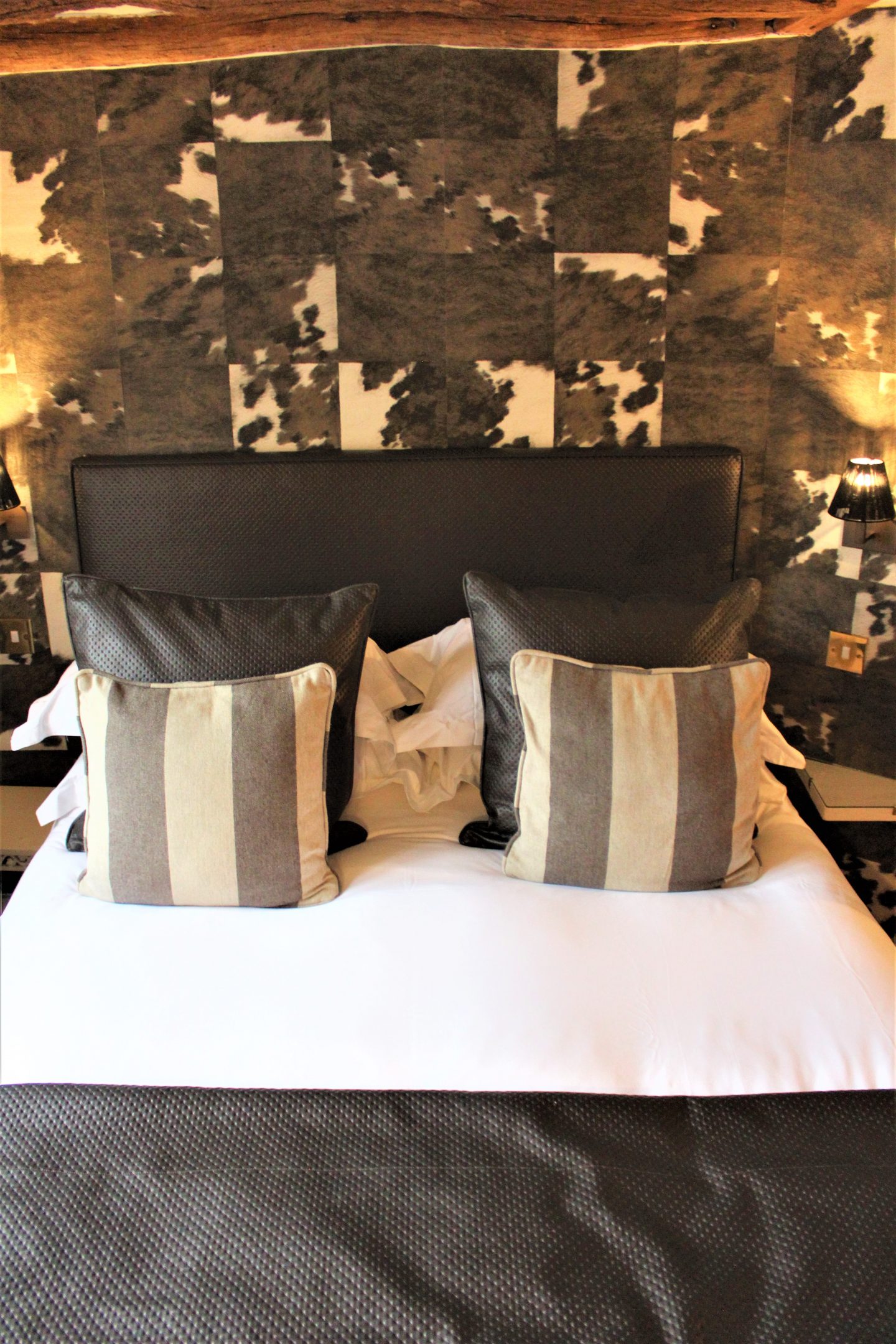 The tea tray was a dream! With delicious homemade lardy cakes, yummy homemade cookies and moreish homemade fudge, we were already in love with the food from the Hand & Flowers!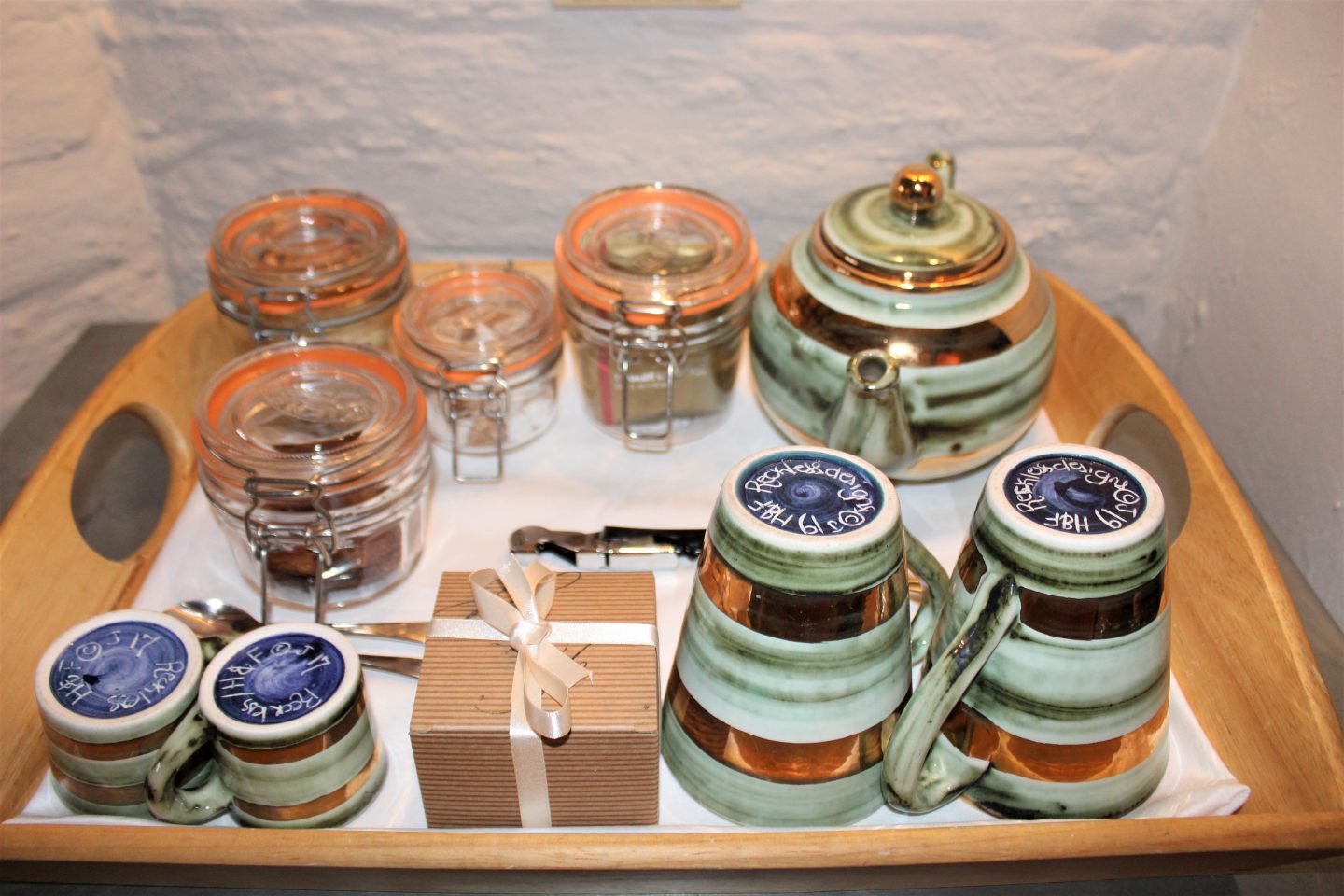 English breakfast tea was provided, but there was also a note saying if you wished for any other tea just give them a call and they would bring it to you. There was also a Nespresso coffee machine with plenty of pods and fresh milk in the fridge.
A real wow factor to our room was the bathroom with a beautiful sink, huge shower and incredible bath!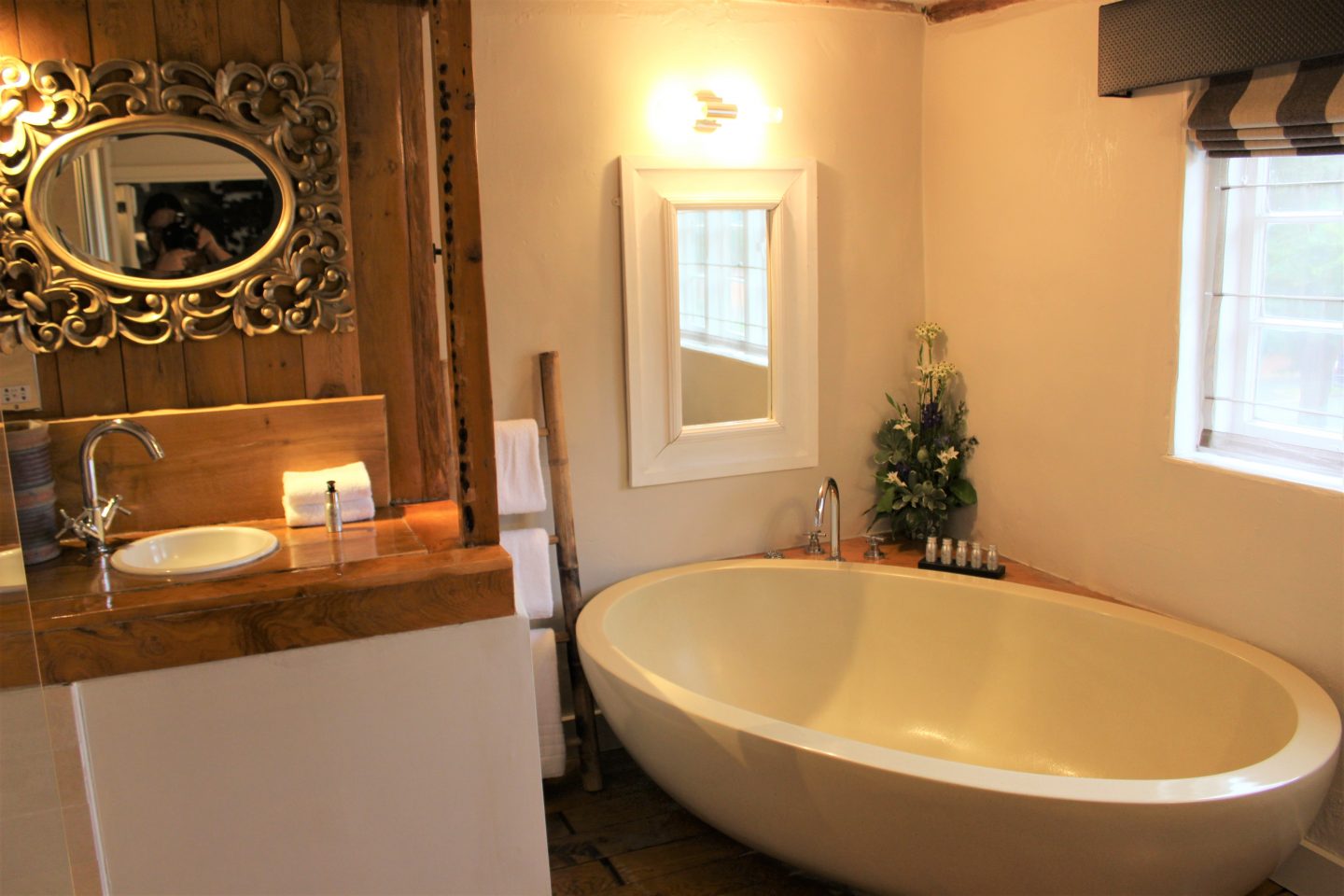 The toiletries were also plentiful and smelt amazing. Other extras in the bathroom were bamboo toothbrushes and toothpaste to use and take home, ear plugs if you are a light sleeper, a manicure set and disposable razor. If you forget anything when you visit don't worry, the Hand & Flowers have remembered everything!
We spent the afternoon in our fluffy robes, relaxing in our room watching Netflix, drinking gin and looking forward to dinner.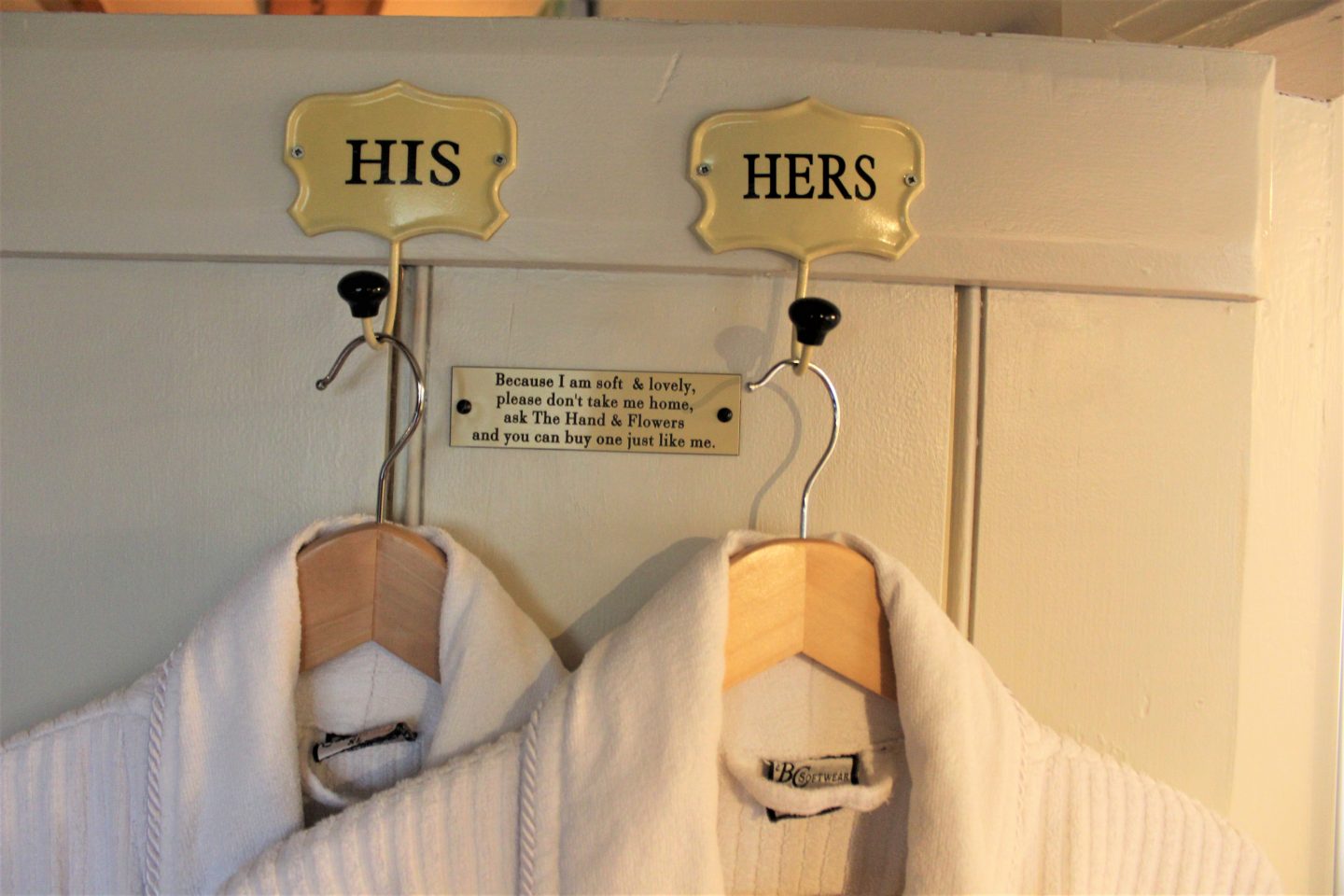 Of course, dinner was the reason we were there. After all the Hand & Flowers is the only pub to be awarded two Michelin Stars!
We arrived 30 minutes before our reservation so we could sit in the bar and enjoy a pre-dinner drink. The weather was so nice we even sat outside where there were lovely log burners to keep the chill off.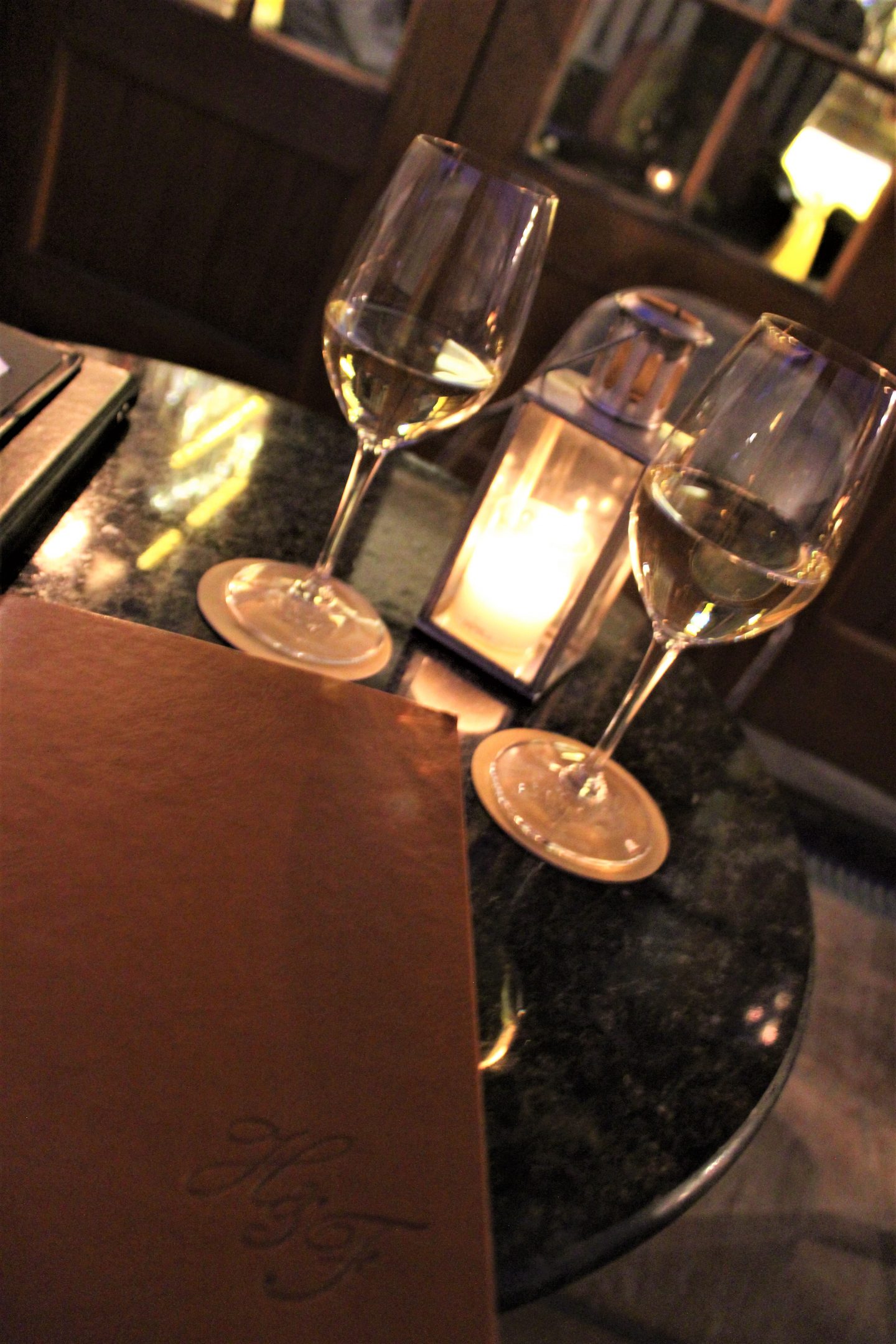 While we sipped on a perfectly chilled glass of white wine we were given the menus to browse.
We were taken to our table and waiting for us was a signed menu and signed birthday card for Mr B . . . more special touches which helped make the weekend even more special.
Before our starters we were given some complimentary fried whitebait and incredible fresh homemade bread. Mr B couldn't stop eating the whitebait – perfectly crispy and very fishy with a lovely dipping sauce.
Mr B and I both chose the same starter – 'Soft Smoked Salmon with Pine Emulsion, Beer Cracker and Raw Salmon Parfait'.
It was completely faultless, fresh and full of flavour with the perfect combination of textures. The smoked salmon was probably the best smoked salmon I have ever had!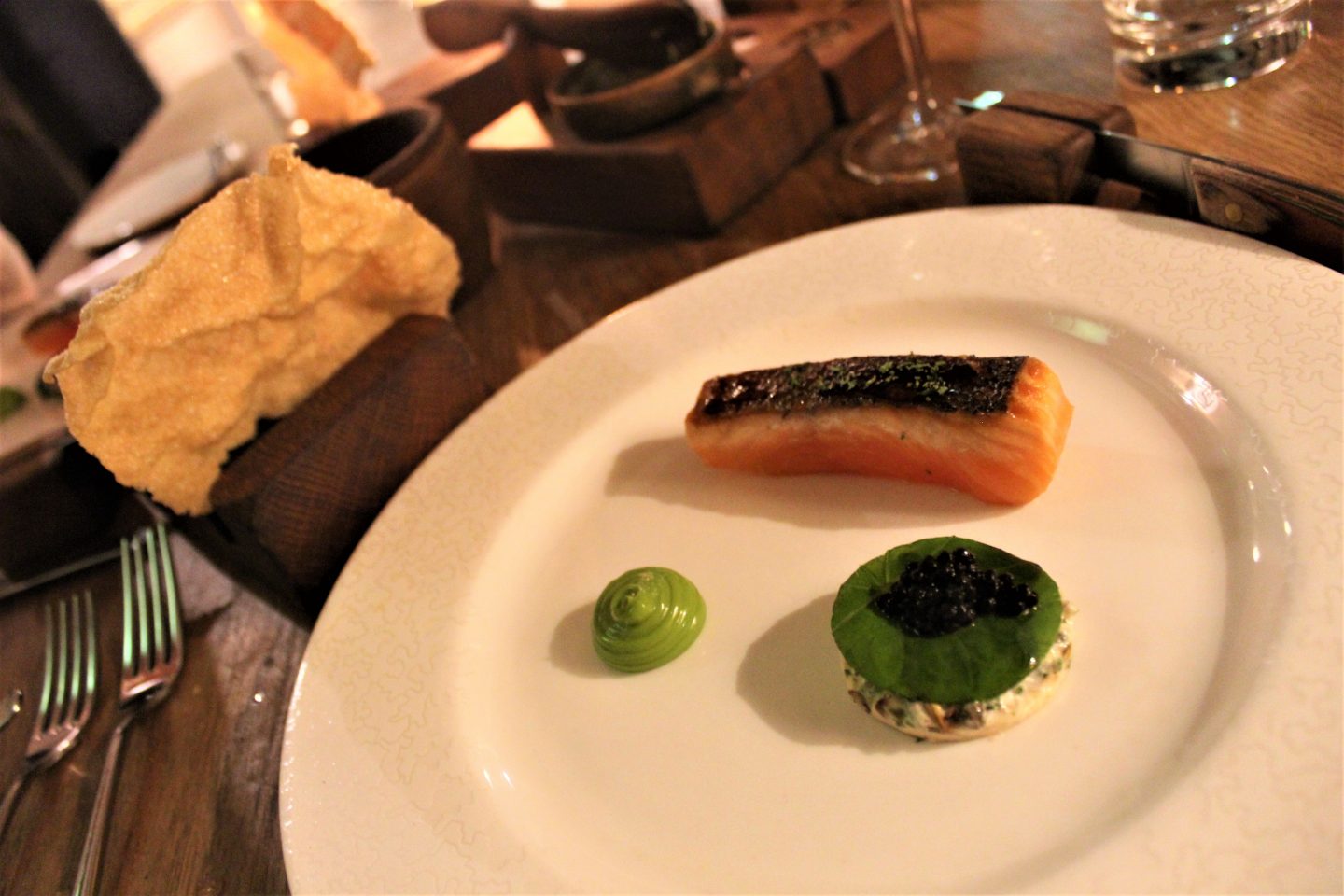 After much deliberation for my main course I chose the 'Loin of Cotswold Venison with Carrot & Marmite Puree, Keema Dhal, Salt Baked Carrot and Spiced Beef Puff'. I adore venison and I'm always drawn towards it when I see it on a menu. It was perfectly pink and extremely tender. I'm not actually a Marmite lover, but the puree was balanced well with the sweetness from the carrot and saltiness from the Marmite.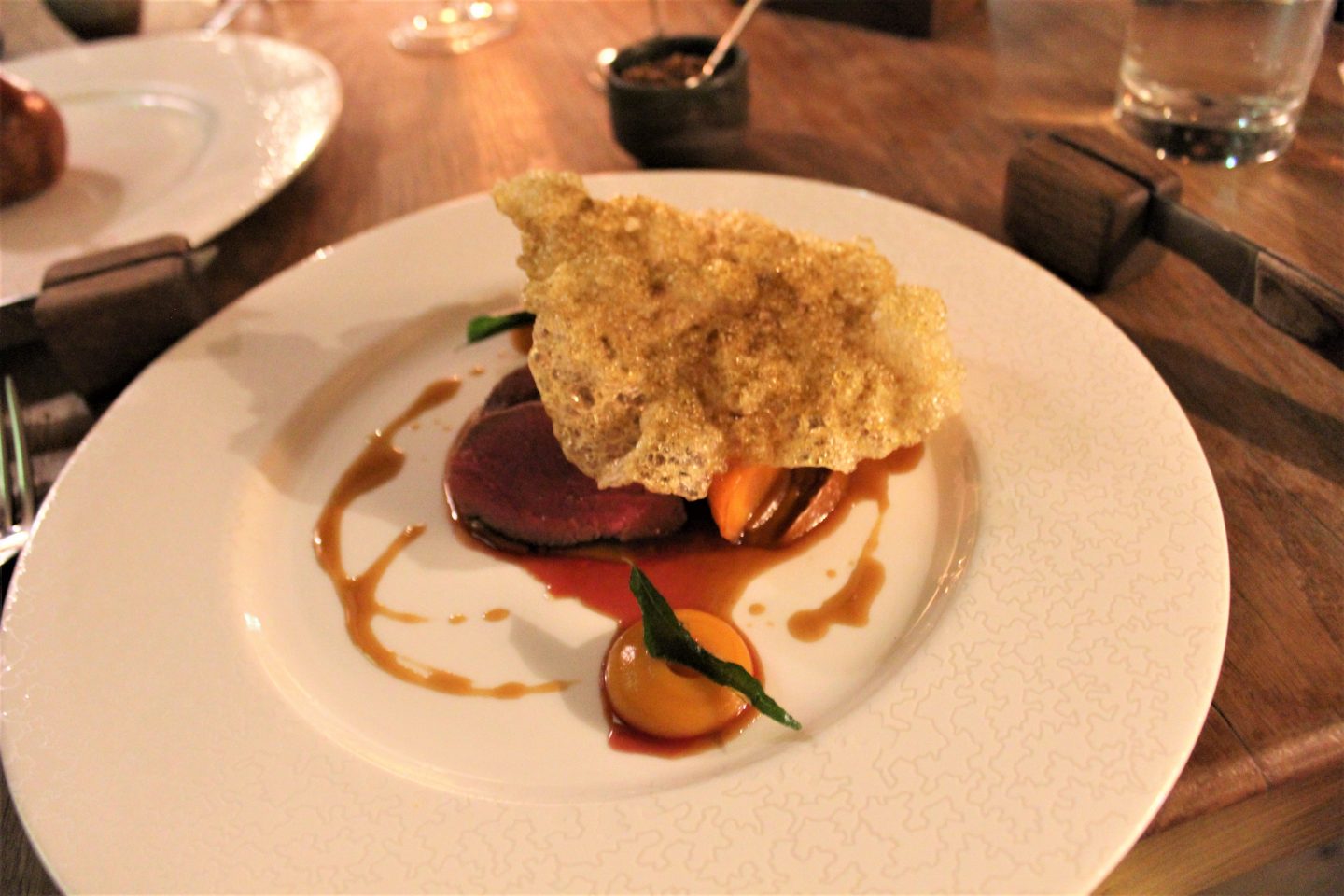 Mr B ordered the 'Essex Lamb 'Bun' with Sweetbreads and Salsa Verde'. It was like unwrapping a beautifully wrapped Christmas present – the outside was beautiful, but you know what is waiting inside is going to be even more special. And, of course, it was divine, soft delicate lamb with a winning combination of flavours.
We ordered a side of Hand & Flowers Chips to go with our mains, probably not necessary, but they were bloody delicious! Crispy on the outside, fluffy on the inside and seasoned to perfection.
There are two sittings to choose from when dining in the evening and we chose the later one. We prefer eating later and another bonus is that you don't have a time limit on your table, so feeling extremely full after our mains we ordered another bottle of wine and had a 30-minute break before dessert.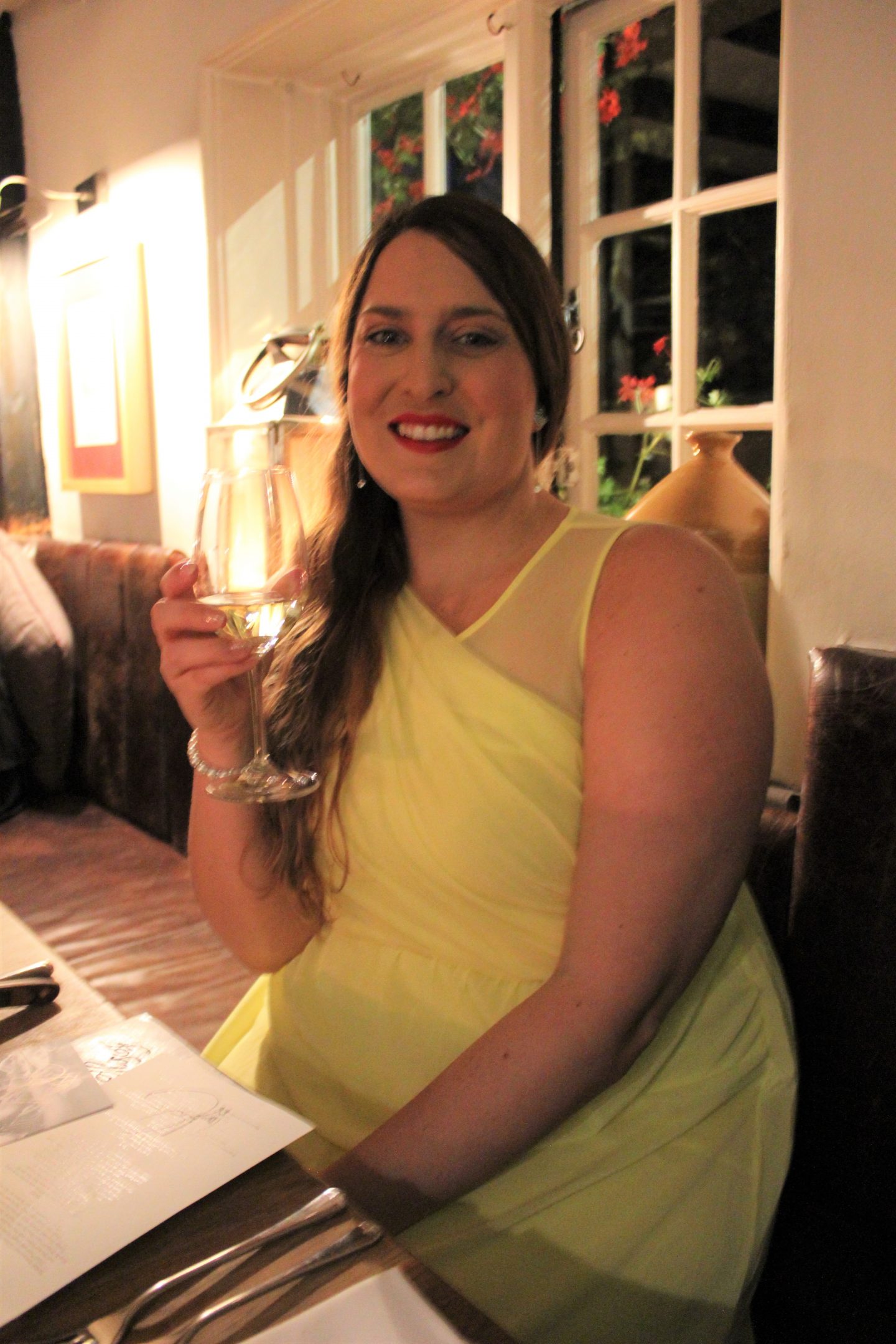 After 30 minutes we were still rather full so chose to share a dessert, which was 'Milk Toffee Tart with Old English Spice and Roasted Grapefruit Sorbet'. It was the perfect slice and it even had 'Happy Birthday' dusted on the plate for Mr B!
The tart itself was not like anything I had tasted before. The pastry was perfectly thin and buttery, the tart filling was rich, decadent and full of delicious sweet toffee filling and the sorbet worked well at offsetting the sweetness.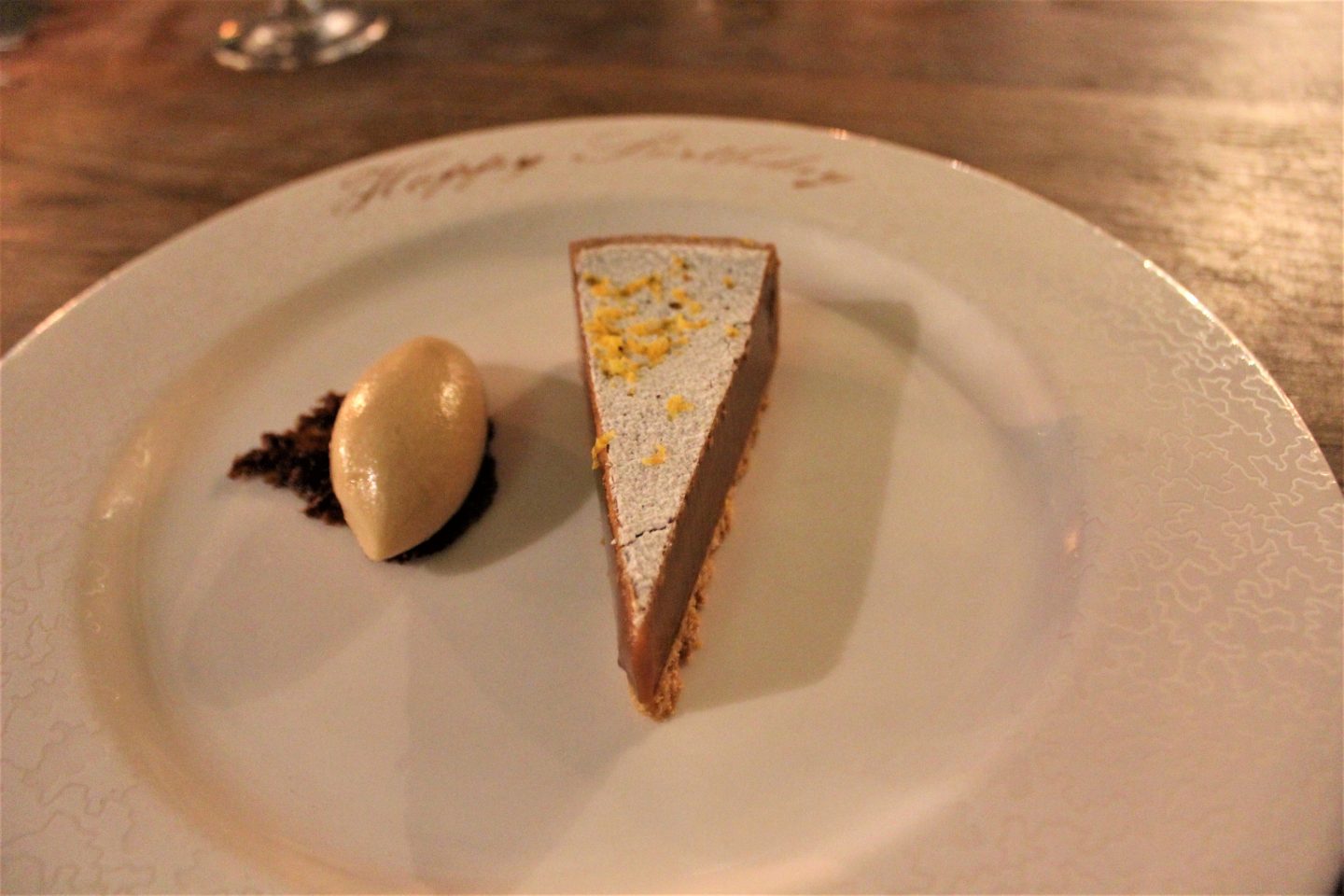 Feeling stuffed, we made the short 30-second stroll back to our room and waiting for us was a hamper with a lovely note, a flask of homemade malted milk, giant homemade cookie sandwiches and pillow sleep spray. The malted milk was amazing. We were too stuffed to eat the cookies, but they made it safely home with us the next day and I can report a day later they were still full of chocolatey yummy goodness!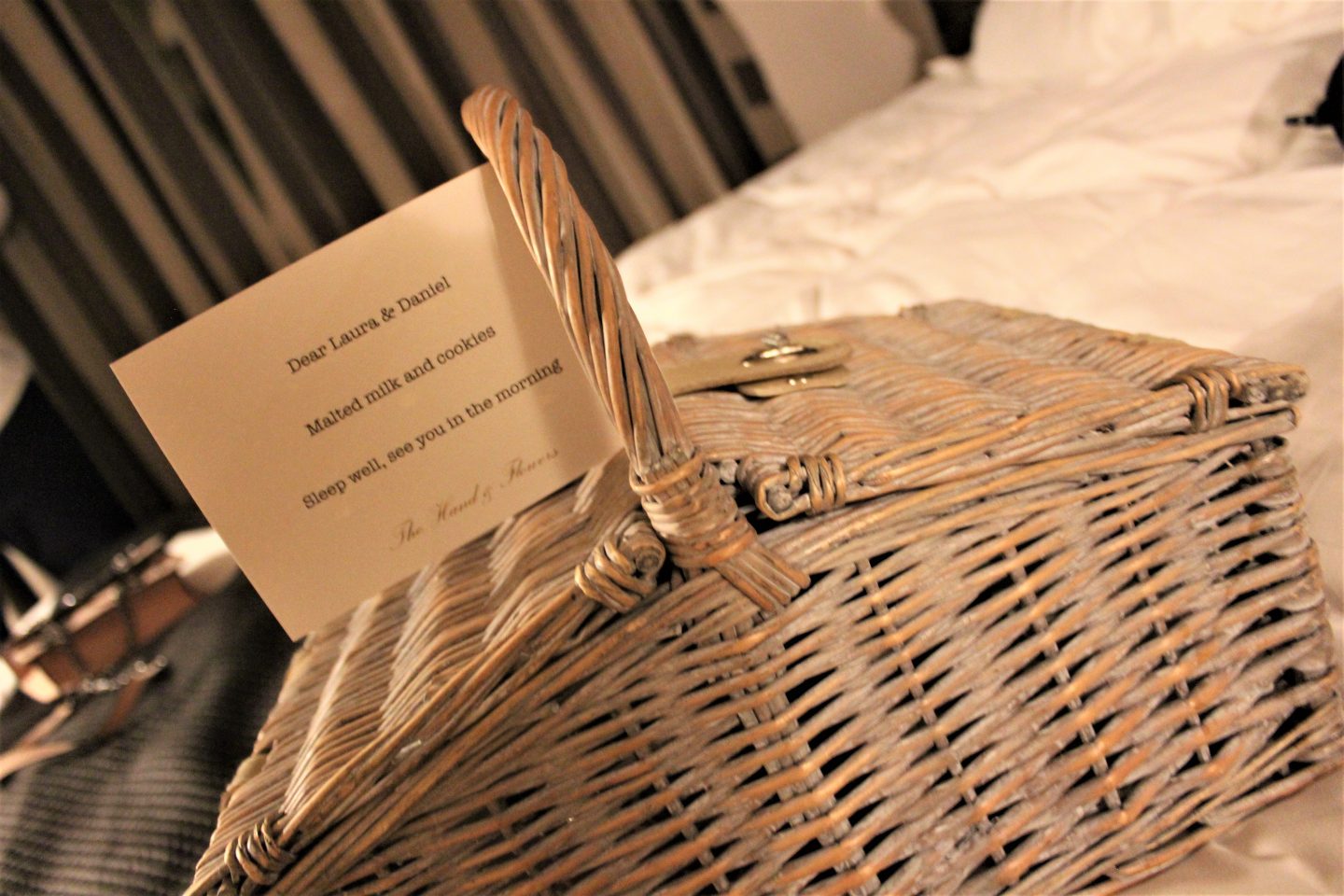 We had a such a great night's sleep and woke up looking forward to our last foodie experience at the Hand & Flowers – breakfast!
I took this photo from our doorway so you can see how close we were to the Hand & Flowers . . .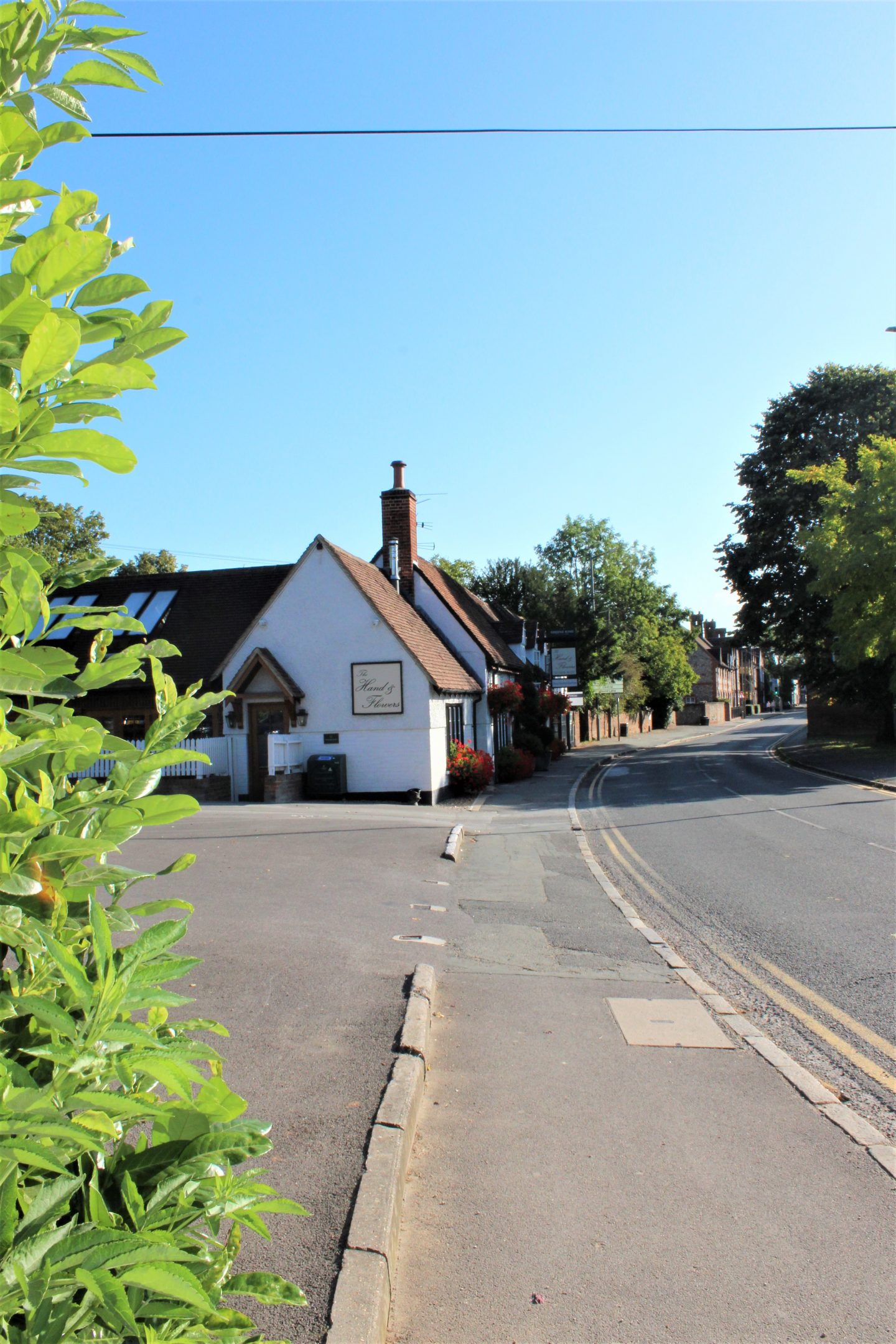 Service was just as friendly and welcoming at breakfast as it was at dinner. I sometimes find some places can take their eye off the ball a bit at breakfast.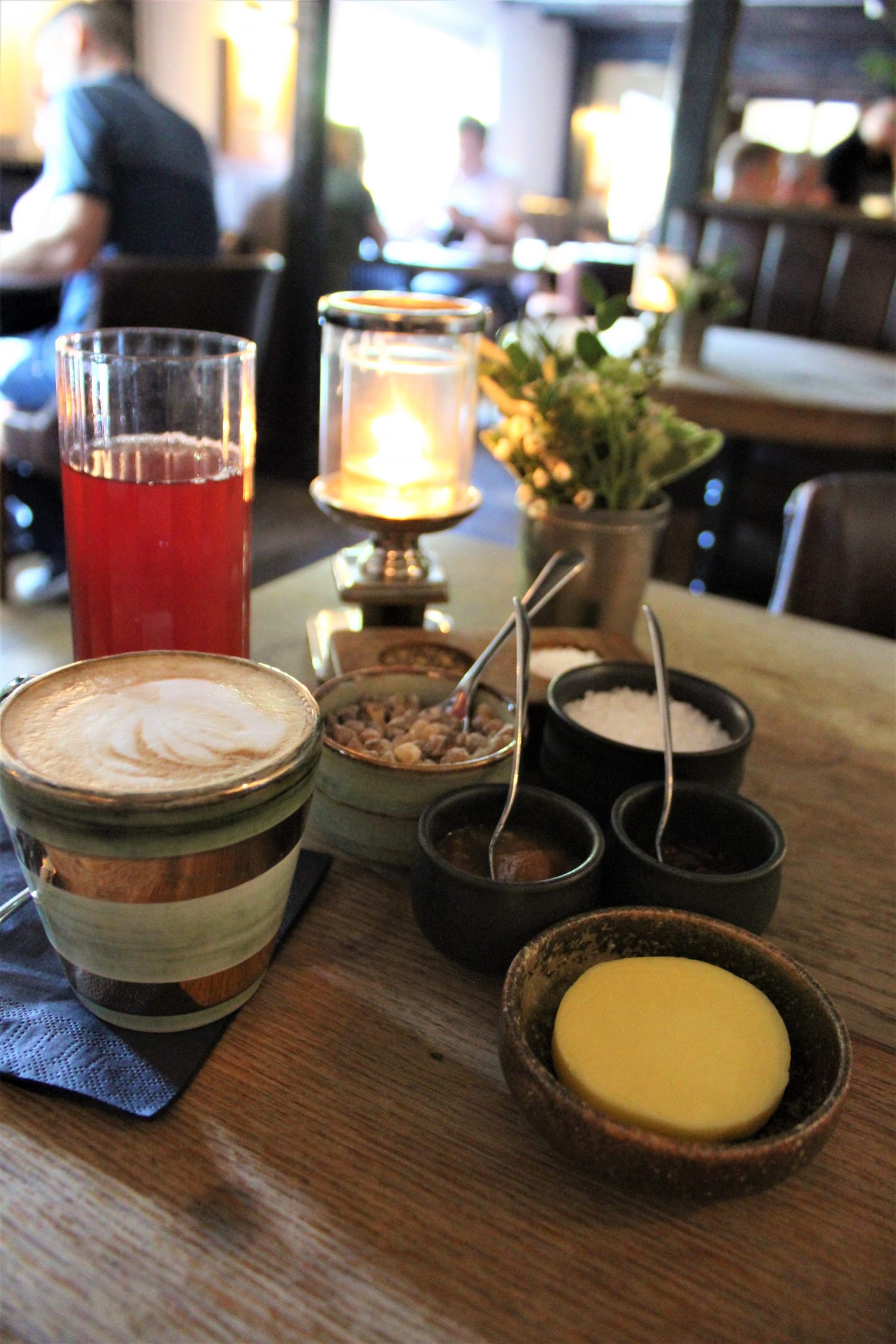 With a latte and cranberry juice (my staple breakfast drinks), it was time to browse the menu, with two courses ranging from fresh pastries, yoghurts, muesli, fresh fruits and a range of cooked options.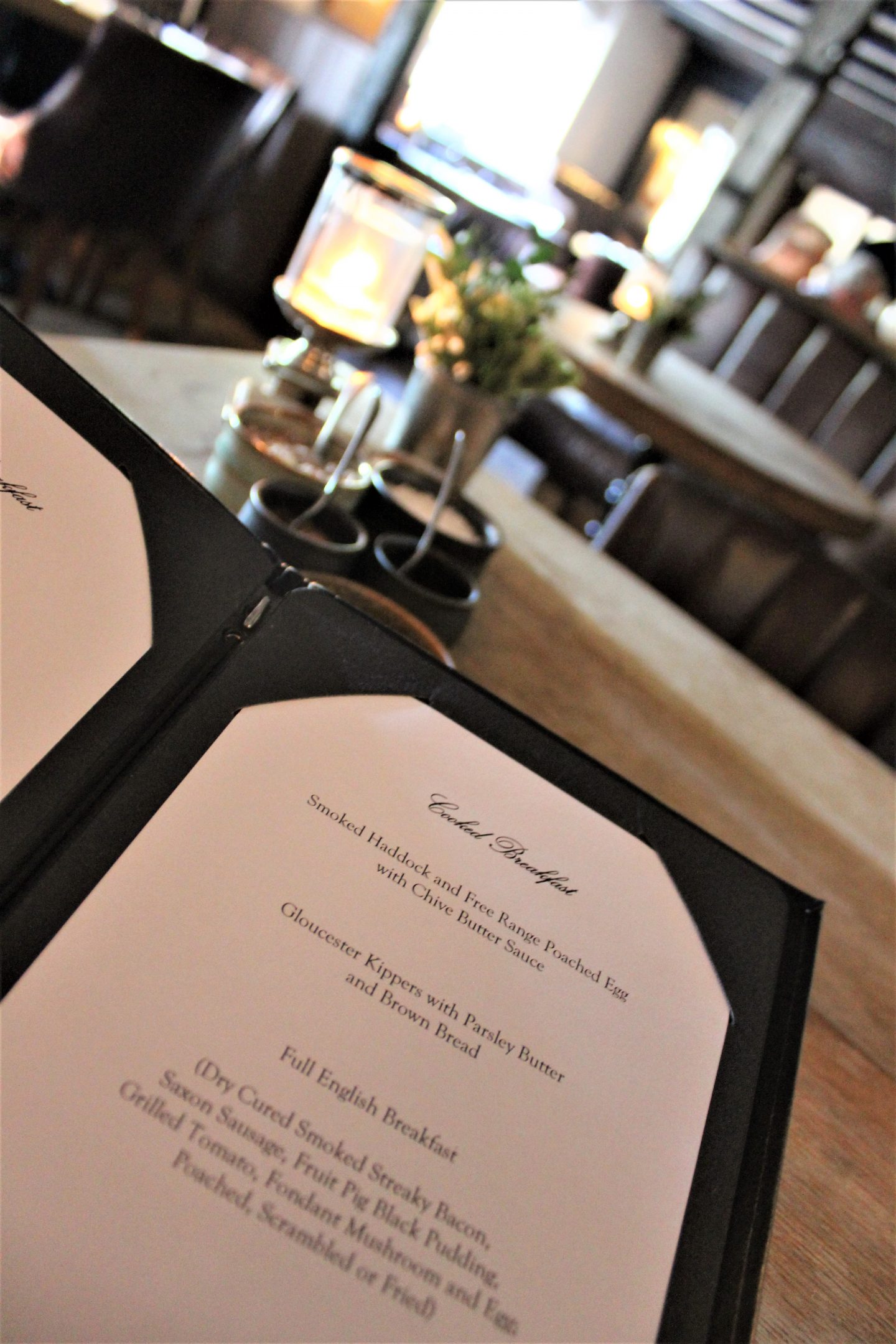 Knowing we had a long drive home and, of course, wanting to make the most of our last food experience at the Hand & Flowers, we both chose the Hand & Flowers bacon sandwich for our first course. I asked for my bacon well done (crispy bacon all the way for me!) and it came out perfectly on big doorstep fresh white bread – it was delicious!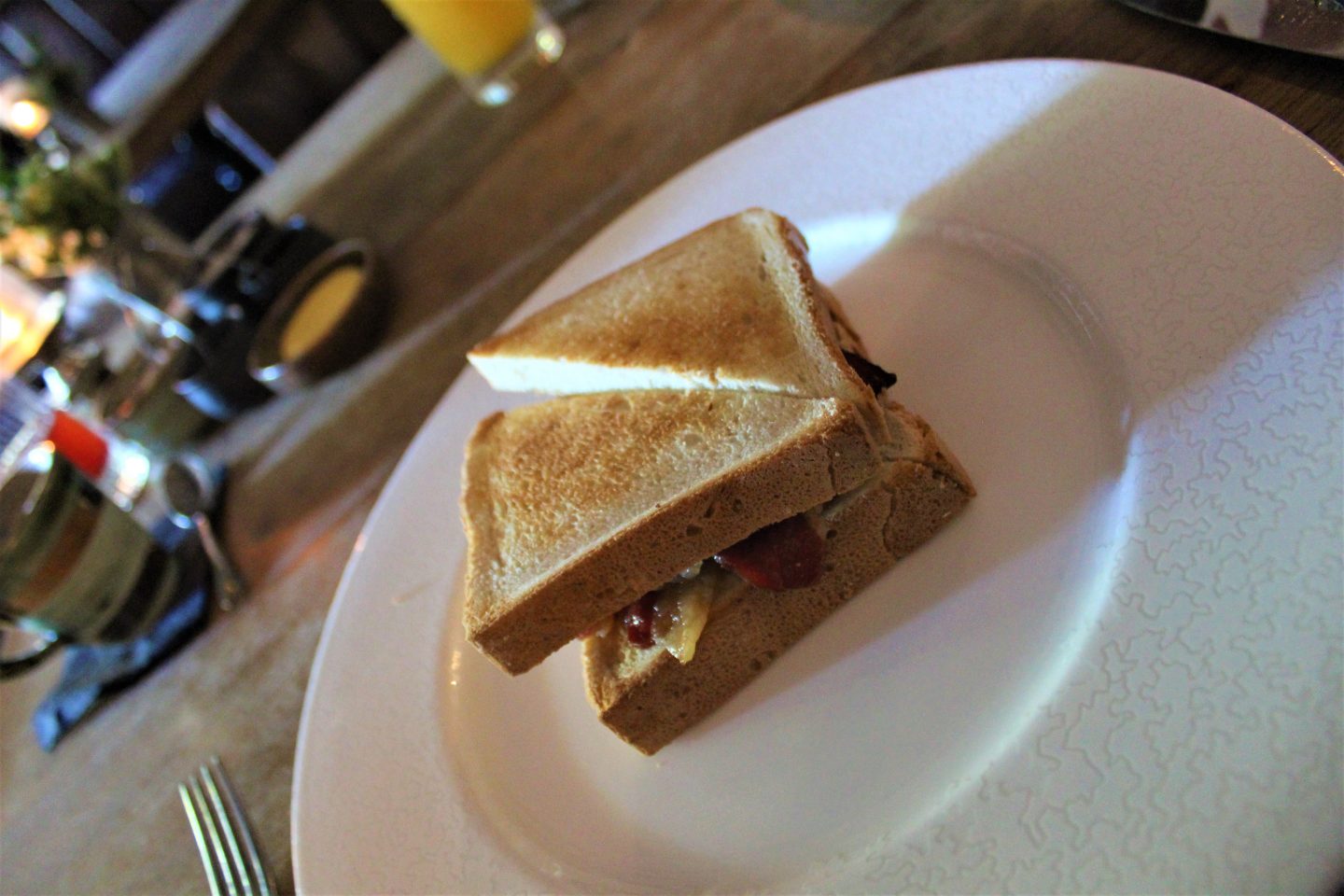 For our second course we both chose the haddock . . . . . . . with poached egg and herb and butter sauce. The fish was very delicate, the poached egg had a perfect yolk and the sauce was lovely and buttery, just the right amount of richness for breakfast!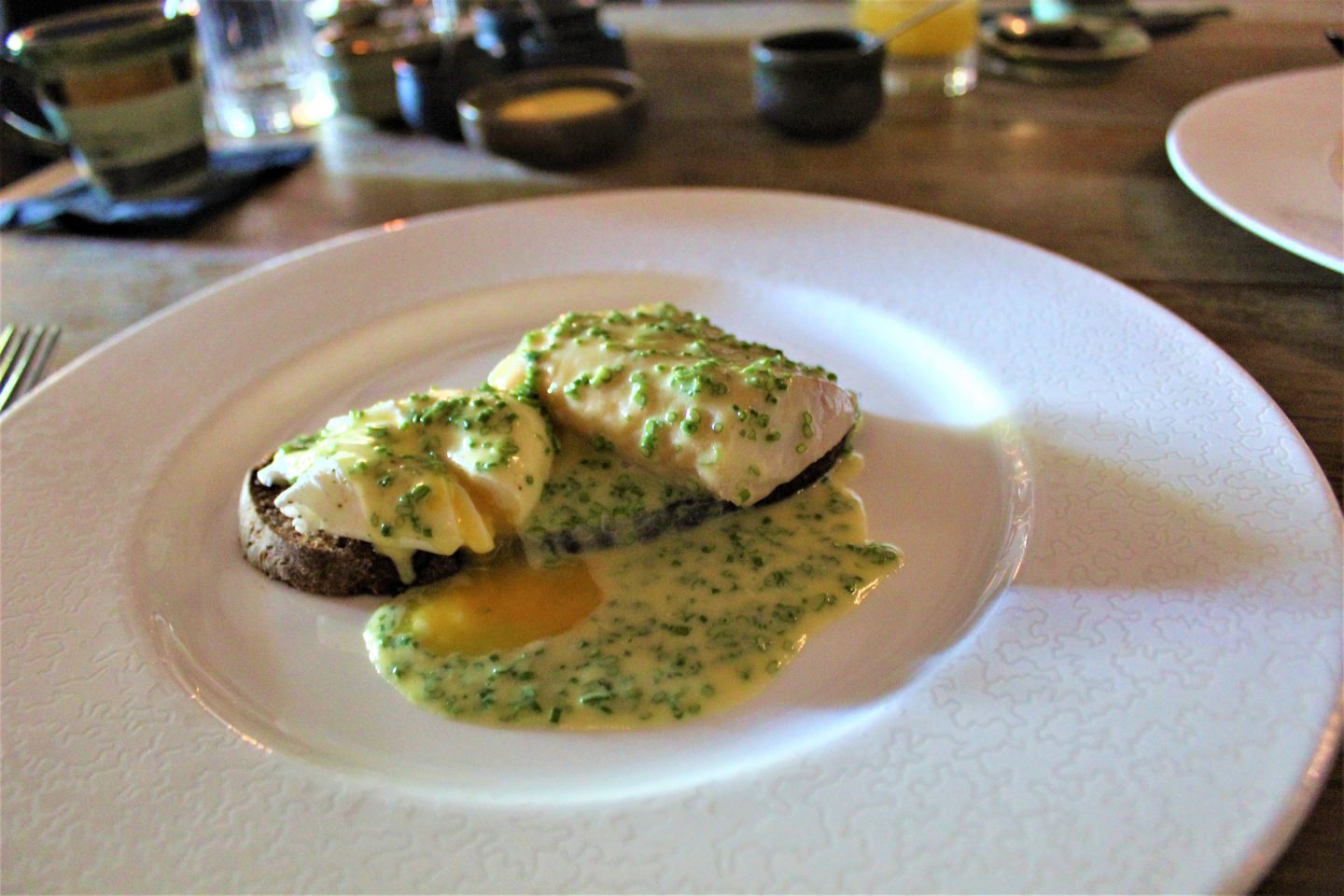 It was a perfectly leisurely breakfast and we never felt rushed. The staff were happy to let us relax after breakfast and kept our drinks topped up.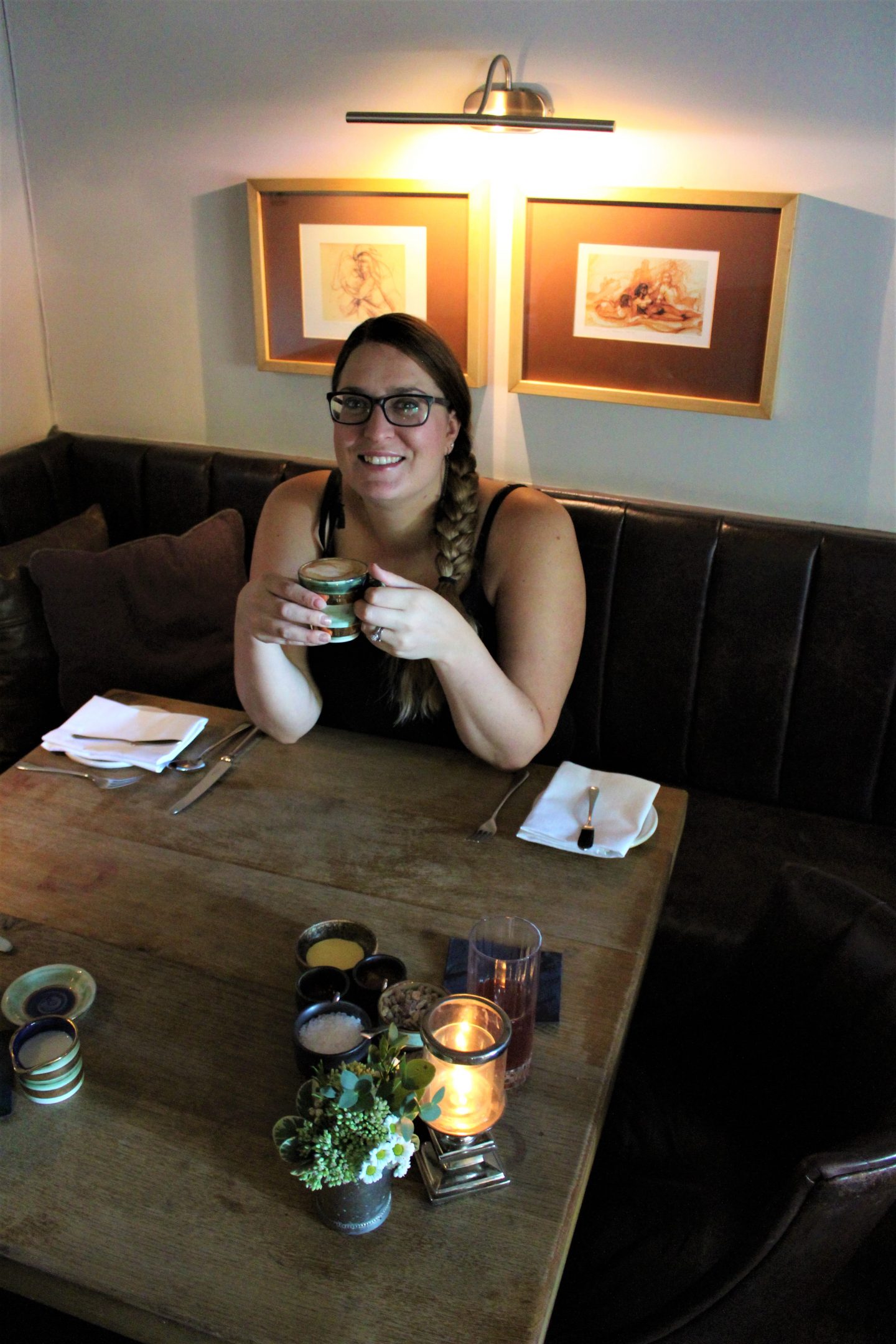 Sadly, after packing, it was time to leave but not without more goodies! At check-out we were presented with a goodie bag which had a copy of the menu, a thank you note, water and homemade flapjacks.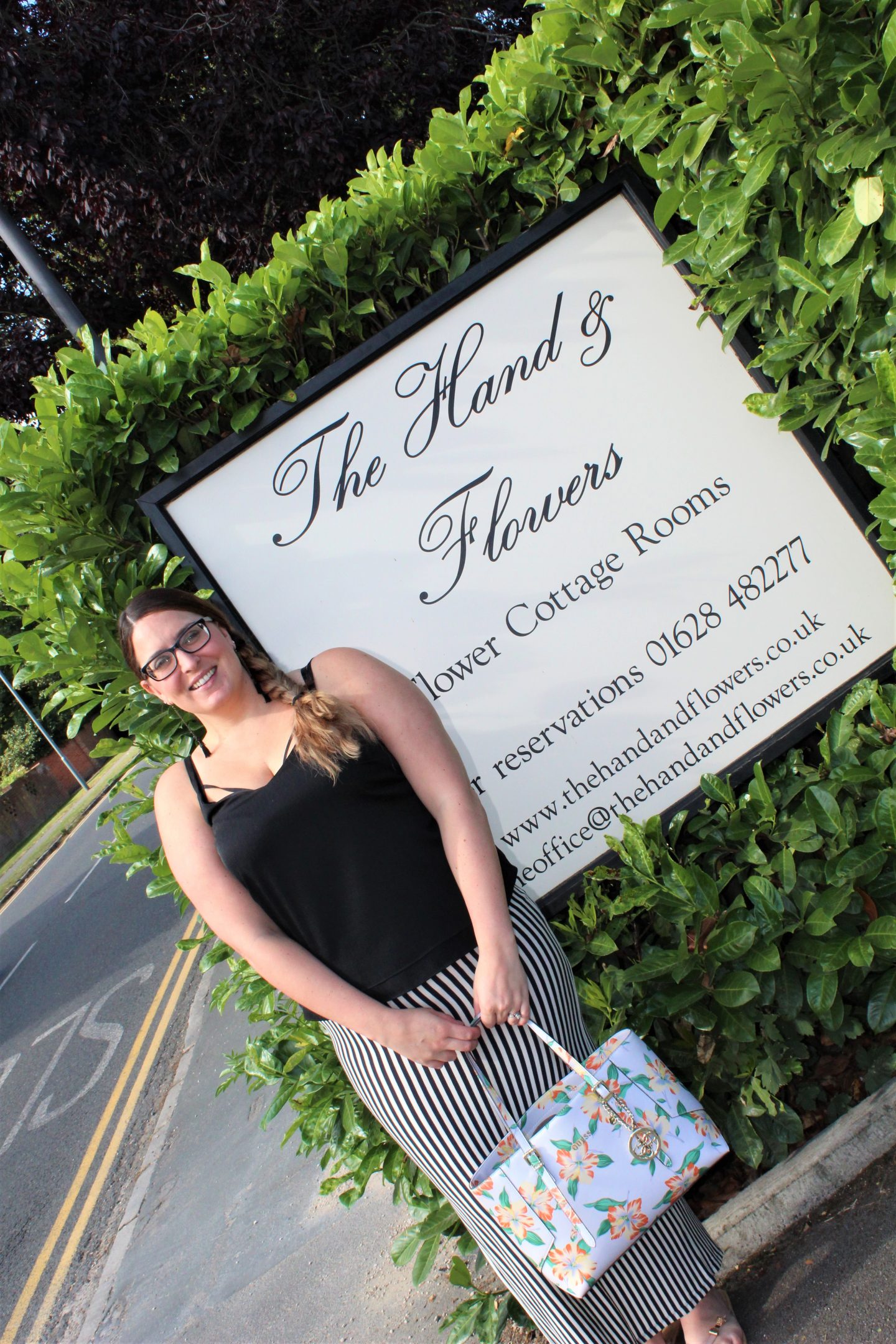 So was our stay and meal worth the wait? Absolutely! It lived up to all our expectations and more. Not only did the food deliver on every level, but all the staff we encountered went above and beyond to make our stay perfect, which it was. We felt extremely special and pampered during our time there. It was the perfect way to celebrate a milestone birthday.