You know some people are really hard to buy presents for? Well I don't think I am one of those people. I received this lovely gift recently, a voucher for champagne breakfast at a nearby luxury hotel. Champagne and good food, you can't go wrong!
Mr B had played golf at Morley Hayes, but neither of us had ever been to their fine dining 2 AA rosette Dovecote Restaurant. The hotel is located in the Derbyshire countryside and is a short 30-minute drive from our home.
We arrived very hungry! I am one of those people that has breakfast every morning and I really don't understand how people can function without it! We were welcomed in and taken to our table. The restaurant is lovely and airy with high ceilings and exposed brick walls.
Our table was adorned with white linen, silver crockery, a fresh flower and had our champagne on ice ready and waiting for us. We were given our breakfast menus and then heard the pop of the champagne cork as our glasses were filled up. We also had a glass of freshly squeezed orange juice.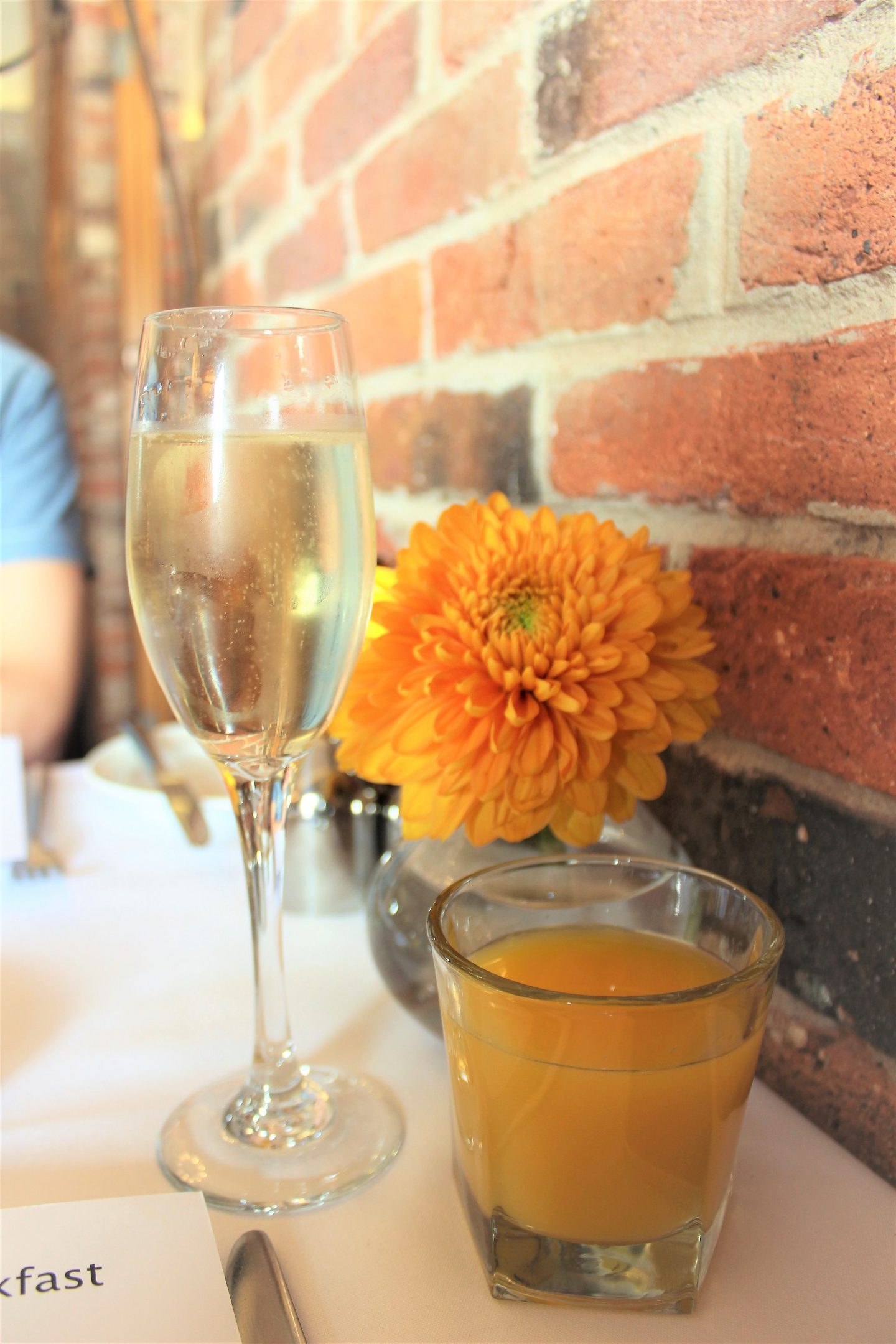 The breakfast comes in three courses. First there was freshly baked croissants and mixed toast with a selection of preserves. The croissants were especially nice . . . flaky, buttery and slightly warm. For the second and third course you can select from a generous menu.
My first choice was the 'Turkish sausage, poached egg, yoghurt and sumac'. The Turkish sausage reminded me of chorizo, strong in flavour and slightly spicy which worked perfectly with the yoghurt dressing.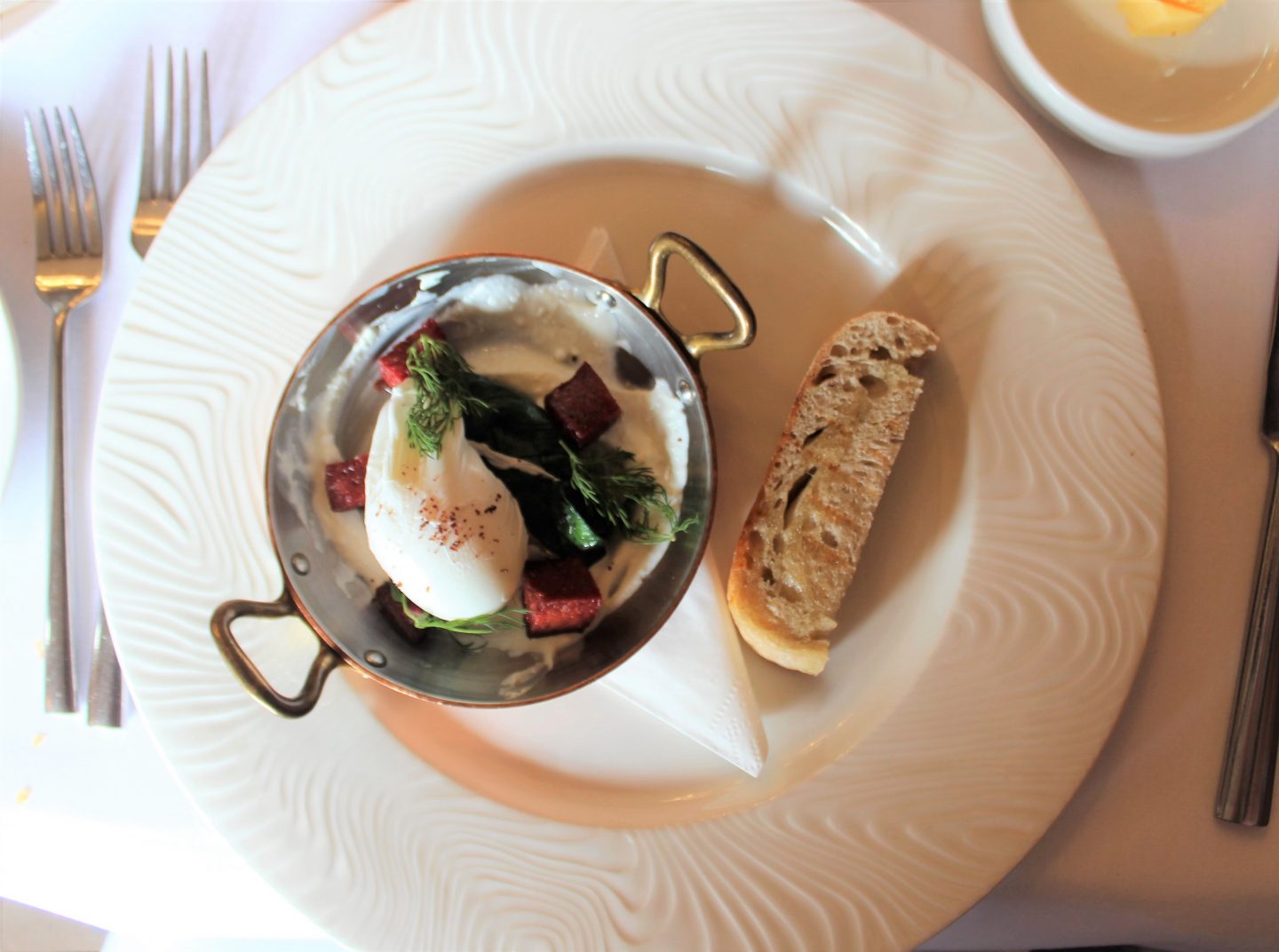 Mr B opted for a lighter dish of 'Strawberry's, natural yoghurt and strawberry compote', which he said had the perfect balance of sweet from the strawberries and tartness from the yogurt.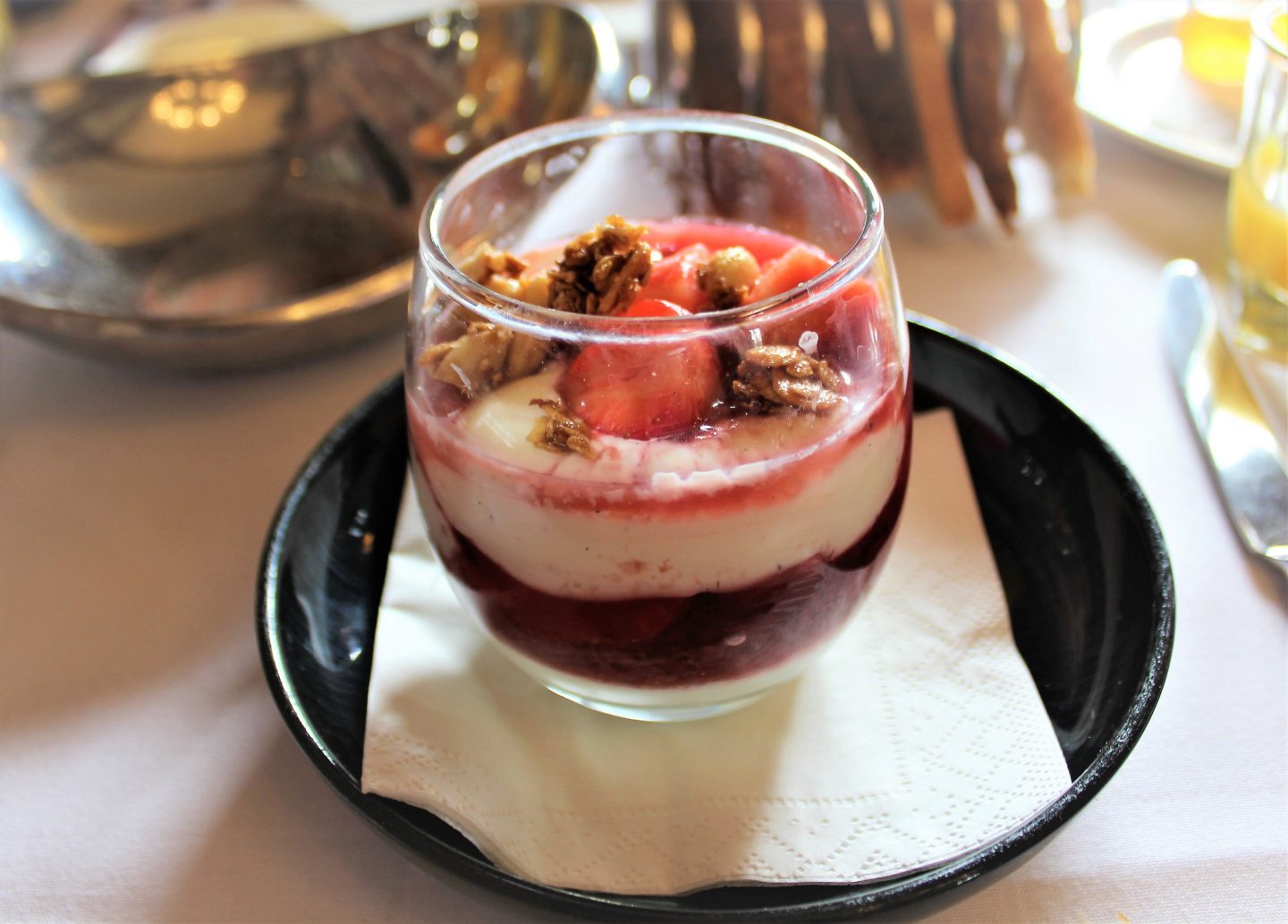 For the main course I opted for the French toast. However, on the menu it came with peaches, honey and natural yogurt, but I asked if mine could be served with crispy pancetta and maple syrup. Our lovely waitress didn't even bat an eyelid and said that wouldn't be a problem . . . don't you just love it when you get excellent service!
It was absolutely divine and a very generous serving which I devoured. The French toast was crispy on the outside with a soft and light middle and the pancetta was perfectly crisp, and I covered it (very generously) in maple syrup. I love the combined of sweet and salty and I thoroughly enjoyed every mouthful!
Mr B opted for the full English and commented that the quality of the sausage and black pudding was particularly good. The menu did state the sausages were from Derbyshire . . . a great nod to local produce.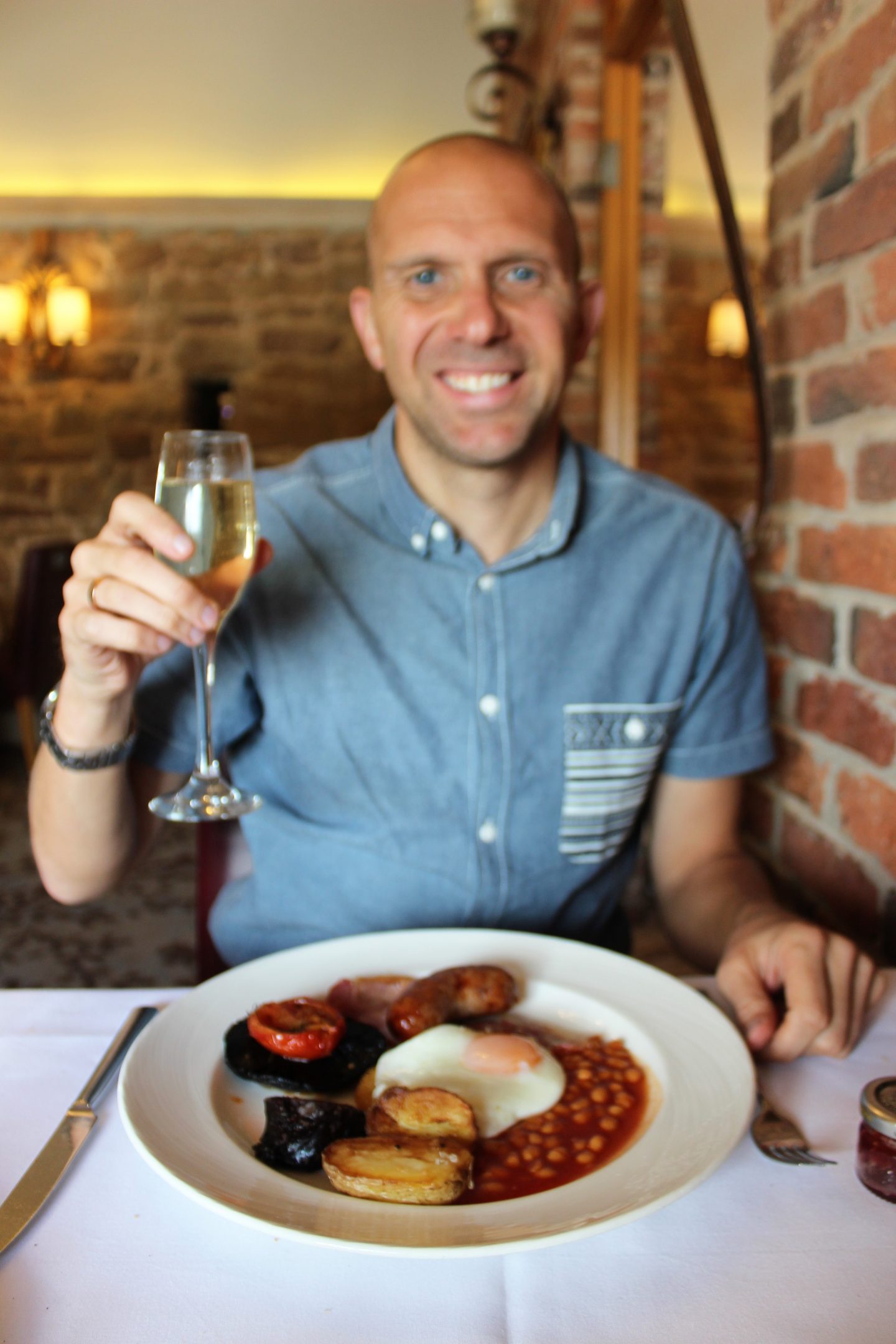 With full bellies and an empty bottle of champagne it was time to relax with some tea, loose leaf English breakfast for me.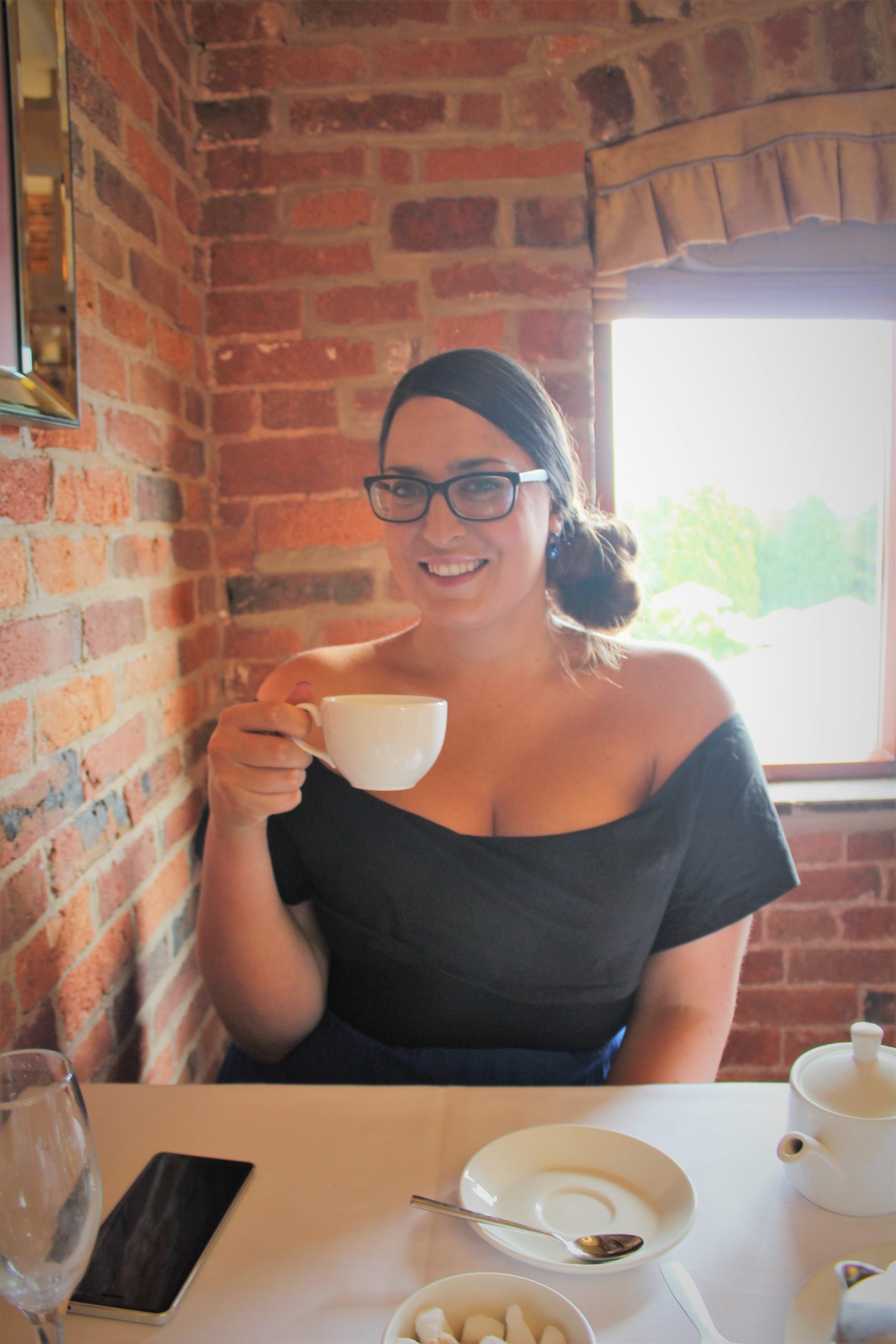 This was such a lovely gift which delivered in location, service and food, and has left me thinking . . . how I can make it acceptable to have champagne with every breakfast!
Morley Hayes Hotel, Main Road, Morley, Ilkeston DE7 6DG
01332 780480