It is no secret that Mr B and I love a luxury hotel break with great food and we do not make any exceptions when staying at a dog friendly hotel.
The Feversham Arms in Helmsley ticked all our boxes for what we were looking for in what would be JoJo's first hotel stay. Arriving before check-in, we took time to explore the wonderful town of Helmsley which itself is also very dog friendly with charming cafes and independent shops.
Heading back to the hotel, check-in was swift and easy and before we knew it we were being shown to our poolside suite.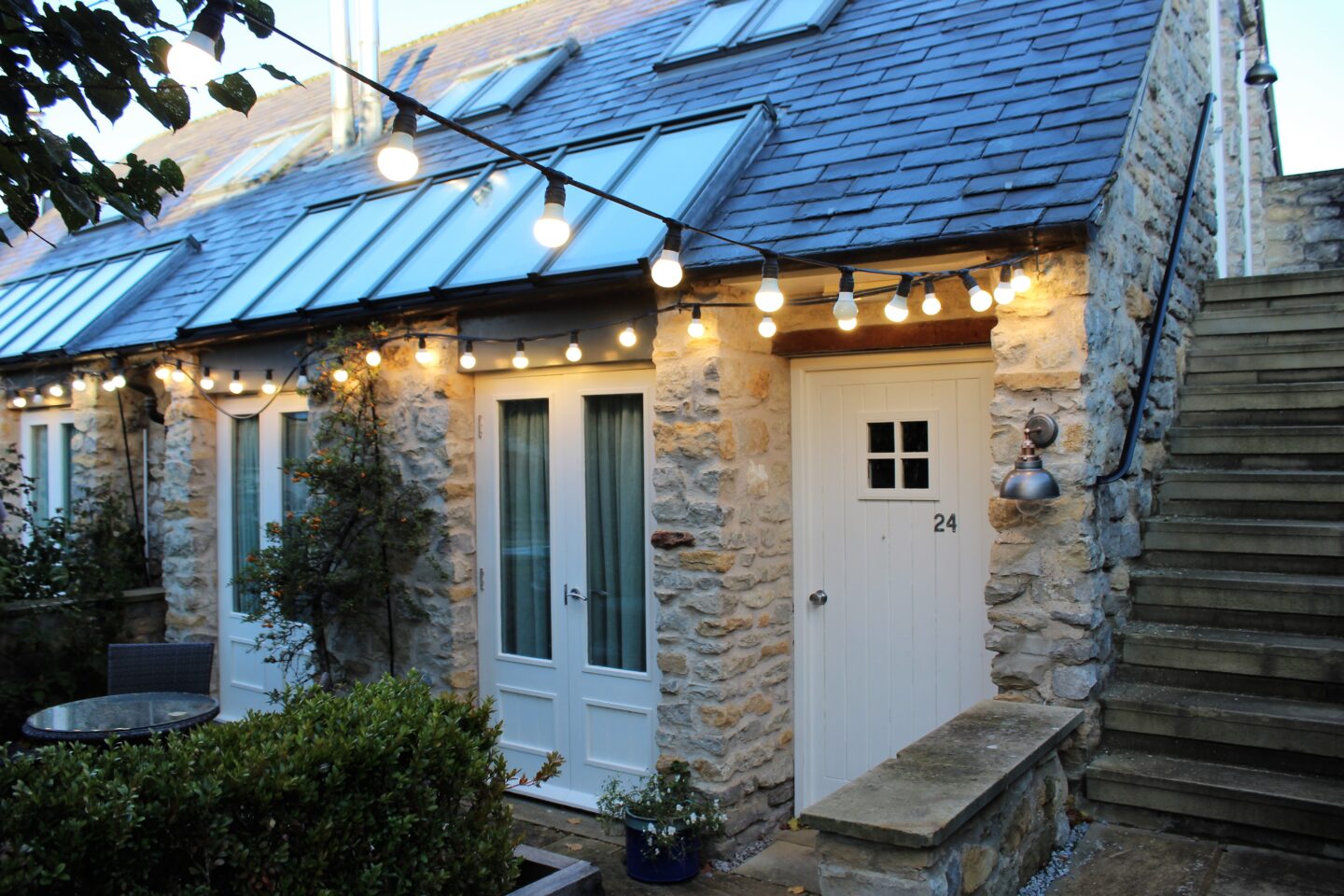 Our room was perfect, with its own private terrace complete with table and chairs it felt like we had our own little cottage.
There was a small entrance hall which was great for leaving shoes, hanging up coats and JoJo's lead.
Through the entrance hall was a beautifully decorated living area. I loved the interiors – pretty pastel colours added personality to the room which had a table and chairs, gorgeous blue velvet sofa, a log burner and a side board which was home to the coffee machine with Café Du Monde coffee and Yorkshire tea (of course!).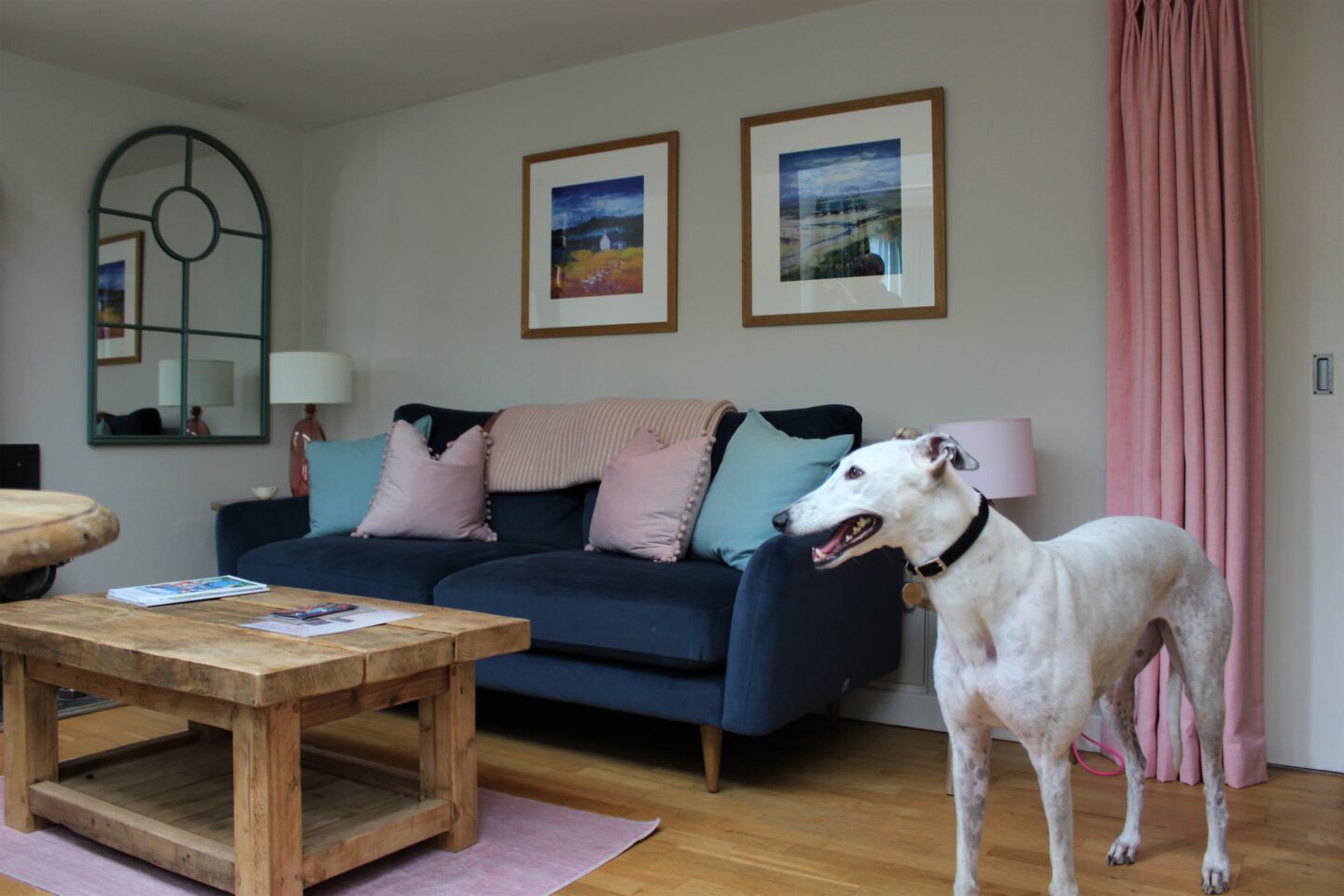 JoJo had a dog bowl, towel and Boneo biscuit waiting for her (the biscuit didn't last long!).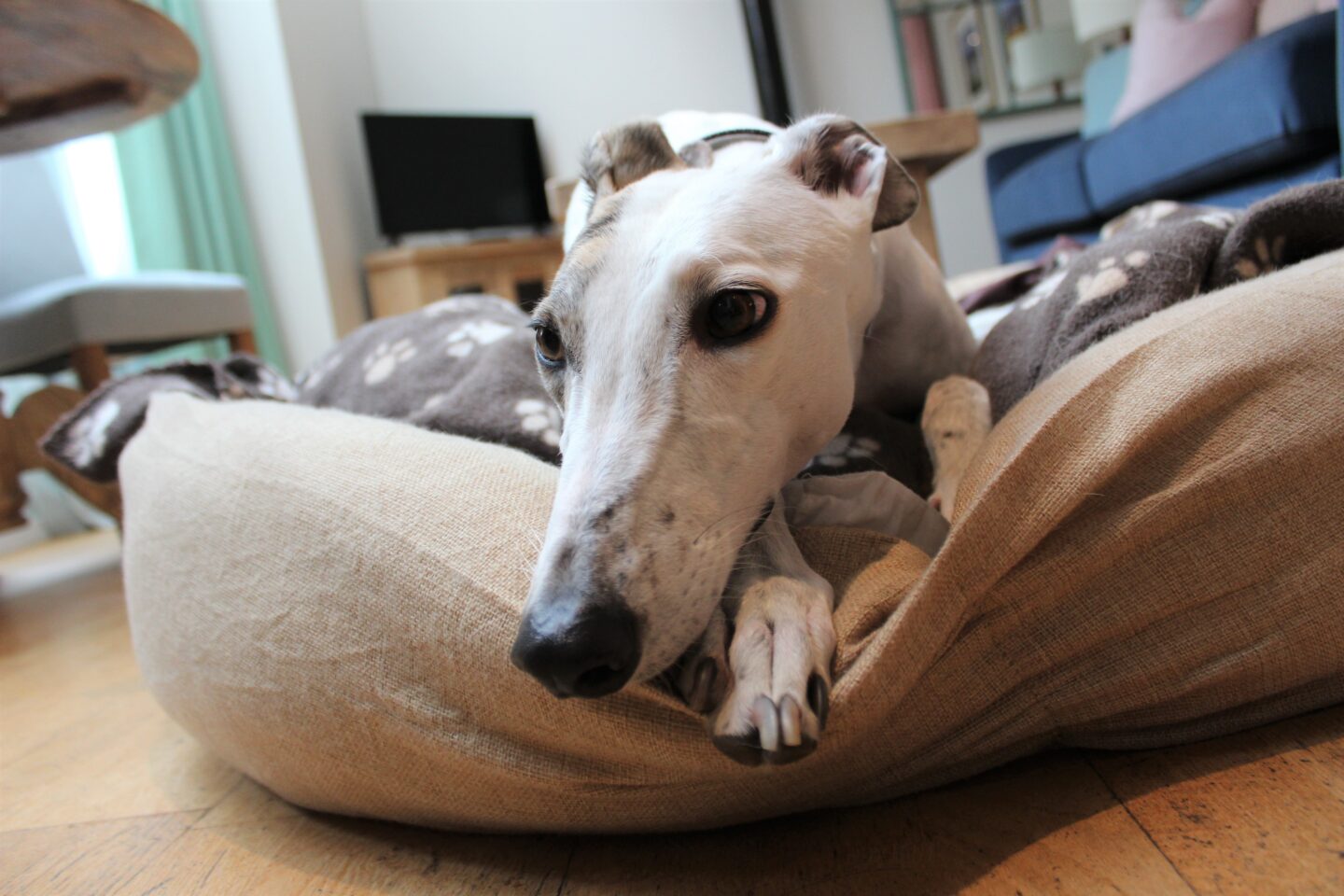 The lounge led onto our bedroom which you could separate with sliding doors or the beautiful baby pink curtains.
The bedroom was again decorated with lovely pastel tones and the huge bed was a dream to sleep in thanks to the duck down duvets and pillows.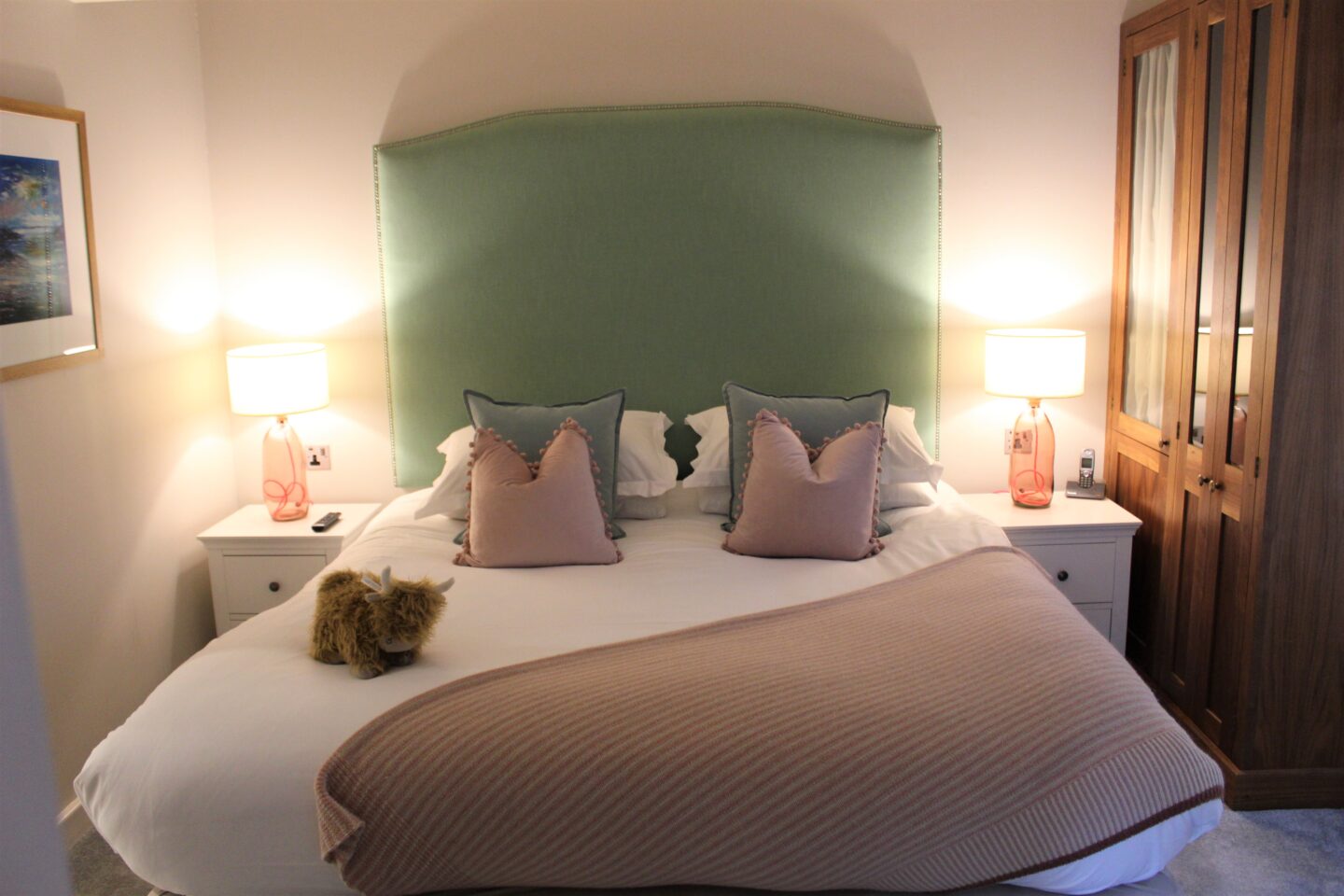 The spacious bathroom had a beautiful roll top bath along with a separate walk-in shower.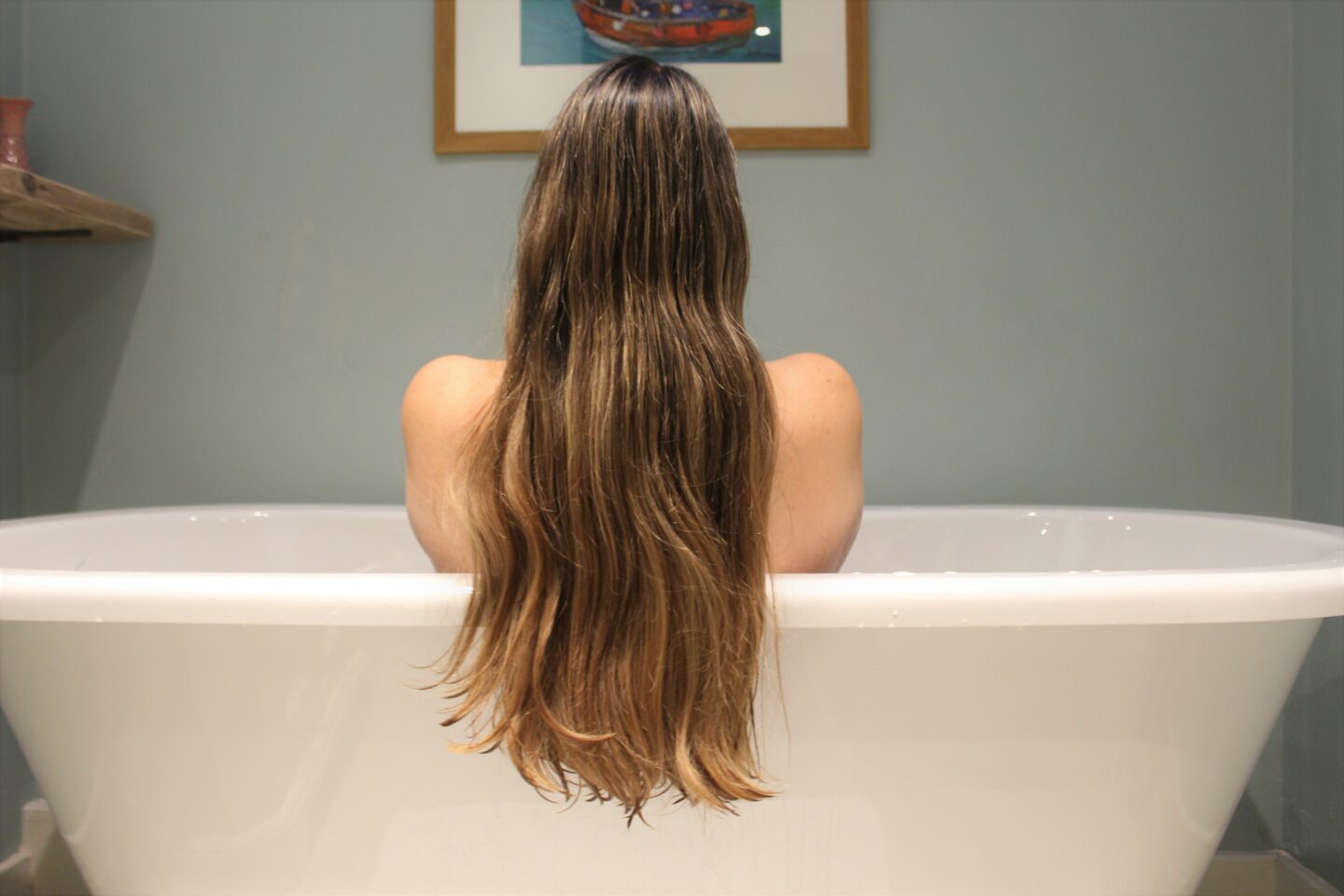 Toiletries were Temple Spa which smelled delightful.
Our room was a poolside suite, yes you read that correctly – poolside! As The Feversham Arms has a wonderful spa which includes a heated outdoor pool and outdoor jacuzzi. The spa itself also has an aromatherapy room, monsoon shower, steam room, sauna and foot spas, all of which can be used by hotel guests.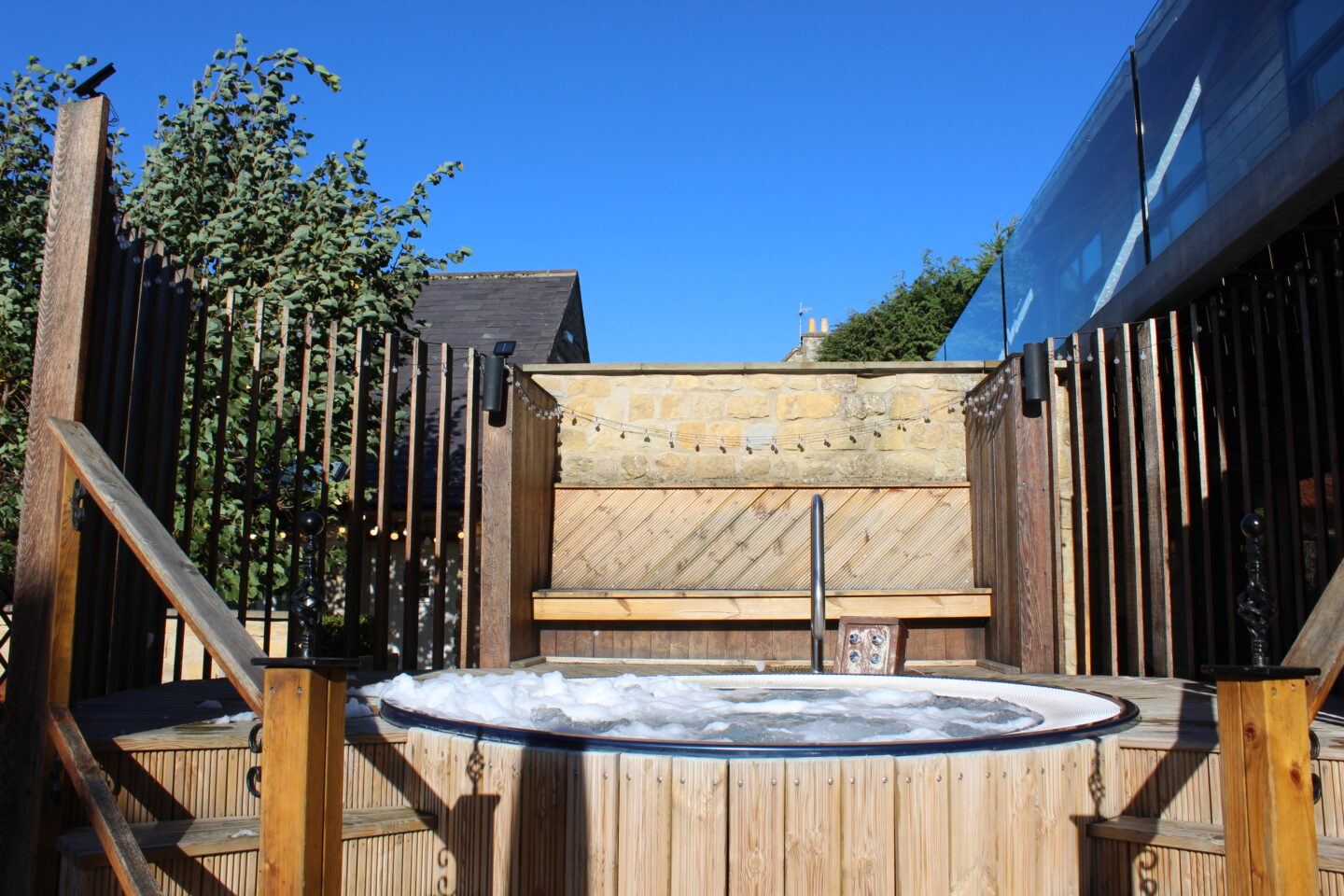 Mr B took the plunge and enjoyed a swim in the outdoor pool – I'm not sure he would have been so brave if the pool wouldn't have been heated, but he said it was lovely and the perfect temperature. I have to admit, me and JoJo stood on the sidelines and watched!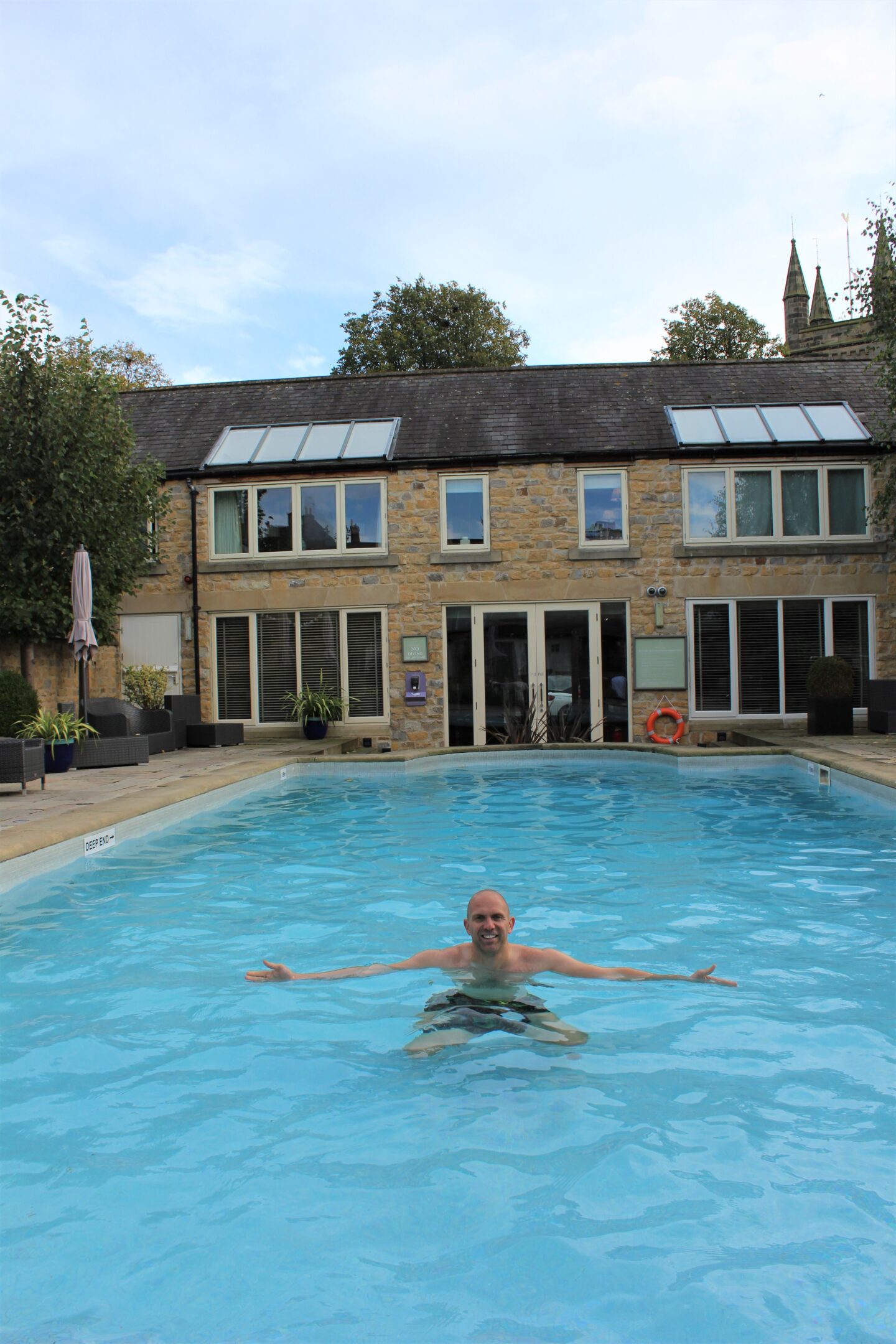 After a few dog walks, a swim for Mr B and more than a few hours relaxing in our wonderful room, it was time for dinner.
The hotel is home to a 2 AA rosette restaurant and by prior arrangement guests dining with their four-legged friends can have a table set up in the lounge. What I loved was that our dining experience in the lounge was just as it would have been in the restaurant. We had a lovely table by the window adorned with white linen, a fresh flower and silver crockery. We had the same menu as in the restaurant and the service was wonderful which echoed the service we had throughout our stay.
The menu had a choice of five starters, main course and desserts which I think is a perfect amount.
After ordering our food we asked for a recommendation on the wine, just simply requesting white. We were surprised with a Mahi Marlborough Sauvignon Blanc 2021 which was a superb wine which we had not tried before.
The whipped goats cheese canapes we had did not last long and we could smell the warm fresh bread and butter as soon as it was placed on the table.
For my starter I had the East Cost Mackerel, gooseberry jam, horseradish, squid Ink tuile and soy aioli. The mackerel was lovely and the sweet and salty flavours from the other elements complemented it well.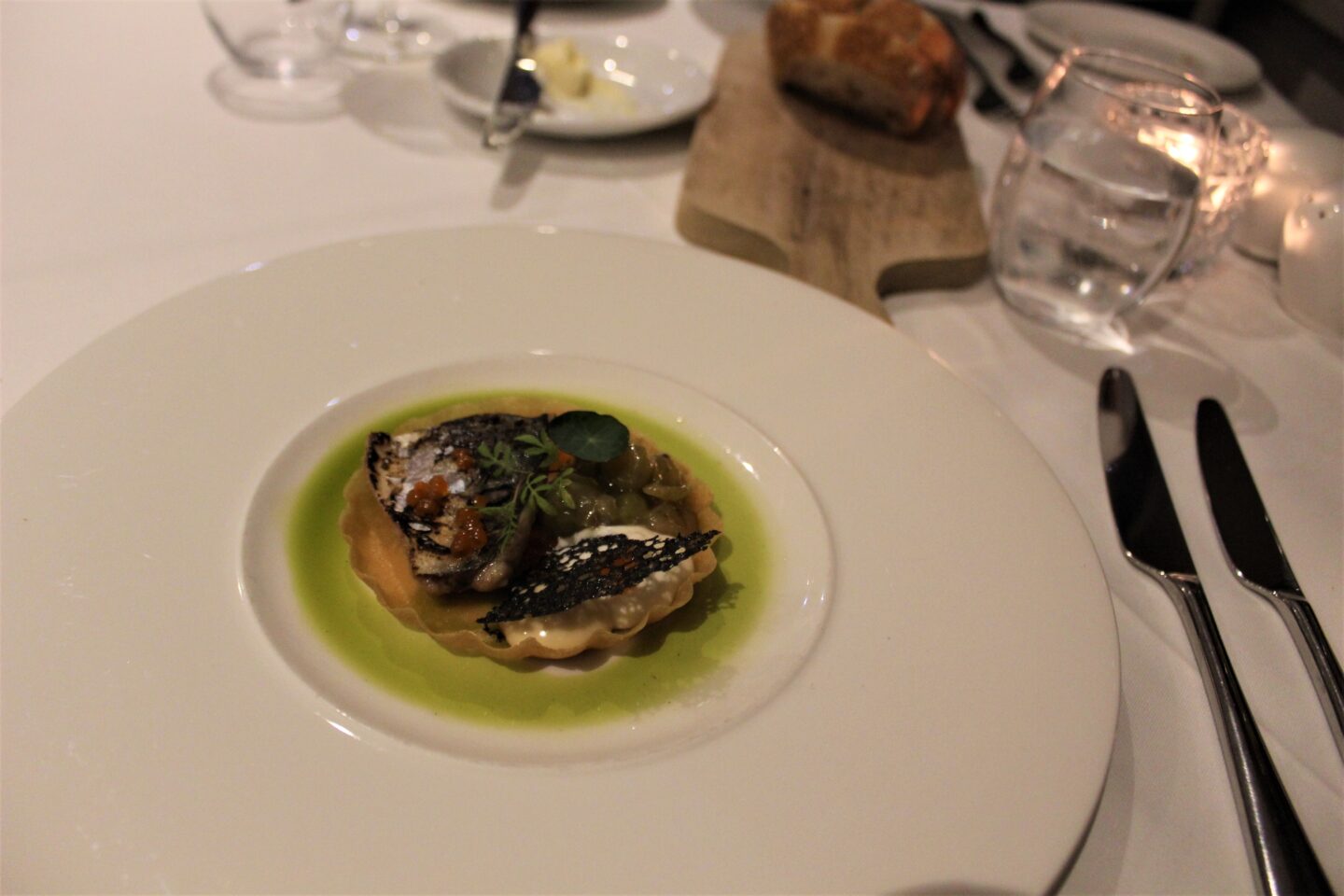 Mr B enjoyed the butternut squash velouté with sage espuma, which was accompanied by a mini Gruyere and pickled onion toastie. The velouté was wonderfully smooth and packed full of flavour, and the toastie was a thing of genius. It was basically like eating the best toastie we had ever eaten (I say 'we' as of course I had a few bites!).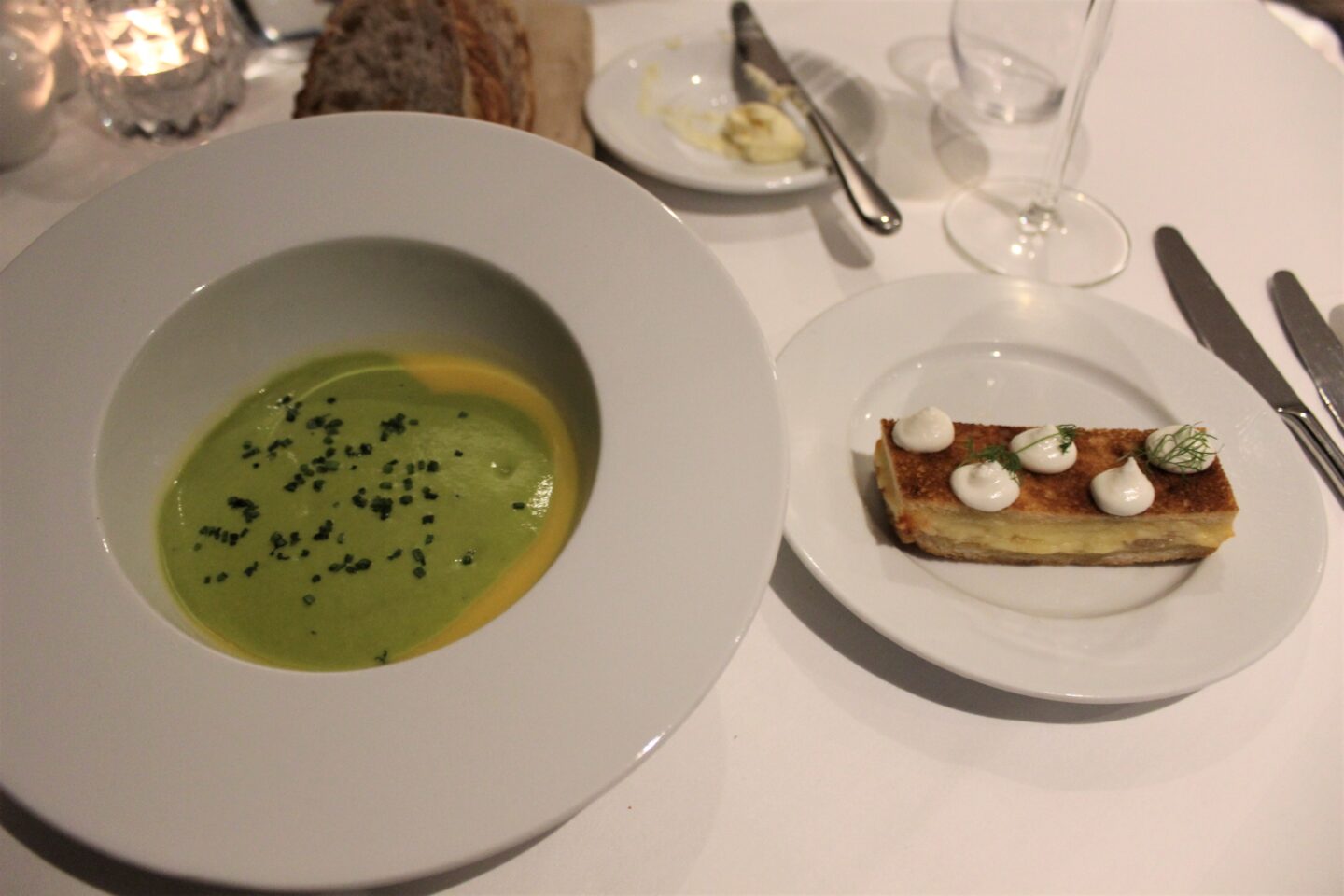 My main course was a combination of all my favourite things on one plate! I ordered the loin of Yorkshire beef with a truffle and potato croquette, king oyster mushroom, shallots and a red wine sauce. The beef was cooked wonderfully and the accompaniments were all so delicious. The croquette was just divine – I could smell the truffle as soon as I cut into it.
Mr B had the oven baked North sea halibut with herb butter and a lemon crust served in a mussel broth. It was a very well balanced dish – nothing overpowered the wonderful fish or the broth and it was also utterly delicious.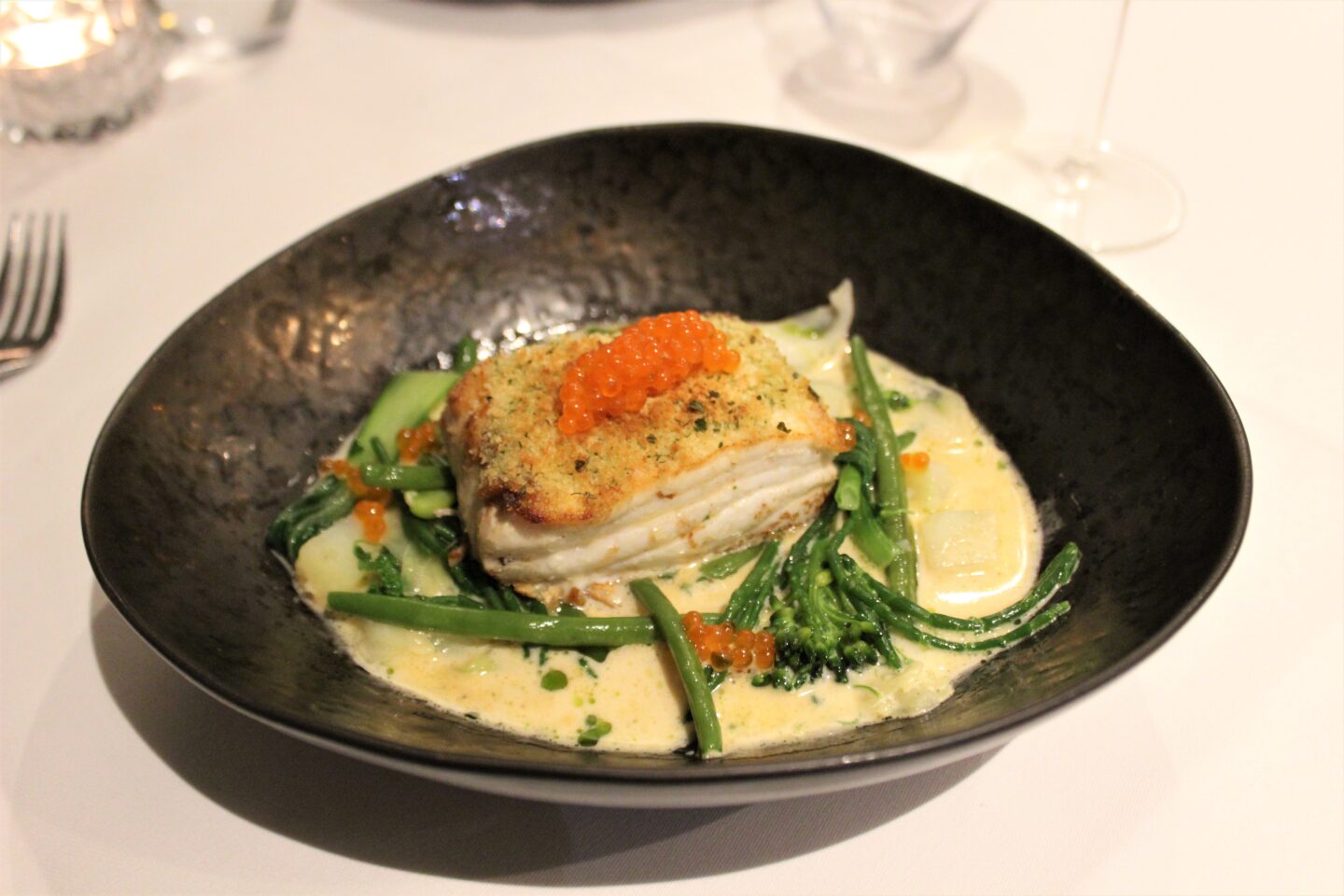 I was spoilt for choice with the dessert, but in the end I opted for the dulce de leche tart with vanilla ice cream. It was dessert heaven! The pastry was thin and buttery and the filling was rich, sweet and completely divine!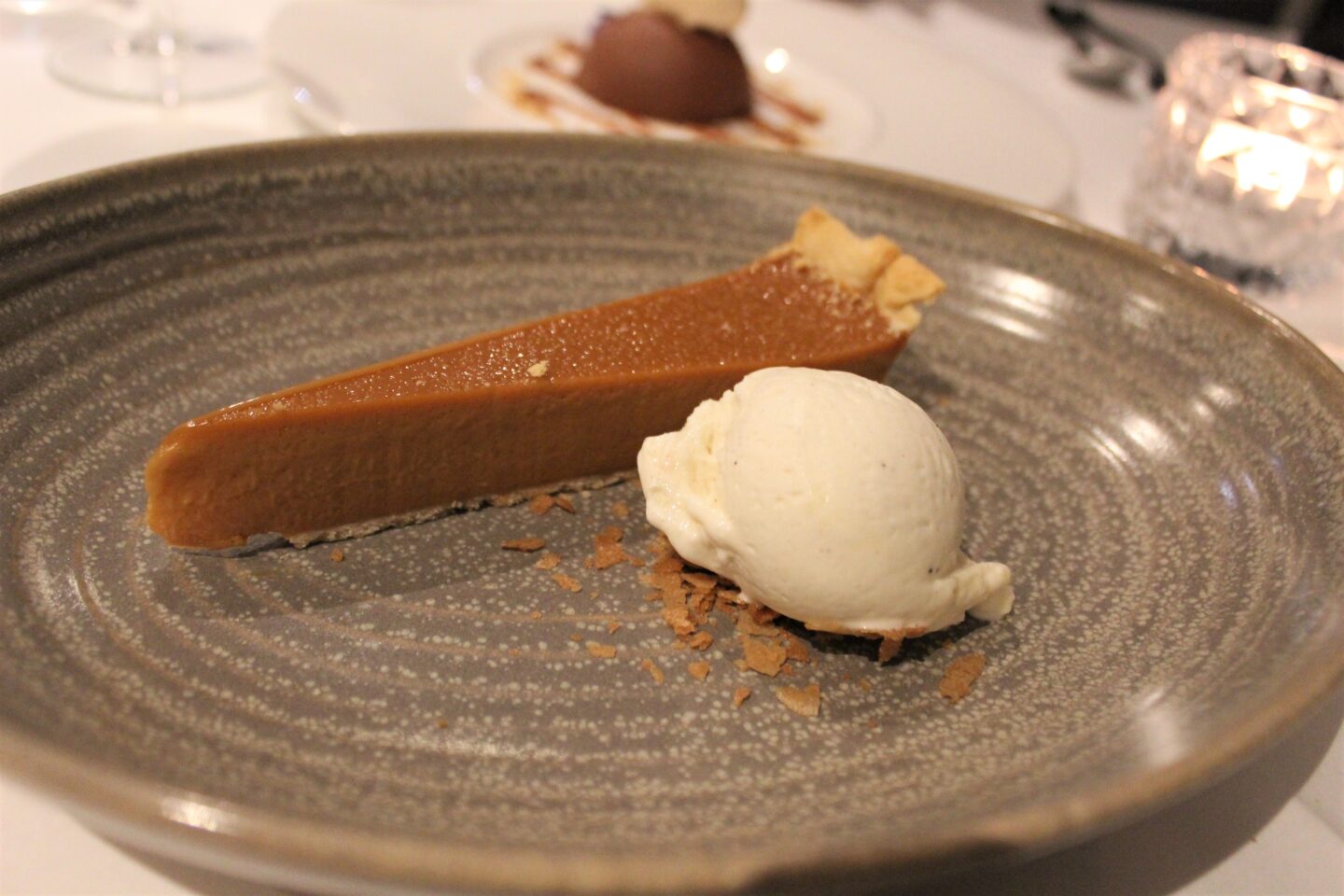 Mr B's dessert was equally as divine. He had the dark chocolate and ale cake with salted caramel ice cream and caramel sauce. The cake was rich and dense, and bitter from the dark chocolate and ale, and the caramel accompaniments which were very sweet had the perfect contrast to the cake, making it a wonderful combination.
With one more night time walkies it was time for the three of us to head to bed and after that wonderful meal we were fast asleep as soon as our heads hit the pillow!
After a great night's sleep and the morning walkies out the way we headed to breakfast. We had the same wonderful table reserved for us in the lounge so JoJo cold lay at our feet.
Whilst the menu had a lovely variety I, of course, ordered my favourite, the eggs royale. Beautifully poached eggs with a lovely sharp hollandaise with the freshness of the smoked salmon, I thoroughly enjoyed every mouthful.
Mr B opted for the full Yorkshire breakfast – there wasn't a morsal left on his plate so safe to say he enjoyed his breakfast as much as I did!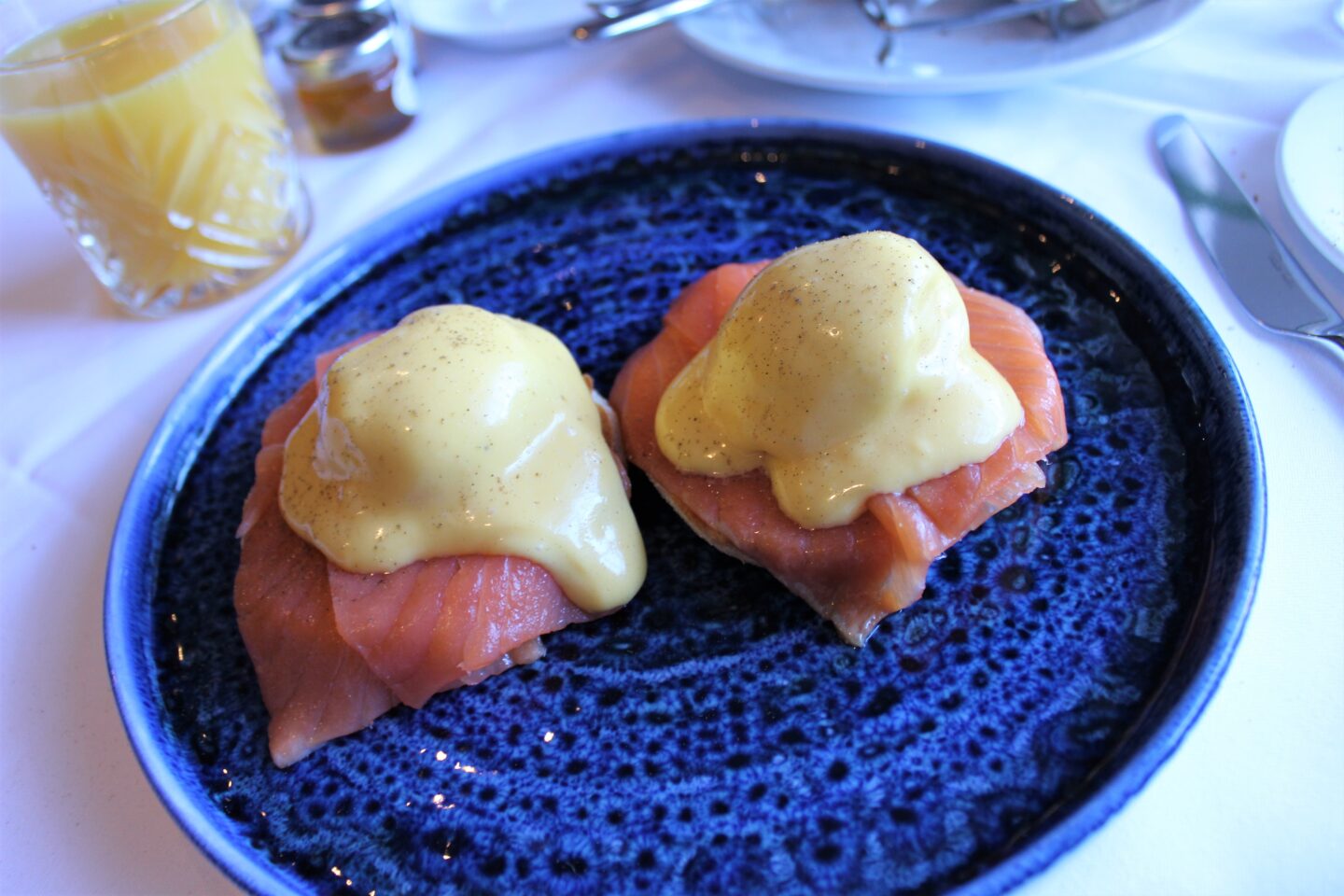 And not to be left out, one of the lovely waiters asked if JoJo would like a sausage, which is another one of the many touches from the Feversham that shows it is a true dog friendly hotel. It even arrived already cut up for her in a bowl and safe to say it was gone in seconds!
Our stay at the Feversham may have only been one night, but we all had such a wonderful time. The hotel felt luxurious in all areas, from our fantastic suite and the friendly staff to the divine food and the fact that they so happily accommodated JoJo and added so many dog friendly aspects to our stay made it for us. Absolutely perfect.