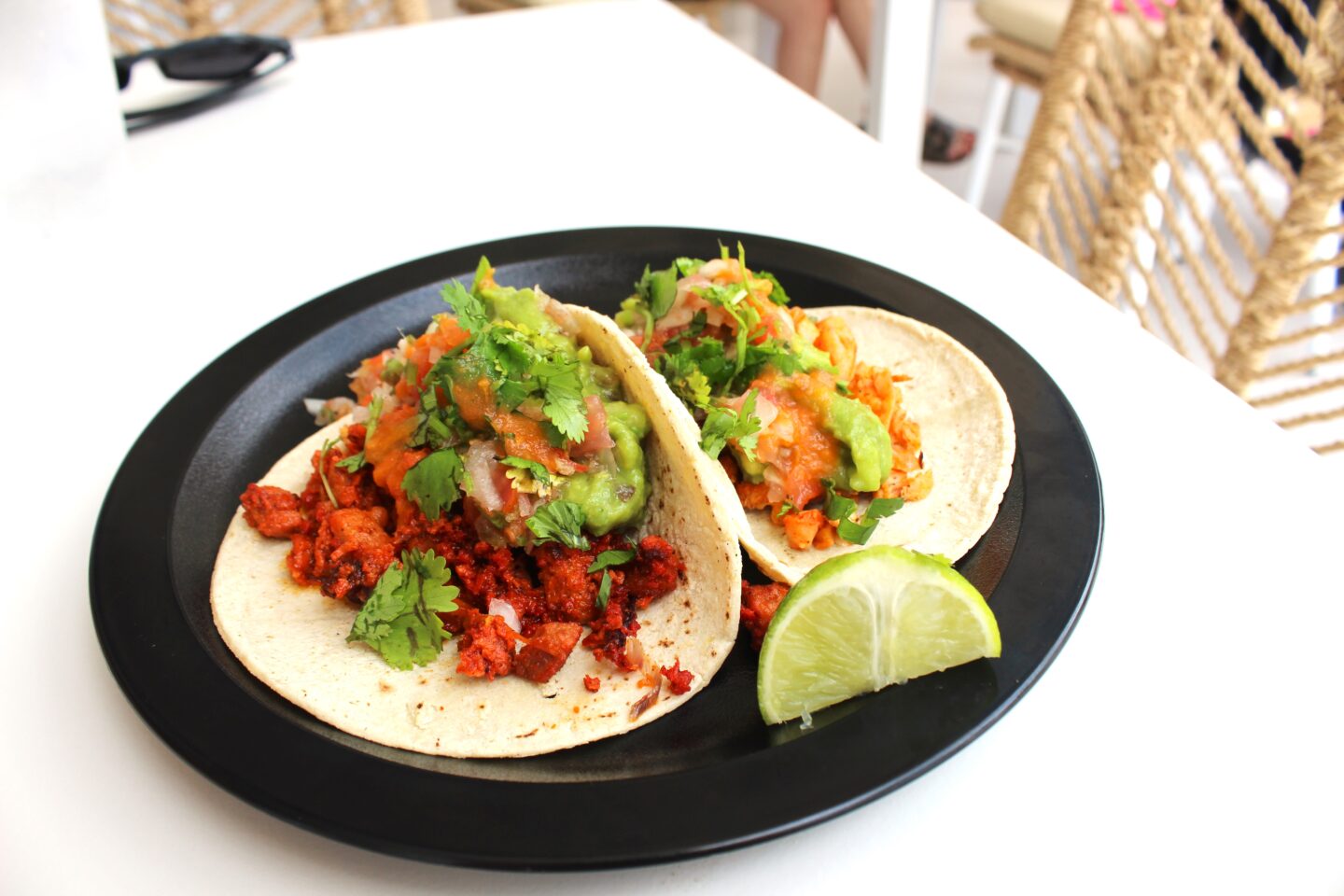 Food at the Riu Caribe is all inclusive and what Mr B and I loved the most was the variety of à la carte restaurants available for dinner.  You weren't restricted to a limited number of visits and you didn't have to pre-book. But let's start off with the first meal of the day . . .
Breakfast
Breakfast is available from 7am to 11am in the hotel's buffet restaurant which is named 'Coral'.
As someone who isn't a huge fan of buffets, I was delighted with the variety and, most importantly, quality of food on offer at breakfast. There really was something for everyone, from a selection of breads and pastries, cereals, fresh fruits, cold cuts, salads and yoghurts.
With hot options such as a variety of eggs from fried to scrambled, with the scrambled being offered as they come, and one day I had some really tasty chorizo scrambled eggs. There were a variety of omelettes. I enjoyed a freshly made omelette with ham, mushroom and cheese which was well filled and tasty. There were also boiled eggs, poached eggs and huevos rancheros eggs, so honestly an egg variety for everyone!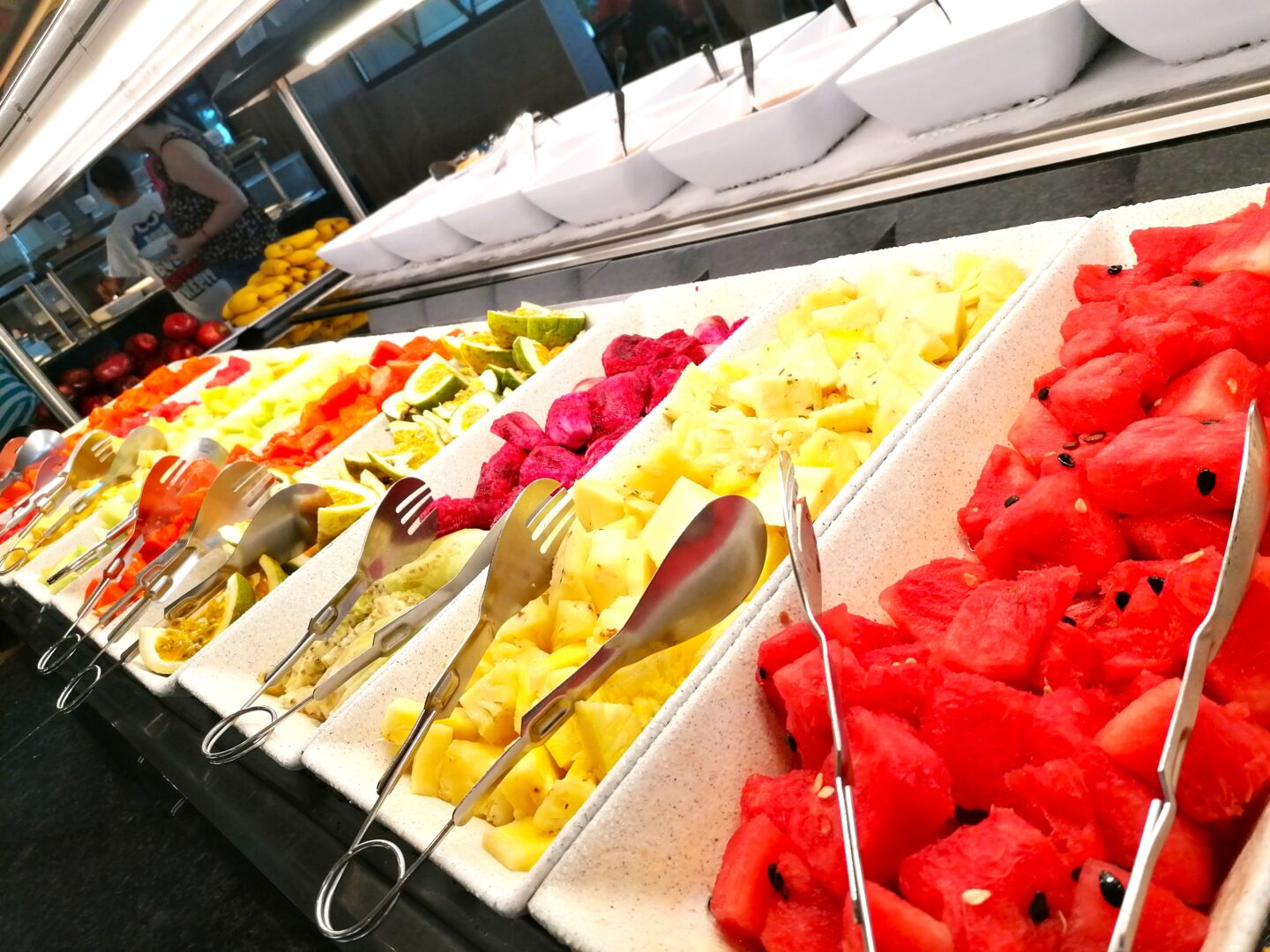 Other hot options were bacon and sausage, rice, vegetables, and every day there was a roasted meat and a few varieties of potatoes.
I have a rather large sweet tooth and those that feel the same will be delighted that there is a large station full of sweet breakfast items which are being made fresh during breakfast service. From pancakes (usually at least two varieties) to churros, to fritters to French toast, and that's just to name the ones that I tried! What I also enjoyed was the variety of toppings and sauces.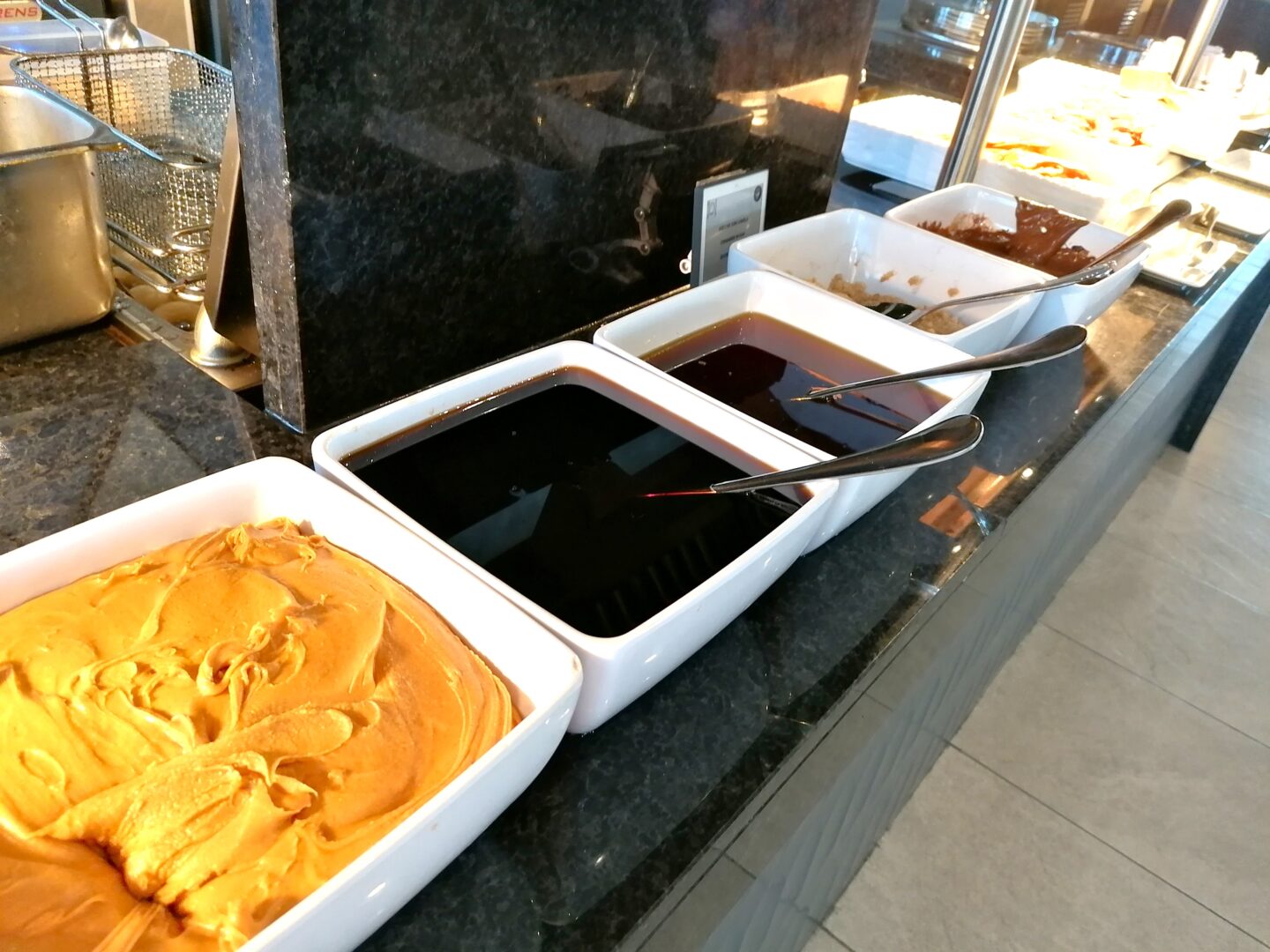 But my absolute favourite section in the breakfast area was the Mexican station. Every day they were making the tacos from scratch and I would vary from ordering a freshly made quesadilla to freshly made tacos. There were always two options of meat fillings, my favourite being the pulled beef which was packed with flavour and melted in the mouth. I would load up my freshly made Mexican breakfast with a huge dollop of freshly made guacamole, a drizzle of sour cream and a sprinkle of hot sauce (which was hot, hot sauce!). It was absolutely delicious and a breakfast I could happily eat every day!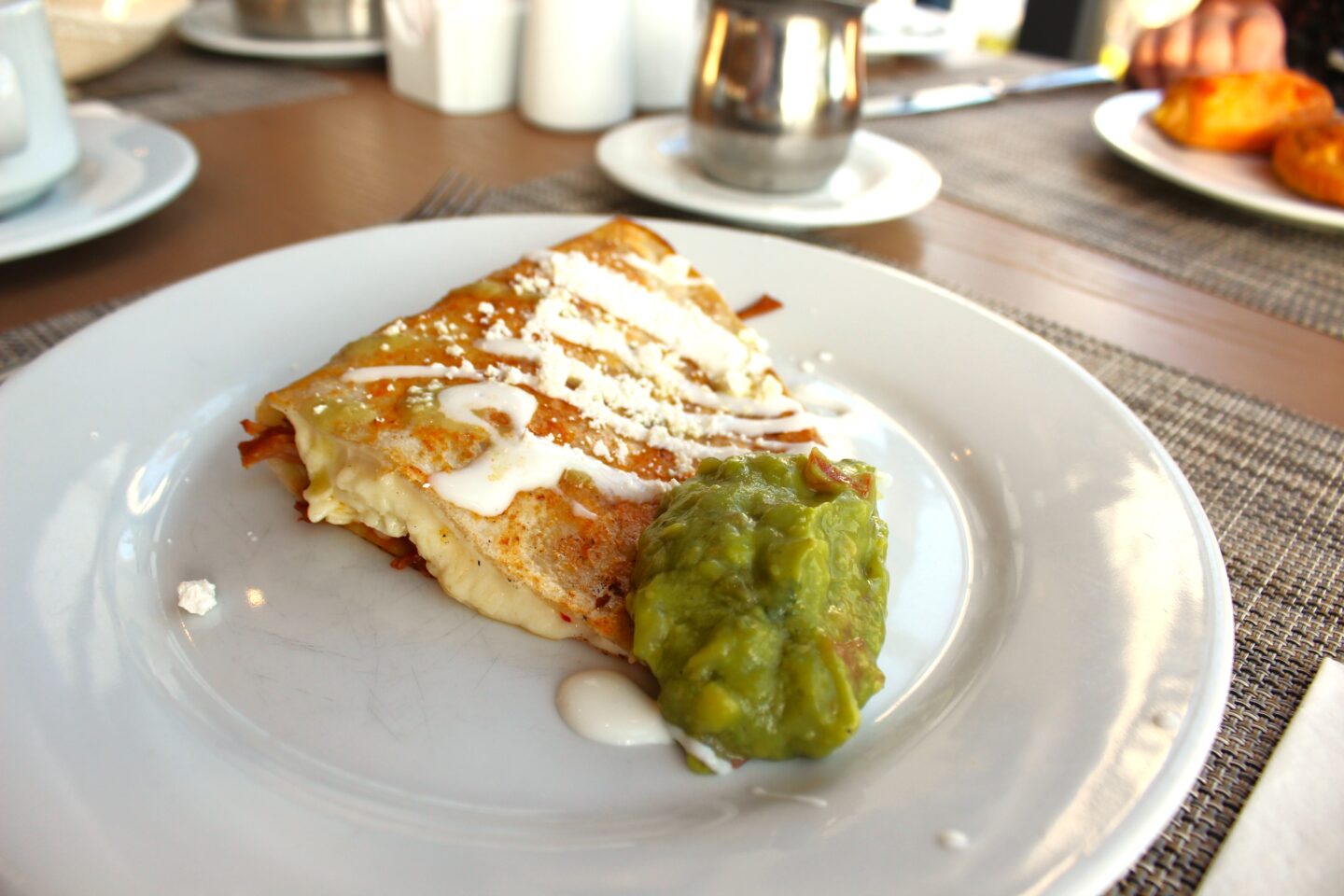 Lunch
Lunch could be enjoyed at the buffet, where there were plenty of live cooking stations making hamburgers, hot dogs, fresh fish, fried chicken, pizza, pasta and rice dishes. There was an array of salads, cold meats and cheeses. And not forgetting the dessert station!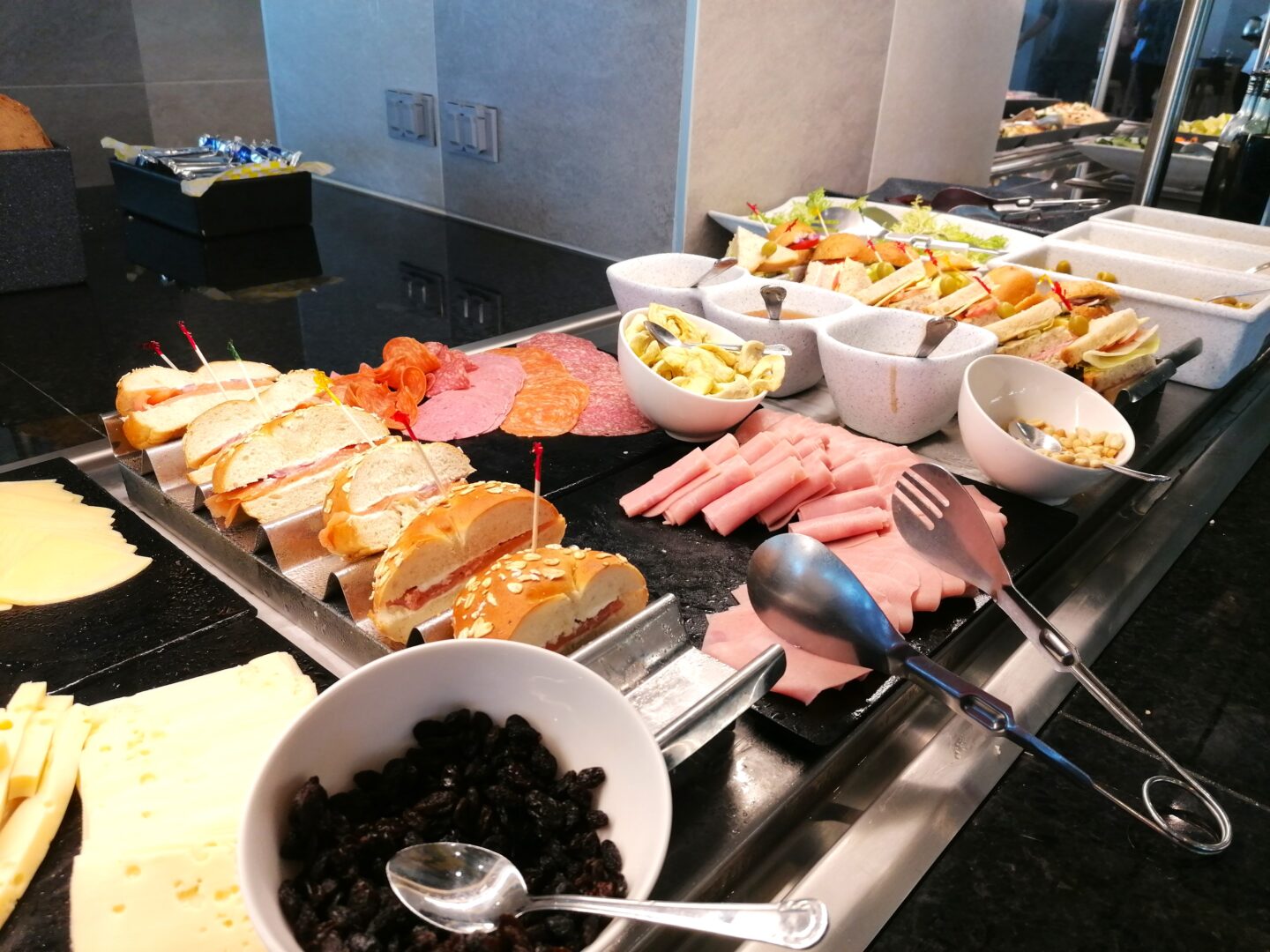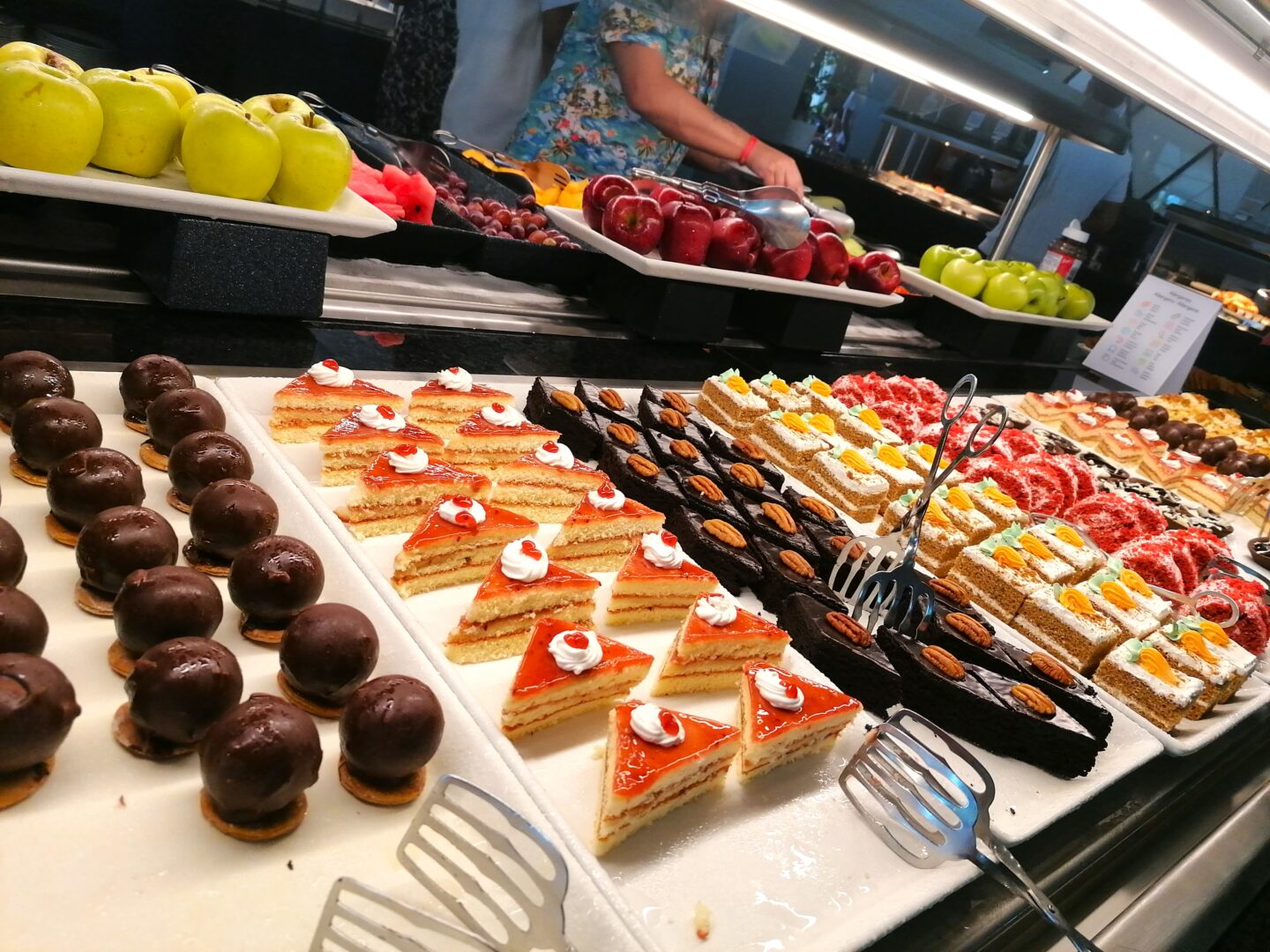 We were very impressed with the variety for lunch and the choice, however, we generally tried to have a smaller lunch as we wanted to ensure we were hungry for dinner in the evening so we enjoyed most of our lunch times around the pool area where you can find 'Pepe's Food'.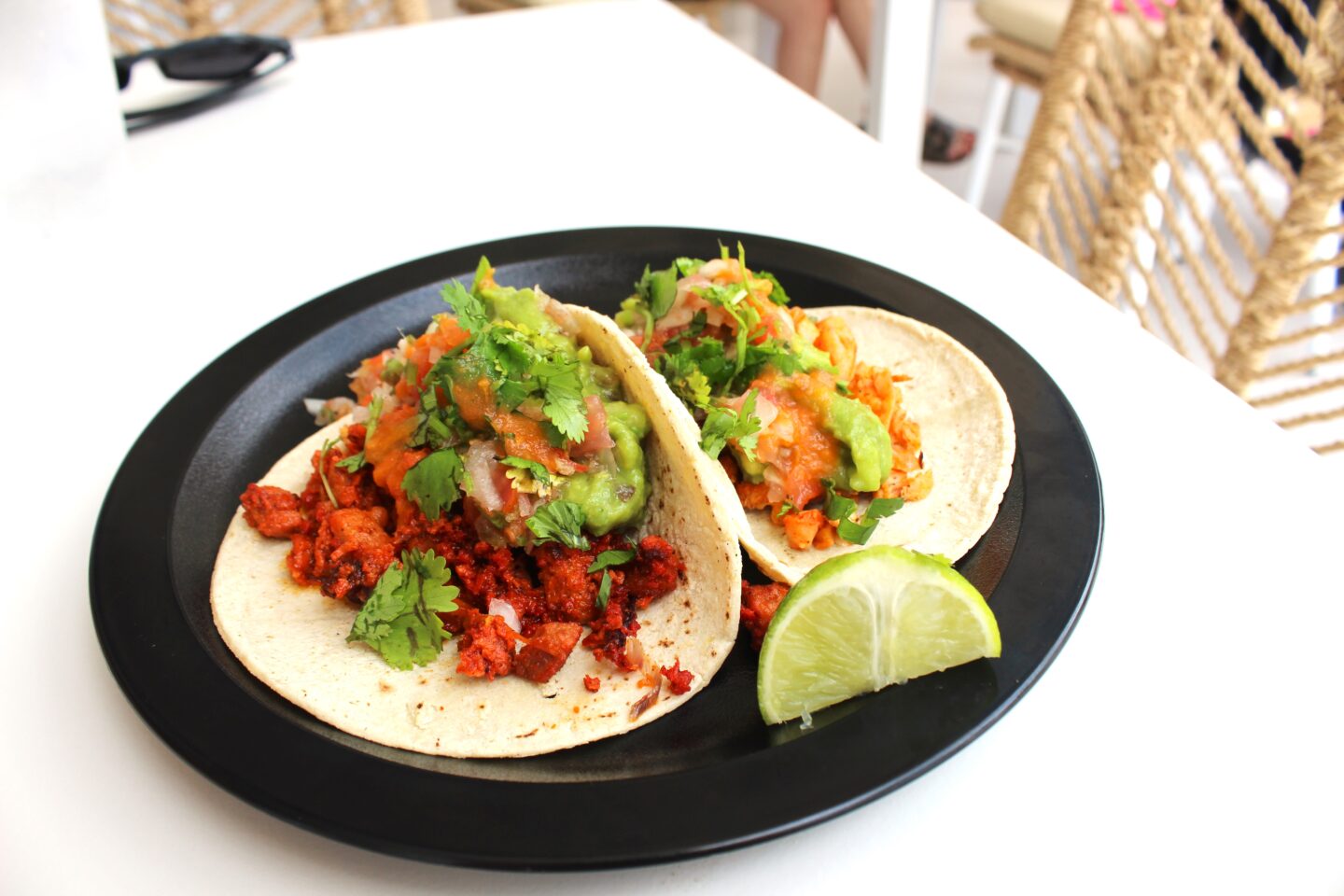 Pepe's offered freshly cooked burgers, cheese burgers, fries and nachos, but it was the opposite side I ventured to daily where tacos were made to order. The fillings varied day to day from chicken, beef to pork, then you could add toppings of your choice. I usually topped mine with the guacamole, salsa, coriander, hot sauce and a squeeze of lime. They were so tasty and made a great lunch full of flavour and also not too filling, but it was hard to not go back for seconds!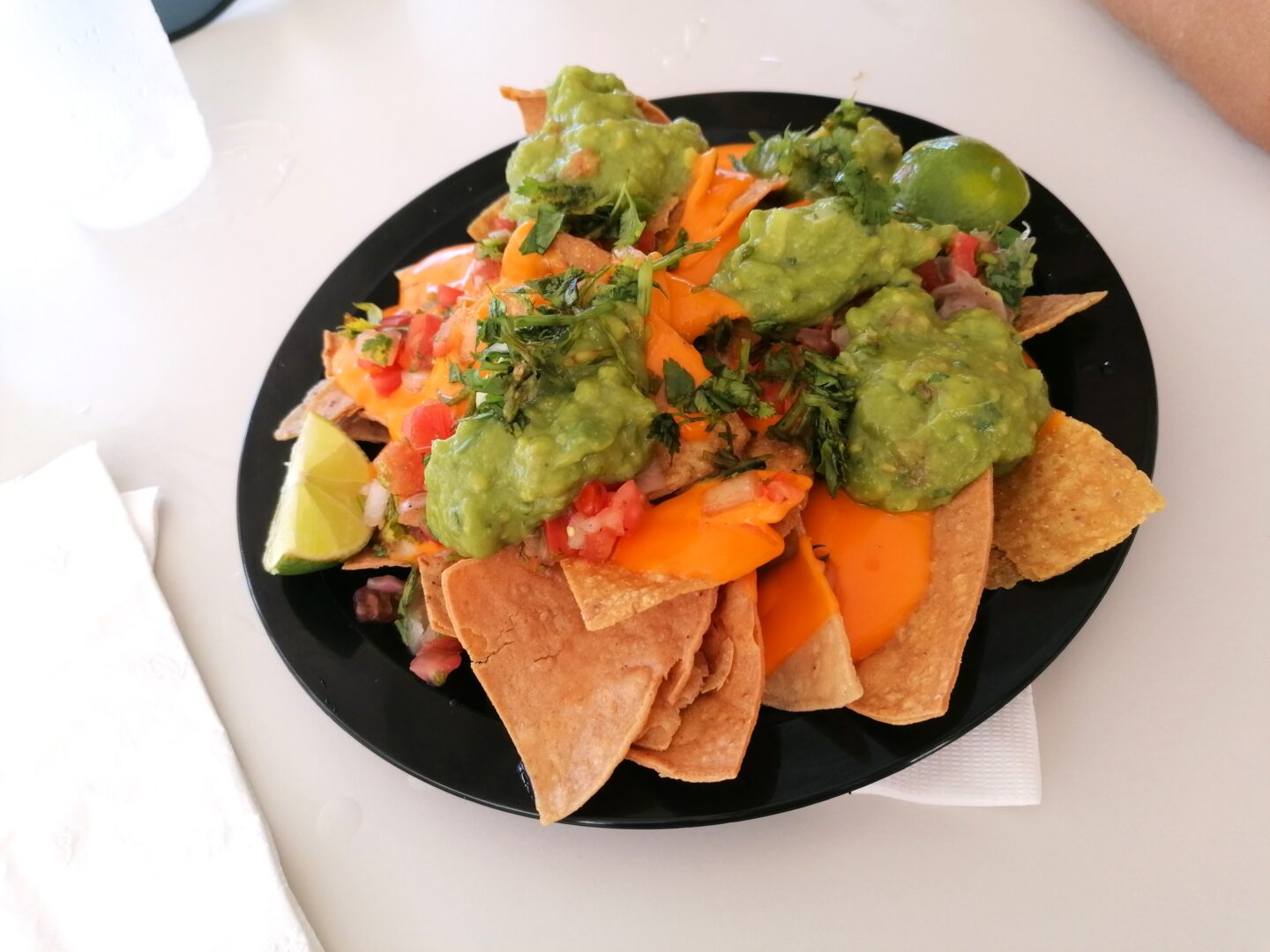 Dinner
As I said earlier, one thing for us which we loved was the option to dine at the à la carte restaurants in the evening, These didn't require booking and you were not limited to a select number of visits during your stay.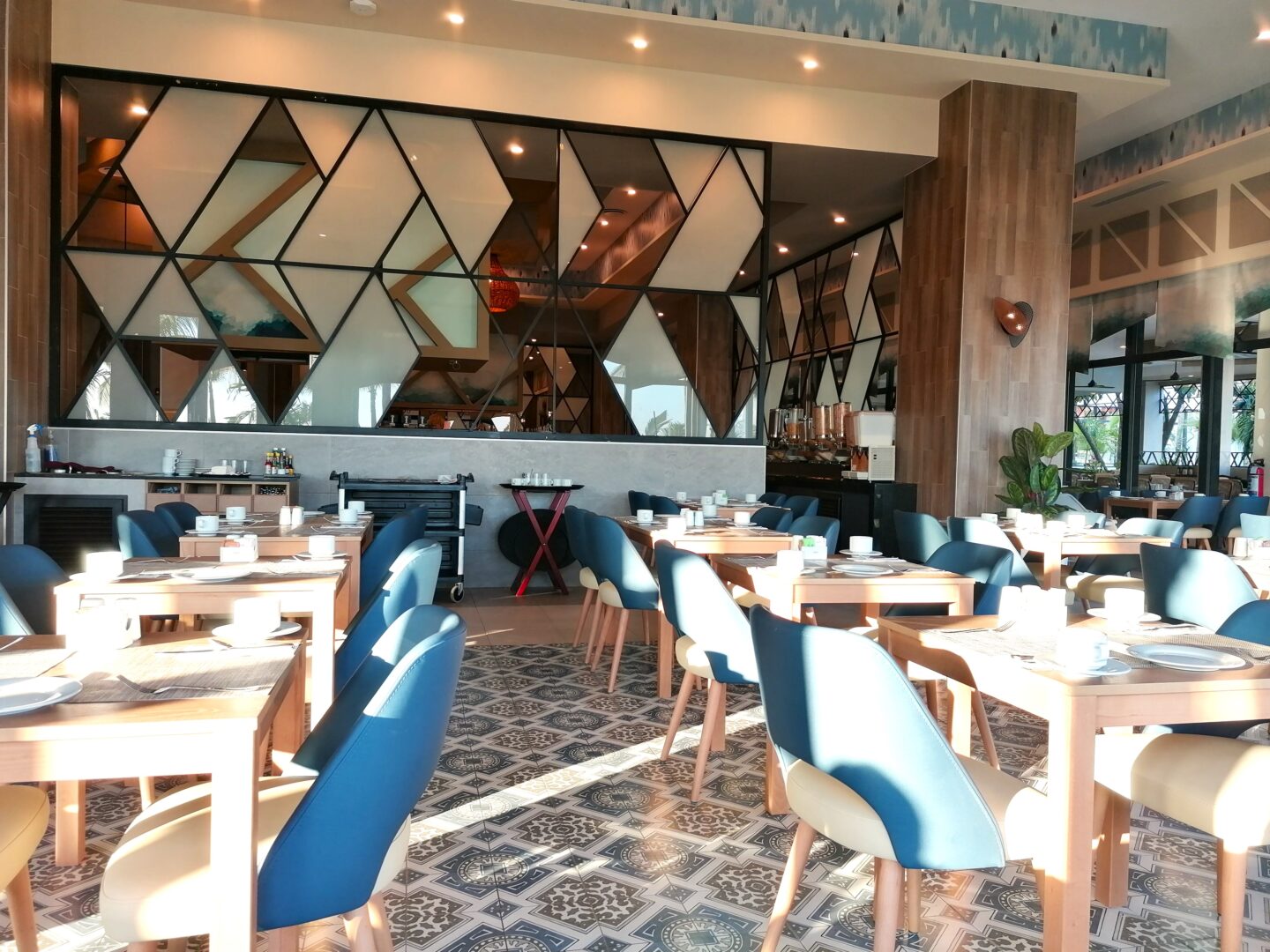 The buffet was, of course, open every evening and just as breakfast and lunch had a huge selection and a number of live cooking stations, I can't comment too much on the buffet as we dined at the à la carte restaurants each evening.
Steakhouse
Mr B and I loved our meal at the steakhouse so much we went back again!
There is just a choice of two starters, 'Caesar salad with grilled chicken breast' or 'Mozzarella sticks with arrabiata sauce'. On both visits Mr B and I had the mozzarella sticks, and we found them so tasty and moreish on both visits we ordered an extra portion!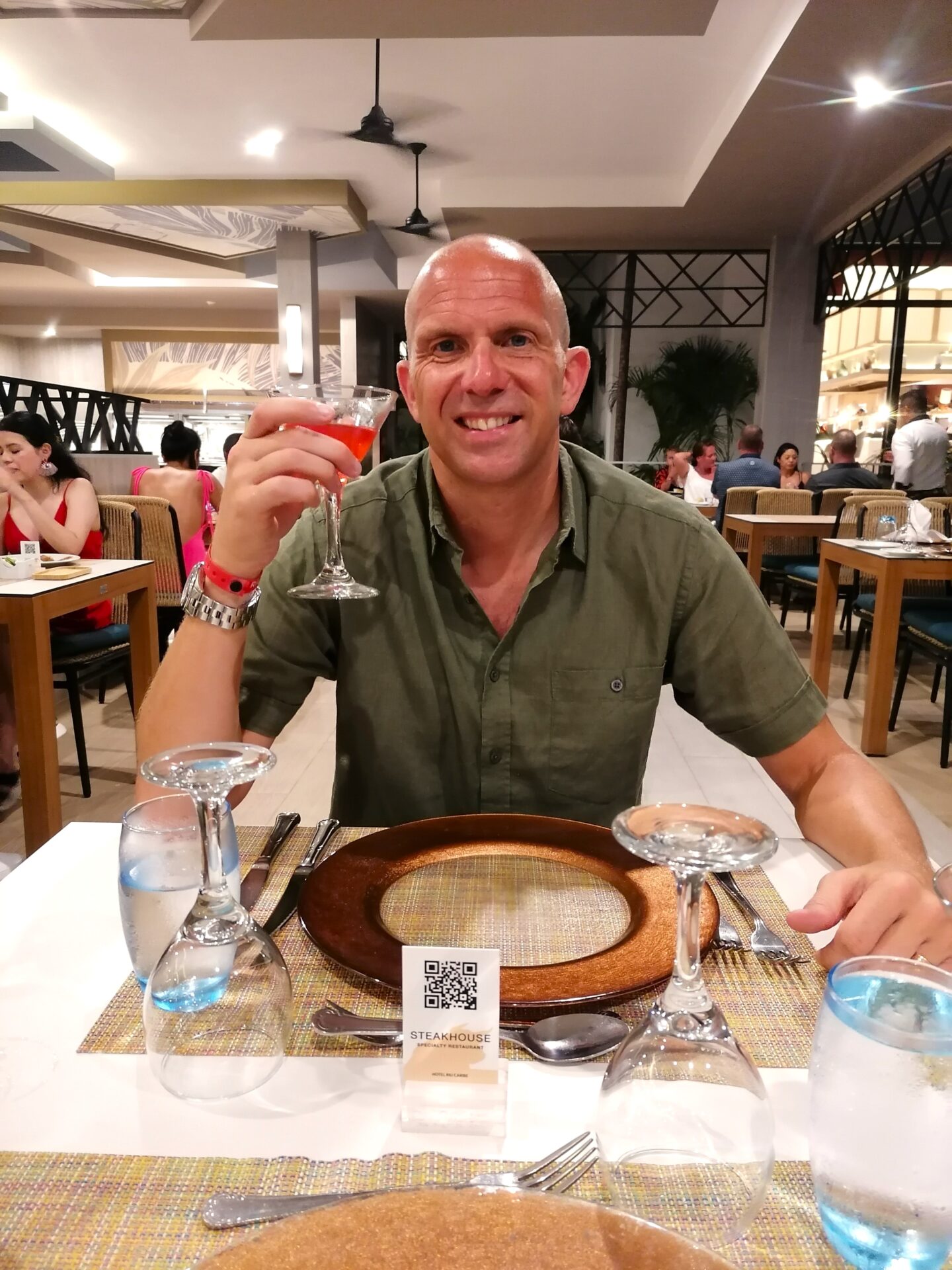 The main courses on offer are suited to any meat lover, from BBQ spare ribs, Angus beef burger and grilled salmon to grilled chicken. On our first visit we shared the 'Mixed grill for 2' which came with chicken, baby back ribs, steak, shrimp and Argentine chorizo. My favourite were the ribs which just fell off the bone and were in a lovely sweet and sticky sauce and the big juicy shrimp.
On our second visit we both ordered the 12oz rib eye steak, cooked rare, which came as requested and was tender and juicy. We also ordered a portion of the BBQ spare ribs! One thing we found in all the restaurants we visited was that any extras we ordered or any special requests were not an issue.
Desserts available to order were chocolate layer cake, apple pie with vanilla ice cream or seasonal fruit salad. However, we were always so full we never had room for dessert!
Kulinarium 
The hotel's gourmet restaurant offers a full à la carte menu. The restaurant inside has a more formal feel to it with the tables spaced further apart to allow for privacy, the tables adorned with gold place mats and the waiters wearing more formal uniforms.
All guests are treated to a 'Reina Pepiada Arepa' as a pre-starter. This pattie was filled with shredded chicken and avocado, and was just the thing to get our appetites going.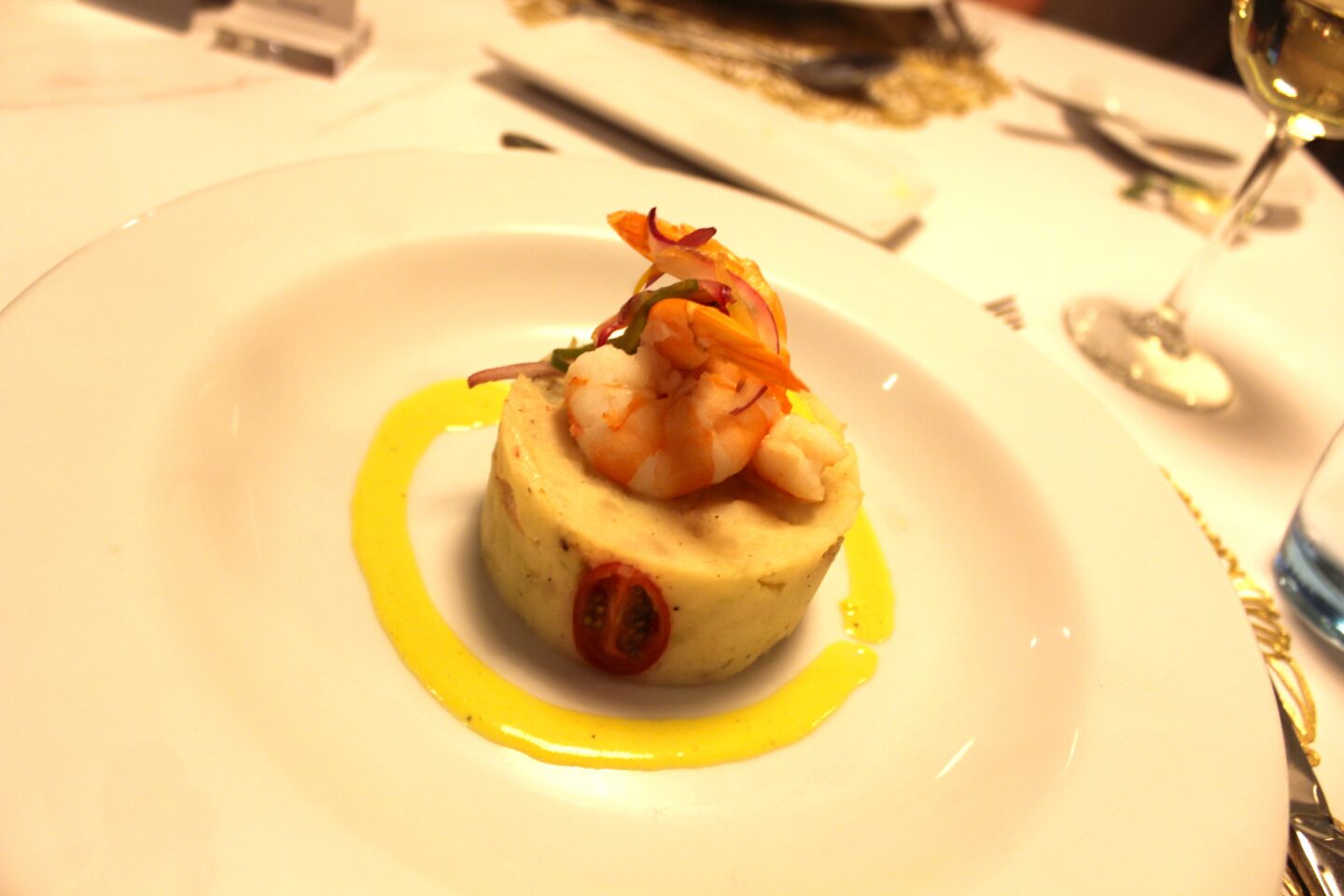 For starter I was tempted by the 'Mushroom ragout with poached egg and truffled potato puree', but Mr B and I both opted for the cold starter of 'Potato casserole with shrimp with yellow tiger's milk'. The chilled starter was a nice light starter to our meal. The shrimp were lovely and plump and the delicate sauce didn't overpower them.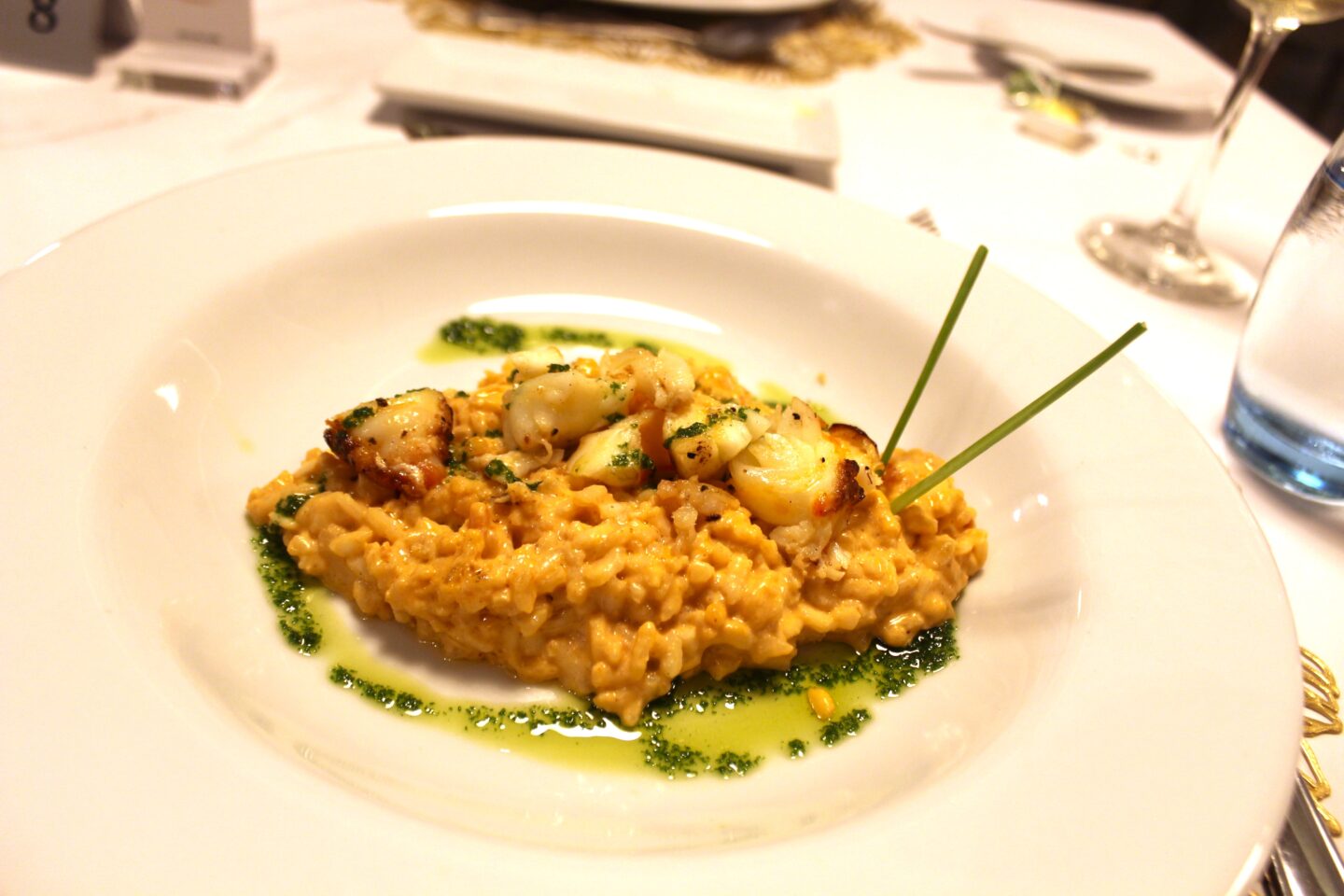 For my main I chose the lobster risotto, which was absolutely divine. The rice was so deliciously creamy and was packed full of incredible seafood flavour, and the lobster adorning the risotto was delicate and soft.
Mr B ordered the Coconut roasted fish of the day which on our visit was grouper. The fish was cooked perfectly and flaked apart.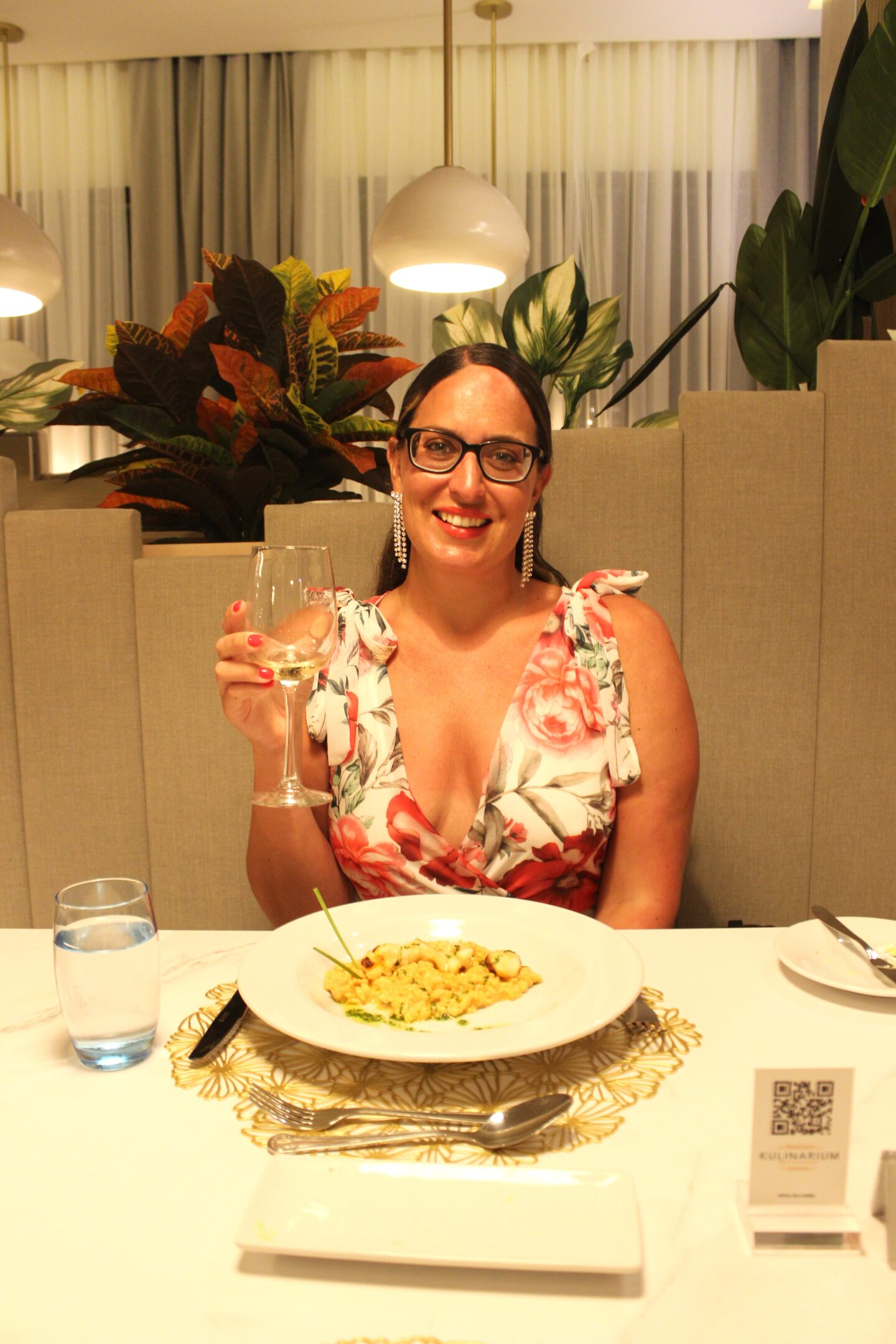 For dessert we both went for the passion fruit mousse with coconut and mango, which was a lovely light dessert perfect to end our indulgent meal.
Shangri-la
The hotel's Asian restaurant serves starters, mains and desserts all buffet style.
As soon as we both walked in we commented on all the wonderful smells which were coming from the live cooking station.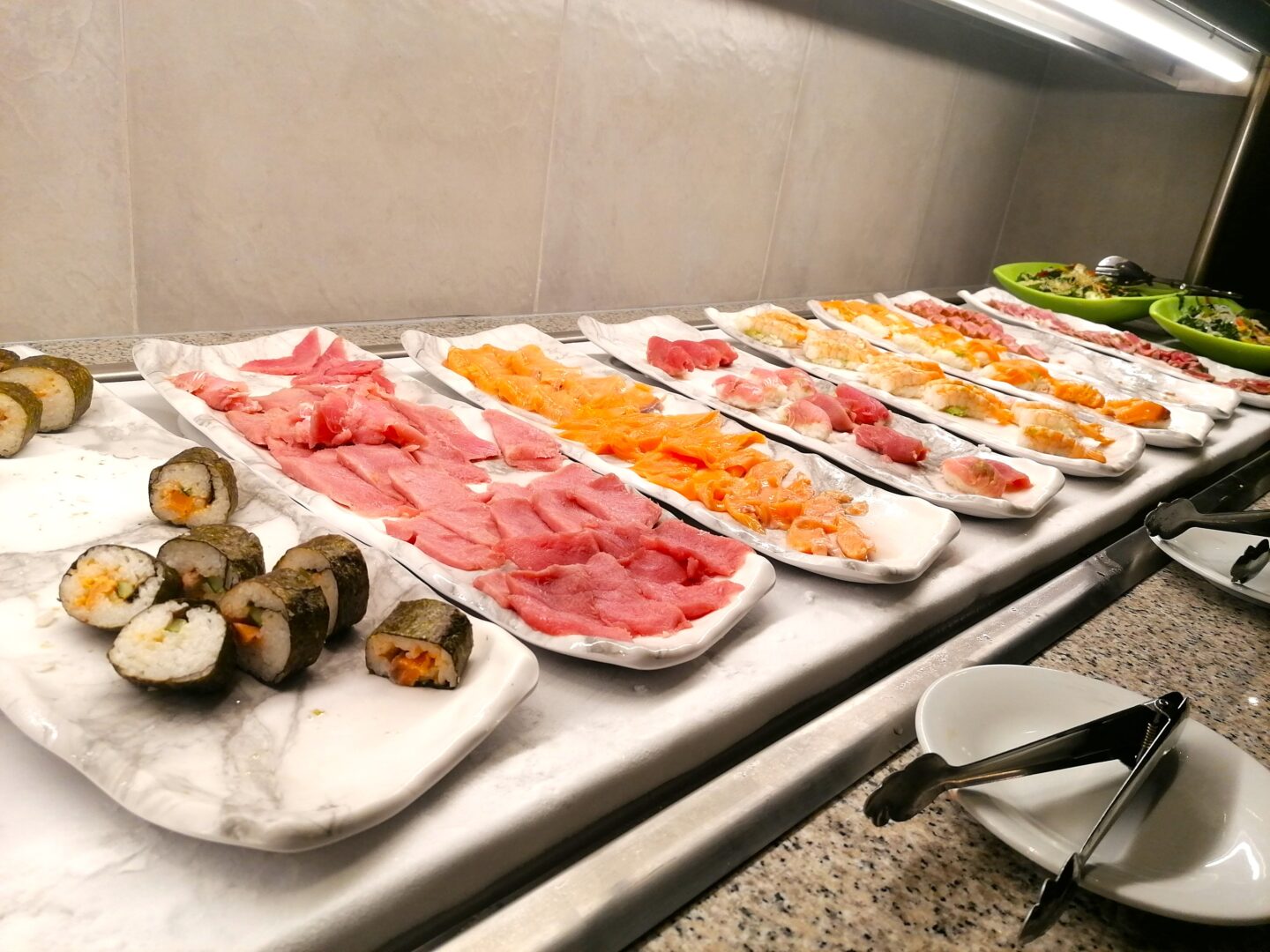 For our starter we both enjoyed a selection of sushi and sashimi. All the standard accompaniments were available – soy sauce, wasabi and pickled ginger.
I also couldn't help but enjoy some of the fried gyozas which were lovely and crunchy on the outside with a tasty pork filling.
There were a choice of dishes you could enjoy for main course, I really enjoyed the tasty chicken satay and the crunchy shrimp and vegetable tempura with a side of the freshly cooked fried rice.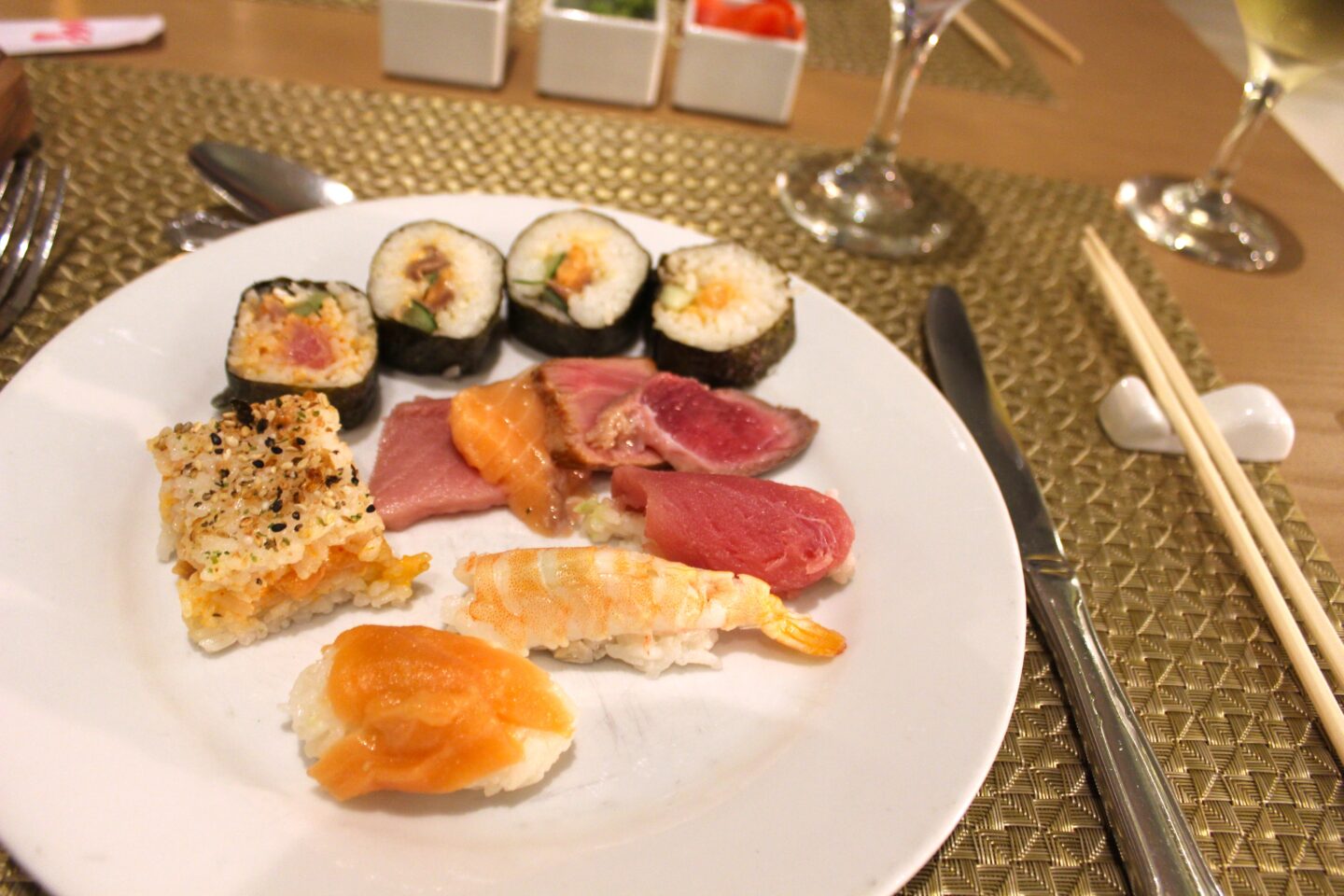 Mr B enjoyed the Yakisoba noodles with pork and the flavourful beef teppanyaki with vegetables.
Whilst Mr B was too full I definitely had enough room for dessert and quite a few of them were taking my fancy. I had the pistachio burfi, mochi, coconut ball all with a scoop of coconut and matcha ice cream.
Margarita
We spent our first and last evening of our holiday at 'Margarita', the hotel's Mexican restaurant.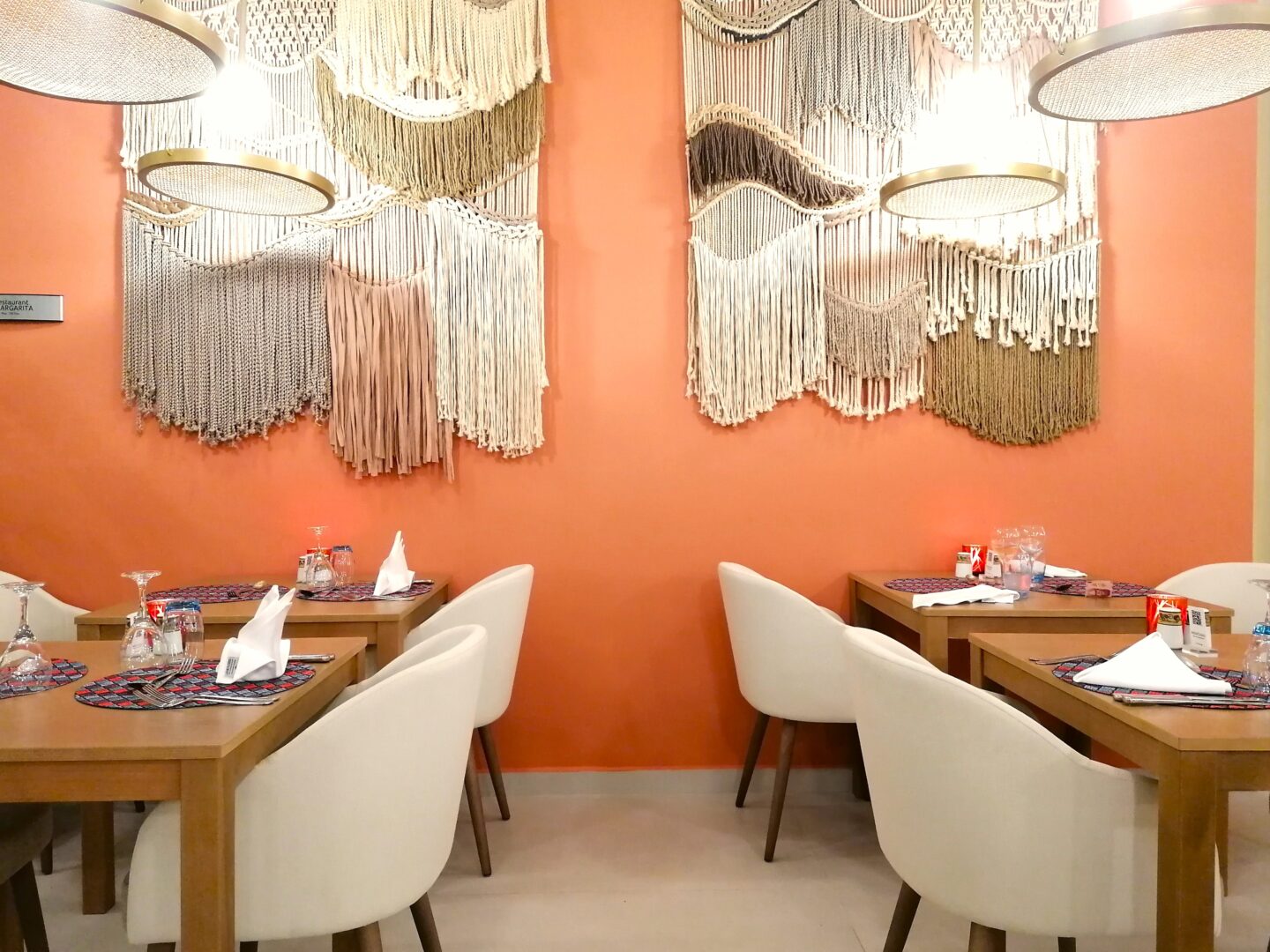 Starters and dessert were buffet style whilst main courses were à la carte.
The choice of starters had all our favourites and it was hard not to fill up eating them all! From taquitos, quesadillas, tostadas and tamales, there was also a huge station with lots of toppings to choose from, from a range of hot sauces, fresh lime and guacamole to salsa.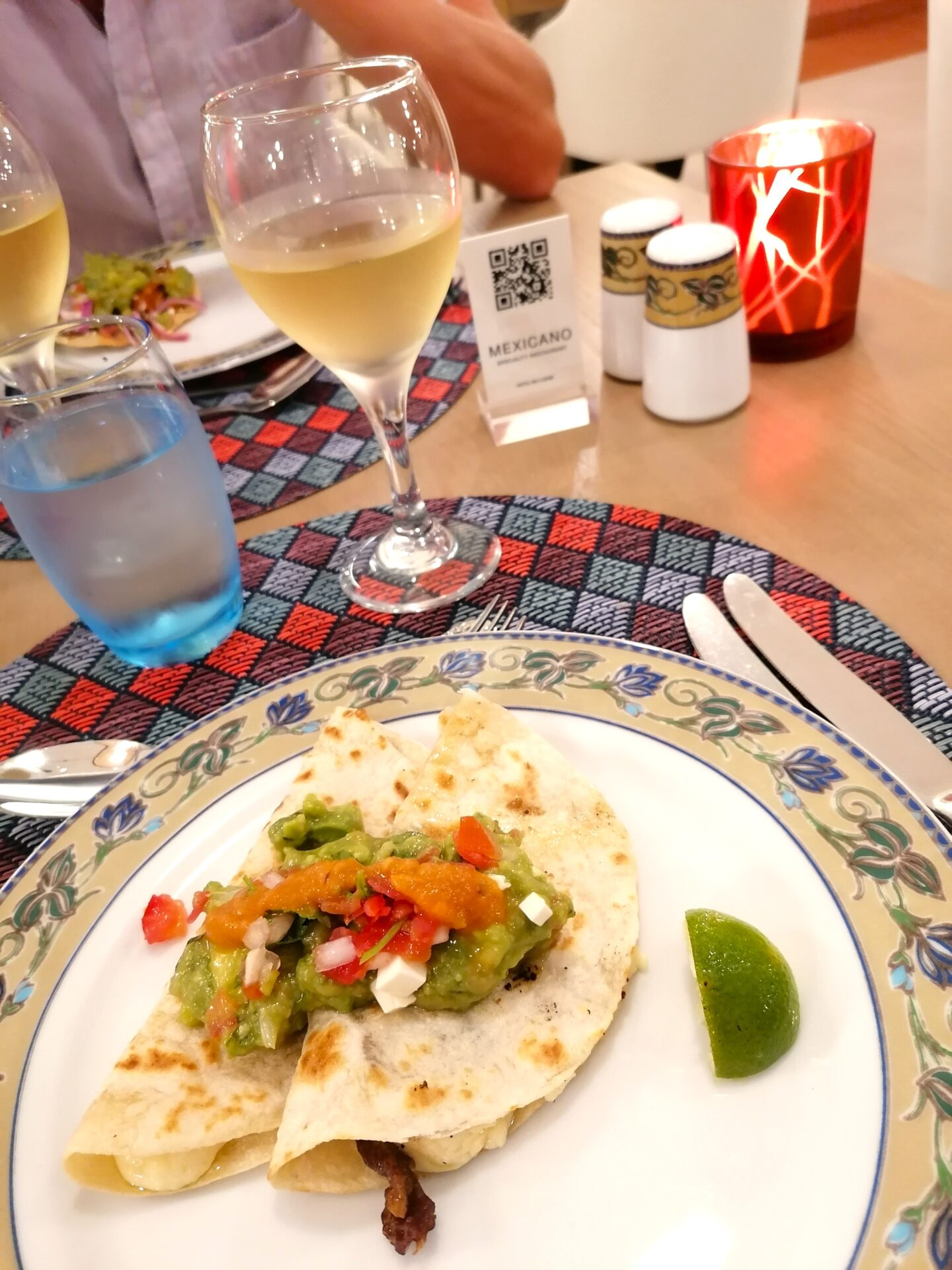 On our first visit I ordered the fajitas which came with chicken and beef, refried beans, Mexican rice and freshly made tortillas. They were really flavourful and tasty. Mr B ordered the chicken enchiladas which came with a red and green sauce and sour cream. He said they were well filled and again really flavourful.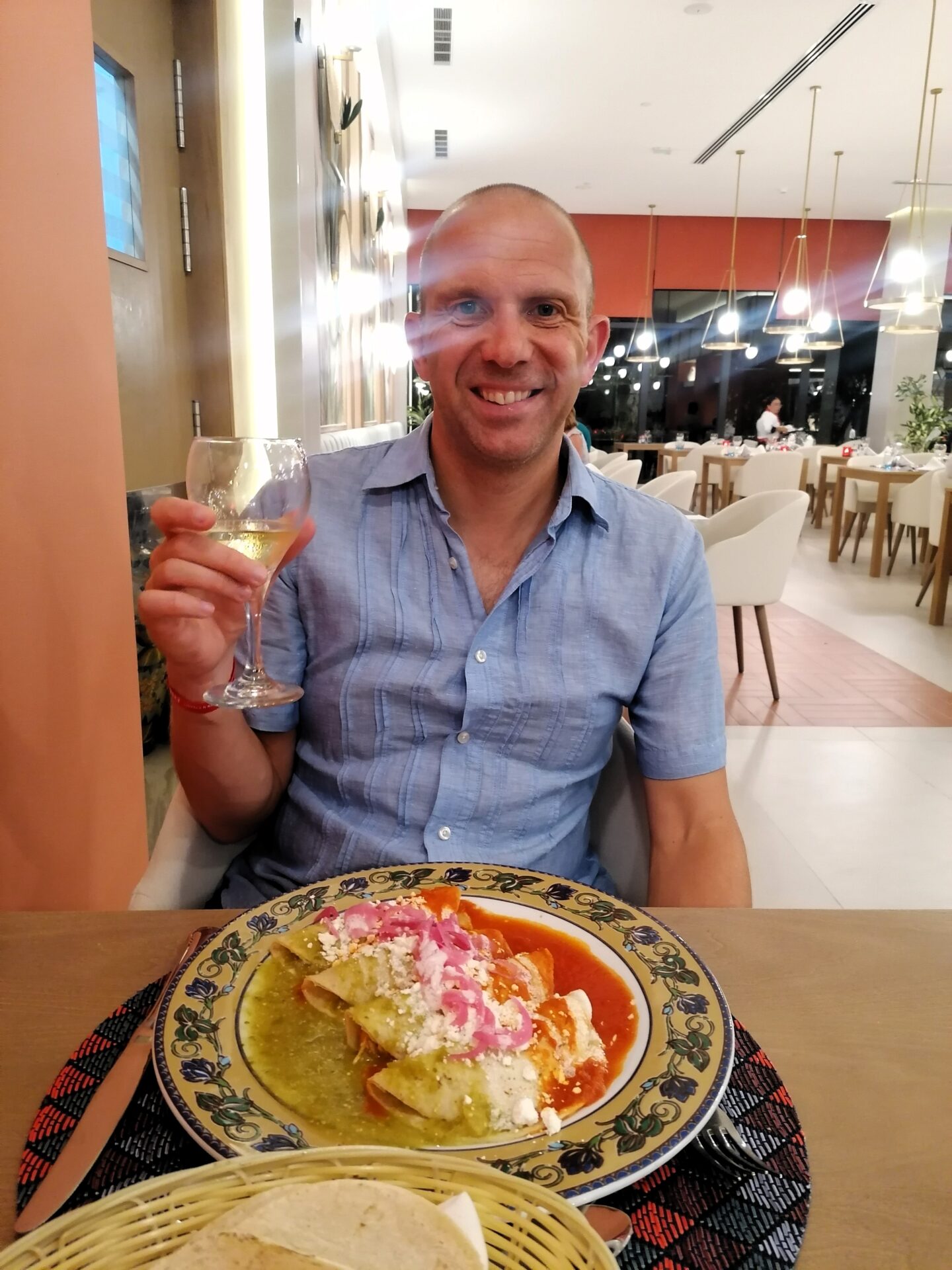 On our second visit, knowing how much I enjoyed them previously, Mr B ordered the fajitas whilst I opted for the Grilled Grouper fillet with garlic potatoes which came with a lightly spiced tomato sauce. The fish was perfectly cooked and the potatoes were really moreish.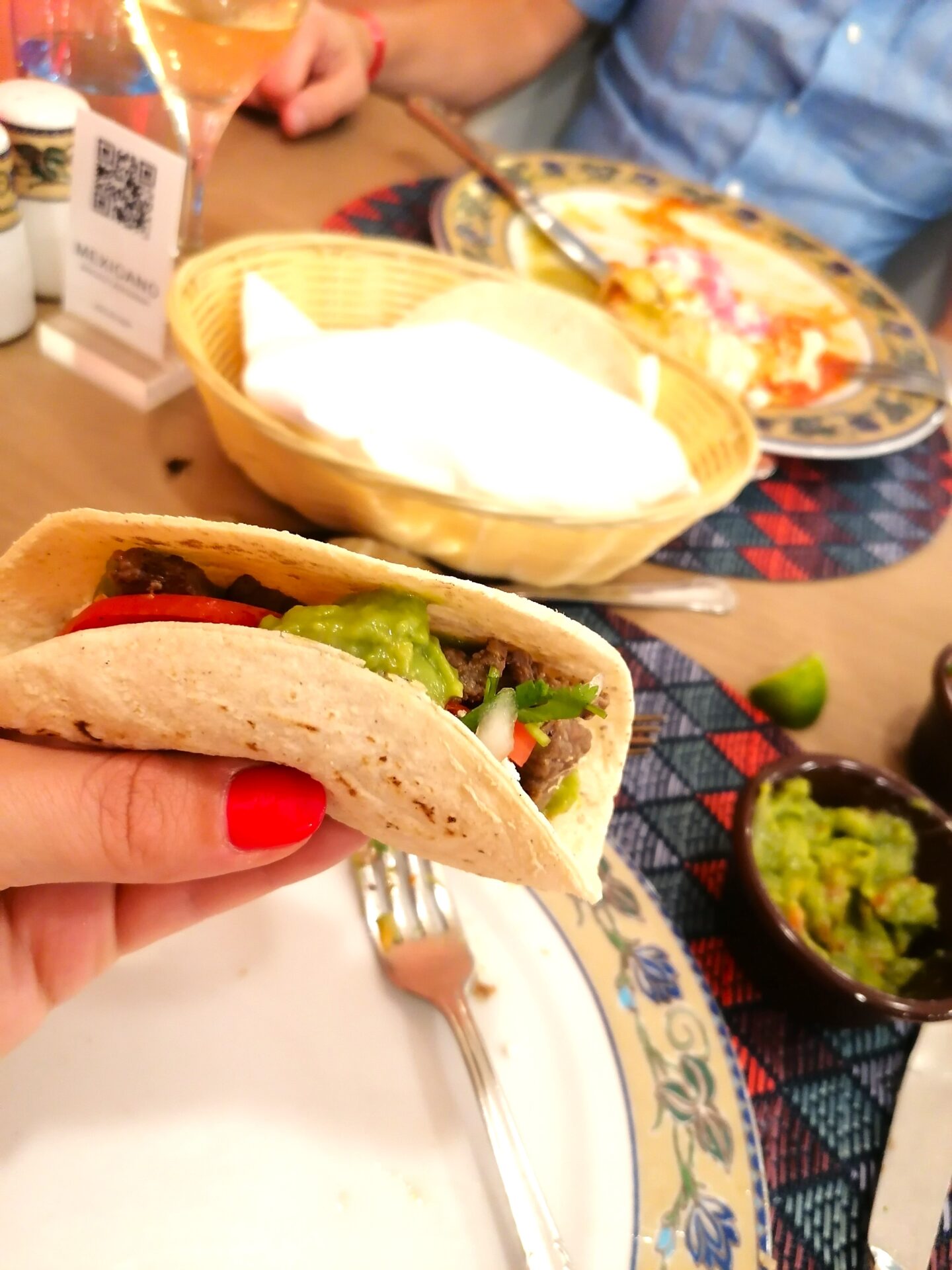 Overall we were both really impressed with the food at the Riu Caribe. The breakfast was fantastic, we loved Pepe's for a light tasty lunch and enjoyed all our dinners at the à la carte restaurants.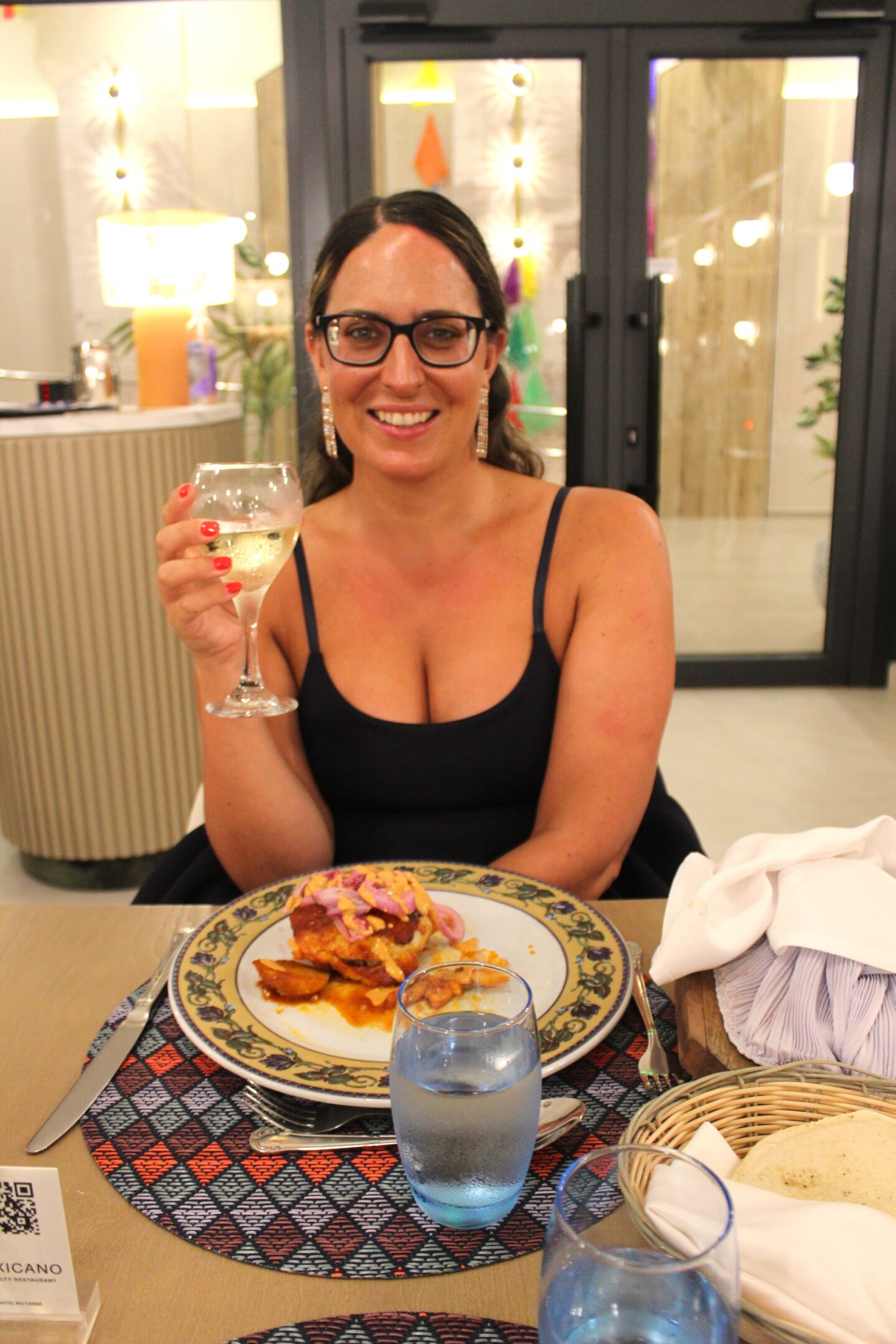 Have a read of my other blog post to see inside the Riu Caribe and the facilities on offer . . .
And check out this blog post to discover the bars and drinks available . . .
https://www.riu.com/en/hotel/mexico/cancun/hotel-riu-caribe/