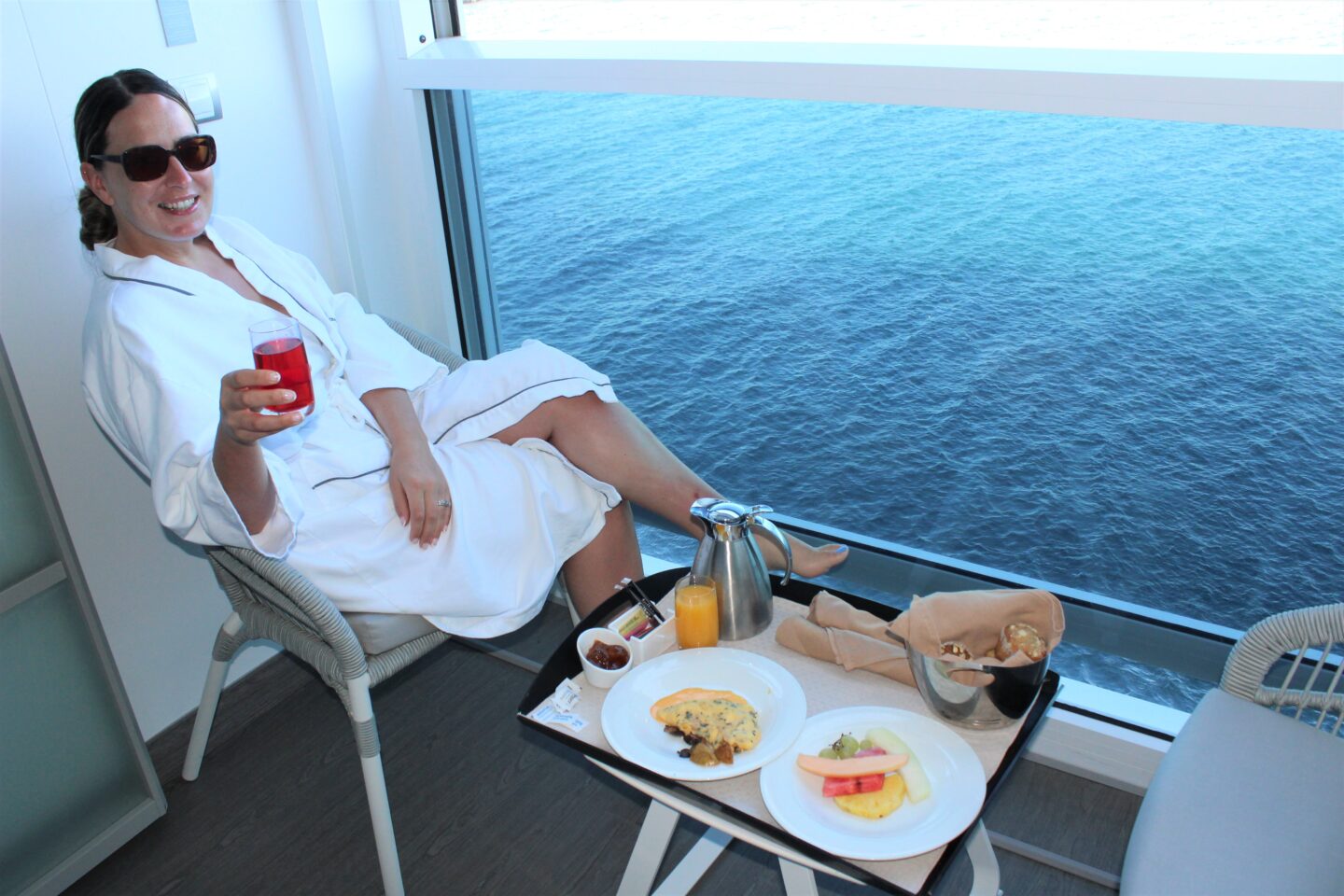 One thing I can confirm to you is that you will never be hungry when sailing on Celebrity Apex. I am happy to say that the majority of the food we had was really good, with some dishes being fantastic. There were a few misses, but that is to be expected and was sometimes down to personal choice.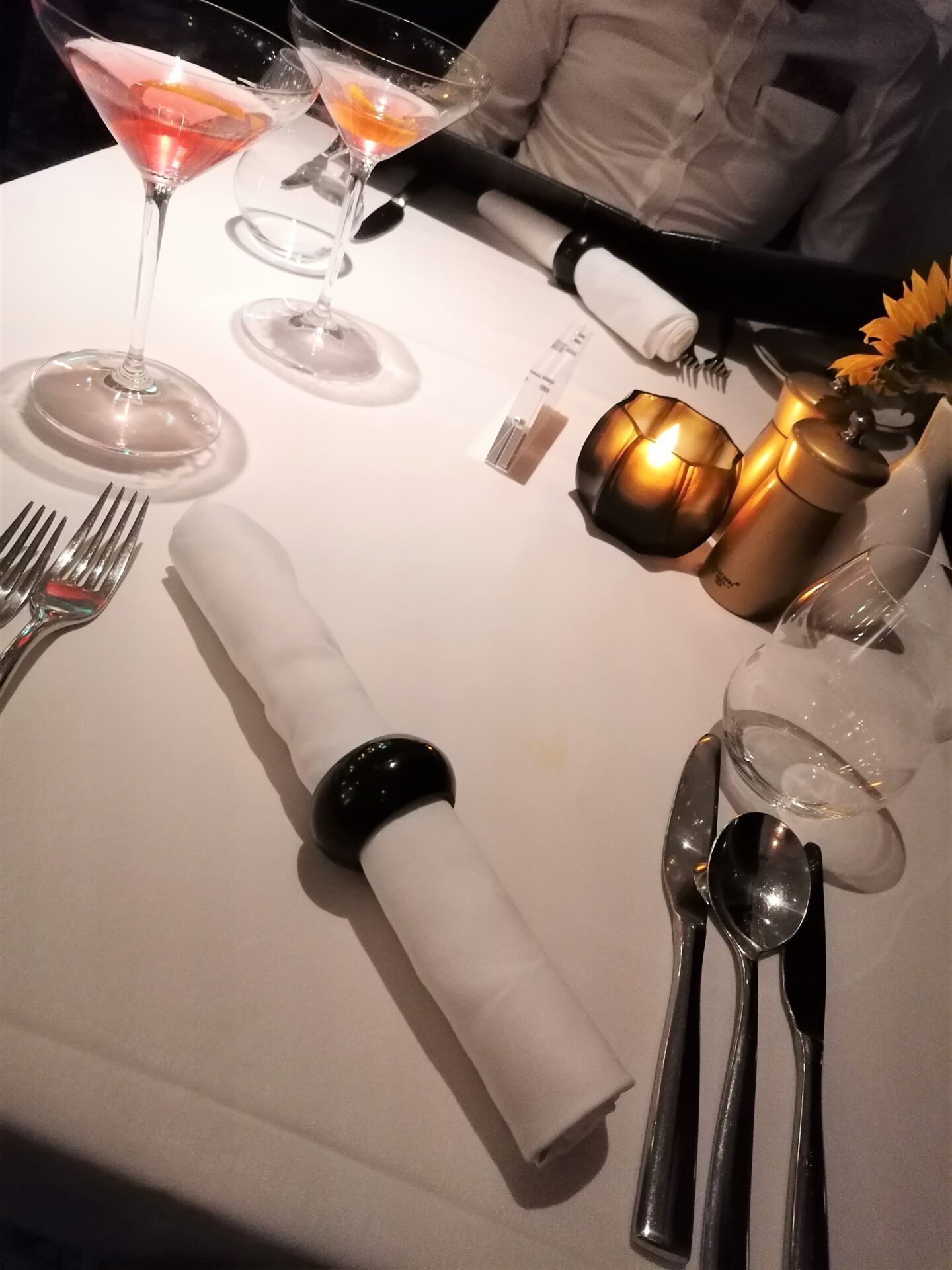 Breakfast
There are a range of venues to enjoy breakfast onboard, from the Oceanview Café (which is the name of the buffet) which serves everything you could want from pastries, continental to cooked breakfast items.
Only one of the main dining rooms onboard is open for breakfast, Cosmopolitan. The breakfast menu was fast and waiters came round with fresh pastries whilst you were waiting for your order. I enjoyed an eggs benedict one day and pancakes another.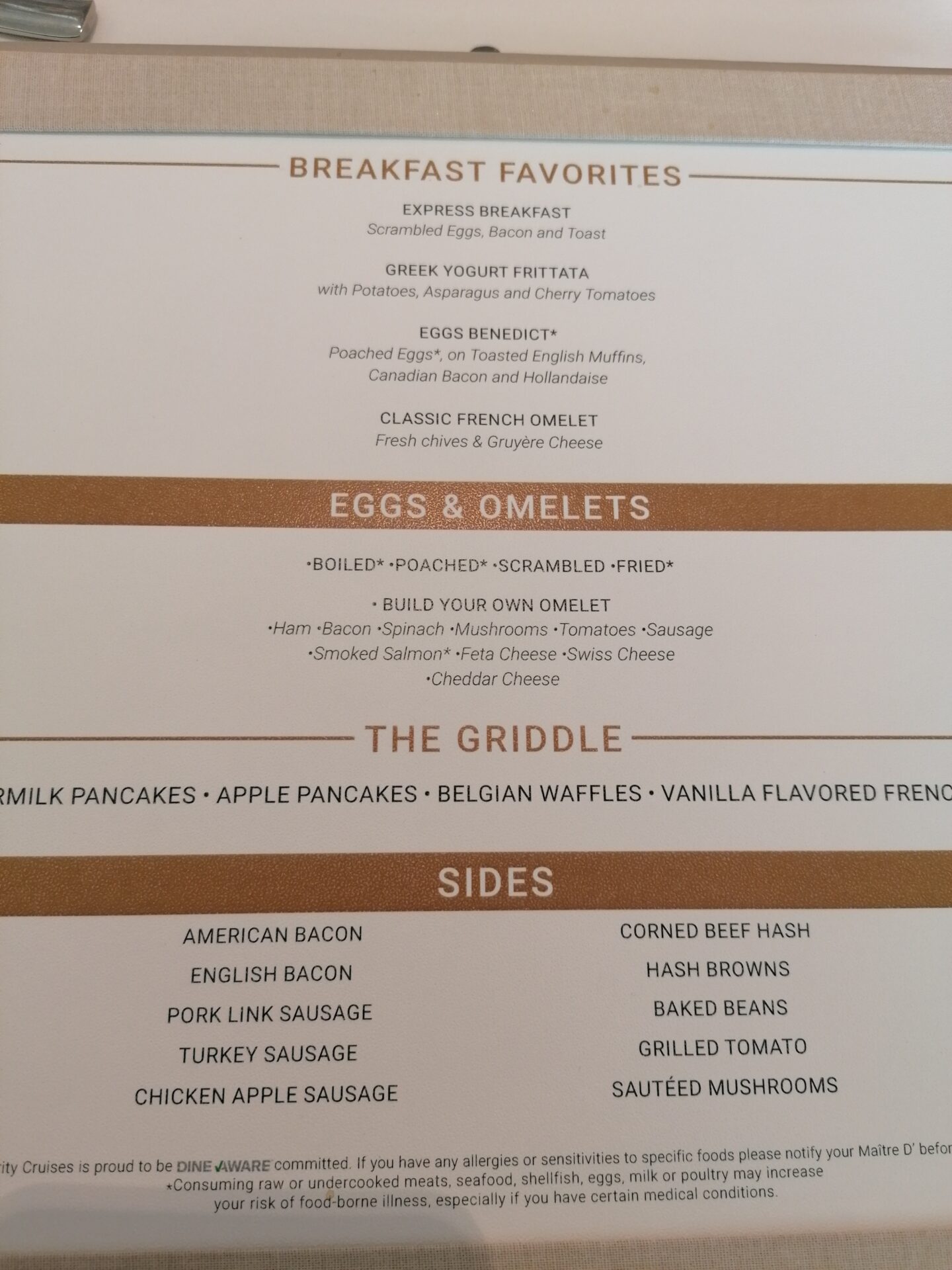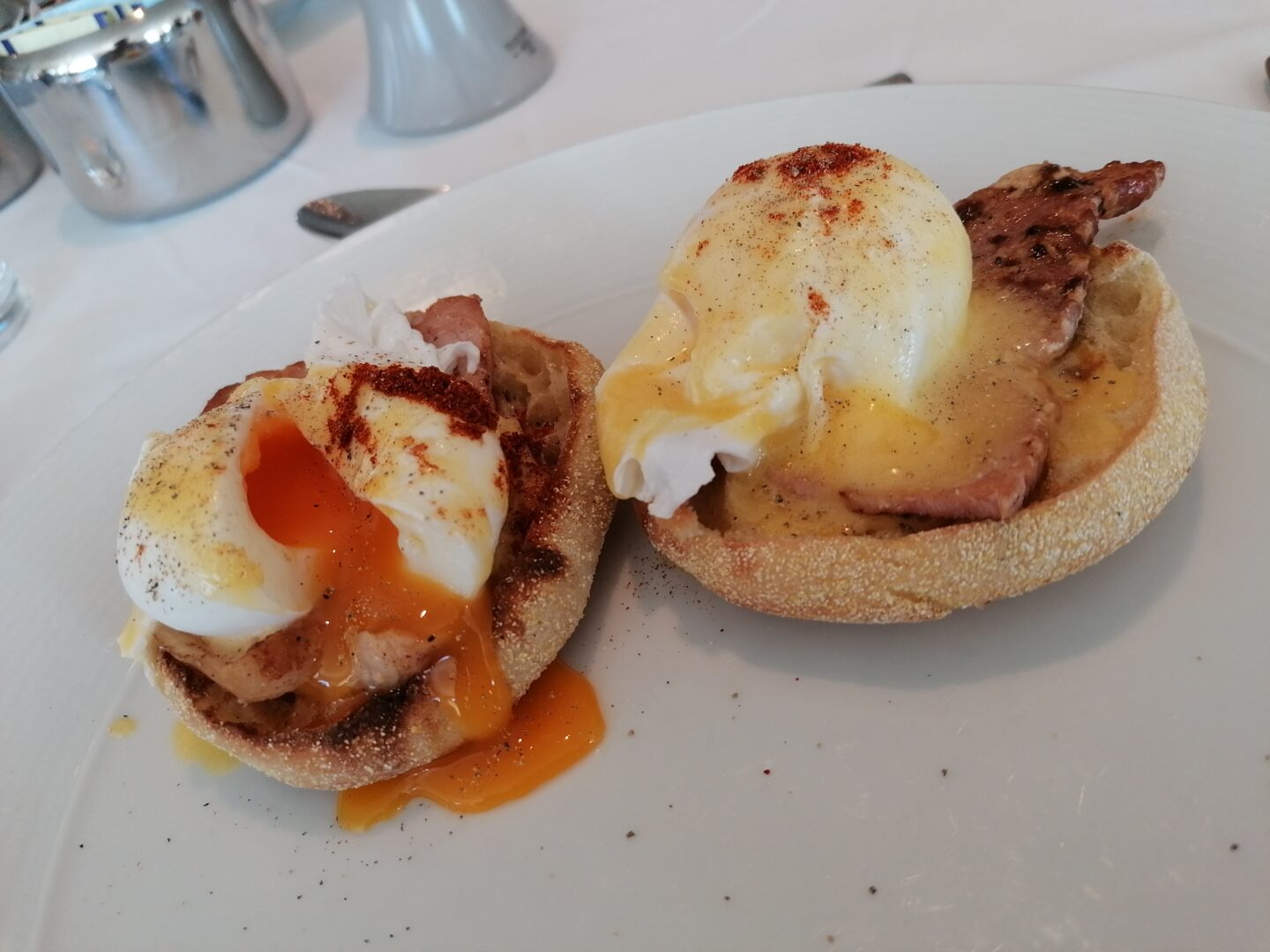 A relaxing breakfast for me is always a room service breakfast. We treated ourselves to a few room service breakfasts onboard and especially enjoyed them on sea days so we could relax and take in the endless sea views.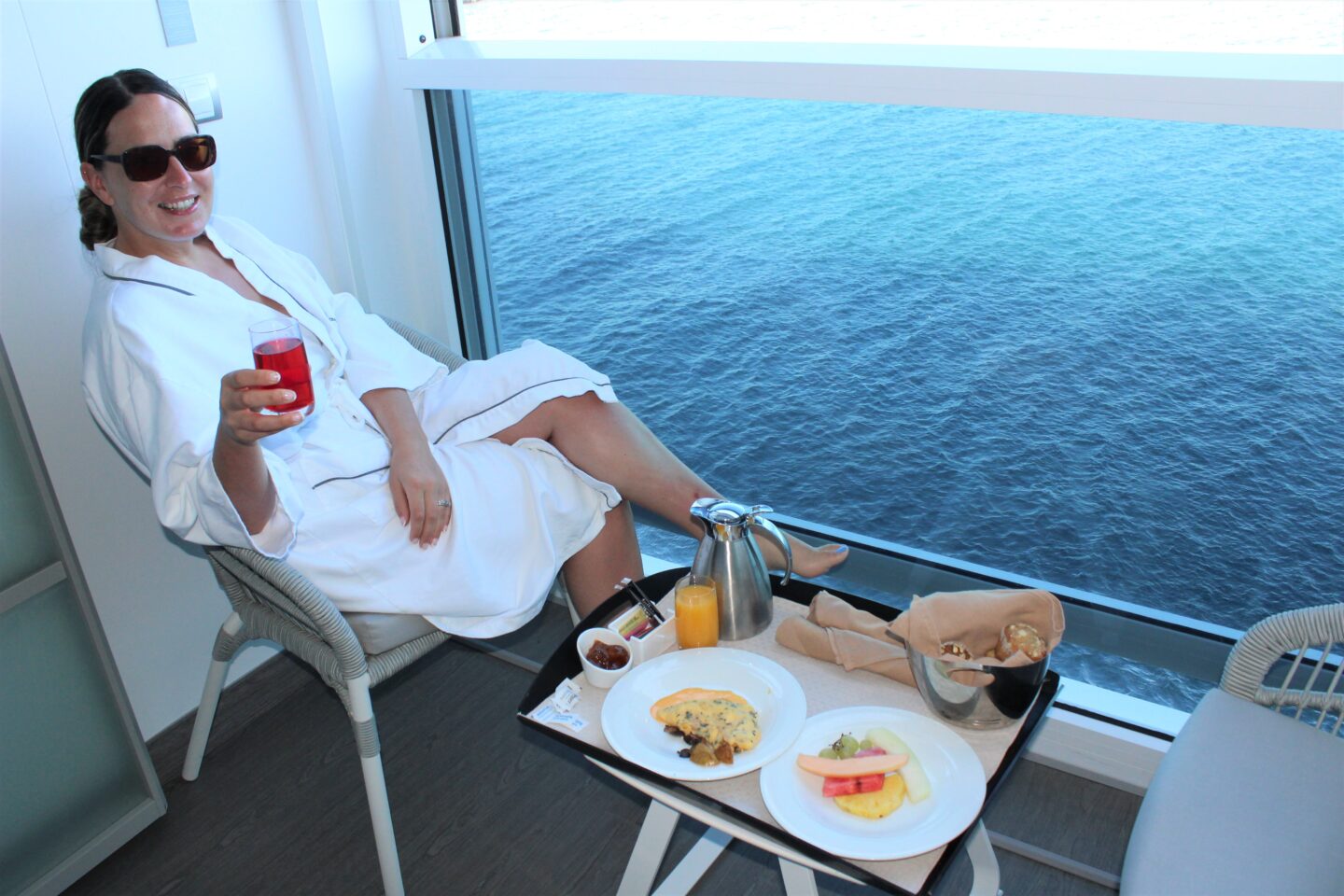 When we had an early morning excursion we headed to Café Al Bacio to enjoy an iced coffee and a pastry for a quick light breakfast. I can highly recommend the Nutella croissants!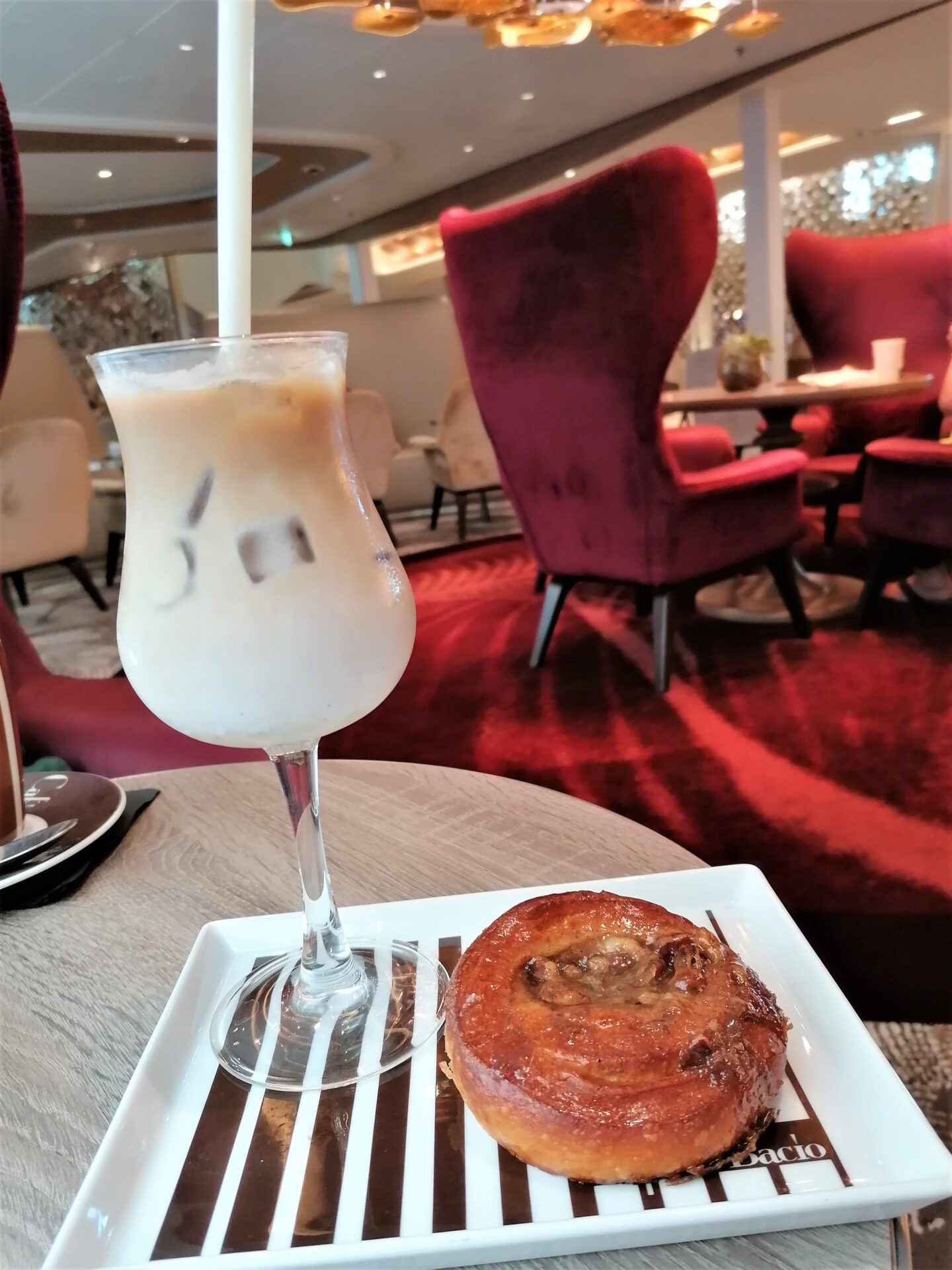 On our final sea day we ventured to the Eden café to enjoy a breakfast sandwich and breakfast bagel.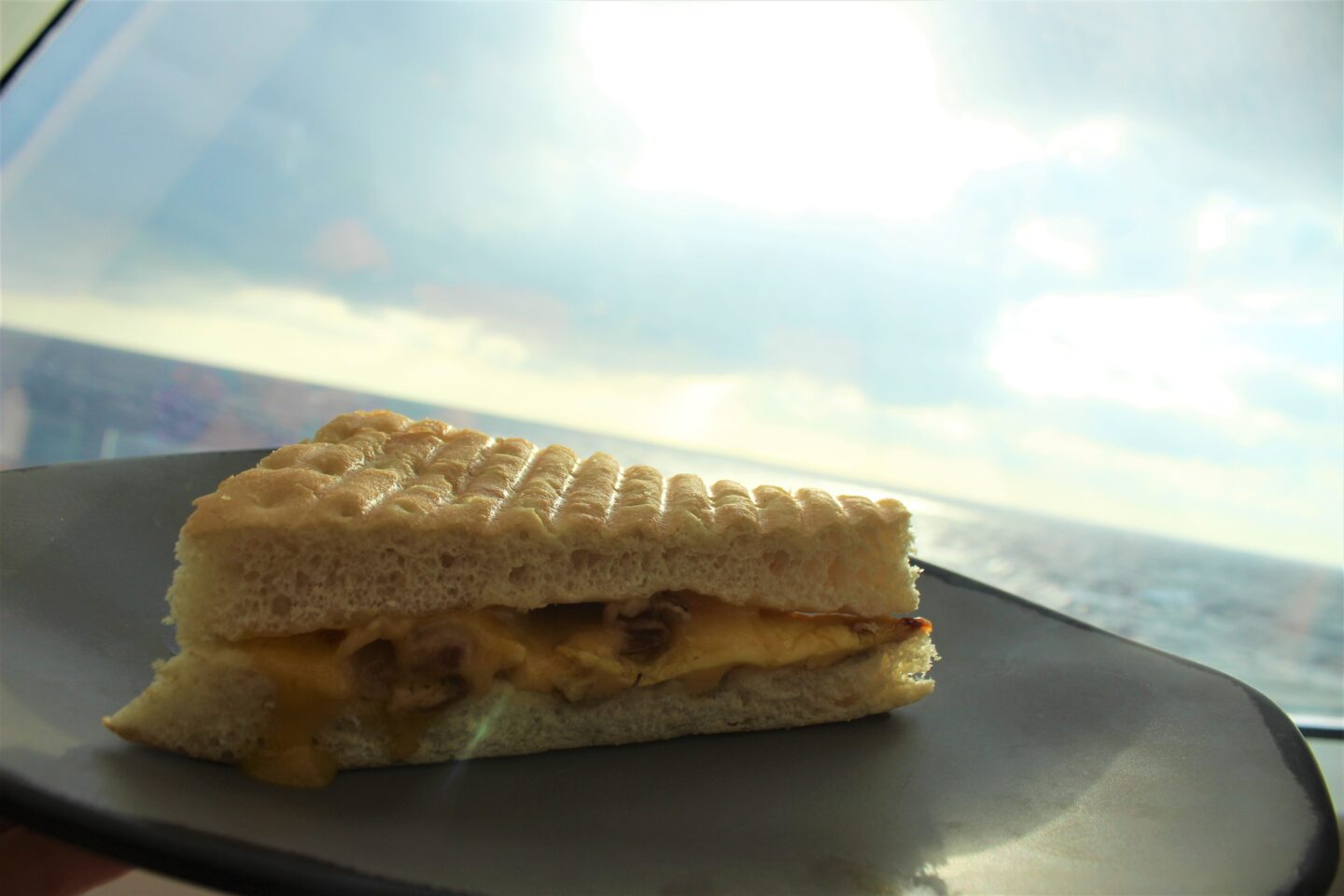 Lunch
Lunch can be enjoyed at several dining spots around the ship. By the pool and fancy a burger? Head to the Mast Grill where burgers and hot dogs are cooked to order. We enjoyed a few of these and loved them – they were cooked just as we requested and were lovely and juicy and full of flavour.
The Oceanview Café was always a popular venue for lunch with so much variety on offer. I am personally not a big fan of buffets but we did enjoy one lunch there where I had fresh burrata, pesto, focaccia and arancini. It was all delicious and we got a fabulous window seat. Eating yummy Italian food whilst sipping on a crisp glass of pinot and taking in the views is a pretty good way to have lunch!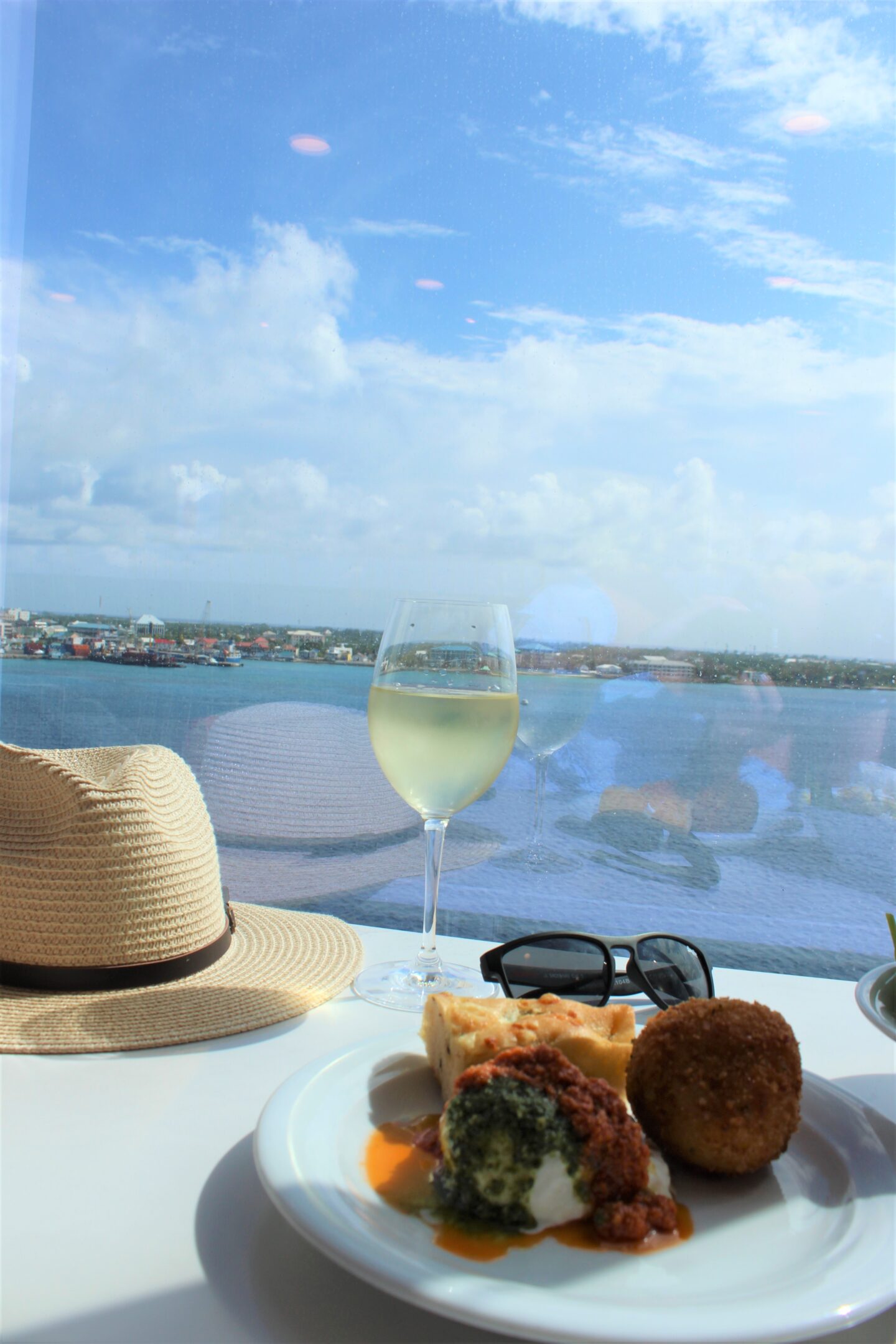 There is also an ice cream station at the front of the Oceanview Café – who doesn't want to partake in an ice cream whilst soaking up the Caribbean sunshine?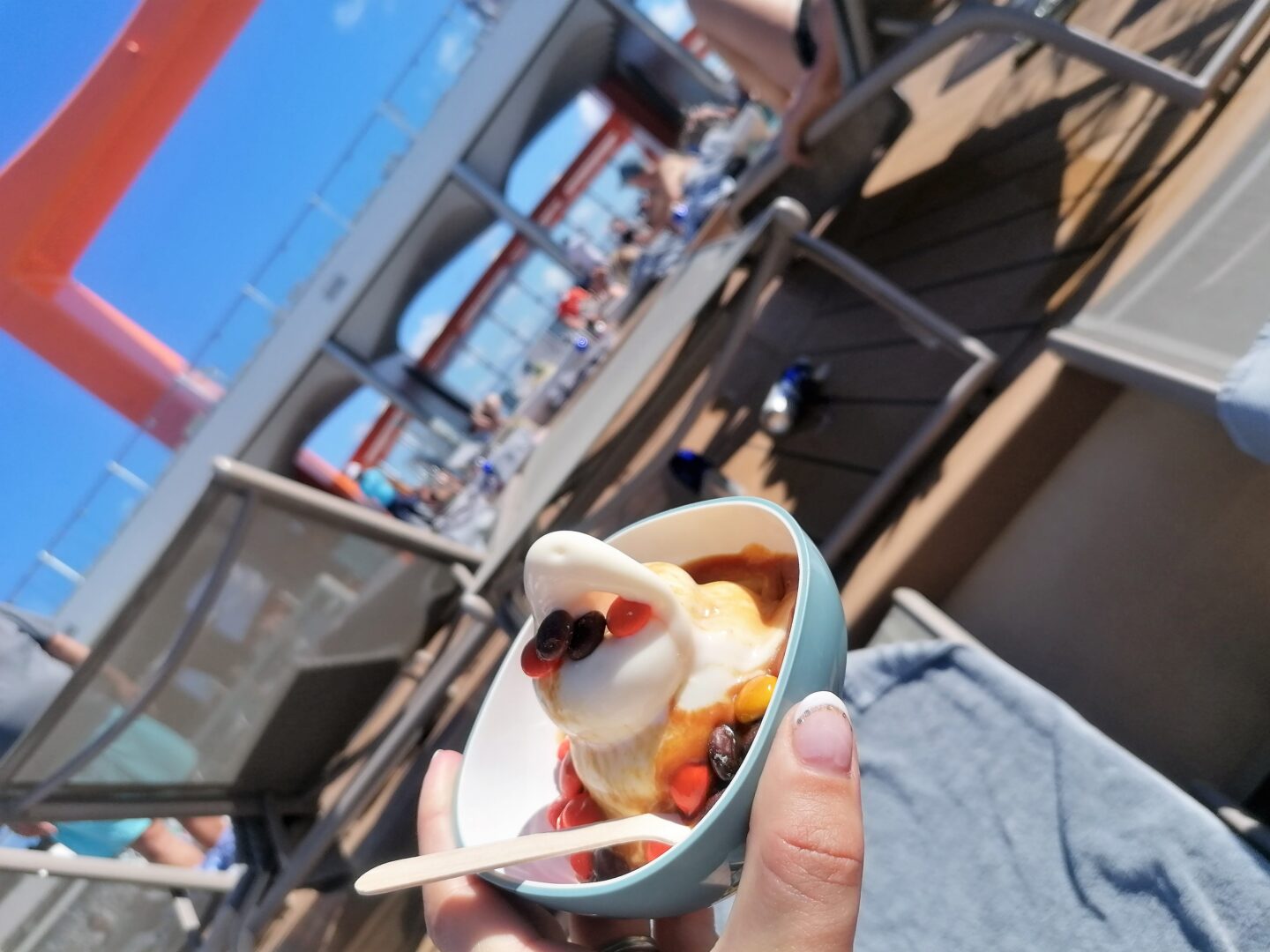 We also dined at Cosmopolitan (one of the main dining rooms) for lunch on a few occasions. The service was always really attentive and it was a lovely way to enjoy lunch when we wanted to relax.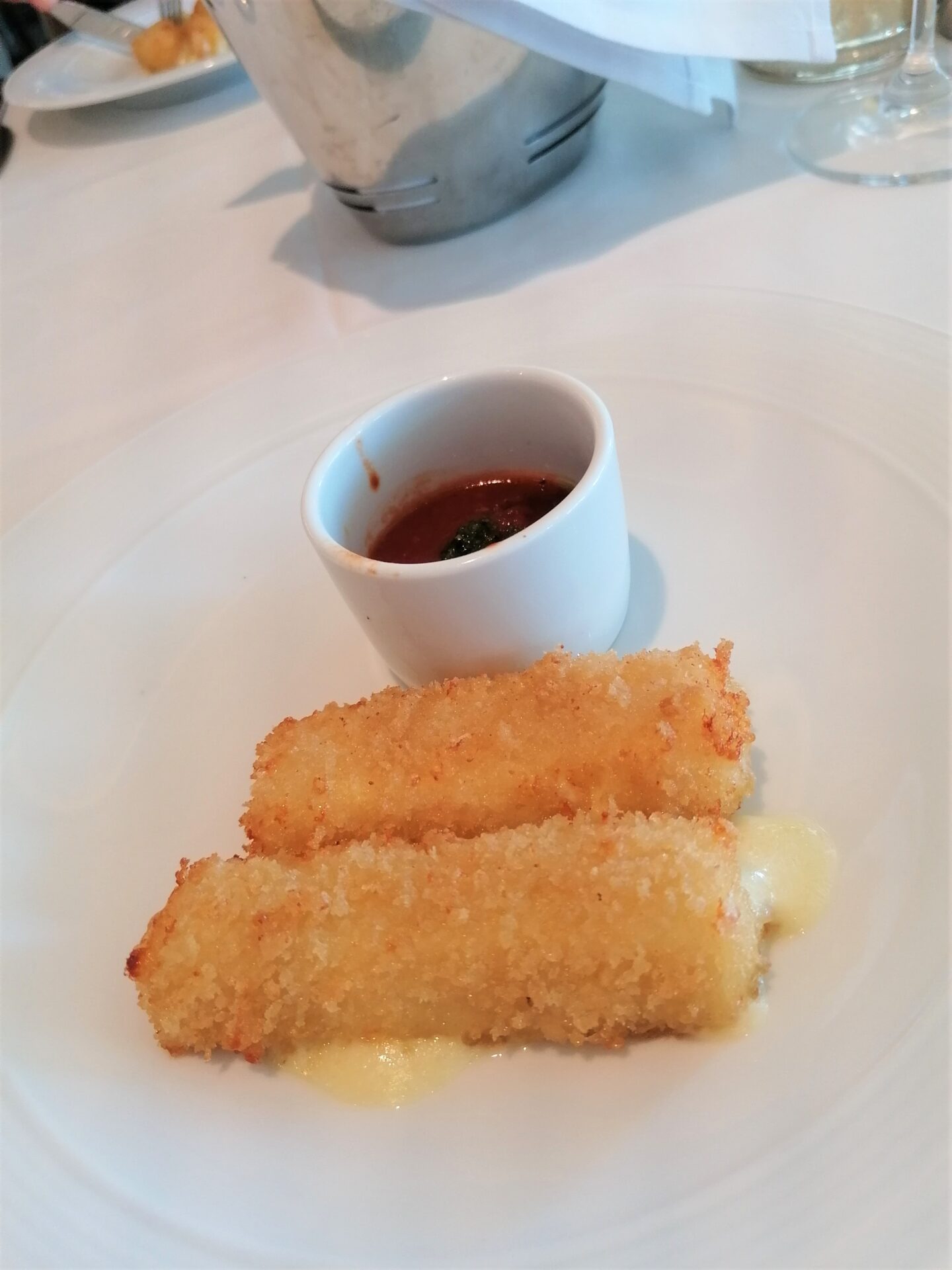 My memorable lunch dishes were the mozzarella sticks with arrabiata sauce and for main duck with ginger, chili, bok choy and sticky rice. The duck was cooked wonderfully and Mr B and I were both glad we ordered this dish so there was no food envy!
Dinner
Evenings were when we really felt spoilt for choice for dining. There are four main dining rooms onboard, all of which are included at no extra cost. We didn't pre-book any and a few times when we had to wait for a table we enjoyed a pre-dinner cocktail and then when we went back our table was always ready and waiting.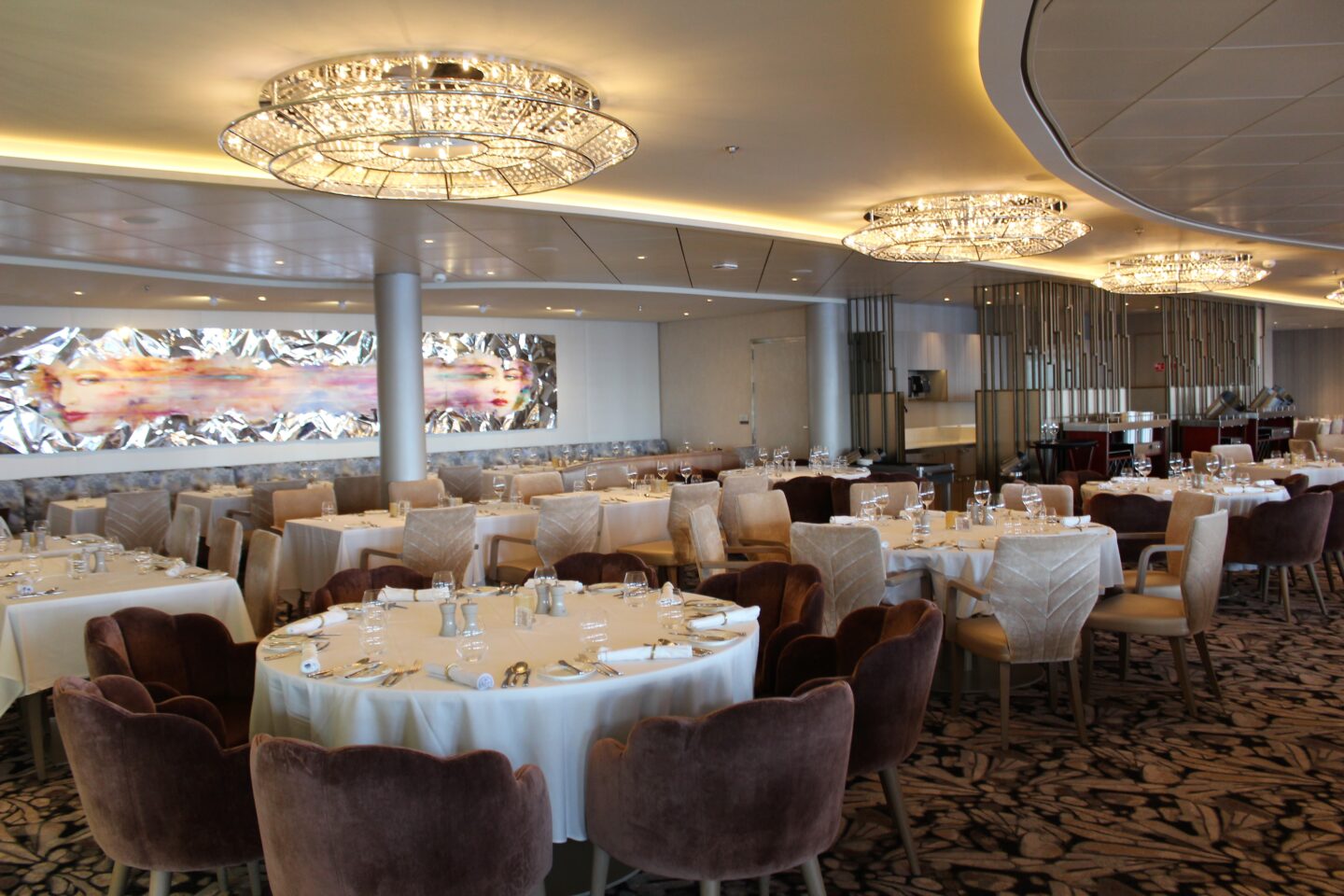 Each main dining room has a section of the menu which have exclusive items which are just for that one restaurant. That section of the menu stayed the same for each main dining room during our sailing. The other half of the menu, the 'Celebrity signatures' is the same that evening whichever dining room you are in, however, they change daily so if you see something on the Celebrity signatures you like the sound of, order it that night as you wont see it again during your sailing.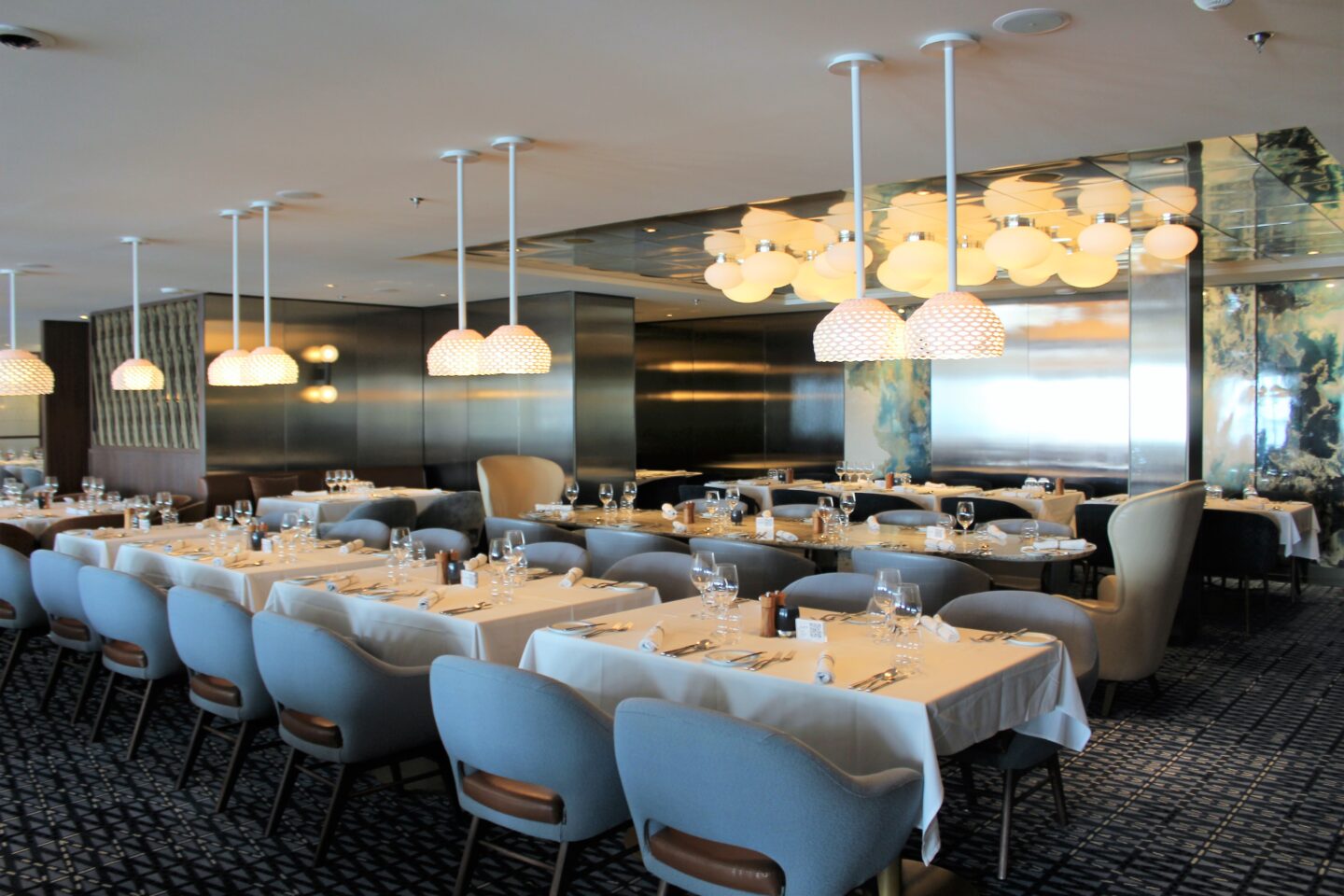 Mr B and I quite often opted to have an extra starter or main to share as we couldn't decide what to have! But because of this we sometimes skipped dessert. All the staff were always really accommodating of any additional requests we had and extra courses, smaller portions or requesting dishes without certain elements was never an issue.
Every night at dinner you are presented with a bread basket, butter and dips. We often polished off our dips and ended up asking for extra. It's so hard not to fill up on all the freshly baked bread before you even start eating dinner!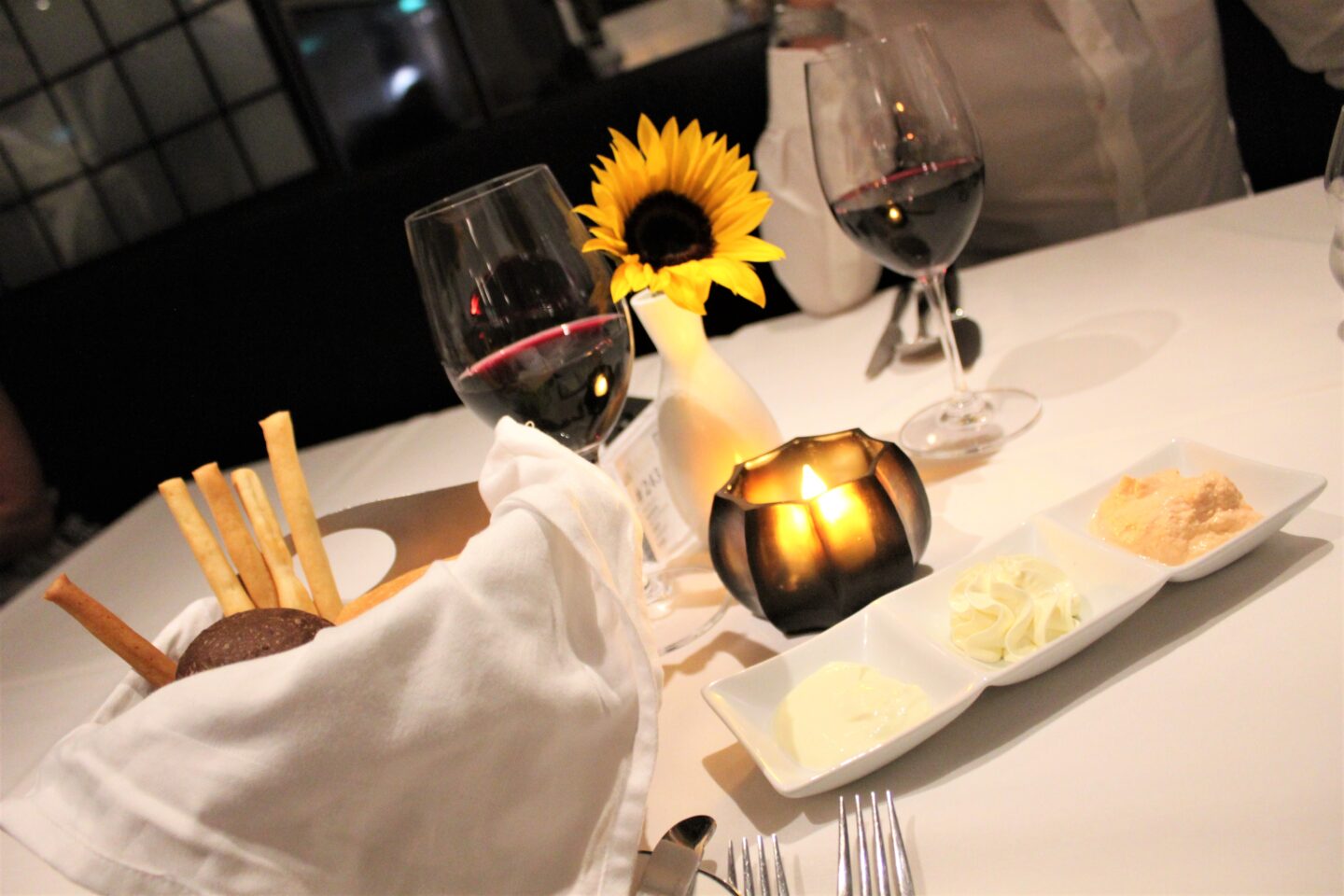 Normandie was the French-inspired dining room. My favourite Normandie starter was the 'Baked brie cheese Caramelized apples and port wine syrup' – the cheese oozed out of its crisp pastry shell when I cut into it and the sweet and tart accompaniments worked really well.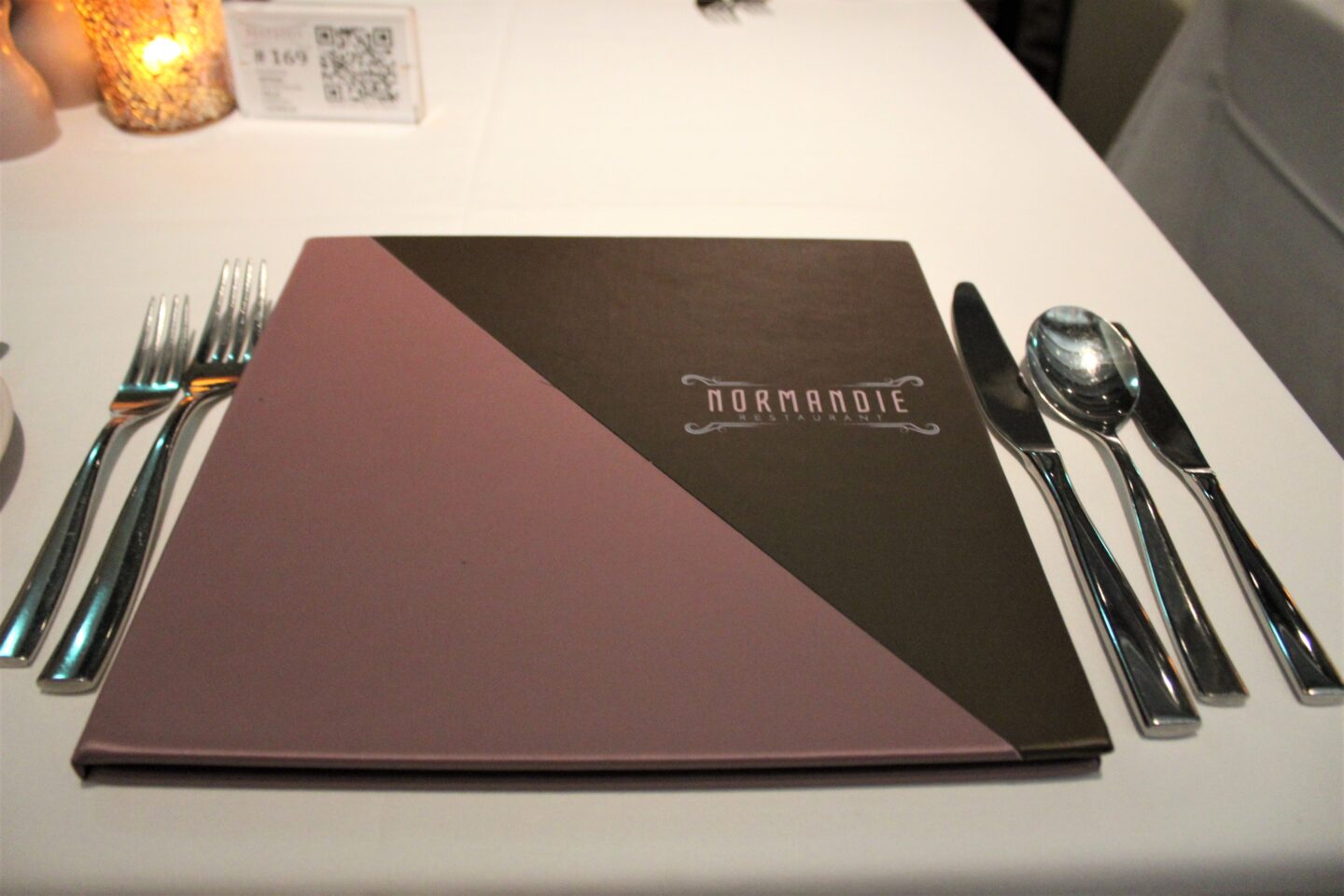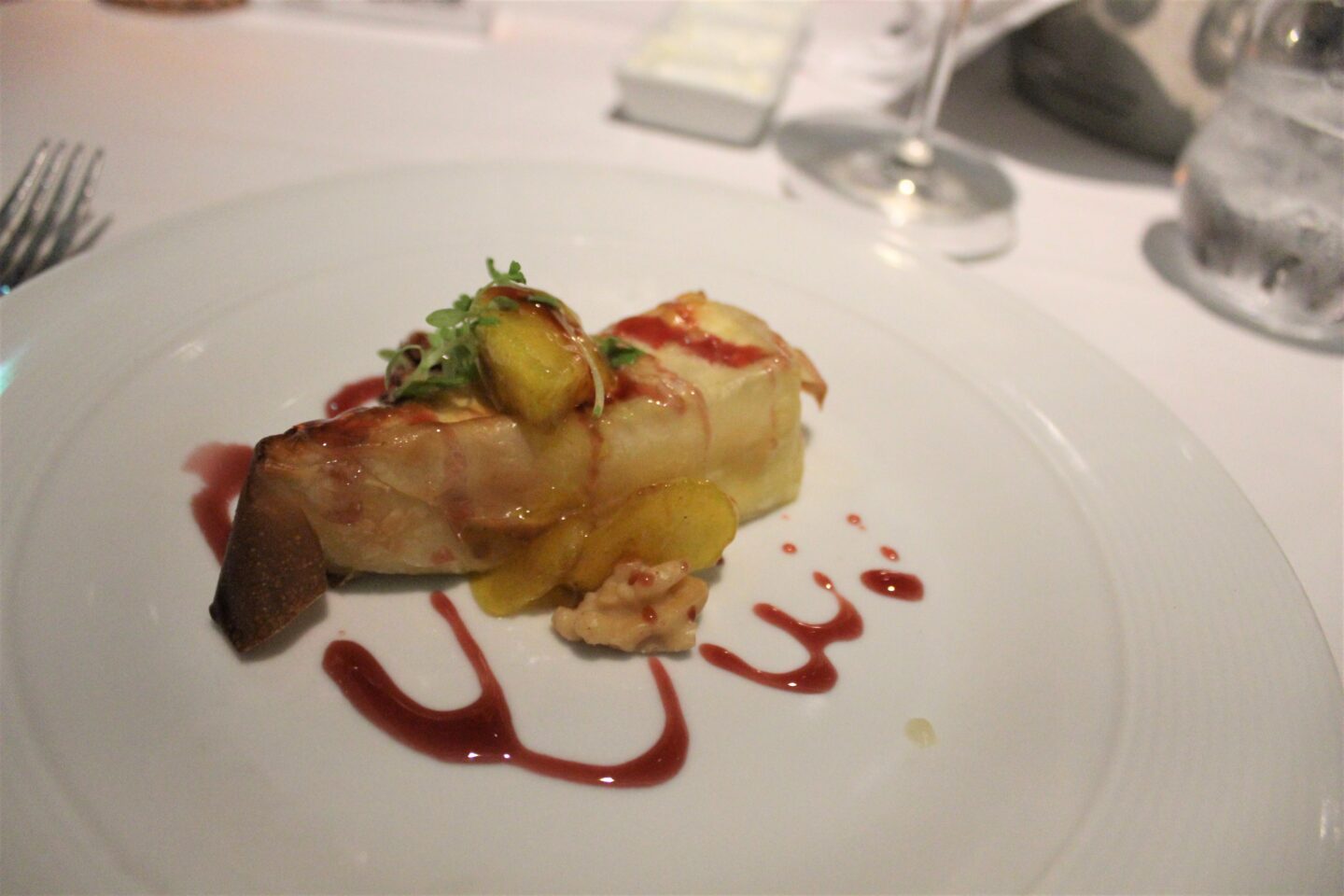 Without a doubt the best Normandie main course I had was the 'Beef tenderloin en croute puff pastry, Roquefort foudue, bordelaise mushroom sauce'. The beef was perfectly pink and cut so easily with my knife, it was absolutely delicious.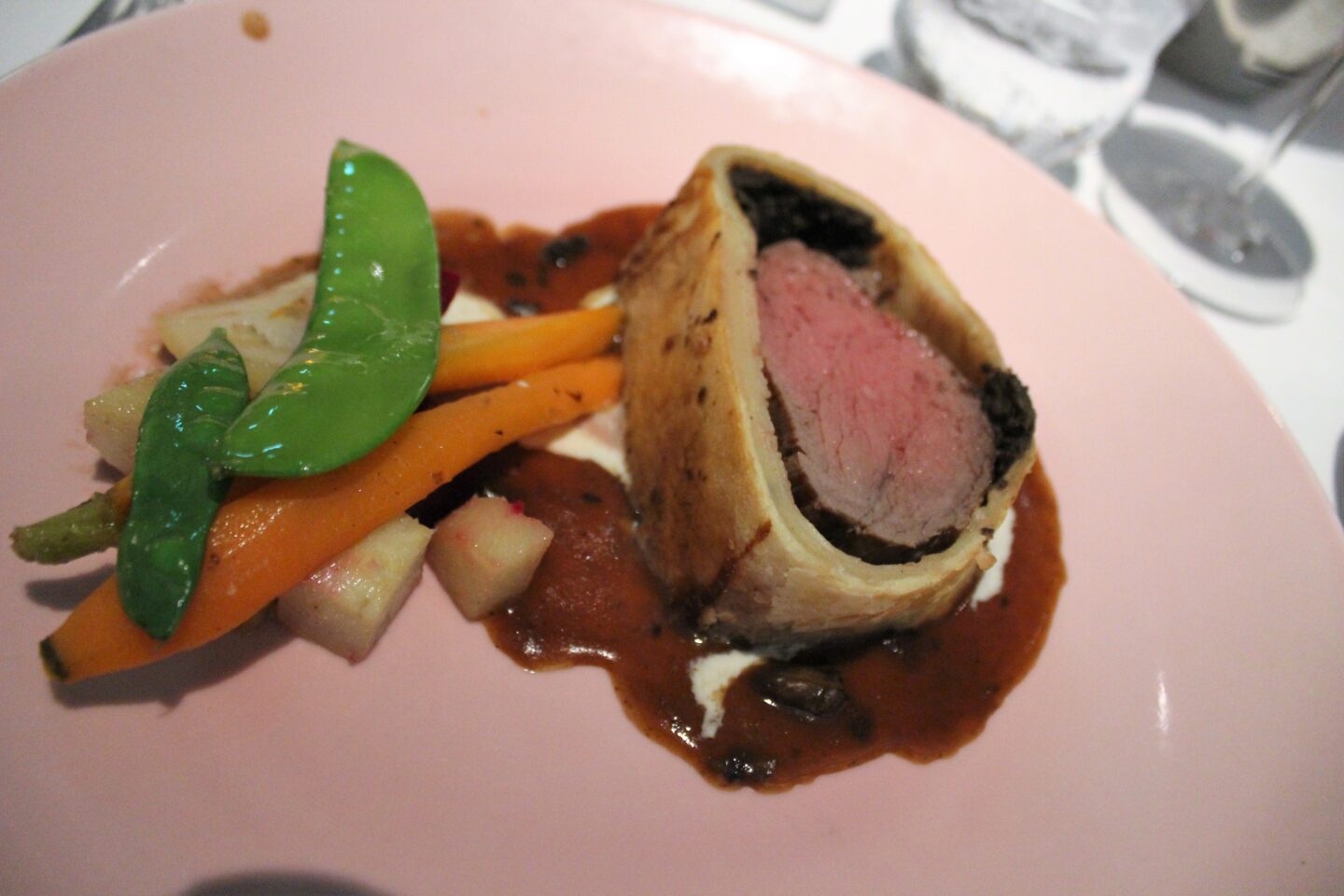 The standout dessert for me was the 'Chocolate lava cake with caramalised banana, coffee ice cream and caramel' although I did ask for mine without the banana!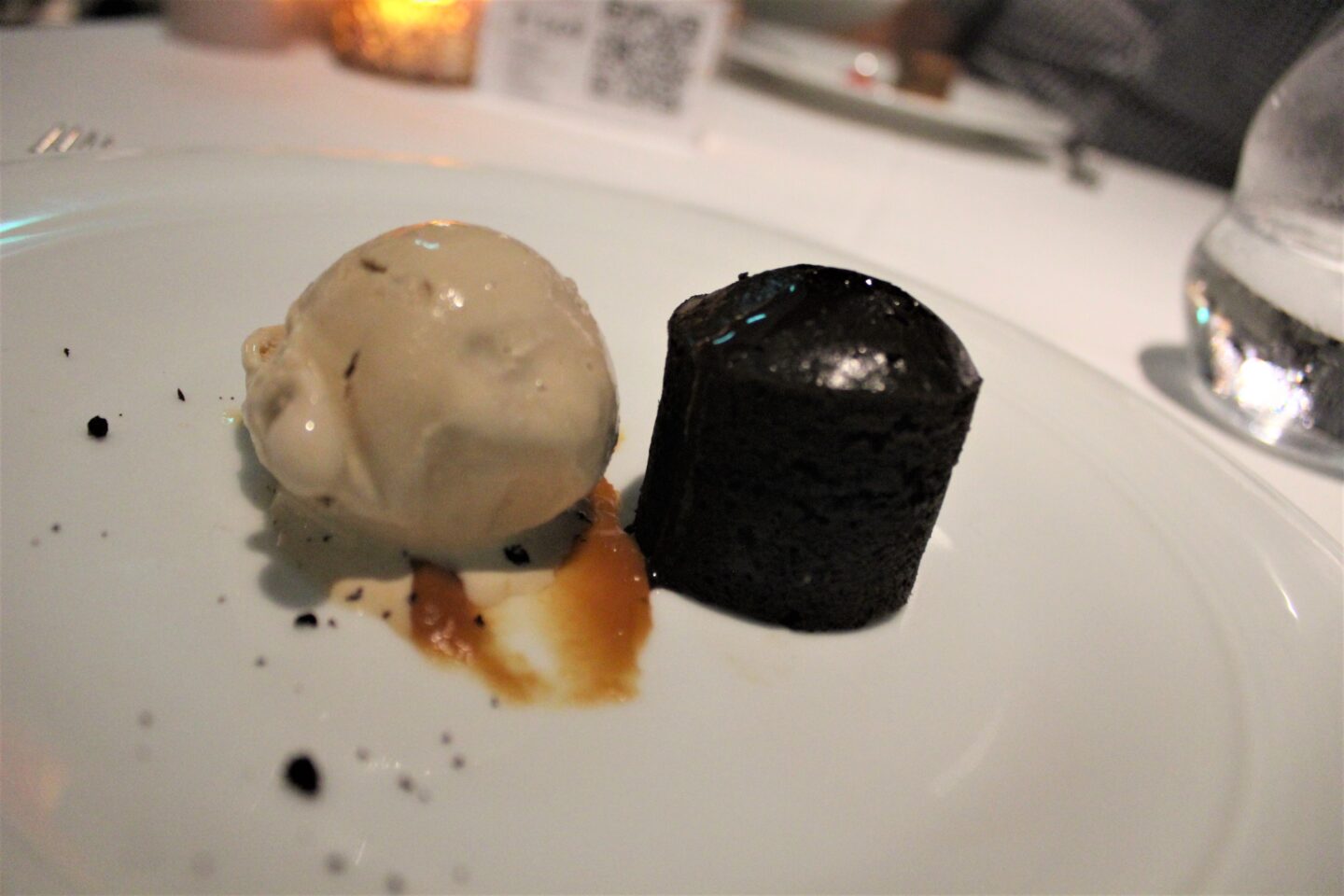 Cyprus was the Cypriot restaurant onboard and where we enjoyed our first evening meal on Apex. My starter of choice and the one I ordered again on our second visit was the cheese saganaki. This beautiful baked cheese was stringy and so tasty with a squeeze of lemon over it. Cheese and bread, so simple but so very yummy!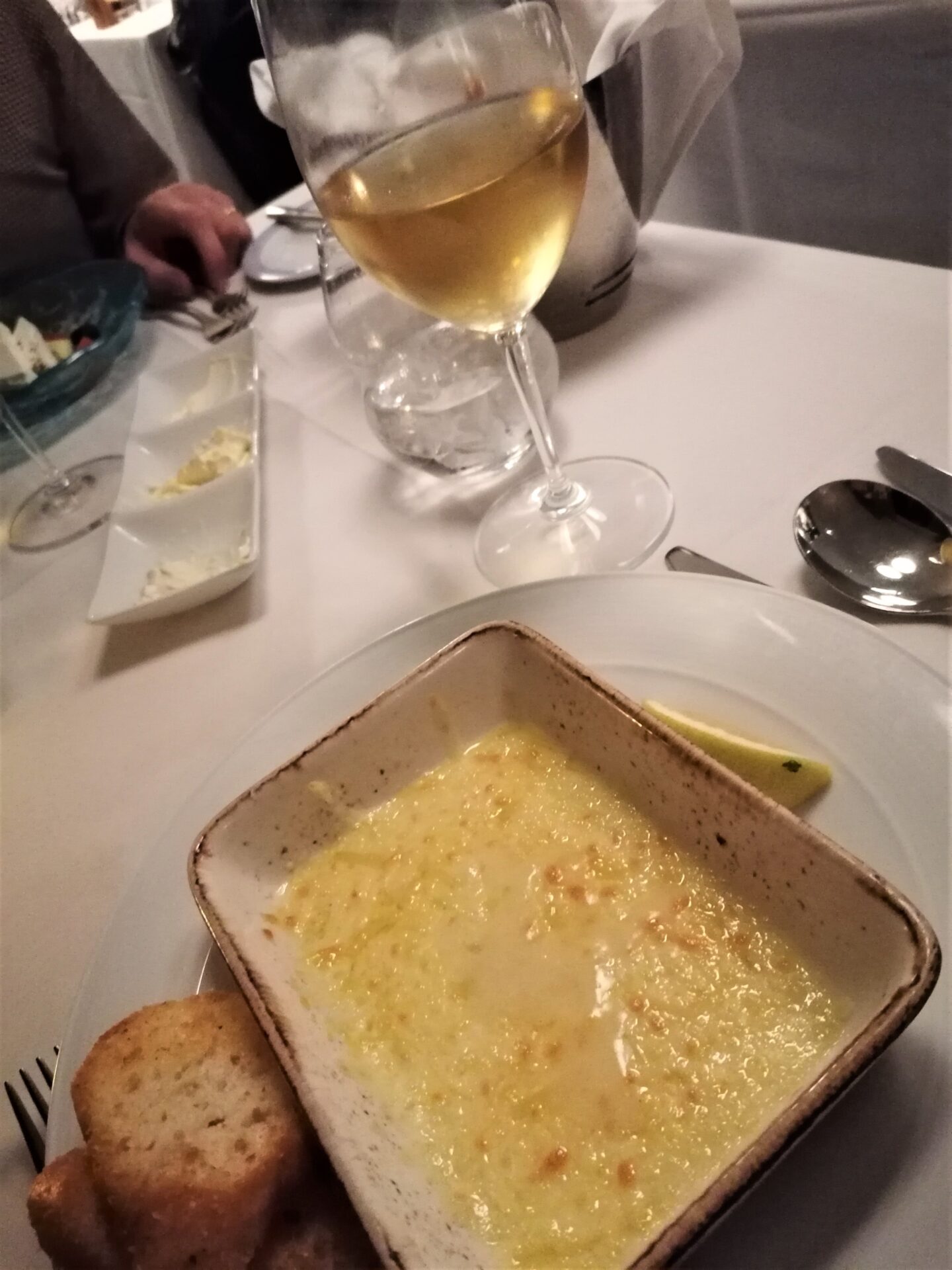 My standout main was the seabass – the fish was perfectly cooked with a lovely crispy skin.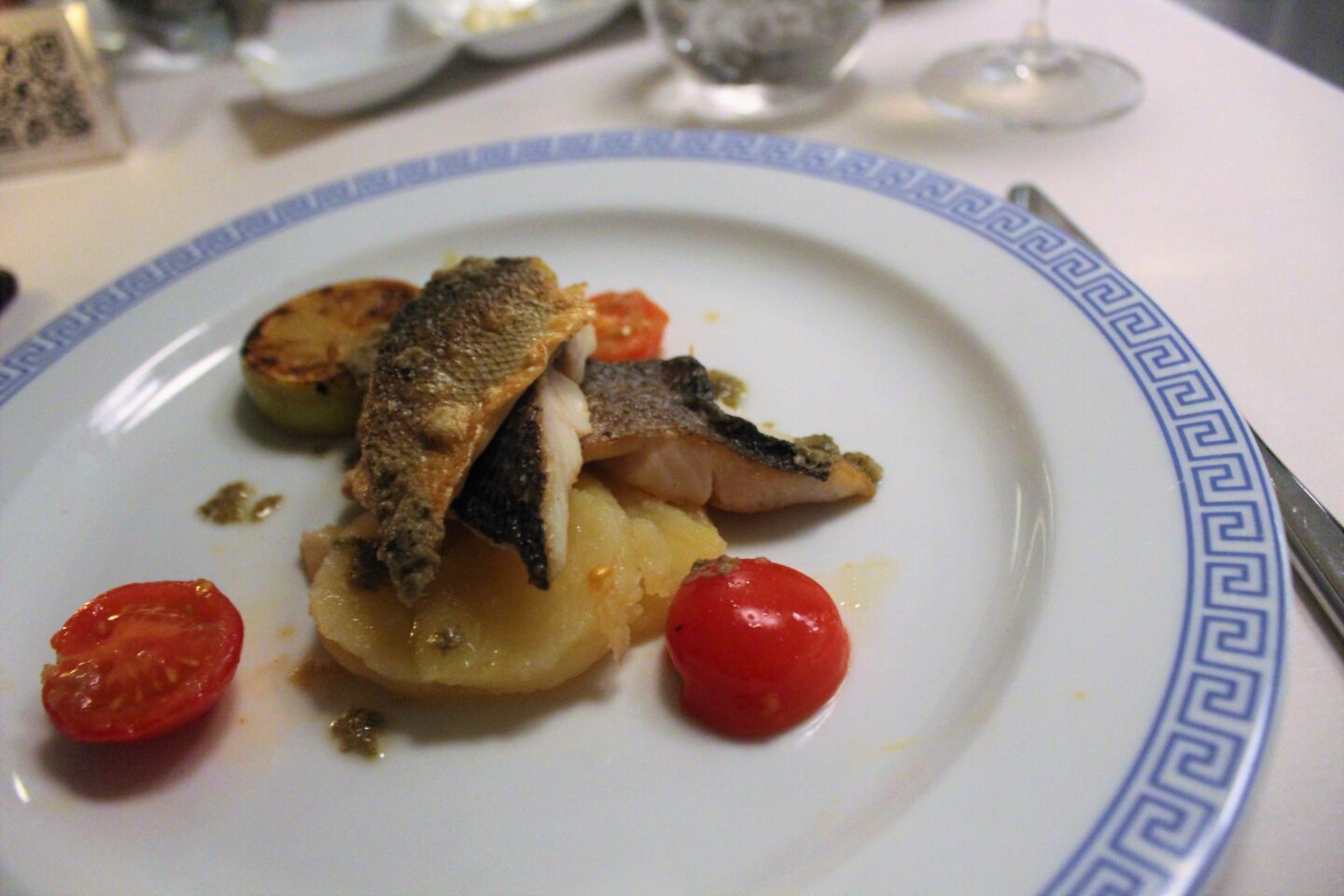 For dessert I had a creme brulee, it had a perfectly crisp top which covered a lovely creamy custard (I had this again during our sailing as it was so yum!).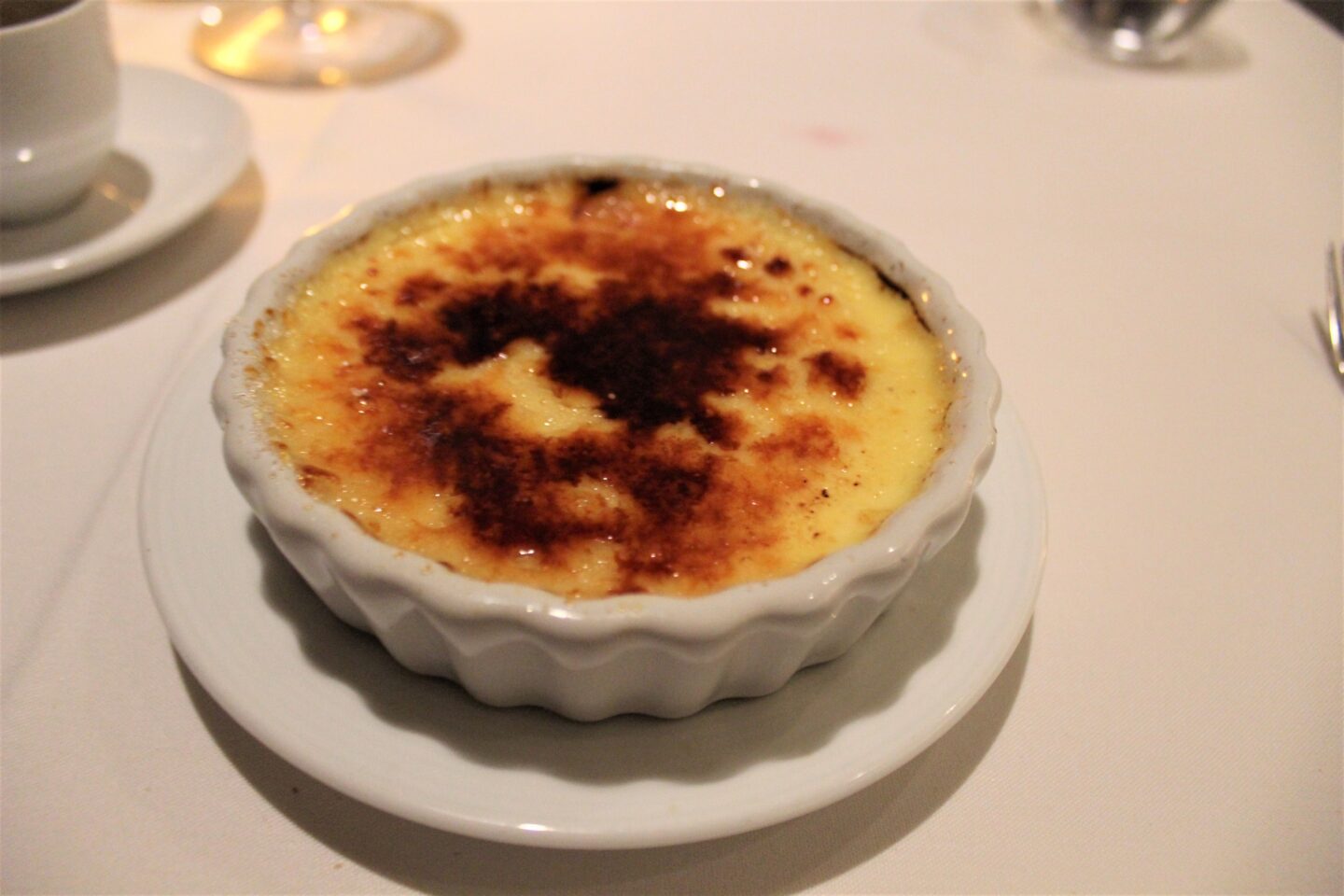 Cosmopolitan was the American-inspired dining room. The starter I enjoyed the most was the 'Lobster, crayfish and smoke haddock fishcake with lemon emulsion', which was packed full of fish and had a lovely crispy coating.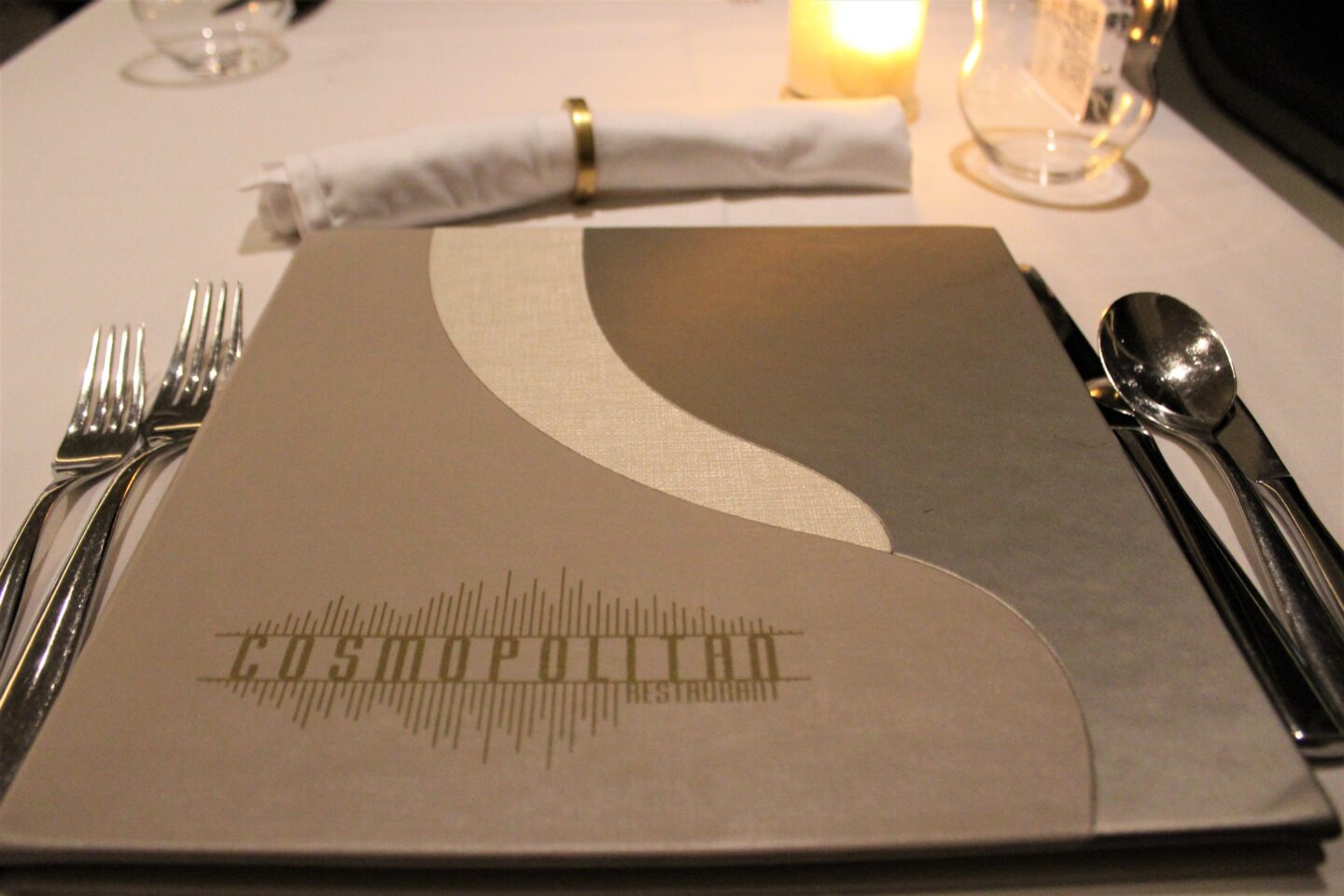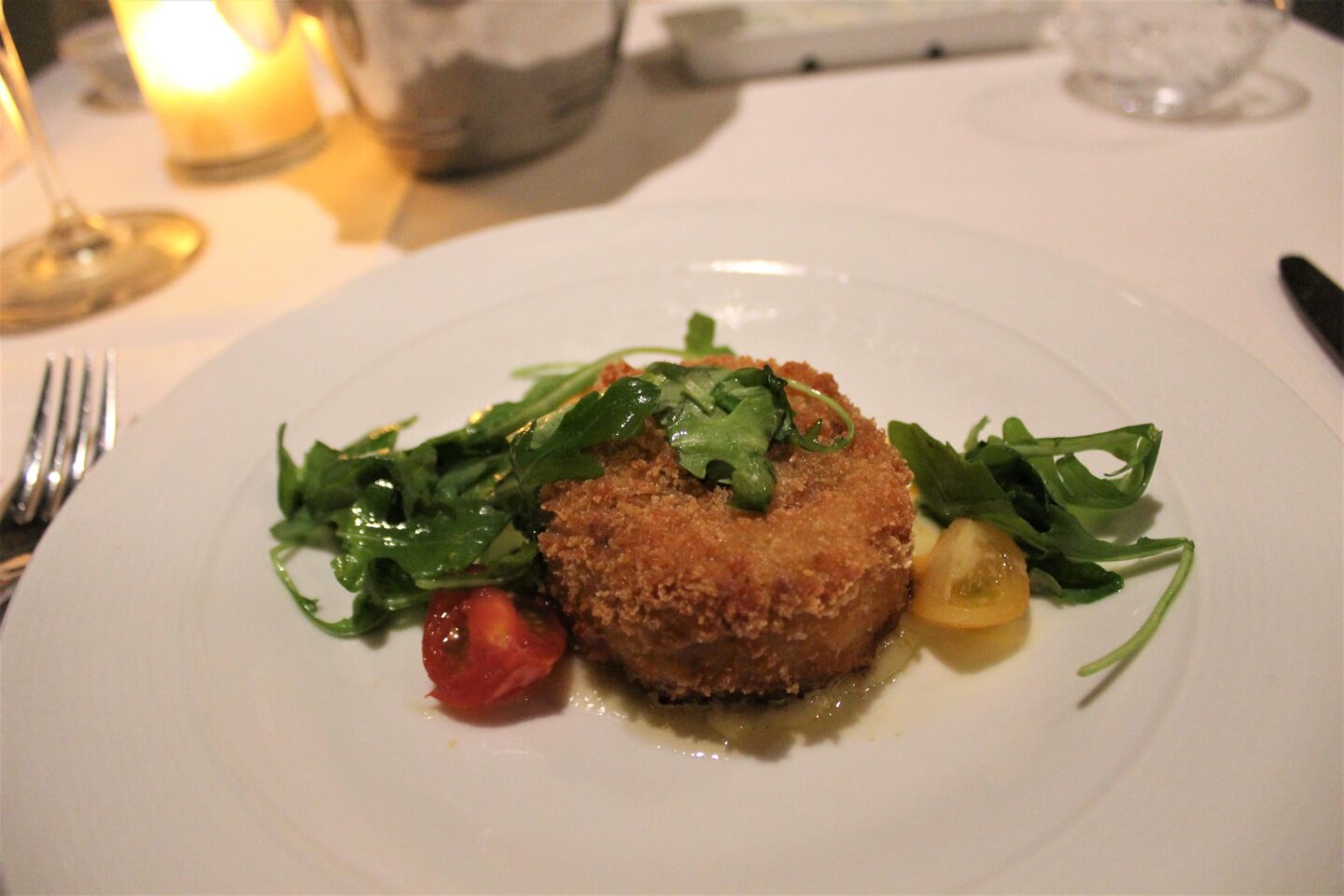 I had the most fantastic piece of beef for my main one night in Cosmopolitan. I ordered the Manhattan cut NY strip steak, roasted vegetables, potato puree and caramelized onions, I asked for my steak rare and it was cooked just as I requested, it was such a delicious cut of meat.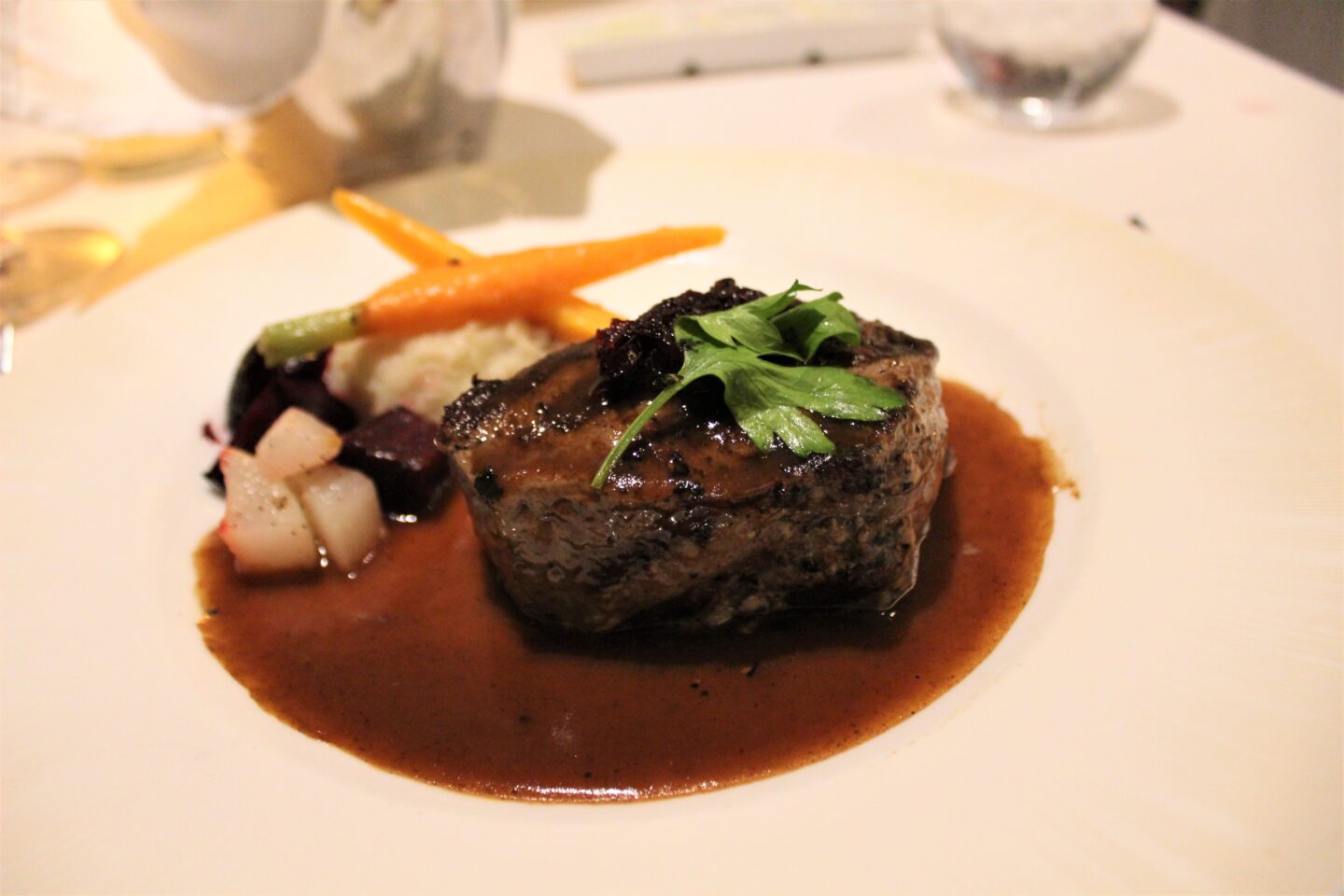 My favourite restaurant from all four main dining rooms was Tuscan, which we visited twice and both times had great food. Mr B and I both enjoyed the 'Octopus carpaccio, basil burrata cheese and tomato' – the octopus was thinly sliced and not chewy at all which you can so often find with octopus if it isn't cooked correctly. It was a light but flavourful starter.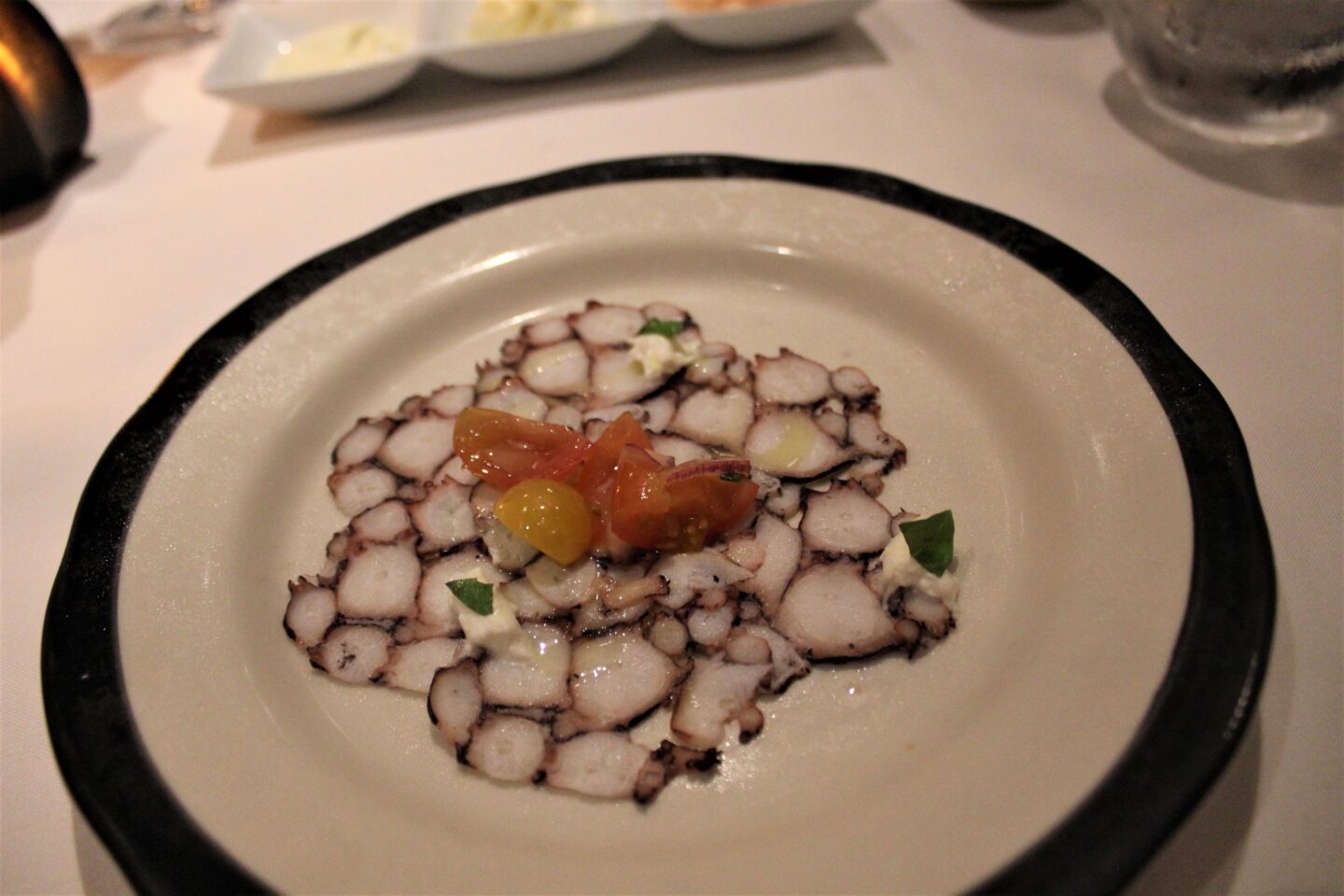 There were two main courses I had which I loved equally, the 'Braised shirt rib pappardelle pasta with wild mushroom cream sauce and cognac', a very generous portion of homemade pasta with a rich cream sauce and melt in the mouth beef, which was delicious.
The other main course I really enjoyed was the 'Grilled tuna puttanesca with tomato, capers, olives and ricotta gnocchi'. I asked for my tuna to be cooked rare and it was just that – it was tasty and the delicate gnocchi and accompaniments went really well with the tuna without overpowering it.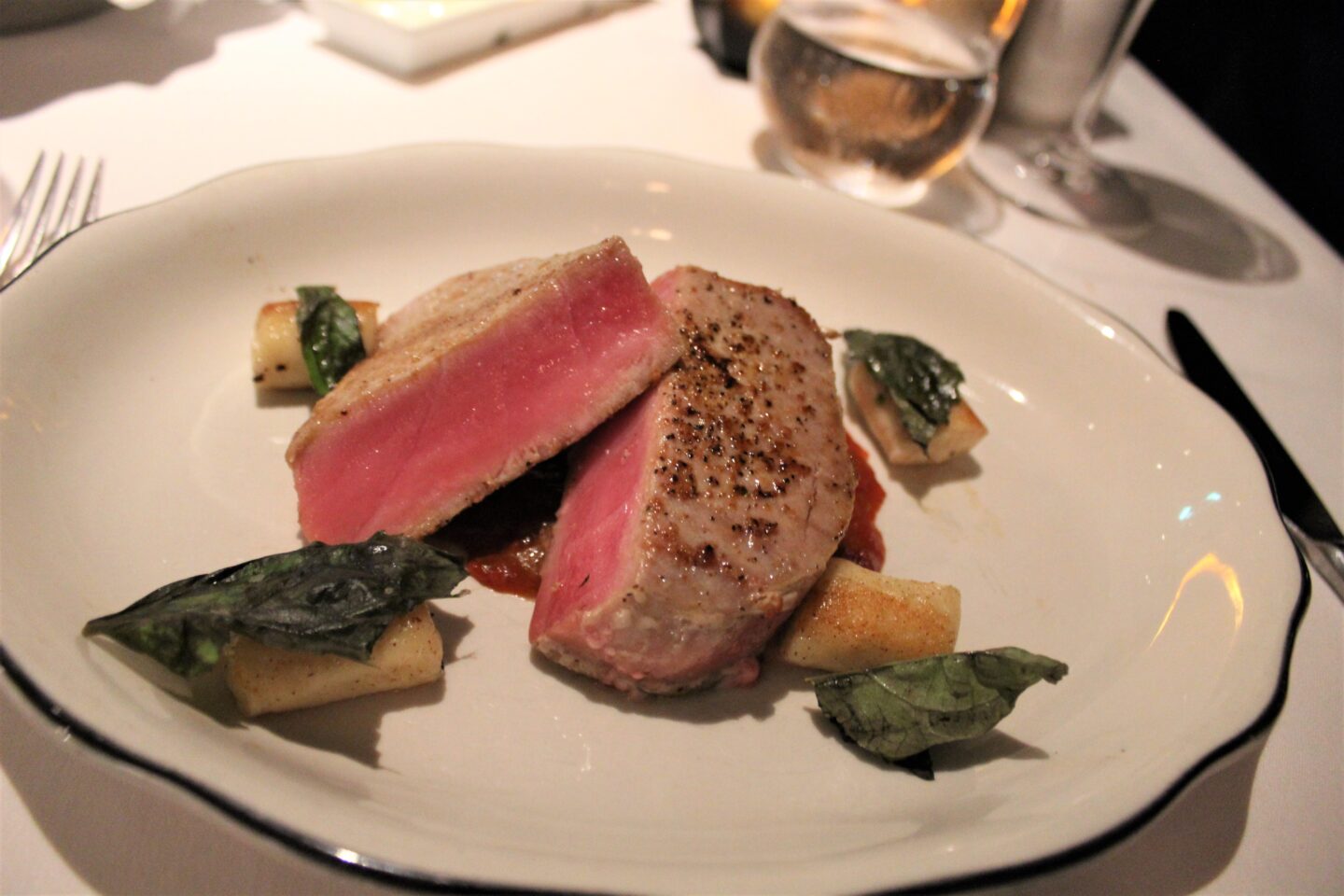 Mr B and I also enjoyed several dishes off the 'Celebrity signatures' section of the menu, which always had a selection of five starters and five mains courses. Starters always had at least one soup and salad and ranged from options of Salmon tartare, Duck Terrine and crab cakes to name just a few.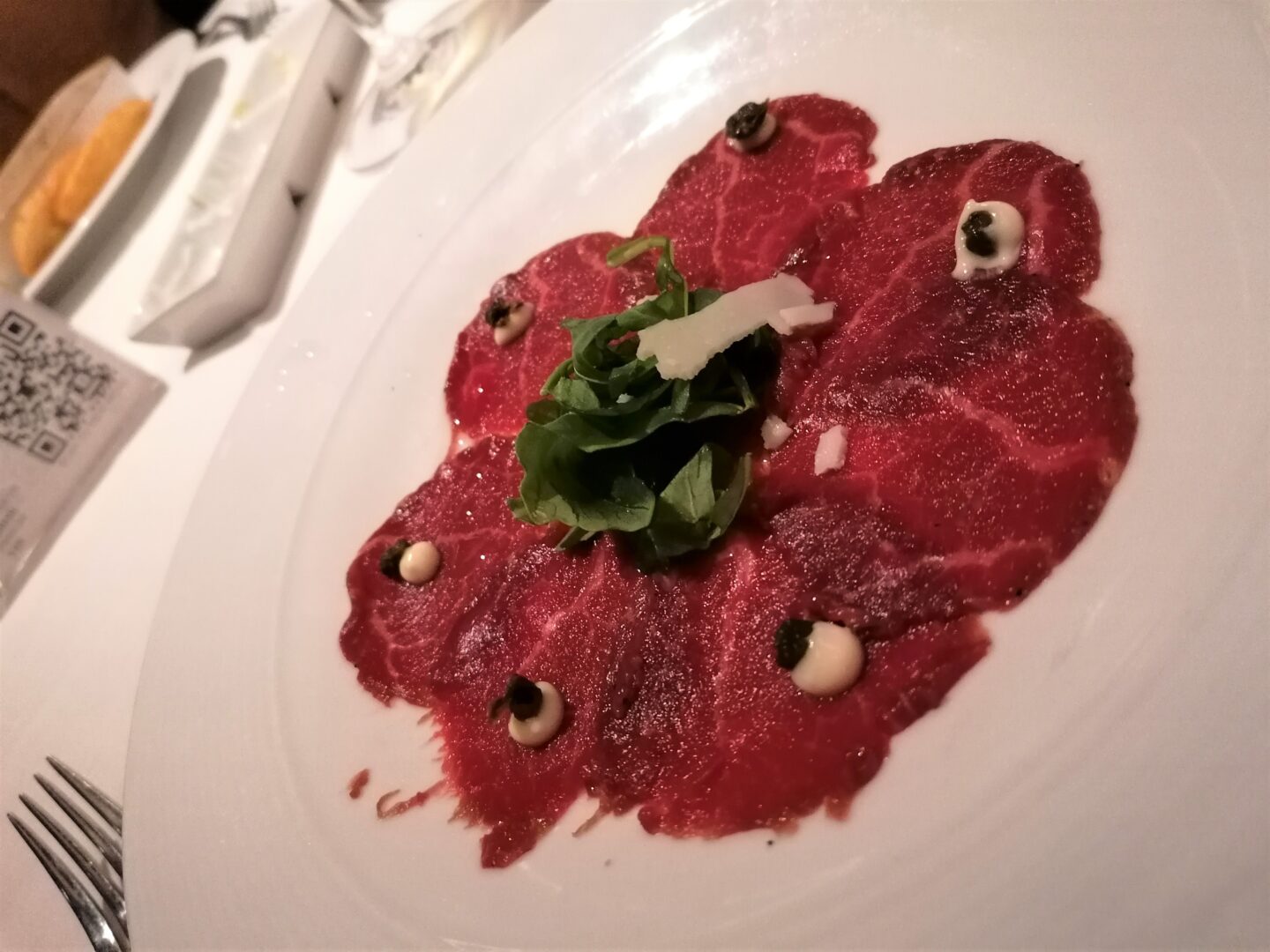 Mains always had a good choice of meats and fish with options such as Rigatoni Boscaiola, Steak Dianne, Turkey parmesan, Seared duck and Lemon pepper roasted chicken.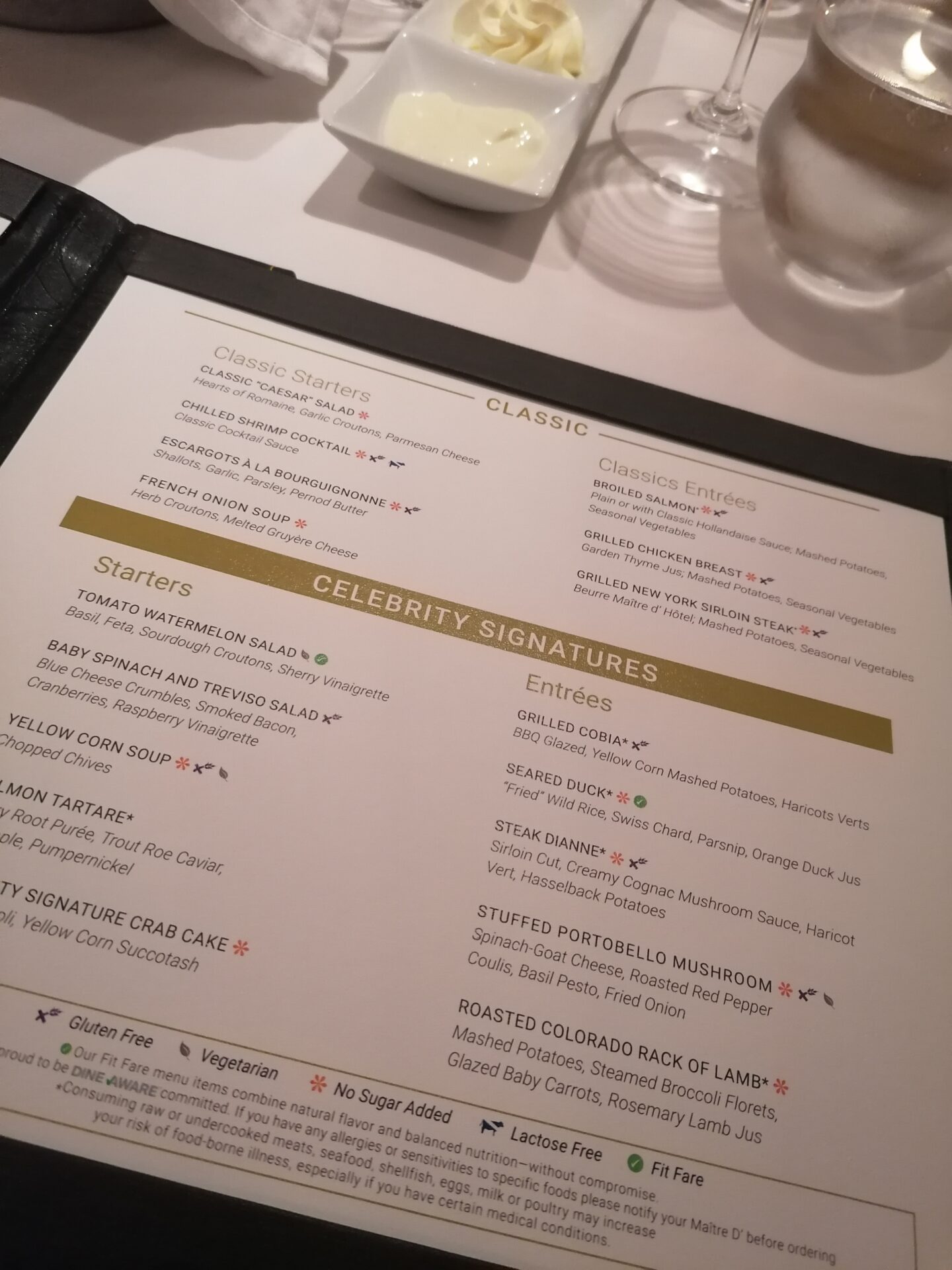 As well as all the buffet and four main dining rooms in the evening there are also a selection of specialty restaurants which you can book for a supplement. There was a wide selection from Fine Cut Steakhouse for the steak lovers, Le Grand Bistro for those fancying some classic French bistro delights, Le Petit Chef, an animated dining experience, Eden Restaurant which offered a tasting menu, Rooftop Garden Grill with its outdoor seating and lastly the one we opted for, Raw on 5.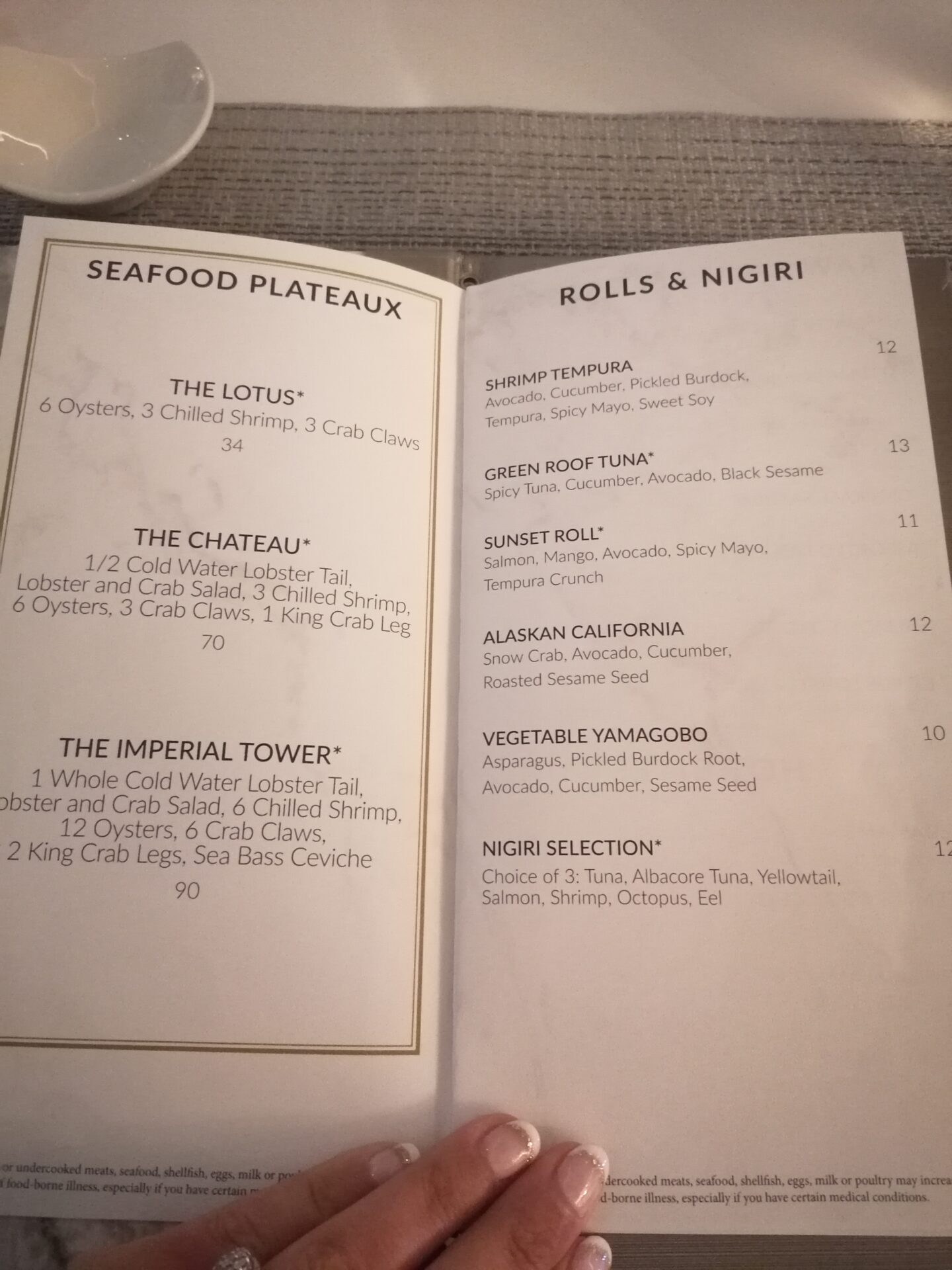 Mr B and I are both big lovers of sushi and Japanese food so were both really looking forward to dining here. We went with very hungry bellies so we could eat our way through as much of the menu as we could! The dishes were perfect for sharing and you are welcome to order how you wish. We ordered a few at a time and took our time ordering, eating and enjoying the entire dining experience.
We started off with some fried calamari and chicken ginger gyoza which both came with their own dipping sauce. After this we ordered some sushi rolls, the Sunset roll which had salmon, mango, avocado, spicy mayo and the Alaskan California rolls which were filled with snow crab, avocado, cucumber and rolled in roasted sesame seeds.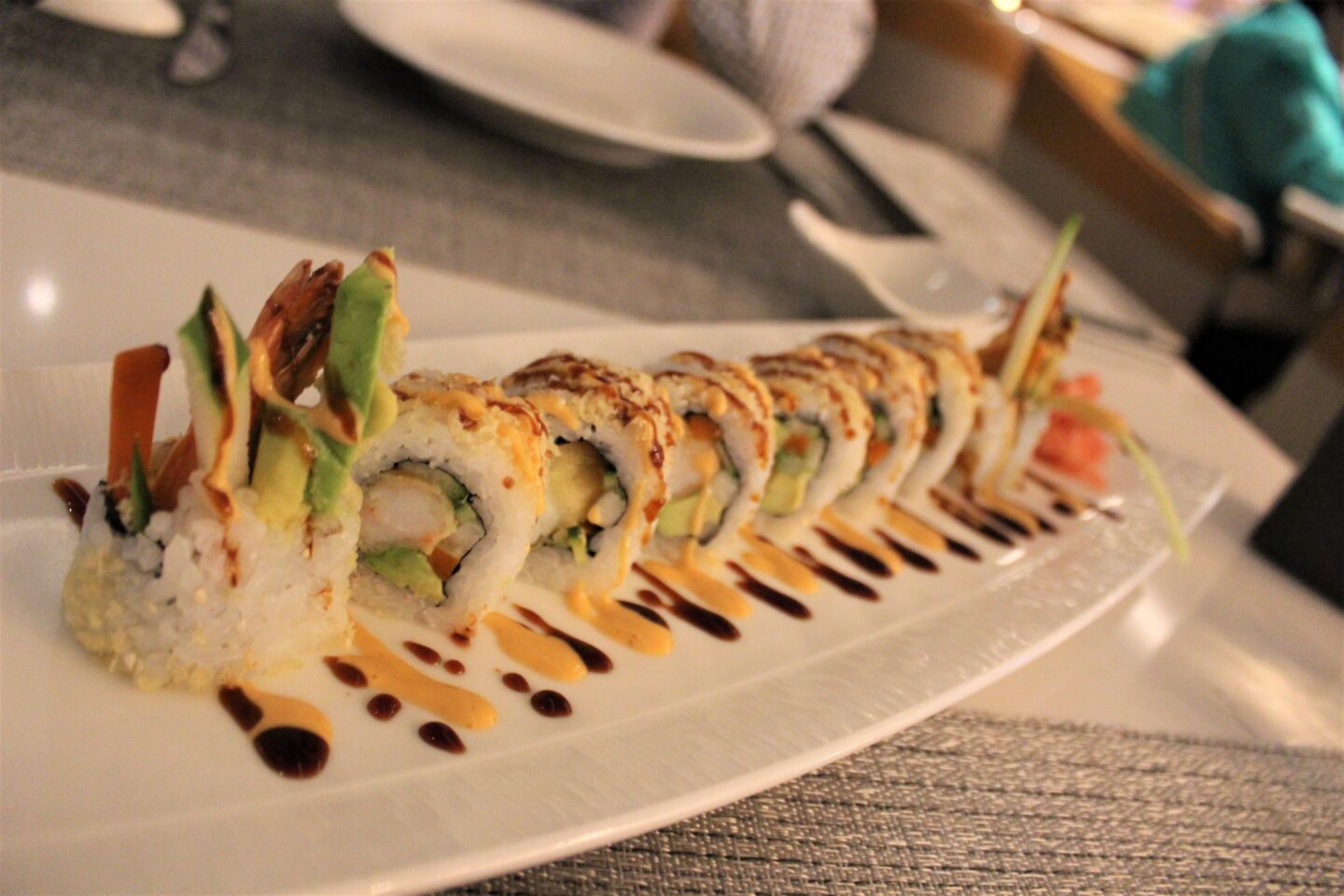 We also shared a plate of assorted sashimi which came with Tuna, Yellowtail, Salmon and Shrimp, along with an amazing noodle dish which was spicy shrimp stir fry. It had a sweet soy sauce glaze with pepper, bok choy and big fat shrimp, it was delicious!
Maybe it was because it was our last night or because of our huge love of Japanese food, but the meal at Raw on 5 was our favorite – the food was all faultless and utterly delicious!
We really enjoyed trying the different dining options on Apex and we both loved the variety on offer.
Check out my other blog post to have a look onboard Celebrity Apex and find out what our favourite places where on the ship . . .
And this blog post to see the where we sailed and what we got up to on our Celebrity cruise . . .