Mr B and I have been on seven cruises and every time I step on board for the first time I am like a giddy kid at Christmas! Our most recent cruise was our eighth and the excitement of stepping on board didn't diminish as we were stepping on board Celebrity Apex which marked our first ever cruise with Celebrity, and the Apex would be the newest ship we have ever sailed on as its inaugural sailing was only in June 2021.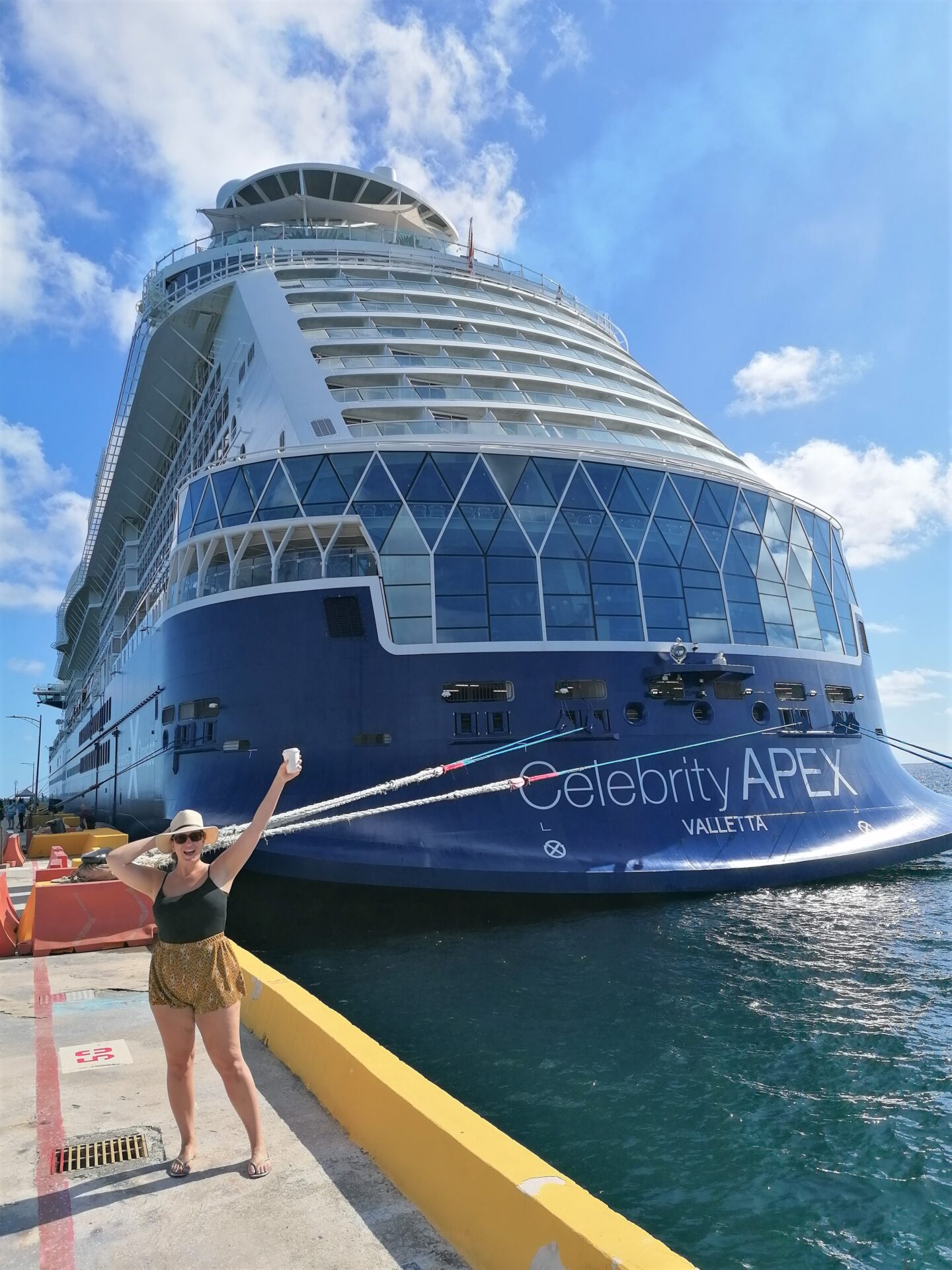 First things first, we made our way to our cabin so we could have a look at what would be our home for the next seven nights as we sailed Mexico and the Caribbean.
We were staying in an Edge stateroom with infinite veranda. Our cabin had a sofa, dresser, a wonderful king size bed with Celebrity eXhale bedding and plenty of storage space including room under the bed to store our suitcases.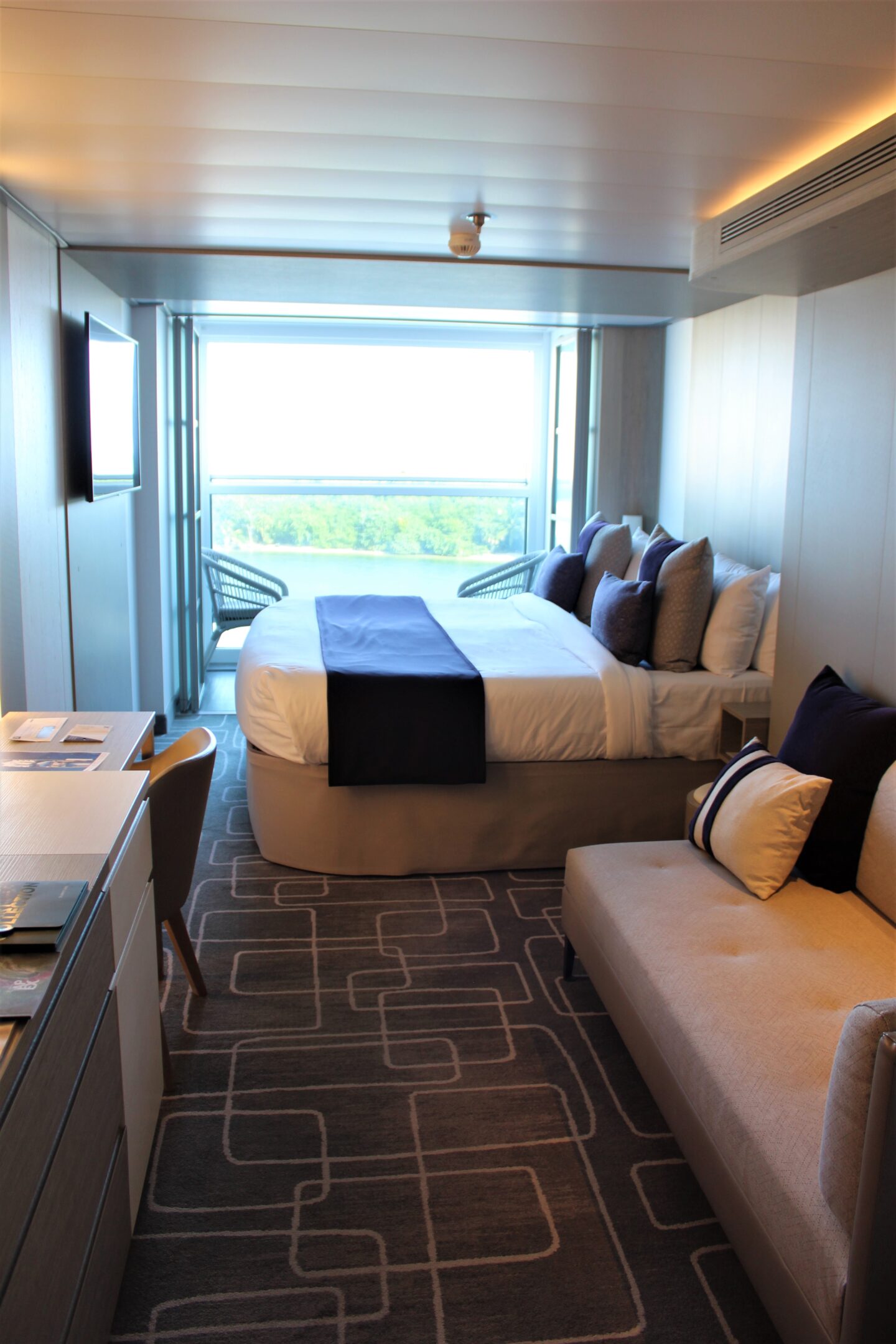 The wardrobes also had ample space and plenty of hangers. In the wardrobe was a safe, dressing gowns and an umbrella (which thankfully we didn't need!).  There was a mini bar which we asked our steward to empty so we could use it as a fridge which we found handy, so if you aren't going to use the mini bar I would definitely recommend doing this.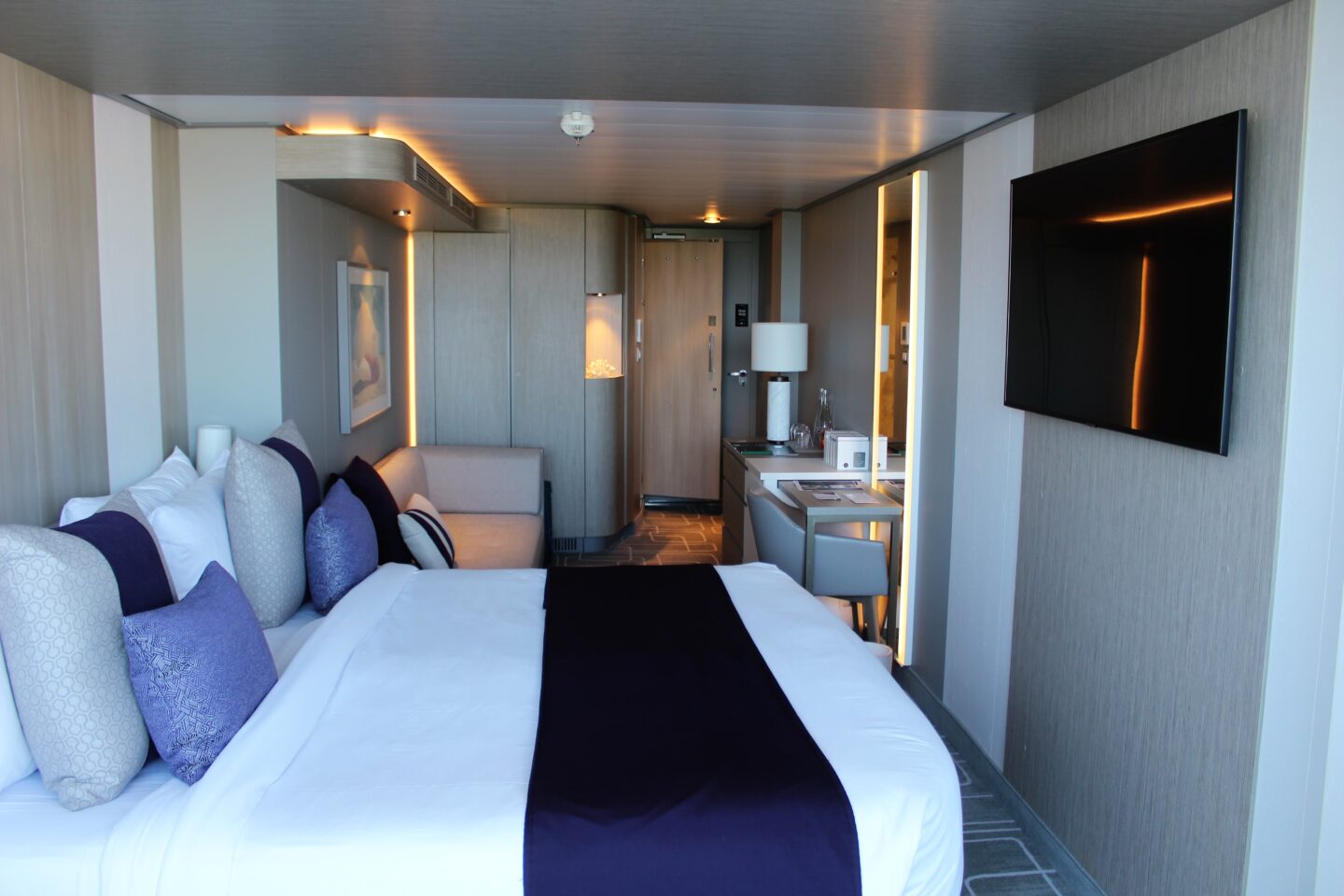 Around the room was plenty of lighting and USB charging points. There is a panel in the room next to the door which allows for in-room automation. You can control the lights, blinds and temperature all from the panel with just a touch.
The bathroom had a spacious modern shower, Celebrity refillable bath products which included shampoo, conditioner, shower gel and body lotion. Again we also found the bathroom to have plenty of storage space with lots of shelving units.
Always my favourite part of a cabin is the balcony. Now the Apex does do things a little differently with their infinite veranda. It isn't like your traditional cruise ship veranda. Rather than it being purely an outdoor space they say they are 'bringing the indoor and outdoor space together'. There are bi-fold doors which you can choose to close to separate the veranda from your room, but we kept those open all the time apart from when going to bed as we found it made the cabin feel much more spacious.
The veranda is controlled by a switch on the wall, one switch to open and close the shutters and the other to bring down the top half of your veranda.
We love spending time on our veranda when sailing and this balcony was no different. Celebrity's Infinite balcony, which feature on its Edge series of ships, do feel different from the traditional and they both have their pros and cons. It is really down to personal choice if you have a preference or not.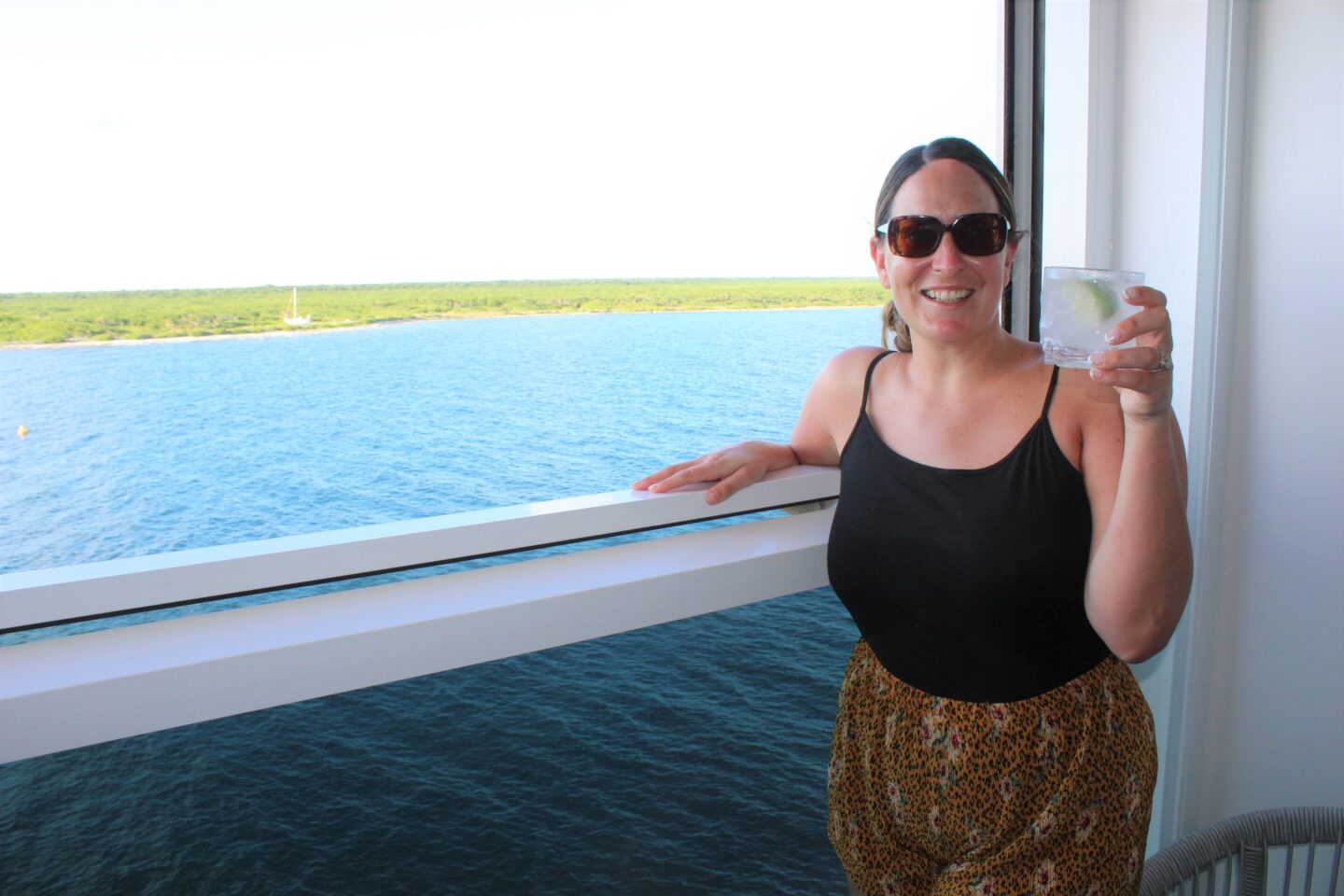 Stepping away from our cabin, the next place we probably spent most of our time around when on board was the resort deck, the heart of which was the pool . . .
As well as two hot tubs, the Rooftop Garden, a walking and a running track and an indoor pool. But when on board in the day, you could usually (99% of the time) find us by the pool, on a sun lounger, relaxing with a good book and drinking a kir royale or a margarita, truly in relaxation mode!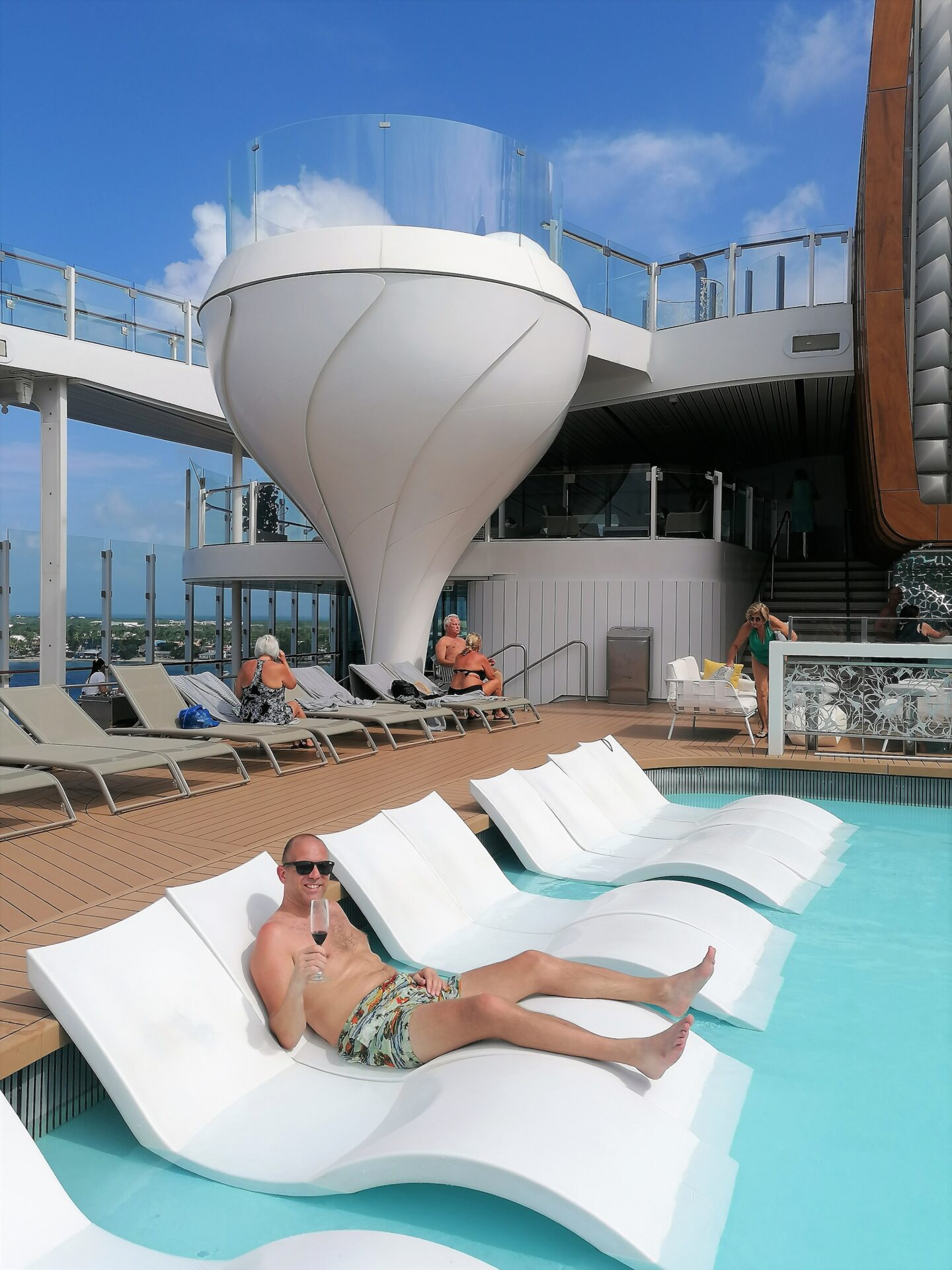 There was a luxurious spa on board, a gym and a casino which whilst we didn't play, when we always walked through it appeared very popular. As with all cruises the sea days had a wealth of activities should you wish to take part from dance classes, pool games to quizzes and more.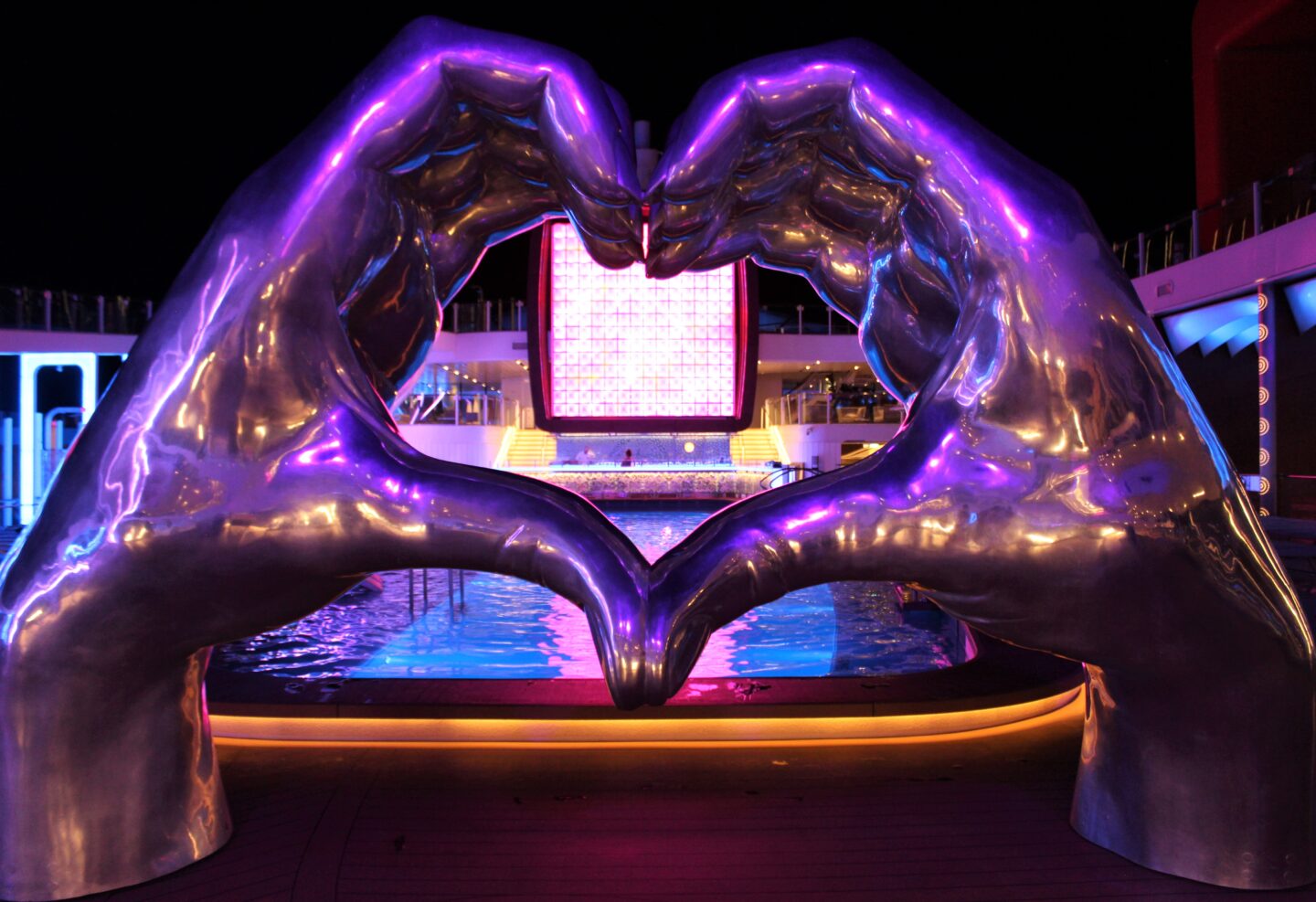 Mr B and I both loved evenings on Apex. Some nights we ventured to the spectacular theatre where we were wowed by stunning performances enhanced with wonderful effects, lighting and props. The most memorable shows for us were Rockumentary, Tree of Life and Crystallize.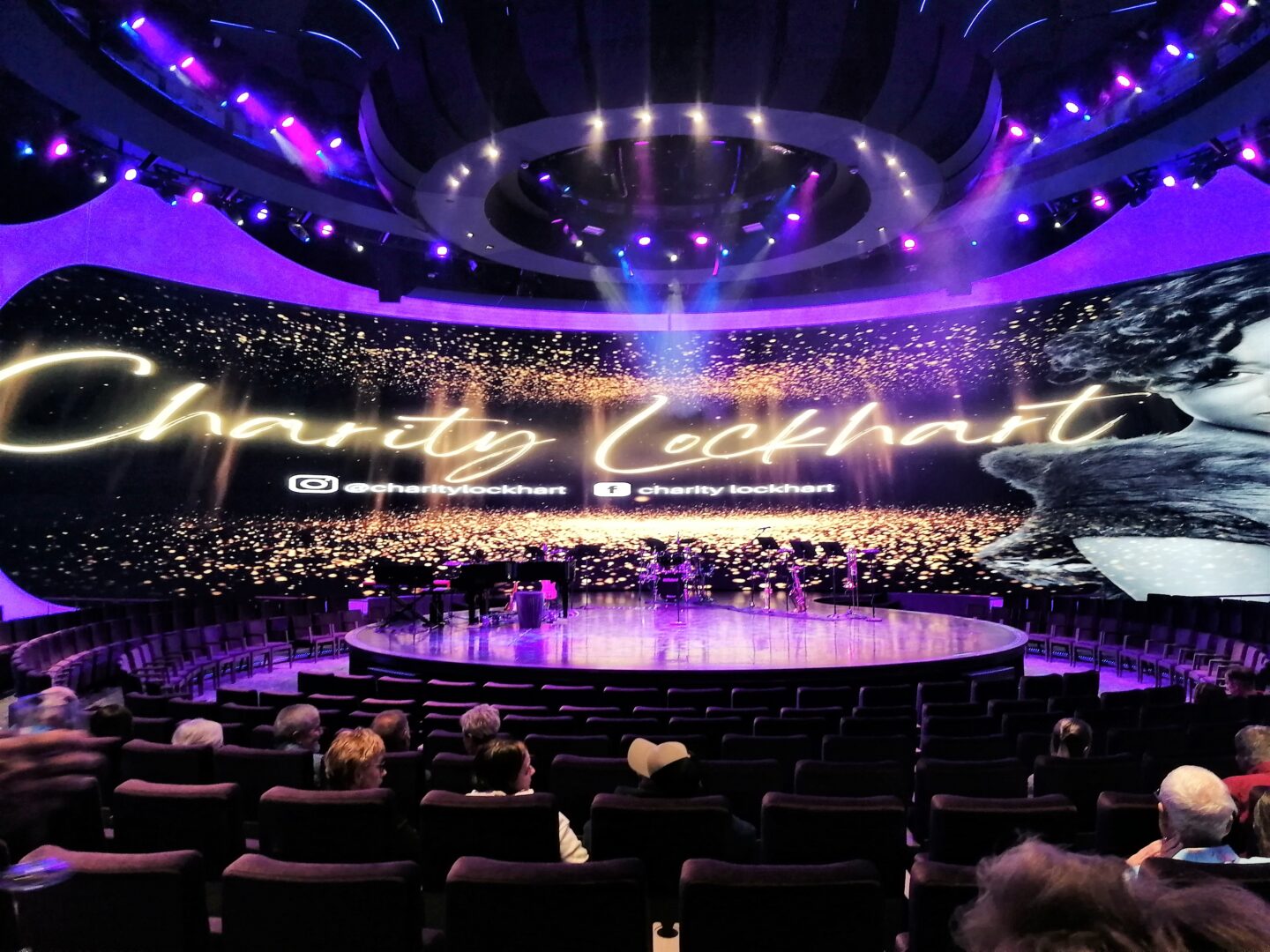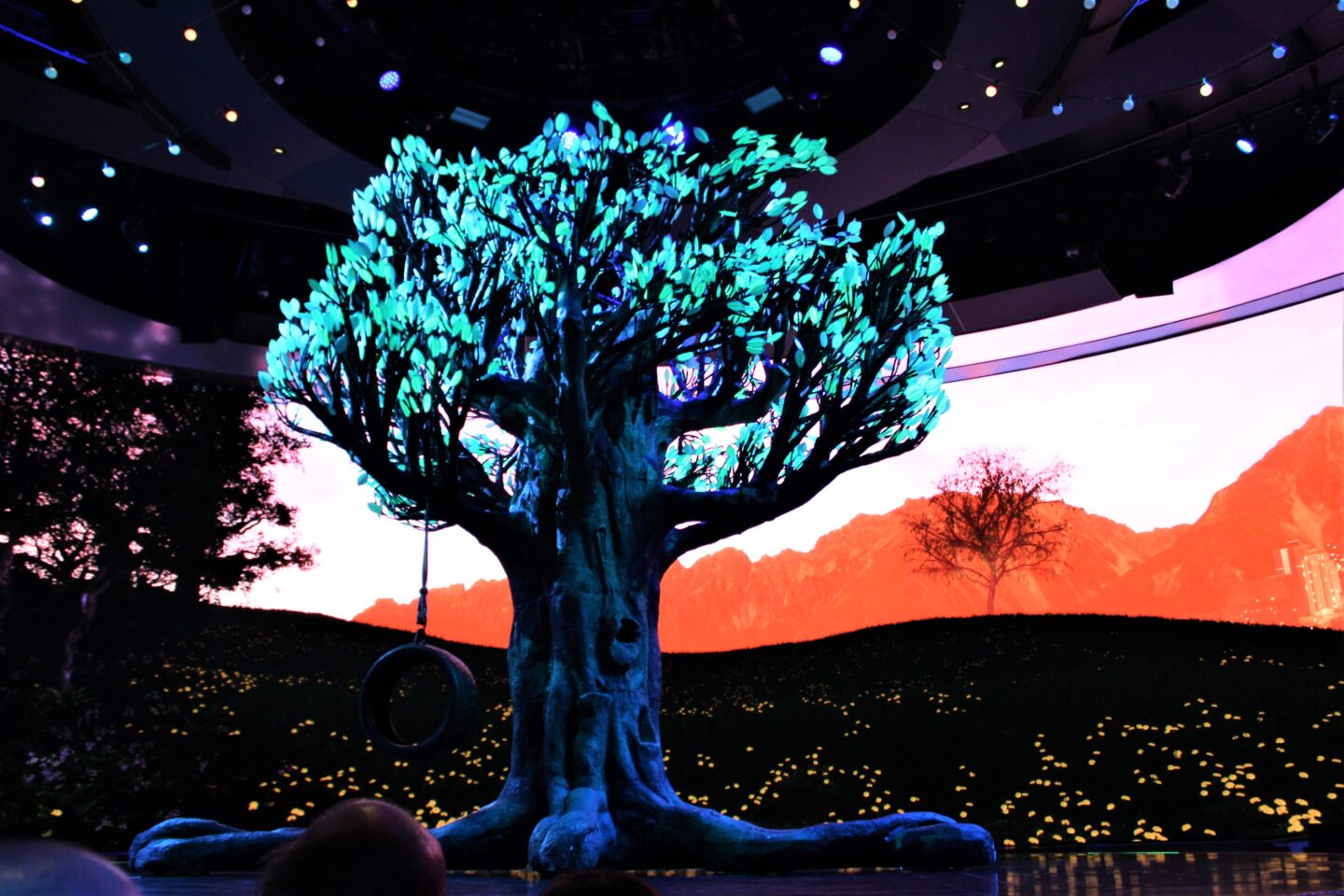 Additional entertainment can be found at Eden where this nature-inspired venue showcased intimate performances with breathtaking acrobatics and an extremely talented violin player.
The Club was another venue where you could be entertained with performances, live DJ's and what turned out to be our favourite experience on board, the silent disco. Oh we had so much fun dancing the night away to our own private DJ.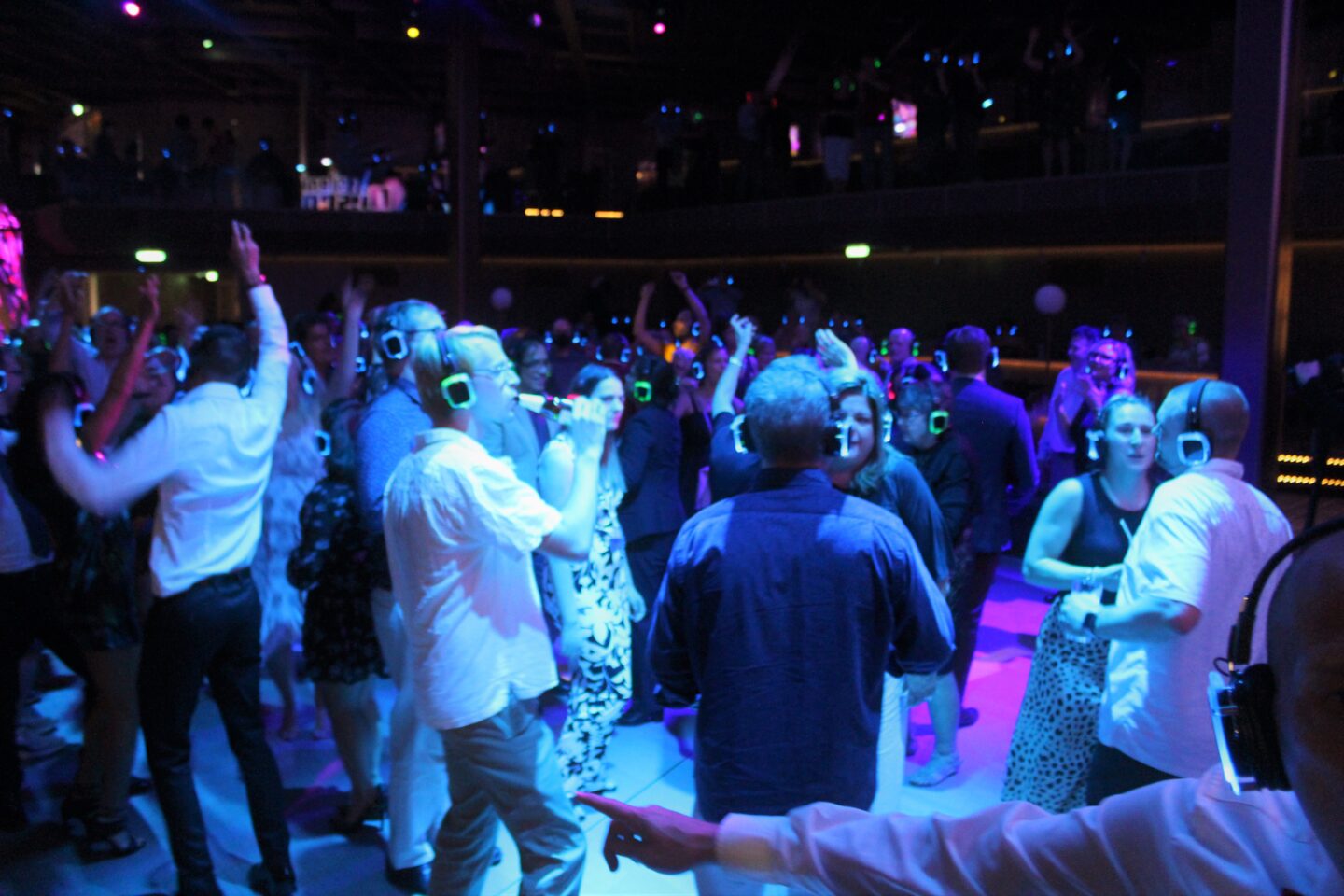 You could find a live band playing every night in the ship's atrium which was home to the very popular Martini Bar. Whoever was playing we always found it great music to sit back and listen to whilst enjoying a pre-dinner cocktail.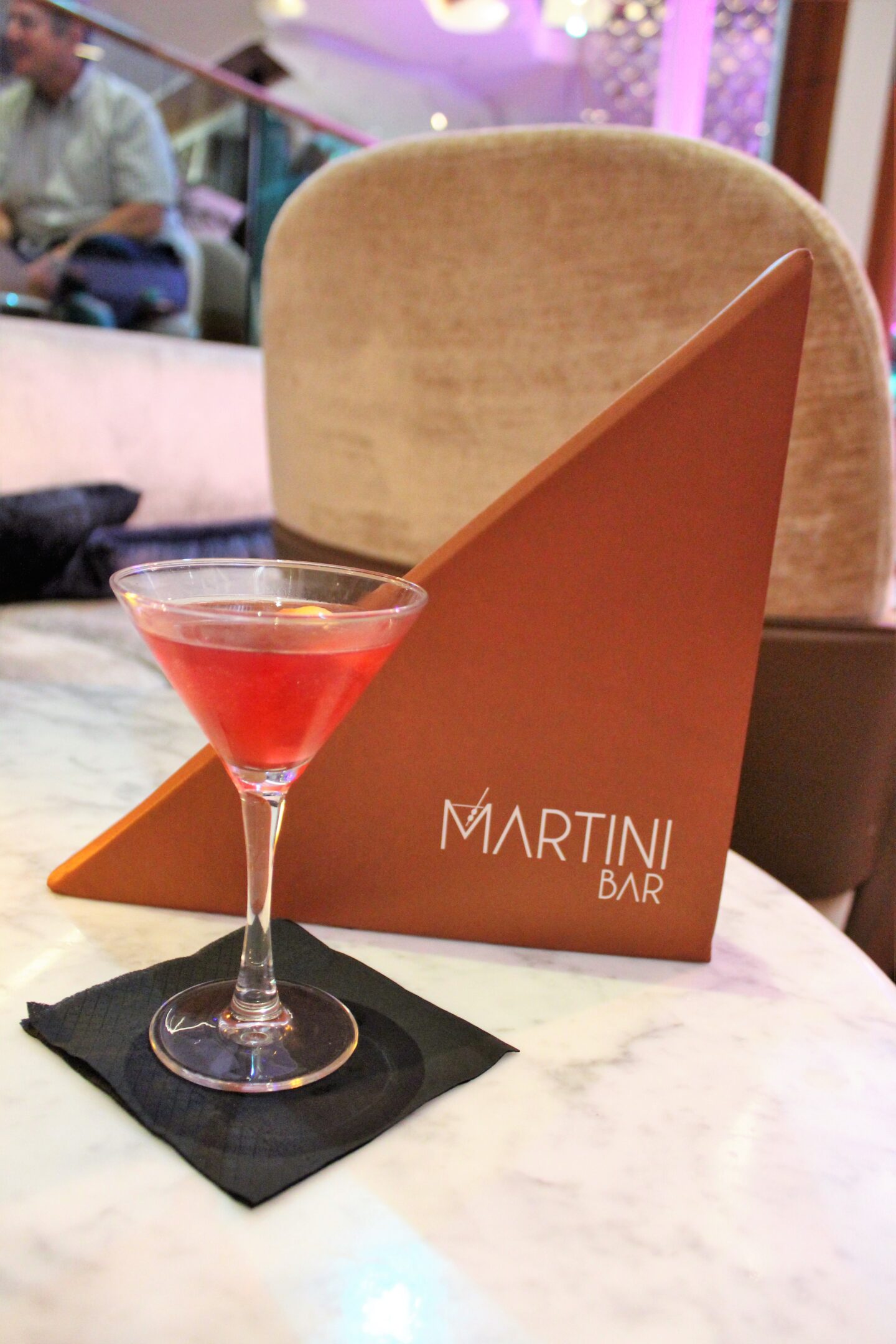 Talking of cocktails, there are numerous bars where you can enjoy a well-made drink, one of our favourites being the Craft Social bar.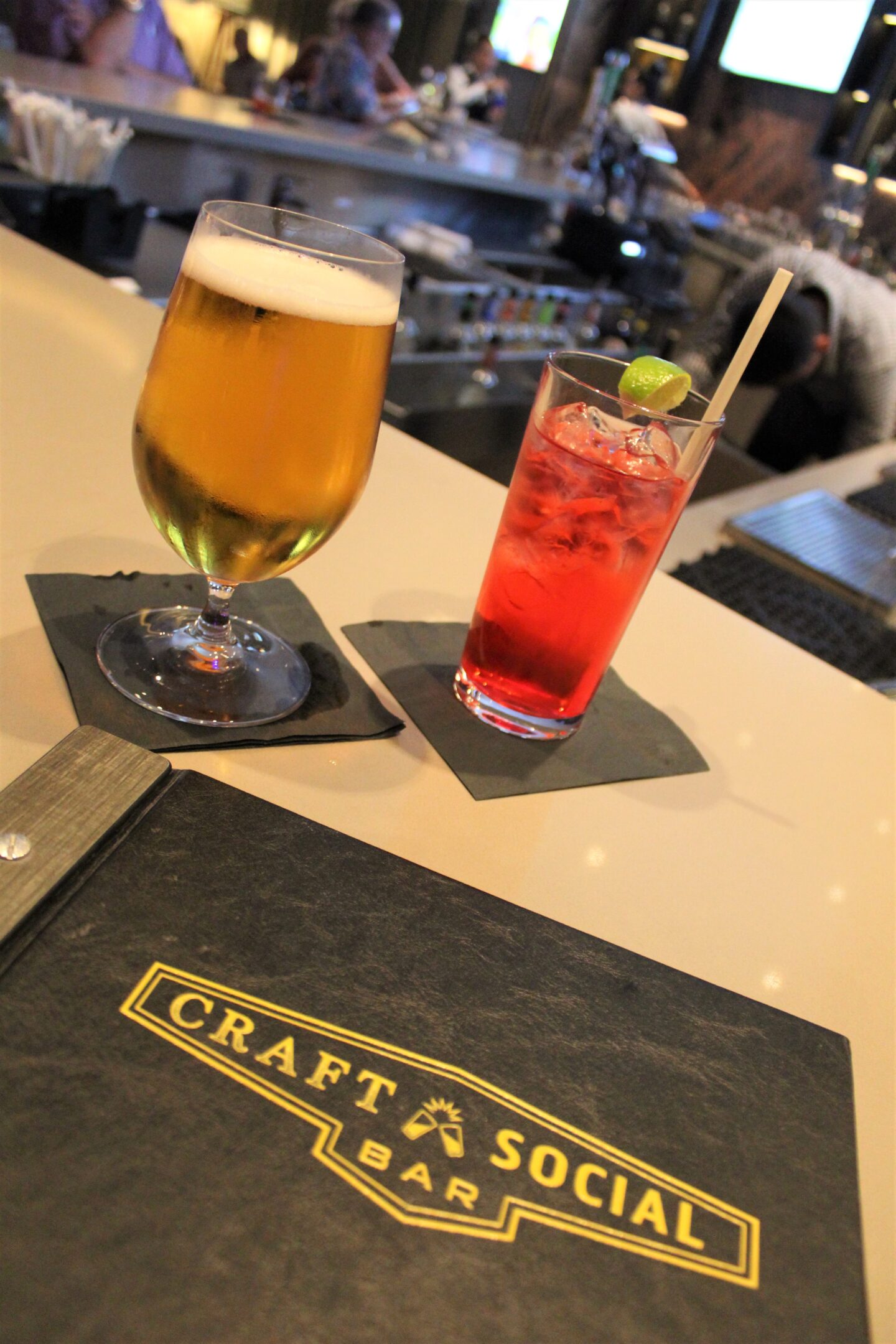 Located one floor above the Martini Bar we loved sitting at the bar playing a game of cards (which I usually won!) and enjoying drink. Mr B liked trying the different beers on offer whilst I just had what I fancied in the moment, maybe a vodka and cranberry, a mudslide cocktail or a glass of fizz. We worked our way through an array of drinks with our glasses rarely going empty before we were offered another.
Drinks can also be enjoyed at The Sunset Bar, Eden bar and on select nights, The Magic Carpet.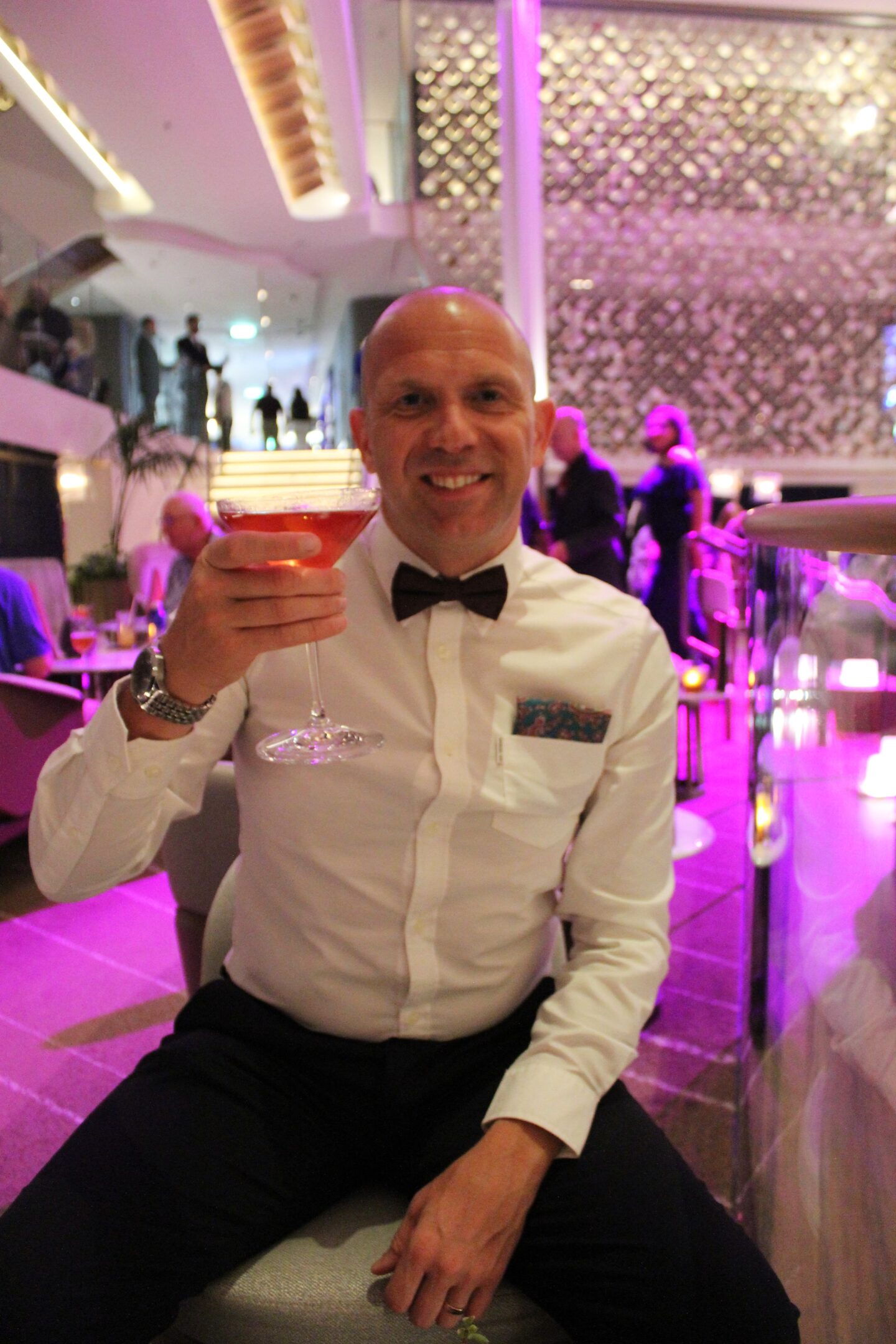 Always popular was Café Al Bacio, which saw passengers getting their caffeine fix and I can confirm this was the best coffee on the ship. I lost count of the number of iced lattes with a shot of vanilla I worked my way through (usually accompanied by a cookie or two!).
Back to the ship itself, Mr B and I both really liked the design of Apex. We loved the modern interiors which flowed throughout the ship. It felt like every corner we turned there was some fun artwork, a funky chair or change of colour pallet to add fun and personality to the ship.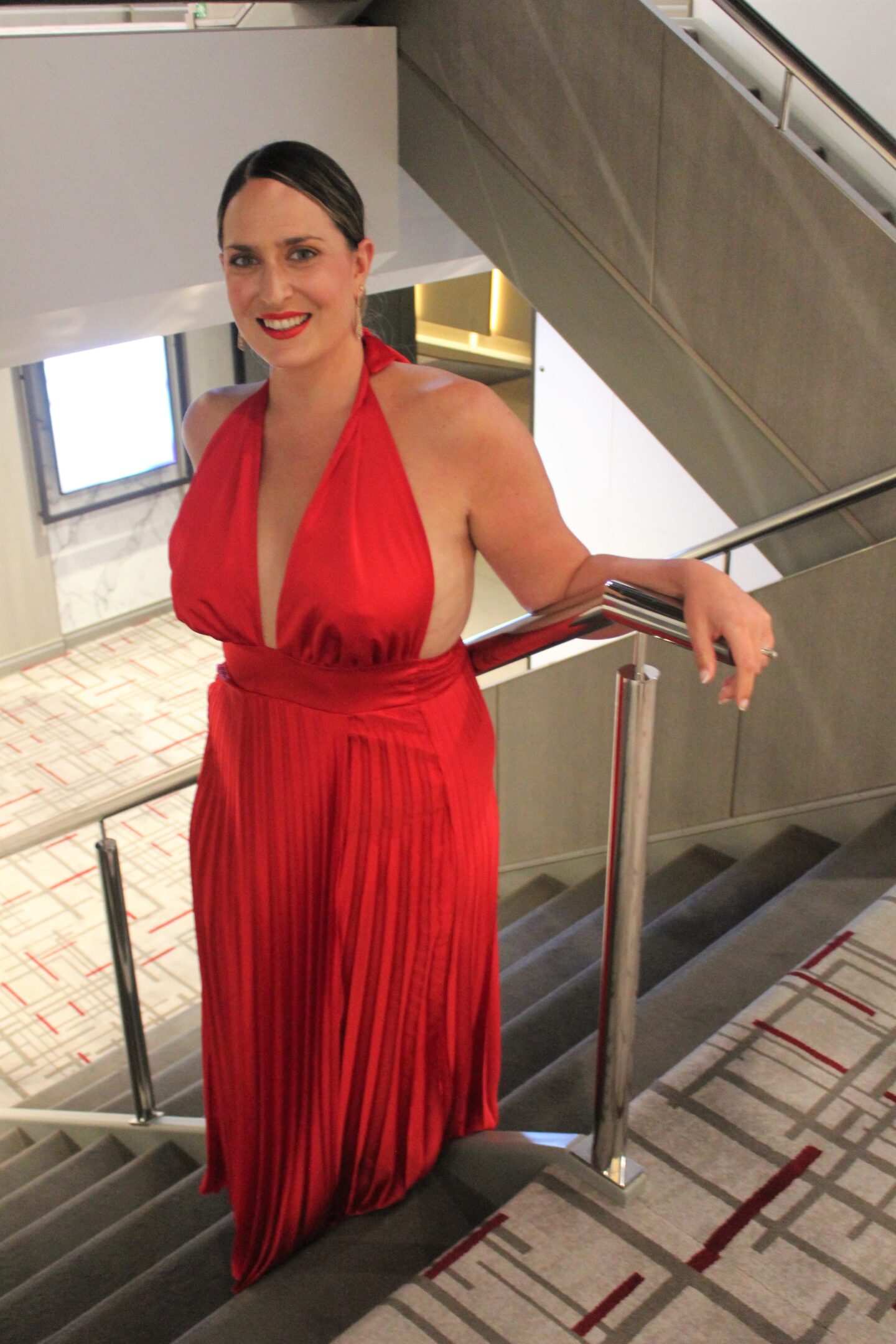 Thank you Apex for a wonderful week on board.
Read my next blog post to see the where we sailed and what we got up to on our Celebrity cruise . . .
And this post to read all about the food we enjoyed onboard . . .