When it comes to dining on SeaDream both Mr B and I had high expectations, food is always a huge component to our holiday.
SeaDream did not disappoint us – we loved the quality, the cooking, the presentation and the choice on offer. Another thing that we absolutely loved was dining outside. There is just something so special about eating outside, listening to the ocean with the fresh sea air all around you.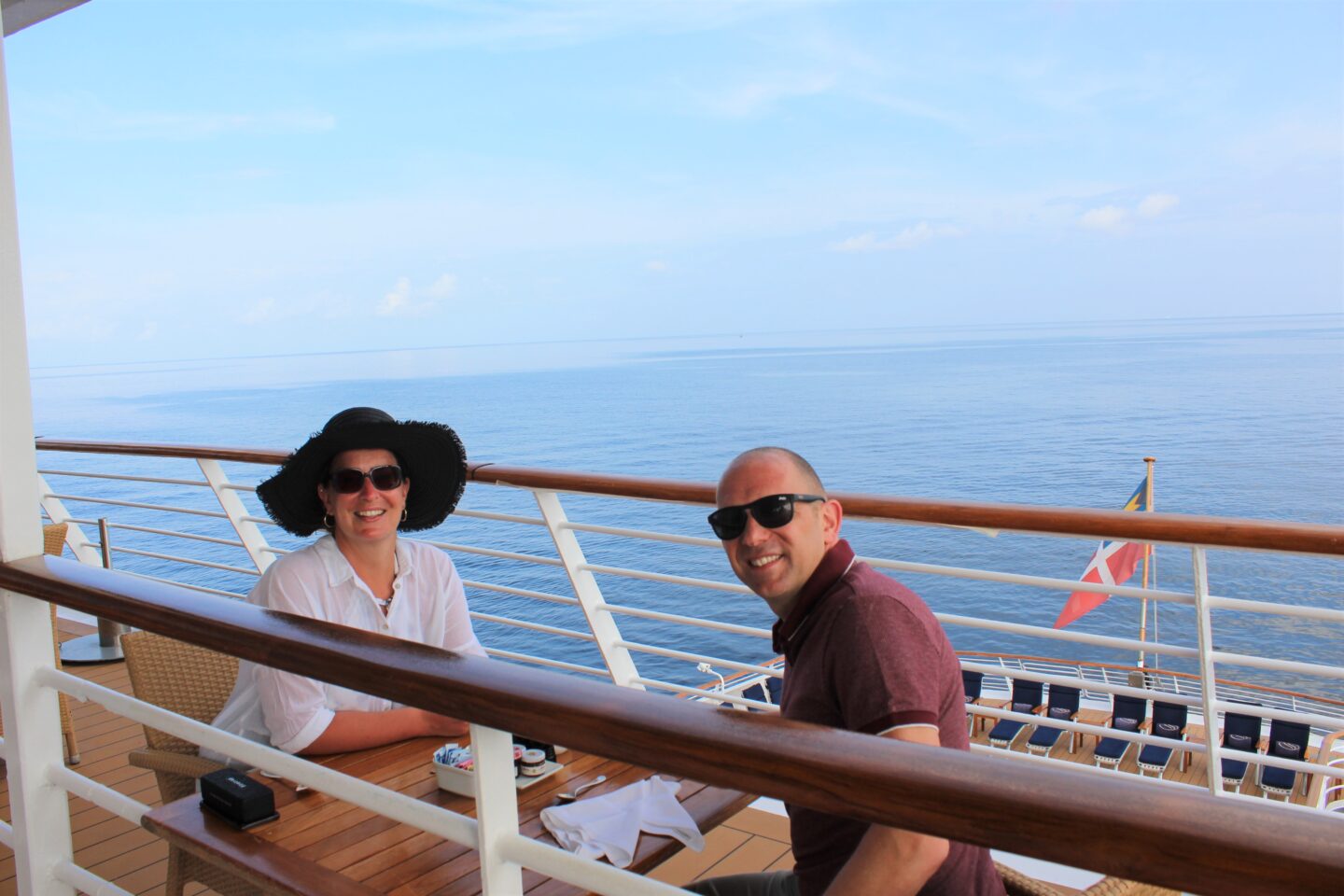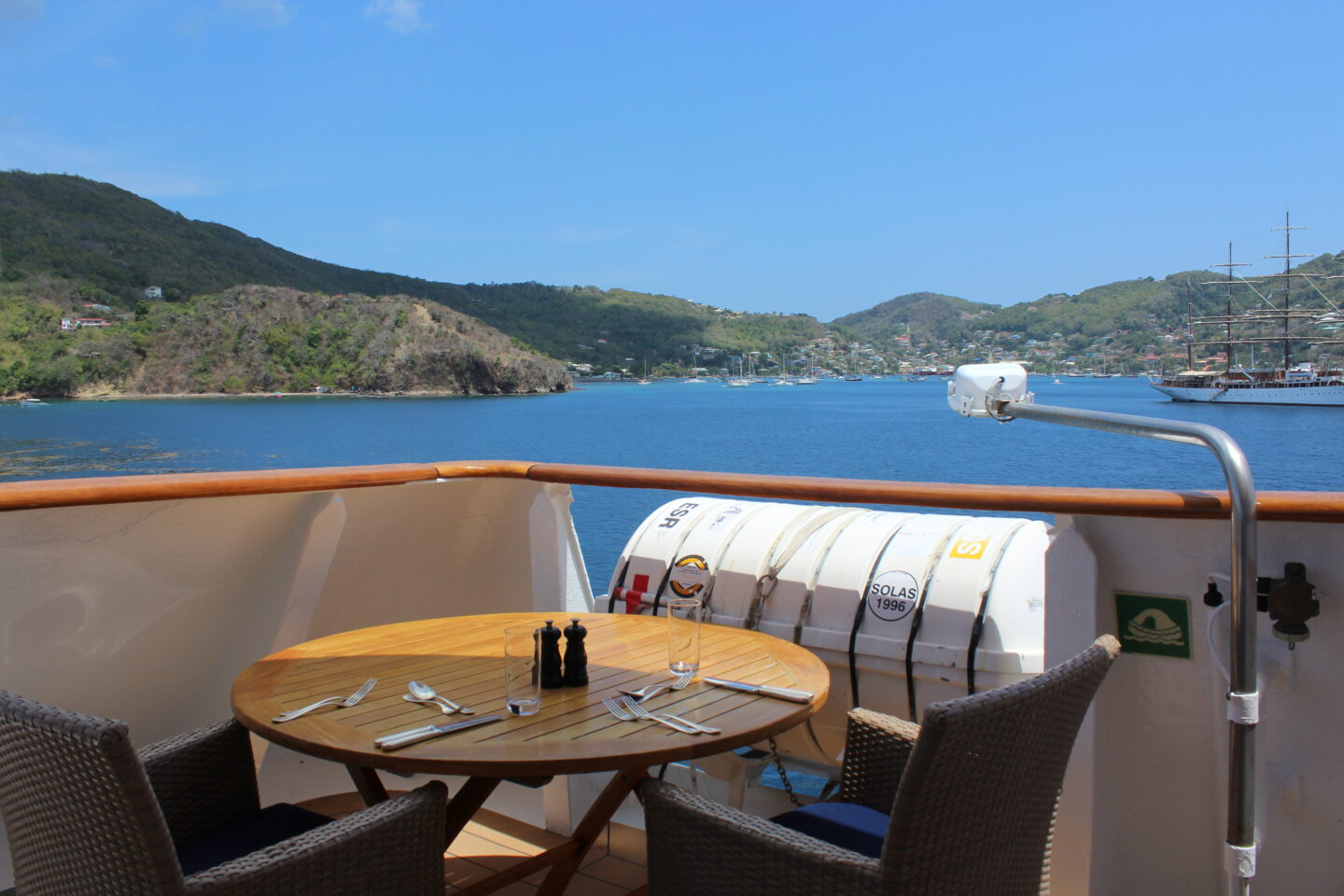 On our sailing all breakfasts and lunches were outside with only two dinners being held indoors in the dining salon, however, when we were dining inside we requested a table outside which wasn't a problem. Just make sure you do this in the morning so you are giving the team notice to have a table set up for you. We usually went for a table on the perimeter of the yacht. Personally, we just found these very private and they gave the most beautiful unobstructed views.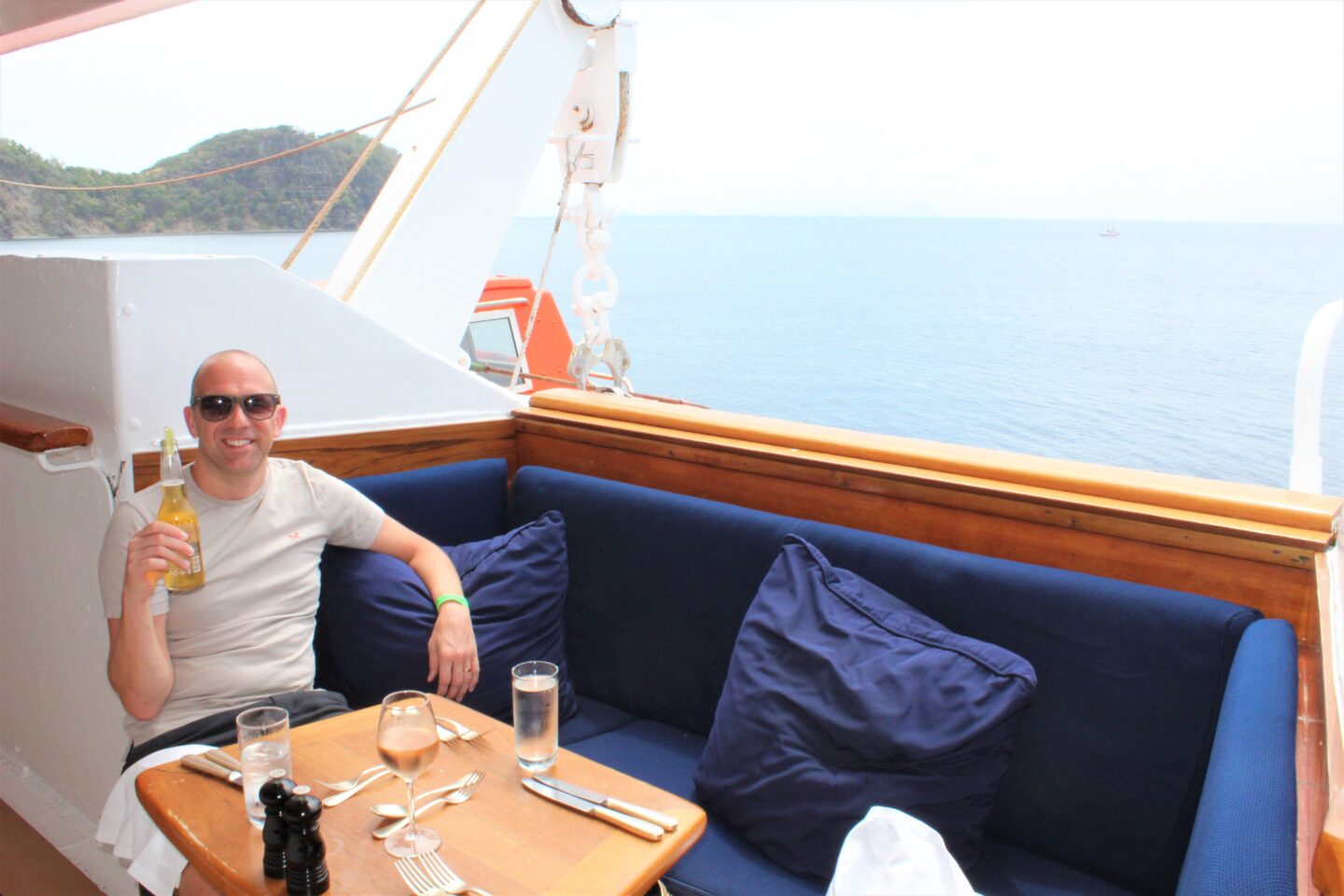 Breakfast
If you are an early riser you can start your day at the top of the yacht where from 6am there is freshly brewed coffee, water, juice and a selection of pastries which have just been baked. We sampled a few on our sailing including a delicious pecan Danish, strawberry Danish and an indulgent and yummy chocolate doughnut.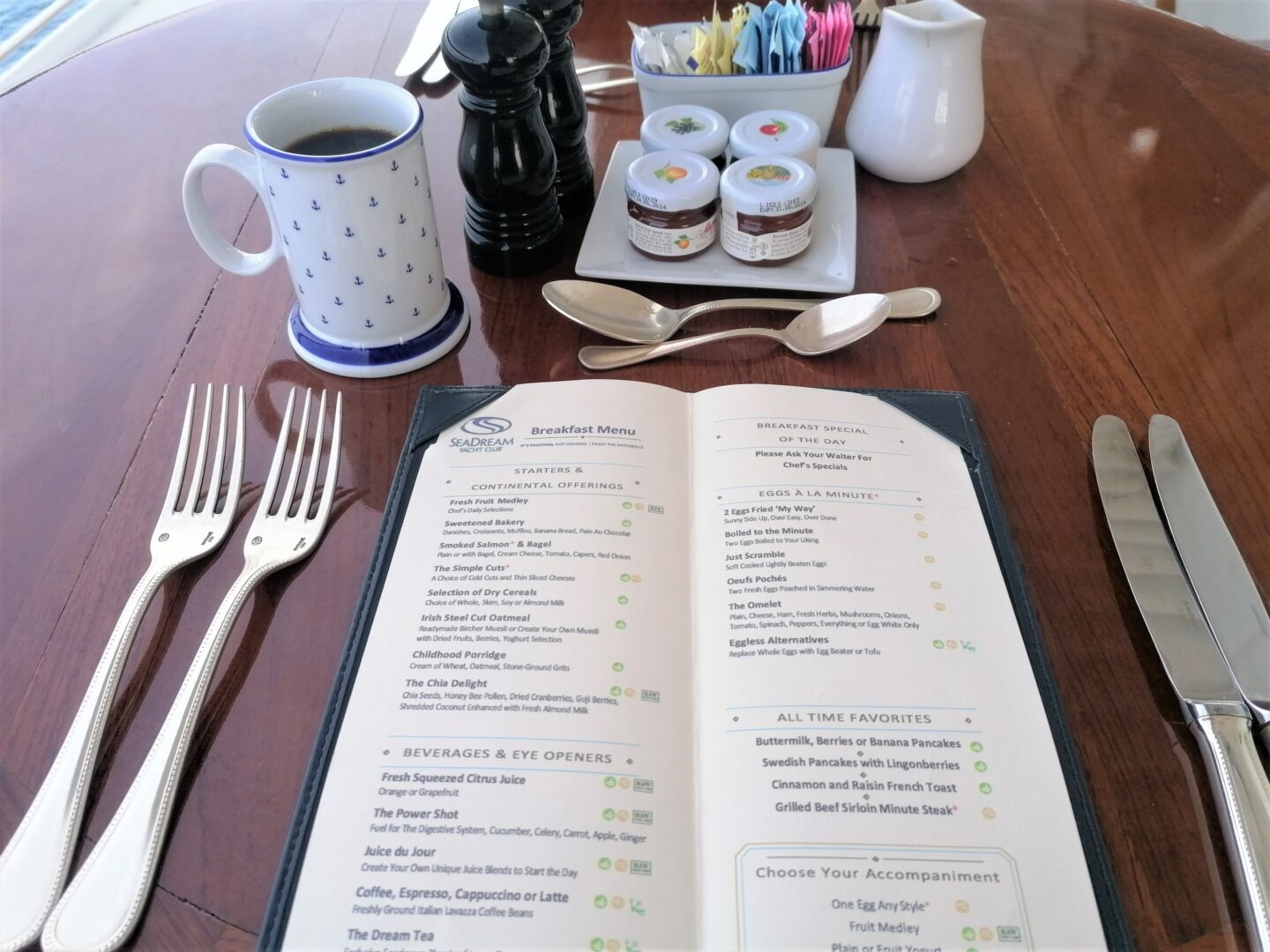 Breakfast was always a leisurely affair, you were never rushed and could take as much or as little time as you wanted. We found this with all the dining on SeaDream which we loved.
Freshly squeezed orange and grapefruit juice was available every day for breakfast with Mr B also enjoying a few freshly-made smoothies and my order of cranberry juice, which wasn't on the menu, was never an issue. There was a selection of loose leaf teas and the coffee served was freshly-ground Lavazza. My morning caffeine hit always came in the form of an iced latte whilst Mr B would sometimes enjoy a black coffee or a cappuccino, but whichever we ordered we were both happy with the quality of coffee onboard.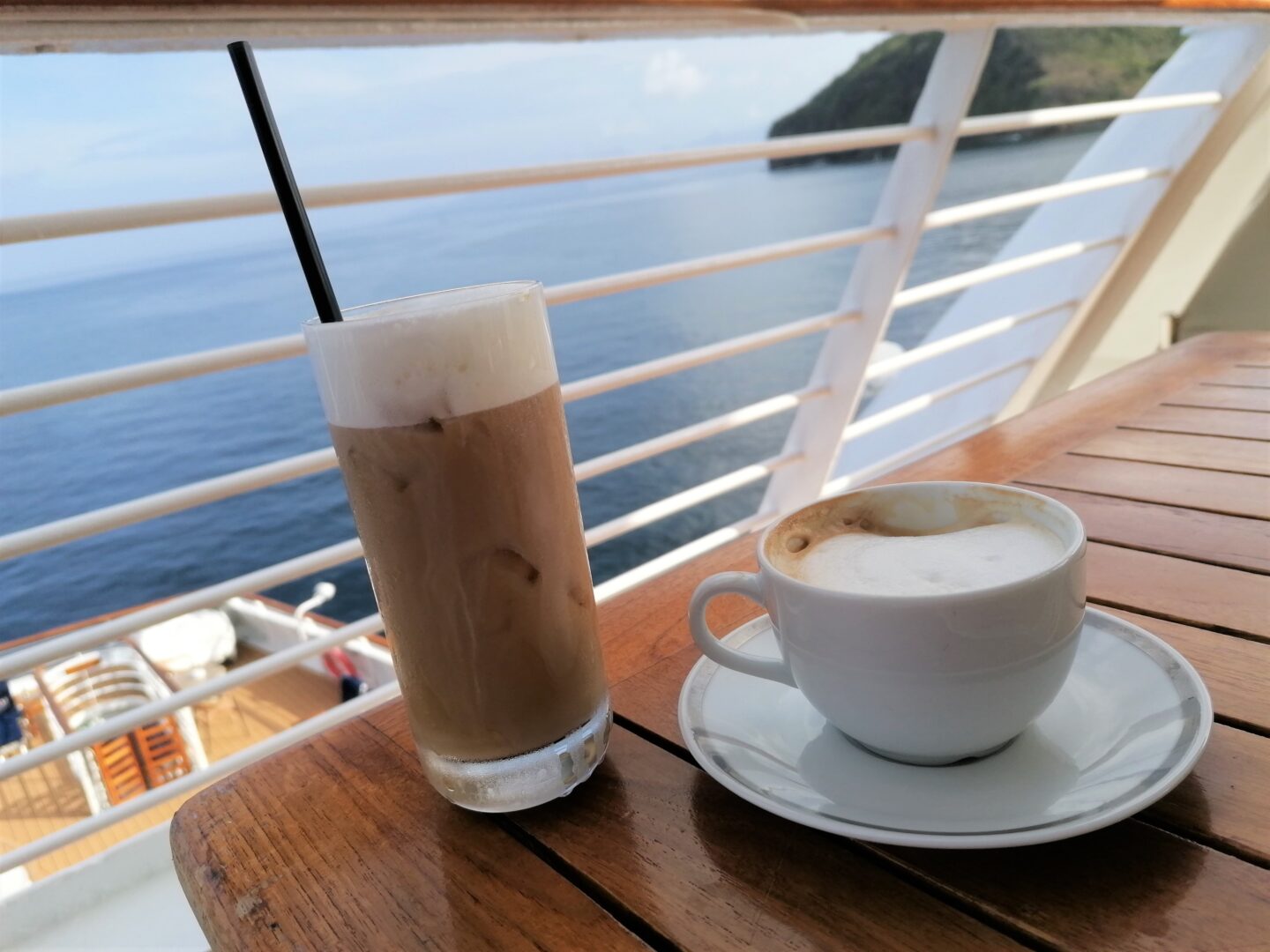 There is a breakfast buffet you can help yourself to which always had a variety of fresh fruits, homemade pastries, meats, cheeses, smoked salmon bagels, yoghurts and cereals. It always looked fresh and delicious, however, Mr B and I always ordered off-menu, but you can choose to do either or both.
The breakfast menu had a really good variety with eggs available in any way you could want – fried, boiled, scrambled, poached or as an omelette. Accompaniments available were bacon (English or American), sausage, corned beef hash, hash browns, baked beans and tomatoes. I really loved the hash browns, they were homemade (of course) and had a lovely flavour and crunch on the outside. Any eggs we ordered were always cooked perfectly to how we requested them.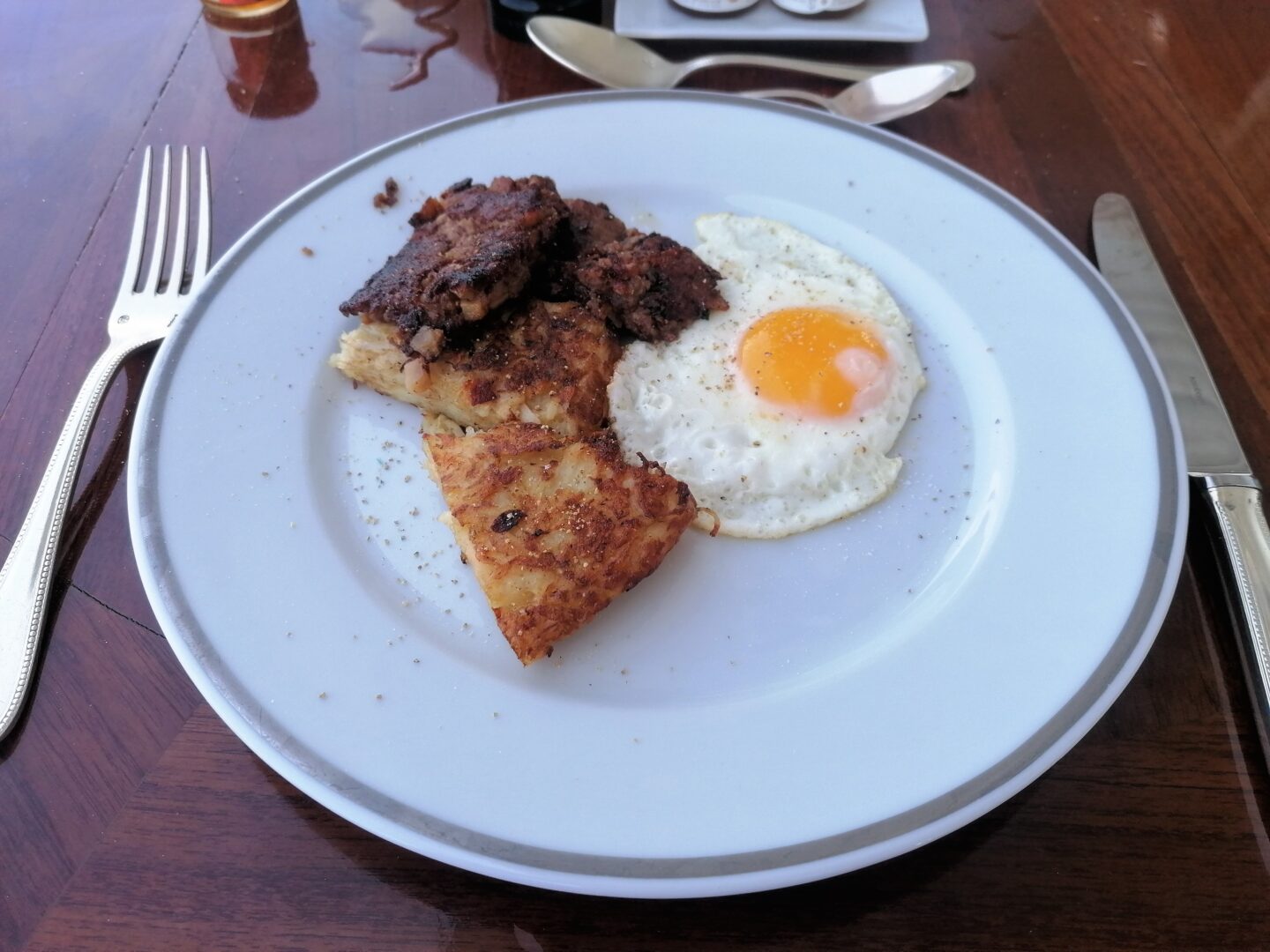 There was a 'favourites' section on the breakfast menu which offered buttermilk pancakes, French toast, Swedish pancakes and grilled beef sirloin steak.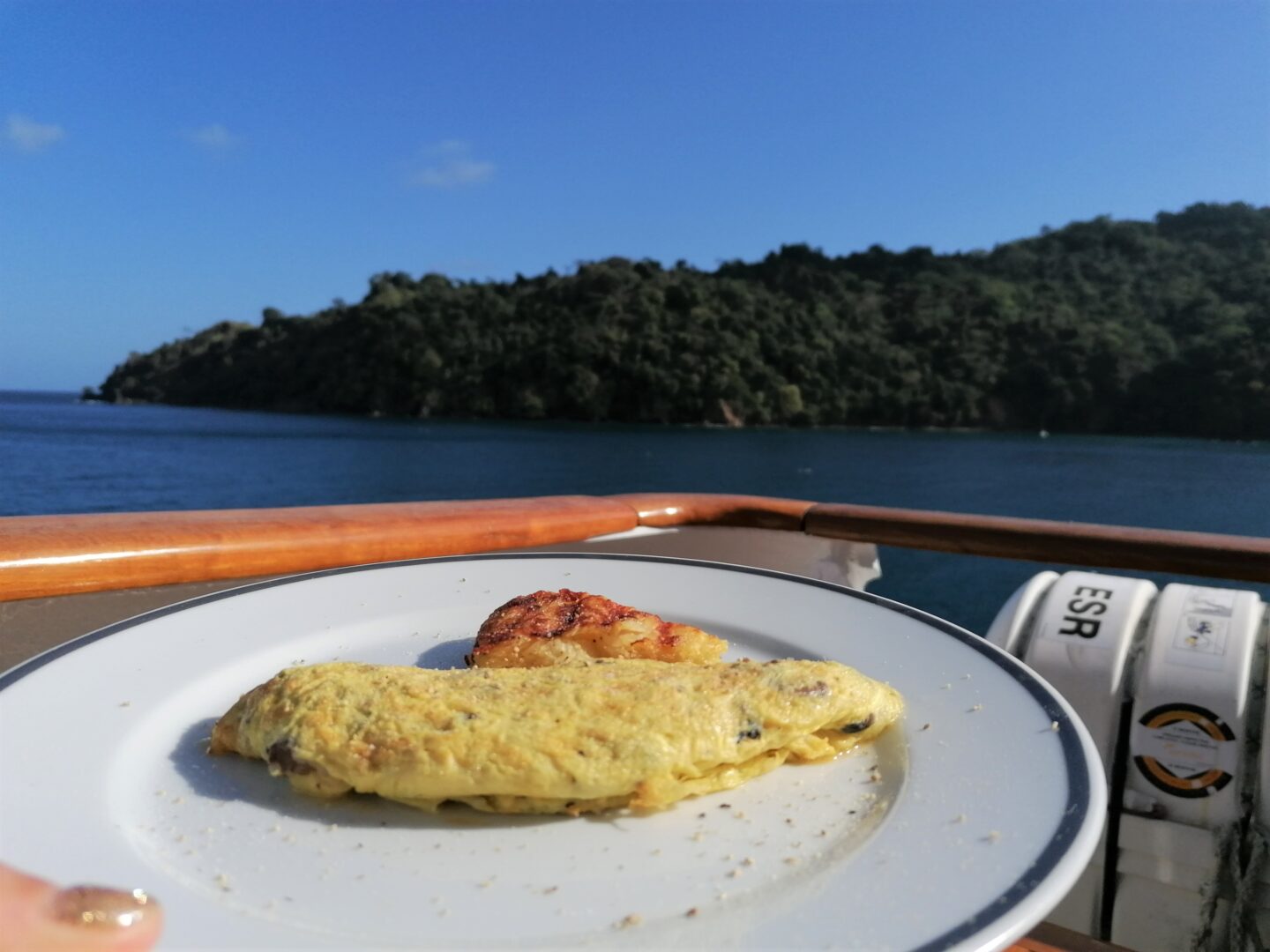 I enjoyed the 'Cinnamon and Raison French Toast' with maple syrup – I ordered mine without the berries and instead with a side of crispy bacon. It was delicious – the toast was lovely and fluffy on the inside with a generous amount of cinnamon. I really enjoyed it with the contrasting sweet syrup and salty bacon.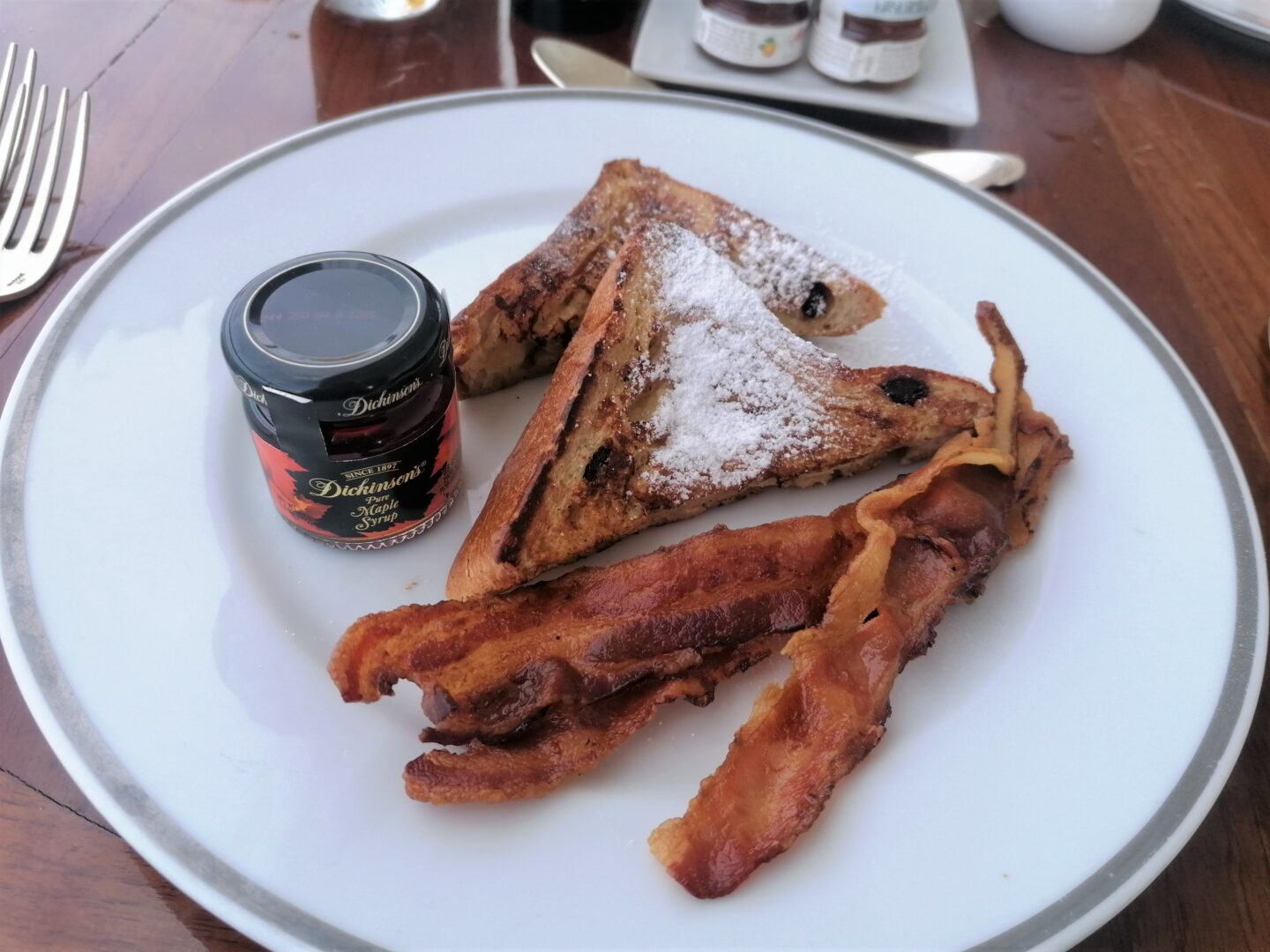 Every day there was a breakfast special of the day, two of which I enjoyed were the mushroom and truffle omelette and the 'Italian' style eggs benedict which came with crispy pancetta, a pesto hollandaise and parmesan shavings. It was a fantastic twist on the classic.
We asked one morning if we could order off-menu and have smashed avocado on toast with poached egg and crispy bacon. Of course it was no issue at all and it was so scrumptious we both ordered it again a few days later.
Lunch
We mostly tried to sit in the shade for lunch which was never a problem. There were always a choice of tables at the Topside restaurant.
It was very difficult, but at lunch times Mr B and I always tried to have a 'smaller' lunch, which often just meant having two courses instead of three! It was so hard to resist all the very tempting food on offer. SeaDream never disappointed us – there was always such a wonderful choice I usually had difficulty deciding what I wanted to order (this happened most days!).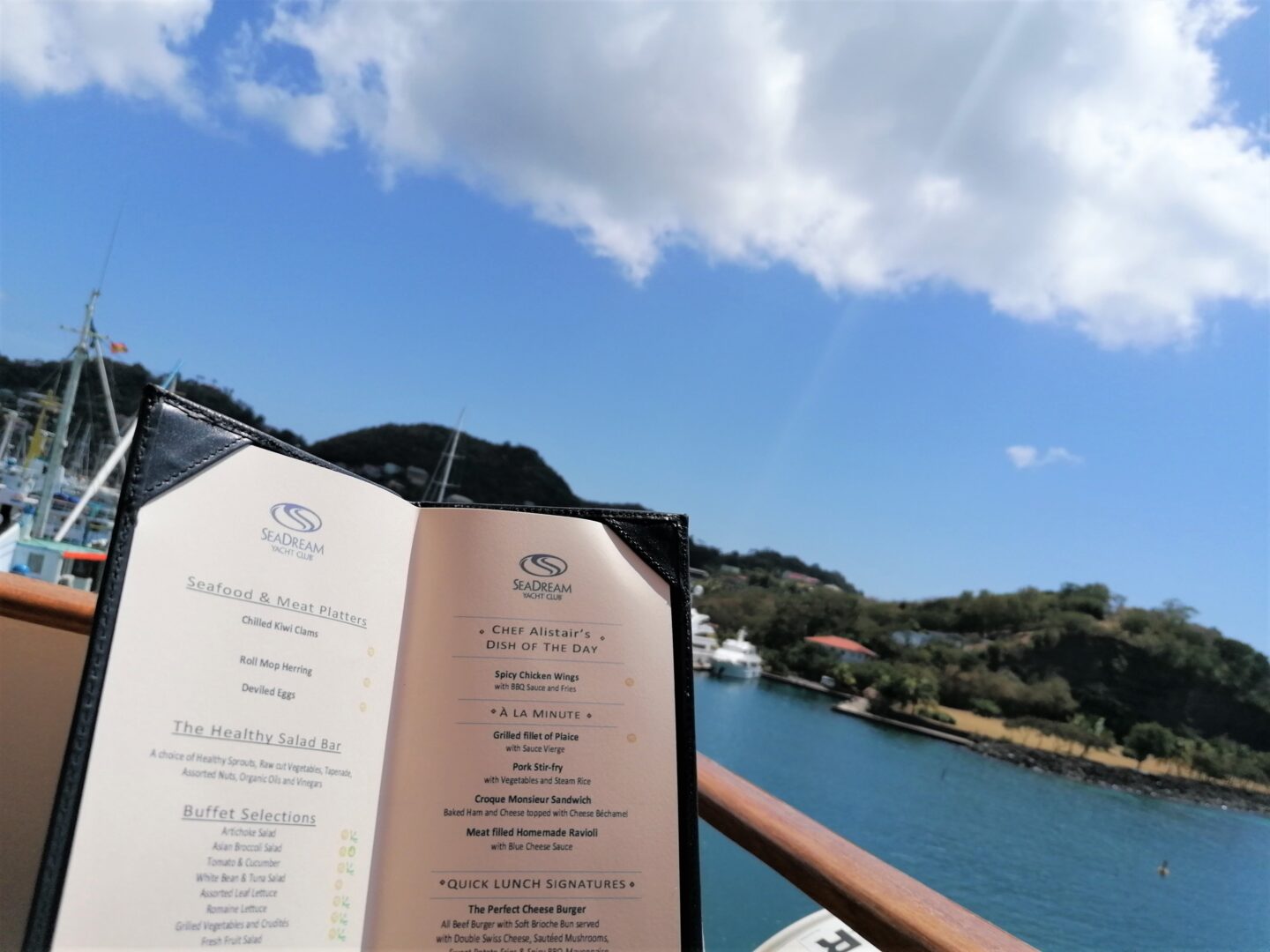 Every day there was a soup of the day which varied from Tomato and basil, Potato and leek to Carrot and ginger. There was a daily tossed salad which had options such as Mediterranean chicken salad and Sweet potato and asparagus salad.
The buffet always had a range of salads along with meat and seafood specials which ranged from Chilled jumbo prawns, Chilled kiwi clams, Thin sliced salami to Boursin filled ham rolls. The one I absolutely loved was the avocado stuffed with prawns, which was fresh and delicious.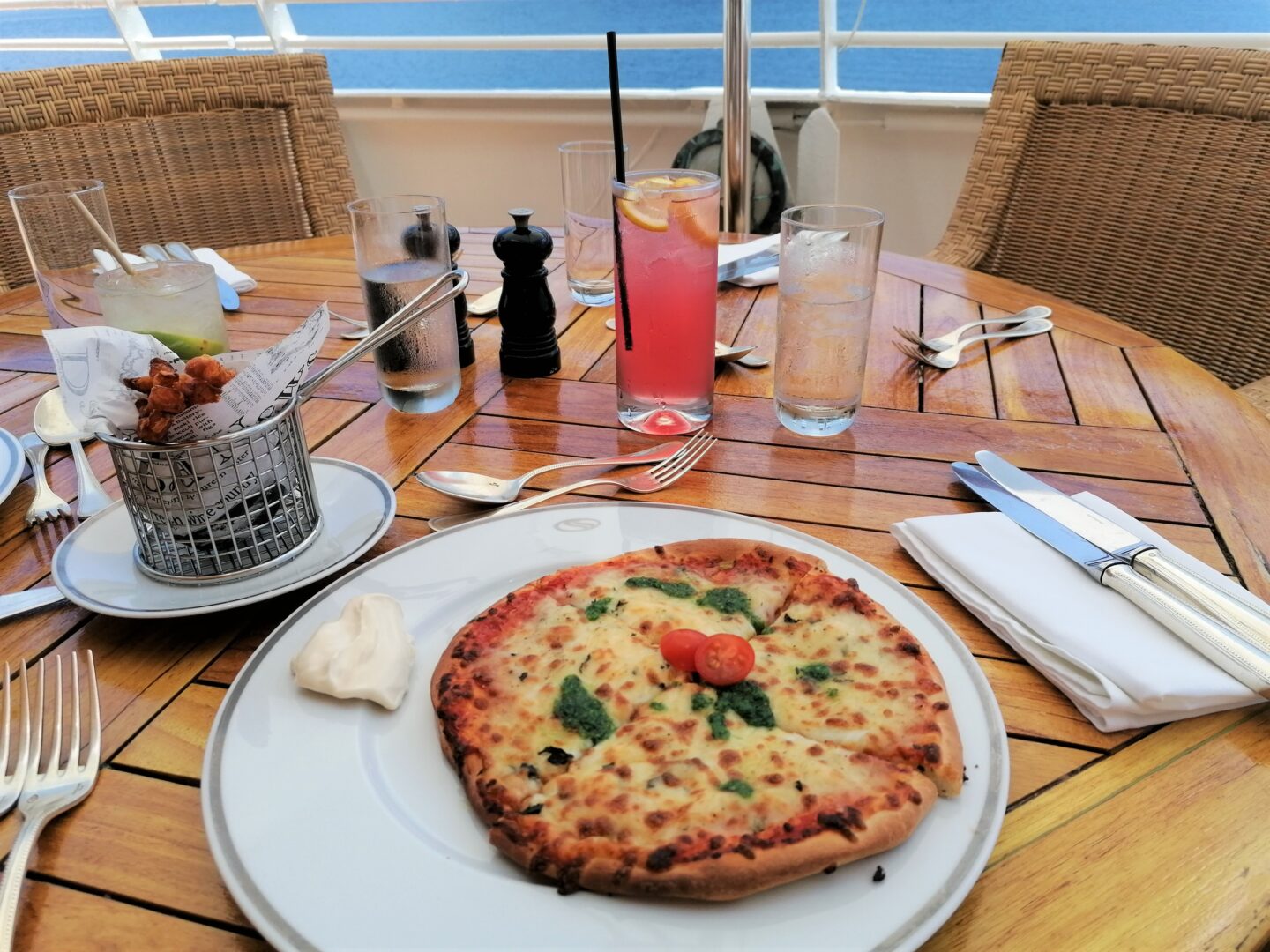 The menu had a selection of dishes to order which were always available, i.e. they were on the lunch menu every day – Pastrami sandwich, Tandoori chicken salad, Hotdog and the one which Mr B and I both enjoyed, the Cheese burger. The burger was topped with double Swiss cheese and sauteed mushrooms. It came in a soft and slightly sweet brioche bun and was served with sweet potato fries and spicy BBQ mayonnaise. Let's just say this was not the only time we had the sweet potato fries as, oh my word, they were the best I have ever had and so very moreish!
Then there were the daily specials which always contained one homemade pasta dish, one seafood option along with two other options. The choices ranged from Grilled fillet of trout, Thai green chicken curry, Beef stroganoff to Fish and chips.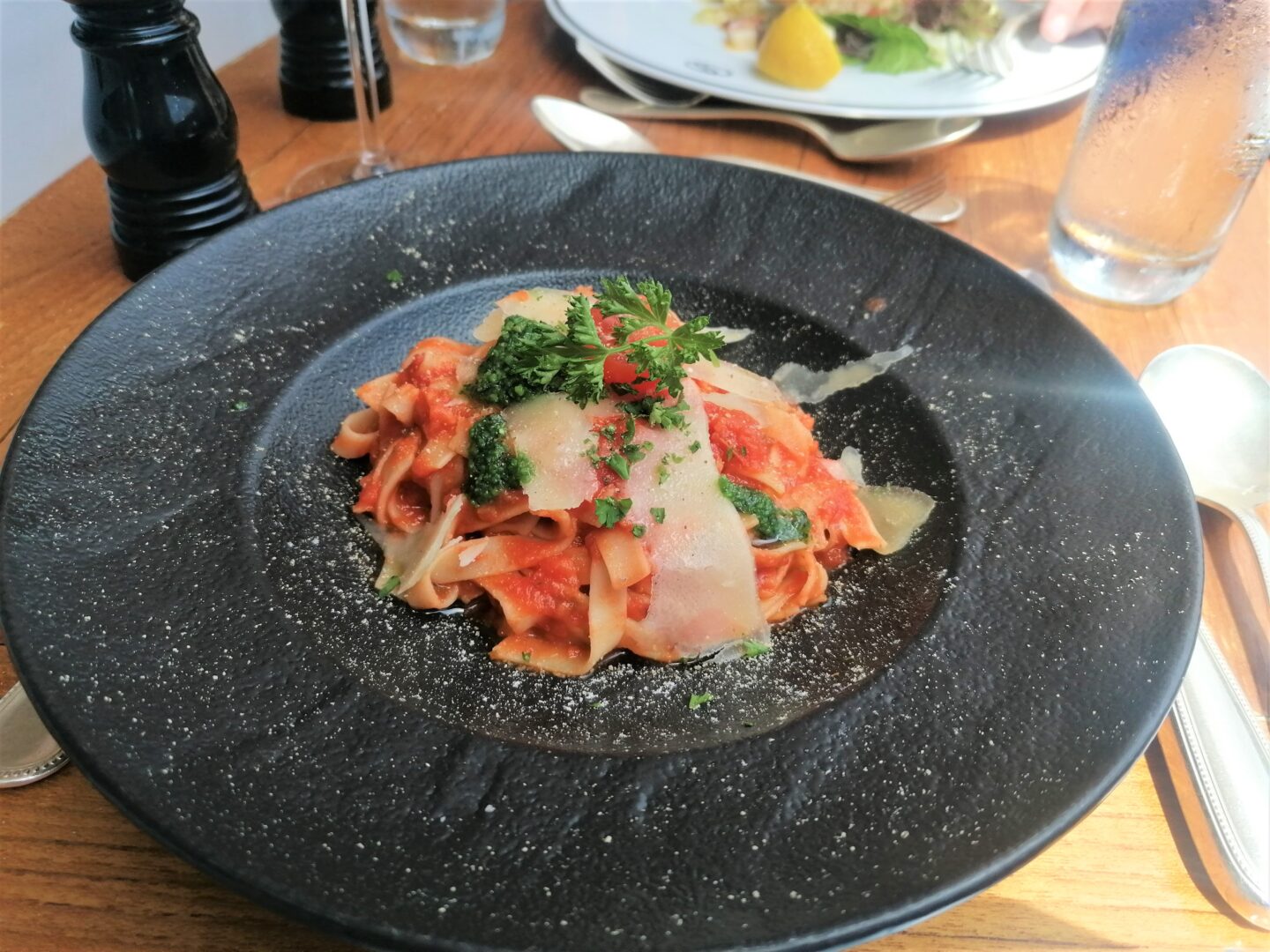 Some of our favourites which we enjoyed were the Steamed black mussels in white wine sauce with garlic bread (we were given a tip to order these when they appeared on the menu and Mr B was not disappointed). Others we enjoyed were the Spicy chicken wings, Penne Alfredo (with lots of fresh parmesan shavings) and the Croque Monsieur sandwich (cheese sandwich heaven!). All our choices were delicious and we were never left disappointed.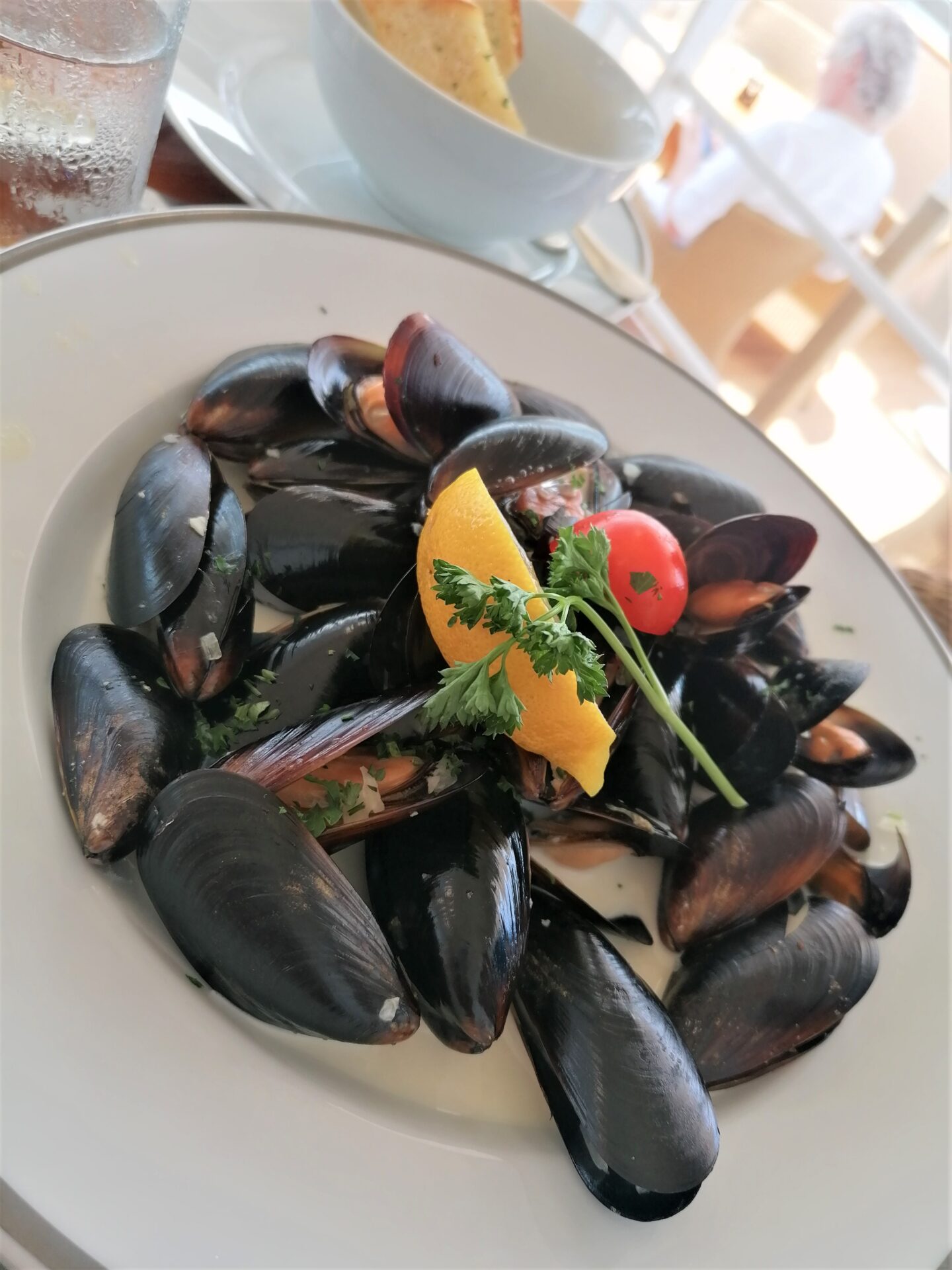 The desserts were displayed on the buffet – I had to close my eyes when I walked past it as they were always so tempting. It would have been easy to have one of everything! They ranged from white chocolate cake, peach tartlet, mango cheesecake to chocolate éclair. Every day there were four options and these changed daily. There was also a daily selection of homemade ice creams which were just heavenly. One day I simply couldn't resist and I ordered the cookies and cream.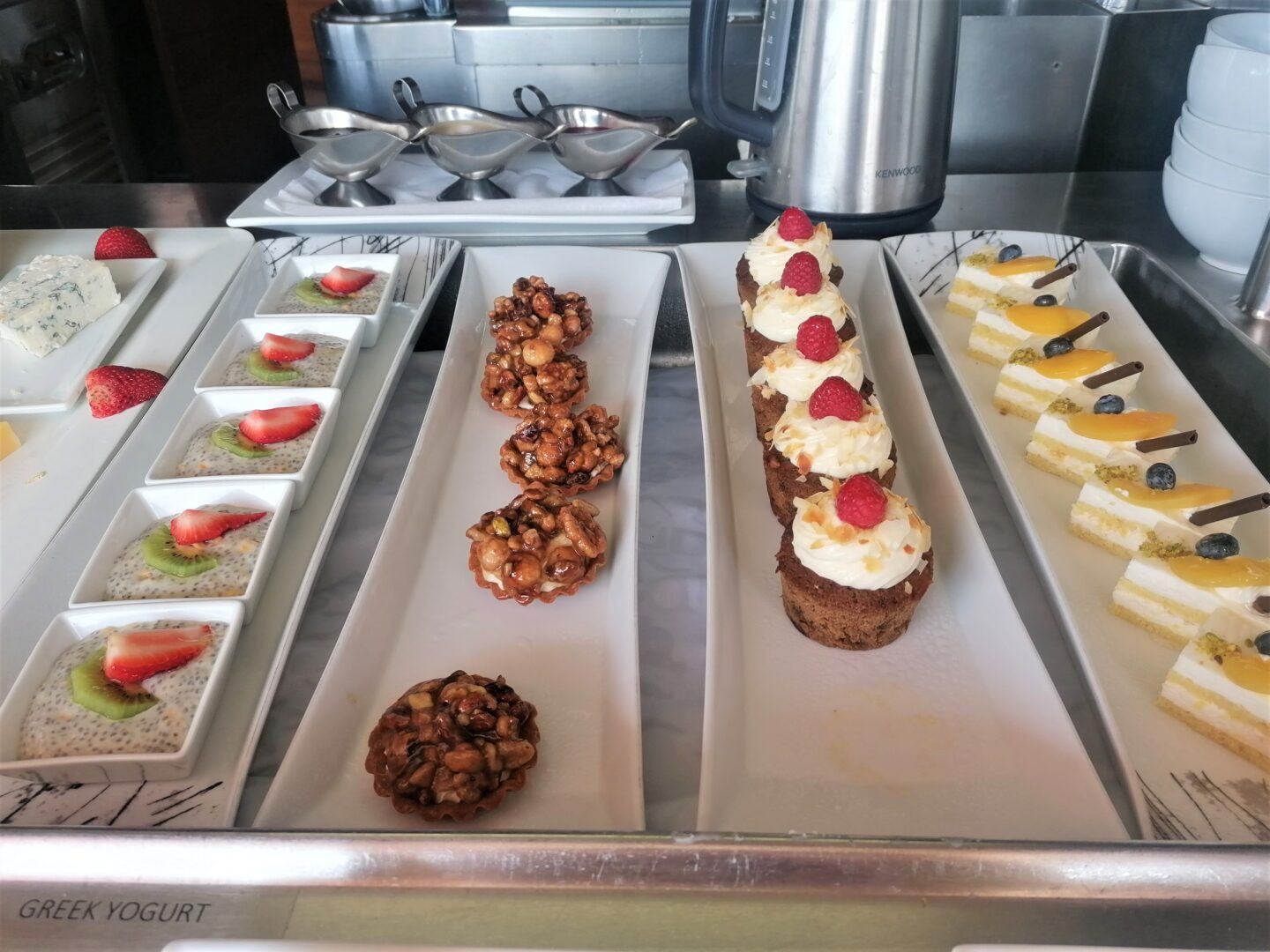 Dinner
Before dinner every night, cocktails and canapes were held by the pool where brief information was given about the next day's destination. We didn't make it every night, but when we did there was always different canapes on offer from cheese and charcuterie to caviar and blinis to sushi.
As per the lunch menu there was a section on the dinner menu with Signature selections, i.e. they were on the menu every day and didn't change. These options were a Boston and arugle lettuce salad, Ramen chicken noodle soup, Homemade truffle tagliatelle, Grilled Norwegian salmon fillet, Lemon pepper grilled chicken breast and a NY cut Kansas beef steak caprese. One night I ordered the steak which came rare, as I ordered, and came with lovely chunky chips.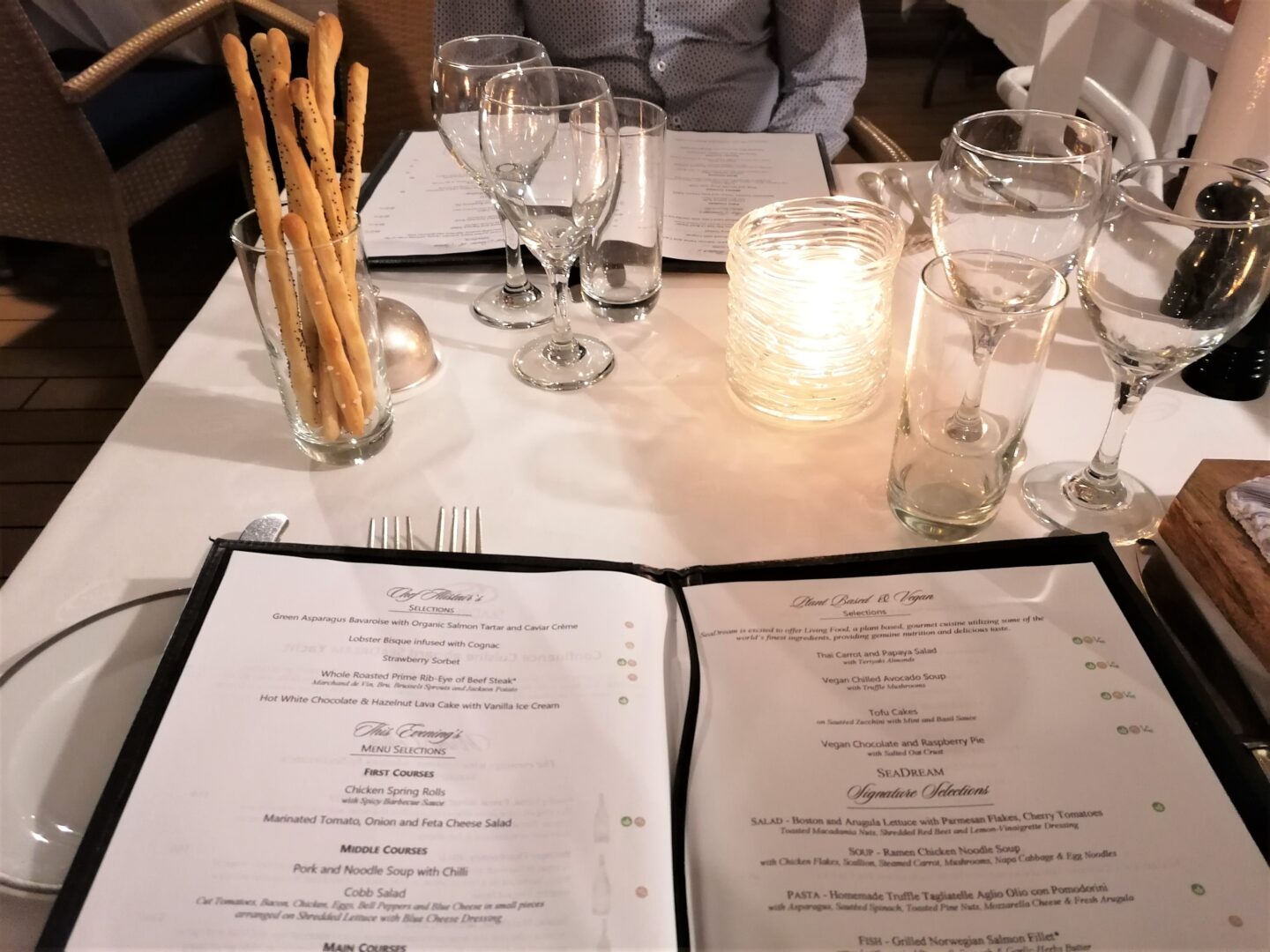 The menu also had a plant-based and vegan section which always had the choice of a soup, salad and main which changed daily.
The 'main' section of the menu changed daily and for Mr B and I was full of wonderful dishes which always had us spoilt for choice.
We enjoyed so many tasty starters during our sailing. Some of the standouts and our favourites were the 'Grilled garlic prawns with creamy risoni pasta and tomato concasse' – the big plump prawns were perfectly cooked and the delicate risoni pasta complemented them and didn't overpower. Mr B had the 'Chicken croquettes with tomato, onion, corn salad and mustard dip'. I stole half a croquette off him as they were so scrumptious, lovely and crisp on the outside with a well-seasoned and tender filling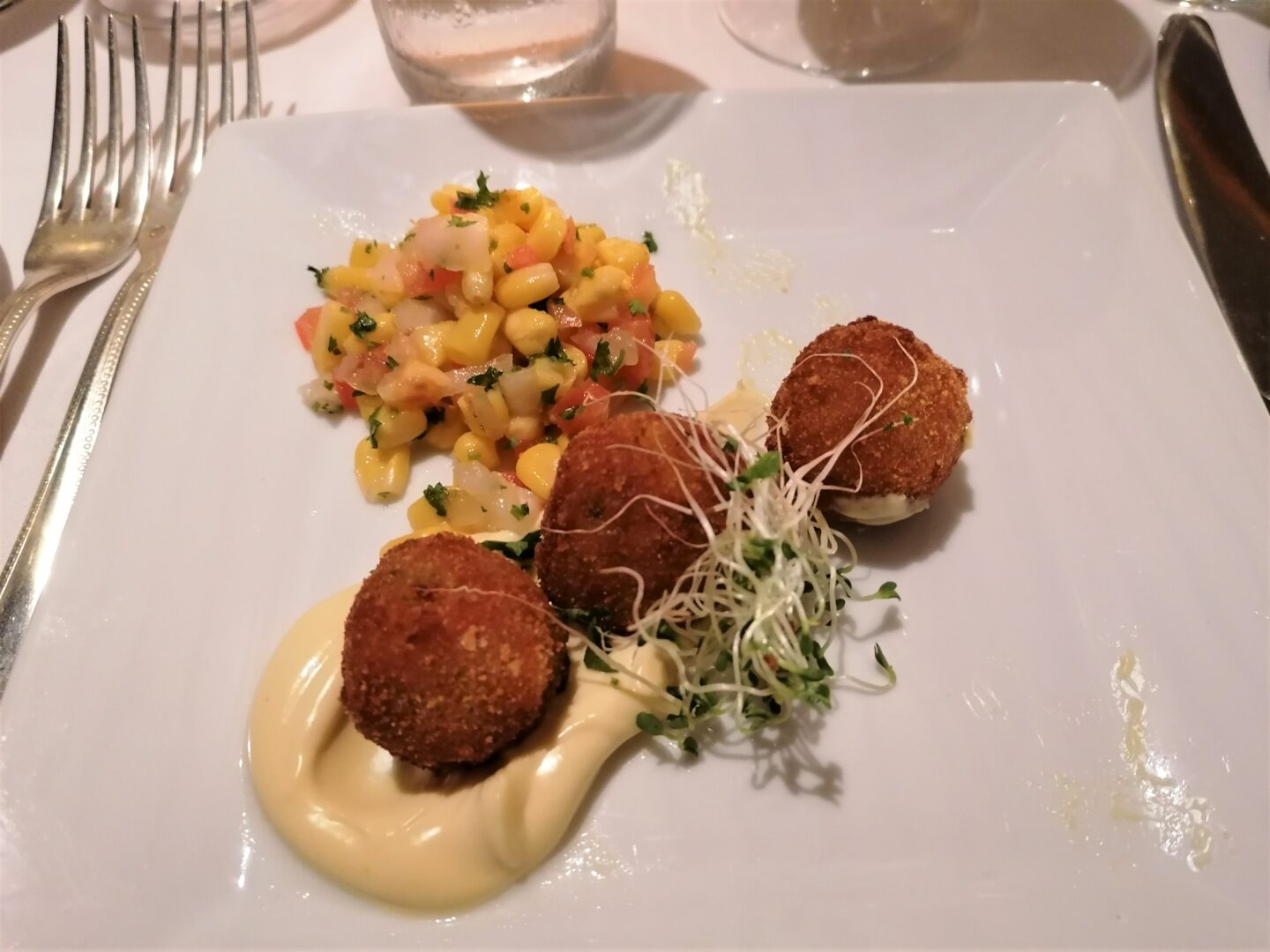 As a big seafood lover, as soon as I saw these two starters on the menu I knew I was ordering them – the 'Ahi tuna carpaccio with avocado, mango, tomato and wasabi olive oil dressing' and the 'Cured salmon sashimi, crispbread, avocado and caviar crème'. They were both divine – light, delicate, well-balanced with the quality of the seafood clear in the taste.
Mr B enjoyed the 'Gratinated Escargots with Aubergine compote and Champigion de Paris', which were packed with garlic and got a thumbs-up from Mr B.
A starter which we both ordered and agreed was a standout was the 'Chicken spring roll with spicy BBQ sauce'. The crisp rolls were a flavour explosion and came with glass noodles which had a good kick of chilli, and the dipping sauce added another depth of flavour.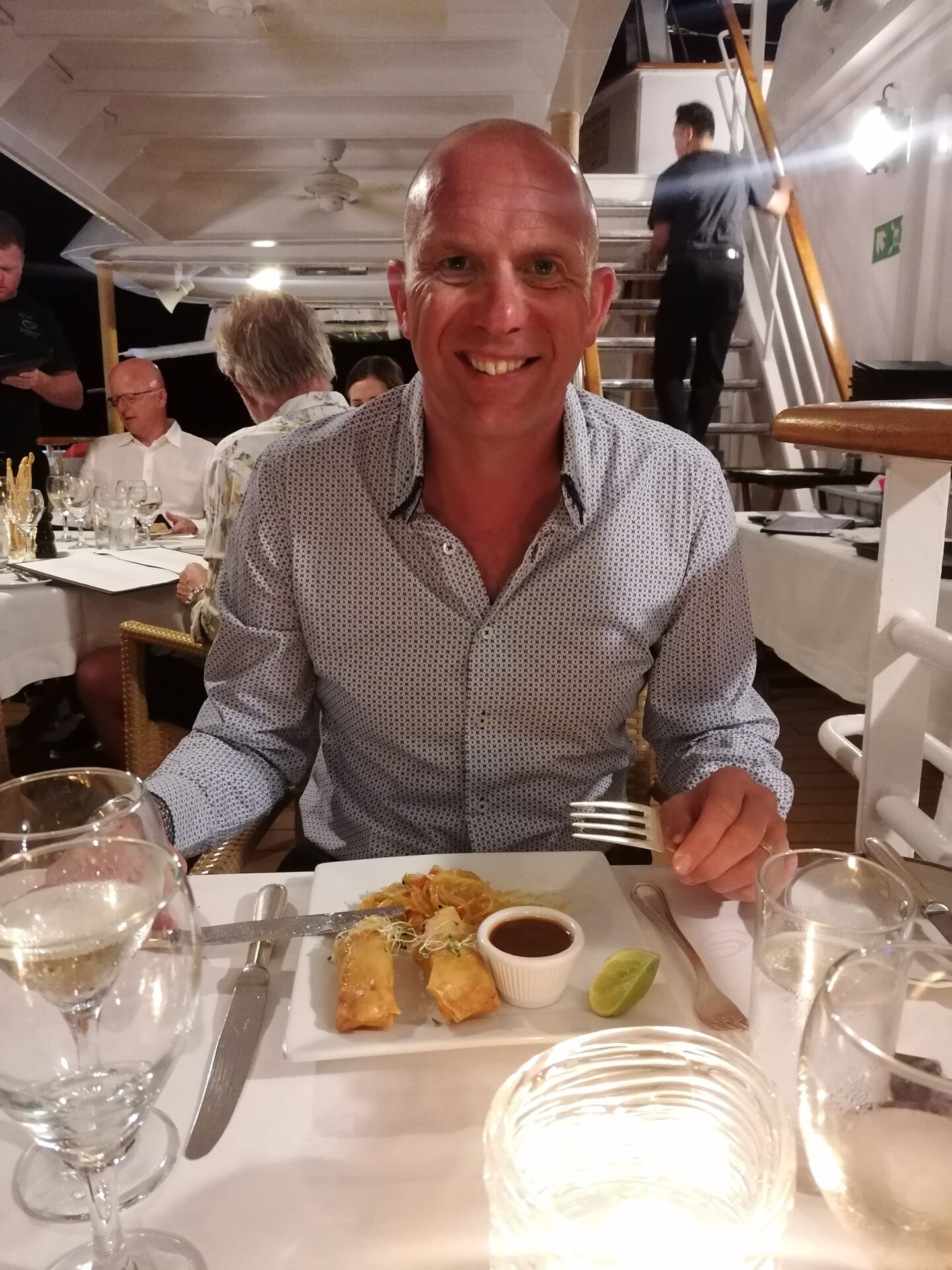 The middle course, if you chose to order it, was a choice of salad or soup. The salads had options such as a classic Ceaser salad, Cobb salad or Asian-inspired Thai-style peanut noodle salad. Although when Mr B and I did order a middle course we always ended up choosing the soup. Honestly, I'm not a huge soup person, but there were so many lovely soups and each one I had I really enjoyed.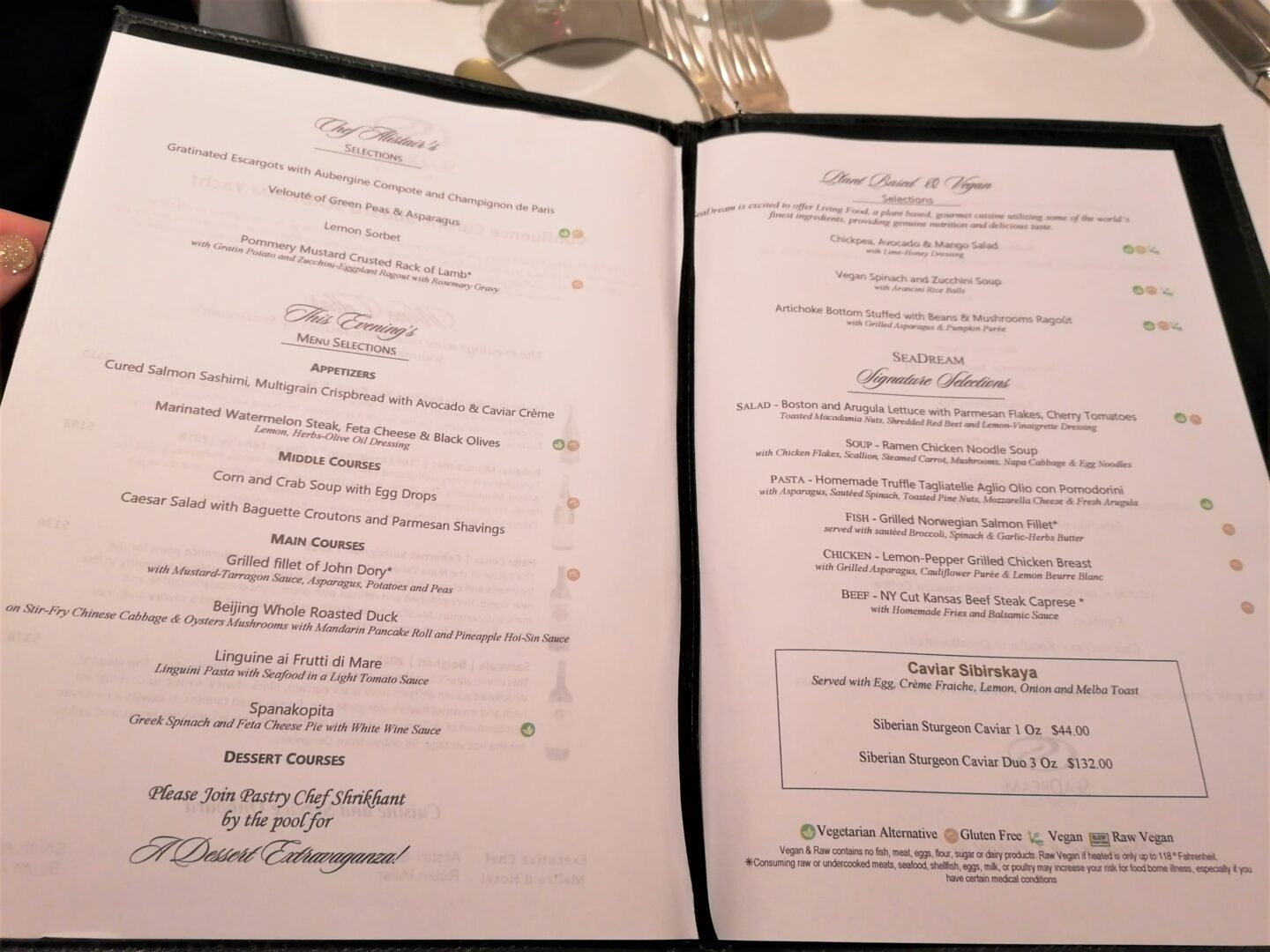 They ranged from Veloute of celeriac with blue cheese crumble, green peas and asparagus to Vietnamese chicken soup with lemongrass, glass noodles and tofu. But there were two that especially stood out and were absolutely delicious – the silky smooth Lobster bisque which was absolutely packed with lobster flavour and the 'Veloute of mushroom soup with truffle' which, if you are a truffle lover like Mr B and I are, you would love this soup. It had so much flavour of truffle, but the earthy mushroom flavour also still came through.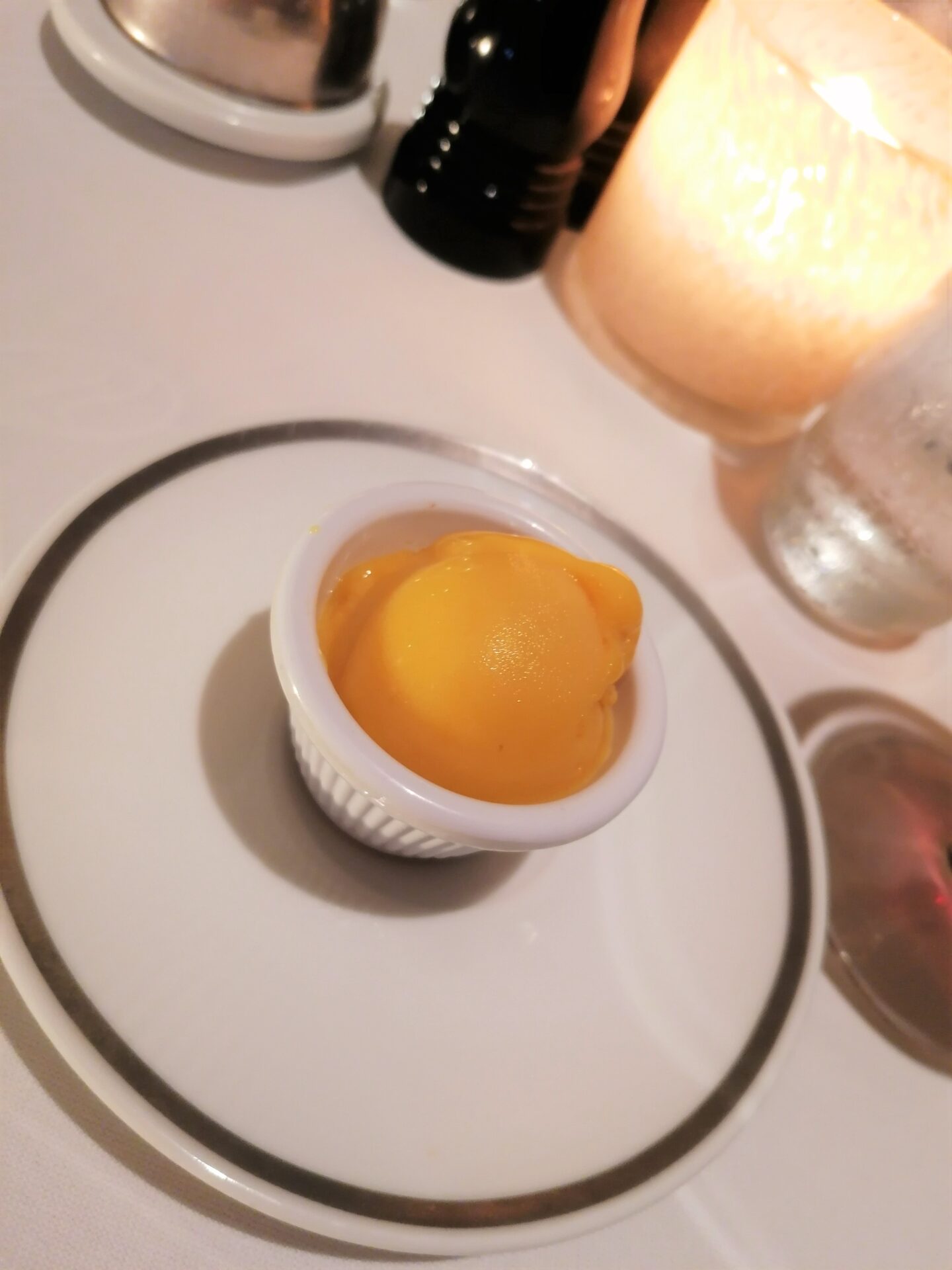 There was an optional sorbet course before moving onto your main course, which we also both usually enjoyed. It was a perfect pallet cleanser – cold and refreshing. Of course, they were homemade every day – the three in particular that stood out to me were the Passion fruit, Strawberry and the Orange & Champagne.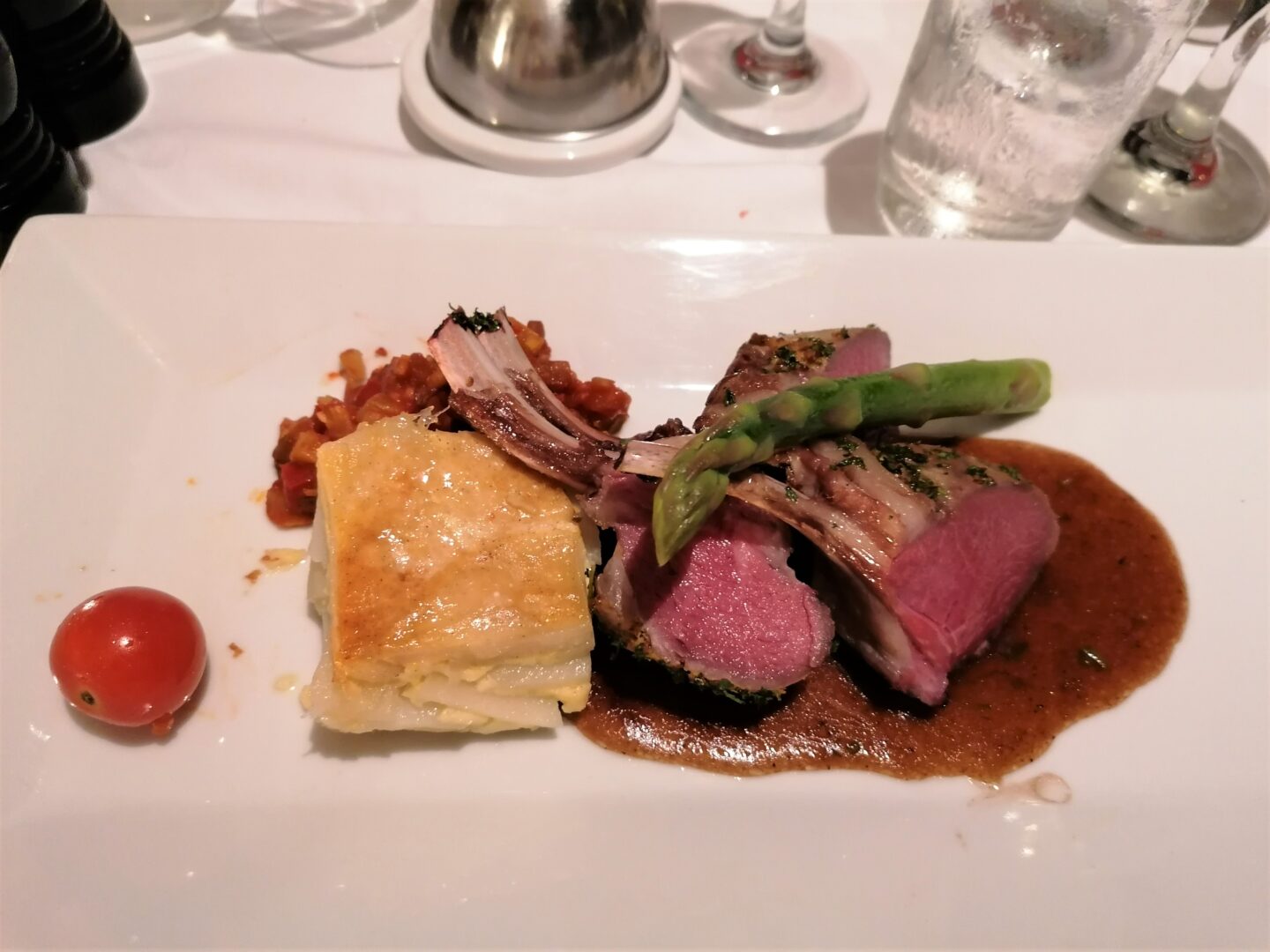 It is difficult for me not to just list practically every main course Mr B and I ate as standout dishes as for us we had so many delicious plates of food. One night we both enjoyed the 'Beef Wellington with potato rosti and morel mushroom sauce'. I barley had to use a knife to cut into the beef as it was so tender – it was a perfect beef wellington.
Other main courses we really enjoyed were the New Zealand Roast Lamb Lion,  Grilled fillet of fresh Turbot, Pommery mustard crusted rack of lamb, Beijing whole roasted duck on stir fry Chinese cabbage and Oyster mushrooms with Mandarin pancake roll and pineapple Hoi-Sin sauce, and the Chicken Tikka Masala with raita, cumin rice, poppadum and garlic naan bread.
I tend to order pasta for lunch, but one evening when I saw the Linguine ai Frutti di Mare on the menu I couldn't resist ordering it. The homemade pasta was cooked al dente and the dish was packed full of seafood, juicy scallops, lovely calamari and big plump mussels. It was all in a light tomato sauce which really let the seafood be the star of the dish.
My favourite main course? Well that is actually quite easy as the Grilled rock lobster tail which came on asparagus risotto with a lemon garlic beurre blanc is the best piece of lobster I have eaten, ever! It was cooked so well – the beautiful lobster was sweet and juicy, the delicate risotto with the zesty rich sauce was a perfect combination and Mr B thought it was absolutely divine.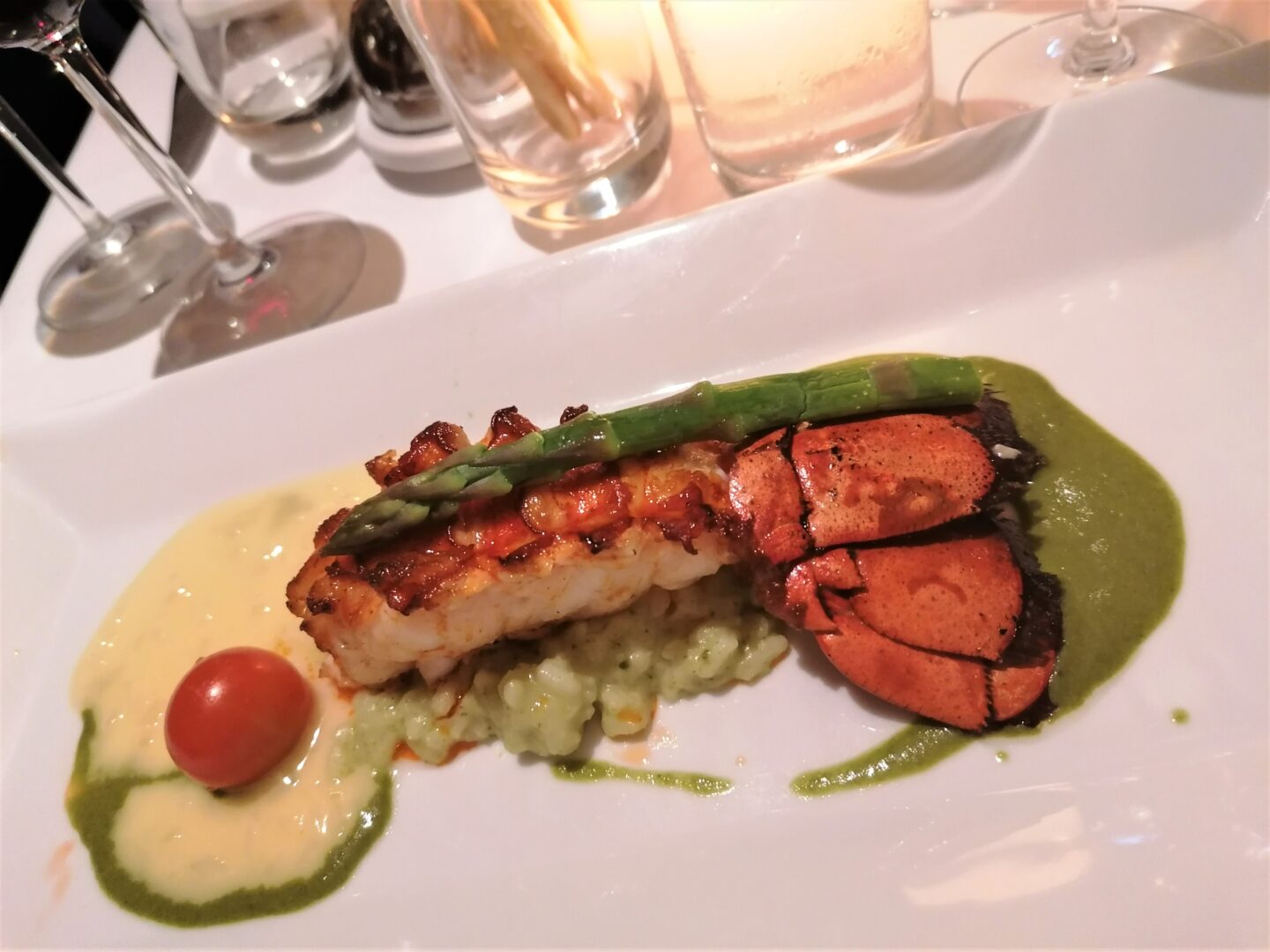 To say I have a sweet tooth is bit of an understatement. Whilst some evenings Mr B skipped dessert, that was never the case for me. With options like Trio of chocolate and raspberry mousse, Crunchy base milk chocolate & orange bar and Coconut rice pudding with mango compote on the menu, I absolutely could not resist!
One dessert we both ordered was the Key lime pie – it was heaven. A crunchy base with a lovely sweet and citrusy filling, it came with a mango sauce which was a nice contrasting sweetness. Another dessert we both ordered was the Pecan pie with rum raisin ice cream. It was a generous portion and the nutty, sweet filling with the buttery base was very yummy.
A classic, but one I can never resist on a menu is the Vanilla crème brulèe – Seadream served theirs with an almond biscotti. We were lucky enough to be looked after by Lawson most nights and on the night I ordered the crème brulèe he presented me with two! He said he knew I would really like it and they were small so he got me two, and yes, of course I ate them both – it would have been rude not to! The rich custard was silky smooth and the perfect consistency.
Of course, we were never ushered off our table once we had finished dinner. We liked to sit and relax at the table and were always being offered a top-up of wine, a glass of champagne and sometimes (when we weren't drinking great wine or champagne) we enjoyed an after-dinner espresso.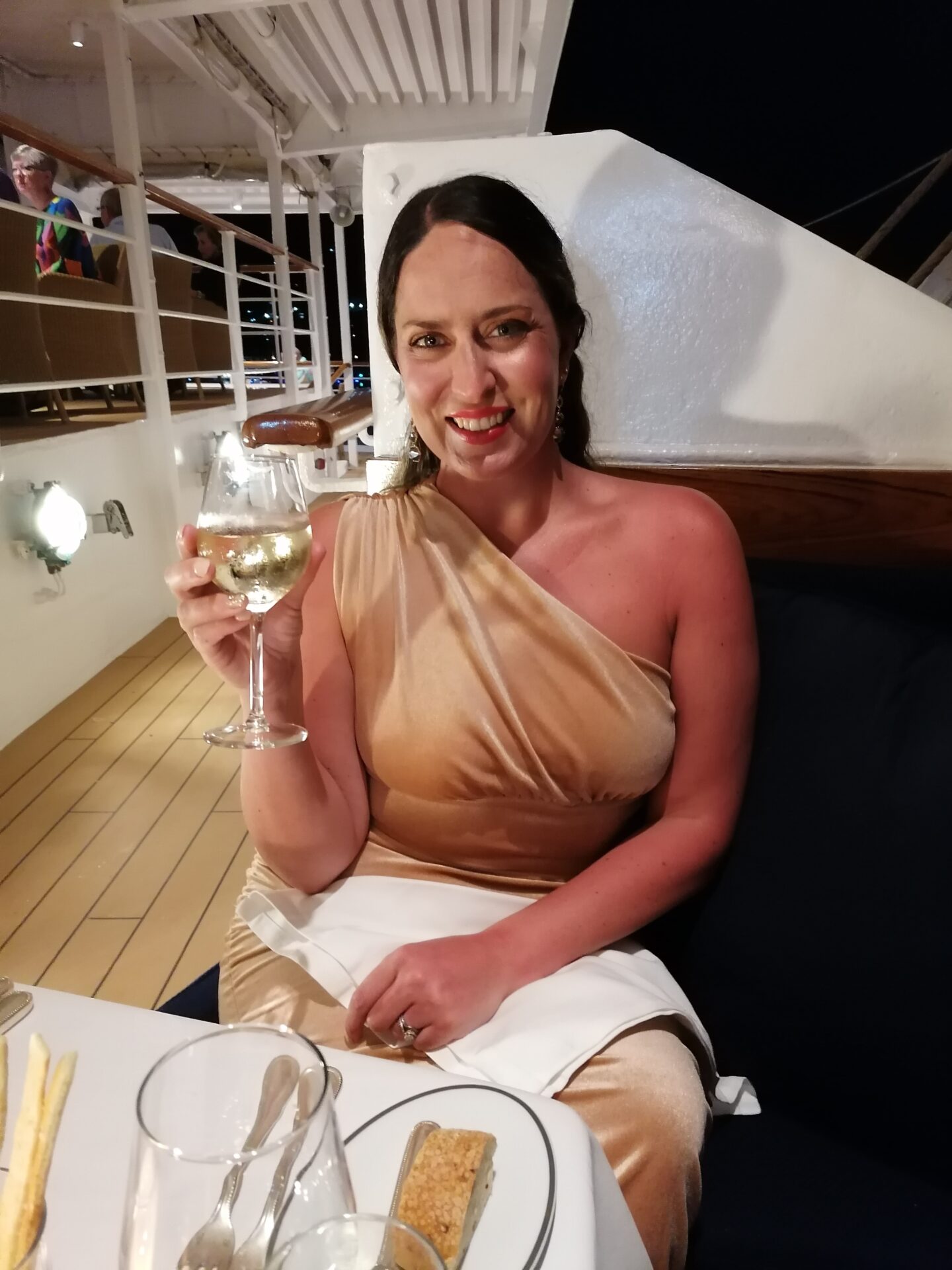 As well as breakfast, lunch and dinner services you can dine 24 hours from the room service menu, which has a selections of sandwiches, salads, pastas, soups etc. One afternoon when we got back to our cabin we did fancy some snacks so we ordered a cheese plate to share which was the perfect size without filling us up too much before dinner.
As I am sure it is clear we absolutely loved the food on SeaDream. We had high expectations and they were most definitely met. We had many memorable nights onboard sat on a lovely table with uninterrupted views of the Caribbean sea, eating incredible food and being looked after by the most wonderful crew. Those perfect nights on SeaDream we will be talking about for years to come.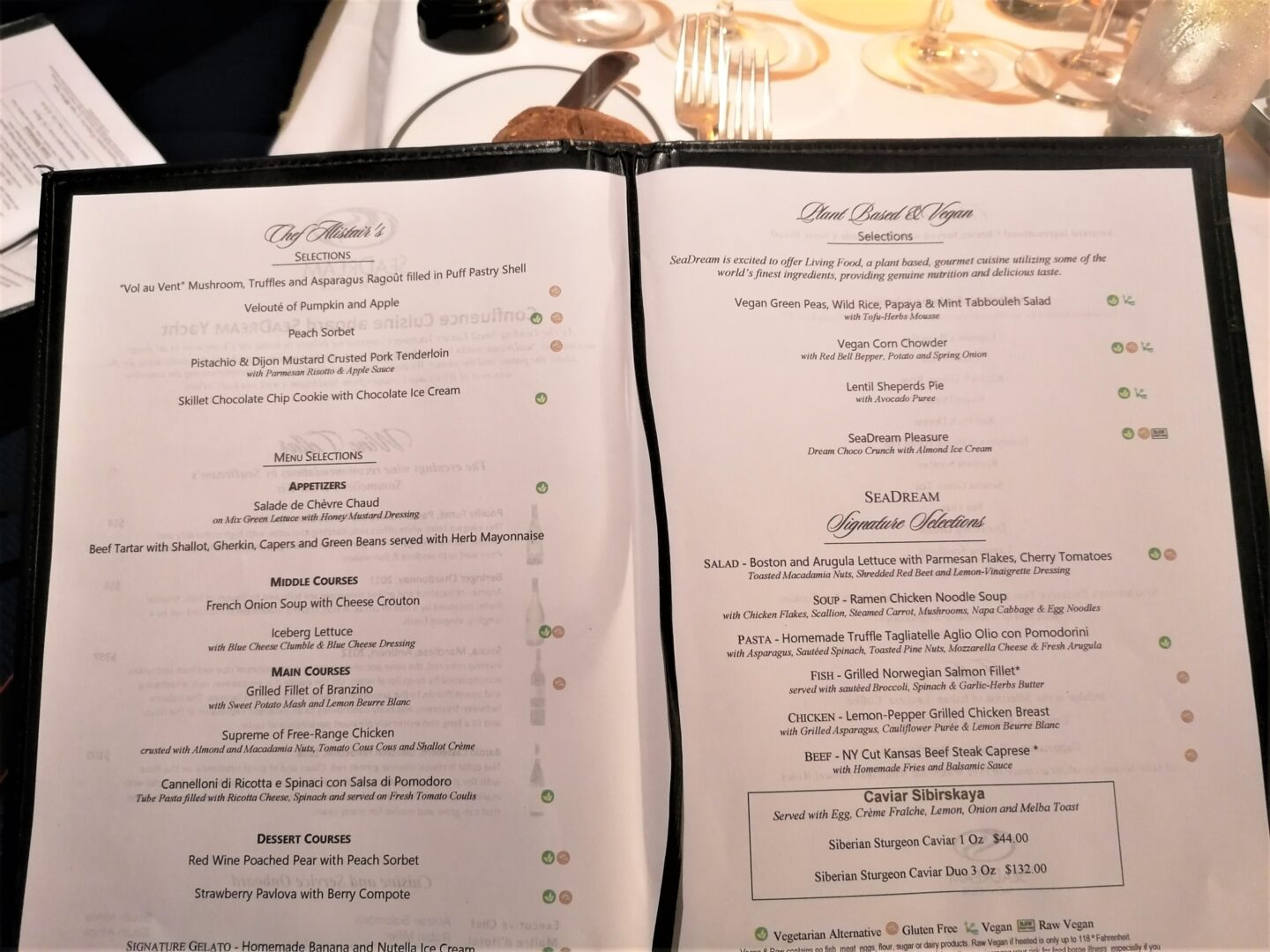 Read my other SeaDream blog post to see onboard this luxury yacht and the facilities on offer to passengers . . .
Read my next blog post to see the Caribbean islands we visited during our voyage and what we got up to . . .