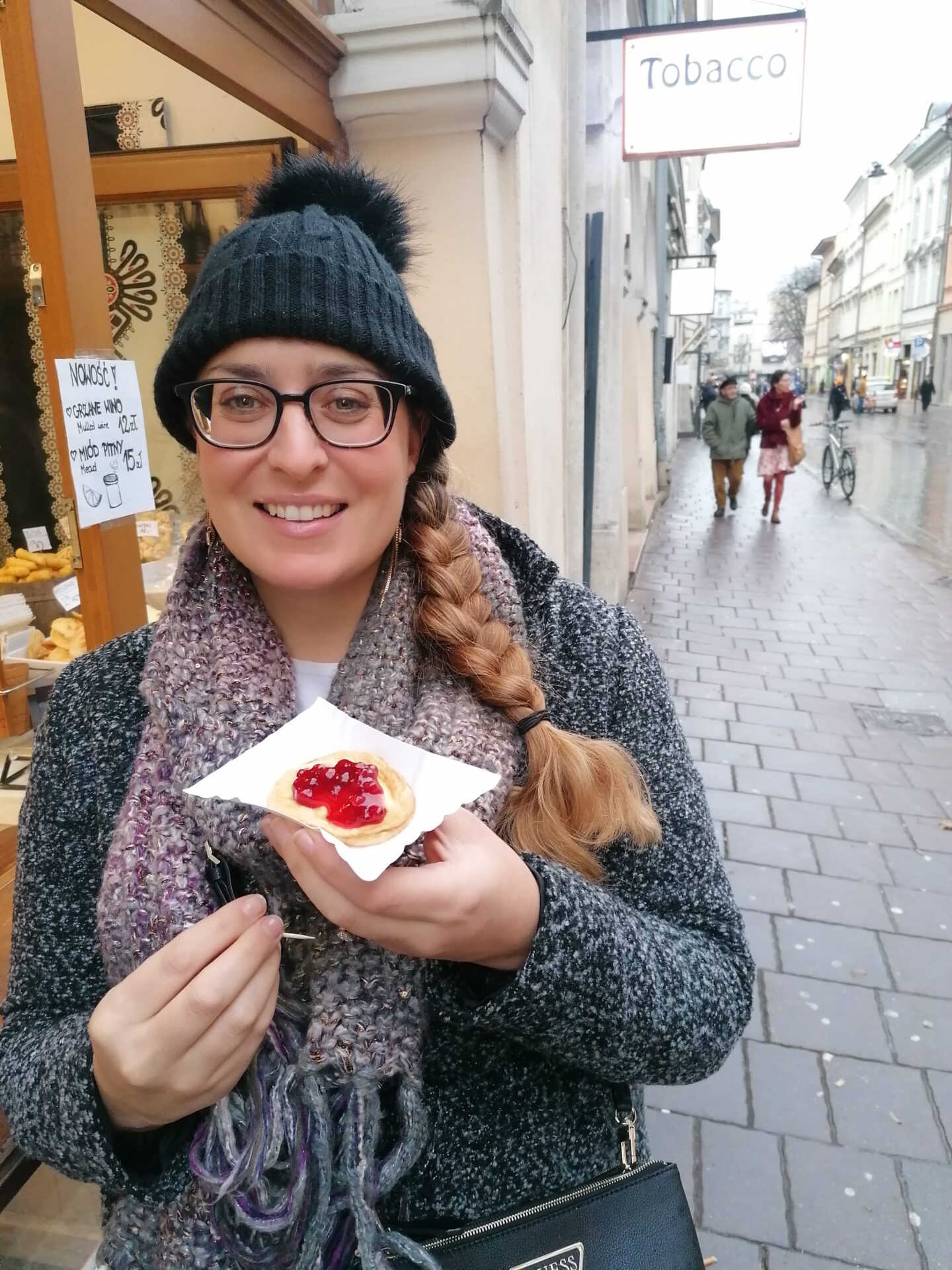 We loved exploring the food and drink scene in Krakow. With a bit of research and a bit of just following our noses we managed to eat our way around Krakow pretty well, ticking off all the local dishes we wanted to try along the way.
Here are my recommendations of places to eat and drink in Krakow, along with some recommendations of local dishes to sample . . .
BaniaLuka
After we discovered BaniaLuka on our first night we ended up back in there every day! We ordered a variety of their food to share, a good way for us to try some Polish food at very cheap prices! The steak tartare was my favourite followed closely by the pierogi, which happened to be the first of many pierogi I would end up enjoying in Poland.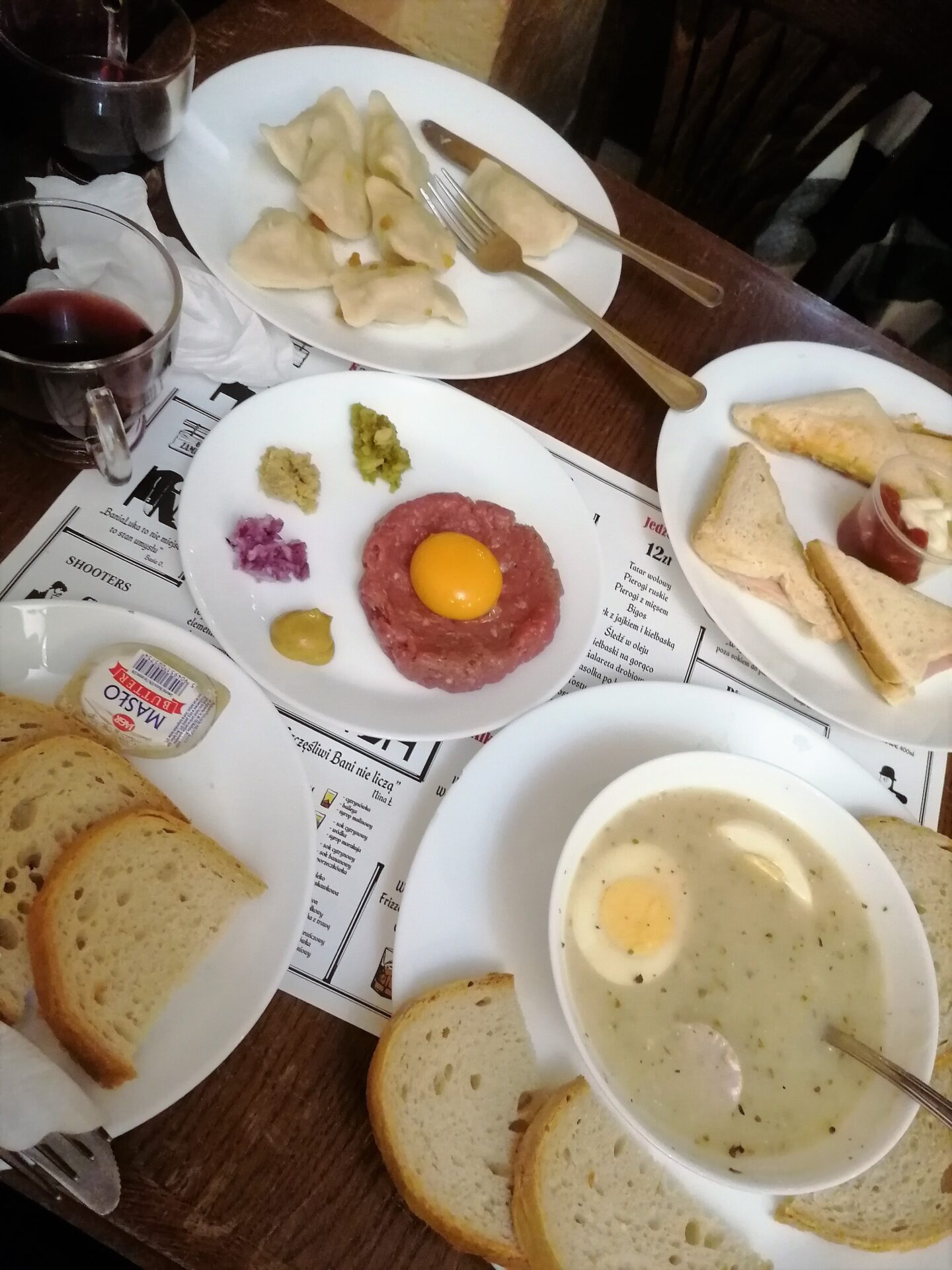 The main draw for our return visit was the great selection of drinks and the very good value! I enjoyed many a mulled wine and as we visited in winter, it was the perfect drink to warm up with. Mr B enjoyed the local beer Tyskie, whilst we both worked our way through the vodka menu and tried some fun shots which we hadn't tried before. I highly recommend the Chupa Chup which contains lemon vodka, ginger syrup and pepper and really does taste like sweets!
Multi Qlti Tap Bar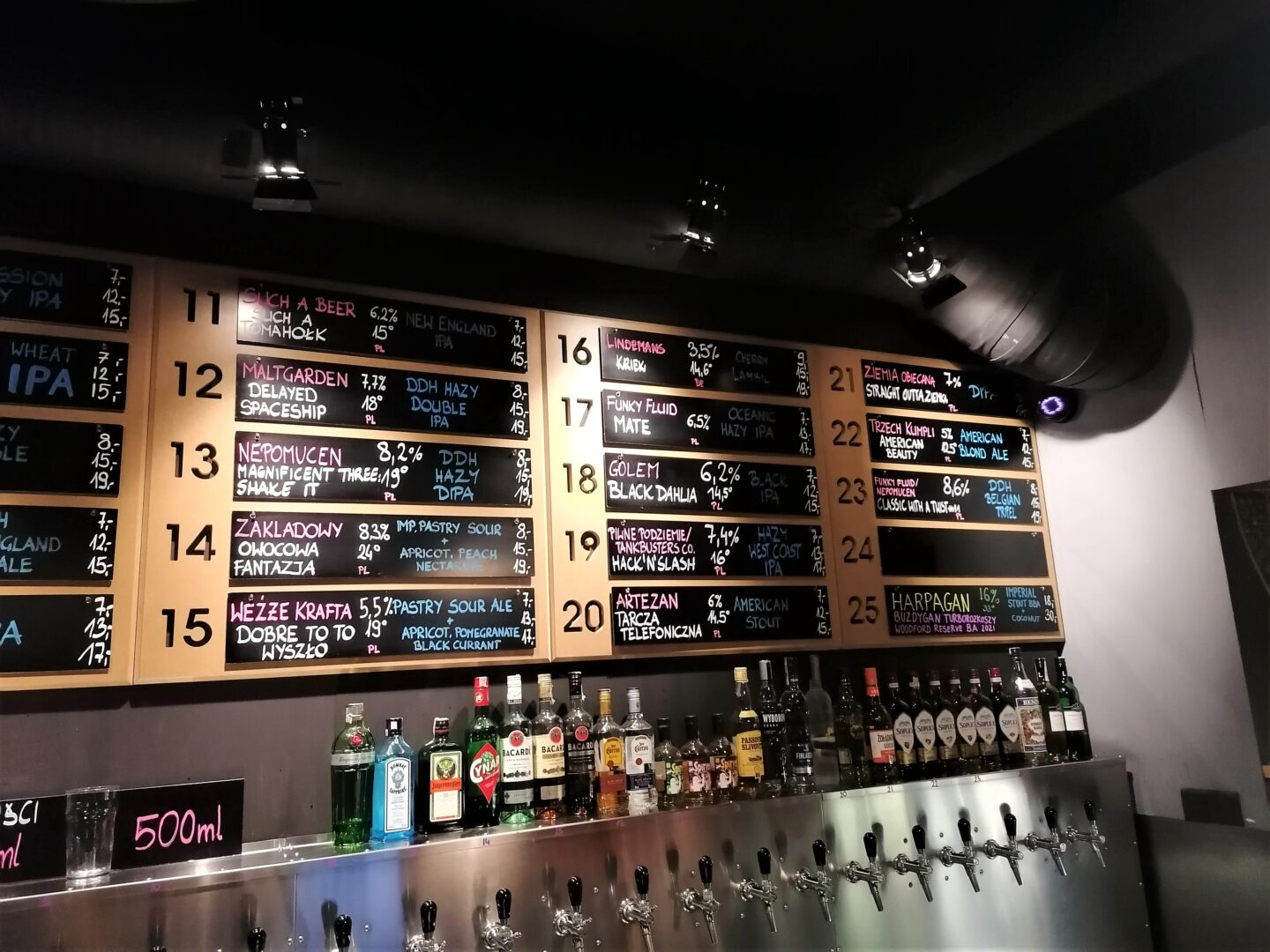 For all the craft beer lovers out there this is the one for you. Located upstairs a stone's throw away from the main square, we sampled one of their beer flights which they put together for us after asking us what we like/usually drink. Mr B was very happy we found his place.
Bar Smak
We walked past this local gem on our daily stroll form our hotel to the main square. Every time we went past it was always busy so on our last day we went for lunch and managed to get the only available table.
This is the perfect place to visit for some traditional Polish food. After our visit to Krakow I was a true lover of pierogi so when we saw the selection of homemade pierogis on the menu we ordered one portion of potato and cheese and one portion of meat along with a portion of the potato pancakes with mushroom sauce. As it was our last meal in Poland we ordered all the dishes we had loved and Bar Smak certainly delivered. The portions where big and hearty, the service friendly and the food delicious.
Wodka Bar
In my opinion this is THE place to go in Krakow for vodka tasting. They have such a huge variety of flavoured vodkas on offer and do fantastic vodka flights. It's a good way to find out which ones are your favourites and you want to have again. For us that was the hazelnut, coffee and the cherry, which we also purchased at duty free to enjoy at home! It's not very big so you may have to wait for a seat, but it will be worth the wait. We found the staff to be really friendly and helpful too. If you aren't sure which vodkas to chose ask for their favourites. This led to us trying a few that we may not have chosen ourselves.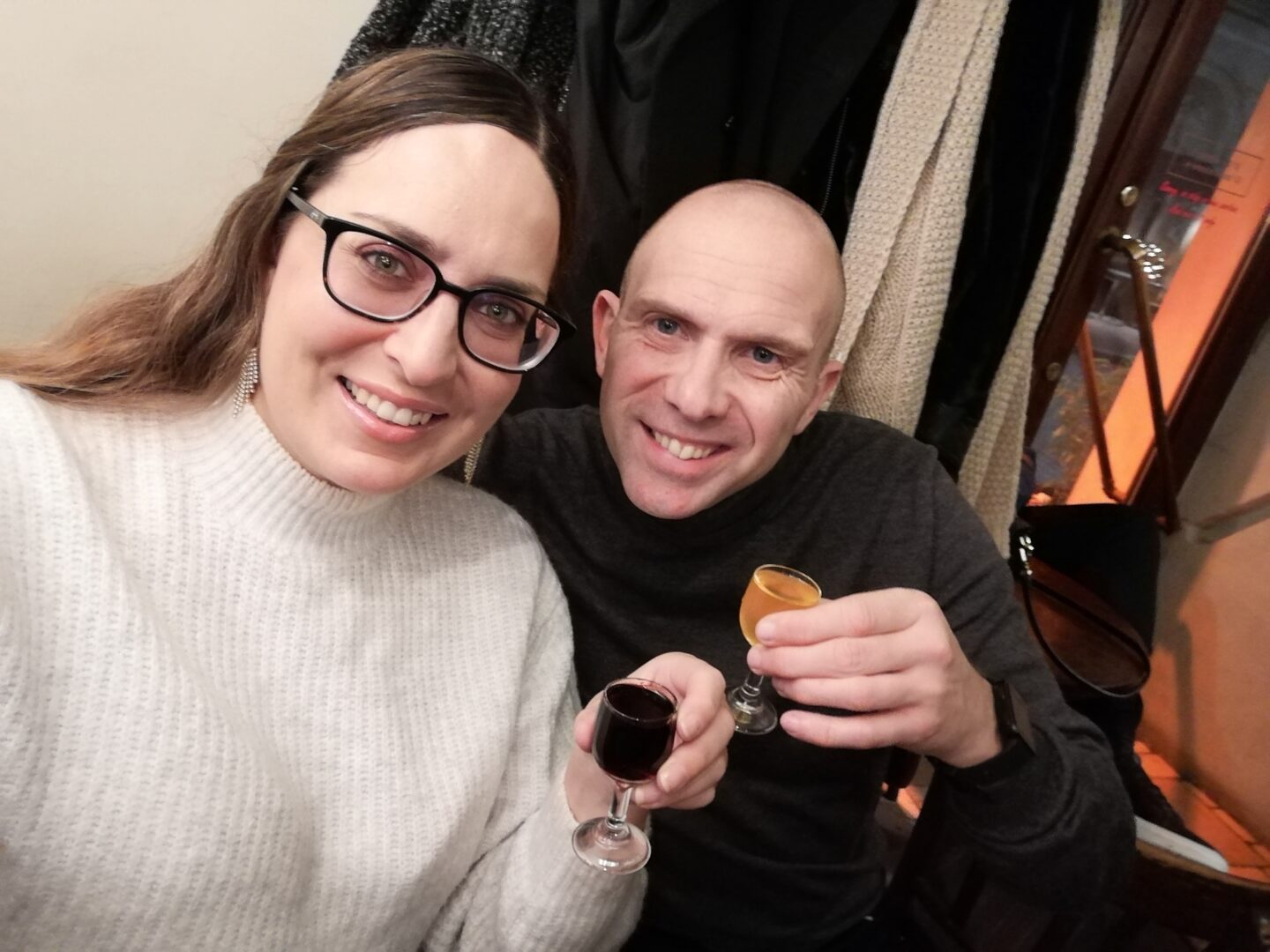 Dobra Paczkarnia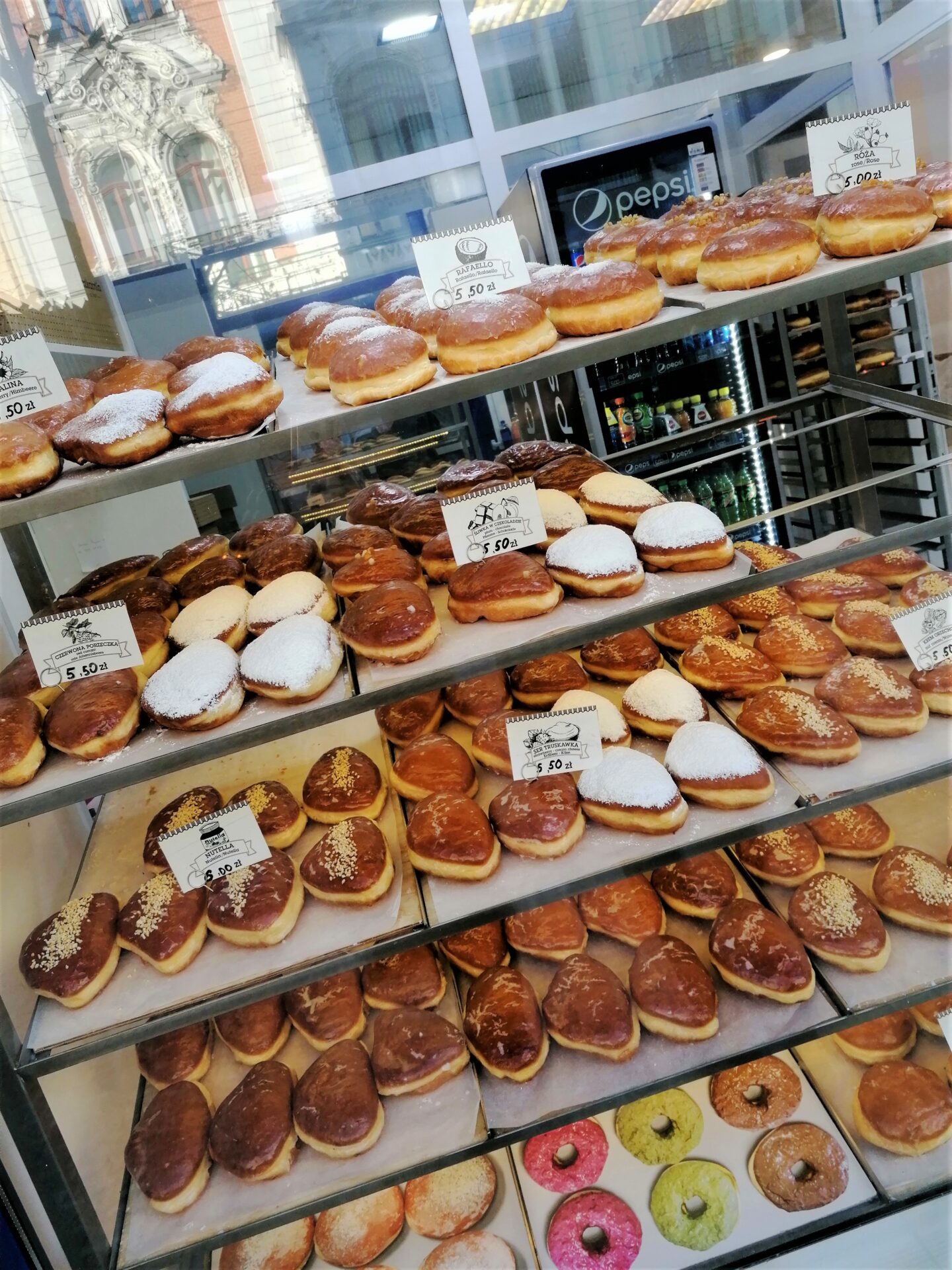 These Polish doughnuts were amazing, as good as all the doughnuts we ate in the States. Baked fresh every day, you can see them being made through the shop front. There are quite a few flavours to choose from. We tried the traditional rose which had a fruity and floral flavour, and the ever-popular Nutella, but my favourite was the Rafaello. They were all lovely and soft with just the right amount of glaze and were all very generously filled.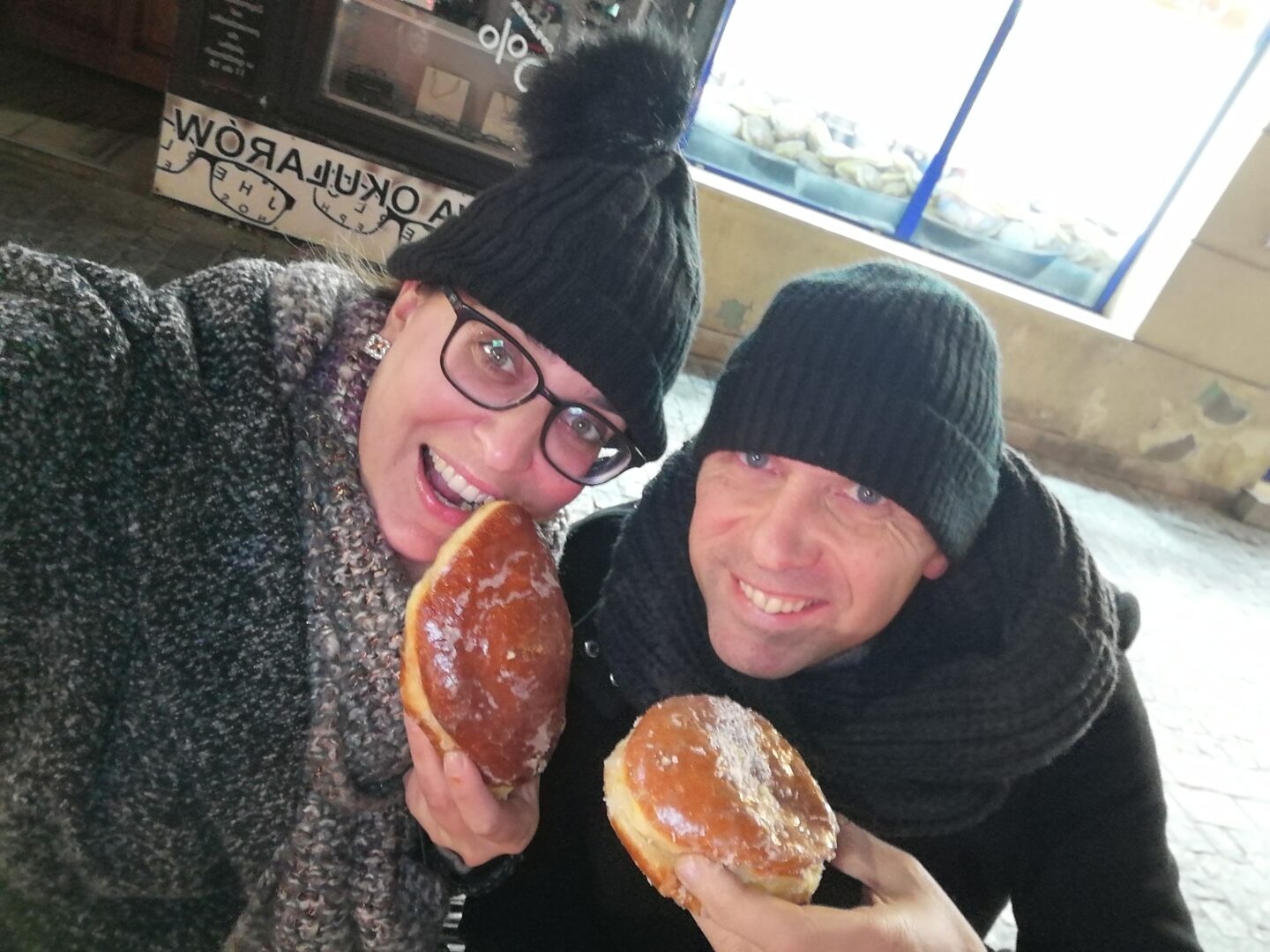 Koliba
We only ventured in here for drinks, but we did hear how good the food was and if time would have allowed we would have eaten here. Venture downstairs and you will find a lovely little bar area. We had the vodka flight and had the same when we went back a few night's later! On the vodka flight the favours were cranberry, quince, grapefruit, lemon and cherry.
Smakolyki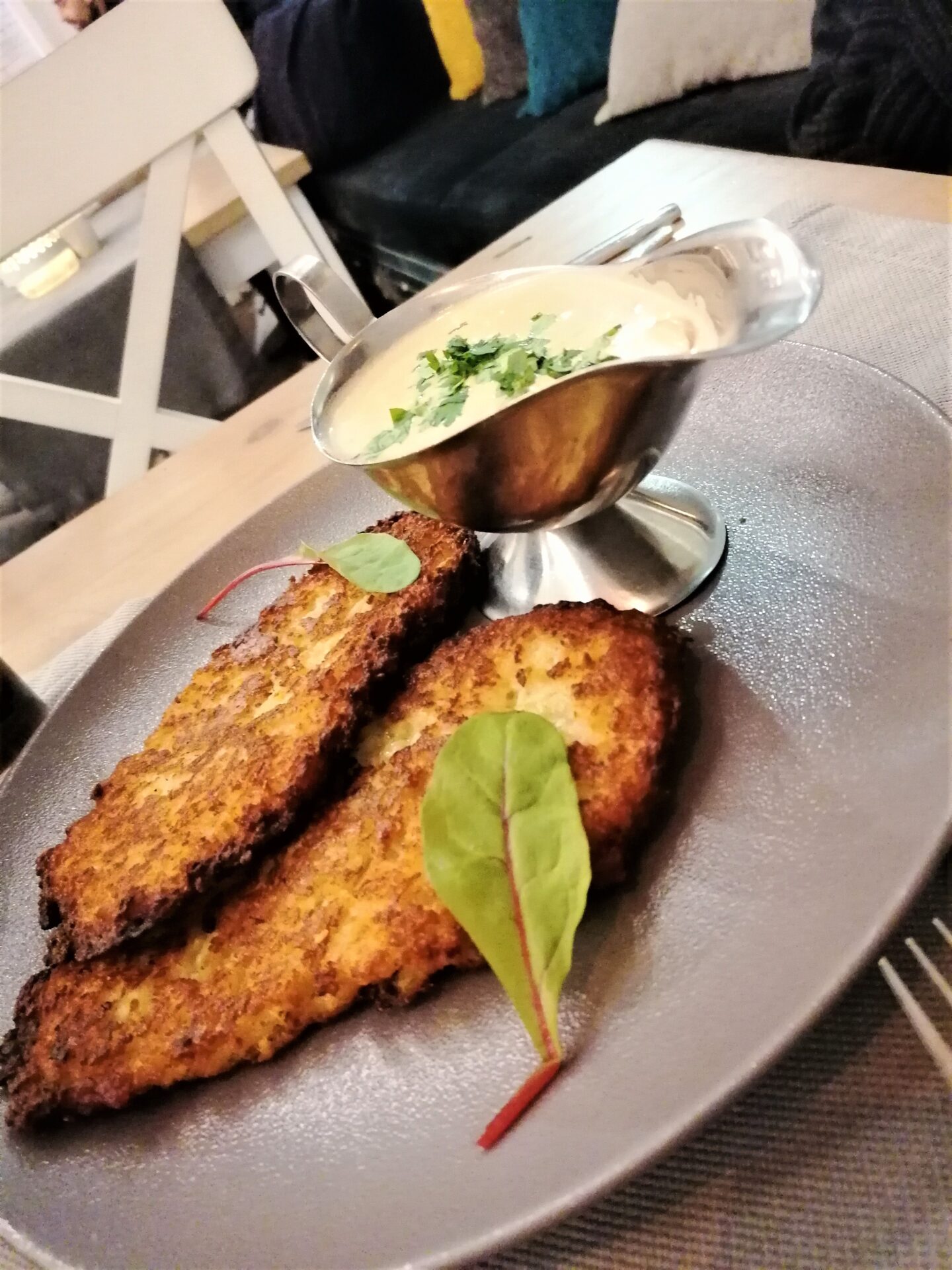 We visited this restaurant after a long day of sightseeing and it was the perfect place to relax and enjoy a lovey leisurely meal. The menu has a really good variety. We shared a portion of the potato pancakes with mushroom sauce to start. The pancakes were lovely and crisp and the sauce was rich, creamy and packed with mushroom flavour.
For my main I opted for the long roasted beef cheeks in demi glaze sauce served with mash potato and herb salad. The beef cheeks fell apart and the lovely thick sauce I mopped up with the creamy mash. Mr B had the pork schnitzel and thoroughly enjoyed his meal.
Pijalnia Wodki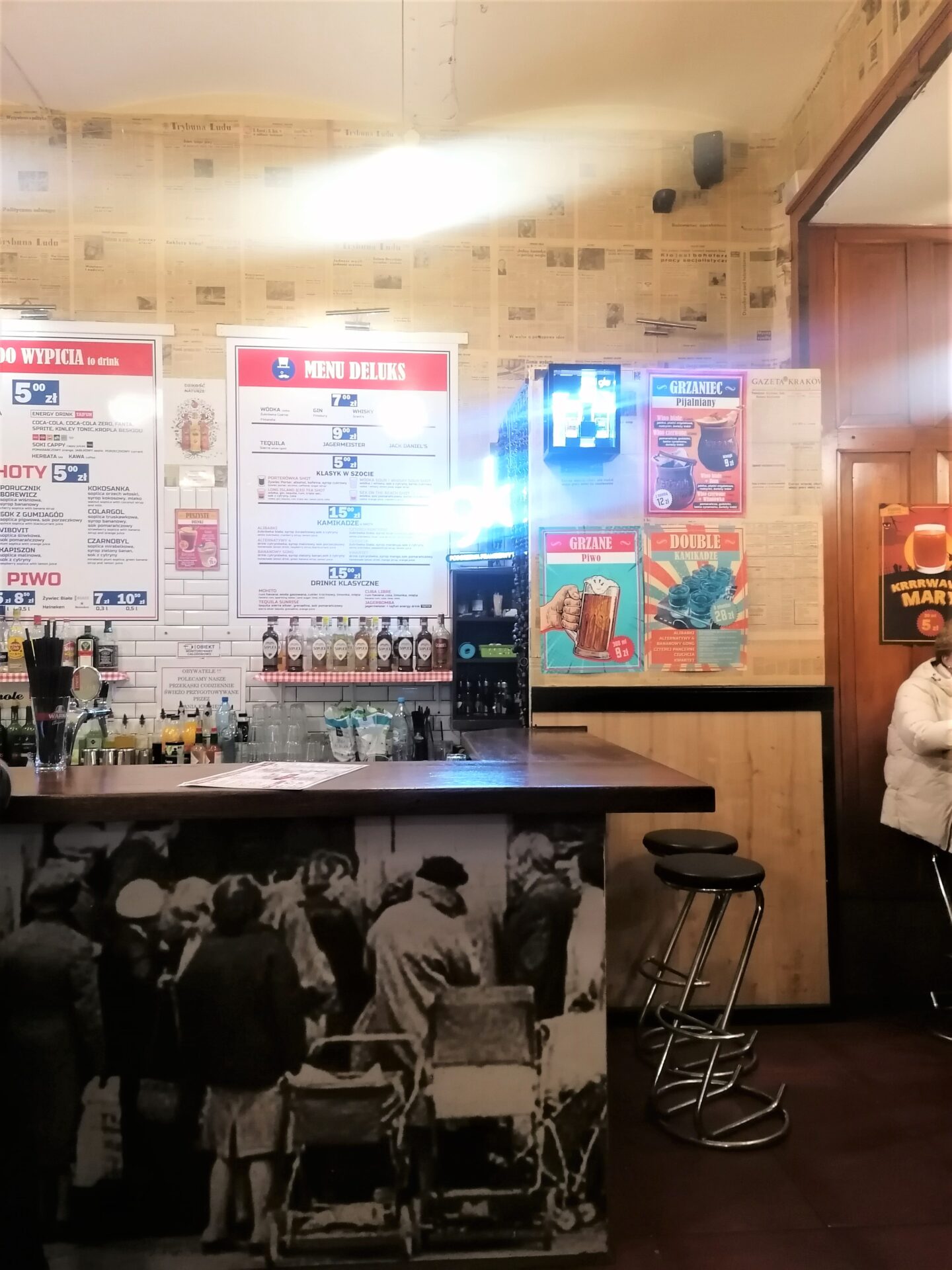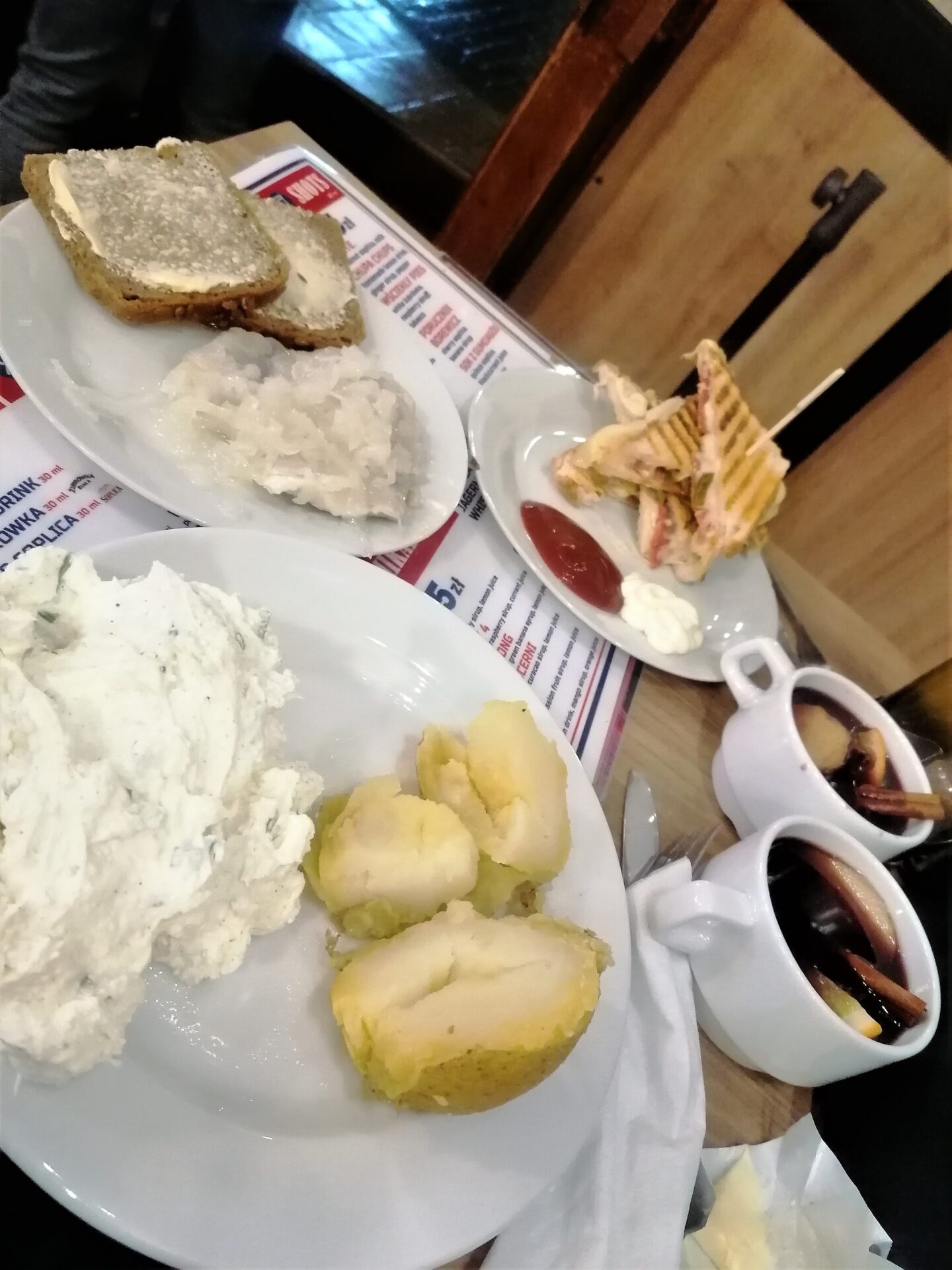 There are a few of these dotted around Krakow, we popped into the one near the main square. They have a range of small plates, similar to BaniaLuka, but most people in here were there for the great value drinks, including some very tasty shots and homemade mulled wine.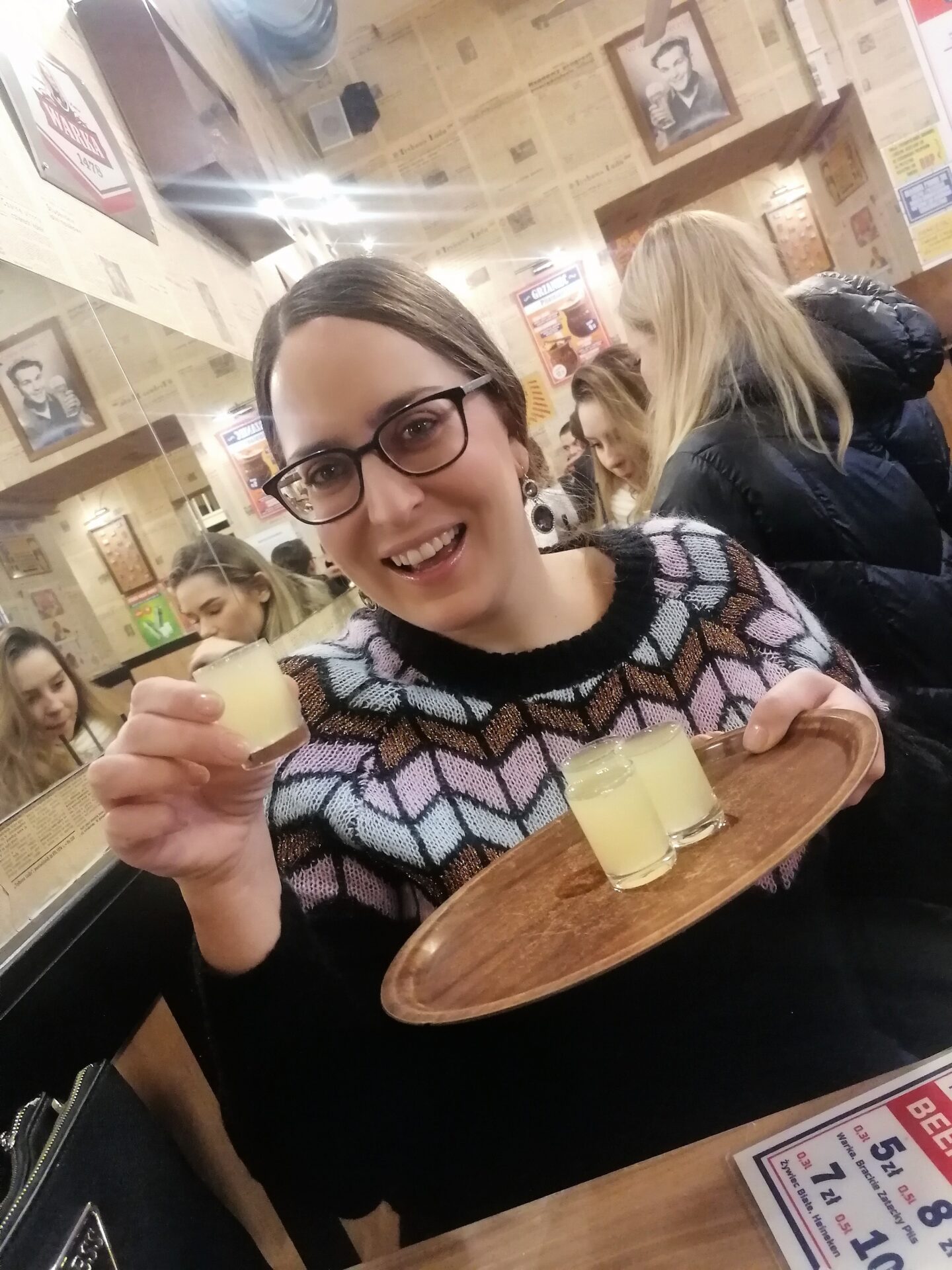 Obwarzanek
You will see carts dotted all around Krakow selling Obwarzanek which is Polish bagel. They are very popular with the locals and very cheap.
Oscypek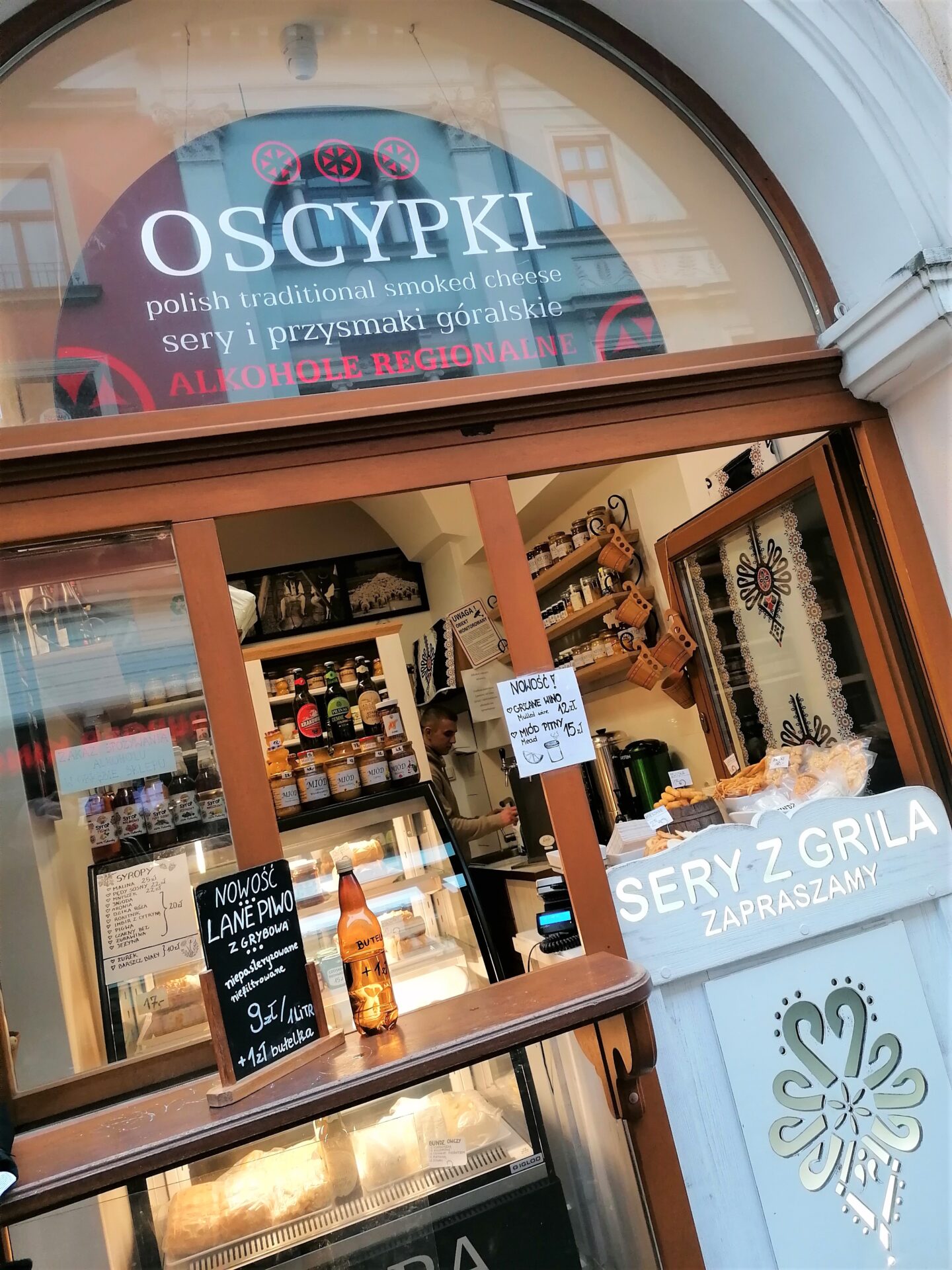 A must-try for any cheese lover. Oscypek is a smoked sheep's cheese traditionally served grilled with cranberry sauce and sometimes even wrapped in bacon. It's salty and has a slightly squeaky texture similar to halloumi, and when grilled the cheese goes lovely and molted in the centre. We loved it so much we brought some vacuumed packs home with us. There is a small shop just off the main square not far from BaniaLuka where we tried our first Oscypek, along with a few other local cheeses.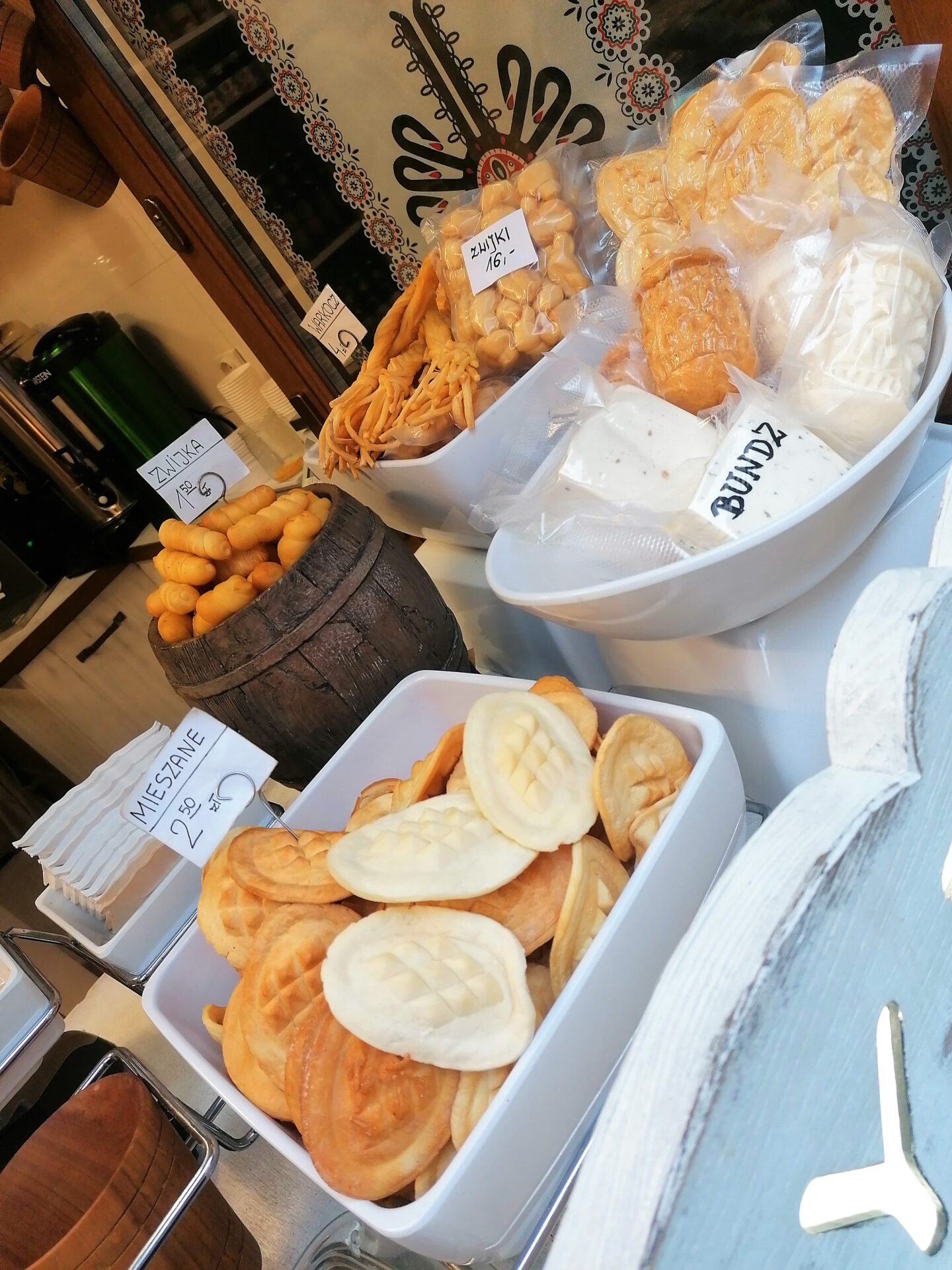 Street Food
Krakow has a really great street food set up and we spent one night eating our way around the street food stalls located in the Jewish Quarter.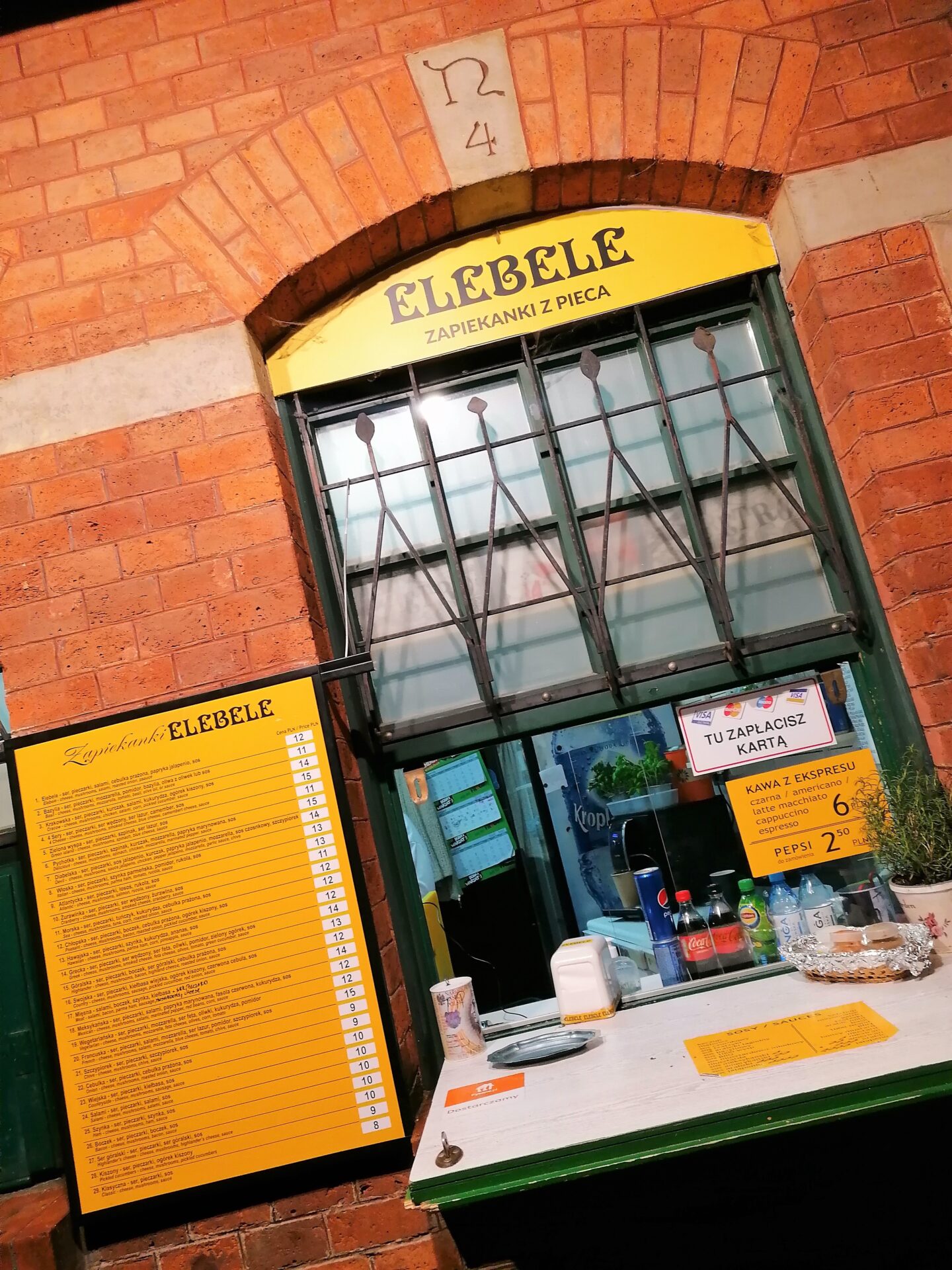 Head to Plac Nowy to try the epic zapiekanka, which is a Polish pizza. Instead of a traditional pizza base these are made of bread and topped with a range of toppings, the one we chose was topped with cheese, mushrooms, mozzarella, tomato, basil and olive oil . . . it was absolutely delicious!
At the Judah Food Market we had an epic Mac N Cheese dog from the Dog food truck, a lovely hot dog topped with a delicious portion of thick creamy mac and cheese.

We also had a mouthwatering pulled pork burger from Andrus food truck which had incredible, soft juicy flavoursome pork with melted crispy Swiss cheese and mushrooms.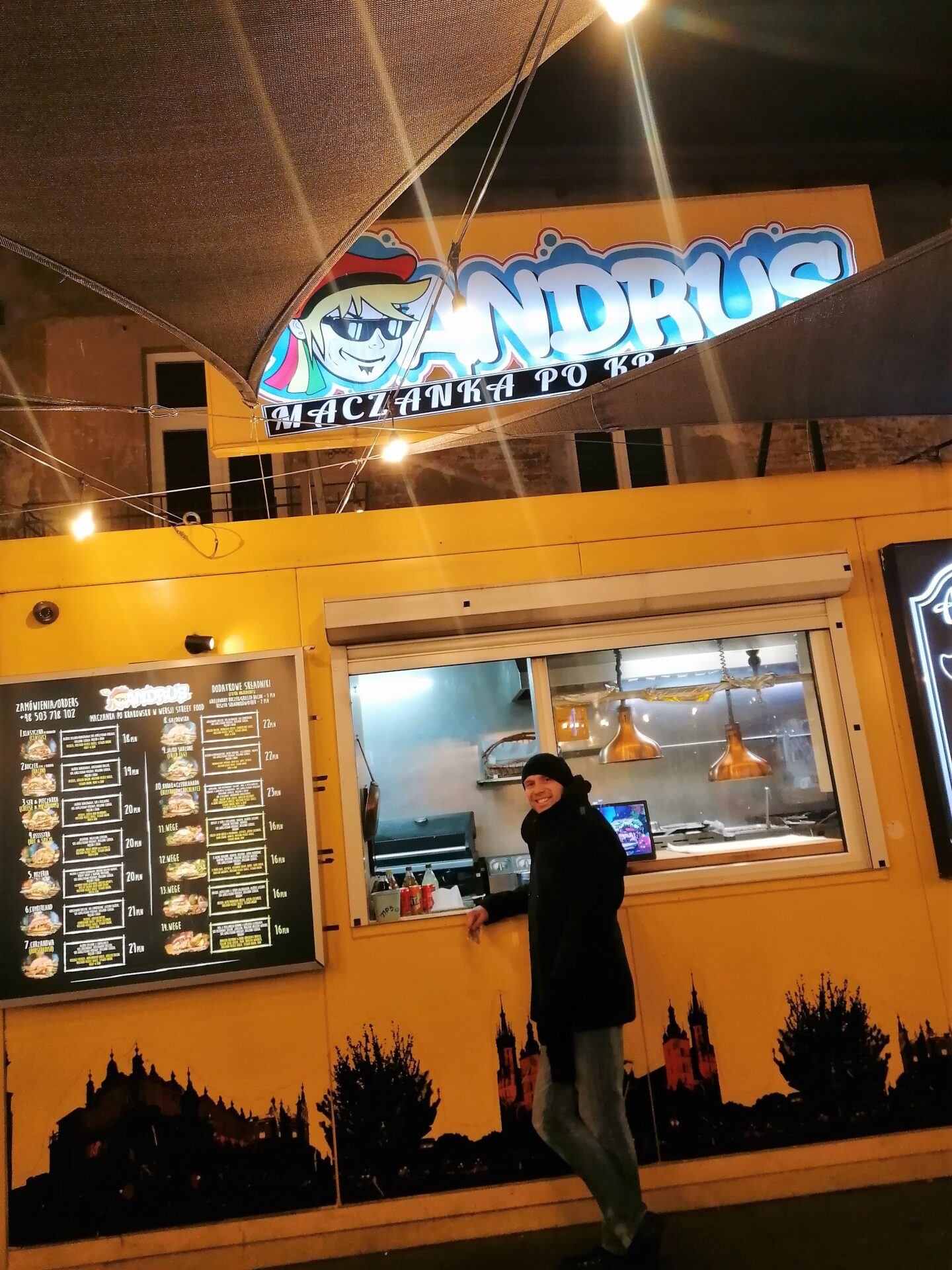 For something sweet check out Chimney Cake Bakery, the delicious sweet pastries which are baked fresh, crunchy on the outside and soft on the inside. Your chosen toppings, which in our case were caramel and almond, are smothered on the inside of the chimney cake.
So in summary if you are heading to Krakow it is safe to say you wont go hungry! We found the Polish food perfect for fueling up after long days exploring and as we visited in winter we found it all really warming and comforting too.
Oh and if you are going to explore Krakow . . . have a vodka shot for me!