JA Ocean View Hotel: Five-Star Hotel located on The Walk, Jumeirah Beach
Walking into the beautiful marble reception and being greeted with refreshing towels, mint lemonade and homemade chocolate cookies after our long flight, I knew straight away this five-star hotel was going to deliver on service as well as style.
We stayed in a 'Club Sea View Room', which on the 23rd floor gave us incredible views over the Jumeirah Beach, but what I really loved was that every room at JA Ocean View has a sea view. The hotel doesn't have any rooms looking onto the street so you are guaranteed that beautiful view whatever room you stay in.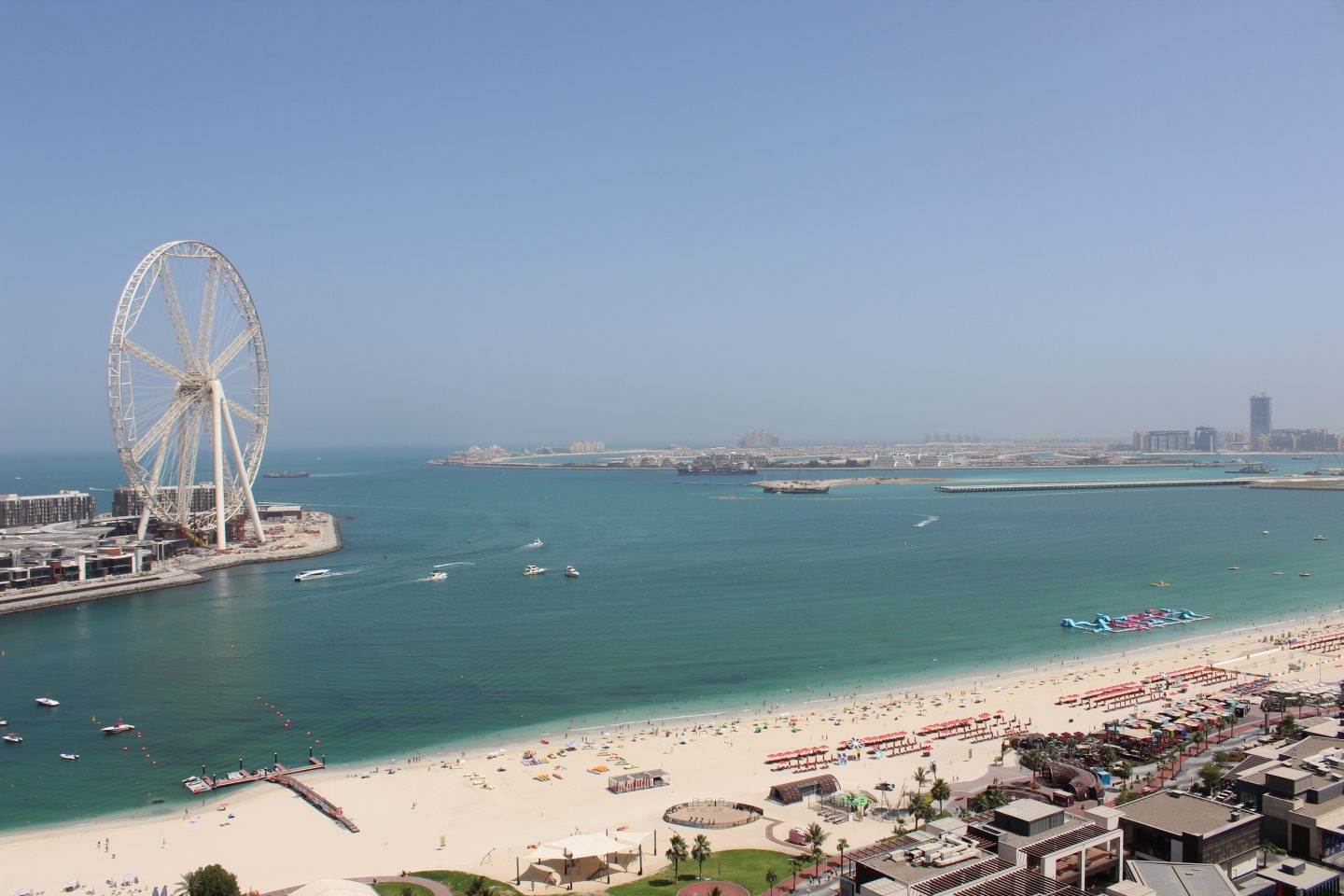 Walking into our room the first thing we noticed was the beautiful air con (not really), but this soon became something we were very grateful for everywhere we went in Dubai! Walking into our room we had a marble bathroom to our right with a full selection of Elemis toiletries (which I love!) and lots of wardrobe space (which we definitely needed!). We received a call to check everything was satisfactory and our request for extra coat hangers had someone at our door only 10 minutes after.
We had a huge king-size bed which was extremely comfy and when our room attendant came for turn down service in the evening we had slippers left at the side of our bed, a fresh bottle of water and glass and of course that all important towel animal and chocolate on our pillows. Our room attendant Binod had fantastic attention to detail. Of course he refreshed our toiletries daily, but he also left rose petals in our bathroom and on our dresser he lined up my make-up and toiletries making it look a lot neater than I left it!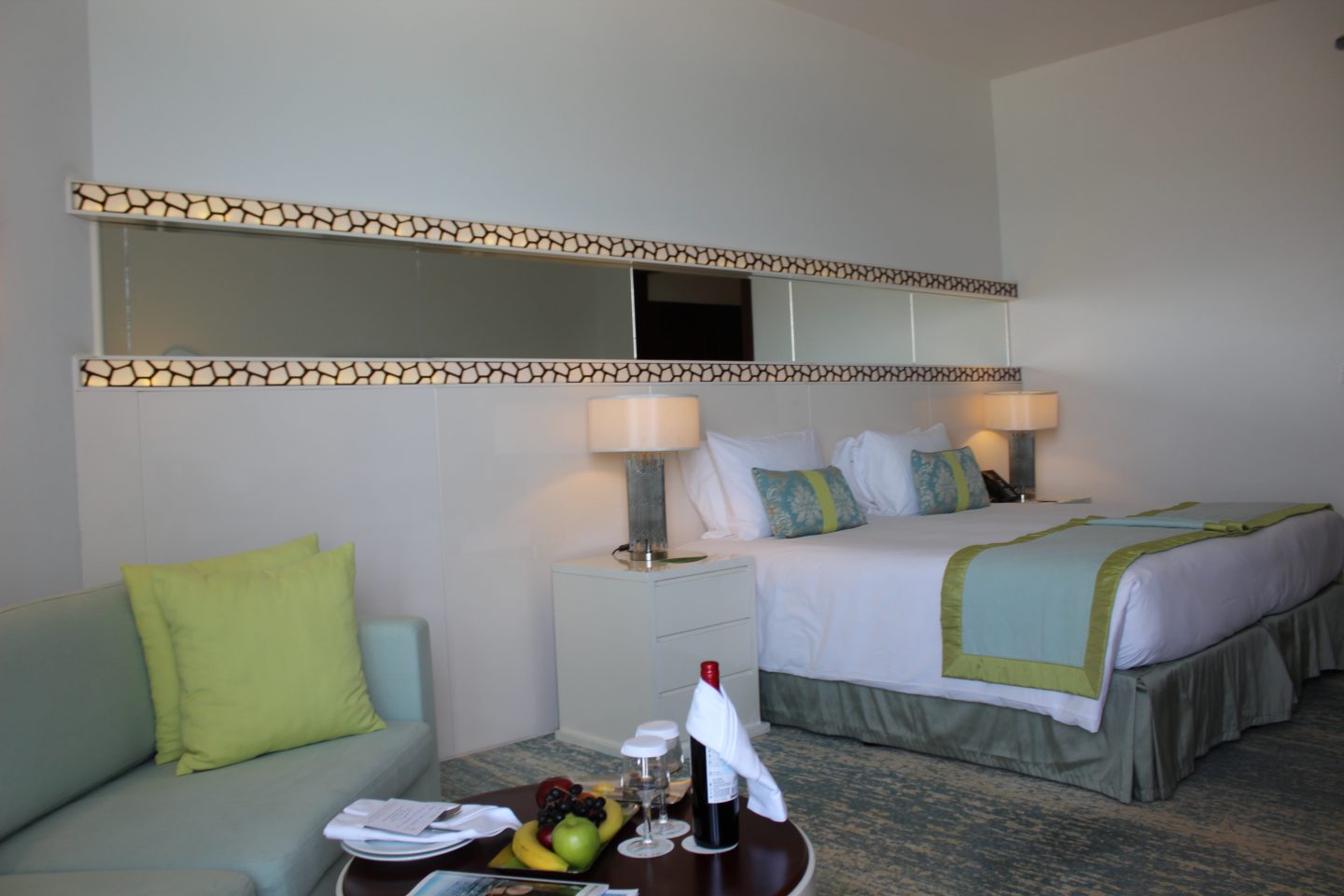 Our room also had a seating area with full-size sofa and a huge dresser which was perfect for getting ready as the room was filled with natural light.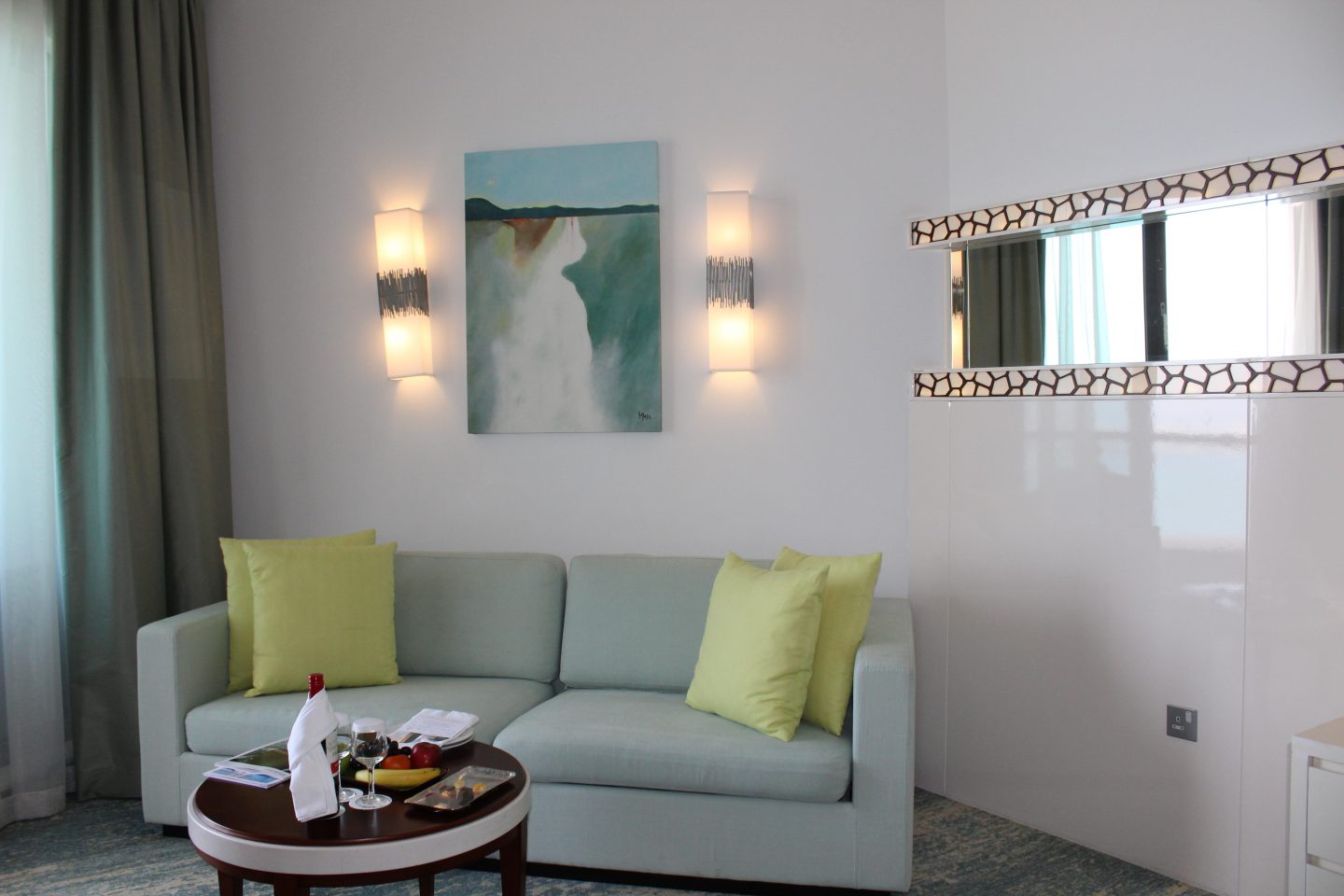 What has to be the favourite part of our room was of course the balcony with views of Jumeirah Beach and The Palm. It was the perfect place to relax.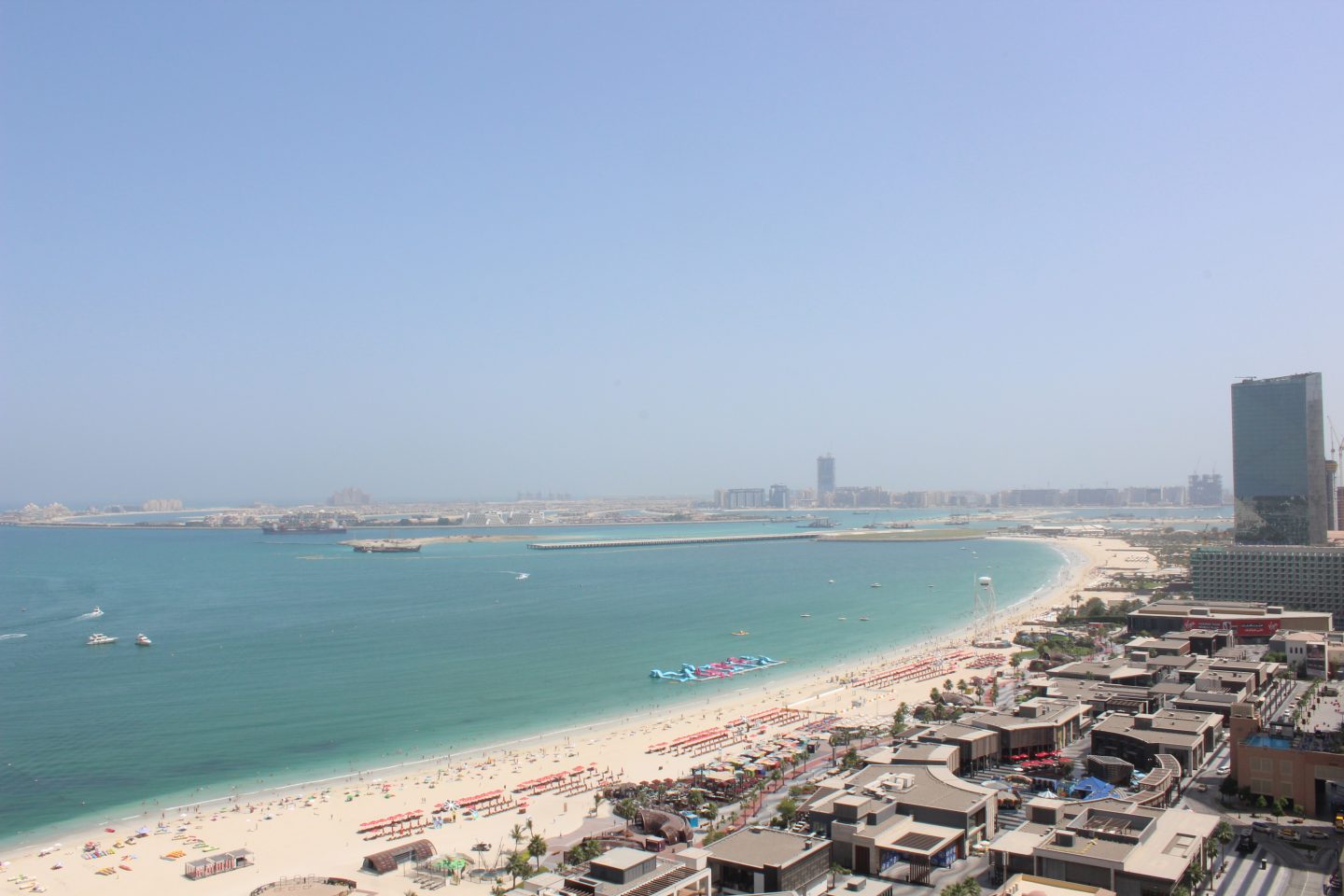 After being dropped off from our desert safari we couldn't quite face getting changed and going out for late night drinks so instead we ordered champagne and soaked up the sights and sounds of Dubai at night.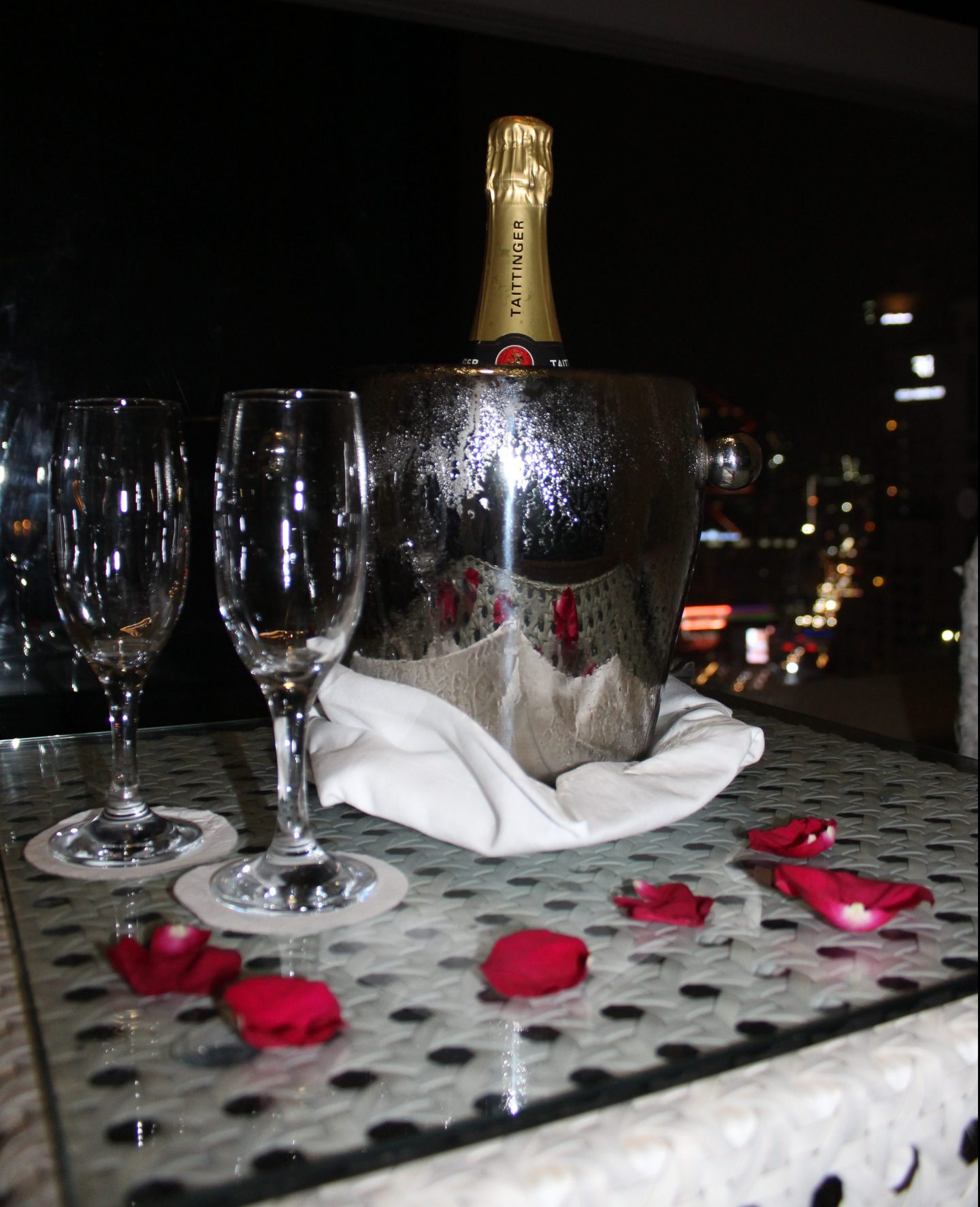 Other extras in our room included dressing gowns, free Wi-Fi throughout the hotel, tea and coffee-making facilities and as we were staying in one of the hotel's club rooms we got exclusive access to the 'Coral Lounge'.
This is available to Club guests throughout the day for breakfast, afternoon tea and in the evening there are complimentary drinks and canapes. We did manage to use the lounge briefly, which felt very exclusive and was a lovely place to relax. It also had a large balcony with more great views!
Let me tell you more about the hotel itself. The reception area is grand and feels light and airy with a beautiful winding staircase and a statement hanging light feature.
The hotel has lots of seating areas dotted around which are perfect to lounge on when you are waiting to get picked up or fancy resting your tired feet in style . . . or just for taking great photographs!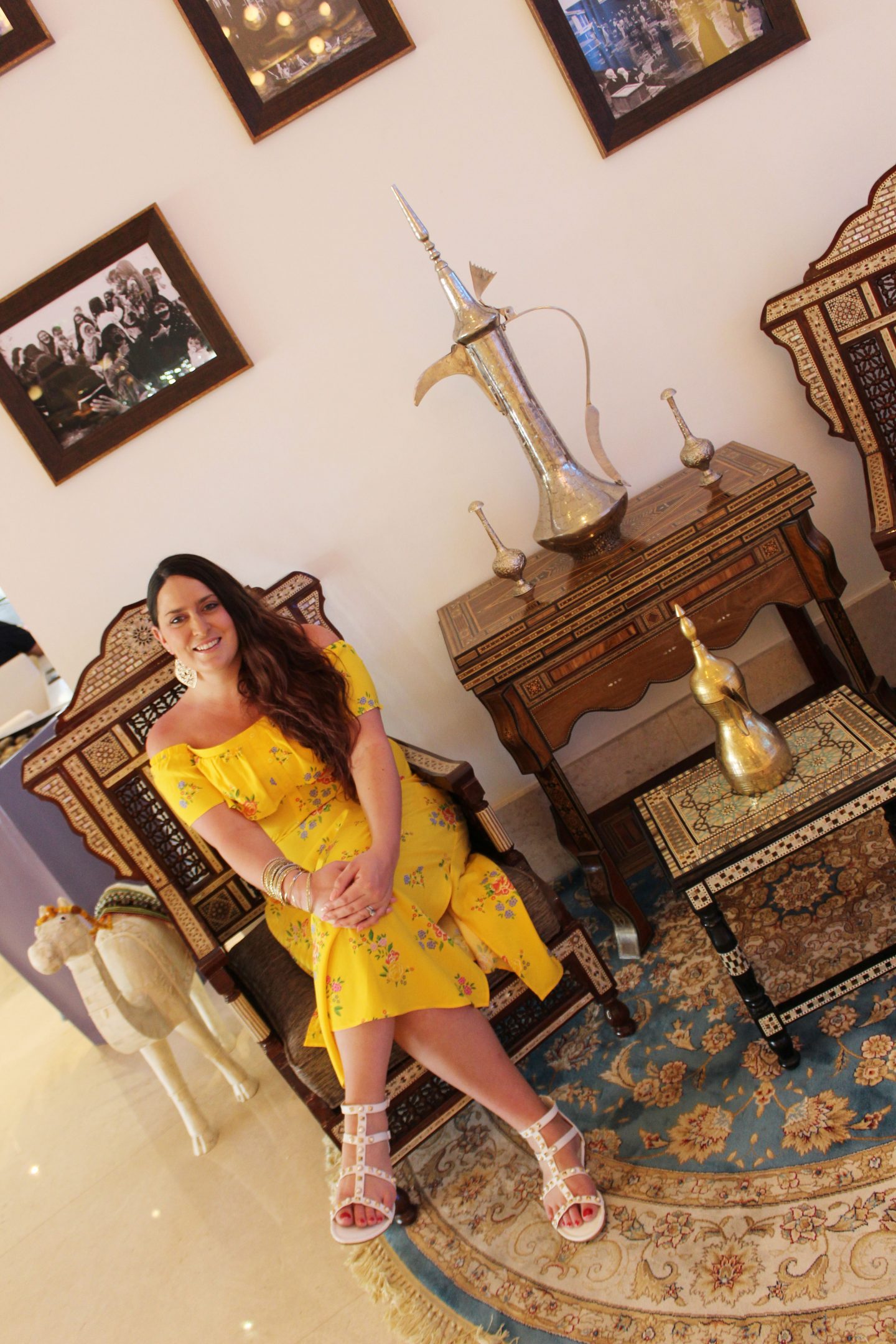 For a city centre hotel we were impressed with the facilities on offer. There is a lovely spa which I sadly didn't get to use but did have a little peak into. It also has a huge fitness centre, kids clubs and . . . a beautiful infinity pool with stunning views onto Jumeirah Beach.
The pool was the perfect place for a dip and cooling off from the Dubai heat.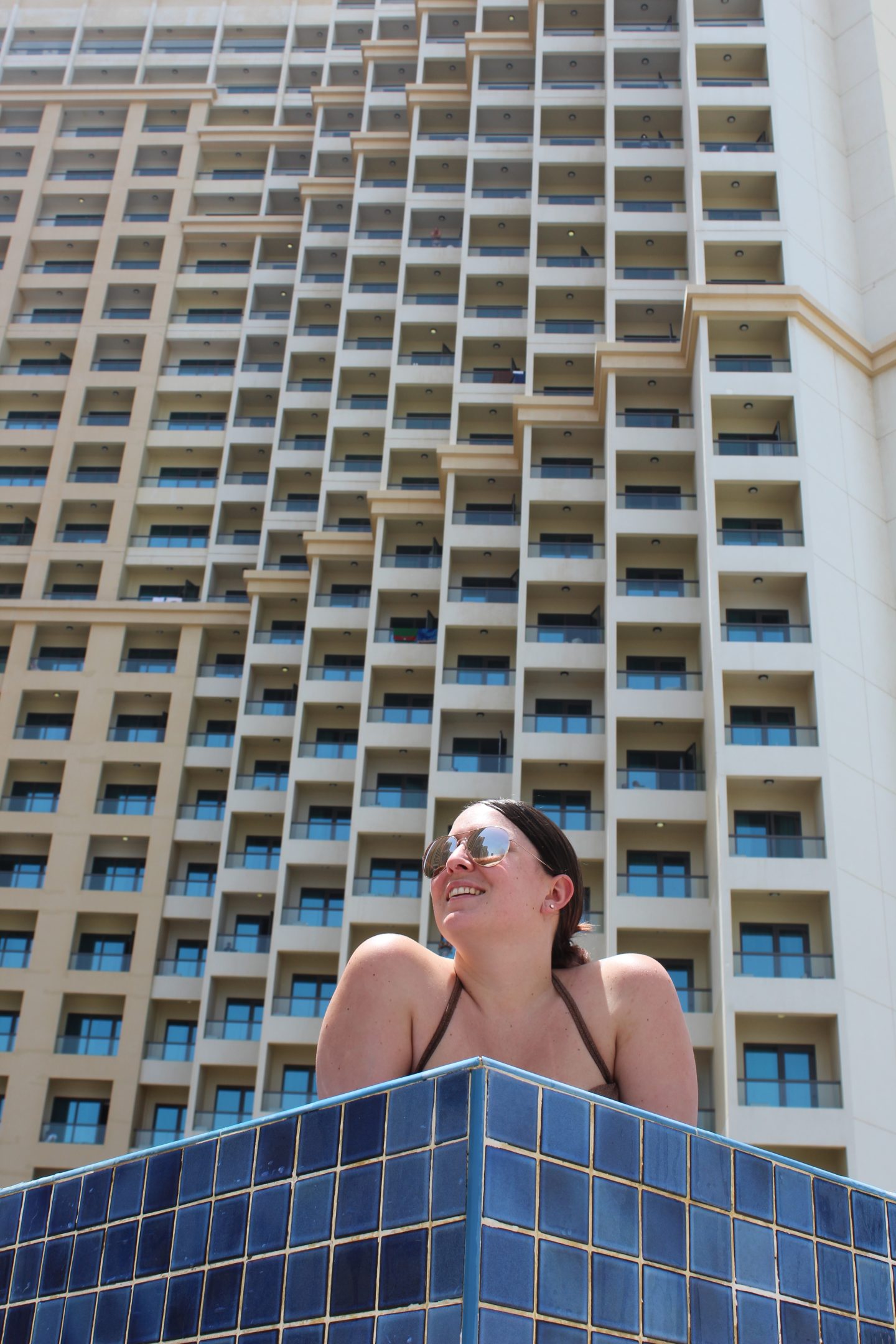 The hotel has direct access onto Jumeirah Beach and provides guests with beach mats, towels and an umbrella to take to the beach. I must say I was very impressed with the beach. The sand was white and soft and the water was clear. It was like stepping into a warm bath!
As well as the hotel and its location, what we really loved was the impeccable service which can often be lost in a larger hotel.
Read the second part of my review, where I tell you all about the food and drink offerings at this beautiful hotel.
https://www.jaresortshotels.com/en/dubai/ja-ocean-view-hotel
The Walk, Jumeirah Beach Residence, Dubai