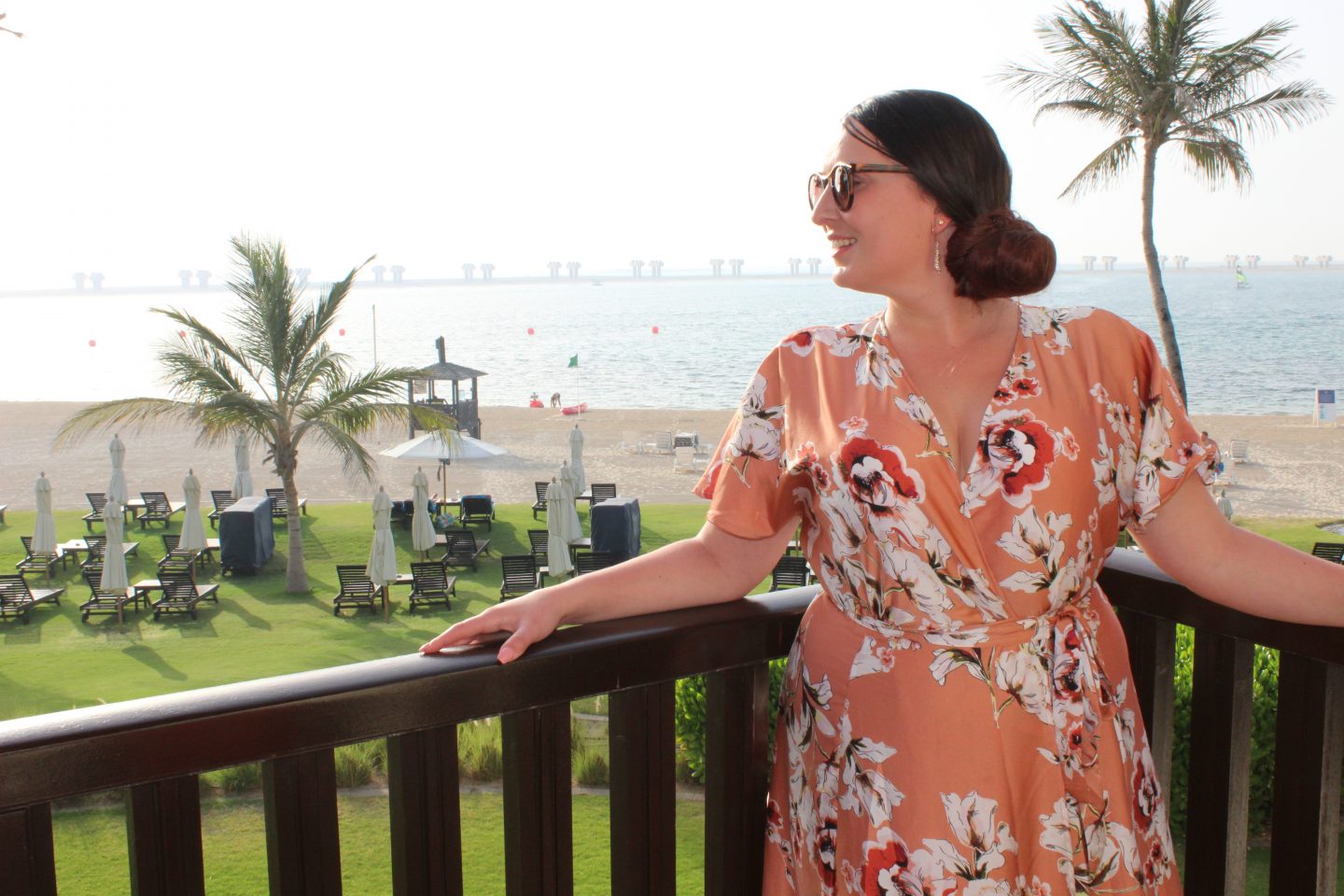 As we were going from one JA property to another (which we are very glad we did) JA Palm Tree Court had the job of living up to the quality and service we received at JA Ocean View Hotel . . . and It did!
Oh the food! It is making me hungry now thinking about it all. We dined at two of the hotel's restaurants for dinner. The first was 'Captains', an outdoor restaurant casual in décor with a relaxed atmosphere which was suited perfectly to its beachside setting.
Munching away on the moreish fresh bread and sipping a cold crisp glass of Sauvignon blanc, to our delight Mr B and I noticed the menu had a large Italian influence.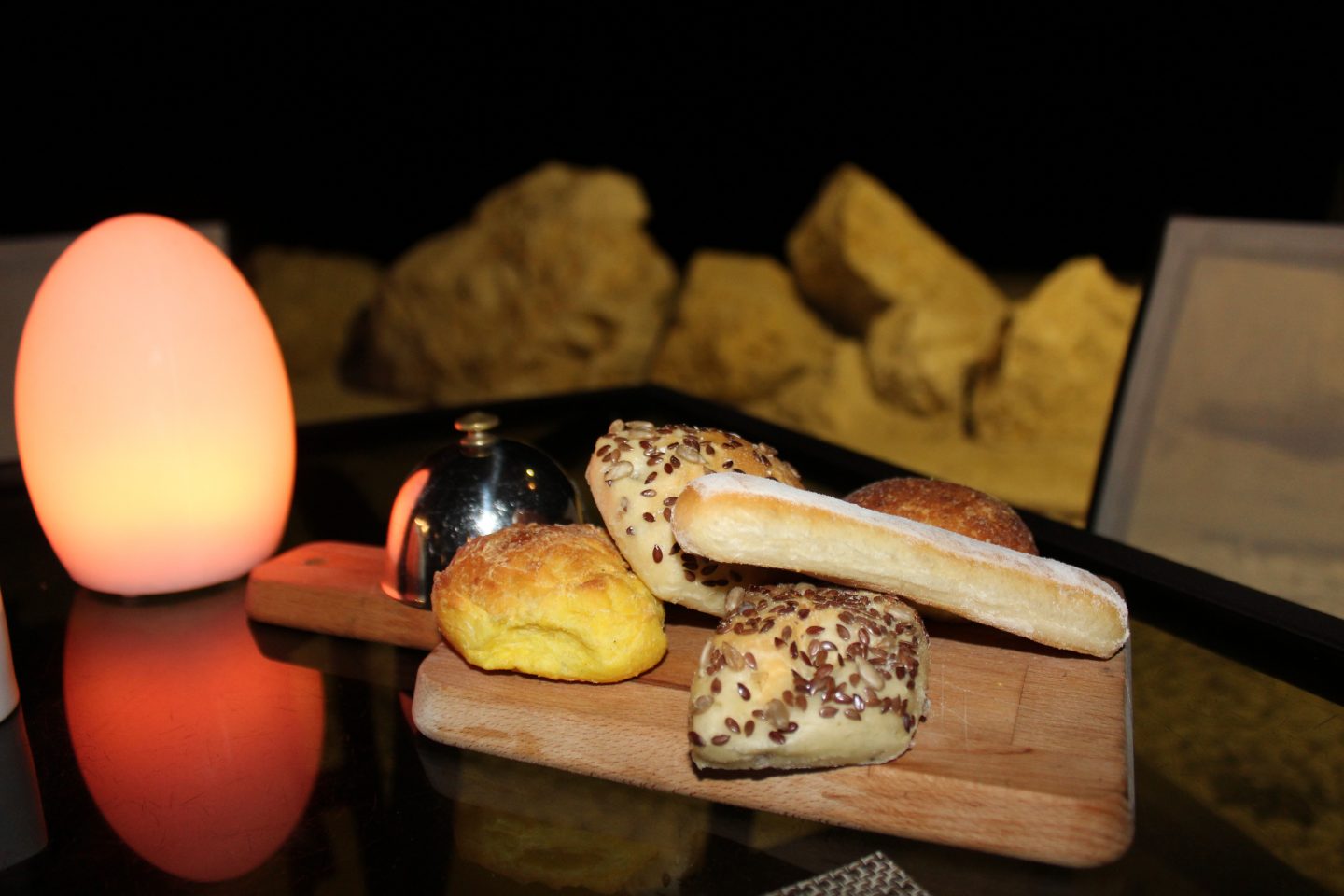 For my starter I chose stuffed mushroom with cheese, herb salad and a parmesan crisp in a rich tomato sauce. Although rustic in presentation it tasted fantastic. The beefy mushroom stood up against the rich cheese and tangy tomato sauce and I ate every morsel.
Mr B opted for a fresh crisp salad which was packed with mixed greens, fresh tomatoes, egg, parmesan shavings and crispy bacon bits. It was larger than he expected but still light and fresh.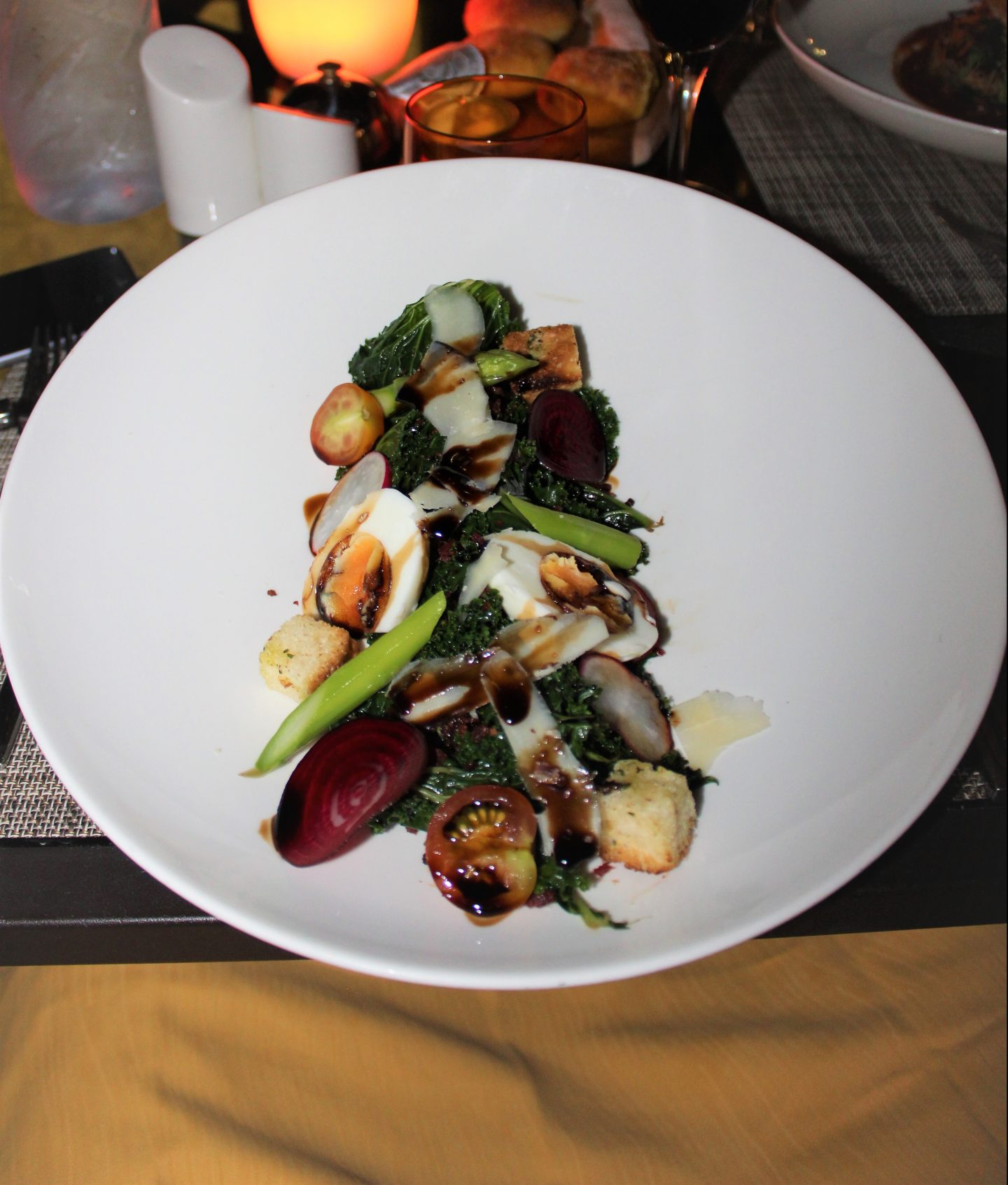 For the main course Mr B and I both opted for the chicken and mushroom risotto. Risotto is a favourite dish of ours but knowing the restaurant had an outside pizza oven, we were also tempted by the pizzas. So not to miss out and to increase our carb intake even more we ordered a garlic bread pizza to share.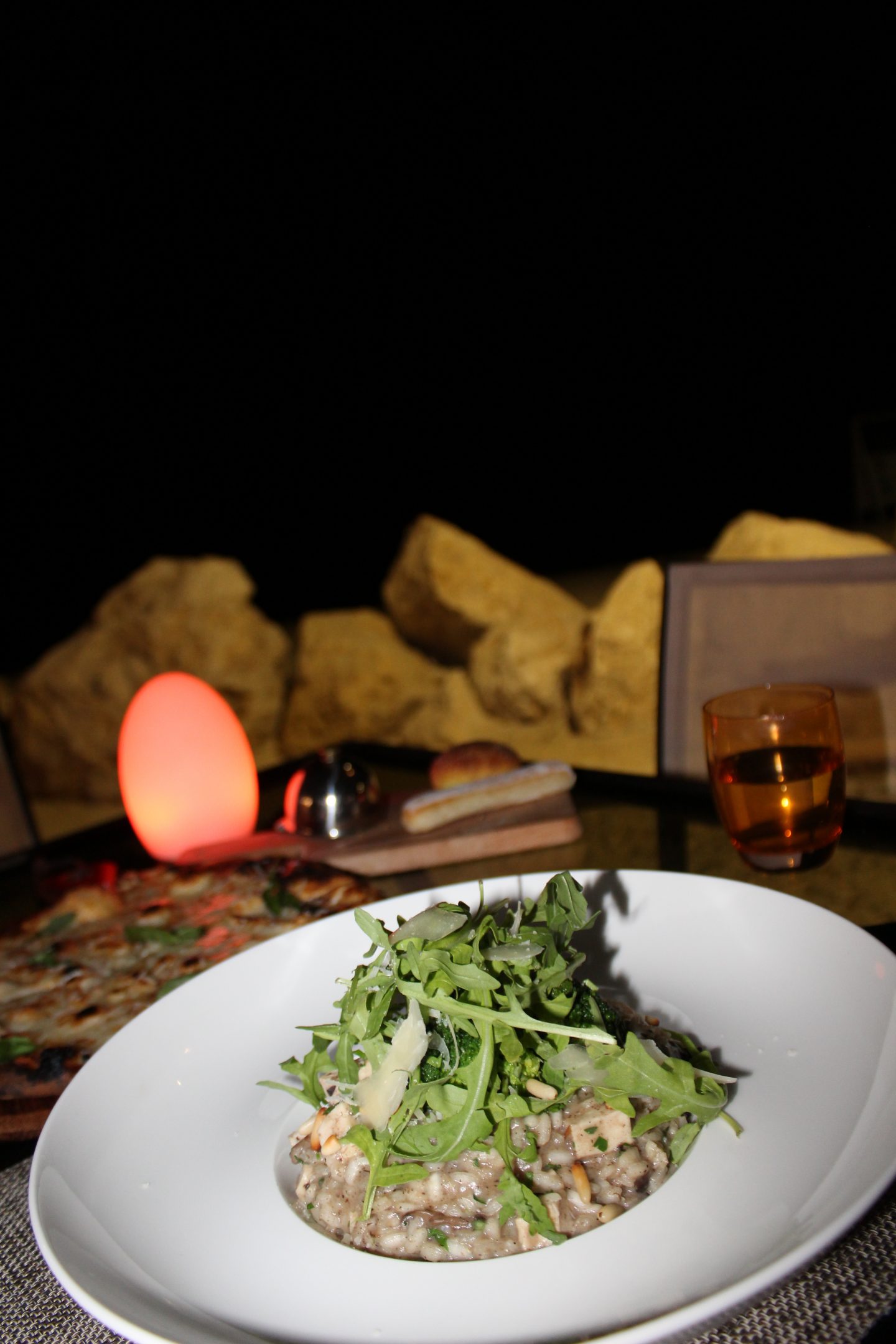 The risotto lived up to my high standards. It had the perfect texture and was generous with chicken, mushroom and parmesan. The garlic bread was a standout dish on its own, perfectly crisp with a generous topping of cheese.
Unfortunately there was no room for dessert but instead we sat back, enjoyed our wine and listened to the crashing of the waves.
For our last night in Dubai we had a reservation at the hotel's fine dining restaurant – The White Orchid – which serves Asian Fusion cuisine and as Japanese is one of my favourites, I was very much looking forward to it.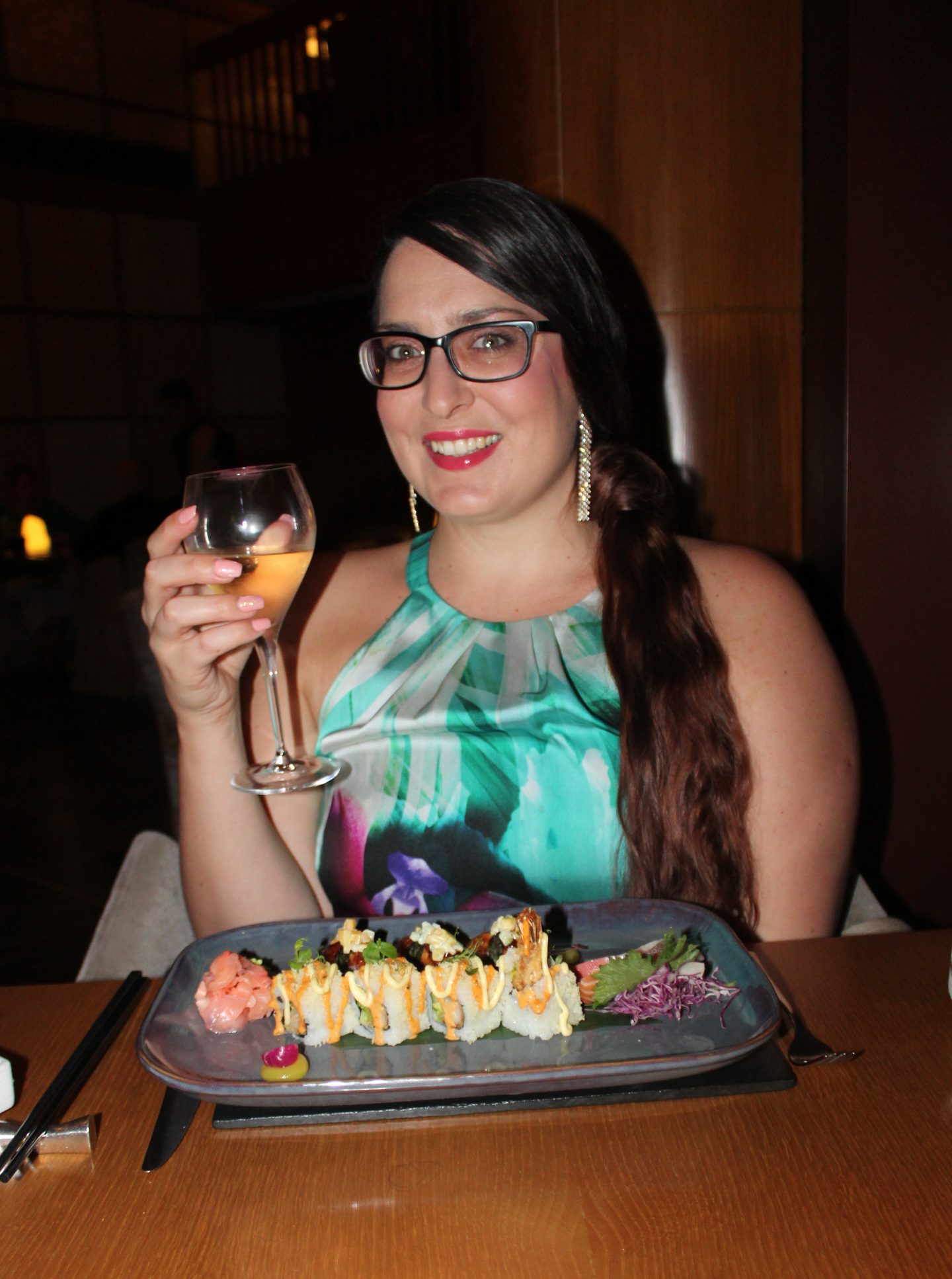 The restaurant is light and airy with high ceilings and floor-to-wall windows. The service is spot on, enough to make you feel special but not smothered.
As we were looking at the menu, which had a fantastic choices of dishes, we were given some Japanese rice crackers in three flavours – beetroot, sweet chilli and mushroom – each served with its own accompanying dip. All three had the perfect crispness and delivered a delicate punch of flavour.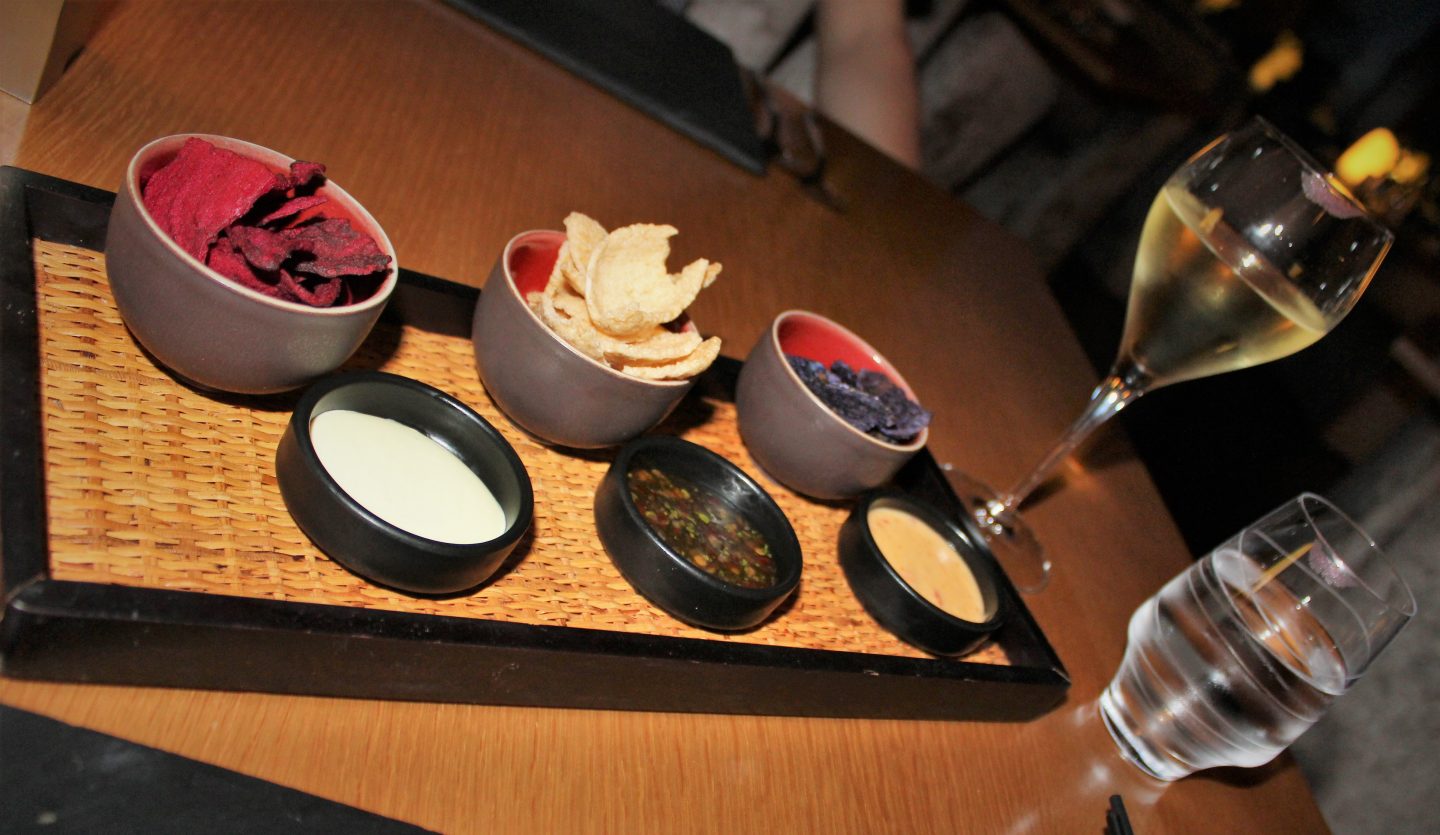 For our amuse bouche we were given deep-fried tofu which had a crisp outside and a smooth silky centre, and a Thai soup which had all the flavours Thai food should have, from lemongrass to ginger to chilli, you could taste every ingredient on the pallet.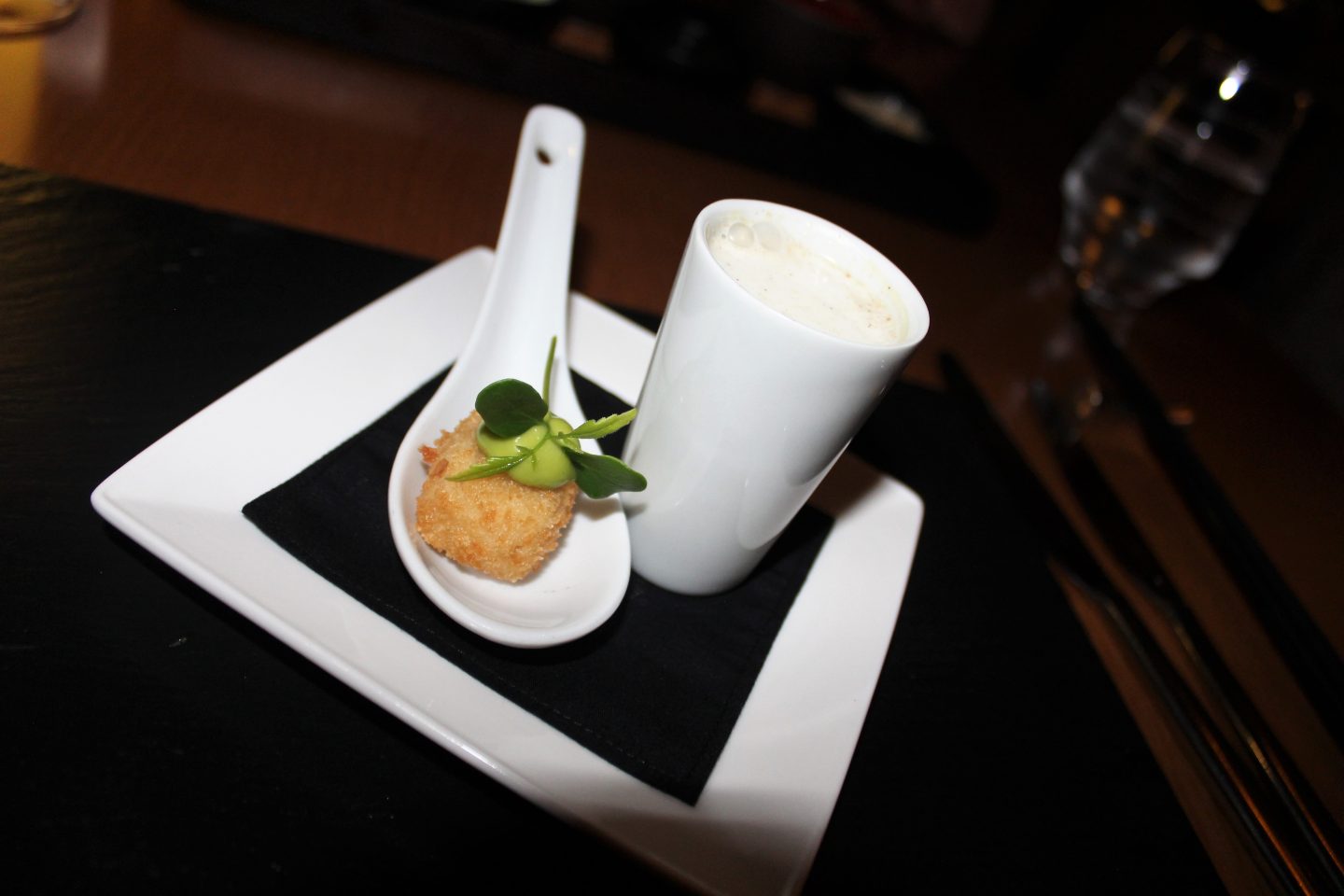 For starter I opted for the 'Rock Shrimp Tempura' and every mouth-full was delicious. The shrimp were fat and juicy, the batter perfectly crisp and the sauce had just the right amount of kick from the wasabi.
Mr B opted for one of the restaurant's signature dishes 'Lobster Rolls', which was lobster tail with salmon roe and fresh avocado. I tried one and can vouch they were delicious, which had me very excited for my main course.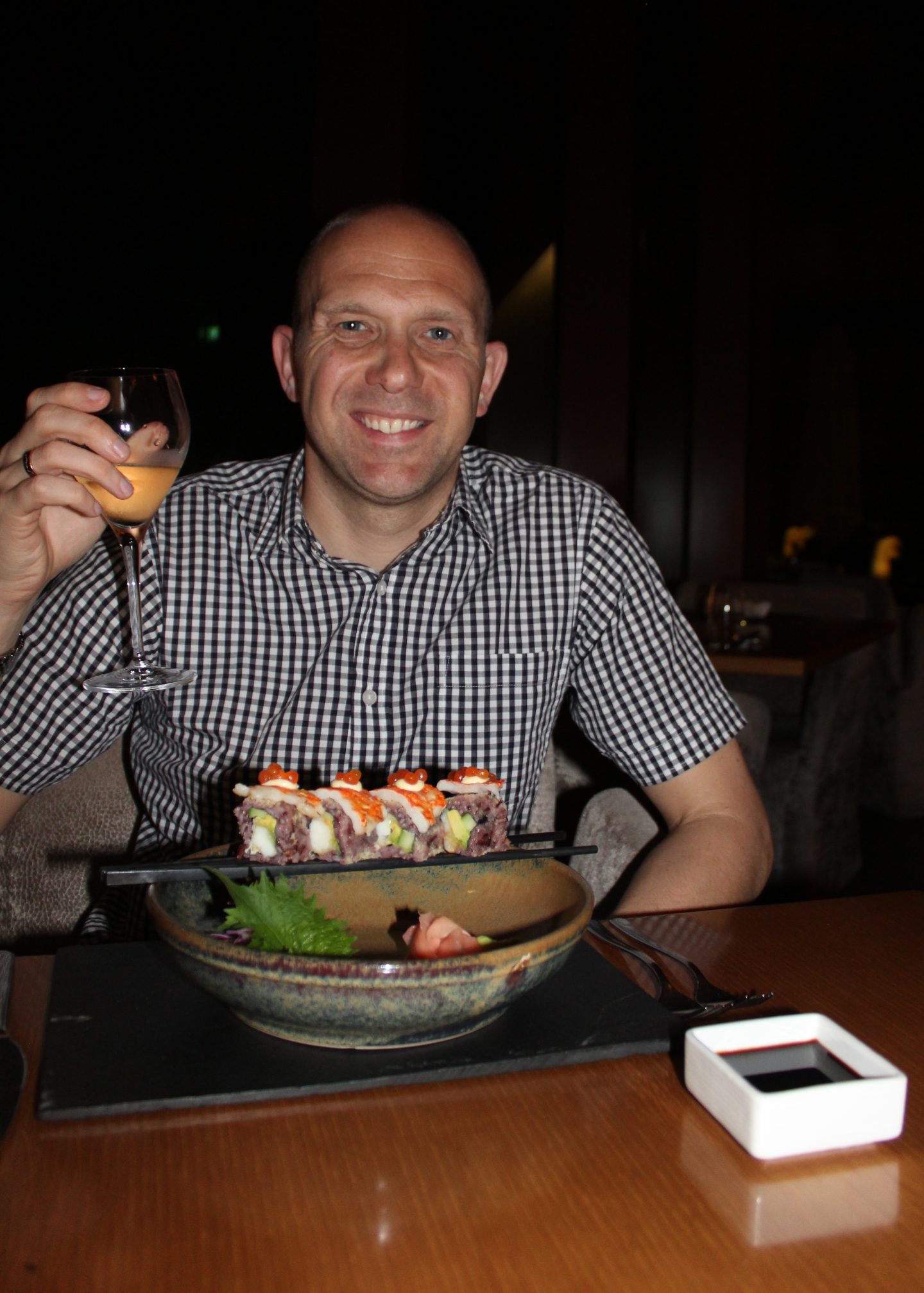 The main course choices varied from beautiful Thai curries and stir fries but wanting something a little lighter, I asked if the chef could make me a mixed platter of sushi and sashimi. When asked which ones I wanted, I asked them to choose for me . . . and they chose very well!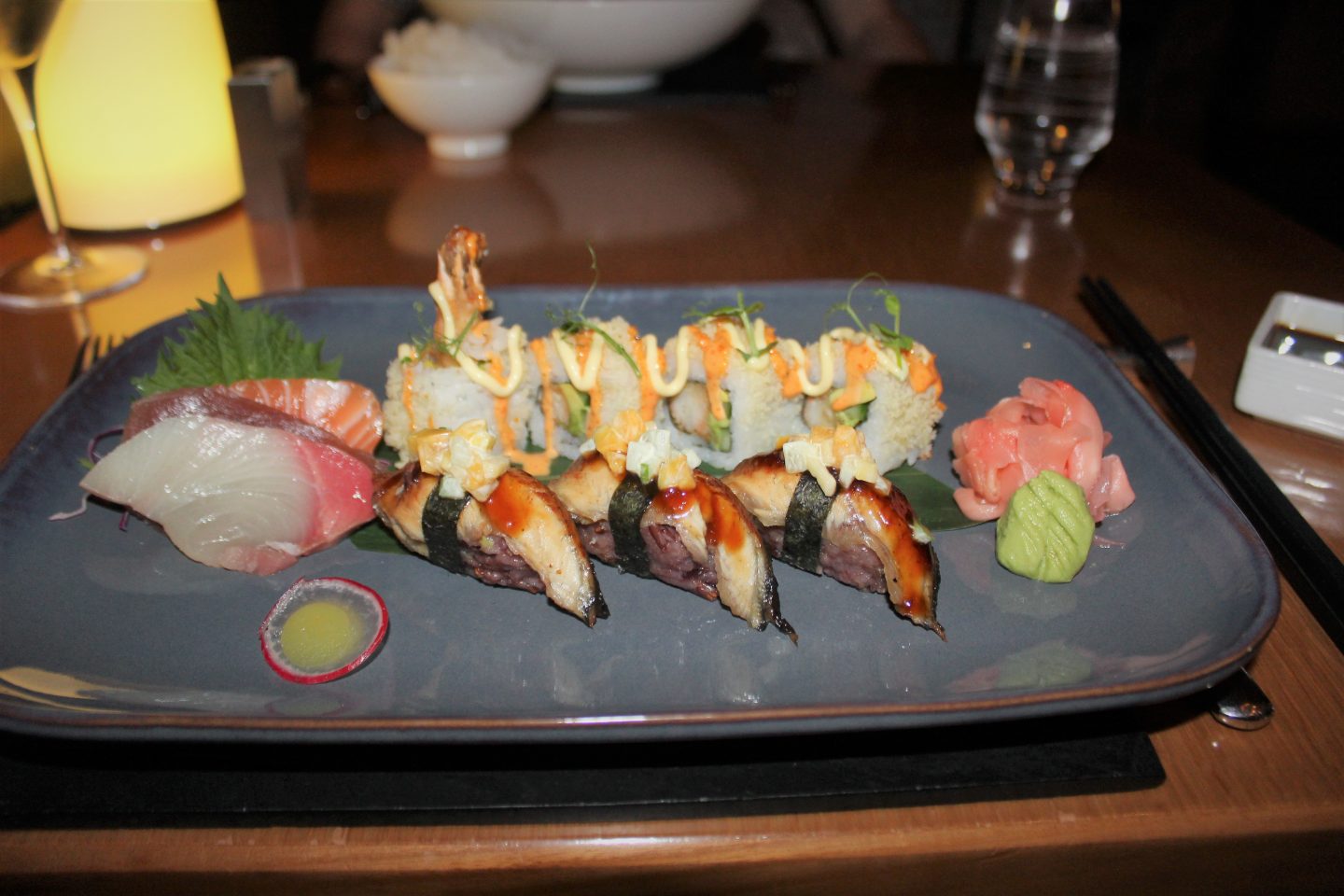 I had three pieces of sashimi, four crispy prawn sushi rolls and three beautiful pieces of nigari. I could taste how fresh the seafood was and I was very happy indeed with my selection.
Mr B chose the prawn stir fry with sticky rice. The prawns were perfectly cooked and the heat from the sauce was very well balanced.
Choosing a lighter main meant I had room for a dessert and I already knew what I was having even before I even choose my starter – 'Matcha mousse with white chocolate soup'. The mousse was light and airy with the delicate flavour from the matcha, the white chocolate 'soup' was thick and rich from the sweetness of the white chocolate and both elements balanced the other out.
Breakfast at Palm Tree Court was a delight and fulfilled every craving you could imagine! All the usually hot offerings were there but Mr B loved the selection of fresh fruits and yogurts.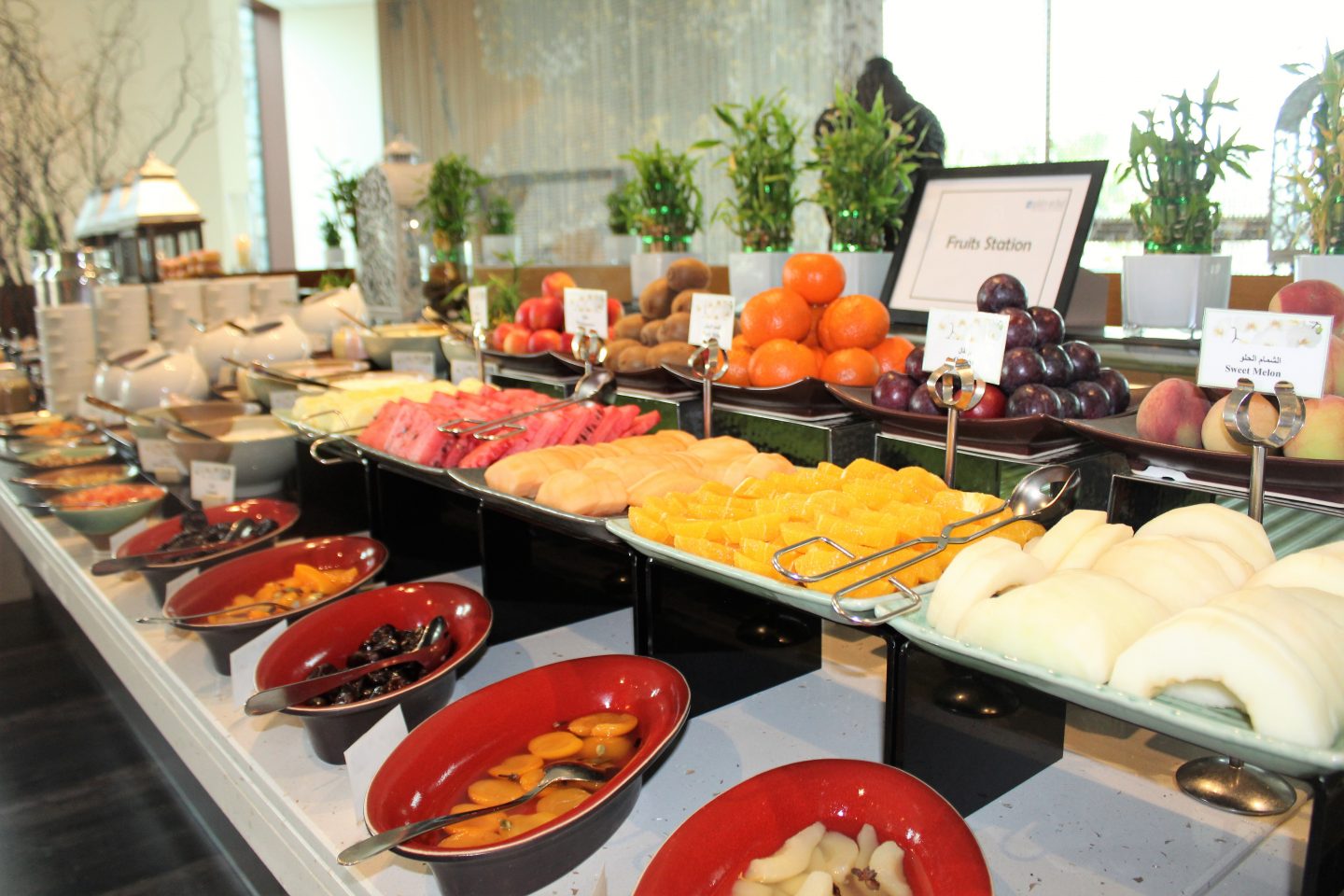 Always tempting were the sweet pastries and cakes . . .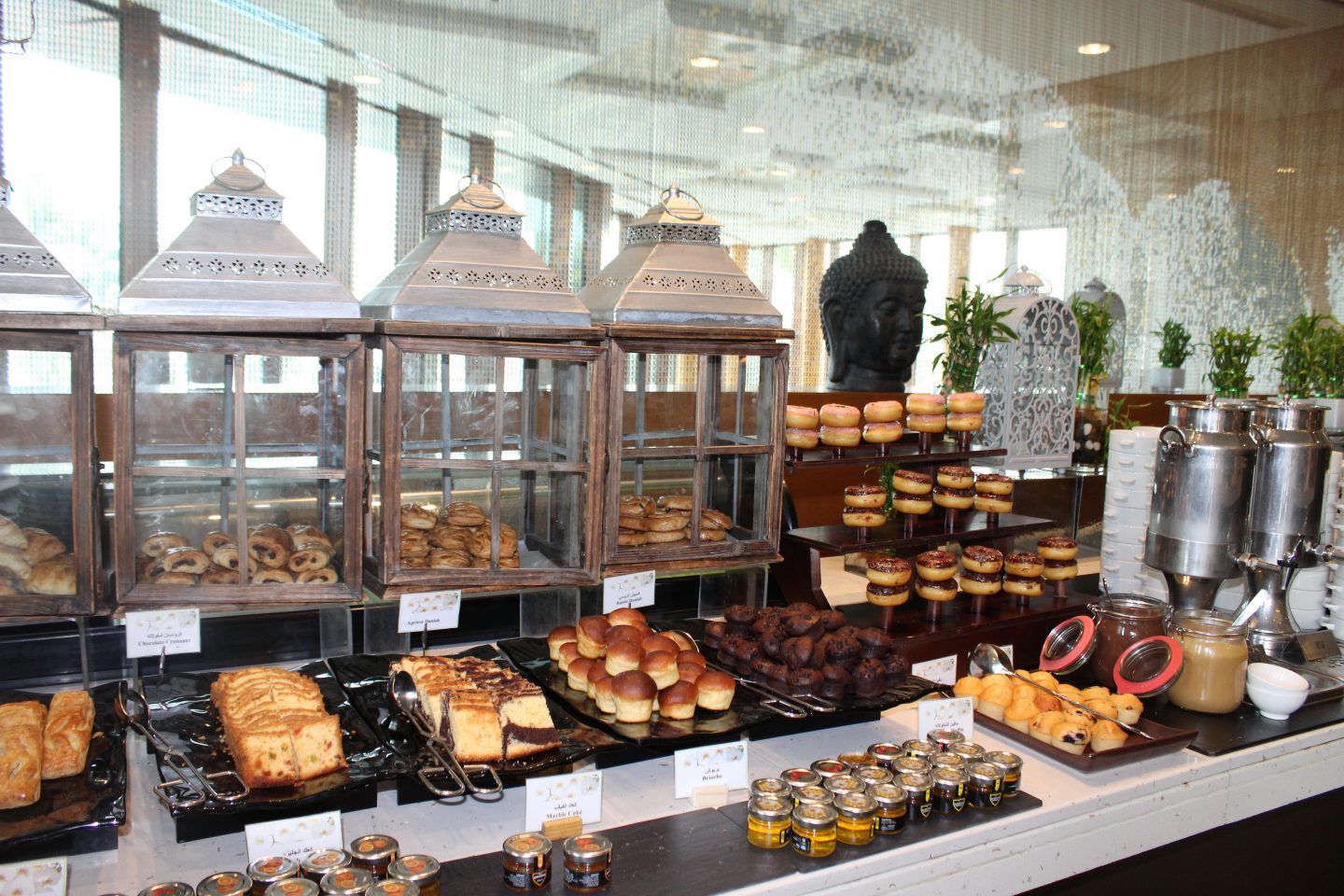 But the best section for me was the cheese counter of dreams!
There were other restaurants in the resort which we sadly didn't have time to dine in, but anyone going to JA Palm Tree Court will be in store for some fantastic culinary delights and take it from me, 'The White Orchid' is a must-visit!
Read the first part of my review all about this beautiful hotel and the facilities on offer . . .
https://www.jaresortshotels.com/en/dubai/ja-palm-tree-court
JA Golf Resort, Sheikh Zayed Road, Mina Jebel Ali – Dubai