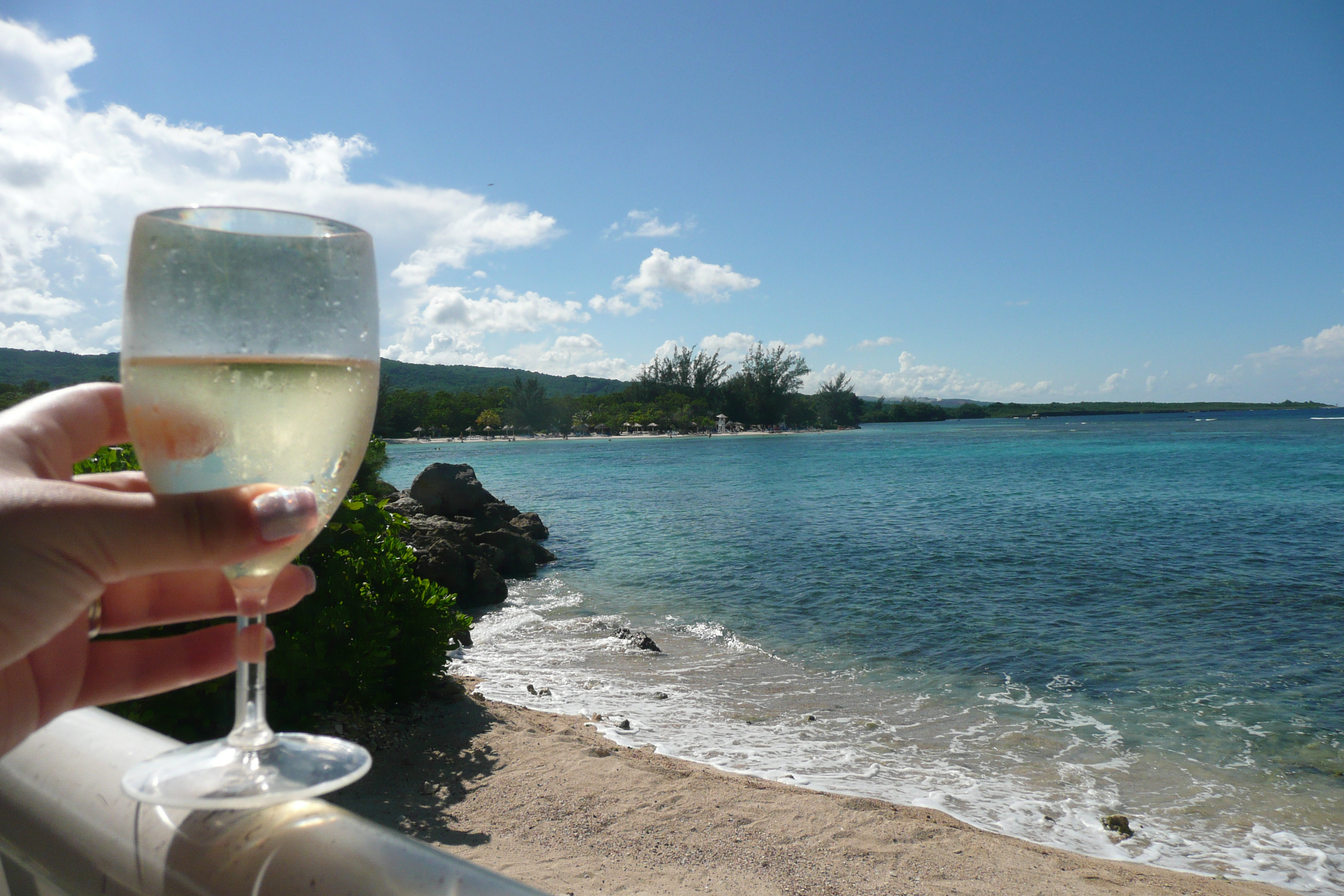 Any of my regular readers will know that food is the most important part of a holiday for Mr B and I, and the Grand Bahia didn't disappoint us.
I knew I was going to enjoy breakfast when on the first day we walked in we were offered a glass of champagne before being shown to our table. After our first breakfast inside the restaurant we discovered a beautiful outside seating area were you could dine so from that day on we enjoyed our breakfast on the beautiful veranda. The choice for breakfast was endless … a huge variety of fresh breads and pastries, eggs to order anyway you liked them, bacon, sausage,  fresh fruit, smoothies and a fantastic choice of Jamaican dishes such as plantain and ackee and saltfish. The made-to-order omelettes were my favourites, followed closely by the fresh crepes.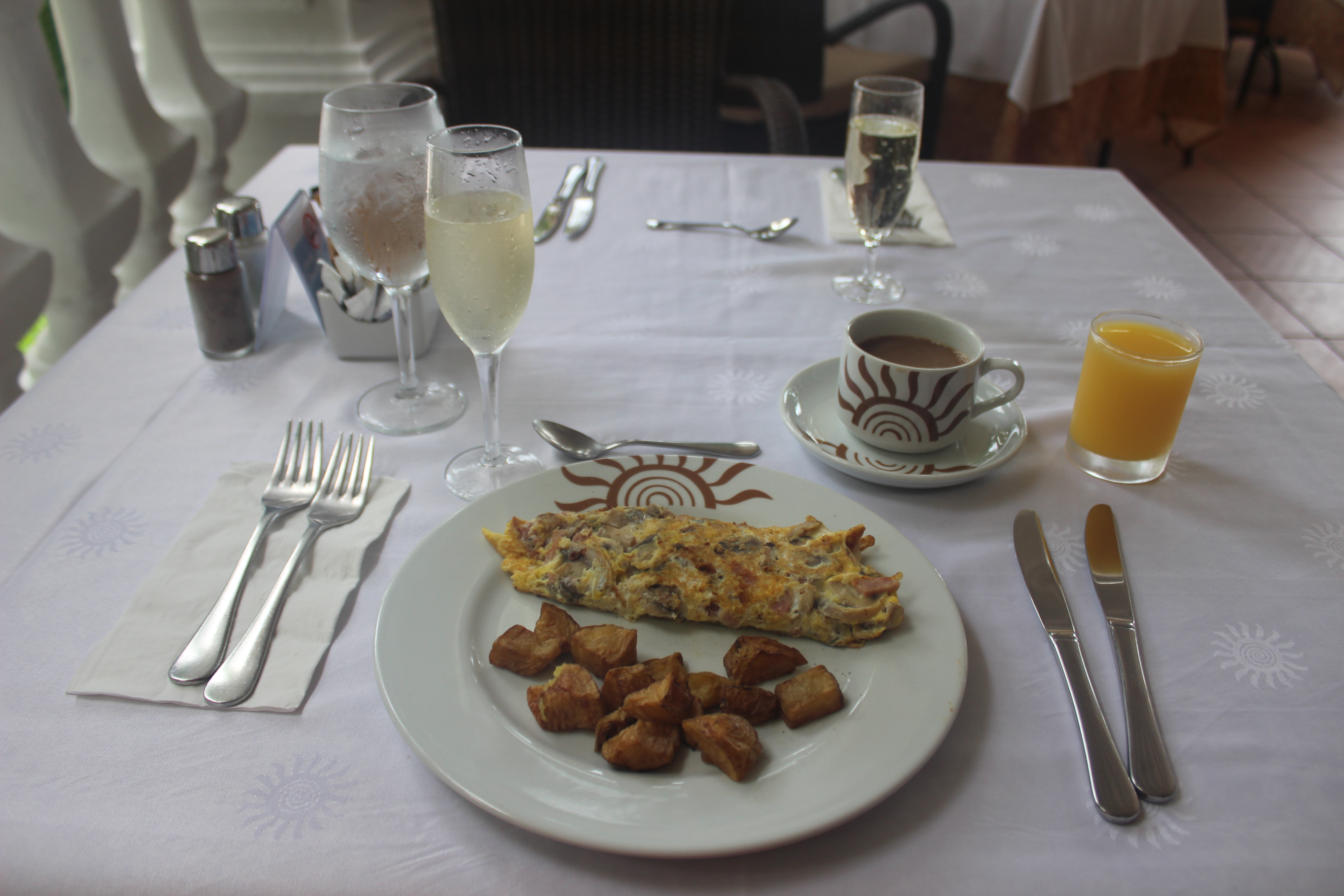 Lunch we enjoyed at the beach restaurant, with Mr B and I always heading to the back where there were some fantastic tables with beautiful views looking out to the ocean. There is one thing you will hear many people talking about at lunch and that's the jerk chicken, which was cooked in barbecues made from old drums. The smell alone was enough to make you want to tuck in . . . it was truly divine . . . so tender and juicy and there was also a choice of sauces depending on how hot you think you could handle it! Jerk chicken with rice and beans was always the lunch of choice for Mr B and I, but there were other Jamaican dishes on offer as well as different types of rice, quesadillas, pizza, chilli, a salad bar and many others.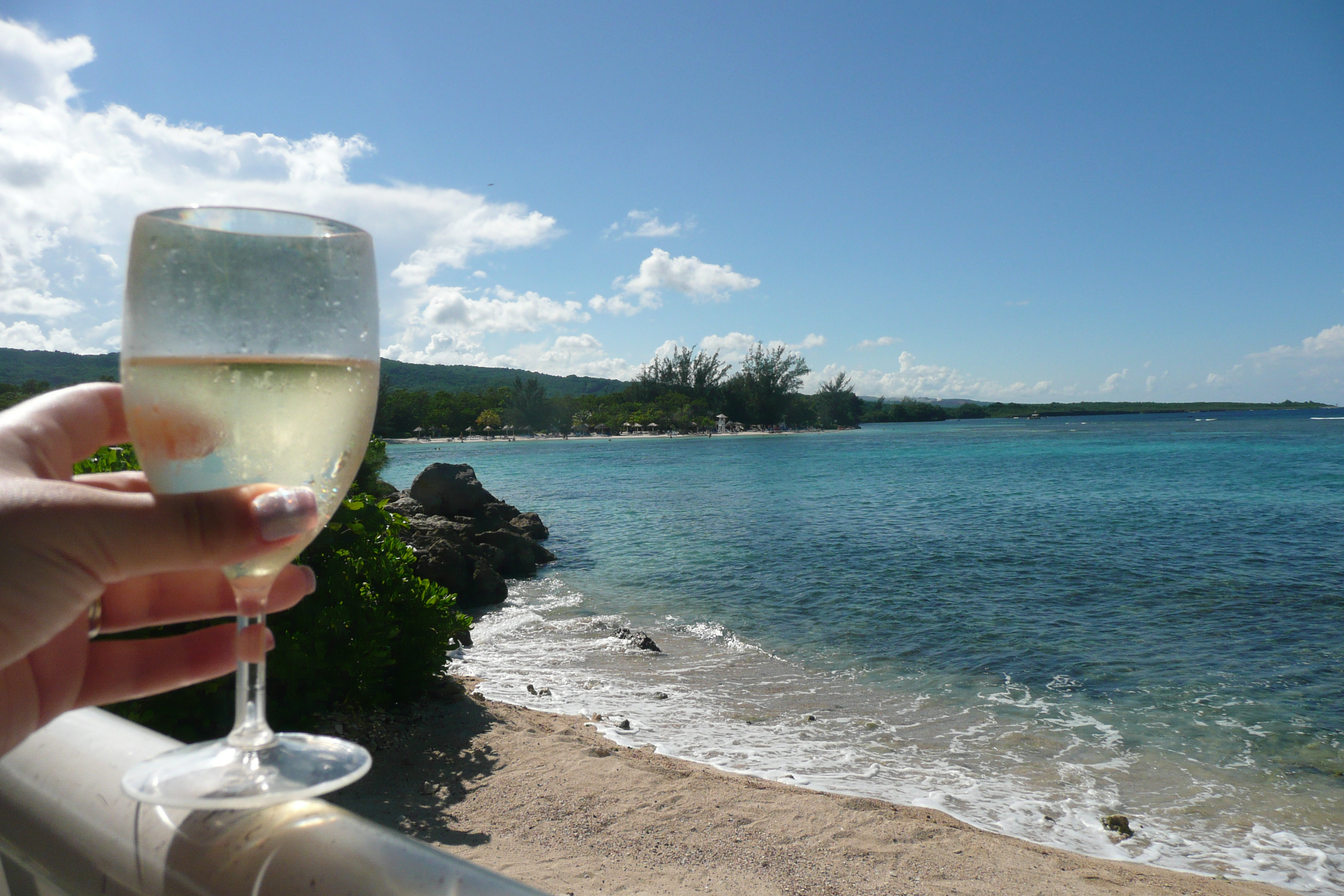 There are four a la carte restaurants which all require reservations. Luckily we managed to get bookings at all of them. Our first visit was to Mikado, the Japanese and being a huge fan of Japanese food I was really looking forward to our visit. To start with Mr B and I both had sushi. Now it wasn't the best sushi I have ever had but we ordered another plate to share so that tells you it was still yummy!
We then both chose a miso soup and for main I went for tempura prawns and vegetables with crispy noodles. The prawns were big and juicy with a perfect crunch from the tempura. Dessert was recommended by our lovely waitress . . . deep fried ice cream. I have had it before and really enjoyed it which I did again this time. It is one of those dessert which sound so wrong, but tastes so right!
Next up was the resort's fine dining restaurant, which turned out to be the favourite meal of our entire holiday as the menu had all my favourite things!
We started off with canapes with complements from the chef and then I chose Salmon tartare for starter, lobster bisque for the soup course, chateaubriand for main and chocolate fondant for dessert. It was all delicious (I'll forgive the 80's presentaion!) but the standout was definitely the chateaubriand, a fantastic piece of meat which was cooked perfectly and plated at our table.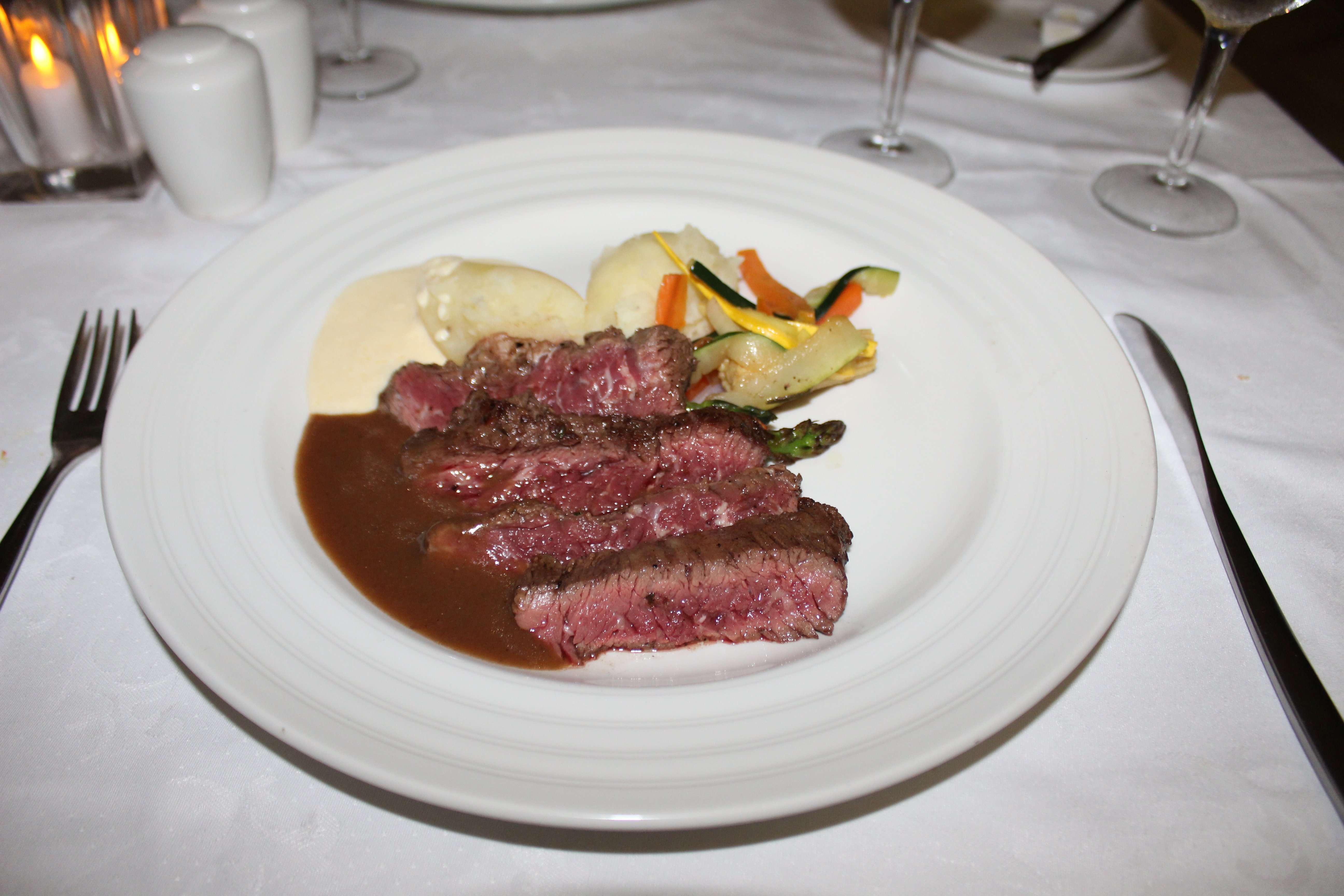 The second best meal of our holiday was at The Garden Grill restaurant. Mr B and I shared a huge plate of chilli nachos to start with lashings of sour cream and guacamole. For main Mr B and I both went for the surf and turf, a perfectly tender fillet steak with fresh prawns and creamy mash. The steak was cooked to perfection!
Our final restaurant visit was to Dolce Vita, the Italian which was on our last night. Starters were picked from a buffet selection with lots of choice, but personally I would have preferred to order these from the menu. For main I had prawn and garlic pasta, which was so delicious with its simple flavours balanced out perfectly. Mr B couldn't decide on his main so our fantastic waiter bought him both to try!
When not dining at the a la carte restaurants we went to the hotel's main buffet. The selection was fantastic and there were many fresh cooking stations including one for pasta which was really nice. I also ate a lot of fantastic seafood and the slow-cooked meats were delicious. Mr B always went for the Jamaican specialities and never had a bad meal. Each night there was a different theme, including Mexican, Italian etc. and on Jamaican night you could even have fresh coconuts!
Read my first post on Grand Bahia Principe were I tell you all about the hotel and what it has on offer . . .
https://www.bahia-principe.com/en/resorts-in-jamaica/resort-jamaica/
Salt Coppers, Runaway Bay, Jamaica