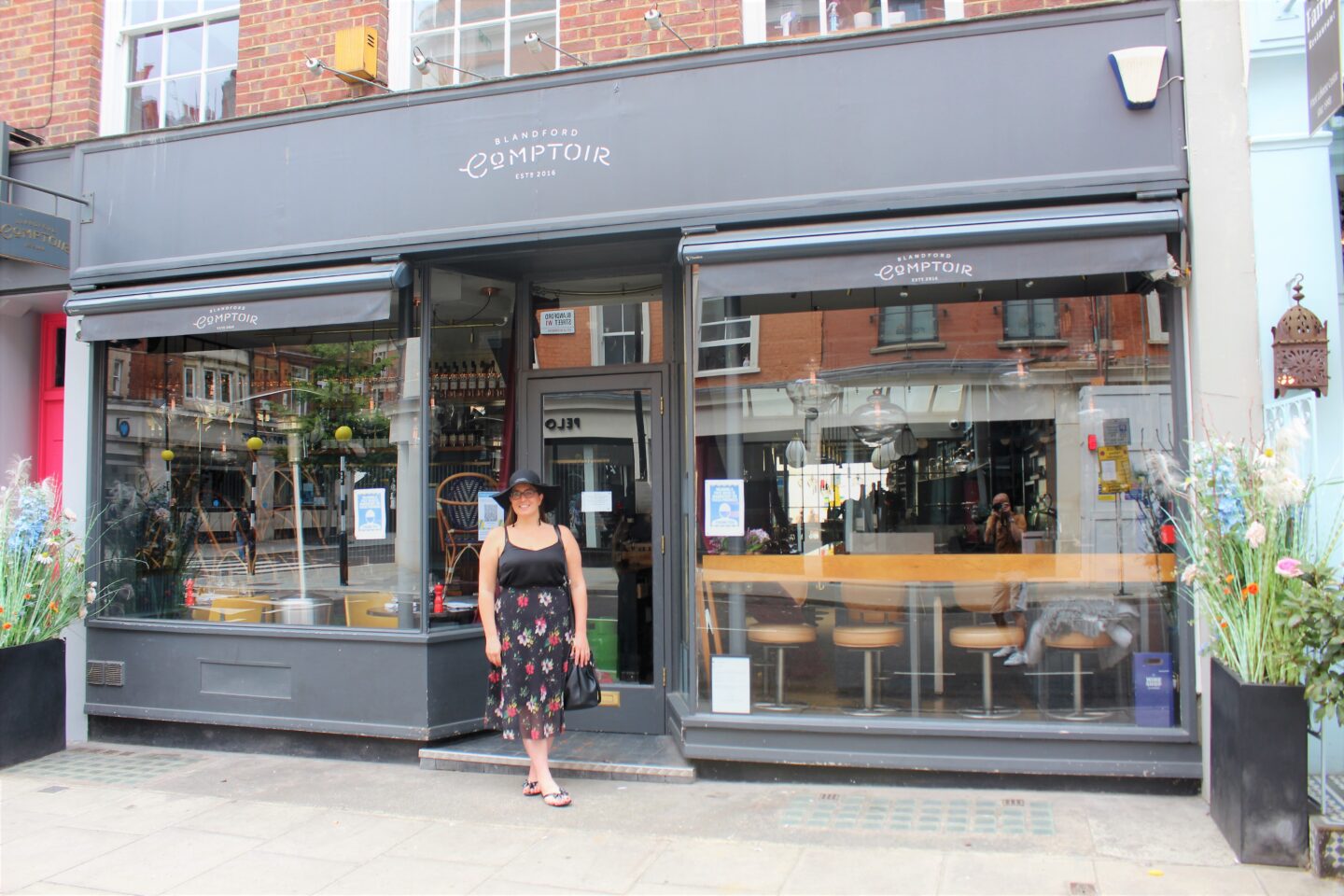 On a busy Saturday in Marylebone stepping inside Blandford Comptoir we were transported from the hustle and bustle to a relaxing laid back Mediterranean restaurant where the friendly and informal service made it the perfect lunchtime retreat.    
We were given a choice of table inside or outside and we chose to sit inside at a wonderful corner table. Blandford Comptoir is founded by sommelier Xavier Rousse and with the restaurant boasting over 250 wines we knew we were in for a treat. Mr B and I are both wine lovers and we always enjoy leaving our wine pairings in the hands of a sommelier. It's a great way to try new wines that we most likely wouldn't have ordered and let's be honest, we are no experts. I trust a sommelier more then myself to pair me a delicious wine with my food!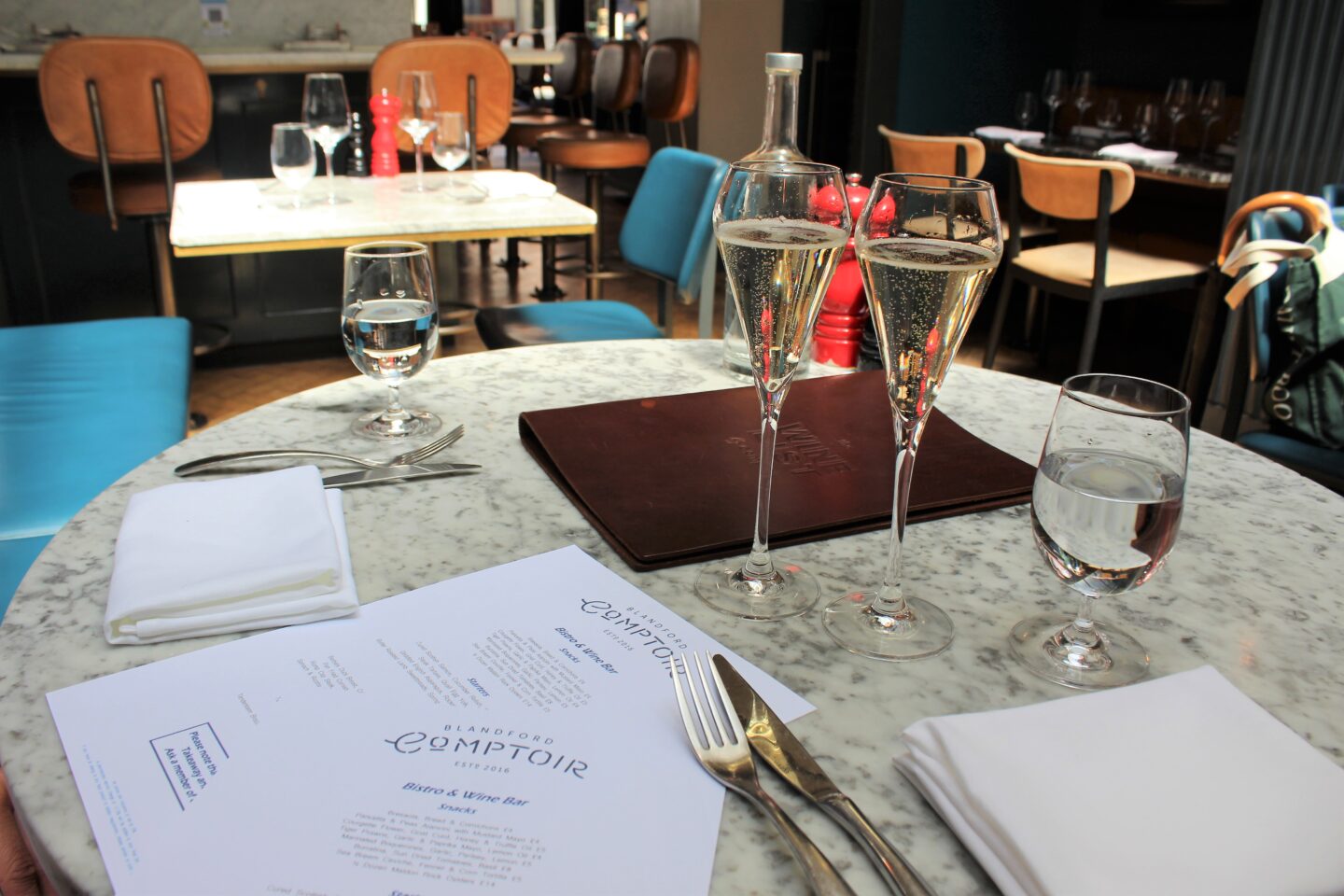 We started our lunch with a glass of the 2016 Gusbourne, Brut Reserve, Kent. I'm a big fan of English sparkling wines so was really happy to have this, a great pre-dinner drink. I do have a confession to make – after this glass we had perfect wine pairings, two whites with our snacks, a red each with our mains and a sweet port with our dessert. However, I was enjoying them all so much I failed to note which wines they were and I will blame the other drinks I had that day which makes my memory hazy, so I can't recall the names but I do definitely remember they were all fabulous!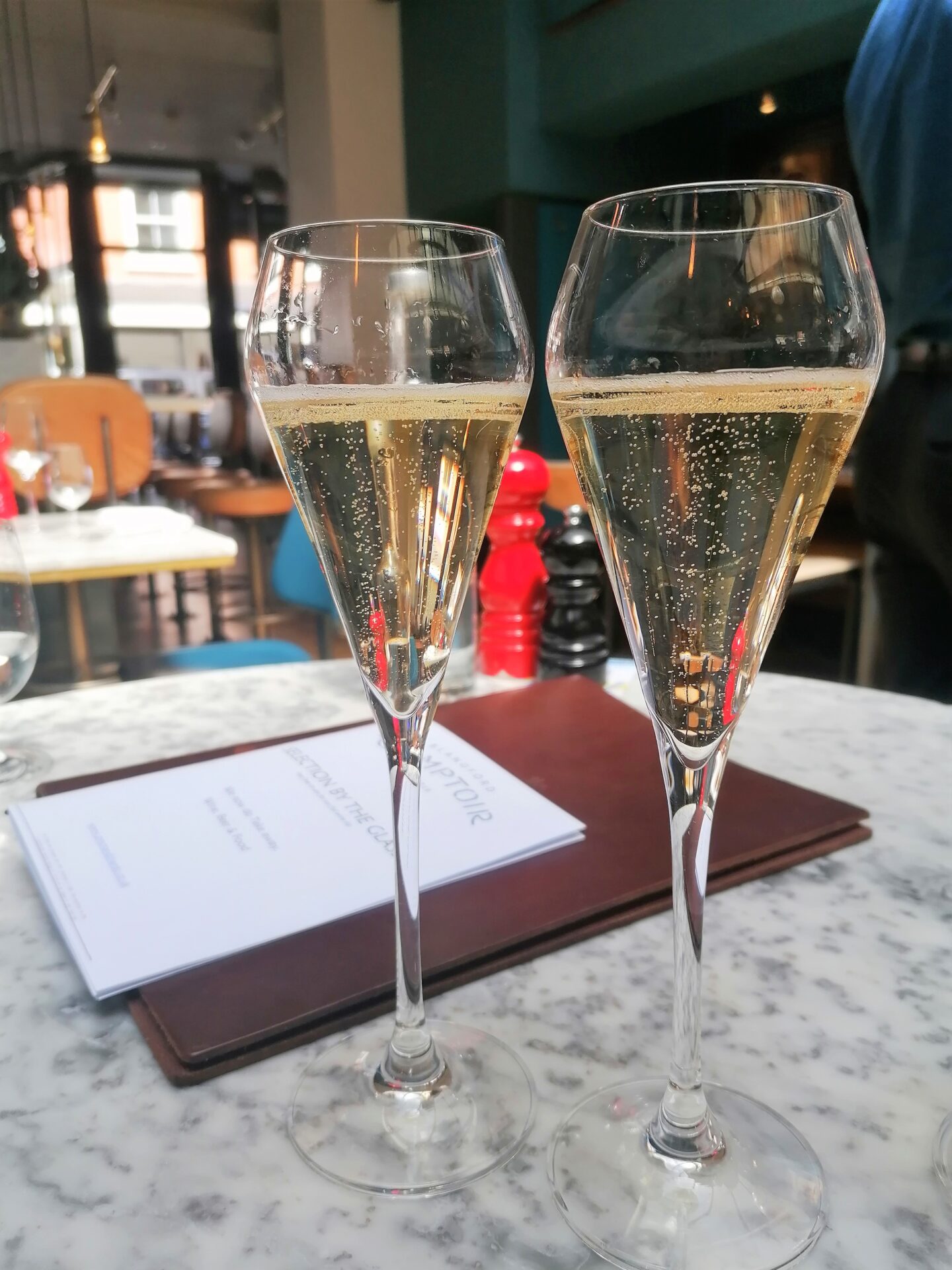 After browsing the very lovely and varied menu, we decided that rather than having a starter each we would pick a variety of their sharing plates to start. 
We shared the 'Bresaola, Bread & Cornichons' – I love the taste and texture of Bresaola and wish you would see it more on a charcuterie selection. One plate I knew we were going to order straight away was the 'Sea Bream Ceviche, Fennel & Corn Tortilla' – the lovely fresh fish had a perfect balance of citrus and a slight hint of spice. I could have ordered another two plates of these!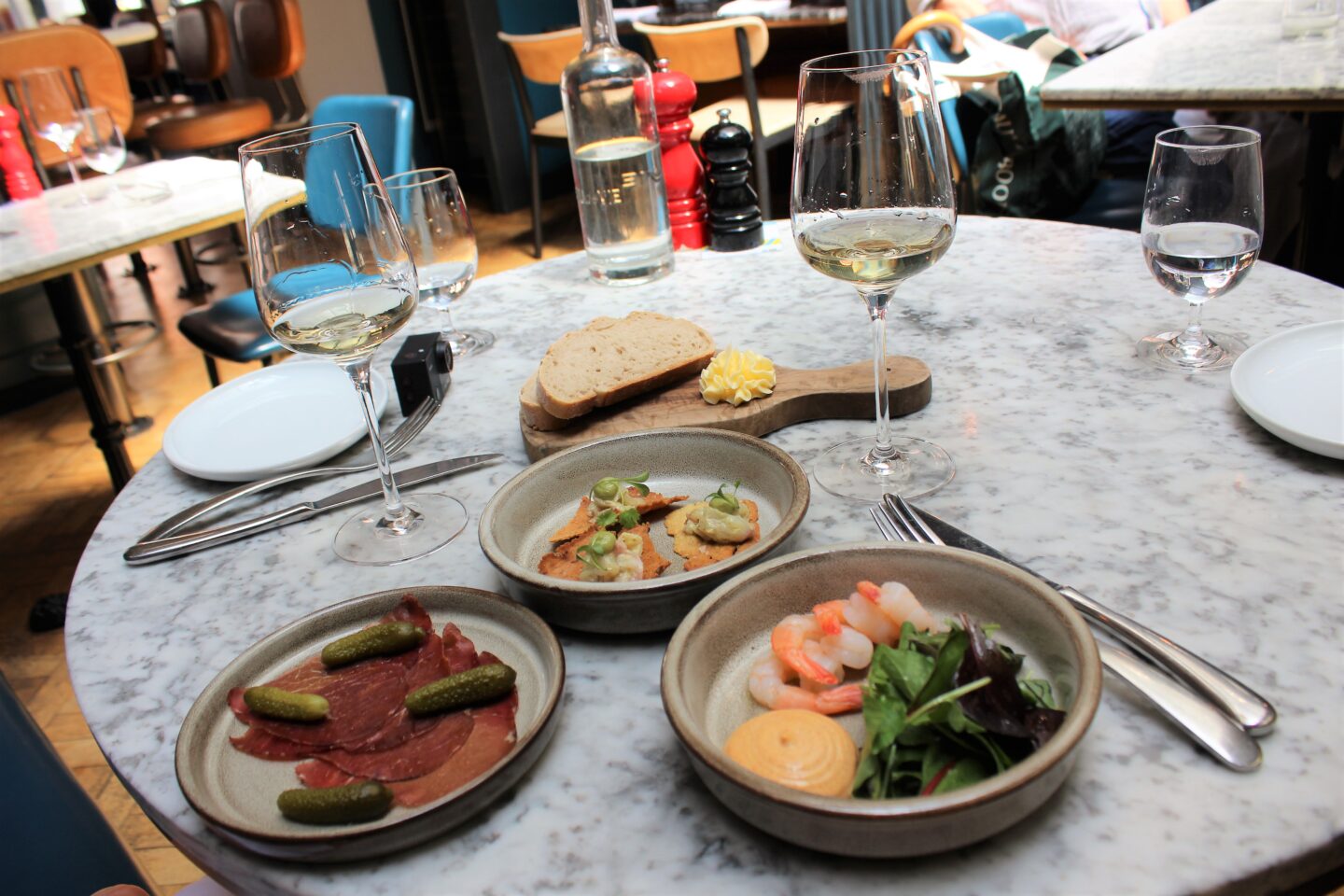 Mr B and I both love Arancini – they always remind me of our holiday to Rome. The 'Pancetta & Peas Arancini with Mustard Mayo' were very light and well-seasoned with a slight saltiness from the pancetta and lovely sweetness from the peas. 
The 'Tiger Prawns, Garlic & Paprika Mayo, Lemon Oil' were just as you would want from beautiful fresh prawns. The mayo had a very good kick which was welcome as I think prawns can handle strong flavours well.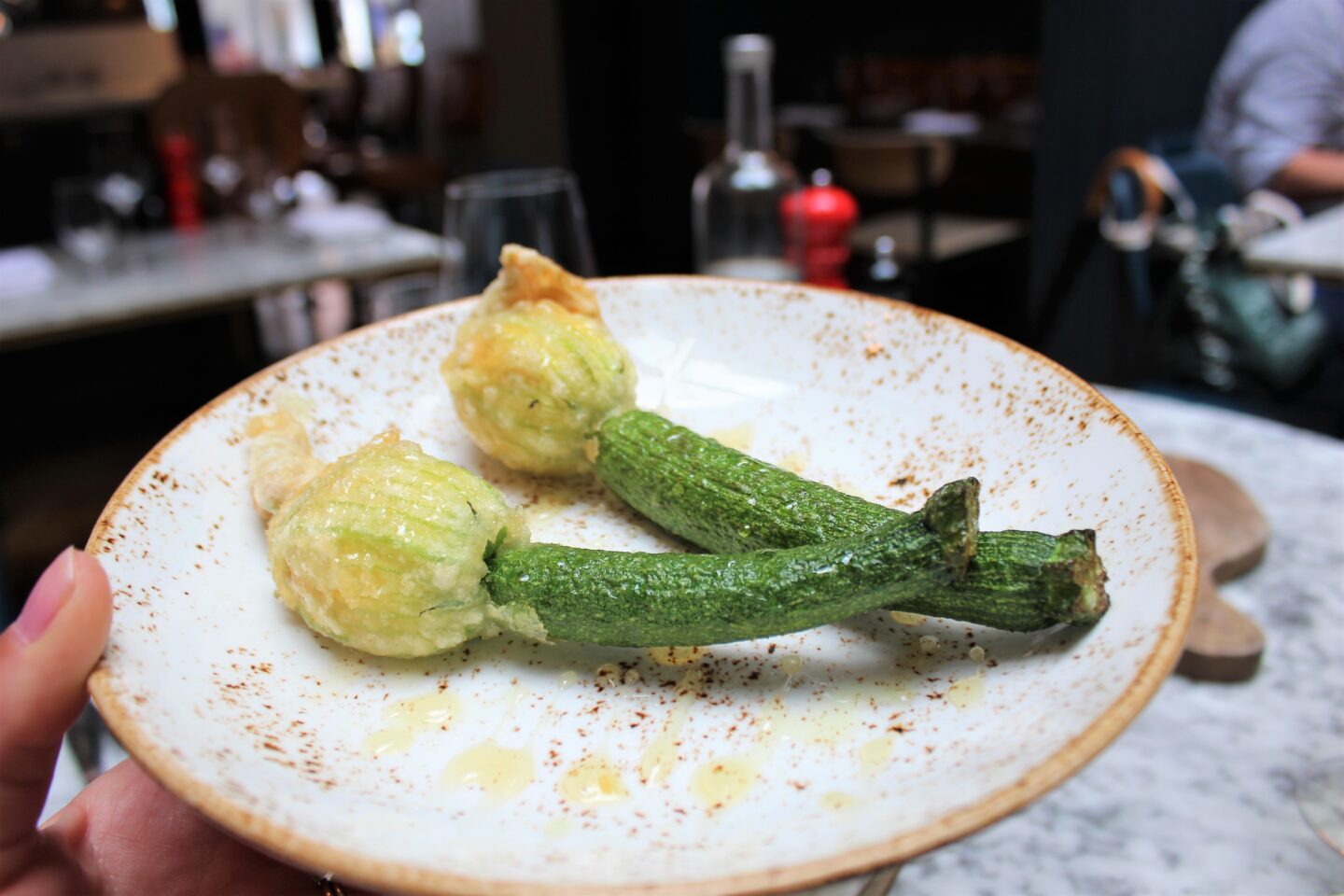 The 'Courgette Flower, Goat Curd, Honey & Truffle Oil' is somewhat of a signature for Blandford Comptoir and I can see why. This had both Mr B and I making 'mmmmm' noises! The creamy sharp goats cheese was, of course, a perfect match with the sweet honey, and anything with the addition of truffle always wins in my book! The delicate batter on the flower made the perfect crunch when cut into. I highly recommend ordering this. It's something a bit different packed with flavour and it's a lovely fresh little plate.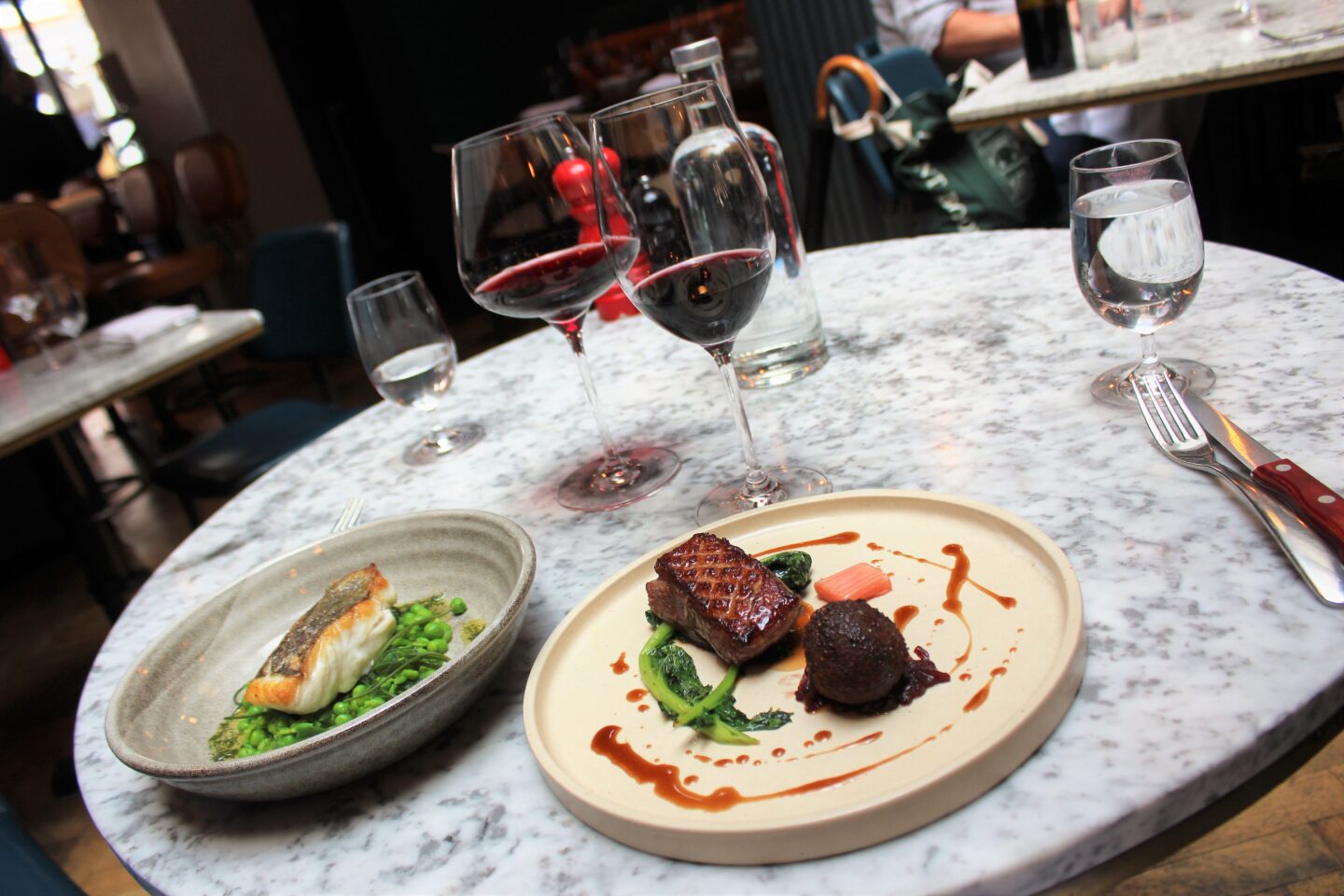 For my main course I chose the Barbary Duck Breast, Crispy Duck Croquette, Cime di Rapa, Cherries & Elderflower. If I see duck on a menu I do find it hard to resist. The duck was tender with a lovely crisp skin and the croquette was a morsal of delight, full of soft duck with a lovely crunchy exterior.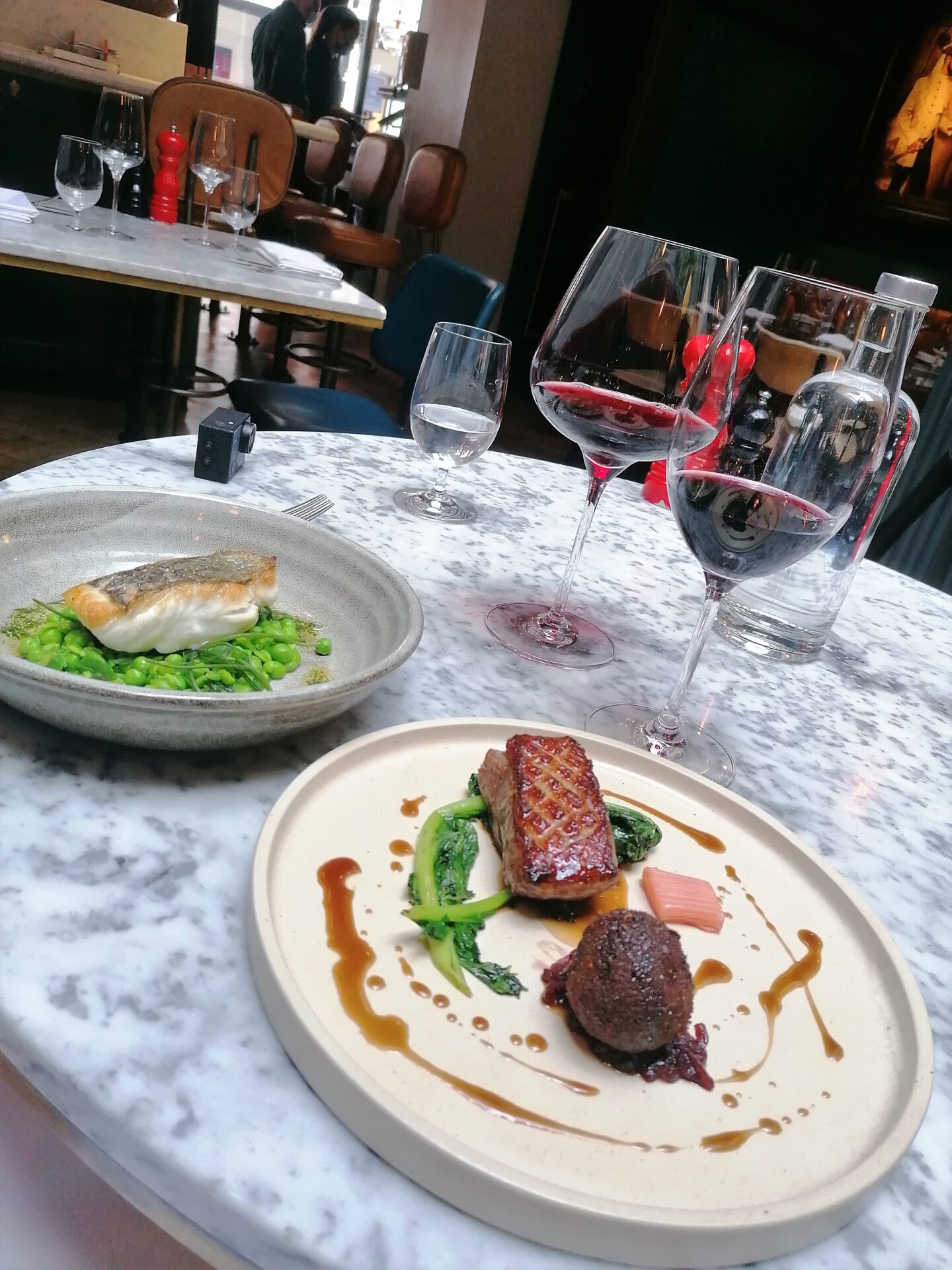 Mr B had the 'Pan Fried Cornish Hake, English Peas, Spring Onions, Dill Vinaigrette'. This was a true summer dish, so vibrant in colour from the fresh peas. The hake itself, such a wonderful fish, was very well cooked, had a nice crisp skin and the flesh of the fish fell apart. 
We chose not to order sides with our mains and with that in mind we had just enough room to share a heavenly cheese platter. We opted just to share three cheeses and asked them to pick for us. Both Mr B and I have never come across a cheese we don't like! I really liked the seasoned homemade crackers the cheese was served with.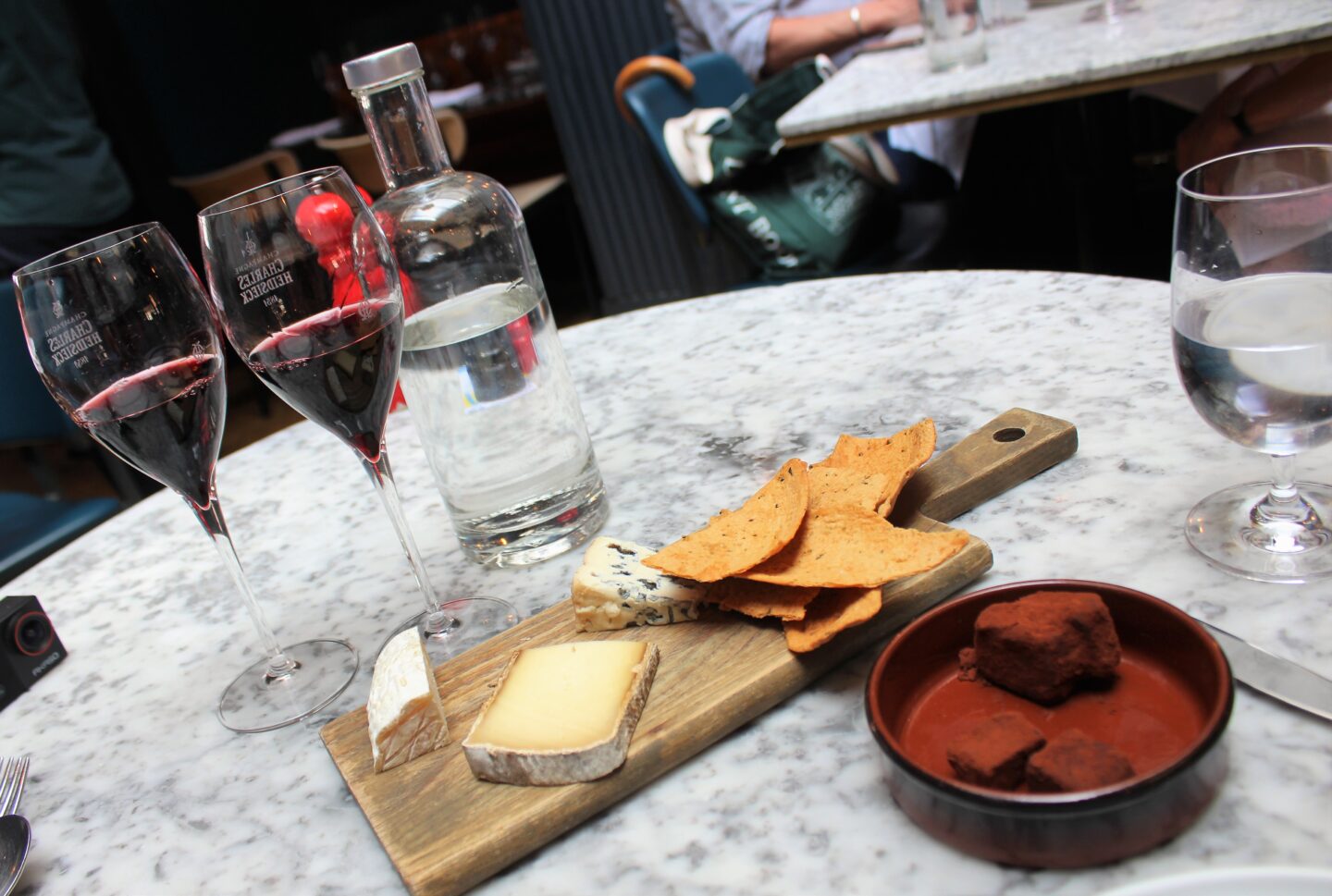 For something sweet we also shared the 'Brandy chocolate truffles'. They ticked the boxes of a handmade truffle – rich and decadent and perfect for when you fancy that sweet hit without having a whole dessert. 
This was a sublime lunch with such lovely service from all the staff. It was the perfect first meal to kick off our fantastic weekend eating our way around Marylebone.