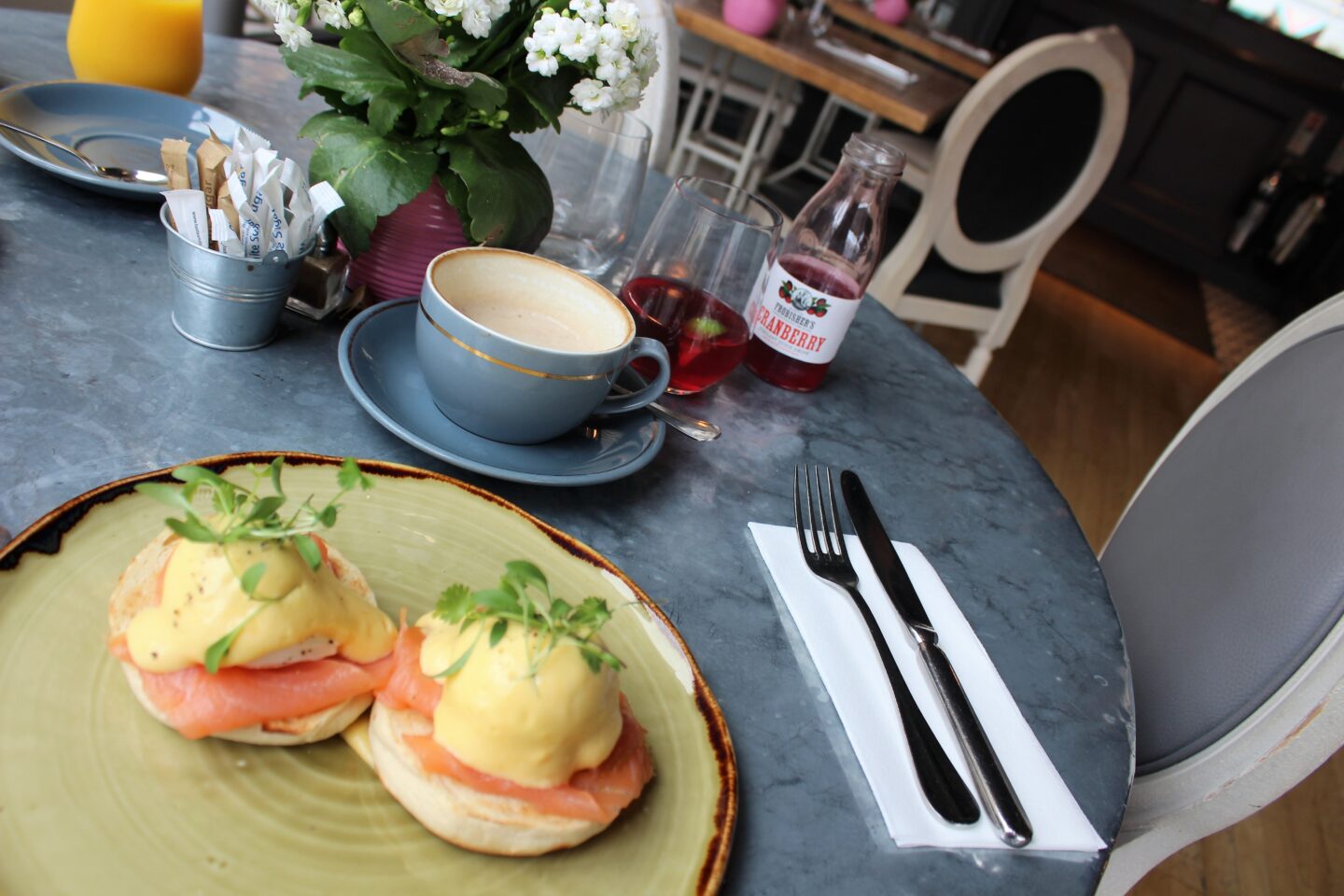 Moxton Steet is becoming one of my favourite streets in Marylebone. Not only is it home to Le Fromagerie who do an incredible variety of cheese, Ginger Pig who sell the most epic sausage rolls and Rococo whose chocolates are absolutely divine, we now have another favourite to add to our list – the famous Aubaine.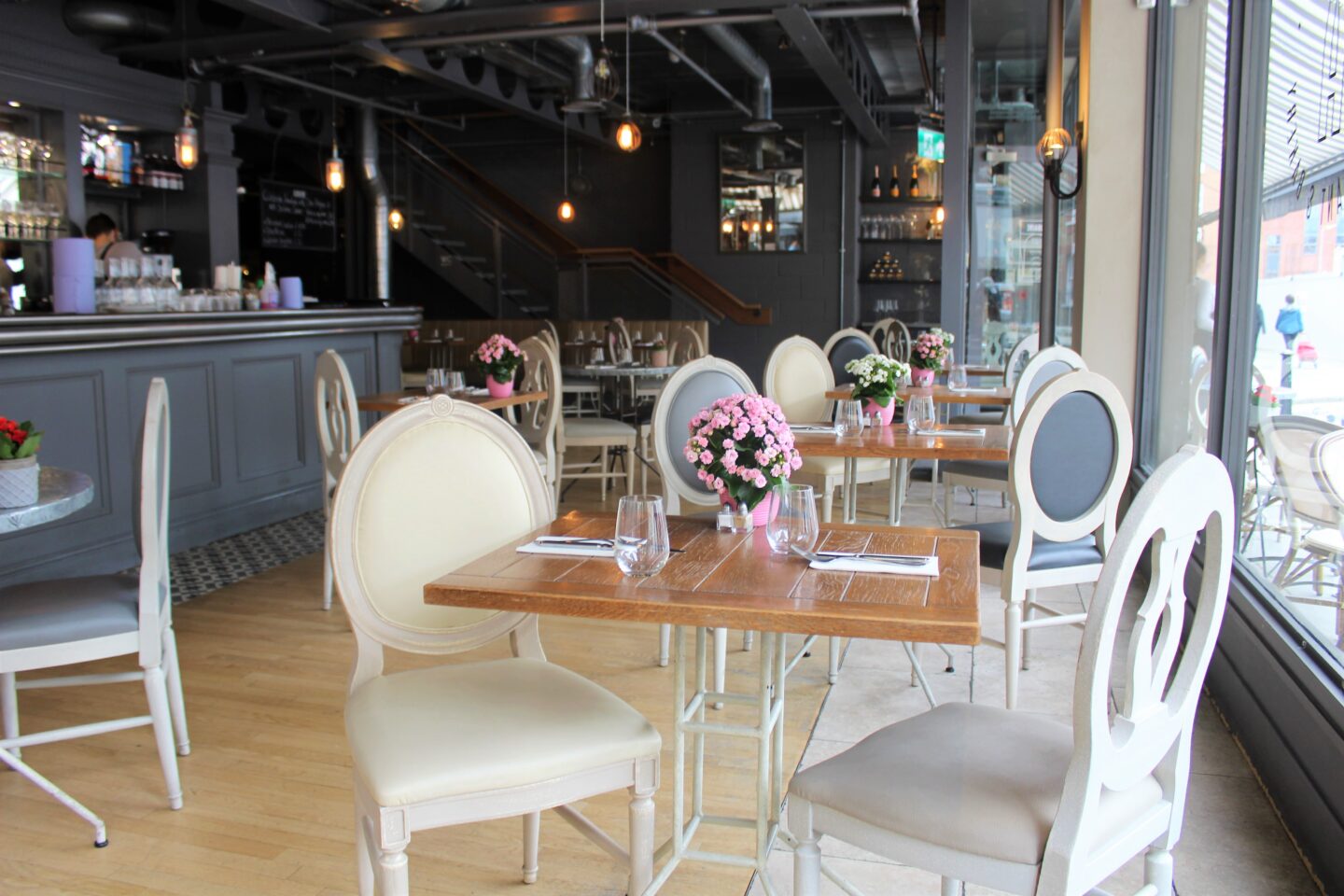 This French restaurant and bakery with its picture perfect interiors is where we chose to go for breakfast on our second visit to Marylebone. With many guests already enjoying breakfast outside, we chose to sit inside and were shown to a wonderful table by the window.
We had not stopped eating the day before, but with a good night's sleep (and possibly a few too many glasses of wine) we were both ready for a delicious breakfast. There was a generous choice and I was torn between the Truffle scrambled eggs, the Avocado toast or the Eggs Royale. Well it came to no surprise to Mr B that I stuck with my heart and went for my favourite, the Eggs Royale.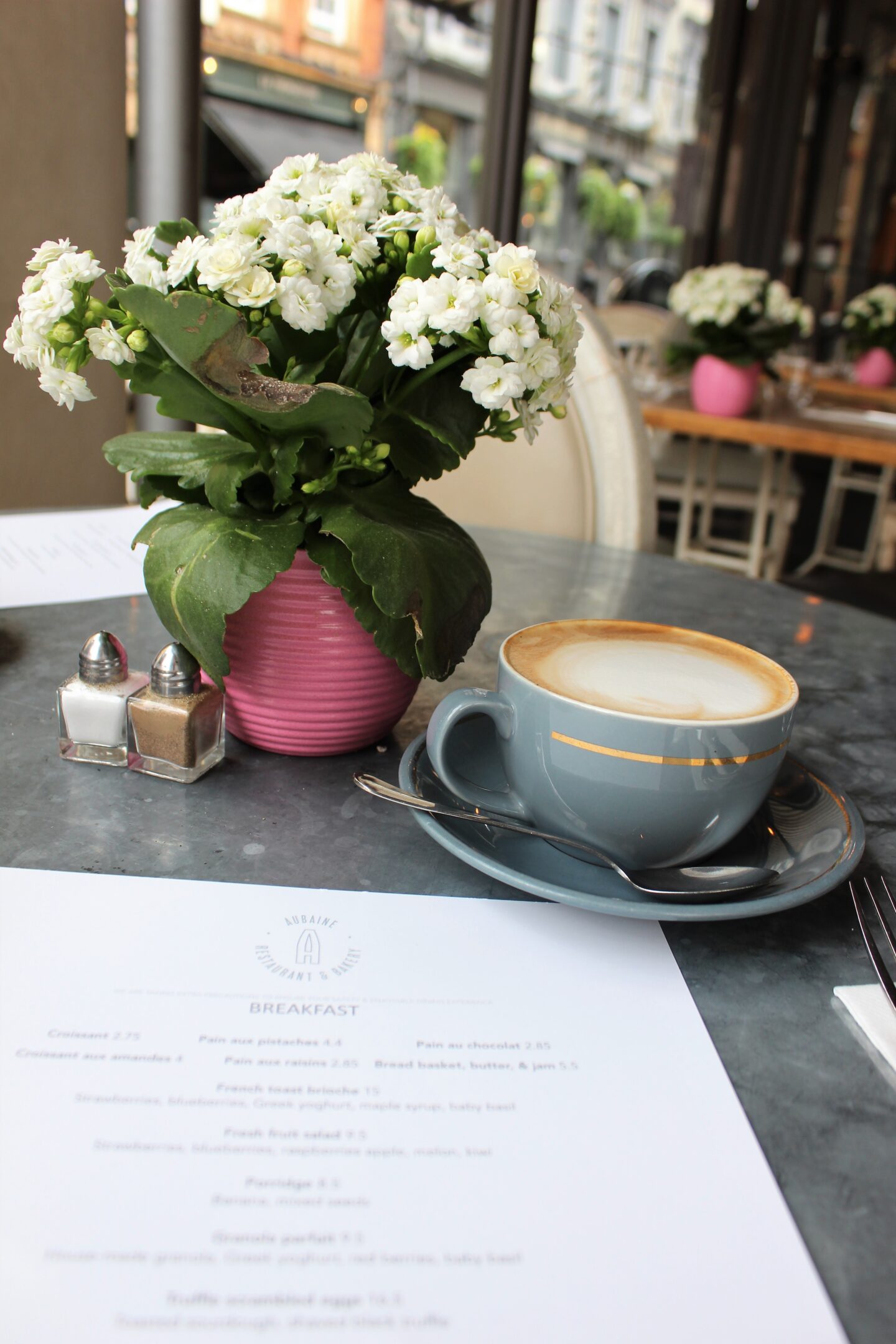 Whilst waiting for our breakfast we both sipped on very well made latte and we both commented on how lovely the coffee was. Mr B also had a fresh orange juice to accompany his breakfast whilst I had a cranberry juice.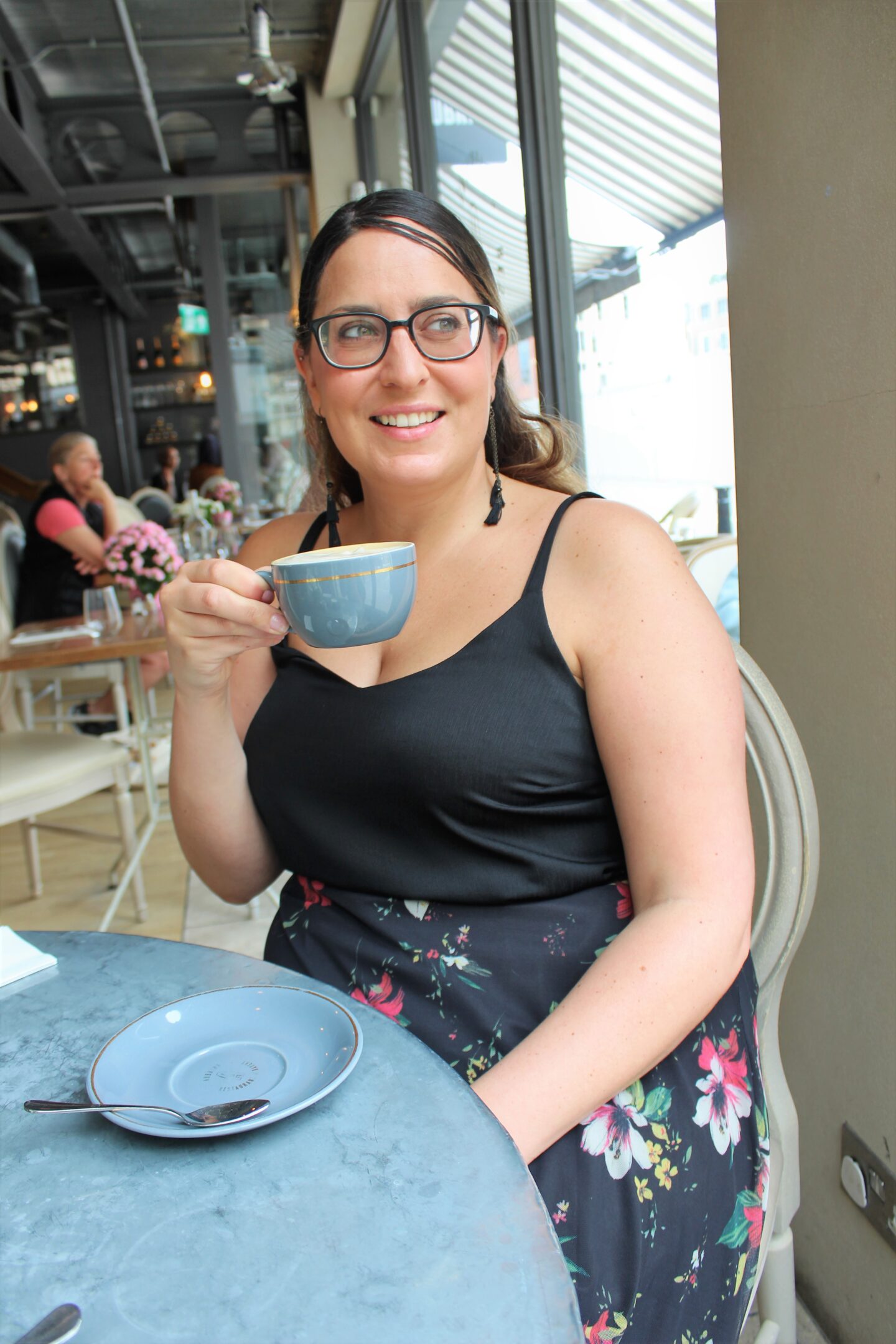 After only a short wait our breakfast appeared. It looked and smelt fantastic – I was never really in any doubt, but it tasted just as delicious as I expected it too! The English muffin was lightly toasted and topped with generous slices of salmon. The hollandaise, not too runny and not too thick, had a lovely sharpness from lemon and was buttery rich. The free range eggs which are all from Clarence Court had beautiful vibrant yolks, perfectly runny, just as they should be. It's always a delight for me when I cut into my poached egg and out comes a glorious river of rich egg yolk.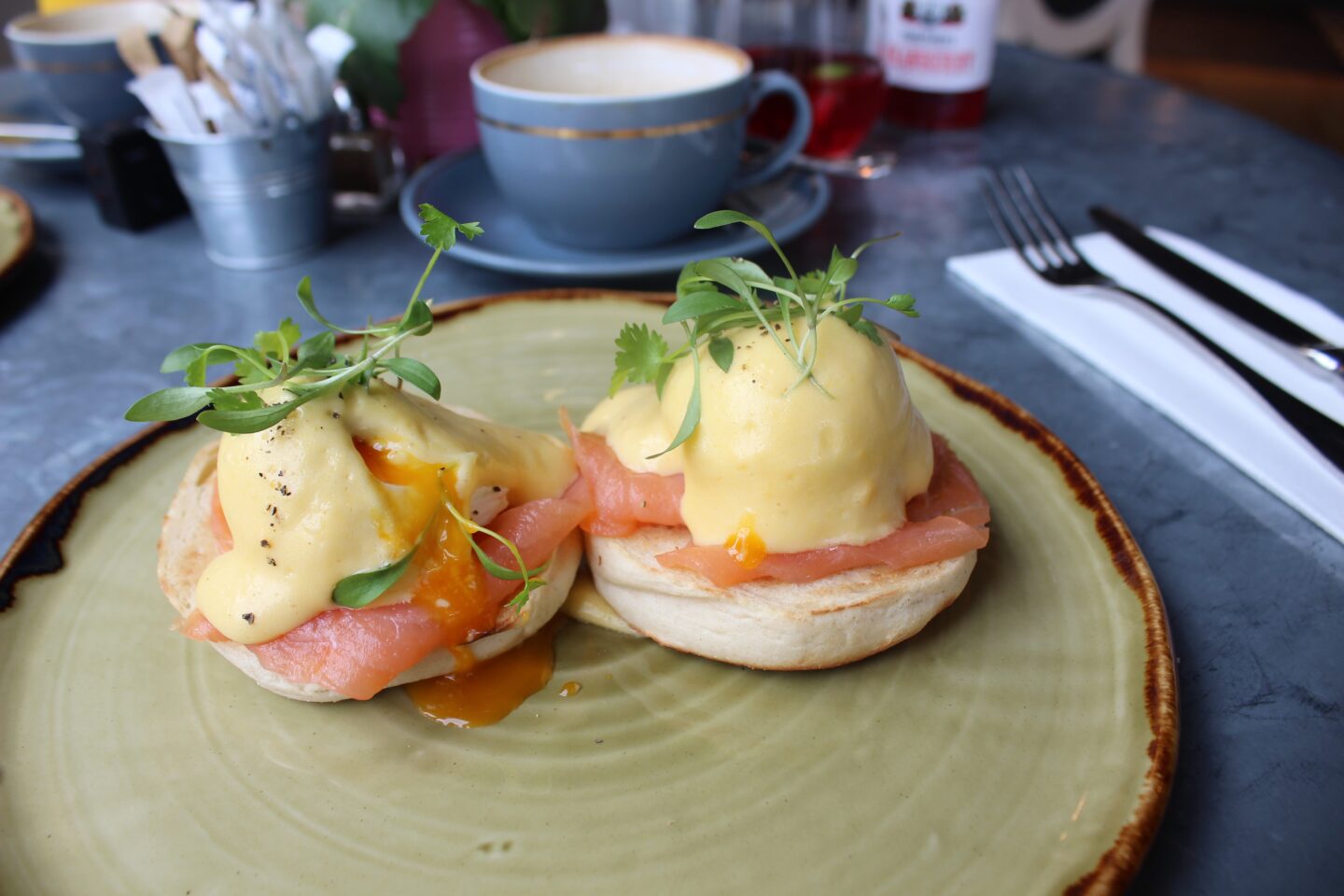 Mr B chose the 'Eggs Imperial' which was lobster, poached eggs, English muffin, hollandaise sauce. The combination of which was indulgent, rich and oh so scrumptious. The beautiful sweet lobster meat was just so beautiful with the hollandaise and poached eggs. It left us questioning why we had never seen this combination before as it was most definitely a winner for us and one we would both order again in a heartbeat!
With our second round of lattes and as our weekend was all about indulgence, we decided to share a portion of the 'French Toast Brioche', which came topped with strawberries, blueberries, Greek yoghurt, maple syrup, baby basil. I do love French toast and this was incredibly light and balanced with just the right amount of cinnamon, sweet maple syrup and sharp Greek yoghurt.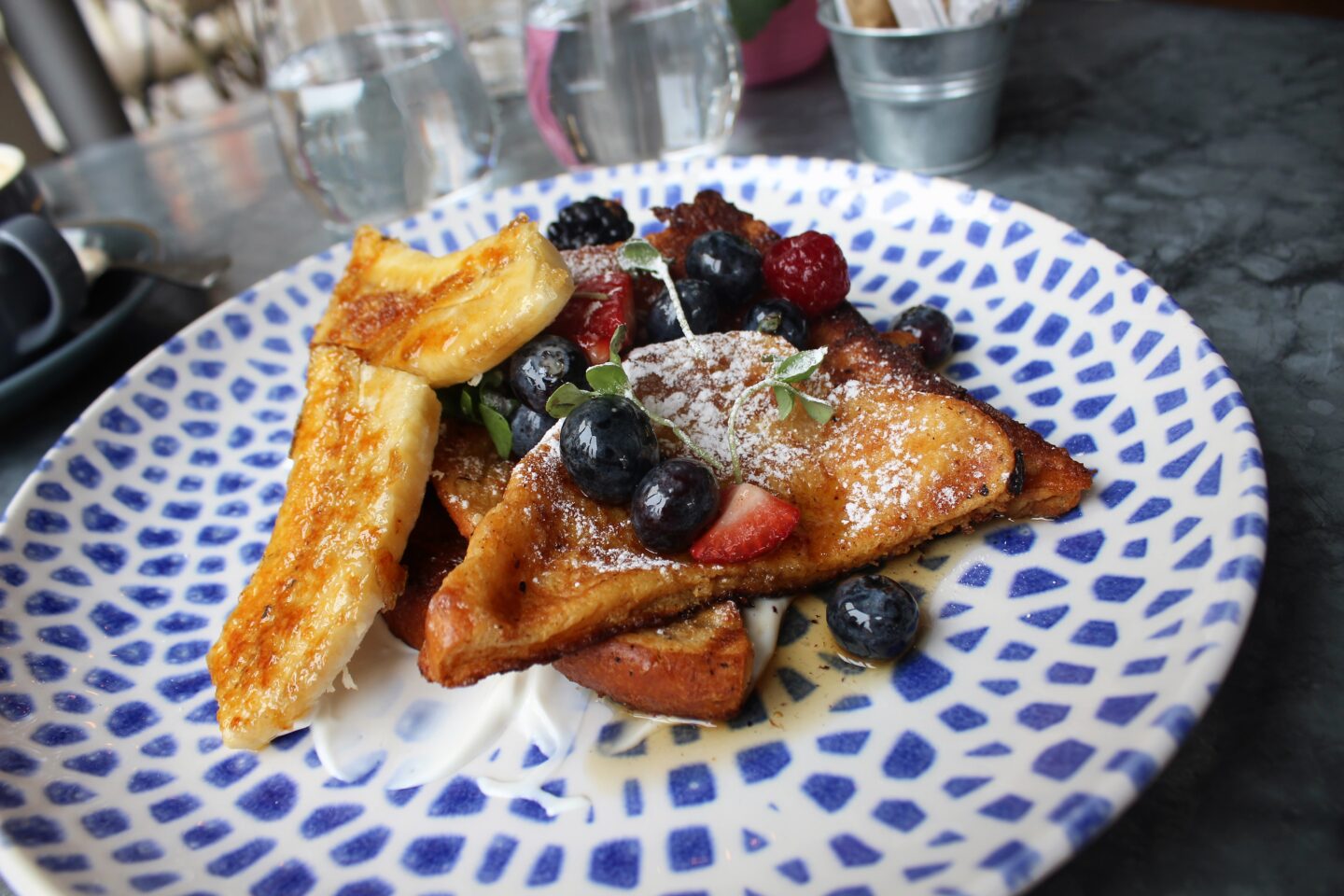 From arriving for our reservation until the moment we left, the service was incredibly friendly and attentive. They were happy to let us relax and enjoy a leisurely Sunday morning breakfast which was just what we needed to start our day in this beautiful part of London.