There are over 70 Michelin star restaurants in London, which is a lot to choose from! But Pied a Terre isn't just any Michelin star restaurant. It has been open for over 26 years. It gained its first Michelin star in 1993 and still holds it to this day! Now if that doesn't impress any foodie I don't know what will!
Our high expectations were well and truly met on this fantastic culinary journey.
The restaurant is beautiful, chic, classic and romantic. The tables are placed perfectly apart and the room has a beautiful and small intimate feel to it.
As any perfect dining experience should, we started off with a glass of champagne! We opted for the tasting menu and we both had different menus (meaning we could try each other's dishes!) and we were happy to leave our choices in the hands of the very talented chef Asimakis Chaniotis.
The canapés got a 'wow' from me and were served in a huge pen shell which held a mixture of sea shells and sea urchin shells. The canapes were delicately placed on top – one was a beef tartare in a delicate pastry roll and the second a rice cracker with taramasalata – both were equally delicious and really got our appetites going! (I could eat a huge tub of that creamy smooth taramasalata now!)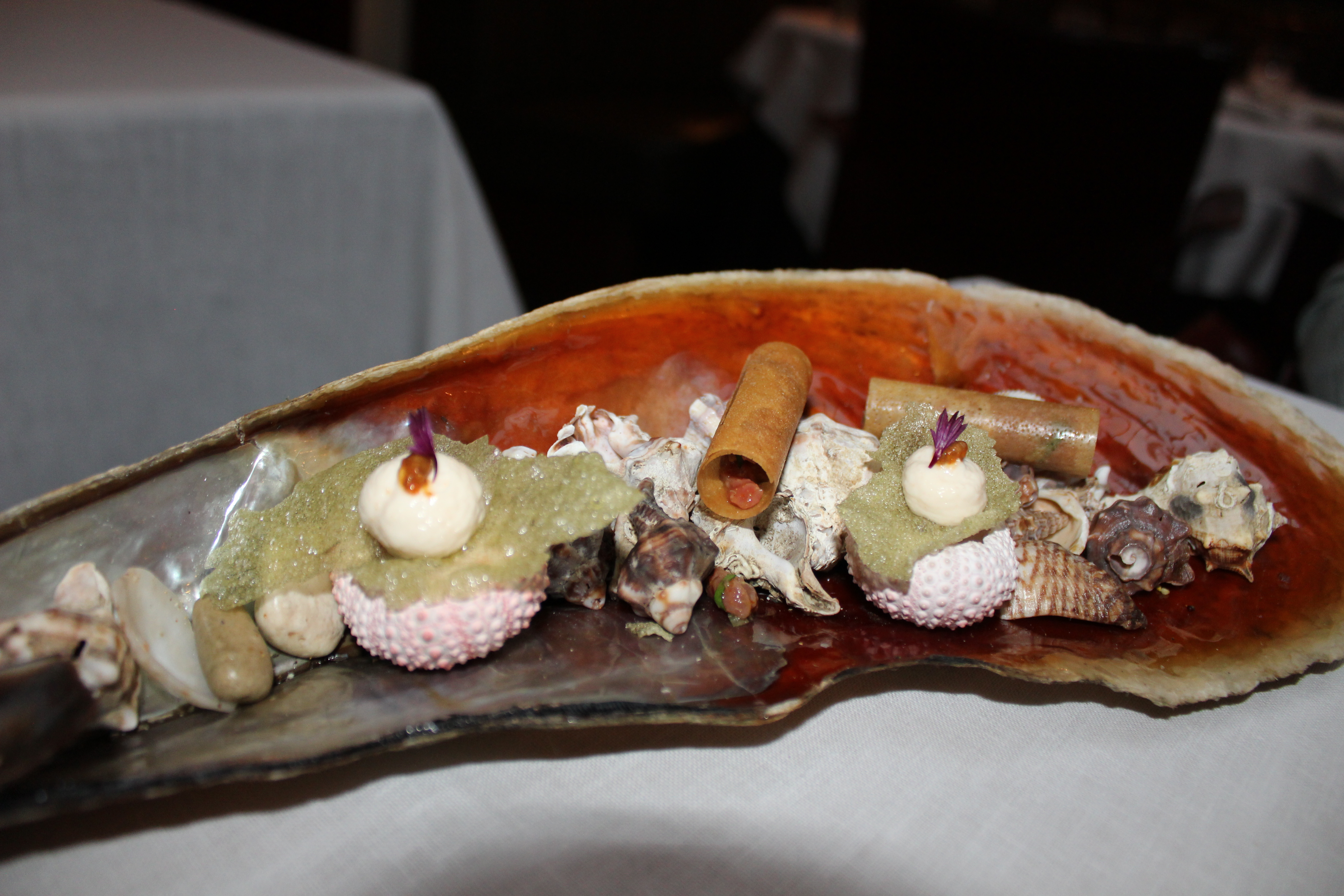 Our amuse-bouche was 'Vichissoise/Crab' – a deliciously light airy leek foam reaching to the bottom of the 'egg shell' to find sweet crab meat, which was like finding hidden treasure!
My starter was 'Isle of Mull Scallops/Yuzu/Celeriac/Black Truffle. Scallops are my favourite seafood. They were not cooked in a pan, but were ceviche (cooked with the acids in the yuzu) and were delicious. The silky texture of the scallops worked perfectly with the smooth celeriac and crunch of the hazelnuts. What I also loved about the dish was the generous portion. I once went to a 'fancy' restaurant and ordered scallops for starter and I only got one! I am not a one scallop kind of girl!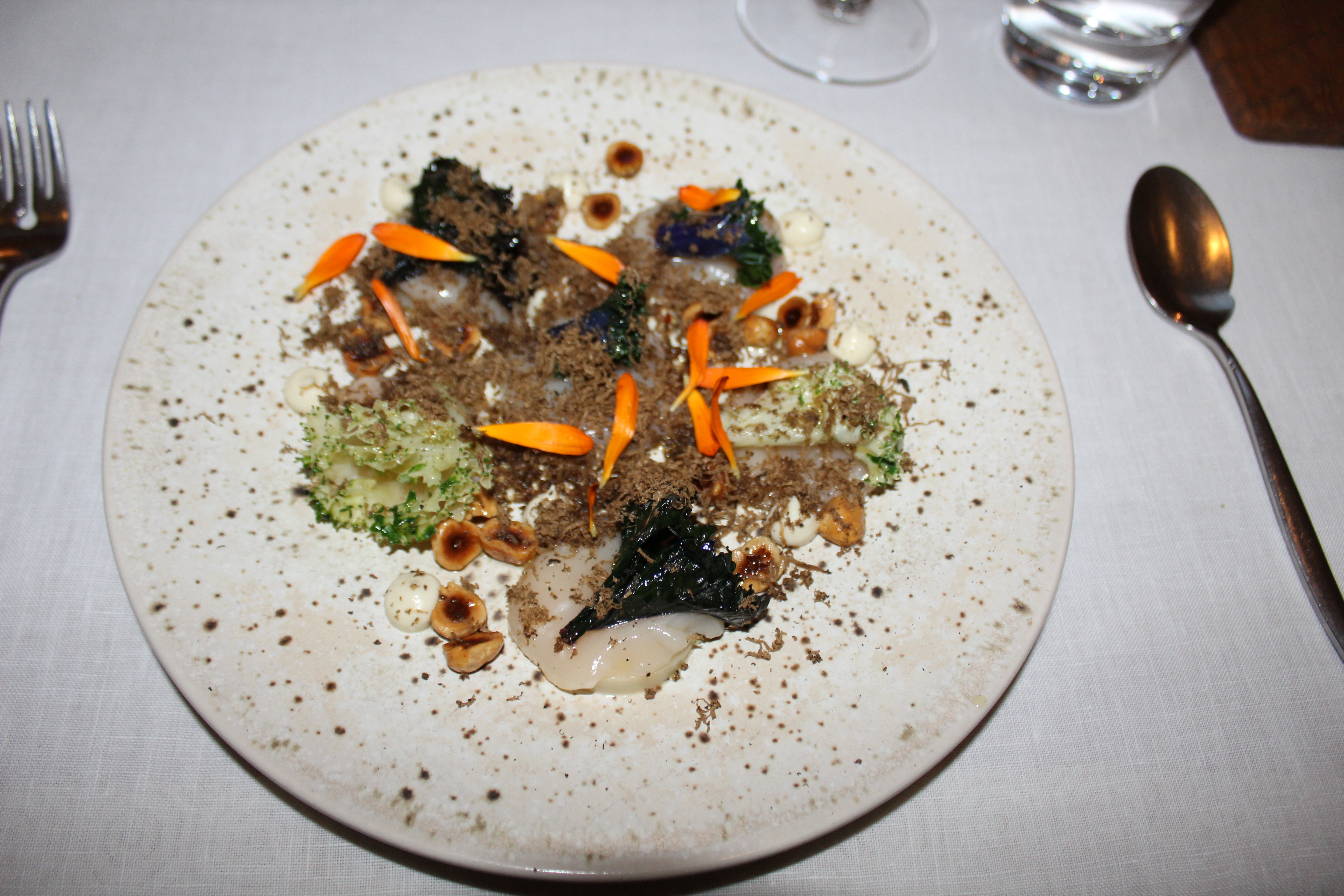 '67 Octopus/Squid Ink/Piquillo Pepper/Spring Onion' was my next course, the Octopus was perfectly cooked, meaty in texture and accompanied by the punch of the squid ink and sweetness of the pepper it was a perfectly balanced dish packed full of flavour.
Onto the main course 'Grouse/Beetroots/Port/Mint'. I have never had Grouse, but it was a beautiful strong bird and cooked pink it melted in my mouth. If you are a lover of game meat Grouse is definitely one for you – I would most definitely order it again if I saw it on a menu. Matched perfectly with the Grouse was the delicious jus. Shiny and smooth it was full of flavour and held its own against the strong powerful meat.
I have to mention Mr B's main here as it was probably one of the prettiest main dishes I have ever seen (and it tasted bloody amazing too!) – 'Whole Native Lobster/Sweetcorn/Seaweed Butter/Rouille' – the sweet lobster was delicious and was cooked perfectly.
If you are a lover of cheese (as both Mr B & I are) you should not miss the cheese course at Pied a Terre … look at that cheese!!!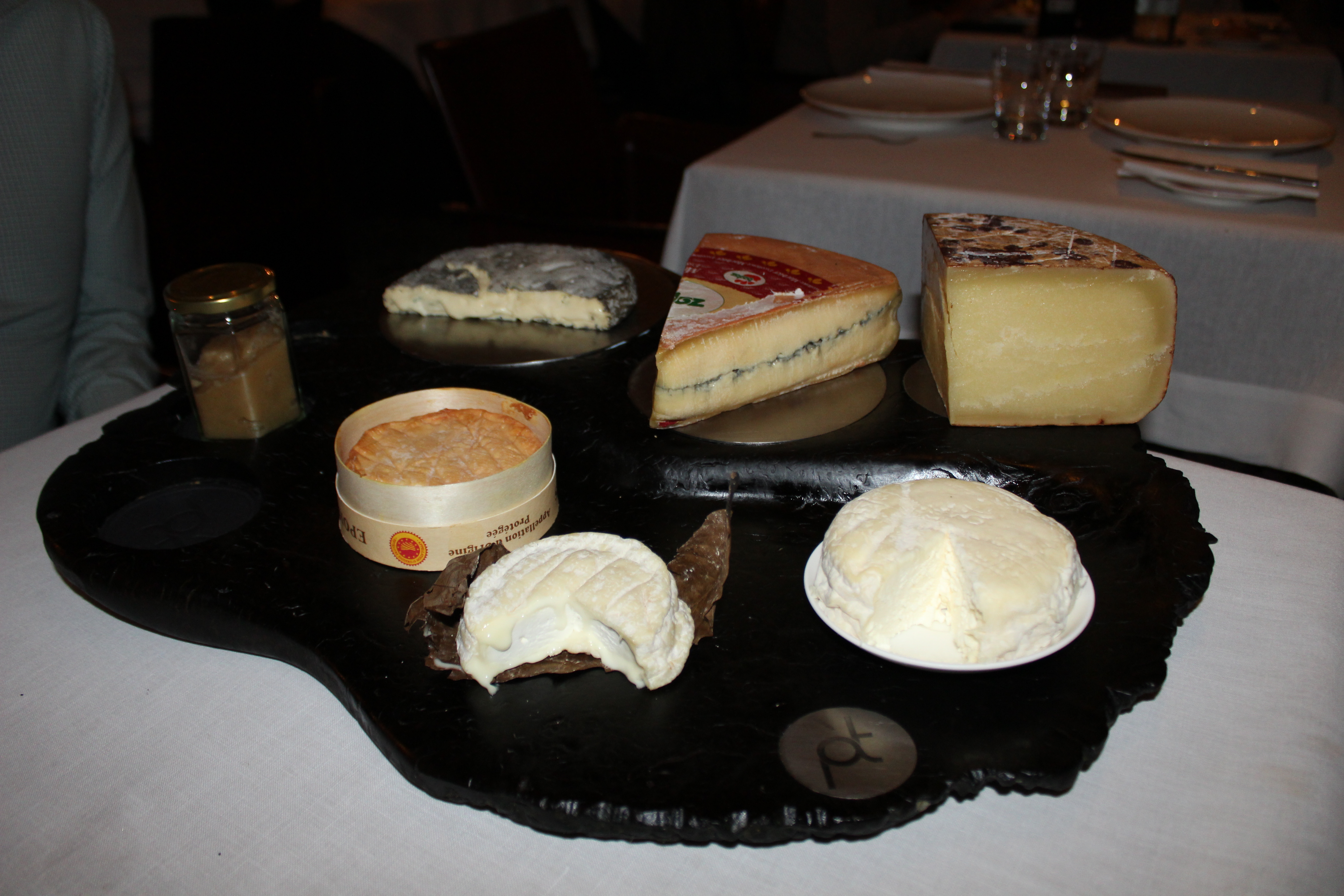 Our pre-dessert was a perfect pallet cleanser – 'Walnut/Yogurt/Honeycomb' – which was fresh, tangy and sweet all at the same time.
'Matcha Tea custard Tart/Cherry/Black Ice' was my final dish and was so interesting to look at and so delicious would you believe I forgot to take a picture!!! That in itself speaks volumes about the dish as I always take pictures of everything (while Mr B is patiently waiting to dive into his food!). The custard was smooth and gentle in flavour – Matcha can very often be too overpowering. I have never had black ice cream before, but it was delicious. The ice cream is made black with the addition of charcoal powder.
An integral part of the dining experience for us is the wine, with the sommelier matching a wine with every course, each one paired to perfection. What I think is a fantastic idea is that the wine is served 'blind' with your dish, with the sommelier talking you through it after you have had it with your course. This means you don't have any preconceptions or judgments. Any diner should definitely leave themselves in the skilled hands of the sommelier at Pied a Terre as we could never have picked such perfect wine pairings.
Before our after-dinner coffee we were lucky enough to speak with the owner David Moore who some of you may know from the TV series 'The Restaurant', which also featured Raymond Blanc. David was such a pleasure to talk to, so full of knowledge and such passion for the industry.
Now here is the really exciting bit … David offered to give us a sneaky peak in the kitchen! Being massive food geeks this was very exciting for us and we jumped at the chance! Bear in mind the restaurant was still in full service, it was bloody brilliant to see the team at work. They were like a well-oiled machine and with chef Asimakis Chaniotis at the pass, watching him plate up was like watching an artist paint. When he asked for garnish, it magically appeared from one of his fantastic team.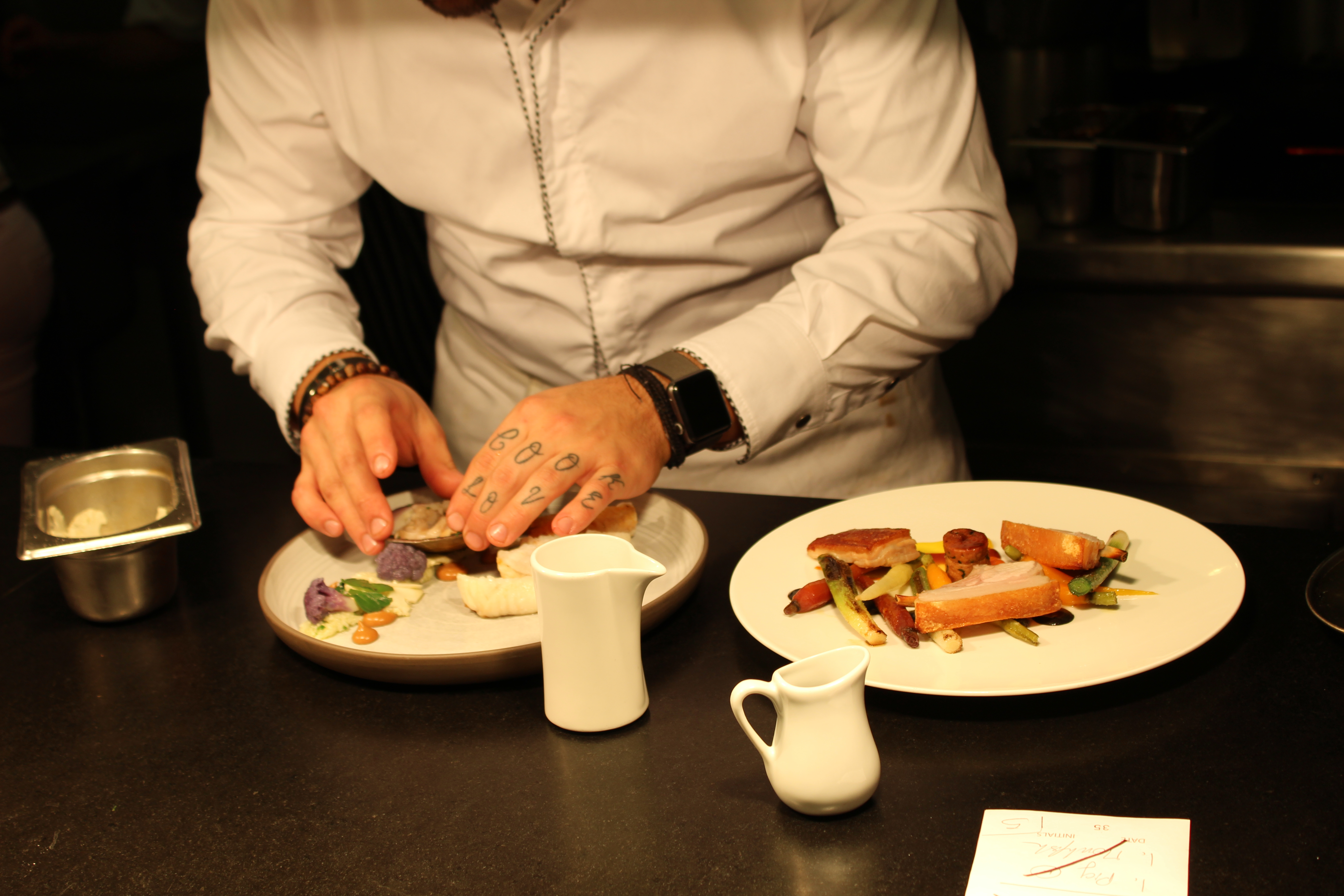 All the staff at Pied a Terre clearly love their jobs. They are all full of knowledge, so very welcoming and are genuinely happy to have you dine with them.
The one negative thing about Pied a Terre is that we don't live closer! I would be back in a heartbeat if we did.
34 Charlotte St, Fitzrovia, London W1T 2NH
020 7636 1178