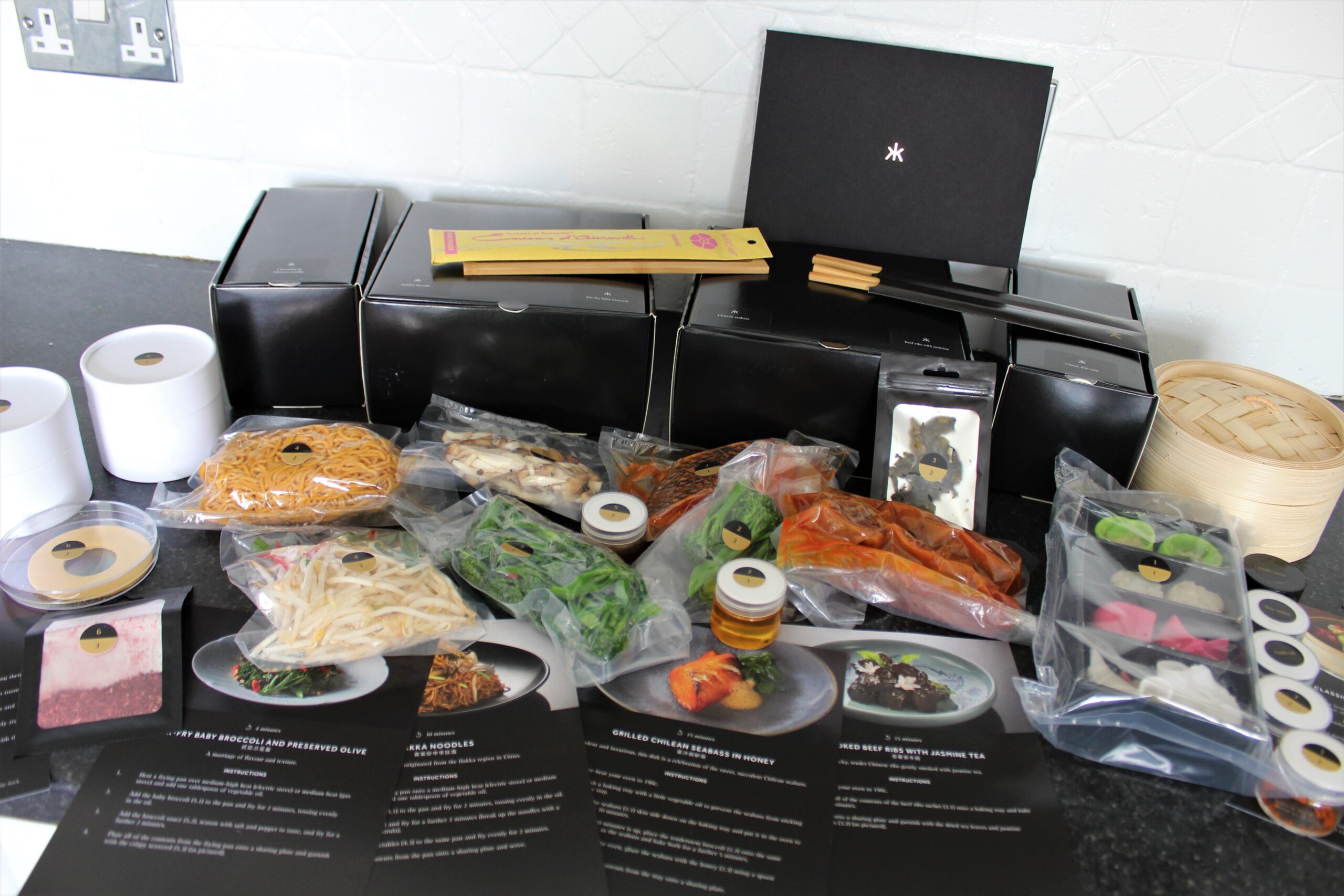 Luxurious, decadent, indulgent, opulent, delicious . . . there are not enough adjectives to describe what an incredible home dining experience we had from our Occasions by Hakkasan meal box!
From the moment the box arrived we were wowed as every single detail had been designed and created to give you an experience of eating at this world renowned Michelin star restaurant at home.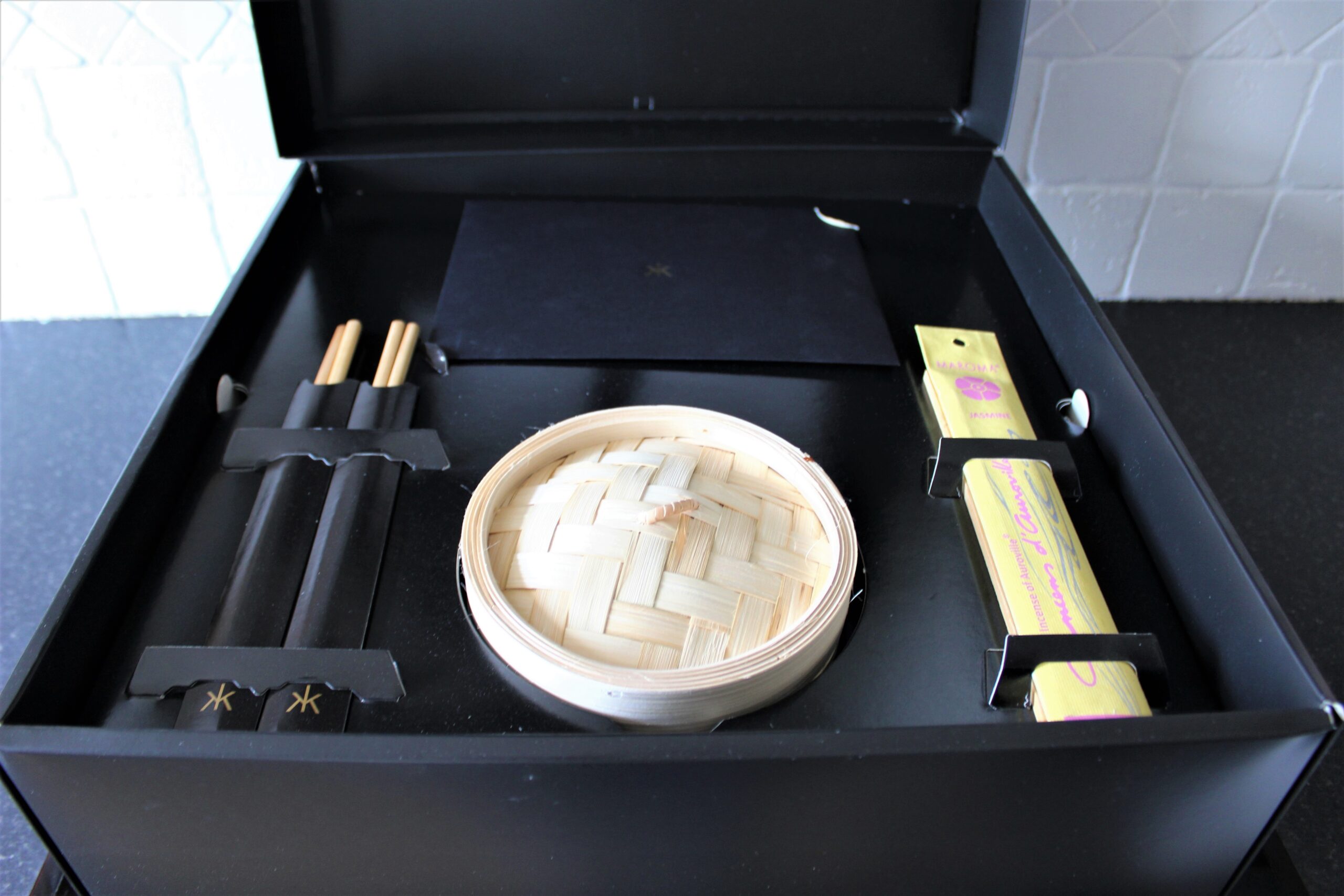 The box was striking and opening the lid adorned with the signature Hakkasan logo we were both immediately impressed. The top layer provided everything you needed to help create the Hakkasan experience at home including Hakkasan chopsticks, jasmine incense, a QR code to a unique playlist created by Hakkasan resident DJ, a dim sum steamer, printed menus and individual instruction cards for each course.
Mr B and I were already wowed and we had not even got to the next layer which contained the food! Each dish was in its own box and clearly labelled with numbers which corresponded to the clear instruction cards.
We could not wait to try the food. Setting the table it only seemed right to enjoy what we were sure was going to be an amazing meal with a bottle of Moet & Chandon (not that you need an excuse but we were celebrating our 12-year anniversary)!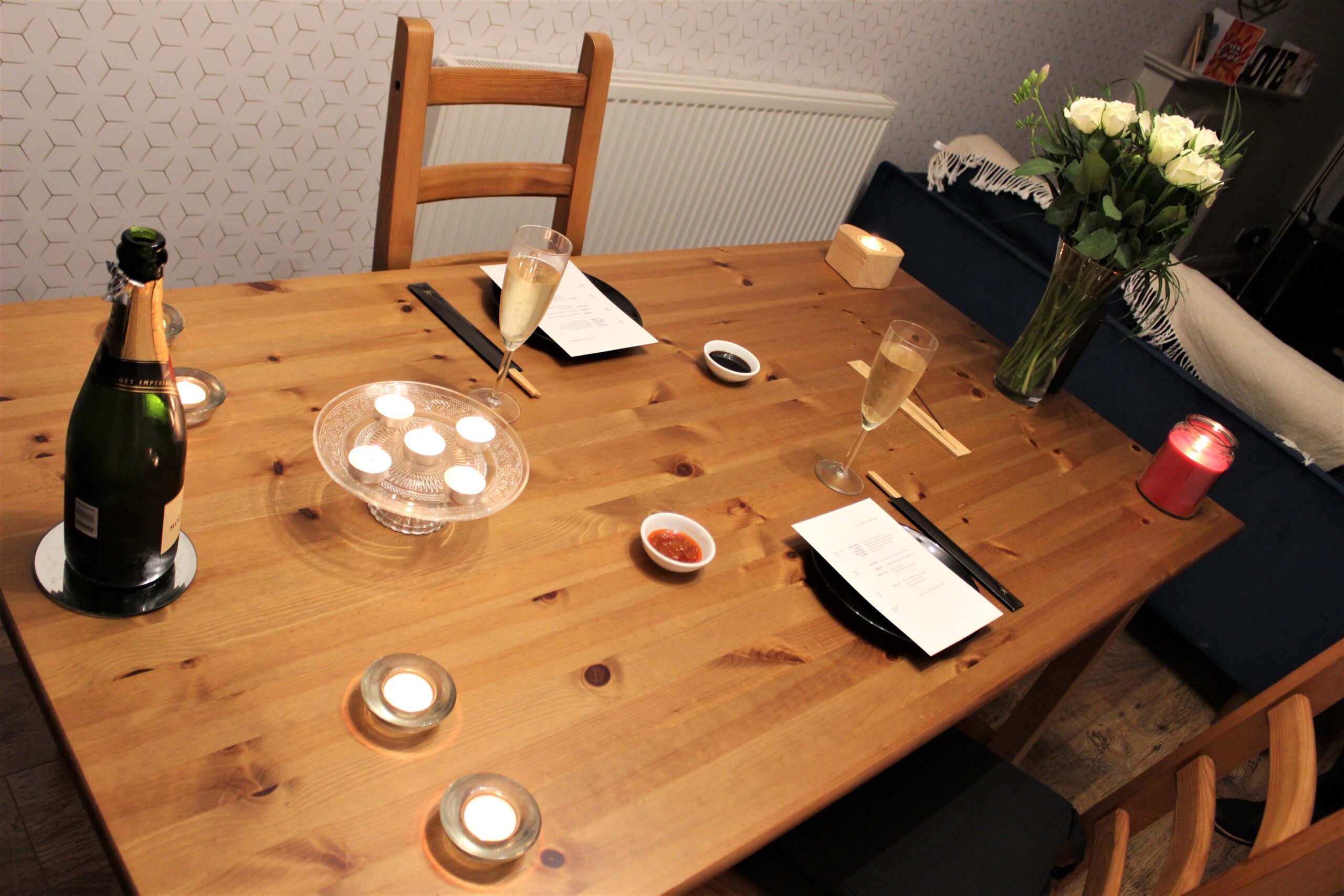 Mr B and I are both huge dim sum fans so were both looking forward to trying our famous Hakkasan starter, their Classic dim sum platter. It contained four dim sum each which were king crab and peppercorn dumpling (the green one), Halibut shui mai with water chestnut and tobiko caviar (the yellow one), Wild mushroom dumpling (the pink one) and lastly Langoustine har gau with prunier caviar (the white one).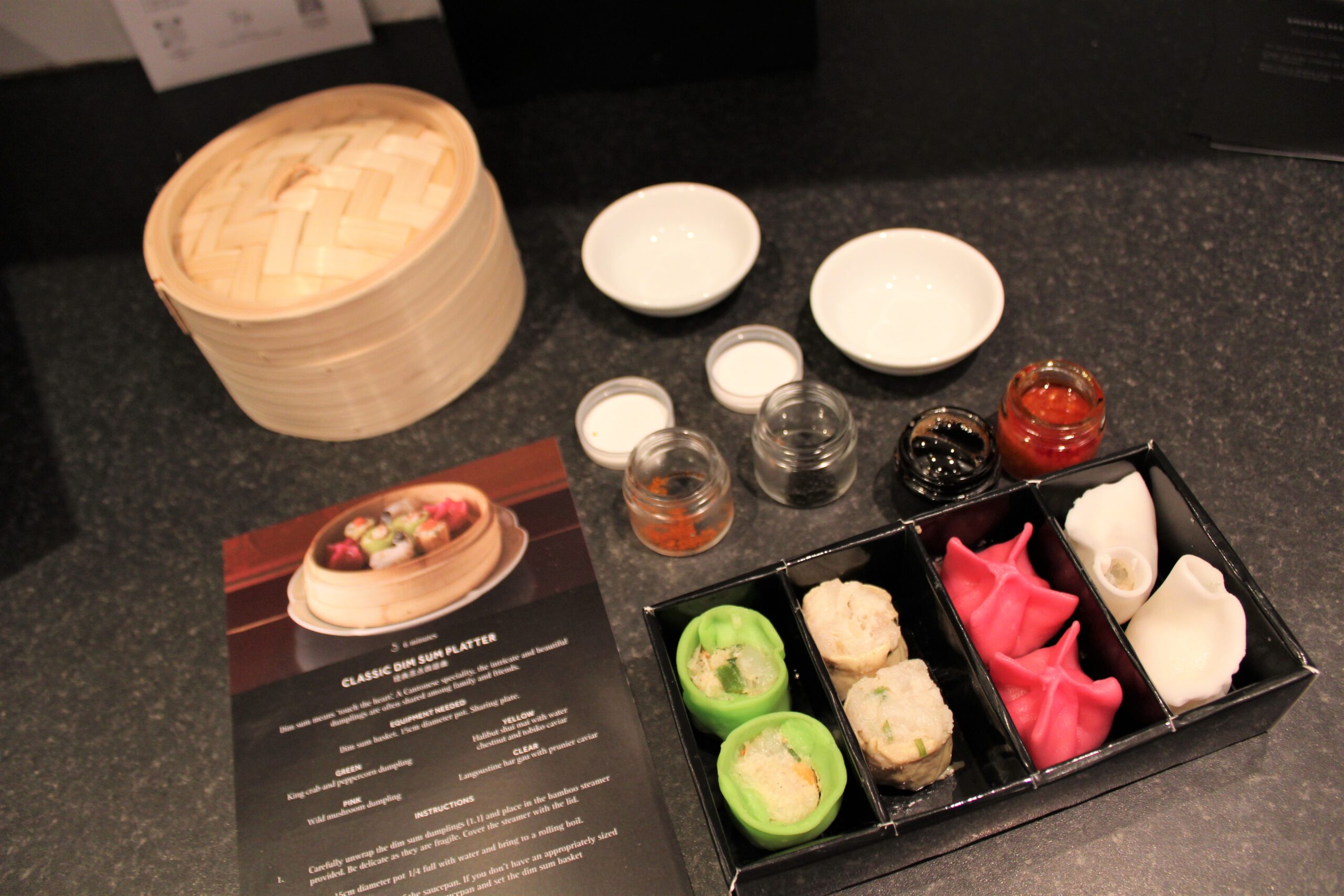 They were extremely simple to prepare – we just carefully took them out the packaging and steamed them in the provided steamer over a pan of boiling water for six minutes. After that it was just a case of adorning two of the dim sum with caviar (something which felt very luxurious and surreal doing at home!). To go with the dim sum you are provided with three jars of dipping sauces which were soy sauce, chili oil and chili sauce.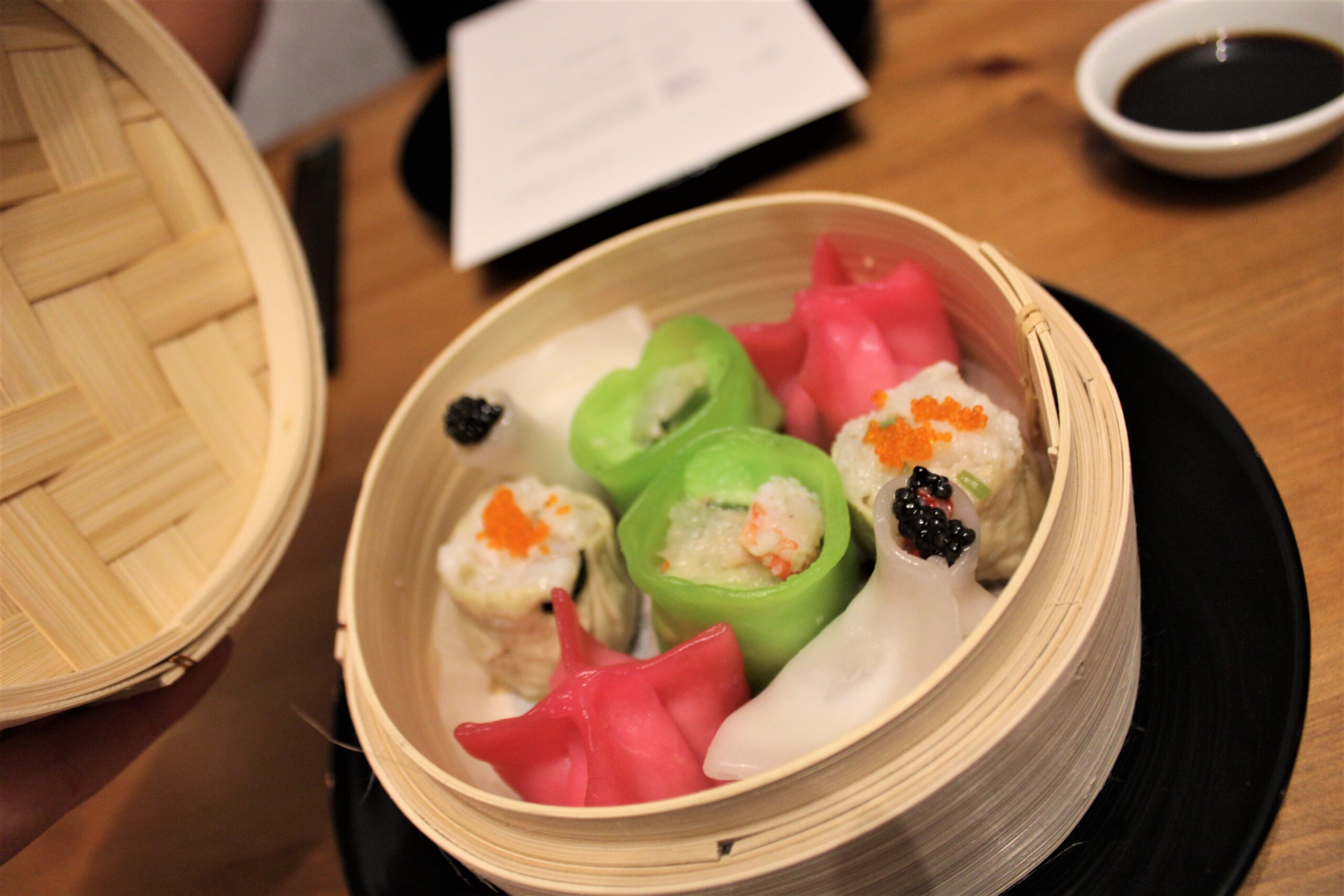 All four dim sum were utterly delicious, the delicate dim sum wrappers the perfect texture and the fillings all packed with flavour. It is very difficult to pick a favourite as we both loved all four, but if I was forced to pick I would say the Halibut shui mai as the inside was just so tender and a real taste explosion in the mouth. But honestly, I could eat all four of these dim sum every day and never get bored of them!
Our main consisted our four dishes which we served, as suggested, as sharing plates. When we plated up the four we could not wait to tuck in!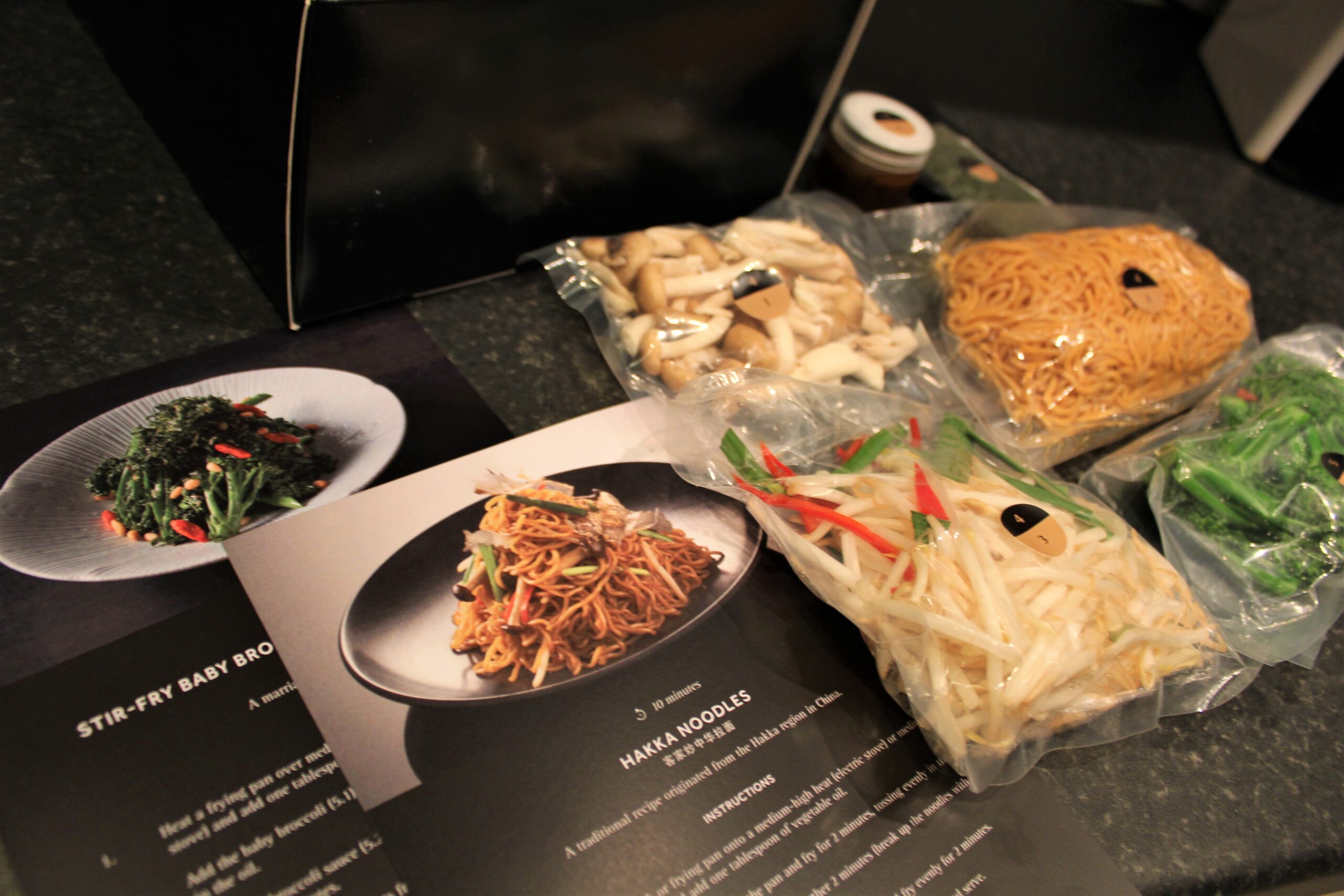 Two of the dishes, the seabass and the beef, just required heating up in the oven with the other two dishes, the noodles and broccoli, cooking in a wok or frying pan. One thing that is important to me with a restaurant meal box is the ease of cooking – after all we get theses boxes to have an escape from cooking dinner and having that 'restaurant experience' at home. I was pleased that even with such fine ingredients and high standard of dishes, our Hakkasan box remained really simple to cook. In fact, it seems wrong to call it cooking – it is more just a case of heating up.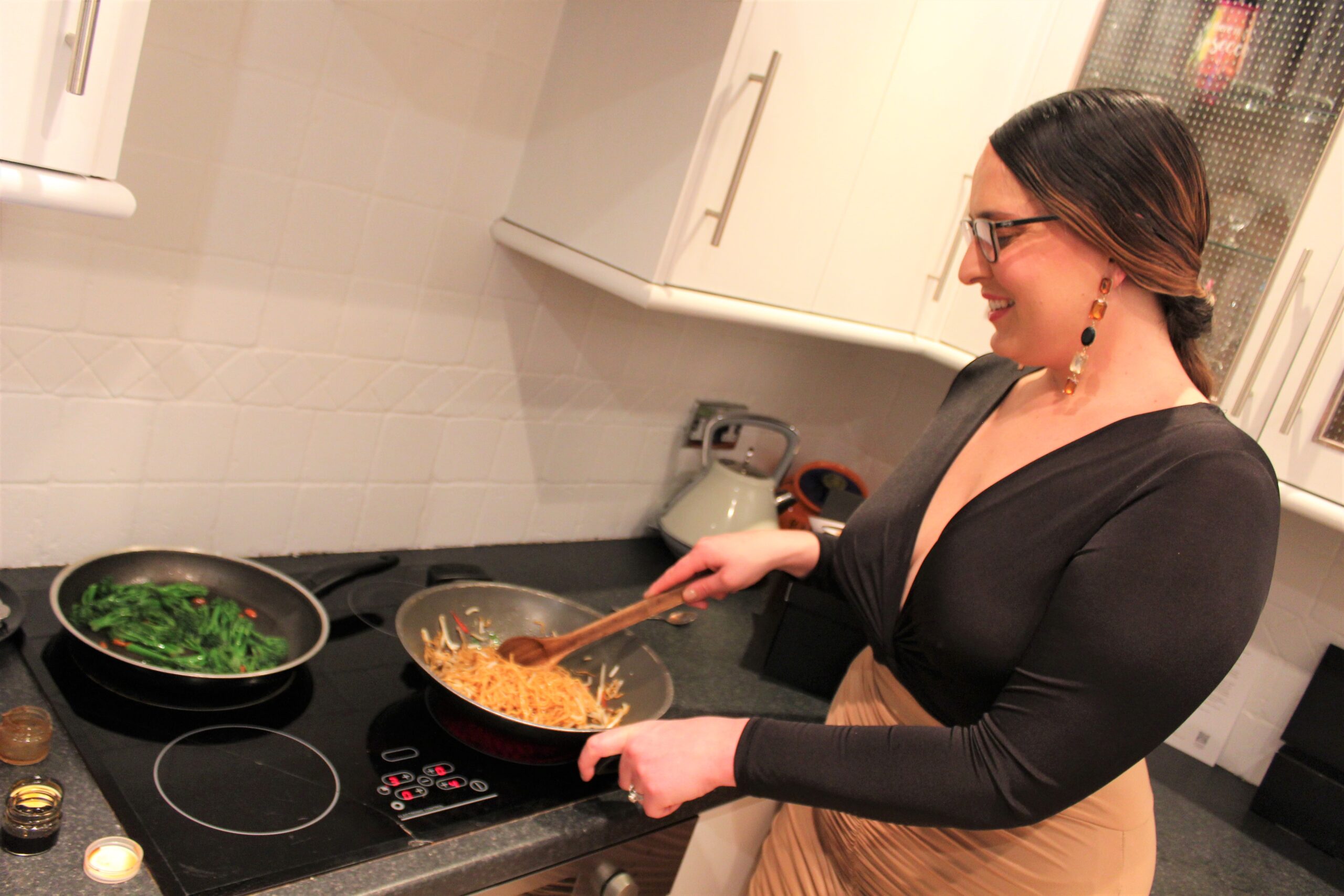 I will start with the dish that wowed me the most and that is the 'Smoked beef ribs with jasmine tea'. The beef fell apart and melted in the mouth and to say I heated this up in the oven I was so impressed. It wasn't just the texture that made me make ridiculous yummy noises whilst I was eating it, but of course the taste. It was so rich and sticky with the hint of smoked tea, it was absolutely delicious!
The 'Grilled Chillean seabass in honey' was another big hit with Mr B and I. It simply flaked apart and the thick succulent flesh of the fish was sweet with honey – it was also a good sized portion for Mr B and I to share.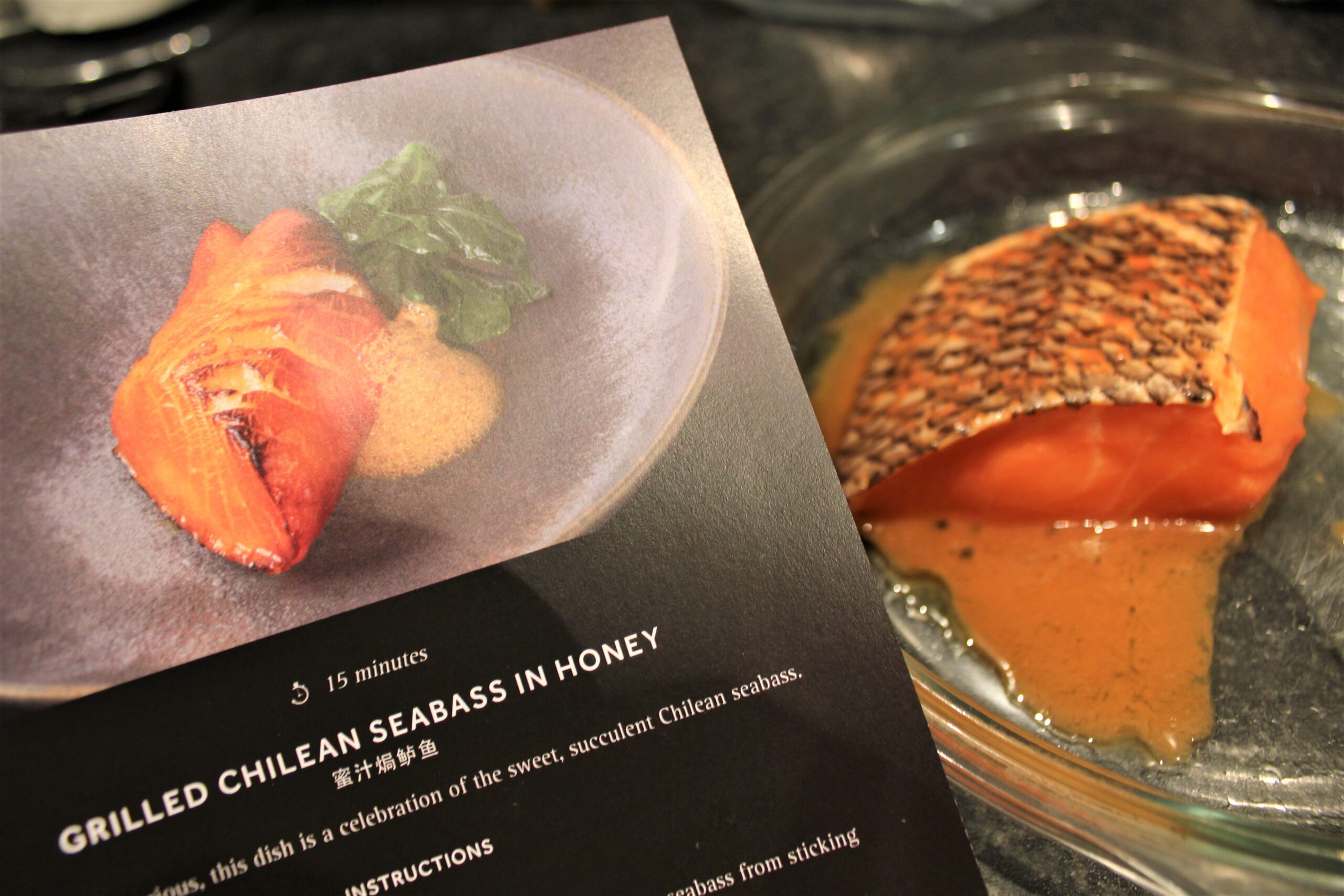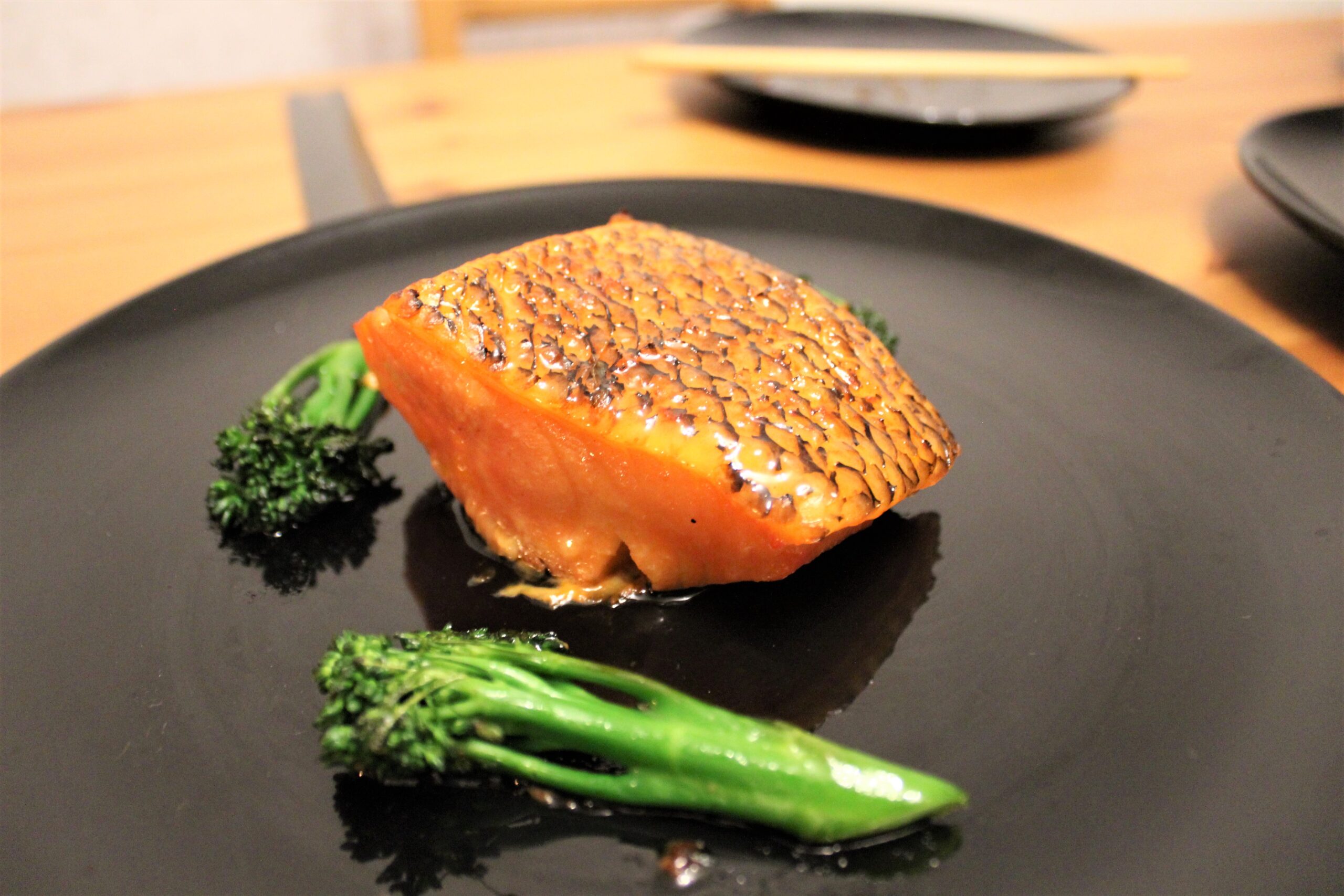 The 'Hakka noodles' were a hidden gem for us. We just expected a regular noodle dish to accompany our two 'mains', but we would have been happy to eat these noodles as a dish on their own in a restaurant! The noodles contained shimeji mushrooms and beansprouts. They had so many layers of flavour and really delivered on texture and taste!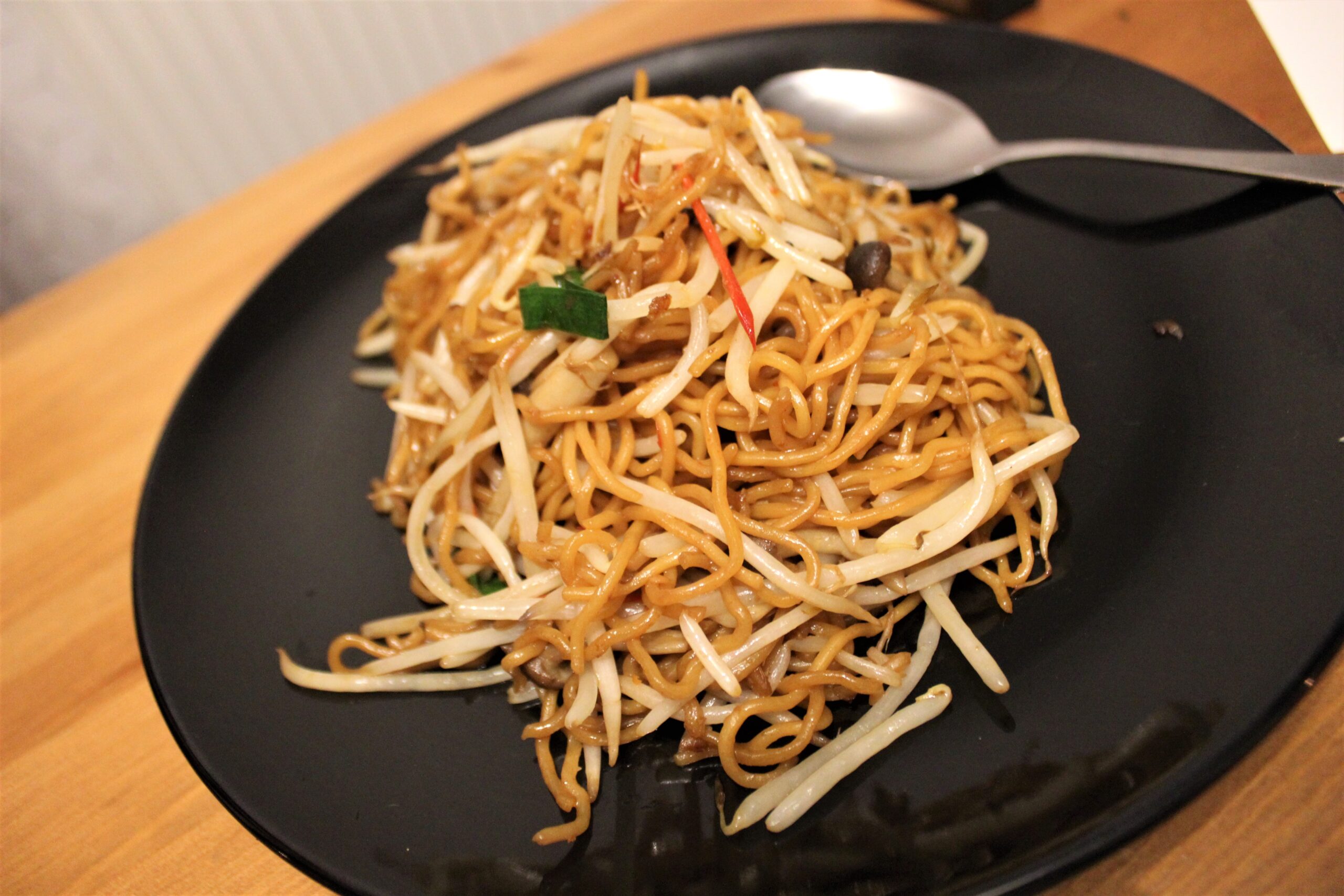 Our final of the four dishes was 'Stir-fry baby broccoli and preserved olive with crispy seaweed and pine nuts'. Now anyone who knows me will tell you I am not a fan of broccoli – you will very rarely find anything green on my plate! However, I happily crunched my way through this plate! Like the noodles, it had so many layers of flavours and textures.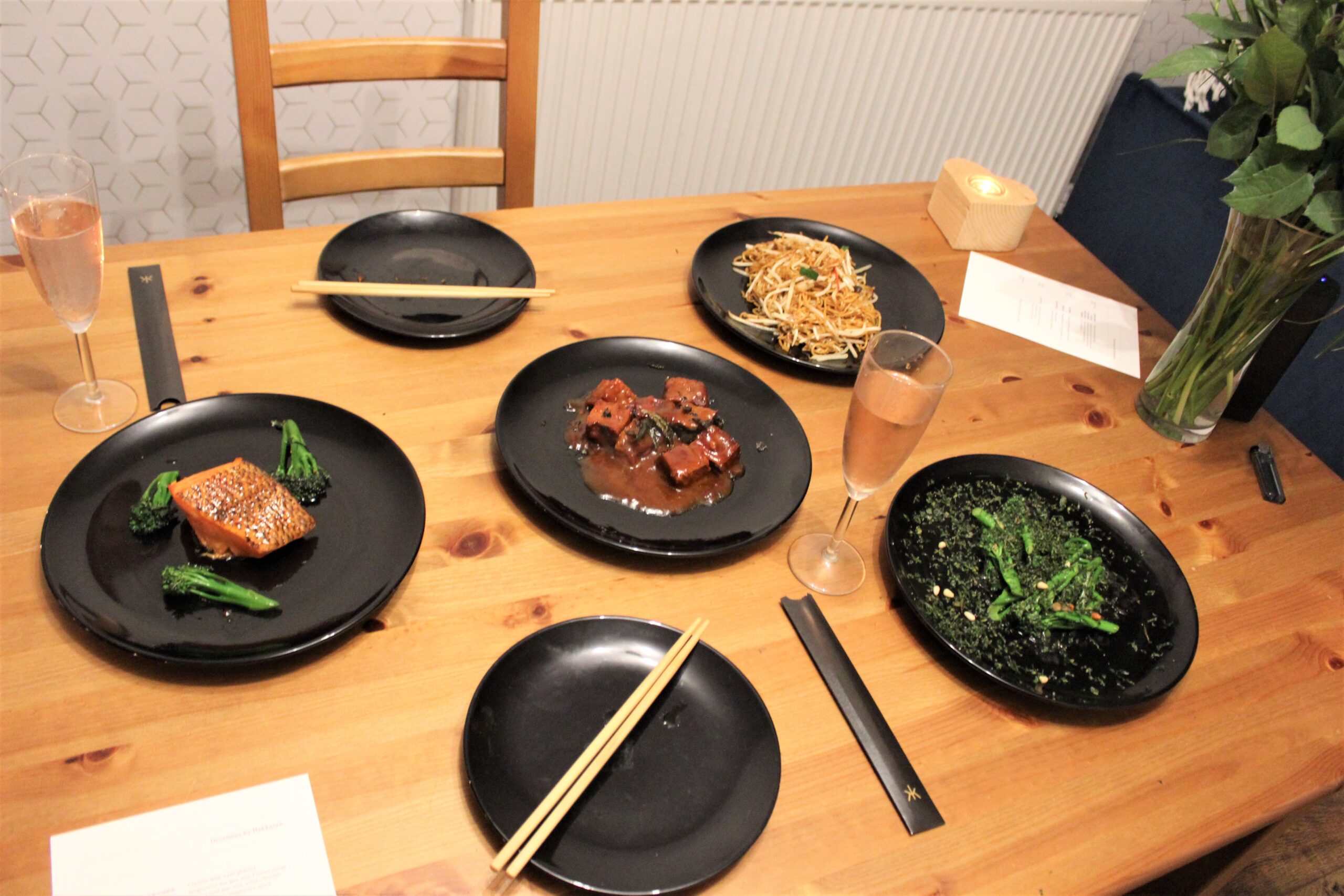 Still talking about how amazing our meal was, we popped our dessert, which was 'Chocolate and hibiscus souffle', into the oven for nine minutes and 30 seconds and prayed to the souffle gods that they would rise! Our prayers were answered, or should I say, thanks to the skill and expertise of the Hakkasan chefs, our souffles did rise!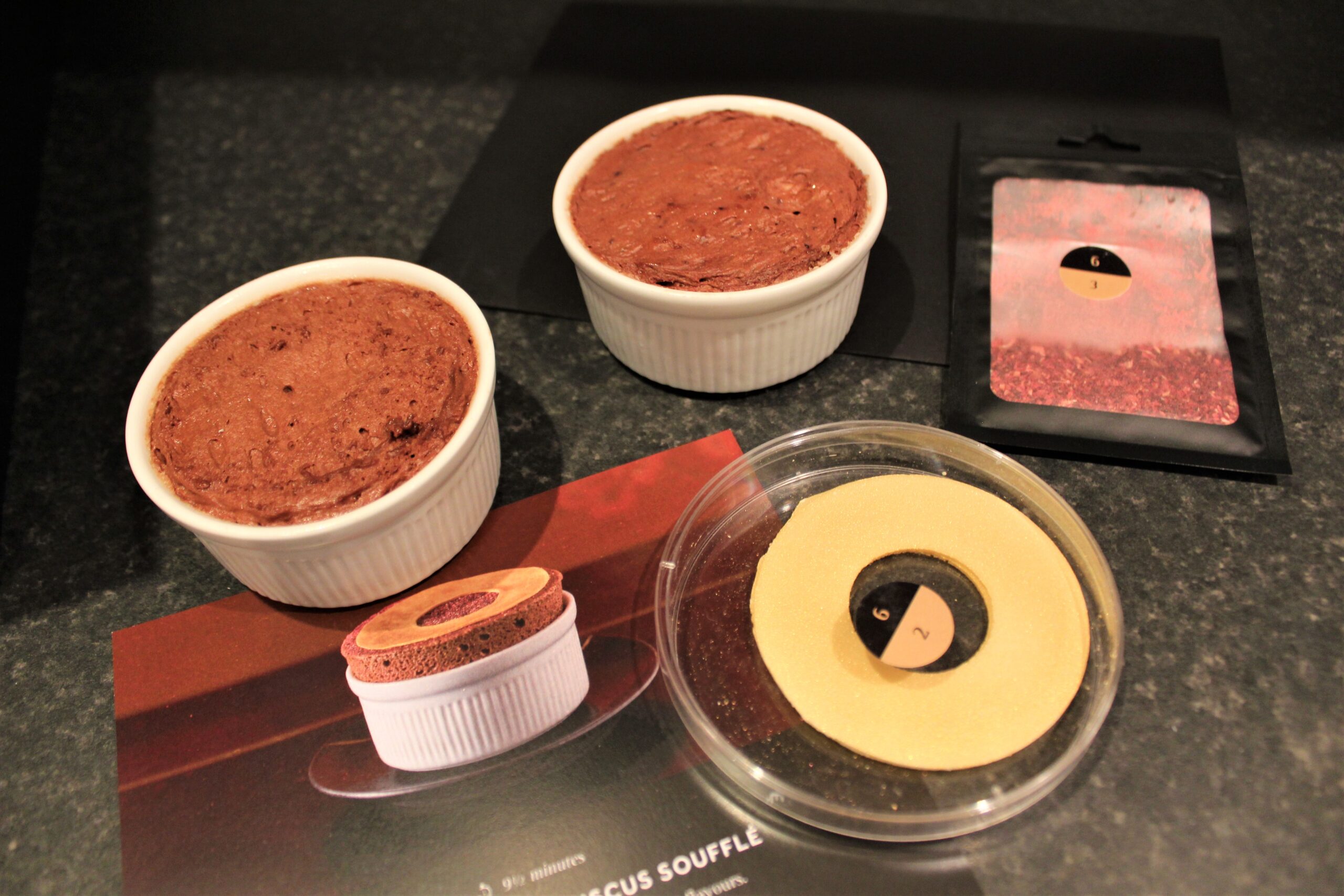 Once out the oven, we placed the chocolate discs onto the souffles and sprinkled on the raspberry powder.
It delivered on everything I expected from a Michelin star chocolate souffle – it was rich and decedent from dark chocolate with a hit of sweetness from the white chocolate disc which was cut through by the suitable raspberry taste.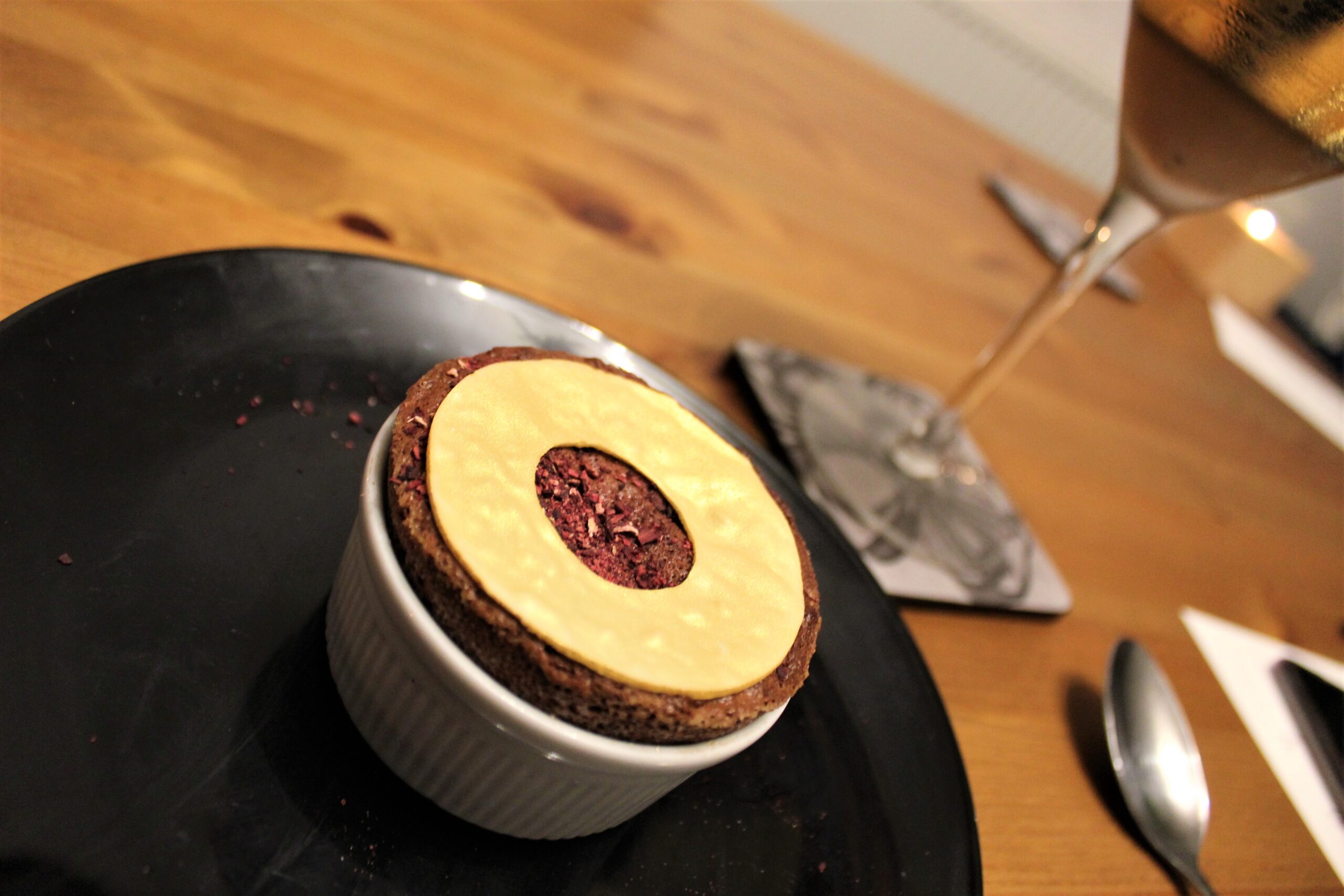 Mr B and I were both seriously impressed with our Occassions by Hakkasan meal box which was perfect for our special occasion. We sat drinking champagne while listening to some great tunes and eating incredible Michelin star food all with the suitable background smell of the jasmine incense you would smell at the restaurant.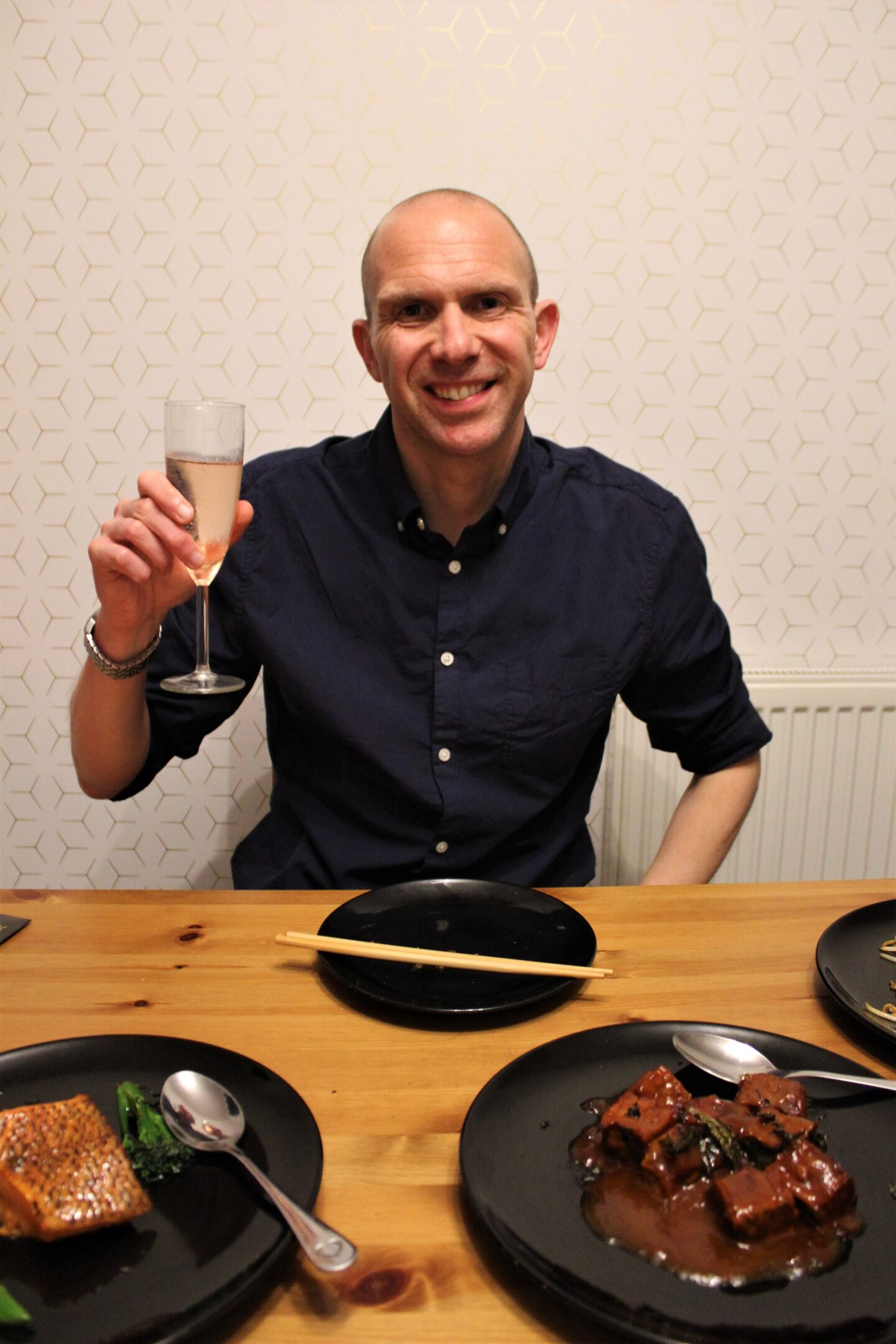 We had the signature collection Hakkasan box, however, there is another box which lets you pick from a choice of dishes, but I honestly can't imagine a more perfect combination of dishes than the one which we had.
One thing with having this special meal box, it has firmly put Hakkasan on the list of restaurants we want to visit!