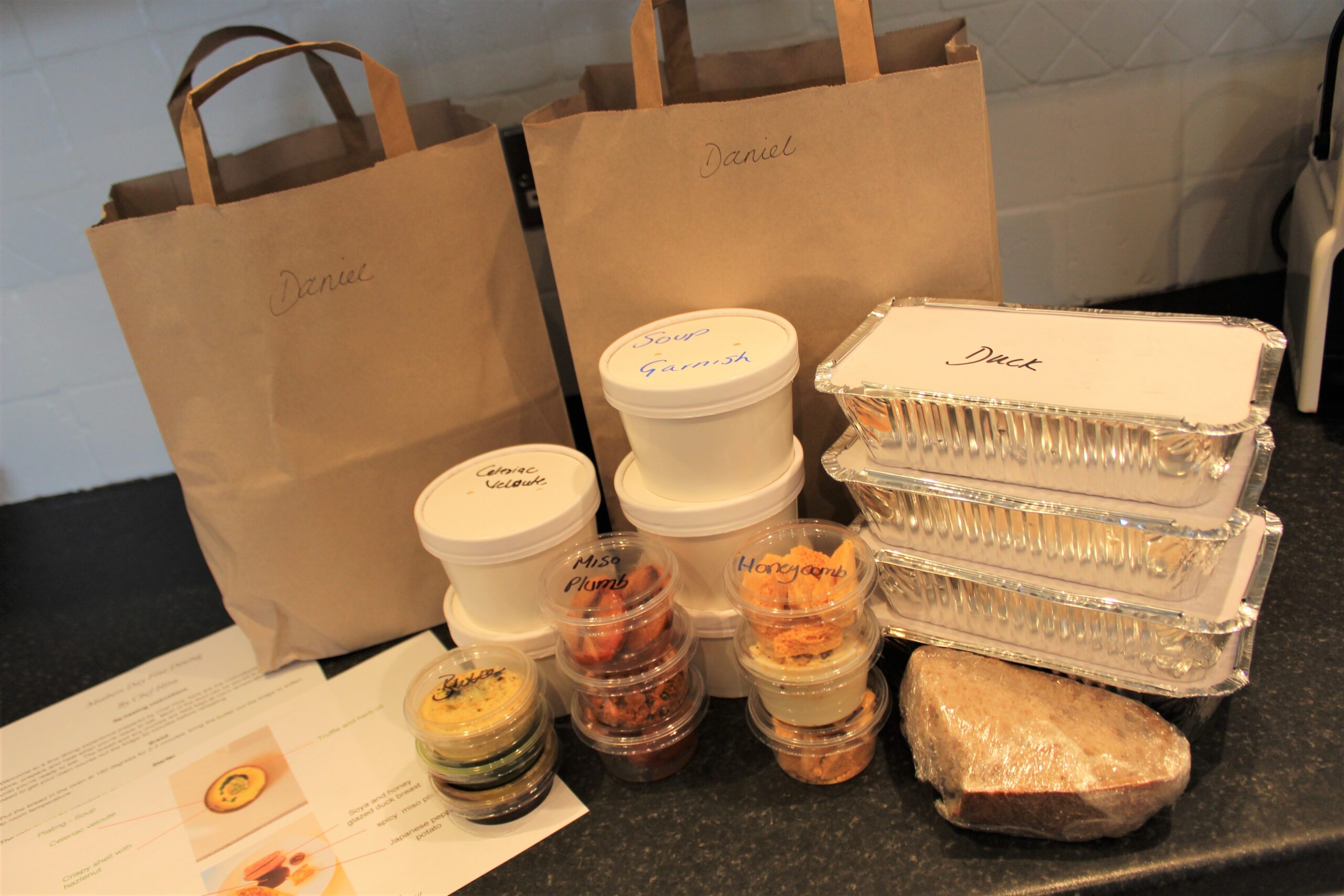 On yet another lockdown Saturday night we enjoyed a very special meal at home thanks to the extremely talented Nottingham chef Hira Thakur.
Hira works at Restaurant Six at Trent Bridge Cricket Ground, however, during lockdown he has been putting a smile on the faces of us Nottingham folk by making his incredible food to be enjoyed at home in the form of his fine dining meals.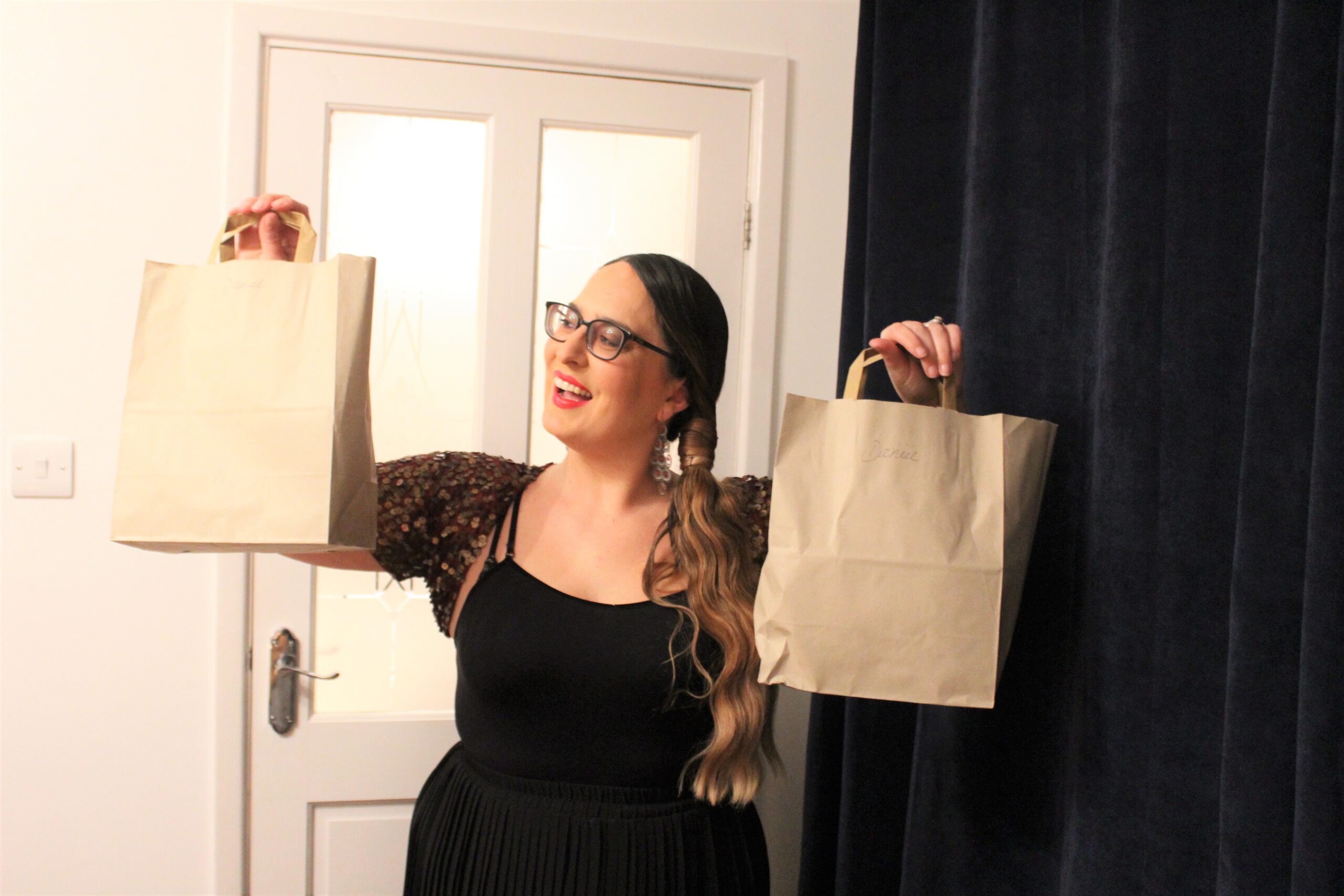 We have been lucky enough to enjoy Hira's food before when he hosted pop-up restaurant Nakama. He also recently appeared on MasterChef The Professionals showcasing his incredible skills and passion for food. In my opinion he was robbed on the show and I don't think I would have been the only one shouting at the TV when he (wrongly) didn't get put through to the next round.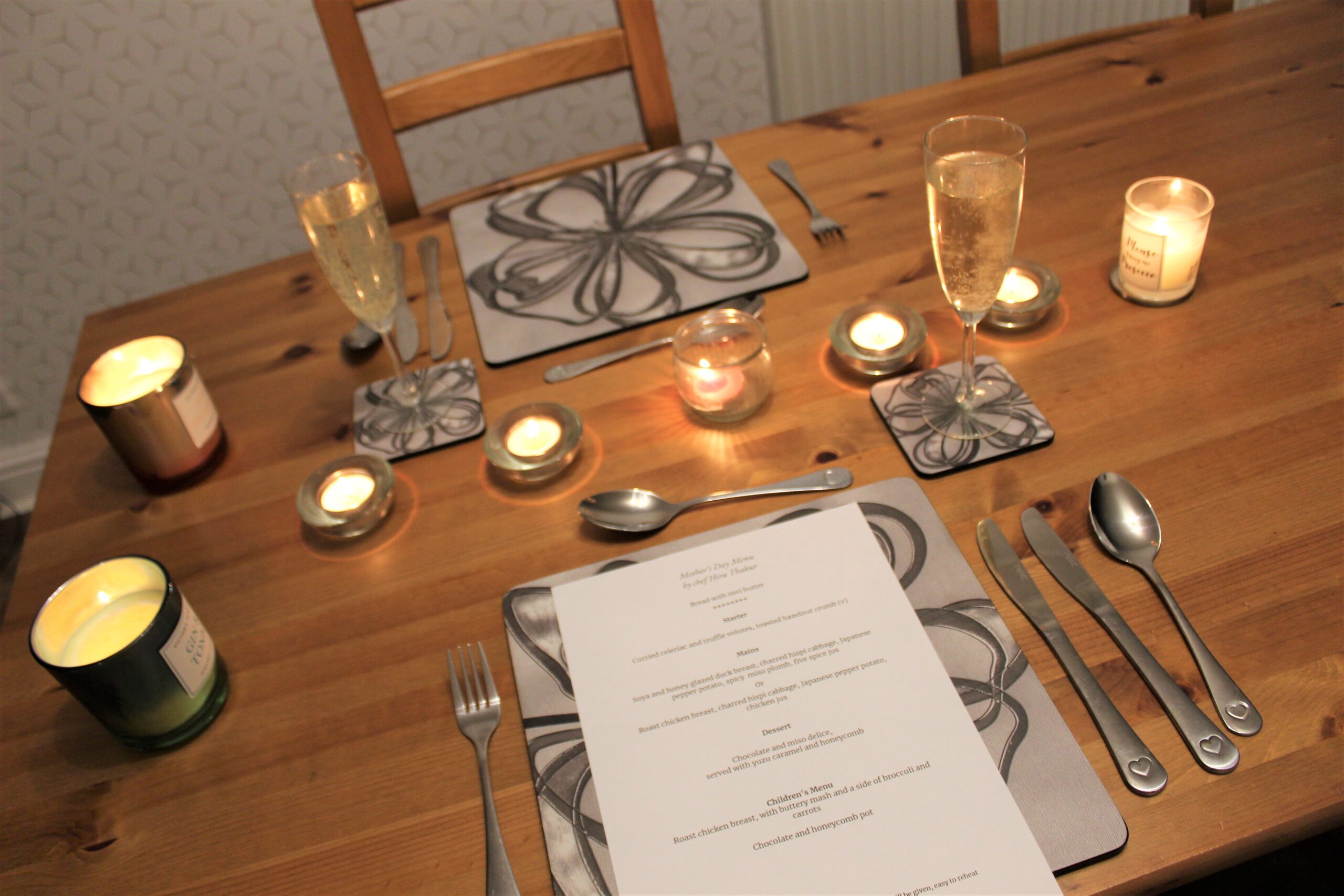 Picking up our pre-prepared three-course dinner, we could not wait to tuck in! As well as all the amazing food, Hira also provides a printed menu, which helps to give that restaurant feel at home, along with very clear heating and plating instructions which came with helpful pictures.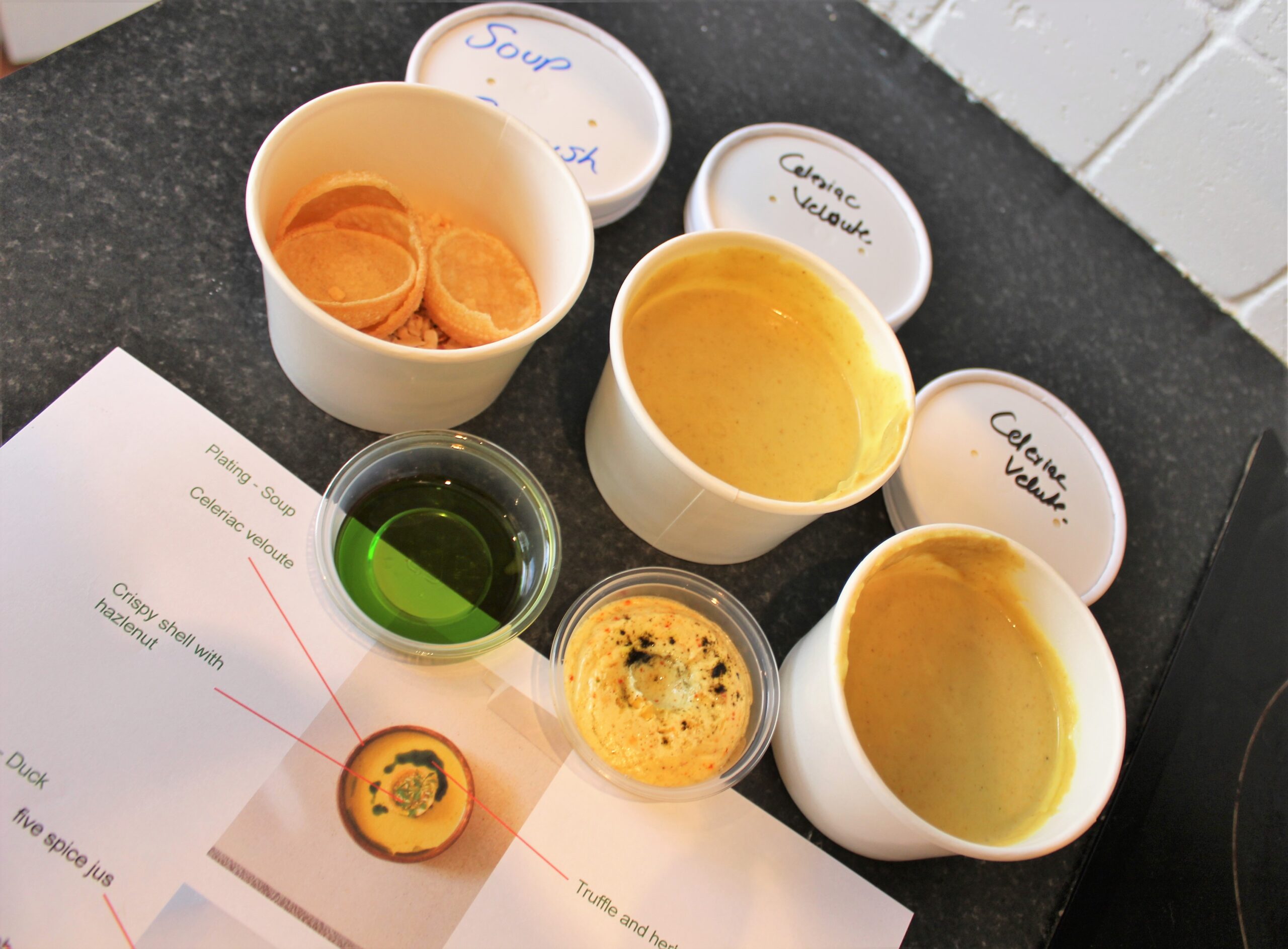 Our starter was, 'Curried celeriac and truffle velouté, herb oil, toasted hazelnut crumb with bread with nori butter'. It was simple to prepare with the bread going in the oven to warm up and the velouté going in the microwave.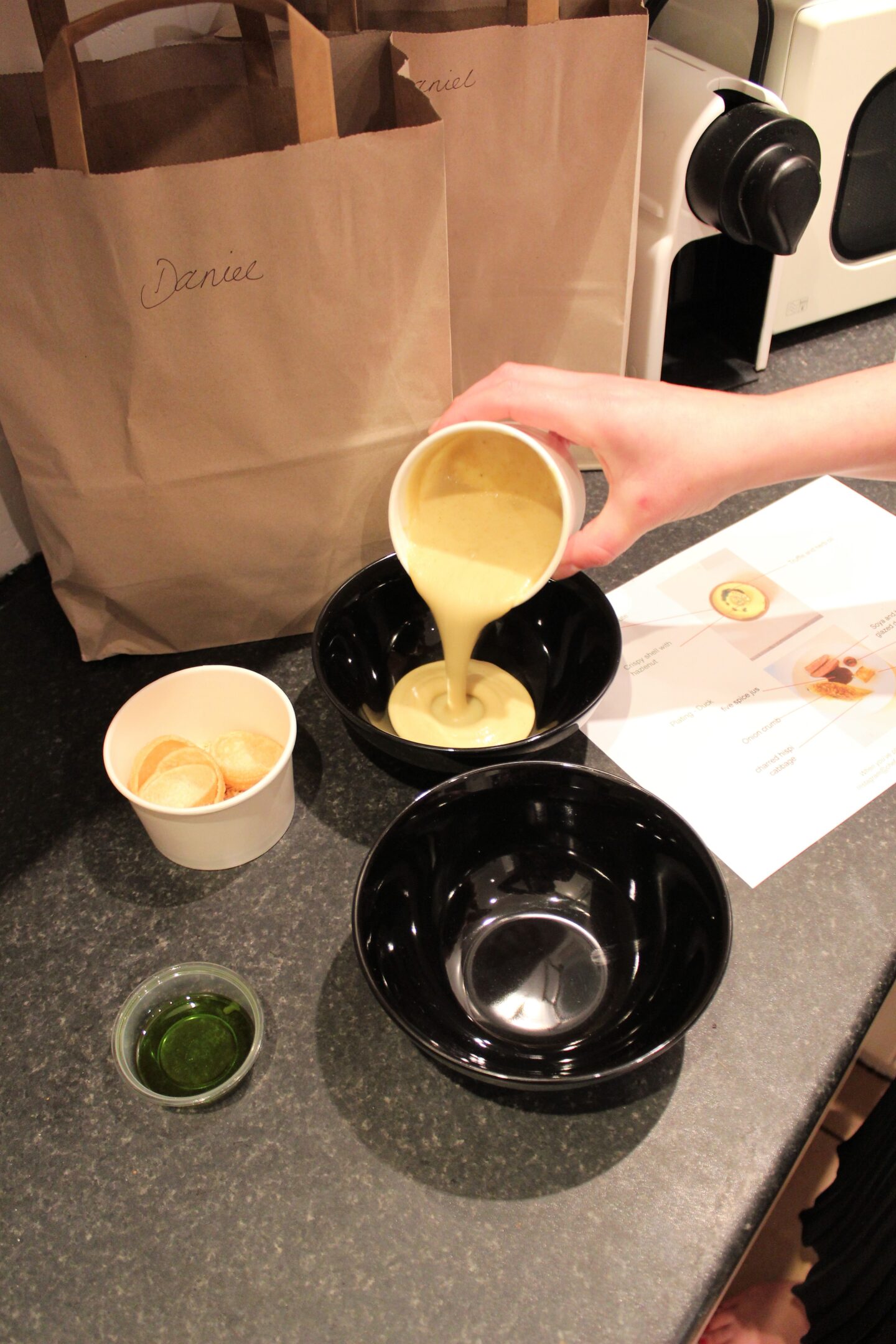 This is something Mr B would order in a restaurant and was a starter that if he would have ordered it and I hadn't, I would have had food envy! Ohhh it was lovely – silky smooth velouté which was perfectly spiced with curry notes and the herb oil added a lovely punch of freshness with the hazelnuts in the crispy shell adding a lovely texture. The bread, of course, was a perfect accompaniment and we slathered it with the nori butter.
As a huge duck lover, I was really looking forward to the main course which was 'Soya and honey glazed duck breast, charred hispi cabbage, Japanese pepper potato, spicy miso plumb, five spice jus'. I was nervous cooking the duck as I didn't want to overcook it! But I followed the clear instructions and popped it in the oven for the recommended six minutes and then just had to rest it. The sides were just as easy to heat up in the oven with the jus just being popped in the microwave.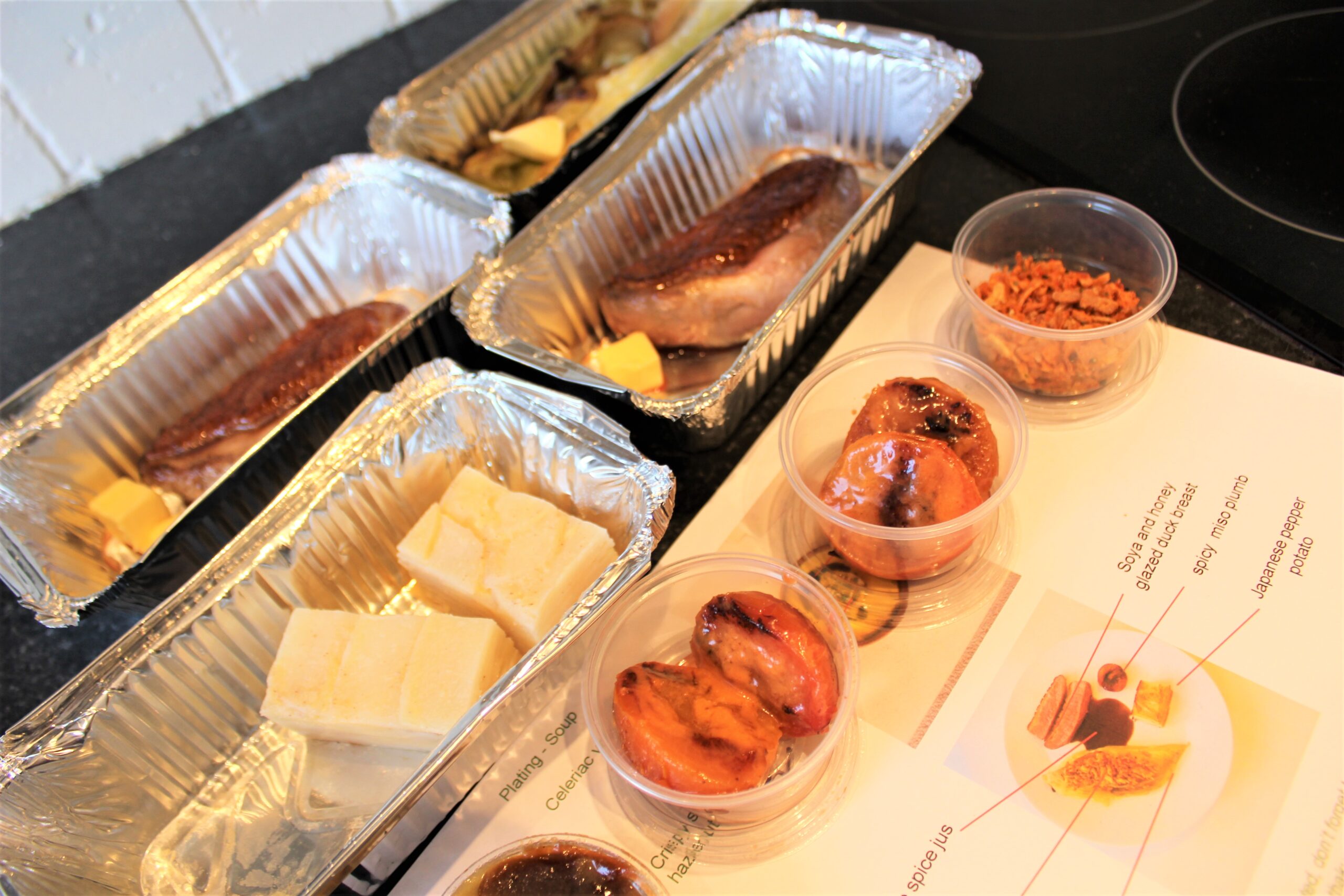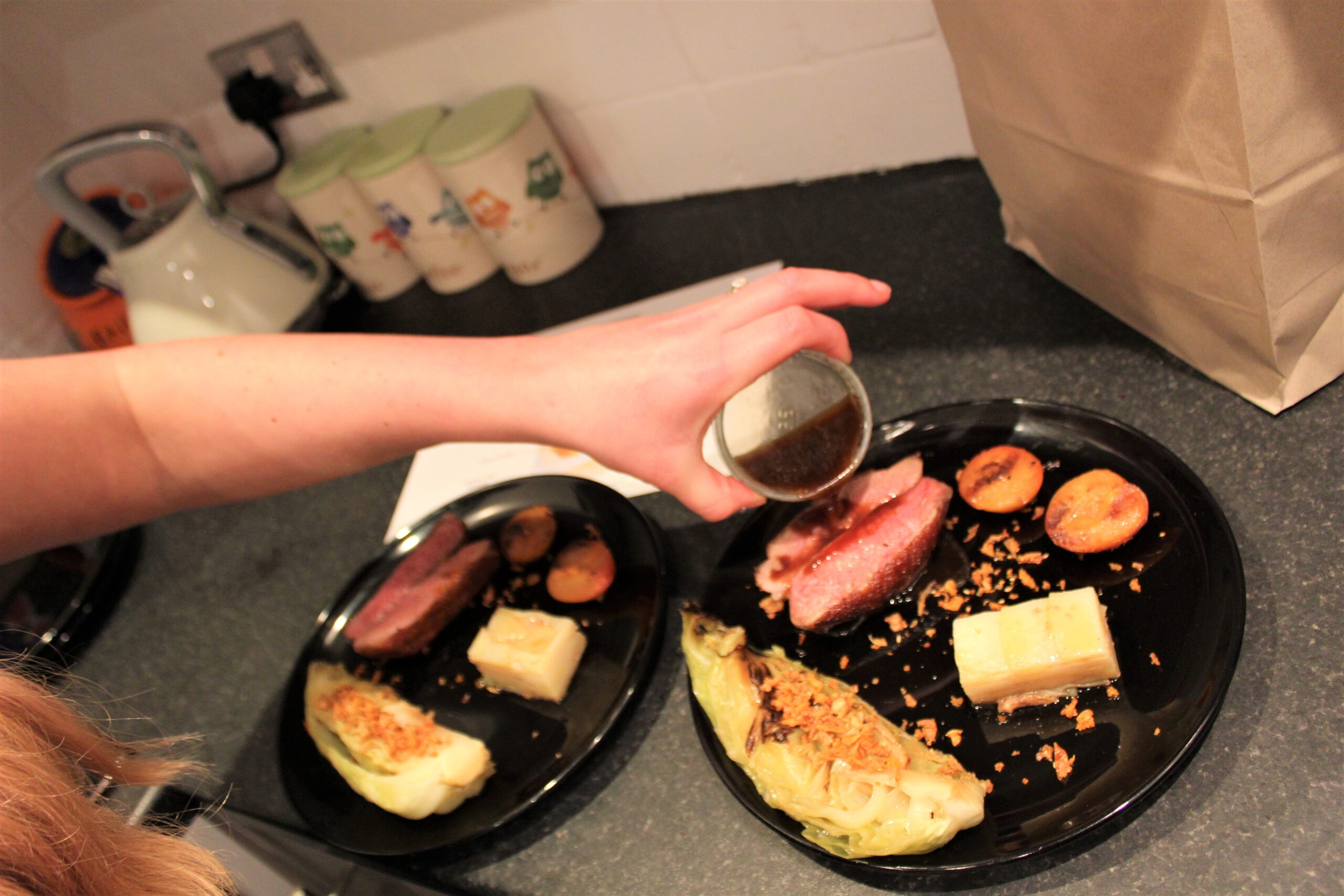 The smells coming from the plate were mouthwatering – we could not wait to tuck in! And what a treat it was – the perfectly cooked duck was so beautifully tender and tasted divine with the nicely spiced jus. The plum, with its natural sweetness and slight saltiness form the miso, really worked with the duck and the potato was buttery with a slight heat from the pepper. This was such a well-thought-out main course. All the elements were well-balanced and we had two very empty plates!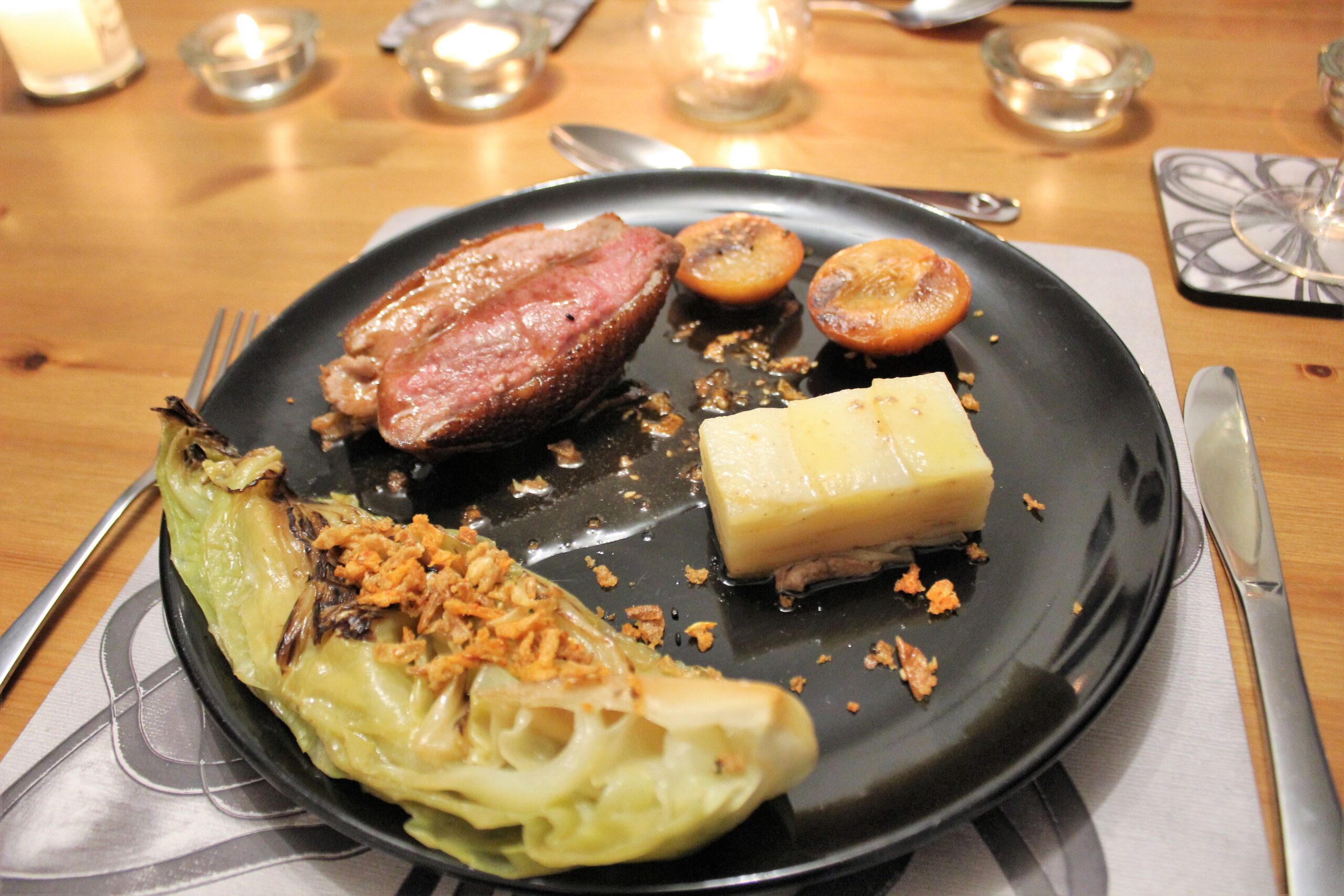 Our dessert, 'Chocolate and miso delice, yuzu caramel and honeycomb', didn't require any preparation. We just plated up the chocolate delice with the cream and honeycomb – simple!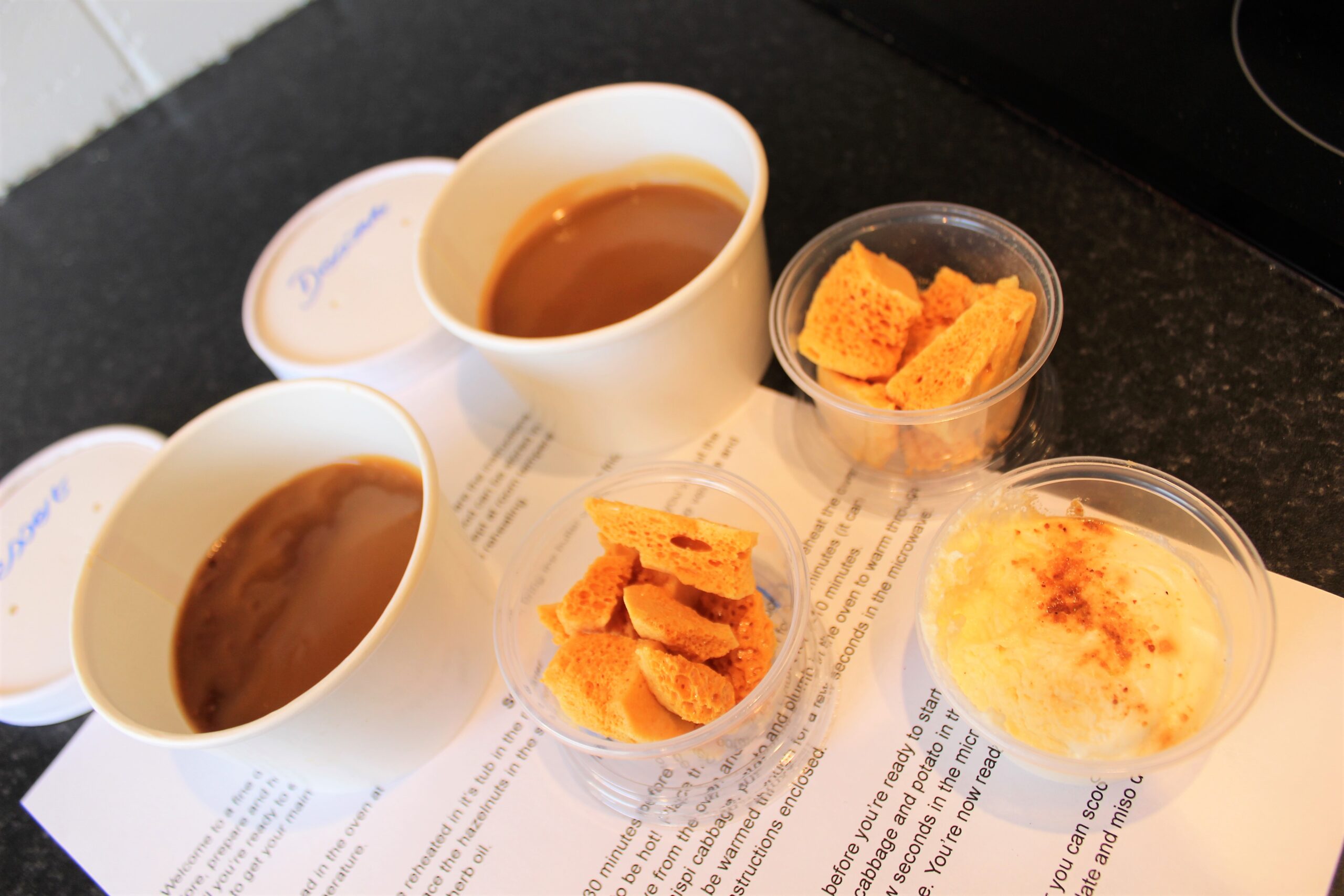 Well what can I say about this dessert apart from that it was dessert heaven! I love my puddings and this was utter perfection for my sweet tooth. The rich decadent chocolate with the sweet caramel, slight saltiness from the miso, sweetness from the vanilla Chantilly cream and the crunchy homemade honeycomb was utter deliciousness! Mr B doesn't have a huge sweet tooth like me, but he also devoured this dessert and declared it 'absolutely amazing!'
As I am sure you can tell this meal was a very special treat – restaurant quality fine dining food from a very talented local chef.
Don't worry if you have missed out trying Hira's fine dining at home. While we are still in lockdown he will be doing takeaway curries and he is also available for private dining. Either way, if you are lucky enough to try Hira's cooking, I can promise you, you and your taste buds are in for a real treat.