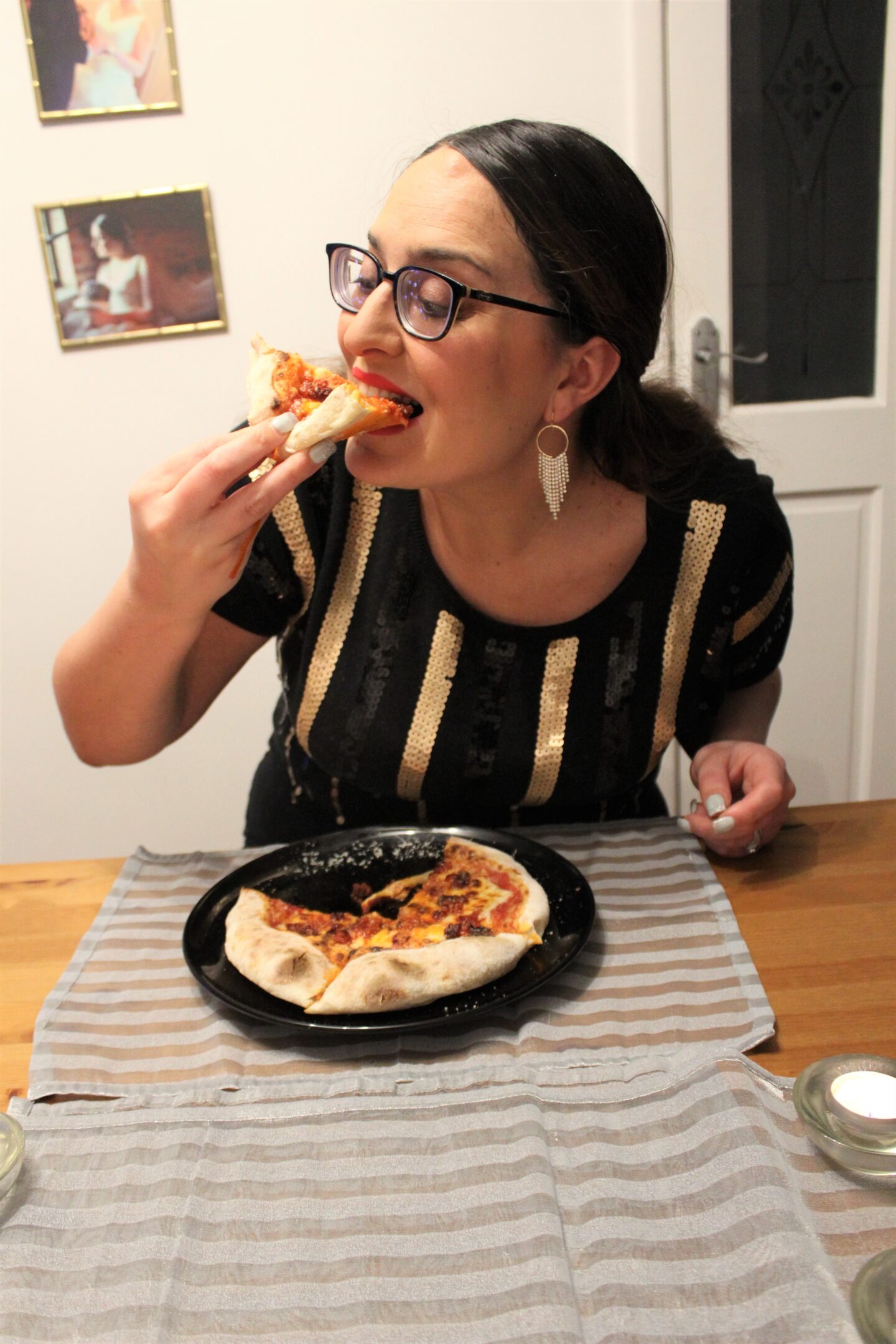 Opening a new restaurant must be a huge task, but opening a new restaurant in 2020 and then having a pandemic hit the country, well, that is something you can't prepare for!
Rustic Crust in Farnsfield faced that exact situation. Throughout 2020 when we were allowed to dine out the restaurant opened and was buzzing with life, but when they had to shut the doors to the restaurant they still remained open for their ever-so-popular takeaways.
I have been amazed and proud of the restaurant industry for adapting and showing true innovation during lockdown and Rustic Crust started to offer something very unique in the form of their DIY pizza kits.
I'm not sure why it took me so long to try them, but when we faced New Year's Eve at home I knew the pizza kits were just what we needed to make our New Year's night in!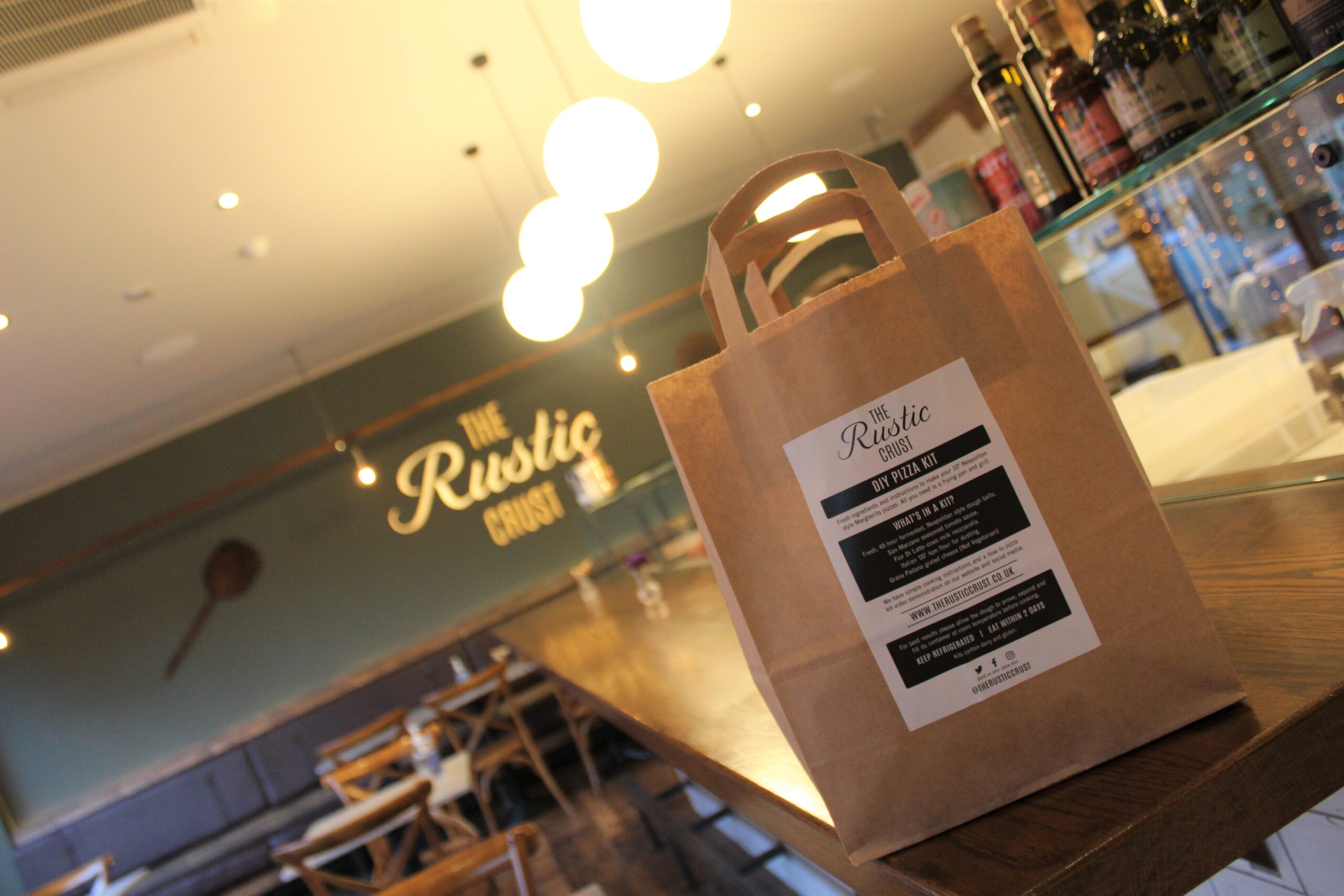 You can order a pizza kit for one, two or even four if you have a family to feed. Included in your kit is everything you need to make a delicious pizza at home. It includes homemade fresh 48-hour fermented dough, San Marzarno seasoned tomato sauce, Fior Di Latte cow's milk mozzerella, '00' tipo flour for dusting and DOP, Grana Padano grated cheese. All you need for the cooking is a frying pan and a grill!
You also have the option to pimp up your pizza with a few special toppings such as hot 'Nduja ('endooya') salami, spicy Italian sausage, prosciutto ham or ventricina (proper pepperoni).
Ordering your kit is simple – you text Mrs Rustic Crust's mobile with your order and she will sort out the rest and contact you for payment.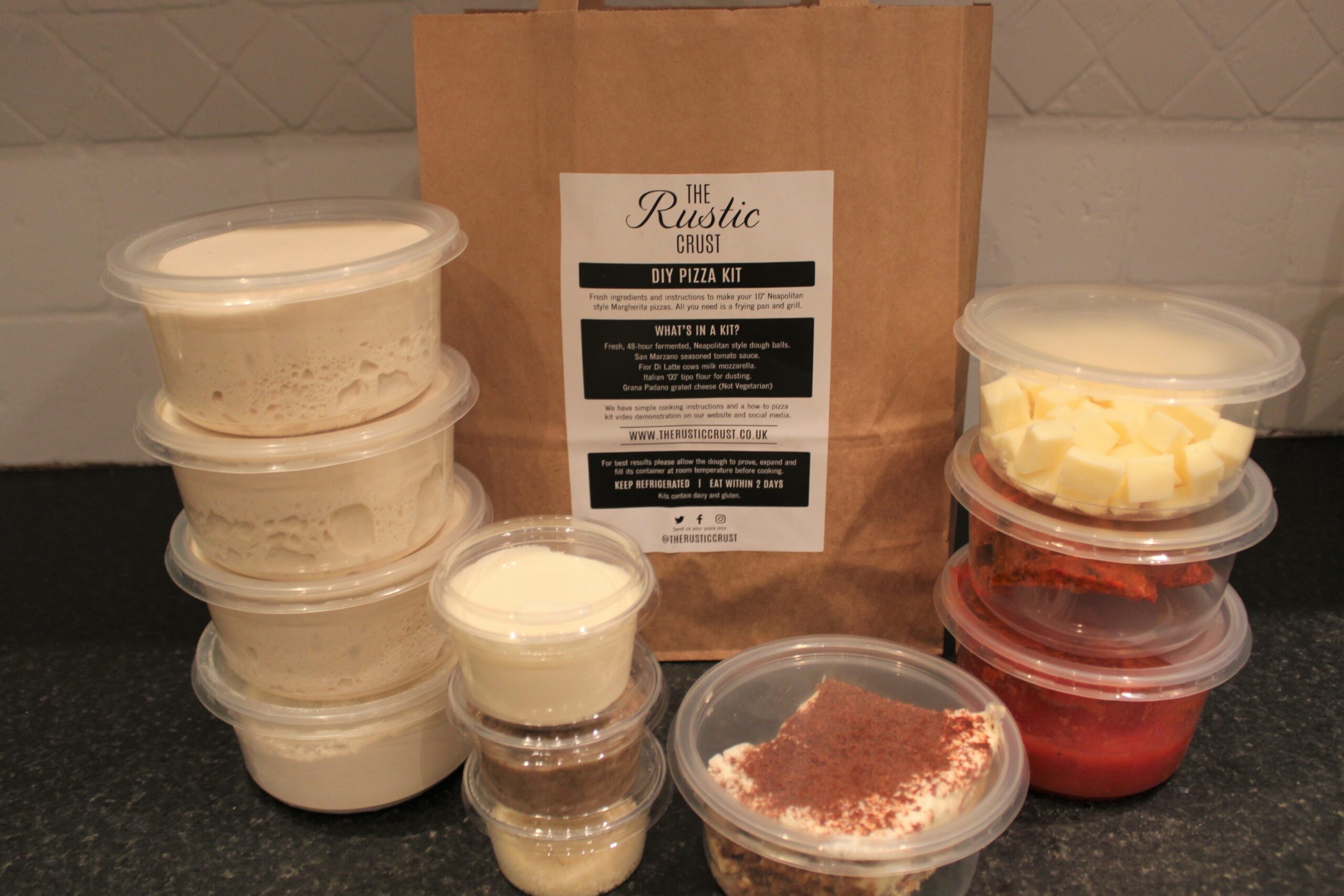 We were given a collection slot to pick up our pizza kits. Popping into the lovely Farnsfield restaurant I was warmly welcomed and they quickly went through the kit with me so I knew it had everything in it. It was bagged in two (paper) bags, one with contents to keep in the fridge and the other to keep at room temperature.
It is worth noting that it is best to pick up your kit the day before you want to make them as the dough makes an extra yummy light and fluffy crust if you leave the dough out at room temperature for 24 hours, so don't be a plonka like me and order them for the same day! But not to worry, when I was ordering the lovey Mrs Rustic Crust kindly said they would leave them out for me so the dough would be ready to use when I picked them up! Excellent service!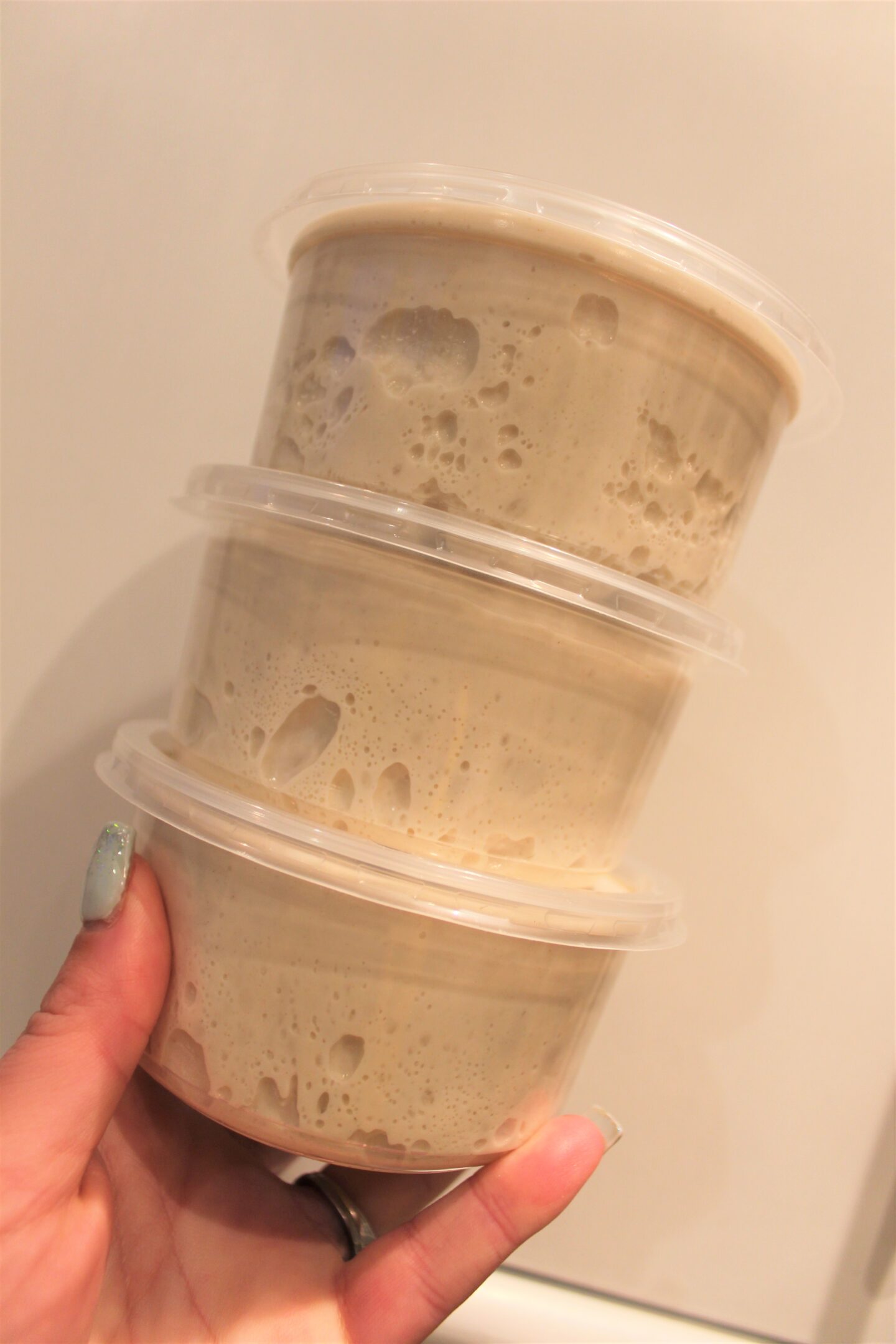 There are other extras you can order along with your kits. We ordered an extra tub of dough so we could make a garlic pizza to start and a truffle cream, a parmesan cream and a homemade tiramisu for dessert – it was New Year after all!
With all our goodies unpacked it was time to make our starter (prosecco optional, but pizza and prosecco do make a great combo) – our garlic bread pizza which we called our 'practice pizza'!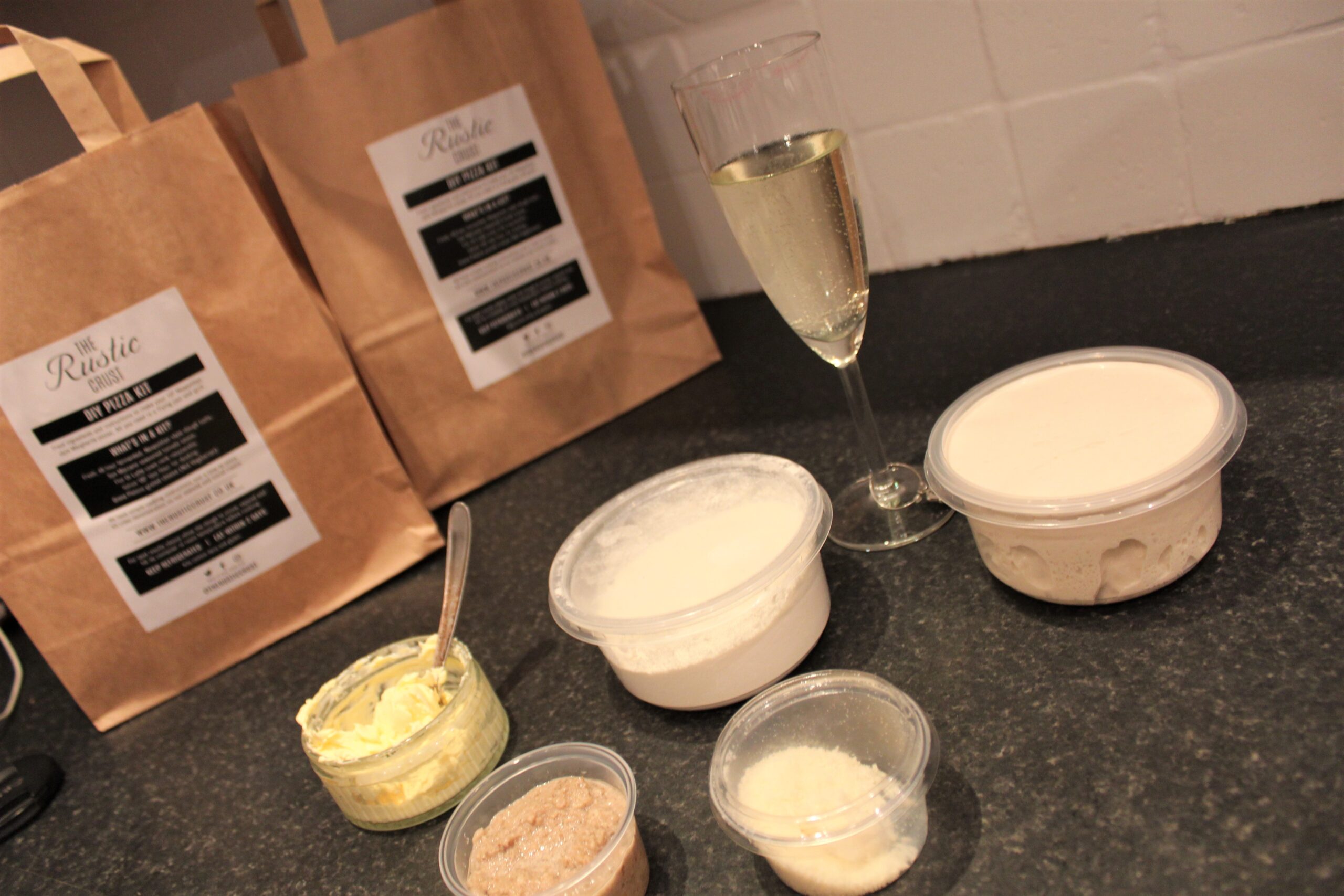 You really do not need to worry about working with the dough. It is easy and we had a real laugh whilst doing ours, although I did somehow manage to get flour everywhere! Here are my quick step by step instructions . . .
Working on a clean and dry surface generously flour it then use your hand like a scoop and gently tease the dough out the tub.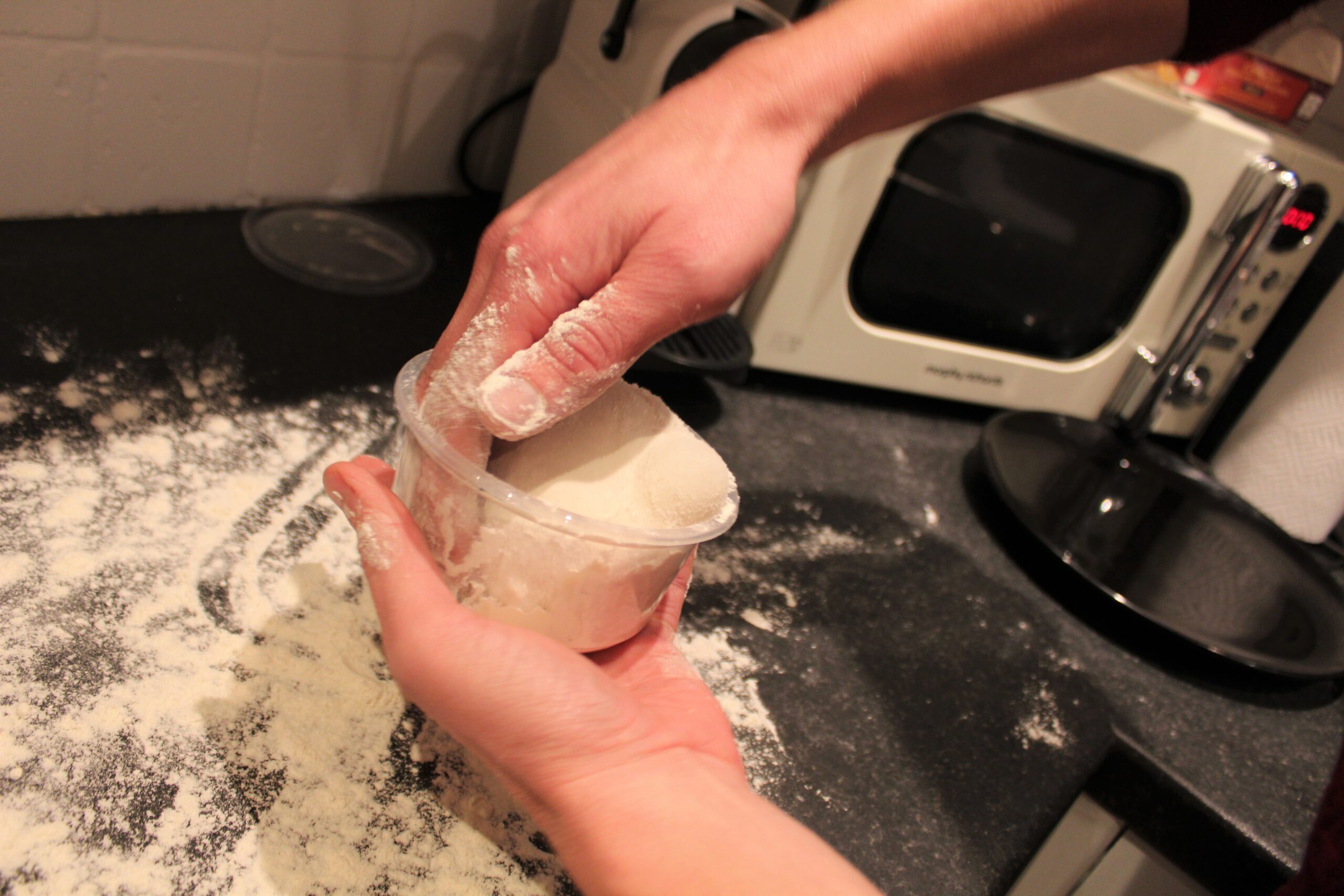 It should be a (kind of) ball shape. Using your hands you gently push the dough to form a bigger circle, making sure to keep a thick band around the edge as this will be your crust.
Now for the fun bit! Spin that dough in the air (trying not to get too carried away) to create a perfect pan-sized pizza.
Pop your pizza in a hot dry pan and add your toppings whilst the bottom is cooking. The base comes away from the pan really easy so you can see how well it is cooking. Once you are happy with the bottom pop it under a hot grill. We put our grill on the highest setting and added a few baking trays on our top shelf to ensure the pizza was as close to the grill as possible.
Now make sure you are keeping an eye on it as it doesn't take long for pizza magic to happen whilst under the grill. In only a few minutes you will have a perfect pipping hot, delicious homemade pizza!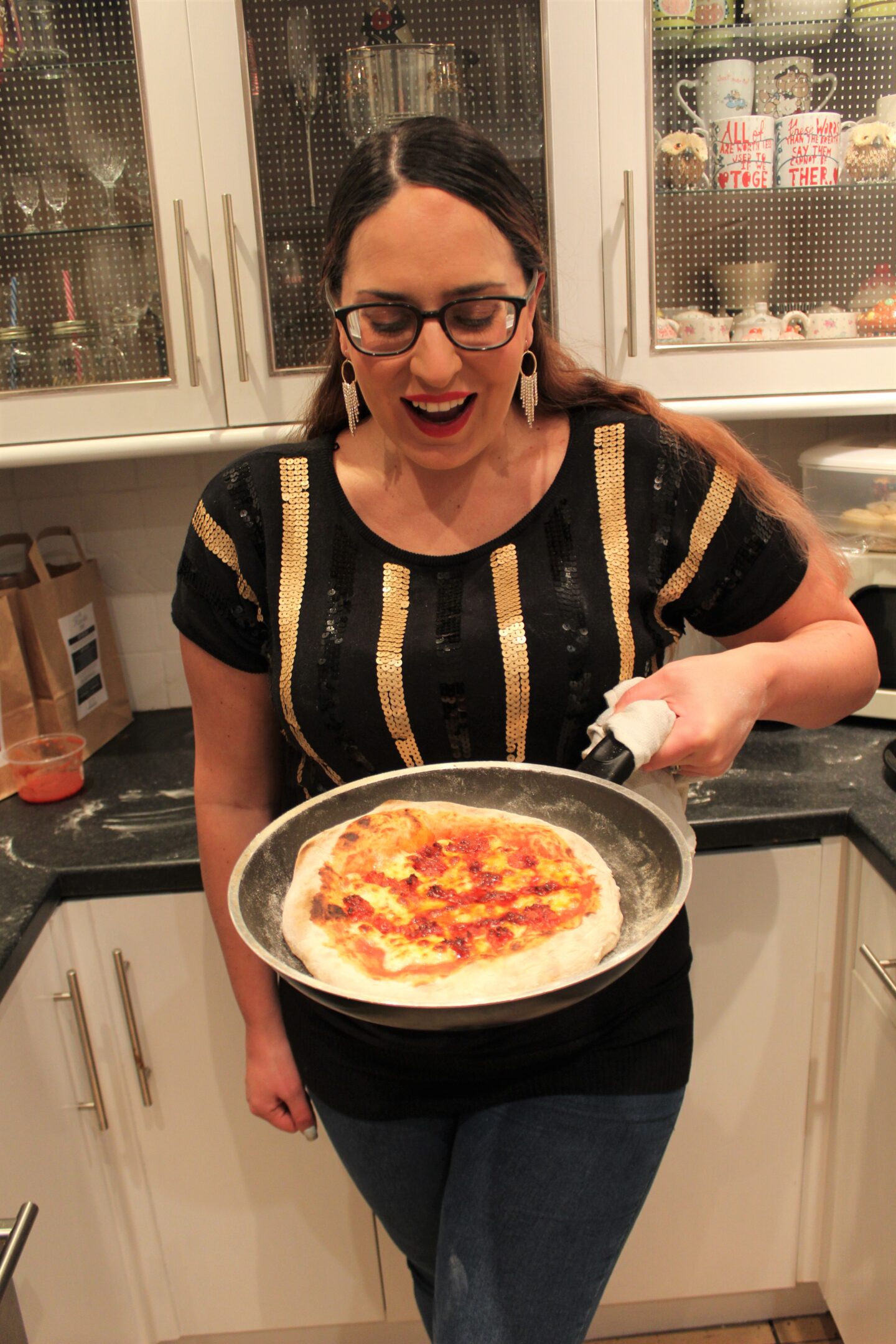 To make our garlic bread pizza I simply mixed fresh garlic with butter and lathered it onto our pizza, but what really made this special was the truffle cream.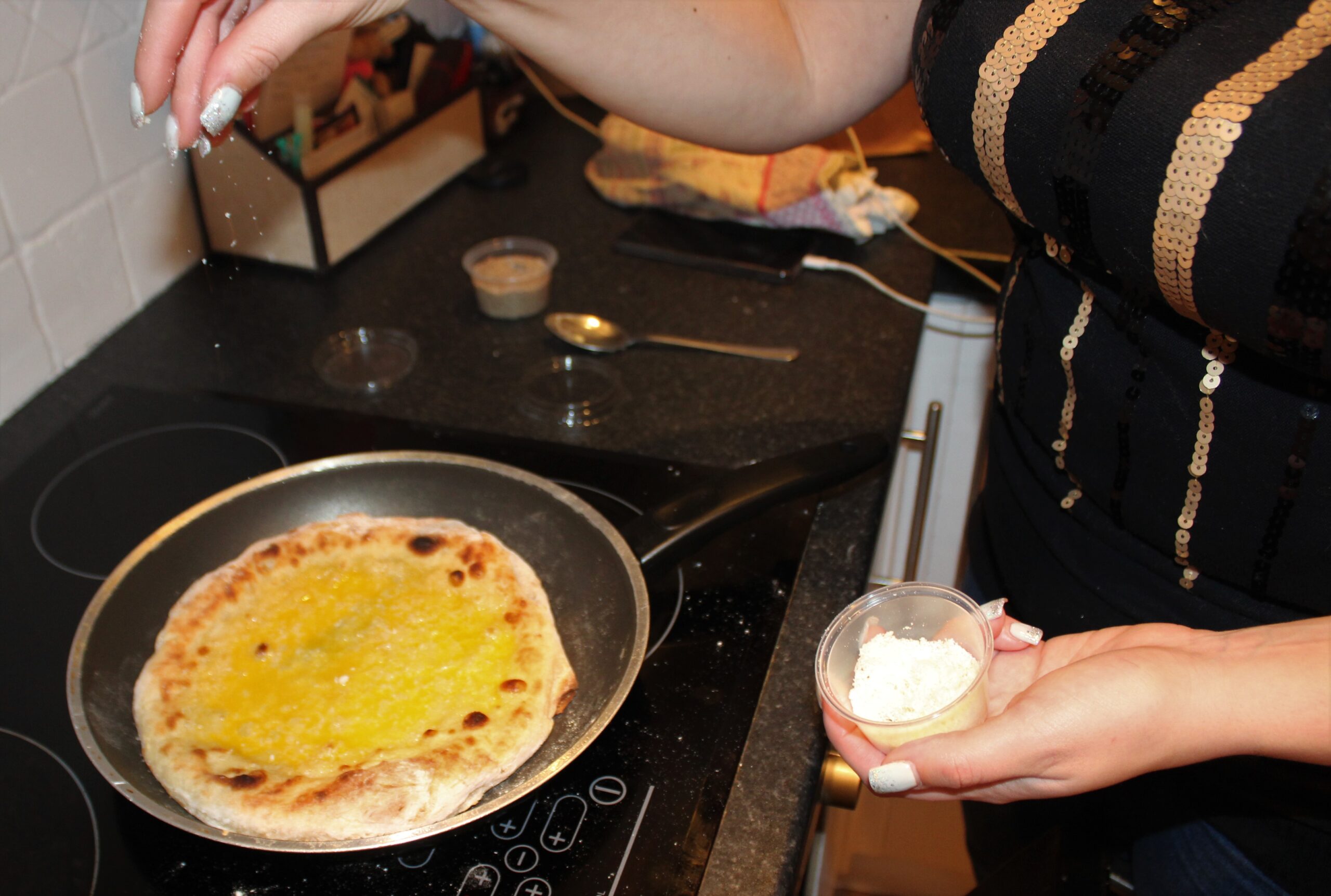 I absolutely adore truffle and this truffle cream was packed full of rich early truffley goodness! The pizza exceeded our expectations – it puts all other takeaway pizza to shame! The crust was superb and sharing this for our starter we could not wait to tuck into another one each!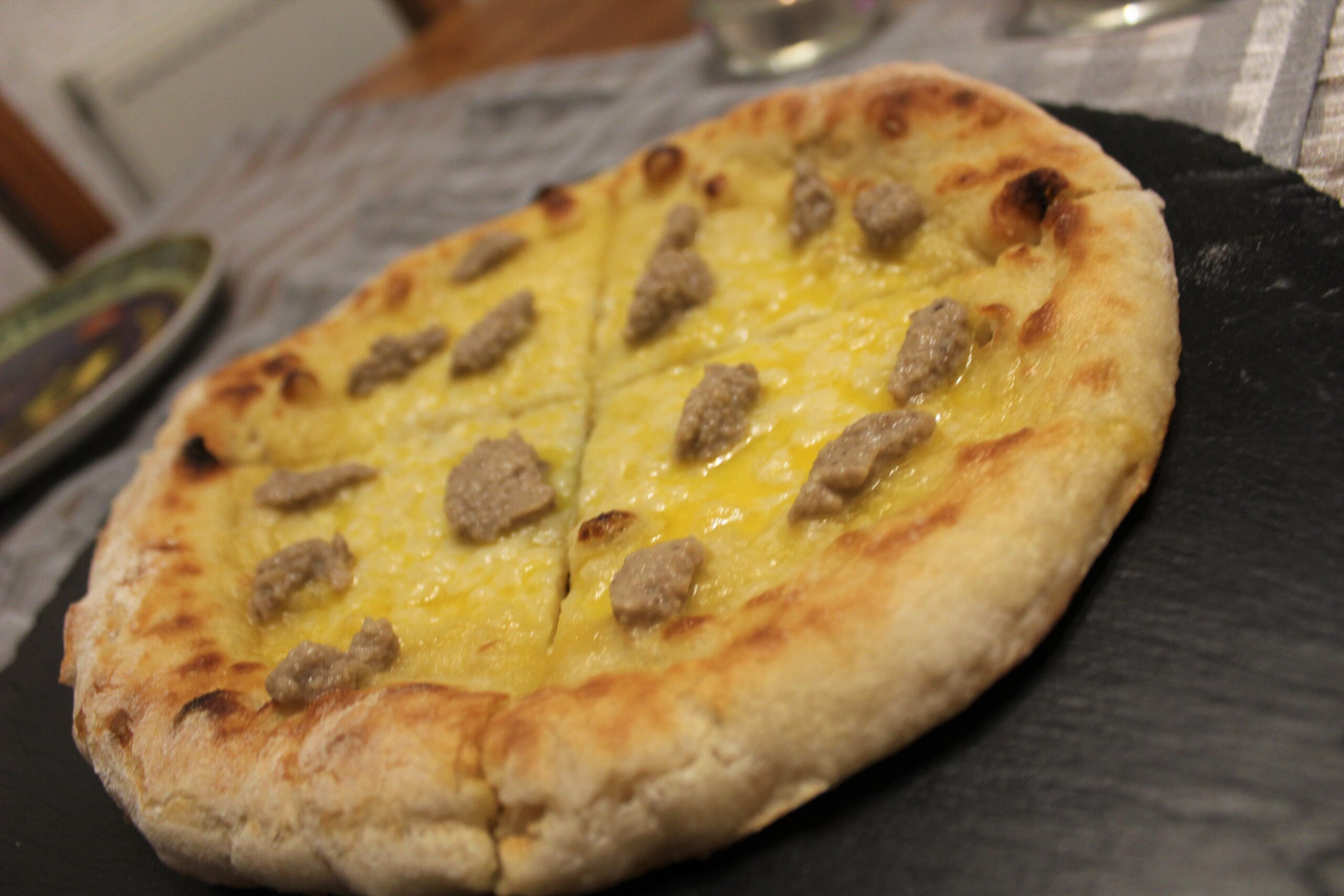 Now onto the main event. We ordered Nduja to add onto ours, which is super spicy but absolutely packed full of flavor and we got a huge chunk. We made use of the extra the next day, but more on that later.
Seeing the crust fluff up and the cheese bubble away was making Mr B and I make some very excitable noises! We got a little competitive and had a 'pizza-off' but I have to admit on this occasion it was a draw. Both pizzas probably wouldn't score many points for appearance in a pizzeria, but we were both impressed with ours!
Oh my word it was pizza heaven!!! We both agreed that it was like we were in Italy. We were actually drinking a special bottle of prosecco we bought back from Venice with us which we couldn't have chosen to drink with better food. The big chunks of Nduja we had generously scattered on our pizzas added a huge kick and may have made my nose run, but it was so delicious.
I think what really made these pizzas so tasty was the homemade dough, but also the top quality, fresh ingredients.
Shaking up a Baileys flat white martini to enjoy with our dessert, we were both raving about how amazing our pizzas were! What can I say about the dessert, it was a beautiful perfectly homemade tiramisu – absolutely faultless and bloody delicious.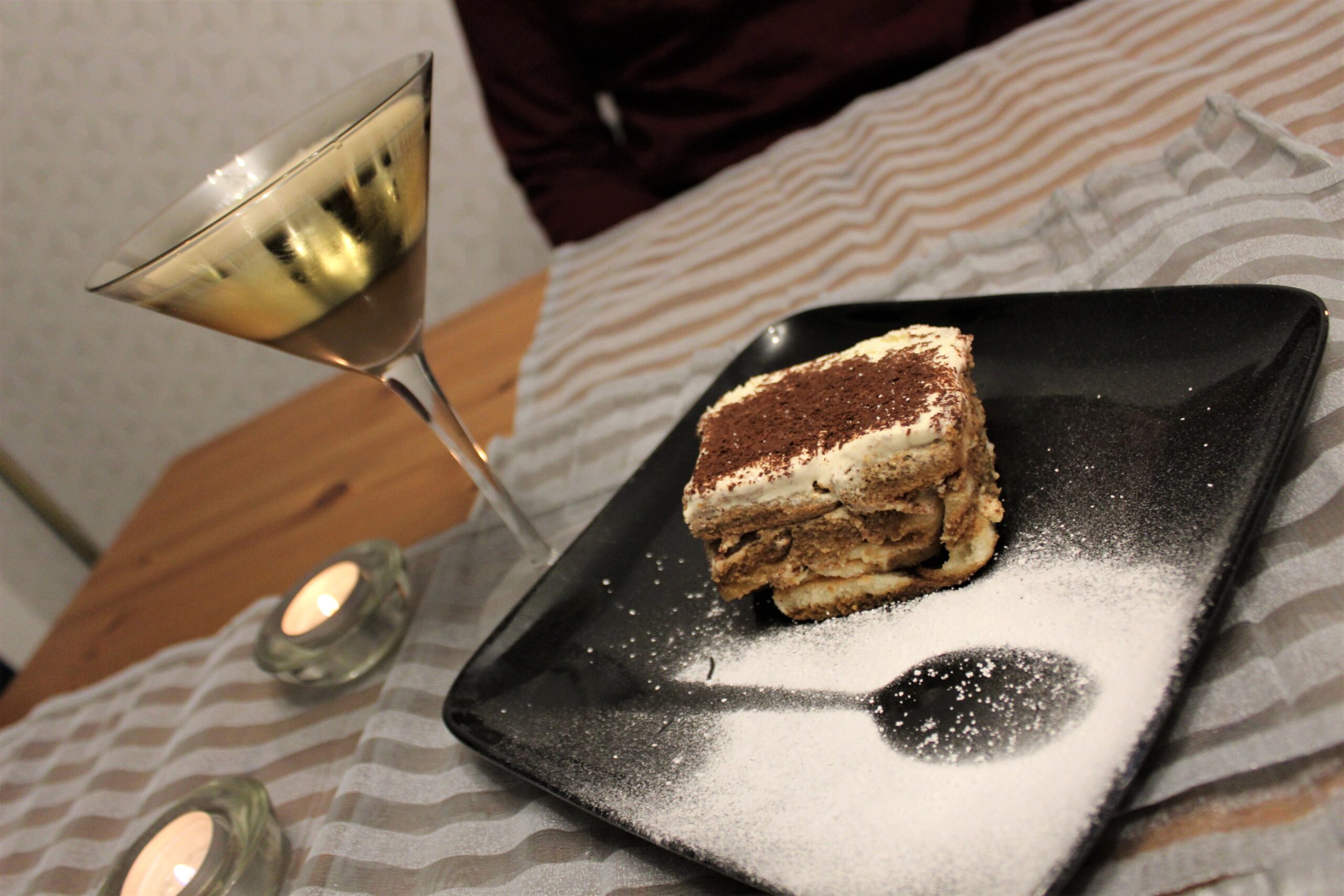 If you order the truffle or parmesan cream, which you definitely should as they will 100 per cent make you make yummy noises when eating! Well if you can manage the willpower to save them, they make an incredible pasta sauce. We also had some Nduja left so with a quick fry in a pan to get all those lovely oils out, we simply stirred through  what was left of our creams, added a small bit of the pasta water and voila . . . we had an excellent sauce to stir through our spaghetti.
I honestly cant wait until I can pop to this beautiful local pizzeria to sit down and enjoy more of their amazing food, but these pizza kits really did create restaurant quality pizzas at home and added some fun to our pizza night in!
https://www.therusticcrust.co.uk/