Who doesn't love a Sunday roast? Well to be honest I'm not a huge fan and I think that is down to the fact that it is so easy to make an average roast which to me translates to a disappointing roast! When I think of a Sunday roast I want a good quality joint of beef cooked pink, roast potatoes crispy on the outside and fluffy on the inside, Yorkshire puds which stand tall on the plate, vibrant veg still with a crunch and a thick flavourful gravy.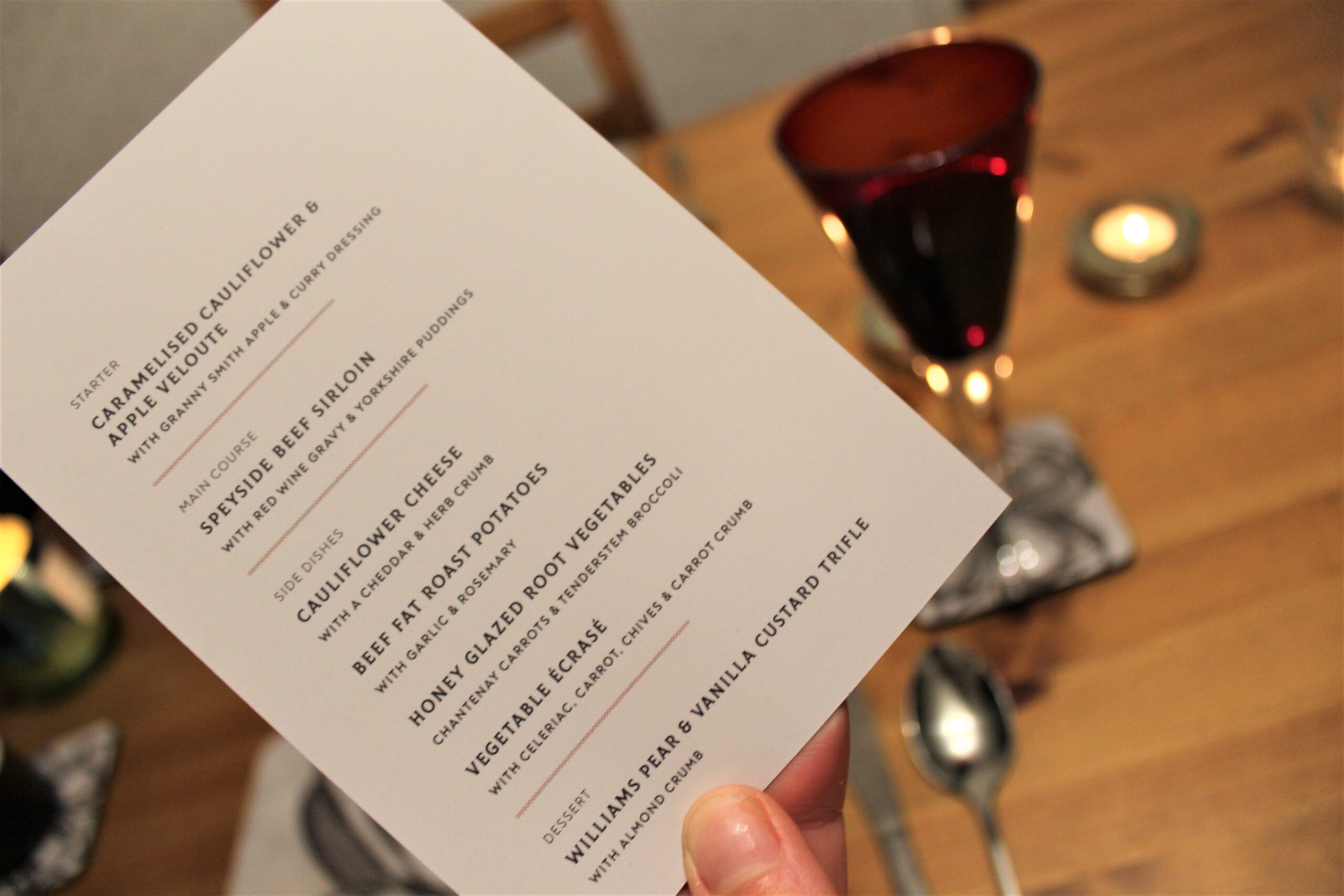 A good roast takes so much prep and accurate timing, but recently we enjoyed a perfect Sunday roast at home which didn't need any prep and barely any cooking!
We knew we were in for a treat when the huge box arrived on our doorstep!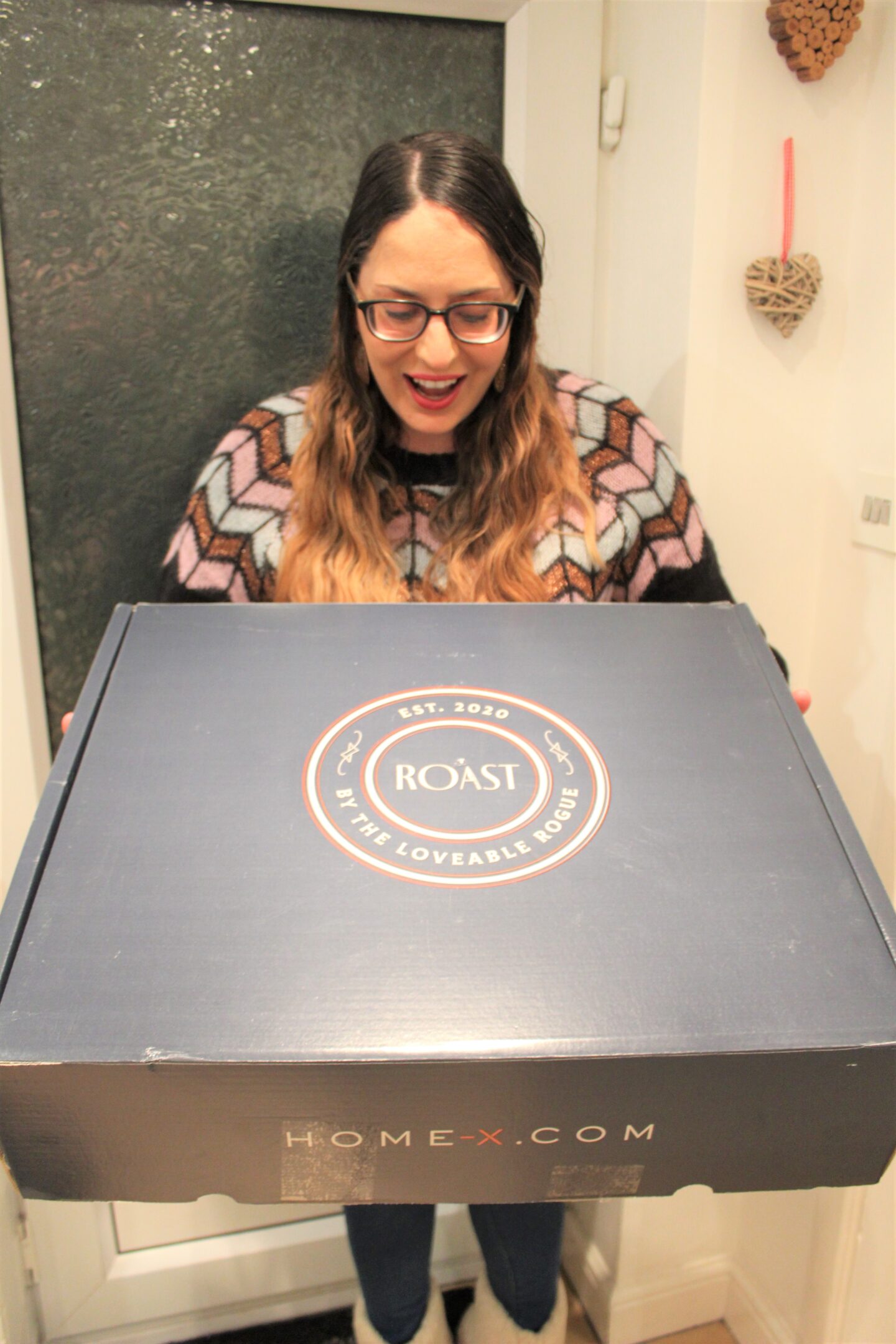 In the box each course, already prepared, was clearly packaged and labelled so it was just a case of popping them in the fridge until later.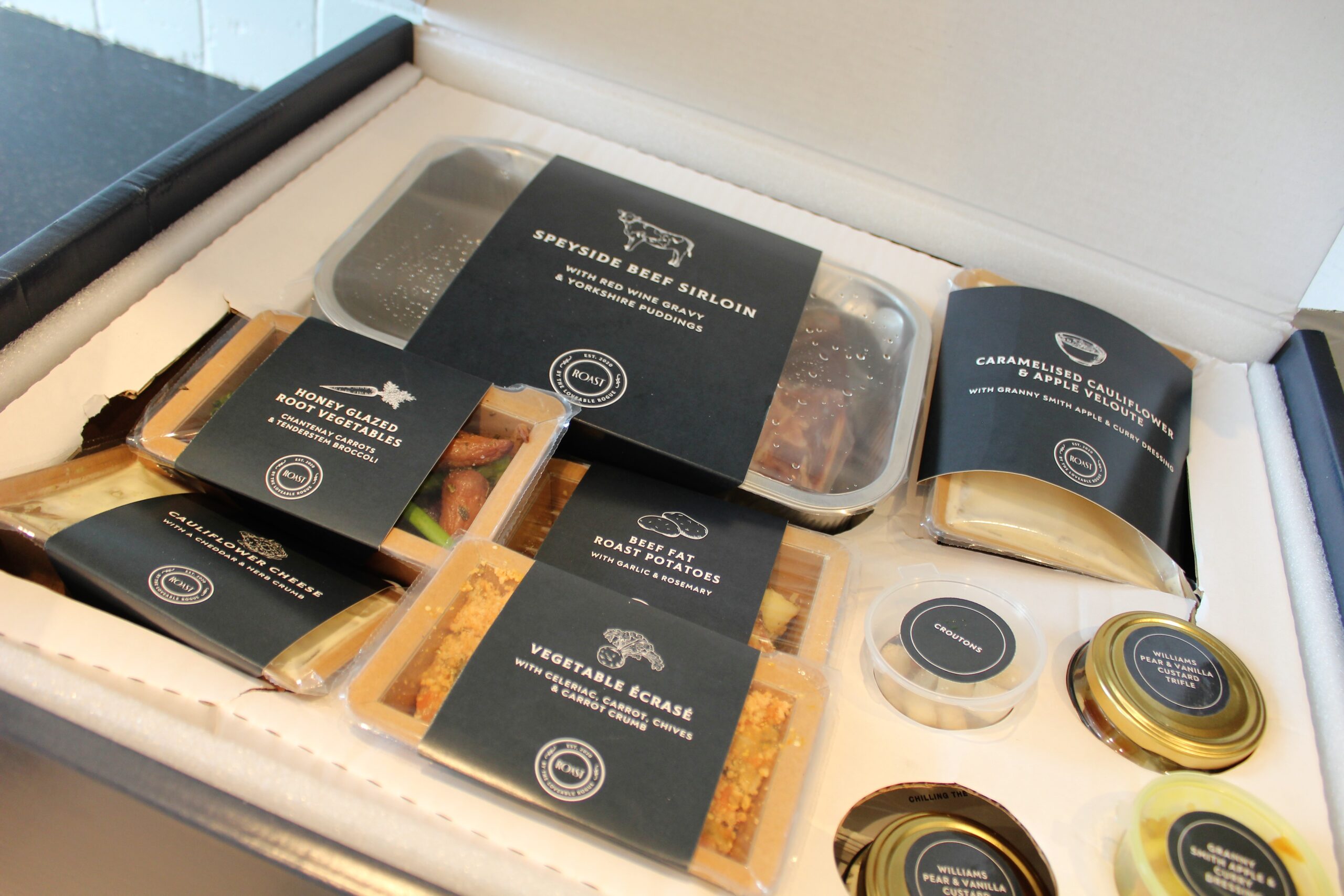 Our starter was 'Caramelised cauliflower & apple veloute with granny smith apple & curry dressing'. All it needed was the soup heating up and that was it!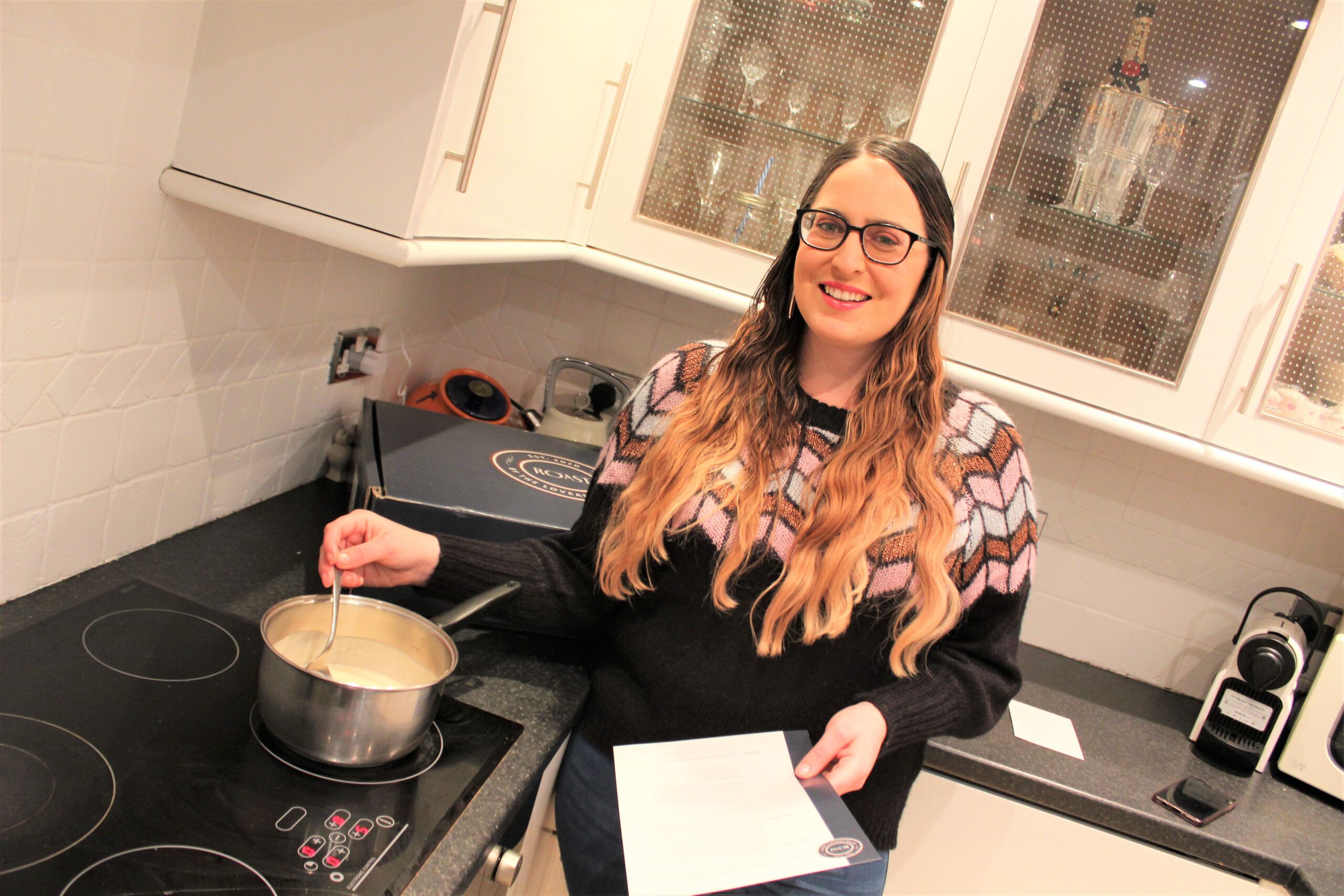 It was smooth in texture and lovely and creamy. Cauliflower was the big flavour and the addition of the croutons added a lovely crunch! No topping of apple for me as I am not a fan of apple, but I didn't feel like my velouté was missing anything without it. Mr B said it added freshness and was followed with a mild curry hint from the dressing.
Our main course of 'Speyside beef sirloin with red wine gravy' came with five sides which were Yorkshire puddings, Beef fat roast potatoes, cauliflower cheese with a cheddar and herb crumb, honey-glazed root vegetables and a vegetable écrasé  with celeriac, carrot, chives and carrot crumb.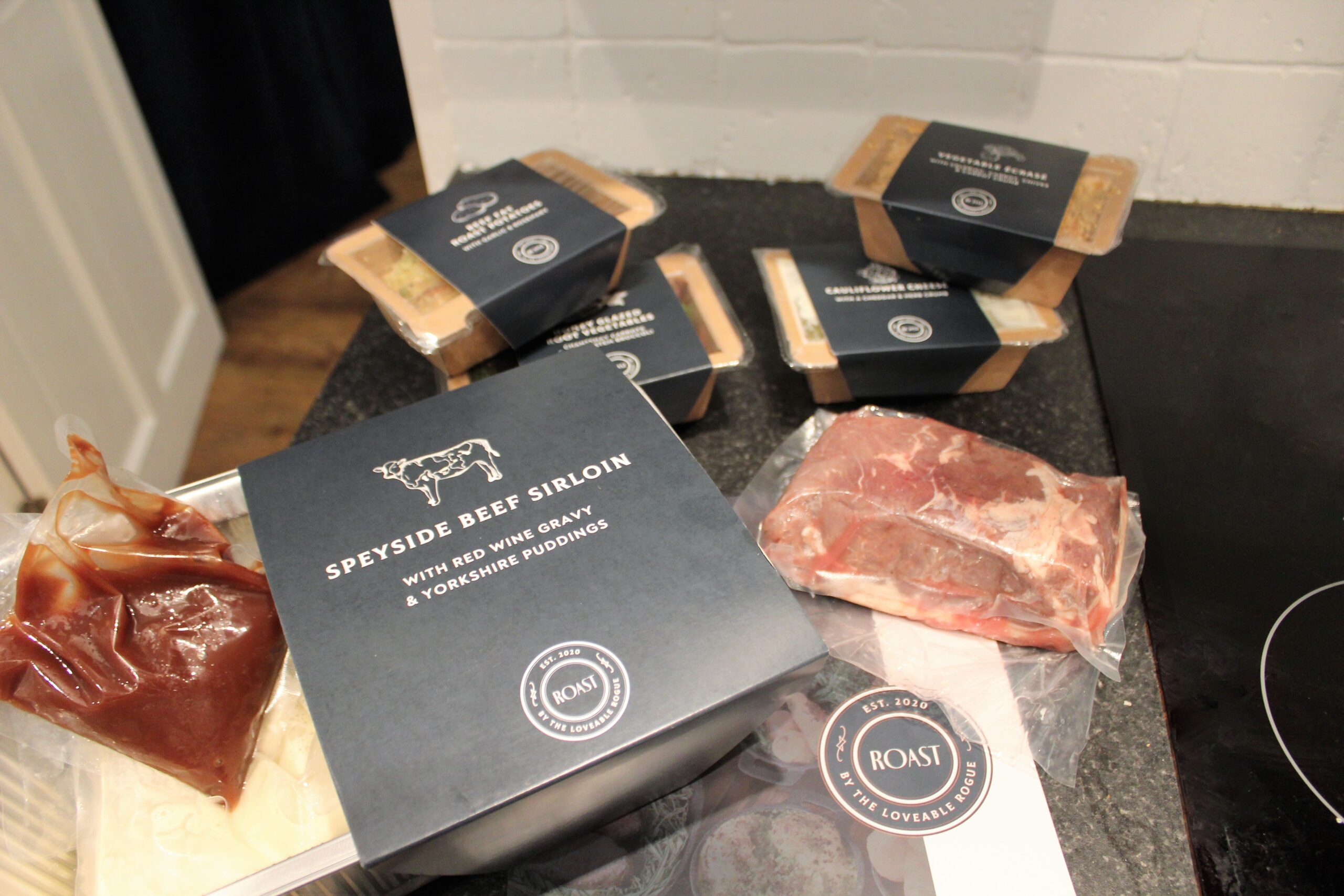 We took the sirloin out of the fridge one hour before cooking so it could get to room temperature, then it was just a case of sealing the sides in a pan and popping it in the oven in the foil tray it came in so it could roast. We do like our meat pink (the pinker the better for me!) so we roasted ours for 18 minutes, then just took it out and left it to rest before carving.
The Yorkshire pudding mix is already made for you so you just need to heat up a little oil in the tray and pour your mix in. The roast potatoes, cauliflower cheese and vegetables just needed putting in the oven to heat up with the vegetable écrasé and gravy being heated up in pans.
When we cut the beef I  did a squeal of delight – it looked absolutely divine and it tasted it too! It was very tender and had such a depth of flavour. Mr B and I both agreed it is some of the best beef we have had at home. We really loved the sensational taste.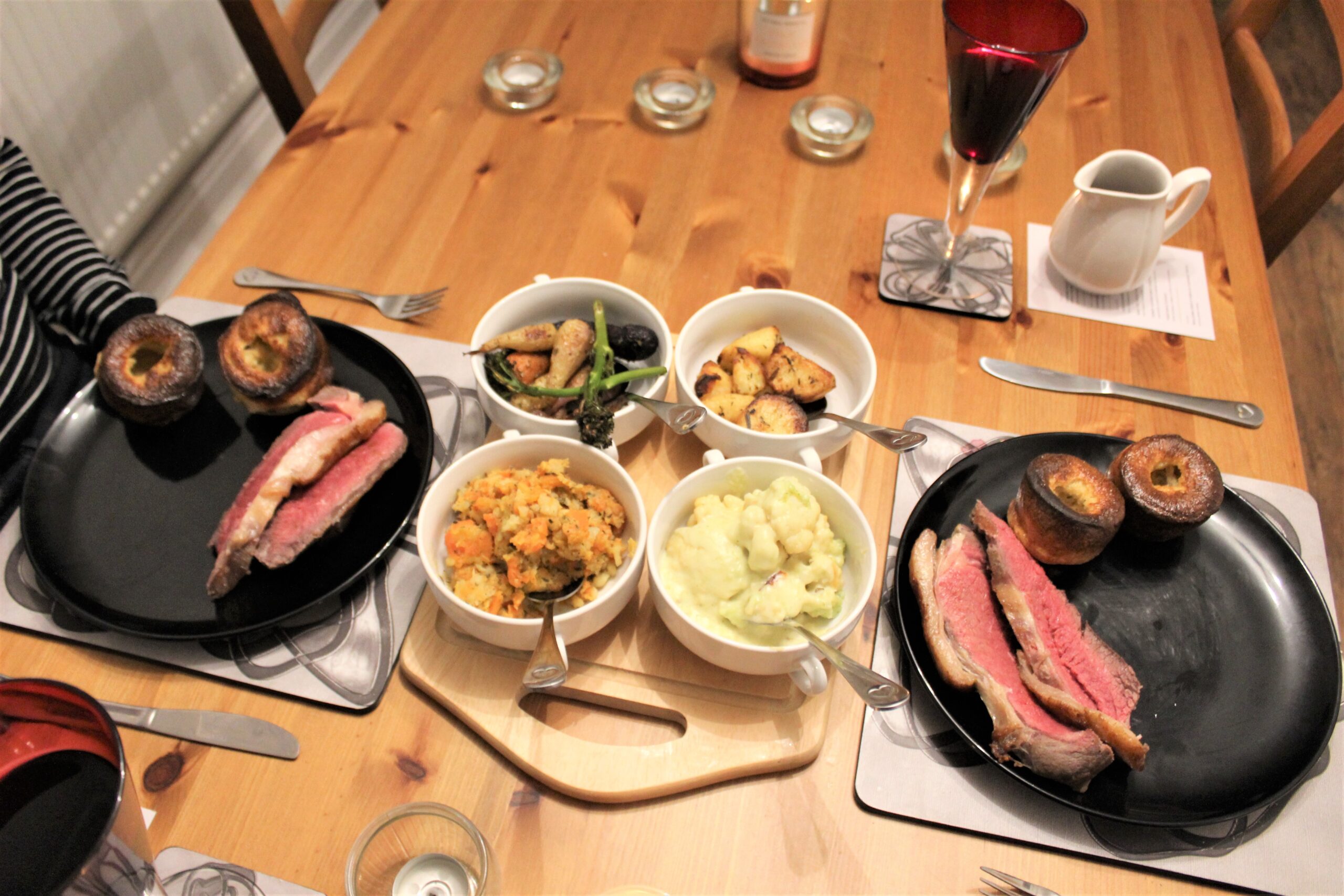 The roasties were another big hit for me, perfectly crisp on the outside and soft and fluffy on the inside with the subtle flavour of garlic and rosemary. The honey-glazed root vegetables had a mix of Chantenay carrots and tenderstem broccoli. Mr B loved the extra rich and extra cheesy cauliflower cheese and also really liked the vegetable écrasé as it was something different and a good twist to a usual Sunday roast veg dish.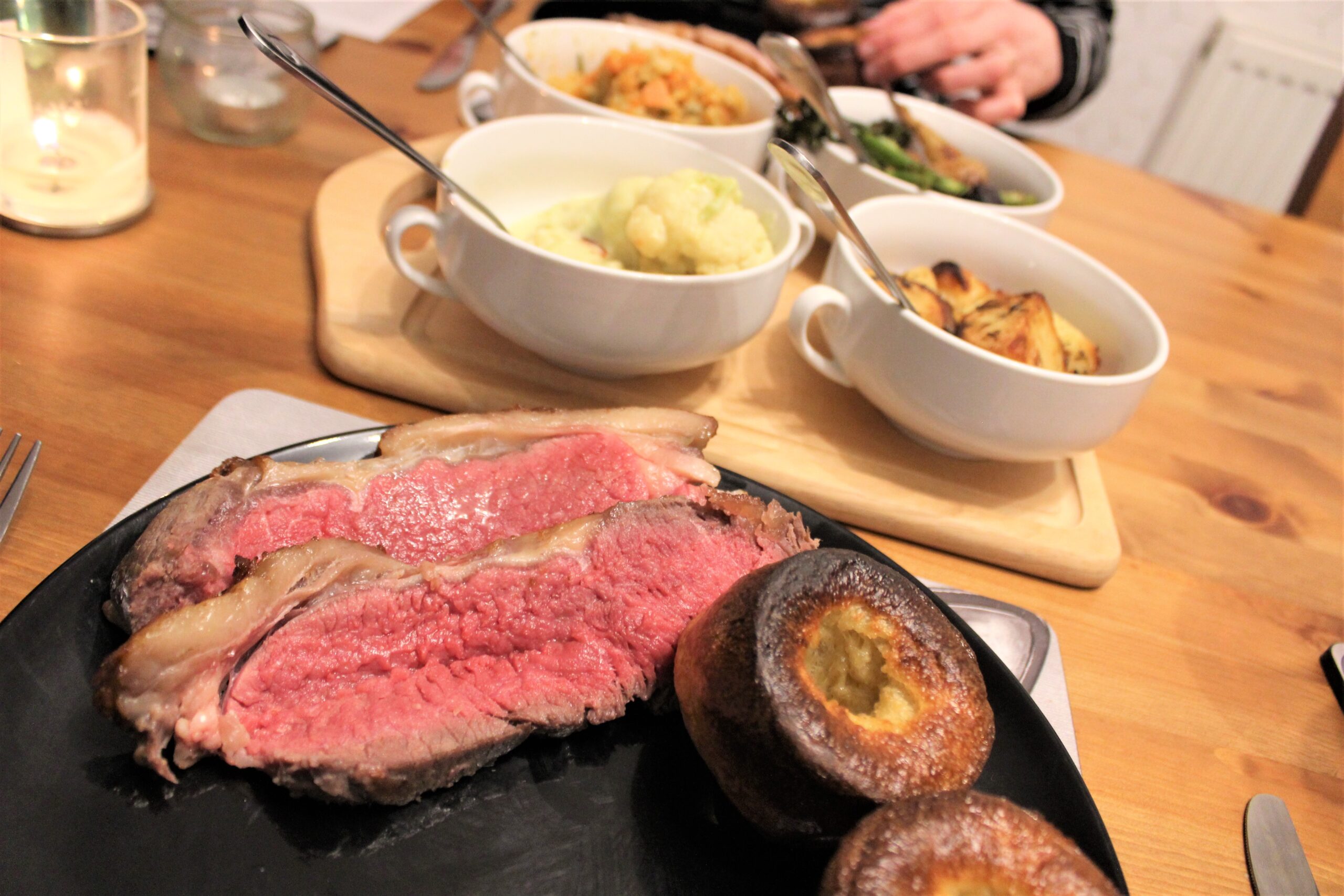 It was a truly scrumptious Sunday roast and the thing that tied it all together for me was the red wine gravy (you can never have enough gravy as far as i'm concerned!). We washed it all down with a bottle (or two) of Malbec which was a great partner, especially to the beef!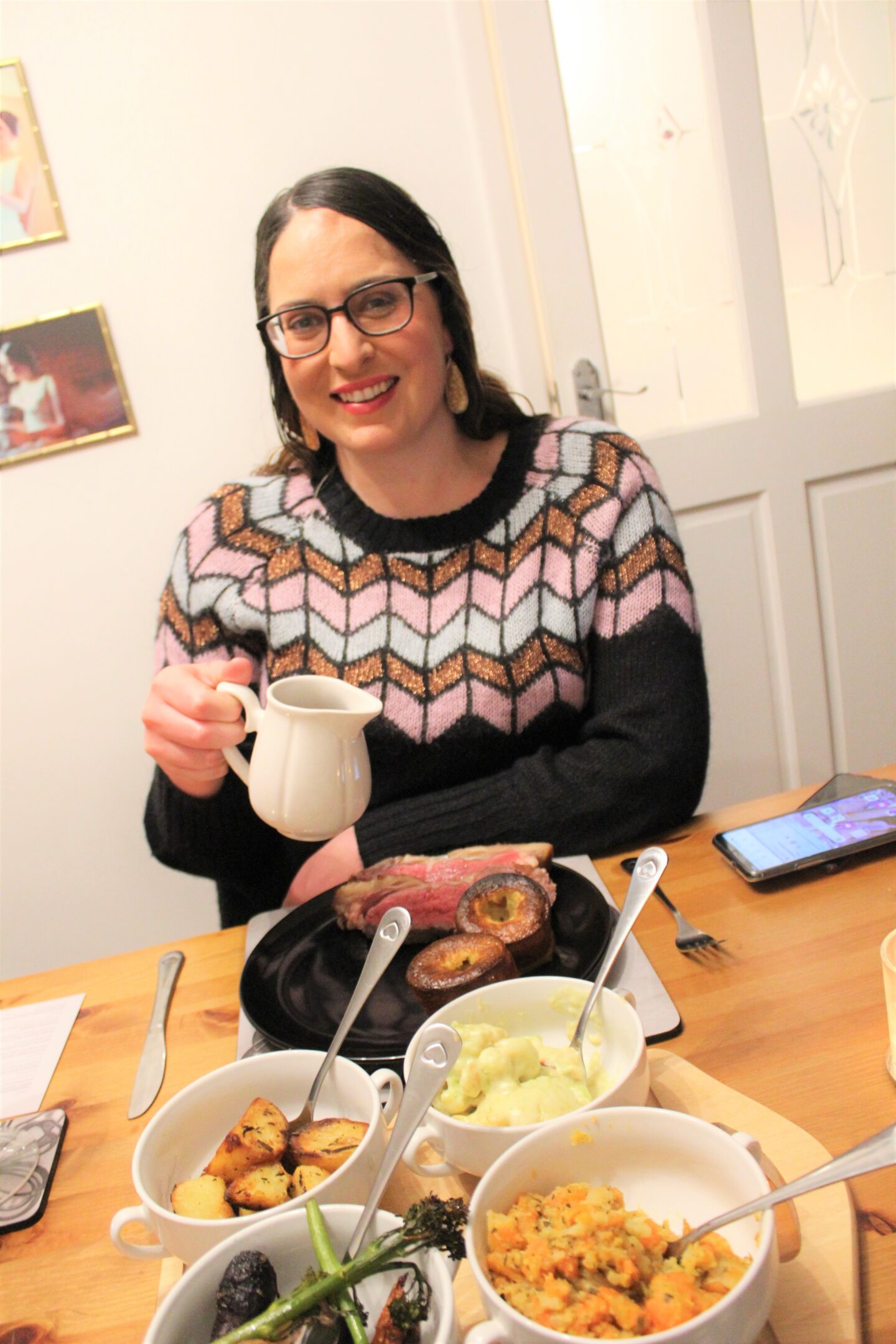 If you have enough room left after all that, dessert is 'Williams pear and vanilla custard trifle with almond crumb'. The only effort this takes is taking off the lid as the dessert is ready-layered in its own presentation jar!
Sweet pear with creamy vanilla custard and crunchy almonds – a lovely combination of textures and a lovely sweet treat to end the meal.
The Roast by the Loveable Rogue is also available with chicken instead of beef and Home-X do a range of other boxes. I am currently eyeing up the Mexican meal box and the cheese box!