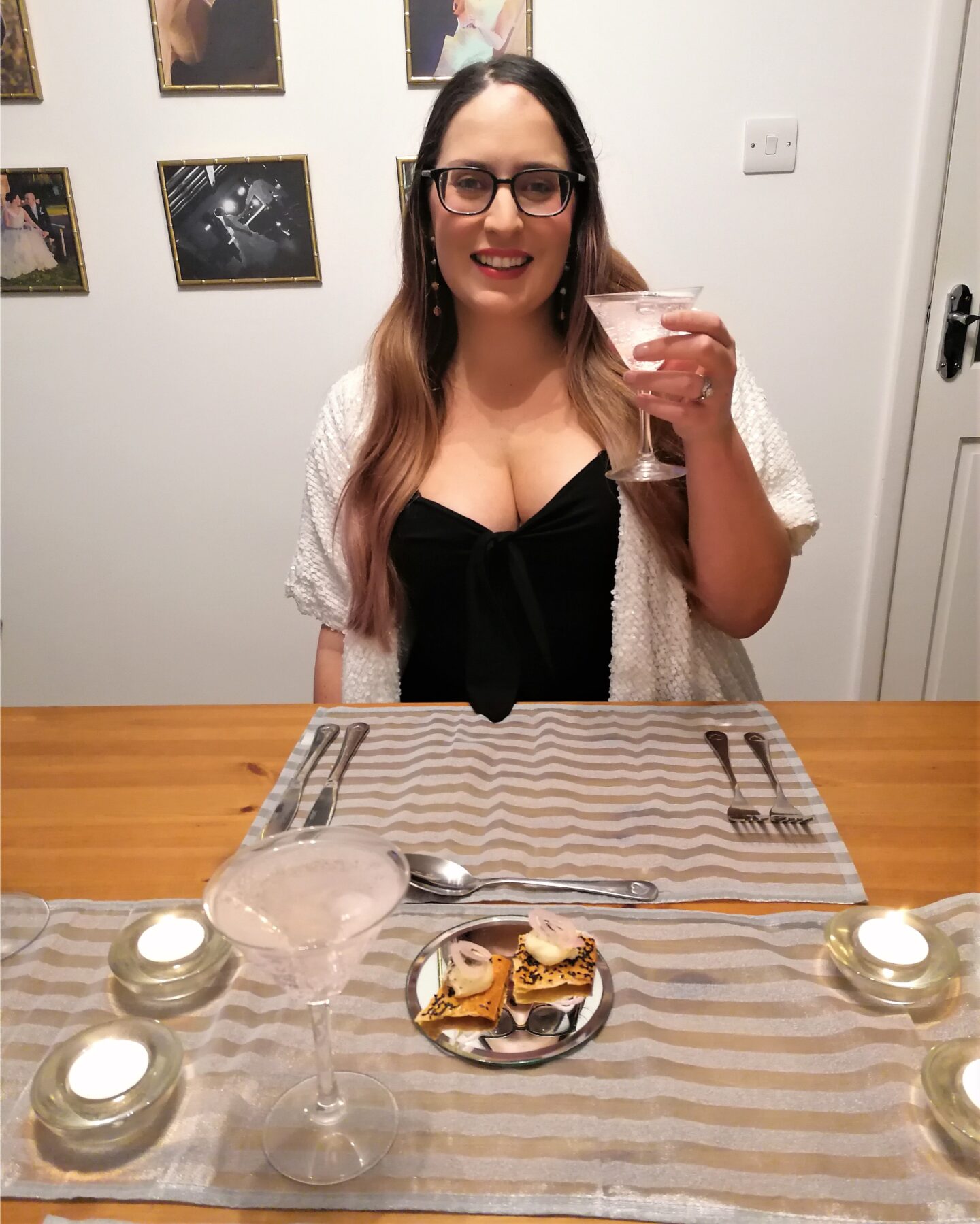 Hampton Manor is home to Peels, a one Michelin star restaurant. We have been lucky enough to eat at the restaurant twice and both times had an amazing dining experience.
On a dark December Friday night, a little bit of Hampton Manor magic made its way into our home in the form of POW, Peels on Wheels!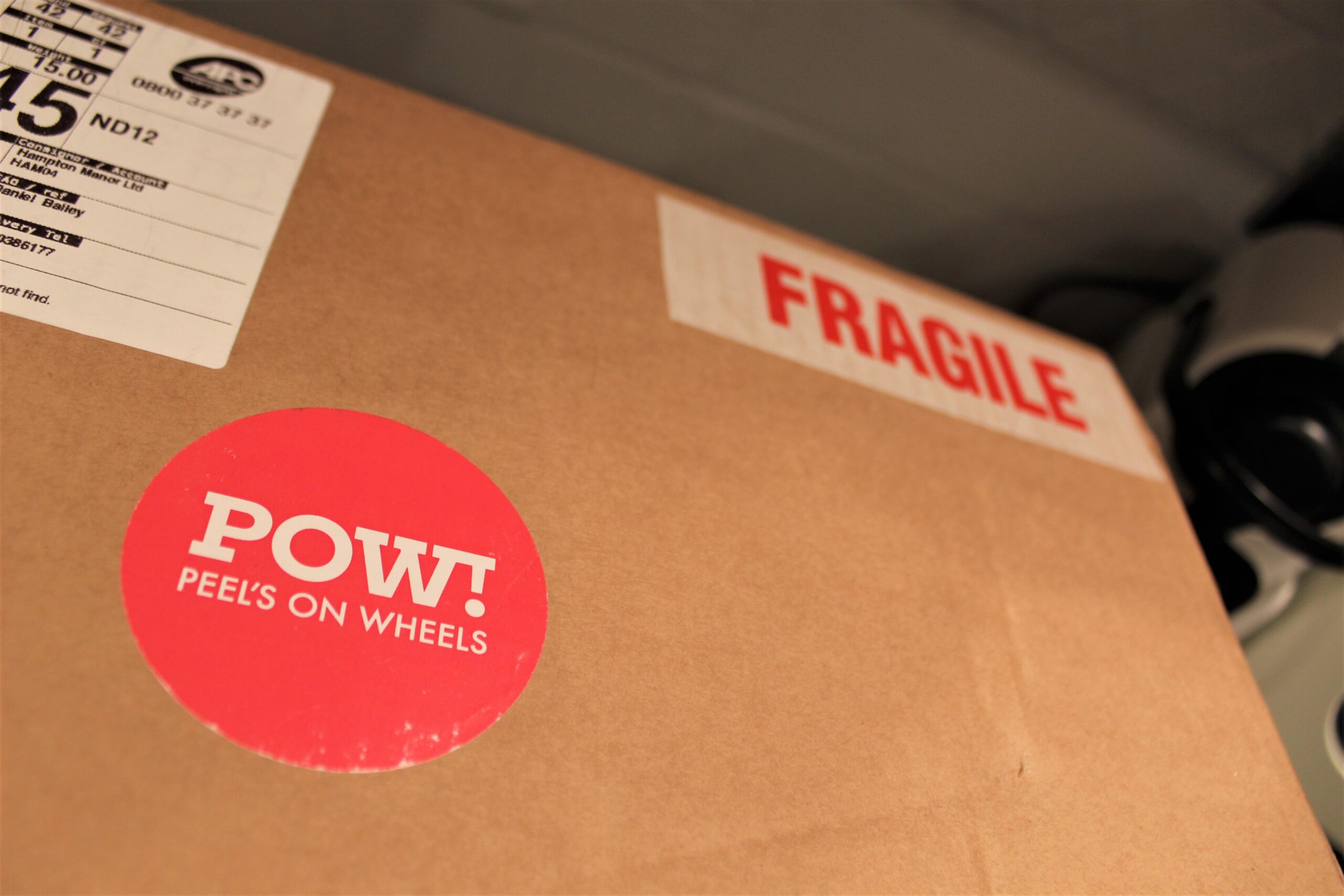 The genius idea was created in the first lockdown when this innovative restaurant started delivering their high-quality award-winning food to locals who lived in and around the area.
With it being such a roaring success, Hampton Manor have now rolled this out nationally! With a new menu each week – one meat and one vegetarian (both of which very often sell out) – ordering on the website couldn't be easier. You choose your menu and then you can add on any extras such as the optional cheese course, paired wines and even cocktails!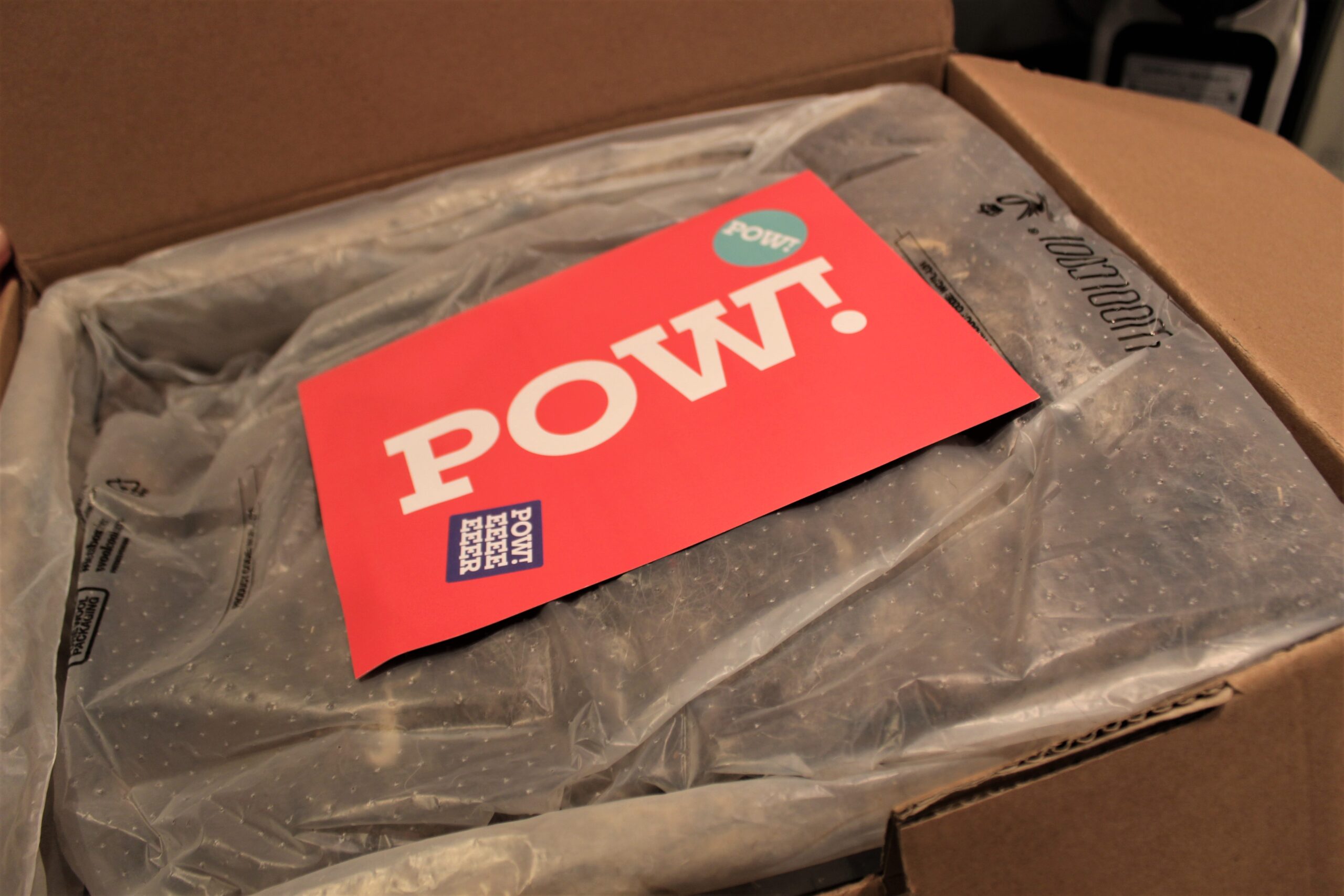 I arrived home from work like a kid at Christmas, so excited to see what was in our box! Everything is very clearly labelled and instructions are clear as to what needs to be put in the fridge and what needs to be kept out.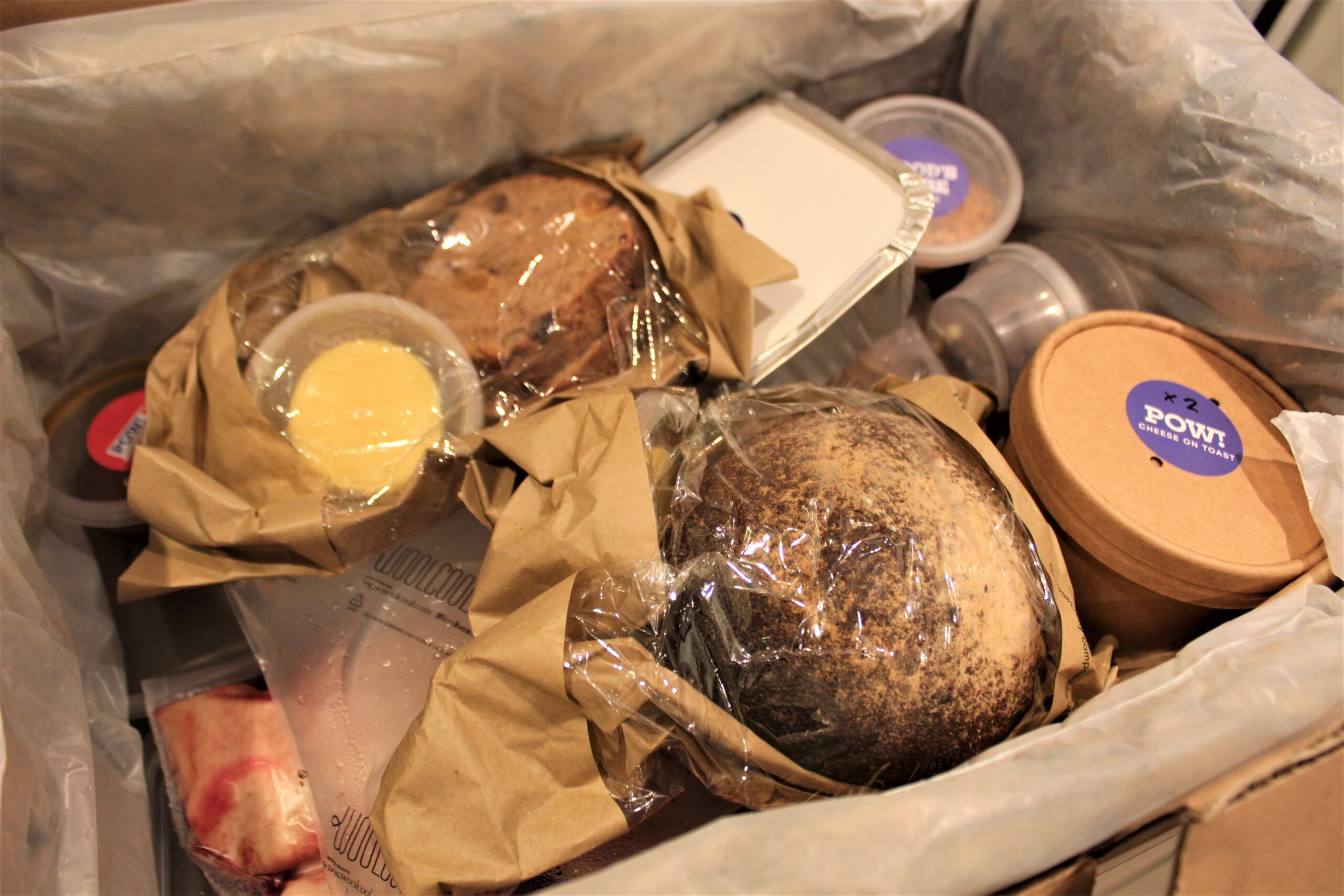 Novice cooks needn't be scared either as there is very little-to-no cooking required. It's mostly just heating a few things up with exact timings and oven temperatures given in the handy menu booklet.
Due to lockdown we hadn't been able to dine out since 1st November so we took this as an opportunity to dress up and enjoy this fantastic food in style.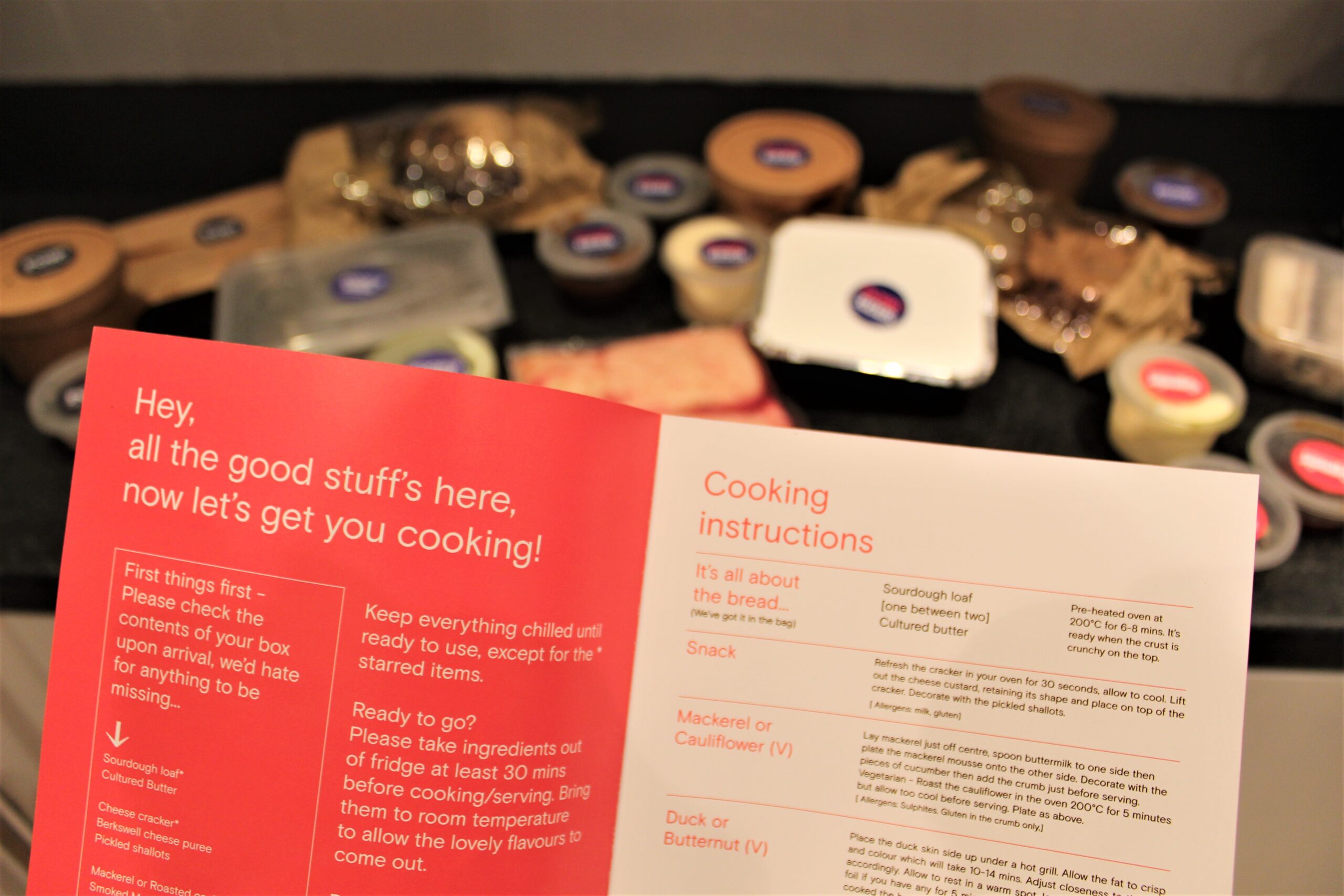 With the table laid, we made our own pre-dinner cocktail and started with our pre-dinner snack – 'Cheese & Onion' – which was seeded cheese cracker with Berkswell cheese puree and pickled shallots. With the cracker just needing a quick 30-second blast in the oven, this took seconds to assemble but still had that impressive look of a restaurant canapé. It was a morsel of deliciousness which really made you want more. If we would have had 10 of them I am certain Mr B and I would have devoured them all in seconds!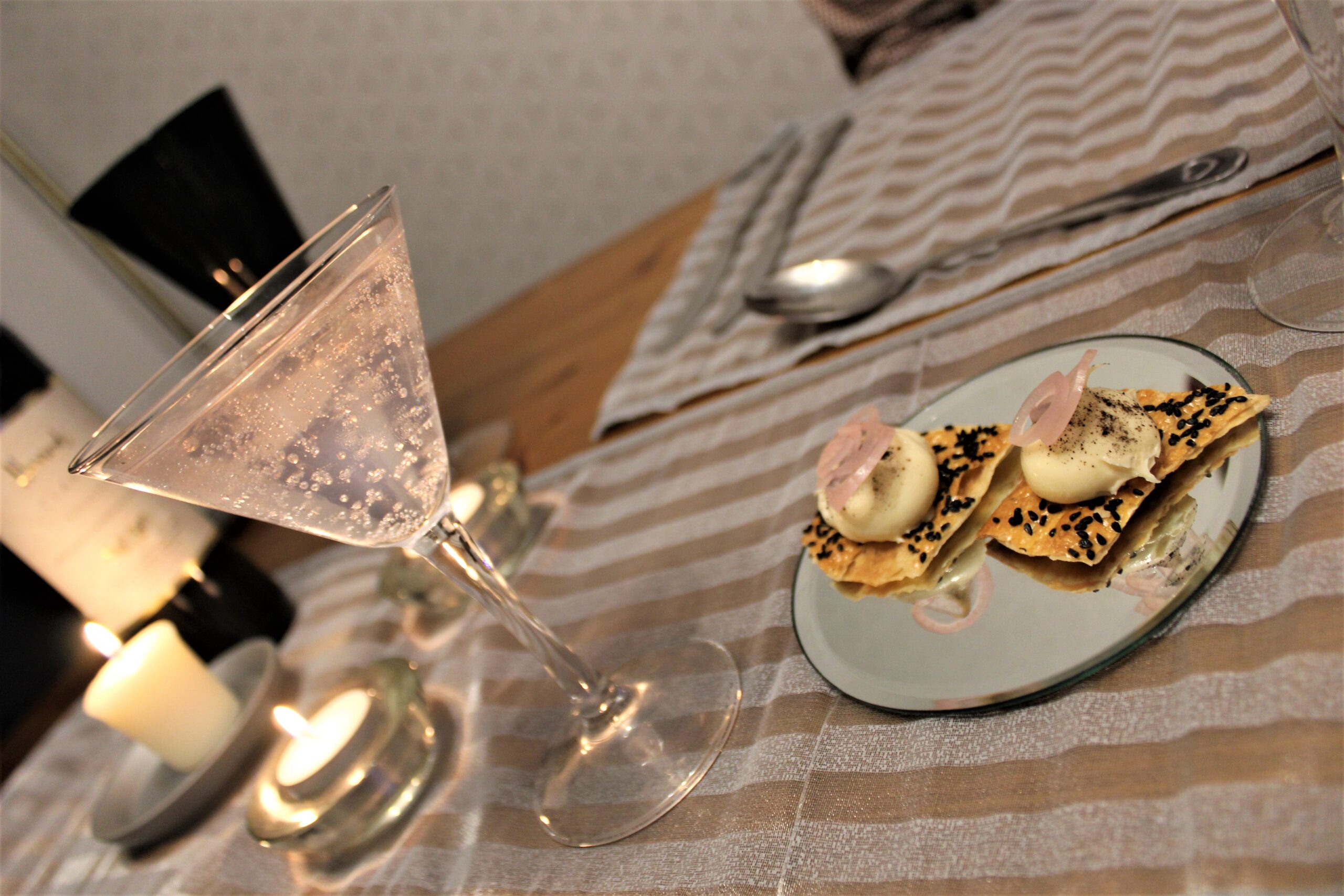 One of life's simplest pleasures that is always of huge enjoyment in any restaurant is the freshly baked bread! Our fresh sourdough just needed eight minutes in the oven. We enjoyed this crusty delight with our starter, slathered in the cultured butter which is also provided by Hampton Manor.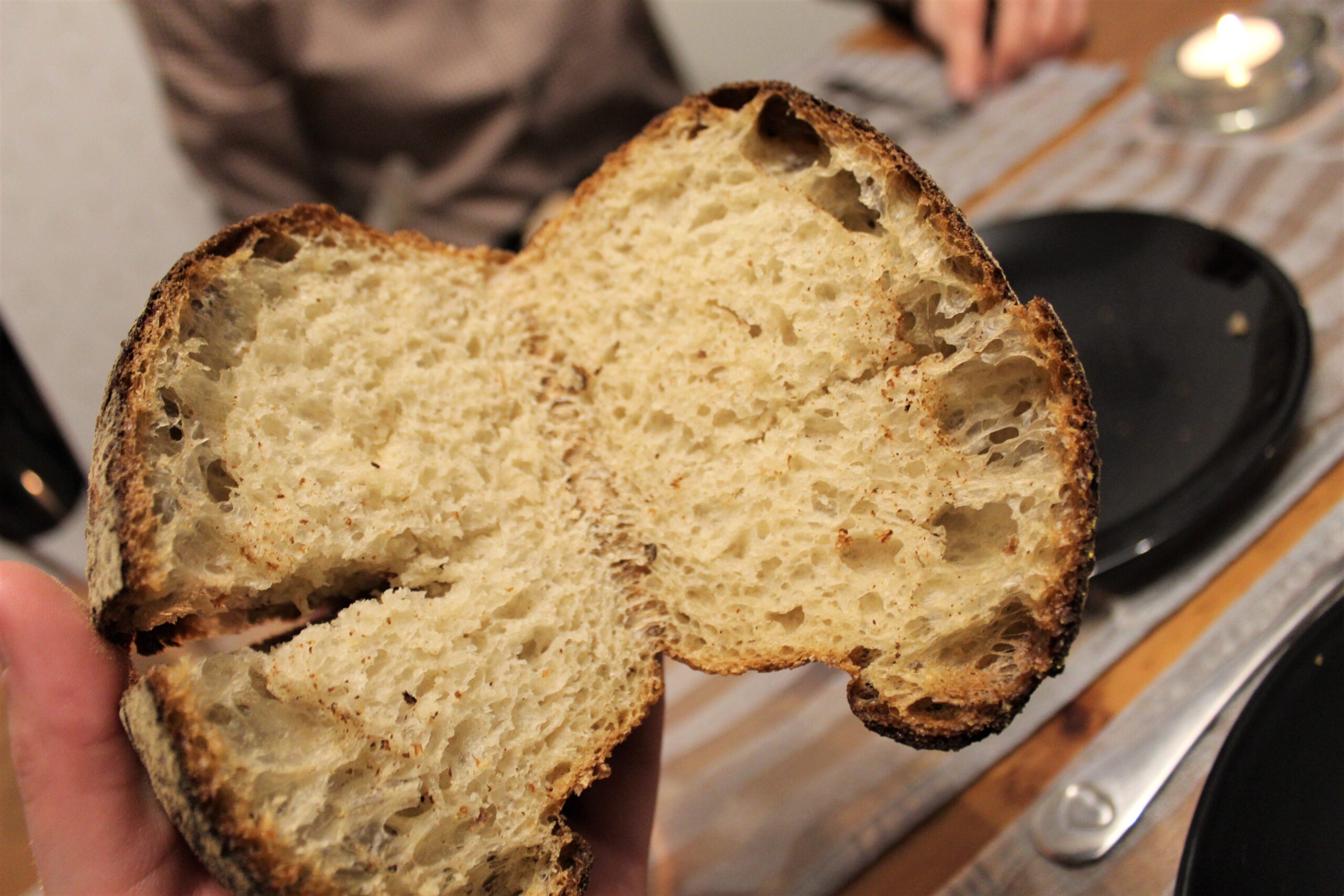 Talking of our starter, this was a highlight for Mr B as his favourite fish is mackerel. Our beautiful fillet of cured torched mackerel was paired with a strong and flavourful smoked mackerel mousse, charred and pickled cucumber, a sourdough crumb and buttermilk split with dill oil.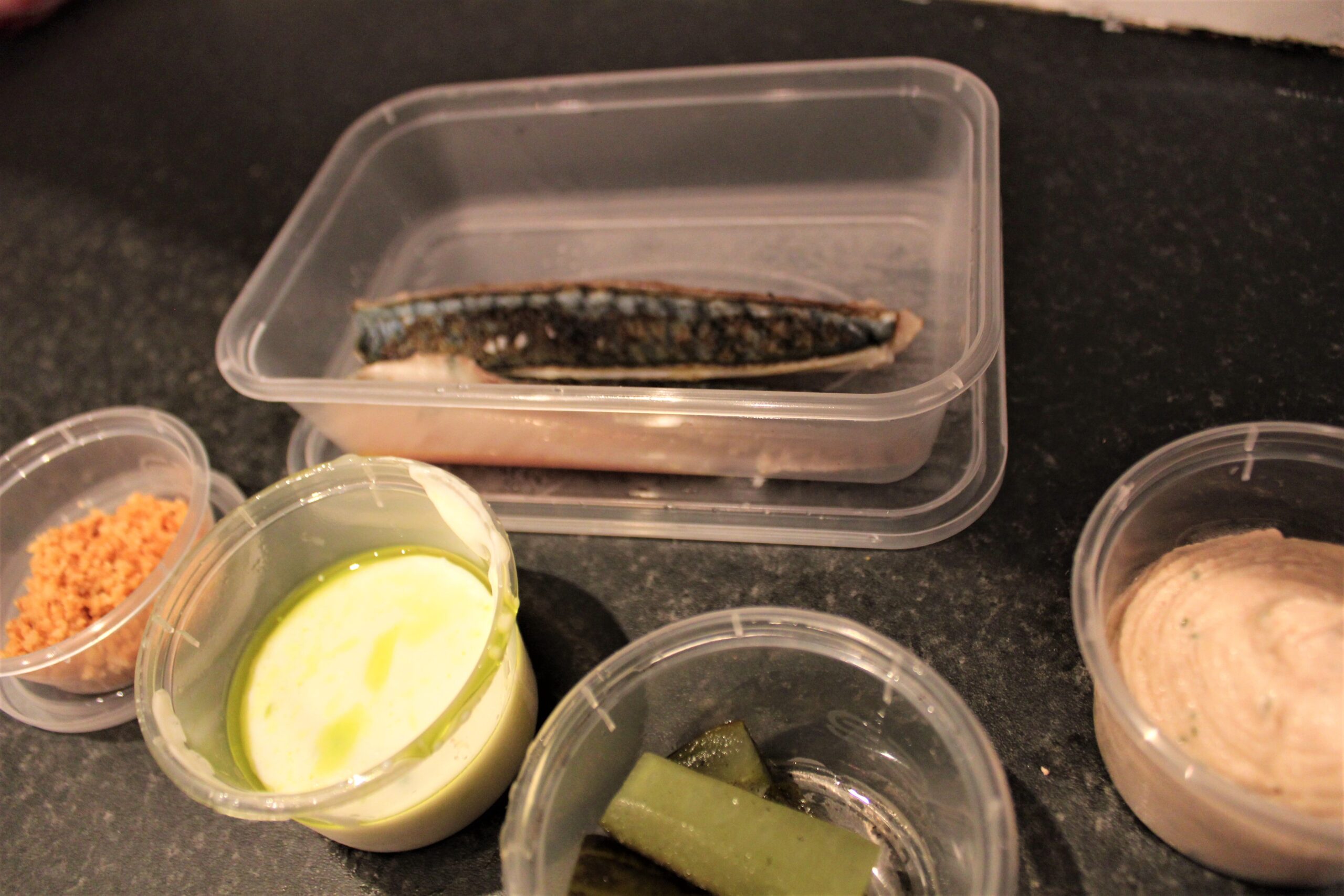 It was a delight and we truly felt like we were eating at a restaurant – maybe one that needs to work on its presentation a little (I tried my best), but that didn't take away from the delicious ingredients that complemented each other perfectly. A big bonus about this starter was that it was cold so all it required was the ingredients taking out the fridge 30 minutes before plating and that was it!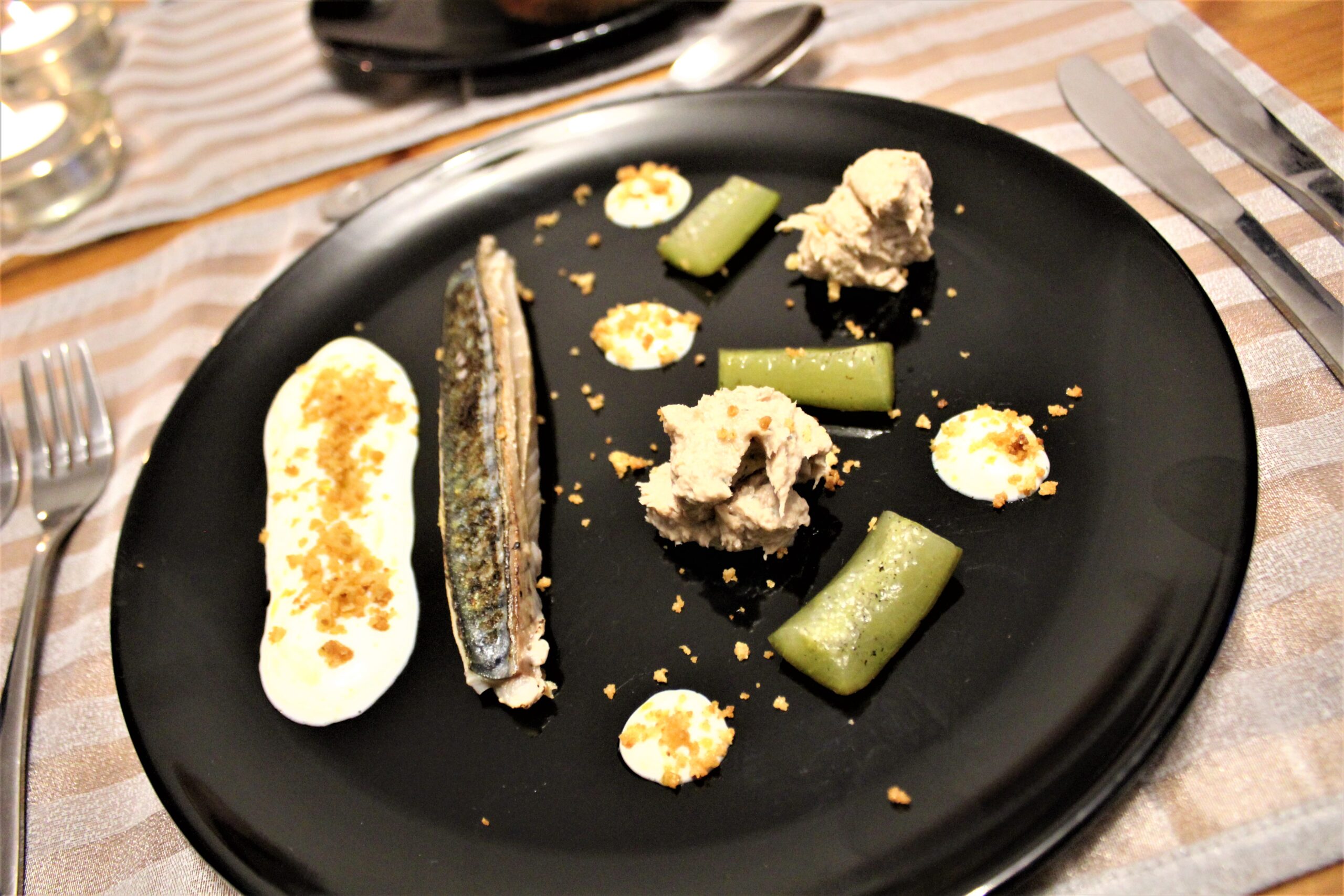 Our main course was duck. I love duck but have never cooked it at home. I always think it takes such precious cooking that I would not do it justice or, God forbid, overcook it! Our Creedy Carver Duck breast had already been cooked in a water bath so just required 10 minutes under a hot grill to crisp up the skin. The beautiful duck breast was accompanied by glazed parsnips, parsnip puree, pickled walnuts, braised white cabbage and a duck sauce.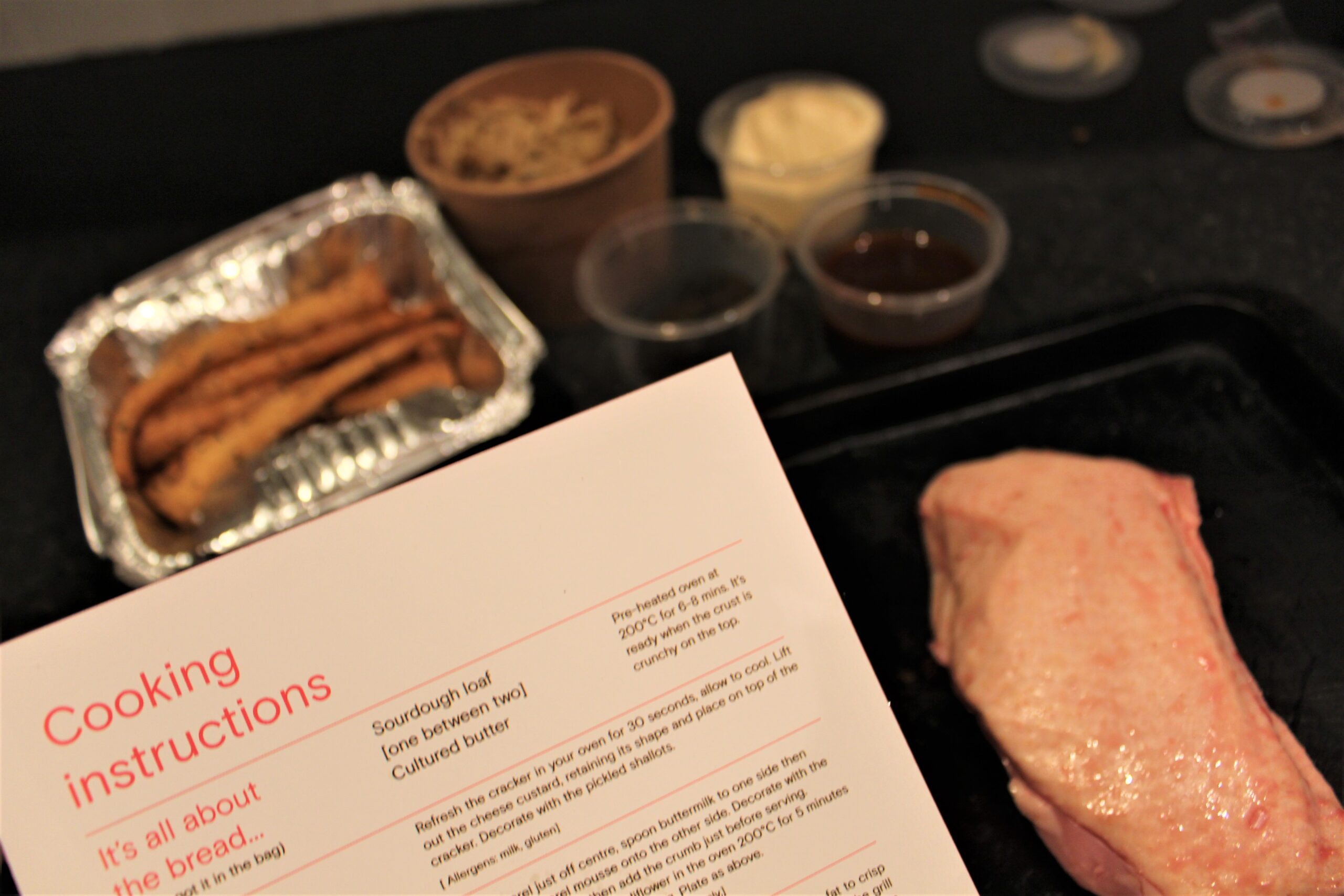 Again, only a little heating up was required with the parsnips needing 10 minutes in the oven and the other elements could be heated up either on the hob or in the microwave. And, oh my word, what a dish these ingredients created.
The duck was a perfect medium-rare and was so tender with a perfectly crisp skin and the sweetness of the parsnips and the sharpness from the pickled walnut added such fantastic contrasts to the dish. We thoroughly enjoyed every mouthful.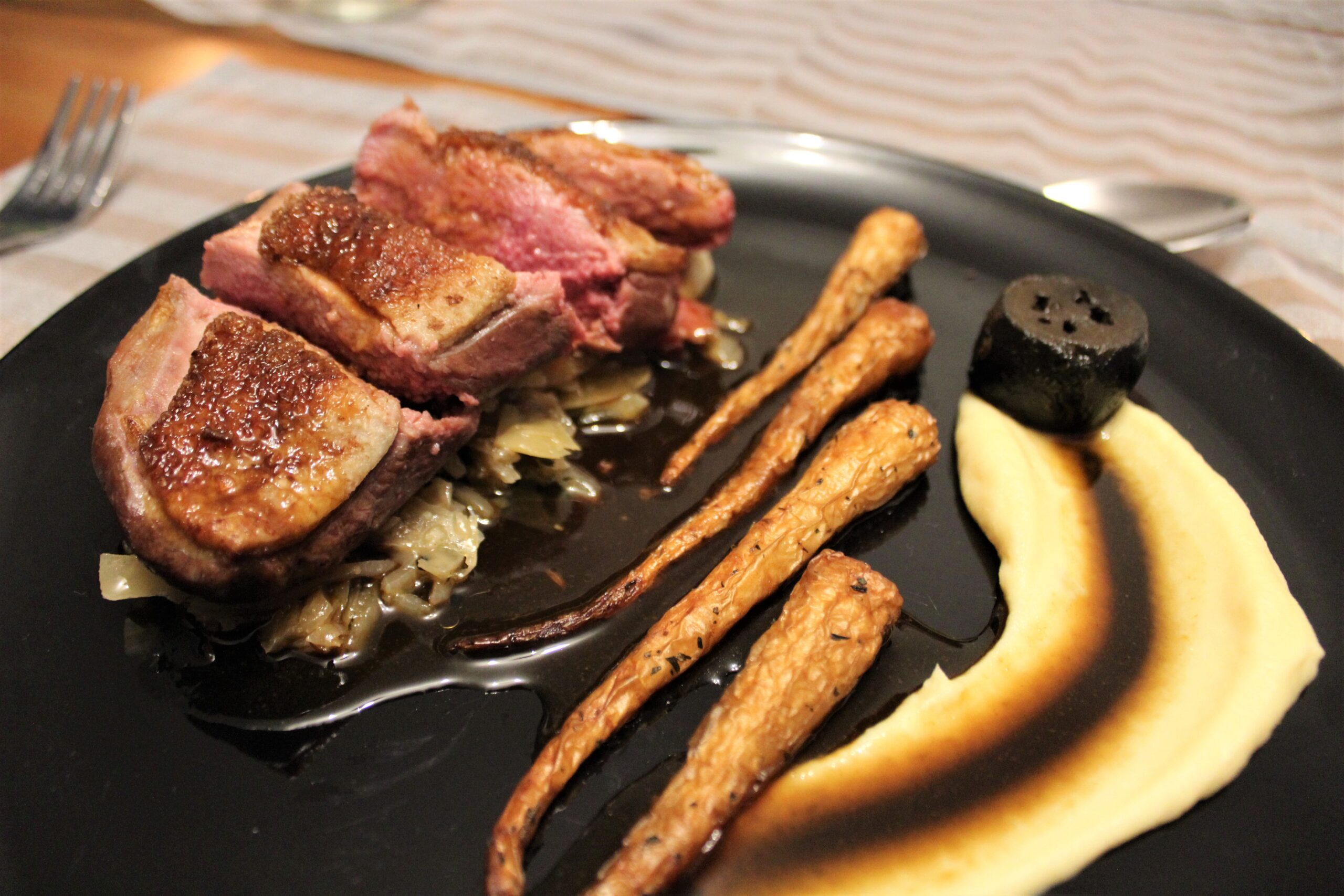 Anyone that has had the pleasure of dining at Hampton Manor knows about their fantastic take on cheese on toast. Homemade fruit bread with Compton Bassett stilton and a homemade grape and apple chutney. Slathering the fruit bread with the provided butter (on both sides of course), this meal was all about indulgence after all.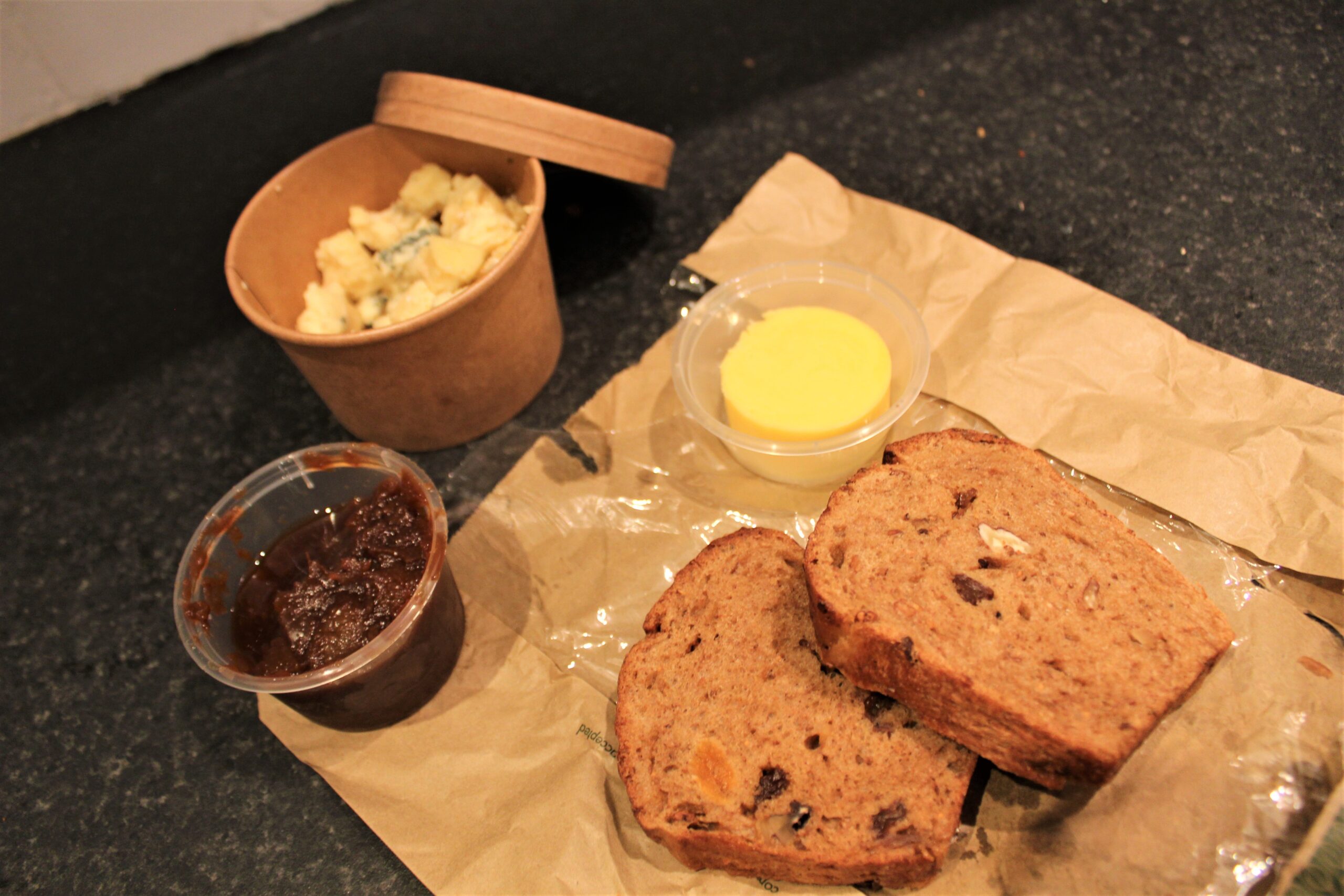 It just needed a quick grill on both sides and that was it. A generous serving of the chutney with a mountain of the crumbled stilton and you have the king of cheese courses! It was as delicious as it was when we ate it in the restaurant. The stilton is so creamy and rich and it just works so well with the homemade fruit bread.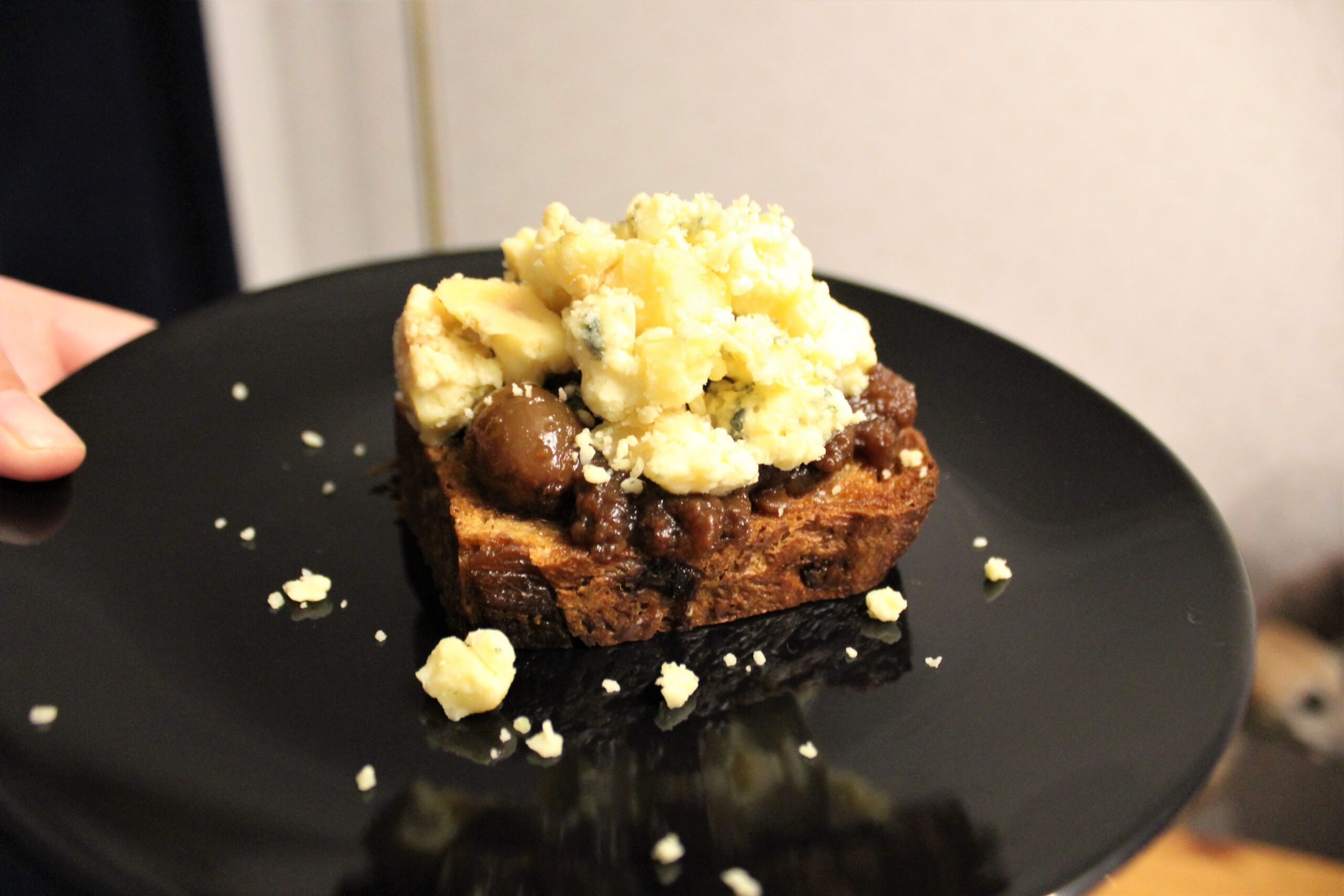 Always the highlight of any meal for me, the dessert. This one was Hampton Manor's take on tiramisu, a dessert I adore! It was a tiramisu slice, Tia Maria caramel, cream, chocolate shards and chocolate crunch. Again, this only required plating up so couldn't have been easier.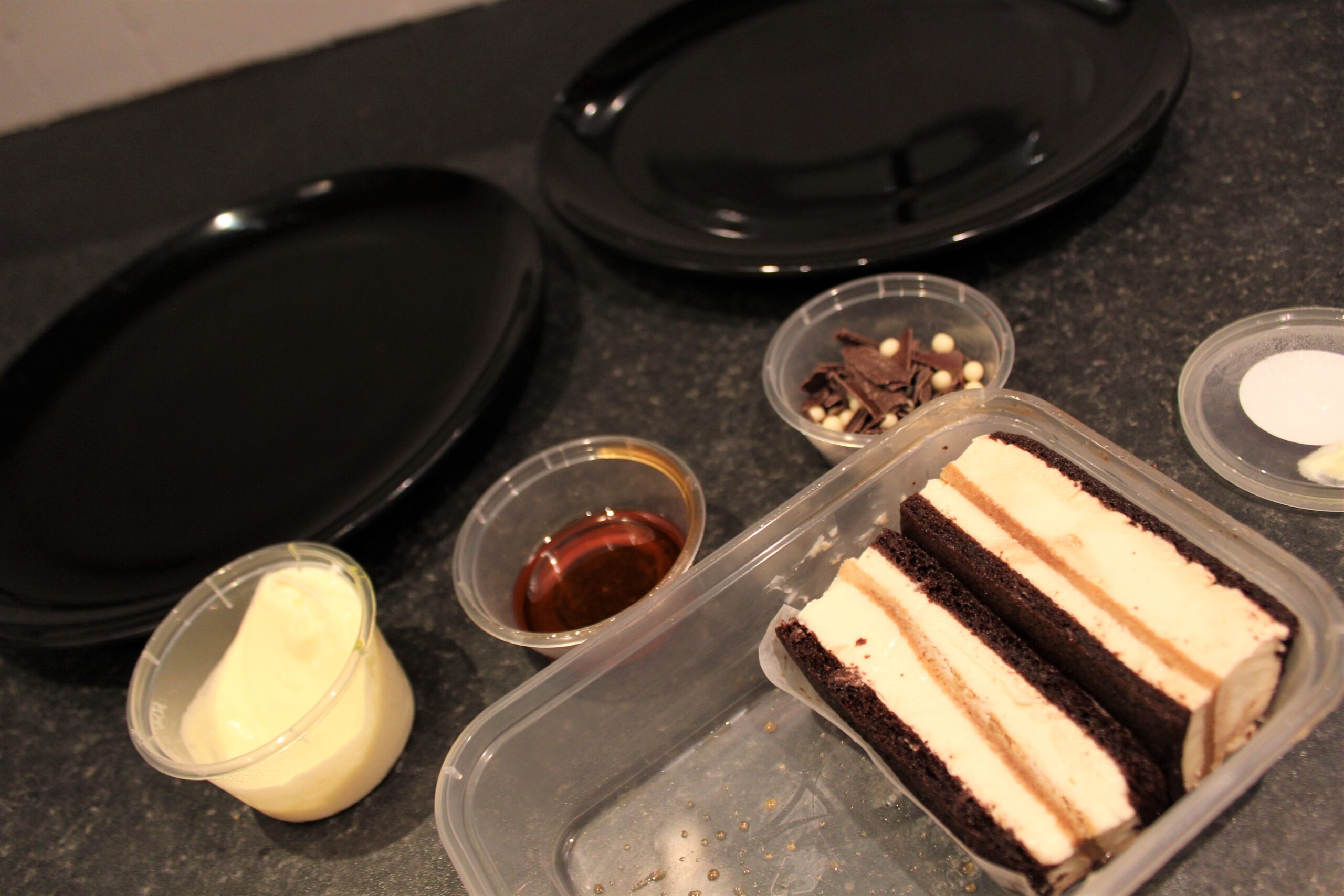 Mr B summed it up in one statement really – 'This is the best tiramisu I have ever had!'. It was everything you could dream about in one desert – rich, creamy, boozy and chocolatey, a perfect combination of textures. One good thing about eating this stunning food at home . . . when something is plate-licking good, well there is no one stopping you!
Feeling pleasantly full, we just had enough room left to enjoy one little last treat which came in the form of salted peanut fudge. The one (quite large) mouth-sized piece we enjoyed with an after dinner espresso was the perfect end to a perfect evening.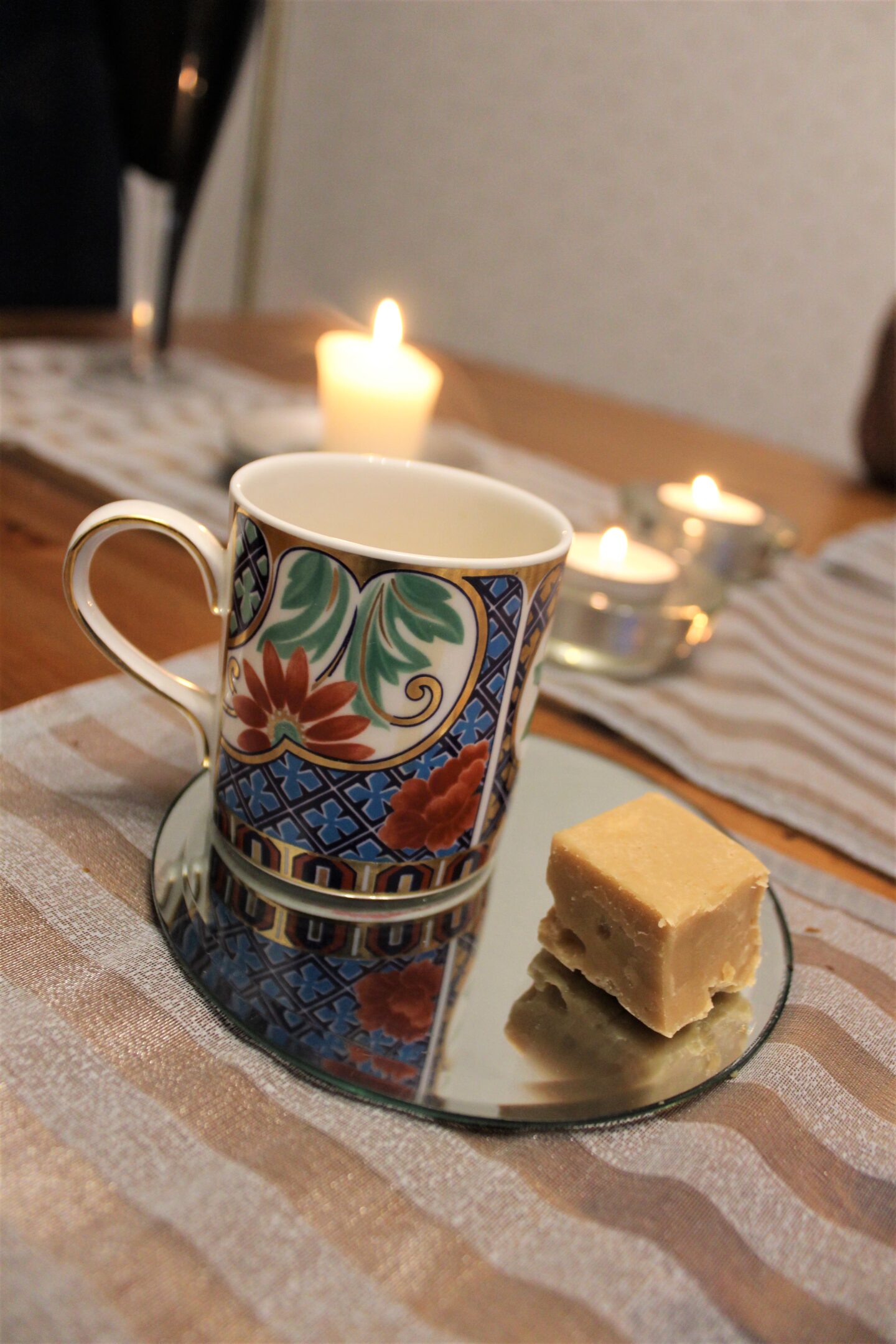 We have thrown the odd dinner party and do most of our cooking from scratch, but by a million miles this was the best food we have ever eaten in our home. It was Michelin star food and eating it transported us back to the fine dining days we are missing.
Peels on Wheels is perfect for a birthday, anniversary or other celebration, but I think also after this year, you really don't need an excuse to treat yourselves and with or without an occasion I can guarantee that this is one meal you won't forget eating at home.
https://hamptonmanor.com/peels-on-wheels/