Gidleigh Park Hotel: 5 Star traditional country house hotel
Restaurant: Five AA Rosette and two Michelin stars
Gidleigh Park is located in the stunning Dartmoor National Park, so we were expecting the end of our drive through Dartmoor to have some stunning views, which it did, but it was also adventurous to say the least! There are a lot of very narrow country lanes to navigate down, which seemed like they were going on forever. Every now and again we saw a sign post for Gidleigh which gave us reassurance we were going it the right direction and weren't going to end up in some poor farmer's field!
When going up the long driveway to Gidleigh we were delighted when the hotel came into view. It truly is a stunning building, one of those few places that really has the wow factor which continued throughout our stay.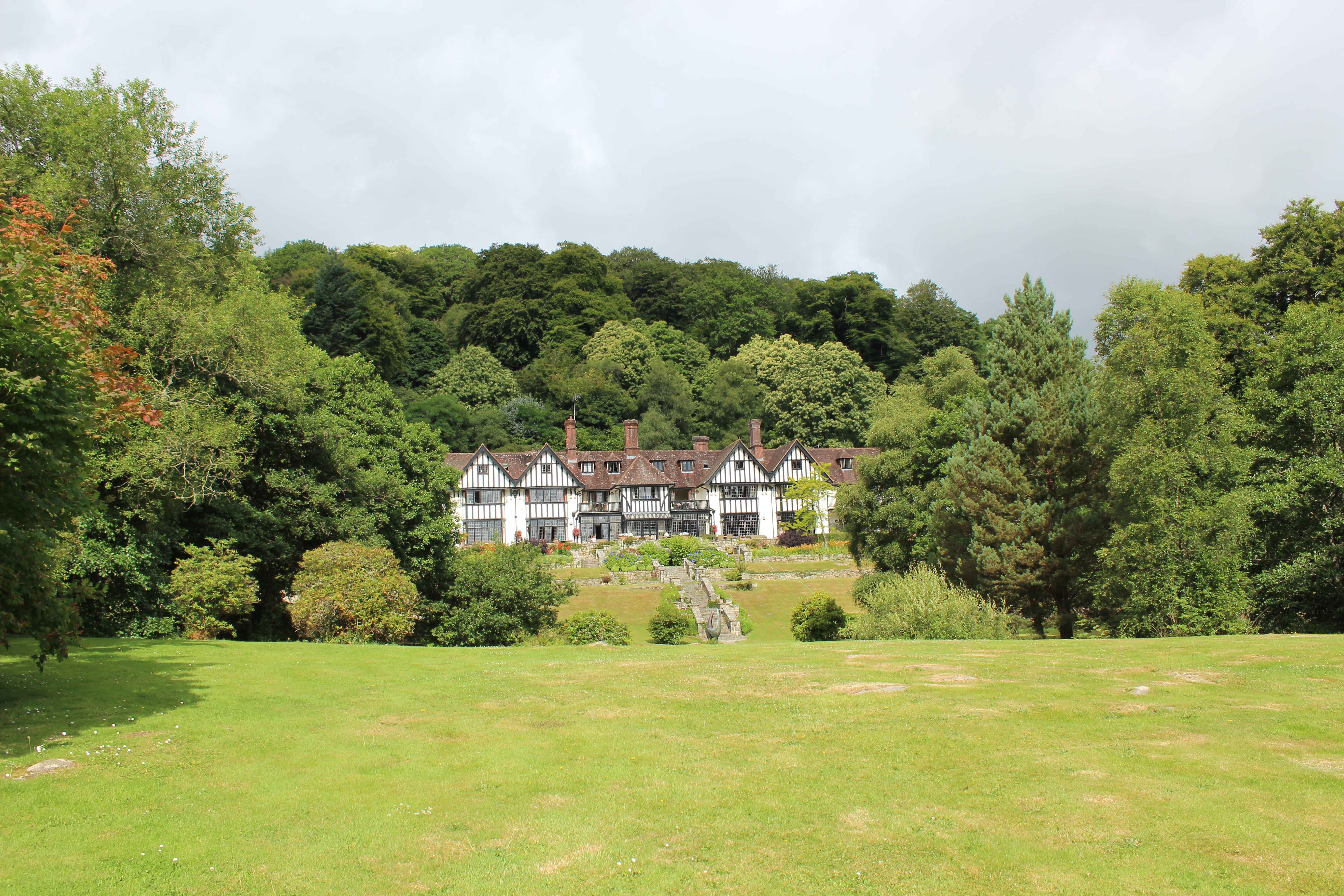 There is plenty of free parking and a valet if needed! We arrived early, but this wasn't a problem for the delightful staff who guided us into the lounge to rest with a coffee. The lounge is grand but also traditional in décor and it's a lovely place to relax and feel comfortable. For the walkers out there you are in the perfect place, not because you're in Dartmoor but Gidleigh itself has lush gardens for you to explore. And don't worry if it is a wet day or you forget your walking boots, Gidleigh also provide walking boots and wellies for guests. A lovely touch I think.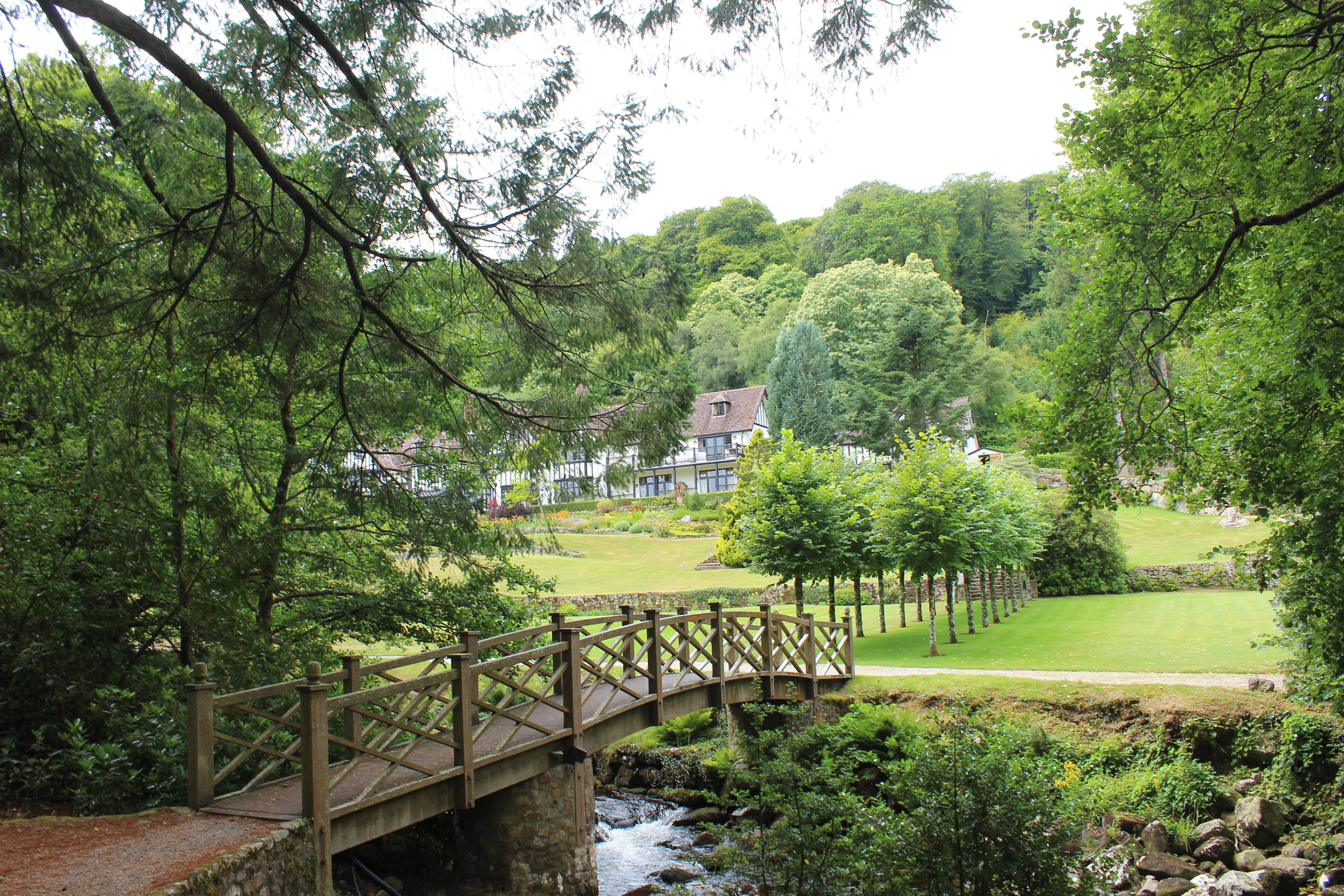 Gidleigh has its own vegetable and herb garden which guests are free to walk around.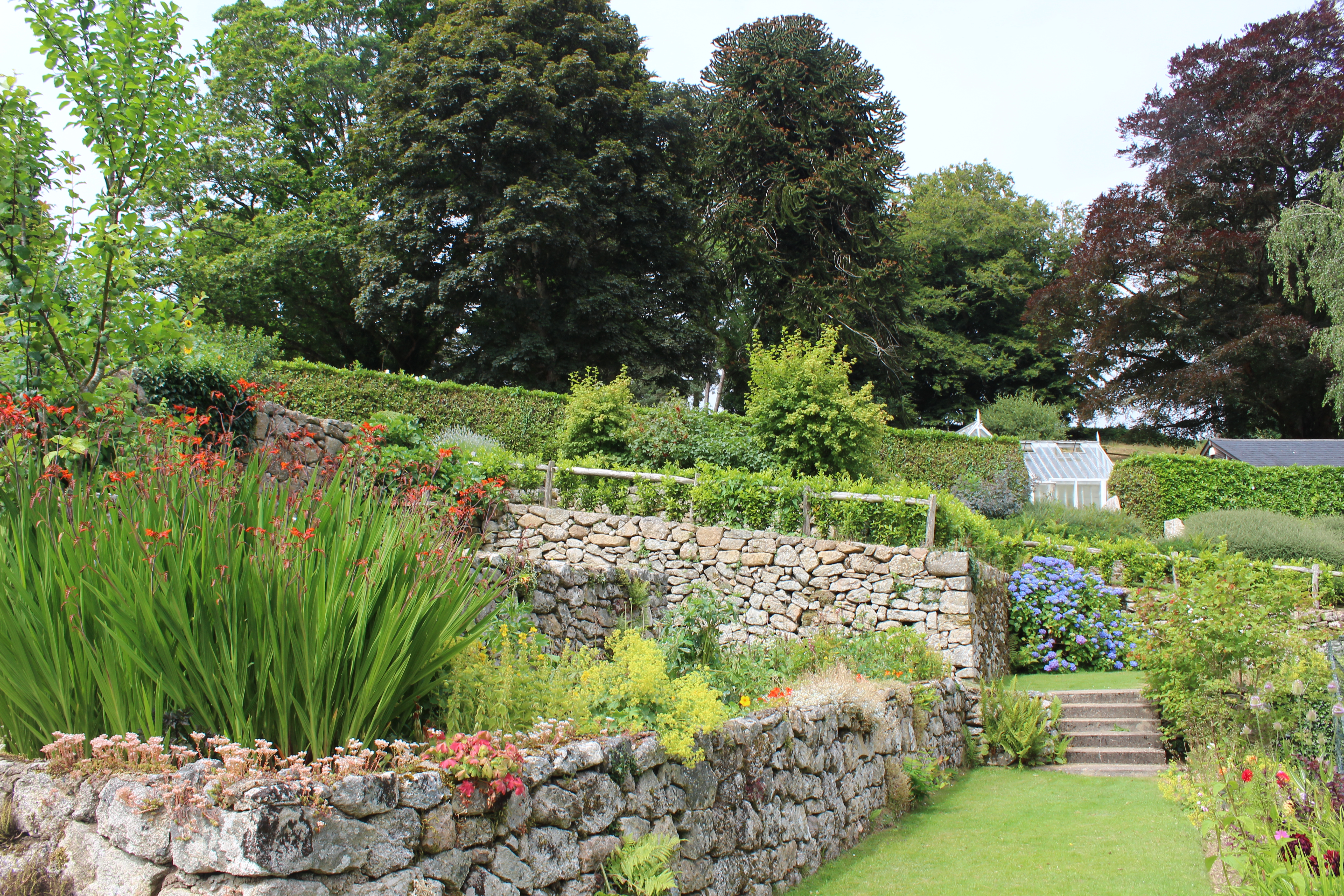 They also have a pitch and putt course which we decided to have a go on. We were thankful we were the only one's playing on the course as you don't really want anyone to see you fishing golf balls out the ponds, although with the nets provided we can't be the only people doing this! Mr B enjoys the odd game of golf and would profess he won. I on the other hand, having only ever hit a golf ball though a windmill or under a bridge, did very well if I do say so myself!
After spending an hour 'exerting' ourselves playing golf, there couldn't have been a better time to sit on the hotel veranda sipping a lovely cold crisp glass of wine, oh the views! A note here, the wine list is huge. If you know a thing or two about wine you will not be disappointed with Gidleigh's impressive wine selection. Oh yes, while sitting on the veranda, we could have been there for a long time taking in that beautiful view, however, just as we were finishing our drinks we were told our room was ready.
The staff at Gidleigh, all wearing formal attire, suit the surroundings perfectly. They are lovely and polite and ensured that during our stay we didn't have to lift a finger.
We stayed in a master room which took our breath away when we first walked in, it was huge!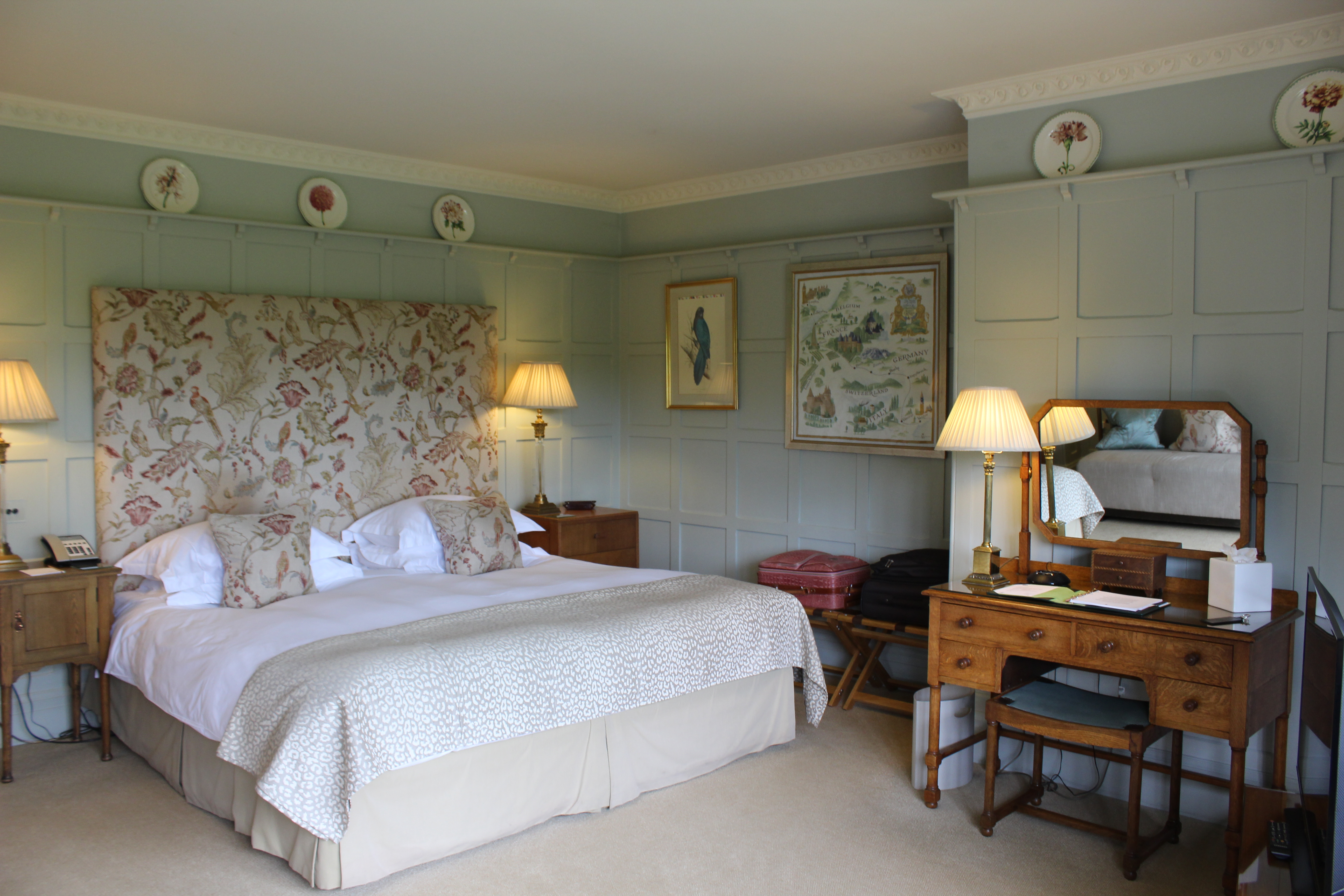 A stunning king size bed, table chairs, vanity table and chair and the bathroom . . . I am a sucker for a luxury bathroom and this one didn't disappoint. A roll top bath, his and hers sinks and walk-in shower which was probably big enough to fit 10 people in (not that you would need to of course!).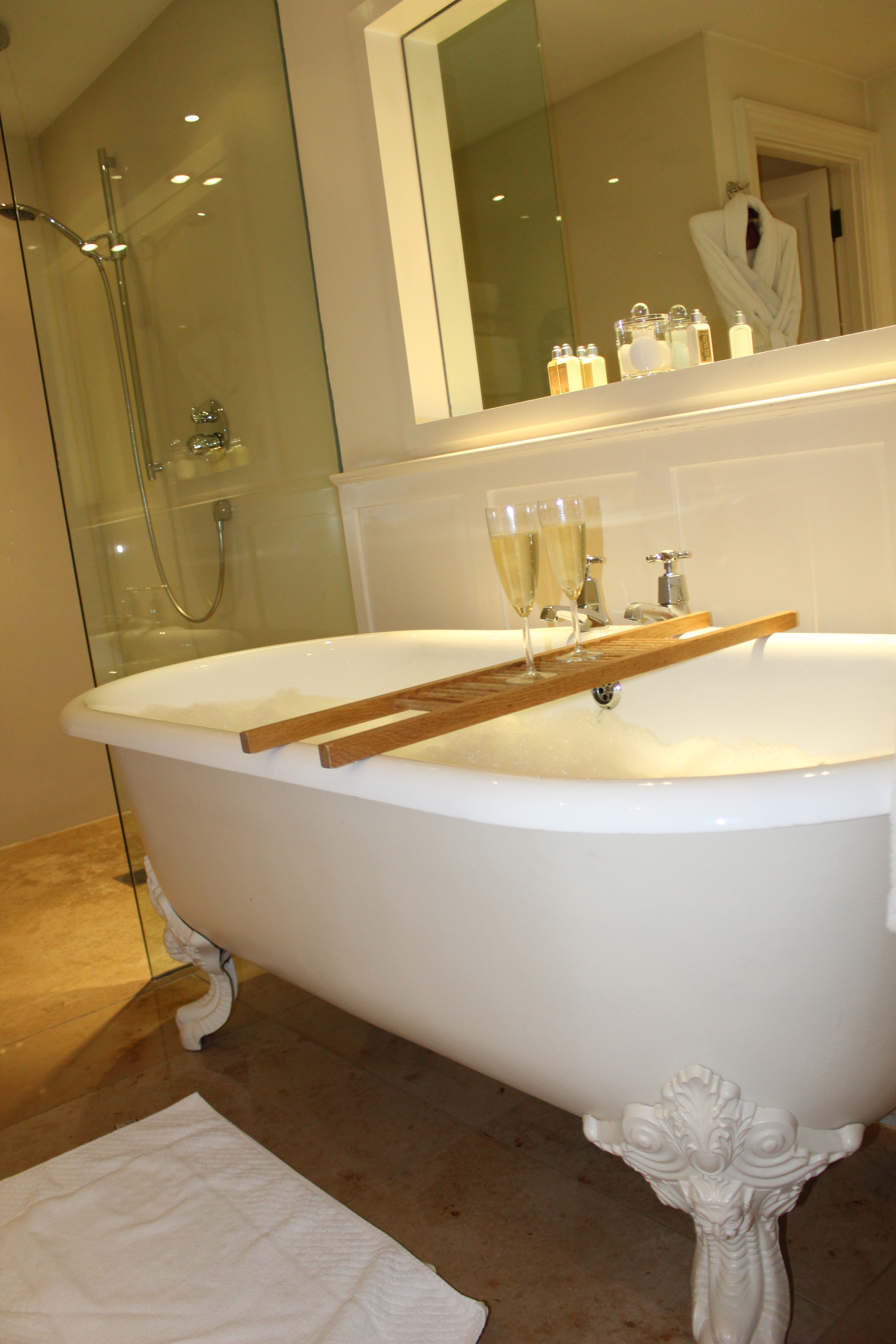 Continuing the theme of the hotel, our room along with the other 23 rooms and suites at Gidleigh are traditionally decorated, but have a very light and airy feel to them. The rooms had all the usual five-star perks including spring water from the Gidleigh estate, L'Occitane skin care and bath lotions (which smelled divine and made a very bubbly bath), slippers and bathrobes. Unlike our usual hotel stays Gidleigh didn't have a tea tray, but they have a pantry which is stocked with delicious homemade biscuits and lots of varieties of tea and coffee. The jury is still out for us as to whether this is preferred over having the facilities in your room.
After relaxing in our stunning room we excitedly made our way down for dinner. I'm very lucky as Mr B and I have stayed and eaten at some very, very lovely places, but we had yet to experience 2 Michelin star dining. I always have high expectations but that night they went up another level.
We started with pre-dinner cocktails on the veranda as the sun was still shining, but there is also the lounge, a bar and small conservatory were you can have drinks.
They have a small cocktail list but cover all the classics. My cocktail was a twist on the classic margarita and Mr B went for a sparkling wine-based cocktail, which were served traditionally but anything else wouldn't have felt right in this stunning location.
While sipping away we were given the menus. Gidleigh offers a seven or ten-course tasting menu along with an a 'la carte menu. Mr B and I had already decided we were going to have the seven-course menu, but being the picky Mrs I am, I asked if I could substitute the carrot course as I am not a fan. This was not a problem and I was not made to feel like I was being awkward or ungrateful like you do in some places when you ask for substitutes.
Here is our menu . . .
Eel

Torched eel, rillette and consommé, Granny Smith apple, aerated white chocolate and sesame, Oscietra caviar

Rabbit and Snails

Loin of rabbit, chorizo porridge, Aylesbury snail bolognaise, Amontillado sherry, braised celery, girolles

Carrot

Baked and smoked carrots, beetroot, organic goats curd, buckwheat milk

Mussels

St Austell bay mussels, charred baby gem, sardine dressing, braised onion, coal powder

Duck

Local duckling, black quinoa, braised cocks comb, nasturtium leaves and oil, hay smoked ricotta, textures of onions

Or

John Dory

Cornish john dory, sea vegetables, celery and leek, ratte potatoes in miso and Scottish langoustine

Bilberry

Baked meringue, bilberries, granny smith apple, salted granola, crispy yogurt, Mexican marigold

Yeast

Malt and yeast frozen cream, milk skin, malt styrofoam, caramel ganache, caramelised walnuts, Horlicks
The dining room is light and airy and has a formal yet relaxing feel to it. When seated we were given delicious canapes, a pre-starter and beautiful freshly baked bread (one of the best smells in the world I think!).
I won't go into detail about each and every course, but quite simply this is the finest dining experience we have ever had.
When each course was served our lovely server explained each element of the dish.
Every element on every plate was so cleverly thought out and the dishes were served in an order so that the plate you had previously didn't overpower the next.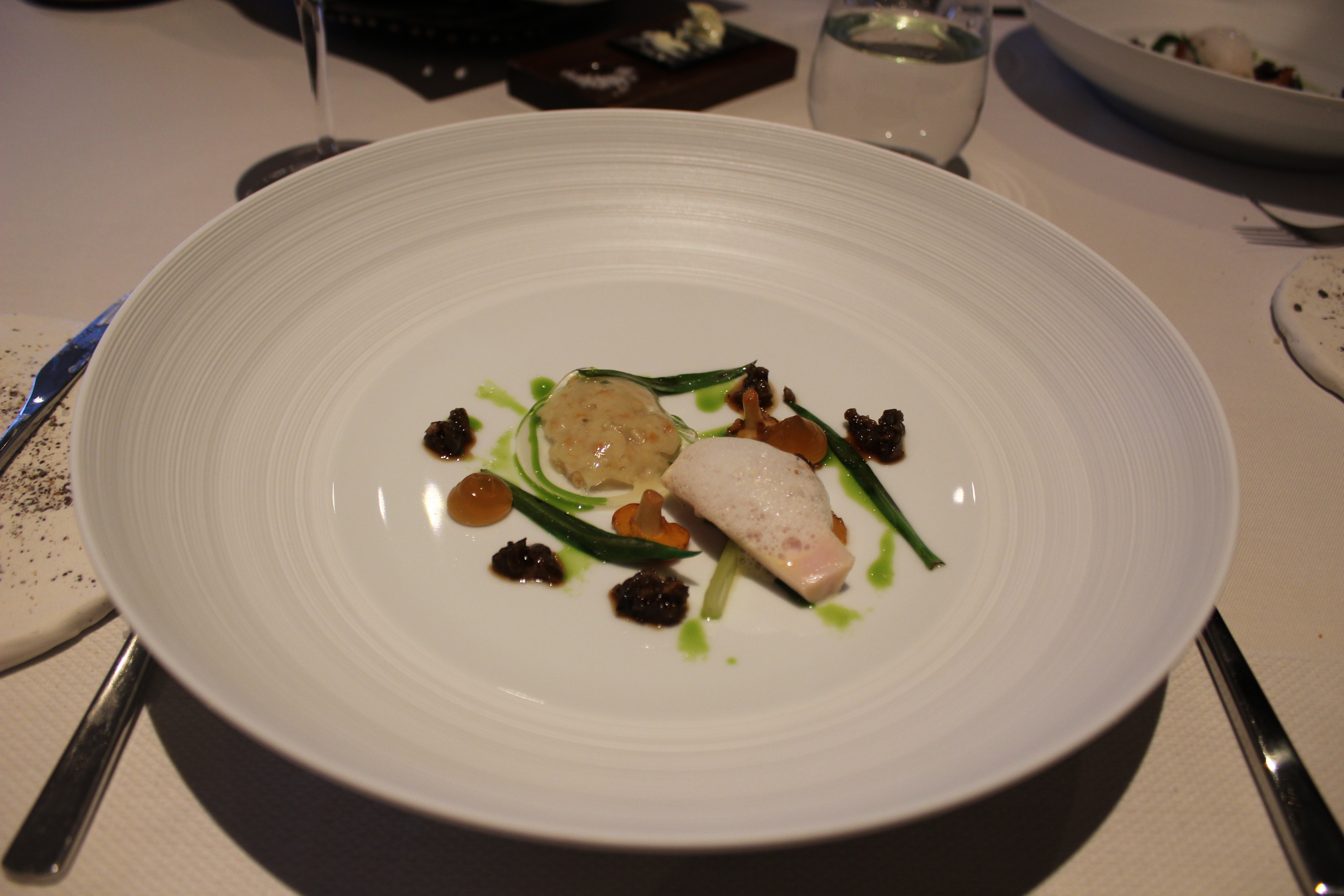 There were tastes, textures, smells and cooking techniques that we had not had before and each was a delight to the senses, sight, taste and smell.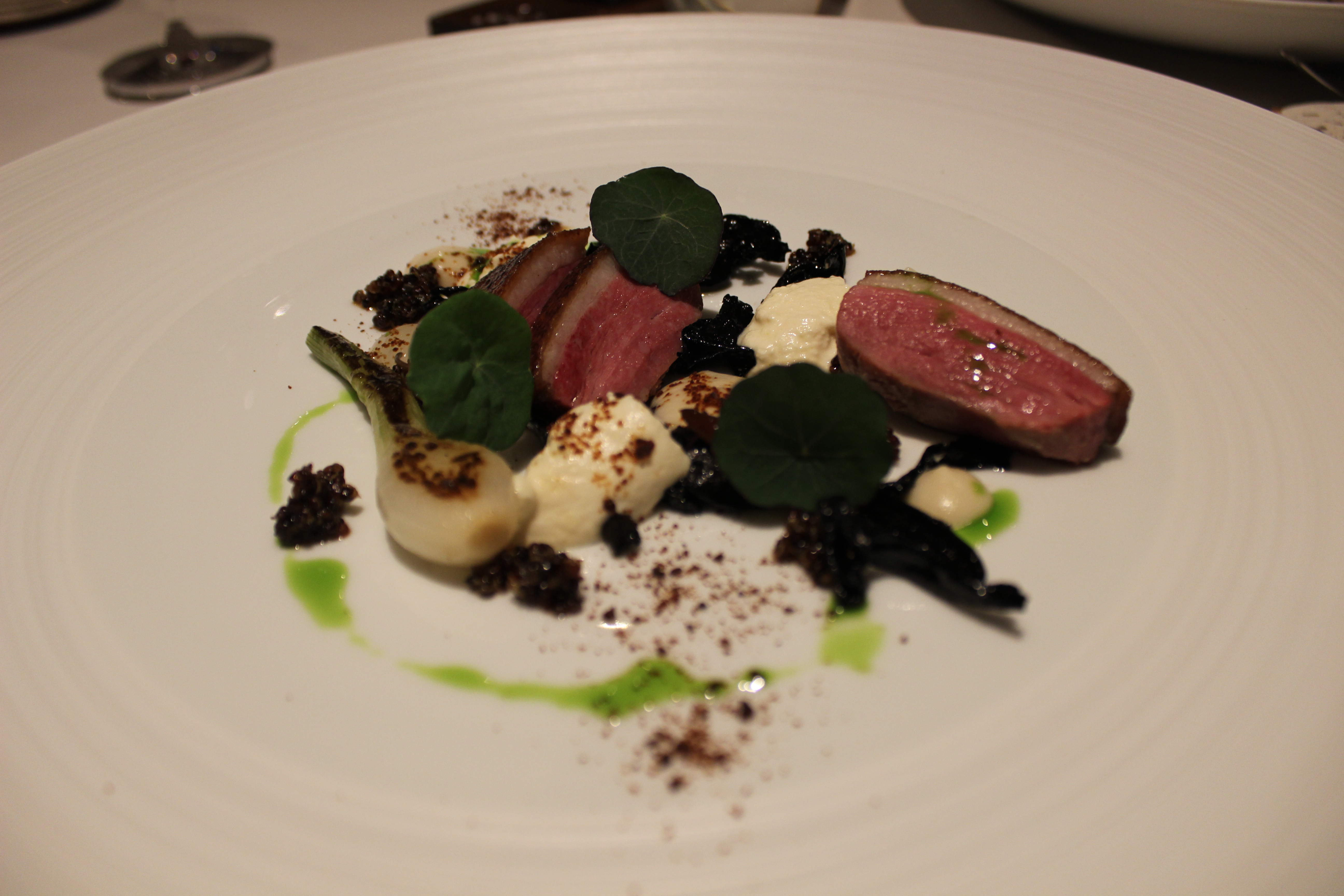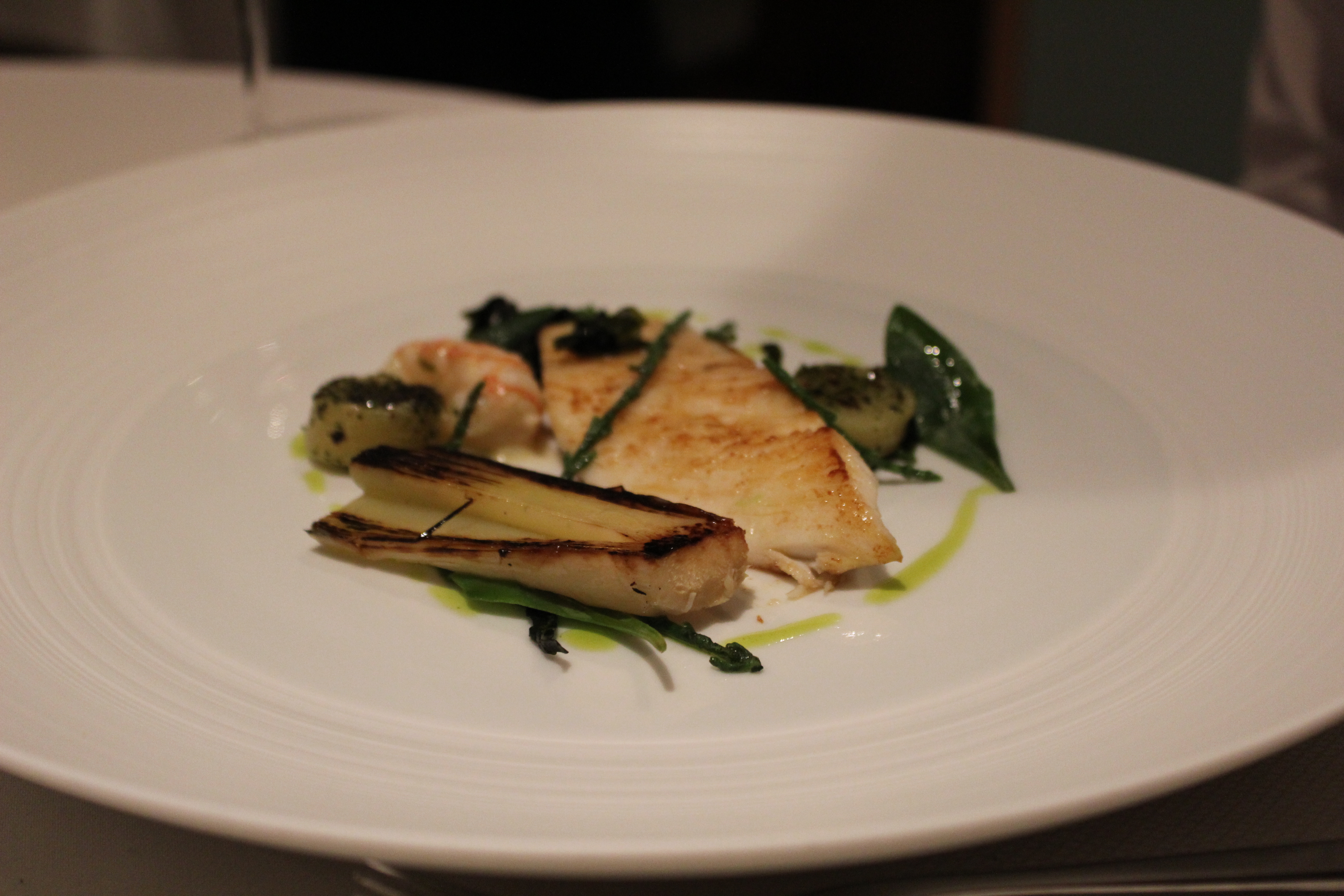 My favourite dish, which is very difficult to pick, would have to be the mussels, which consisted of St Austell bay mussels, charred baby gem, sardine dressing, braised onion and coal powder.
At the end of the meal we were disappointed it had come to an end, but also felt completely stuffed!
We finished off with coffee in the lounge which also came with a bite-size black forest gateau. It would be rude not to wouldn't it!
I appreciate this kind of dining experience isn't for everyone, however, if you do enjoy and appreciate fine dining and the experience of a tasting menu, this has to be the ultimate. I can't really imagine a meal living up to this standard again.
As there are no tea and coffee making facilities in the rooms you are asked if you would like drinks brought to you in the morning when you get up. This is a lovely touch and one I appreciated, so before you head down breakfast you have your requested tea/coffee tray delivered, ours came with homemade shortbread and a small vase with fresh flowers. We sat in our lovely fluffy robes and admired the view yet again out of our window.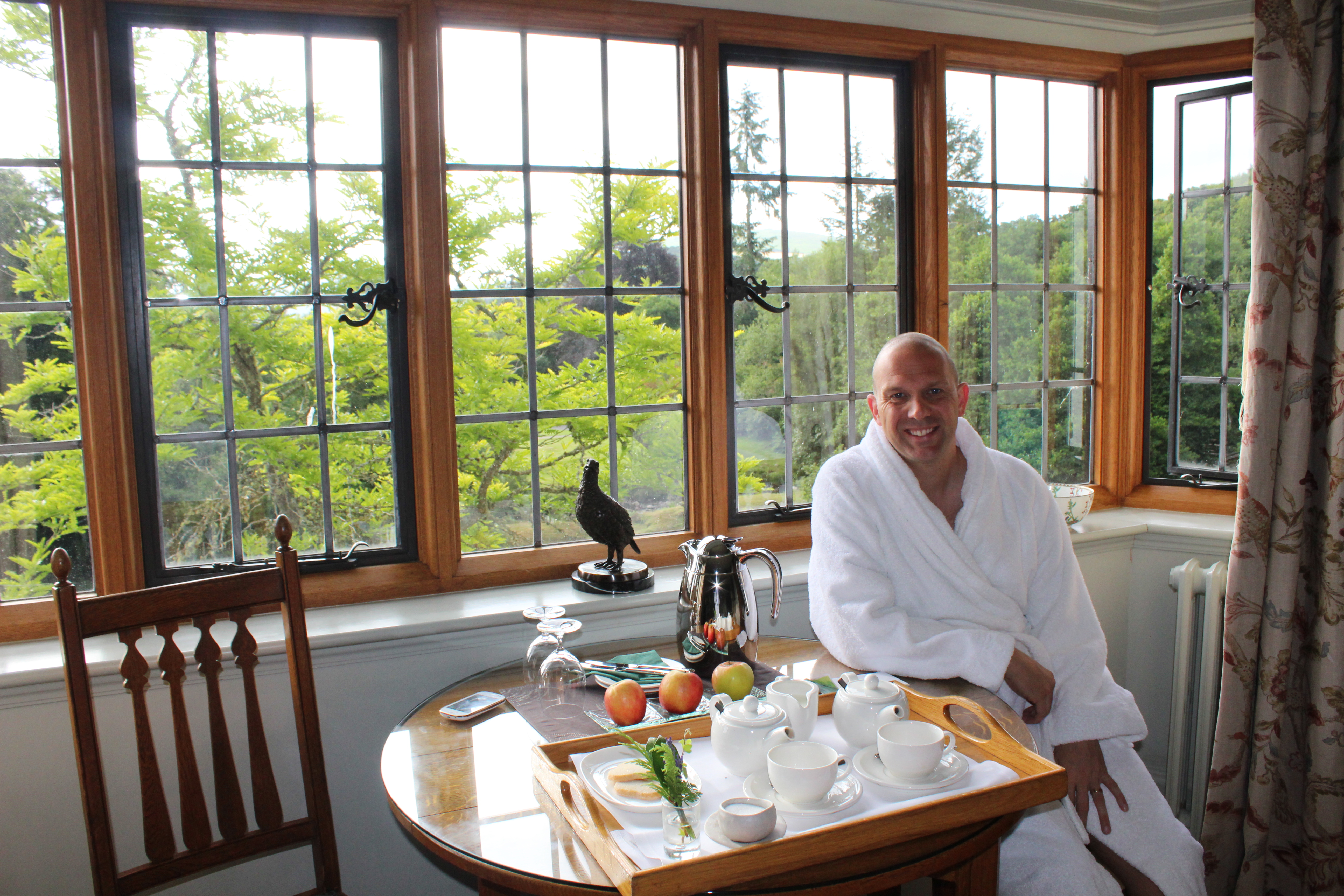 Breakfast was relaxed but still had the delight of formal service. There was a lovely selection of homemade breads, cheese, meats and cereals to choose from. From the menu I choose eggs benedict and it was full English for Mr B. It was a perfect eggs benedict which had sharp hollandaise and perfectly poached eggs with delicious oozing yolks.
We decided to walk off some of our breakfast with another stroll around the grounds. If you are visiting you must make time for this as the grounds are so immaculately kept and a bit like a secret garden. Just when you think you have come to an end you discover another walkway or hidden garden.
To summarise, a stay at Gidleigh will certainly leave a hole in your pocket, but for us it was a once in a lifetime experience. I can't imagine anyone being disappointed with a visit to this incredible place. You don't have to stay over at Gidleigh to sample the fantastic food, you can also just visit for lunch, dinner or afternoon tea. Booking is essential as you can imagine this luxury 2 Michelin star establishment is in high demand!
Gidleigh Park Hotel, Chagford, Newton Abbot, TQ13 8HH
01647 432367