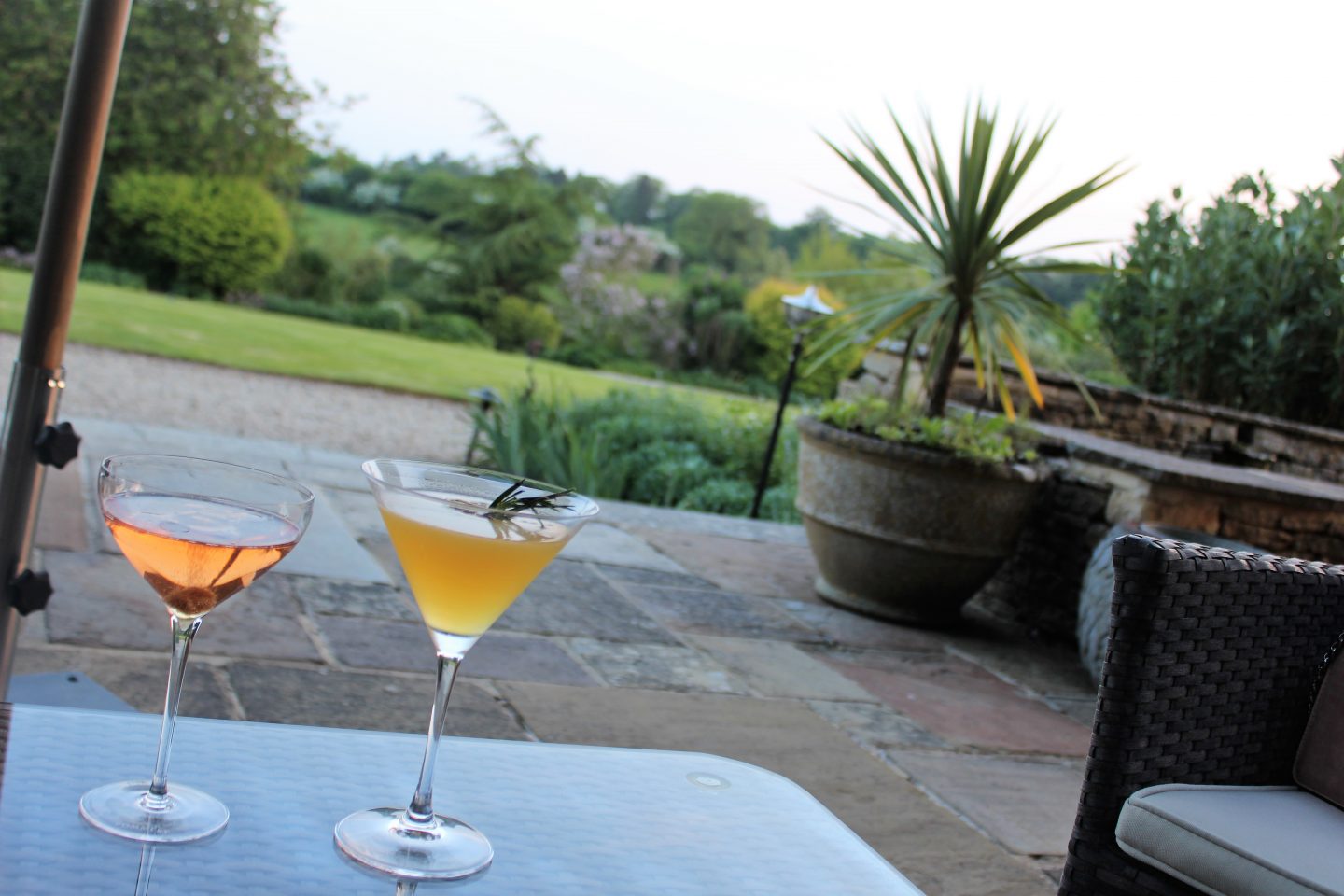 As well as the beautiful hotel, relaxing spa and our luxurious room, Whatley Manor holds another jewel – a stunning Michelin star fine-dining restaurant simply called 'The Dining Room'. The restaurant's executive chef Niall Keating recently won 'Michelin's Young European Chef of the Year 2018′ and I had very high expectations for the tasting menu we were going to experience.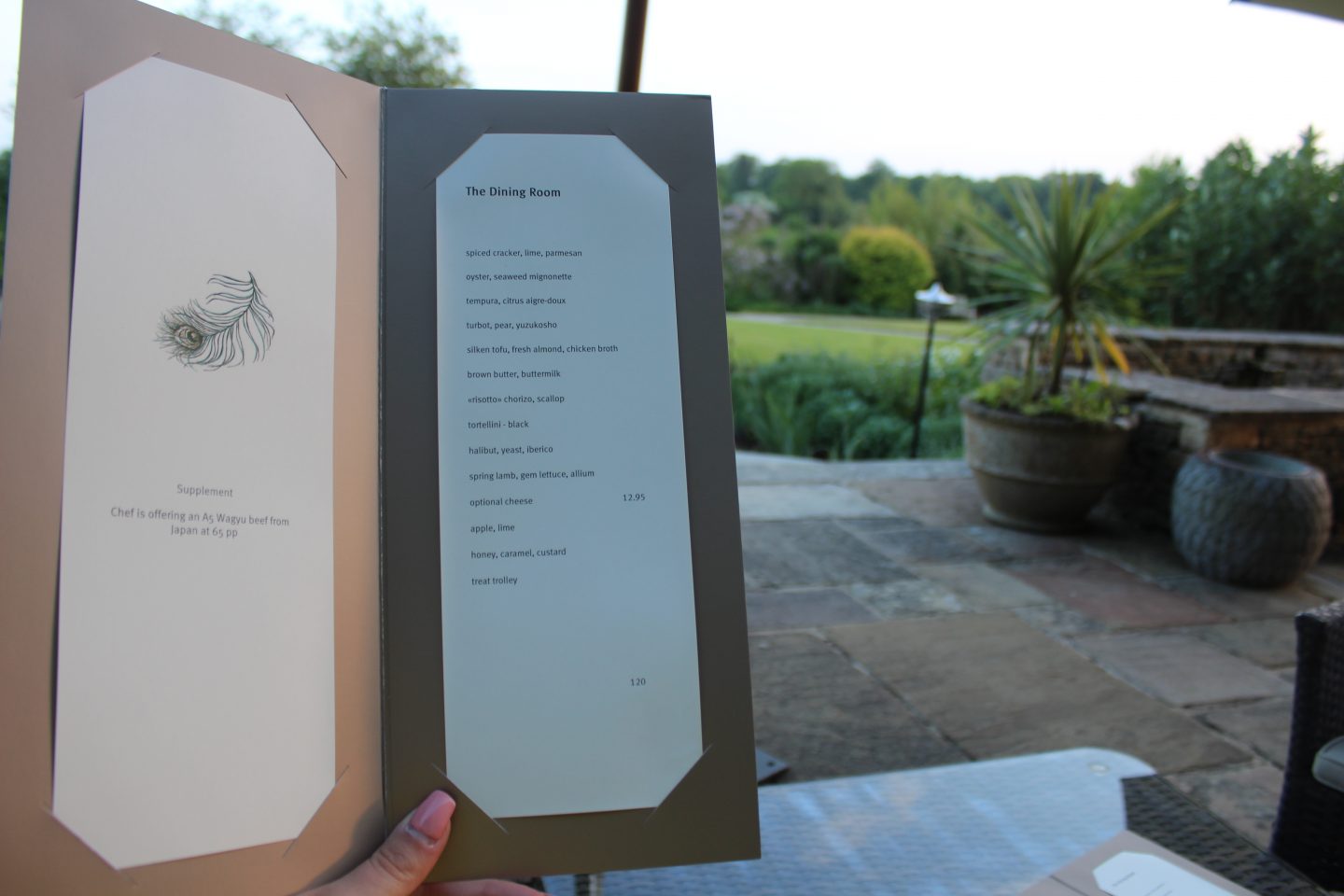 As we were lucky enough to enjoy stunning weather during our stay we started our evening with cocktails on the hotel terrace. With beautiful views over the grounds it looked like the gardens went on forever. We even spotted a couple of bunny rabbits!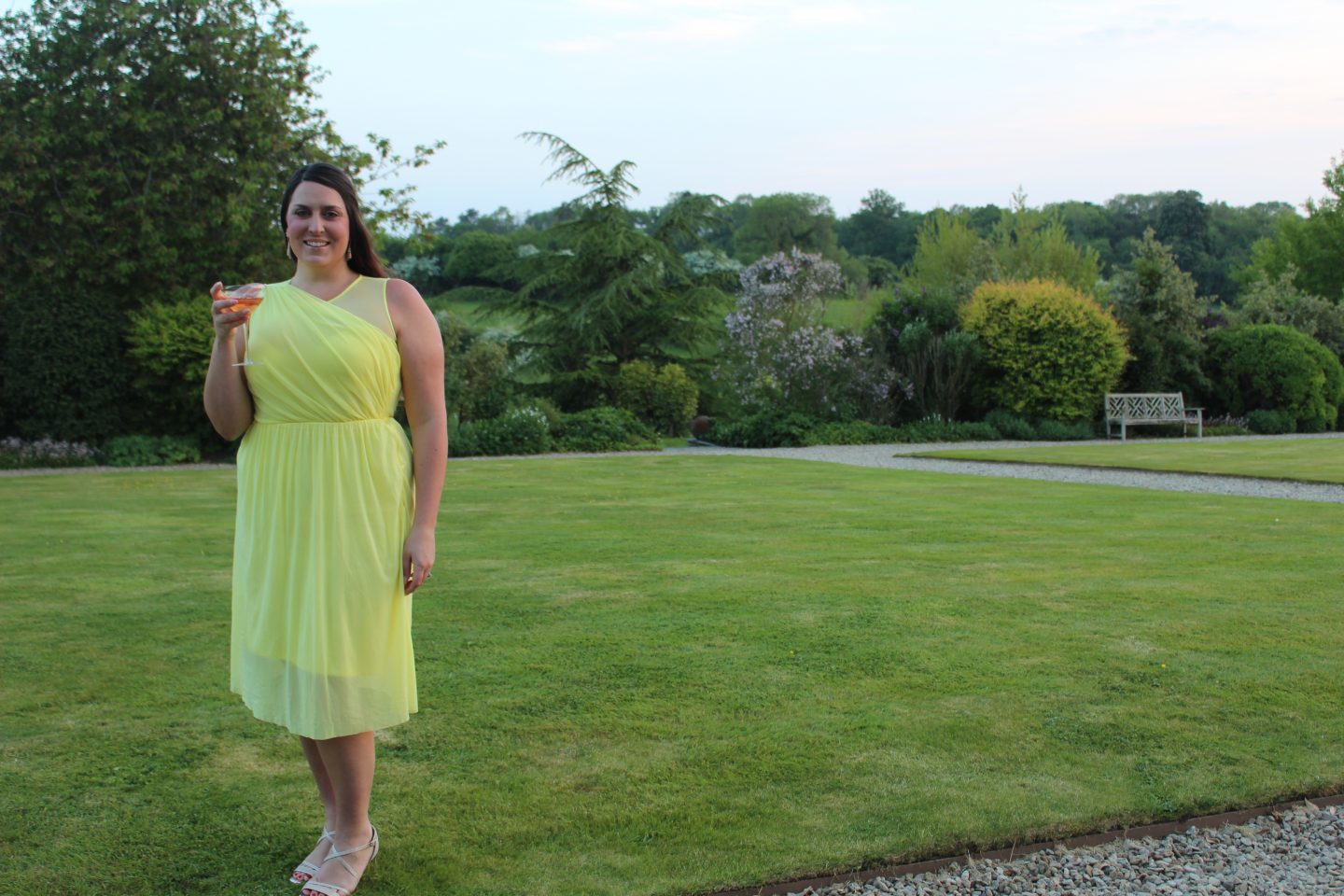 I opted for the hotel's champagne cocktail with rose finished off with a sugar cube which fizzed when it was dropped into my drink. Mr B couldn't quite decide between two drinks on the menu so the fabulous sommelier said he would take elements from each one and make him something suited to the beautiful sunny weather.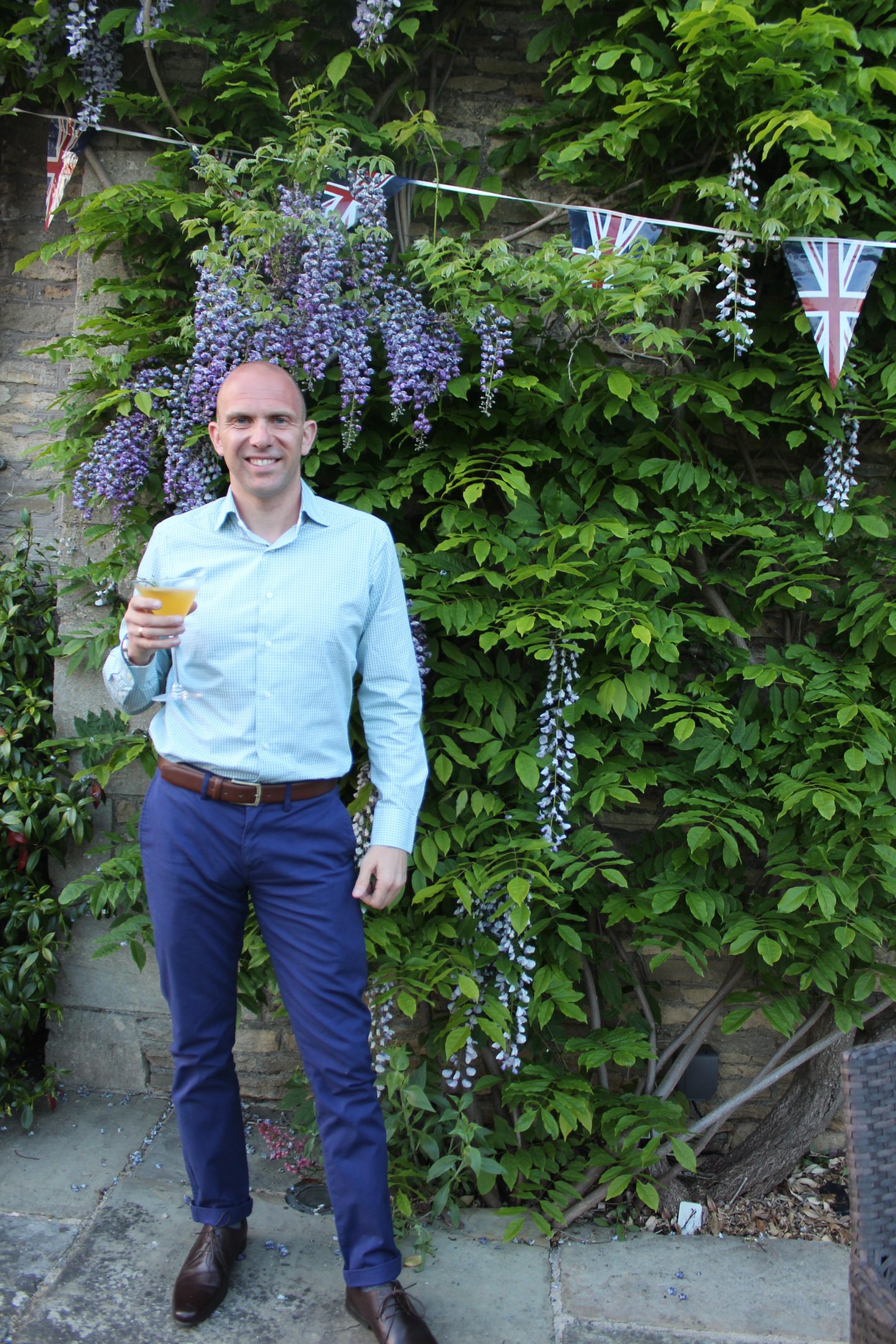 We spoke to the sommelier and let him know we were happy to leave the wine pairings up to him and we couldn't fault any of them, including a fantastic German Riesling which we were both surprised we loved!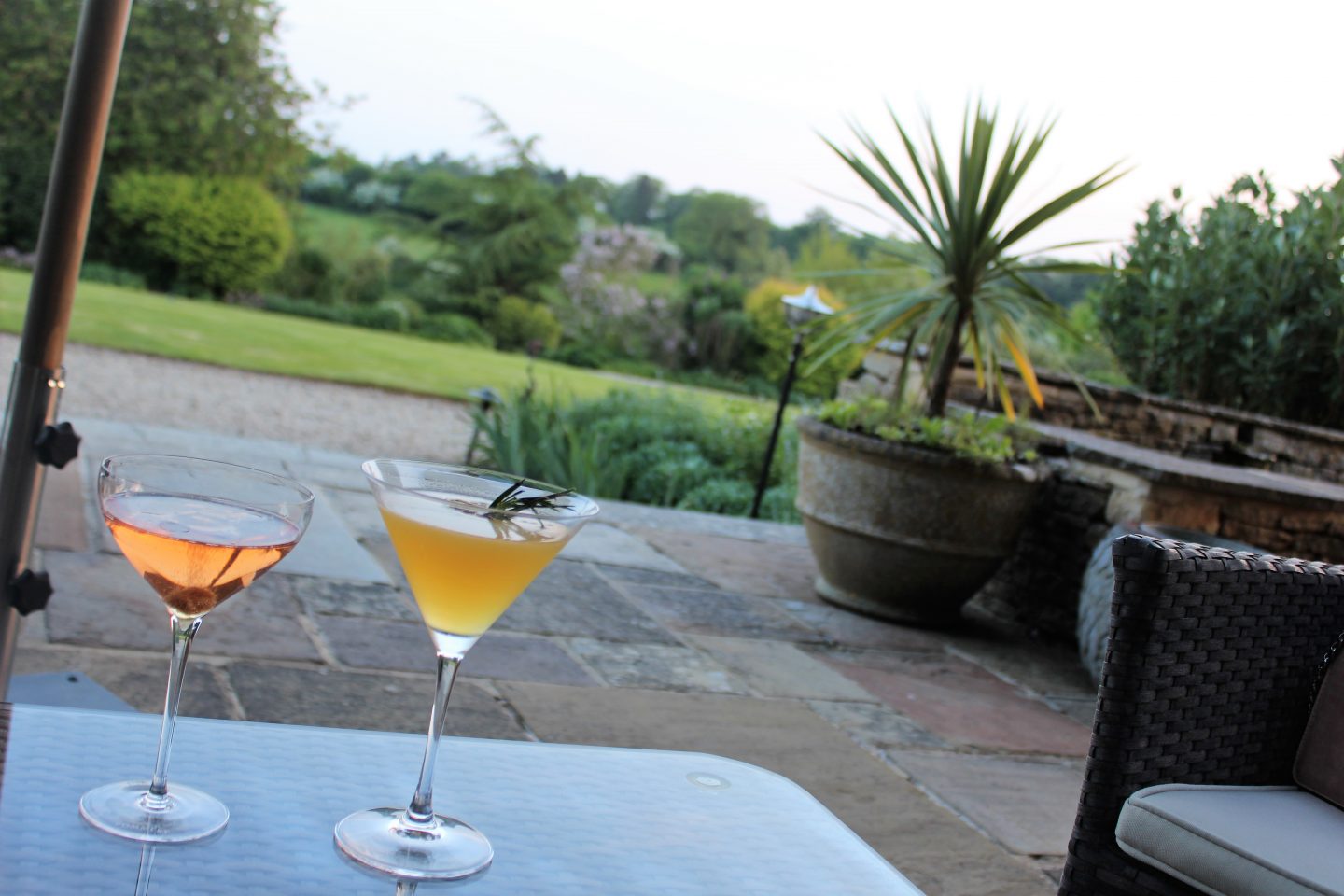 Our first two courses arrived in the form of a 'Spiced cracker, lime, parmesan' and 'Oyster, seaweed mignonette'. The cracker was fantastic! I love parmesan and the cracker was very generously covered with it. You could taste the citrus from the lime and the spices from the Japanese 7 spice. I do like oysters, but only if they are very fresh. I can really taste the difference so I'm always a bit wary of having them, but of course I needn't have worried as the oyster was fresh and the mignonette was zingy and refreshing.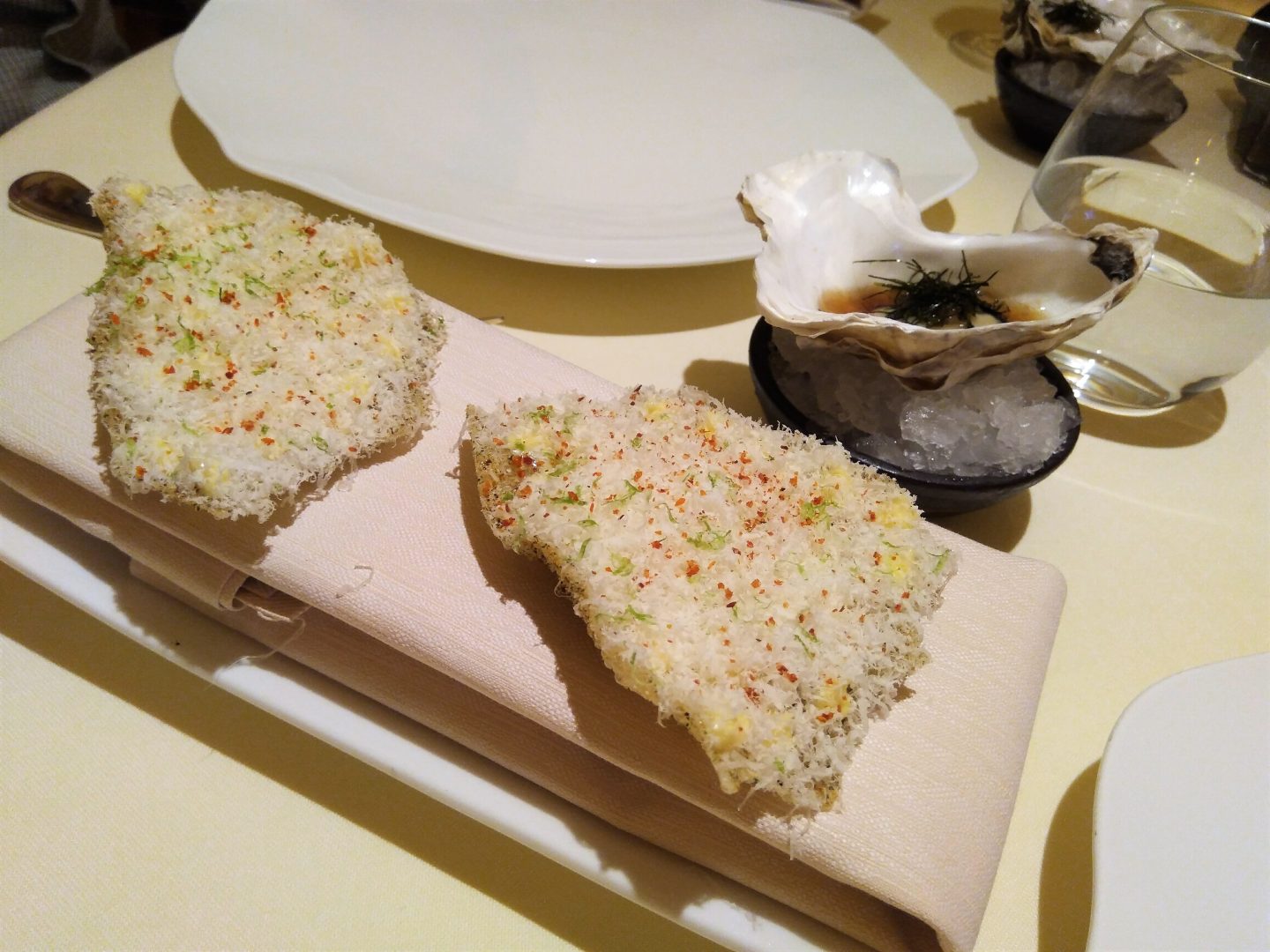 The next two treats were 'Tempura, citrus aigre-doux' and 'Turbot, pear, yuzukosho'. . . the tempura was crisp and delicious and the Turbot fresh and light.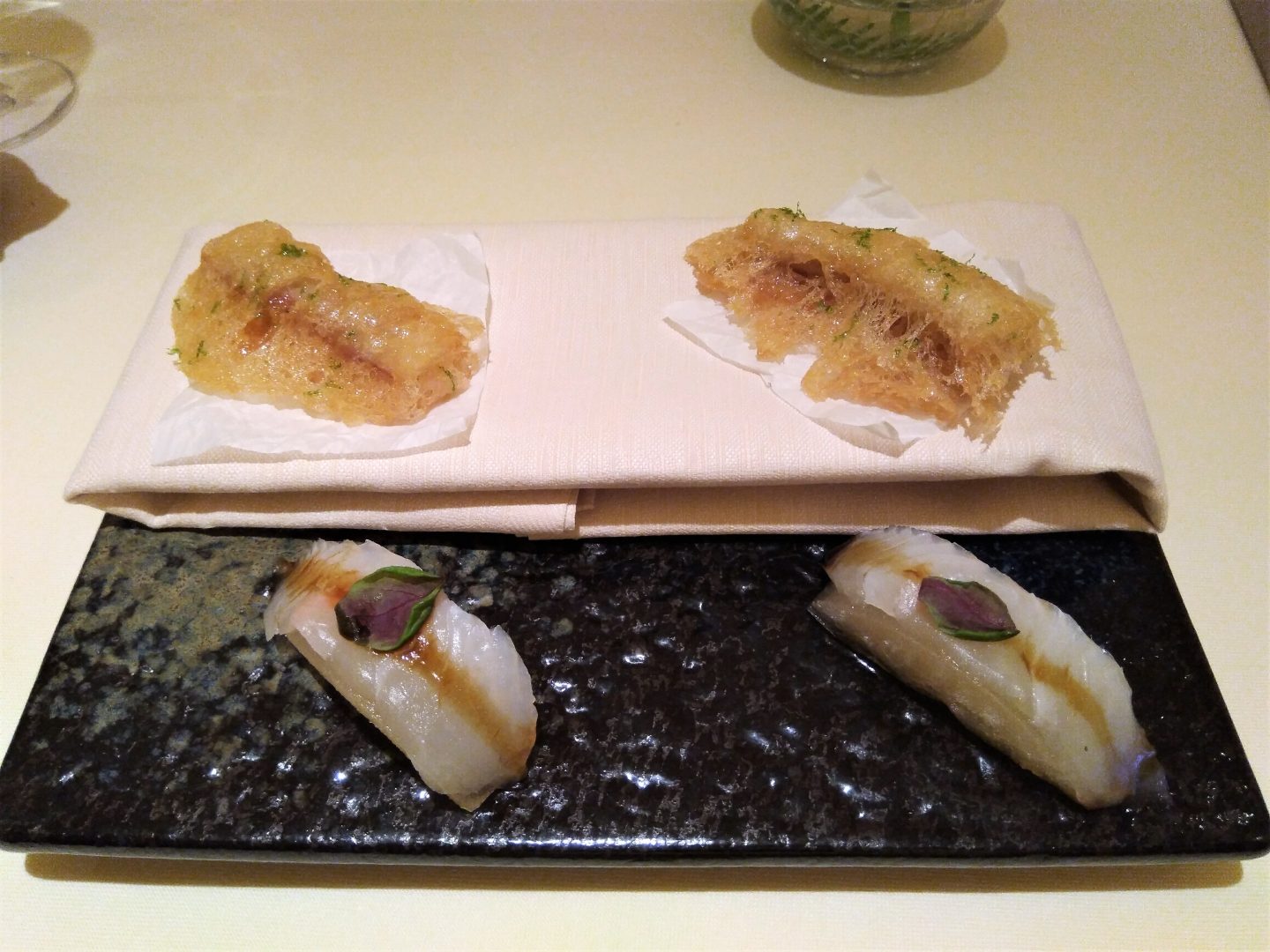 Our fifth course really took me by surprise – 'Silken tofu, fresh almond, chicken broth'. I've never had tofu cooked in this way before. It had the most beautiful smooth texture and was very light. The chicken broth packed so much flavour and Mr B and I both agreed this was a standout dish.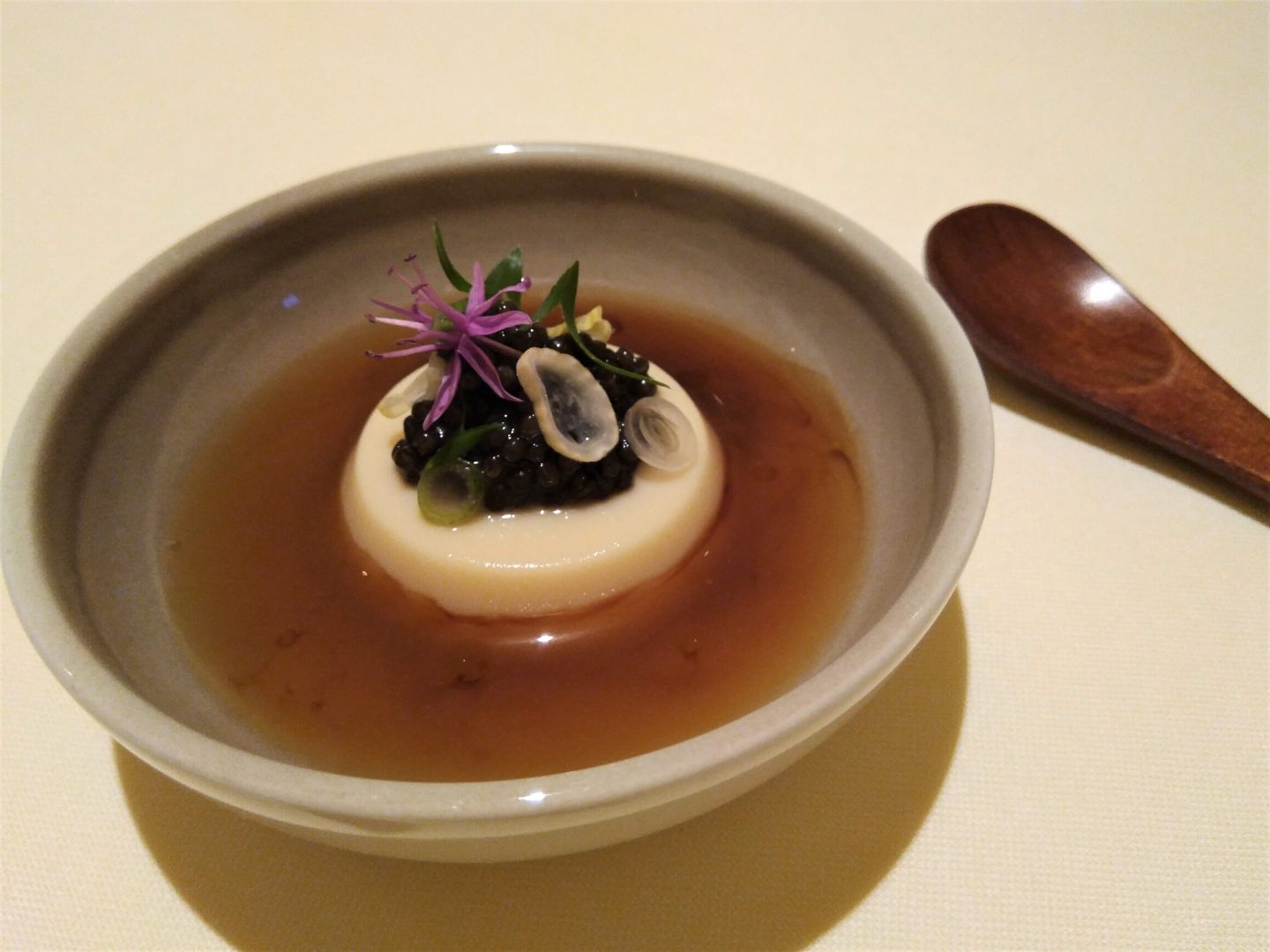 There are mixed feelings out there about bread being served as its own course, but I love it. I think fresh, top quality bread paired with a delicious flavoured butter deserves to be served as a course and you won't hear any complaints from me.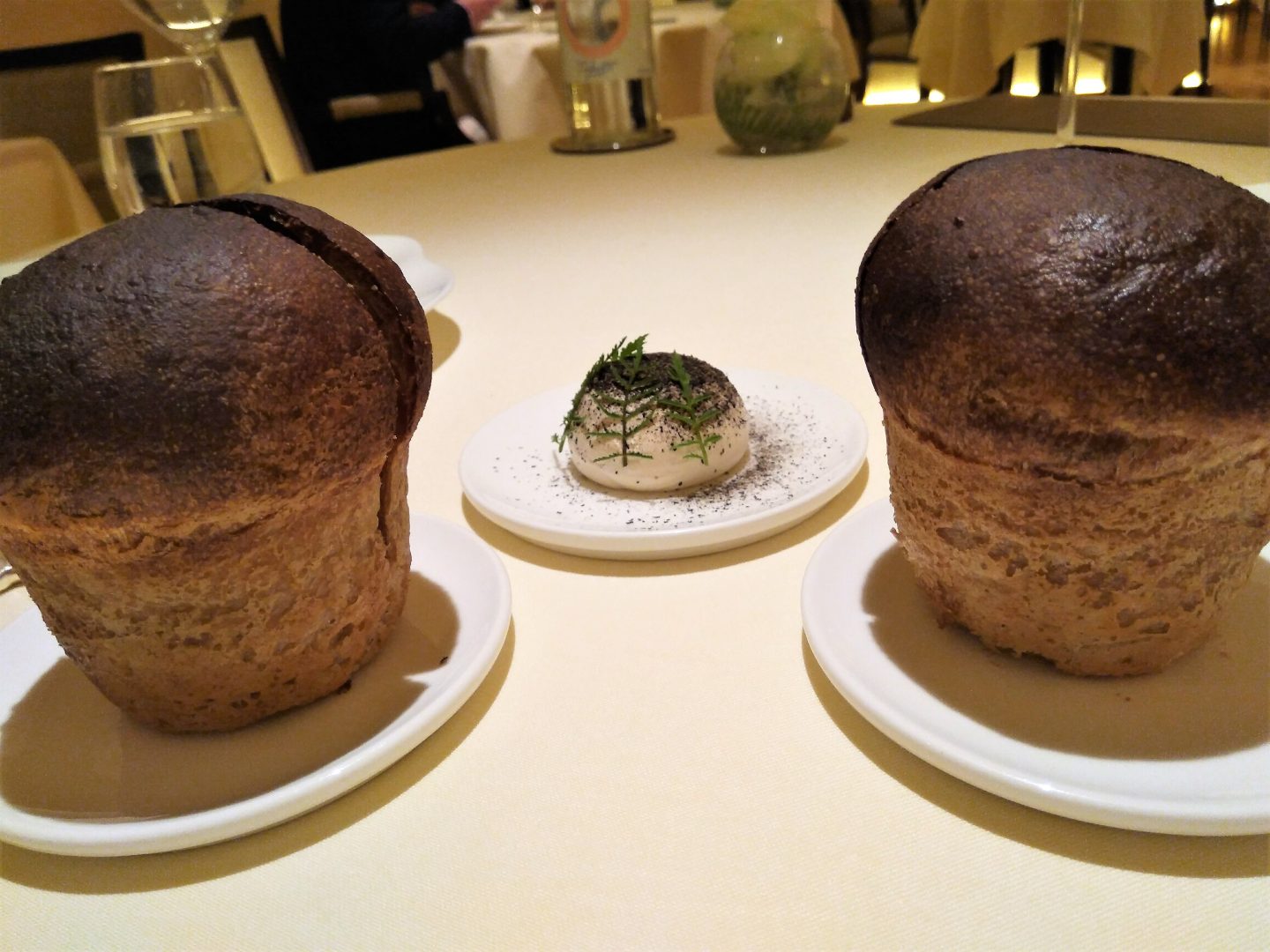 Remember how I said the tofu was a standout dish? Well that was before we had this . . . 'Risotto, chorizo, scallop'. I adore all three elements and it was cooked to perfection. The balance of flavour was perfect . . . al dente risotto, spicy chorizo and beautiful scallop. It was absolutely delicious and this was Mr B's favourite dish.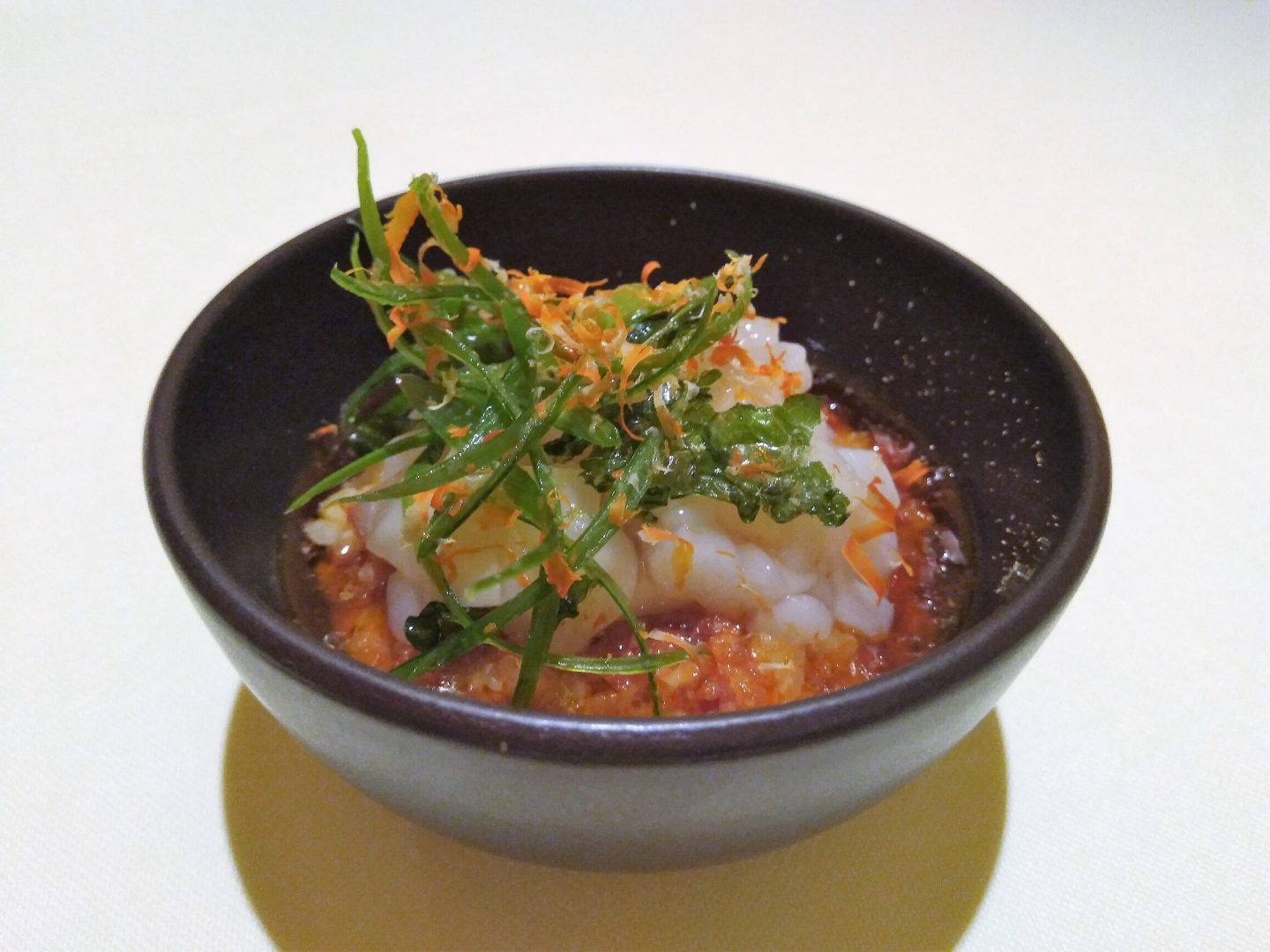 'Tortellini, black' looked very striking. The filling and broth packed so much flavour, from the fine pork in the tortellini to the delicate Asian flavours in the broth. You could taste the different flavours hitting your pallet and of course the pasta was beautifully thin.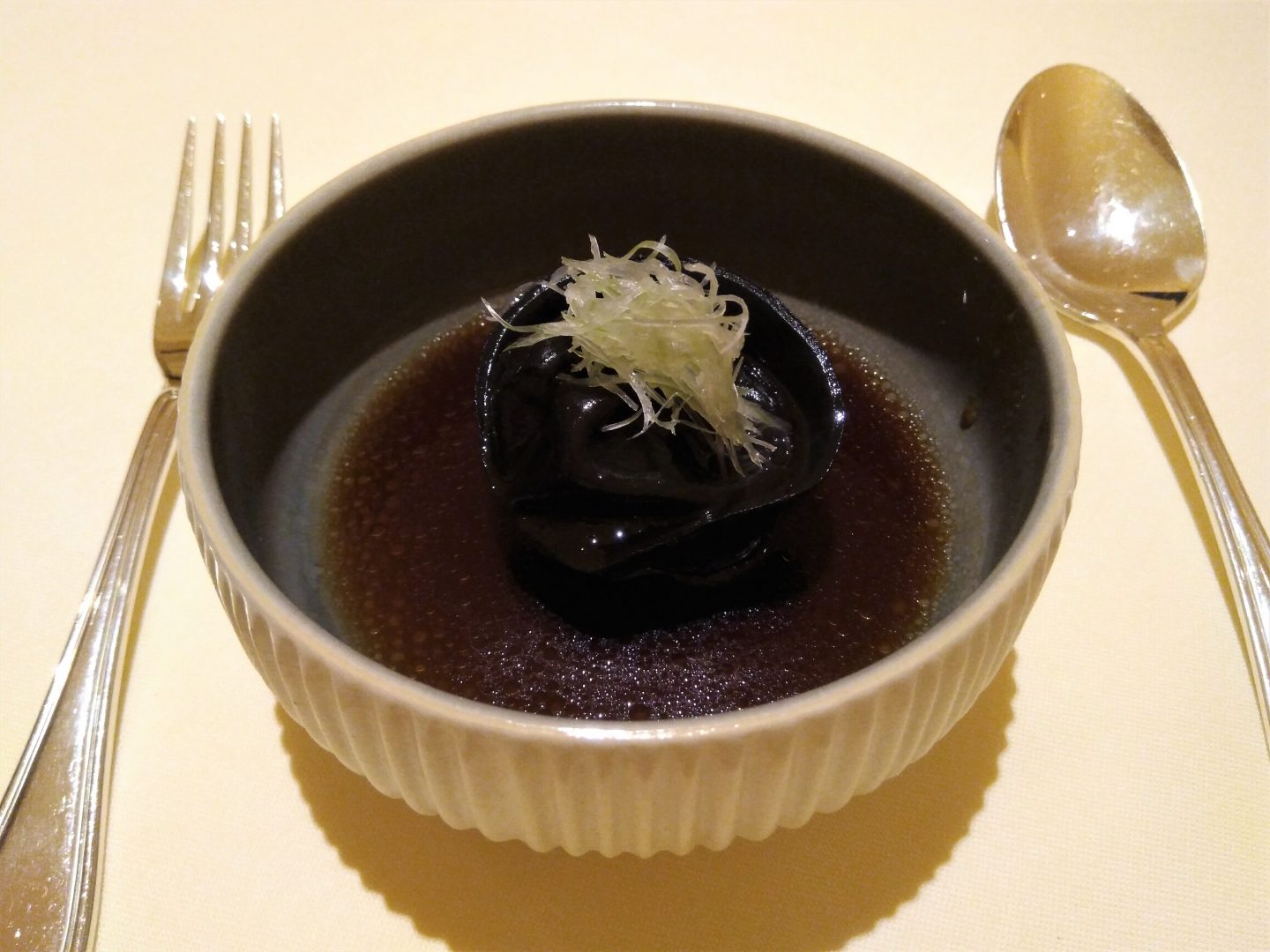 I decided, that was my favourite dish . . . until I had the next course – 'Halibut, yeast, iberico'. This dish was so delicate. The fish was cooked to perfection, melted in the mouth and the beurre blanc sauce was stunning. I could have done with some more bread to mop it up! Not that I would have done that in a Michelin star restaurant (not if anyone could see me anyway). So now I had two favourite dishes!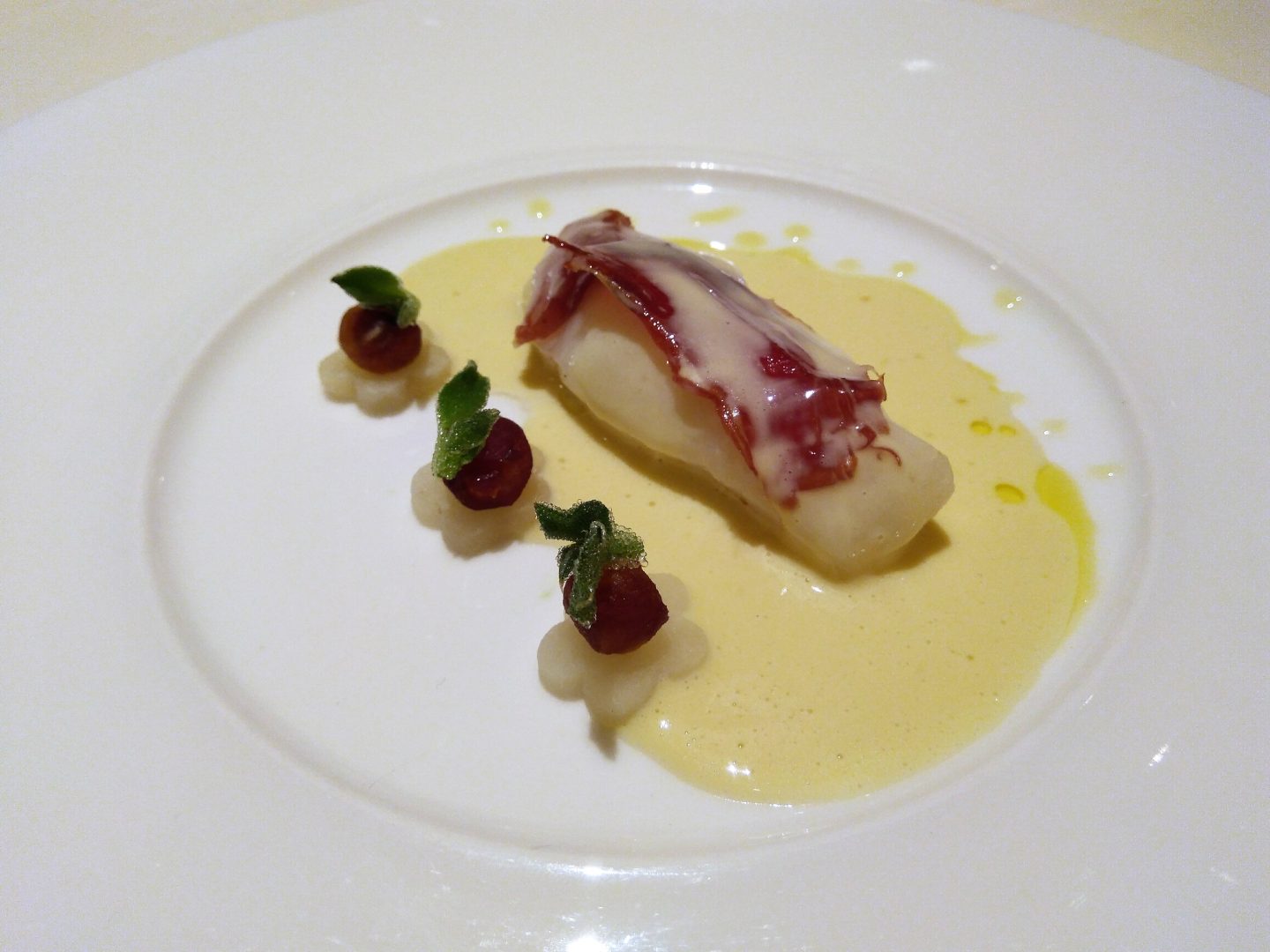 Our final main course was 'Spring lamb, gem lettuce, allum', it was pure spring on a plate! The lamb was perfectly cooked and the different cooking of the mushrooms added lovey textures and earthiness to the dish.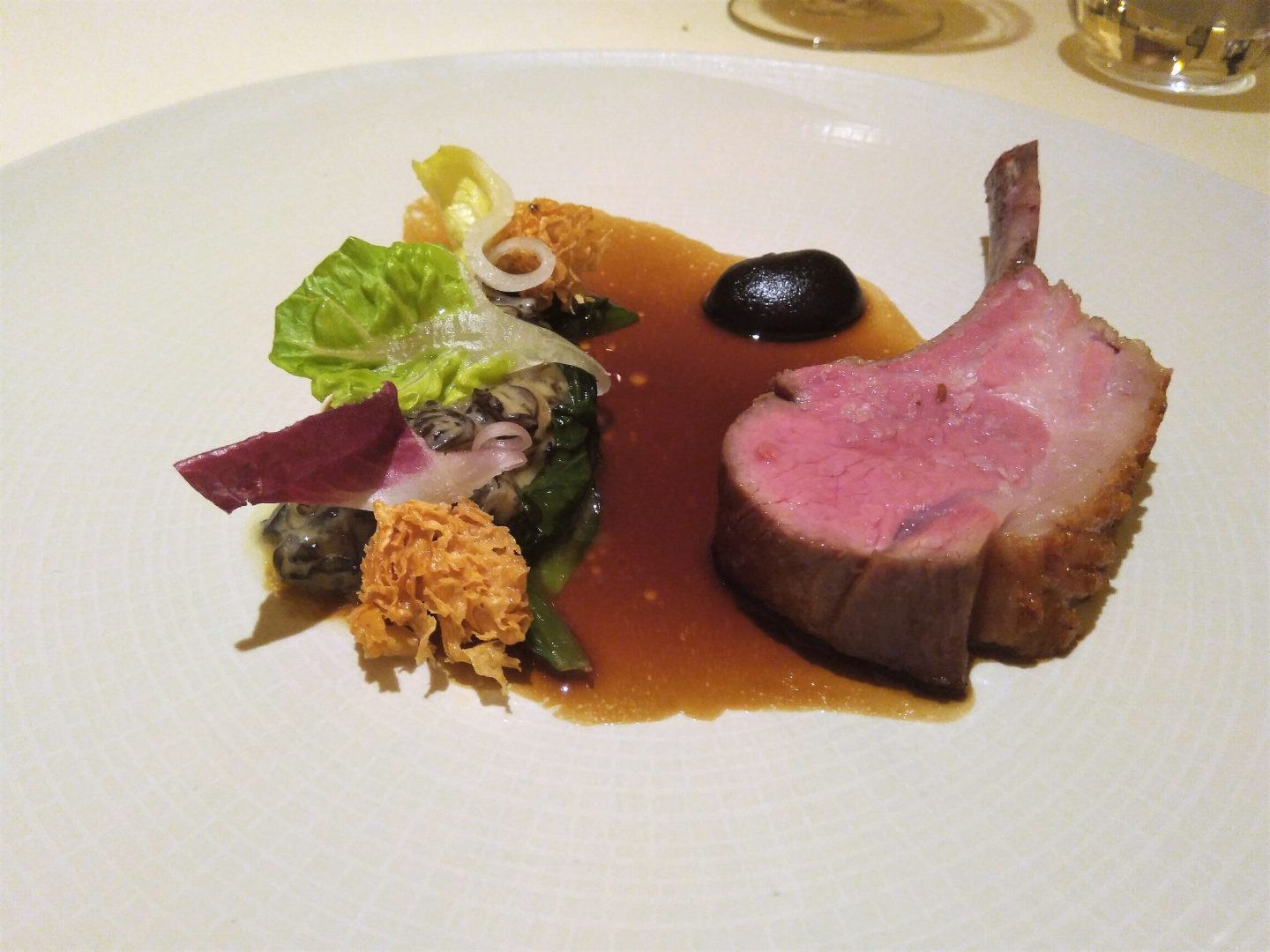 Mr B and I are never ones to pass on the optional 'Cheese course' and boy are we glad we didn't! This was not a cheese course by ordinary standards, but it ticked so many boxes for us. A light and fluffy waffle topped with beautiful strong blue cheese, chutney and a crumb topping, it was sweet and salty at the same time. The only problem is now, every time I have cheese I want it on a waffle!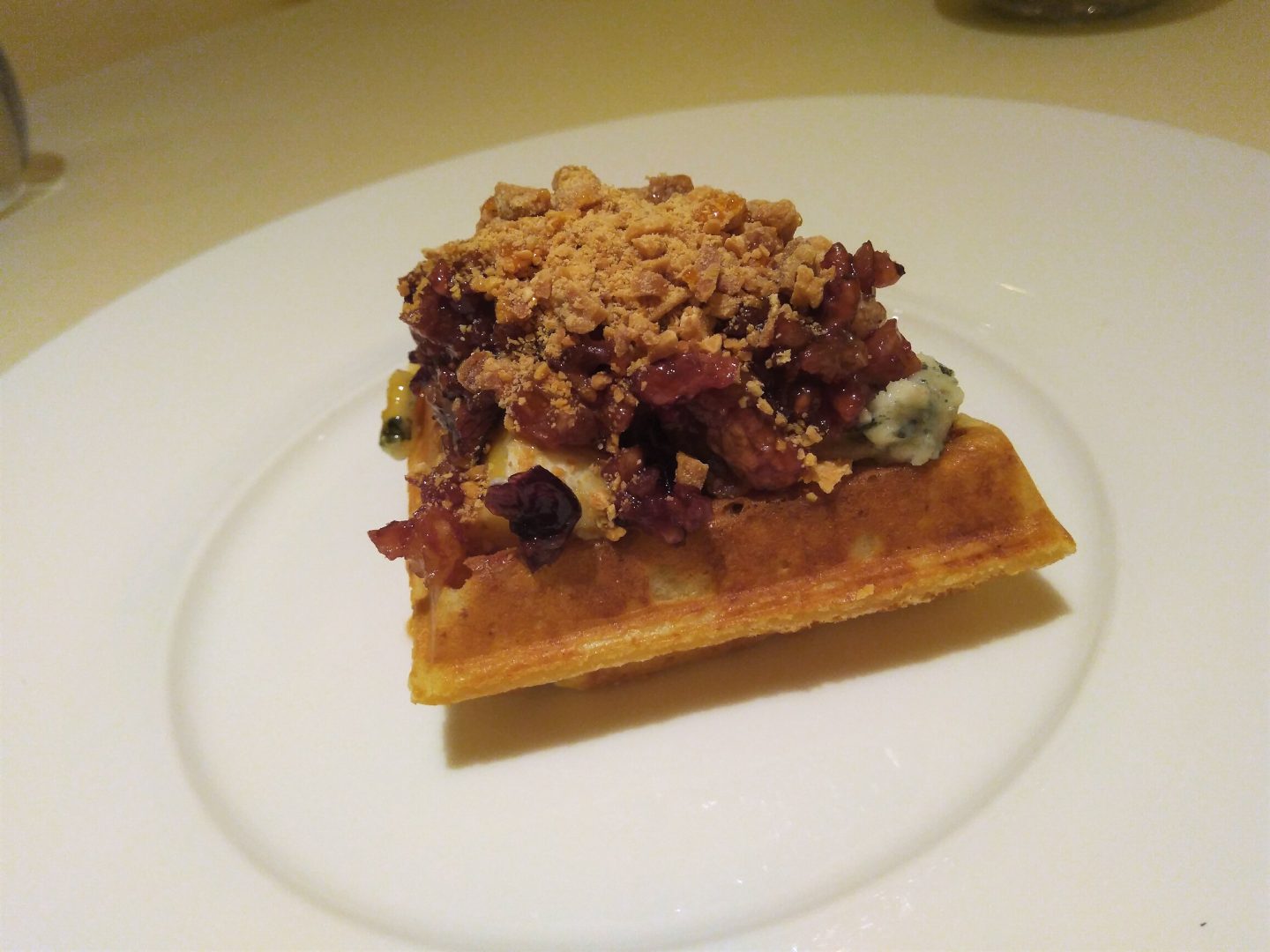 The dessert was made for me! 'Honey, caramel, custard' – a delicate honey parfait with a sweet white chocolate disk and beautiful tapioca custard. It was faultless and there was not one grain of tapioca  left in my bowl.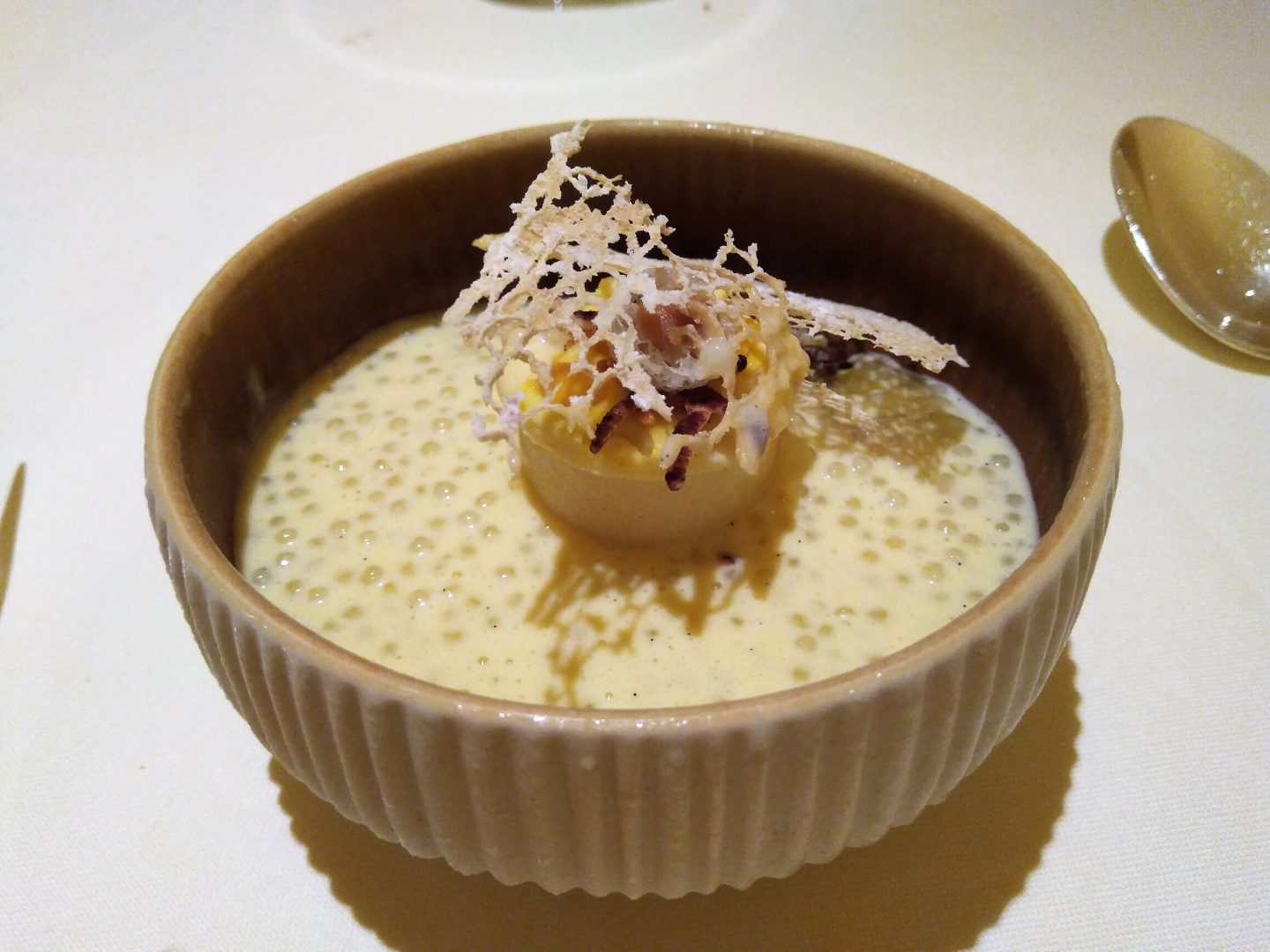 Just as we were talking about how perfect our last dish was, out came the 'Treat trolley'. . . well you have to having something sweet with your after dinner coffee don't you? Mr B and I, of course, had one of each . . . it was too hard to decide otherwise! There was a fantastic Choux au Craquelin, a white chocolate and lavender bite, a beautiful macaroon and a chocolate truffle.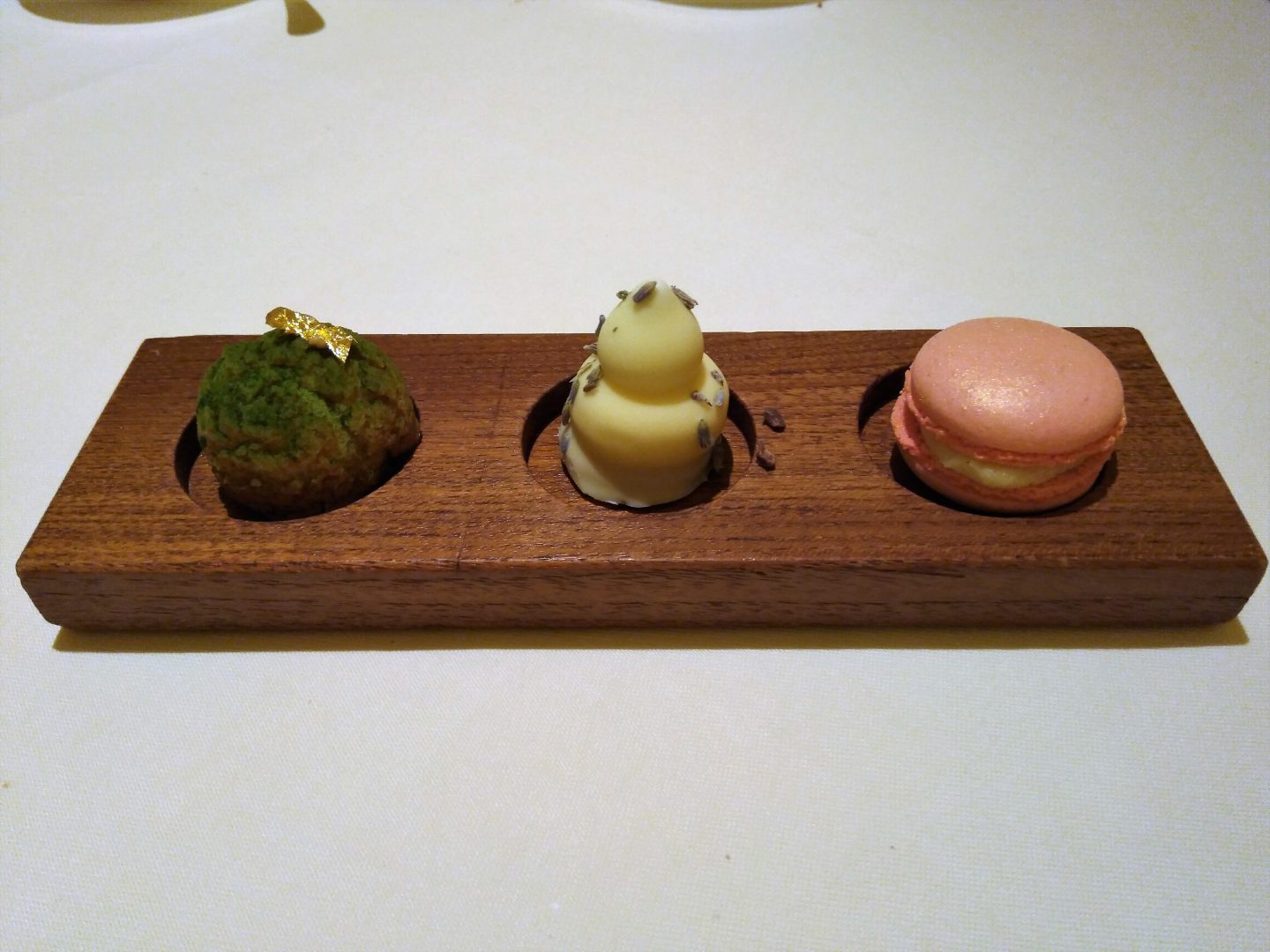 A perfect meal with perfect wines and perfect service. But Whatley Manor still had some work to do as we still had breakfast and lunch to go, which had a lot to live up to!
The next morning we walked into the breakfast room and were seated at a window table. The tables were adorned with crisp white linens, silver crockery and fresh roses. We were offered options of tea and coffee, fresh juices and toast.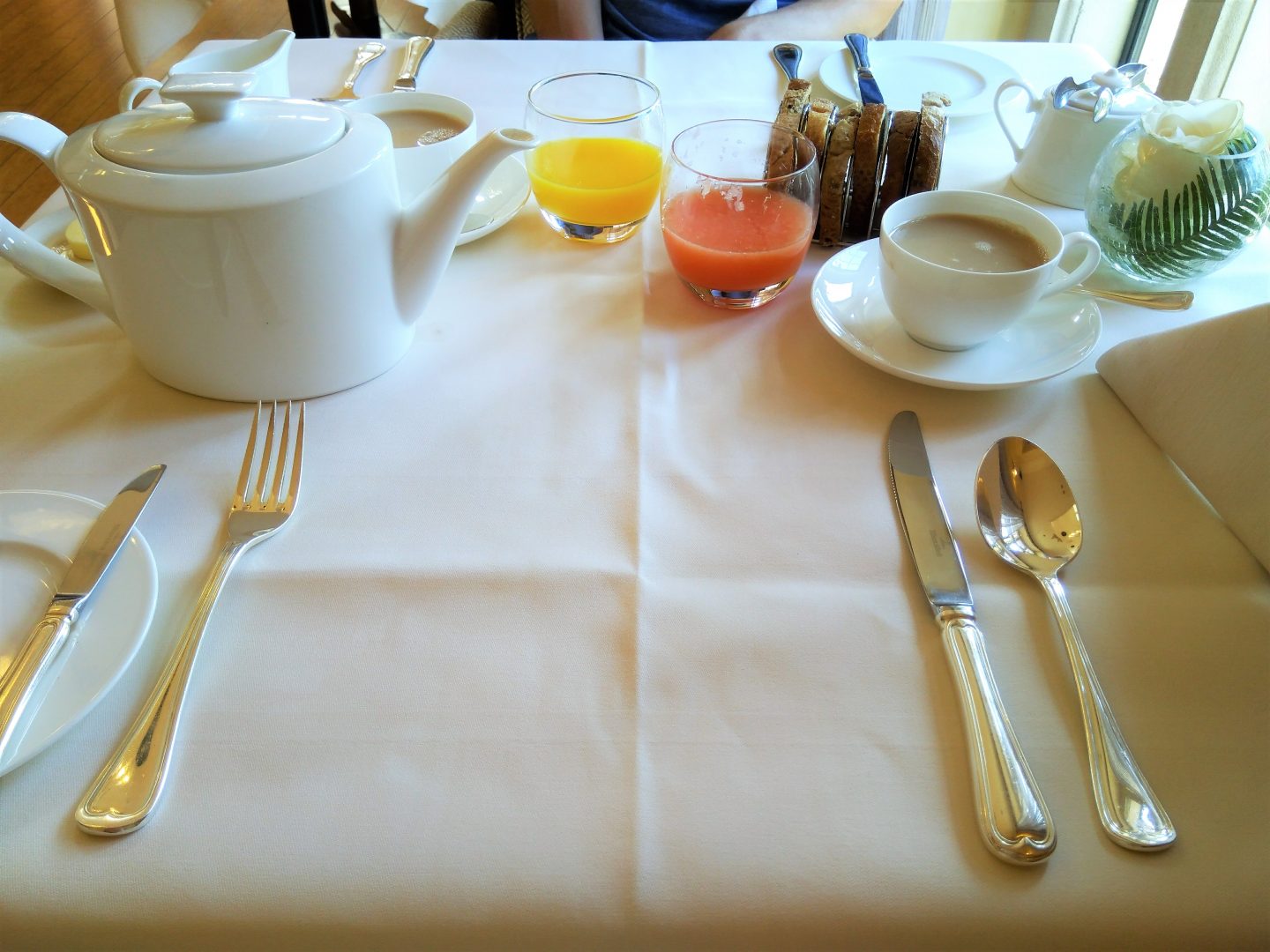 As we waited for our breakfast we perused the table of continental options. It was a small offering, but a lovely selection of fresh flaky croissants, cereals, yoghurts and fresh fruit salads. It would have been nice to see some cheeses and a few continental meats perhaps.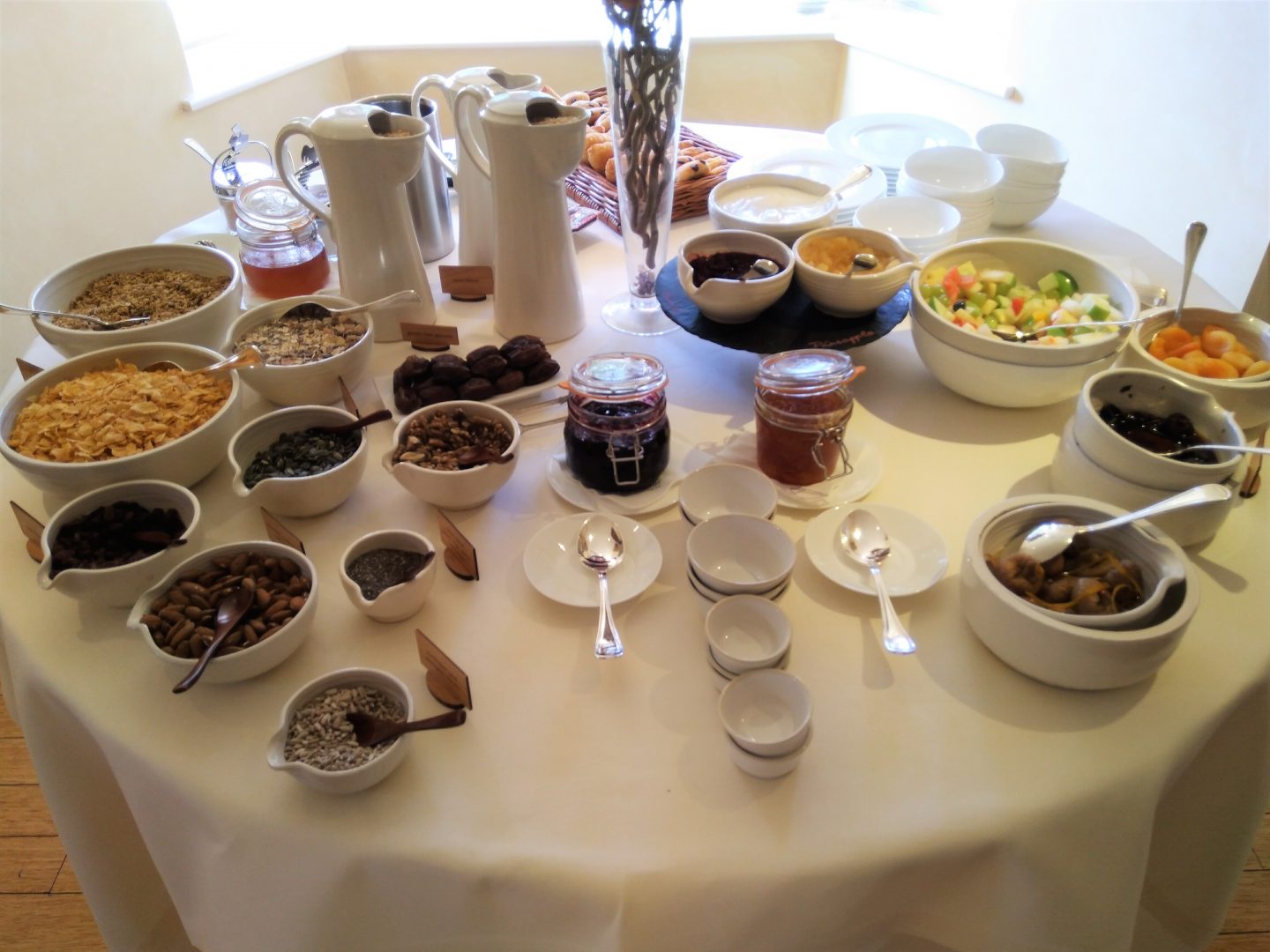 I ordered the 'Greys breakfast' which was avocado, smoked salmon and poached eggs on sourdough and I was not expecting it to look as beautiful as it did. I've had a lot of good breakfasts in my time, but this delivered in presentation more than anything I have ever seen. I can't even get half an avocado out its skin without smushing it to bits! I am very happy to report it tasted as good as it looked. Beautifully ripe avocado, fresh smoked salmon and perfectly poached eggs, it was probably the best hotel breakfast I have ever had!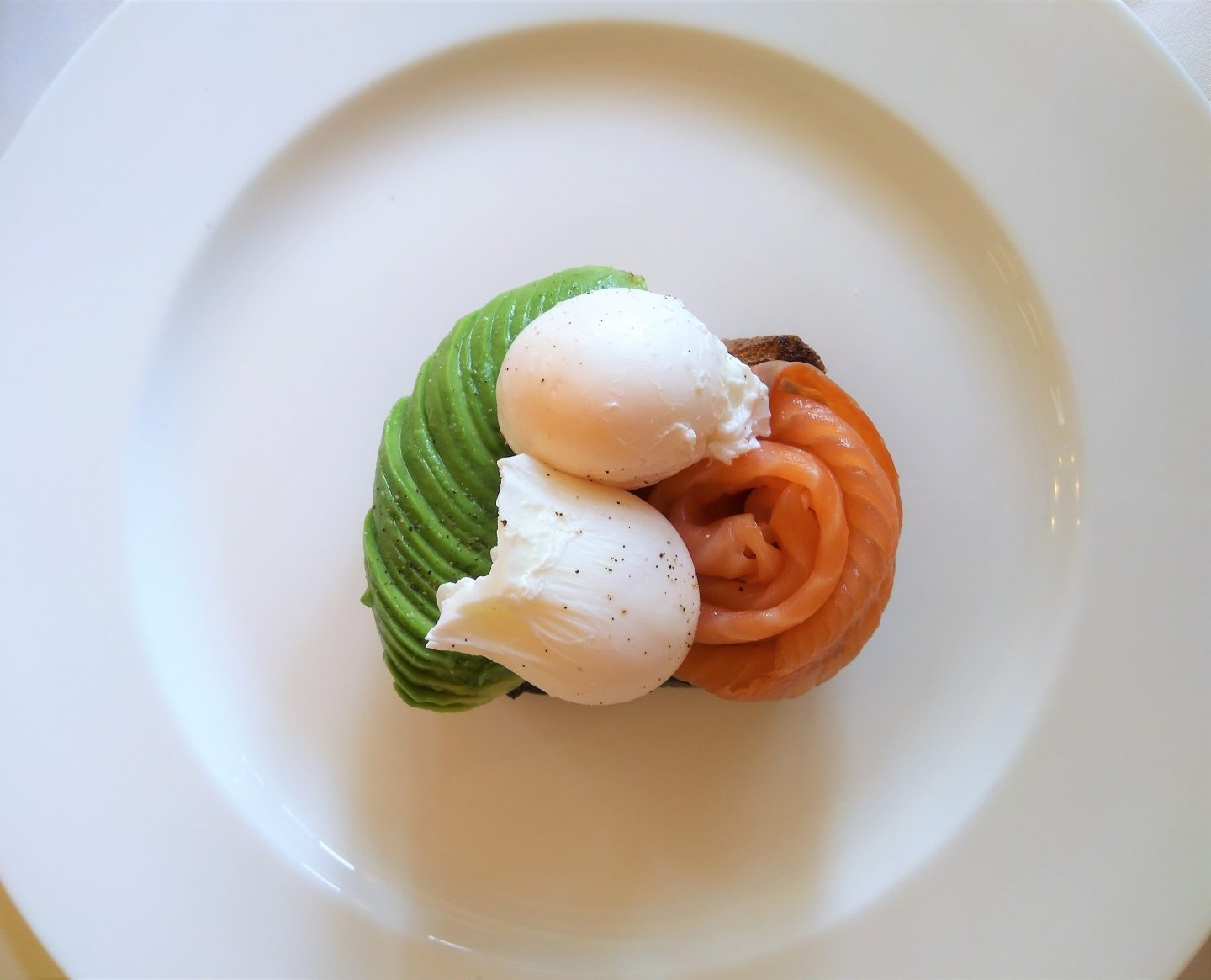 After a blissful few hours in the spa and before the long drive home we got ready for lunch. We were booked in at 'Greys Brasserie' which, after a recent refurbishment, is stylish with slick interiors. But on this sunny day we sat out on the terrace in the kitchen garden, the perfect location for an alfresco lunch.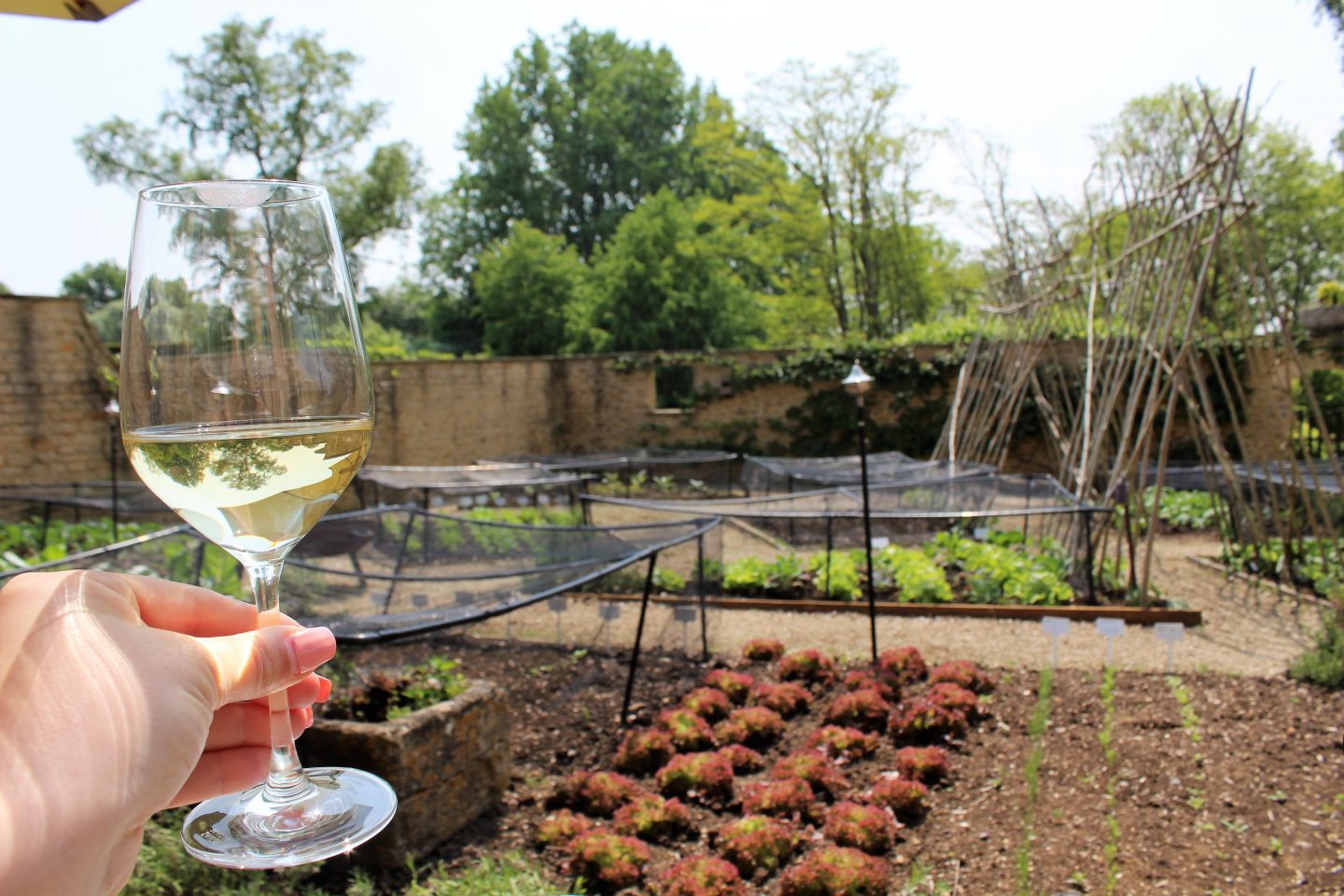 After the indulgence of dinner the night before and our delicious breakfast, Mr B and I opted to share a few dishes. To start with we shared the 'Homemade sausage roll with spicy tomato butter beans' and one of the daily specials which was 'Prawns in a white wine and garlic sauce'. Both dishes were sublime . . . you really can't beat a homemade sausage roll! The prawns were succulent and complemented beautifully by the sauce which we mopped up with the toasted bread.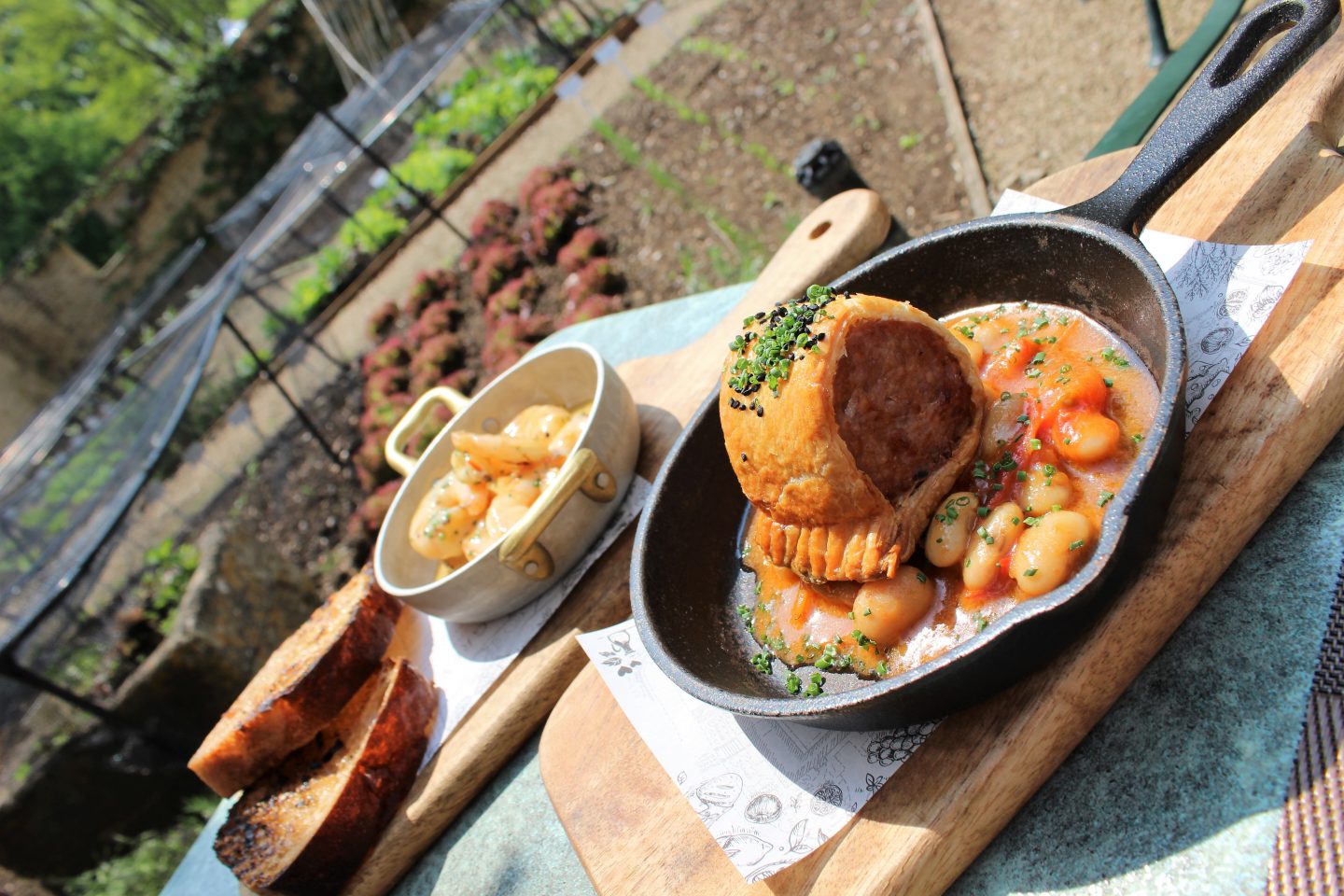 We then shared one of life's simple pleasures, but when this dish is done right it is food heaven. It was 'Baked camembert studded with garlic and rosemary, with tomato chutney and charred loaf'. I think this picture sums up how absolutely delicious this was . . .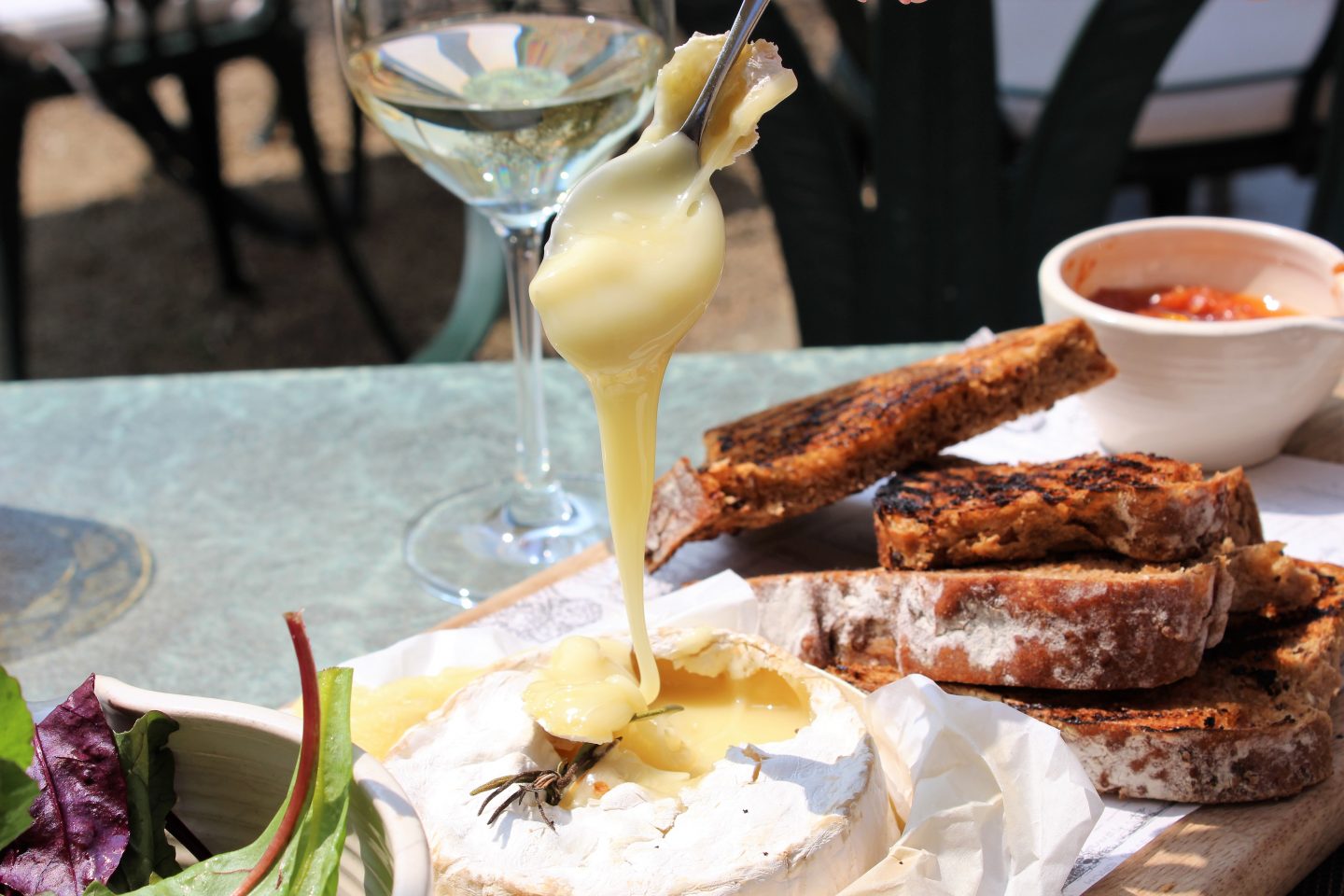 For dessert we shared 'Custard tart with bay leaf ice cream'. The pastry was buttery, the tart filling was smooth and had the perfect wobble that a custard tart should have, and the bay leaf ice cream was subtitle and helped counteract the sweetness of the dish.
So as you can see we ate a lot of food during our stay at Whatley Manor and received faultless dish after faultless dish. This is one Michelin star restaurant any foodie should add to their list and you won't be disappointed by the other food offerings either!
Have you read the first part of my review? Have a look inside our room and all the facilities on offer in this stunning hotel.
Easton Grey, Malmesbury SN16 0RB
01666 822888