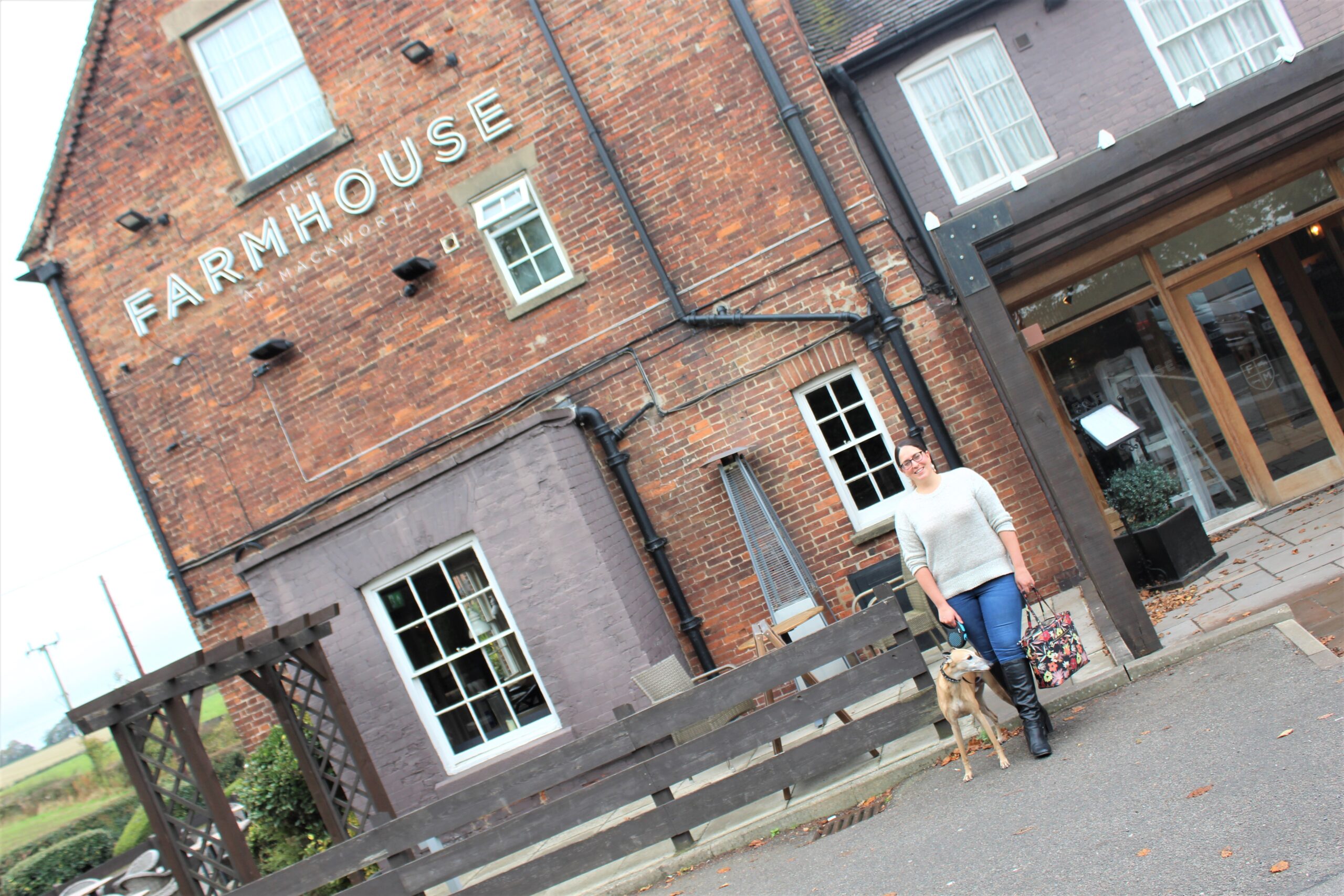 Last year before lockdown number two, we managed to escape for a night at this wonderful gastropub. Cosy rooms, tasty food, log burners, dog friendly and only a short 30-minute drive from home. This was all we needed for a lovely one-night stay at The Farmhouse at Mackworth.
As we had Snoops with us we arrived early so we could enjoy a nice long walk before checking in. As luck had it there was a public footpath opposite the pub! If you fancy a bit of retail therapy Derby city centre is a short drive away or for some more fresh air you could head to the Peak District for lovely walks.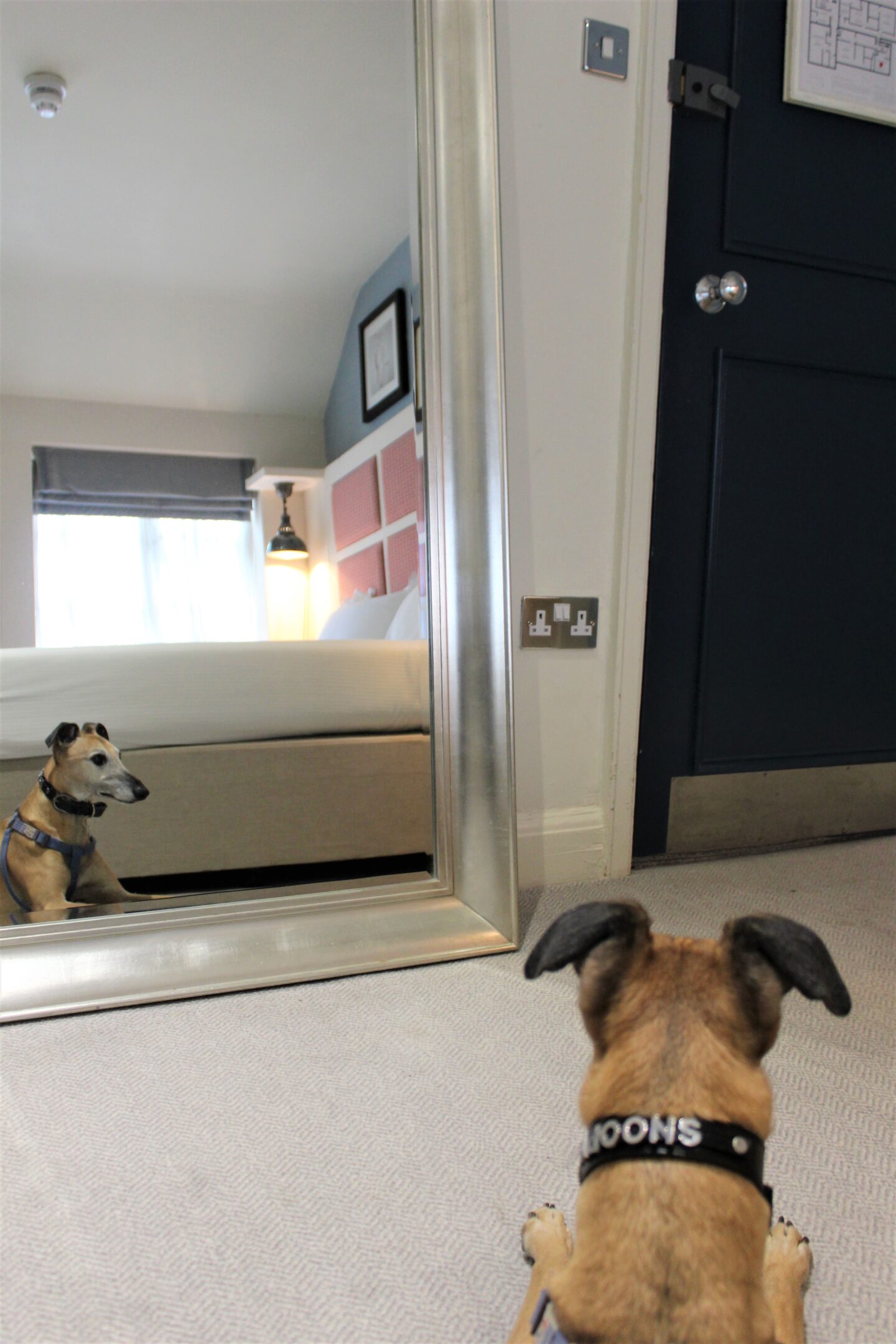 Snoopy was made to feel welcome when we entered the pub and we were soon handed our key for our king room.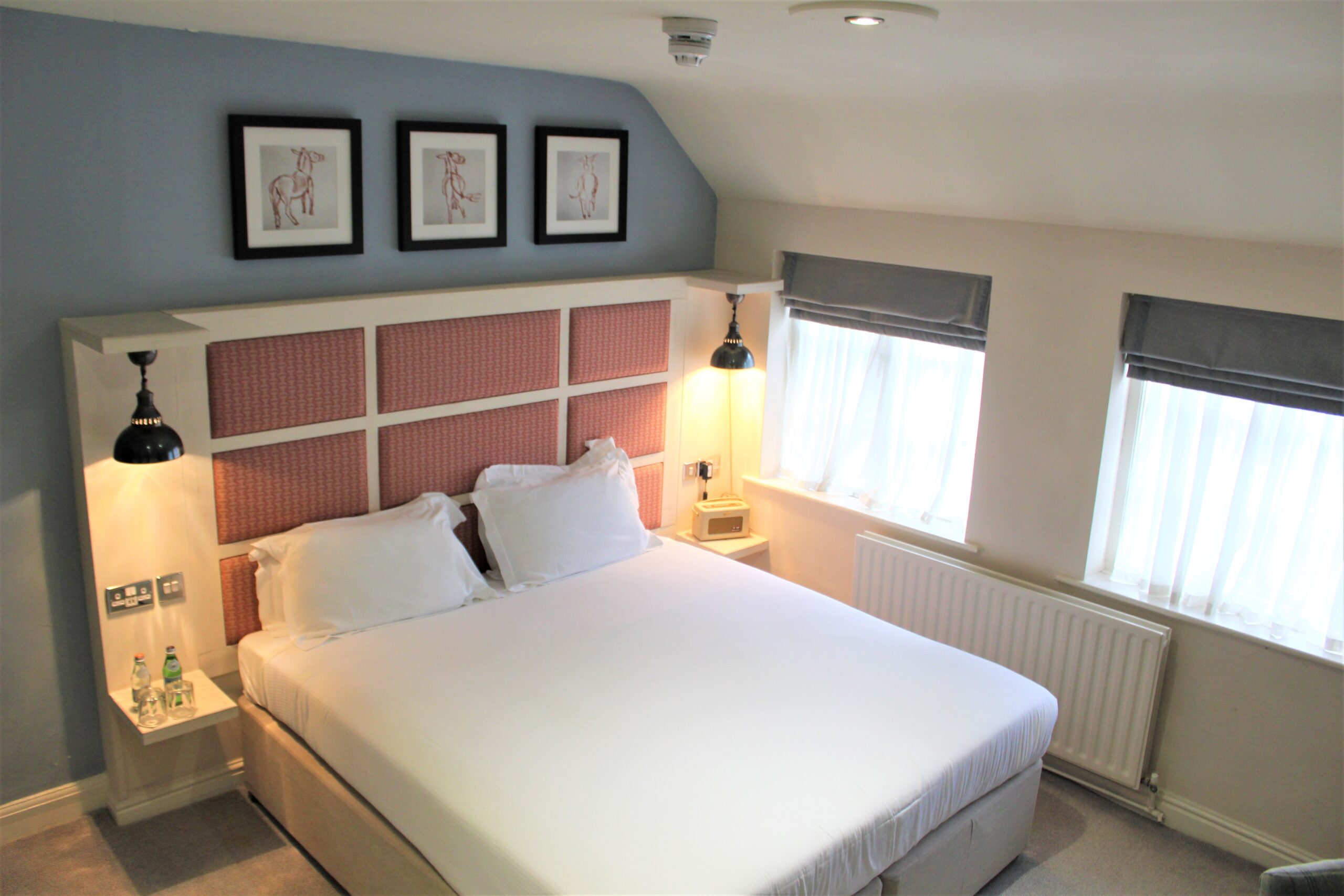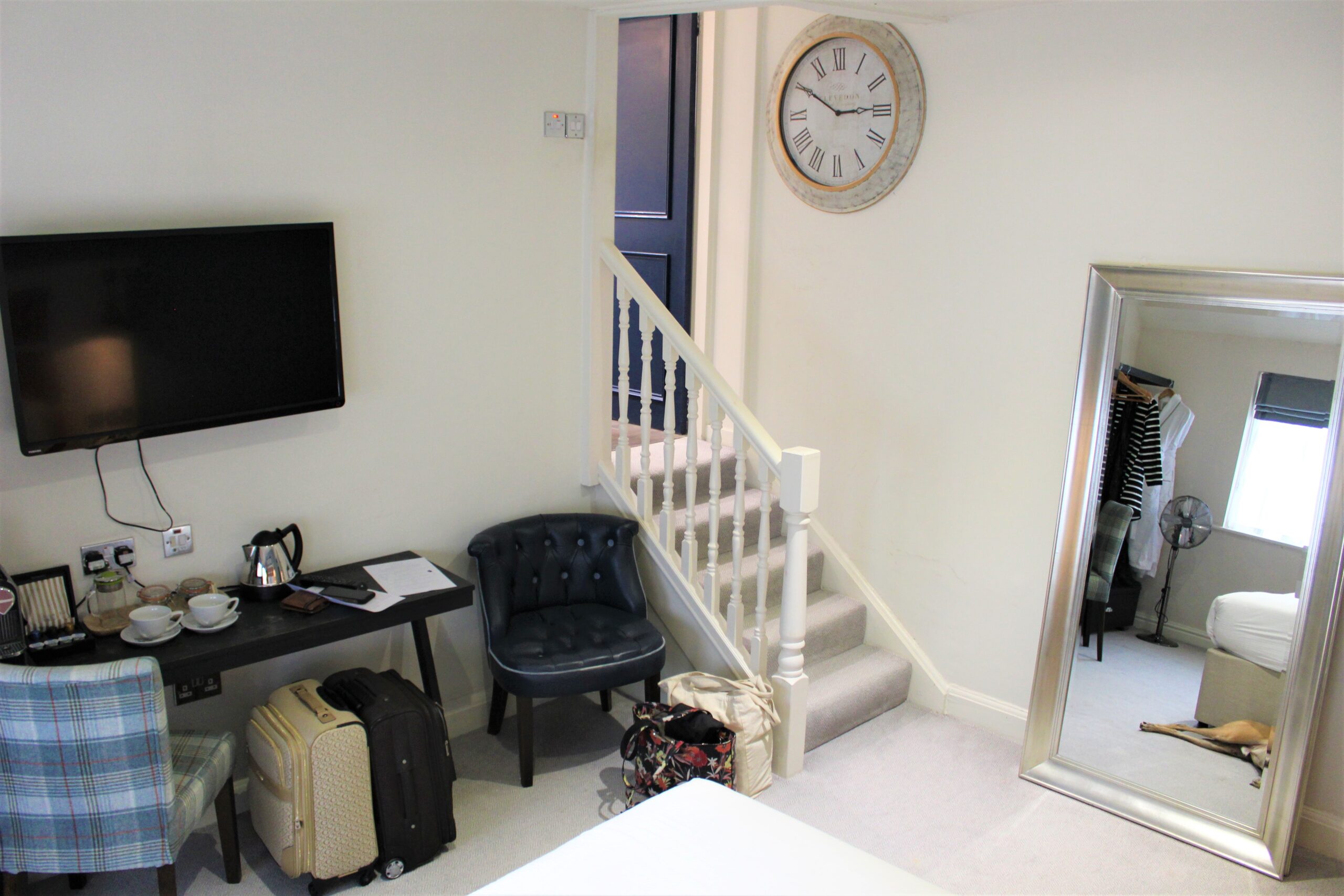 Along with all the usual amenities we had lovely soft robes, a Roberts DAB radio, The White Company toiletries, Nespresso machine and homemade chocolate brownies, which I can confirm were yummy!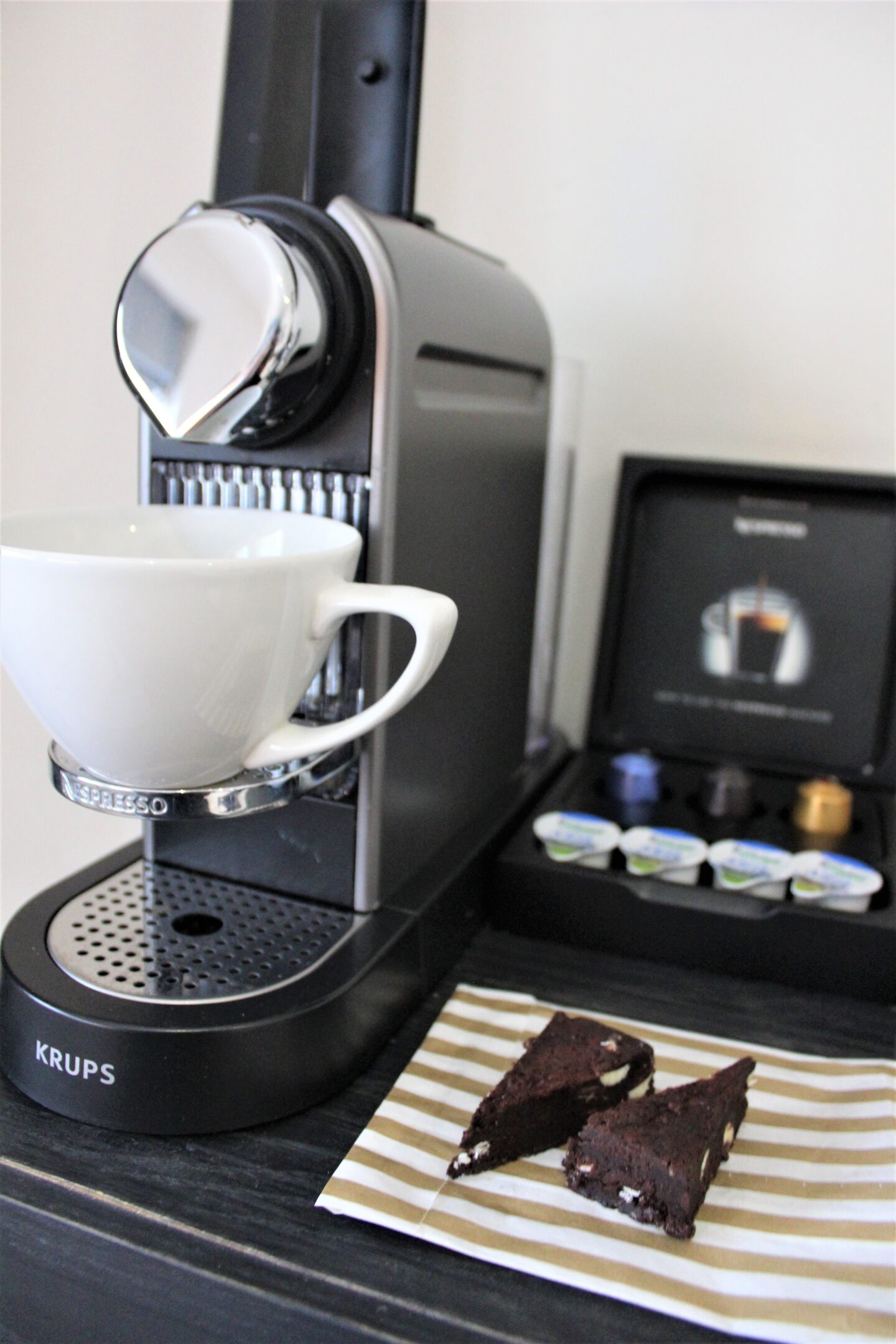 Snoopy soon made himself at home and there was plenty of room for his basket and for him to stretch out!
After a relaxing few hours in our room it was time to head down for dinner.
When we ordered we asked for a recommendation for wine and the lovely manageress recommended a Malbec. I have never had a bad Malbec so this was a winner for me!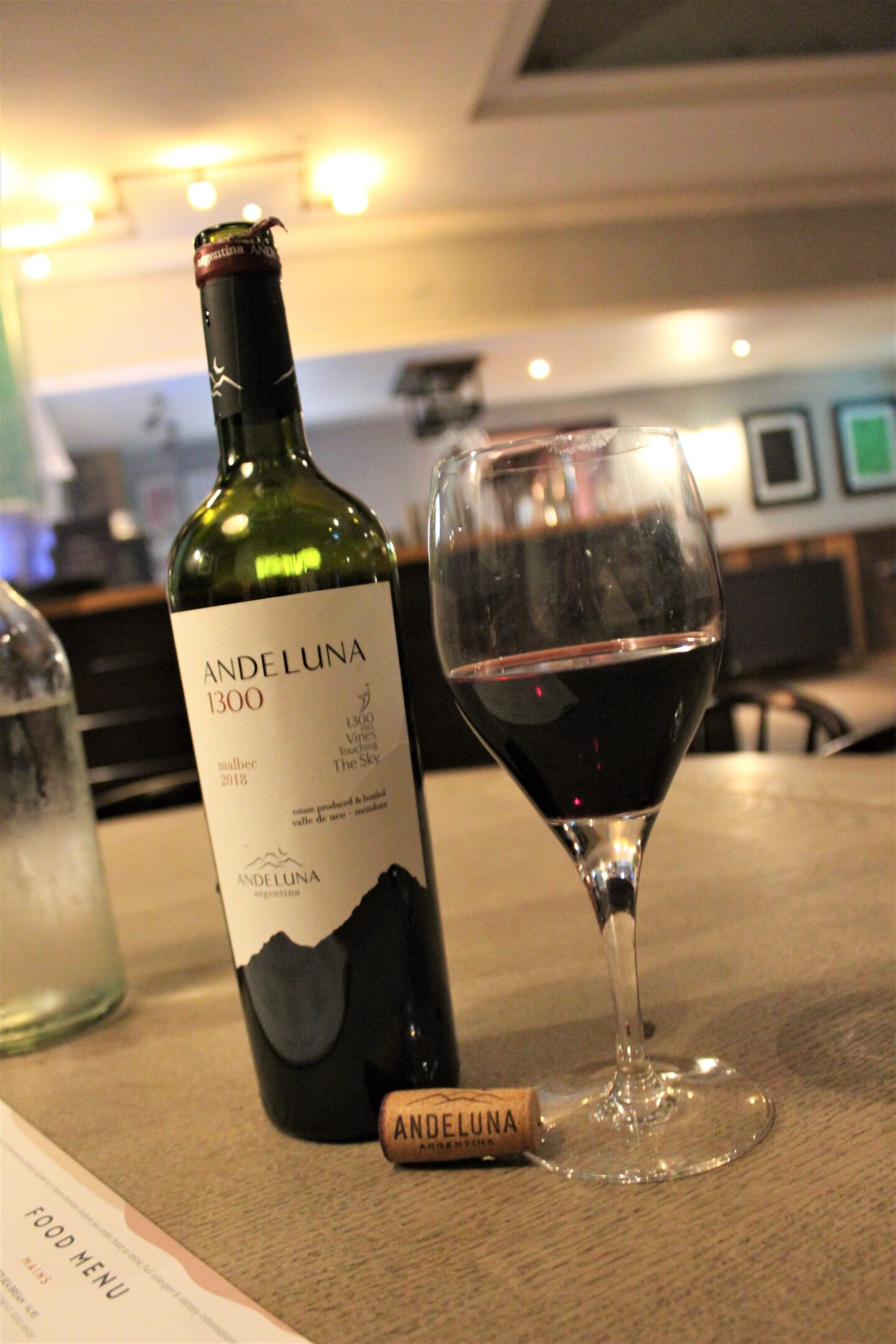 Whilst Snoopy was happily snoozing on his blanket, he did manage to raise his head when he was kindly brought a bowl of water and big bone biscuit!
I was tempted to order the pork and chorizo scotch egg, but after changing my mind about 20 times I finally ordered the 'Crispy smoked pork belly, grilled scallop, pea puree, crispy bacon', which turned out to be a good choice! The pork belly was in breadcrumbs and crispy on the outside with the smoky soft pork on the inside. The scallop was very well cooked and the sweetness of the scallop was complemented with the lovely salty bacon.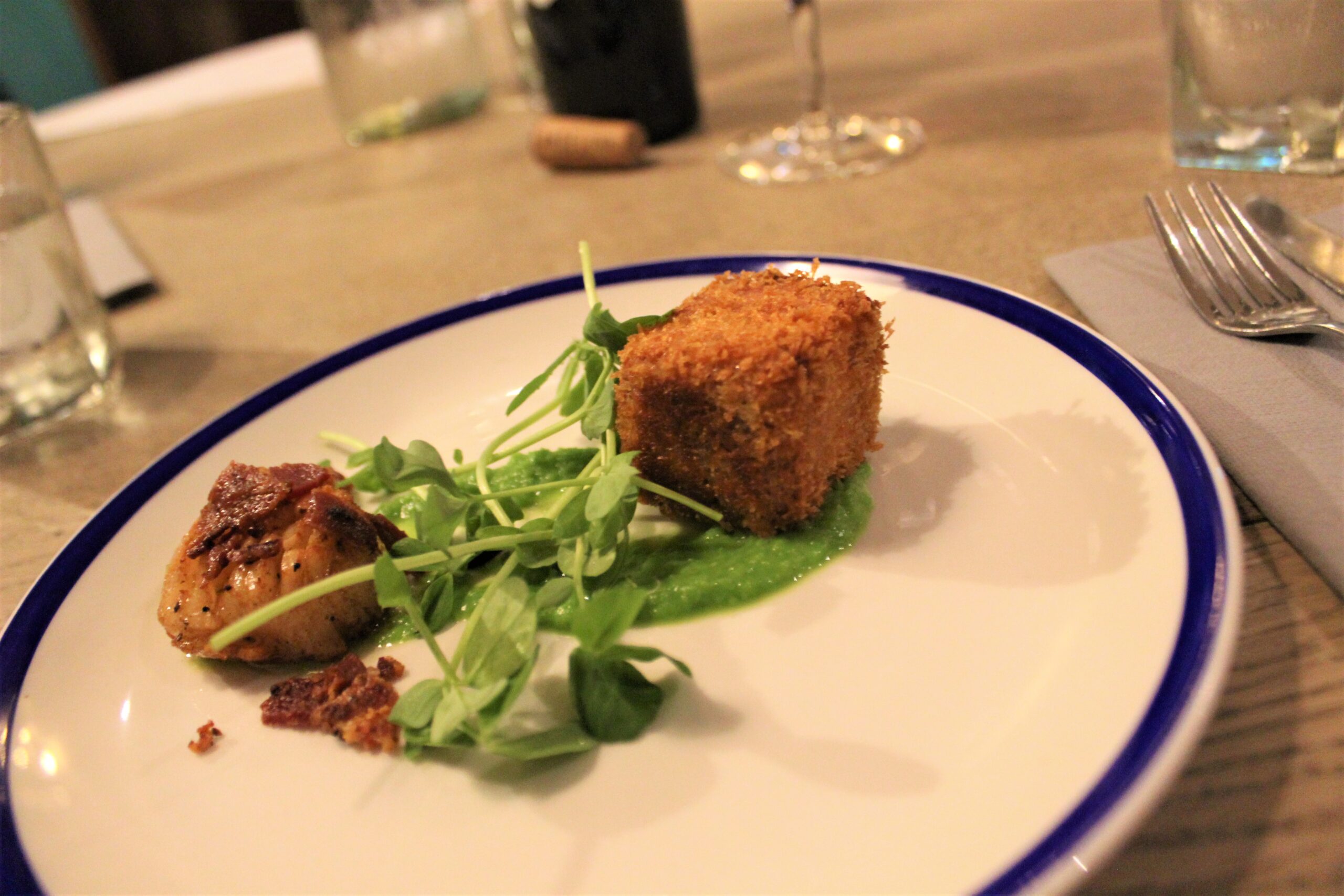 Mr B chose the 'Fried buttermilk chicken, spicy mayonnaise, jalapenos and coriander'. The chicken was crispy on the outside and tender on the inside with a good punch of heat from the mayonnaise and jalapenos.
My main was an easy choice as I had been craving a pizza and at The Farmhouse they have a wood fired pizza oven! I chose the beef ragu pizza which was topped with salami pepperoni, chorizo and prosciutto ham. The base was thin and crispy with just the right amount of topping. It was a very good pizza!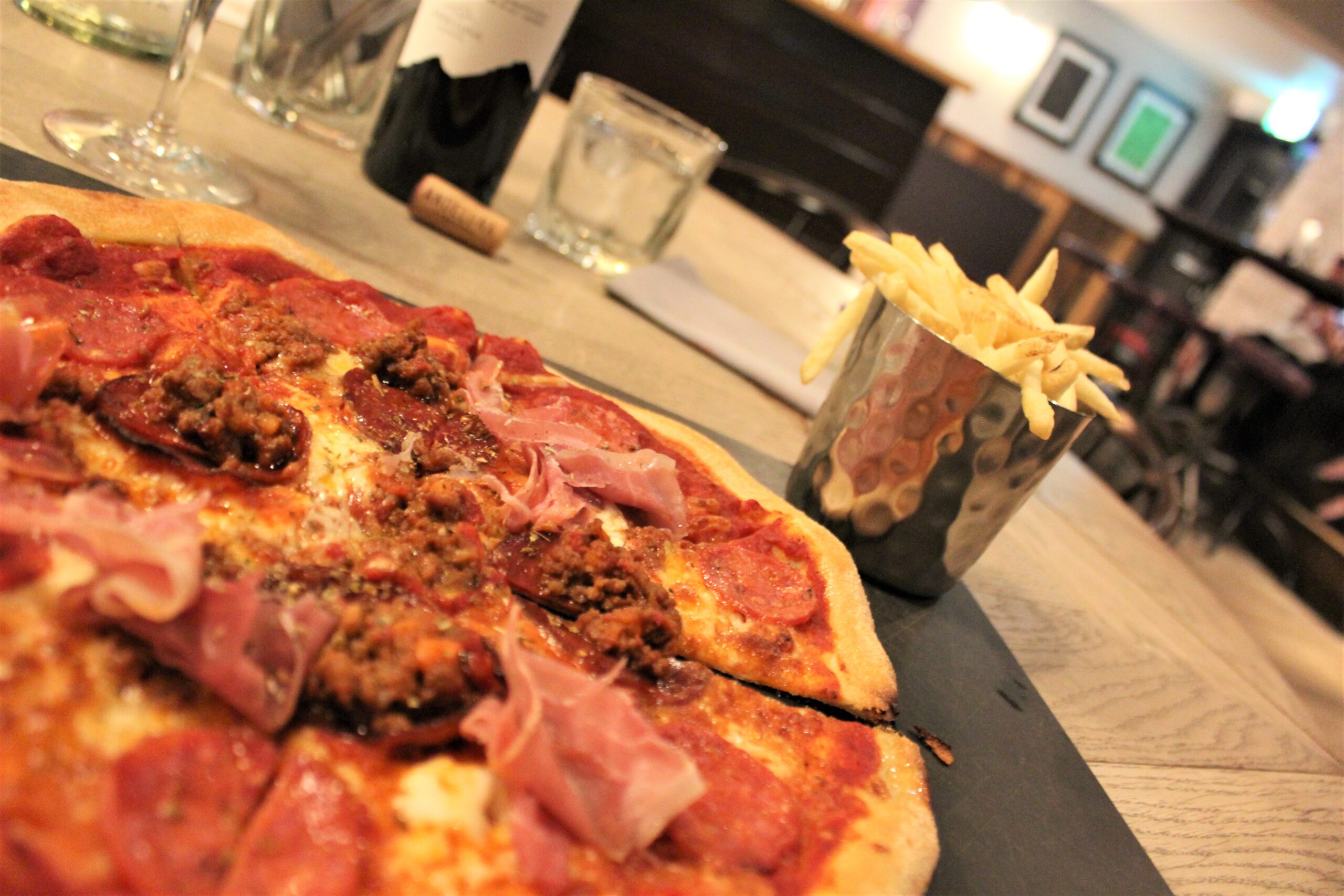 Mr B chose the 8oz Sirloin steak with triple cooked chips, smoked flat mushroom topped with tomato rarebit and watercress with a chimichurri sauce. I did have a bit of food envy as I tried a bit and the steak was so juicy and tender, perfectly cooked medium rare as ordered. Mr B said it was delicious and the best steak he'd had in a while!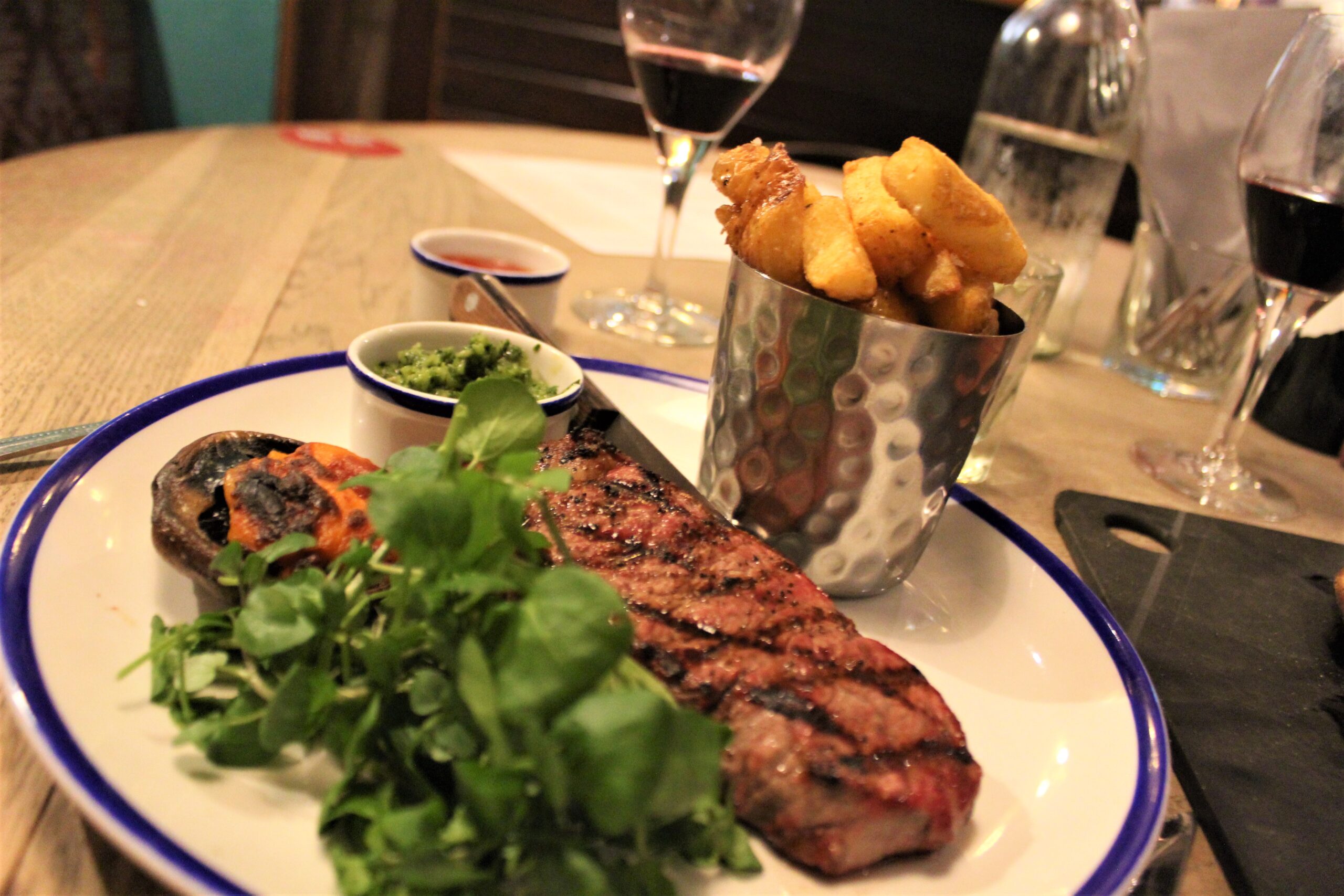 Of course we had room for dessert! Baked lemon curd cheesecake with clotted cream for me and banana sticky toffee pudding with butterscotch sauce and vanilla ice-cream for Mr B. Both desserts must have been delicious as I think it was only five minutes before we both had clean plates!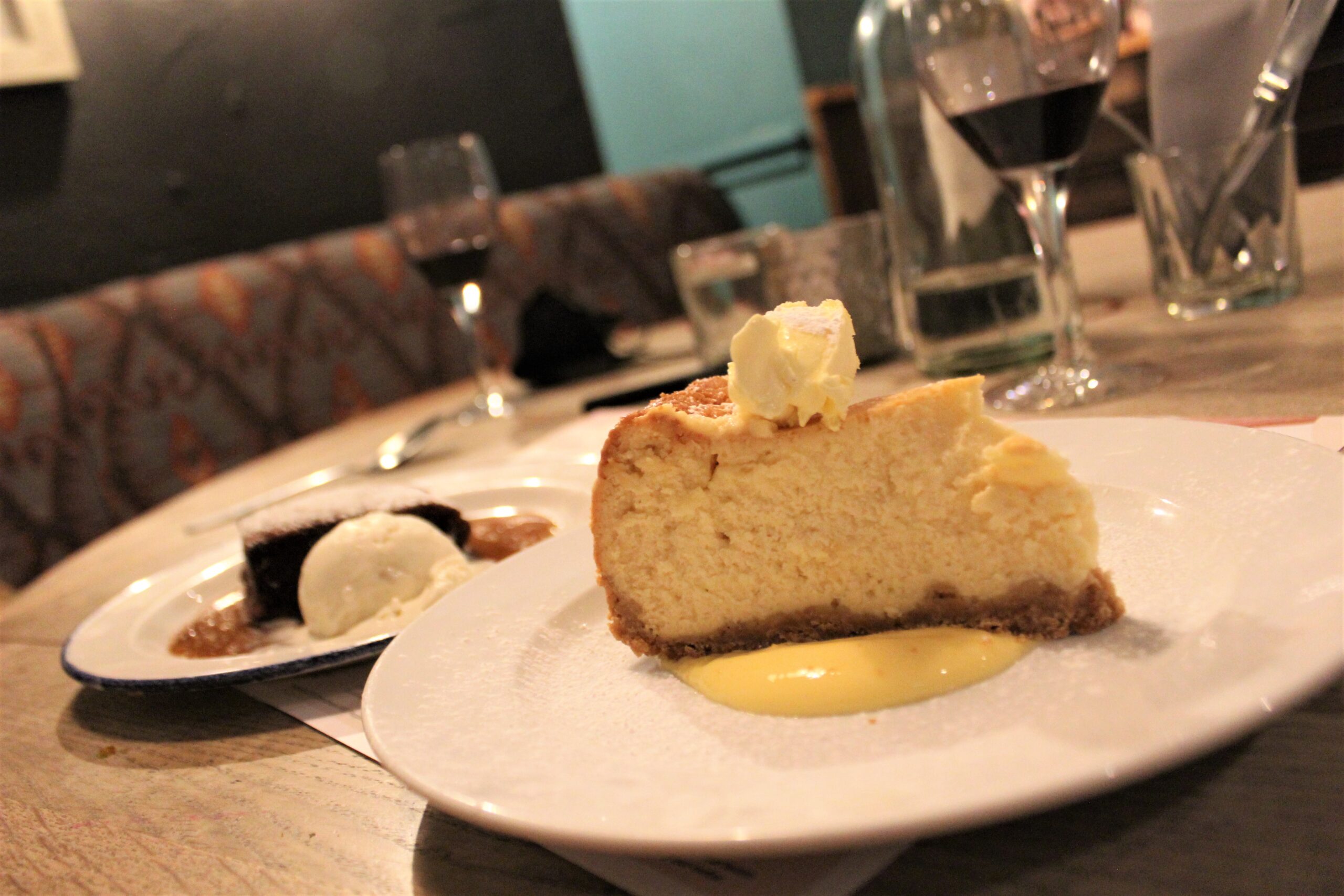 With 30 minutes to go before the Government imposed 10pm closing (so glad that isn't still in place now!), we decided we had time for a night cap and ordered a round of espresso martinis. Now I am sometimes a bit wary about ordering cocktails in pubs in case they use those dreaded pre-mixers! But from where I was sitting I could see the bar and I watched as all night the bar tender made cocktail after cocktail using only fresh ingredients.
I have to give this espresso martini 10 out of 10! It was perfect!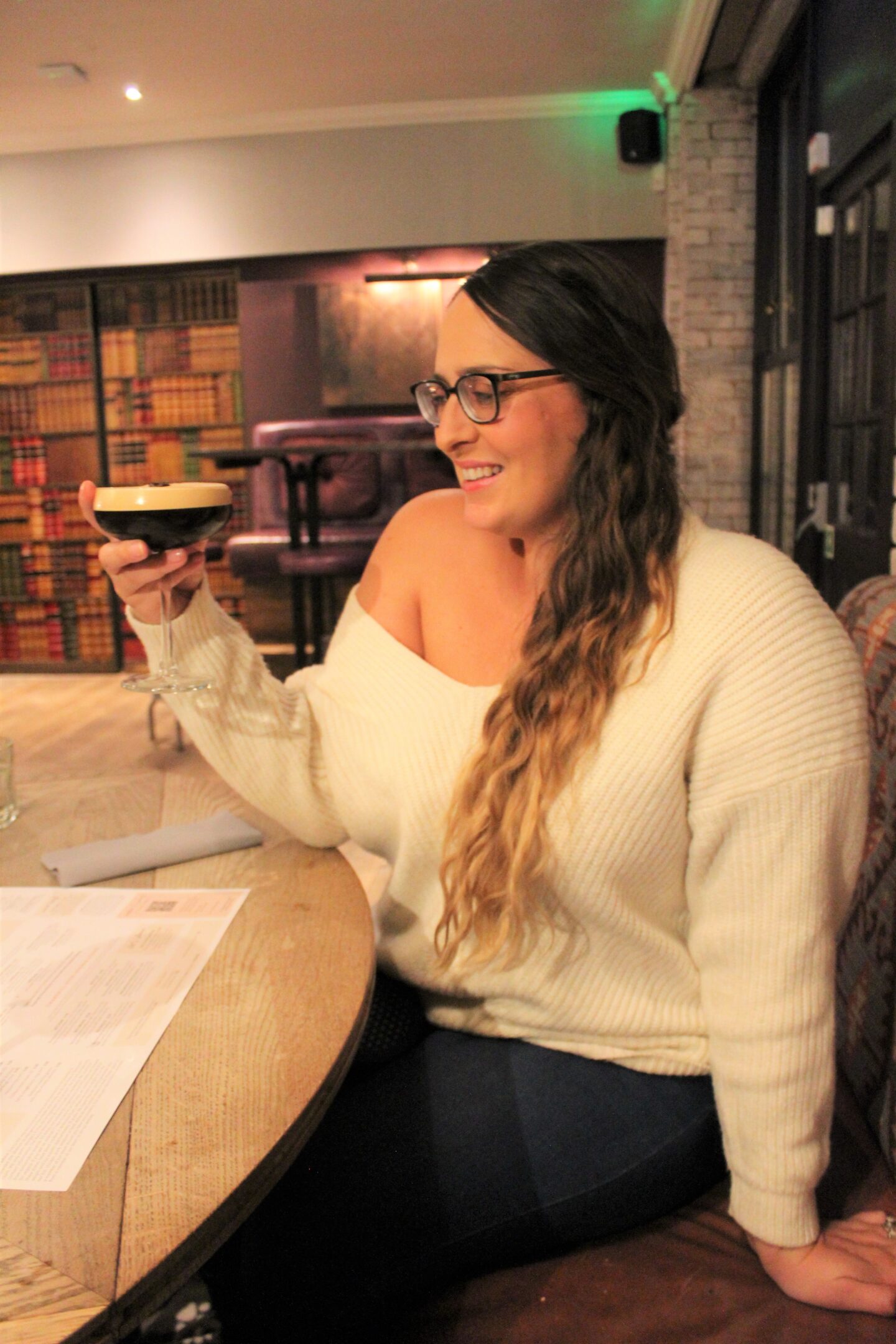 After a quick after-dinner walk with Snoops it was time for a good night's sleep. You are given a breakfast pre-order form when you check in which you are asked to fill in and pop back down to the bar the night before breakfast. I really don't mind pre-ordering so it wasn't a problem for us.
With our choice of tables we sat at a lovely table in the bar next to the log burning fire, which made Snoopy happy!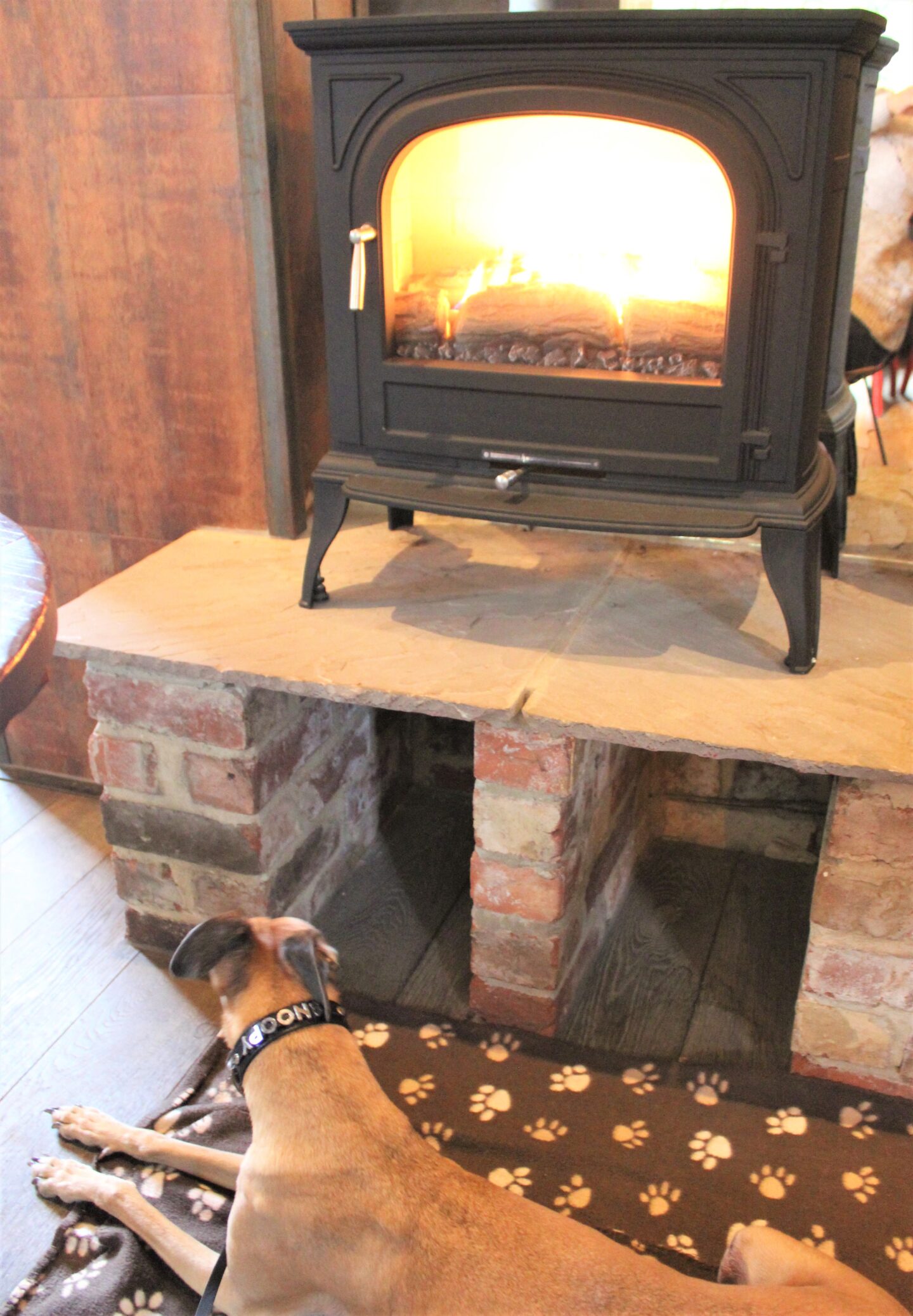 Along with our well made coffees we had mixed toast, lovely creamy Greek yoghurt with honey, cornflakes and freshly-baked pastries!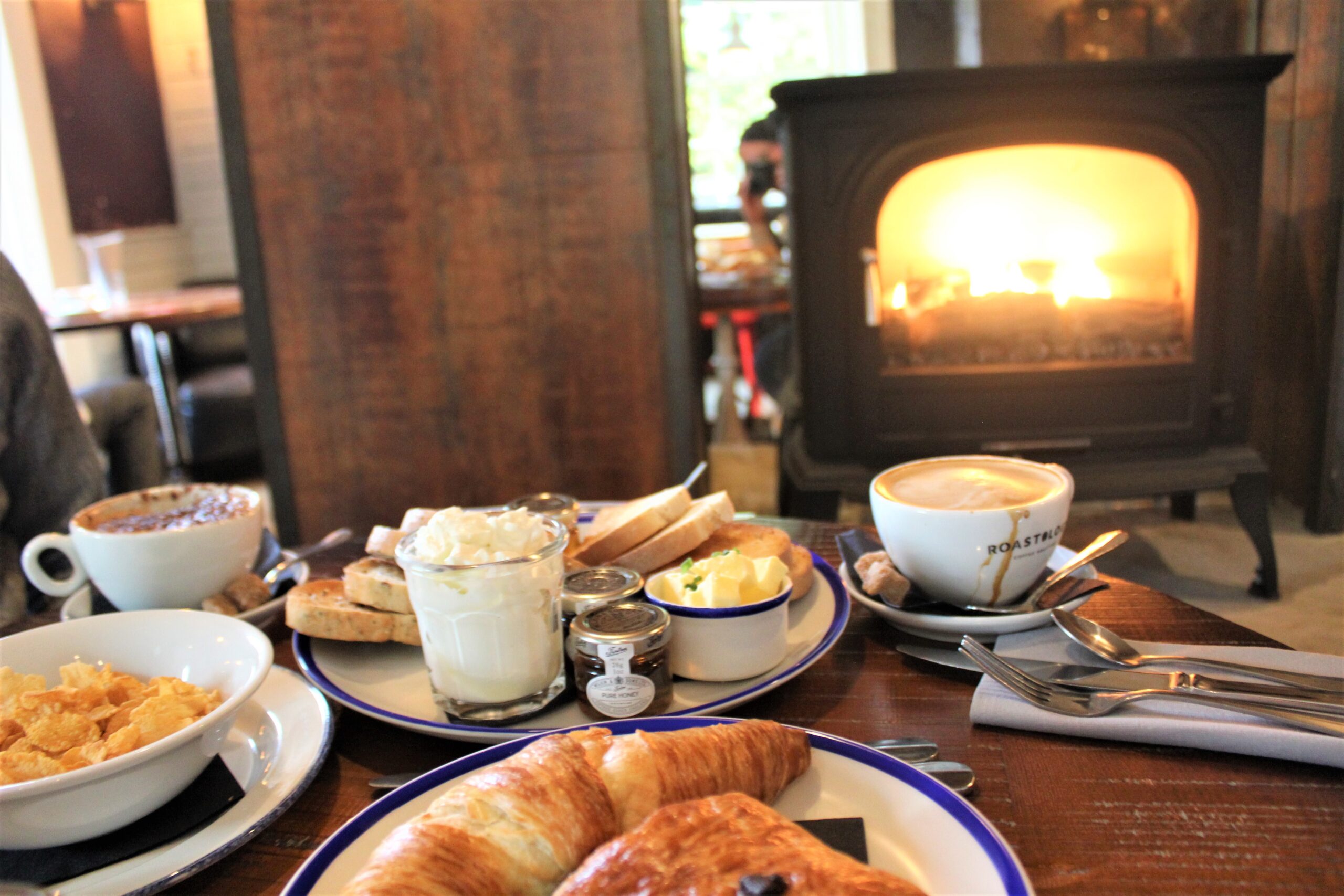 Mr B and I both ordered the Eggs Benedict – soft poached eggs with a generous amount of maple smoked streaky bacon and lovely hollandaise.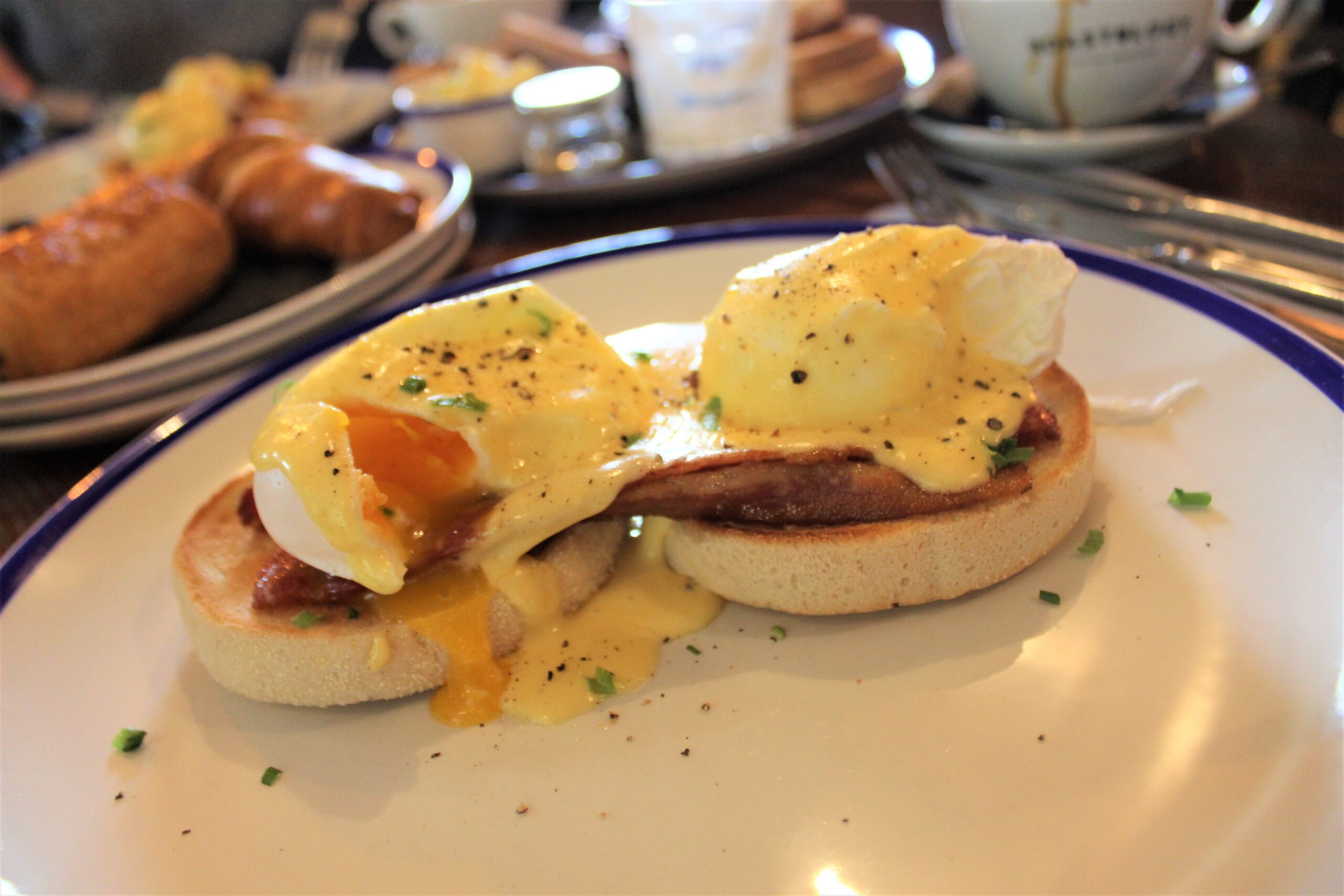 With our bellies very full it was time to check out. It was lovely to have a change of scenery and along with great food a stay at this gastropub ticked all the boxes for a one-night break with our pooch.