Hampton Manor: 5 Star Modern country house hotel
Peel's Restaurant: Four AA Rosette and one Michelin Star
Located in the village Hampton in Arden, Hampton Manor was very easy to get to and find. The outside clearly sign posted and a short drive up the impressive driveway brings you to the striking country house.
Plenty of free parking which is handy on the weekend as the hotel does get very busy with people visiting for afternoon tea. We had short walk around the grounds first as we arrived early before check in time at 3pm. The grounds are stunning and very well kept and I could imagine the many beautiful wedding pictures taken there.
Feeling the cold we made our way inside and found a comfy sofa in the bar. We left our cases at reception who said they would come and let us know when our room was ready. It didn't take us long to realise all the staff at Hampton Manor care greatly about their guests.
The bar list had a very wide selection of drinks, including a very impressive gin selection however as it was still 2pm I had a glass of the Ciello Catoratto, Vesco Family, Sicily, Italy 2015 whilst Mr B chose a Purity, UBU Amber Ale, Warwickshire. There were a few other tables in the small bar area but this didn't take away from the relaxing environment and I would imagine even when full it still being a nice , casual area to sit and relax with a nice drink.
Whilst sitting and chatting we were told our room was ready but to take our time and come to reception whenever we were ready, one thing I love about going away is not being rushed and ushered around and at Hampton Manor I felt completely relaxed.
 Having been shown to our room we entered "Henry Martin", all 15 rooms at Hampton Manor are individually named and unique in design. Our room certainly had the wow factor, walking in the first thing to notice was our beautiful bathroom which was raised from the bedroom complete with a glass walk in shower and stunning roll top bath. The room had everything you would expect from a 5 star hotel, free Wi-Fi, I-pod dock, fridge, complementary water and a tea and coffee tray including delicious homemade chocolate chip cookies (they didn't last very long!).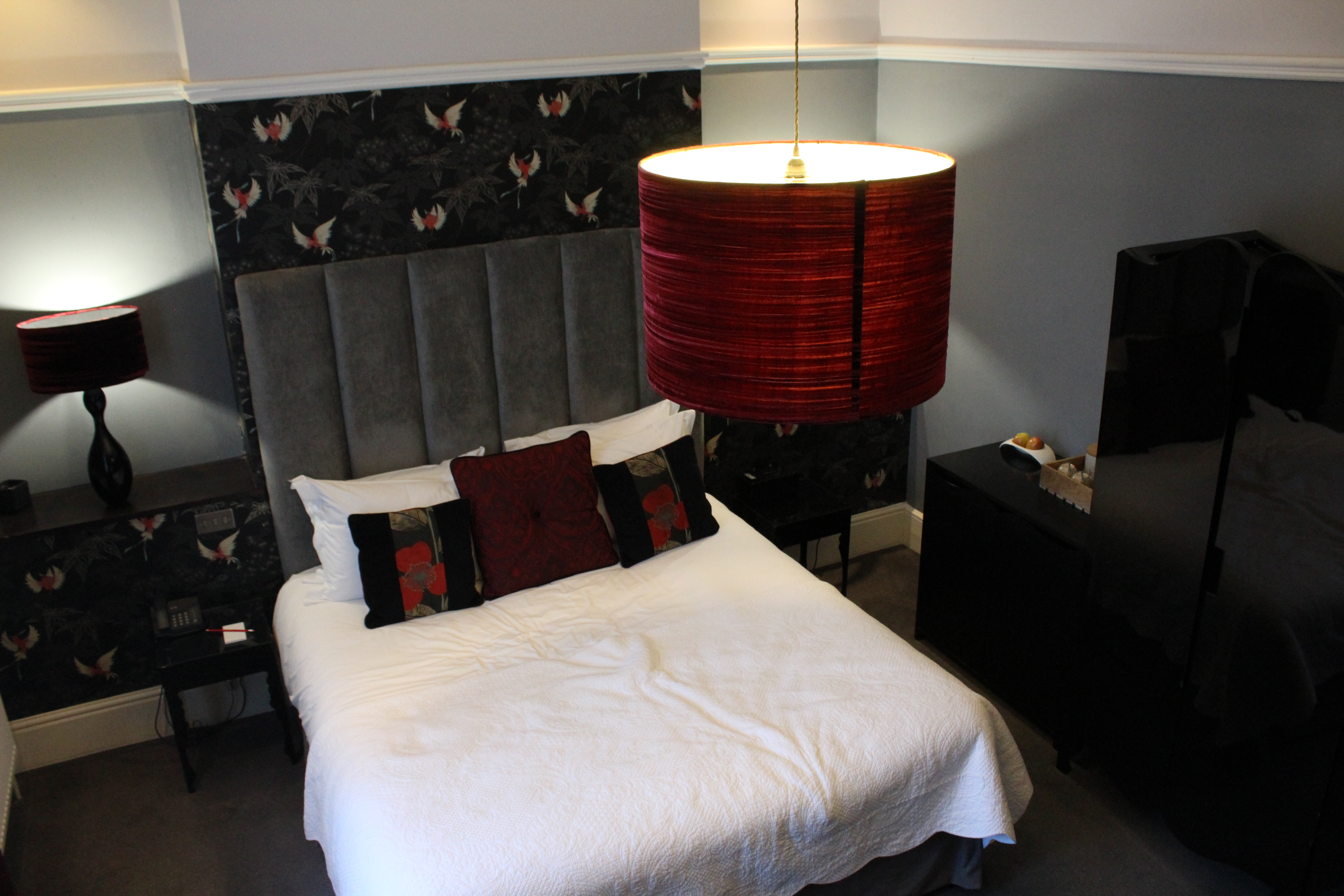 After unpacking, we made ourselves at home putting on a DVD and falling into the incredibly comfy bed! The toiletries included in the room were all full size which is a rare find in hotels, when you have a big mane of hair like I do the usual small hotel shampoo and conditioner don't go very far!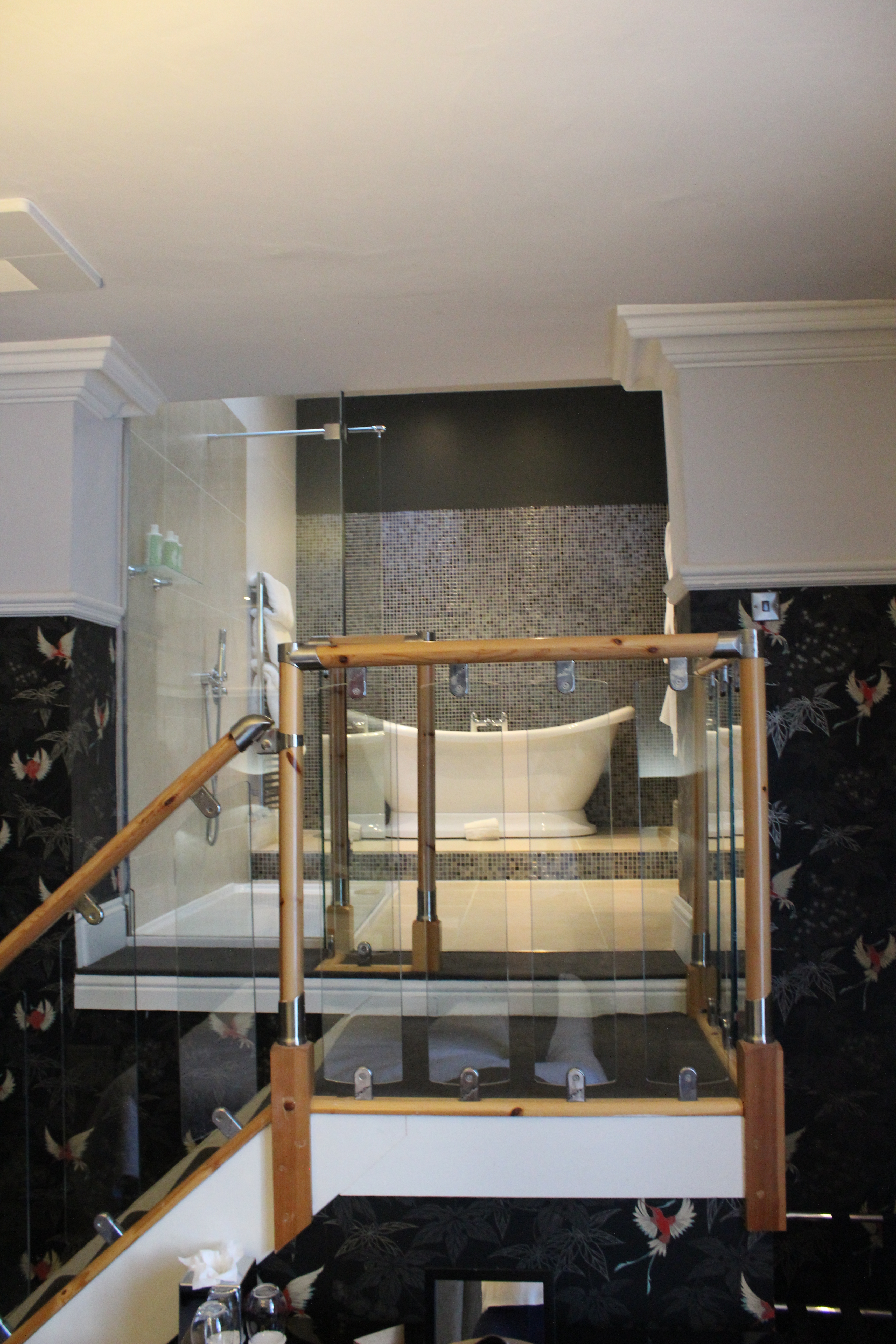 The roll top bath was, well a roll top bath, absolutely divine! Filled with bubbles relaxing with a glass of champagne I appreciate how lucky I am to be able to stay in such beautiful places with Mr B.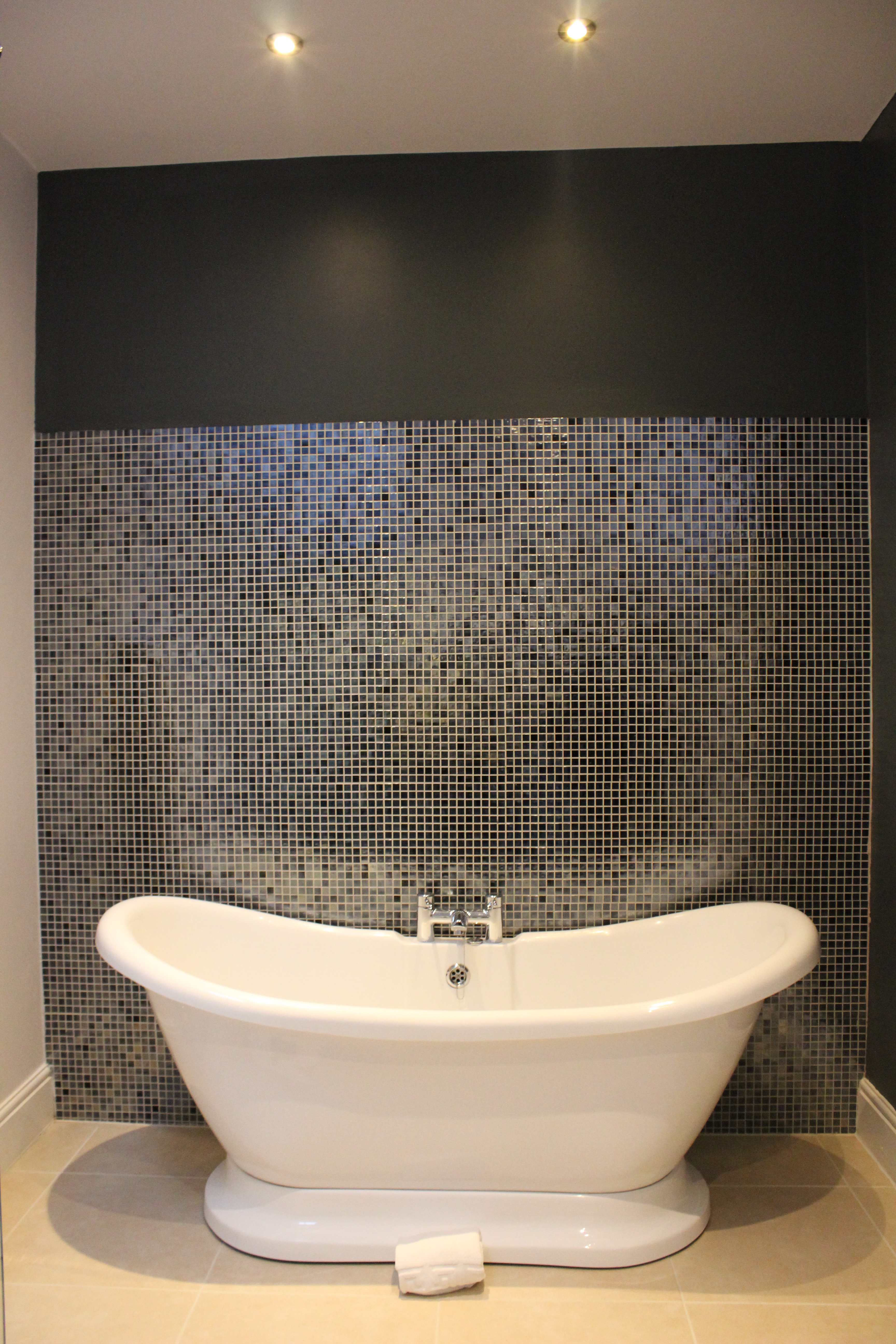 Ready for dinner we made our way downstairs to The Parlour, the Parlour is beautiful, decorated in lilacs and greys. It has big sofas and comfy chairs to relax into. We were first given the drinks menu to peruse, the magnificent wine menu even comes with its own magnifying glass! We opted for pre-dinner cocktails, with a list of approximately 10 cocktails there is something for every cocktail fan out there.
I was expecting the cocktails to be traditionally served but was very pleasantly surprised when Mr B's rum and coffee based cocktail turned up in a cafeteria and was poured into a coffee cup complete with chocolate coin on the side! I do love a bit of quirk and am happy for some fun and theatre when it comes to drinks. Mine came in a Chinese soup bowl adorned with a pink feather!
With our cocktails we were served canapes, venison tartare, sea trout and caramelised shallot. Each one the perfect mouthful and full of flavour and great textures. As soon as we demolished these my appetite really got going. We chose the 4 course tasting menu, there is also a 7 course available along with an a la carte menu. We also had the matching wine parings. It is worth noting before I go into details about our meal that Peel's restaurant gained its first Michelin star in October so my expectations were high! It is also worth noting that even though we had the 4 course tasting menu, with canapes, amuse bouche, pre dessert etc this actually came to 8 mouth-watering courses.
Taken to the restaurant by our waiter we were seated at a beautiful table at the end of the room next to the window, the restaurant was dimly lit by candles and tall lamps, I loved the atmosphere, lighting and décor, to me it felt romantic and intimate. When seated we were bought one of life's little pleasures, fresh homemade, warm bread! Served with home churned butter and wagyu beef dripping, now I have never been one for beef dripping but this made me think I had been missing out all my life! Oh my word it was outstanding, it tasted just like roast beef, it was divine!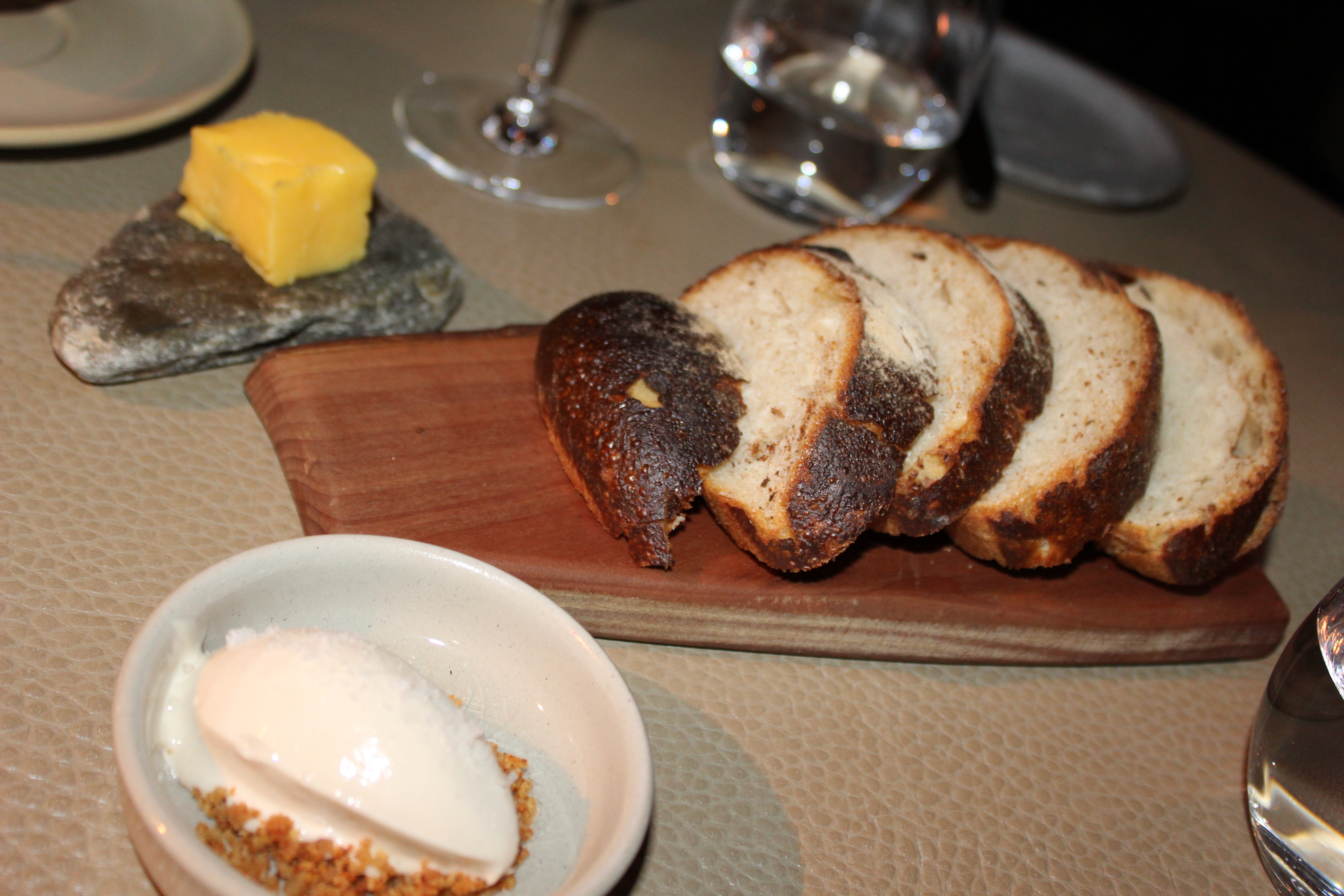 Our amuse bouche was a potato soup with vinegar puff's, it was sensational, the soup was smooth like silk and tasted creamy whilst the vinegar puffs were sharp and added texture to the dish.
Our starter of "Beetroot, goats cheese and sour dough" was then served along with our first wine paring. To be honest with you all I'm not a big fan of beetroot but I LOVE goats cheese which is why I could not make myself change this dish, the dish involved different textures and varieties of beetroot, the goats cheese was served as an ice cream, cold and creamy but still had the strong bold taste of goats cheese the sour dough crumb added a nice crunch.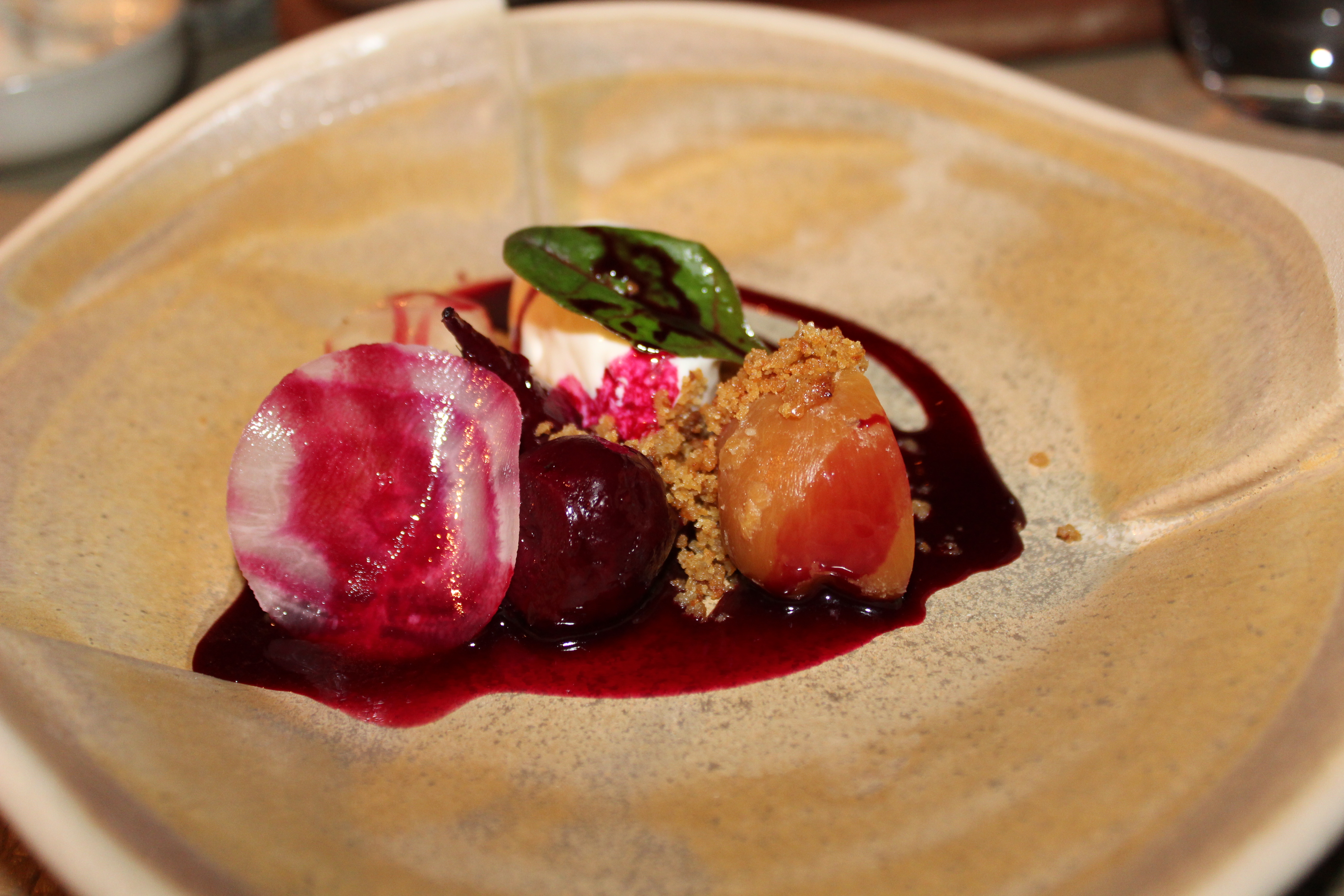 Onto the fish course, "Mackerel, granny smith, horseradish and sorrel". Mackerel is Mr B's favourite fish were as I would very rarely order mackerel however this was undoubtedly one of the best mackerel dishes I have had, the texture of the fish was divine, it was so soft on the pallet and almost melted in the mouth, the strong horseradish complemented the strong fish perfectly.
The main event was "Wagyu beef twice, swede, parsley, chard", I'm a huge fan of red meat and whilst dining out I always gravitate towards beef or venison so having never tried wagyu beef before I was really looking forward to trying this highly marbled piece of meat. First we were presented with a wagyu beef bon bon which was filled with slow cooked wagyu beef cheek on a parsley puree. It was a taste sensation, I wish I could have had a plate full of them, I think I could have polished off at least 6!
Next was the wagyu beef, served rare just as I like it, it had a thicker texture than fillet and didn't have the same melt in the mouth texture but the flavour was great. The madeira jus this was served with was divine, very rich and intense which held up well next to the strong flavours of the beef.
 Dessert was "Blood orange, white chocolate aero, star anise", I'm a huge fan of white chocolate and also the combination of chocolate and orange. When the plate was put down in front of me I couldn't wait to tuck in! The white chocolate aero was sensational, it melted in the mouth, so light and airy, it came with caramelised white chocolate shards which had a great flavour, very sweet but the almost savoury star anise ice cream cut through the sweetness.
After dinner we went back into the parlour to relax with an after dinner drink which was served with petit fours, little morsels of sweetness to finish off an incredible dining experience.
I can clearly see why Peel's was awarded its first Michelin star in October 2016. Back to our room someone had kindly come in for the turn down service so our bed was ready for us to dive straight into, well more like roll as we were so stuffed!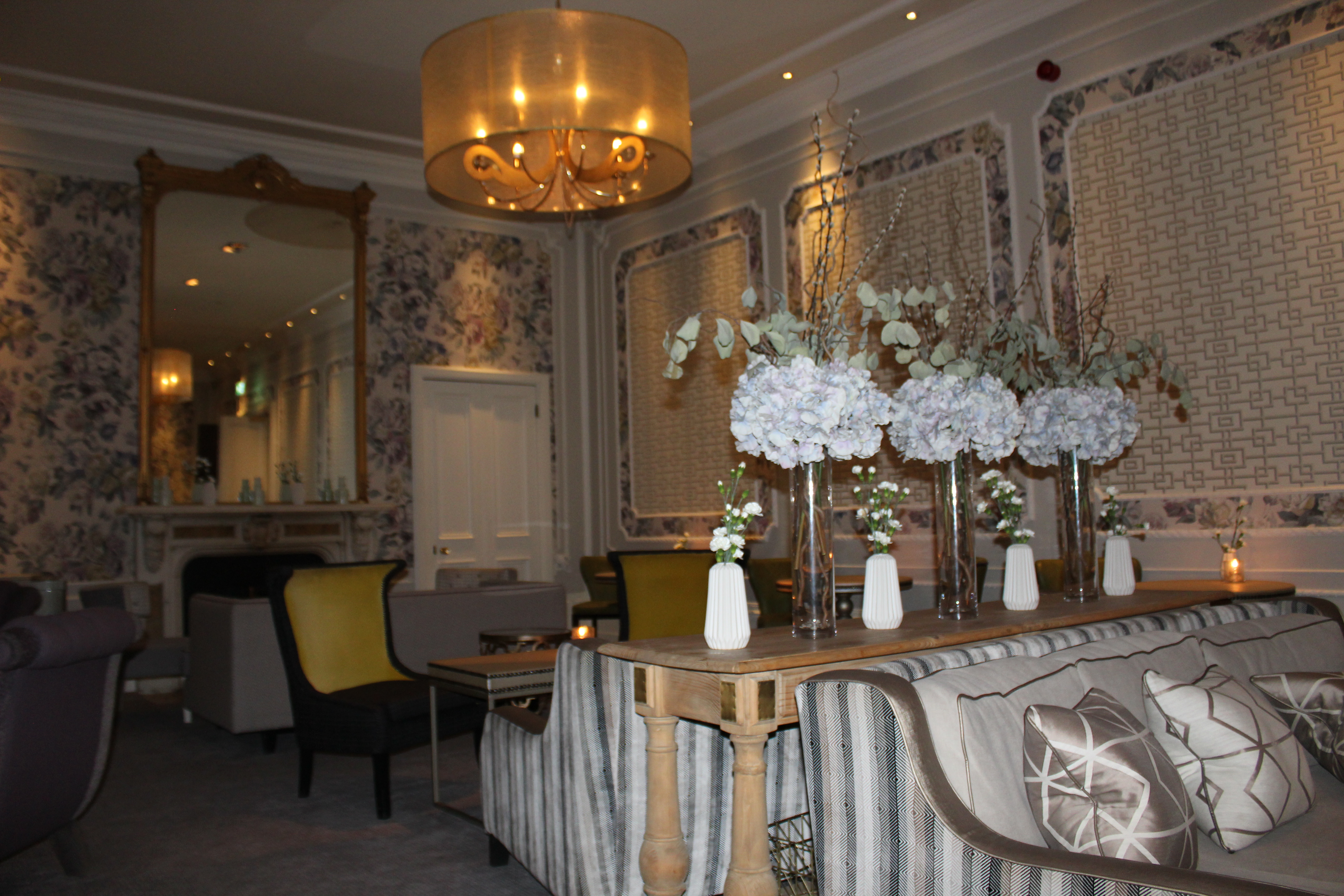 I have to say how comfy our bed and pillows were, we had a great night's sleep, on our way down for breakfast all we could talk about was last night's meal which is always a good sign! The restaurant usually used for breakfast was being used for a private function so we were seated in the bar for breakfast, our table already set up we were offered tea or coffee and left to peruse the breakfast menu, Mr B went with the full English (as always!) whilst I opted for the eggs benedict (as always!), We helped ourselves to cereals and natural yogurts and were served thick doorstop homemade toast with salted butter, it was hard not to fill up on this as it was so moreish. They only had orange and apple juice but when I asked for cranberry it wasn't a problem and it came to me within seconds! The service at breakfast was a lot more laid back and relaxed then the dinner service but still extremely attentive, which for me and Mr B who always enjoy a leisurely breakfast was spot on.
Mr B's full English looked very good and from the way he demolished it it obviously tasted as good. My eggs benedict was delicious, perfectly toasted English muffins, soft poached eggs with a perfectly runny centre and sharp and smooth hollandaise sauce, I enjoyed every mouth full and happily cleared my plate.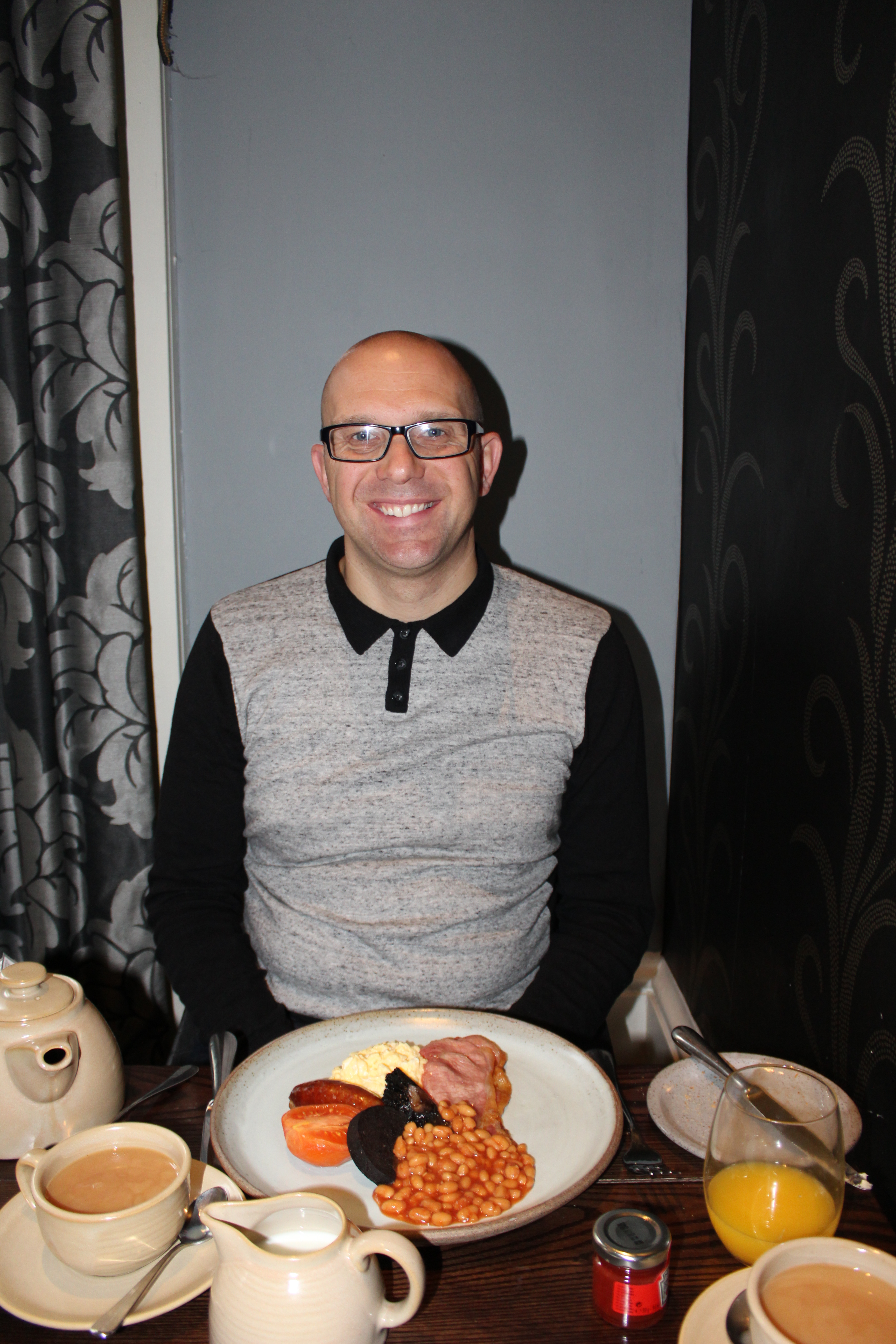 I was sad to leave Hampton Manor, fantastic staff who deliver excellent service whilst still making you feel relaxed and almost at home. I really liked the modern décor in the country house setting which followed through to the rooms. The food here is as you would expect from a Michelin star menu, excellent presentation and delivering in full for flavour and quality.
http://hamptonmanor.com/
Shadowbrook Ln, Hampton in Arden, Solihull B92 0D
01675 446080