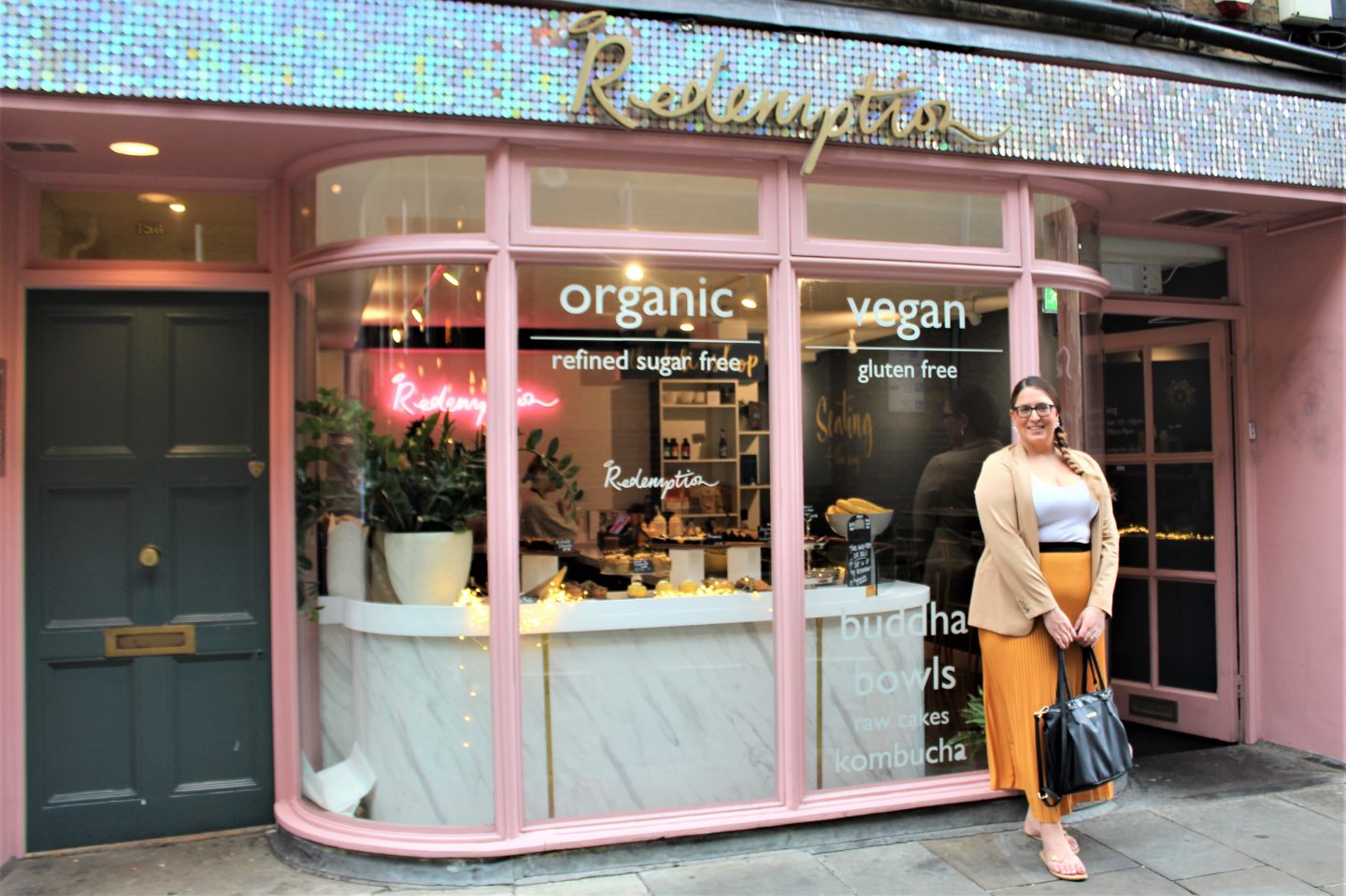 With a menu which is vegan, sugar-free, wheat-free and alcohol-free, Redemption is not the usual restaurant Mr B and I would visit. However, after a weekend in London full of indulgence, it ended up being the perfect place to end our trip.
Redemption have three restaurants in London and we visited the picture perfect restaurant in Seven Dials. We were welcomed into the restaurant and I have to say all the staff were really lovely and we had great service during our visit.
The motto is 'spoil yourself without spoiling yourself' – the menu was full of fantastic sounding dishes and I was rather excited about what we were going to eat!
But first drinks – I ordered the iced coffee with coconut milk and Mr B went for the adaptogenic latte which contained reishi, lion's mane and turmeric with tiger nut milk which was said to be a strong anti-inflammatory and immune booster and helps calm the body and clear the mind. I have never seen a latte so pretty! And Mr B really enjoyed it.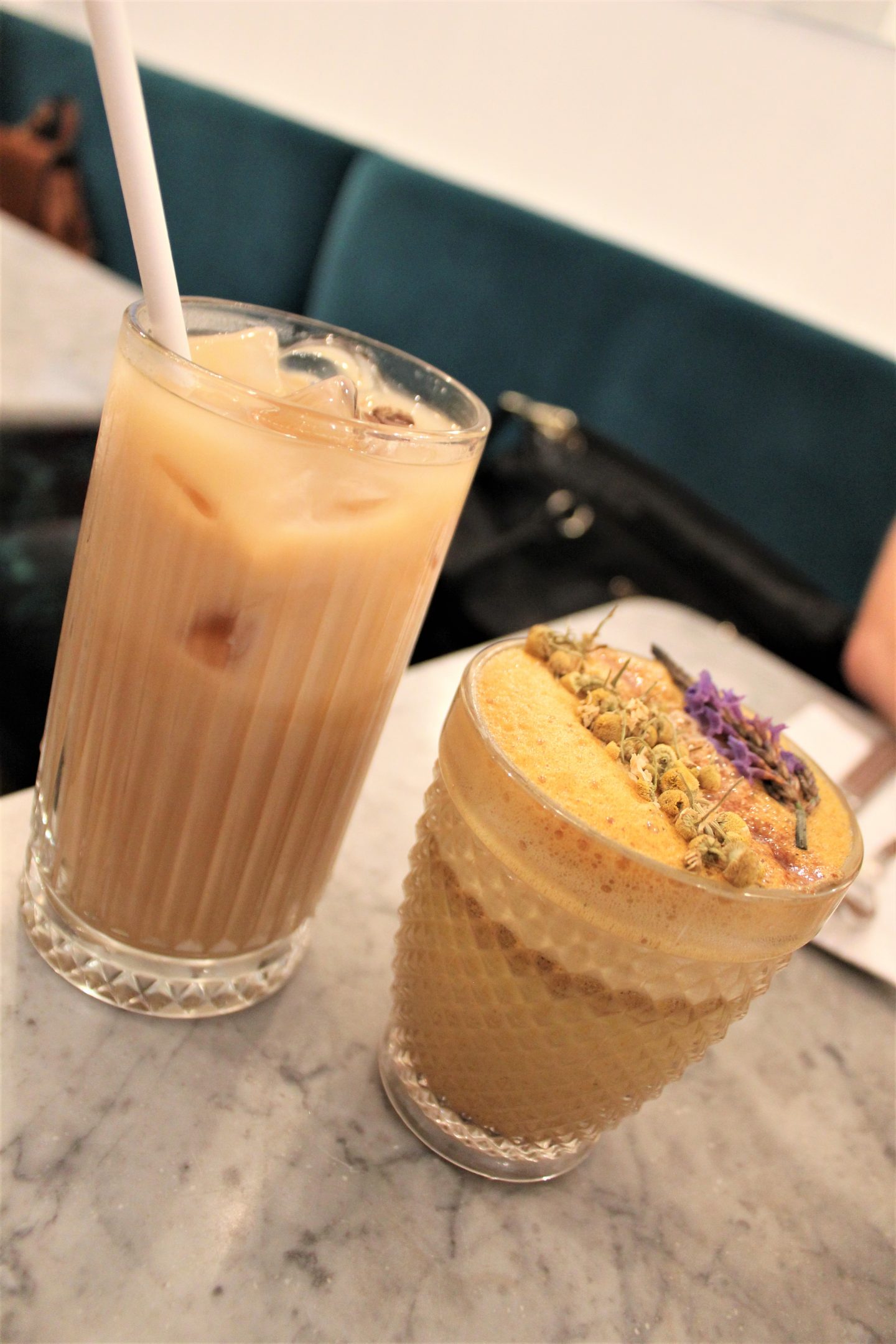 For lunch I ordered the adaptogenic creamy mushrooms which had shitake, chaga, lion's mane, reishi, chestnut and nameko mushrooms in almond cream, mustard, parsley and garlic served on seeded toast. I love mushrooms and when we were chatting to the manager she mentioned this was one of her favourite dishes so I knew I had made a good choice.
It was packed full of mushrooms, I loved the variety it included, and the sauce was so creamy I really had no idea there was no dairy cream in it. It was just as nice and tasted so fresh and light. It was the perfect lunch dish and was really filling without being stodgy. I would 100 per cent recommend this dish to anyone!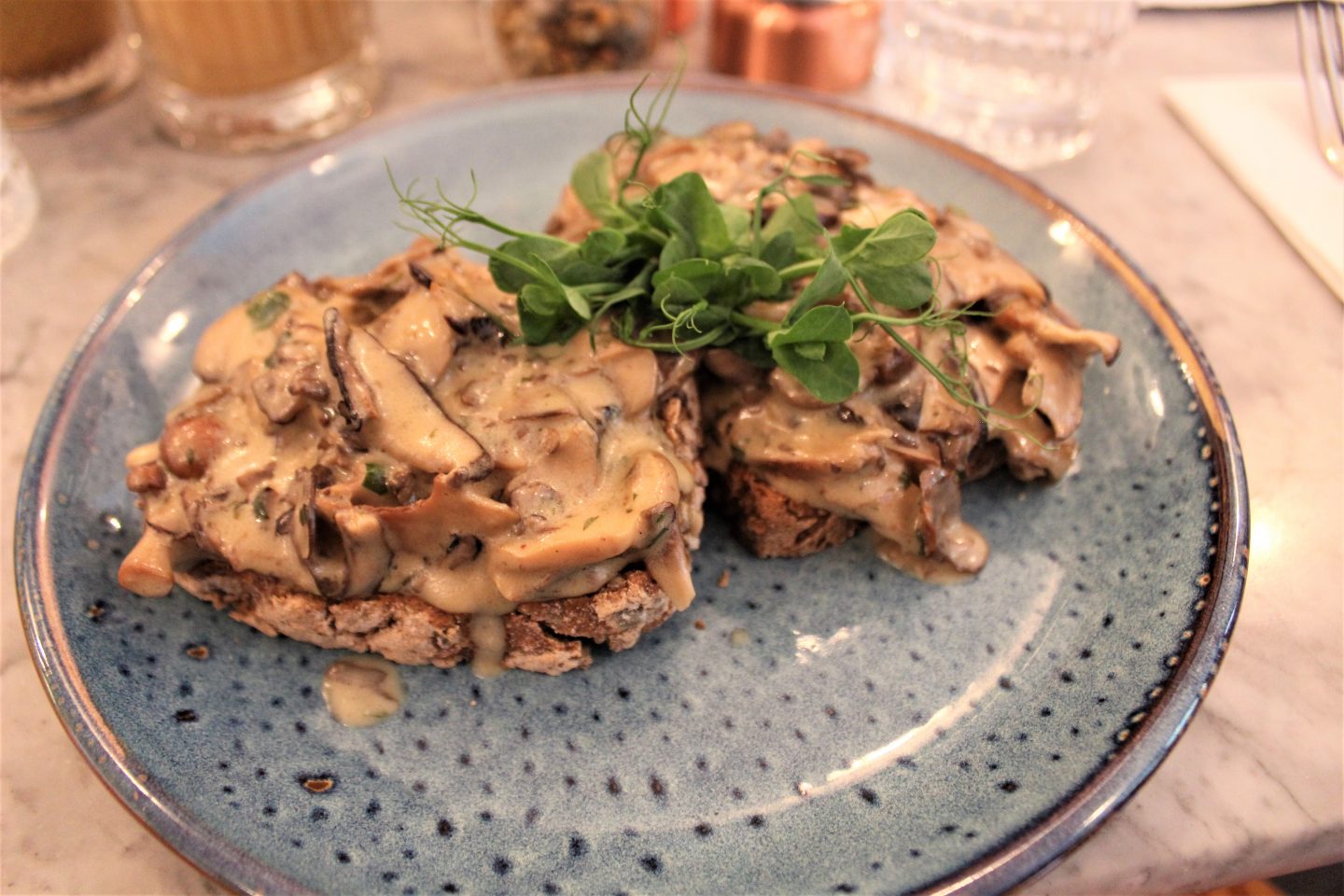 Mr B chose the Buff burger which is a 'protein-packed fibre-boosting' shitake mushroom, black bean, toasted walnut and ruby beet burger on a seeded charcoal brioche with caramelised red onion marmalade, kimchi super slaw and chunky sweet potatoes.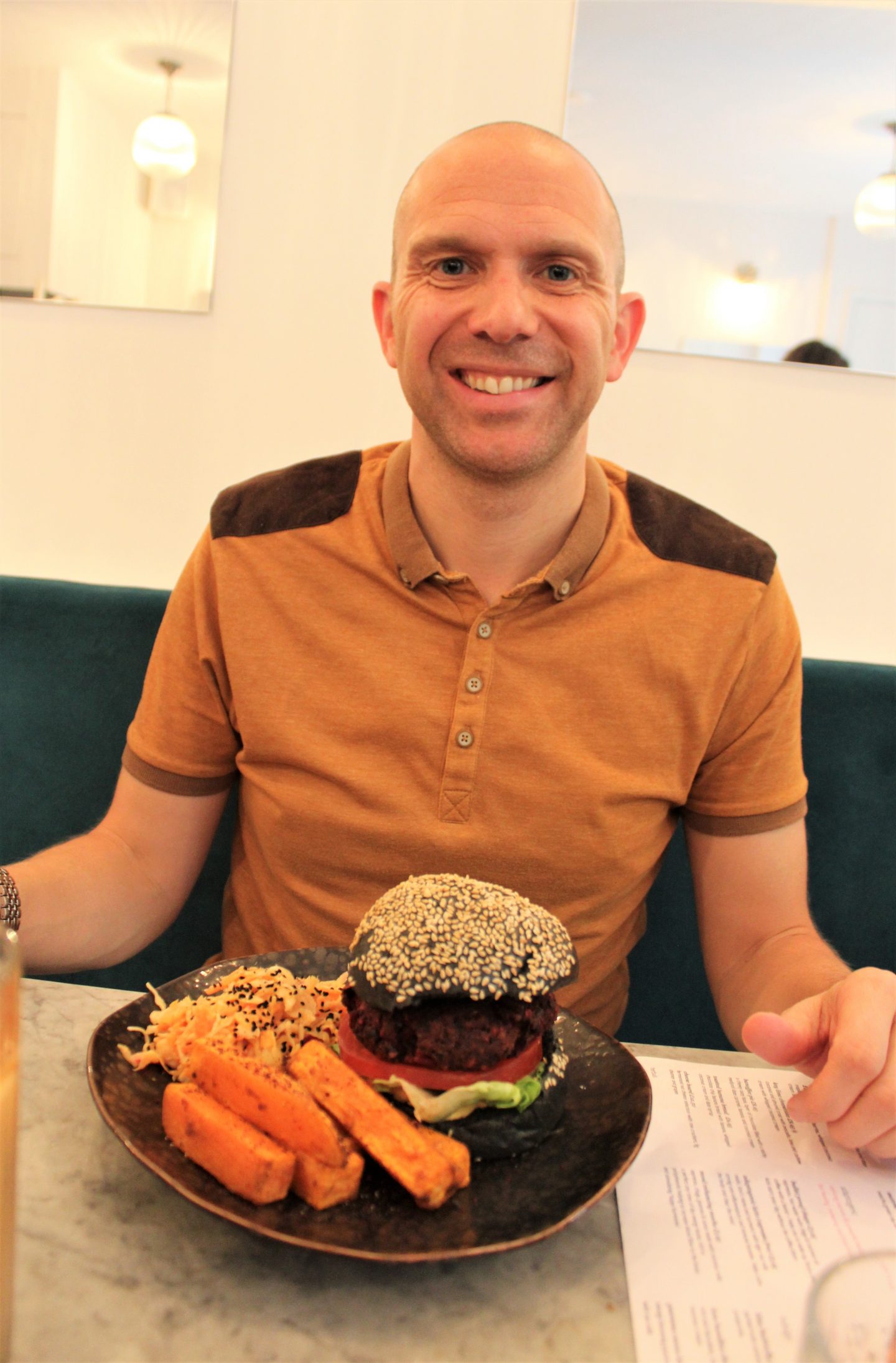 It looked really impressive and Mr B loved it, saying he absolutely did not miss the meat in the burger as it was made so well and had such great texture. Now what I really loved were those chunky sweet potatoes – I may have pinched more than a few off his plate!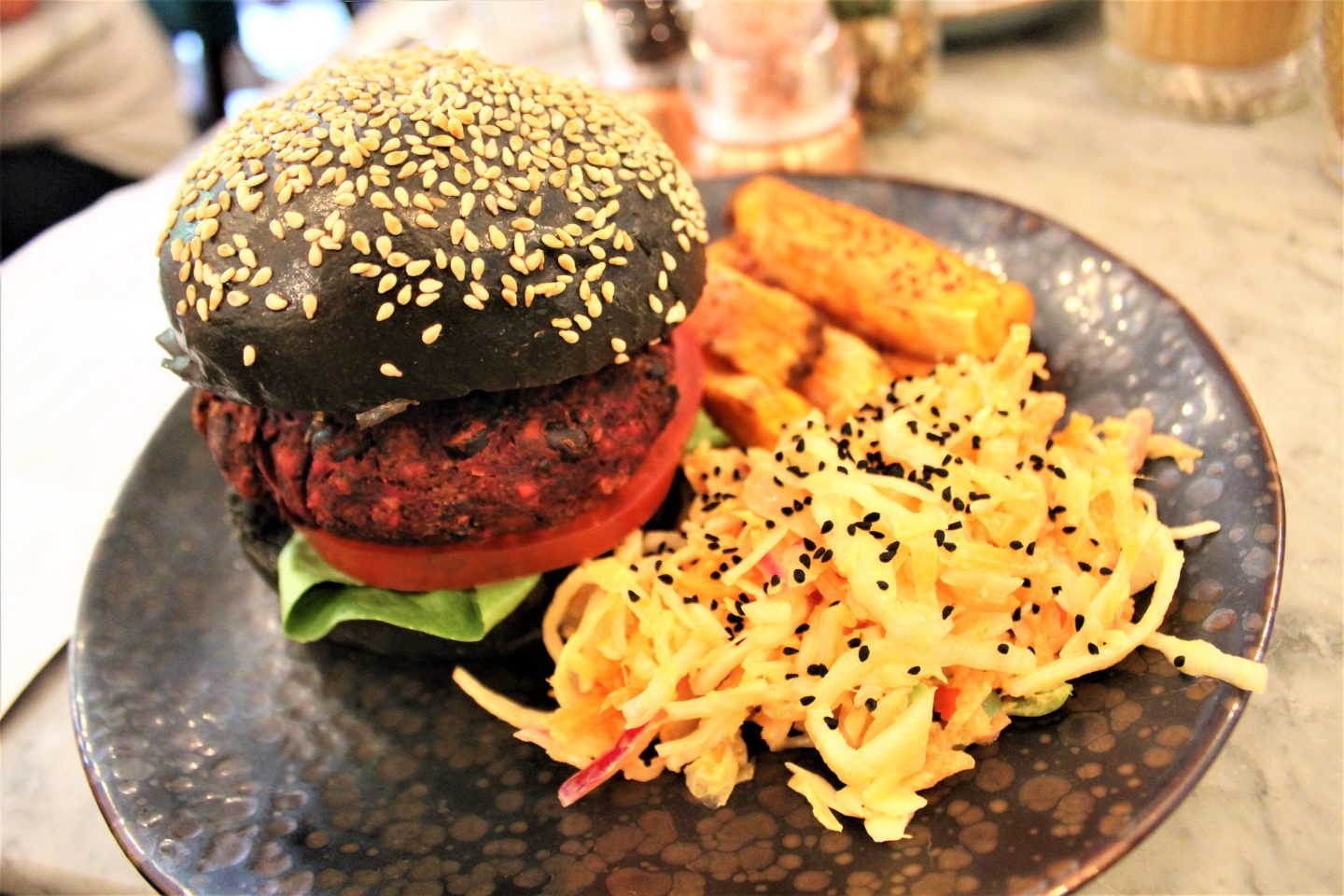 Feeling very full we decided to share a dessert and were both drawn towards the Key lime cheesecake, which had a coconut and almond crust with avocado, lime and cashew cream with whipped coconut cream.
When it came out it was very pretty and was one of those desserts that you can't wait to tuck into!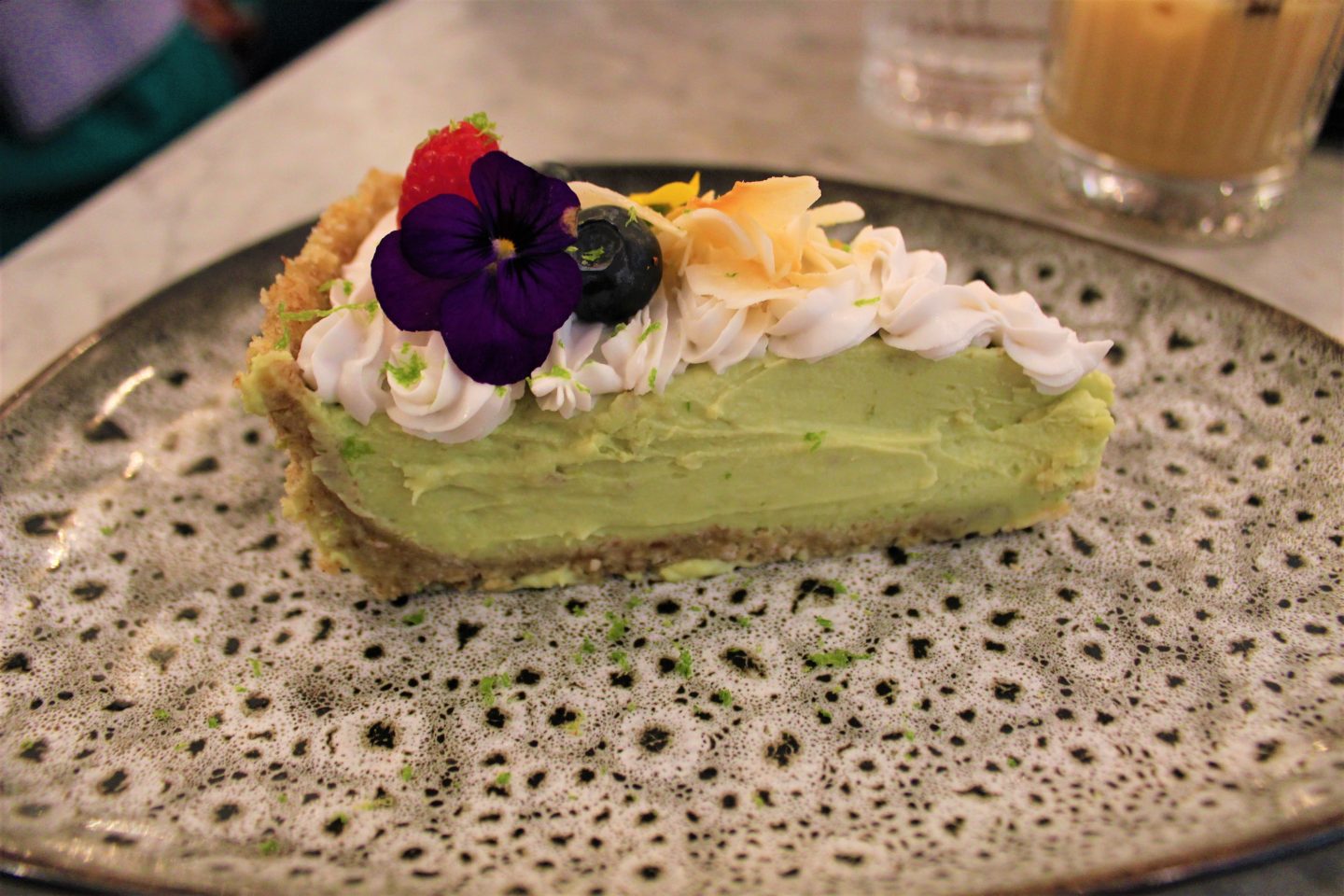 Now we were impressed with the mains but wow, wow, wow, this dessert was heaven on a plate. If you like Key lime pie you would adore this dessert – it was so rich, smooth and creamy and packed with that lime kick you want from a Key lime pie. The base was the perfect thickness and had a lovely crunch.
I honestly did not miss the meat, wheat and sugar and I loved the balance of flavours and textures in the food. As I'm sure you can tell I would, without a doubt, visit another vegan restaurant again (preferably Redemption)!