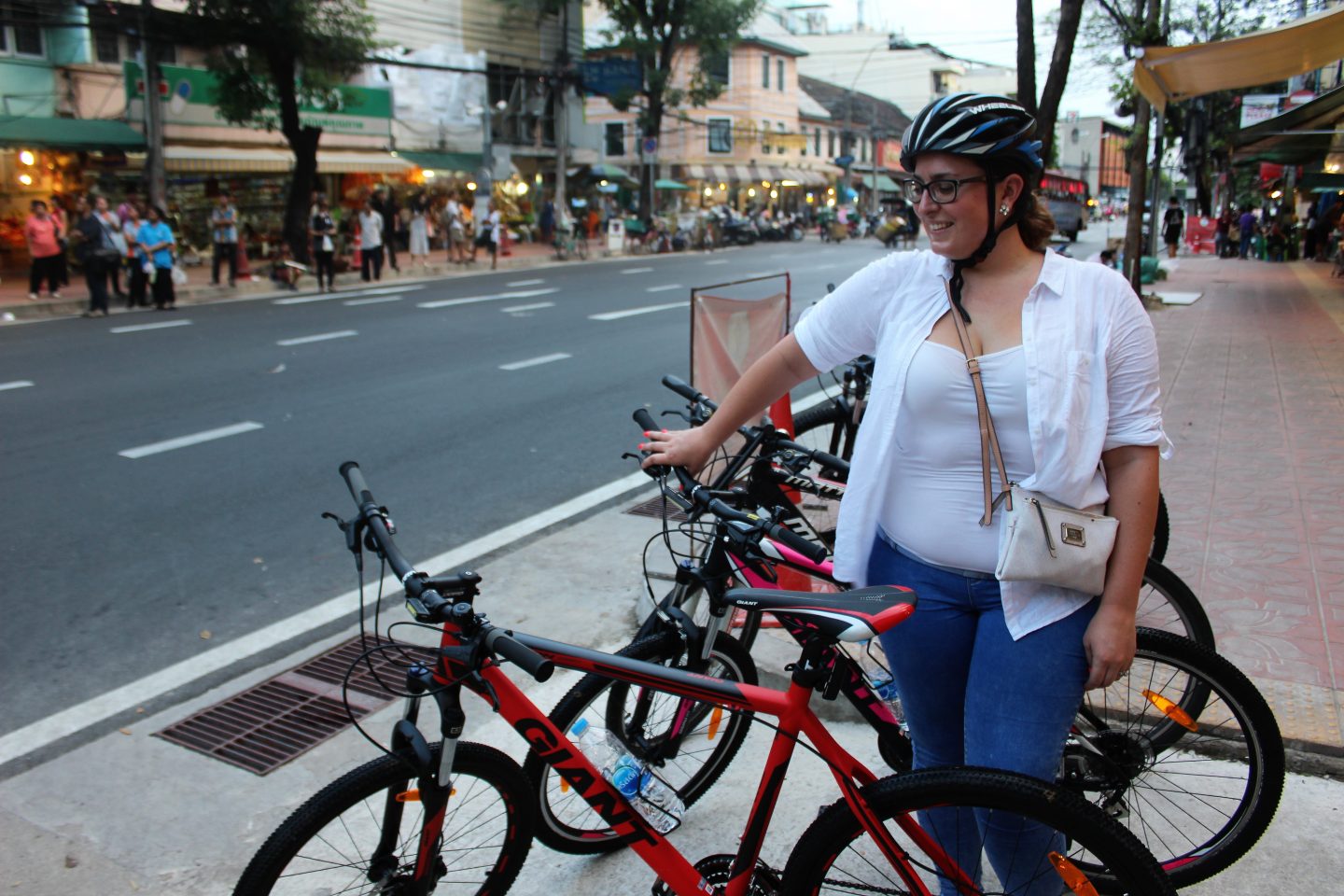 Mr B and I knew we wanted to see as much of Bangkok as we could during our three nights in the city, but what we really wanted was to see the real Bangkok, away from the souvenir shops and tourist restaurants. I found Bangkok Vanguards online and the more I read about them the more I knew I really wanted to do a tour with them!
Their philosophy is 'Vanguards go beyond classic sightseeing and focus on urban and rural offbeat adventures.' And boy did they deliver!
 We did the Bangkok Nightriders bike tour and at the end of our tour Mr B and I both said out of all the tours we have done, in several cities, this was hands-down the best!
Even though our taxi dropped us off a minute's walk away, we still managed to get lost! So after one of the lovely staff came and found us and walked us to where we should have been, we were soon kitted up in our helmets and adjusting our bikes. The quality of these bikes, which were new Merida and Trek bikes, far outshone others we had used before on tours.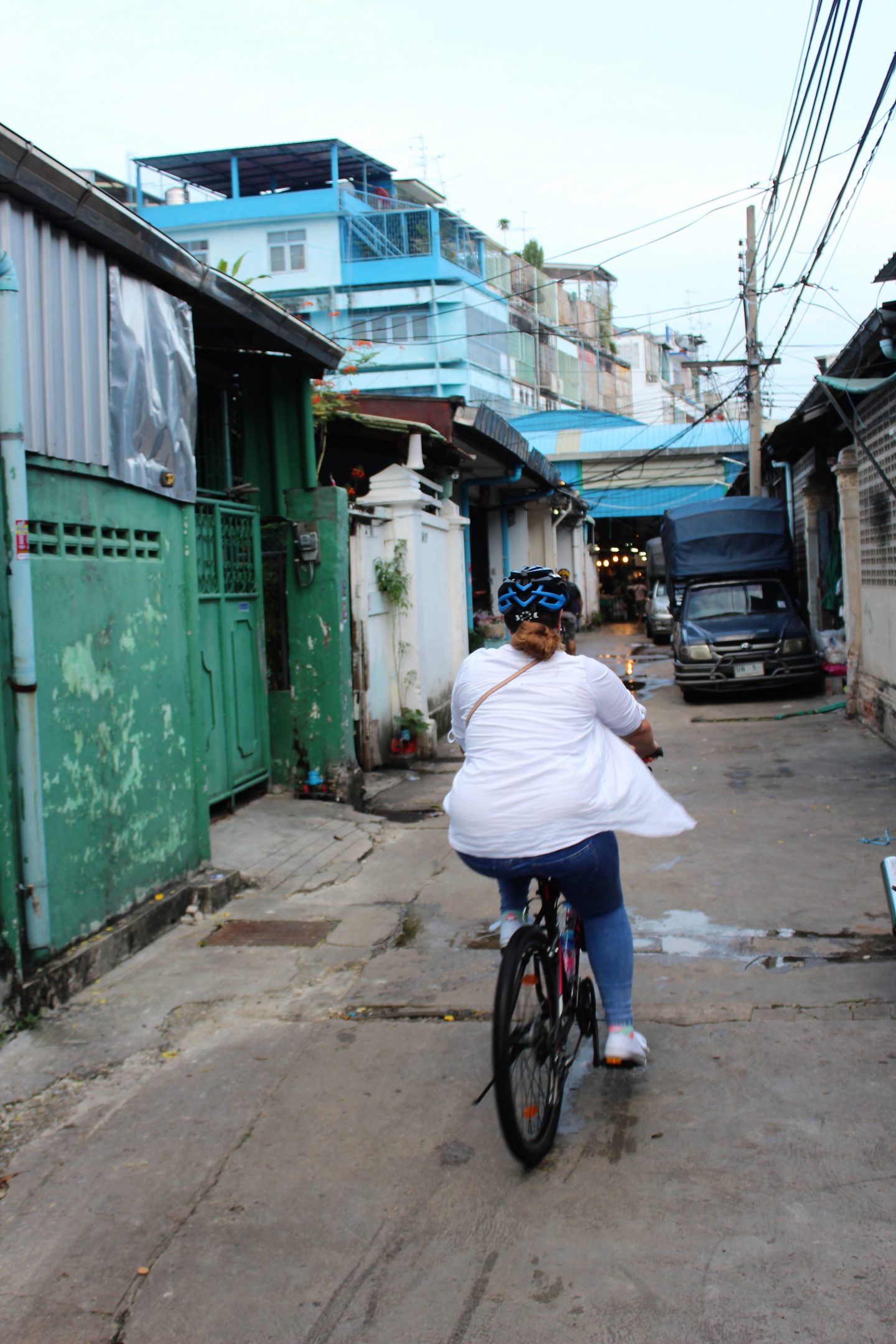 So off we set cycling down streets and through hidden alleys, learning about inner Bangkok, the houses, neighbourhoods, local hangouts and so much more.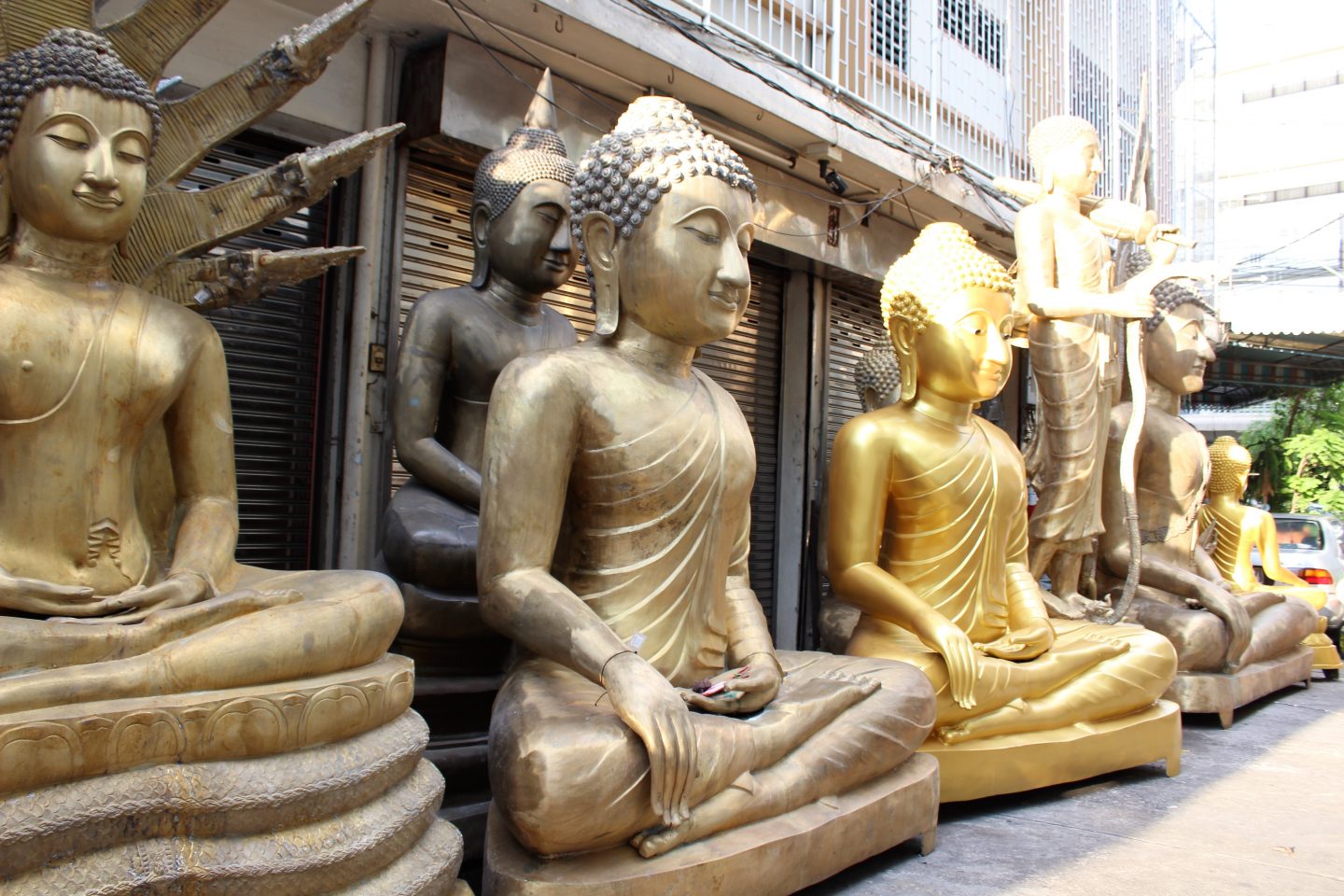 One of our first stops couldn't have been any more perfect for me as we sampled our first taste of street food and it was delicious! Barbecue pork kebabs, slightly sweet and just the right amount of salt . . . if we didn't have another 10 miles to cycle I could have had a few more!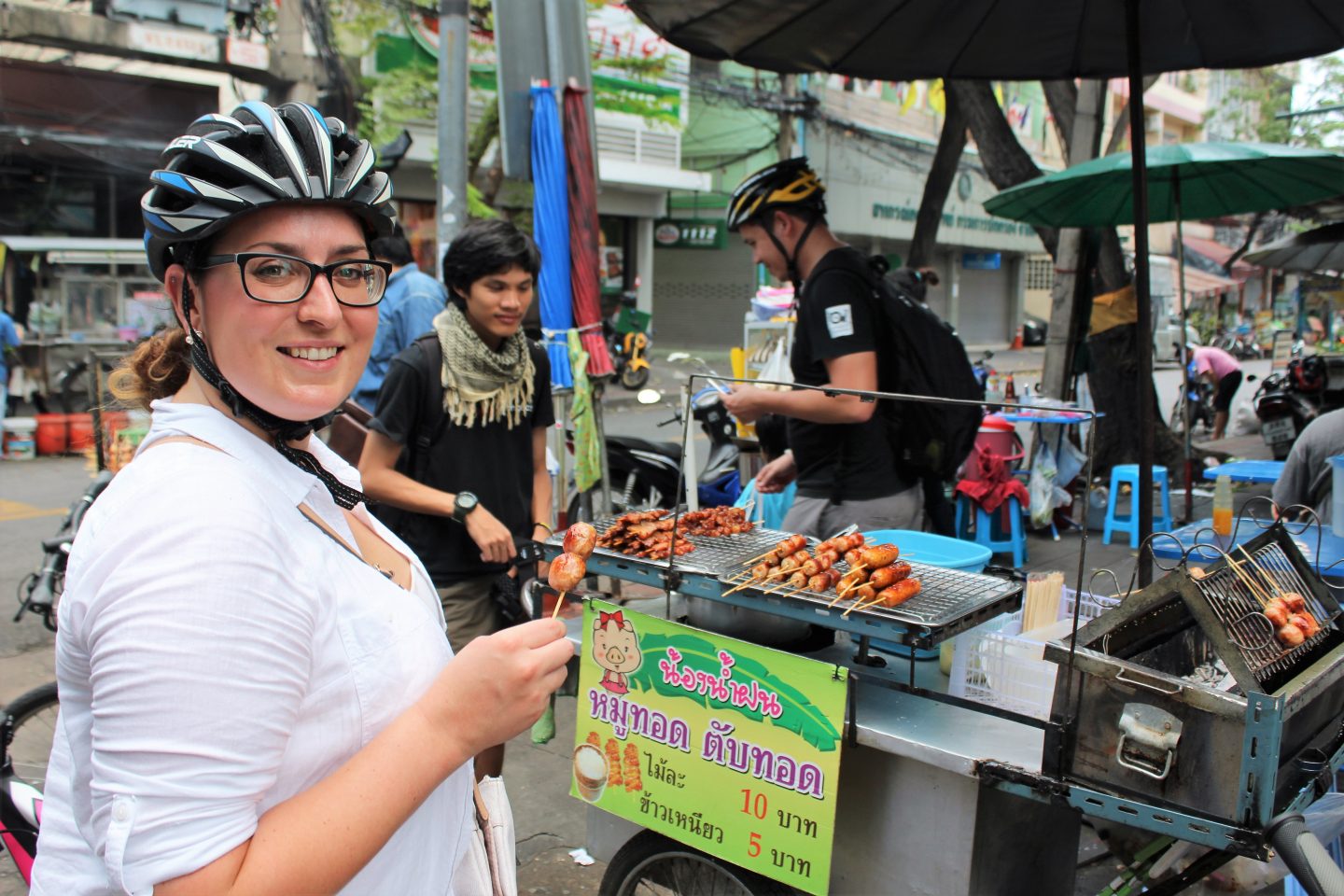 Peddling on we were on our way to the famous flower markets, not a usual tourist spot but one that really gives you an insight into everyday life.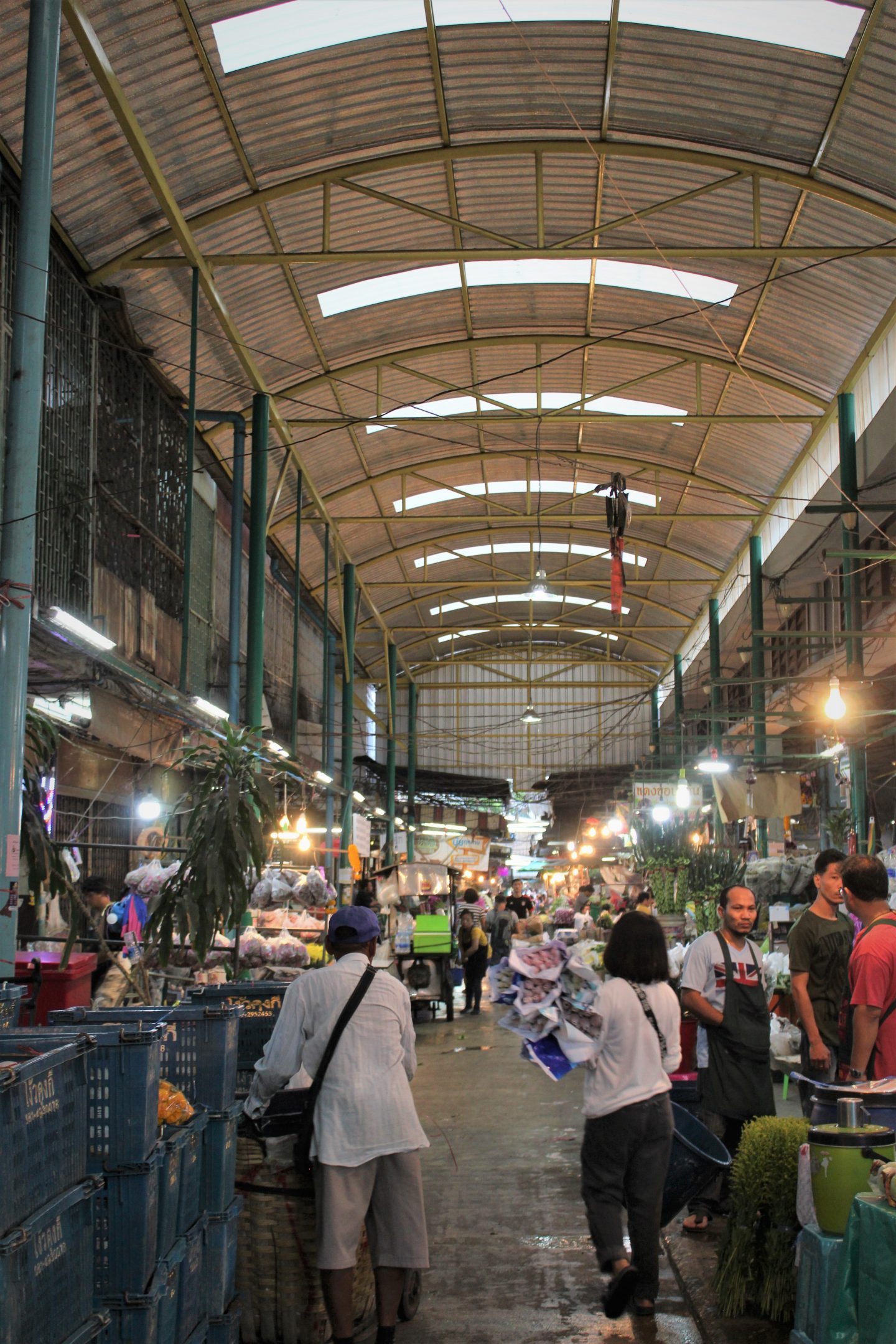 The market really has every flower you could imagine . . . orchids, lilies, roses, chrysanthemums and many more. Compared to UK prices they were so, so cheap! The place was bustling and full of life and of course it smelt lovely . . .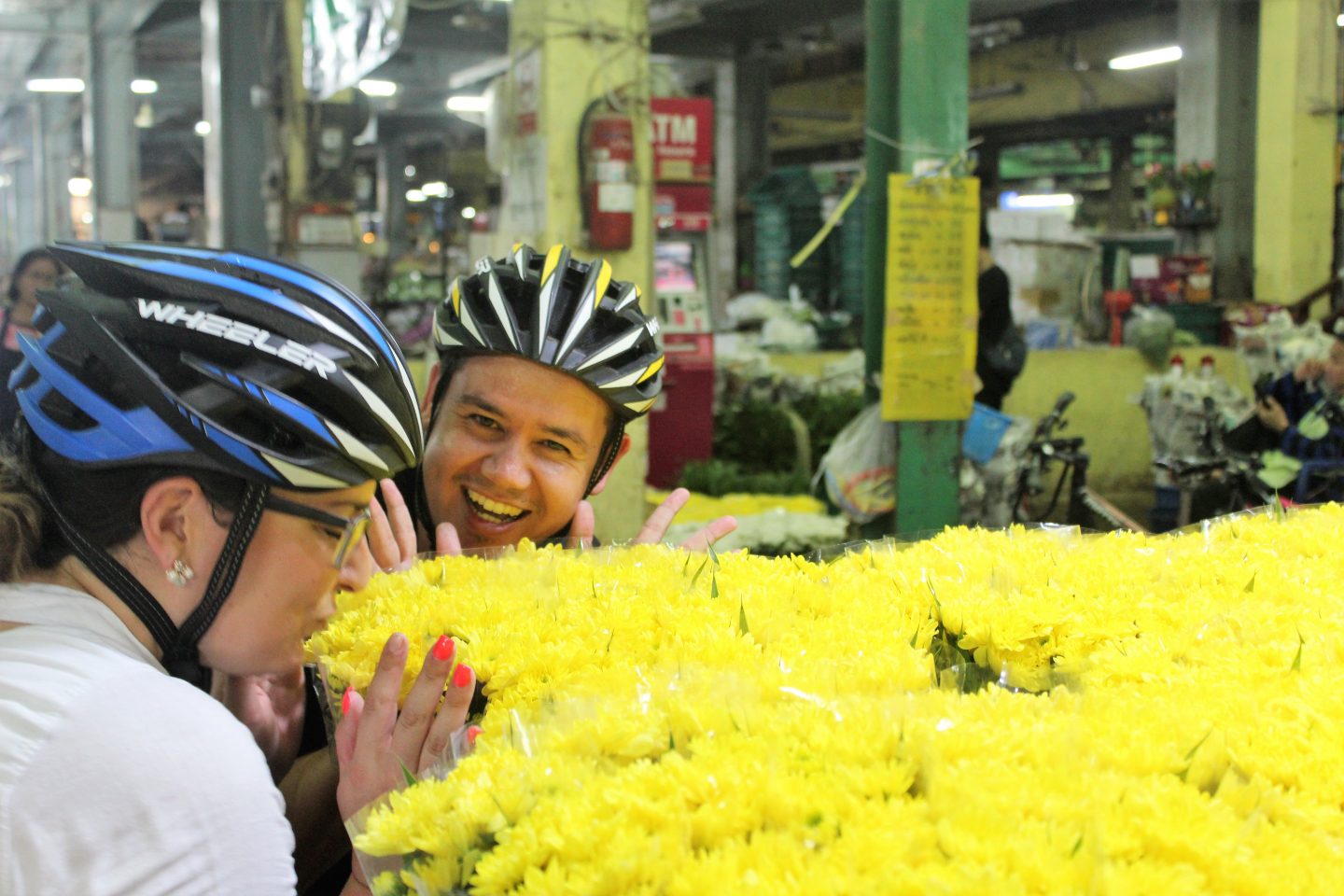 I loved the beautiful handmade flower garlands, called phuang malai. They are usually given for offerings or kept for good luck.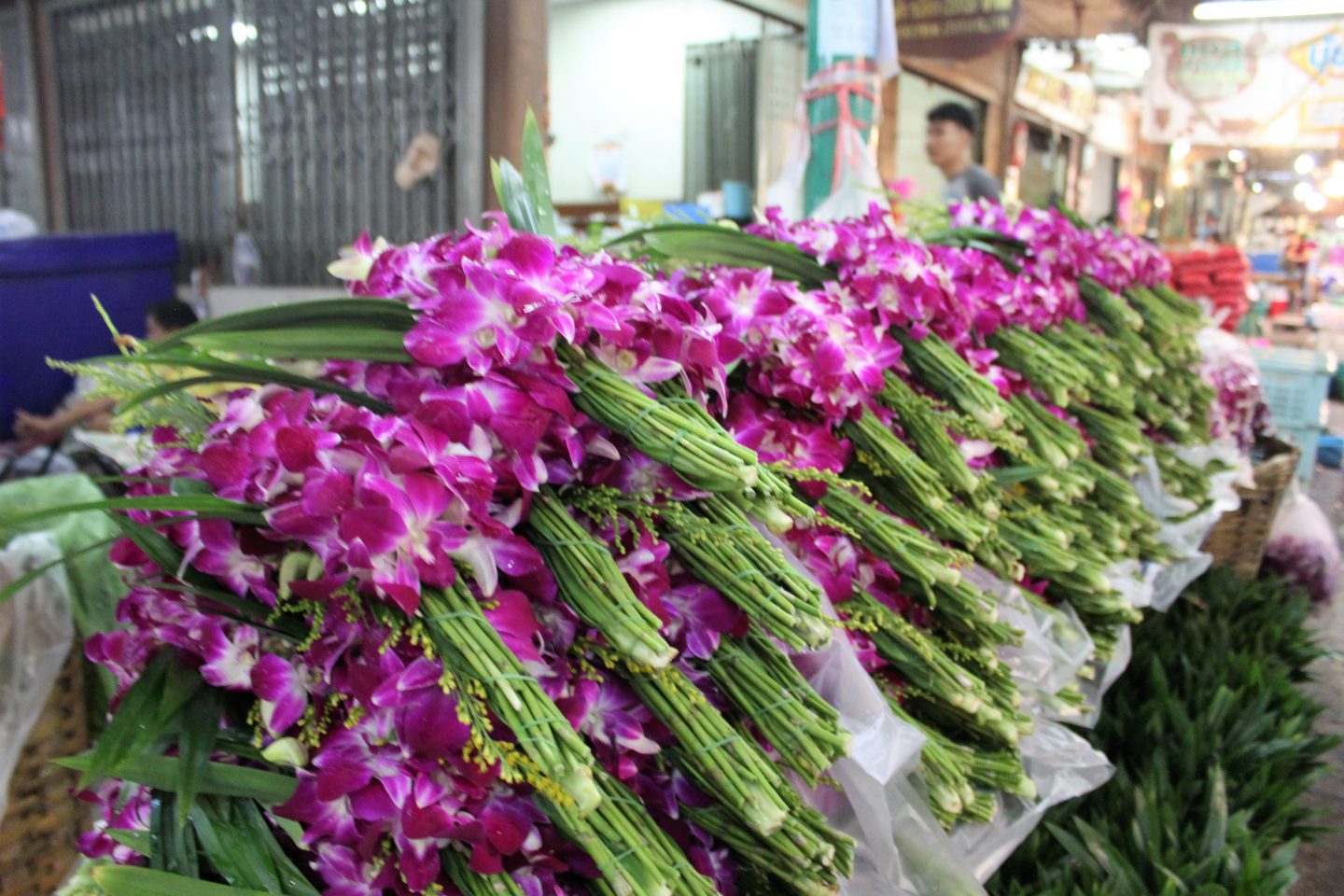 Hopping back on our bikes, we were off cycling through more hidden alleyways and neighbourhoods. It was like a maze and was just fantastic seeing the different houses and being told about the history and development.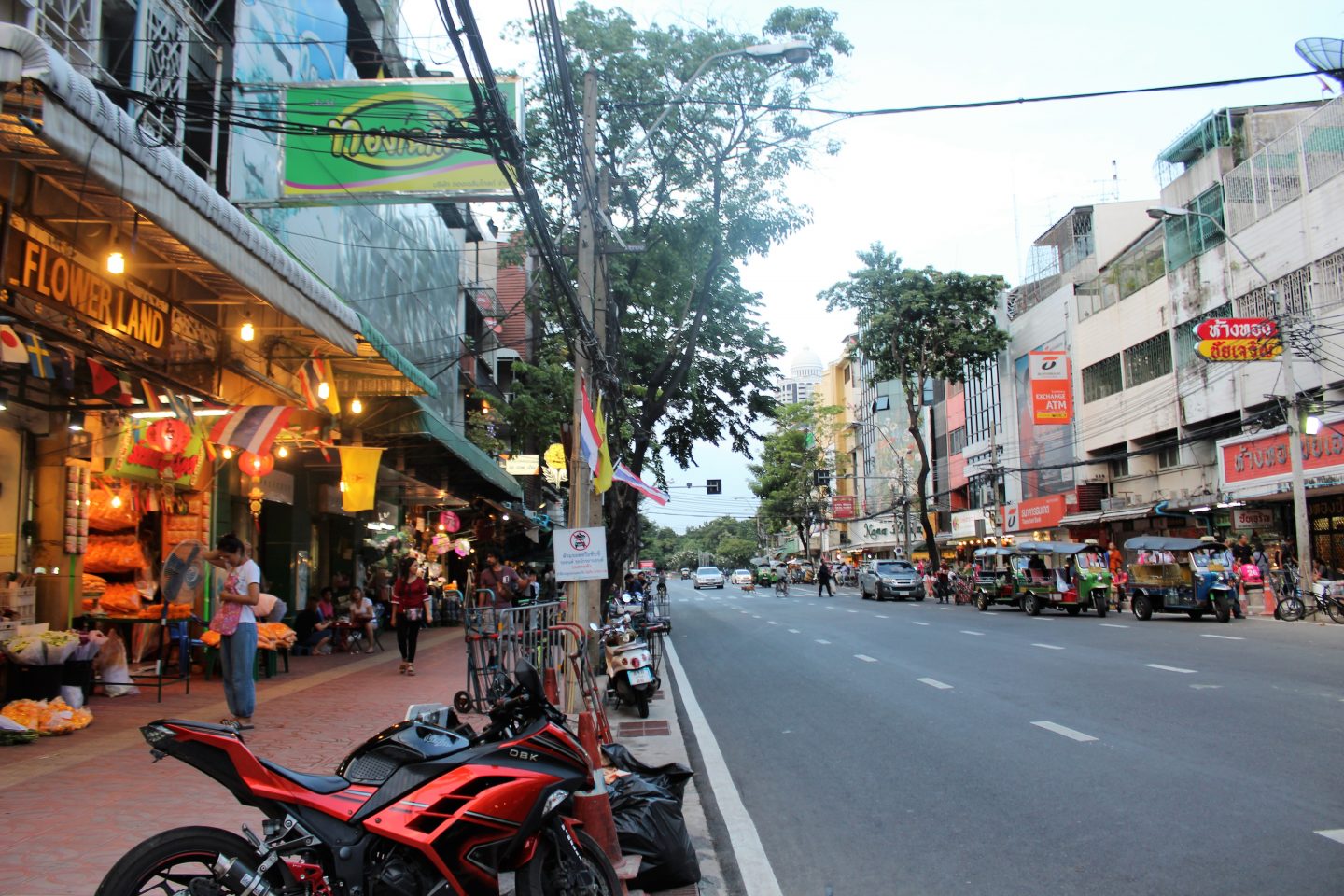 We stopped on a bridge just as the sun was setting, one of so many moments on this tour Mr B and I will never forget . . . those kind of pinch me moments that will live with you forever.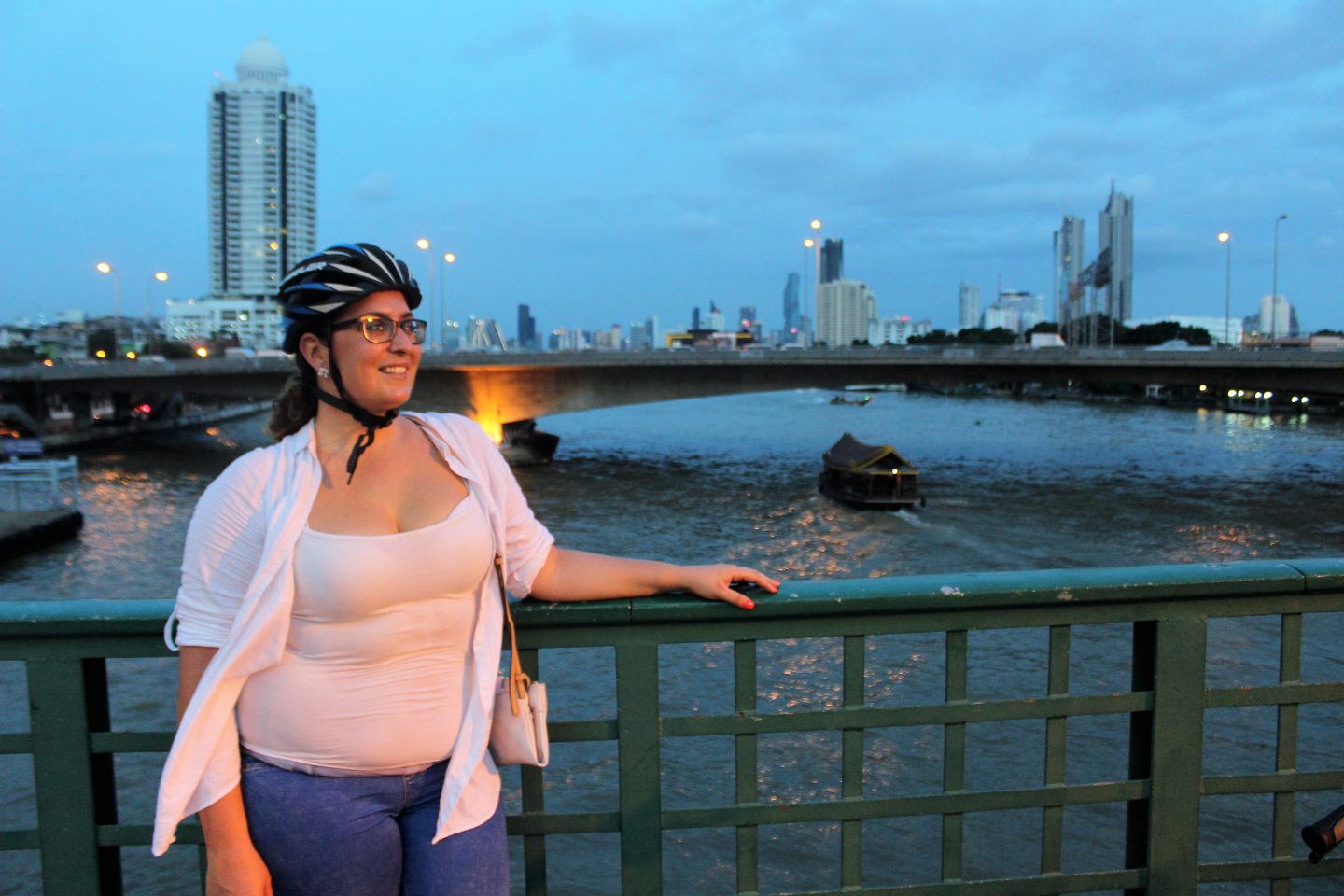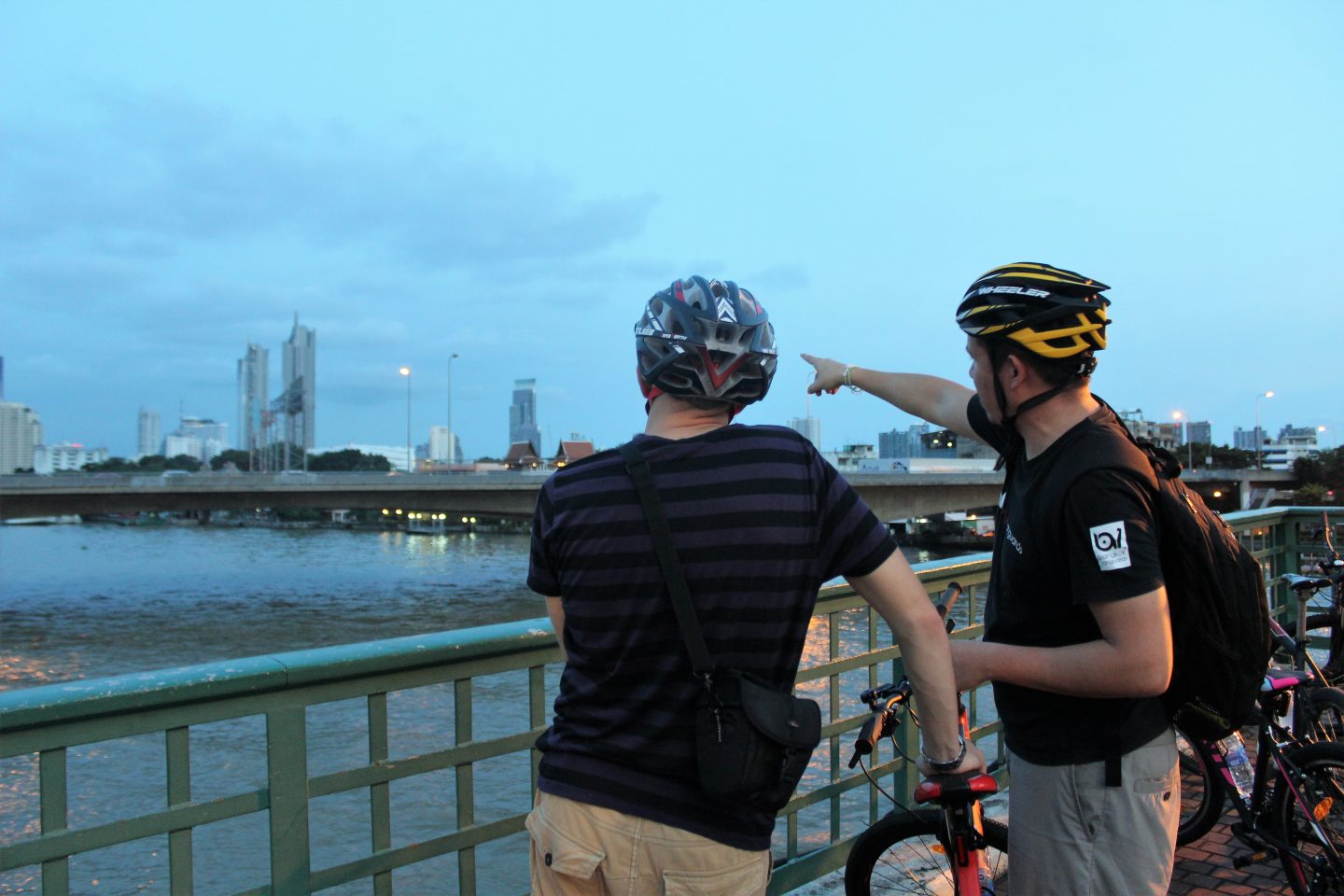 At this point we had developed quite a thirst and not the water kind. There had already been plenty of water stops but as it was getting dark and we were on holiday after all . . . it was time for a proper drink! This is another one of those memories that will stick with us forever as this was no ordinary bar. This was a local hidden den which made its own herbal liquor.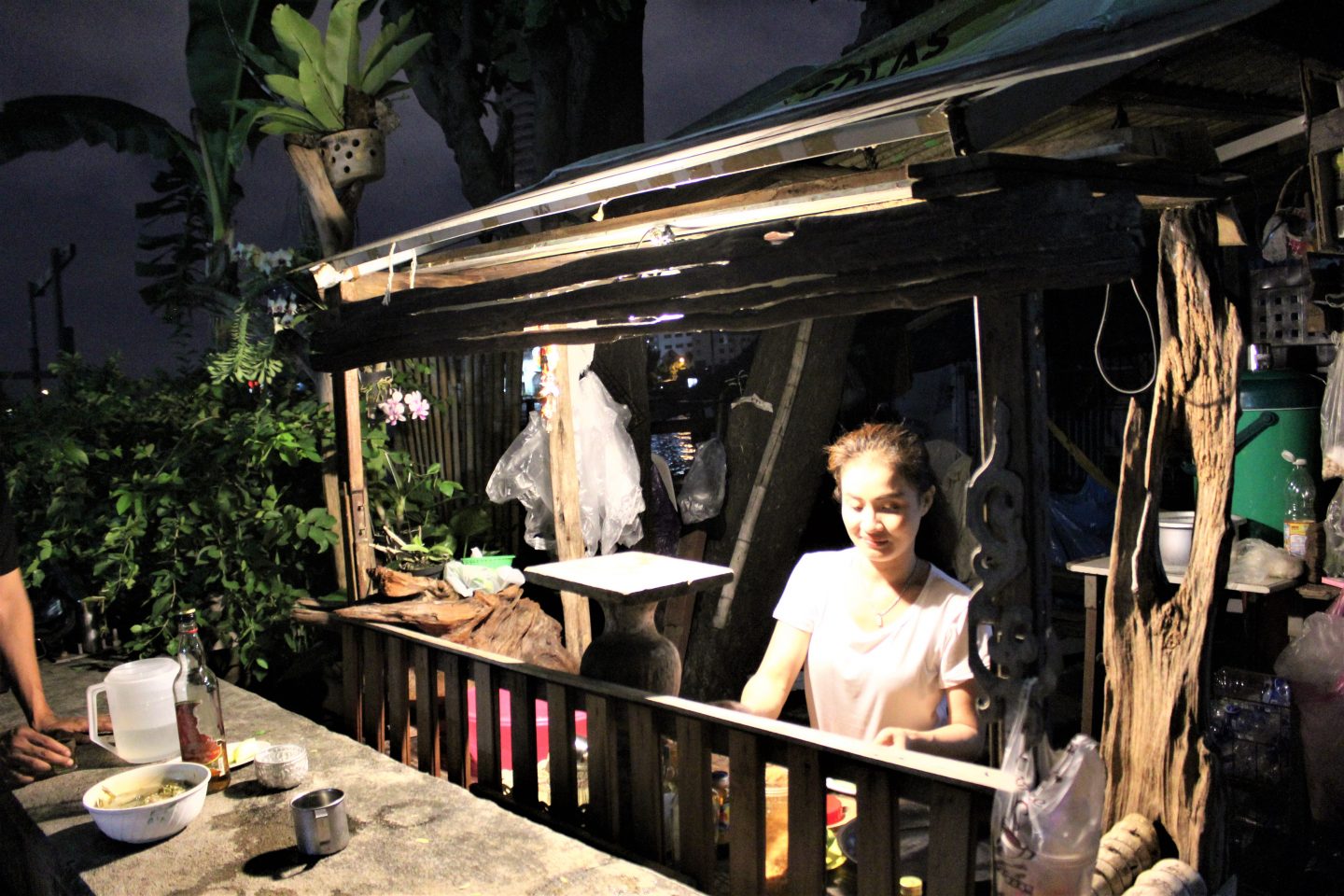 Like a Thai twist on tequila, this shot was accompanied with green mango which was dipped in a sugar and chilli mixture after taking the shot. I learned the hard way that you only need a little bit of the sugar chilli mix! It was a really smooth liquor . . . and very strong. The price you would pay in one of Bangkok's sky bars would get you 35 of these shots!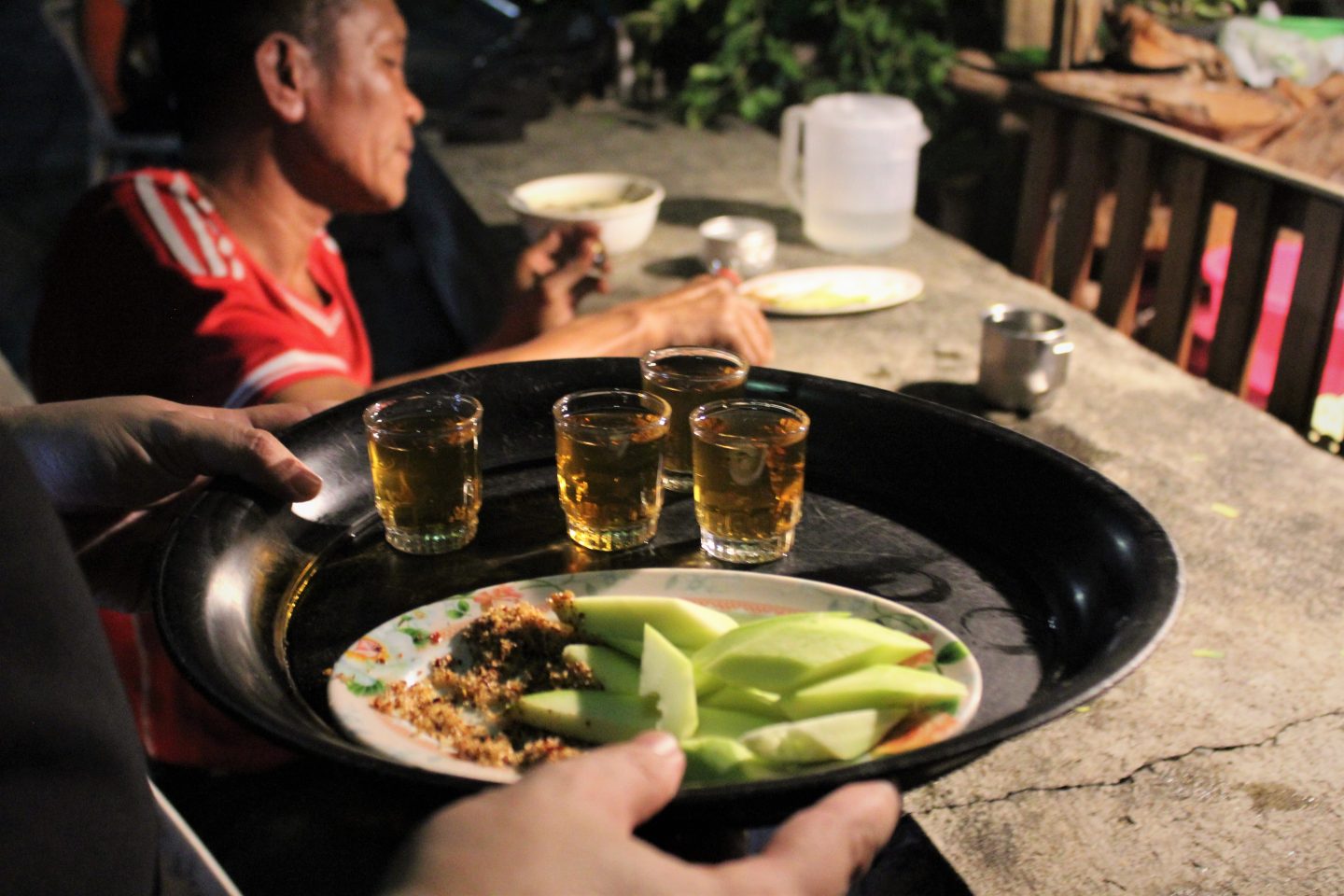 I also have to mention how friendly and welcoming the locals were, who invited us to take a seat at the bar and have a chat with the help of our guide Michael playing translator.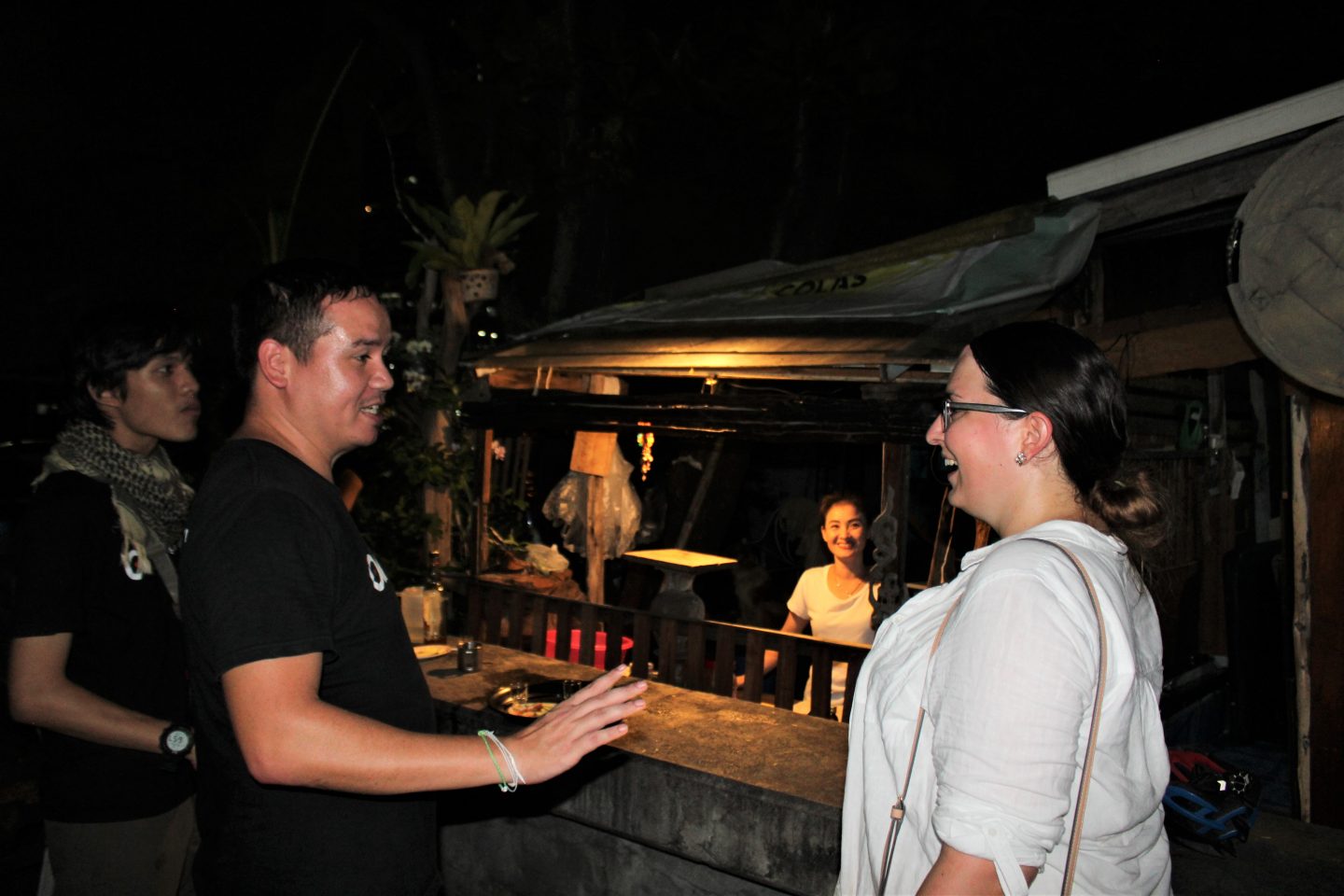 Two shots later it was time to head off for dinner, but this was no normal tourist trap restaurant . . . we were actually going to dine in a local family's home. Welcomed in, we were immediately given a drink with our mouths watering from the incredible smells!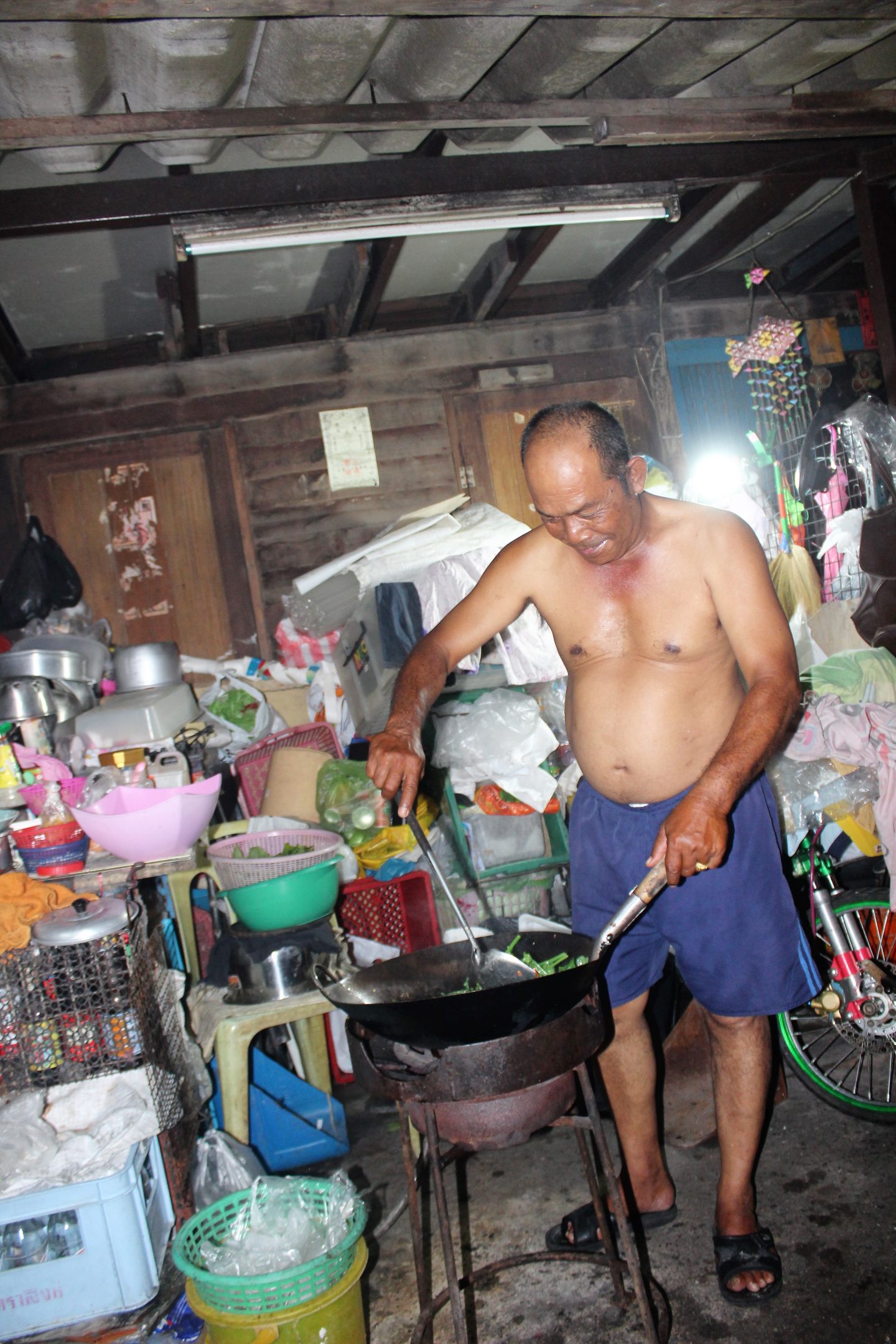 Our feast included the most delicious garlic chicken which was tender and juicy, an omelette which Mr B found hilarious as I kept saying it was the best omelette I had ever had (it actually was!), Thai soup, greens and of course perfect fluffy rice. It was delicious and both Mr B and I had seconds and were absolutely stuffed! It was such a unique experience.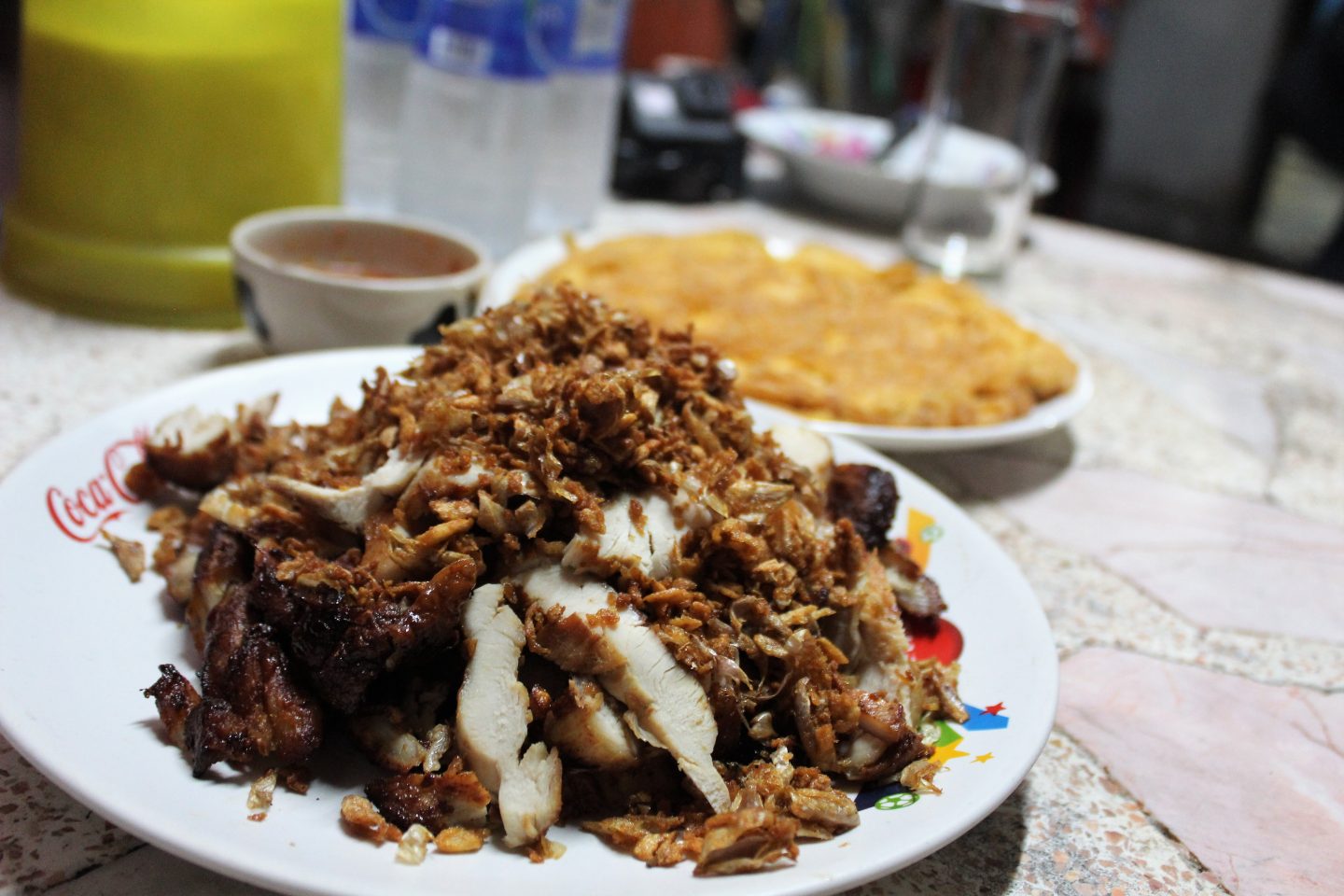 Rolling back onto our bikes we made our way to Khlong San district which is an area that is preserving its local history and culture, helped by heritage projects. It is clear a lot has been invested into the area, as we visited a refurbished warehouse full of high-end shops. And around the corner some beautiful street art decorated the walls.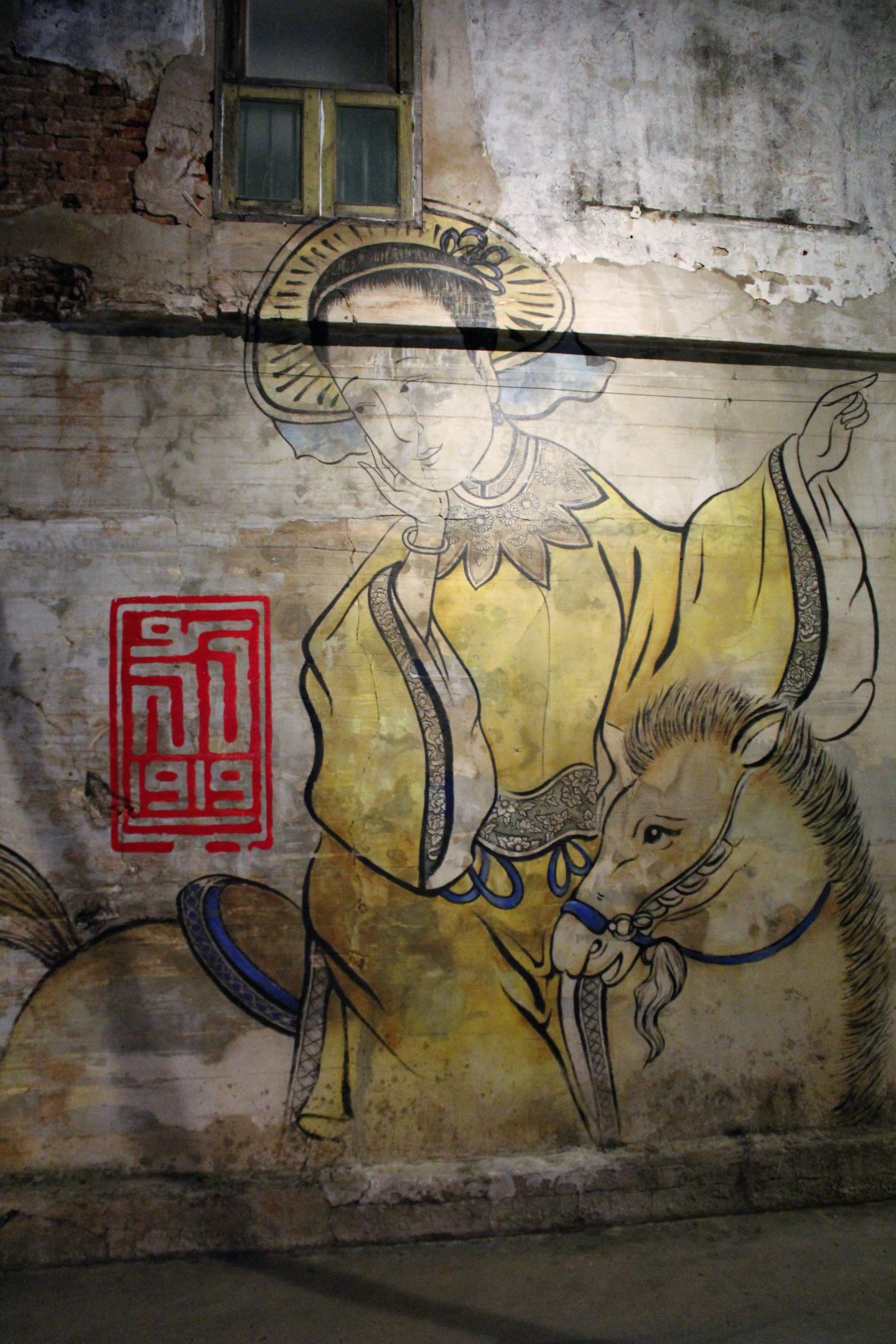 Cycling through the narrow alleyways, we suddenly found ourselves at Chao Phraya which is the main river in Thailand and runs through the centre of Bangkok. We jumped on a ferry for a quick crossing to the other side, admiring the twinkling skyscrapers along the way.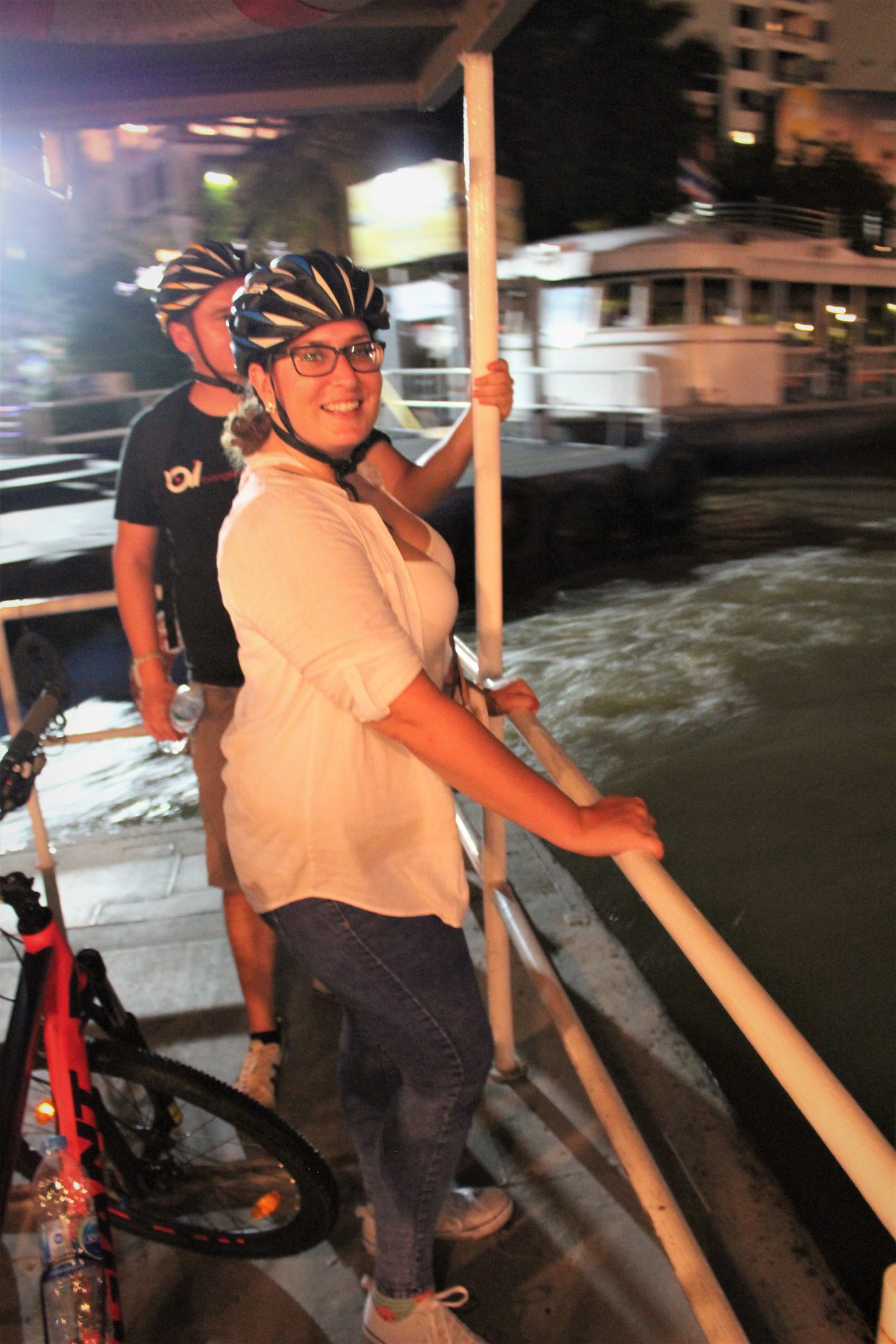 Hopping off the ferry our next destination was Chinatown, with Michael telling us we were heading to Yaowarat which was his favourite neighbourhood.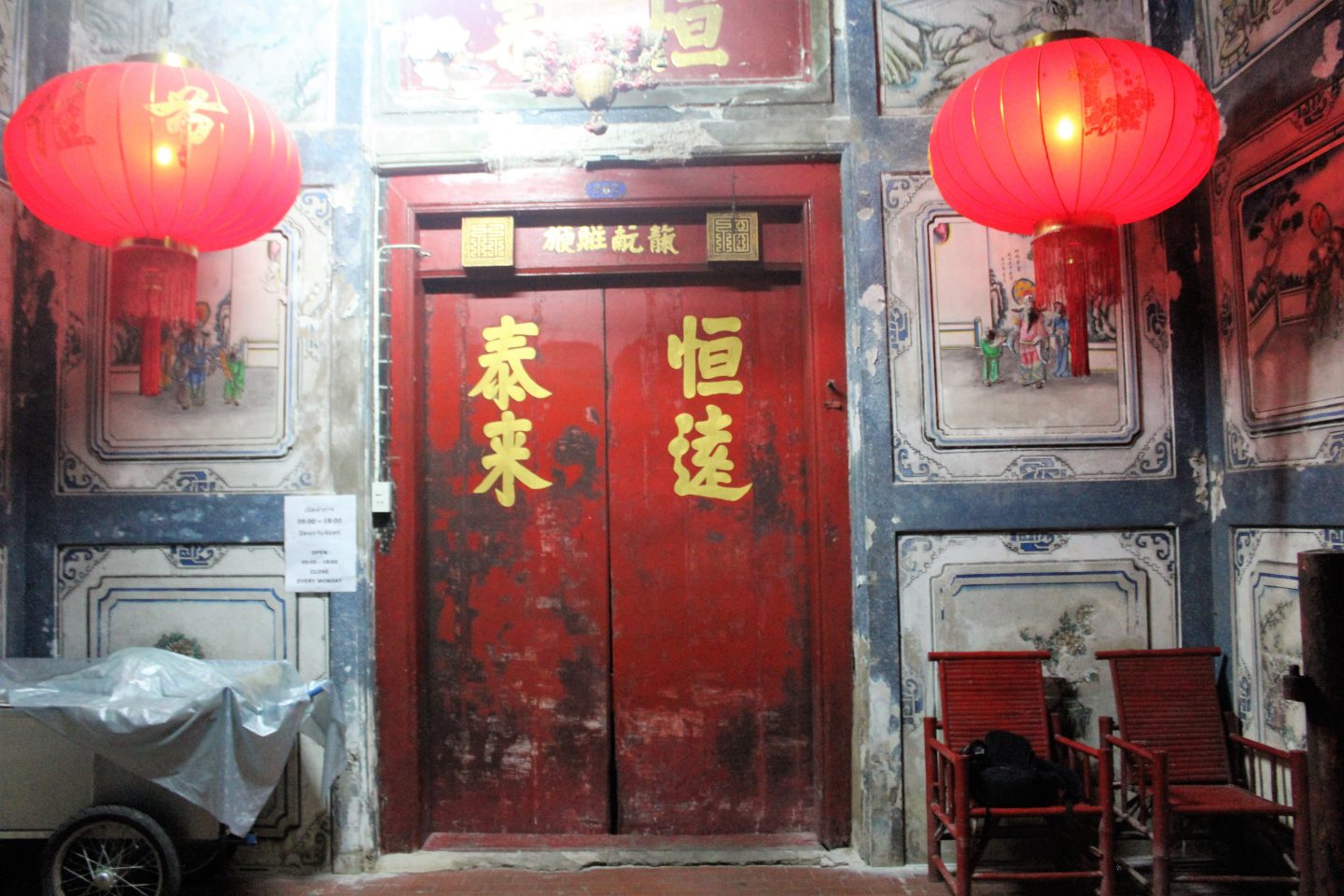 Cycling down the main street was electric and reminded me of a Thai version of Times Square in New York, full of neon lights, traffic, people, noise and amazing smells. I didn't know where to look first.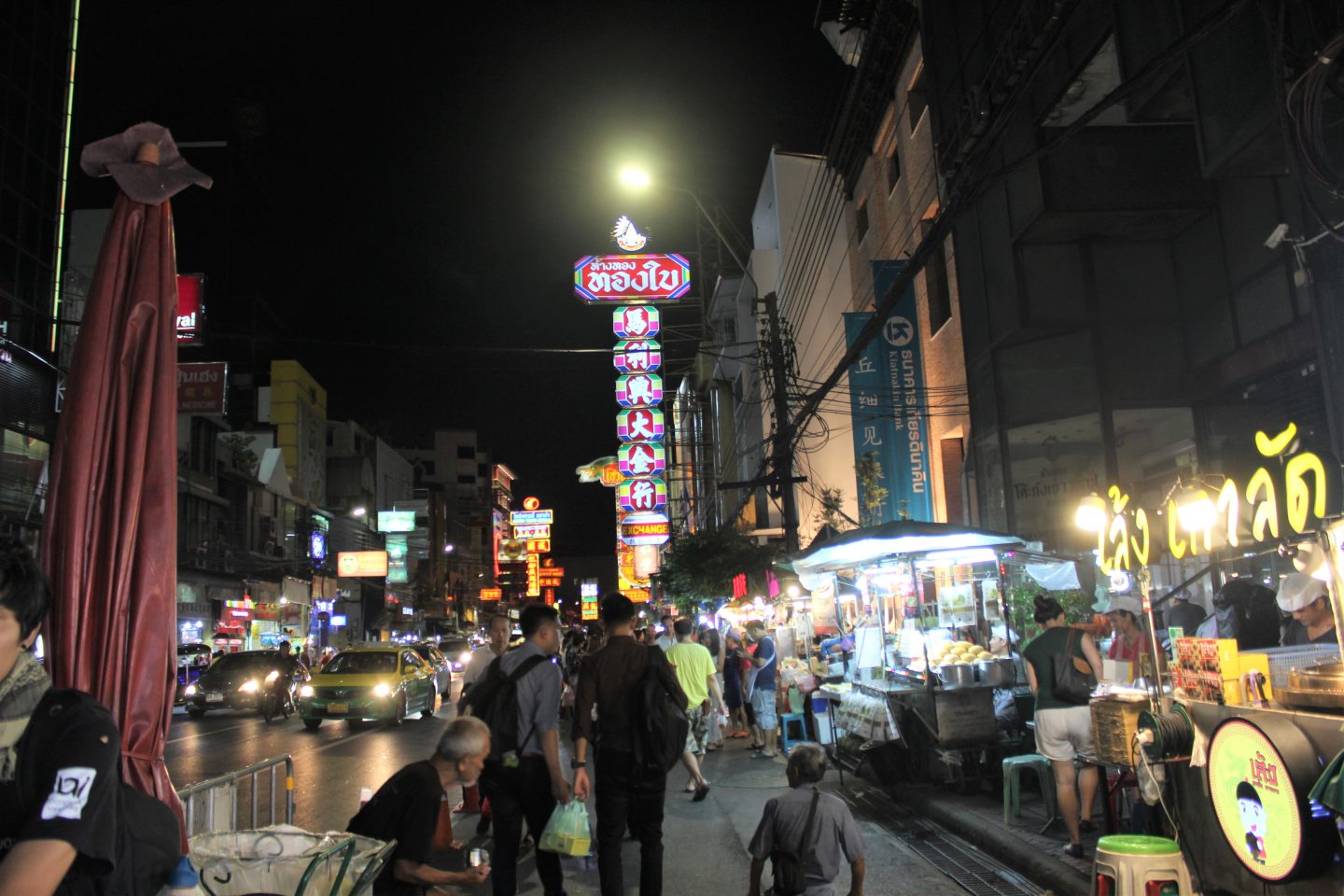 We parked up and jumped off our bikes to soak up the atmosphere. The streets were lined with food vendors and it would have been rude not to have a little try of something.
Mr B and I shared as we were so full from dinner. Michael recommended Lod Chong, which is sweet custard noodles with a sweet coconut ice. It doesn't look much to the eye but was so delicious and refreshing, I wish we would have had one each!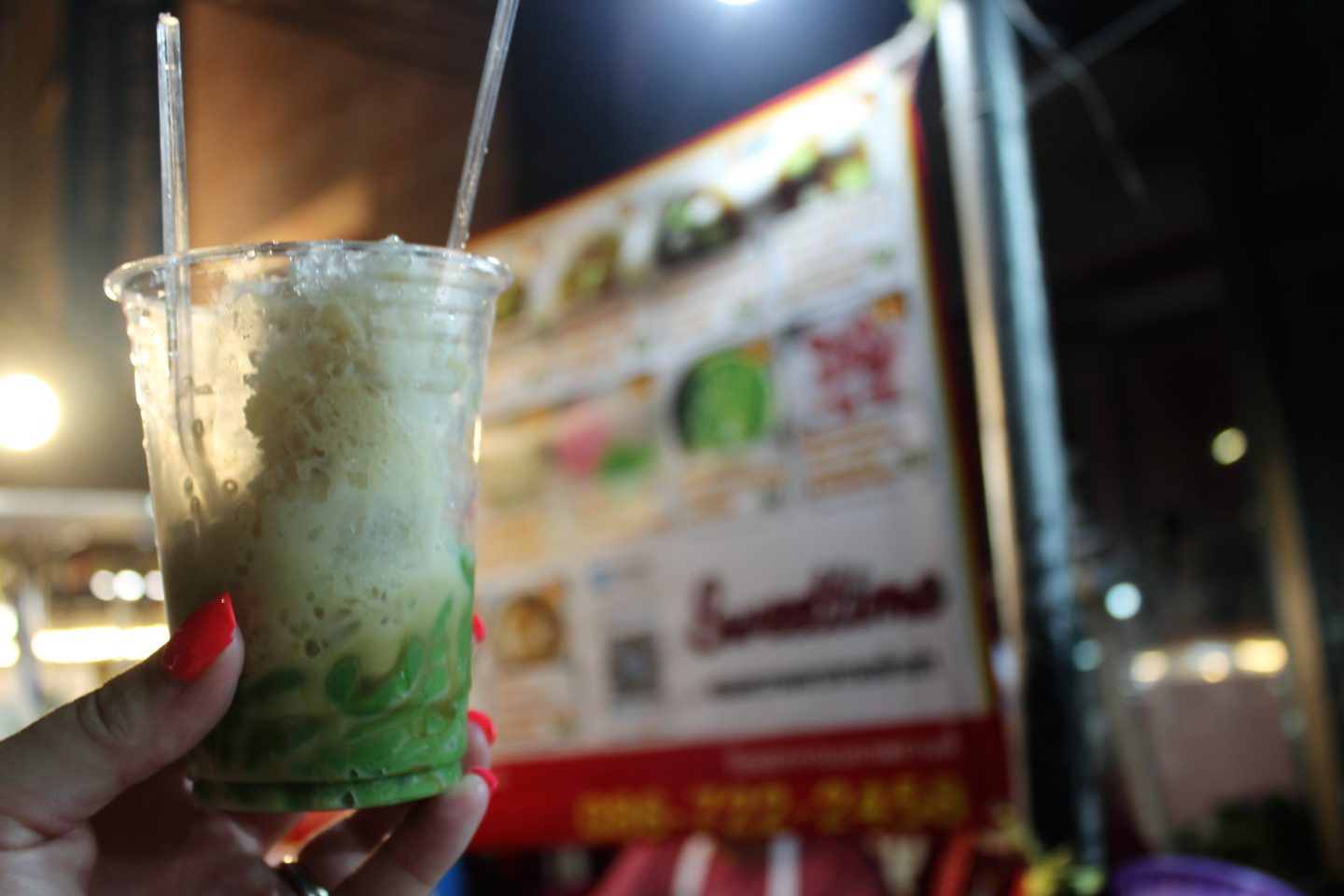 Our final stop could not have been any more perfect as we visited Wat Pho, a Buddhist temple complex.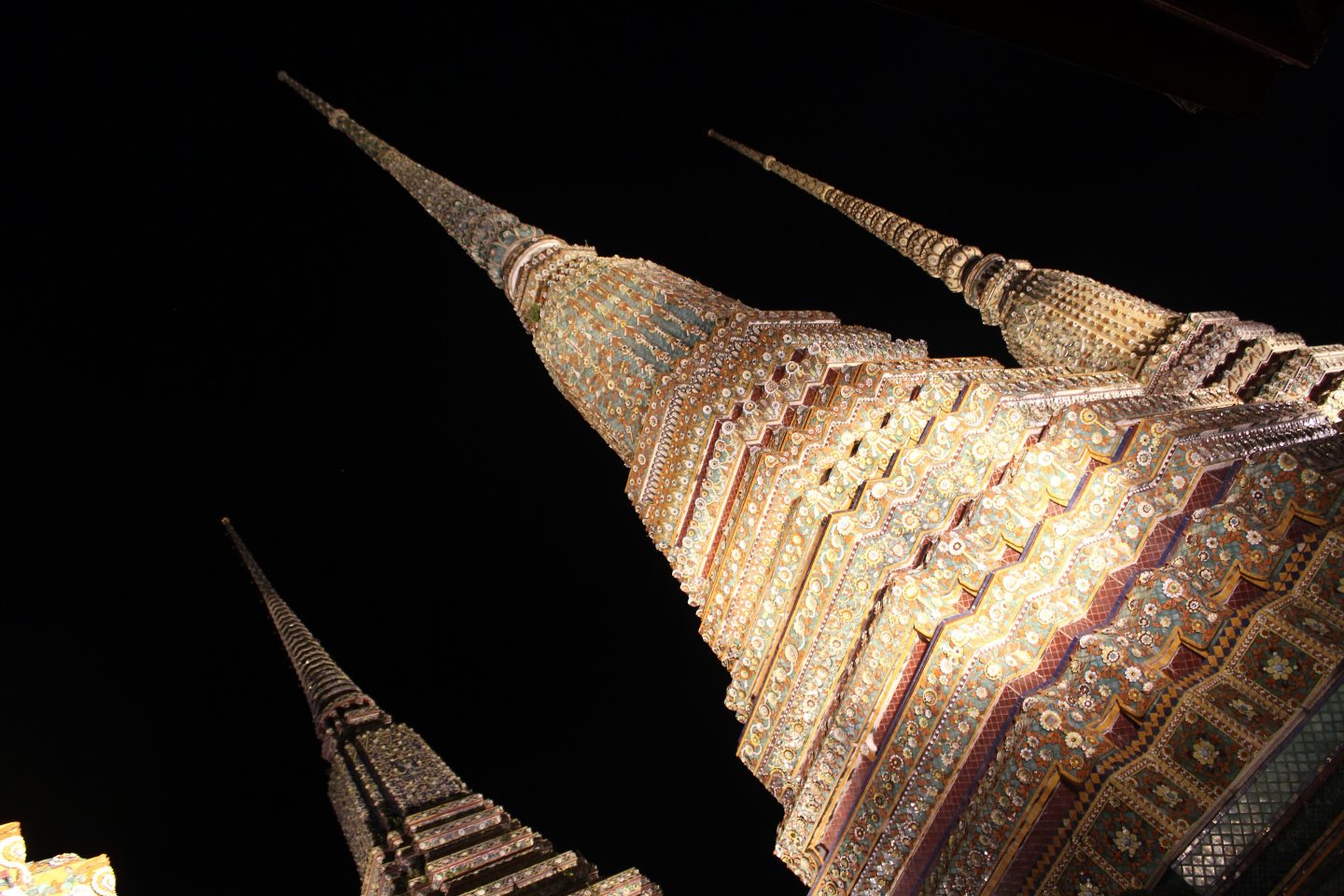 During the day it is heaving with tourists, but at night it is practically abandoned. It was an honour to be in this beautiful place at night. It was so peaceful and relaxing and to be able to soak it all up without being surrounded by a mass of people was really special.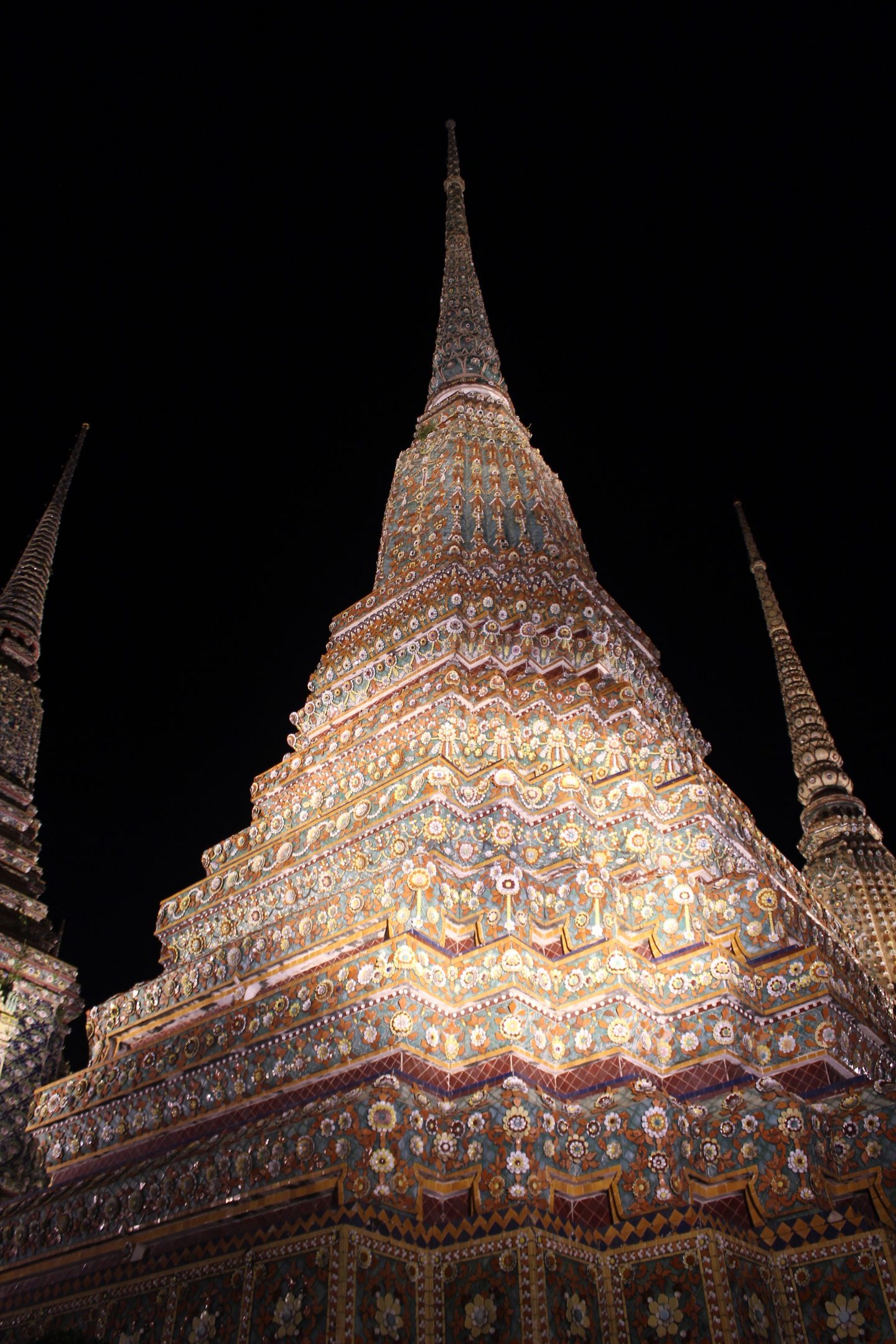 I was mesmerised by the temples in the day, but in the evening lit up by moonlight, they were breathtaking.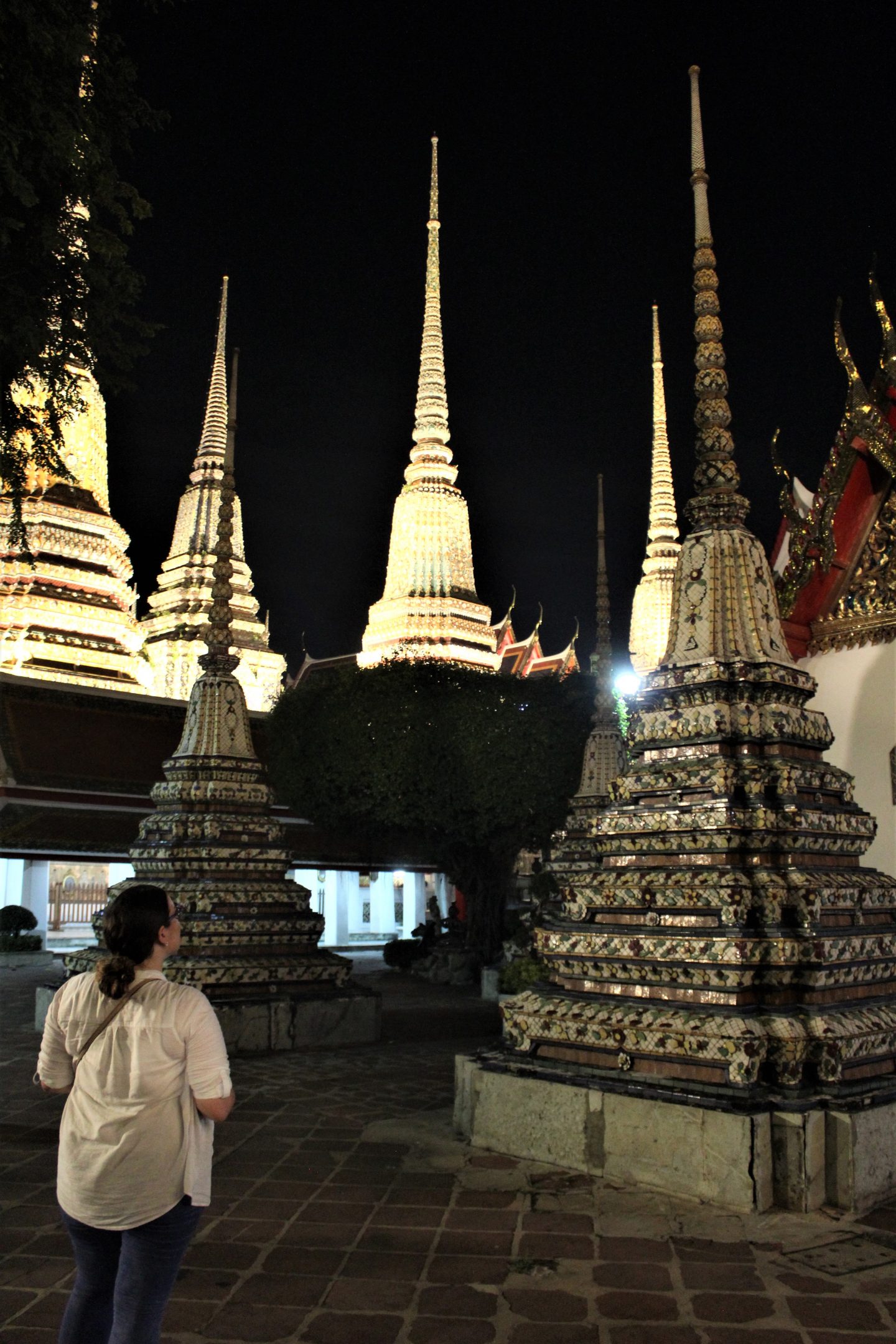 Over five hours and 10 miles later, we were back at base. Mr B and I had managed to see so much Bangkok in one memorable evening, more than we could ever have imagined. What we saw, learned and experienced blew us away. Michael made this tour so special and unique and with his knowledge and storytelling he brought the city to life, giving us memories that will last a lifetime.    
hello@bangkokvanguards.com
My tour was complimentary but as always all opinions are my own and honest.