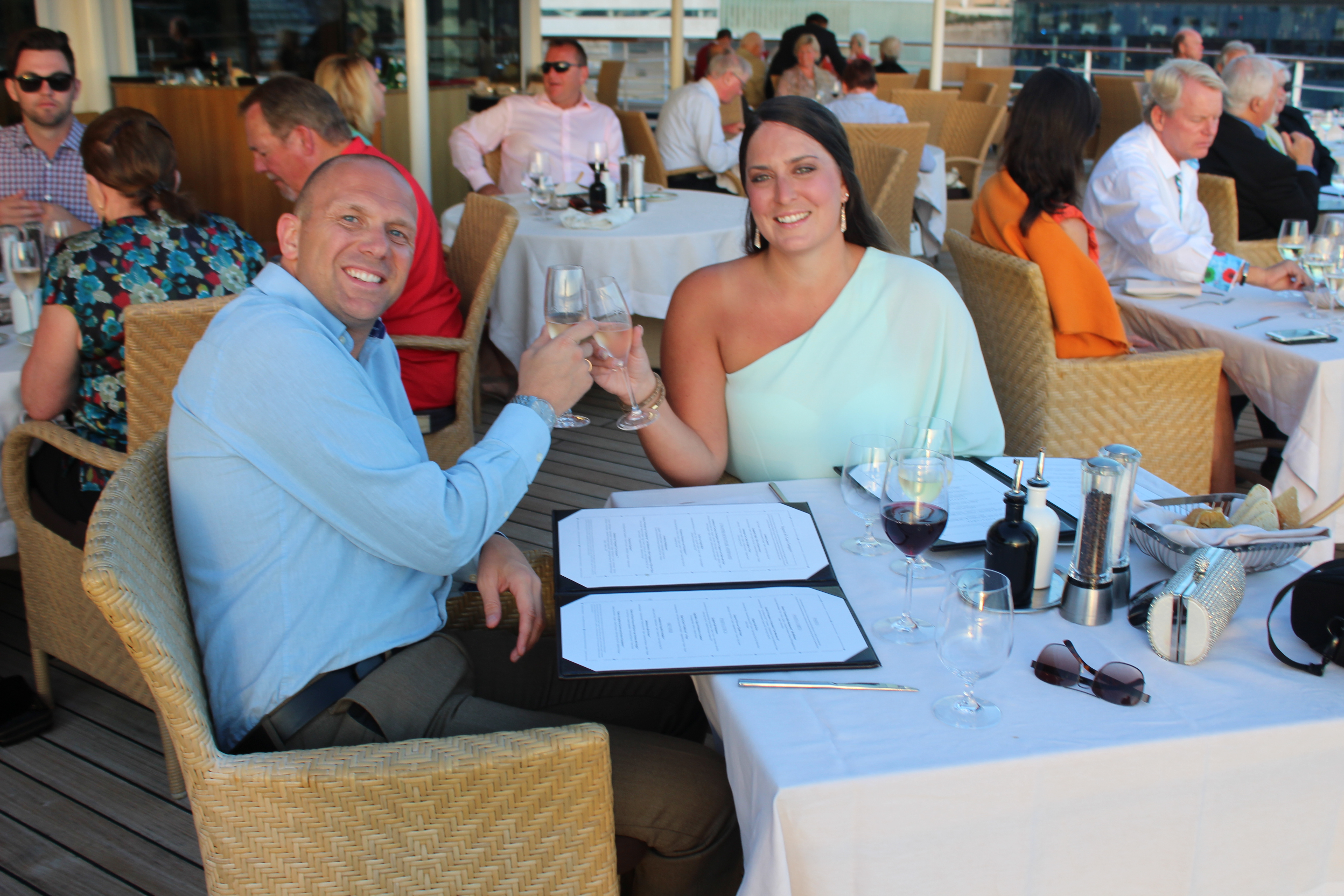 Silversea
6 Star Luxury Cruising
All about the food . . .
Where do I begin? Let's start by saying you will NEVER go hungry on Silver Spirit. From freshly made pasta, delicious sushi and beautiful breakfasts, the dining choices are first class. There are six restaurants on board and yes, of course we tried them all! Breakfast can be taken in your room (served by your very own butler), in the formal restaurant called "The Restaurant" (honestly this is what it is called) or at La Terrazza. We had many a delicious breakfast, such as eggs benedict with perfectly poached eggs, a full English, omelettes, smoked salmon and scrambled eggs, fresh waffles or pancakes, anything you want to set you up for the day and you can have it. My favourite was having breakfast in our room, rolling out of bed into your dressing gown and eating on your veranda or in the comfort of your suite. Mr B loved breakfast in The Restaurant … who doesn't love silver service first thing in the morning!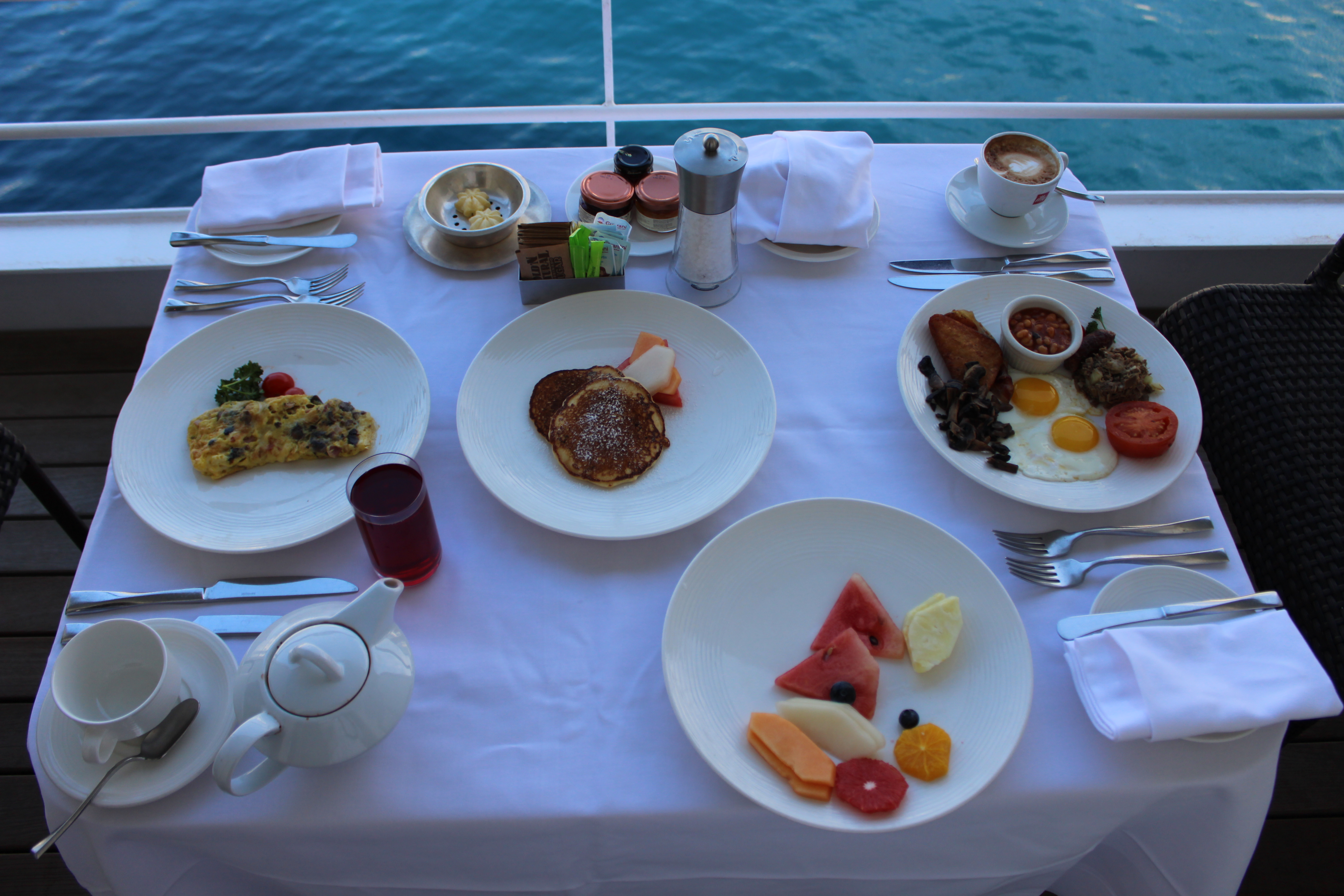 Lunch could be taken at The Grill which was ideal when we were spending the day by the pool. Freshly made burgers, hot dogs and chicken skewers …perfect food for lunch in the sun. Best dish I had at The Grill was the sliders with sweet potato fries, washed down with, you guessed it . . a few glasses of champagne!
We only went to The Restaurant, which is the more formal lunch option, twice, mostly because the food was so good we couldn't just go and have two courses like normal people. The temptation to have the full five-course menu was too much and I did somehow have to fit in my clothes at the end of the holiday, which I knew was going to be a struggle anyway!
La Terrazza was the place for buffet lunch and Mr B liked it here for the location. Located on deck at the back of the ship, the food choices were delicious and fresh. I'm not a huge fan of buffets, but this wasn't any old buffet. A Silversea buffet is fine dining and filled with homemade breads, fresh fish and other great dishes. Waiters carry your plates to the table and if you choose (because you are picky like me), you can still order food from your table which will be made in the kitchen and brought to you.
My absolute favourite lunch destination was Seishin, the ships Asian restaurant where at lunch they served the most amazing sushi. I have had a lot of sushi in my time but this is without a doubt the BEST sushi I have ever had!
The menu was fantastic, but I always opted for the Silversea platter, which was a mixed platter of sushi and choice of sashimi. We often (when I say often I mean every time) enjoyed this with a bottle of champagne. The freshness of the sushi was simply the best and the flavours were heavenly and after finishing our platters I ordered another small portion of my favourite, the Dynamite roll or the melt-in-your-mouth sashimi.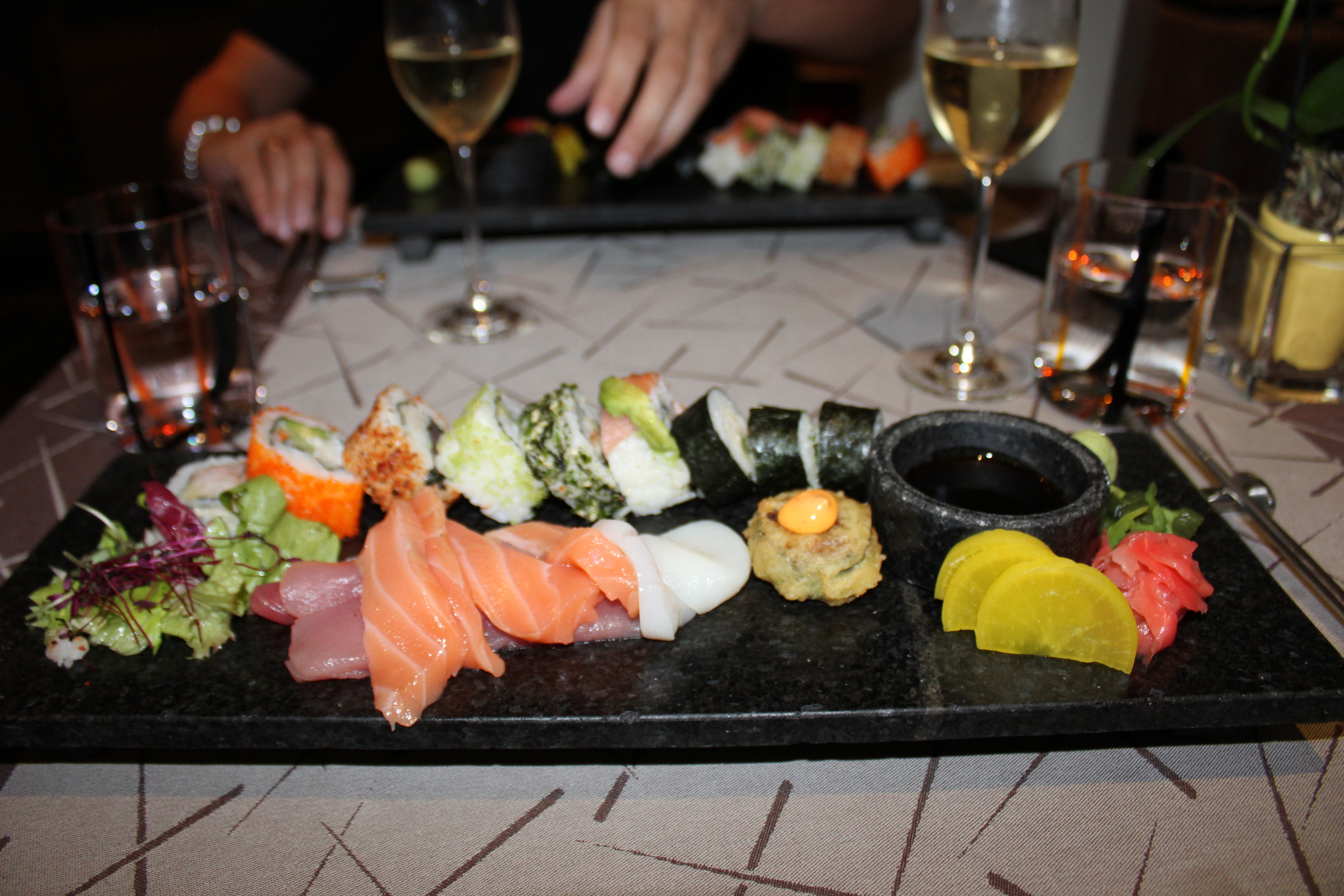 Dinner is a time when you really are spoilt for choice with all six dining options to choose from. Each one is unique and whichever one you choose you will not be disappointed.
Our top pick would have to be Le Champagne, the only wine restaurant by Relais & Chateaux at sea, where we had an incredible six-course dinner on our last night. From caviar to lobster bisque to venison to grand marnier soufflé, each course was sublime and is up there with one of the most fantastic dining experiences we have had.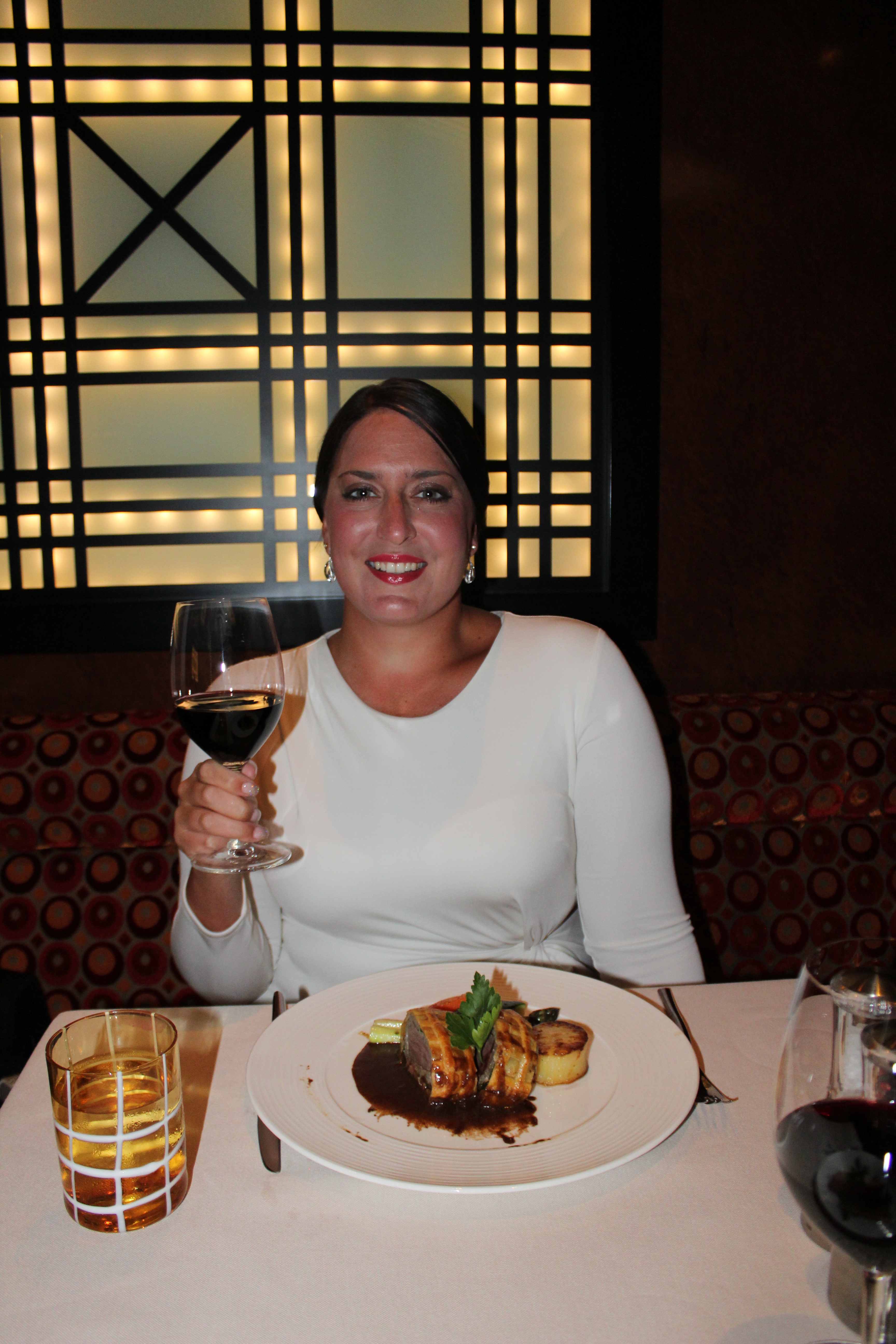 In the evening The Grill turns into 'Hot Rocks', where in an open air restaurant you can order the finest of steaks (I had the fillet both times … an amazing cut of meat), beautiful seafood and in my case gigantic prawns, Mr B was very jealous!
You are given a red hot lava stone to cook it yourself and although it's not for everyone Mr B and I loved it … fun, novel and very tasty! It's worth going just to wear one of the sexy bibs which they give you! Ha ha!
In the evening La Terrazza transforms into an Italian restaurant with seating options inside or outside. We always opted for outside so we could enjoy the beautiful views and sunsets. The food was divine, all the Italian classics done to perfection, such as fresh pasta, risottos and ragu. We dined here twice and the food was outstanding on both occasions. It is so easy to fill up on all the carbs at La Terrazza, but do always opt for a dessert, which were also divine and with lighter options on offer too.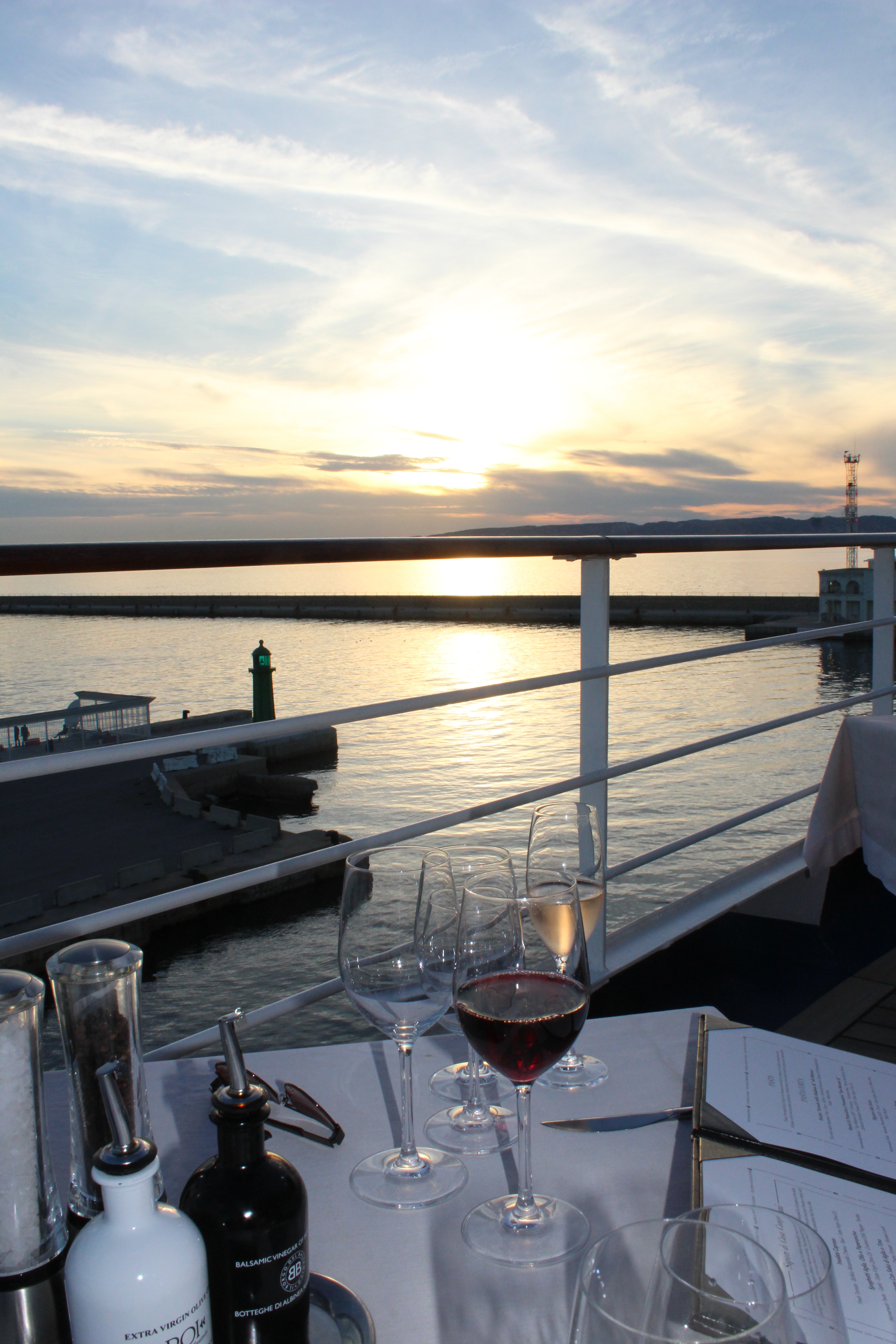 The Restaurant is silver service perfection and with a different menu every night we were always spoilt for choice. We had succulent lobster and when Mr B told the waiter it was the best he had ever tasted, he bought him another one, which of course Mr B devoured! On another night we also enjoyed a delicious lobster curry and fantastic scallop dish.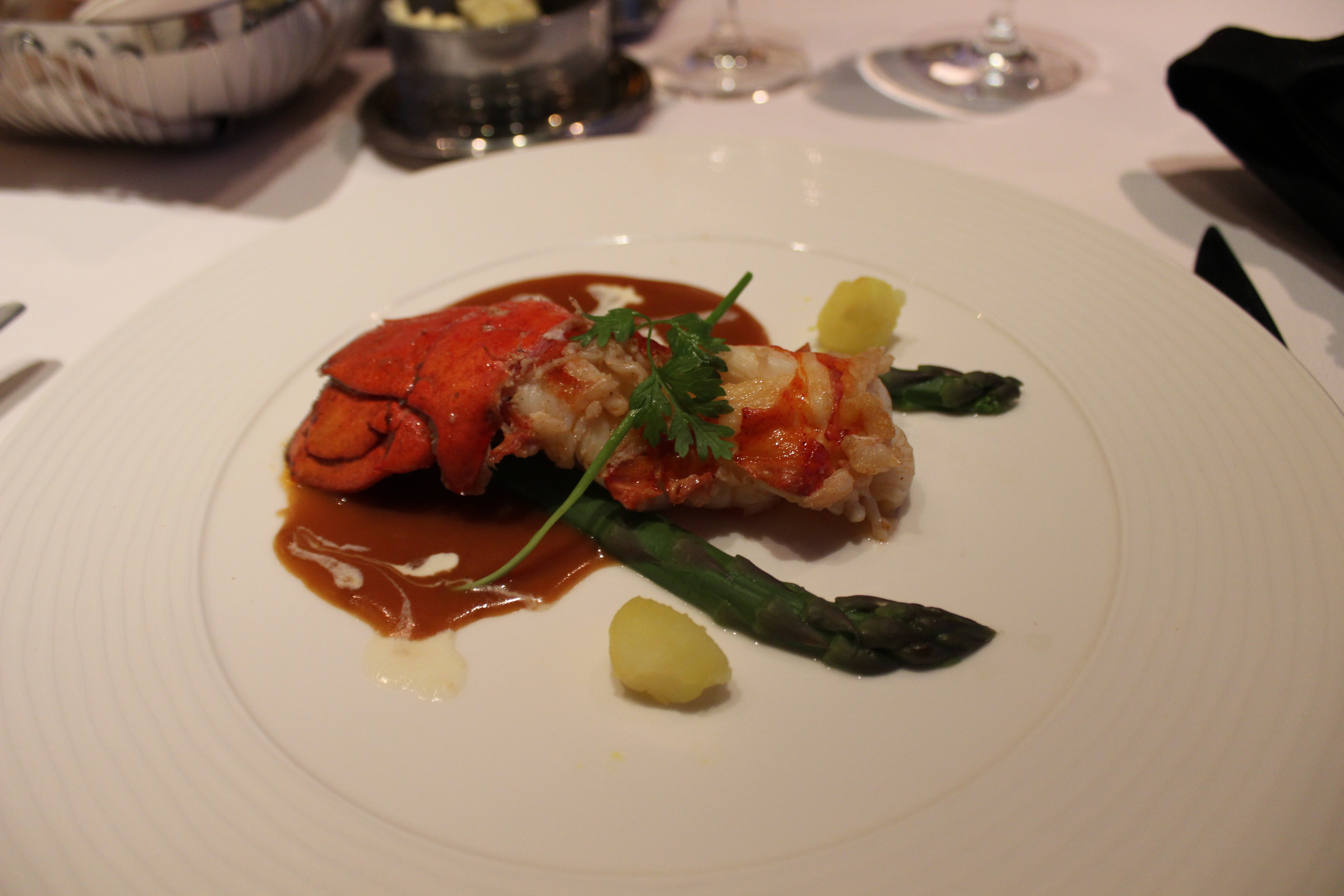 Stars Supper Club reminded me of an art-deco New York Jazz Club, where food is served as small tasters, which we loved. Think posh tapas served course by course, just a mouthful of each but packed full of flavour. Whilst dining the fantastic Jazz duo are playing throughout, which we found created a very romantic atmosphere. Stars also has a great cocktail menu.
Seishin offers a nine-course tasting menu in the evening, which we didn't try simply because we gorged on so much delicious sushi at lunch!
You can also choose to dine in your suite whenever you like … and I mean whenever! You can order from the restaurant menu and have it served to you course by course. Even when you lie in and sleep through breakfast (I may have done this once), you can order breakfast at 11:30am. If you still have the munchies after a night indulging on the delicious cocktails you can order pizza at 2am (you guessed it … I did this as well). One night while watching a late night film we even ordered milk and cookies. Nothing is off limits because the incredible kitchen team on Silver Spirit will go above and beyond to meet your needs.
Also during our cruise on offer by Silversea was a tour of the galley which we jumped at the chance to take part in. Greeted with champagne (of course!), we were walked through the galley with the chef explaining the layout and preperation and was open to any questions we had.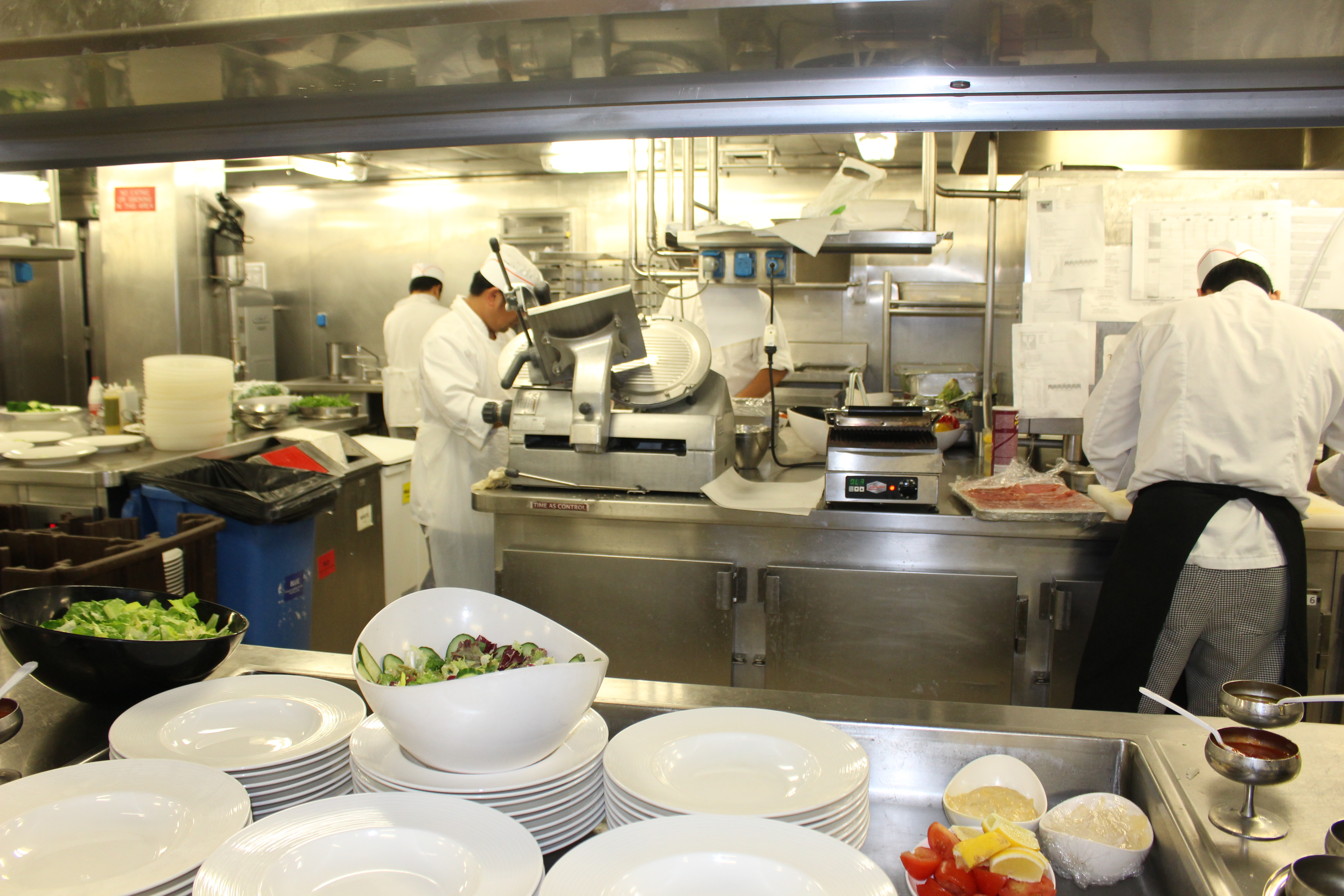 Even more amazing than that was the fantastic chocolate party! It was held on the pool deck, chocolate cocktails were served and the most amazing display of choclate desserts and sculpteres awaited us. There was everything a chocoholic (like myself) has ever dreamed about . . . truffles, macroons, fondue, mousse, cake, fudge, the list goes on!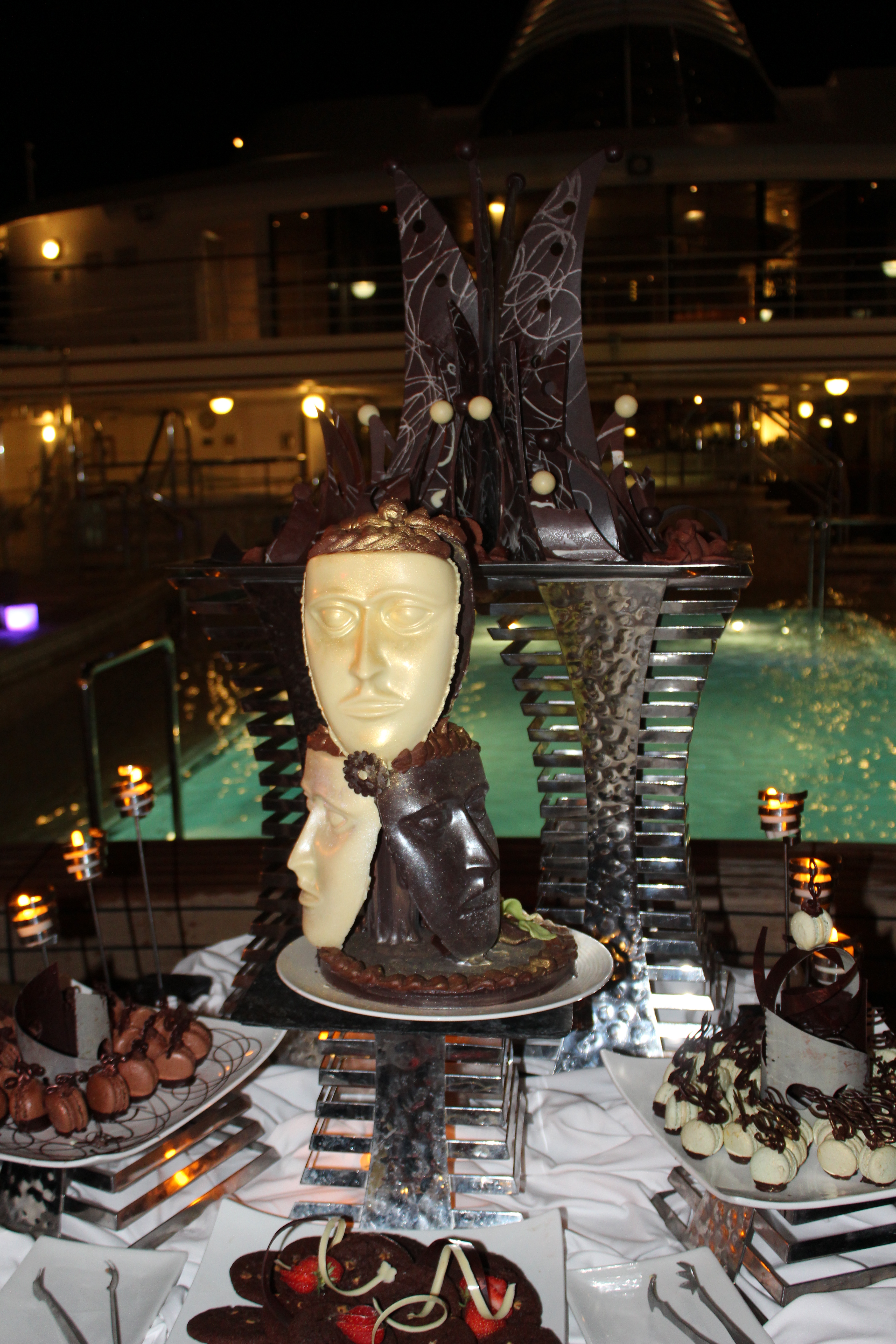 Silversea knows how important the dining experience is to their customers. They take everything into account and deliver culinary perfection in the most beautiful environments. I can't imagine more fantastic food whilst out at sea.
Have you read the first part of my review? Have a look inside this amazing ship and the facilities on offer!