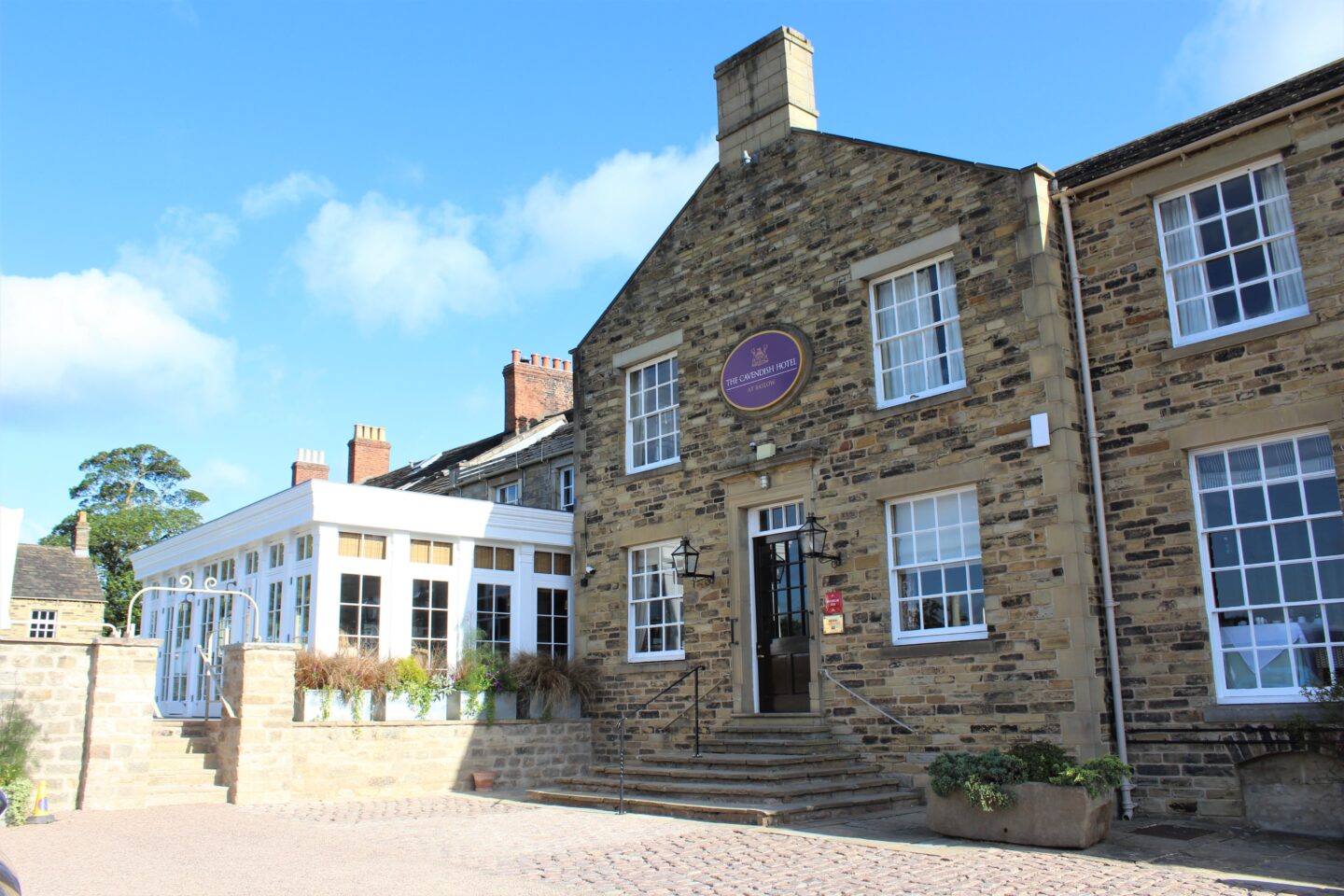 Perched over the Chatsworth Estate, The Cavendish at Baslow gives wonderful countryside views and is surrounded by many wonderful walks.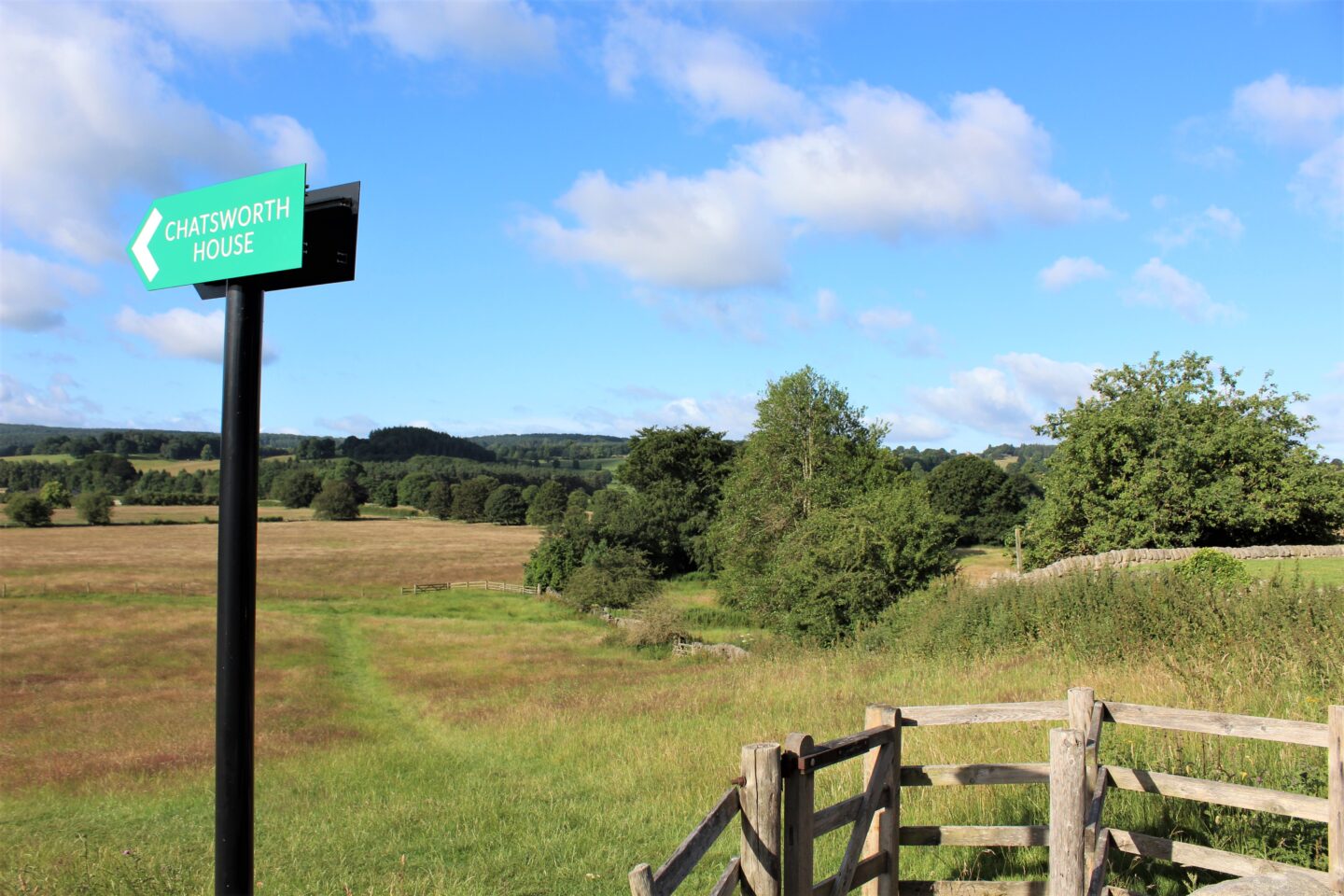 Arriving early before check-in, we parked up and went for a lovely stroll from the hotel to Chatsworth House.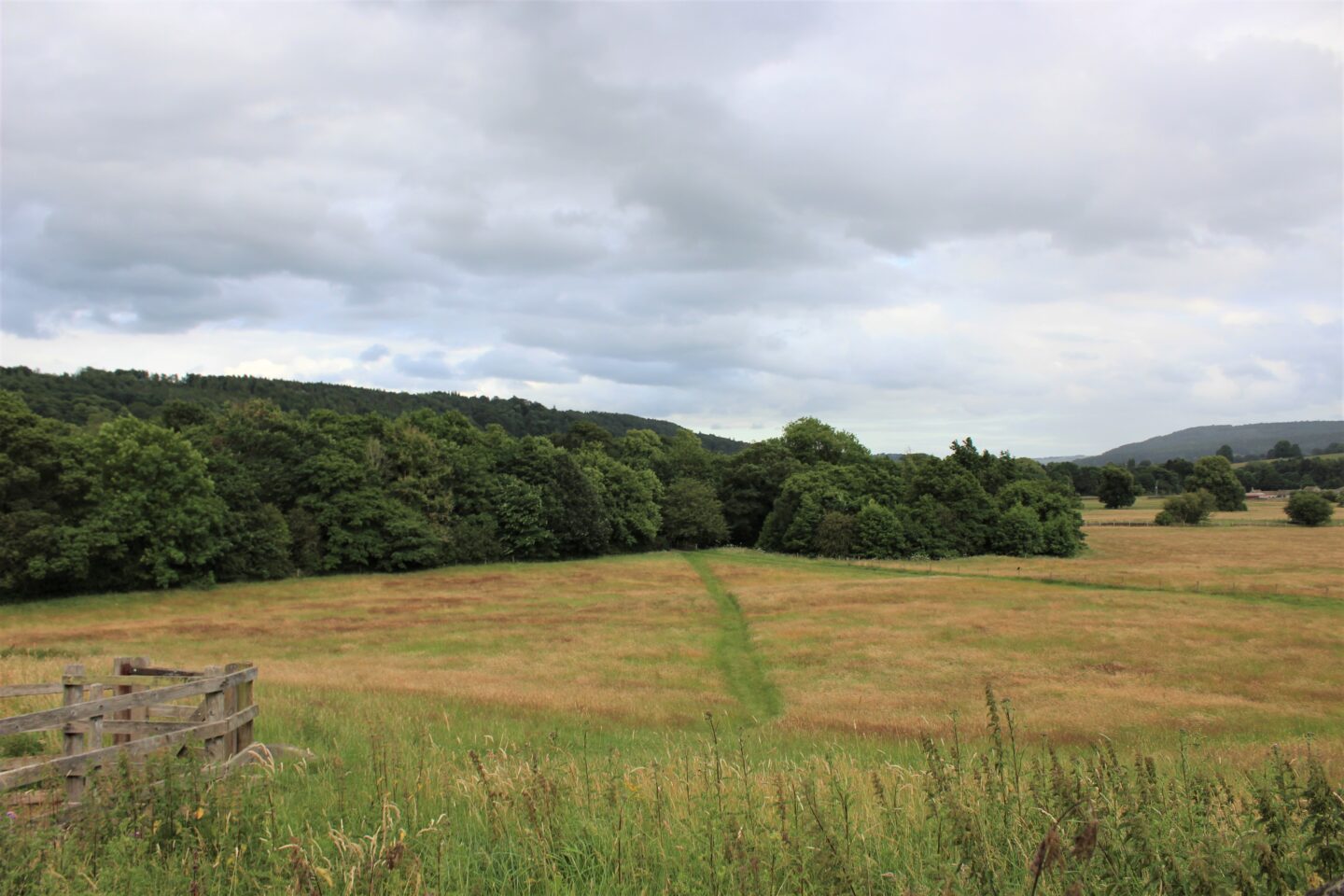 After a lovely few hours exploring and enjoying the fresh air we headed back to the hotel. Check-in was smooth and we were quickly shown to our Coach House room. Located in the adjacent building from reception, our room on the second floor was beautiful.
The stand-out feature being the stunning princess-style four-poster bed.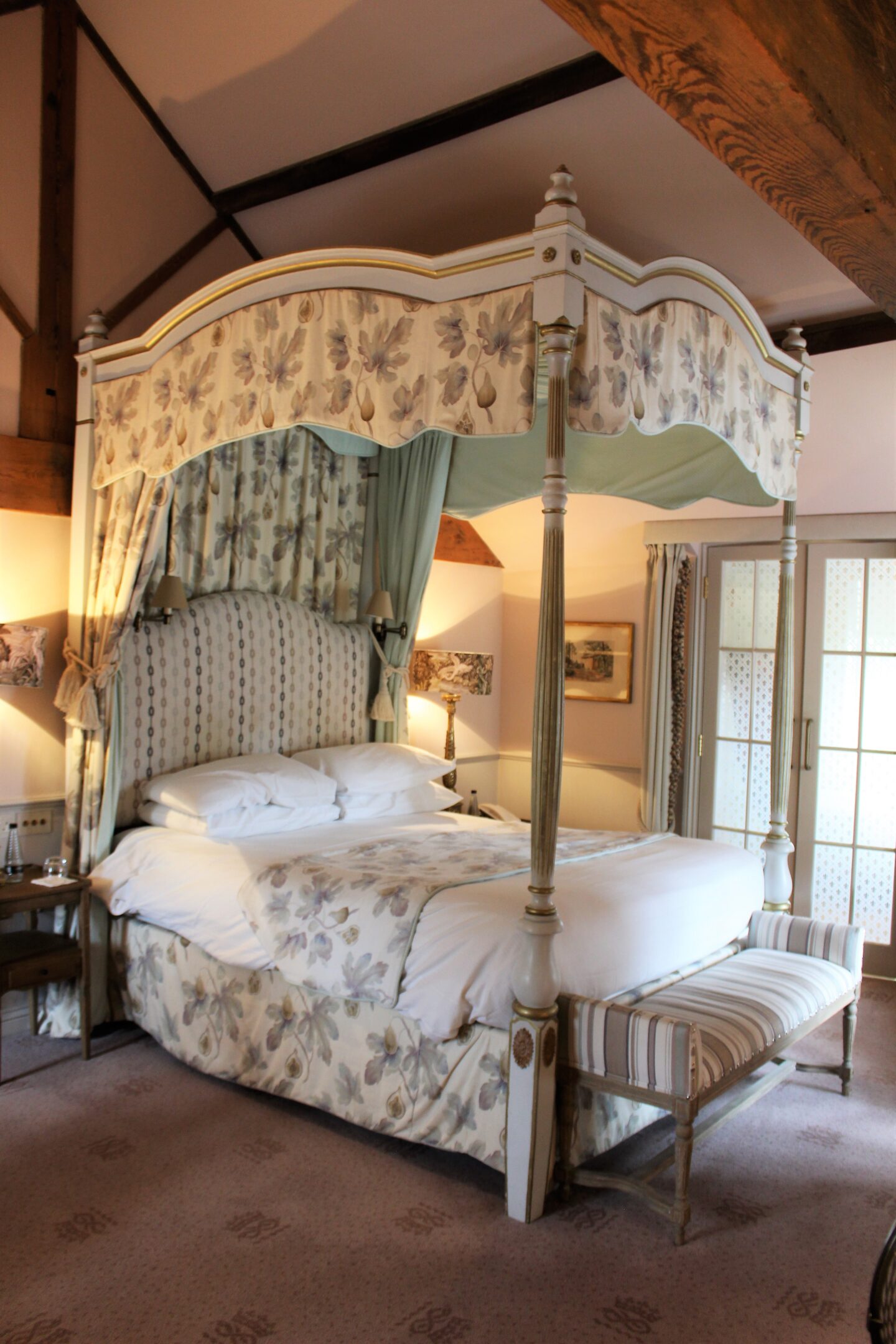 The room was what I would describe as classically luxurious with wooden beams, a fireplace, dark wood and a large plaid chair.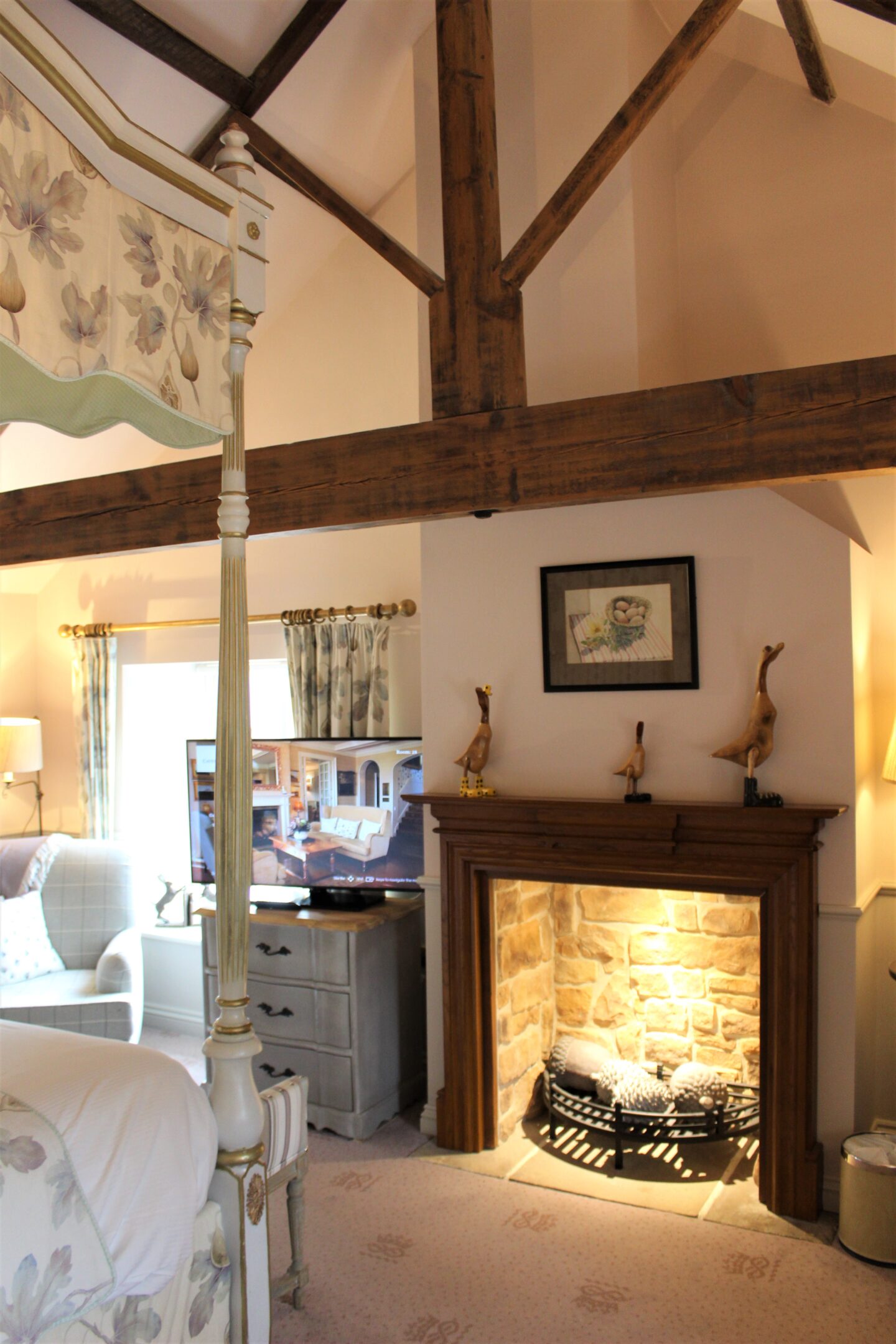 The Cavendish certainly know how to do an in-room coffee tray. We were provided with a Nespresso machine with pods, a cafetiere with ground coffee and instant coffee. Tea bags provided are from Taylors of Harrogate. Sachets of hot chocolate are also on the tray and there is a carton of fresh milk in the fridge and, I'm not finished yet, a full-size box of Chatsworth Estate biscuits!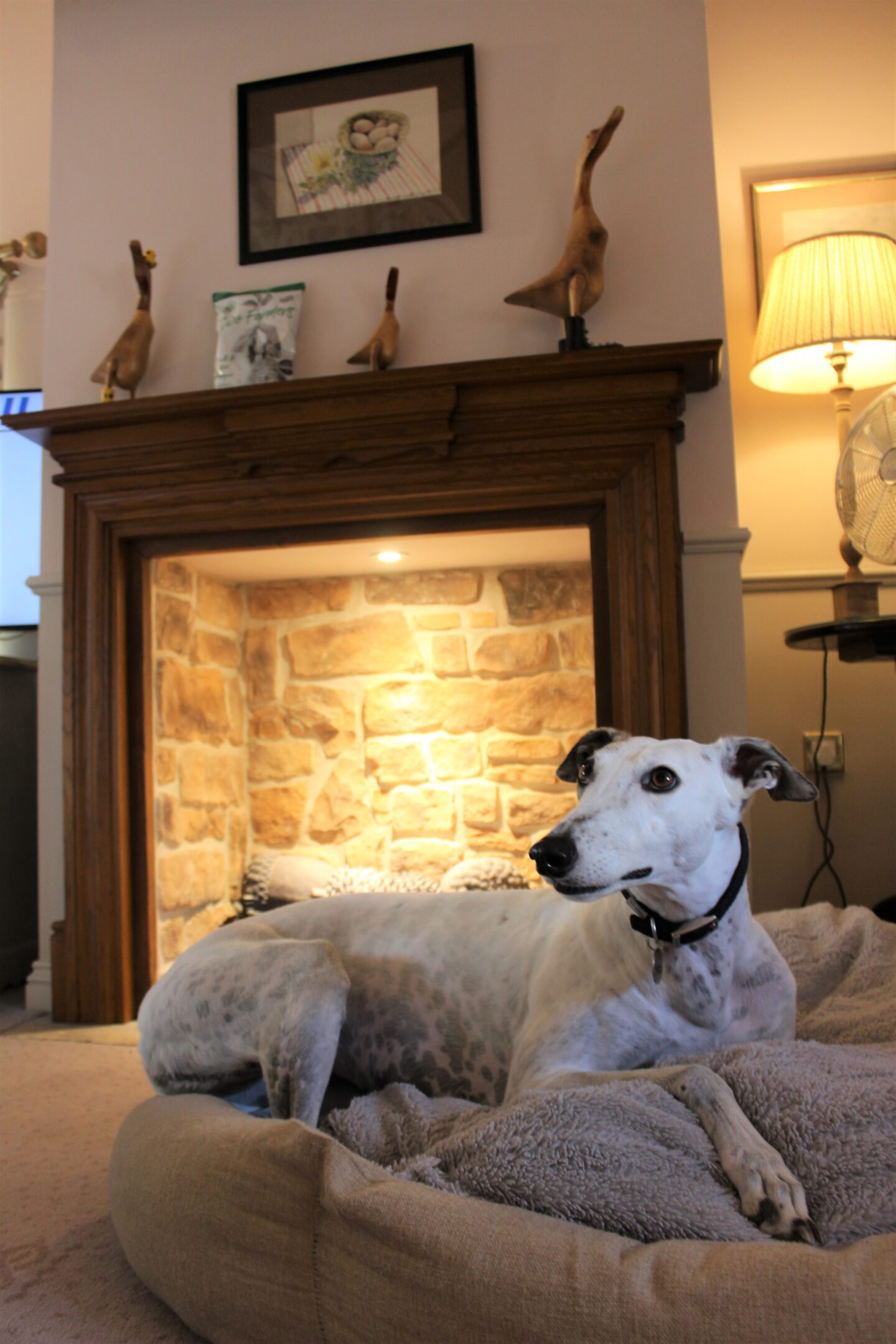 JoJo was also well looked-after – a dog bowl and a bag of dog treats were waiting for her when we arrived.
The large bathroom had a walk-in shower and a fabulous bath which had views over the Chatsworth Estate. Relaxing in a bubble bath with a glass of fizz looking out at the wonderful views, I felt extremely relaxed.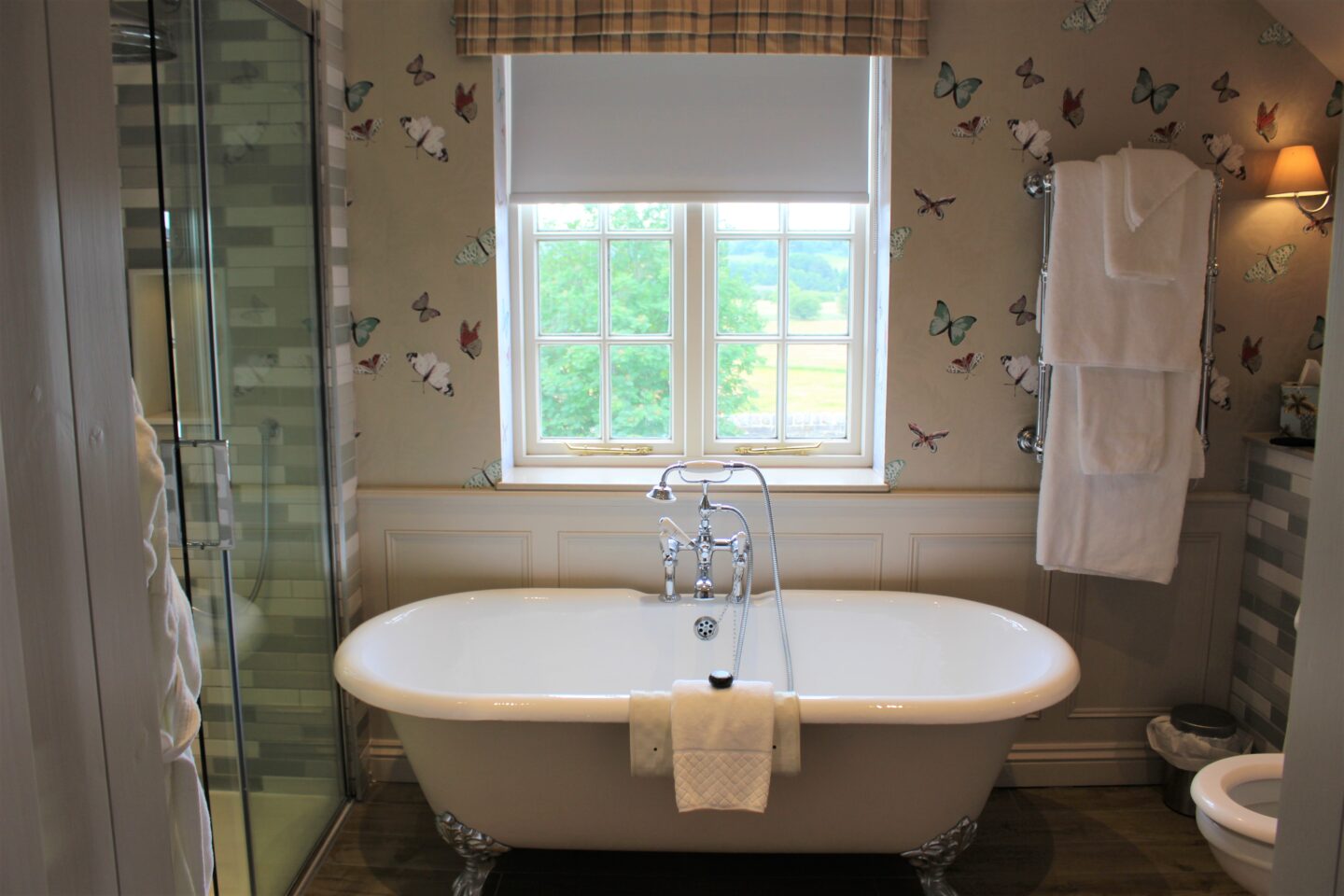 Toiletries provided were full-size Noble Isle shower gel, shampoo, conditioner and body lotion. This luxury vegan, cruelty-free brand is in all the Devonshire hotels and they smell wonderful.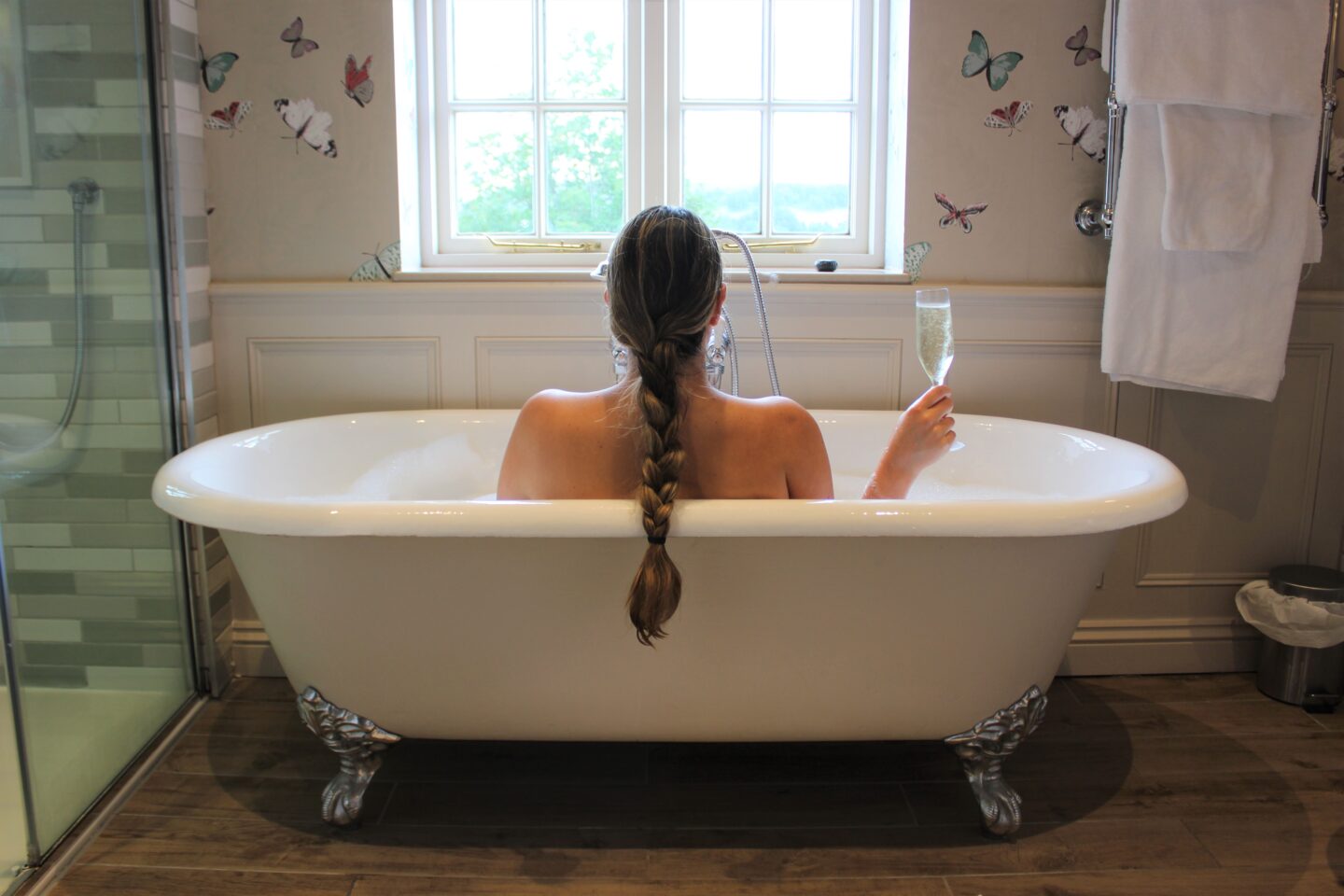 After relaxing in our room and getting ready it was time for dinner. We were booked into the hotel's new Garden Room. I think the light and airy restaurant is an excellent new addition to the hotel. There is also an outdoor terrace which gives uninterrupted countryside views.
We were very hungry and there were lots of options on the menu tempting me, but in the end, for starter I ordered the 'Estate wild mushroom, croissant, Hartington blue, truffle'. This really had some of my favourite ingredients in one dish – mushroom, blue cheese and truffle! The earthy mushroom was the star. Encased in buttery croissant the blue cheese was used lightly as to not overpower, finished with a dusting of truffle which added to the wonderful earthiness and richness of this delicious dish.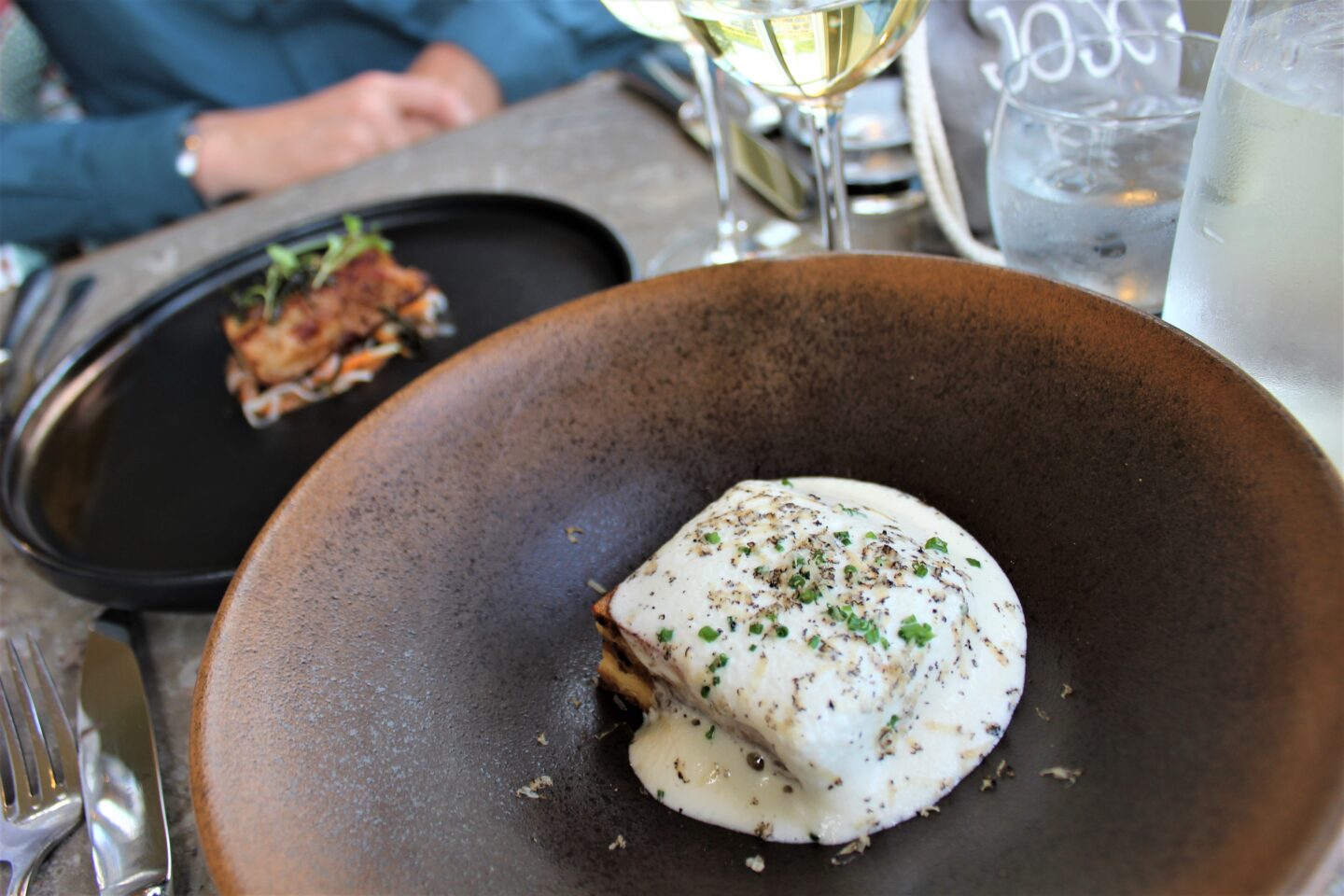 For starter Mr B enjoyed the 'Crispy pork belly, pickles, seaweed, black garlic mayonnaise' – the pork was lovely and tender and the contrasting flavours worked well and made a very tasty dish.
For my main I ordered the 'Chatsworth Estate Venison, charred tender stem broccoli, black garlic mash potato, pickles'. The venison was cooked perfectly – it was tender, juicy and full of flavour. The black garlic mash was as it said, I was surprised how black it was on the plate, it looked stunning! It was also lovely and smooth and the garlic flavour had a great balance, full of flavour, but not too garlicy where it could have overpowered the venison.
If I would have fancied seafood, I most definitely would have ordered what Mr B had, the 'Whole lemon sole, seaweed buttered potatoes, baby watercress salad'. The lemon sole was beautiful, the fish was soft and flaky, and with the delicate flavours of the capers and lemon it was a stunning piece of fish.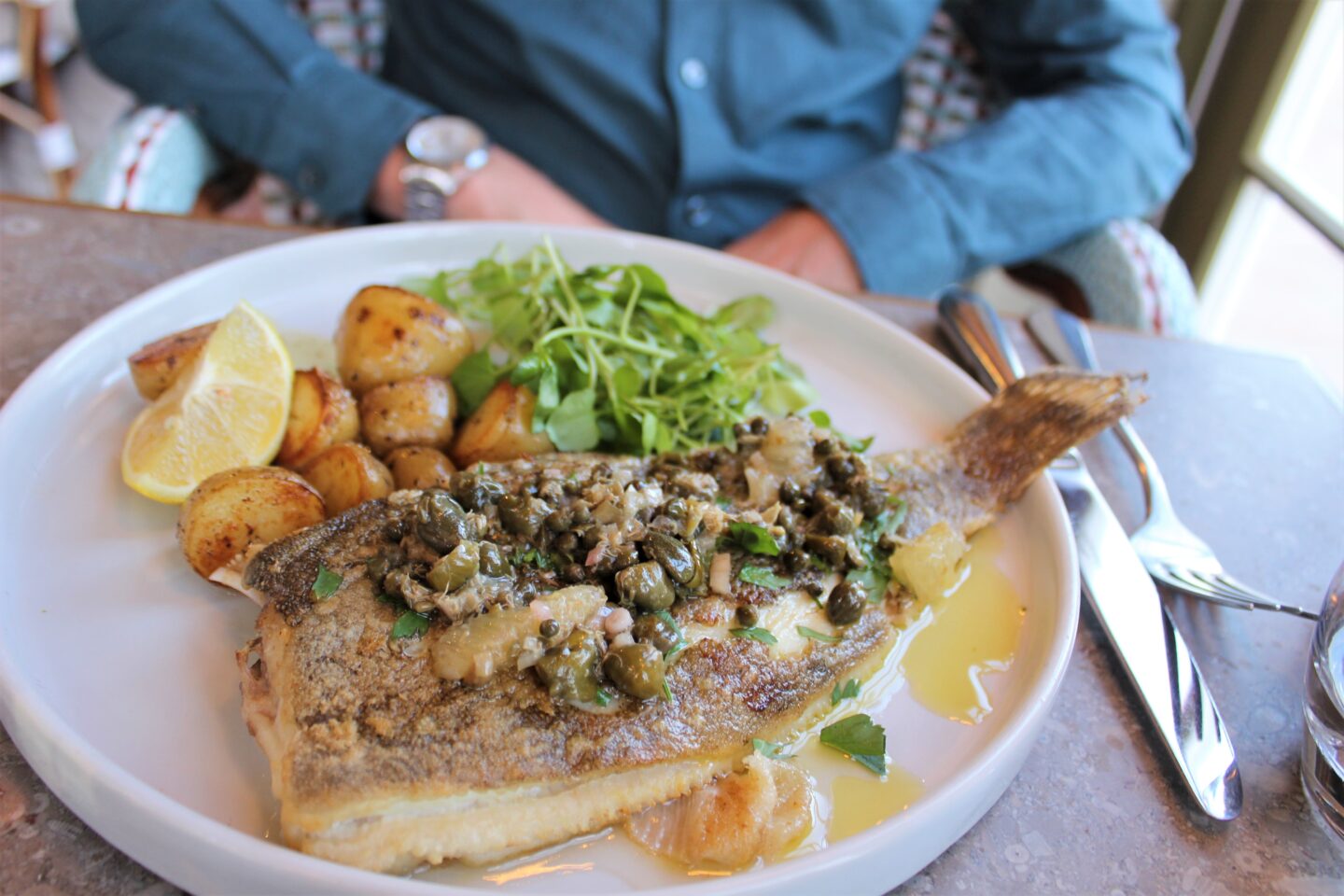 I had already decided on my dessert as earlier that day I was already craving something chocolatey. So as soon as I saw the Chocolate delice on the menu I knew that is what I would be ordering. It was just what I was craving – rich, dark, sweet. It was a great combination of textures and the tart raspberry sorbet cut through all the sweetness.
Mr B ordered the Crème Brulee which came with fennel pollen, mango, passionfruit, coconut, black sesame. It was the opposite to my dessert which is the usual way when it comes to desserts for Mr B and I! His dessert was fruity, light, zesty and refreshing – the Crème Brulee was silky smooth.
After an extremely enjoyable meal we both finished the evening with an espresso martini. When they were brought to our table the lovely bartender who whipped them up for us explained his twist on them. He uses fresh espresso, but instead of then also using coffee liqueur, he uses Frangelico. It was a lovely twist on one of our favourite cocktails. The coffee still came through, but it also had a lovely subtle taste of hazelnut.
After a very gentle dog walk before bed we headed back to the room for a good night's sleep.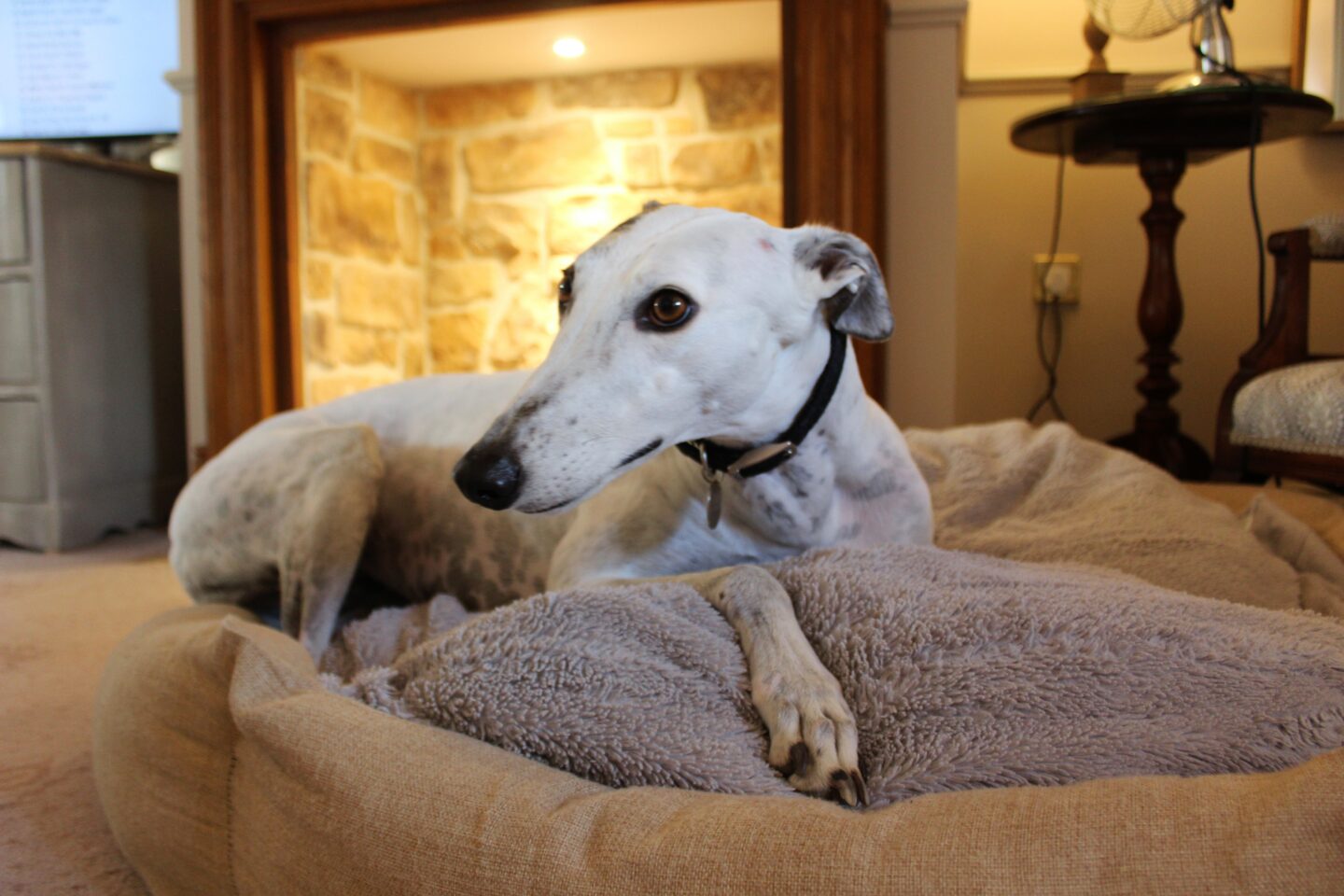 Back to the Garden Room for breakfast, we had a choice of tables which were all laid and waiting for hungry guests.
The menu was full of your traditional breakfast choices, but also some additional dishes. I was very tempted with the shakshuka, but I couldn't help but order my favourite breakfast dish, the classic eggs royale.
But first I ordered a freshly-baked croissant to enjoy and oh it was lovely, buttery and flaky. Whilst I enjoyed that, Mr B tucked into a fresh bowl of hot creamy porridge with local honey. We also both sipped away at an excellently-made latte. We both commented on how good the coffee was.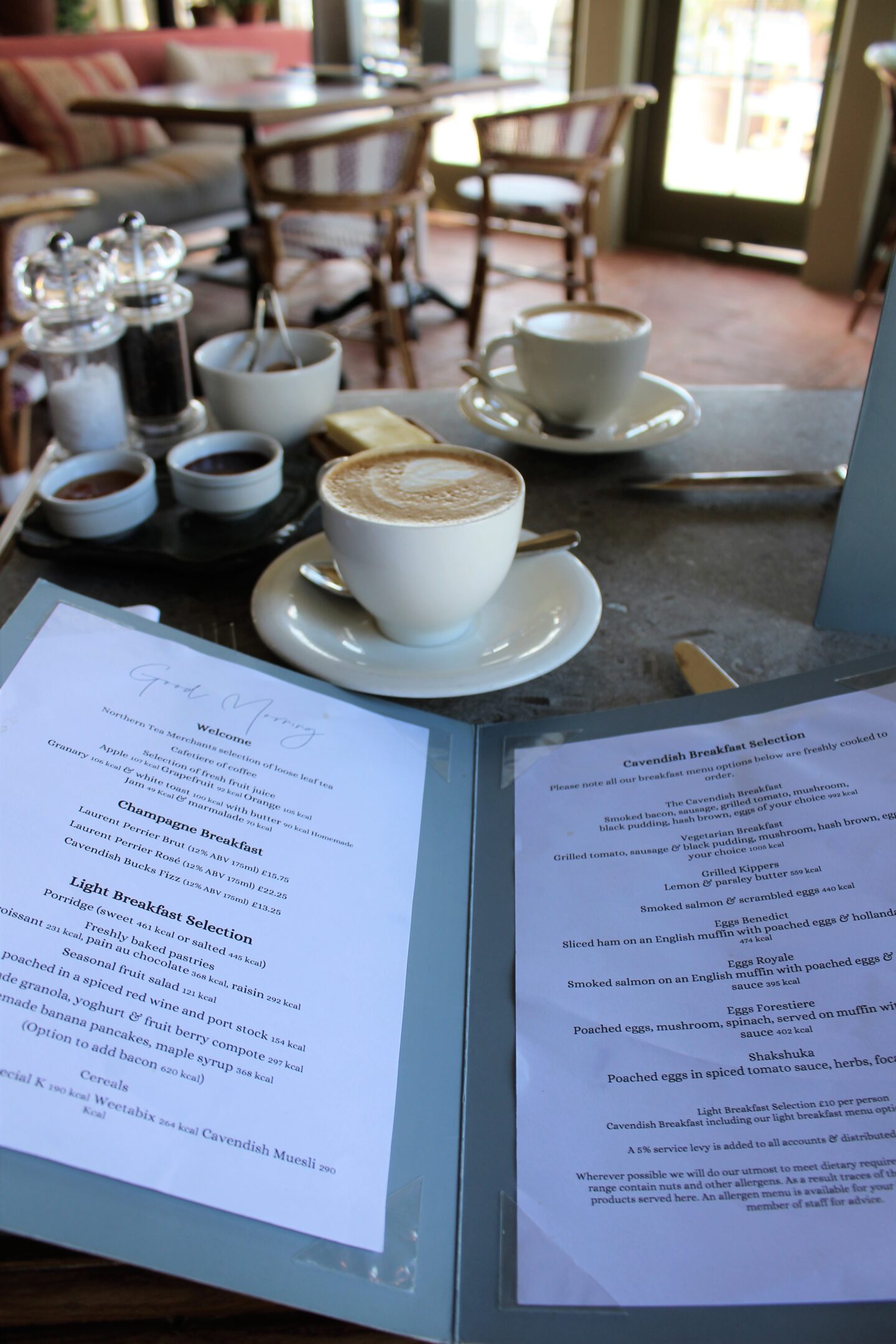 My beautiful eggs royale was placed in front of me and I could not wait to tuck in – perfectly poached eggs, a generous amount of smoked salmon and a beautiful rich and sharp hollandaise. It was breakfast perfection.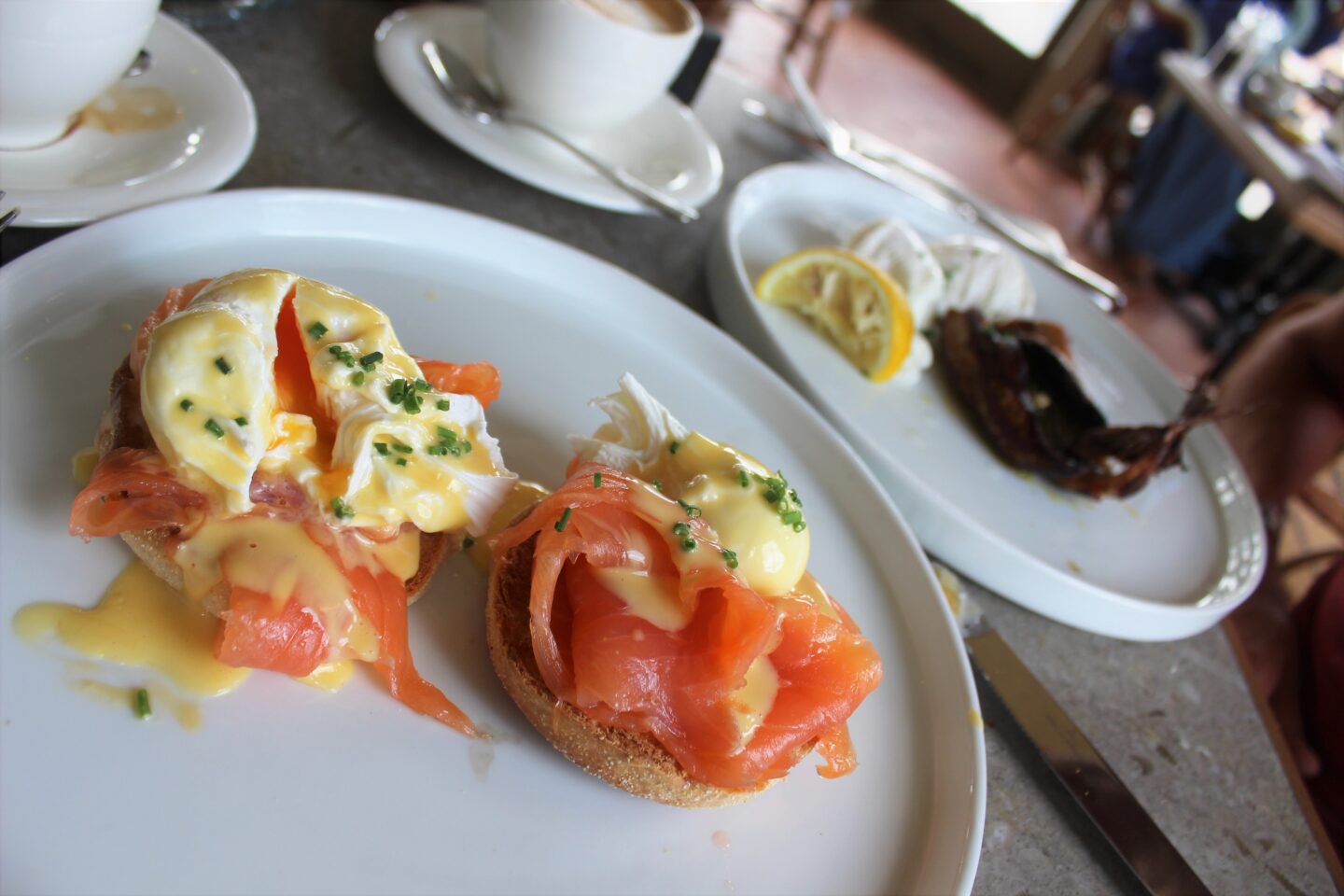 Mr B enjoyed the kippers with lemon and poached eggs, and like me he also loved his breakfast. The quality of ingredients and cooking for breakfast reflected that of the dinner we enjoyed which is what I always want from a hotel breakfast, but some hotels greatly let themselves down with breakfast, The Cavendish is not one of those hotels!
As we were finishing our breakfast a sausage wrapped in foil was delivered to our table for JoJo to enjoy back in the room!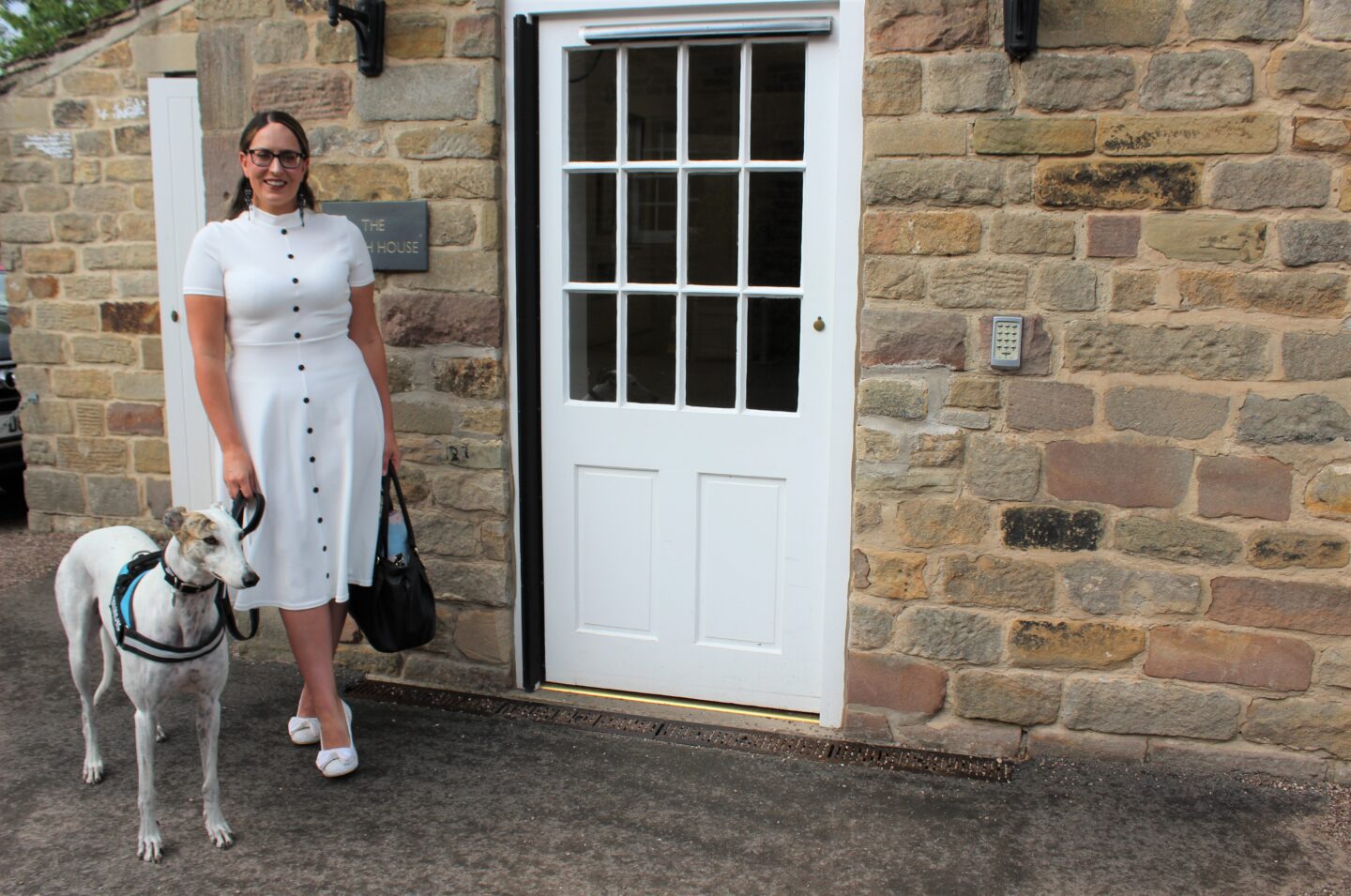 We have always been big fans of the Devonshire properties – they always deliver for us on the location, rooms, décor, friendly staff and excellent food. The Cavendish was no exception, it delivered in every way. We had a truly wonderful stay.